[an error occurred while processing this directive]

The Zocalo Today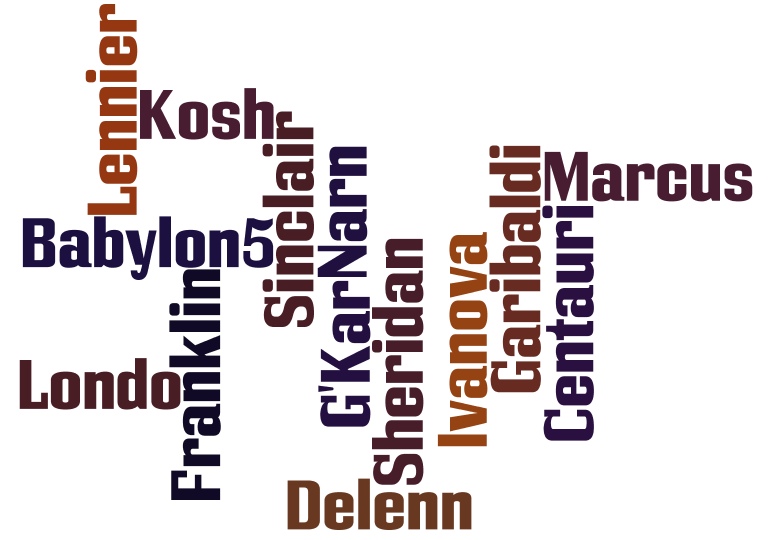 Welcome and thank you for dropping by. Babylon 5 brought many of us together -- and it remains with us, despite the fact that is no longer in production. The good thing is that the internet gives a LOT of ways to stay in touch. Don't be shy. Join in the discussion today or drop by Facebook or Twitter.

If you have questions or items for the news, drop me a line at sgbruckner@aol.com.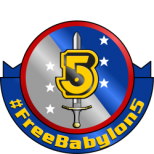 SUNDAY, DECEMBER 8, 2013
THE HOBBIT: THE DESOLATION OF SMAUG
We're only a week away from The Hobbit: The Desolation of Smaug, but that doesn't mean there are no more production videos to be had: Au contraire!
Shot over a span of several months, this new production diary is—once again—filled with behind-the-scenes goodness.
In this one, we discover that Martin Freeman (our very own Bilbo Baggins) is quite the ping-pong champ, we get a few covert glances at Smaug (as well as an appearance by Benedict Cumberbatch), and we feast our eyes on the ass-kicking Elven fighting duo of Tauriel (Evangeline Lilly) and Legolas (an ever-youthful Orlando Bloom; and from all those videos we've seen of them so far, we just can't wait to see these two in action!).
We're also getting quite an eyeful of Lake-Town and its denizens; including Stephen Fry's Master of Lake-Town and Luke Evans' Bard the Bowman.
Plus, there's a look at sound special FX and a barefooted Peter Jackson running around like a little kid with a handheld camera (for future breathtaking CGI stuff) and lots of shenanigans.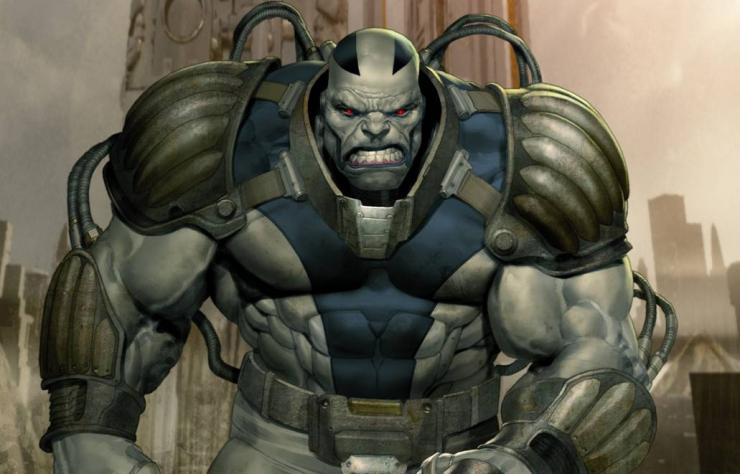 X-MEN: APOCALYPSE
It was only the other day we got confirmation that X-Men: Apocalypse is in the works, and now the first details have (allegedly) started to leak out. So, what can we expect from the next sequel?
The folks at Bleeding Cool are reporting some broad strokes of the development plan, claiming the upcoming Days of Future Past in 2014 will lead straight into Apocalypse in 2016, with the second film serving as a direct sequel to the events of the first.
The exact plot details apparently aren't clear, but the character of Apocalypse — a classic baddie in the X-Men canon — will apparently play a key role (not surprisingly) in connecting the two stories. Hmm, a post-credit stinger scene, perhaps?
Another interesting tidbit? The studio wants actors from both the "past" and "present" casts to return, which should make for some interesting narrative choices. Sure, having both works find in a time travel story like Days of Future Past — but it'll be interesting to see how they shake out the specifics in Apocalypse. Maybe have parts of the story unfold in the past, as well as the present?
The specific cast list is still in flux, allegedly, but it sounds like a lot of players from Days of Future Past could be coming back (i.e. large chunks of both casts) — along with some new additions to the canon — so these two films might actually play out like companion pieces in the long run.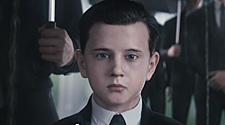 GOTHAM
In September, news broke that Fox made a series commitment to "Gotham," a new live-action show that will follow the adventures of a young Detective James Gordon. Now, TV Show Auditions is reporting they are casting a 10-year-old Bruce Wayne for the show and it would be a regular role.
According to the site: "A 10-year-old Bruce Wayne is among the roles that are now being cast as series regulars on the upcoming Fox TV series "Gotham" which explores the origin stories of Commissioner James Gordon and the villains that made Gotham City famous. Under development for over a year, the project has now been given a direct-to-series order by the network, which won an intense bidding war for the Warner Bros. Television rights to the show. Shooting on the pilot episode will get underway in March, 2014 and will center on Gotham City PD rookie homicide detective James Gordon who investigates the double murder of Thomas and Martha Wayne."
The series hails from "The Mentalist" creator Bruno Heller. First appearing in "Detective Comics" #27 (the 1939 comic that also debuted Batman), Commissioner James Gordon is the creation of Bill Finger and Bob Kane.
BATES MOTEL
A&E offered an all-too-brief tease for "Bates Motel" Season 2 a few weeks ago, but now we have a pair of extended teasers that actually have some meat on them. In this case, we're actually getting some footage featuring Norman and Norma Bates.
Season 2 begins early next year with Freddie Highmore and Vera Farmiga reprising their roles as Norman and Norma Bates. Kathleen Robertson, Paloma Kwiatkowski and Michael Vartan are going to be newcomers to the series. No debut date has been set.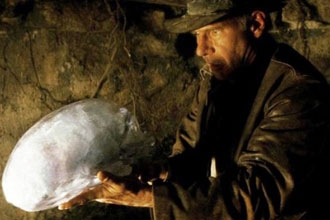 MORE INDIANA JONES AT DISNEY
When Disney bought Lucasfilm over a year ago, the only real purpose was for the Mouse House to get its hands on the "Star Wars" franchise.
Lucasfilm did control one other highly valuable property though - the "Indiana Jones" franchise. However, Paramount had a controlling interest in that film series. Not anymore it would seem.
Disney and Paramount have reached an official agreement that gives Disney control over all future films in the franchise. Paramount retains rights to the first four films, and will receive a "financial participation" on any future films that are produced and released.
This clears the way for a new fifth installment, be it another sequel or even a possible reboot. However, there's no fifth film said to be in the works at this time. All those involved - Ford, Spielberg, Lucas - have all previously expressed interest in returning though.
SATURDAY, DECEMBER 7, 2013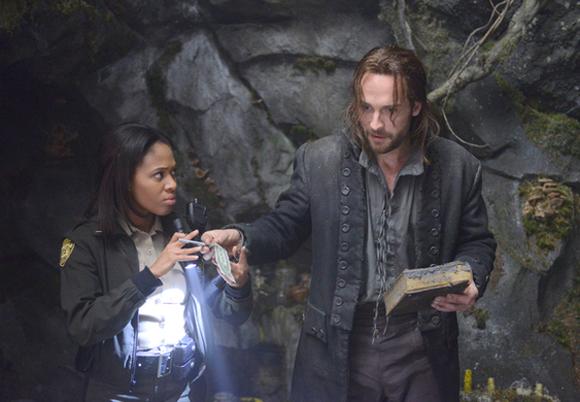 SLEEPY HOLLOW NEWS
Sleepyheads, someone at FOX loves you: Instead of making you wait a week in between the two halves of "Sleepy Hollow's" first season finale, the freshman hit will now conclude with a two-hour installment on Monday, Jan. 20.
But there's some bad news along with that good news: Unfortunately, the two-hour "Sleepy Hollow" means "The Following" premiere will now have a week-long gap instead. Season 2 of the serial killer drama was scheduled to debut after the NFC Championship Game on Sunday, Jan. 19 and continue on the next day, but the second episode will be pushed to Monday, Jan. 27 instead.
In the first hour of the "Sleepy Hollow" finale, "The Indispensable Man," Ichabod and Abbie will uncover a shocking truth surrounding George Washington's death while Captain Irving makes a life-changing decision for his family. In the second hour, "Bad Blood," something extremely vague happens: "the battle between good and evil comes to an explosive head -- sacrifices must be made, worlds collide, loyalties are tested and the town of Sleepy Hollow will never be the same." Just so you know, that's PR-speak for "crazy s*** goes down."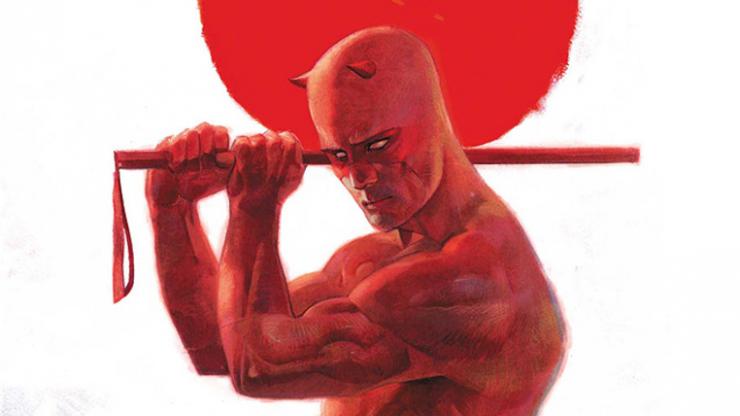 DAREDEVIL
The pattern of Whedon-adjacent creators taking on Marvel properties continues. Not that we're complaining.
Daredevil is slated to be the first Marvel character that Netflix will be releasing into the wild world of instant streaming sometime in 2015. If you were wondering who the boss is going to be, wonder no more -- it's Drew Goddard.
Just in case the name doesn't immediately fire off all your geeky synapses, let's run through his credits -- Buffy the Vampire Slayer, Angel, Alias, Lost, Cabin in the Woods, World War Z, and the list goes on. Goddard is the one-man link between the two most powerful men in sci-fi -- Joss Whedon and J.J. Abrams. And now he'll be writing and directing the Daredevil pilot in addition to executive-producing it.
As choices go, that's about as good as both Netflix and we can hope for. What his vision is? That remains to be seen.
Based on his body of work, though, we'd say Daredevil is in good hands.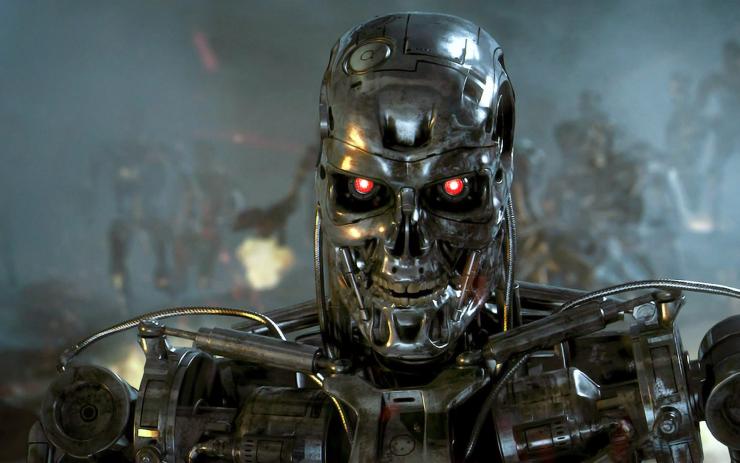 TERMINATOR COMING TO TV
We've been hearing for a while about a new Terminator movie trilogy coming our way, but now comes word that the franchise will "be back" via another medium as well.
According to the Hollywood Reporter, the producers behind the movie are developing a Terminator TV series that will appear in conjunction with the planned feature films. Writers Zack Stentz and Ashley Miller have been hired by Annapurna Pictures and Skydance Productions to script and executive-produce the show.
Stentz and Miller, whose credits include Thor and X-Men: First Class, have been down this highway before: They worked on Terminator: The Sarah Connor Chronicles, the first franchise-related series that ended its run four years ago after two seasons.
The concept behind the series will start with a "critical moment" from the very first Terminator movie, from which the films will spin off one way, while the TV series will take it in another direction. If all goes according to plan -- which means that if both the show and the movies are successful -- the storylines will cross paths down the line.
No word on where or when the series will show up on the small screen, but you can bet that it might be sometime around or after the July 1, 2015, release of the first new Terminator movie. As for that, director Alan Taylor (Game of Thrones, Thor: The Dark World) and star Arnold Schwarzenegger are on board, and the latest reports suggest that Emilia Clarke (Game of Thrones) and Brie Larson (Scott Pilgrim vs. the World) are the finalists to play Sarah Connor in what sounds more and more like both a reboot and a remake.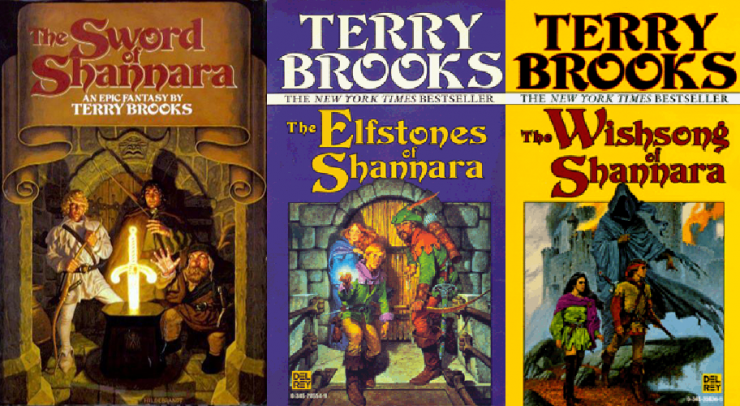 SHANNARA COMING TO MTV
Terry Brooks' Shannara series is the best-selling unadapted fantasy book series ever, but it looks like that's all about to change.
In 1967, Terry Brooks began writing a little book called The Sword of Shannara. It wouldn't be completed until 1975 or out in the world until 1977, but the wait would be worth it -- both for Brooks and the audience he would find. With 25 books total (and three more on the way) since those humble beginnings, Brooks has become the second best-selling fantasy novelist of all time, with only J.K. Rowling herself able to best him. She has an advantage, though -- Harry Potter is a movie legend, too.
But as we said, that's all due to change, and thanks to a very interesting team at that.
MTV is bringing Shannara to television with, get this, Jon Favreau directing and executive-producing the pilot and Smallville co-creators Al Gough and Miles Millar producing should that pilot go to series.
If there's a more "I had this really weird dream that made absolutely no sense" team for this project, I can't think of it.
If you're wondering how team Smallville wound up aboard, we can explain. Current MTV programming president Susanne Daniels used to work with Gough and Millar back when she helped develop Smallville while being the WB Network's head of programming.
But the how of the team is less important than what's actually happening with the series itself. As of now, the plan is to begin with the second book in the series, The Elfstones of Shannara, which acts more as a world-builder than the first book. b The good news is, Brooks himself is alive, kicking, and very much involved in the project. He seems upbeat, even, saying, "I believe we have formed the perfect team to bring Shannara to life onscreen. The adaptation of these books is very important to me, and I believe we are on the right track in our endeavor to create an epic television series that both new and old fans of the books will love."
Granted, this is early days yet, and who knows what changes the adaptation will bring, but Brooks being a part of the project at its inception is a relief.
As for MTV, they're obviously looking to cash in on both the people who currently watch Game of Thrones and the people who would watch it if HBO weren't so darn expensive.
Daniels has already had wildly unexpected success adapting Teen Wolf to the small screen, so there's a good chance that Shannara may, indeed, be in hands as good as Brooks says.

AGENTS OF S.H.I.E.L.D. NEWS
S.H.I.E.L.D.'s Globemaster is about to get a bit more crowded.
TVLine reports that—along with the return of Centipede—two more agents will make their very first appearance in episode 14 of Marvel's Agents of S.H.I.E.L.D.
Here's what Matt Webb Mitovich had to say:
Episode 14 will introduce two recurring characters: an African-American agent who specializes in combat/weapons, and a high-level S.H.I.E.L.D. agent/munitions expert who has past ties to both Coulson and Ward.
It's unclear whether these two new characters will be part of the core team or not (our guess would be not), but it'll be nice to see the S.H.I.E.L.D. family expand beyond Nick Fury (Samuel L. Jackson), Maria Hill (Cobie Smulders) and Agent Blake (Titus Welliver) from the Marvel One-Shot short film Item 47 who recently appeared in the episode "F.Z.Z.T."
Marvel's Agents of S.H.I.E.L.D stars Clark Gregg as Agent Phil Coulson, Ming-Na Wen as Agent Melinda May, Brett Dalton as Agent Grant Ward, Chloe Bennet as Skye, Iain De Caestecker as Agent Leo Fitz and Elizabeth Henstridge as Agent Jemma Simmons.

STAR TREK NEWS
With the series' 50th anniversary hitting in 2016, work is already underway to bring a thirteenth (or third, depending on your interpretation of temporal mechanics) big screen Star Trek adventure to theaters. Although there's no guarantee yet that the project will hit for the golden anniversary celebration, the odds of that are looking a little better today as The Hollywood Reporter reveals that Patrick McKay and J.D. Payne will be joining the returning Roberto Orci. Orci's writing partner, Alex Kurtzman, the outlet says, will be sitting this one out.
Although the film does not yet have a director locked, recent reports have hinted that Attack the Block helmer Joe Cornish is high on the list of potential candidates.
Although McKay and Payne do not, as of yet, have a produced credit to their name, they have already worked with J.J. Abrams' Bad Robot Productions on Boilerplate: History's Mechanical Marvel, a planned adaptation of the book by Paul Guinan and Anina Bennett.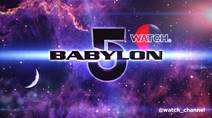 #FREE BABYLON 5
BABYLON 5 is back on TV and from the comments on the Watch site, people are enjoying the first season all over again. Episodes air daily at 5:00pm. If you are in the UK, dial up Watch (Sky 109/Virgin 124). Don't miss an episode.
Would you believe 118 comments for just the first day of showing the series! I sure hope someone takes notice. Be sure to use the @Watch_channel twitter handle and link to the Watch Facebook page when posting. http://watch.uktv.co.uk/shows.babylon-5.
Be sure to visit the the newFree Babylon 5 website. It is time to gather and support the show we know and love.
THE ZOCALO TODAY
Be sure to check out The Zocalo Today on Facebook as well as the ISN News Blog at ISN News Blog. SCIENCE FICTION NEWS STORIES:
Did you miss the news from yesterday -- or earlier in the week. Catch up by going to the News Archive. I have broken up the huge file into months to make it easier to load. It will bring you up to date for all that has been going on in the world of science fiction.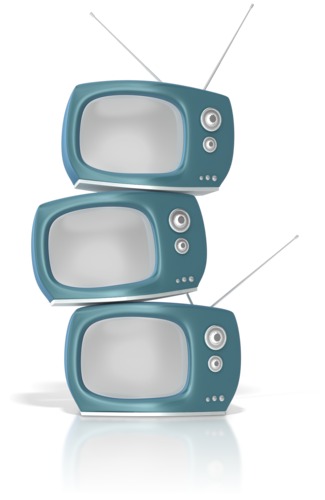 ON THE TUBE TONIGHT
8:00pm on ABC
Once Upon a Time Episode: The New Neverland NEW S03, E10
Pan's plan threatens the citizens of Storybrooke's joy over Henry's return; Snow and Charming spend their honeymoon searching for a mythical being that could stop Regina.

8:00pm on FX
Armageddon (1998)
A NASA rep recruits an oil driller and his team of mavericks to save Earth from an oncoming asteroid. Bruce Willis, Billy Bob Thornton, Liv Tyler, Ben Affleck, Will Patton

9:00pm on BBC America
Resident Evil: Apocalypse (2004)
Survivors of a deadly virus must fight their way through Raccoon City's legion of undead inhabitants. Milla Jovovich, Sienna Guillory, Oded Fehr, Thomas Kretschmann, Sophie Vavasseur

9:00pm on Syfy
Hulk (2003)
Scientist Bruce Banner transforms into a powerful brute after his experiment goes awry. Directed by Ang Lee. Eric Bana, Jennifer Connelly, Sam Elliott, Josh Lucas, Nick Nolte

10:00pm on CBS
The Mentalist Episode: Green Thumb NEW S06, E10
The FBI asks Jane to help find a missing computer programmer but he refuses to be brought in without Lisbon.
KEEPING UP WITH CAST AND CREW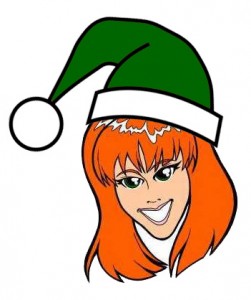 PENNY LANE: Pat Tallman (Lyta Alexander on Babylon 5) has labored on behalf of Penny Lane for years. Her BE A SANTA program has grown each year -- but so has the number of kids who need your help to have a "merry" holiday season. For more information about the BE A SANTA project, go to Be A Santa.

JMS AT WRITER'S GUILD - DECEMBER 17
Tue, December 17, 2013
7:15 PM - 8:30 PM

Though he's written drama like the Clint Eastwood-directed CHANGELING, J. Michael Straczynski is perhaps best known for his genre material. Straczynski - he goes by "Joe" - created the groundbreaking BABYLON 5 as well as the lesser-known-but-still-excellent JEREMIAH, contributed to the first THOR movie and the WORLD WAR Z script.
But that's not all. Joe also writes comics, like SUPERMAN, THE FANTASTIC FOUR and THE AMAZING SPIDER-MAN as well as his own titles like RISING STARS and MIDNIGHT NATION.
He'll meet us in the fabulous NerdMelt Showroom to chat about his work, his early history as an animation writer, and how he felt when BABYLON 5 was mentioned on BREAKING BAD.
For more information, go to Writer's Guild.

JMS-TEN GRAND #5
A four-page preview of Ten Grand #5, hitting stores Wednesday, with art by CP Smith! A chat in hell.... Ten Grand #5.


PROTECTORS TRAILER
Quick reminder: Protectors Inc. #1 hits stores this Wednesday with a free audio drama track. Here's the trailer for those who missed it.

READER'S CORNER
If anyone would like to submit reports from a convention they recently attended or items they would like to share with fellow Zocalo readers, please send them along to me at sgbruckner@aol.com. I will happily open up a new page for any submissions you care to send along.
BABYLON 5 20TH ANNIVERSARY BOOK
FIRST EVER BABYLON 5 BOOK PRINTED EXCLUSIVELY IN COLOR
Not just full color, but the actual colors of the sets, costumes and props. Extensive care was taken to ensure that the final pages precisely matched the color qualities of the original photographs, which were taken on set during production. B5-20 covers everything from the pilot through The Lost Tales.
For more information on this magnificant volume, go to b5books.com.




Here is a quote from J. Michael Straczynski about emotions.
I had this theory that the more important and intimate the emotion, the fewer words are required to express it.

First it's in dating: "Will you go out with me?" Six words.
"Honey, I care for you." Five words.
"You matter to me." Four words.
"I love you." Three words.
"Marry me." Two words.
But what's left? What's the one most important and intimate word you can ever say to somebody? It's "goodbye."

While Michael O'Hare (Sinclair), Andreas Katsulas (G'Kar), Rick Biggs (Dr. Franklin), Tim Choate (Zathras) and Jeff Conoway (Zach Allen) are no longer with us, we will not forget their wonderful personalities and talent -- as well as their significant contributions to the BABYLON 5 universe. Be sure to visit In Memory Of for more information about memorial efforts.
Until we met again, in a place where no shadows fall.
BABYLON 5 BIRTHDAYS
Mary Woronov (Kka'Dath) - December 8
Sarah Douglas (Jha'Dur) - December 12
Kim Holly - December 25
Dark Hoffman - December 28
John C. Flinn III - December 2 Have I missed anyone? If you know the birthday of someone connected with Babylon 5, pass the information along. We want to include everyone in our Happy Birthday Wishes.
ITEMS OF INTEREST
BATMAN: THE DARK KNIGHT RETURNS
Listen to the great soundtrack for this video.
"Batman: The Dark Knight Returns Deluxe Edition" arrived October 8, 2013 from Warner Bros. Home Entertainment as a Blu-ray Combo Pack and as a DVD.
This seamless combination of the heralded two-part "Batman: The Dark Knight Returns" is accompanied on the Blu-ray Combo Pack by several new bonus features, including a 70-minute Frank Miller retrospective, an all-new filmmaker commentary, four exclusive collector cards with never-before-seen artwork, and all of the extra content originally found on the original Part 1 & 2 releases.
Based on Frank Miller's celebrated graphic novel, the film finds the Dark Knight, along with new sidekick Robin, battling iconic villains, including Two-Face and The Joker. Beyond his longtime foes awaits a global catastrophe racing toward Gotham City, and with it comes a familiar face, Superman – though this time he has Batman in his sights. Witness this aging Dark Knight as he wages a tireless war against crime while proving that courage and will are indeed timeless. BABYLON 5 PRESENCE ON FACEBOOK
I know a lot of you are already on FaceBook. However, I don't know if you knew how many other Babylon 5 folks have taken the plunge and opened FaceBook accounts. In fact, Pat Tallman has reopened her Fan Club using FaceBook at the site. For a peek, go to http://www.facebook.com/group.php?gid=45593318387. Claudia Christian has been really active -- sharing pictures of her recent trips and letting us know about upcoming convention activities. J. Michael Straczynski (JMS) has a FaceBook page as well as a new "Fans of J. Michael Straczynski" page. So check it out!
BABYLON 5 MUSIC VIDEOS AND TRIBUTES
John Hudgens has created many Babylon 5 videos, but I believe this is the most moving. It was first shown at the Phoenix Comic Con 20th Anniversary and honors many of the Babylon 5 family who have passed on.

Here is a link to John's Babylon 5 videos:
https://www.youtube.com/user/Babylon5MusicVideos?feature=watch

Richard Biggs memorial: http://www.youtube.com/watch?v=HyD4L8yNtsA

Andreas Katsulas memorial: http://www.youtube.com/watch?v=h2UQ2l9NPIg

- This is the extended version that I did for Andreas' widow ater the original cut was released on the net. It's never been seen online until now.

For those of you who've never seen these, I hope you enjoy them - and for those that have (and emailed me many times over the years about releasing them), I hope they're as good as you remember. Working with Joe on these videos was one of the highlights of my career, and I'll be forever grateful to him for the doors these have opened for me. I'm proud to have them on my resume.

John Hudgens
www.zteamproductions.com
---





STEEL CITY CON
Dates: December 6-8, 2013
Place: Monroeville Convention Center, Monroeville, PA
Guests: Star Trek's George Takei, Terminator's Michael Biehn, Catherine Bach, Kyle Szymanski and more.
For more information, go to http://www.steelcitycon.com. SPACE CITY CON
Dates: January 3-5, 2014
Place: Galveston City, Texas
Guests: Claudia Christian, Mira Furlan, Bill Mumy. Peter Jurasik, Stephen Furst, Pat Tallman, Julie Caitlin Brown, Tracey Scoggins, Jerry Doyle, Bruce Boxleitner, Robin Atkin Downes
For more information, go to http://spacecitycon.com/.

FARPOINT
Dates: February 15-17, 2014
Place: Crowne Plaza, Baltimore, MD
Guests: Melissa McBride, others to be named shortly
For more information, go to Farpoint.

Star Trek Convention - Creation Entertainment
Dates: July 31 - August 3, 2014
Place: Rio Suites Hotel, Las Vegas, Nevada
Guests: WILLIAM SHATNER, KATE MULGREW, COLM MEANEY, WALTER KOENIG, NICHELLE NICHOLS, "ROM and NOG" as portrayed by Max Grodenchik and Aron Eisenberg, ANTHONY MONTGOMERY, JERRY HARDIN, TIM RUSS and MICHAEL FOREST. 87 plus more guests to come!
For more information, go to www.creationent.com/cal/st_lasvegas.html. SPECIAL ANNOUNCEMENTS!
Creation Entertainment has a large number of conventions planned for the next several months. They include stars from TWILIGHT, SUPERNATURAL, STARGATE, FARSCAPE, XENA, SERENITY, STAR TREK, etc. Check out their calendar to see if one will be in your neighborhood soon. Don't miss their Videos page as well. It is full of some priceless video from a number of conventions.

Be sure to visit the referenced sites to see if there have been changes in dates/guests attending. Visit our Convention Calendar for a full listing of upcoming conventions.
BACK ISSUES OF THE ZOCALO TODAY
The front page of the The Zocalo Today changes daily, so be sure to check the back issues to make sure that you haven't missed anything IMPORTANT! I hope you will become a regular visitor to The Zocalo Today!
---
Take care and I look forward to hearing from you.
Sandra Bruckner (sgbruckner@aol.com)
Editor/Publisher
ISN News: The Zocalo Today
http://www.isnnews.net
Copyright - SBruckner, 1999-2013