[an error occurred while processing this directive]

The Zocalo Today

Welcome! I am glad that you found The Zocalo Today and dropped by. Take your shoes off, get comfortable and stay a while. There is a LOT of information here and you won't want to miss any of it.

The Zocalo Today is an interactive newsletter, encouraging interaction with readers through a discussion topic each week. If you have suggestions as to how The Zocalo can be improved -- or be more responsive -- send them along. The Zocalo Today is as much YOUR newsletter as it is mine! I'm just pulling together things for you!

Join our weekly discussion topic. It is just one way you can interact with other Z readers. If you have other information you would like to share, send it along. If you see Babylon 5 cast and crew in other roles, let us know. We enjoy convention reports, photos, etc. Don't miss our back issues. I hope this will become more than just a newsletter. It's a community of people that enjoy sharing their experiences and interests. Don't be shy. Join us today!

If you have questions, drop me a line at sgbruckner@aol.com or thezocalo@aol.com. If you would like to join the mailing list for our bi-weekly newsletter, send me a note and I'll include you on the list. Or you can use the subscription block at the left.

Again, WELCOME!

Holiday Greetings!




What's New Today
Saturday, December 14: RATINGS: Top SF Network Shows: Alias 5.9; Touched by an Angel 5.0; Smallville 4.3; John Doe 4.0; Futurama 3.2; Buffy 3.2; Enterprise 3.1; Charmed 3.1; Firefly 2.9, and Angel 2.6. Source: Nielsen Galaxy Report, 11/11/02 - 11/17/02.
---
TREMORS: SCIFI is moving the premiere of its original series TREMORS: THE SERIES to March 2003 so producers can have more time to complete special effects. Originally scheduled to debut with the return of STARGATE SG-1 and FARSCAPE, a spokesman told SCI FI Wire that the effects were taking longer than anticipated and they decided to delay the launch of the series rather than cut any corners. Tremors, starring Michael Gross, is based on the popular 1990 movie of the same name and its two sequels. SCI FI has ordered 13 episodes of the show, which is currently filming in Baja California, Mexico. The series will center on the plucky residents of Perfection, Nev., and their ongoing battle against giant, underground-dwelling, odoriferous, man-eating worms and their mutant offspring.
---
FIREFLY: Drat, drat and double drat! FOX has decided to pull the plug on FIREFLY. Zap2It.com reports that "Firefly" will continue in production on its 14th episode through next week, completing the full order of 15 hours, but it is uncertain whether the three remaining unaired episodes will be seen on FOX. According to a 20th Century Fox spokesman, the three episodes will be put through post-production and completed. The spokesman also says that it's likely Whedon and his team at Mutant Enemy Productions will engage in talks to see if "Firefly" can find a new home.
---
X-MEN: Over at ComicsContinuum you'll find some great new pics of the latest X-MEN movie!
---
INSIDE SCIFI THIS WEEK:
Friday, December 13:
AUCTIONS OF INTEREST: Reuters reports that Christie's in London will auction four helmets used in the original Star Wars movie next week. The four items are a white stormtrooper helmet and an Imperial fighter pilot's helmet, both priced at around $4,700; an Imperial forces helmet; and a prototype rebel fighter pilot's helmet, priced at around $1,600 each. Also featured in the auction will be Pierce Brosnan's Omega watch from the James Bond film The World Is Not Enough and props from the original Alien film among 217 lots at auction on Dec. 17. Over at Sotheby's (a rival auction house), rare original manuscripts for Chitty Chitty Bang Bang, Ian Fleming's beloved children's story, sold for Ł29,290 ($46,250) in London on Dec. 12. Originally written as three stories, but published in 1964 under the name of Ian Lancaster as one, Chitty Chitty Bang Bang was an instant success and was made into a classic children's film in 1968. The buyer's identity has not been revealed. Planet Hollywood is also auctioning off some of it's large collection of show biz memorabilia. The items are to be sold at auction by Sotheby's and a portion of the material is available online at http://pages.liveauctions.ebay.com/catalogs/catalog3532.htmlthrough Monday. Among the items for sale online are a pike head from THE WIZARD OF OZ, a STAR TREK original series Klingon tunic costume, and one of STAR TREK: THE NEXT GENERATION's command tunics worn by Patrick Stewart as Captain Jean-Luc Picard, and lots more, including costumes from the 60's BATMAN television show, LOST IN SPACE, THE MUNSTERS, and a great deal of clothing from the great era of the studio system such as Jimmy Cagney's lime green suit from YANKEE DOODLE DANDY.
---
ALIAS: With the Super Bowl coming in January, one always wonders what it will do to the normal Sunday schedule! ABC announced that it will give ALIAS fans a treat and air an original episode after the Super Bowl on Jan. 26, 2003.
---
FIREFLY: Creator Joss Whedon talked to Cinescape about FIREFLY recently. This week, the episode, "Objects in Space" was written and directed by Whedon. Whedon says the episode focuses on a vicious bounty hunter out to capture the mysterious and dangerous River (Summer Glau). Next week, the two hour unaired pilot – also written and directed by Whedon – will finally see the light of day. This is the episode fans have been waiting all season for. "We don't know what's going to happen, but we're making the show as good as we can." What's important now, according to Whedon, is educating people beyond its core, loyal following, that the show is still out there and that tonight's episode and next week's two hour special pilot are great sample shows that will give new viewers a perfect introduction to how unique and different FIREFLY truly is.
---
NEW SCIFI MANAGEMENT: The Hollywood Reporter indicated that Mark Stern, producer and partner in Trilogy Entertainment for 15 years will be the new head of programming for Sci Fi Channel. As senior vp original programming, Stern will oversee all development and current programming at Sci Fi, which is riding high this month with the success of its 20-hour miniseries "Taken." As part of the job, however, Stern will also work with David Kissinger, head of Sci Fi's sibling Universal Television Prods. division, on developing science fiction-themed projects for other networks.
---
24: You think acting is easy? Over on the 24 set, they have had a rash of incidents. Kiefer Sutherland, star of the series, recently tripped while coming out of his trailer and damaged his kneecap, forcing him to walk with a cane. No rewriting has been required and Sutherland is expected to make a full recovery by January, when the show resumes production after the holiday break. Just before Sutherland's injury, Dennis Haysbert, who plays President David Palmer, broke his hand by slamming it on a desk during a dramatic scene. Fortunately, the hand did not require a cast, and Haysbert has continued to work as he recovers. Elisha Cuthbert, who plays Jack's daughter, Kim, had a scary experience early in November. She was set to do a scene with a cougar. During her introduction to the big cat, it bit her on the hand. Production was temporarily suspended as Cuthbert went to the hospital, but no stitches were needed. The actress did have to go back and shoot the scene, but not with the same feline co-star.
---
Thursday, December 12:
TAKEN: Steven Spielberg's TAKEN continues to set records at SCIFI. In fact, it brought the cable network it's first #1 rating in prime time for the week Dec. 2. The channel averaged a 2.8 rating (2.23 million households) during the week, while weekday premiere episodes of TAKEN averaged a 4.1. Including replays, TAKEN drew 23.5 million unique and unduplicated viewers, and averaged a 4.1 rating (3.25 million households) for the weekday premiere episodes. The Dec. 7 marathon of first-week Taken episodes averaged a 1.5 overall household rating (1.18 million households), the largest in the time period in the history of the channel. The 20-hour miniseries concludes this week.
---
GHOST RIDER: Nicholas Cage is a huge comic book fan and he has wanted to do a movie on GHOST RIDER for quite some time. He recently told SciFi Wire that Columbia may settle on a script for a GHOST RIDER movie early in the new year. An early script by Davod Goyer was viewed as too violent; a new script will aim for a PG-13 rating. Cage is in favor of that change. "The comic-book world is originally a world that was a fantasy place for children and younger people," he said. "By making it hard R, you'd alienate some of those younger people, who want to go to the movies and get lost in that world. So I can understand the argument for that." Cage was drawn to the film because of the hero's philosophical dilemma. "I always thought it was interesting: the concept of a character who's in the dilemma of making a deal with a negative force and then trying to do something positive with it," he said.
---
NEMESIS: With the Star Trek movie NEMESIS opening this weekend, IGN Force took the opportunity to talk with Brent Spiner about growing up in Houston, becoming an actor -- and being Data. Read the three-part interview at http://filmforce.ign.com/articles/379/379698p1.html.
---
STAR TREK VILLANS: With NEMESIS' premiere this weekend, there will be another to add to the ranks of top Star Trek villans -- Shizon. But movie writer David Germain has ranked the seven STAR TREK movie villains, and to no one's surprise, Ricardo Montalban's Khan Noonien Singh, tops the list. Number #2 goes to The Borg Queen, "Star Trek: First Contact" — Alice Krige. For the others listed, go to http://www.cinescape.com.
---
UPN DEVELOPMENT: UPN has signed a number of very well known names to development deals. Here are the ones that sound most interesting:
= "Kamelot": in which King Arthur is resurrected as a hip revolutionary who reigns supreme in a Camelot-like future society; from horrormeister Wes Craven.
= "3 Card Monte": about con artists who scam folks who deserve to be scammed; from Mel Gibson's Icon Prods.
= "Delta": about the military special ops team that joins forces with the CIA to thwart terrorists of all stripes. John Milius is writing, and executive producing with Mike Newell ("Donnie Brasco").
= "XXX" scribe Rich Wilkes is writing and co-executive producing an untitled project about a former con man who ends up the inhouse detective at a Hard Rock-like casino in Vegas.
= "The Edge": about two FBI academy grads and an undercover agent who solve crimes in a beach town on the U.S.-Mexico border.
= "Title 21": about undercover DEA agents working in Los Angeles.
---
Wednesday, December 11:
RATINGS: Top SF Syndicated Programs: Stargate SG-1 2.9; Mutant X 2.6; The X-Files 2.6; Andromeda 2.3; Buffy 2.3; 3rd Rock 1.8; John Edward 1.7; Beastmaster 1.6; The Lost World 1.4, and The Outer Limits 1.3. Source: Nielsen Galaxy Report, 11/11/02 - 11/17/02.
---
THE HULK: A new website for THE HULK movie is up and running. It has some terrific wallpaper and IM icons to use and will shortly have interviews and more graphics. The movie is set for release sometime in 2003.
---
BUFFY THE VAMPIRE SLAYER: Yesterday, there were reports that UPN is trying to lure Sara Michelle Gellar back for another season of BUFFY. Rumors indicate that the network could offer Gellar up to $750,000 an episode to renew her contract.
---
DAREDEVIL: You can get a preview of two songs that will be featured in the DAREDEVIL movie over at http://www.daredevilmusic.com/. The movie is set of premiere on February 14. The soundtrack will be available on February 4.
---
While the movie has yet to open, there are already plans for a sequel. Wizard Magazine talked to "Daredevil" director Mark Steven Johnson, who revealed his plans for a sequel. "I've been thinking about [the sequel]. Because the studio has been asking me about it too," says Johnson. ""Part of me would want to do [famous Daredevil storyline] 'Born Again', where the Kingpin comes back and gets his revenge and just takes Matt Murdock's life apart. But I don't think that would be enough, quite frankly. After Bullseye and Elektra and the Kingpin, you'd have to introduce who's next, who's the new person in the story...I think there is a version of a Mr. Fear that could be really cool for film, that could be really spooky and scary...The idea of the Man Without Fear who meets a man who can release the fear inside you - that's a great idea."
---
GODS AND GENERALS: A new trailer is out for GODS AND GENERALS, a new Civil War movie by Ted Turner. Bruce Boxleitner portrays General Longstreet and can be seen next to Robert Duvall in one of the closing segments of the trailer. Don't miss him -- he has a full beard! I believe this movie is to be released in February of 2003.
---
SMALLVILLE: Over at Kryptonsite.com Jeph Loeb talks about an upcoming SMALLVILLE episode entitled "Insurgence". Be warned, there are plenty of spoilers there!
---
NEW ABC SHOWS: On January 27, ABC will premiere three dramas -- a couple may be of interest. "Veritas: The Quest" (8 p.m. to 9 p.m., ET) an action-adventure drama that chronicles a father and son's archaeological journeys. The new series is produced by Touchstone Television in association with Storyline Entertainment and Massett/Zinman Productions. (Sound like Indiana Jones to you?) Next is "Dragnet" (9 p.m. to 10 p.m.) a modern-day version of the classic police drama. Lastly, there is "Miracles" (10 p.m. to 11 p.m.), which follows an investigator of modern miracles. The new series is produced by Touchstone Television in association with Spyglass Entertainment.
---
Tuesday, December 10:
ANGEL: Sean Astin is taking on some very different roles from those in LORD OF THE RINGS. He is not only joining the cast of JEREMIAH, he is going to direct an upcoming episode of ANGEL entitled "Soulless". Astin said in an interview, "On some level I felt like I had arrived. I was driving onto the Paramount lot, and I was a director. When we went on location, right before I got to the house we were shooting at, I saw this huge line of trucks and the catering tent and I thought, 'Hey.' I'd look at the slate, and it said, 'Director: Sean Astin.' I went, 'Wow, really cool.' But it was hard. It was a lot harder than I thought it was going to be. It's a very specific challenge, directing episodic television, and I was fortunate enough, ... right after doing Lord of the Rings, [to] observe Alex Graves on The West Wing for a week and to observe Alan Ball for a week on Six Feet Under and to observe Richard Lewis on C.S.I. I literally just sat there on the sets, watching these directors work and trying to get to know the powers-that-be so I could maybe get a slot on one of those shows. It's a very unique beast. It was fascinating and challenging, and I look forward to doing more of that if I can."
---
BIRDS OF PREY: Despite a couple of pre-emptions caused by the holidays, fans will be treated to back-to-back episodes of BIRDS OF PREY on January 8th. Two all-new original episodes will air in the 8:00-10:00 pm timeslot, allowing the series to wrap up by mid-January as proposed. The schedule will go like this :
December 11th : Sins of the Mother
December 18th : Nature of the Beast
December 25th : Pre-empted for Christmas
January 1st : Pre-empted for New Year's Day
January 8th : Gladiatrix; Reunion
January 15th : Possible Two-Part Finale
---
DEAD ZONE: January will not only bring a new year -- it will bring back a number of series that have been on hiatus. THE DEAD ZONE will return to the USA Network at 10 p.m. ET/PT Jan. 5, 2003 and SCIFI Jan. 17 at 7pm ET/PT. This very popular series is based on characters from the Stephen King novel of the same name. Anthony Michael Hall stars as Johnny Smith, a young man who emerges from a six-year coma with second sight. The season finale was a striking one -- Johnny sees visions of Armageddon. Sean Patrick Flanery (The Young Indiana Jones Chronicles) returns as Greg Stillson, a ruthless congressional candidate backed by Reverend Purdy (David Ogden Stiers) that Johnny is investigating. It will be interesting to see where this series leads.
---
SMALLVILLE: The WB is sponsoring an eBay charity auction of autographed items from SMALLVILLE. Proceeds will go to benefit Children Now and the National Wildlife Federation. The auction runs through Dec. 16 and includes items modeled on real props from the series. These include Smallville High School T-shirts, jackets, backpacks and baseball caps, autographed by one or more Smallville stars, including Tom Welling, Kristin Kreuk or Michael Rosenbaum. This auction also features Clark Kent's SHS class ring, as worn by Welling on the show.
---
CHRISTOPHER LEE: VARIETY reports that Christopher Lee will be made an officer of the French Academy of Arts and Letters in Paris on Tuesday. Lee is currently starring in LORD OF THE RINGS, which premiered in Paris on Monday.
---
MAD MAX: Mel Gibson will be returning as MAD MAX for a fourth time! The $104 million project, called "Fury Road," will start shooting in Australia next May. The project is set up at Twentieth Century Fox and will be directed by George Miller, who directed and co-wrote the first three films, and has been crafting the "Fury" script for the past three years.
---
Monday, December 9:
RATINGS: Top 10 SCIFI Channel Shows: Sabretooth 2.0; Creature 1.5; Stargate SG-1 1.4; Primal Force 1.2; Spiders 1.1; Arachnid 1.1; They Nest 1.0; Terminal Invasion 0.9; Wolfen 0.9, and The X-Files 0.8. Source: Nielsen Galaxy Report, 11/11/02 - 11/17/02.
---
WEEKEND BOX OFFICE: DIE ANOTHER DAY regained the #1 spot this week, bringing in an estimated $13 million. Here are the early estimates: 1. DIE ANOTHER DAY, $13.0 million this weekend, $120.4 million since opening; 2. ANALYZE THAT, $11.3 million in this opening weekend; 3. HARRY POTTER AND THE CHAMBER OF SECRETS, $10.0 million this weekend, $213.9 million since opening; 4. EMPIRE, $6.3 million in this opening weekend; 5. TREASURE PLANET, $5.7 million this weekend, $23.8 million since opening; 6. THE SANTA CLAUSE 2, $5.4 million this weekend, $120.2 million since opening; 7. ADAM SANDLER'S 8 CRAZY NIGHTS, $5.2 million this weekend, $20.4 million since opening; 8. FRIDAY AFTER NEXT, $2.8 million this weekend, $29.1 million since opening; 9. 8 MILE, $2.6 million this weekend, $111.2 million since opening, and 10. THE RING, $2.5 million this weekend, $123.3 million since opening.
---
TARZAN: There is yet another TARZAN on the horizon. The WB Network has brought David Nutter on board to direct a pilot tentatively titled "Tarzan". This new contemporary take on Edgar Rice Burroughs' enduring tale of Lord Greystoke revolves around Tarzan as a young man who, years after he witnessed the murder of his parents in Africa, is brought back from the jungle to his childhood home, New York, by his uncle, the head of powerful Greystoke Enterprises. The WB project will center on Tarzan's struggle to reacquaint himself with the customs of the modern world and his relationships with his uncle, his love interest, Jane, and a fiery NYPD detective. Eric Kripke wrote the script for the pilot, which Laura Ziskin will executive produce with David Gerber and Nutter.
---
ANGEL: Fans of ANGEL will remember Glenn Quinn, who played the visionary half-demon Doyle on the first season of the show. He died on Tuesday of a possible drug overdose. Quinn appeared in the first nine episodes of "Angel" in 1999, playing a half-human, half-demon whose visions of people in distress directed Angel's (David Boreanaz) investigations into the demon underworld of Los Angeles. In his last appearance, Doyle sacrifices his life for the greater good, passing on his visions to Cordelia (Charisma Carpenter). Angel's Co-creator Joss Whedon said Doyle's death was planned from the start of the series. He was replaced by Wesley Wyndham-Price (Alexis Denisof), a character who, like Angel and Cordelia, characters who originated on Whedon's "Buffy the Vampire Slayer."
---
TAKEN: SCIFI's TAKEN miniseries drew 6.1 million viewers, a record for the basic-cable network. Although audiences dropped between 15% and 30% for three follow-up episodes, Taken is roughly quadrupling Sci Fi's usual ratings. Late-night rebroadcasts of the films, which follow three families' extraterrestrial experiences over six decades, also performed well. "They're the highest ratings we've ever had," Sci Fi president Bonnie Hammer says.
---
THE WORLD OF TOMORROW: According to the Hollywood Reporter, Jude Law and Gwyneth Paltrow will star in the big-budget science fiction film "The World of Tommorow". Set at the turn of the 20th century, it follows a reporter (Paltrow) and pilot (Law) who team up on an adventure. It shoots in London late Feb.
---
Sunday, December 8:
FIREFLY: So far, FIREFLY has been the show that people really like -- but few watch! Go figure. Joss Whedon has pulled together a very creative show, but the ratings have been poor. Luckily FOX has stuck with it, having recently ordered up two more episodes, but it would really help if the ratings rose a little! Joss & the cast of FIREFLY talked to SciFi Wire about the show's survival http://www.scifi.com/sfw/advance/02_interview.html. Let's hope that FOX continues their support and FIREFLY finds it's audience. I really like this show -- and the more episodes I see, the more it has grown on me. For some reason, it reminds me of Babylon 5. Perhaps it could also become the little show that could!
---
BILL MUMY: While wandering about yesterday, I visited Bill Mumy's website and discovered a beautiful eulogy he gave at Jonathan Harris' funeral last month. You may want to read through it as well at www.billmumy.com.
---
CLAUDIA CHRISTIAN: According to Claudia's website, she will be contributing commentary on the upcoming DVDs for Season 2-4!
---
CODE 46: Here's a confusing plot for an upcoming movie! The Hollywood Reporter indicates that Tim Robbins and Samantha Morton have signed to lead the cast of CODE 46, a sci fi romance thriller which begins production in January in London. The stars' characters have a love affair but are forced to run when authorities find out that she is a clone of his mother.
---
SPIDERMAN: On December 15, fans of "Spider-Man" will get an inside look at the blockbuster film when they take part in the world premiere online event, "The Spider-Man DVD-ROM Online Theatre". The event will begin at 7:30 p.m. EST. Presented by Columbia TriStar Home Entertainment and Cingular Wireless, the event will be streamed using Windows Media. This online exclusive incorporates playback of the "Spider-Man" feature film from a participant's PC DVD-ROM drive with a streamed online audio commentary in Windows Media featuring the film's star, Spider-Man himself, Tobey Maguire, and J.K. Simmons, who played J. Jonah Jameson, editor of the Daily Bugle. The commentary portion of the event will start at 8 p.m. EST, and is only available to those who have the "Spider-Man" DVD in their PC-ROM drive at that time. For more details on the event, go to http://www.zap2it.com/movies/news/story/0,1259,---14668,00.html.
---
BABYLON 5 DVDs
News on Season Two DVD:
JMS wrote this in the B5 moderated newsgroup recently:
Interviews for year 2's DVD have been set, or already conducted, with Stephen Furst, Andrea Thompson, John Iacovelli, Anne Bruice-Ailing, Jerry, Claudia, Bruce, me, John Copeland, Doug Netter and others. In addition, I'll be doing commentaries on "The Coming of Shadows" and "The Fall of Night," and there will be a bonus group commentary by Bruce, Claudia and Jerry on "The Long, Twilight Struggle." There's talk about a special musical sequence for the season 3 DVD, with Chris re-scoring 2-3 episodes end to end with non-stop music, future segments on "The Future According to Babylon 5" with NASA and JPL guys (btw, James over at a certain House subcommittee, if you're reading this and could drop me a note, that'd be great). I'd like to see the final bonus section on year 5 be about the fans of the show. Point being...they're putting a LOT of energy and work into this to make each set better than the one before.
Season One DVD
The long awaited Season One of BABYLON 5 is now available on DVD. The 6-disc set is loaded with extras, including commentaries by series creator, J. Michael Straczynski. You can pre-order the DVD over at www.babylon5.com for $79.95. Warner Home Video has extended their "Free Shipping" deadline thru November 30th. For a preview of a few of the extras available on this wonderful DVD set, WB has given me permission to post a number of trailer streams (they are in Windows Media, Real Media and Quicktime formats). Go to Extras to hear Joe, Rick Biggs, Jerry Doyle, Stephen Furst and others talk about their time on Babylon 5. Use this link to read the Press Release from WB. Here's the latest from The WB on distribution of the DVD sets: Babylon 5 season 1 has already been released in Europe. The Gathering will be available in Europe in January. Season 2 will be available in Europe in May, and season 3 in September. Babylon 5 Seasons 1,2 & 3 do in fact have worldwide rights, but the other international territories (Latin America, Japan and Asia) are not releasing...for now.
WHAT'S ON TODAY
On SCIFI today: Did you miss Steven Spielberg's TAKEN? You can watch the first 5 installments today beginning at 11:00am. The first 6 episodes of the series will run through 11:00pm tonight. 11:00 AM STEVEN SPIELBERG PRESENTS TAKEN PART 1 - BEYOND THE SKY (LBX)
1:00 PM STEVEN SPIELBERG PRESENTS TAKEN PART 2 - JACOB AND JESSE (LBX)
3:00 PM STEVEN SPIELBERG PRESENTS TAKEN PART 3 - HIGH HOPES (LBX)
5:00 PM STEVEN SPIELBERG PRESENTS TAKEN PART 4 - ACID TESTS (LBX)
7:00 PM STEVEN SPIELBERG PRESENTS TAKEN PART 5 - MAINTENANCE (LBX)
9:00 PM STEVEN SPIELBERG PRESENTS TAKEN PART 6 - CHARLIE AND LISA (LBX) On Syndicated TV this weekend: Mutant X
Power Play
The team battles a maniacal military man (Stephen McHattie) who is threatening to blow up a nuclear facility while also trying to gain possession of Xiraxium, a dangerous radioactive compound. Meanwhile, Jesse develops a serious problem: If he phases out, he may not be able to phase back in again. Gene Roddenberry's Andromeda
The Shards of Rimmi
Framed for murdering Konstantine, Dylan goes on the lam, with Harper in tow, to figure out who wants him out of the picture and why. Stargate SG-1
Ascension
After arriving on an alien planet, Carter passes out and awakens in the company of a strange new friend. Buffy the Vampire Slayer
Pangs
A Chumash Indian spirit named Hus is freed on Thanksgiving by a construction crew and goes forth to seek revenge on Sunnydale for past wrongs against his people. Meanwhile, Angel secretly slips into town to keep a watchful eye on Buffy after his friend Doyle has a vision that she may be in danger.
BABYLON 5 CHRONOLOGY
Terry Jones has updated the tremendous Babylon 5 chronology and we will post it here in segments, beginning with the INTRODUCTION TO THE BABYLON 5 CHRONOLOGY. New segments will be added over the next few weeks, so stay tuned. Another section of the wonderful Babylon 5 Chronology is available for your enjoyment. Go to In TheBeginning for Section 1.1 The Distant Past. A BIG THANK YOU and note appreciation goes to Terry for taking the time (and considerable effort) to pull the chronology together -- and for updating it to include CRUSADE, the novels and other relevant Babylon 5 material. THANKS TERRY!
DISCUSSION TOPIC:
A number of you have sent in responses to last week's topic -- favorite season one episode, so let's see what you thought of season two. What episode stands out for you there? Send in your favorite first season episode to thezocalo@aol.com. I am catching up with the topic responses submitted this week, so keep an eye out to see what others thought about season one and other topics as well. The Discussion Page will have it all.
JEREMIAH ON SHOWTIME - FRIDAY AT 10:50PM
12/13/02
Jeremiah: Man of Iron, Woman Under Glass
Written by: J. Michael Straczynski
Directed By: Brett Dowler Jeremiah and Kurdy encounter Captain Iron - a most unlikely hero - while Erin reluctantly spies on Markus and uncovers a dangerous secret.

Cameras are rolling on the second season of JEREMIAH. Comics2Film reports that the crew has filmed three episodes of the hit show already. The cast has expanded to include Sean Astin (Lord of the Rings: The Two Towers) and Joanne Kelly (Mutant X). Showtime has not yet scheduled a timeslot or premiere date. JMS has added these titles for upcoming episodes:
The season debut is "Letters From the Other Side," parts one and two, followed by "Strange Attractors," "Deus Ex Machina," "Rites of Passage," and "The Mysterious Mister Smith." JEREMIAH SCHEDULE AHEAD:
12/20/02
Jeremiah: And The Ground ... Sown With Salt

12/27/02
Jeremiah: To Sail Beyond The Stars

For more information about this episode and the entire series, be sure to visit www.sho.com/jeremiah.

For those of you who want to keep up on what is going on with Jeremiah, Ranger Monica has started up a Jeremiah newsletter. Please go to http://groups.yahoo.com/group/jeremiah-news/ and subscribe. Monica also has a very nice Jeremiah site so don't forget to bookmark that as well.
KEEPING UP WITH CAST AND CREW
RICHARD BIGGS: Richard was in the series ANY DAY NOW for quite a while. The series is running on A&E now so check your local listings.
---
ANDREA THOMPSON: Ranger John reports that TNT is showings of the NYPD Blue episodes with Andrea Thompson now. They are on at 1:00 and 2:00 (EST) each afternoon.
---
PETER WOODWARD: Peter's feature CONQUEST will be airing after the Mail Call show in the 10:30pm timeslot on the History Channel. His feature MASADA will air on December 16, also on the History Channel. Be sure to check out Peter's website at www.peterwoodward.com.
---
CLAUDIA CHRISTIAN: Just a girl who wants to have fun! Yes, Claudia was over in Britain recently and had a ball with friends at Pages Bar. For a peek at photos go to http://homepages.poptel.org.uk/steve.rogerson/claudia.html.
---
PETER JURASIK: Want to learn more about Peter Jurasik. There is a lot to this guy who played so marvelously the role of Londo Mollari. Over at http://filmforce.ign.com/articles/377/3777726p1.html you can read about Peter's early career and how he came to the role of Londo. It's a great interview.
---
JASON CARTER: Behind the Red Door (with Jason Carter, Kiefer Sutherland, Stockard Channing, and Kyra Sedgwick) will air on Showtime in January 2003. The plan is to release it with the parent company's AIDS awareness and education event. Thanks Ranger Jo-el for the update.
---
STEPHEN FURST: If you have been wondering what Stephen Furst has been up to since the end of Babylon 5, catch the interview Done by IGN at FilmForce.IGN.com.
---
BABYLON 5 BIRTHDAYS
Mary Woronov (Kka'Dath) - December 8
Sarah Douglas (Jha'Dur) - December 12
Kim Holly - December 25
Dark Hoffman - December 28
John C. Flinn III - December 28 Have I missed anyone? If you know the birthday of someone connected with Babylon 5, pass the information along. We want to include everyone in our Happy Birthday Wishes.
READER DIRECTORY
Sometimes you just can't find the e-mail address for someone you know you have -- it's someone who responded to a discussion topic or you met in one of the chat rooms. You'd like to send a personal note, but .... No address!!!!

We've started a White Pages of Zocalo Readers! It's a handy way of keeping track of people -- and putting together a birthday/greeting card list as well. If you would like to be part of the listing, just send me your name, state, e-mail address and (if you'd like to have it listed) birthday (without year) to sgbruckner@aol.com. Check out the Directory of Readers.

HAPPY BIRTHDAY READERS

Here are some of our readers who are having birthdays this month:

Name: Brenda Gallagher
E-mail address: brenda_birch@hotmail.com
Birthday: December 5th

Name: Gary Magid
State: Michigan
Email: SCIFIREAD@aol.com
Birthday: December 10

Don't see YOUR birthday here? That's easy to remedy. Send your birthdate along to me and I'll post it with others in our directory.
BE A SANTA
For years, Pat Tallman has worked with the wonderful people at PENNY LANE, a home for abused children, making their lives a bit brighter -- and probably helping the kids make some better life choices! Christmas time is special for everyone -- and you can help make it special for the kids at PENNY LANE. Drop over to http://www.thegalacticgateway.com/pl/ and see what items are needed. Like all kids, they want music, clothes, books. Help make this year a special one! Share your blessings with someone this year -- BE A SANTA.
---
UNIQUE CHARITY ITEM
Ten popular science fiction actors have donated their time, images and autographs for an exclusive photograph, the proceeds of which will go to charity. For sale through the actors themselves and at , the limited-edition photo is in color, edged in white and ready to place in an 11X14 frame, and handsigned. Each of the 1,000 limited edition photos comes embossed with a seal of authenticity and numbered. The photograph is now available for a pre-sale price of $100. After Sept 11, 2002, the price will go up to at least $125.00. Among the charities to benefit will be the Penny Lane home for abused children in Los Angeles, and various September 11 funds. The actors hope to raise more than $100,000 through the charity project. The Penny Lane Home is a residential facility for children who have been severely abused, physically, emotionally and sexually. Many have "fallen through the cracks" of the social service outreach programs, and Penny Lane is their last chance at escaping the abuse. Actors in the photo include: Patricia Tallman, known best for her roles as Lyta Alexander in Babylon 5 and Barbara in Night of the Living Dead (1990) Vaughn Armstrong, who has portrayed more guest star aliens on Star Trek:TNG, DS9 and Voyager than any other actor in Star Trek history. Currently, he holds the recurring role of Admiral Maxwell Forrest on Enterprise, as well as at least eight other Guest Starring roles on board the new Trek series to date. Stephen Austin portrayed many bizarre alien creatures on Babylon 5. His most notable was the lovable Pak'ma'ra Ambassador. David Brooks is an accomplished artist as well as actor. He is best known to the sci fi community as Max Eilerson on the Babylon 5 spin off, Crusade. Jeffrey Willerth portrayed Ambassador Kosh and was Associate Producer of Babylon 5 Robin Atkin Downes, best known for his role of Byron in Babylon 5 Carrie Dobro, Dureena Nafeel in Crusade. Tim Choate was extremely popular on B5 as Zathras (and his brothers, all named Zathras). He also portrayed Pollack on Crusade. Beata Pozniak appeared as Babylon 5's Earth Alliance President Luchenko. Ed Wasser, the evil Mr. Morden on Babylon 5. As a special promotion, the first 100 orders will receive a special gift: former Star Trek stunt coordinator, Dennis Madalone, has donated 100 copies of his single, "America, We Stand As One," to say thank you to the science fiction fans who purchase the charity photograph. To order the photo online, go to http://www.thegalacticgateway.com, click on shop, and search on the word charity.
COMIC BOOK WORLD
AMAZING SPIDERMAN: Amazing Spider-Man #46 will arrive in stores on Wednesday from Marvel Comics. The issue is written by J. Michael Straczynski, with art by John Romita Jr. and Scott Hanna and a cover by Frank Cho. Amazing Spider-Man #46 will be 32 pages and will cost $2.25. CSI: CRIME SCENE INVESTIGATIONS
The first issue of IDW Publishing's CSI: CRIME SCENE INVESTIGATION mini-series – based on the CBS television series -- will hit stands in January with two covers. Each of the five issues will ship with two covers: a regular edition by Ashley Wood and a "secret rare" photo cover that will showcase one actor per issue. IDW Publishing has not announced the number of "secret rare" covers they will produce but the covers will be distributed randomly throughout the entire print run. The first issue also features an exclusive interview with William Petersen discussing his role as Gil Grissom. The CSI: CRIME SCENE INVESTIGATION mini-series will be written by Max Allan Collins, with art by Gabriel Rodriguez. Wood draw flashback and forensic sequences of the story.

RISING STARS: VISITATIONS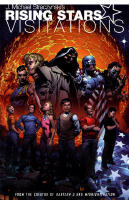 Rising Stars TPB: Visitations will arrive in stores on Wednesday from Image Comics. The issue is written by J. Michael Straczynski, penciled by Gary Frank, Christian Zanier and Keu Cha, inked by Jason Gorder and Livesay and colored by Liquid!, Matt Nelson, John Starr and Brett Evans. The issue is described as: "Collected together for the first time are some of J. Michael Straczynski's most sought after Rising Stars stories. Including the rare zero issue with an additional 6-page story illustrated by Gary Frank, the limited 1/2 issue, and the very first Rising Stars Preview issue. Plus, added sketches and an all-new cover by Brent Anderson."
---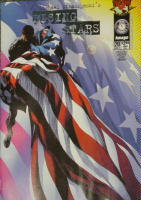 RISING STARS: #20 The latest issue is on stands now. Speaking of RISING STARS, Volume #1 of the series has been out for a while. Volume #2 is now available. If you missed any of the single issues of the series, you'll want to pick up the graphic novels that include 8 issues in a single bound copy.
---
SCI FI PUBLICATIONS
Cult Times #87: While Rick Berman talks Enterprise in this issue, you'll also find J. Michael Straczynski discussing season two of JEREMIAH and John Shea talking about changes for season two of MUTANT X. Though the show was cancelled, fans will enjoy Ralph Hemecker's look at season two.







Starburst #293: This timely issue comes out just as Lord of the Rings will hit theaters. Starburst talks to Elijah Wood and the battle of Helm's Deep. Marina Sirtis talks about her NEMESIS experience, including screen weddings, theatrical villains and future Next Generation voyages.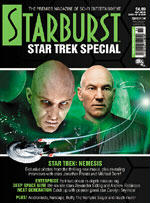 Starburst Special #54: This special Star Trek issue looks at NEMESIS, the latest -- and last -- journey of the Enterprise. Jonathan Frakes talks about Ryker and his new project THUNDERBIRDS. We'll also get to hear from Michael Dorn and a couple of DS9 folk -- Alexander Siddig and Andrew Robinson.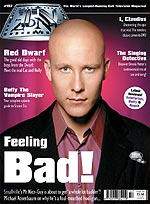 TV Zone #157: Bald is Beautiful -- and Sexy! Michael Rosenbaum talks about being Lex Luthor on the series and some things you won't see on the show. This issue includes a full episode guide for Season 6 of Buffy the Vampire Slayer and reviews for shows like Andromeda, Enterprise, Smallville -- and merchandise -- including the B5 DVD Box Set!







Expose #74: Emma Clulfield, Anya from Buffy the Vampire Slayer, is featured in this issue. Will this season be Buffy's last? Also in this issue, features on Harry Potter and the Chamber of Secrets and Die Another Day -- the latest James Bond feature.
BABYLON 5 BOOK OF QUOTES
For all those who submitted quotes and experiences to the Babylon 5 Book of Quotes, word from JMS is that the book, plus emails and suggestions, is being compiled now, and they're targeting February, the 10th anniversary of B5, for the publication date.
SCI-FI SCHEDULE
BABYLON 5 SCHEDULE: 06-JAN-03 4:00 PM BABYLON 5 (LBX)
07-JAN-03 4:00 PM BABYLON 5 (LBX)
08-JAN-03 4:00 PM BABYLON 5 (LBX)
09-JAN-03 4:00 PM BABYLON 5 (LBX) STARGATE SCHEDULE: 16-DEC-02 7:00 PM STARGATE: SG-1 SPIRITS
16-DEC-02 8:00 PM STARGATE: SG-1 TOUCHSTONE
16-DEC-02 9:00 PM STARGATE: SG-1 THE FIFTH RACE
16-DEC-02 10:00 PM STARGATE: SG-1 A MATTER OF TIME
16-DEC-02 1:00 AM STARGATE: SG-1 SPIRITS 17-DEC-02 1:00 AM STARGATE: SG-1 TOUCHSTONE
18-DEC-02 1:00 AM STARGATE: SG-1 THE FIFTH RACE
19-DEC-02 1:00 AM STARGATE: SG-1 A MATTER OF TIME
23-DEC-02 7:00 PM STARGATE: SG-1 HOLIDAY 23-DEC-02 8:00 PM STARGATE: SG-1 SERPENT'S SONG
23-DEC-02 9:00 PM STARGATE: SG-1 ONE FALSE STEP
23-DEC-02 10:00 PM STARGATE: SG-1 SHOW AND TELL
23-DEC-02 1:00 AM STARGATE: SG-1 HOLIDAY 24-DEC-02 1:00 AM STARGATE: SG-1 SERPENT'S SONG

30-DEC-02 7:00 PM STARGATE: SG-1 1969
30-DEC-02 8:00 PM STARGATE: SG-1 OUT OF MIND
30-DEC-02 9:00 PM STARGATE: SG-1 INTO THE FIRE
30-DEC-02 10:00 PM STARGATE: SG-1 SETH
02-JAN-03 1:00 AM STARGATE:SG-1 SETH
03-JAN-03 9:00 PM STARGATE:SG-1 PROMETHEUS -PT 1
03-JAN-03 10:00 PM STARGATE:SG-1 ALLEGIANCE
03-JAN-03 11:00 PM STARGATE:SG-1 PROMETHEUS -PT 1
03-JAN-03 12:00 AM STARGATE:SG-1 THE CURE
03-JAN-03 1:00 AM STARGATE:SG-1 ALLEGIANCE
06-JAN-03 7:00 PM STARGATE:SG-1 FAIR GAME
06-JAN-03 8:00 PM STARGATE:SG-1 LEGACY
06-JAN-03 9:00 PM STARGATE:SG-1 LEARNING CURVE
06-JAN-03 10:00 PM STARGATE:SG-1 POINT OF VIEW
06-JAN-03 1:00 AM STARGATE:SG-1 FAIR GAME
07-JAN-03 1:00 AM STARGATE:SG-1 LEGACY
08-JAN-03 1:00 AM STARGATE:SG-1 LEARNING CURVE
09-JAN-03 1:00 AM STARGATE:SG-1 POINT OF VIEW
10-JAN-03 9:00 PM STARGATE:SG-1 UNNATURAL SELECTION -PT 2
10-JAN-03 11:00 PM STARGATE:SG-1 UNNATURAL SELECTION -PT 2
13-JAN-03 7:00 PM STARGATE:SG-1 DEAD MAN SWITCH
13-JAN-03 8:00 PM STARGATE:SG-1 DEMONS
13-JAN-03 9:00 PM STARGATE:SG-1 RULES OF ENGAGEMENT
13-JAN-03 10:00 PM STARGATE:SG-1 FOREVER IN A DAY
13-JAN-03 1:00 AM STARGATE:SG-1 DEAD MAN SWITCH
14-JAN-03 1:00 AM STARGATE:SG-1 DEMONS
15-JAN-03 1:00 AM STARGATE:SG-1 RULES OF ENGAGEMENT
16-JAN-03 1:00 AM STARGATE:SG-1 FOREVER IN A DAY
17-JAN-03 9:00 PM STARGATE:SG-1 SIGHT UNSEEN
17-JAN-03 11:00 PM STARGATE:SG-1 SIGHT UNSEEN
20-JAN-03 7:00 PM STARGATE:SG-1 PAST AND PRESENT
20-JAN-03 8:00 PM STARGATE:SG-1 JOLINAR'S MEMORIES -PT 1
20-JAN-03 9:00 PM STARGATE:SG-1 THE DEVIL YOU KNOW -PT 2
20-JAN-03 10:00 PM STARGATE:SG-1 FOOTHOLD
20-JAN-03 1:00 AM STARGATE:SG-1 PAST AND PRESENT
21-JAN-03 1:00 AM STARGATE:SG-1 JOLINAR'S MEMORIES -PT 1
22-JAN-03 1:00 AM STARGATE:SG-1 THE DEVIL YOU KNOW -PT 2
23-JAN-03 1:00 AM STARGATE:SG-1 FOOTHOLD
24-JAN-03 9:00 PM STARGATE:SG-1 SMOKE AND MIRRORS
24-JAN-03 11:30 PM STARGATE:SG-1 SMOKE AND MIRRORS
27-JAN-03 7:00 PM STARGATE:SG-1 PRETENSE
27-JAN-03 8:00 PM STARGATE:SG-1 URGO
27-JAN-03 9:00 PM STARGATE:SG-1 A HUNDRED DAYS
27-JAN-03 10:00 PM STARGATE:SG-1 SHADES OF GREY
27-JAN-03 1:00 AM STARGATE:SG-1 PRETENSE
28-JAN-03 1:00 AM STARGATE:SG-1 URGO
29-JAN-03 1:00 AM STARGATE:SG-1 A HUNDRED DAYS
30-JAN-03 1:00 AM STARGATE:SG-1 SHADES OF GREY
31-JAN-03 9:00 PM STARGATE:SG-1 PARADISE LOST
31-JAN-03 11:30 PM STARGATE:SG-1 PARADISE LOST
BABYLON 5/CRUSADE PHOTOSHOP PHOTOS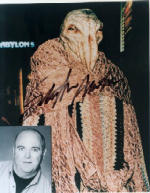 You do NOT have to pay the prices asked for over at e-bay! Here are photos of B5 and Crusade cast members at fantastic prices. Check out Photo Shop. Ordering is easy -- and you can't beat the prices! Just let me know which photos you want and I'll check to make sure they are still in stock.
---
BABYLON 5 TOONS
John Cook has a new cartoon contest going. Try your hand at a punch line.



NEW B5 TOON
Ranger Bill created this toon for his website www.wondertemp.com, but wanted to share it with readers here at the Zocalo. Thanks Bill.



BABYLON 5 REFERENCE PAGES
The Official Babylon 5 Magazine is indexed here as well. With the closure of the magazine in May, you'll want to see which magazines you have -- and which ones you will want to collect. The index may help you make a decision on which ones to choose. The Fan Club has many of the issues at thestation.com , making it very easy to complete your collection.

Universe Today -- the Babylon 5 Fan Club quarterly can also be found here. The index gives you a rundown of what articles were presented, what interviews published.

If you have magazines that have featured Babylon 5 or Crusade that are not listed, send along their issue number and a note to indicate what the article was about. It would be nice to have a fairly comprehensive listing of Babylon 5 publications here.

I have added a listing of all the Babylon 5 novels and now the B5 comic books to the reference page. If there are other items that you feel should be included, let me know.
BABYLON 5 COMMUNITIES
CHAT GROUP:
Ranger Renee reports that she has a Babylon 5 chat group (for those of you over 30) at http://groups.msn.com/Babtrek30. It covers Babylon 5 and all of Star Trek. Drop on over and give it a peek.
MAILING LISTS
REDEMPTION: Ranger Steve reports that a new discussion group has been created for the upcoming REDEMPTION convention. Redemption 03, 21-23 February 2003, Ashford, Kent, Celebrating 25 years of Blake's 7 and 10 years of Babylon 5. www.smof.com/redemption.
NW-B5
NW-B5 is a mailing list devoted to bringing critical information to the Vancouver Island, Lower Mainland, and Northern Washington areas. More specifically, anyone north of Seattle. B5 is broadcast on SPACE:TIS in Canada, and Sci-Fi channel in the US. By subscribing to nw-b5, you'll be able to know info bringing you up to date on the current scheduling and events happening in the community related to B5. You'll also be subscribed to the list itself, which means that you'll receive email when there is a scheduling change or critical information needs to go out to you (for example, if we need to start another mailing campaign).

For further information, see http://www.nw-b5.com
John Francis
Webmaster, Listowner, and Co-Moderator
mailto:nw-b5@iname.com

Reports of "The Gathering" are beginning to turn up on the list. John posted a mini-report, with photos, over at http://www.geocities.com/jnf.geo/nw-b5/gathered.htm#0501. You may want to check it out. It was a terrific event in which JMS showed clips from "Legend of the Rangers". Most of the cast was in attendance -- a great group of individuals.
BABYLON 5 DISCUSSION LIST
The Babylon 5 discussion mailing list is for any and all discussions and/or news pertaining to or related to Babylon 5 and/or Crusade. The list has been in existence for the past three years now, and has recently moved. The new location is http://lists.apparition.org/cgi-bin/lyris.pl, and you can subscribe by sending a blank e-mail message to join-babylon_5-l@lists.apparition.org.
THE GALACTIC GATEWAY
Here's a unique site for you! Jeffrey Willerth, Patricia Tallman, Mira Furlan, Claudia Christian, Robin Atkin Downes, Rick Biggs, Jerry Doyle, Bruce Boxleitner, Melissa Gilbert, Peter Jurasik, Bill Mumy and Carrie Dobro are under it's umbrella. Actors from other shows have joined the Gateway. Ted Raimi and Robert Trebor from Xena and Hercules are now at GG. To subscribe to a mailing list for GG, send a blank note to thegalacticgateway-subscribe@egroups.com.
GATEWAY CHATTERS
There is never enough time to keep in touch with friends! To help out, a mailing list has been started for chatters over at the Galactic Gateway. If you are interested in joining, send a blank note to gateway-chatter-subscribe@egroups.com.
GATEWAY TRADER
Are you looking for a particular Babylon 5 collectible? Do you have some items you'd like to trade? Then this is the list for you. To join, send a blank note to gateway-trader-subscribe@egroups.com.
CALLING ALL ARTISTS
The Art Gallery at The Zocalo Today is open. There are SO MANY talented people in our Babylon 5 community. We have enjoyed works by Todd Brugman and Tye Bourdony on our toons page, but there are a host of others who enjoy drawing, painting, sketching their favorite characters. Here are a few works that have been received. I have some others that will be added soon.

If you would like to share your work with us at The Zocalo Today, please send along a digital photo of your work and I'll begin putting the gallery together. If you do not have your work in digital format, drop me a note and we'll see what we can work out.
CALLING ALL CLUBS
There are a number of fabulous Babylon 5/Crusade Clubs around the world. Visit the B5 Fan Club page to see if there is a club near you. If you have a club that you would like to have listed, drop the information about your Club to me at sgbruckner@aol.com or bruckner@isnnews.net. That information will be added to the new B5 Fan Club Listing.

Massimo has sent an update for the B5 Fan Club in Italy. Founded in 1995, the club now has 230 members! In Italy, they have just seen the last two episodes from season five! Membership in the club includes: the club card, a poster, a personalized pen and four number of ISN Network the fanzine published by the club. The cost is Euro 20 for an year in Italy. Interested? Contact Massimo at mmartini@italway.it.
BABYLON 5 FAN CLUB
Netter Digital filed for bankruptcy in July of 2000 and all their worldly posessions were auctioned off on December 7. The B5 Fan Club site, Thestation.com and it's store, the Emporium, has been closed.
BABYLON 5 NEWSLETTERS
If you have a newsletter you'd like to have listed at The Zocalo Today, send the information along. It will be posted on the B5 Fan Club/Newsletter page.

Ranger Shane in North Carolina sent in the following note about their "Jumpgate" newsletter.

Hey Sandy! Just wanted to give you an update on the NC B5 group's newsletter, Jumpgate. There's now a dedicated EMail address for submissions - jumpgatemag@bellsouth.net - and any submissions, solicited or un-, can be sent to this address. Also, issues are available for free download at the URL at the bottom of this message.

Jumpgate - The Newsletter of the North Carolina Babylon 5 Fan Club
Shane Killian, Editor
HELP WANTED
A new HELP WANTED section has been added to the Z. If you need help finding a comic book, getting a special item, etc. here's the place to post a note. Just send whatever help you need to thezocalo@aol.com.
---
BABYLON 5/CRUSADE CONVENTIONS
CONVENTION CALENDAR
MegaCon
February 28-March 2, 2003
Place: Orange County Convention Center
Orlando, Florida
B5 Guests: Richard Biggs and Walter Koenig
Other Guests: Michael Rosenbaum (Smallville), Dina Meyer (Birds of Prey), Anthony Cistaro (Witchblade), Ted Raimi (Spider-Man, Xena: Warrior Princess), Robert Trebor (Hercules: The Legendary Journeys), Lani Tupu (Farscape), Xenia Seeburg (Lexx), Gil Gerard (Buck Rogers), Kathy Garver (Family Affair), Jamie Farr (M*A*S*H), and Nichelle Nichols (Star Trek). For more information, visit their website at http://www.megaconvention.com/.
---
Be sure to visit our Convention Calendar for a full listing of upcoming conventions featuring Babylon 5, Crusade and Legend of the Rangers cast members as guests.
If you would like to share your convention experience with your other Zocalo readers, send along a convention report. I will gladly post it for all to read. Got pictures? I'll post those as well.
ZOCALO TRADING POST
Do you have extra copies of B5, Amazing Spiderman, Midnight Nation or Rising Stars comics you'd like to trade? How about those extra trading cards or B5 magazines? There are a lot of fans looking for these items -- and the Trading Post can help you buy or sell them. To see what's available, just use this link to the Trading Post. To have items included in The Trading Post, send a note to The Zocalo. Please put Trading Post in the subject line.
Pen Pals
If you are looking for someone to talk about Babylon 5 and Crusade with, the Pen Pal section is for you! Check it out! Drop a note to someone who is feeling B5 withdrawal -- BIG TIME!

People thought a Pen Pal page was a good idea. If you would like to meet people who you could chat with or share your opinions of the show with, send along your e-mail or snail-mail address The Zocalo. It will be incorporated on the new Pen Page Page.
MAIL FOR CAST AND CREW
Here's a recent note from JMS on the subject:

Just an FYI to those who've been using the Ventura Blvd. mail drop for fan mail to actors....

As mentioned before, we're phasing out the forwarding of fan mail because we a) don't have the resources, complicated by b) the actors have scattered to the four winds, and it makes it very difficult to get everything to everybody in a timely fashion.

So, having provided prior notice...fan mail to actors coming to the Ventura Blvd. mail drop will be sent back. Mail to actors should be sent via their official fan clubs. I will still be taking mail there, since it's my mailbox, but that's it.

Just so's y'all know and save a few bucks on postage and returns.

JMS' mail can be sent to:

14431 Ventura Boulevard, PMB 260
Sherman Oaks, CA 91423

WARNER BROS:

Warner Bros. Address:

Warner Bros. Domestic Television Distribution
4000 Warner Blvd.
Burbank, CA 91522

Warner Home Video:

Mr. Douglas Wadleigh
VP for Marketing and Special Features
Warner Bros.
4000 Warner Blvd.
Burbank, CA 91522

SCIFI:
Bonnie Hammer, President
Sci-Fi Channel
1230 Avenue of the Americas
New York, NY. 10020-1513

Mr. Thomas Vitale
Senior VP of Acquisitions, Scheduling & Program-Planning
BACK ISSUES OF THE ZOCALO TODAY
The front page of the The Zocalo Today changes daily, so be sure to check the back issues to make sure that you haven't missed anything IMPORTANT! I don't want the front page getting too long so I shift information periodically into the archives. So if you aren't a regular visitor to The Zocalo Today, be sure to check out the back issues. Just use the button above!
---
Take care and I look forward to hearing from you.
Sandra Bruckner (sgbruckner@aol.com)
Editor/Publisher
The Zocalo Today
http://www.isnnews.net
Copyright - SBruckner, 2002