[an error occurred while processing this directive]

The Zocalo Today

Welcome and thank you for dropping by. Take your shoes off, get comfortable and stay a while. There is a LOT of information here and you won't want to miss any of it.

The Zocalo Today is an interactive newsletter, encouraging readers to join a discussion topic or to send along letters that can be shared with other readers.

If you have suggestions as to how The Zocalo can be improved -- or be more responsive -- send them along. The Zocalo Today is a newsletter for Babylon 5 fans everywhere. It is as much YOUR newsletter as it is mine! I'm just pulling together things for you!

Join our discussion topic. It is just one way you can share with other Z readers. If you see Babylon 5 cast and crew in other roles, let us know. We enjoy convention reports, photos, etc. Don't miss our back issues. I hope this will become more than just a newsletter. It's a community of people that enjoy sharing their experiences and interests. Babylon 5 brought many of us together -- and it remains with us, despite the fact that is no longer in production. Don't be shy. Join us today!

If you have questions, drop me a line at sgbruckner@aol.com. If you would like to join the mailing list for our newsletter, send me a note and I'll include you on the list. Or you can use the subscription block at the left.

Again, WELCOME!




What's New Today
Saturday, December 20: SKY CAPTAIN: A trailer for this new project is now on-line at http://www.apple.com/trailers/paramount/skycaptainandtheworldoftomorrow/. Looks interesting. If you liked THE ROCKETEER and the idea of futuristic technology in the America of the 1930s, SKY CAPTAIN is for you. The trailer is also where we get our first good look at the film's extensive CGI backgrounds that director Kerry Conran chose to use. The reports emerging about this film's production are that just the actors were filmed against bluescreen backgrounds and every set you'll see in the film was created using computer graphics. With the Stargate SG-1 music in the background, I couldn't help but think Jack O'Neill should be jumping out at any moment instead of Jude Law, Gwyneth Paltrow or Angelina Jolie.
---
BABYLON BABIES: GOTHIKA director Mathieu Kassovitz's next assignment is the science fiction film BABYLON BABIES and that he has already cast leading man Vincent Cassel (BROTHERHOOD OF THE WOLF) in the main role. The movie, based on a novel by French author Maurice G. Dantec, is set in the near future and incorporates cyberpunk elements in its complex narrative structure. It's about the clash in cultures between those that can afford to pay for good genetic tailoring for their children and those that cannot.
---
MERGER AHEAD: Time Warner may soon add three famous letters to its name: MGM. According to published reporters, Time Warner, which recently said that it is again in the market for prominent acquisitions, has held preliminary merger talks with Metro Goldwyn Mayer. Time Warner, which already owns the Warner Brothers and New Line Cinema studios, is reportedly interested primarily in MGM's vast library that includes some 4,000 titles.
---
WEEKEND BOX OFFICE: There is a lot to see this weekend -- and it covers the spectrum of delight and amazement. Besides the concluding chapter in Peter Jackson's Tolkien trilogy, THE LORD OF THE RINGS: THE RETURN OF THE KING, what else opens this weekend? You may want to take in Mike Newell's lighthearted drama MONA LISA SMILE with a jam-packed ensemble cast of hot Hollywood actresses or HOUSE OF SAND AND FOG with Ben Kingsley and Jennifer Connelly. You can find reviews over at http://filmforce.ign.com/articles/446/446865p1.html.
---
VISUAL EFFECTS OSCAR: The Academy of Motion Picture Arts and Sciences announced the seven films being considered for Achievement in Visual Effects for the 76th Academy Awards. They are Universal's THE HULK, New Line's THE LORD OF THE RINGS: THE RETURN OF THE KING, 20th Century Fox's MASTER AND COMMANDER: THE FAR SIDE OF THE WORLD and X2: X-MEN UNITED, Universal's PETER PAN, Walt Disney Pictures' PIRATES OF THE CARIBBEAN: THE CURSE OF THE BLACK PEARL and Warner Bros.' TTERMINATOR 3: RISE OF THE MACHINES. The finalists will be announced along with nominations in 23 other categories on Tuesday, January 27, at 5:30 a.m. PST. Academy Awards for outstanding film achievements of 2003 will be presented on Sunday, February 29, 2004, at the Kodak Theatre at Hollywood & Highland and televised live by the ABC Television Network at 5 p.m. PST, beginning with a half-hour arrival segment.
---
INSIDE SCI-FI THIS WEEK:
Friday, December 19:
TOP SF NETWORK SHOWS:
Joan of Arcadia 7.1
Alias 5.2
Smallville 3.8
Charmed 3.7
Enterprise 3.0
Tru Calling 2.7
Angel 2.7
Tarzan 1.8
Jake 2.0 1.6
Source: Nielsen Galaxy Report, 11/17/03 - 11/23/03.
---
GOLDEN GLOBE AWARDS: The Golden Globe awards were announced yesterday by the Hollywood Foreign Press Association. THE LORD OF THE RINGS: THE RETURN OF THE KING brought in four nominations, including best drama and best director, the most of any SF&F movie of the year. The Golden Globes will be presented in a Jan. 25, 2004, ceremony in Beverly Hills that will air live on NBC. A list of nominees among science fiction, fantasy and supernatural horror films and television programs are below:
Film

Best Picture, Drama
•The Lord of the Rings: The Return of the King
Best Picture, Musical or Comedy
•Big Fish
•Finding Nemo
Actress, Musical or Comedy
•Jamie Lee Curtis, Freaky Friday
Actor, Musical or Comedy
•Johnny Depp, Pirates of the Caribbean: The Curse of the Black Pearl
Supporting Actress
•Mario Bello, The Cooler
Supporting Actor
•Alec Baldwin, The Cooler
•Albert Finney, Big Fish
Director
•Peter Jackson, The Lord of the Rings: The Return of the King
Original Score
•Danny Elfman, Big Fish
•Howard Shore, The Lord of the Rings: The Return of the King
Original Song
•"Into the West," The Lord of the Rings: The Return of the King
•"Man of the Hour," Big Fish
Television
Actress in a Television Series, Drama
•Jennifer Garner, Alias
•Amber Tamblyn, Joan of Arcadia

---
LORD OF THE RINGS: RETURN OF THE KING: The final installment of the RINGS trilogy is setting records around the world posting a first-day worldwide gross of $57.6 million. Wednesday's opening of KING left a trail of broken boxoffice records in its wake on both the domestic and international fronts -- quite an accomplishment for a film that's 3 1/2 hours long. In its first-day, the domestic gross for KING was a sensational $34.1 million from 3,703 theaters and more than 7,000 prints. The debut marked far and away the biggest Wednesday in history as well as being the biggest single day in December, the third-best opening day ever and the sixth-biggest single-day of all time. Internationally, KING generated a powerful $23.5 million from 19 territories. Opening-day records were broken in 13 of those territories, including the United Kingdom, Germany, Spain and Scandinavia.
---
HARRY POTTER: When HARRY POTTER AND THE PRISONER OF AKZKABAN opens in theaters in June, it will also open to Imax theaters. A deal struck by Warner Bros. Pictures and Imax Corp. represents the second Imax film commitment from Warners in the last year using Imax's proprietary DMR technology and marks the first time the two companies will experiment with a PG-rated film -- an opportunity that could spur additional cross-promotion by institutions housing Imax theaters. "Our partnership with Imax has been extremely rewarding and has allowed our films to expand their reach beyond our traditional audiences by offering viewers a whole new way to see Hollywood event films that is uniquely immersive and exciting," Warners' domestic distribution president Dan Fellman said.
---
Thursday, December 18:
TOP SF SYNDICATED SHOWS:
Stargate SG-1 2.3
Andromeda 2.1
Mutant X 2.1
She Spies 1.7
The X-Files 1.5
Beastmaster 1.4
Buffy 1.4
3rd Rock 1.3
Angel 1.2
The Outer Limits 1.2
Source: Nielsen Galaxy Report, 11/17/03 - 11/23/03
---
BABYLON 5 ON THE BIG SCREEN: While I reported the article at DarkHorizons.com the other day, there really isn't much there to get hot and bothered about. Rumors rarely materialize. It is best to wait for JMS to tell us what he is working on. He has done that in the past and he will this time as well. EEP is a very good sign and does indicate something significant -- but until we know what that will be, it is premature to even speculate. Joe gets far too much enjoyment out of leading us down one path and then taking an abrupt right turn just as we are getting comfortable. Take a deep breath, have a wonderful holiday and when JMS is ready to let us in on what is happening, he will do so.
---
LORD OF THE RINGS PREMIERE: The LORD OF THE RINGS: THE RETURN TO THE KING make it's North American premiere yesterday. The highly anticipated debut at midnight Wednesday reaped a stunning estimate of $8 million. The midnight shows were offered at 2,100 theaters. The Peter Jackson-helmed picture is in 3,703 theaters with about 7,205 prints starting Wednesday. New Line president of domestic distribution David Tuckerman said, "People are asking me what kind of business are we going to do, not only for the opening day but for the weekend? I just don't know, but the matinees have been monstrous. We are in uncharted waters. But we will exceed the business of 'Two Towers.' " The gross for the first day of "Two Towers," which also opened on a Wednesday but in 3,622 venues, was a sterling $26.2 million. By the end of the first weekend for "Two Towers," the film had taken in a staggering $102.0 million in its first five days.
---
LORD OF THE RINGS MUSEUM EXHIBIT: Boston's Museum of Science will feature an exhibit about the LORD OF THE RINGS trilogy using techniques from the films to transform visitors into hobbit dimensions in their own photos. The exhibit will run Aug. 1-Oct. 24, 2004 and also feature massive models, an "armor corridor," a display of prosthetics, original costumes, the One Ring, jewelry and videos of the cast, crew and director in behind-the-scenes interviews.
---
NEW SCIFI FRIDAY LINE-UP: On January 9, SCIFI Friday returns with the first of 11 new episodes of STARGATE SG-1 and the premiere of CODE NAME: ETERNITY. Stargate SG-1 will air at 9 p.m. ET/PT, Code Name: Eternity at 10 p.m.
In the first new Stargate SG-1 episode of the year, Maj. Carter (Amanda Tapping) leads a dangerous mission to Anubis' homeworld in a desperate attempt to prevent him from breeding an army of super warriors. O'Neill (Richard Dean Anderson), meanwhile, goes to Honduras to rescue Daniel (Michael Shanks) and retrieve an ancient device that might be their last hope for defeating Anubis.
CODE NAME: ETERNITY is a new action-adventure series starring Cameron Bancroft as a shape-shifting alien who crash-lands on Earth and loses his memory. With the help of a beautiful doctor (Ingrid Kavelaars), he begins a long journey to figure out his mission on Earth, while attempting to elude otherworldly enemies. The show also features Andrew Gillies, Olivier Gruner and Billy Dee Williams.
---
CRASH: According to The Hollywood Reporter, Jason Isaacs and Jennifer Esposito have joined Sandra Bullock, Don Cheadle, Brendan Fraser, Matt Dillon, Ryan Phillippe, Thandie Newton, Larenz Tate, Nona Gaye and rapper Ludacris in CRASH, for Bull's Eye Entertainment. The project is in production with Paul Haggis at the helm. Scripted by Haggis and Bobby Moresco, CRASH follows a multiethnic cast through the streets of Los Angeles as they careen in and out of one another's lives. Isaacs plays Detective Grace, the chief detective responsible for solving a wrap-around murder case that is part of the plot, while Esposito will star as the love interest of Cheadle's character who also is his partner on the police force.
---
CHRISTOPHER REEVE: The Hollywood Reporter indicates that Christopher Reeve has been tapped to take an animated look at America's pastime -- baseball. The Emmy-nominated director will helm an untitled computer-animated feature film for IDT Entertainment "Many projects cross my desk, but only a few are truly captivating," Reeve said. "With the perfect blend of warmth and wit, this is a story with universal appeal that both children and their parents will love." Set in the 1930s, the story revolves around a father and son and two legendary urban baseball teams and is based on an original treatment that was internally developed at IDT.
---
FIVE TO MIDNIGHT: SciFi Channel has signed Oscar winner Timothy Hutton to play the lead in FIVE DAYS TO MIDNIGHT, an upcoming original five-hour thriller that is set to begin filming next month in Vancouver. Hutton plays J.T. Neumeyer, a physics professor who receives a police file from the future with a detailed description of his own murder. Amidst a list of suspects and pictures of his bullet-strewn corpse, Neumeyer discovered that the date of his presumptive death is only five days away. With only five days until he meets his demise, Neumeyer has to catch this own killer. It's a structure that Sci Fi describes as "a cross between 'D.O.A.' and '24.'" The cable network will air "Five Days to Midnight," fittingly, over five consecutive nights. Each night will represent a day in Neumeyer's quest to save his live.
---
TRU CALLING: Last year, Jason Priestley was seriously injured while driving a practice lap for an Infiniti Pro Series race. He has signed to appear in seven episodes of FOX's drama TRU CALLING. He starts work in January in Vancouver, B.C., where the show films and where he was born. The seven-episode arc will be his longest run on a series since he left "Beverly Hills, 90210" in 1998. He has worked on numerous TV movies and feature films since then, as well as making guest appearances on series like "Spin City," "Grosse Pointe", "8 Simple Rules" and JEREMIAH.
---
Wednesday, December 17:
PARAMOUNT PICTURES: According to Variety, Paramount is gearing up for a number of new projects. They have bought the spec fantasy script THE GIRL WHO COULD FLY by Victoria Lakeman for Michael Aguilar and Dean Georgaris to produce. The studio also optioned Michael Marshall Smith's SF novel SPARES for Aguilar and Georgaris to produce, along with Vertigo Entertainment partners Roy Lee and Doug Davison. THE GIRLD WHO COULD FLY is a fantastical story about an 11-year-old farm girl who discovers she can fly and is then detained by the Ministry of Anomalous Developmental Needs and Extra-normal Social Services (M.A.D.N.E.S.S.). The ministry seeks to normalize children by barring them from using their abnormalities. SPARES is set in a world of wealthy individuals who arrange for their children to be cloned at birth for future use in a medical emergency. Aguilar and Georgaris are searching for a writer for SPARES.
---
PETER PAN: The new PETER PAN movie opens on Christmas Day and Jason Isaacs, who is playing the dual role of Mr. Darling and Captain Hook in the film hearkens back to the traditional casting of J.M. Barrie's 1904 play and is in keeping with the story's psychological roots. Neverland represents not only Wendy's (Rachel Hurd-Wood) imagination, but also her fears of growing up, and it's natural that the villain there would resemble her father—"someone who represents the very worst and the very best things about being grown up." At a recent press conference promoting the film, Isaacs said "Barrie is quite clear that if ... you could stay awake when you're asleep, you would find your mother tidying up your mind much like she tidies up drawers. She takes all the pretty thoughts and puts them at the top, and takes all the evil dark ones and hides them at the bottom so you can't find them in the morning. And ... Neverland [is] a place inside children's minds [with] not just pirates and adventures, but first days at school and nasty-tasting medicine and math sums. And it's kind of this strange, surreal land."
---
SKY CAPTAIN AND THE WORLD OF TOMORROW: The first traces of SKY CAPTAIN AND THE WORLD OF TOMORROW (formerly known as THE WORLD OF TOMORROW) are turning up on the net; a trailer is expected to debut soon. This pulp adventure sci-fi film stars Jude Law, Gwyneth Paltrow and Angelina Jolie. Directed by first-timer Kerry Conran, the film is set in a 1930s full of action and adventure straight out of the theater serials from that period. Law plays the so-called "Sky Captain", a daring aerial hero and Paltrow is a inquisitive reporter who uncovers a plot involving the world's scientists. The film is unusual in that director Conran shot all the scenes with the actors against blue screen. All of the backgrounds are being added digitally with computer effects to recreate the 1930s New York City time period.
---
CRITICS CHOICE AWARDS: Announcements of nominations are out for the Critics Choice Awards. For a full listing, go to http://www.hollywoodreporter.com/thr/article_display.jsp?vnu_content_id=2053204 . Clint Eastwood's "Mystic River" leads the list of nominees, scoring eight nominations, including best picture, best director and composer for Eastwood, best actor for Sean Penn, best supporting actor for Tim Robbins, best supporting actress for Marcia Gay Harden, best acting ensemble and best writer for Brian Helgeland, who adapted Dennis Lehane's novel on which the film is based. Other leading contenders include "In America" with seven nominations, "Big Fish" and "Lost in Translation" with five noms each, "Cold Mountain" and "The Lord of the Rings: The Return of the King" with four noms each and "The Last Samurai" and "Master and Commander: The Far Side of the World" with three noms each.
---
LORD OF THE RINGS: THE LORD OF THE RINGS: RETURN OF THE KING has its first major award, it was named "year's best film" by the New York Film Critics Circle.
---
KINGDOM OF HEAVEN: Liam Neeson is in talks to join Ridley Scott's KINGDOM OF HEAVEN, an epic love story at 20th Century Fox. Neeson would step into the role of the father of the film's hero, played by Orlando Bloom ("The Lord of the Rings"). The 20th Century Fox/Scott Free production with a script by William Monahan is scheduled to begin filming in Morocco in January.
---
Tuesday, December 16:
BABYLON 5 - ON BIG SCREEN: While we will all have to wait for word from JMS, I just could not ignore the articles coming out of the UK related to a BABYLON 5 feature film in the works. According to DarkHorizons.com, the 'big thing' JMS was hinting at the other week may in fact be a movie - a UK source indicates that Winchester Films is rumoured to be in talks with the show's creator about doing a movie which would be shot late next year. We will all patiently wait for word from JMS on this, but let's keep our fingers crossed -- or whatever you do to send along good vibrations, hopes and support.
---
BEST SELLING SF BOOKS: 1. The Da Vinci Code
2. Angels & Demons
3. Alice's Adventures in Wonderland pop-up
4. Eragon (Inheritance, Book 1)
5. Harry Potter and the Order of the Phoenix
6. Wolves of the Calla
7. The Time Traveler's Wife
8. The Slippery Slope (Lemony Snicket)
9. The Cat in the Hat
10. Inkheart
Source: Amazon.com, 12/8/03
---
WEEKEND BOX OFFICE: This was a good weekend for romantic movies. SOMETHING'S GOTTA GIVE took the #1 spot raking in $16.1 million at the box office. The romantic comedy knocked off THE LAST SAMURAI, which slipped to #2 with $14.1 million after one week in first. The Farrelly brothers' conjoined twins farce STUCK ON YOU didn't stick with too many moviegoers. The Matt Damon-Greg Kinnear coupling only managed to make $9.4 million, according to final studio figures released Monday. Popping into fourth place was the youth-oriented hip-hopped-up romance LOVE DON'T COST A THING, starring Nick Cannon, which earned $6.3 million. In limited release, Sony's PG-13 BIG FISH began fishing for Oscar attention Wednesday. Tim Burton's fantastical look at the blurry line between truth and fiction, depicted by a dying Albert Finney, Ewan McGregor as Finney's younger self and Billy Crudup as Finney's son, earned $207,377 from Friday to Sunday, reeling in a whopping $34,563 per-screen average at each of its six sites. Here are the numbers:
1. Something's Gotta Give, $16.1 million
2. The Last Samurai, $14.1 million 4. Love Don't Cost a Thing, $6.3 million
5. The Haunted Mansion, $6.1 million
6. Elf, $6.02 million
7. Bad Santa, $6.01 million
8. Honey, $4.9 million
9. Dr. Seuss' The Cat in the Hat, $4.2 million
10. Gothika, $2.7 million
---
LORD OF THE RINGS: We haven't much longer to wait! THE RETURN OF THE KING opens tomorrow - December 17. Director Peter Jackson said that he will restore a deleted seven-minute scene with Christopher Lee's Saruman in the DVD version of the movie. "It was a scene we shot for The Two Towers, and when we cut that movie last year, we tried [to include it] then. But we felt it was anticlimactic. ... We had some Gollum scenes that we had to wrap up the film at the end with, so the seven minutes of return to Isengard didn't feel like it was a good place to have it." Jackson added that he then considered adding the scene to the beginning of Return of the King, rather than include it in the extended DVD version of Two Towers. "It's been in this movie as we've gone through various cuts through the year," he said. "We had a four-hour, 15-minute cut of Return of the King, with everything in there that we shot, but it was too long. It felt like the emotional impact of the film was being diluted. ... So we started trimming the film back, and the Saruman scene was one of many scenes we cut."
---
Monday, December 15:
TOP SCIFI SHOWS:
Sasquatch 1.7
Code Red: Rubicon 1.4
Stargate SG-1 1.3
Primal Force 1.2
Creature, Part 1 1.0
13th Warrior 1.0
Taken, Part 9 1.0
Creature, Part 2 0.9
The Beast, Part 1 0.9
The Beast, Part 2 0.9
Source: Nielsen Galaxy Report, 11/17/03 - 11/23/03
---
LORD OF THE RINGS: According to Variety, The Lord of the Rings director Peter Jackson will receive this year's Modern Master Award at the Santa Barbara Film Festival. Jackson, who also co-wrote and produced the Rings trilogy, will accept the award at a ceremony on Jan. 31, 2004, at the Arlington Theater.
---
SPIDER-MAN 2: As promised, a new treaser is up and available at http://advision.webevents.yahoo.com/sony/spiderman2/,
---
THE GRUDGE: BUFFY's Sarah Michelle Gellar will topline THE GRUDGE, the English-language remake of the Japanese horror thriller Ju-On. Columbia Pictures has secured domestic distribution rights for the film, which is being produced by Ghost House Pictures, a genre division of Senator Intl. launched with Sam Raimi. Shooting is set to begin at Tokyo's Toho Studios in late January. Takashi Shimizu, who wrote and directed the original film, will helm the remake. THE GRUDGE is about a murderous supernatural curse born of a grudge held by someone who dies angry. The curse passes like a virus to its victims.
---
Sunday, December 14:
SNOWING: Well it's snowing outside and everything is beginning to look like a beautiful holiday card! White covered pine trees are beautiful and it just sets the tone for a wonderful holiday ahead! I have to hope that it will be all gone before morning though. Driving in the snow is not a favorite passtime!
---
X-3: After Ian McKellen watched X-2 on DVD, he couldn't wait to talk to Bryan Singer and the X-Men writers about doing another sequel -- and he wanted to make sure his character, Magneto, was in it! "I've only just seen [X2] on DVD, because I was fearful that I wasn't going to enjoy it as much as the first, and I enjoyed it more." McKellen added, "I e-mailed [Singer] and said, 'Are you making number three, and am I going to be in it?' And I sent the same thing off to the writers [Michael Dougherty, Dan Harris and David Hayter]. And positive replies came back.
---
CARNIVALE: According to The Hollywood Reporter, HBO has asked for a second season of CARNIVALE, their Depression Era supernatural themed drama produced by DEEP SPACE NINE and BATTLESTAR GALACTICA's Ronald D. Moore. Thirteen new episodes will start to be filmed in the spring of 2004, with the cable network planning on airing them sometime next fall.
---
WHAT'S ON TONIGHT
8:00pm on UPN
Star Trek: Enterprise
Rajiin
A slave girl uses her mental powers on the crew to steal information on humans. On SCIFI Tonight: 5:00pm
The Prophecy II
A fallen angel tries to prevent the birth of a child who will save mankind from the forces of evil. 7:00pm
The Prophecy 3: The Ascent
Now mortal, Gabriel helps to save the human race. 9:00pm
Revelation
Billionaire sends son on hunt for religious relic. On Syndicated TV This Weekend: Andromeda
Double or Nothingness
Dylan responds to the destruction of a ship but soon realizes that scenarios are computer-generated. Angel
She
Angel helps a princess save women in another world from a destructive society. BeastMaster
Gemini
Dar and Tao must discover what is killing humans and animals in the forest. Buffy the Vampire Slayer
When She Was Bad
Xander and Willow worry over Buffy's cold, distant behavior. Sir Arthur Conan Doyle's The Lost World
Unnatural Selection
Challenger meets up with a former scientific rival. Mutant X
Where Evil Dwells
The team must stop a serial killer who leaves clues to his next victims in the form of puzzles. HOLIDAY SPECIALS: "Robbie the Reindeer Double Fun"
CBS, 8:00pm - 9:00pm ET
Two adventures featuring the voices of Ben Stiller, Hugh Grant, Britney Spears, Jim Belushi, Leah Remini, Jerry Stiller, James Woods, Brad Garrett, Dan Dierdorf and Dick Enberg. "Hooves of Fire" is the heart-warming and hilarious tale about Robbie's quest to become a reindeer on Santa's sleigh team. "Legend of the Lost Tribe" follows Robbie as our reindeer pal battles his nemesis, Blitzen -- with the help of an elusive tribe of Vikings -- in an effort to stop Blitzen's launch of a reindeer theme park. "A Merry Mickey Celebration"
ABC, 8:00pm - 9:00pm ET
Ever since Mickey Mouse debuted in the first synchronized sound cartoon, "Steamboat Willie," on November 18, 1928, he has remained one of the most beloved characters on the planet while also presiding as the face of The Walt Disney Company around the globe. This special will feature many of Mickey's Hollywood celebrity friends saluting him through music and song as well as looking to his future. The beloved holiday classic "Mickey's Christmas Carol" will be the centerpiece of the hour-long celebration. Enjoy the little guy another 75 years. "The Littlest Reindeer""
Animal Planet, 9:00pm - 10:00pm ET
Aurora was the smallest reindeer in his Arctic herd, a runt. He proves his worth to all when the little fellow is called on to lead his herd to safety. He might have been small, but he had a huge heart. Features live-action footage of reindeer in their native habitat. This one is worth saving.
SEASON FOUR OF BABYLON 5 - JANUARY 6, 2004
FOR IMMEDIATE RELEASE: On The Edge of Space. On The Frontiers of Tomorrow.
No Surrender, No Retreat. BABYLON 5:
THE COMPLETE FOURTH SEASON Collectible Six-Disc DVD Set Featuring All 22 Episodes
Fully-Loaded with New Bonus Materials
Remastered in Widescreen and Dolby Digital 5.1 Audio
Available January 6 from Warner Home Video Burbank, Calif., October 14, 2003 - The future begins - or ends - here and now. Here is the huge space station Babylon 5. Now is the fateful year 2261. Commander John Sheridan has already declared the station free, breaking the ties between it and Earth Alliance. It was perhaps only a matter of time before he would have to fight to remain free. That time has come on January 6, 2003 with the complete 22-episode fourth season adventure of the acclaimed Babylon 5 sci-fi series from Warner Home Video (WHV). Presented on a must-have six-disc collector's set, Babylon 5: The Complete Fourth Season is priced to own at $99.98 SRP. Orders are due December 9. Packed with out-of-this-world DVD bonus materials including a featurette about the series composer and the making of the series' music, an original music suite composed exclusively for the DVD release, in-depth audio commentaries from cast members and the series creator, personnel files and a gag reel. "The Babylon 5 series has consistently been one of Warner Home Video's most in-demand DVD collections, proving the loyalty and strong fan base for this acclaimed sci-fi series," said Jeff Baker, Vice President, Non-Theatrical Franchise Marketing. "The TV to DVD trend has been very strong in the marketplace and WHV plans to continue releasing fan-favorite series throughout the year." Babylon 5 has won two Emmy Awards for Groundbreaking Visual Effects and Makeup as well as the 1998 Science Fiction Writers of America Ray Bradbury Award. It also earned the 1999 Saturn Award for Best Genre Cable/Syndicated Series from the Academy of Science Fiction, Fantasy & Horror Films. Currently, Babylon 5 continues to be seen by legions of fans with episodes syndicated on the Sci-Fi Channel.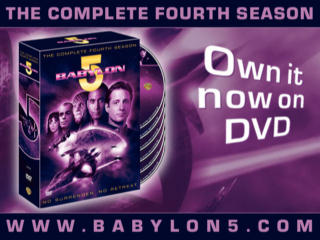 JMS UPDATE
From the B5 moderated newsgroup:
Nothing major, more under the headings of FYI....

1) For those who follow my prose stuff...I've written a new short story, "The Salvation of Lyman Terrell," which will be made available for reading for free on amazon.com in the next few weeks (I'll try to remember to let folks know when it goes up) as part of a series of such bonuses they're offering to customers.

2) Thanks to a series of industry screenings, I've had the opportunity to see the final Lord of the Rings movie...and for those wondering, it's spectacular. I loved the first one and considered it a masterpiece; wasn't quite as happy with the second one, which I felt (and despite some corrections made via the extended cut, still feel) that it suffered where it diverged from the book, and where it replaced story logic with movie logic.

But "The Return of the King" is magnificent on every level. There are times you feel you're looking at some forgotten history come to life, the imagery is almost painfully beautiful at times, breathtaking and awe-inspiring other times. I remember sitting there, thinking there are some things one feels priviliged to have lived long enough to have seen. This is one of them. It's brave, heroic, tragic, moving, funny, inspiring and wistful all at the same time.

So for those who were hoping for the best...your hopes will be realized. It's just freaking magnificent.
BABYLON 5 ANNIVERSARY
Ranger Nick pointed out that on January 24, 2004, we will celebrate the 10th anniversary of Babylon 5 coming to the airwaves. As I thought about this, I wondered how we might best mark this event -- making it special in some way! Send along your ideas and we can see what we might be able to do.
Perhaps a special page with reflections of what Babylon 5 has meant to us? Perhaps we could suggest to SCIFI -- a special day of special episodes! Give it a little thought and let's see what we can come up with. Here is the first suggestion on how we can celebrate the 10th Anniversary of Babylon 5.

Ranger Karen wrote: Why not collect "thank you"s that could be compiled & sent to Joe from the community that he created? Perhaps some of the cast and crew members would enjoy participating in something like that as well. We love the world Joe created so much that almost 11 years after the pilot was first aired, we excitedly anticipate new B5 projects. I can't think of a better way to encourage him than to let him know we are still with him.

Check out the new Anniversary Page. Send along your suggestions to add to those already listed.
DISCUSSION TOPIC
What did you think of the latest LORD OF THE RINGS movie? How does it compare to the original Tolkien novels? Send in your comments and observations to sgbruckner@aol.com and I'll post them on the Discussion Page for everyone to share.
JEREMIAH
For all that is new with JEREMIAH, go to JEREMIAH page. Showtime does not have the show on it's schedule right now. Fans are putting pen to paper and writing to voice their support for the series and their desire to have it back on the airwaves. Check out how you can help.

Nothing official, but I read somewhere that Showtime will return JEREMIAH to their schedule in March of 2004. Hopefully we will get a date on that soon.
KEEPING UP WITH CAST AND CREW
STEPHEN AUSTIN: This wonderful Pak'Ma'Ra Ambassador is multi-talented. He has a wonderful stand-up comedy routine. In fact, he has several gigs coming up, including:
THE IMPROV, Jan 6th, Ontario, CA, 909-484-5411
THE ICE HOUSE (special CD tapping), Jan 18th, Pasadena, Ca, 626-577-1894
---
LUKE PERRY: JEREMIAH's Luke Perry is starring in an upcoming theatrical version of WHEN HARRY MET SALLY in London's West End; he'll play Billy Crystal's role. Meg Ryan's role as Sally has not been cast, but an American actress is expected to play the part.
---
GARY COLE Jason Bateman teams up with Gary Cole in Fox's upcoming dodgeball comedy. The untitled project centers on a group of neighborhood residents who challenge the developers of a giant fitness center. The dodgeball picture stars Ben Stiller, Vince Vaughn and Christine Taylor.
---
CRUISE WITH PETER WOODWARD
Peter is considering cruising the Caribbean in early 2005 and wants to invite his fans to join the fun. He would like to see if there is sufficient interest before going too far into planning, so if you would like to receive a brochure about Peter's upcoming cruise once the details are finalized please advise of your: Name:
Postal Address, City, State, Zip:
E-mail address:
Phone number:
Total number of guests in your party:
Age range of the guests including yourself:

Send this information to pwoodwardinfo@yahoo.com. Any information you send us will be handled respectfully. This is not a commitment from you, just an indication of interest.
BABYLON 5 BIRTHDAYS
Mary Woronov (Kka'Dath) - December 8
Sarah Douglas (Jha'Dur) - December 12
Kim Holly - December 25
Dark Hoffman - December 28
John C. Flinn III - December 2 Have I missed anyone? If you know the birthday of someone connected with Babylon 5, pass the information along. We want to include everyone in our Happy Birthday Wishes.
READER BIRTHDAYS
Sometimes you just can't find the e-mail address for someone you know you have -- it's someone who responded to a discussion topic or you met in one of the chat rooms. You'd like to send a personal note, but .... No address!!!!

We've started a White Pages of Zocalo Readers! It's a handy way of keeping track of people -- and putting together a birthday/greeting card list as well. If you would like to be part of the listing, just send me your name, state, e-mail address and (if you'd like to have it listed) birthday (without year) to sgbruckner@aol.com. Check out the Directory of Readers.

Name: Brenda Gallagher
E-mail address: brenda_birch@hotmail.com
Birthday: December 5th

Name: Gary Magid
State: Michigan
Email: SCIFIREAD@aol.com
Birthday: December 10
BABYLON 5 FANS - SPECIAL HELP SECTION
BABYLON 5 FAN CLUBS
Minneapolis Babylon 5 Fan Club White Star Phoenix! The White Star Phoenix fan club meets once a month in Bloomington, Minnesota, to socialize, to view Babylon 5, Crusade, Farscape, Buffy the Vampire Slayer and other excellent SF, & to enjoy engaging, animated conversations about our favorite books, films and tv shows. We regularly host SF-related programming at local science fiction conventions, and we host occasional parties. For more information, go to http://home.comcast.net/~whitestarphoenix/. Swedish Babylon 5-Club We're situated in Gothenburg, Sweden's second largest city, and have been around since 1999. Our activities consist of showing B5 episodes on the big screen. The next time will be on November 8th here in Gothenburg. Our webpage is at http://www.babcon.org/. Asbjorn
President, Interstellar Alliance
sheridan@babcon.org -- Interstellar Alliance - Sweden's largest Babylon 5 club
BabCon XIII on November 8th 12.30 - 02.00
http://www.babcon.org/ Italian Babylon 5 News Ranger Bianca has a website that provides Italian Babylon 5 fans with news. The site is located at www.babylon5.it.
BABYLON 5 MERCHANDISE
Are you looking for Babylon 5 merchandise? Would you like to possess some of the wonderful patches or pins sold by the B5 Fan Club? Do you want to put in an order for the latest DVD? Bruce at Uncomyn Gifts still has one of the best collections around. Check out www.uncomyngifts.com. You may just find the magazine or t-shirt or patch you are looking for.
---
NEW SCIENCE FICTION PUBLICATIONS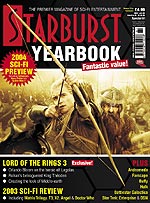 Starburst Special #61 It is the end of another year and time to look back on 2003. This Starburst Yearbook offers quite a bit -- with 132 pages! Orlando Bloom talks about the end of LORD OF THE RINGS; Bernard Hill discusses acting and his King Theoden role in LOTR. It has been a year of great movies, including X2, LORD OF THE RINGS, MATRIX. This issue also looks at BATTLESTAR GALACTICA with Dirk Benedict (Starbuck).



Expose Special #24: Sir Ian McKellen talks about Gandalf in LORD OF THE RINGS and there are highlights from 2003. This issue includes a 32-page farewell to BUFFY.






Cult Times Special #28: The magazine looks back at 2003; at BUFFY's end and DOCTOR WHO's return. It also includes previews for such favorites as ALIAS, JEREMIAH, SMALLVILLE, 24 and TRU CALLING. Angel's Jeffrey Bell talks about the changes ahead for this year at Wolfram and Hart. Christopher Gorham from Jake 2.0 answers the question, "what is it like being the ultimate human upgrade."





TV Zone #54: This issue offers a 12-page review of the highs and lows of 2003. Also in this issue, Joss Whedon talks about FIREFLY. John Schneider, Jonathan Kent on SMALLVILLE, tells us about life, family values and the future of his hit show. Stargate SG-1's Prop master Dave Sinclair takes us into his world, including a look at some amazing hardware.
Expose #82: THE RETURN OF THE KING consumes 16-pages with exclusive coverage. Viggo Mortensen looks back over three years in a single role; Andy Serkis reflects on portraying Gollum's divided personality. Also in this issue, CHARMED's Drew Fuller and TRU CALLING's A.J. Cook.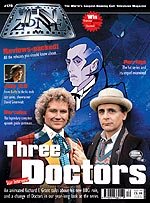 TV Zone #170: DOCTOR WHO returns! A new TV series is getting closer to reality and the BBC has a new webcast "Scream of the Shalka starring Richard E. Grant as the good doctor. Also in this issue: David Greenwalk talks about JAKE 2.0 and we look back at HERCULES: THE LEGENDARY JOURNEYS.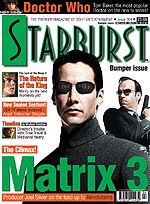 Starburst #304: MATRIX REVOLUTIONS - the final installment of this trilogy is discussed by producer Joel Silver. Also in this issue: Dominic Monaghan talks about his role in LORD OF THE RINGS; Michael Crichton's TIMELINE comes to the big screen and director Richard Donner talks about troubles with time travel and mediaeval fakery.
BABYLON 5 NOVEL - ON BOOK SHELVES NOW
DelRey is reprinting the original Babylon 5 novels. They started with #7 - Jeanne Cavelos' THE SHADOW WITHIN. Here's one I've been waiting for -- Kathryn Drennan's TO DREAM IN THE CITY OF SORROWS. The release date is scheduled for July 29, 2003. I love the new cover art! It can be pre-ordered from www.amazon.com. For those of you who love Babylon 5, this one reads just like an episode from the series. You just can't put it down.




COMIC BOOKS
SMALLVILLE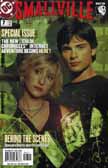 Written by Clint Carpenter; art by Tom Derenick, Adam DeKraker, Tom Grummett and Kevin Conrad; cover by John Van Fleet. A special issue kicking off a 3-month-long cross-media event. The story begins here, continues online, and concludes in May¹s Smallville #8. In the lead story, Chloe reopens her secret files after gaining information from a fugitive member of Lionel Luthor¹s Deletion ForceŠand her investigation leads to new secrets concerning Kryptonite! In the backup, Jonathan and Martha deal with the hazards of raising a super-powered teen. Plus, a report from Christopher James Beppo sheds new light on the enigmatic founder of Smallville. 48 pages, $3.95, in stores on March 17.
SUPREME POWER
SUPREME POWER #7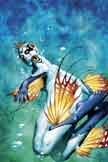 Written by J. Michael Straczynski, cover and pencils by Gary Frank. Jump on board one of the biggest hits of the year as it starts a new, second major story arc! Another new super power rises out of the "depths" of obscurity -- Amphibian! Plus: witness the first (and possibly last!) climactic meeting of Hyperion and Doctor Spectrum! 32 pages, $2.99, in stores on Feb. 4.
* New story arc.
* Marvel's latest hit series.
* Coming next month: Supreme Power Vol. 1, collecing #1-6.
AMAZING SPIDERMAN
AMAZING SPIDER-MAN #504
Written by Fiona Avery with J. Michael Straczynski, cover and pencils by John Romita Jr. "Chasing a Dark Shadow," pt. 2 (of 2). In the aftermath of the inter-dimensional rift caused by Spider-Man and Doctor Strange's battle with Dormammu, a sorceress of limitless power is set free from years of captivity ... and sets forth on a quest through Manhattan to properly thank the one responsible for it: Spider-Man. And if that weren't bad enough, guess who's on her trail? Loki... 32 pages, $2.25, in stores on Feb. 25.
Amazing Spider-Man #501 will arrive in stores on Wednesday from Marvel Comics. The issue is written by J. Michael Straczynski, with art by John Romita Jr. and a cover by Tony Harris. Here's how Marvel describes the issue:
"A brand new story arc starts following the historic issue #500. The drive to Amazing Spider-Man #1000 starts here." Amazing Spider-Man #501 will be 32 pages and will cost $2.25.
NEW CSI GAME
You can now become part of Gil Grissom's CSI team! Check out the latest video game featuring CBS' CSI series. Here is the storyline:
Master the Tools. Solve the crime.
A murdered woman…a slain police officer…a mysterious arson case. What do these crimes have in common? Enter the gritty world of CSI and search for the truth with Grissom, Catherine, and the entire Crime Scene Investigation team. Armed with high-powered forensic equipment and razor-sharp wits, delve deeply into the mysteries of 5 baffling crime scenes to reveal the truth. Don't just watch the action. Live it! For more information, go to http://csi.ubi.com/index.php.
TV SCHEDULE ON SCIFI CHANNEL
BABYLON 5 22-DEC-03 9:00 AM BABYLON 5 (LBX) A DAY IN THE STIFE
23-DEC-03 9:00 AM BABYLON 5 (LBX) PASSING THROUGH GETHSEMANE
24-DEC-03 9:00 AM BABYLON 5 (LBX) VOICES OF AUTHORITY
29-DEC-03 9:00 AM BABYLON 5 (LBX) DUST TO DUST
30-DEC-03 9:00 AM BABYLON 5 (LBX) EXOGENESIS CRUSADE:

21-DEC-03 2:00 AM CRUSADE EACH NIGHT I DREAM OF HOME
28-DEC-03 2:00 AM CRUSADE PATTERNS OF THE SOUL

STARGATE SCHEDULE: 22-DEC-03 6:00 PM STARGATE SG-1 FIRE AND WATER
22-DEC-03 7:00 PM STARGATE SG-1 ONE FALSE STEP
22-DEC-03 8:00 PM STARGATE SG-1 SHOW AND TELL
22-DEC-03 9:00 PM STARGATE SG-1 1969
22-DEC-03 10:00 PM STARGATE SG-1 OUT OF MIND
23-DEC-03 6:00 PM STARGATE SG-1 HATHOR
24-DEC-03 6:00 PM STARGATE SG-1 SINGULARITY
29-DEC-03 6:00 PM STARGATE SG-1 COR-AI
29-DEC-03 7:00 PM STARGATE SG-1 INTO THE FIRE
29-DEC-03 8:00 PM STARGATE SG-1 SETH
29-DEC-03 9:00 PM STARGATE SG-1 FAIR GAME
29-DEC-03 10:00 PM STARGATE SG-1 LEGACY
30-DEC-03 6:00 PM STARGATE SG-1 ENIGMA FARSCAPE SCHEDULE:

21-DEC-03 12:00 AM FARSCAPE KANSAS
28-DEC-03 12:00 AM FARSCAPE TERRE FIRMA
04-JAN-04 11:00 PM FARSCAPE (LBX) TWICE SHY
08-JAN-04 3:00 AM FARSCAPE PREMIERE
08-JAN-04 4:00 AM FARSCAPE BACK AND BACK TO THE FUTURE
08-JAN-04 5:00 AM FARSCAPE EXODUS FROM GENESIS
11-JAN-04 11:00 PM FARSCAPE (LBX) MENTAL AS ANYTHING
15-JAN-04 3:00 AM FARSCAPE THRONE FOR A LOSS
15-JAN-04 4:00 AM FARSCAPE PK TEK GIRL
15-JAN-04 5:00 AM FARSCAPE THANK GOD IT'S FRIDAY AGAIN
18-JAN-04 11:00 PM FARSCAPE (LBX) BRINGING HOME THE BEACON
22-JAN-04 3:00 AM FARSCAPE I, E.T.
22-JAN-04 4:00 AM FARSCAPE THAT OLD BLACK MAGIC
22-JAN-04 5:00 AM FARSCAPE DNA MAD SCIENTIST
23-JAN-04 11:00 AM DAYTIME ROTATION - FARSCAPE SUNS & LOVERS
23-JAN-04 12:00 PM DAYTIME ROTATION - FARSCAPE SELF-INFLICTED WOUNDS PT 1: COULD'A, WOULD'A, SHOU
23-JAN-04 1:00 PM DAYTIME ROTATION - FARSCAPE SELF-INFLICTED WOUNDS PT 2: WAIT FOR THE WHEEL
23-JAN-04 2:00 PM DAYTIME ROTATION - FARSCAPE DIFFERENT DESTINATIONS
23-JAN-04 3:00 PM DAYTIME ROTATION - FARSCAPE EAT ME
25-JAN-04 11:00 PM FARSCAPE (LBX) A CONSTELLATION OF DOUBT
29-JAN-04 3:00 AM FARSCAPE THEY'VE GOT A SECRET
29-JAN-04 4:00 AM FARSCAPE TILL THE BLOOD RUNS CLEAR
29-JAN-04 5:00 AM FARSCAPE A BUG'S LIFE

EARTH: FINAL CONFLICT

02-JAN-04 8:00 AM EARTH: FINAL CONFLICT DECISION
05-JAN-04 8:00 AM EARTH: FINAL CONFLICT TRUTH
06-JAN-04 8:00 AM EARTH: FINAL CONFLICT MIRACLE
07-JAN-04 8:00 AM EARTH: FINAL CONFLICT AVATOR
08-JAN-04 8:00 AM EARTH: FINAL CONFLICT OLD FLAME
09-JAN-04 8:00 AM EARTH: FINAL CONFLICT FLOAT LIKE A BUTTERFLY
12-JAN-04 8:00 AM EARTH: FINAL CONFLICT RESURRECTION
13-JAN-04 8:00 AM EARTH: FINAL CONFLICT HORIZON ZERO
14-JAN-04 8:00 AM EARTH: FINAL CONFLICT SCORPION'S DREAM
15-JAN-04 8:00 AM EARTH: FINAL CONFLICT LIVE FREE OR DIE
16-JAN-04 8:00 AM EARTH: FINAL CONFLICT THE SCARECROW RETURNS
20-JAN-04 8:00 AM EARTH: FINAL CONFLICT SANDOVAL'S RUN
21-JAN-04 8:00 AM EARTH: FINAL CONFLICT THE SECRET OF STANDHILL
22-JAN-04 8:00 AM EARTH: FINAL CONFLICT PANDORA'S BOX
23-JAN-04 8:00 AM EARTH: FINAL CONFLICT IF YOU COULD READ MY MIND
26-JAN-04 8:00 AM EARTH: FINAL CONFLICT WRATH OF ACHILLES
27-JAN-04 8:00 AM EARTH: FINAL CONFLICT THE DEVIL YOU KNOW
28-JAN-04 8:00 AM EARTH: FINAL CONFLICT LAW & ORDER
29-JAN-04 8:00 AM EARTH: FINAL CONFLICT THROUGH A LOOKING GLASS
30-JAN-04 8:00 AM EARTH: FINAL CONFLICT INFECTION
BABYLON 5/CRUSADE PHOTOSHOP PHOTOS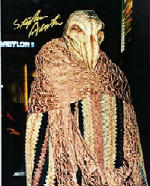 Peter Woodward has sent along a new photo -- a rather dreadful one -- from his appearance on CHARMED. It will be added to the collection of photos available from Peter, including additional copies of the Crusade poster in photo format. Both are autographed by Peter. You do NOT have to pay the prices asked for over at e-bay! Here are photos of B5 and Crusade cast members at fantastic prices. Check out Photo Shop. Ordering is easy -- and you can't beat the prices! Just let me know which photos you want and I'll check to make sure they are still in stock.
---
BABYLON 5 TOONS
John Cook has a wonderful collection of cartoons -- many are take-offs from Babylon 5. Here's just one of them.

He has a cartoon caption contest going on as well. Try your hand at a punch line.

Go to http://contests.sev.com.au/index.php?contestid=1


SCI-FI CARTOONS
With the new Battlestar Galactica coming in December, Tye brings back old memories of Captain Apollo and the old series with this new satire. Apollo Discovers Feng Shui.Enjoy Tye's other works at www.thelightersideofscifi.com.



BABYLON 5/CRUSADE CONVENTIONS
CONVENTION UPDATE
CONVENTION CALENDAR
Creation Second Annual STAR TREK CONVENTION
January 9-11, 2004
Location: Hilton Metropole Hotel
Place: London, England
Guests: Robbie McNeil, Nana Visitor, Leonard Nimoy, Robert Beltran

For more information, visit their website at http://www.creationent.com/calendar.htm.
---

Creation Entertainment
February 6-8, 2004
Location: Doubletree Bellevue Hotel
Place: Seattle, Washington
Guests: Robert Beltran, Amanda Tapping, Tim Russ, Robert Picardo, Ethan Phillips, Peter Mayhew, Jeremy Bulloch

For more information, visit their website at http://www.creationent.com/calendar.htm.
---

Creation Entertainment
February 14, 2004
Location: Phoenix Hilton East/Mesa
Place: Phoenix, Arizona
Guest: William Shatner

For more information, visit their website at http://www.creationent.com/calendar.htm.
---

Creation Entertainment (Buffy & Angel)
February 15, 2004
Location: Phoenix Hilton East/Mesa
Place: Phoenix, Arizona
B5 Guest: Robin Atkin Downes
Guests: Stephanie Romanov, Julie Benz, Iyari Limon, John Kassir, Jacqueline Lichtenberg

For more information, visit their website at http://www.creationent.com/calendar.htm.
---

Farpoint
February 13-15, 2004
Location: Marriott's Hunt Valley Inn
Place: Baltimore, MD
B5 Guests: Bill Mumy, Brad Dourif
Other Guests: Peter David, Liliana Mumy

For more information, visit their website at http://www.farpointcon.com.
---
Marcon
March 5-7, 2004
Location: Hilton Mpls/St. Paul Airport Hotel
Place: Bloomington, Minneapolis
B5 Guest: Richard Biggs
Other Guests: Dr. Demento, John M. Ford, Davina, David E Romm, the Great Luke Ski, The Nick Atoms, Tri-Destiny

For more information, visit their website at http://www.marscon.org.
---
Best of Both Worlds
Date: March 13-14, 2004
Place: Canberra, Australia
Theme: Lord of the Rings
Guests: Dominic Monaghan - Meriadoc "Merry" Brandybuck (The Lord Of The Rings Movie Trilogy)
For more information, visit their website at " TARGET="_new"> http://johnvb.tripod.com/asn2.html.
---
Creation Entertainment GRAND SLAM: THE SCI-FI SUMMIT
March 26-28, 2004
Location: Pasadena Center
Place: Pasadena, CA
Guests: William Shatner, Leonard Nimoy, Brent Spiner, Sally Kellerman, Connor Trinneer, Alexander Siddig, Dominic Keating, Anthony Montgomery, Walter Koenig, Andrew Robinson, Armen Shimerman, Kren Auberjonois, Cirroc Lofton, John Rhys-Davies, Amanda Tapping, Michael Shanks, Corin Nemec, Michael Rosenbaum, Mark Verheiden, Anthony Michael Hall, Nicole de Boer, Chris Bruno, John L. Adams, Kristen Dalton, Andy Hallett, Mercedes McNab, Robia La Morte, Iyari Limon, Mark Lutz, James Leary, Julie Benz, Jeremy Bulloch, Kenny Baker, Rusty Goffe, Ken Colley, Peter Mayhew, Leni Parker, Gina Torres

For more information, visit their website at http://www.creationent.com/calendar.htm.
---

Be sure to visit the referenced sites to see if there have been changes in dates/guests attending. Also visit our Convention Calendar for a full listing of upcoming conventions featuring Babylon 5, Crusade and Legend of the Rangers cast members as guests.
CONVENTION HIGHLIGHTS
Ranger Brian had a blast with Rick, Jason and Jeffrey at the 2BeContinued Convention last week in Indiana. He sent along a picture for everyone to enjoy. Thanks Brian.
If you would like to share your convention experience with your other Zocalo readers, send along a convention report. I will gladly post it for all to read. Got pictures? I'll post those as well.
ZOCALO TRADING POST
Do you have extra copies of B5, Amazing Spiderman, Midnight Nation or Rising Stars comics you'd like to trade? How about those extra trading cards or B5 magazines? There are a lot of fans looking for these items -- and the Trading Post can help you buy or sell them. To see what's available, just use this link to the Trading Post. To have items included in The Trading Post, send a note to The Zocalo. Please put Trading Post in the subject line.
PEN PALS
If you are looking for someone to talk about Babylon 5 and Crusade with, the Pen Pal section is for you! Check it out! Drop a note to someone who is feeling B5 withdrawal -- BIG TIME!

People thought a Pen Pal page was a good idea. If you would like to meet people who you could chat with or share your opinions of the show with, send along your e-mail or snail-mail address The Zocalo. It will be incorporated on the new Pen Page Page.
MAIL FOR CAST AND CREW
Here's a recent note from JMS on the subject:

Just an FYI to those who've been using the Ventura Blvd. mail drop for fan mail to actors....

As mentioned before, we're phasing out the forwarding of fan mail because we a) don't have the resources, complicated by b) the actors have scattered to the four winds, and it makes it very difficult to get everything to everybody in a timely fashion.

So, having provided prior notice...fan mail to actors coming to the Ventura Blvd. mail drop will be sent back. Mail to actors should be sent via their official fan clubs. I will still be taking mail there, since it's my mailbox, but that's it.

Just so's y'all know and save a few bucks on postage and returns.

WARNER BROS:

Warner Bros. Address:

Warner Bros. Domestic Television Distribution
4000 Warner Blvd.
Burbank, CA 91522

Warner Home Video:

Mr. Douglas Wadleigh
VP for Marketing and Special Features
Warner Bros.
4000 Warner Blvd.
Burbank, CA 91522

SCIFI:
Bonnie Hammer, President
Sci-Fi Channel
1230 Avenue of the Americas
New York, NY. 10020-1513

Mr. Thomas Vitale
Senior VP of Acquisitions, Scheduling & Program-Planning
BACK ISSUES OF THE ZOCALO TODAY
The front page of the The Zocalo Today changes daily, so be sure to check the back issues to make sure that you haven't missed anything IMPORTANT! I don't want the front page getting too long so I shift information periodically into the archives. So if you aren't a regular visitor to The Zocalo Today, be sure to check out the back issues. Just use the button above!
---
Take care and I look forward to hearing from you.
Sandra Bruckner (sgbruckner@aol.com)
Editor/Publisher
The Zocalo Today
http://www.isnnews.net
Copyright - SBruckner, 1999-2003