[an error occurred while processing this directive]

The Zocalo Today

Welcome! I am REALLY glad you dropped by. Take your shoes off, get comfortable and stay a while.

The Zocalo Today is an interactive newsletter. If you have suggestions, please send them along. The Zocalo Today is as much YOUR newsletter as it is mine! I'm just pulling together things for you! Join our weekly discussion topic. It is just one way you can interact with other Z readers. Send along letters, sightings of B5 cast and crew in other projects, convention reports, photos, etc. Don't miss our back issues. There is a LOT of information contained there and you'll not want to miss anything.

If you have questions, drop me a line at sgbruckner@aol.com or b5web@aol.com.

Again, WELCOME!
WHAT'S UP
We are still experiencing some problems at the ISN News website. I am moving the current information over to our back-up site, but all links will not be active. Hopefully the problems will be solved shortly and I can get back to regular updating. However, whenever we're experiencing trouble that won't be fixed for a while, I'll drop information over to http://zocalo.multiservers.com.

December 21, 2001 4:02am
What's New
SCIFI PROMOTIONS: Well the cars have been wrapped! Saw a note over in the newsgroup from a fan who even posted pictures of her now "beautifully wrapped Saturn". Check it out at http://www.fjordstone.com/gcar.html
---
Today is the last day before the auction of Tye's wonderful satires is final. Don't miss your opportunity to have one of these truly unique pictures. Tye's satires will be benefitting Penny Lane, the home for children that Pat Tallman supports. See details below.
---
COMPUTER PROBLEMS: I'm having some computer problems this morning, so I'll update the page with more information a bit later.
---
JMS ON DVD: JMS talks to SciFi Wire about the release of B5 on DVD at http://www.scifi.com/scifiwire/art-main.html?2001-12/18/11.15.tv.
---
JMS also talked recently to the folks at IGN.COM. He provides a little commentary about how the DVD was pulled together, including portions of the original pilot that needed to be reconstructed because it had been eaten by rats!
---
SCHEDULE CHANGE: On January 2, Babylon 5 will begin airing at 5pm ET, instead of the regular 7pm ET.
---
LEGEND OF THE RANGERS: Are you hosting a "Legend of the Rangers" party or gathering? If you are, pass along the information and I'll post it so that others can see where they might link up with our B5 fans. See details below.
---
B5 CAST: I've just updated the B5 Cast on TV page. Check it out. I've added a few new people, including David Warner from Grail.
---
COMING OF THE SHADOWS: Terry Jones has sent along another installment of his terrific B5 chronology -- this time it is "The Coming of the Shadows". Be sure to read through this marvelous timeline for Babylon 5.
---
DIGITAL TRADING CARDS: The next in the series of digital trading cards is available at www.scifi.com/b5rangers. Citizen G'Kar is the latest trading card. Don't miss it.
---
LEGEND OF THE RANGERS: The www.scifi.com/b5rangers website has been updated with additional interviews and a feature on props for the telemovie. Check it out!
---
MIDNIGHT NATION: Issue #9 Midnight Nation is out! For a review of the issue, drop over to www.cinescape.com.
---
Tye Bourdony from The Lighter Side of Sci-Fi, has prepared some new satires for auction -- this time benefitting Penny Lane, the home for children that Pat Tallman supports. See details below.
---
JANUARY IS B5 MONTH AT SCIFI: Along with the original series on SCIFI at 7pm ET each evening, SCIFI will be running Crusade and the Babylon 5 movies during January. On January 19 and 20, they will show "Legend of the Rangers". A schedule is listed below. THANK YOU SCIFI!
---

BLOOD DRIVES: If you are able, be sure to roll up your sleeves and give blood -- both now and in a couple of weeks. The need for blood will be continual. Right now, the tremendous outpouring of volunteers has filled quotas and storage space! FANTASTIC!!! But those supplies will be utilized and a new supply will be needed soon. Check out donation drives near you. I'm signed up already.
---
The e-mail version of The Zocalo Today goes out on Saturdays. If you would like to be included on the mailing list, just send a blank note to thezocalo-subscribe@yahoogroups.com. If that doesn't work for you, drop me a note at sgbruckner@aol.com. I can add you manually.
---
NEWS AROUND THE SCI-FI GENRE
JEREMIAH: JMS' new series for Showtime, Jeremiah, is expected to air sometime this spring, perhaps March or June. In talking with SciFi Wire, J. Michael Straczynski gives us a little background for the new show. "The main premise is that there's a virus of some kind that gets loose more or less in present day and wipes out about two-thirds of the population--anybody over the age of puberty," he said. "It targets hormones. Whoever has adult hormones gets nailed. It's now 15 years later, and the kids who survived the big death are now coming into their own. They've been riding, if you will, on the ashes of the old world, through clothes they'd grown into and food still in cans. Now they're at a point where they can keep on declining and running out of things, or they can begin to rebuild the world. It's at that cusp of the rebuilding where our story takes place. So it's a story not about endings, but beginnings." JMS plans on writing about half of the 20 episodes.
---
RATINGS: Top 10 SF Network Shows: The X-Files 5.5; Enterprise 4.6; Smallville 4.5; Buffy 3.6; and Roswell 2.2. Source: Nielsen Galaxy Report, 11/26/01 - 12/2/01.
---
MUTANT X: Critics have complained about the slow-motion sequences that pepper Mutant X. John Shea, who portrays Adam in the series, told SCI FI Wire that producers have already addressed complaints about the show's preponderance of slow-motion shots. "That's already been changed," and will be evident in the new episodes coming in January. Shea said that they have learned and brought in someone from Jackie Chan's organization to work with as one of our stuntmen. "Our fight coordinator works with Jet Li and comes from Hong Kong. So what we've decided is that when we shoot a fight scene, we're going to devote much more time to it. We just had a huge fight sequence I was involved in a couple of weeks ago, in an [upcoming] episode called 'A Whiter Shade of Pale.' We devoted an entire day, 10 hours, to shooting this one sequence."
---
GODZILLA: SCI FI will air Stompathon 2001, a marathon of old and new Godzilla films, starting at 1 p.m. Dec. 30. The schedule includes eight full-length Godzilla features. For the schedule, check out www.SciFi.com.
---
LORD OF THE RINGS: Although the numbers have not yet been tallied, Variety reports that The Lord of the Rings: The Fellowship of the Ring earned an estimated $17.1 million in its first day of release. The figure could rise when additional North American tallies are collected. The take puts the Peter Jackson epic on track to become the biggest December opening in history, with an expected five-day total in the $70 million to $80 million range.
---
December 20:
LORD OF THE RINGS: Well, it has opened in theaters and the reviews are pouring in! SCIFI has a review of their own at http://www.scifi.com/sfw/advance/19_screen.html. See if you agree.
---
ENTERPRISE: Dominic Keating, who portrays Lt. Malcolm Reed on "Enterprise", recently talked to SCI FI Wire about the new Star Trek series and why it is resonating with fans. "Our show definitely appeals to an audience now because it's close enough in time where you can get a concept of what it might be like," he said of Enterprise. "We live like spacemen in those suits a lot of the time, and we mess up. We don't get it all right the whole time. It's kind of like Lewis and Clark. We're explorers, and it's the first expedition into deep space for humankind. There is an earthy quality to it, even though it's SF drama. It's [also] funny, and it's sexy and altogether more human."
---
FIREFLY: Buffy the Vampire Slayer's creator, Joss Whedon, is finalizing a deal with Fox Broadcasting for a new SF adventure drama tentatively titled Firefly for the 2002-'03 season. Variety reports that the new ensemble series takes place 500 years in the future and revolves around the crew of a small spaceship whose aft end lights up. Whedon will write, executive produce and direct the two-hour pilot for the series.
---
LIBRARY OF CONGRESS: Each year, the Librarian of Congress, James H. Billington, selects 25 film works that are "culturally, historically or esthetically" significant for inclusion in the Registry. This year's list includes the original PLANET OF THE APES, JAWS, THE THING FROM ANOTHER WORLD, ANIMAL HOUSE and even ABBOTT AND COSTELLO MEET FRANKENSTEIN. For the complete listing of films added to the Registry, go to http://lcweb.loc.gov/film/nfr2001.html.
---
TEASERS: The internet certainly has had an impact on how movies are advertised. Trailers are everywhere -- even for films that won't open for quite some time. New trailers have been posted for Signs, Blade II, Austin Powers: Goldmember and Queen of the Damned. Queen opens in February 2002; Blade II in the spring; Goldmember on July 26, 2002; and Signs on Aug. 2, 2002.
---
December 19:
RATINGS: Top 10 SF Syndicated Series: The X-Files 3.1; Andromeda 2.9; Buffy 2.9; Mutant X 2.9; Stargate SG-1 2.9; 3rd Rock 2.5; John Edward 2.1; Earth: Final Conflict 2.0; Tracker 1.8, and Pretender 1.7. Source: Nielsen Galaxy Report, 11/26/01 - 12/2/01.
---
JAMES BOND 20: Production on the new James Bond film will begin next month and a number of people have expressed interest in working on the project. Halle Berry is hping to be a villainous with some special power. Rick Yune (The Fast and the Furious) will be the lead villain according to The Hollywood Reporter. Along with these new faces will be some favorite old ones -- John Cleese and Judi Dench will reprise their roles as R and M, the trade paper added. Neil Purvis and Robert Wade wrote the script for this film.
---
TWILIGHT ZONE MARATHON: Here's a terrific way of staying up on New Year's Eve. SCI FI will air a marathon of Twilight Zone episodes, starting at 7 a.m. on New Year's Eve and continuing through New Year's Day. The Channel will air 44 hours of the classic Rod Serling series, including original, uncut versions of classic episodes in prime time, from 8 p.m. to midnight both days. The uncut episodes will include "Will the Real Martians Please Stand Up?" "To Serve Man," "The Dummy," "Eye of the Beholder" and "The Howling Man" on Dec. 31 and "A Penny for Your Thoughts," "The Masks," "The Hitch-Hiker," "It's a Good Life" and "The Midnight Sun" on Jan. 1. This marathon has become an annual event for SCI FI; they began the tradition in 1995.
---
INCREDIBLE HULK: Universal has announced that the new Hulk movie will be released on June 20, 2003. "THE HULK will be our big tentpole movie for summer 2003, which will be supported with an unprecedented companywide marketing effort. The third weekend in June is the perfect release date for a major event title like this." Ang Lee (Crouching Tiger, Hidden Dragon) is set to direct the film, from a screenplay by James Schamus, with Marvel Comics founder Stan Lee as executive producer. Lee will go back to the early incarnations of the character created in May 1962 by Stan Lee and Jack Kirby, staying true to the spirit of the early Marvel years while completely updating the story, the studio said. Eric Bana and Jennifer Connelly will star.
---
December 18:
LORD OF THE RINGS: One more day before the big premiere! Even so, there is talk of a trailer for the second Rings movie, Two Towers, in the spring. Robert Shaye, co-chief executive of New Line, told the New York Times that Towers is slated for Christmas 2002. New Line plans to release DVD and videocassette versions of Fellowship in August. The DVD would likely feature a full trailer for Towers that would include dialogue scenes and plot points.
---
PETER JACKSON: SCIFI.COM has an extensive interview with Lord of the Rings director Peter Jackson. He talks about breaking all the rules -- including hiring a writer who had never written a screenplay before! Peter goes into detail about how they filmed the movie, building two sets of scenary to get around the height difference between the Hobbits and regular people.
---
KATE AND LEOPOLD: Though this movie may get lost in the rush to see "Lord of the Rings", this movie could be a great second movie to watch. This time-travel romantic comedy stars Meg Ryan and Hugh Jackman from X-Men. It opens on Dec. 25.
---
BUFFY: The AFI Awards nominees have been announced and Buffy has gotten the nod for best dramatic series. They will "Buffy" compete with two HBO shows, "Six Feet Under" and "The Sopranos" as well as the Emmy-award winning "The West Wing" on NBC. "Lord of the Rings" was nominated in several categories, including movie of the year.
---
December 17:
RATINGS: Top 10 SciFi Channel Shows: Terror Tract 1.0; Primal Force 1.0; The Colony 1.0; Nightscream 0.8; Bermuda Triangle 0.8; Dr. Moreau 0.8; Dune 0.8; Star Trek 0.8; Babylon 5 0.7, and Invisible Man 0.7. Source: Nielsen Galaxy Report, 11/26/01 - 12/2/01.
---
LORD OF THE RINGS: John Rhys-Davis will be chatting at SCIFI tonight at 9pm ET. Don't miss your chance to talk with this marvelous actor who has appeared in Raiders of the Lost Ark and Indiana Jones and the Last Crusade; King Solomon's Mines and Living Daylights. Many will remember him from Sliders as Professor Maximillian P. Arturo.
---
TREK AUCTION: On December 12, a special auction was conducted to benefit the Motion Picture and Television Fund. Included were items from the personal collection of Walter Matthew Jefferies, the original series art director, who designed the original U.S.S. Enterprise. Among the winning bids: $50,000 for a prop phaser, $45,000 for a tricorder and $42,500 for a scale model of the U.S.S. Enterprise used onscreen in the original series. Two other props--an original-series tricorder from set decorator John Dwyer and a phaser rifle used in Star Trek: First Contact--went for $45,000 each. Jefferies' meticulously detailed scale model of the Star Trek soundstage went for $40,000, as did the gold tunic designed by William Theiss and worn by William Shatner in the show's second season.
---
USA/UNIVERSAL: A marriage made in heaven? Perhaps. After being separate for 12 years, Vivendi Universal and USA Networks are expected to announce a $12.4 billion deal that will put the TV assets acquired by USA in 1997 back under Universal's control and install USA chairman and CEO Barry Diller as the head of the studio's film, TV and theme park operations. Sources said the complex transaction was structured as the creation of a joint venture between Vivendi Uni and USA encompassing Universal's film studio and theme parks and USA's cable channels, including USA Network and Sci Fi Channel, and the Studios USA and USA Films production units.
---
MARVEL COMICS: Marvel's Heroes has already raised in upwards of $700,000 for September 11th related relief efforts. January will likely wind up being the industry's high-water month for fundraising. In addition to a final, third printing of Heroes on Jan. 9th, a fundraising auction of Heroes artwork on Jan. 17th, Alternative Comics 9-11 Emergency Relief on Jan. 16th, and the two September 11th Volumes by a cooperative of publishers scheduled for Jan. 23rd, Marvel's other fundraising effort, A Moment of Silence, has been given a Jan. 9th release date
---
December 16:
DOCTOR WHO: Though SCIFI reported that Buffy's Anthony Stewart Head would portray Dr. Who is an upcoming audio series, the Dr. Who website provides additional information. The first three stories feature a different Doctor and the fourth and final play stars Professor Bernice Summerfield. Head guest-stars in the first three installments and former Who companion, Katy Manning, makes a guest appearance as Iris Wildthyme in the first and fourth chapters. Ranger Terry indicates that Head will portray a villain.
---
December 15:
CYBORG: Variety reports that Universal Pictures and Dimension Films will jointly develop a new feature-film adaptation of Martin Caidin's SF novel Cyborg. This 1972 book was the basis for the Six Million Dollar Man TV series. Larry Gordon will produce the film with Scott Faye and Paul Rosenberg's Collision Entertainment; no writer has been named as yet.
---
ANDROMEDA: More changes ahead. Brent Stait, who portrays Rev Bem in the series, has quit the show. Seth Howard, Tribune Entertainment's creative executive in charge of production, confirmed Stait's departure during a chat on the show's official Web site. "Brent Stait chose to leave the show for personal reasons," Howard posted. "We miss him and hope that we will be able to play again sometime in the future." Stait had been having problems with the heavy makeup and prosthetics he wore as part of his character. "Brent had a severe allergic reaction to the considerable prosthetics. It became unbearable, although he was a serious trooper," Howard said. While no details are available on how the character will depart the show, Howard said, "We miss Rev, and I for one miss that particular quality about him. And although we wouldn't duplicate his character, we can go there in other ways. ... Keep your eye on Trance."
---
RANGER CHATS - MYRIAM SIROIS -- JANUARY 3!!

For the past several weeks, the cast of "Legend of the Ranger" has been chatting with fans at the SCIFI.COM website. Myriam Sirois, who will portray Sarah Cantrell in the upcoming telemovie, will be join fans on Thursday, January 3, 9:00 PM ET.

To join the chat, go to www.scifi.com/chat and join in the conversation. SCIFI should have a transcript of the chat in a few days for those who can not make the chat.

Many of the cast have already chatted with fans. Alex Zahara (Dulann) was the first, followed by Dylan Neal (Captain Martel), Dean Marshall (Malcolm Bridges) and Warren T. Takeuchi (Kitaro Sasaki). Transcripts are now available at www.scifi.com/b5rangers.
BE A SANTA -- THANK YOU
The response from readers has been good. Pat Tallman (Lyta from B5) is now busy pulling all of the gifts together to take out to Penny Lane. Thanks to everyone who made a contribution or sent along gifts for the children at Penny Lane. Your kindness is most appreciated. Pat's site, www.beasanta.org, should have a follow-up report on how things went for Christmas.

Thanks again. Merry Christmas.
---
CHRISTMAS TOON FOR CHARITY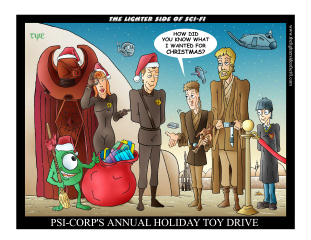 Tye Bourdony has come up with an original Christmas satire that will be signed by both Pat Tallman and Jeffrey Willerth. Proceeds from the auction will go to Penny Lane, a home for children that Pat has supported for many years. The satire will be up for auction soon at http://www.intothefires.com Globel List Auctions. Check this one out. The auction ends on December 21.
LEGEND OF THE RANGERS GATHERINGS
Are you hosting a gathering of B5 fans to celebrate the "Legend of the Ranger" movie? Ranger Lisa was the first to send along a note about their get-together. If you are having a viewing party as well, send along the information and I'll place it on the "B5 Gathering" Page.
JMS ON THE LEGEND OF THE RANGERS
Here is a recent note from JMS into the B5 newsgroup. As we all know, the fans and the ratings will decide the fate of "Legend of the Rangers". We all need to get out and make sure people know the show will air on January 19.

Date: 12/4/2001 7:24 PM Eastern Standard Time

One thing I've always tried to do was to avoid obvious promotion; I like talking about the writing of a show, the making of a show, what I liked (or didn't) like about the end result...going out there and blatantly saying "Hey, watch our show!" is something I've never been comfortable with, only because I think people are smart enough to make up their own minds. If it's something you want to see, you'll see it; if it ain't, you won't. ("If you like that sort of thing, it's the sort of thing you'll like." Abraham Lincoln.)

One thing, however, is self-evident about the coming broadcast of The Legend of the Rangers: if enough people tune it, there will be a series. If enough don't, there won't.

At conventions, I'm asked constantly when more B5 stuff will be coming down the pike. I've always said it's in the hands of the networks and the studios. This time, it's the fans who have the power to make that decision. If every B5 fan tunes in, it happens. It's really that simple and straightforward.

The rest I leave happily to your own disrection.
---
YOU CAN MAKE A DIFFERENCE
While it is important to remind everyone to view "Legend of the Rangers" on January 19, it is even more important for those who do not currently have SciFi on their cable network to write and call to ask that the network be added to your cable service. In many areas, cable providers will not offer a service unless they can be assured there is an audience for that channel. Call them and ask that SCIFI Channel be added to your basic service. Encourage your friends to do the same. Who knows. By January 19, you might be able to watch "Legend of the Rangers" on your own TV set!
---
LEGEND OF THE RANGERS WEBSITE

There are new materials up at www.scifi.com/b5rangers. The second and third digital trading cards are now available for Sarah Cantrell and Citizen G'Kar. Get all three (including David Martel) digital trading cards. I hope you can download the short videos and flyers.

I found a new site this morning that has the "Legend of the Rangers" trailer in a number of formats, including Quicktime, Real and Windows Media Player. Go to http://www.hollywood.com/multimedia/detail/media/1097976 and pick the player that best suits your connection to the internet. The trailer is terrific -- but only if you can see it!
BOOK 3 OF TECHNOMAGE SERIES
Here is the press release from DelRey on Jeanne Cavelos' next B5 novel:

The explosive confrontation between one techno-mage and the evil power that spawned him
Babylon 5: Invoking Darkness
Book 3 of The Passing of the Techno-Mages Trilogy
By Jeanne Cavelos
In Babylon 5: Invoking Darkness (Del Rey; $6.99), third volume of the best-selling Passing of the Techno-Mages trilogy, World Fantasy Award winner Jeanne Cavelos brings the mages' story to a shocking climax.
The techno-mages are a mysterious order of humans and aliens implanted with extremely advanced technology that allows them to perform acts that seem magical. In Book 2, the dark secret of the techno-mages was revealed: their implants are provided by an ancient, evil race--the Shadows. By programming the implants to further their agenda, the Shadows have made the mages into agents of chaos and destruction.
Now the Shadows have engulfed the galaxy in war. As billions die and the flames of destruction rage unchecked, the Shadows seem poised for absolute victory. The mages, determined not to aid the Shadows, have withdrawn to a hiding place. Among them is Galen, who burns for revenge against the treacherous mage Elizar, who joined the Shadows and killed Galen's love. At last Galen wins permission to leave the hiding place and kill Elizar and two other enemies. Though the galaxy is being torn apart by bloody conflict, he is not to interfere in the Shadows' war; he is not to use his great spell of destruction against the mages' creators.
As Galen re-enters a war-torn galaxy, he must hold tightly to control. As much as he wants to strike against the Shadows, who infected him with the seeds of chaos and destruction, he knows that giving into those urges will only further the Shadows' ends. But once the Shadows learn of his presence, they have their own plans for Galen. In a desperate, apocalyptic battle, there's no telling who will be the victor. Or if there will be any survivors at all.
The Babylon 5 novels of Jeanne Cavelos have been highly praised by readers and critics as the best in this series, and as "real books," not TV tie-in knock-offs. Cavelos's readers include fans of the TV show and those who have never seen the show, but who love her compelling, page-turning stories.
In the front of Jeanne's latest novel is a brief paragraph that seems SO appropriate for today:
There is a greater darkness than the one we fight
It is the darkness of the soul that has lost its way.
The war we fight is not against powers and principalities;
it is against chaos and despair. Greater than the death of
flesh is the death of hope, the death of dreams.
Against this peril we can never surrender.

---G'Quan
DEL REY TO REISSUE POPULAR BABLYON 5 NOVELS
In response to tremendous demand from the fans of Babylon 5, Del Rey will being reissuing the Babylon 5 novels that were originally published by Dell Books. There were nine novels from Dell, and Del Rey will begin with the two most popular, THE SHADOW WITHIN by Jeanne Cavelos and TO DREAM IN THE CITY OF SORROWS by Kathryn M. Drennan. The first (scheduled for December 2002) will be THE SHADOW WITHIN, which acts as a prequel to Jeanne Cavelos's trilogy The Passing of the Technomages.
BABYLON 5 CALENDAR FOR 2002
The folks at CalendarMart have a 2002 Babylon 5 Calendar available. Go to http://secure.venus.co.uk/bluemask/calendar_babylon_5.html to place your orders. Slow Dazzle hasn't come up with any new photos to use in this version of the calendar -- but it is Babylon 5 and will look terrific on your wall.
** Bruce at www.uncomyngifts.com also has the calendar. So you have two places where you can pick up this great calendar for 2002!
THIS WEEK'S DISCUSSION TOPIC:
A number of you wrote to express your opinion about JMS' Amazing Spiderman Issue #36 -- the issue that deals with the events of September 11. I'm sure there are others who would like to share their views regarding the issue -- or other special publications related to September 11 -- like Heroes.

Send in your comments to TheZocalo@aol.com or B5web@aol.com. I'll post them on the Discussion Topic page for everyone to share.
BABYLON 5 ON DVD -- AVAILABLE NOW!!!!
The Babylon 5 DVD is OUT!!! Yes, after waiting ages, "In the Beginning" and "The Gathering" are available on DVD. People have reported purchasing them at Best Buy, but Amazon.com has it available as well.

In a recent post to the B5 newsgroup, JMS said that WB is close to making a decision on whether or not to go forward with additional B5 episodes. Let's hope sales of the first DVD are strong and WB will make all five seasons available on DVD.
KEEPING UP WITH CAST AND CREW
GUS LYNCH: Gus Lynch may be new to you all, but he portrays Turk in the new "Legend of the Rangers" movie. He's a terrific guy and I think you're going to LOVE his character. He's won a role in an upcoming "Dark Angel" episode entitled "Gill Girl". Gus has been pretty busy. He's also recently finished filming a remake of I Spy in which he plays General Tucker opposite Owen Wilson. He also has won a recurring role on UPN's Special Unit 2.
---
ENID-RAYE ADAMS: Another alumn from "Legend of the Rangers", Enid who portrays Firell, a Minbari ranger, has been cast in A Guy Thing, along with Gus Lynch and Jason Lee.
---
WARREN TAKEUCHI Since we've been talking about Bruce Lee lately, you might be interested in seeing Warren as he portrays the late kung-fu master in "Blow in Bag". Warren is a HUGE fan of Bruce Lee, not only for his martial arts abilities, but for his many achievement as a writer, director, producer.
---
JEFFREY WILLERTH: The Koshman has been really busy. After completing his "The Most" series for the History Channel, he began work on an hour-long special, "The Planet's BEST Animal Commercials" slated to air in early January. A second hour, "The Planet's WILDEST Animal Commercials" should air at the end of the same month. Jeffrey reports that both shows are filled wall-to-wall with TV ads from around the world. "We collected over 1200 commercials) and feature many pretty-damn-funny commercials that most people have never seen." Jeffrey was recently in Michigan collecting background materials for an upcoming PBS series on Henry Ford. The show will air in January as part of the celebration of Ford's centennial.
---
BABYLON 5/CRUSADE CHRONOLOGY
A number of you have written to ask about having an index of the chronology published thusfar. Terry has given permission for this so I'm working on it. You can now find the index to the timeline published thusfar at B5 Chronology Index .

Terry Jones created a FANTASTIC Babylon 5/Crusade Chronology that was published in the Official Babylon 5 magazine. He has not stopped with the end of the series though. He has included items from the latest novels as well as things from the Crusade series. Here's a note from Terry to tell you all about it.

To look at the timeline in a different way, I have been working with Terry Jones on personal chronologies for the Babylon 5 universe. At The Galactic Gateway you will fine Parts 1-4 of the chronology for John Sheridan along with Part 1 for KOSH. Others will follow. I hope you will visit GG and give the chronologies a look.

Terry has provided a new segments of the Babylon 5 Chronology The Coming of Shadows.
SCI FI PUBLICATIONS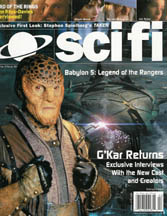 Good news. SciFi magazine is back! The latest issue is out now. G'Kar is on the cover and articles provide more information about the Liandra crew. Also in the magazine will be information about Steven Spielberg's "Taken".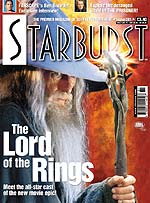 Starburst #281: As expected, Lord of the Rings has dominated a great deal of the print media. That continues with more information on the cast and crew of the movie. Also in this issue, get more information on Farscape with an exclusive interview with Ben Browder as he looks back on the year playing two John Crichtons.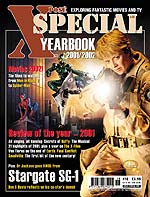 Expose Special Yearbook #18: This issue brings together some of the best science fiction for 2001, including Stargate, Buffy, Smallville, X-Files, Farscape and more.
Cult Times #75: Richard Dean Anderson is one of the hardest people to get to sit sill and talk about the show, but Thomasina Gibson did just that for Cult Times. Also in this issue, Kevin Sorbo talks about the second season of Andromeda, and Don Franklin talk about Seaquest and Seven Days.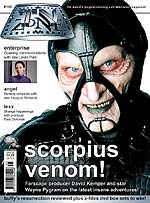 TV Zone #145: Chief villain from Farscape, Scorpius (Wayne Pygram) chats about the evil Scorpius. Farscape Producer David Kemper talks about the future plans of the show after its two-year renewal. Linda Park from Enterprise talks about dealing with different dialects, including stiff upper-lipped English and Klingon. Also in this issue, J. August Richards talks about his role on Angel and Sam Jones III looks at the sleepy town of Smallville and how playing Clark Kent's best friend, Pete Ross, is just super.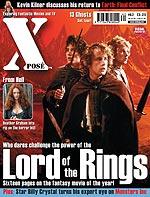 Expose #62: With the release of Lord of the Rings getting closer, a LOT of publications will be focusing on the upcoming movie. In this issue of Expose, you'll find Harry Potter, Christopher Lee in "Rings" -- and Kevil Kilner's return as Boone on Earth Final Conflict, Billly Crystal on Monsters, Inc. and Heather Graham talks about "From Hell" - the latest Jack the Ripper movie!
SCI-FI SCHEDULE
BABYLON 5's Schedule: 7pm each evening:

Air Date Title

Dec. 20 The Hour of the Wolf

Dec. 26 Whatever Happened to Mr. Garibaldi?
Dec. 27 The Summoning

Begins airing at 5pm ET
January 2 Falling Toward Apotheosis
January 3 The Long Night
January 4 Into the Fire

January 7 Epiphanies
January 8 The Illusion of Truth
January 9 Atonement
January 10 Racing Mars
January 11 Lines of Communication

Crusade - 1:00pm ET:

January 2 Racing the Night
January 3 The Needs of Earth
January 4 The Memory of War

January 7 The Long Road
January 8 Visitors from Down the Street
January 9 The Well of Forever
January 10 Each Night I Dream of Earth
January 11 Patterns of the Soul

January 14 The Path of Sorrows
January 15 Ruling from the Tomb
January 16 The Rules of the Game
January 17 War Zone
January 18 Appearances and Other Deceits

Babylon 5 Movies - 9:00pm ET:

January 14 In the Beginning
January 15 Thirdspace
January 16 River of Souls
January 17 A Call to Arms

January 20 The Gathering -- special time, 3:00pm ET

January 19 Legend of the Rangers - 9:00 pmET and 11:00pm ET
January 20 Legend of the Rangers - 5:00pm ET
BABYLON 5/CRUSADE PHOTOSHOP
NEW PHOTOS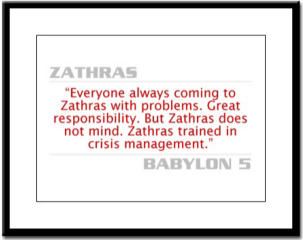 You do NOT have to pay the prices asked for over at e-bay! Here are photos of B5 and Crusade cast members at fantastic prices. Check out Photo Shop. Ordering is easy -- and you can't beat the prices! Just let me know which photos you want and I'll check to make sure they are still in stock.
---
NEW BABYLON 5 TOONS
John Cook has a new cartoon contest going. Try your hand at a punch line.




READER DIRECTORY
Sometimes you just can't find the e-mail address for someone you know you have -- it's someone who responded to a discussion topic or you met in one of the chat rooms. You'd like to send a personal note, but .... No address!!!!

We've started a White Pages of Zocalo Readers! It's a handy way of keeping track of people -- and putting together a birthday/greeting card list as well. If you would like to be part of the listing, just send me your name, state, e-mail address and (if you'd like to have it listed) birthday (without year) to sgbruckner@aol.com. Check out the Directory of Readers.

HAPPY BIRTHDAY TO YOU!

Name: Brenda Gallagher
E-mail address: brenda_birch@hotmail.com
Birthday: December 5th

Name: Gary Magid
State: Michigan
Email: SCIFIREAD@aol.com
Birthday: December 10
BABYLON 5 REFERENCE PAGES
The Official Babylon 5 Magazine is indexed here as well. With the closure of the magazine in May, you'll want to see which magazines you have -- and which ones you will want to collect. The index may help you make a decision on which ones to choose. The Fan Club has many of the issues at thestation.com , making it very easy to complete your collection.

Universe Today -- the Babylon 5 Fan Club quarterly can also be found here. The index gives you a rundown of what articles were presented, what interviews published.

If you have magazines that have featured Babylon 5 or Crusade that are not listed, send along their issue number and a note to indicate what the article was about. It would be nice to have a fairly comprehensive listing of Babylon 5 publications here.

I have added a listing of all the Babylon 5 novels and now the B5 comic books to the reference page. If there are other items that you feel should be included, let me know.
MAILING LISTS
NW-B5
NW-B5 is a mailing list devoted to bringing critical information to the Vancouver Island, Lower Mainland, and Northern Washington areas. More specifically, anyone north of Seattle. B5 is broadcast on SPACE:TIS in Canada, and Sci-Fi channel in the US. By subscribing to nw-b5, you'll be able to know info bringing you up to date on the current scheduling and events happening in the community related to B5. You'll also be subscribed to the list itself, which means that you'll receive email when there is a scheduling change or critical information needs to go out to you (for example, if we need to start another mailing campaign).

For further information, see http://www.nw-b5.com
John Francis
Webmaster, Listowner, and Co-Moderator
mailto:nw-b5@iname.com

Reports of "The Gathering" are beginning to turn up on the list. John posted a mini-report, with photos, over at http://www.geocities.com/jnf.geo/nw-b5/gathered.htm#0501. You may want to check it out. It was a terrific event in which JMS showed clips from the new "Legend of the Rangers".
BABYLON 5 DISCUSSION LIST
The Babylon 5 discussion mailing list is for any and all discussions and/or news pertaining to or related to Babylon 5 and/or Crusade. The list has been in existence for the past three years now, and has recently moved. The new location is http://lists.apparition.org/cgi-bin/lyris.pl, and you can subscribe by sending a blank e-mail message to join-babylon_5-l@lists.apparition.org.
THE GALACTIC GATEWAY
Here's a unique site for you! Jeffrey Willerth, Patricia Tallman, Mira Furlan, Claudia Christian, Robin Atkin Downes, Rick Biggs, Jerry Doyle, Bruce Boxleitner, Melissa Gilbert, Peter Jurasik and Bill Mumy are under it's umbrella. Actors from other shows have joined the Gateway. Ted Raimi and Robert Trebor from Xena and Hercules are now at GG. To subscribe to a mailing list for GG, send a blank note to thegalacticgateway-subscribe@egroups.com.
GATEWAY CHATTERS
There is never enough time to keep in touch with friends! To help out, a mailing list has been started for chatters over at the Galactic Gateway. If you are interested in joining, send a blank note to gateway-chatter-subscribe@egroups.com.
GATEWAY TRADER
Are you looking for a particular Babylon 5 collectible? Do you have some items you'd like to trade? Then this is the list for you. To join, send a blank note to gateway-trader-subscribe@egroups.com.
CALLING ALL ARTISTS
The Art Gallery at The Zocalo Today is open. There are SO MANY talented people in our Babylon 5 community. We have enjoyed works by Todd Brugman and Tye Bourdony on our toons page, but there are a host of others who enjoy drawing, painting, sketching their favorite characters. Here are a few works that have been received. I have some others that will be added soon.

If you would like to share your work with us at The Zocalo Today, please send along a digital photo of your work and I'll begin putting the gallery together. If you do not have your work in digital format, drop me a note and we'll see what we can work out.
CALLING ALL CLUBS
OTTAWA: Ranger Dave is trying to start up a B5 group in Toronto. He has asked me to post this information to see who is in the area and interested in getting together:

I live in the area of Toronto, Ontario and am starting up a sci fi/fantasy club/group and am looking for members. I am hoping any members who join will be more than just Trek & B5 fans. Our meetings will be at least once a month in the area of downtown Toronto on Sunday afternnons. The next meeting is scheduled for Sunday Nov. 18th at 1:45pm. If your interested, need more info and or have any questions please feel free to e-mail me at akalel@hotmail.com.
---
SYDNEY: Amanda, a member of the club 'Friends of Science Fiction' in Sydney, Australia, dropped a note to say that they will host an event with Marjean Holden on September 9. More information can be found on the convention calendar. If you are in beautiful Sydney, you may want to check out the Club. It meets at: Lidcombe Catholic Club; John St; Lidcombe. If you have questions, drop Amanda a note at Amanda_Beachcroft@msn.com.au.

There are a number of fabulous Babylon 5/Crusade Clubs around the world. I'd like to begin listing them here on The Zocalo Today. Eric dropped me a note the other day providing information about a Club in France. I know there are other clubs in Brazil, Germany, Russia -- and who knows how many here in the US. Let's get a listing together. Perhaps we can share resources, even get together as we travel around. Drop the information about your Club to me at sgbruckner@aol.com or bruckner@isnnews.net. That information will be added to the new B5 Fan Club Listing.
BABYLON 5 FAN CLUB
Netter Digital filed for bankruptcy in July of 2000 and all their worldly posessions were auctioned off on December 7. Thestation.comEmporium has been closed.
BABYLON 5 NEWSLETTERS
If you have a newsletter you'd like to have listed at The Zocalo Today, send the information along. It will be posted on the B5 Fan Club/Newsletter page.

Ranger Shane in North Carolina sent in the following note about their "Jumpgate" newsletter.

Hey Sandy! Just wanted to give you an update on the NC B5 group's newsletter, Jumpgate. There's now a dedicated EMail address for submissions - jumpgatemag@bellsouth.net - and any submissions, solicited or un-, can be sent to this address. Also, issues are available for free download at the URL at the bottom of this message.

Jumpgate - The Newsletter of the North Carolina Babylon 5 Fan Club
Shane Killian, Editor
HELP WANTED
A new HELP WANTED section has been added to the Z. If you need help finding a comic book, getting a special item, etc. here's the place to post a note. Just send whatever help you need to thezocalo@aol.com.
---
BABYLON 5/CRUSADE CONVENTIONS
CONVENTION CALENDAR
With the events of September 11, many changes have been made to conventions around the country. If you are planning to go to a convention, please check with the organizers to see if there are any changes -- like guest cancellations, etc.

Use this link Convention Calendar. to see if there is a convention happening near you. Have a convention you would like to have listed here? Pass along the information.

CONVENTION ATTENDANCE

Are you attending one of the conventions on the calendar? Or another one perhaps? Do you want to see who else might be there? Drop your e-mail address to TheZocalo@aol.com. We've begun an attendance page so that perhaps we can get together while enjoying the activities of the convention. Convention Attendance .
UPCOMING EVENTS
Slanted Fedora
January 4-6, 2002, New York City, NY
Place: Sheraton Meadowlands Hotel
East Rutherford, NJ
Guest: Walter Koenig

For more information, visit their website at http://www.sfedora.com.
---
ZOCALO TRADING POST
Do you have extra copies of B5, Amazing Spiderman, Midnight Nation or Rising Stars comics you'd like to trade? How about those extra trading cards or B5 magazines? There are a lot of fans looking for these items -- and the Trading Post can help you buy or sell them. To see what's available, just use this link to the Trading Post. To have items included in The Trading Post, send a note to The Zocalo. Please put Trading Post in the subject line.
Pen Pals
If you are looking for someone to talk about Babylon 5 and Crusade with, the Pen Pal section is for you! Check it out! Drop a note to someone who is feeling B5 withdrawal -- BIG TIME!

People thought a Pen Pal page was a good idea. If you would like to meet people who you could chat with or share your opinions of the show with, send along your e-mail or snail-mail address The Zocalo. It will be incorporated on the new Pen Page Page.
BABYLON 5 BIRTHDAYS
Mary Woronov (Kka'Dath) - December 8
Sarah Douglas (Jha'Dur) - December 12
Kim Holly – December 25
Dark Hoffman – December 28
John C. Flinn III – December 28

Have I missed anyone? If you know the birthday of someone connected with Babylon 5, pass the information along. We want to include everyone in our Happy Birthday Wishes.
MAIL FOR CAST AND CREW
Here's a recent note from JMS on the subject:

Just an FYI to those who've been using the Ventura Blvd. mail drop for fan mail to actors....

As mentioned before, we're phasing out the forwarding of fan mail because we a) don't have the resources, complicated by b) the actors have scattered to the four winds, and it makes it very difficult to get everything to everybody in a timely fashion.

So, having provided prior notice...fan mail to actors coming to the Ventura Blvd. mail drop will be sent back. Mail to actors should be sent via their official fan clubs. I will still be taking mail there, since it's my mailbox, but that's it.

Just so's y'all know and save a few bucks on postage and returns.

JMS' mail can be sent to:

14431 Ventura Boulevard, PMB 260
Sherman Oaks, CA 91423

WARNER BROS:

Warner Bros. Address:

Warner Bros. Domestic Television Distribution
4000 Warner Blvd.
Burbank, CA 91522

Warner Home Video:

Mike Finnegan, Vice President
Editorial and Programming Services

Paul Hemstreet, Vice President
Special Features/DVD

Michael Radiloff, Vice President
DVD Marketing

Kristin Grossnandler, Manager
DVD Special Features

Warner Home Video
4000 Warner Blvd.
Burbank, CA 91522
BACK ISSUES OF THE ZOCALO TODAY
The front page of the The Zocalo Today changes daily, so be sure to check the back issues to make sure that you haven't missed anything IMPORTANT! I don't want the front page getting too long so I shift information periodically into the archives. So if you aren't a regular visitor to The Zocalo Today, be sure to check out the back issues. Just use the button above!
---
Take care and I look forward to hearing from you.
Sandra Bruckner (sgbruckner@aol.com)
Editor/Publisher
The Zocalo Today
http://www.isnnews.net
Copyright - SBruckner, 2001