[an error occurred while processing this directive]

The Zocalo Today

Welcome! I am glad that you found The Zocalo Today and dropped by. Take your shoes off, get comfortable and stay a while. There is a LOT of information here and you won't want to miss any of it.

The Zocalo Today is an interactive newsletter, encouraging interaction with readers through a discussion topic each week. If you have suggestions as to how The Zocalo can be improved -- or be more responsive -- send them along. The Zocalo Today is as much YOUR newsletter as it is mine! I'm just pulling together things for you!

Join our weekly discussion topic. It is just one way you can interact with other Z readers. If you have other information you would like to share, send it along. If you see Babylon 5 cast and crew in other roles, let us know. We enjoy convention reports, photos, etc. Don't miss our back issues. I hope this will become more than just a newsletter. It's a community of people that enjoy sharing their experiences and interests. Don't be shy. Join us today!

If you have questions, drop me a line at sgbruckner@aol.com or thezocalo@aol.com. If you would like to join the mailing list for our bi-weekly newsletter, send me a note and I'll include you on the list. Or you can use the subscription block at the left.

Again, WELCOME!




What's New Today
Friday, February 21: HERCULES/XENA: Home video rights for XENA and HERCULES have been purchased by Anchor Bay Entertainment. Along with these series, the company plans to release additional seasons of HIGHLANDER to follow up last year's boxed set, which included the complete first season and a special edition of the original 1986 film.
---
STAR WARS: The Cartoon Network has entered a pact with Lucasfilm Ltd. to bring an unprecedented original TV programming extension to the "Star Wars" franchise. According to the Hollywood Reporter, the cable channel has announced that at least three new series will be added to its schedule this year. Beginning in November, Cartoon will unveil 20 animated shorts, each about three minutes in length, that form a bridge between the story lines of "Star Wars: Episode II -- Attack of the Clones" and the next theatrical installment. Titled "Clone Wars," the shorts will be produced by "Samurai Jack" creator Genndy Tartakovsky at the channel's in-house studio. "This is a big event in the history of 'Star Wars,' " Lucas Licensing president Howard Roffman said Thursday at a Cartoon news conference. "It's the first time George Lucas has allowed the stories to be told through television."
---
BROTHERS GRIMM: Rumors are flying about the cast for the upcoming comedic action adventure BROTHERS GRIMM. Matt Damon and Heath Ledger are reportedly in negotiations to play the Brothers Grimm, with Robin Williams and Jonathan Pryce said to be looking at roles of the villains. The movie, expected to be released in 2004, was scripted by 'The Ring' writer Ehren Kruger.
---
INSIDE SCIFI THIS WEEK:
Thursday, February 20:
SPIDERMAN-2: It's official -- Alfred Molina will play Doc Ock in Spider-Man 2. Columbia Pictures made the announcement yesterday. Molina will join Tobey Maguire, Kirsten Dunst and James Franco in this highly anticipated sequel to Spider-Man as Spider-Man's new archenemy "Doc Ock". Spider-Man grossed more than $820 million worldwide and became the fifth highest grossing movie in U.S. history.
---
DVD SALES: Top 10 SF Titles: 1. Angel Season One; 2. Rings platinum edition; 3. X-Men 1.5; 4. Buffy Season Three; 5. Spirited Away; 6. Donnie Darko; 7. Young Frankenstein; 8. Spy Kids 2; 9. The Day the Earth Stood Still, and 10. Metropolis. Source: Amazon.com, top-selling genre DVDs, 2/12/03.
---
ANGEL: David Boreanaz told Entertainment Weekly Online, "There's an episode coming up where I'll be playing Angel and Angelus side by side. And they battle each other. It's cool, like Adaptation." Boreanaz also hinted that the end of the season will contain a surprising twist. "We're coming to a point in the show now where all of the questions about the Big Bad are about to be answered, which is strange for all of us, because there's a big twist happening. And all I can tell you is that it's really weird." Angel airs Wed. at 9 p.m. on the WB.
---
TRADING CARDS: There are a number of new Trading Cards ready to hit the market. Upper Deck will be handling the trading card concession from THE HULK, due this summer. Topps landed both DAREDEVIL and X-MEN 2. The HULK card will be packaged with a pair of "bobble heads" per 12-box case.
---
24: Tuesday belonged to Fox this week. Beginning with "American Idol" taking off at 8 p.m. and "24" at 9 p.m. the competition just couldn't keep up. According to the Hollywood Reporter, "Idol" demolished the 8 p.m. competition, averaging 19.7 million viewers and 9.2 rating/23 share in adults 18-49 demo, according to preliminary estimates from Nielsen Media Research. At 9 p.m., "24" improved significantly on its "Idol" retention rate compared to last week's airing, averaging 13.6 million viewers and 6.6/16 in adults 18-49. CBS ran a solid second for the night in total viewers with dramas "JAG," "The Guardian" and "Judging Amy" yielding an average of 14.7 million viewers and 3.6/9 in 18-49 for the night.
---
SMALLVILLE: Not included in the numbers above, were UPN figures for SMALLVILLE. This WB weries earned a 6.0/9 rating - a 13% increase from last week.
---
ALIAS: Over at Zap2It.com you will find an interesting look at ALIAS. Series creator J.J. Abrams delves into why the series has undergone some dramatic changes over the last few weeks. "We looked at what made the show interesting and what made it work," Abrams says. "There are, I believe, a lot of elements that make 'Alias' special. One of them, but only one of them, was the idea that [Sydney] had to be a double agent. But the tradeoff was this litany of things" that the show couldn't do because of that structure.
---
X-MEN 2: On Thursday, April 24 at 10:45 p.m., HBO will premiere X˛: HBO First Look, a behind-the-scenes special on the X-Men sequel. The special lasts 15 minutes. Additional air dates include Sunday, April 27 at 6 p.m. and Tuesday, April 29 at 4:30 p.m. More air dates will be announced in May.
---
DICK TRACY: According to the Los Angeles Daily News, DICK TRACY will be returning to television in a new animated series produced by Film Roman, the production company behind The Simpsons and King of the Hill. The series, which presumably will air in primetime, will employ "cutting-edge animation." "The timing is perfect to return Dick Tracy to television," Bob Higgins, an executive with rights-holder Classic Media, said in a statement. "He is the classic detective who originally defined the genre."
---
Wednesday, February 19:
STILL A GOOD LIFE: Tonight, don't miss Bill Mumy in TWILIGHT ZONE. For a review of the episode, go to http://www.cinescape.com/0/editorial.asp?aff_id=0&this_cat=Television&action=page&obj_id=37759.
---
LEAGUE OF EXTRAORDINARY GENTLEMEN: Over at http://www.lxgmovie.com/ you will find a very interesting trailer for the LEAGUE OF EXTRAORDINARY GENTLEMEN (LXG). The film, starring Sean Connery as Allan Quatermain, opens June 6.
---
X-MEN 2: A new trailer is up at the website. Go to http://www.x2-movie.com/#. It is very nice. The movie is set to open May 2, 2003.
---
VAN HELSING: A website for this upcoming movie is now up at http://www.vanhelsingmovie.com/main.html . Hugh Jackman from X-MEN is set to play the lead with direction by Stephen Sommers. The film concerns the fate of the Van Helsing family.
---
FOREVER MAN: According to the Hollywood Reporter, Stan Lee's next project will be entitled FOREVER MAN. Based on his own idea, the project will be produced by Lee through his POW! Films along with the newly launched Idiom Films. Luke McMullen will pen the screenplay. Lee opted to keep the specifics of the "Forever Man" plot under wraps, though he did say it will center on superheroes in a "different type of situation" than such previous comic adaptations as "Spider-Man" and "Daredevil." "It has to do with crime and punishment in the not-too-distant future and a unique way of punishing people who are menaces to society," Lee said, adding that he came up with the story in two days. "It's a concept that hasn't been seen before, with tremendously interesting villains with unique powers.
---
STAR WARS: HBO has shelled out a reported $15 million to grab the exclusive premium channel rights to Star Wars: Episode II -- Attack of the Clones...
---
Tuesday, Febraury 18:
PHANTOM OF THE OPERA: While this play has been on Broadway for quite some time, now we'll all be able to see it. According to The Hollywood Reporter, a film version of Andrew Lloyd Webber's musical is on its way for a fall production start, with Joel Schumacher directing.
---
GOTHIKA: The Hollywood Reporter indicates that Halle Berry's next project will be Dark Castle Entertainment's GOTHIKA. She will star opposite Robert Downey Jr. in this supernatural thriller Gothika for director Mathieu Kassovitz. Production begins in April.
---
WEEKEND BOX OFFICE: Even with snow blanketing most of the East Coast, DAREDEVIL took the Weekend Box Office by storm, bringing in an estimated $47.3 million during the four-day weekend. The 20th Century Fox/ Regency Enterprises film propelled the weekend to the best President's Day holiday boxoffice ever with the top 12 movies pulling in 14% higher grosses then last year. Just think of what the total had been if there hadn't been a snowstorm! Also contributing to the record weekend was Paramount Pictures' "How to Lose a Guy in 10 Days," which dropped just 21% in its second week to an estimated $21 million. Miramax's "Chicago," which nabbed 13 Oscar nominations Tuesday, earned an estimated $15.5 million, grabbing third place for the weekend and reaching an estimated $83.6 million in total boxoffice. In fourth was Buena Vista's "Jungle Book 2," which earned an estimated $15.1 million. The distributor's "Shanghai Knights" took the fifth spot with an estimated $12.8 million.
---
XENA: We'll soon be seeing XENA on the big screen. ITV reports that the film will go ahead with not only "a stunning soundtrack provided by the series' original composer - Joseph Lo Duca" but a special Xena and Gabriel relationship theme song called "When I Look at You" by Mariah Carey.
---
Sunday, February 16:
SNOW: The area is being blanketed with snow, both beautiful and dangerous. Looks like a winter wonderland outside -- quite unusual for the Washington area. Here's hoping the phone lines can remain up for more than a few minutes at a time.
---
DAREDEVIL: Everyone is expecting DAREDEVIL to easily capture the #1 spot at the Box Office this weekend. For a review of the movie, go to http://www.scifi.com/sftoday/.
---
Saturday, February 15:
SUPERMAN: Rumors have been flying about who the next Superman will be on the big screen. It now looks as if Josh Hartnett is the main contender for the lead in Warner Brothers' upcoming Superman film with Director Brett Ratner. According to The Hollywood Reporter, Harnett shot a screen test on Feb. 11, and Warner president and chief operating officer Alan Horn, production president Jeff Robinov and Ratner were supposed to watch the tape Feb. 12 in New York. No decision has been announced, but no other actors are expected to test for the role until a decision is made on Hartnett. It is believed that Warner would not only want Hartnett for this film, but a committment to three consecutive films.
---
DISCUSSION TOPIC: Thanks to those who took the time to submit a discussion topic answer. Why not check out the Discussion Page and see if you agree. The topic will be out for another week, so send in your views for other readers to share.
---
WHAT'S ON TONIGHT
On SCIFI Tonight:

7:00 PM
Dead Zone
Scars
After learning Stillson's congressional rival---a long-time incumbent---is a war veteran with a dark secret, Johnny ponders whether the truth is more important that Stillson's defeat.

8:00 PM
Farscape
Prayer
Uneasy allies Crichton and Scorpius travel through the wormhole in search of the Scarran outpost, where they suspect the missing Aeryn is held captive. 9:00 PM
Stargate SG-1
Forsaken
An encounter with the alien survivors of a spaceship crash turns into a deadly scrimmage for the SG-1 crew. 10:00 PM
Tracker
Without a Trace
Cole transforms into Mel's vanished ex-boyfriend to explore if he was involved in criminal activity.
UPCOMING CHATS
SCIFI has a number of chats scheduled centered around the CHILDREN OF DUNE mini-series scheduled for next month. Tonight, Feb. 21, at 8:30 pm ET, 5:30 pm PT:
Alice Krige will chat about her role of Lady Jessica in the miniseries. Fans of Star Trek will recognize Krige as the Borg Queen in the feature Star Trek: First Contact. To join the chat, connect your IRC software client to events.scifi.com and join channel #auditorium to participate. Chatters with a Java-capable browser may use our Java chat client. Next Thursday, February 27 at 9pm ET, 6pm PT:
Daniela Amavia will join the chat about her role as Alia Atreides in CHILDREN OF DUNE. She starred in The Woman Every Man Wants, which debuted at the 2001 Sundance Film Festival and garnered her the Best Actress Award at the New York International Independent Film Festival that year. She also has appeared on various TV programs, including Felicity and the HBO movie The Ice Princess. For more information on these and other chats ahead, go to http://www.scifi.com/chat/#krige.
DISCUSSION TOPIC
It has been just over a week since we all watched, horrified by the Columbia tragedy. There are many who say that we should continue the space program, but with unmanned missions. There are others that feel the price is too high and that we should/could use the money for other endeavors. What do you think? Should we close down the space program and let other countries carry the burden for a while?

Send in your opinions to sgbruckner@aol.com or thezocalo@aol.com. I'll post the responses on the Discussion Page for everyone to share.
BABYLON 5 CHRONOLOGY
I noticed that JMS used a section of Terry's chronology to answer a question the other day about Morden/Anna's trip over on the B5 moderated newsgroup.. Another section of the wonderful Babylon 5 Chronology is now available for your enjoyment. Go to 23rd Century. A BIG THANK YOU and note appreciation goes to Terry for taking the time (and considerable effort) to pull the chronology together -- and for updating it to include CRUSADE, the novels and other relevant Babylon 5 material. THANKS TERRY!
REVIEWS WANTED:
Reviews have begun to come in. See if your opinion of LORD OF THE RINGS matches that of Ranger Helen. Go to Reviews to see. Want to express your opinion? Just drop me a line and you too can see your name in lights. Read any good books lately? How about the movies. Did you like LORD OF THE RINGS, NEMESIS? Send along a review and share your thoughts with the readers here. Let's make one of our New Years Resolution one of staying in touch here at The Zocalo Today.
KEEPING UP WITH CAST AND CREW
ENID-RAYE ADAMS: Last night was a great two-for with TWILIGHT ZONE. Those of you who tuned in to see Bill Mumy in "It's Still A Good Life" hopefully caught Enid-Raye Smith in the same episode. Over at B5TV.com you can catch some pics of Bill and Enid from the episode.
---
CLAUDIA CHRISTIAN: "Anne Manx and the Trouble on Chromius" with Claudia Christian, Andy Hallett from Angel, and Paris Jefferson from Xena is now out. You can see the cover art, hear samples and buy copies from www.rrca.com.
---
BILL MUMY: Bill has posted a report of his TWILIGHT ZONE experience out at http://www.billmumy.com/january_2003.htm. There are a few pictures of Bill and his daughter. Looks like they all had a ball.
---
Bill Mumy's episode of the TWILIGHT ZONE will air on February 19 at 9:00pm ET on UPN. The episode is a sequel to "It's A Good Life" titled "It's Still a Good Life" for the "Twilight Zone" TV series. Bill will reprise the role of "Anthony Fremont," the kid who send you into the cornfield if you upset him. Bill Mumy's daughter Liliana (who costarred in "Santa Clause II," currently has a recurring role on "My Wife And Kids,") plays his daughter, Amy Fremont. Liliana looks just like her dad! It's 30 years later in Peakesville, Ohio... the village that was separated from the world by Anthony all those years ago. Thanks to Bill's Fan Club for the update.
---
PETER WOODWARD: I've just updated the schedule for Peter's CONQUEST series on the B5 Cast page. There are some interesting episodes ahead, including one where Peter learns how to ride a bull and training for the demolition derby at the Orange County Fair in California
---
DANIEL DAE KIM: Ranger Mac reports that Daniel Dae Kim will appearing on 24 very soon and continuing for "at least six" episodes! His character will be an Agent Tom Baker.
---
BABYLON 5 BIRTHDAYS
Michael Beck - February 4
Ardwight Chamberlain - February 16
Karen Harrell - February 21
John Iacovelli - February 25
Bill Mumy - February 1
Matt Plummer - February 26
Majel Barrett Roddenberry - February 23
John Schuck - February 4
Myriam Sirios - February 2

Have I missed anyone? If you know the birthday of someone connected with Babylon 5, pass the information along. We want to include everyone in our Happy Birthday Wishes.
READER DIRECTORY
Sometimes you just can't find the e-mail address for someone you know you have -- it's someone who responded to a discussion topic or you met in one of the chat rooms. You'd like to send a personal note, but .... No address!!!!

We've started a White Pages of Zocalo Readers! It's a handy way of keeping track of people -- and putting together a birthday/greeting card list as well. If you would like to be part of the listing, just send me your name, state, e-mail address and (if you'd like to have it listed) birthday (without year) to sgbruckner@aol.com. Check out the Directory of Readers.

HAPPY BIRTHDAY READERS

Here are some of our readers who are having birthdays this month:

Name: Yue Cole
State: NY
Email: CorpsIsMother@aol.com
Birthday: Feb. 5th

Name: Sean Lyons
E-mail: sean@efcfrance.com
State/Country: West Yorkshire, UK
Birthday: February 02

Name: Andres E. Hidalgo Sandoval
Country: Venezuela
E-mail: andresvene11@hotmail.com
Birthday: February 17

Name: Matthew Sweet
State: New York
E-mail address: msweet2@stny.rr.com
Birthday: February 16

Don't see YOUR birthday here? That's easy to remedy. Send your birthdate along to me and I'll post it with others in our directory.
BABYLON 5 DVDs
News on Season Two DVD:
Here is the rundown on the Season Two DVD of Babylon 5 from Warner Home Video. The acclaimed second season of this science fiction cult favorite is now available for the first time ever as a 6-disc DVD set. All 22 episodes have been digitally remastered to provide Dolby Digital 5.1 sound and widescreen format. Special Features:
Introduction by producer/creator J. Michael Straczynski and various cast members. 2 episode commentaries by producer/creator J. Michael Straczynski. Episode commentary by cast members Bruce Boxleitner, Claudia Christian and Jerry Doyle. Building Babylon: Blueprint of an Episode featurette. Shadows and Dreams: Honors of Babylon featurette. The Universe of Babylon 5 data/tech/personnel files. Babylon 5 Timeline. Original episode promos. JMS wrote this in the B5 moderated newsgroup recently:
Interviews for year 2's DVD have been set, or already conducted, with Stephen Furst, Andrea Thompson, John Iacovelli, Anne Bruice-Ailing, Jerry, Claudia, Bruce, me, John Copeland, Doug Netter and others. In addition, I'll be doing commentaries on "The Coming of Shadows" and "The Fall of Night," and there will be a bonus group commentary by Bruce, Claudia and Jerry on "The Long, Twilight Struggle." There's talk about a special musical sequence for the season 3 DVD, with Chris re-scoring 2-3 episodes end to end with non-stop music, future segments on "The Future According to Babylon 5" with NASA and JPL guys (btw, James over at a certain House subcommittee, if you're reading this and could drop me a note, that'd be great). I'd like to see the final bonus section on year 5 be about the fans of the show. Point being...they're putting a LOT of energy and work into this to make each set better than the one before.
COMIC BOOKS
Written by J. Michael Straczynski, art and cover John Romita Jr. and Scott Hanna.
Part 3 of a 3-part story.
32 pages, $2.25, in stores on May 21.
AMAZING SPIDER-MAN #50 - On sale February 20, 2003; Issue #49 is on stands now. COVER BY: Scott Campbell
WRITER: J. Michael Straczynski
PENCILS: John Romita Jr.
INKS: Scott Hanna THE STORY: At long last, it's the story you've been demanding: Peter Parker and Mary Jane make the big decision!
NOVELS
BOOK CLOSEOUTS: Ranger Dave sent along the following information on books you may be interested in picking up -- at reduced prices: Title: Searcher (Frontier Earth)
Author: Bruce Boxleitner Overview: In the American West of the early 1880's, the enigmatic gunman known as Macklin has made a home for himself in Tombstone, Arizona, with the Earp brothers among his closest friends. But as his memory returns, he has come to realize that he is not human, that he is a being from another planet sent to protect Earth from a coming invasion by another alien species. Still, he has many questions and he thinks he can find some answers in Tucson, where another of his kind lives. But as he searches for the man, he is drawn into the conflict that rages in the mountains outside of Tucson, between the men who mine for silver and the Apaches who hold the mountains sacred. Caught in the middle of a human war, Macklin must not forget that while he has been hunting for the truth, something is still hunting him. Something not of this Earth... 328 pages. List Price: $23.95
Sale Price: $4.99
You Save : $18.96 Title: Diplomatic Act
Author: Peter Jurasik Overview: Richard Faraday didn't believe in aliens, even though he played one on TV. Unfortunately, the aliens believe in him...or rather, they believe in Harmon, the alien diplomat Faraday plays on the SF program Star Peace. A war is threatening to tear the civilized galaxy apart, and only a diplomat as superb as Harmon can stop it. The problem is that the real aliens are just a little confused about the bizarre human concept known as fiction. They think Harmon is real. Well, real or not, "Harmon" had better solve their alien problems fast or Faraday, galactic civilization, and Earth itself will be abruptly cancelled. List Price: $22.00
Sale Price: $3.49
You Save : $18.51 For more ordering information, go to www.bookcloseouts.com.
BABYLON 5 NOVEL
DelRey has reprinted one of the most popular Babylon 5 novels written! Jeanne Cavelos' novel SHADOW WITHIN is now at your book store or available through online ordering. If you haven't read the book already, now is your chance to own a copy. Here is the description of the novel from DelRey: The electrifying space epic continues as Anna and John Sheridan battle deadly foes at opposite ends of the universe. The dedication of the new Babylon 5 Station is fast approaching, and desperate enemies intend to see it end in catastrophe. The fate of the fledgling space alliance lies in the hands of John Sheridan, newly appointed captain of the spaceship Agamemnon. His orders are to stop the attack. Unless he first gets to the bottom of the near-mutinous behavior of the Agamemnon's unruly crew, Sheridan and his spaceship will share Babylon 5's doom. Time is also running out for his wife Anna, headed to Z'ha'dum aboard the Icarus. Young, beautiful, and brilliant, she was thrilled to be appointed chief science officer of the follow-up mission to this mysterious planet on the edge of the known universe, where artifacts rumored to hold stupendous powers have been discovered. But the offer she could not resist threatens to become a dark destiny she cannot avoid, for an unimaginable horror lies somnolent on Z'ha'dum–and the monstrous consequences of disturbing the sleeping evil will haunt every living thing in the cosmos. . . . Babylon 5 created by J. Michael Straczynski
SCI FI PUBLICATIONS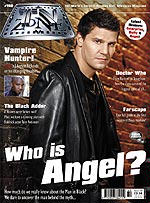 TV Zone #160: ANGEL has taken a number of twists and turns since first becoming part of our TV viewing schedule along with BUFFY. This issue brings you the history of Angel, along with an exclusive interview with J. August Richards - Gunn! Also inside, a full and comprehensive episode guide of FARSCAPE and a look at VERITAS.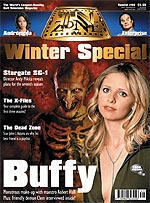 TV Zone Special #49: Make-up artists -- up close and personal! Genius Rob Hall from BUFFY is featured, along with Michael Westmore from ENTERPRISE and NEMESIS. Andy Mikita from STARGATE SG-1 talks about directing the latest episodes from season six. Also in this issue, Anthony Michael Hall talks about THE DEAD ZONE and the women of ANDROMEDA (Lexa Doig and Laura Bertram) talk about Andromeda and Trance.
Cult Times #89: ALIAS is one of those series that leaves you wanting more -- and more. This issue looks at season one and provides a few tidbits about what is ahead. Nicole de Boer looks at her role in THE DEAD ZONE; Victoria Pratt talks a bit about season two of MUTANT X and Don S. Davis looks ahead to season seven of STARGATE SG-1.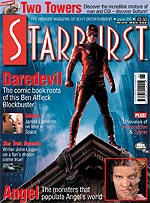 Starburst #295: DAREDEVIL is shortly be released and I'm sure it will be most evident in the major SF magazines. In this issue, the magazine explores the history of the Daredevil character. Also in this issue, Robert Hall, make-up designer for ANGEL, looks at some of his creations ahead for us.
Expose #76: Julian McMahon looks at his time on CHARMED; Paul-Ben Victor talks about his experience as Quesada, DAREDEVIL's first villain. Also in this issue, Hugh Jackman and Anna Paquin look at X-MEN 2 and David Greenwalt tells us about his new MIRACLES series.
BABYLON 5 BOOK OF QUOTES
For all those who submitted quotes and experiences to the Babylon 5 Book of Quotes, word from JMS is that the book, plus emails and suggestions, is being compiled now, and they're targeting February, the 10th anniversary of B5, for the publication date.
SCI-FI SCHEDULE
STARGATE SCHEDULE: 20-FEB-03 1:00 AM STARGATE SG-1 THE FIRST ONES
21-FEB-03 9:00 PM STARGATE SG-1 (LBX) FORSAKEN
21-FEB-03 11:30 PM STARGATE SG-1 (LBX) FORSAKEN
24-FEB-03 7:00 PM STARGATE SG-1 SCORCHED EARTH
24-FEB-03 8:00 PM STARGATE SG-1 BENEATH THE SURFACE
24-FEB-03 9:00 PM STARGATE SG-1 POINT OF NO RETURN
24-FEB-03 10:00 PM STARGATE SG-1 TANGENT
24-FEB-03 1:00 AM STARGATE SG-1 SCORCHED EARTH
25-FEB-03 1:00 AM STARGATE SG-1 BENEATH THE SURFACE
26-FEB-03 1:00 AM STARGATE SG-1 POINT OF NO RETURN
27-FEB-03 1:00 AM STARGATE SG-1 TANGENT
28-FEB-03 9:00 PM STARGATE SG-1 (LBX) THE CHANGELING
28-FEB-03 11:30 PM STARGATE SG-1 (LBX) THE CHANGELING
BABYLON 5/CRUSADE PHOTOSHOP PHOTOS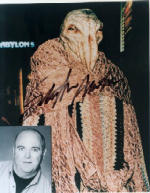 You do NOT have to pay the prices asked for over at e-bay! Here are photos of B5 and Crusade cast members at fantastic prices. Check out Photo Shop. Ordering is easy -- and you can't beat the prices! Just let me know which photos you want and I'll check to make sure they are still in stock.
---
BABYLON 5 TOONS
John Cook has a new cartoon contest going. Try your hand at a punch line.



BABYLON 5/CRUSADE CONVENTIONS
CONVENTION CALENDAR
Farpoint 2003
February 14-16, 2003
Place: Hunt Valley Inn, Hunt Valley, MD
Guests: Armin Shimerman, Gary Graham, Eric Pierpoint, Michele Scarabelli, Gil Gerard, Erin Gray
For more information, visit their website at http://www.bcpl.net/~wilsonr/flier.htm.
---
Gallifrey 2003
February 14-16, 2003
Place: Airtel Plaza Hotel, Los Angeles, CA
B5 Guests: Julia Nickson, Tim Choate, Julie Caitlin Brown, Carrie Dobro, Stephen Austin and Bill Blair
For more information, visit their website at http://www.gallifreyone.org.
---
Redemption '03
February 21-23, 2003
Place: Ashford, Kent, England
B5 Guest: Damian London (Regent of Centauri Prime), Mike Collins (comic artist who worked on In Valen's Name)
For more information, visit their website at http://www.smof.com/redemption.
---
Be sure to visit our Convention Calendar for a full listing of upcoming conventions featuring Babylon 5, Crusade and Legend of the Rangers cast members as guests.
If you would like to share your convention experience with your other Zocalo readers, send along a convention report. I will gladly post it for all to read. Got pictures? I'll post those as well.
ZOCALO TRADING POST
Do you have extra copies of B5, Amazing Spiderman, Midnight Nation or Rising Stars comics you'd like to trade? How about those extra trading cards or B5 magazines? There are a lot of fans looking for these items -- and the Trading Post can help you buy or sell them. To see what's available, just use this link to the Trading Post. To have items included in The Trading Post, send a note to The Zocalo. Please put Trading Post in the subject line.
Pen Pals
If you are looking for someone to talk about Babylon 5 and Crusade with, the Pen Pal section is for you! Check it out! Drop a note to someone who is feeling B5 withdrawal -- BIG TIME!

People thought a Pen Pal page was a good idea. If you would like to meet people who you could chat with or share your opinions of the show with, send along your e-mail or snail-mail address The Zocalo. It will be incorporated on the new Pen Page Page.
MAIL FOR CAST AND CREW
Here's a recent note from JMS on the subject:

Just an FYI to those who've been using the Ventura Blvd. mail drop for fan mail to actors....

As mentioned before, we're phasing out the forwarding of fan mail because we a) don't have the resources, complicated by b) the actors have scattered to the four winds, and it makes it very difficult to get everything to everybody in a timely fashion.

So, having provided prior notice...fan mail to actors coming to the Ventura Blvd. mail drop will be sent back. Mail to actors should be sent via their official fan clubs. I will still be taking mail there, since it's my mailbox, but that's it.

Just so's y'all know and save a few bucks on postage and returns.

JMS' mail can be sent to:

14431 Ventura Boulevard, PMB 260
Sherman Oaks, CA 91423

WARNER BROS:

Warner Bros. Address:

Warner Bros. Domestic Television Distribution
4000 Warner Blvd.
Burbank, CA 91522

Warner Home Video:

Mr. Douglas Wadleigh
VP for Marketing and Special Features
Warner Bros.
4000 Warner Blvd.
Burbank, CA 91522

SCIFI:
Bonnie Hammer, President
Sci-Fi Channel
1230 Avenue of the Americas
New York, NY. 10020-1513

Mr. Thomas Vitale
Senior VP of Acquisitions, Scheduling & Program-Planning
BACK ISSUES OF THE ZOCALO TODAY
The front page of the The Zocalo Today changes daily, so be sure to check the back issues to make sure that you haven't missed anything IMPORTANT! I don't want the front page getting too long so I shift information periodically into the archives. So if you aren't a regular visitor to The Zocalo Today, be sure to check out the back issues. Just use the button above!
---
Take care and I look forward to hearing from you.
Sandra Bruckner (sgbruckner@aol.com)
Editor/Publisher
The Zocalo Today
http://www.isnnews.net
Copyright - SBruckner, 2002