[an error occurred while processing this directive]

The Zocalo Today

Welcome and thank you for dropping by. Take your shoes off, get comfortable and stay a while. There is a LOT of information here and you won't want to miss any of it.

The Zocalo Today is an interactive newsletter, encouraging readers to join a discussion topic or to send along letters that can be shared with other readers.

If you have suggestions as to how The Zocalo can be improved -- or be more responsive in some way -- send those suggestions along. The Zocalo Today is a newsletter for Babylon 5 and science fiction fans everywhere. It is as much YOUR newsletter as it is mine! I'm just pulling together things for you!

Join our discussion topic. It is just one way you can share with other Z readers. If you see Babylon 5 cast and crew in other roles on TV, let us know. We enjoy convention reports, photos, etc. Don't miss our back issues. I hope this will become more than just a newsletter for you. It's a community of people that enjoy sharing their experiences and interests. Babylon 5 brought many of us together -- and it remains with us, despite the fact that is no longer in production. Don't be shy. Join us today!

If you have questions, drop me a line at sgbruckner@aol.com. If you would like to join the mailing list for our newsletter, send me a note and I'll include you on the list. Or you can use the subscription block at the left.

Again, WELCOME!




What's New Today
Friday, February 27: BATTLESTAR GALACTICA: With production on 13 episodes slated to begin in Vancouver shortly, Edward James Olmos, who will reprise the role of Cmdr. Adama in SCI FI's BATTLESTAR GALACTICA series, told SCI FI Wire that he looks forward to deepening the character introduced in the miniseries last December. "I'd like to see the complexity of what we've gotten ourselves into come about and really be able to understand it for what it is," Olmos said in an interview. "You've got to remember what happens when people are pushed to a level of unexpected changes. ... We can go to some places where the characters have never gone before." He said, the characters in Galactica will try "to hold onto their humanity as it is completely taken away from them. If any indication was given to us as to where we're going in respect to the [series], I must tell you, it's going to be very explosive."
---
SMALLVILLE: Do you have a favorite episode? Now The WB is giving Smallville fans a chance to vote on which of their favorite episodes will air as reruns over the next five weeks. The show's creators, Al Gough and Miles Millar, picked their 10 favorite episodes from the show's first two seasons, and viewers can select their top five at TheWB.com through March 9. The winning episodes will be announced March 10. The 10 episodes up for fan voting are "Pilot," "X-Ray," "Hourglass," "Rogue," "Zero," "Nicodemus," "Stray," "Red," "Lineage" and "Rosetta." The top five picks will air at 9 p.m. ET/PT on Wednesdays while ANGEL, which normally airs in that timeslot, goes on hiatus before beginning its final run of episodes later in the spring.
---
BATMAN BEGINS: Cinescape.com reports that after months of rumors and speculation regarding the title of Christopher Nolan's new BATMAN movie, word has filtered out that Warner Bros. will be referring to the film during the duration of its shoot (which begins next month) and as it moves ever forward towards its release in the summer of 2005 as BATMAN BEGINS.
---
MARVEL MOVIES: Lions Gate Entertainment and Marvel Enterprises announced a deal that would see the development, production and distribution of two new Marvel superheroes film projects, IRON FIST and BLACK WIDOW. This latest turn in the partnership between the two firms will mean the comic book company and the movie studio will share "certain revenues" from the two properties. Marvel retains the rights for all related merchandising connected to the films. Although the opening for their first collaborative effort, THE PUNISHER, is more than a month away (April 16), the two companies announced that work on a sequel to THE PUNISHER has already commenced. "Working with Lions Gate on THE PUNISHER was a great experience and we feel very comfortable expanding this relationship to include two more exciting franchises," said Avi Arad, CEO of Marvel Studios. "We believe that the nationwide launch of THE PUNISHER and access to two more cutting-edge Marvel characters will kick off a long-term relationship between Lions Gate and Marvel that is rich with opportunity across all of our core businesses," added Lions Gate CEO Jon Feltheimer.
---
X-MEN: The Hollywood Reporter reports that filmmakers Joss Whedon and Bryan Singer are in final negotiations to write X-Men comics for Marvel Comics. Whedon, best known for creating "Buffy the Vampire Slayer," will author "Astonishing X-Men." The first issue is slated to hit stores in May, with John Cassaday handling artist duties. "There are three reasons why I'm doing this," Whedon said. "One, I get to write the X-Men, a comic I grew up reading. It's probably the biggest influence on my work there is. Two, I want to personalize things and figure who these characters are to me now. And three, (the character) Kitty Pryde. She was not a small influence on Buffy. I get to use her, and that sealed the deal." Singer, who helmed the two "X-Men" movies, is teaming up with "X2: X-Men United" scribes Michael Dougherty and Dan Harris to write for an existing title, "Ultimate X-Men." Singer's role will be more as an overseer, though he will write some issues, and the title of the book will include the words "Bryan Singer Presents."
---
SIN CITY: Variety reports that director Robert Rodriguez (Once Upon a Time in Mexico) will helm the big-screen adaptation of Frank Miller's graphic novel series SIN CITY for Dimension Films. Miller will co-direct the film as well. Filming starts next month in Austin, Texas. Casting is currently underway. Variety reminds us that SIN CITY "interconnects storylines that involve the unsavory inhabitants of the town. Rodriguez has already shot the film's opening with Josh Hartnett and Marley Shelton, and he's now casting the remaining roles as the rest of the film gets under way in March."
---
JMS UPDATE
Here is the latest from JMS: Y'know, if there's anything more annoying than having to sit on good news, I can't think of what it might be. (Well, okay, being staked to an ant hill at high noon is a pretty obvious one, but you get the idea.) The only things I can say right now about B5:TMoS is that now that all the correct agreements have been signed, sealed and delivered, the draft has gone in, met with great enthusiasm all around, notes have been received, and the next draft is in process and has to be delievered within two weeks so that certain other steps can be set into motion. I still can't tell you what it *is* because that has to come from the proper people through the proper channels at the proper time...but I can tell you a few cases of what it *isn't*...it isn't a novel, or a short story, a comic, an animated series, a radio drama or a stage play. Beyond that, deponent sayeth not. Except to say that it's pretty cool. On a side-note...for those following the Suprme Power books...as good as the series has been to date, and selling in the top 15 pretty consistently, the next two issues, 8 and 9, the first of which goes on sale March 3rd, are going to put this book on the map in a big way. They're just stellar issues. If you haven't gotten into the book yet, now (or backtracking to issue 7, the start of the new arc) would be a good time to do so, because it's going to start kicking some serious ass.
TIDBITS
PAT TALLMAN FANS: Two promotional copies of Patricia Tallman's little seen horror short from 2002, JENNIFER IS DEAD, is now up for bid on Ebay. The auction ends in just 4 days, on March 1st! CONVENTION UPDATE: The Grand Slam XII in Pasadena, California March 26-28 has added 19 new guests to their roster. There are guests from STARGATE SG-1, STAR TREK, LORD OF THE RINGS, SMALLVILLE, DEAD ZONE, BUFFY, ANGEL, STAR WARS -- and many more. For more information, go to http://www.creationent.com/cal/.
WHAT'S ON TONIGHT
8:00pm on CBS
Joan of Arcadia
No Bad Guy
Bad news for God's little high school friend. Some sickos circulated a pictured of the teen in her underwear and she is out for some unholy Carrie-style revenge. So what does her Almighty friend suggest ... for Joan (Amber Tamblyn) to join the school band. Music soothes the savage beast. Meanwhile, dad (Joe Mantegna) has to deal with an elderly driver who caused several deaths and Kevin's (Jason Ritter) tension with Rebecca (Sydney Tamiia Poitier) increases after he uses his position at the paper to get back at a writer who panned Helen's (Mary Steenburgen) paintings. 10:00pm on CBS
CSI: Miami
Complications
Horatio investigates the apparent suicide of an anesthesiologist. 10:00pm on Showtime
Dead Like Me
Sunday Mornings
George discovers that her father is not the person she thought. On SCIFI Tonight: 6:00pm
Stargate SG-1
Part 2 of 2: The Devil You Know
SG-1 must escape from a prison resembling hell. 7:00pm
Stargate SG-1
Wormhole X-Ttreme!
To monitor the alien, O'Neill becomes tech adviser to a new TV series. 8:00pm
Stargate SG-1
Space Race
Carter pairs with Warrick in a race in which more is at stake than a lucrative contract. 9:00pm
Stargate SG-1
Resurrection
Daniel discovers a human-Goa'uld hybrid and tries to gain her trust. 10:00pm
Code Name: Eternity
Making Love
Ethaniel becomes enthralled with a model from a perfume advertisement.
INSIDE SCI-FI THIS WEEK:
Thursday, February 26:
TOP SF SYNDICATED SHOWS:
Stargate SG-1 2.3
She Spies 2.1
Andromeda 2.0
Mutant X 2.0
Buffy 1.7
Beastmaster 1.5
The X-Files 1.5
Angel 1.4
The Outer Limits 1.3
3rd Rock 1.2
Source: Nielsen Galaxy Report, 2/2/04 - 2/8/04
---
TOP SF DVD SALES:
1. Star Trek: Voyager season one
2. Pirates of the Caribbean
3. Finding Nemo
4. Stargate SG-1 season six
5. Spy Kids 3-D
6. The Two Towers extended edition
7. The Lion King 1 1/2
8. Angel season three
9. Roswell season one
10. The Matrix Revolutions
Source: Amazon.com, top-selling genre DVDs, 2/24/04
---
FINDING NEMO: According to Zap2It.com, FINDING NEMO will be recognized by The Humane Society of the United States at its annual Genesis Awards promoting animal protection issues.
---
UNDERWORLD 2: Despite lackluster returns from the first UNDERWORLD film, the story of the clash between werewolves and vampires will continue this fall. UNDERWORLD 2 will start filming, with the first film's director (Len Wiseman) behind the camera lens. Kate Beckinsale is returning to play her vampire character of Selene in the sequel, with Scott Speedman likely to also come back. Danny McBride is working hard on the script right now and should have it all done come April. According to what Wiseman and his UNDERWORLD screenwriters said shortly after the release of the first film, the second movie was to open with the last great battle between vampires and Lycans from hundreds of years ago.
---
PASSION OF THE CHRIST: According to the preliminary Ash Wednesday box office figures, Mel Gibson's THE PASSION OF THE CHRIST stands to make somewhere between $15 to $20 million dollars by the end of the day. That total also includes any advance screenings held for church groups earlier in the week, which factor in somewhere between $2 to $3 million. Gibson's film has opened at just over 3,000 screens across North America. The $25 M production was paid for by Gibson himself, with film distributor Newmarket earning a small percentage of the gross.
---
Wednesday, February 25:
BLADE: TRINITY: Writer, director David Goyer told SCI FI Wire that the upcoming sequel film, BLADE: TRINITY, is a month ahead of schedule and is going well enough that he's contemplating a future spinoff based on characters introduced in the film. TRINITY brings back stars Wesley Snipes (Blade) and Kris Kristofferson (Whistler) and puts them with a crop of young new actors. Blade: Trinity deals in part with Blade's teamup with a new breed of vampire hunters, called the Nightstalkers, played by Jessica Biel (Whistler's daughter, Abigail), Ryan Reynolds (Hannibal King), Natasha Lyonne and Patton Oswalt. If the film is successful, a Nightstalker spinoff is very probable. BLADE: TRINITY is set for release on August 13.
---
LOST IN SPACE: Variety reports that the WB has set the cast for THE ROBINSONS: LOST IN SPACE, its upcoming pilot updating the classic 1960s SF series. Brad Johnson (Left Behind: The Movie) has joined as John Robinson; Ryan Malgarini (Freaky Friday) will play Will Robinson. The duo join cast members Jayne Brooke, Mike Erwin and Adrianne Palicki. SPELLBOUND: Fox gave a green light to the pilot SPELLBOUND, which had originally been set up at NBC. Rob Greenberg and Suzanne Martin will write and executive produce the sitcom, about a male witch who falls in love with a mortal woman. Andy Ackerman will direct and also executive produce.
---
LORD OF THE RINGS: Reuters reports that THE LORD OF THE RINGS: THE RETURN OF THE KING became the second film (after TITANIC) to break the $1 billion worldwide box-office mark. New Line Cinema, which distributed the movie, also reported that King reached the mark in record time. RETURN OF THE KING now ranks as the second-highest-grossing film of all time, after 1997's TITANIC, which rang up $1.8 billion in global receipts. But King crossed the 10-figure threshold in less time, getting there in fewer than 10 weeks from its Dec. 17 opening, compared with Titanic, which hit the billion-dollar mark at the start of its 11th week of release. All three Lord of the Rings films have now racked up combined receipts totaling nearly $2.8 billion globally.
---
THE POSEIDON ADVENTURE: Director Wolfgang Petersen (The Perfect Storm) and television producer Mike Fleiss are teaming up to remake the 1972 disaster film POSEIDON ADVENTURE using state-of-the-art technology. The picture is set up at Warner Bros. and both men will act as producers on the new picture. The original movie was the first of a string of event pictures about disasters and featuring an ensemble of celebrity actors among their casts. THE TOWERING INFERNO led to EARTHQUAKE which led to the sub-genre of animal disaster movies like THE SWARM.
---
THE TERMINAL: ALIAS supporting cast member Kevin Weisman has joined the cast of Steven Spielberg's drama THE TERMINAL, now filming in Los Angeles. Weisman joins Tom Hanks, Catherine Zeta-Jones, Stanley Tucci and Chi McBride. Hanks plays a European traveller who, after his country dissolves practically overnight, suddenly cannot travel internationally and is forced to live in an airplane terminal while he awaits a decision on his nationality. The film is scheduled for release on June 18.
---
BLACKWATER: According to The Hollywood Reporter, the Sci Fi Channel is giving a hard look at BLACKWATER, a four-hour miniseries in development, that could be co-produced by Sony Pictures Television, Mandalay Television and the Orphanage. BLACKWATER is based on a set of six serial novels of the same name from the late Michael McDowell, a prolific writer whose movie and TV credits include "Beetlejuice" and "Amazing Stories." The task of condensing six volumes into four hours fell to Scott Stewart, co-founder of the Orphanage, a San Francisco-based production company specializing in visual effects for such films as "Spy Kids 3-D: Game Over" and the "Matrix" trilogy. If "Blackwater" is greenlighted, he will likely executive produce with Orphanage head of production Amy Israel.
---
Tuesday, February 24:
BEST SELLING SF BOOKS:
1. The Da Vinci Code
2. Angels & Demons
3. The Passion
4. Seduced by Moonlight
5. Unearthed Arcana (D&D)
6. Tale of Despereaux
7. Glorious Appearing (Left Behind)
8. Hobbit Rings box set
9. Wicked
10. New Spring (Wheel of Time)
Source: Amazon.com, 2/23/04
---
THE EXORCIST: THE BEGINNING: On February 22, Renny Harlin's reshoot of EXORCIST: THE BEGINNING wrapped after 13 weeks on Rome's Cinecitta Studios backlot. Harlin's 13-week effort equals the amount of time spent by Paul Schrader on his original shoot, but according to Variety, none of the footage will be used. Schrader quit the Morgan Creek production last year due to creative differences. Still, his name is reportedly meant to stay on the prequel film. Three original key cast members—Clara Bellar, Gabriel Mann and pop star Billy Crawford—are not likely to appear in the final version, since they didn't return for reshooting. Alexi Hawley (Grimm) was brought in to rewrite the William Wisher and Caleb Carr script, and a new editor is working only with Harlin's material for the recut. Stellan Skarsgard still stars as a younger Father Merrin.
---
BATMAN: Best Supporting Actor nominee for The Last Samurai, Ken Watanabe, has been will be squaring off against Christian Bale in the upcoming new BATMAN movie, directed by Christopher Nolan. Scheduled to begin production in London next month, the Warner Bros. project has Watanabe playing the villainous Ra's Al Ghul, an immortal strategic mastermind who wants to bring his own brand of order to the world. He joins Bale, cast as Bruce Wayne/Batman; Michael Caine as Wayne's trusted butler Alfred; Katie Holmes as a childhood friend of Wayne's; Liam Neeson as Wayne's mentor Henri Ducard; and Morgan Freeman as Lucius Fox, a former board member and sidelined employee of Wayne Enterprises.
---
KING KONG: The Hollywood Reporter has published an excellent interview with "The Lord of the Rings" director Peter Jackson in which he talks in-depth about the KING KONG adaptation he's working on now for Universal. Jackson is working with a number of LOTR veterans. Weta Workshop, led by Richard Taylor, and Weta Digital have been at work on KONG for some months now. Howard Shore is doing the music.
---
Monday, February 23:
TOP 10 SCIFI CHANNEL PROGRAMS:
Stargate SG-1 1.9
Volcano: Fire on Mountain 1.6
Fatal Error 1.6
Alien Lockdown 1.5
Inferno 1.5
Ice 1.3
Species II 1.2
Creature, Part 1 1.2
Creature, Part 2 1.1
Species 1.1
Source: Nielsen Galaxy Report, 2/2/03 - 2/8/03
---
FIREFLY: Rumors abound related to the proposed FIREFLY movie. Over at Firefly Movie.com it was discovered that Universal Pictures has quietly added a listing for a project called SERENITY to its Coming Soon section on the studio's website. The domain registry for SerenityMovie.com is held by Universal Pictures. Last week another website stated that the working title for the FIREFLY movie was SERENITY (the name of the crew's vessel) and that the project's first meeting took place in the second week of February. Another website devoted to FIREFLY actress Summer Glau, has heard that the movie is slated to commence filming this coming May. If that last report is indeed accurate, an official release from Universal should be happening in the following months. Universal announced that it had purchased the rights to do a FIREFLY movie last September, and Whedon has already finished writing the screenplay.
---
WEEKEND BOX OFFICE: Sony's 50 FIRST DATES held onto the number one spot at the box office this weekend, earning another $21 million dollars. Disney's teen offering, CONFESSIONS OF A TEENAGE DRAMA QUEEN earned $9.2 M playing on just under a dozen fewer screens than ROADTRIP which made $6.6 M and came in fifth position. Ray Romano's WELCOME TO MOOSEPORT debuted in fourth spot with $7 M in earnings while the weekend's other new opening, AGAINST THE ROPES, rang in at eighth spot. After a commanding run, New Line's THE RETURN OF THE KING has slipped to #10. The final film has now earned $361 M domestically and stands at $979 M internationally, nearly at the coveted billion dollar accumulation mark. Here are the box office estimates from February 20 to 22:
1. 50 FIRST DATES $21,000,000 $72,311,000
2. CONFESSIONS OF A TEENAGE DRAMA QUEEN $9,217,000 $9,217,000
3. MIRACLE $8,000,000 $50,549,000
4. WELCOME TO MOOSEPORT $7,000,000 $7,000,000
5. EUROTRIP $6,600,000 $6,600,000
6. BARBERSHOP 2: BACK IN BUSINESS $6,300,000 $53,236,000
7. MYSTIC RIVER $3,120,000 $79,152,000
8. AGAINST THE ROPES $3,000,000 $3,000,000
9. THE BUTTERFLY EFFECT $2,875,000 $53,107,000
10. THE LORD OF THE RINGS: THE RETURN OF THE KING $2,800,000 $361,068,000
---
SAG AWARDS: Last night's 10th annual SAG Awards were presented with a few surprises. New Line Cinema's "The Lord of the Rings: The Return of the King" brought home the prize for best ensemble cast of a motion picture; Johnny Depp was named best male actor in a leading role for his swaggering performance as Capt. Jack Sparrow in the popular summer hit "Pirates of the Caribbean: The Curse of the Black Pearl" from Walt Disney Studios. Charlize Theron was chosen best female actor in a leading role for transforming herself into serial killer Aileen Wuornos in "Monster." In the supporting film categories, the victors were Zellweger for "Cold Mountain" and Tim Robbins for "Mystic River." On the TV front, HBO was dominant, picking up five awards, including two for Mike Nichols' miniseries "Angels in America," honoring stars Meryl Streep and Al Pacino, and two for Alan Ball's drama "Six Feet Under," with wins for Frances Conroy and the show's ensemble cast. The cast of "Sex and the City" delivered the fifth nod for HBO, while Tony Shalhoub landed the first series SAG Award for a basic cable network for his USA Network's "Monk" series.
---
THE PUNISHER: Set for release on April 16, Lions Gate Films and Marvel Studios' THE PUNISHER has received a R rating from the MPAA for pervasive brutal violence, language and brief nudity. The comic book adaptation tells the story of FBI undercover agent, Frank Castle (Thomas Jane), who until now has beat considerable odds. A former Special Forces operative, he is finally moving out of the field and into a desk job -- and a normal life with his wife and son. Then Castle's world is shaken to its core by a nightmare he has longed feared: his family is executed as a repercussion from his final undercover assignment. Castle seeks to punish the murderers -- and finds the one thing he least expected: redemption. The Punisher also stars John Travolta, A. Russell Andrews, Samantha Mathis, James Carpinello, Jeff Chase, Mark Collie, Russell Durham, Ben Foster, Laura Harring, Rebecca Romijn-Stamos and Roy Scheider. For a sneek peek, go to http://movies.yahoo.com/movies/feature/thepunisher.html.
---
Sunday, February 22, 2004:
STAR WARS: EPISODE III: Over at http://www.starwars.com/episode-iii/bts/me3/1.html you will find a "Behind-the-Scenes" segment of George Lucas and others going over footage from the upcoming movie. You can see they are using video conferencing equipment to transmit images back and forth between Skywalker Ranch and Sydney, a method used by Peter Jackson on the LORD OF THE RINGS: THE RETURN OF THE KING.
---
BATMAN: Variety reported Friday that Liam Neeson was indeed being cast in the upcoming BATMAN film, but he is not a villain. Indeed, he would be cast as businessman Henri Ducard, a friend and mentor to billionaire Bruce Wayne.
---
HELLBOY: Over at http://www.latinoreview.com/films_2004/sonypictures/hellboy/featurette.html you'll find a number of clips from the upcoming HELLBOY movie with Ron Perlman, Selma Blair, John Hurt, Mike Mignola and director Guillermo del Toro.
---
CONSTANTINE: At http://www.superherohype.com/articles/index.php?id=578 you can get more information about the upcoming CONSTANTINE movie starring Keanu Reeves. THere are interviews with Reeves and Director Francis Lawrence, set photos, and more.
---
THANK YOU: A number of people have sent along information about upcoming conventions. Thank you very much. If you have reports from conventions you've attended, we'd love to read them here.
---
Saturday, February 21:
TOP SF NETWORK SHOWS:
Joan of Arcadia 6.1
Smallville 3.4
Angel 2.9
Tru Calling 2.7
Enterprise 2.0
Source: Nielsen Galaxy Report, 1/26/03 - 2/1/03.
---
F/X AWARDS: On Wednesday, the second annual Visual Effects Society Awards were presented at the Hollywood Palladium. THE LORD OF THE RINGS: THE RETURN OF THE KING took home four golden Melies Moon Man trophies for models and miniatures, character animation for Gollum and performance by an actor (Sean Astin), in addition to best visual effects in a visual-effects-driven motion picture. THE MATRIX RELOADED captured two wins for visual-effects photography and best single visual effect of the year for its trailer-top crash sequence. PIRATES OF THE CARIBBEAN: THE CURSE OF THE BLACK PEARL won practical effects in service to a visual effects picture and outstanding matte painting. FINDING NEMO won best character animation in an animated movie. Television winners included HBO's CARVIVALE, USA Network's HELEN OF TROY, The WB's SMALLVILLE, SCI FI's BATTLESTAR GALACTICA and UPN's BUFFY THE VAMPIRE SLAYER.
---
ANGEL: More than 46,000 fans of The WB's ANGEL have signed an online petition to keep the show alive. "By signing this petition, we are saying that we support the show and want Angel to continue," the petition reads. Fans have also put together a Web site, SupportAngel.org, to save the series. Meanwhile, hundreds of Angel fans will convene this weekend at a previously planned charity ball, the Wolfram & Hart Annual Revue, to celebrate the series in Los Angeles.
---
SYNERGY: CSI's star Marg Helgenberger has joined the cast of the Weitz brothers' SYNERGY for Universal Pictures. The comedy revolves around the uneasy relationship between a 50-year-old businessman (Dennis Quaid) and his new 26-year-old boss (Topher Grace). The younger boss is having an affair with the older man's daughter (Scarlett Johansson). Helgenberger will play the wife of Dennis Quaid's character and mother to Johansson's character. Selma Blair, Clark Gregg, Philip Baker Hall and David Paymer round out the cast for the film which starts shooting March 15. Paul Weitz will direct from his own script, with Chris Weitz producing.
---
DISCUSSION TOPIC: I know this isn't Babylon 5, but there are so few good science fiction shows on these days that it is hard NOT to talk about Stargate SG-1. For those that watched "Heroes Part 2" last night, what did you think? I have spent some time on forums this morning looking at opinions and there is a mix -- everything to the best episode ever to good to so-so. What do you think? Did you enjoy it?
---
DVD BUYING TIPS
Ranger Dave found JEREMIAH nearly $20 less than Amazon's price at DVDsoon.com. Dave used Brian's suggestion and went to www.dvdpricesearch.net and found STARGATE SG-1 Seasons 1,2,&3 for $32.88 each (including ) tax and free shipping). There is even a coupon for $4 off purchases over $100 from that company. Season 4 was listed at a bit over $40.

I understand from Ranger Judy that all CostCo stores don't have the prices mentioned here. Hope some of the other options given help out.

I picked up the Season 5 DVD of STARGATE SG-1 at CostCo yesterday. It was $39.99 and they had all of the previous seasons there as well. I snapped up the last Season 5! I love that place.

Ranger Brian sent along a terrific tip for purchasing any DVDs. Go to http://www.dvdpricesearch.net/. You can do a search on any title and it will find the lowest price for you. It includes mailing information as well. Thanks Brian!

Ranger Frank in Seattle indicates that again, CostCo is saving Babylon 5 fans money!
Costco stores have a limited time sale on the Babylon 5 DVD sets. I went into a Costco in the Seattle area today, and they have seasons 1, 2 and 3 for $59.99 each -- about $25 less than Amazon.com, and $40 less than list price, as I recall. Season 4 is $64.99. But the deal is that if you buy Season 4, you get $20 off any one of the other seasons.

Thanks Frank for passing along the info. Other folks should check out CostCo for Babylon 5 and other DVDs. They usually have very competitive prices.
SEASON FOUR OF BABYLON 5 - ON SALE NOW
BABYLON 5:
THE COMPLETE FOURTH SEASON Collectible Six-Disc DVD Set Featuring All 22 Episodes
Fully-Loaded with New Bonus Materials
Remastered in Widescreen and Dolby Digital 5.1 Audio
Available January 6 from Warner Home Video Burbank, Calif., October 14, 2003 - The future begins - or ends - here and now. Here is the huge space station Babylon 5. Now is the fateful year 2261. Commander John Sheridan has already declared the station free, breaking the ties between it and Earth Alliance. It was perhaps only a matter of time before he would have to fight to remain free. That time has come on January 6, 2003 with the complete 22-episode fourth season adventure of the acclaimed Babylon 5 sci-fi series from Warner Home Video (WHV). Presented on a must-have six-disc collector's set, Babylon 5: The Complete Fourth Season is priced to own at $99.98 SRP. Orders are due December 9. Packed with out-of-this-world DVD bonus materials including a featurette about the series composer and the making of the series' music, an original music suite composed exclusively for the DVD release, in-depth audio commentaries from cast members and the series creator, personnel files and a gag reel. "The Babylon 5 series has consistently been one of Warner Home Video's most in-demand DVD collections, proving the loyalty and strong fan base for this acclaimed sci-fi series," said Jeff Baker, Vice President, Non-Theatrical Franchise Marketing. "The TV to DVD trend has been very strong in the marketplace and WHV plans to continue releasing fan-favorite series throughout the year." Babylon 5 has won two Emmy Awards for Groundbreaking Visual Effects and Makeup as well as the 1998 Science Fiction Writers of America Ray Bradbury Award. It also earned the 1999 Saturn Award for Best Genre Cable/Syndicated Series from the Academy of Science Fiction, Fantasy & Horror Films. Currently, Babylon 5 continues to be seen by legions of fans with episodes syndicated on the Sci-Fi Channel. I have put together a listing of the episodes and pictures from each episode of Season 4 with a synopsis from the Lurker's Guide. Enjoy. If you have found bargain prices out there on this set, let us know. If you have had problems with the set, here is an address to use to report them: Send any complaints/issues directly to Sherri Bogard at sherri.bogard@warnerbros.com. She handles all DVD problems with "Babylon 5".
SEASON FIVE OF BABYLON 5 - APRIL 13, 2004
Over at TV Shows on DVD, you'll find a notice that Season 5 of Babylon 5 will be available on April 13. Nothing official from the WB yet. Here is the information available so far:

Description:
From the beginning, both were running out of time. The space station that was the last, best hope for peace was sooner or later certain to be eclipsed by new political coalitions and technical advances. And John Sheridan, who guided the massive freeport through its most tumultuous days, knew that his own fate had been inalterably prophesied.

Now both storylines converge in a 22-episode final season (with dazzling Exclusive DVD Extras!) whose events also include Sheridan's attempts to wage peace for the Interstellar Alliance, the tragic fate of the telepaths and the ultimate fireball destruction of the outmoded station after it is declared to be a spaceway navigational hazard. You're cleared for final approach...to Babylon 5.

Features:
Introduction to Wheel of Fire (Season 5 of Babylon 5) by series creator, J. Michael Straczynski
Two audio commentaries by J. Michael Straczynski
Movements of Fire and Shadow commentary by cast members Bruce Boxleitner, Peter Jurasik, Patricia Tallman and Tracy Scoggins
Digital Tomorrow - a featurette about making the special effects for the series
Beyond Babylon 5 - a featurette focusing on the fans, their reactions to the show and available Babylon 5 merchandise
The Universe of Babylon 5 including: Personnel Files, Data Files and Gag Reel
Episode previews
Easter Egg: Marcus Cole: Dead or Frozen
Additional and Extended Scenes
DISCUSSION TOPIC
I know this isn't Babylon 5, but there are so few good science fiction shows on these days that it is hard NOT to talk about Stargate SG-1. For those that watched "Heroes Part 2" last night, what did you think? I have spent some time on forums this morning looking at opinions and there is a mix -- everything to the best episode ever to good to so-so. What do you think? Did you enjoy it? Send in your comments and views to sgbruckner@aol.com. I post them on the Discussion Page for everyone to share. See what has come in so far. If you see an old topic you want to respond to, go right ahead. We enjoy hearing from you.
JEREMIAH
SEASON ONE DVD
$5 COUPON FOR JEREMIAH Here's a great value for you. Download this $5 coupon that can be applied to your purchase of the season one DVD set of JEREMIAH. Here's a link to the file. Jeremiah coupon.

For information on the season one DVD of JEREMIAH, read the Season One Press Release which describes the DVD set in detail. You will also find links to clips from the DVD here.

NEW PORTAL PAGE FOR JEREMIAH: For new information on JEREMIAH, visit the JEREMIAH PORTAL . You'll find a lot of new information for the series, including a photo gallery, wallpaper, links to other JEREMIAH sites and much more. For all that is new with JEREMIAH, go to JEREMIAH page. Showtime does not have the show on it's schedule right now. Fans are putting pen to paper and writing to voice their support for the series and their desire to have it back on the airwaves. Check out how you can help.

Nothing official, but I read somewhere that Showtime will return JEREMIAH to their schedule in March of 2004. Hopefully we will get a date on that soon.
STARGATE SG-1

SEASON FIVE DVD
For information on the season five DVD of STARGATE SG-1, read the Press Release which describes the DVD set in detail. More information on both of this DVD, go to Stargate Season 5 DVD. You will find photos from episodes as well as a TV trailer.
KEEPING UP WITH CAST AND CREW
BRUCE BOXLEITNER: Bruce Boxleitner will star in an upcoming SCIFI original telefilm called "Snakehead Terror" and will debut on March 13 at 9pm ET. Carol Alt, who appeared in the film "Catch Me if You Can," will co-star. "Snakehead Terror" was inspired by actual events youmight remember from the news; someone dumped a Chinese Snakehead fish (former pet) into a Maryland waterway. Thanks Ranger Anne for the update.
---
STEPHEN AUSTIN: Our favorite Pak'Ma'Ra Ambassador has a wonderful of stand-up comedy routine that he takes on the road. His latest dates are: THE IMPROV Tues., Feb. 24th - 8p
Ontario, CA 909-484-5411
MALONE'S Thurs., Feb. 26th - 8p
Santa Ana, CA 714-979-6000
---
SPECIAL CAST ACTIVITY
CRUISE WITH PETER WOODWARD
Peter is considering cruising the Caribbean in January 2005 and wants to invite his fans to join the fun. He would like to see if there is sufficient interest before going too far into planning, so if you would like to receive a brochure about Peter's upcoming cruise once the details are finalized please advise of your: Name:
Postal Address, City, State, Zip:
E-mail address:
Phone number:
Total number of guests in your party:
Age range of the guests including yourself:

Send this information to pwoodwardinfo@yahoo.com. Any information you send us will be handled respectfully. This is not a commitment from you, just an indication of interest.

JERRY DOYLE RADIO SHOW:

"The Jerry Doyle Show", now heard Saturdays from 8-11PM PST on the Talk Radio Network, will be adding a weekday show starting April 5th. Jerry is working on an affiliate list for the 95 stations across the country. "The Jerry Doyle Show" launched in syndication, coast to coast, on 12/6 through Talk Radio Network. It's on Saturday nights, 8-11 PM PST. According to Jerry, it's about "Politics, pop culture and things that tick me off is the general theme. It's been a great ride and the folks at TRN have been fantastic. You can go to Talk Radio Network for more information.
---
BABYLON 5 BIRTHDAYS
Michael Beck - February 4
Ardwight Chamberlain - February 16
Karen Harrell - February 21
John Iacovelli - February 25
Bill Mumy - February 1
Matt Plummer - February 26
Majel Barrett Roddenberry - February 23
John Schuck - February 4
Myriam Sirios - February 2 Have I missed anyone? If you know the birthday of someone connected with Babylon 5, pass the information along. We want to include everyone in our Happy Birthday Wishes.
READER BIRTHDAYS
Sometimes you just can't find the e-mail address for someone you know you have -- it's someone who responded to a discussion topic or you met in one of the chat rooms. You'd like to send a personal note, but .... No address!!!!

We've started a White Pages of Zocalo Readers! It's a handy way of keeping track of people -- and putting together a birthday/greeting card list as well. If you would like to be part of the listing, just send me your name, state, e-mail address and (if you'd like to have it listed) birthday (without year) to sgbruckner@aol.com. Check out the Directory of Readers.

Name: Andrea Barna
State: Szekszárd, Hungary
E-mail: delenn@tolna.net
Birthday: February 8

Name: Yue Cole
State: NY

Email: CorpsIsMother@aol.com
Birthday: Feb. 5th

Name: Sean Lyons
E-mail: sean@efcfrance.com
State/Country: West Yorkshire, UK
Birthday: February 02

Name: Andres E. Hidalgo Sandoval
Country: Venezuela
E-mail: andresvene11@hotmail.com
Birthday: February 17

Name: Matthew Sweet
State: New York
E-mail address: msweet2@stny.rr.com
Birthday: February 16
FAN CLUBS
We have a number of Fan Clubs listed here at the Zocalo. They are those associated with a particular actor -- and there are those devoted to Babylon 5 or science fiction. Be sure to check out the Clubs Page to see if there is an organization near you.
NEW SCIENCE FICTION MERCHANDISE
BABYLON 5 MERCHANDISE
Are you looking for Babylon 5 merchandise? Would you like to possess some of the wonderful patches or pins sold by the B5 Fan Club? Do you want to put in an order for the latest DVD? Bruce at Uncomyn Gifts still has one of the best collections around. Check out www.uncomyngifts.com. You may just find the magazine or t-shirt or patch you are looking for.
---
SCIENCE FICTION PUBLICATIONS
Cult Times #102: ANGEL's Alexis Denisof looks back on over five years as Wesley Wyndam-Price and how his character has evolved from wimp to high-powered executive at Wolfram & Hart. Also in this issue, Steve Bacic talks about ANDROMEDA and his return as Relemachus Rhade and Michael Gross talks about TREMORS - the movies and TV series.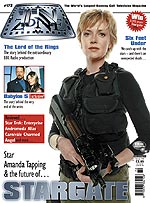 TV Zone #172: JMS concludes his series on BABYLON 5 in this issue. He reminisces about the making of the series during the final season. Also in this issue, Amanda Tapping talks about things coming up for her character, Maj. Samantha Carter during the final season of the series and set dectorators Mark and Robert Davidson explain how a blank canvas can be transformed into a scene for the hit TV series.



Expose #83: In this issue, we get a look at ALIAS thru the eyes of Agent Weiss - Greg Grunberg. Sean Astin tells us about how LORD OF THE RINGS has been a life-changing experience. Co-producer of CHARMED, Peter Chomsky, looks back over six years of special effects.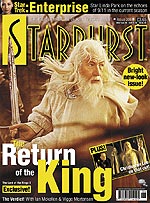 Starburst #306: This 100-page issue is full of exciting interviews -- including Sir Ian McKellen and Viggo Mortensen from LORD OF THE RINGS. Also in this issue, Neil Gaiman talks about his upcoming projects and Linda Park discusses Ensign Sato's story arc on ENTERPRISE.
NEW BOOKS ON THE HORIZON
RAY HARRYHAUSEN: AN ANIMATED LIFE
by Ray Harryhausen & Tony Dalton, with a Foreword by Ray Bradbury Ray Harryhausen is arguably the greatest stop-motion animator in the history of motion pictures, blazing new trails in special effects from the 1950s to the 1980s creating realistic dinosaurs, fantastic aliens, and imaginative mythological creatures. In the animator's own words, accompanied by hundreds of previously unpublished photographs, sketches, and storyboards from his personal archives, this book details Harryhausen's entire career — from 20 Million Miles to Earth and Earth vs. The Flying Saucers, to Clash of the Titans and Jason and the Argonauts. (356/0-8230-8402-7)
HC, 9x11, 304pg, FC..........$50.00 BookCloseOut.com

Ranger Dave writes that books by Bruce Boxleitner, John DE Lancie(Q), and William Shatner are available on Bookcloseouts.com in hard cover. They also now have a paperback listing and book prices are greatly reduced. Check it out.
BABYLON 5 NOVELS
DelRey is reprinting the original Babylon 5 novels. They started with #7 - Jeanne Cavelos' THE SHADOW WITHIN. Here's one I've been waiting for -- Kathryn Drennan's TO DREAM IN THE CITY OF SORROWS. The release date is scheduled for July 29, 2003. I love the new cover art! It can be pre-ordered from www.amazon.com. For those of you who love Babylon 5, this one reads just like an episode from the series. You just can't put it down.




COMIC BOOKS
Star Trek : THE Key Collection Volume 1 The original full-color Star Trek comics reprinted in paperback at last! Star Trek comics debuted in 1967, the same year as the original television series and outlasted the TV version by 10 years. This volume collects the first eight issues of the original Enterprise crew in adventures to be found nowhere else. SC, FC ..........$22.95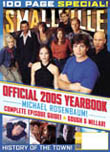 Smallville Yearbook magazine The official, 100-page Smallville Yearbook is your indispensable guide to Season Three! As the third season comes to a close, we bring you a fantastic magazine packed with brilliant Smallville features and exclusive interviews with all of your favorite characters ­ including Clark, Lana, and Lex! Smallville creators Al Gough and Miles Millar tell us about how they reinvented Superman for a modern audience. Plus the writers, directors and crew reveal behind-the-scenes secrets! (Titan Publishing Group) NEWSSTAND—Magazine, 100pg, FC..........$9.99
AMAZING SPIDERMAN
Amazing Spider-Man #504 will arrive in stores on Wednesday from Marvel Comics. The issue is written by Fiona Avery with J. Michael Straczynski, with art and cover by John Romita Jr. Here's how Marvel describes the issue:
""Chasing a Dark Shadow,' part 2 of 2. In the aftermath of the inter-dimensional rift caused by Spider-Man and Doctor Strange's battle with Dormammu, a sorceress of limitless power is set free from years of captivity ... and sets forth on a quest through Manhattan to properly thank the one responsible for it: Spider-Man. And if that weren't bad enough, guess who's on her trail? Loki..." Amazing Spider-Man #504 will be 32 pages and will cost $2.25.
AMAZING SPIDER-MAN #507

Written by J. Michael Straczynski, cover and pencils by John Romita Jr.
Concluding a 3-part arc, featuring the mysterious Ezekiel!
32 pages, $2.25, in stores on April 28.
AMAZING SPIDER-MAN #508 Written by J. Michael Straczynski, pencils and cover by John Romita Jr. The enigmatic Ezekiel returns to Peter's life. But is he the same man who stood by Spider-Man's side in his hour of need, or will he prove to be something much deadlier? 32 pages, $2.25, in stores on May 26.
SUPREME POWER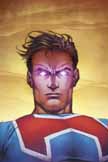 SUPREME POWER #9

Written by J. Michael Straczynski, cover and pencils by Gary Frank.
The world is still shaking from the titanic battle of Hyperion and Dr. Spectrum. Is Earth big enough for two such powerful beings? And who is Power Princess? Find out here!
32 pages, $2.99, in stores on April 7.
NEW CSI GAME
You can now become part of Gil Grissom's CSI team! Check out the latest video game featuring CBS' CSI series. Here is the storyline:
Master the Tools. Solve the crime.
A murdered woman…a slain police officer…a mysterious arson case. What do these crimes have in common? Enter the gritty world of CSI and search for the truth with Grissom, Catherine, and the entire Crime Scene Investigation team. Armed with high-powered forensic equipment and razor-sharp wits, delve deeply into the mysteries of 5 baffling crime scenes to reveal the truth. Don't just watch the action. Live it! For more information, go to http://csi.ubi.com/index.php.
STARGATE SG-1 CARD SET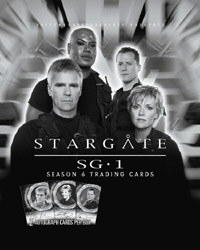 STARGATE SG-1 SEASON 6 CARDS This 72-card set features three cards per episode for each of the 22 in Season 6. Signers include Michael Shanks, Amanda Tapping, Ronnie Cox, John Billingsley, Musetta Vander, Bruce Harwood, Enid Raye-Adams, Jacqueline Samuda, Exec. Producer brad Wright, and more! Look for "Behind the Scenes with Brad Wright" cards, "In the Line of Duty" cards, "Stargate Galley" cards, and more! Also available is the album, custom designed to store the entire collection, including plastic pages, bonus promo card, and a Colonel O'Neill "From the Archives" costume card. 7 cards per pack. 40 packs per box. MSRP: $2.00 per pack.
TV SCHEDULE ON SCIFI CHANNEL
BABYLON 5 and CRUSADE are not currently listed on any SCIFI schedule. STARGATE SCHEDULE: 27-FEB-04 9:00 PM STARGATE SG-1 RESURRECTION
27-FEB-04 11:00 PM STARGATE SG-1 RESURRECTION
05-MAR-04 9:00 PM STARGATE SG-1 (LBX) INAUGURATION
05-MAR-04 11:00 PM STARGATE SG-1 (LBX) INAUGURATION
12-MAR-04 9:00 PM STARGATE SG-1 (LBX) LOST CITY - PT 1
12-MAR-04 11:00 PM STARGATE SG-1 (LBX) LOST CITY - PT 1
19-MAR-04 9:00 PM STARGATE SG-1 (LBX) LOST CITY - PT 2
19-MAR-04 11:00 PM STARGATE SG-1 (LBX) LOST CITY - PT 2
26-MAR-04 9:00 PM STARGATE SG-1 (LBX) EVOLUTION - PT 2
26-MAR-04 11:00 PM STARGATE SG-1 (LBX) EVOLUTION - PT 2 FARSCAPE SCHEDULE:

04-MAR-04 3:00 AM FARSCAPE VITAS MORTIS
04-MAR-04 4:00 AM FARSCAPE TAKING THE STONE
04-MAR-04 5:00 AM FARSCAPE CRACKERS DON'T MATTER
11-MAR-04 3:00 AM FARSCAPE PICTURE IF YOU WILL
11-MAR-04 4:00 AM FARSCAPE THE WAY WE WEREN'T
11-MAR-04 5:00 AM FARSCAPE HOME ON THE REMAINS
12-MAR-04 11:00 AM DAYTIME ROTATION - FARSCAPE THANKS FOR SHARING
12-MAR-04 12:00 PM DAYTIME ROTATION - FARSCAPE GREEN EYED MONSTER
12-MAR-04 1:00 PM DAYTIME ROTATION - FARSCAPE LOSING TIME
12-MAR-04 2:00 PM DAYTIME ROTATION - FARSCAPE RELATIVITY
12-MAR-04 3:00 PM DAYTIME ROTATION - FARSCAPE INCUBATOR
14-MAR-04 1:00 AM FARSCAPE BAD TIMING
18-MAR-04 3:00 AM FARSCAPE LOOK AT THE PRINCESS - PT 1: A KISS IS BUT A KISS
18-MAR-04 4:00 AM FARSCAPE LOOK AT THE PRINCESS - PT 2: I DO, I THINK
18-MAR-04 5:00 AM FARSCAPE LOOK AT THE PRINCESS - PT 3: THE MALTESE CRICHTON
21-MAR-04 1:00 AM FARSCAPE PREMIERE
25-MAR-04 3:00 AM FARSCAPE OUT OF THEIR MINDS
25-MAR-04 4:00 AM FARSCAPE MY THREE CRICHTONS
25-MAR-04 5:00 AM FARSCAPE BEWARE OF DOG
28-MAR-04 1:00 AM FARSCAPE BACK AND BACK TO THE FUTURE

EARTH: FINAL CONFLICT

27-FEB-04 8:00 AM EARTH: FINAL CONFLICT BLISS
01-MAR-04 8:00 AM EARTH: FINAL CONFLICT HIJACKED
02-MAR-04 8:00 AM EARTH: FINAL CONFLICT DEFECTOR
03-MAR-04 8:00 AM EARTH: FINAL CONFLICT HEROES AND HEARTBREAK
04-MAR-04 8:00 AM EARTH: FINAL CONFLICT MESSAGE IN A BOTTLE
05-MAR-04 8:00 AM EARTH: FINAL CONFLICT CROSSFIRE
08-MAR-04 8:00 AM EARTH: FINAL CONFLICT CRACKDOWN
09-MAR-04 8:00 AM EARTH: FINAL CONFLICT THE VANISHED
10-MAR-04 8:00 AM EARTH: FINAL CONFLICT EMANCIPATION
11-MAR-04 8:00 AM EARTH: FINAL CONFLICT DEJA VU
12-MAR-04 8:00 AM EARTH: FINAL CONFLICT THE ONCE AND FUTURE WORLD
15-MAR-04 8:00 AM EARTH: FINAL CONFLICT THICKER THAN BLOOD
16-MAR-04 8:00 AM EARTH: FINAL CONFLICT A LITTLE BIT OF HEAVEN
17-MAR-04 8:00 AM EARTH: FINAL CONFLICT PAD'AR
18-MAR-04 8:00 AM EARTH: FINAL CONFLICT IN MEMORY
19-MAR-04 8:00 AM EARTH: FINAL CONFLICT THE CLOISTER
22-MAR-04 8:00 AM EARTH: FINAL CONFLICT INTERVIEW
23-MAR-04 8:00 AM EARTH: FINAL CONFLICT KEEP YOUR ENEMIES CLOSER
24-MAR-04 8:00 AM EARTH: FINAL CONFLICT SUBTERFUGE
25-MAR-04 8:00 AM EARTH: FINAL CONFLICT SCORCHED EARTH
26-MAR-04 8:00 AM EARTH: FINAL CONFLICT SANCTUARY
29-MAR-04 8:00 AM EARTH: FINAL CONFLICT THROUGH YOUR EYES
30-MAR-04 8:00 AM EARTH: FINAL CONFLICT TIME BOMB
31-MAR-04 8:00 AM EARTH: FINAL CONFLICT THE FIELDS
BABYLON 5/CRUSADE PHOTOSHOP PHOTOS







Peter Woodward has sent along a new photo -- a rather dreadful one -- from his appearance on CHARMED. It will be added to the collection of photos available from Peter, including additional copies of the Crusade poster in photo format. Both are autographed by Peter. You do NOT have to pay the prices asked for over at e-bay! Here are photos of B5 and Crusade cast members at fantastic prices. Check out Photo Shop. Ordering is easy -- and you can't beat the prices! Just let me know which photos you want and I'll check to make sure they are still in stock.
---
BABYLON 5 TOONS
John Cook has a wonderful collection of cartoons -- many are take-offs from Babylon 5. Here's just one of them.

He has a cartoon caption contest going on as well. Try your hand at a punch line.

Go to http://contests.sev.com.au/index.php?contestid=1


SCI-FI CARTOONS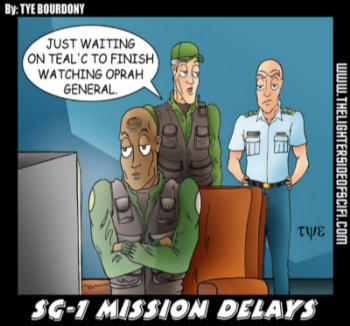 Tye Bourdony's latest Lighter Side of Sci-Fi satire can be seen in the Star Trek Communicator as well as at his website www.thelightersideofscifi.com.



BABYLON 5/CRUSADE CONVENTIONS
CONVENTION UPDATE
CONVENTION CALENDAR
Marcon
March 5-7, 2004
Location: Hilton Mpls/St. Paul Airport Hotel
Place: Bloomington, Minneapolis
B5 Guest: Richard Biggs
Other Guests: Dr. Demento, John M. Ford, Davina, David E Romm, the Great Luke Ski, The Nick Atoms, Tri-Destiny

For more information, visit their website at http://www.marscon.org.
---
Megacon
March 5-7, 2004
Location: Orlando, FL
Place: Orange County Convention Center
B5 Guest: Bill Mumy, Brad Dourif
Other Guests: Allison Mack, Lost in Space cast: Angela Cartright, Mark Goddard, Marta Kristen, June Lockhart, Bob May, and many more

For more information, visit their website at http://www.megaconvention.com/.
---
Best of Both Worlds
Date: March 13-14, 2004
Place: Canberra, Australia
Theme: Lord of the Rings
Guests: Dominic Monaghan - Meriadoc "Merry" Brandybuck (The Lord Of The Rings Movie Trilogy)
For more information, visit their website at http://johnvb.tripod.com/asn2.html.
---
Cult TV Expo
Date: March 20-21, 2004
Place: Rosemont, IL
Site: Ramada O'Hare
Guests: Richard Hatch,Anne Lockhart,Sarah Rush,Laurette Spang, Jack Stauffer and Herb Jefferson, Jr.

For more information, visit their website at www.dg-promotions.5u.com/galactica.htm.
---
I-CON 23
Date: March 26-28, 2004
Place: SUNY, Stony Brook Campus
Location: Stony Brook, NY
B5 Guests: Peter Jurasik, Bill Blair
Other Guests: Vaughn Armstrong For more information, visit their website at http://www.iconsf.org.
---
United Fan Con East
Date: March 26-28, 2004
Place: Marriott Hotel
Location: Quincy, MAbr> Guests: Teryl Rothery (Maj. Janet Frasier, STARGATE); Marina Sirtis (Deanna Troi from Star Trek: The Next Generation); more guests to be announced For more information, visit their website at http://www.unitedfancon.com/.
---
Creation Entertainment GRAND SLAM: THE SCI-FI SUMMIT
March 26-28, 2004
Location: Pasadena Center
Place: Pasadena, CA
Guests: William Shatner, Leonard Nimoy, Brent Spiner, Sally Kellerman, Connor Trinneer, Alexander Siddig, Dominic Keating, Anthony Montgomery, Walter Koenig, Andrew Robinson, Armen Shimerman, Kren Auberjonois, Cirroc Lofton, John Rhys-Davies, Amanda Tapping, Michael Shanks, Corin Nemec, Michael Rosenbaum, Mark Verheiden, Anthony Michael Hall, Nicole de Boer, Chris Bruno, John L. Adams, Kristen Dalton, Andy Hallett, Mercedes McNab, Robia La Morte, Iyari Limon, Mark Lutz, James Leary, Julie Benz, Jeremy Bulloch, Kenny Baker, Rusty Goffe, Ken Colley, Peter Mayhew, Leni Parker, Gina Torres

For more information, visit their website at http://www.creationent.com/calendar.htm.
---

Concourse
April 9-12, 2004
Location: The Winter Gardens
Place: Blackpool, UK
Guests: Philip Pullman, Christopher Priest, Danny Flynn, Mitchell Burnside Clapp, Sue Mason

For more information, visit their website at http://www.eastercon.com/concourse.
---

Be sure to visit the referenced sites to see if there have been changes in dates/guests attending. Also visit our Convention Calendar for a full listing of upcoming conventions featuring Babylon 5, Crusade and Legend of the Rangers cast members as guests.
CONVENTION HIGHLIGHTS
Ranger Brian had a blast with Rick, Jason and Jeffrey at the 2BeContinued Convention last week in Indiana. He sent along a picture for everyone to enjoy. Thanks Brian.
If you would like to share your convention experience with your other Zocalo readers, send along a convention report. I will gladly post it for all to read. Got pictures? I'll post those as well.
ZOCALO TRADING POST
Do you have extra copies of B5, Amazing Spiderman, Midnight Nation or Rising Stars comics you'd like to trade? How about those extra trading cards or B5 magazines? There are a lot of fans looking for these items -- and the Trading Post can help you buy or sell them. To see what's available, just use this link to the Trading Post. To have items included in The Trading Post, send a note to The Zocalo. Please put Trading Post in the subject line.
PEN PALS
If you are looking for someone to talk about Babylon 5 and Crusade with, the Pen Pal section is for you! Check it out! Drop a note to someone who is feeling B5 withdrawal -- BIG TIME!

People thought a Pen Pal page was a good idea. If you would like to meet people who you could chat with or share your opinions of the show with, send along your e-mail or snail-mail address The Zocalo. It will be incorporated on the new Pen Page Page.
MAIL FOR CAST AND CREW
Here's a recent note from JMS on the subject:

Just an FYI to those who've been using the Ventura Blvd. mail drop for fan mail to actors....

As mentioned before, we're phasing out the forwarding of fan mail because we a) don't have the resources, complicated by b) the actors have scattered to the four winds, and it makes it very difficult to get everything to everybody in a timely fashion.

So, having provided prior notice...fan mail to actors coming to the Ventura Blvd. mail drop will be sent back. Mail to actors should be sent via their official fan clubs. I will still be taking mail there, since it's my mailbox, but that's it.

Just so's y'all know and save a few bucks on postage and returns.

WARNER BROS:

Warner Bros. Address:

Warner Bros. Domestic Television Distribution
4000 Warner Blvd.
Burbank, CA 91522

Warner Home Video:

Mr. Douglas Wadleigh
VP for Marketing and Special Features
Warner Bros.
4000 Warner Blvd.
Burbank, CA 91522

SCIFI:
Bonnie Hammer, President
Sci-Fi Channel
1230 Avenue of the Americas
New York, NY. 10020-1513

Mr. Thomas Vitale
Senior VP of Acquisitions, Scheduling & Program-Planning
BACK ISSUES OF THE ZOCALO TODAY
The front page of the The Zocalo Today changes daily, so be sure to check the back issues to make sure that you haven't missed anything IMPORTANT! I don't want the front page getting too long so I shift information periodically into the archives. So if you aren't a regular visitor to The Zocalo Today, be sure to check out the back issues. Just use the button above!
---
Take care and I look forward to hearing from you.
Sandra Bruckner (sgbruckner@aol.com)
Editor/Publisher
The Zocalo Today
http://www.isnnews.net
Copyright - SBruckner, 1999-2004