[an error occurred while processing this directive]

The Zocalo Today

Welcome! I am glad that you found The Zocalo Today and dropped by. Take your shoes off, get comfortable and stay a while. There is a LOT of information here and you won't want to miss any of it.

The Zocalo Today is an interactive newsletter, encouraging interaction with readers through a discussion topic each week. If you have suggestions as to how The Zocalo can be improved -- or be more responsive -- send them along. The Zocalo Today is as much YOUR newsletter as it is mine! I'm just pulling together things for you!

Join our weekly discussion topic. It is just one way you can interact with other Z readers. If you have other information you would like to share, send it along. If you see Babylon 5 cast and crew in other roles, let us know. We enjoy convention reports, photos, etc. Don't miss our back issues. I hope this will become more than just a newsletter. It's a community of people that enjoy sharing their experiences and interests. Don't be shy. Join us today!

If you have questions, drop me a line at sgbruckner@aol.com or thezocalo@aol.com. If you would like to join the mailing list for our bi-weekly newsletter, send me a note and I'll include you on the list. Or you can use the subscription block at the left.

Again, WELCOME!




What's New Today
Saturday, February 8: AMAZING SPIDERMAN: Here's an interesting tidbit found over at SCIFI.COM. E! Online columnist Anderson Jones reported a rumor that Baylon 5 creator J. Michael Straczynski has been brought on to fix the script for the upcoming sequel film The Amazing Spider-Man. Straczynski has also written several Spider-Man comics for Marvel. Let's hope this is true! Joe has done wonders for the comic book -- and we all know his work. Quality writing is what it is all about!
---
HARRY POTTER: According to TV Guide Online, the upcoming fifth HARRY POTTER novel, The Order of the Phoenix, is breaking records months before its June 21 publication date. It has a suggested retail price of $29.99, it ranks as the highest-priced new children's novel in history.
---
DAREDEVIL: As premiere date approaches, more and more interviews are being conducted with the cast. Over at Comics2Film Michael Clarke Duncan talks about his role as Kingpin in the movie. Over at Comics Continuum, Stan Lee talks about his cameo appearance in the movie. Also over at the Continuum, there are transcripts of talks by Ben Affleck, Jennifer Garner, Colin Farrell and Michael Clarke Duncan.
---
INSIDE SCIFI THIS WEEK:
Friday, February 7:
RATINGS: Top 10 SF Network Shows: Touched by an Angel 4.9; Futurama 3.5; Charmed 3.2; Enterprise 2.8; Buffy 2.7; Birds of Prey 2.1; Twilight Zone 1.9, and Sabrina 1.9. Source: Nielsen Galaxy Report, 1/6/03 - 1/12/03.
---
INDIANA JONES: Over at Raider.net you'll find all sorts of information about deleted scenes from INDIANA JONES that will be finding their way to disks as they are released.
---
SUPERMAN: Casting for the new man of steel is hot and heavy. There have been a ton of people rumored as being considered for the role in Brett Ratner's new flick. The latest to be added to the list is Victor Webster (Brennan) from MUTANT X.
---
Thursday, February 6:
MUTANT X: Tribune Entertainment's Seth Howard told Comic Continuum that actor Freddie Prinze Jr. has written an episode Mutant X that will kick off the May sweeps in syndication. Entitled "One Step Closer", the episode deals with Brennan's power growing out of control. Howard said "It is a theme that we have been dealing with since last season's finale and look for some great character beats from our cast. "Freddie is a huge comic-book fan as well as a fan of the show. He is a tremendous writer and I look forward to him writing another one for Season 3. Unfortunately, he doesn't make an appearance on the show, but his take on our characters is refreshing and exciting. He's a real class act and don't be surprised if he becomes more known for his writing in the future."
---
JOHN DOE: This week's episode of JOHN DOE is being pulled by Fox because it deals with the death of an astronaut. The episode, "Illegal Alien," was slated to air on Feb. 7 and begins with an astronaut falling out of the sky. In light of the Columbia disaster, executive producer Brandon Camp said, "It was very much of a mutual decision. We have this episode that revolves around this mysterious appearance of an astronaut in a forest outside of Seattle, and there are all these whispers of a connection between the astronaut and John Doe throughout the episode." An episode of Fastlane will replace the Doe installment.
---
SMALLVILLE: According to The Hollywood Reporter, SMALLVILLE set ratings highs Tuesday, hitting all-time high for any program on the WB in the key 18-34 demographic, with a 6.1 rating/15 share. According to figures from Nielsen Media Research, SMALLVILLE attracted 8.1 million total viewers. The achievement is especially impressive given that the WB is available in far fewer U.S. homes than either ABC or CBS.
---
The WB released three new promotional images for the upcoming SMALLVILLE episode, "Rosetta", guest-starring Christopher Reeve. The episode will air February 25. The pics are at http://www.comics2film.com/StoryFrame.php?f_id=2561.
---
STAR TREK: SciFi Wire talked with Rick Berman about future Star Trek movies, given the poor showing of NEMESIS. Berman said, "There's no way of telling what happened. I'm convinced that we made a very good movie, and I'm also convinced that the movie was promoted properly...I think that the competition of other films may have played some part in it, but I can't be certain of that, either. It's very, very hard to tell. There's a theory that there was too much time [between Insurrection and Nemesis]. There's another theory that there wasn't too much time. I, along with the people at Paramount, need a few months of perspective and thinking about it to then decide what's the best thing to do next. I don't think this is like falling off a horse, and you want to jump right back on it. But we'll see".
---
DAREDEVIL: According to Comics2Film, Twentieth Century Fox announced that fans will be able to see DAREDEVIL will be shown at participating theaters in the United States late-night on Thursday, February 13th, ahead of the scheduled release on the 14th. As an added bonus to hard-core Marvel enthusiasts the studio is attaching the all-new, never-before-seen X-Men 2 trailer to the print of the film. According to their source, this trailer will not be screened anywhere else, prior to the theatrical showings. Not on the internet. Not on popular entertainment TV shows.
---
EDWARD WOODWARD: Besides being Peter Woodward's father -- Edward Woodward did a marvelous job as Alwyn in "The Long Road" episode of CRUSADE. TVNow reports that Mr. Woodward is winning his latest battle, with prostate cancer. Our hopes for a speedy recovery go out to him, along with our prayers. Wednesday, February 5:
RATINGS: Top 10 SF Syndicated Series: Stargate SG-1 2.6; The X-Files 2.2; 3rd Rock 2.1; Mutant X 2.1; Buffy 2.0; Andromeda 1.7; The Outer Limits 1.5; Sabrina 1.5; Beastmaster 1.4, and The Lost World 1.1. Source: Nielsen Galaxy Report, 1/6/03 - 1/12/03.
---
TARZAN: Remakes are in and WB has cast Australian model Travis Fimmel in the title role of Tarzan, a contemporary update of Edgar Rice Burroughs' classic tale. According to The Hollywood Reporter, Warner Brothers Television and Laura Ziskin will produce the series, which will also star newcomer Sarah Wayne Callies as Jane. The series will focus on Tarzan as a young man as he is brought from the jungle to his childhood home, New York, by his uncle, the head of Greystoke Enterprises. Here's a twist, in this version Jane is a fiery police detective. Eric Kripke wrote the script for the pilot. Ziskin and Kripke are executive producing with David Gerber and the pilot's director, David Nutter (The X-Files).
---
Tuesday, February 4:
RATINGS: Top 10 SCIFI Channel Shows: Stargate SG-1 1.7; Tracker 1.4; Farscape 1.3; The Beast, Part 2 1.3; Lake Placid 1.2; Tremors 3 1.1; Battlefield Earth 1.1; Blood Surf 1.1; Event Horizon 1.0, and The Beast, Part 1 1.0. Source: Nielsen Galaxy Report, 1/6/03 - 1/12/03.
---
THE CORE: According to Variety, Paramount has pulled its trailer for THE CORE, because of the Columbia tragedy. The sequence shows the space shuttle in jeopardy. Directed by Jon Amiel, the movie tells the story of a group of NASA "terranauts" who must travel deep underground after the Earth's inner core stops rotating, creating a host of natural disasters that threatens life on the surface. Variety reports that studio is holding to its March 28 release date for the movie.
---
TERMINATOR 3: Arnold Schwarzenegger has given a lot for the TERMINATOR series. During TERMINATOR 2, he broke several ribs while doing a motorcycle stunt. During TERMINATOR 3, he tore a rotator cuff in his shoulder but deferred surgery so that the film's shooting schedule could be maintained. Arnold has now undergone surgery to repair the damage and will wear an immobilizing sling for three to four weeks, but is expected to maintain his appearance schedule.
---
ANGEL: Sean Astin has been busy shuttling around promoting his LORD OF THE RINGS: TWO TOWERS movie, but recently he spent time directing an episode of ANGEL. "I was just hanging onto my hat and glasses, trying not to fall off the roller coaster," says Sean Astin. "You know what, I had a great time, getting to work with Angelus. He is so in his element as Angelus, that you just don't want to stop." The episode, "Soulless", aires Wednesday, Feb. 5, at 9 p.m. ET. Written by Elizabeth Craft and Sarah Fain, Angelus -- the soul-free version of good-vampire Angel (David Boreanaz) -- has been brought back to help Angel's band of do-gooders battle the evil Beast (Vladimir Kulich), who has stolen the sun from Los Angeles. Astin will also be turning up on JEREMIAH this year.
---
DAREDEVIL: As the premiere date approaches, more press is coming out about the movie -- including some terrific stills. Ben Affleck talked with the folks at Comics Continuum and a transcript is available for your enjoyment. There is yet another interview at http://www.moviehole.net/news.php?newsid=972.
---
FLAMING BILLBOARD: 20th Century Fox will fire up the world's first "flaming billboard" on Los Angeles' Sunset Boulevard this Thursday, February 6 promoting the DAREDEVIL movie! The character's signature Double-D logo will be set aflame on a billboard high atop some of the most famous real estate in the country.
---
24: If you are a fan of 24, don't miss the interview at TV Guide. There are probably some spoiler information, so beware.
---
THUNDERBIRDS: The casting for Jonathan Frakes' THUNDERBIRDS is filling out. The latest to join Bill Paxton (Jeff Tracy) and Sophia Myles (Lady Penelope) is Ben Kingsley who will portray the Hood -- evil international criminal.
---
Monday, February 3:
MATRIX: On April 29, only three weeks before the theatrical release of the new two MATRIX sequels, Warner Home Video will re-release the original MATRIX in a new double-disc DVD special-edition package. MATRIX RELOADED is set for a May 15 premiere.
---
KAMELOT: According to The Hollywood Reporter, UPN has ordered Kamelot, a new SF series based on the King Arthur legend, contingent on finding a show runner. Kamelot retells the Arthur story, but transforms him into a young revolutionary overseeing a society in the future. Wes Craven is on board to executive produce with Milbauer and Hughes.
---
WEEKEND BOX OFFICE: New releases topped the box office this weekend. Al Pacino and Colin Farrell's spy thriller THE RECRUIT topped the list with openers FINAL DESTINATION 2 and BIKER BOYZ not far behind. THE TWO TOWERS surpassed THE FELLOWSHIP OF THE RING this weekend, with a cumulative total of about $316 million to the original's $313.4 million. That puts TOWERS within reach of HARRY POTTER AND THE SORCERER'S STONE as well, which earned $317.6 million in its' theatrical run. Here are the overall numbers: 1. THE RECRUIT, $16.5 million in this opening weekend.
2. FINAL DESTINATION 2, $16.2 million in this opening weekend.
3. BIKER BOYZ, $10.1 million in this opening weekend.
4. KANGAROO JACK, $9.0 million this weekend, $45.9 million since opening.
5. DARKNESS FALLS, $7.5 million this weekend, $2.2 million since opening.
6. CHICAGO, $7.1 million this weekend, $50.7 million since opening.
7. THE LORD OF THE RINGS: THE TWO TOWERS, $5.0 million this weekend, $315.9 million since opening.
8. JUST MARRIED, $4.9 million this weekend, $5.0 million since opening.
9. CATCH ME IF YOU CAN, $4.8 million this weekend, $151.9 million since opening.
10. ABOUT SCHMIDT, $4.7 million this weekend, $44.4 million since opening.
---
BATTLESTAR GALACTICA: Ronald D. Moore has been busy fashioning a new BATTLESTAR GALACTICA for the SCIFI channel. He recently said, his work was completed and the miniseries (a backdoor pilot for a proposed series) will go into production this spring in Vancouver, Canada under the direction of Michael Mymer. "The lion's share of it was hammering out the script and getting things in motion with [producer] David Eick and the preproduction process." The remake of the 1978-'79 science-fiction series which followed a ragtag fleet of human space colonists, led by a mighty warship, fleeing the tyrannical, mechanistic Cylons is expected to air on Sci Fi Channel at the end of this year.
---
WHAT'S ON TONIGHT
Touched by an Angel
And a Nightingale Sang
The angels teach the true meaning of love to three couples gathered in a Denver restaurant on Valentine's Day. They are assisted in their assignment by an elderly pair who are celebrating their 49th wedding anniversary. On SCIFI tonight: On Syndicated TV this weekend: Mutant X
Within These Walls
After mutant-powered prisoner Nick Maddox (Steve Bacic) escapes, Adam insists that the team locate and catch the nefarious man. Adam contacts former Genomex colleague Christina who, aware of the mutant's prison break, is preparing to flee because she fears he will come after her to even an old score. Before she can get away, however, Maddox closes in---and she and Adam seek refuge in a safe room. Gene Roddenberry's Andromeda
The Dark Backward
In order to avoid a deadly intruder, Trance (Laura Bertram) executes a number of possible outcomes. Stargate SG-1
Last Stand
The Goa'uld hatch a plot to destroy their enemy. Buffy the Vampire Slayer
Who Are You
It's the return of the baddest gal on the West Coast as Faith (Eliza Dushku) wreaks havoc in Sunnydale. An invasion of Buffy's turf becomes a case of body snatching, as Faith escapes from the Watchers' Council by hiding in the Buffster's bod. She fools everyone, including Buffy's beau. Trapped in Faith's form, Buffy has to convince people---including the Council's assassins---that she's not the rogue slayer. Buffy the Vampire Slayer
The Pack
When Xander (Nicholas Brendon) falls in with a pack of bullies and adopts their agressive attitude, Buffy fears they are all under the spell of an ancient hyena spirit.
B5 SIGHTINGS
Have you seen the latest AT&T commercial that is a take-off of the "Antique Roadshow" -- where the appraiser is looking at various phones and describing service from a very futuristic perspective? Take a good look at the appraiser. That's Wayne Alexander -- Jack and Lorien from Babylon 5!
INTERSTELLAR TRANSMISSIONS
Ranger Frank sends along the following report: Actors Leonard Nimoy (ST: TOS "Capt. Spock") and George Takei (ST: TOS "Capt. Sulu") will be on the The guest on south Florida's premiere science fiction radio talk show INTERSTELLAR TRANSMISSIONS will be Nichelle Nichols the lovely Lt. Uhura from Star Trek, LIVE via telephone! Fans are encouraged to email in questions for Ms. Nichols to scifiradioguy@aol.com, and to call in on Febuary 7th at 7 p.m. Eastern, 4 p.m. Pacific and ask their questions live on the air. The phone numbers are 561.988.5470 (in south Florida) and 888.565.1470 (toll free). If you're outside of southeast Florida, visit the Interstellar Transmissions Web site to listen in on the show (Windows Media Player is required) at www.interstellar-transmissions.com . If you miss the interview, they will be available later that week on http://www.interstellartransmissions.com/pshow.php as MP3 downloads or streaming audio. Right now, the website features an interview with Kevin Sorbo ("Capt. Hunt") of "Gene Roddenberry's Andromeda" and Scott Carpenter, Mercury 7 astronaut.
JMS UPDATE
Here is a portion of an update submitted by JMS thru the B5 moderated discussion group. For the entire listing, go to JMS Speaks. Just to bring folks up to date on stuff. Please forgive the crass commerciality of just dumping this information out in a blipvert like this, but people have been asking about the status of various projects for a while, so I figured I'd just do a brain dump of it all at once.

1) Midnight Nation

After various delays on the publishing side, the graphic novel/trade paperback version of Midnight Nation will be out in bookstores this coming Wednesday (January 15th). This is something I'm immensely proud of, and from my point of view represents some of my best work to date.

It's also available via Amazon at:
http://www.amazon.com/exec/obidos/tg/detail/-/1582402728/qid=1042432838/sr =8-1/ref=sr_8_1/104-3188390-0907960?v=glance&s=books&n=507846

2) Novels

I'm pleased to note that I've just signed a deal with iBooks/Simon and Schuster to republish all of my prior works of fiction, making them available both online and in major bookstores. This includes my novels Demon Night, OtherSyde, and Tribulations, in addition to a collection of my short stories tentatively entitled Straczynski Unplugged (which should make it just about impossible for readers to find it by spelling the title), which would include a number of my Twilight Zone stories, combined with stories published elsewhere but never previously gathered into a single collection (such as "Say Hello, Mister Quigley," originally published in Pulphouse, and "Your Move," originally published in Amazing Stories), and a number of brand new, previously unpublished short stories. I think they're targeting Spring/Summer for the books to come out.

3) Comics: Supreme Power

On new comics projects, I've just turned in issue 3 of Supreme Power, so I'm about 3 weeks ahead of schedule on the writing. The first issue, drawn by Gary Frank of Midnight Nation, is due to hit stores around March 16th. This is a very serious story, one of the most mature things I've written, oddly enough, given the medium. My scripts have turned into these huge, 50 page (for a 22 page book) Alan Moore-ish tomes that are designed to be visually dense. It's a rethinking of a number of superhero conventions that, so far, has turned out very well, I think. For various reasons we've kept a fairly low profile on this, until we could get a number of issues ready to go, and to avoid word getting out prematurely on what we have in mind, 'cause over the long haul it will prove to be kind of controversial. Once it hits stores, I suspect it'll move out pretty fast unless folks have dibs on copies.

4) Comics: Doctor Strange

Finally, I've turned an expanded, 35 page outline for a Doctor Strange limited series in to Marvel, and will be writing the script for that one as soon as I can get my head above water (easier on the keyboard that way). I wanted to bring the Doc into the 21st century and revisualize certain aspects of his character and his history. It's not intended to be as deep or as potentially controversial as Supreme Power, this one's for fun because I'm a longtime fan of Doc Strange, and want to do something nifty with the character.

I've also agreed to do a three-issue Spider-Man/Fantastic Four crossover, which should also be fun. (Which is the only reason to do anything, to be honest.) I think we've slotted that one to begin around issue 55 or so of Amazing Spider-Man.

Anyway, I think that's about it on the pubishing side...apologies again for the commercialness of this.

jms
BABYLON 5 DVDs
News on Season Two DVD:
Here is the rundown on the Season Two DVD of Babylon 5 from Warner Home Video. The acclaimed second season of this science fiction cult favorite is now available for the first time ever as a 6-disc DVD set. All 22 episodes have been digitally remastered to provide Dolby Digital 5.1 sound and widescreen format. Special Features:
Introduction by producer/creator J. Michael Straczynski and various cast members. 2 episode commentaries by producer/creator J. Michael Straczynski. Episode commentary by cast members Bruce Boxleitner, Claudia Christian and Jerry Doyle. Building Babylon: Blueprint of an Episode featurette. Shadows and Dreams: Honors of Babylon featurette. The Universe of Babylon 5 data/tech/personnel files. Babylon 5 Timeline. Original episode promos. JMS wrote this in the B5 moderated newsgroup recently:
Interviews for year 2's DVD have been set, or already conducted, with Stephen Furst, Andrea Thompson, John Iacovelli, Anne Bruice-Ailing, Jerry, Claudia, Bruce, me, John Copeland, Doug Netter and others. In addition, I'll be doing commentaries on "The Coming of Shadows" and "The Fall of Night," and there will be a bonus group commentary by Bruce, Claudia and Jerry on "The Long, Twilight Struggle." There's talk about a special musical sequence for the season 3 DVD, with Chris re-scoring 2-3 episodes end to end with non-stop music, future segments on "The Future According to Babylon 5" with NASA and JPL guys (btw, James over at a certain House subcommittee, if you're reading this and could drop me a note, that'd be great). I'd like to see the final bonus section on year 5 be about the fans of the show. Point being...they're putting a LOT of energy and work into this to make each set better than the one before.
BABYLON 5 CHRONOLOGY
Another section of the wonderful Babylon 5 Chronology is now available for your enjoyment. Go to 23rd Century. A BIG THANK YOU and note appreciation goes to Terry for taking the time (and considerable effort) to pull the chronology together -- and for updating it to include CRUSADE, the novels and other relevant Babylon 5 material. THANKS TERRY!
DISCUSSION TOPIC
What has the space program meant to you? Send in your opinions to sgbruckner@aol.com or thezocalo@aol.com. I'll post the responses on the Discussion Page for everyone to share.
REVIEWS WANTED:
Reviews have begun to come in. See if your opinion of LORD OF THE RINGS matches that of Ranger Helen. Go to Reviews to see. Want to express your opinion? Just drop me a line and you too can see your name in lights. Read any good books lately? How about the movies. Did you like LORD OF THE RINGS, NEMESIS? Send along a review and share your thoughts with the readers here. Let's make one of our New Years Resolution one of staying in touch here at The Zocalo Today.
KEEPING UP WITH CAST AND CREW
BILL MUMY: Bill has posted a report of his TWILIGHT ZONE experience out at http://www.billmumy.com/january_2003.htm. There are a few pictures of Bill and his daughter. Looks like they all had a ball.
---
Bill Mumy's episode of the TWILIGHT ZONE will air on February 19 at 9:00pm ET on UPN. The episode is a sequel to "It's A Good Life" titled "It's Still a Good Life" for the "Twilight Zone" TV series. Bill will reprise the role of "Anthony Fremont," the kid who send you into the cornfield if you upset him. Bill Mumy's daughter Liliana (who costarred in "Santa Clause II," currently has a recurring role on "My Wife And Kids,") plays his daughter, Amy Fremont. Liliana looks just like her dad! It's 30 years later in Peakesville, Ohio... the village that was separated from the world by Anthony all those years ago. Thanks to Bill's Fan Club for the update.
---
PETER WOODWARD: I've just updated the schedule for Peter's CONQUEST series on the B5 Cast page. There are some interesting episodes ahead, including one where Peter learns how to ride a bull and training for the demolition derby at the Orange County Fair in California
---
DANIEL DAE KIM: Ranger Mac reports that Daniel Dae Kim will appearing on 24 very soon and continuing for "at least six" episodes! His character will be an Agent Tom Baker.
---
BABYLON 5 BIRTHDAYS
Michael Beck - February 4
Ardwight Chamberlain - February 16
Karen Harrell - February 21
John Iacovelli - February 25
Bill Mumy - February 1
Matt Plummer - February 26
Majel Barrett Roddenberry - February 23
John Schuck - February 4
Myriam Sirios - February 2

Have I missed anyone? If you know the birthday of someone connected with Babylon 5, pass the information along. We want to include everyone in our Happy Birthday Wishes.
READER DIRECTORY
Sometimes you just can't find the e-mail address for someone you know you have -- it's someone who responded to a discussion topic or you met in one of the chat rooms. You'd like to send a personal note, but .... No address!!!!

We've started a White Pages of Zocalo Readers! It's a handy way of keeping track of people -- and putting together a birthday/greeting card list as well. If you would like to be part of the listing, just send me your name, state, e-mail address and (if you'd like to have it listed) birthday (without year) to sgbruckner@aol.com. Check out the Directory of Readers.

HAPPY BIRTHDAY READERS

Here are some of our readers who are having birthdays this month:

Name: Yue Cole
State: NY
Email: CorpsIsMother@aol.com
Birthday: Feb. 5th

Name: Sean Lyons
E-mail: sean@efcfrance.com
State/Country: West Yorkshire, UK
Birthday: February 02

Name: Andres E. Hidalgo Sandoval
Country: Venezuela
E-mail: andresvene11@hotmail.com
Birthday: February 17

Name: Matthew Sweet
State: New York
E-mail address: msweet2@stny.rr.com
Birthday: February 16

Don't see YOUR birthday here? That's easy to remedy. Send your birthdate along to me and I'll post it with others in our directory.
COMIC BOOKS
AMAZING SPIDER-MAN #50 - On sale February 20, 2003 COVER BY: Scott Campbell
WRITER: J. Michael Straczynski
PENCILS: John Romita Jr.
INKS: Scott Hanna THE STORY: At long last, it's the story you've been demanding: Peter Parker and Mary Jane make the big decision!
NOVELS
BOOK CLOSEOUTS: Ranger Dave sent along the following information on books you may be interested in picking up -- at reduced prices: Title: Searcher (Frontier Earth)
Author: Bruce Boxleitner Overview: In the American West of the early 1880's, the enigmatic gunman known as Macklin has made a home for himself in Tombstone, Arizona, with the Earp brothers among his closest friends. But as his memory returns, he has come to realize that he is not human, that he is a being from another planet sent to protect Earth from a coming invasion by another alien species. Still, he has many questions and he thinks he can find some answers in Tucson, where another of his kind lives. But as he searches for the man, he is drawn into the conflict that rages in the mountains outside of Tucson, between the men who mine for silver and the Apaches who hold the mountains sacred. Caught in the middle of a human war, Macklin must not forget that while he has been hunting for the truth, something is still hunting him. Something not of this Earth... 328 pages. List Price: $23.95
Sale Price: $4.99
You Save : $18.96 Title: Diplomatic Act
Author: Peter Jurasik Overview: Richard Faraday didn't believe in aliens, even though he played one on TV. Unfortunately, the aliens believe in him...or rather, they believe in Harmon, the alien diplomat Faraday plays on the SF program Star Peace. A war is threatening to tear the civilized galaxy apart, and only a diplomat as superb as Harmon can stop it. The problem is that the real aliens are just a little confused about the bizarre human concept known as fiction. They think Harmon is real. Well, real or not, "Harmon" had better solve their alien problems fast or Faraday, galactic civilization, and Earth itself will be abruptly cancelled. List Price: $22.00
Sale Price: $3.49
You Save : $18.51 For more ordering information, go to www.bookcloseouts.com.
BABYLON 5 NOVEL
DelRey has reprinted one of the most popular Babylon 5 novels written! Jeanne Cavelos' novel SHADOW WITHIN is now at your book store or available through online ordering. If you haven't read the book already, now is your chance to own a copy. Here is the description of the novel from DelRey: The electrifying space epic continues as Anna and John Sheridan battle deadly foes at opposite ends of the universe. The dedication of the new Babylon 5 Station is fast approaching, and desperate enemies intend to see it end in catastrophe. The fate of the fledgling space alliance lies in the hands of John Sheridan, newly appointed captain of the spaceship Agamemnon. His orders are to stop the attack. Unless he first gets to the bottom of the near-mutinous behavior of the Agamemnon's unruly crew, Sheridan and his spaceship will share Babylon 5's doom. Time is also running out for his wife Anna, headed to Z'ha'dum aboard the Icarus. Young, beautiful, and brilliant, she was thrilled to be appointed chief science officer of the follow-up mission to this mysterious planet on the edge of the known universe, where artifacts rumored to hold stupendous powers have been discovered. But the offer she could not resist threatens to become a dark destiny she cannot avoid, for an unimaginable horror lies somnolent on Z'ha'dum–and the monstrous consequences of disturbing the sleeping evil will haunt every living thing in the cosmos. . . . Babylon 5 created by J. Michael Straczynski
SCI FI PUBLICATIONS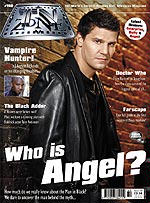 TV Zone #160: ANGEL has taken a number of twists and turns since first becoming part of our TV viewing schedule along with BUFFY. This issue brings you the history of Angel, along with an exclusive interview with J. August Richards - Gunn! Also inside, a full and comprehensive episode guide of FARSCAPE and a look at VERITAS.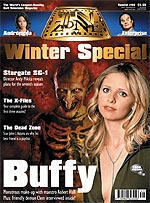 TV Zone Special #49: Make-up artists -- up close and personal! Genius Rob Hall from BUFFY is featured, along with Michael Westmore from ENTERPRISE and NEMESIS. Andy Mikita from STARGATE SG-1 talks about directing the latest episodes from season six. Also in this issue, Anthony Michael Hall talks about THE DEAD ZONE and the women of ANDROMEDA (Lexa Doig and Laura Bertram) talk about Andromeda and Trance.
Cult Times #89: ALIAS is one of those series that leaves you wanting more -- and more. This issue looks at season one and provides a few tidbits about what is ahead. Nicole de Boer looks at her role in THE DEAD ZONE; Victoria Pratt talks a bit about season two of MUTANT X and Don S. Davis looks ahead to season seven of STARGATE SG-1.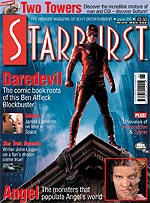 Starburst #295: DAREDEVIL is shortly be released and I'm sure it will be most evident in the major SF magazines. In this issue, the magazine explores the history of the Daredevil character. Also in this issue, Robert Hall, make-up designer for ANGEL, looks at some of his creations ahead for us.
Expose #76: Julian McMahon looks at his time on CHARMED; Paul-Ben Victor talks about his experience as Quesada, DAREDEVIL's first villain. Also in this issue, Hugh Jackman and Anna Paquin look at X-MEN 2 and David Greenwalt tells us about his new MIRACLES series.
BABYLON 5 BOOK OF QUOTES
For all those who submitted quotes and experiences to the Babylon 5 Book of Quotes, word from JMS is that the book, plus emails and suggestions, is being compiled now, and they're targeting February, the 10th anniversary of B5, for the publication date.
SCI-FI SCHEDULE
STARGATE SCHEDULE: 10-FEB-03 7:00 PM STARGATE SG-1 SMALL VICTORIES
10-FEB-03 8:00 PM STARGATE SG-1 THE OTHER SIDE
10-FEB-03 9:00 PM STARGATE SG-1 UPGRADES
10-FEB-03 10:00 PM STARGATE SG-1 CROSSROADS
10-FEB-03 1:00 AM STARGATE SG-1 SMALL VICTORIES
11-FEB-03 1:00 AM STARGATE SG-1 THE OTHER SIDE
12-FEB-03 1:00 AM STARGATE SG-1 UPGRADES
13-FEB-03 1:00 AM STARGATE SG-1 CROSSROADS
14-FEB-03 9:00 PM STARGATE SG-1 (LBX) DISCLOSURE
14-FEB-03 11:30 PM STARGATE SG-1 (LBX) DISCLOSURE
17-FEB-03 7:00 PM STARGATE SG-1 DIVIDE AND CONQUER
17-FEB-03 8:00 PM STARGATE SG-1 WINDOW OF OPPORTUNITY
17-FEB-03 9:00 PM STARGATE SG-1 WATERGATE
17-FEB-03 10:00 PM STARGATE SG-1 THE FIRST ONES
17-FEB-03 1:00 AM STARGATE SG-1 DIVIDE AND CONQUER
18-FEB-03 1:00 AM STARGATE SG-1 WINDOW OF OPPORTUNITY
19-FEB-03 1:00 AM STARGATE SG-1 WATERGATE
20-FEB-03 1:00 AM STARGATE SG-1 THE FIRST ONES
21-FEB-03 9:00 PM STARGATE SG-1 (LBX) FORSAKEN
21-FEB-03 11:30 PM STARGATE SG-1 (LBX) FORSAKEN
24-FEB-03 7:00 PM STARGATE SG-1 SCORCHED EARTH
24-FEB-03 8:00 PM STARGATE SG-1 BENEATH THE SURFACE
24-FEB-03 9:00 PM STARGATE SG-1 POINT OF NO RETURN
24-FEB-03 10:00 PM STARGATE SG-1 TANGENT
24-FEB-03 1:00 AM STARGATE SG-1 SCORCHED EARTH
25-FEB-03 1:00 AM STARGATE SG-1 BENEATH THE SURFACE
26-FEB-03 1:00 AM STARGATE SG-1 POINT OF NO RETURN
27-FEB-03 1:00 AM STARGATE SG-1 TANGENT
28-FEB-03 9:00 PM STARGATE SG-1 (LBX) THE CHANGELING
28-FEB-03 11:30 PM STARGATE SG-1 (LBX) THE CHANGELING
BABYLON 5/CRUSADE PHOTOSHOP PHOTOS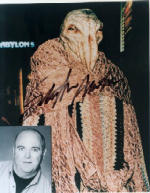 You do NOT have to pay the prices asked for over at e-bay! Here are photos of B5 and Crusade cast members at fantastic prices. Check out Photo Shop. Ordering is easy -- and you can't beat the prices! Just let me know which photos you want and I'll check to make sure they are still in stock.
---
BABYLON 5 TOONS
John Cook has a new cartoon contest going. Try your hand at a punch line.



BABYLON 5/CRUSADE CONVENTIONS
CONVENTION CALENDAR
Farpoint 2003
February 14-16, 2003
Place: Hunt Valley Inn, Hunt Valley, MD
Guests: Armin Shimerman, Gary Graham, Eric Pierpoint, Michele Scarabelli, Gil Gerard, Erin Gray
For more information, visit their website at http://www.bcpl.net/~wilsonr/flier.htm.
---
Gallifrey 2003
February 14-16, 2003
Place: Airtel Plaza Hotel, Los Angeles, CA
B5 Guests: Julia Nickson, Tim Choate, Julie Caitlin Brown, Carrie Dobro, Stephen Austin and Bill Blair
For more information, visit their website at http://www.gallifreyone.org.
---
Slanted Fedora
February 20-23, 2003
Place: Las Vegas, NV
B5 Guests: Jerry Doyle, Bill Mumy
For more information, visit their website at http://www.sfedora.com/Conventionschedule.htm.
---
Redemption '03
February 21-23, 2003
Place: Ashford, Kent, England
B5 Guest: Damian London (Regent of Centauri Prime), Mike Collins (comic artist who worked on In Valen's Name)
For more information, visit their website at http://www.smof.com/redemption.
---
Be sure to visit our Convention Calendar for a full listing of upcoming conventions featuring Babylon 5, Crusade and Legend of the Rangers cast members as guests.
If you would like to share your convention experience with your other Zocalo readers, send along a convention report. I will gladly post it for all to read. Got pictures? I'll post those as well.
ZOCALO TRADING POST
Do you have extra copies of B5, Amazing Spiderman, Midnight Nation or Rising Stars comics you'd like to trade? How about those extra trading cards or B5 magazines? There are a lot of fans looking for these items -- and the Trading Post can help you buy or sell them. To see what's available, just use this link to the Trading Post. To have items included in The Trading Post, send a note to The Zocalo. Please put Trading Post in the subject line.
Pen Pals
If you are looking for someone to talk about Babylon 5 and Crusade with, the Pen Pal section is for you! Check it out! Drop a note to someone who is feeling B5 withdrawal -- BIG TIME!

People thought a Pen Pal page was a good idea. If you would like to meet people who you could chat with or share your opinions of the show with, send along your e-mail or snail-mail address The Zocalo. It will be incorporated on the new Pen Page Page.
MAIL FOR CAST AND CREW
Here's a recent note from JMS on the subject:

Just an FYI to those who've been using the Ventura Blvd. mail drop for fan mail to actors....

As mentioned before, we're phasing out the forwarding of fan mail because we a) don't have the resources, complicated by b) the actors have scattered to the four winds, and it makes it very difficult to get everything to everybody in a timely fashion.

So, having provided prior notice...fan mail to actors coming to the Ventura Blvd. mail drop will be sent back. Mail to actors should be sent via their official fan clubs. I will still be taking mail there, since it's my mailbox, but that's it.

Just so's y'all know and save a few bucks on postage and returns.

JMS' mail can be sent to:

14431 Ventura Boulevard, PMB 260
Sherman Oaks, CA 91423

WARNER BROS:

Warner Bros. Address:

Warner Bros. Domestic Television Distribution
4000 Warner Blvd.
Burbank, CA 91522

Warner Home Video:

Mr. Douglas Wadleigh
VP for Marketing and Special Features
Warner Bros.
4000 Warner Blvd.
Burbank, CA 91522

SCIFI:
Bonnie Hammer, President
Sci-Fi Channel
1230 Avenue of the Americas
New York, NY. 10020-1513

Mr. Thomas Vitale
Senior VP of Acquisitions, Scheduling & Program-Planning
BACK ISSUES OF THE ZOCALO TODAY
The front page of the The Zocalo Today changes daily, so be sure to check the back issues to make sure that you haven't missed anything IMPORTANT! I don't want the front page getting too long so I shift information periodically into the archives. So if you aren't a regular visitor to The Zocalo Today, be sure to check out the back issues. Just use the button above!
---
Take care and I look forward to hearing from you.
Sandra Bruckner (sgbruckner@aol.com)
Editor/Publisher
The Zocalo Today
http://www.isnnews.net
Copyright - SBruckner, 2002