[an error occurred while processing this directive]

The Zocalo Today

Welcome and thank you for dropping by. Take your shoes off, get comfortable and stay a while. There is a LOT of information here and you won't want to miss any of it.

The Zocalo Today is an interactive newsletter, encouraging readers to join a discussion topic or to send along letters that can be shared with other readers.

If you have suggestions as to how The Zocalo can be improved -- or be more responsive in some way -- send those suggestions along. The Zocalo Today is a newsletter for Babylon 5 and science fiction fans everywhere. It is as much YOUR newsletter as it is mine! I'm just pulling together things for you!

Join our discussion topic. It is just one way you can share with other Z readers. If you see Babylon 5 cast and crew in other roles on TV, let us know. We enjoy convention reports, photos, etc. Don't miss our back issues. I hope this will become more than just a newsletter for you. It's a community of people that enjoy sharing their experiences and interests. Babylon 5 brought many of us together -- and it remains with us, despite the fact that is no longer in production. Don't be shy. Join us today!

If you have questions, drop me a line at sgbruckner@aol.com. If you would like to join the mailing list for our newsletter, send me a note and I'll include you on the list. Or you can use the subscription block at the left.

Again, WELCOME!




What's New Today
Friday, March 5:
TOP SF NETWORK SHOWS:
Joan of Arcadia 6.9
Alias 5.6
Smallville 3.1
Tru Calling 2.7
Enterprise 2.6
Charmed 2.6
Angel 2.4
Source: Nielsen Galaxy Report, 2/9/04 - 2/15/04.
---
HARRY POTTER: At a World Book Day chat yesterday, Harry Potter author J.K. Rowling told participants that the wizarding world "is really at war again" in book six, which she is currently writing. "[As a result, Harry] has to master his own feelings to make himself useful," Rowling wrote. "If personally I was Harry Potter, I would hide because I know what is coming." With Rowling having declared that book seven would bring the Potter saga to an end, Rowling also said she could not rule out penning a story about Harry's life after he completes school. "Probably not, but I'll never say never because every time I do I immediately break the vow!" she wrote.
---
PRINCE OF PERSIA: THE SANDS OF TIME: According to Variety, Jerry Bruckheimer Films is negotiating a deal to acquire the film rights to the popular video game Prince of Persia: The Sands of Time. The deal also involves the talents of game creator Jordan Mechner, who will write the script, and John August (screenwriter of Big Fish), who will executive produce. SANDS OF TIME is set in ninth-century Persia and follows the adventures of a young prince who discovers a dangerous artifact in a remote mountain kingdom. The prince teams with an enemy princess to thwart a despot from unleashing a sandstorm that could destroy mankind. According to Mechner, Sands of Time would pull a page from the successful Pirates of the Caribbean playbook. "Rather than do a straight beat-for-beat adaptation of the new video game, we're taking some cool elements from the game and using them to craft a new story, much as Pirates did with the theme park ride," he said.
---
WANTED: Mark Millar's WANTED comic book film rights have been picked up by Universal Pictures. Producing the WANTED film will be Marc Platt (LEGALLY BLONDE) while both Millar and Jason Netter will serve in executive producing capacities. The search is on for a writer to adapt the comic into a screenplay.
---
SERENITY: Universal's announcement to go-ahead with Joss Whedon's SERENITY movie provided the opportunity to learn who else would be helping Whedon bring his sci-fi action vision to the big screen, as well as drop a hint on what one of the plot points might be in the movie. The bigger news for FIREFLY fans, not contained in the release, is the absence of two principal cast members from the TV show: Ron Glass (Reverend Book) and Alan Tudyk (Wash, the ship's pilot). It is uncertain at this time why the names were omitted.
---
TRON 2.0: Buena Vista Interactive's TRON 2.0 was released last year for the personal computer. Now it is being ported over to Microsoft's Xbox. The Xbox version is being worked on by Los Angeles game developer Climax (developer of the racing game MOTO GP) and will go by the title TRON 2.0: KILLER APP. "In looking for a developer for the new title, we searched for a team that specializes in creating outstanding Xbox games with incredibly strong Xbox Live, racing and first-person shooter gameplay," explains Michelle Liem, senior marketing manager for Buena Vista Interactive Canada. "We saw Climax as the perfect choice and look forward to providing gamers with an even edgier, action-packed TRON universe." Targeted for a fall 2004 release, there are no plans for versions for either the Sony PlayStation 2 or Nintendo GameCube.
---
ANONYMOUS REX: According to the Hollywood Reporter, Daniel Baldwin and Sam Trammell are set to star in Sci Fi Channel's two-hour backdoor pilot/movie ANONYMOUS REX. Based on Eric Garcia's comedic mystery novels, the Fox TV Studios-produced project centers on Vincent Rubio (Trammell), a high-tech private investigator, and his partner, Earnie Watson (Baldwin), who, along with hundreds of others on Earth, are in fact dinosaurs (in Rubio's case, a velociraptor, and in Watson's, a triceratops). In the mythology of the books, dinosaurs never became extinct. Instead, they have evolved to be 6 feet tall and have integrated themselves into modern society by disguising themselves with human-looking latex costumes.
---
STARGATE: ATLANTIS: With the announcement of the crew of STARGATE: ATLANTIS this week, additional information is being provided as well regarding the upcoming premiere, slated for July 2004. The jumping off point of STARGATE ATLANTIS comes when a secret base, created by the original founders of the Stargate, is found in Antarctica. A team is assembled and heads off to the Pegasus galaxy, where they discover yet another primitive human civilization and yet another sinister enemy. Robert Patrick (X-FILES) will guest star in the premiere as Colonel Marshall Sumner.
---
EVENTS: Variety reports that Gale Anne Hurd's Valhalla Motion Pictures has optioned the film and television rights to the action/sci-fi novel EVENTS by David Goleman. Pic deals with similar subject matter as Hurd's pics "Aliens" and "The Terminator" and centers on mankind's struggle with a potentially Earth-ending visitor from a mysterious realm.
---
LOGAN'S RUN: Bryan Singer is set to direct a remake of the science fiction classic LOGAN'S RUN. The project is set up at Warner Bros. with Joel Silver ["House of Wax"] producing. The sci-fi action film about a man trying to escape a mandatory death sentence on his 21st birthday is being fast-tracked to start production this year. Singer will do "Run" before going back to the "X-Men" franchise. Singer says, "This deals with a utopian society, but also with the obsession of youth and mortality. I've already started working with my 'X2' production designer, Guy Dyas, to create a visual world we've never seen before." Ethan Gross and Paul Todisco, with Singer, are writing the script, and the studio plans to release the film in 2005. The 1976 original, released by MGM, starred Michael York as a man who tries to outrun cops who kill everyone who reaches 30 to alleviate overpopulation. Singer and Silver are lowering that age to 21, as it was in the William Nolan novel, which means a showy role for a young actor.
---
RED TROUSERS: Robin Shou, star of Mortal Kombat, has created an independent film that is scheduled for a limited released to theatres starting March 5th. RED TROUSERS: THE LIFE OF THE HONG KONG STUNTMEN is a combination of documentary and short film. The death-defying feats performed by the world's greatest stuntmen are profiled through interviews and clips that showcase their work. Inter-cutting with the documentary footage is the short film LOST TIME, a futuristic martial arts adventure in the style of Alex Proyas' DARK CITY, where one can appreciate the stuntmen's extraordinary achievement in their final cinematic form. For more information about RED TROUSERS, go to their website at www.redtrousers.com.
---
WHAT'S ON TONIGHT
8:00pm on CBS
Joan of Arcadia
Death Be Not Whatever
Joan baby-sits for a boy who is obsessed with death; officers assault a black man.

10:00pm on SHOWTIME
Dead Like Me
Business Unfinished
The reapers hold a seance for a determined ghost.

10:00pm on USA
Monk
Mr. Monk Goes to Jail
Season finale episode. What could make the obsessive compulsive fellow (Tony Shalhoub) be willing to spend time in a filthy prison to solve the murder of a death-row inmate forty-five minutes before his execution? Maybe the fact that Dale the Whale (Tim Curry) mentioned Monk's late wife has something to do with it.

On SCIFI Tonight:

6:00pm
Stargate SG-1
Shades of Grey
An indiscretion threatens Earth's relations with its allies.

7:00pm
Tremors: The Series
Night of the Shriekers
Government scientists test an experiment in Perfection.

8:00pm
Tremors: The Series
Blast From the Past
The people of Perfection become reacquainted with an old foe.

9:00pm
Stargate SG-1
Inauguration
Vice President Kinsey asks the president to put the Stargate program under his comman.

10:00pm
Stargate SG-1
Part 1 of 2: Fallen
SG-1 must defeat Anubis' bid for domination of the galaxy.

11:00pm
Stargate SG-1
Inauguration
Vice President Kinsey asks the president to put the Stargate program under his command.

12:00pm
The Outer Limits
Beyond the Veil
Flashbacks of alien abduction torment a suicidal man.
INSIDE SCI-FI THIS WEEK:
Thursday, March 4:
TOP SF DVD SALES:
1. Stargate SG-1 season six
2. Pirates of the Caribbean
3. Finding Nemo
4. Star Trek: Voyager season one
5. The Two Towers extended edition
6. Angel season three
7. Futurama volume three
8. Spy Kids 3-D
9. Fellowship of the Ring extended edition
10. The Lion King 1 1/2
Source: Amazon.com, top-selling genre DVDs, 2/27/04
---
ANDROMEDA: Two 4th season ANDROMEDA episodes have won 3 GOLD PLAQUES and ONE SILVER PLAQUE at the 40th Chicago International Television Competition. MACHINERY OF THE MIND won, in the category of Dramatic Series and a Silver Plaque in the category of Special Achievement: Direction for DAVID WINNING. And the episode DOUBLE OR NOTHINGNESS, has been awarded a Gold Plaque in the category of Special Achievement: Direction for DAVID WINNING and a Gold Plaque in the category of Dramatic Series.
---
BATMAN BEGINS: Gary Oldman had been cast as Lieutenant Jim Gordon in BATMAN BEGINS. Oldman beat out other rumored contenders such as Chris Cooper, Dennis Quaid and Kurt Russell. Warner Bros. issued a press release concerning Oldman's casting yesterday and the news was then picked up by the industry trade magazines today. Production began yesterday in Iceland. The film, which explores the origins of the Batman legend and the Dark Knight's emergence as a force for good in Gotham, will be released worldwide in Summer 2005 by Warner Bros. Pictures, a Warner Bros. Entertainment Company.
---
LOST: Dominic Monaghan, who played hobbit Merry Brandybuck in the "LOTR" trilogy, has joined the cast of the J.J. Abrams' drama pilot, LOST. According to The Hollywood Reporter, Ian Somerhalder ("Smallville"), Jorge Garcia and Evangeline Lilly have signed on as well; they'll all play survivors of a plane crash on a remote island.
---
MARVEL MOVIES: Yesterday, Marvel Studios' Avi Arad gave an update on the company's upcoming comic book adaptations. He says TV spots will start next week for THE PUNISHER, which will be released on April 16. He says SPIDER-MAN 2, opening July 2, is a "spectacular movie"! Arad added that BLADE: TRINITY is "bigger and better" and once you see it you'll see why BLADE 4 will be in the works. In October of this year, the studio will also release MAN-THING.
For 2005, Arad says FANTASTIC FOUR will be released in July. He mentioned they've got a great script and are now picking the right director. ELEKTRA starts production this May, IRON MAN starts production in the middle of the year for a November, 2005 release. GHOST RIDER and LUKE CAGE are also targeted for 2005 by Sony Pictures.
A little further out are X-Men 3 (2006), The Hulk 2 (2006), Namor (2006), The Punisher 2 (2006), Iron Fist, Black Widow and Deathlok. Namor he says is like "Star Wars underwater... a fascinating frontier". He compared it to "Jurassic Park" as something viewers have never seen before. They've got visual designs for the film already and are talking to directors for a 2006 release. The Hulk 2 will be much different than the first film. Arad referred to the sequel as the "light" version with it not being as heavy, or dramatic.
Arad added that Sony and Marvel are aiming Spider-Man 3 for 2007. Marvel is also talking about bringing CAPTAIN AMERICA and NICK FURY to the big screen. Avi Arad said that in the years to come you'll be seeing more family and female oriented films, based on Marvel's characters, as well.
---
ANGEL: Two different reports have confirmed that the UPN network has passed on the option to pick up ANGEL. No official statement has yet been released from either Mutant Enemy or UPN but from all indications, the series will end with episode 22 of this season.
---
VIKINGS: According to the Hollywood Reporter, Walt Disney Pictures has purchased an untitled Viking action-adventure pitch from Freddy Vs. Jason screenwriters Damian Shannon and Mark Swift. The studio reportedly paid in the high-six figures for the story. According to the trade, the story "centers on a washed-up Viking legend and his ragtag team of marauders who are forced to go on an epic quest to save the world from evil." It is described as having a tone similar to that of Pirates of the Caribbean: The Curse of the Black Pearl. The film will reportedly feature the usual Norse lore trappings, like sea monsters, giants, Valkyries and berserkers.
---
Wednesday, March 3:
BEST SELLING SF BOOKS:
1. The Da Vinci Code
2. The Passion
3. Angels & Demons
4. Glorious Appearing (Left Behind)
5. Tale of Despereaux
6. Seduced by Moonlight
7. New Spring (Wheel of Time)
8. Eragon
9. Unearthed Arcana (D&D)
10. Hobbit Rings box set
Source: Amazon.com, 2/27/04
---
FIREFLY: According to Variety, The FIREFLY movie is definitely happening. Universal Pictures has greenlit SERENITY, the feature film based on Joss Whedon's Fox cancelled TV series. Deals are in place for Whedon to direct and for the original cast of the TV show to reprise their roles. The film, budgeted in the mid-eight figures, is scheduled for a June start and should be ready for a 2005 release. Whedon said the film will be released under the title SERENITY to give it some distance from the TV version. He said he went out of his way while writing the project to make sure that it is accessible to audiences who never tuned into the series. The movie is set about six months after the TV show left off, and centers on two passengers on board the ship who attract trouble to the crew. The studio has closed a deal with Nathan Fillion to return as Capt. Malcolm Reynolds. Other original cast members Gina Torres, Morena Baccarin, Jewel Staite, Adam Baldwin, Sean Maher and Summer Glau are also in place.
---
THE CHRONICLES OF NARNIA: According to The Hollywood Reporter, Walt Disney Pictures will co-finance and distribute THE CHRONICLES OF NARNIA: THE LION, THE WITCH AND THE WARDROBE, a film based on the children's fantasy books by C.S. Lewis. The film will be budgeted at $100 million, with SHREK director Andrew Adamson set to helm the production, which will begin this summer. THE CHRONICLES OF NARNIA follows the adventures of the four Pevensie children, who use a magic wardrobe to enter the world of Narnia, where they help a lion break a witch's spell that has frozen the once-beautiful land of dwarfs, beasts and giants. The first draft of the script was written by Ann Peacock. Adamson, Christopher Markus and Stephen McFeely handled revisions. Walt Disney Studios chairman Richard Cook said, "It's a very, very ambitious project and one that we believe could be very important to the studio." "The story and the characters are so inviting that audiences around the world will be excited for the franchise." Tentatively set for a Christmas 2005 release, Disney retains the option to release subsequent films based on the Chronicles of Narnia franchise.
---
MUTANT X: Having just completed the season finale for MUTANT X, Forbes March, who plays Jesse Kilmartin, says everything and everyone in jeopardy. In a recent interview, he said, "I think they're just going to throw everything up in the air and see where the pieces land." "Nobody knows who's coming back, nobody knows if there's a Sanctuary, nobody knows if Adam [John Shea] is alive or dead, and nobody knows what the Dominion is doing." "It's a good cliffhanger. There are no easy answers and I think a lot of it is because they don't have the answers. They don't know which characters are coming back next year. They don't know if we're going to have the same studio space." Tribune Entertainment recently announced that Mutant X would return for a fourth season in first-run syndication. The third-season finale will air in the spring.
---
ALIAS: It looks like we'll be seeing a lot more ALIAS -- on TNT. The Superstation has gotten a hold on the rights to the syndication run of ABC's ALIAS. The cable network purchased the rights to daytime broadcast for just $200,000 per episode. It will joined their daytime line-up which includes Angel, NYPD Blue, and Law & Order in 2005. They have already secured the rights to Without a Trace.
---
LUKE CAGE: Variety reports that John Singleton is in negotiations to develop and direct LUKE CAGE for Columbia Pictures. Neal Moritz and his Original Films are producing along with Marvel Studios' Avi Arad. CAGE is about a former gang member who is framed for a crime he didn't commit. In prison, he volunteers for a medical experiment that goes awry, giving him superstrength and bulletproof skin. Using his newfound powers, Luke Cage escapes and becomes a hero for hire. Ben Ramsey wrote the script. The comic book, initially titled "Luke Cage, Hero for Hire," debuted in the 1970s and ran until the mid-1980s, with Cage becoming Marvel's first urban hero. Cage, who picked up the moniker Power Man, eventually teamed with a character called Iron Fist, a martial artist.
---
HUGH JACKMAN: X-MEN's Hugh Jackman will to interviewed on BRAVO's Inside the Actor's Studio on Sunday, March 7 at 8:00pm ET.
---
Tuesday, March 2:
TOP SCIFI CHANNEL PROGRAMS:
Stargate SG-1 1.8
Bride of Chucky 1.5
Child's Play 2 1.5
Final Destination 1.3
Cabin by the Lake 1.2
Pythons 2 1.1
DNA 1.1
The Ninth Gate 1.0
Return to the Cabin by the Lake 1.0
Tremors: The Series 1.0
Source: Nielsen Galaxy Report, 2/9/04 - 2/15/04
---
STARGATE ATLANTIS: Over at Gateworld.com they have exclusive information about the new cast and crew for STARGATE: ATLANTIS. There are a couple of familiar faces -- David Hewlett reprises his character as Dr. Rodney McKay, the arrogant but brilliant astrophysicist who traded barbs with Samantha Carter in SG-1 Season Five's "48 Hours" and Season Six's "Redemption." Leading the team is Joe Flanigan as Major John Sheppard. He has appeared in such series as C.S.I. Miami, Tru Calling and Birds of Prey, and has played recurring characters on Profiler, Sisters, Providence and Dawson's Creek. We will shortly meet Dr. Elizabeth Weir in Season Seven of STARGATE SG-1. Torri Higginson replaced actress Jessica Steen, who played Dr. Weir in the Season Seven finale of Stargate SG-1 (airing in March). Weir is put in charge of the Atlantis mission, but is not military.
---
ALIAS: According to the Hollywood Reporter, Raymond J. Barry has signed on to play Senator Reed, father of Lauren Reed (Melissa George), on several upcoming episodes of ALIAS. Barry appeared as Senator Matheson in three episodes of THE X-FILES.
---
HOUSE OF WAX: Fans of the original HOUSE OF WAX may be in for a few surprises when the remake of the 1953 classic horror flick comes to screen. 24's Elisha Cuthbert said in a recent interview, "It's similar to the original. It's similar, but we're still going through rewrites." Newcomer Jaume Serra will direct House of Wax, which will be produced by Joel Silver [Gothika] and co-star Chad Michael Murray of One Tree Hill and The Lone Ranger. "I am going to be playing a twin, a twin to a male," Cuthbert said. "It's all about doing different things. I wanted to do something different from The Girl Next Door, obviously."
---
WEEKEND BOX OFFICE: Mel Gibson's THE PASSION OF THE CHRIST easily won the #1 spot at the box office this weekend, earning over $76 million dollars from Friday to Sunday. That brings PASSION's cumulative take to $117 M and growing, making it the first film to crack the $100 M barrier this year. It's also the second-highest grossing film to debut on a Wednesday, the seventh-best three-day opening ever and is the highest-grossing religious themed picture to date. Adam Sandler's 50 FIRST DATES slipped to second spot but is still inching its way toward $100 M. The new Ashley Judd thriller TWISTED came in third spot with a sliver over $9 M. The week's other new releases, DIRTY DANCING: HAVANA NIGHTS and BROKEN LIZARD'S CLUB DREAD, came in fifth and tenth respectively. THE RETURN OF THE KING finally fell from the top ten chart, landing at number eleven and adding another $2.1 M to the coffers. Here are the estimated box office receipts of the top ten films from February 27 through to February 29, with their weekend gross and the movie's total domestic gross to date:
1. THE PASSION OF THE CHRIST $76,200,000 $117,538,000
2. 50 FIRST DATES $12,600,000 $88,718,000
3. TWISTED $9,100,000 $9,100,000
4. CONFESSIONS OF A TEENAGE DRAMA QUEEN $6,100,000 $16,700,000
5. DIRTY DANCING: HAVANA NIGHTS $5,900,000 $5,900,000
6. MIRACLE $4,400,000 $56,300,000
7. EUROTRIP $4,100,000 $12,800,000
8. WELCOME TO MOOSEPORT $3,350,000 $11,610,000
9. BARBERSHOP 2: BACK IN BUSINESS $3,100,000 $57,550,000
10. BROKEN LIZARD'S CLUB DREAD $3,025,000 $3,025,000
---
VEGAS: Las Vegas is getting crowded! You have CSI based there; LAS VEGAS and now DR. VEGAS. The Hollywood Reporter says that Rob Lowe has been tapped to topline CBS' drama pilot DR. VEGAS, from Warner Bros. TV, CBS Prods. and Bender Brown Prods.. The pilot centers on a Las Vegas casino in-house physician (Lowe).
---
TEEN TITANS: There are some familiar voices turning up on "Winner Take All," a new episode of Teen Titans, scheduled to premiere on Saturday at 9 p.m. (ET) on Cartoon Network. Guest voices include Wil Wheaton as Aqualad and Mike Erwin as Speedy. Erwin played the teenage Bruce Banner in THE HULK movie and has guest-starred on The WB's Everwood as Colin Hart. The "Winner Take All" episode was written by Dwayne McDuffie.
---
OSCAR TIDBIT: Annette O'Toole, who plays Martha Kent in SMALLVILLE, and her husband Michael McKean, who guest-starred as Perry White, lost out in the Best Song category. They were nominated for writing "A Kiss at the End of the Rainbow" from The Mighty Wind.
---
PRINCESS OF MARS: The Hollywood Reporter indicates that Robert Rodriguez ("Spy Kids" series) is set to direct Edgar Rice Burroughs' science fiction classic PRINCESS OF MARS for Paramount Pictures. The project is based on the first book in Burroughs' 11-book series, "John Carter of Mars," which centers on John Carter, a Civil War officer from Virginia who is transported to Mars and finds himself a captive of the savage green men from Thark. Eventually, he rises to become the greatest warrior of all time, marries the beautiful Dejah Thoris, raises a family and embarks on numerous adventures. Mark Protosevich wrote the latest draft of the script.
---

STAR TREK: VOYAGER: Season One of STAR TREK: VOYAGER was released yesterday. The DVD features include: All 15 original broadcast episodes newly recorded in 5.1 Surround, Eight new behind-the-scenes featurettes; Cast Reflections: Season One; Red Alert: Visual Effects - Season One; Real Science with Andre Bormanis; Launching Voyager on the Web; On Location with the Kazons and Photo Gallery.
---
Monday, March 1:
LORD OF THE RINGS: THE RETURN OF THE KING: Peter Jackson and LORD OF THE RINGS reigned supreme over last night's 76th Academy Awards, creating the biggest sweep ever in Oscar history. THE RETURN OF THE KING was hailed as best picture and Peter Jackson was crowned best director. Jackson's epic adaptation of J.R.R. Tolkien's fantasy novels swept all 11 categories in which it was nominated, immediately finding a place in the record books alongside "Titanic" and "Ben-Hur," the only other films ever to earn 11 Oscars.
Holding his best picture trophy aloft, Jackson could be forgiven for looking rumpled. He'd already trotted to the stage to pick up trophies for best adapted screenplay as well as directing. "I'm so honored, touched and relieved that the members of the Academy have supported us, that they've seen past the trolls, wizards and hobbits (by) recognizing fantasy this year. Fantasy is an F-word that hopefully the five-second delay won't do anything with."
---
MORE OSCAR NEWS: FINDING NEMO was named best animated feature film. It was the first time Pixar has won in that category since it was introduced at the 74th Academy Awards. Sofia Coppola's win for best original screenplay for "Lost in Translation" earned a particularly enthusiastic round of applause -- especially since she'd already appeared onstage as a presenter with her father Francis Ford Coppola, who used the occasion to welcome her into the family business. Her win made the Coppolas only the second family in history to have three generations of Oscar winners. In addition to her father's Oscars, grandfather Carmine Coppola won the best score Academy Award for "The Godfather, Part II." For the complete rundown of last night's award ceremony, go to http://www.thehollywoodreporter.com/thr/film/article_display.jsp?vnu_content_id=1000447484.
---
DINOCROC: According to Variety, Roger Corman, who produced his first film, "Monster From the Ocean Floor," in 1954, is celebrating his 50th anniversary as a producer by unleashing a new sea monster at the AFM. DINOCROCK, about a genetically altered crocodile that terrorizes a small town, has been bought by the Sci Fi Channel and sold to nearly 20 international territories.
---
Sunday, February 29:
NEWS: Well, it's Sunday and that usually means websites aren't being updated until Monday. Not a lot of new news out there, but I know everyone is waiting to see the Oscar presentation tonight. Good luck to LORD OF THE RINGS.
---
QUANTUM LEAP: Today, you can catch six QUANTUM LEAP episodes on SCIFI. These episodes were voted upon by fans and will be presented beginning at 9:00am today.
---
BONE CANYON: New Line Cinema will produce BONE CANYON, a horror pic based on a pitch by Harris Wilkinson. The supernatural tale revolves around a remote canyon plane crash that unleashes demonic spirits.
---
INFERNO: According to Variety, New Line Cinema has bought David Jung and Steve Dandois' action thriller INFERNO for Karz Entertainment to produce. The story follows a betrayed narcotics officer who resurrects himself as a gang lord to exact revenge.
---
Saturday, February 28:
TOP SF NETWORK PROGRAMS:
Joan of Arcadia 7.6
Smallville 3.4
Tru Calling 3.3
Charmed 2.9
Angel 2.8
Enterprise 2.7
Source: Nielsen Galaxy Report, 2/2/04 - 2/8/04.
---
HARRY POTTER: Reuters has reported that HARRY POTTER author J.K. Rowling joined the Forbes list of world billionaires. Once an unemployed single mother, Rowling saw her wealth rise to $1 billion after the publication of the latest HARRY POTTER novel and the success of the movie franchise.
---
TAMARA: Variety reports that Armada Pictures has come onboard to finance and co-produce the supernatural horror film TAMARA with City Lights Pictures. With shooting to begin in May, Sarah Thompson (Angel) stars, with David Sporn (Final Destination) directing from Jeffrey Reddick's script.
---
FOUNTAIN: X-MEN's Hugh Jackman is a HOT property. Interest in him may be all that's needed for Darren Aronofsky's THE FOUNTAIN movie project to get a second chance. Originally, the film's original leading man was Brad Pitt, but he left the project in September 2002. Sets constructed in Australia were put into storage and later scrapped. Should Jackman decide to make FOUNTAIN with the PI director the budget for the feature will be somewhere between $35 million to $40 million dollars, about $30 million less than when Pitt was involved with it. THE FOUNTAIN is set in three different time periods: the past (during the time the Spanish conquered South America), the present (in a modern day city) and the future (onboard a starship 500 years into the future.) Pitt and then co-star Cate Blanchett were to play different characters in these three time periods that are linked together by similar events.
---
THE PRACTICE: William Shatner, Star Trek's Captain Kirk, has signed to appear in four episodes of "The Practice". His story arc will play out over the final six installments of the season. He'll play a lawyer named Denny Crane, a self-aggrandizing but powerful man whose firm is squaring off against Young, Frutt & Berlutti in a case.
---
AEON FLUX: According to Variety, Oscar nominee Charlize Theron ["Monster"] is set to star in AEON FLUX. The Lakeshore Entertainment and Paramount Pictures-financed sci-fi film is based on a futuristic MTV animated series. MTV Films and Gale Anne Hurd's Valhalla Productions are producing. Karyn Kusama (Girlfight) is directing a script by Phil Hay and Matt Manfredi. AEON FLUX is set 400 years in the future in a world where humans have nearly been wiped out by a virus, with the remains of mankind living in a city encased in a protective bubble. The title character, an acrobatic superheroine, is assigned to kill the government leader. The film will shoot near Berlin in July.
---
SIGHTINGS
A couple of Rangers report that they spotted Pat Tallman in last week's episode of WITHOUT A TRACE.
TIDBITS
PAT TALLMAN FANS: With the interest shown for the two promotional copies of Patricia Tallman's horror short from 2002, JENNIFER IS DEAD, another copy will be made available on E-bay in the next day or two. Keep an eye out for the script as well. CONVENTION UPDATE: The Grand Slam XII in Pasadena, California March 26-28 has added 19 new guests to their roster. There are guests from STARGATE SG-1, STAR TREK, LORD OF THE RINGS, SMALLVILLE, DEAD ZONE, BUFFY, ANGEL, STAR WARS -- and many more. For more information, go to http://www.creationent.com/cal/.
DVD BUYING TIPS
Ranger Dave found JEREMIAH nearly $20 less than Amazon's price at DVDsoon.com. Dave used Brian's suggestion and went to www.dvdpricesearch.net and found STARGATE SG-1 Seasons 1,2,&3 for $32.88 each (including ) tax and free shipping). There is even a coupon for $4 off purchases over $100 from that company. Season 4 was listed at a bit over $40.

I understand from Ranger Judy that all CostCo stores don't have the prices mentioned here. Hope some of the other options given help out.

I picked up the Season 5 DVD of STARGATE SG-1 at CostCo yesterday. It was $39.99 and they had all of the previous seasons there as well. I snapped up the last Season 5! I love that place.

Ranger Brian sent along a terrific tip for purchasing any DVDs. Go to http://www.dvdpricesearch.net/. You can do a search on any title and it will find the lowest price for you. It includes mailing information as well. Thanks Brian!

Ranger Frank in Seattle indicates that again, CostCo is saving Babylon 5 fans money!
Costco stores have a limited time sale on the Babylon 5 DVD sets. I went into a Costco in the Seattle area today, and they have seasons 1, 2 and 3 for $59.99 each -- about $25 less than Amazon.com, and $40 less than list price, as I recall. Season 4 is $64.99. But the deal is that if you buy Season 4, you get $20 off any one of the other seasons.

Thanks Frank for passing along the info. Other folks should check out CostCo for Babylon 5 and other DVDs. They usually have very competitive prices.
SEASON FOUR OF BABYLON 5 - ON SALE NOW
BABYLON 5:
THE COMPLETE FOURTH SEASON Collectible Six-Disc DVD Set Featuring All 22 Episodes
Fully-Loaded with New Bonus Materials
Remastered in Widescreen and Dolby Digital 5.1 Audio
Available January 6 from Warner Home Video Burbank, Calif., October 14, 2003 - The future begins - or ends - here and now. Here is the huge space station Babylon 5. Now is the fateful year 2261. Commander John Sheridan has already declared the station free, breaking the ties between it and Earth Alliance. It was perhaps only a matter of time before he would have to fight to remain free. That time has come on January 6, 2003 with the complete 22-episode fourth season adventure of the acclaimed Babylon 5 sci-fi series from Warner Home Video (WHV). Presented on a must-have six-disc collector's set, Babylon 5: The Complete Fourth Season is priced to own at $99.98 SRP. Orders are due December 9. Packed with out-of-this-world DVD bonus materials including a featurette about the series composer and the making of the series' music, an original music suite composed exclusively for the DVD release, in-depth audio commentaries from cast members and the series creator, personnel files and a gag reel. "The Babylon 5 series has consistently been one of Warner Home Video's most in-demand DVD collections, proving the loyalty and strong fan base for this acclaimed sci-fi series," said Jeff Baker, Vice President, Non-Theatrical Franchise Marketing. "The TV to DVD trend has been very strong in the marketplace and WHV plans to continue releasing fan-favorite series throughout the year." Babylon 5 has won two Emmy Awards for Groundbreaking Visual Effects and Makeup as well as the 1998 Science Fiction Writers of America Ray Bradbury Award. It also earned the 1999 Saturn Award for Best Genre Cable/Syndicated Series from the Academy of Science Fiction, Fantasy & Horror Films. Currently, Babylon 5 continues to be seen by legions of fans with episodes syndicated on the Sci-Fi Channel. I have put together a listing of the episodes and pictures from each episode of Season 4 with a synopsis from the Lurker's Guide. Enjoy. If you have found bargain prices out there on this set, let us know. If you have had problems with the set, here is an address to use to report them: Send any complaints/issues directly to Sherri Bogard at sherri.bogard@warnerbros.com. She handles all DVD problems with "Babylon 5".
SEASON FIVE OF BABYLON 5 - APRIL 13, 2004
Over at TV Shows on DVD, you'll find a notice that Season 5 of Babylon 5 will be available on April 13. Nothing official from the WB yet. Here is the information available so far:

Description:
From the beginning, both were running out of time. The space station that was the last, best hope for peace was sooner or later certain to be eclipsed by new political coalitions and technical advances. And John Sheridan, who guided the massive freeport through its most tumultuous days, knew that his own fate had been inalterably prophesied.

Now both storylines converge in a 22-episode final season (with dazzling Exclusive DVD Extras!) whose events also include Sheridan's attempts to wage peace for the Interstellar Alliance, the tragic fate of the telepaths and the ultimate fireball destruction of the outmoded station after it is declared to be a spaceway navigational hazard. You're cleared for final approach...to Babylon 5.

Features:
Introduction to Wheel of Fire (Season 5 of Babylon 5) by series creator, J. Michael Straczynski
Two audio commentaries by J. Michael Straczynski
Movements of Fire and Shadow commentary by cast members Bruce Boxleitner, Peter Jurasik, Patricia Tallman and Tracy Scoggins
Digital Tomorrow - a featurette about making the special effects for the series
Beyond Babylon 5 - a featurette focusing on the fans, their reactions to the show and available Babylon 5 merchandise
The Universe of Babylon 5 including: Personnel Files, Data Files and Gag Reel
Episode previews
Easter Egg: Marcus Cole: Dead or Frozen
Additional and Extended Scenes
DISCUSSION TOPIC
I know this isn't Babylon 5, but there are so few good science fiction shows on these days that it is hard NOT to talk about Stargate SG-1. For those that watched "Heroes Part 2" last night, what did you think? I have spent some time on forums this morning looking at opinions and there is a mix -- everything to the best episode ever to good to so-so. What do you think? Did you enjoy it? Send in your comments and views to sgbruckner@aol.com. I post them on the Discussion Page for everyone to share. See what has come in so far. If you see an old topic you want to respond to, go right ahead. We enjoy hearing from you.
STARGATE SG-1

SEASON SIX DVD
Season six of STARGATE SG-1 is available TODAY! Amazon has had this DVD on their top 10 list for weeks. The DVD boasts incredible special effects sequences, rapid-fire pacing and awesome scenes of alien warfare, this all-new five-disc set of Stargate SG-1 is your gateway to pulse-pounding sci-fi action!

Special features include audio commentary for each episode and twelve "SG-1 Directors Series" featurettes!

For more details and to watch the trailer, go to http://www.mgm.com/title_title.do?title_star=XXXSETSTARGAT6.
KEEPING UP WITH CAST AND CREW
STEPHEN AUSTIN: Our favorite Pak'Ma'Ra Ambassador has sent in an update.
"Everything is progressing well towards the production of our first episode of BUENA PARK AFTER DARK. I've been brought on as the Associate Producer of this weekly satirical talk show (think Fernwood Tonight meets Larry Sanders) starring L..A. radio icon and legend (just ask him) Frazer Smith. We're looking to premier in April on the Pax-owned station, KDOC-TV here in the Orange-Los Angeles County Area.
Post production is finally finished on REPTILE RANGERS. This is a film I worked on with J.G. Hertzler, Robert O'Reilly and Aron Eisenberg this past summer." Stephen will keep us posted as to when and where you will be able to see it.

---
BRUCE BOXLEITNER: Bruce Boxleitner will star in an upcoming SCIFI original telefilm called "Snakehead Terror" and will debut on March 13 at 9pm ET. Carol Alt, who appeared in the film "Catch Me if You Can," will co-star. "Snakehead Terror" was inspired by actual events youmight remember from the news; someone dumped a Chinese Snakehead fish (former pet) into a Maryland waterway. Thanks Ranger Anne for the update.
---
SPECIAL CAST ACTIVITY
STEPHEN AUSTIN: Stephen has a fantastic stand-up comedy routine. Here is his latest appearance schedule:
THE ICE HOUSE, Sun., Mar. 7th - 8p
Pasadena, CA. - 626-577-1894
THE RUMBA ROOM - Mon., Mar. 15th - 8p
Universal City Walk, Universal City, CA. - 818-622-1227
AMBIENTE - Thurs., Mar. 18th - 8p
Alhambra, CA. - 626-300-5447
THE IMPROV - Fri., Mar. 26th - 10p
Hollywood, CA - 323-651-2583
---
CRUISE WITH PETER WOODWARD
Peter is considering cruising the Caribbean in January 2005 and wants to invite his fans to join the fun. He would like to see if there is sufficient interest before going too far into planning, so if you would like to receive a brochure about Peter's upcoming cruise once the details are finalized please advise of your: Name:
Postal Address, City, State, Zip:
E-mail address:
Phone number:
Total number of guests in your party:
Age range of the guests including yourself:

Send this information to pwoodwardinfo@yahoo.com. Any information you send us will be handled respectfully. This is not a commitment from you, just an indication of interest.
---
JERRY DOYLE RADIO SHOW:
"The Jerry Doyle Show", now heard Saturdays from 8-11PM PST on the Talk Radio Network, will be adding a weekday show starting April 5th. Jerry is working on an affiliate list for the 95 stations across the country. "The Jerry Doyle Show" launched in syndication, coast to coast, on 12/6 through Talk Radio Network. It's on Saturday nights, 8-11 PM PST. According to Jerry, it's about "Politics, pop culture and things that tick me off is the general theme. It's been a great ride and the folks at TRN have been fantastic. You can go to Talk Radio Network for more information.
---
BABYLON 5 BIRTHDAYS
Richard Biggs - March 18
Jesus Trevino - March 26
Ed Wasser - March 26

Have I missed anyone? If you know the birthday of someone connected with Babylon 5, pass the information along. We want to include everyone in our Happy Birthday Wishes.
READER BIRTHDAYS
Sometimes you just can't find the e-mail address for someone you know you have -- it's someone who responded to a discussion topic or you met in one of the chat rooms. You'd like to send a personal note, but .... No address!!!!

We've started a White Pages of Zocalo Readers! It's a handy way of keeping track of people -- and putting together a birthday/greeting card list as well. If you would like to be part of the listing, just send me your name, state, e-mail address and (if you'd like to have it listed) birthday (without year) to sgbruckner@aol.com. Check out the Directory of Readers.

Name: Connie Colvin
State: New York
E-mail address: CCB5Flamekeeper@aol.com
Birthday: March 4

Name: Lance Coviello
State: North Carolina
E-mail: EsperFF3@aol.com
Birthday: March 3

Name: Helen Cripe
State: Delaware
E-mail address: cripehl@itrcorporation.com
Birthday: March 2

Name: Melvin Good
State/Country: Cambridge, England, United Kingdom
E mail address melvin-good@lineone.net
Birthday 18 March
FAN CLUBS
We have a number of Fan Clubs listed here at the Zocalo. They are those associated with a particular actor -- and there are those devoted to Babylon 5 or science fiction. Be sure to check out the Clubs Page to see if there is an organization near you.
NEW SCIENCE FICTION MERCHANDISE
BABYLON 5 MERCHANDISE
Are you looking for Babylon 5 merchandise? Would you like to possess some of the wonderful patches or pins sold by the B5 Fan Club? Do you want to put in an order for the latest DVD? Bruce at Uncomyn Gifts still has one of the best collections around. Check out www.uncomyngifts.com. You may just find the magazine or t-shirt or patch you are looking for.
---
SCIENCE FICTION PUBLICATIONS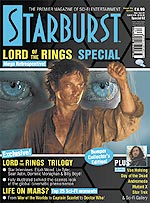 Starburst Special #62: It's all about LORD OF THE RINGS. This special issue brings you continued coverage of the trilogy. Included are interviews with Elijah Wood, Liv Tyler, Sean Astin, Billy Boyd and Dominic Monaghan. Also in this issue, you'll get an insight into VAN HELSING. The magazine talks to the cast and crew, including Hugh Jackman and Kate Keckinsale.






Cult Times #102: ANGEL's Alexis Denisof looks back on over five years as Wesley Wyndam-Price and how his character has evolved from wimp to high-powered executive at Wolfram & Hart. Also in this issue, Steve Bacic talks about ANDROMEDA and his return as Relemachus Rhade and Michael Gross talks about TREMORS - the movies and TV series.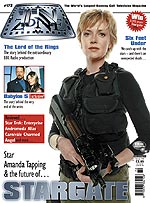 TV Zone #172: JMS concludes his series on BABYLON 5 in this issue. He reminisces about the making of the series during the final season. Also in this issue, Amanda Tapping talks about things coming up for her character, Maj. Samantha Carter during the final season of the series and set dectorators Mark and Robert Davidson explain how a blank canvas can be transformed into a scene for the hit TV series.



Expose #83: In this issue, we get a look at ALIAS thru the eyes of Agent Weiss - Greg Grunberg. Sean Astin tells us about how LORD OF THE RINGS has been a life-changing experience. Co-producer of CHARMED, Peter Chomsky, looks back over six years of special effects.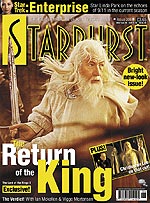 Starburst #306: This 100-page issue is full of exciting interviews -- including Sir Ian McKellen and Viggo Mortensen from LORD OF THE RINGS. Also in this issue, Neil Gaiman talks about his upcoming projects and Linda Park discusses Ensign Sato's story arc on ENTERPRISE.
NEW BOOKS ON THE HORIZON
RAY HARRYHAUSEN: AN ANIMATED LIFE
by Ray Harryhausen & Tony Dalton, with a Foreword by Ray Bradbury Ray Harryhausen is arguably the greatest stop-motion animator in the history of motion pictures, blazing new trails in special effects from the 1950s to the 1980s creating realistic dinosaurs, fantastic aliens, and imaginative mythological creatures. In the animator's own words, accompanied by hundreds of previously unpublished photographs, sketches, and storyboards from his personal archives, this book details Harryhausen's entire career — from 20 Million Miles to Earth and Earth vs. The Flying Saucers, to Clash of the Titans and Jason and the Argonauts. (356/0-8230-8402-7)
HC, 9x11, 304pg, FC..........$50.00 BookCloseOut.com

Ranger Dave writes that books by Bruce Boxleitner, John DE Lancie(Q), and William Shatner are available on Bookcloseouts.com in hard cover. They also now have a paperback listing and book prices are greatly reduced. Check it out.
BABYLON 5 NOVELS
DelRey is reprinting the original Babylon 5 novels. They started with #7 - Jeanne Cavelos' THE SHADOW WITHIN. Here's one I've been waiting for -- Kathryn Drennan's TO DREAM IN THE CITY OF SORROWS. The release date is scheduled for July 29, 2003. I love the new cover art! It can be pre-ordered from www.amazon.com. For those of you who love Babylon 5, this one reads just like an episode from the series. You just can't put it down.




COMIC BOOKS
Star Trek : THE Key Collection Volume 1 The original full-color Star Trek comics reprinted in paperback at last! Star Trek comics debuted in 1967, the same year as the original television series and outlasted the TV version by 10 years. This volume collects the first eight issues of the original Enterprise crew in adventures to be found nowhere else. SC, FC ..........$22.95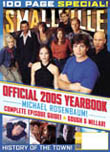 Smallville Yearbook magazine The official, 100-page Smallville Yearbook is your indispensable guide to Season Three! As the third season comes to a close, we bring you a fantastic magazine packed with brilliant Smallville features and exclusive interviews with all of your favorite characters ­ including Clark, Lana, and Lex! Smallville creators Al Gough and Miles Millar tell us about how they reinvented Superman for a modern audience. Plus the writers, directors and crew reveal behind-the-scenes secrets! (Titan Publishing Group) NEWSSTAND—Magazine, 100pg, FC..........$9.99
AMAZING SPIDERMAN
Amazing Spider-Man #504 will arrive in stores on Wednesday from Marvel Comics. The issue is written by Fiona Avery with J. Michael Straczynski, with art and cover by John Romita Jr. Here's how Marvel describes the issue:
""Chasing a Dark Shadow,' part 2 of 2. In the aftermath of the inter-dimensional rift caused by Spider-Man and Doctor Strange's battle with Dormammu, a sorceress of limitless power is set free from years of captivity ... and sets forth on a quest through Manhattan to properly thank the one responsible for it: Spider-Man. And if that weren't bad enough, guess who's on her trail? Loki..." Amazing Spider-Man #504 will be 32 pages and will cost $2.25.
AMAZING SPIDER-MAN #507

Written by J. Michael Straczynski, cover and pencils by John Romita Jr.
Concluding a 3-part arc, featuring the mysterious Ezekiel!
32 pages, $2.25, in stores on April 28.
AMAZING SPIDER-MAN #508 Written by J. Michael Straczynski, pencils and cover by John Romita Jr. The enigmatic Ezekiel returns to Peter's life. But is he the same man who stood by Spider-Man's side in his hour of need, or will he prove to be something much deadlier? 32 pages, $2.25, in stores on May 26.
SUPREME POWER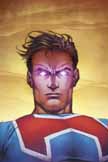 SUPREME POWER #9

Written by J. Michael Straczynski, cover and pencils by Gary Frank.
The world is still shaking from the titanic battle of Hyperion and Dr. Spectrum. Is Earth big enough for two such powerful beings? And who is Power Princess? Find out here!
32 pages, $2.99, in stores on April 7.
NEW CSI GAME
You can now become part of Gil Grissom's CSI team! Check out the latest video game featuring CBS' CSI series. Here is the storyline:
Master the Tools. Solve the crime.
A murdered woman…a slain police officer…a mysterious arson case. What do these crimes have in common? Enter the gritty world of CSI and search for the truth with Grissom, Catherine, and the entire Crime Scene Investigation team. Armed with high-powered forensic equipment and razor-sharp wits, delve deeply into the mysteries of 5 baffling crime scenes to reveal the truth. Don't just watch the action. Live it! For more information, go to http://csi.ubi.com/index.php.
STARGATE SG-1 CARD SET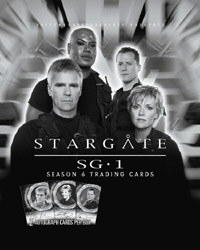 STARGATE SG-1 SEASON 6 CARDS This 72-card set features three cards per episode for each of the 22 in Season 6. Signers include Michael Shanks, Amanda Tapping, Ronnie Cox, John Billingsley, Musetta Vander, Bruce Harwood, Enid Raye-Adams, Jacqueline Samuda, Exec. Producer brad Wright, and more! Look for "Behind the Scenes with Brad Wright" cards, "In the Line of Duty" cards, "Stargate Galley" cards, and more! Also available is the album, custom designed to store the entire collection, including plastic pages, bonus promo card, and a Colonel O'Neill "From the Archives" costume card. 7 cards per pack. 40 packs per box. MSRP: $2.00 per pack.
TV SCHEDULE ON SCIFI CHANNEL
BABYLON 5 and CRUSADE are not currently listed on any SCIFI schedule. Ranger Anne reports that the SciFi Channel has scheduled "The Legend of the Rangers" for April 17, at 9:30 am ET.

STARGATE SCHEDULE:

05-MAR-04 9:00 PM STARGATE SG-1 (LBX) INAUGURATION
05-MAR-04 11:00 PM STARGATE SG-1 (LBX) INAUGURATION
12-MAR-04 9:00 PM STARGATE SG-1 (LBX) LOST CITY - PT 1
12-MAR-04 11:00 PM STARGATE SG-1 (LBX) LOST CITY - PT 1
19-MAR-04 9:00 PM STARGATE SG-1 (LBX) LOST CITY - PT 2
19-MAR-04 11:00 PM STARGATE SG-1 (LBX) LOST CITY - PT 2
26-MAR-04 9:00 PM STARGATE SG-1 (LBX) EVOLUTION - PT 2
26-MAR-04 11:00 PM STARGATE SG-1 (LBX) EVOLUTION - PT 2 FARSCAPE SCHEDULE:

11-MAR-04 3:00 AM FARSCAPE PICTURE IF YOU WILL
11-MAR-04 4:00 AM FARSCAPE THE WAY WE WEREN'T
11-MAR-04 5:00 AM FARSCAPE HOME ON THE REMAINS
12-MAR-04 11:00 AM DAYTIME ROTATION - FARSCAPE THANKS FOR SHARING
12-MAR-04 12:00 PM DAYTIME ROTATION - FARSCAPE GREEN EYED MONSTER
12-MAR-04 1:00 PM DAYTIME ROTATION - FARSCAPE LOSING TIME
12-MAR-04 2:00 PM DAYTIME ROTATION - FARSCAPE RELATIVITY
12-MAR-04 3:00 PM DAYTIME ROTATION - FARSCAPE INCUBATOR
14-MAR-04 1:00 AM FARSCAPE BAD TIMING
18-MAR-04 3:00 AM FARSCAPE LOOK AT THE PRINCESS - PT 1: A KISS IS BUT A KISS
18-MAR-04 4:00 AM FARSCAPE LOOK AT THE PRINCESS - PT 2: I DO, I THINK
18-MAR-04 5:00 AM FARSCAPE LOOK AT THE PRINCESS - PT 3: THE MALTESE CRICHTON
21-MAR-04 1:00 AM FARSCAPE PREMIERE
25-MAR-04 3:00 AM FARSCAPE OUT OF THEIR MINDS
25-MAR-04 4:00 AM FARSCAPE MY THREE CRICHTONS
25-MAR-04 5:00 AM FARSCAPE BEWARE OF DOG
28-MAR-04 1:00 AM FARSCAPE BACK AND BACK TO THE FUTURE

EARTH: FINAL CONFLICT

08-MAR-04 8:00 AM EARTH: FINAL CONFLICT CRACKDOWN
09-MAR-04 8:00 AM EARTH: FINAL CONFLICT THE VANISHED
10-MAR-04 8:00 AM EARTH: FINAL CONFLICT EMANCIPATION
11-MAR-04 8:00 AM EARTH: FINAL CONFLICT DEJA VU
12-MAR-04 8:00 AM EARTH: FINAL CONFLICT THE ONCE AND FUTURE WORLD
15-MAR-04 8:00 AM EARTH: FINAL CONFLICT THICKER THAN BLOOD
16-MAR-04 8:00 AM EARTH: FINAL CONFLICT A LITTLE BIT OF HEAVEN
17-MAR-04 8:00 AM EARTH: FINAL CONFLICT PAD'AR
18-MAR-04 8:00 AM EARTH: FINAL CONFLICT IN MEMORY
19-MAR-04 8:00 AM EARTH: FINAL CONFLICT THE CLOISTER
22-MAR-04 8:00 AM EARTH: FINAL CONFLICT INTERVIEW
23-MAR-04 8:00 AM EARTH: FINAL CONFLICT KEEP YOUR ENEMIES CLOSER
24-MAR-04 8:00 AM EARTH: FINAL CONFLICT SUBTERFUGE
25-MAR-04 8:00 AM EARTH: FINAL CONFLICT SCORCHED EARTH
26-MAR-04 8:00 AM EARTH: FINAL CONFLICT SANCTUARY
29-MAR-04 8:00 AM EARTH: FINAL CONFLICT THROUGH YOUR EYES
30-MAR-04 8:00 AM EARTH: FINAL CONFLICT TIME BOMB
31-MAR-04 8:00 AM EARTH: FINAL CONFLICT THE FIELDS
BABYLON 5/CRUSADE PHOTOSHOP PHOTOS







Peter Woodward has sent along a new photo -- a rather dreadful one -- from his appearance on CHARMED. It will be added to the collection of photos available from Peter, including additional copies of the Crusade poster in photo format. Both are autographed by Peter. You do NOT have to pay the prices asked for over at e-bay! Here are photos of B5 and Crusade cast members at fantastic prices. Check out Photo Shop. Ordering is easy -- and you can't beat the prices! Just let me know which photos you want and I'll check to make sure they are still in stock.
---
BABYLON 5 TOONS
John Cook has a wonderful collection of cartoons -- many are take-offs from Babylon 5. Here's just one of them.

He has a cartoon caption contest going on as well. Try your hand at a punch line.

Go to http://contests.sev.com.au/index.php?contestid=1


SCI-FI CARTOONS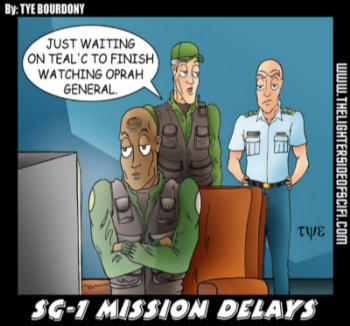 Tye Bourdony's latest Lighter Side of Sci-Fi satire can be seen in the Star Trek Communicator as well as at his website www.thelightersideofscifi.com.



BABYLON 5/CRUSADE CONVENTIONS
CONVENTION UPDATE
CONVENTION CALENDAR
Marcon
March 5-7, 2004
Location: Hilton Mpls/St. Paul Airport Hotel
Place: Bloomington, Minneapolis
B5 Guest: Richard Biggs
Other Guests: Dr. Demento, John M. Ford, Davina, David E Romm, the Great Luke Ski, The Nick Atoms, Tri-Destiny

For more information, visit their website at http://www.marscon.org.
---
Megacon
March 5-7, 2004
Location: Orlando, FL
Place: Orange County Convention Center
B5 Guest: Bill Mumy, Brad Dourif
Other Guests: Allison Mack, Lost in Space cast: Angela Cartright, Mark Goddard, Marta Kristen, June Lockhart, Bob May, and many more

For more information, visit their website at http://www.megaconvention.com/.
---
Best of Both Worlds
Date: March 13-14, 2004
Place: Canberra, Australia
Theme: Lord of the Rings
Guests: Dominic Monaghan - Meriadoc "Merry" Brandybuck (The Lord Of The Rings Movie Trilogy)
For more information, visit their website at http://johnvb.tripod.com/asn2.html.
---
Cult TV Expo
Date: March 20-21, 2004
Place: Rosemont, IL
Site: Ramada O'Hare
Guests: Richard Hatch,Anne Lockhart,Sarah Rush,Laurette Spang, Jack Stauffer and Herb Jefferson, Jr.

For more information, visit their website at www.dg-promotions.5u.com/galactica.htm.
---
I-CON 23
Date: March 26-28, 2004
Place: SUNY, Stony Brook Campus
Location: Stony Brook, NY
B5 Guests: Peter Jurasik, Bill Blair
Other Guests: Vaughn Armstrong For more information, visit their website at http://www.iconsf.org.
---
United Fan Con East
Date: March 26-28, 2004
Place: Marriott Hotel
Location: Quincy, MAbr> Guests: Teryl Rothery (Maj. Janet Frasier, STARGATE); Marina Sirtis (Deanna Troi from Star Trek: The Next Generation); more guests to be announced For more information, visit their website at http://www.unitedfancon.com/.
---
Creation Entertainment GRAND SLAM: THE SCI-FI SUMMIT
March 26-28, 2004
Location: Pasadena Center
Place: Pasadena, CA
B5 Guest: Stephen Austin
Guests: William Shatner, Leonard Nimoy, Brent Spiner, Sally Kellerman, Connor Trinneer, Alexander Siddig, Dominic Keating, Anthony Montgomery, Walter Koenig, Andrew Robinson, Armen Shimerman, Kren Auberjonois, Cirroc Lofton, John Rhys-Davies, Amanda Tapping, Michael Shanks, Corin Nemec, Michael Rosenbaum, Mark Verheiden, Anthony Michael Hall, Nicole de Boer, Chris Bruno, John L. Adams, Kristen Dalton, Andy Hallett, Mercedes McNab, Robia La Morte, Iyari Limon, Mark Lutz, James Leary, Julie Benz, Jeremy Bulloch, Kenny Baker, Rusty Goffe, Ken Colley, Peter Mayhew, Leni Parker, Gina Torres

For more information, visit their website at http://www.creationent.com/calendar.htm.
---

Concourse
April 9-12, 2004
Location: The Winter Gardens
Place: Blackpool, UK
Guests: Philip Pullman, Christopher Priest, Danny Flynn, Mitchell Burnside Clapp, Sue Mason

For more information, visit their website at http://www.eastercon.com/concourse.
---

Be sure to visit the referenced sites to see if there have been changes in dates/guests attending. Also visit our Convention Calendar for a full listing of upcoming conventions featuring Babylon 5, Crusade and Legend of the Rangers cast members as guests.
CONVENTION HIGHLIGHTS
Ranger Brian had a blast with Rick, Jason and Jeffrey at the 2BeContinued Convention last week in Indiana. He sent along a picture for everyone to enjoy. Thanks Brian.
If you would like to share your convention experience with your other Zocalo readers, send along a convention report. I will gladly post it for all to read. Got pictures? I'll post those as well.
ZOCALO TRADING POST
Do you have extra copies of B5, Amazing Spiderman, Midnight Nation or Rising Stars comics you'd like to trade? How about those extra trading cards or B5 magazines? There are a lot of fans looking for these items -- and the Trading Post can help you buy or sell them. To see what's available, just use this link to the Trading Post. To have items included in The Trading Post, send a note to The Zocalo. Please put Trading Post in the subject line.
PEN PALS
If you are looking for someone to talk about Babylon 5 and Crusade with, the Pen Pal section is for you! Check it out! Drop a note to someone who is feeling B5 withdrawal -- BIG TIME!

People thought a Pen Pal page was a good idea. If you would like to meet people who you could chat with or share your opinions of the show with, send along your e-mail or snail-mail address The Zocalo. It will be incorporated on the new Pen Page Page.
MAIL FOR CAST AND CREW
Here's a recent note from JMS on the subject:

Just an FYI to those who've been using the Ventura Blvd. mail drop for fan mail to actors....

As mentioned before, we're phasing out the forwarding of fan mail because we a) don't have the resources, complicated by b) the actors have scattered to the four winds, and it makes it very difficult to get everything to everybody in a timely fashion.

So, having provided prior notice...fan mail to actors coming to the Ventura Blvd. mail drop will be sent back. Mail to actors should be sent via their official fan clubs. I will still be taking mail there, since it's my mailbox, but that's it.

Just so's y'all know and save a few bucks on postage and returns.

WARNER BROS:

Warner Bros. Address:

Warner Bros. Domestic Television Distribution
4000 Warner Blvd.
Burbank, CA 91522

Warner Home Video:

Mr. Douglas Wadleigh
VP for Marketing and Special Features
Warner Bros.
4000 Warner Blvd.
Burbank, CA 91522

SCIFI:
Bonnie Hammer, President
Sci-Fi Channel
1230 Avenue of the Americas
New York, NY. 10020-1513

Mr. Thomas Vitale
Senior VP of Acquisitions, Scheduling & Program-Planning
BACK ISSUES OF THE ZOCALO TODAY
The front page of the The Zocalo Today changes daily, so be sure to check the back issues to make sure that you haven't missed anything IMPORTANT! I don't want the front page getting too long so I shift information periodically into the archives. So if you aren't a regular visitor to The Zocalo Today, be sure to check out the back issues. Just use the button above!
---
Take care and I look forward to hearing from you.
Sandra Bruckner (sgbruckner@aol.com)
Editor/Publisher
The Zocalo Today
http://www.isnnews.net
Copyright - SBruckner, 1999-2004