[an error occurred while processing this directive]

The Zocalo Today

Welcome and thank you for dropping by. Take your shoes off, get comfortable and stay a while. There is a LOT of information here and you won't want to miss any of it.

The Zocalo Today is an interactive newsletter, encouraging readers to join a discussion topic or to send along letters that can be shared with other readers.

If you have suggestions as to how The Zocalo can be improved -- or be more responsive in some way -- send those suggestions along. The Zocalo Today is a newsletter for Babylon 5 and science fiction fans everywhere. It is as much YOUR newsletter as it is mine! I'm just pulling together things for you!

Join our discussion topic. It is just one way you can share with other Z readers. If you see Babylon 5 cast and crew in other roles on TV, let us know. We enjoy convention reports, photos, etc. Don't miss our back issues. I hope this will become more than just a newsletter for you. It's a community of people that enjoy sharing their experiences and interests. Babylon 5 brought many of us together -- and it remains with us, despite the fact that is no longer in production. Don't be shy. Join us today!

If you have questions, drop me a line at sgbruckner@aol.com. If you would like to join the mailing list for our newsletter, send me a note and I'll include you on the list. Or you can use the subscription block at the left.

Again, WELCOME!




What's New Today
Friday, March 12:
TOP SF NETWORK SHOWS:
Joan of Arcadia 7.5
Smallville 3.4
Charmed 3.2
Angel 2.7
Enterprise 2.6
Source: Nielsen Galaxy Report, 2/16/04 - 2/22/04.
---
STAR WARS: EPISODE III: New images from the upcoming STAR WARS EPISODE III are making their rounds across the Internet today. SPOILER ALERT: The new Star Wars Insider magazine has General Grievous on the cover. This provides the best look so far at the Separtist alien military leader, and the Insider will have more info about what we can expect to see from this new character come May 2005. The biggest news was created by London's Daily Mirror tabloid newspaper which published two images that have been the subject of rumor for months. The Mirror published part of what is allegedly pre-production artwork fans have dubbed "The Birth of Darth Vader" which shows Anakin Skywalker in a sinister medical chamber being attended to by medical droids and observed by Darth Sidious. The other image is a photo of what is supposed to be Anakin Skywalker after his burning and before being placed in the Vader armor. In fact, what the Mirror has published is a composite image that one STAR WARS fan put together from multiple photos available on the Web.
---
UNLEASHED: According to Variety, Platinum Studios has picked up another comic book property -- Myatt Murphy's graphic novel and series TWO OVER TEN. Platinum will develop Murphy's story into proposals for movie and television projects, the first one titled UNLEASHED. Described as "THE FUGITIVE meets FIRESTARTER", the story is about a man who has the power to cause any item he touches to explode. Unable to control his power, he goes on the run from the authorities and an enemy that wants to wield his power for their own purposes. Platinum Studios' Chairman, Scott Rosenberg says, "The comic is a gold mine of characters and story hooks. The story is action and drama, but the core has to do with just what ordinary people do when tossed into extraordinary circumstances." Recently Platinum set up the science fiction tale UNIQUE at Touchstone Pictures, with David Goyer (BLADE: TRINITY) attached to direct. The company is also the producer of Showtime's JEREMIAH television series.
---
EARTHSEA: The Hollywood Reporter indicates that Isabella Rossellini has been cast in the Sci Fi Channel miniseries EARTHSEA. Rossellini will play High Priestess Thar, a pivotal character in the epic chronicle of a young wizard in a mystical land. EARTHSEA is written by Gavin Scott ("The Mists of Avalon") and executive produced by Robert Halmi Sr. ("Merlin"), Lawrence Bender ("Kill Bill-Vol. 1") and Kevin Brown ("Roswell"). The four-hour miniseries, a joint production of Hallmark Entertainment and Bender-Brown Prods., is scheduled to air over two nights in December. The miniseries is adapted from author Ursula K. Le Guin's "Earthsea" novels. The first in the series, "A Wizard of Earthsea," was published in 1968. EARTHSEA follows the tale of a reckless youth destined to become the greatest sorcerer that the mystical land of Earthsea has ever known. When the young wizard Ged discovers that he possesses infinite magical powers, he seeks to master the ancient arts. As he journeys to manhood, he will combat dragons, fall in love, cross death's threshold, and ultimately wield the power to reunite a kingdom. For more information, read the press release from SCIFI at http://www.scifi.com/earthsea/.
---
THE PUNISHER: Avi Arad, Marvel Studios CEO and chairman, will be honored with a new award, the Robert W. Selig Showmanship Award, at ShoWest 2004, which gets under way March 22 in Las Vegas. Arad will receive the award March 23 at the opening-day luncheon, which will be co-hosted by Christie Inc., which specializes in film projection and displays, and Lions Gate Films, which will release THE PUNISHER, on which Arad is one of the producers, on April 16. It will screen for ShoWest attendees Tuesday morning before the luncheon ceremonies.
---
THE WHEEL OF TIME: EYE OF THE WORLD: Red Eagle Entertainment has optioned worldwide feature rights to Robert Jordan's 11-book series "The Wheel of Time." Deal includes all ancillary rights. Red Eagle will initially work to produce an adaptation of the first novel, "The Eye of the World." Once that's achieved, adaptations of the others will follow. "Eye of the World" begins when villagers of Emond's Field are attacked by minions of a force known as Dark One, forcing three young men to confront their destiny and begin a quest..."
---
BEOWULF: Darclight Films has announced the pre-production of BEOWULF, an epic tale based on the famous Old English poem, Beowulf , which inspired Tolkien's Lord Of The Rings. The medieval adventure, part fable, part horror-story is loosely based on the 9th century Anglo-Saxon poem, Beowulf, telling the blood-soaked tale of a Norse hero's battle with a great and murderous troll. BEOWULF is written and co-produced by Andrew Rai Berzins and will be directed by Sturla Gunnarsson (Such a Long Journey, Rare Birds). The film will be shot in the stark and primal landscape of Iceland as a production between Canada, the United Kingdom and Iceland. The producers include Paul Stephens and Eric Jordan of The Film Works of Canada, Michael Lionello Cowan and Jason Piette of the Spice Factory in the UK, and Fridrik thor Fridriksson of The Icelandic Film Corporation. Scott Speedman from UNDERWORLD and FELICITY has signed on to the project. The producers are out to Sean Connery to play Hogarth.
---
ELEKTRA: Elektra, starring Jennifer Garner, has set up shop at Lions Gate Film Studios in North Vancouver and has set production dates of May 3rd thru July 15th 2004. SAI Productions Ltd is the production companies name and Brent O'Conner (Scooby-Doo 2: Monsters Unleashed, Good Will Hunting) is currently listed as Executive Producer. Renowned Vancouver Production Designer Graeme Murray (The X-Files, Smallville, Wiseguy) has been hired along with Production Manager Simon Abbott.
---
PRIME EVIL: Morris Chestnut and Eddie Cibrian (Third Watch) have joined Cole Hauser in the Lakeshore Entertainment production PRIME EVIL for Bruce Hunt, who is making his feature directorial debut on the project at Sony's Screen Gems. Slated to start shooting in April in Eastern Europe, the film centers on a group of cave divers who get trapped in an underground cave system. They are then forced to battle demonic creatures when they attempt to escape. Chestnut and Cibrian play members of the diving troupe. Michael Steinberg and Tegan West wrote the screenplay for the 2005 release.
---
STARGATE: ATLANTIS: A few folks have mentioned they have already seen promos for STARGATE: ATLANTIS on SCIFI. For the press release issued by SCIFI on the upcoming series, go to Atlantis page here at The Zocalo Today. The series is set to premiere with a 2-hour event on July 16.
---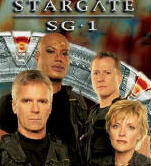 STARGATE SG-1: While we will see part one of the seventh season finale, word comes that season eight will arrive on The Sci-Fi Channel on Friday, July 9!
---
WHAT'S ON TONIGHT
8:00pm on CBS
Joan of Arcadia
Requiem for a Third Grade Ashtray
God asks Joan (Amber Tamblyn) to take on some of the household chores, which progress from bringing home a gallon of milk to caring for and running errands for the feverish Luke (Michael Welch) to cooking dinner while Helen (Mary Steenburgen) is at work. Joan finds it nearly impossible to fulfill her various personal and school related commitments. Meanwhile, Will (Joe Mantegna), Toni (April Grace) and an embezzler they're arresting get stuck in an elevator with a woman who has just gone into labor.

9:00pm on FOX
Wonderfalls
Wax Lion
Jaye Tyler (Caroline Dhavernas) lives in a trailer park near her parents' home in Niagara Falls. She spends her days as a sales assistant in a gift shop for tourists that overlooks the Falls, where her life takes a strange turn when the animal figurines on the store's shelves begin giving her cryptic advice. In this episode, a wax lion instructs Jaye to not give one rude tourist her proper change. From this single event, she sets off a chain reaction that leads her to attempt to set up her sister on a date and help a scorned package delivery man find love. With Diana Scarwid and William Sadler.

9:00pm on CBS
JAG
What If?
As the JAG crew celebrates Coates' (Zoe McLellan) promotion at a Chinese restaurant, the ritual reading of fortune cookies causes each of them to imagine what might have been if they had made different decisions over the years. Guest stars include Isabella Hofmann, Andrea Thompson, John Wesley Shipp, Ben Murphy and Corbin Bernsen.

10:00pm on USA Network
Touching Evil
Jeffrey Donovan stars as Detective David Creegan, who takes a 12-month psychological leave of absence after surviving a near fatal gunshot wound to the head. He returns to work for the FBI's new Organized and Serial Crime Unit, a rapid-response, elite crime squad. His brush with death renders him fearless in his relentless pursuit of justice as he and his partner, Susan Branca (Vera Farmiga), specialize in solving shocking, high profile crimes. Tonight, they look into child abductions. Allen Hughes ("Menace II Society") directed.

10:00pm on Showtime
Dead Like Me
The Bicycle Thief
George leaves Happy Time for a new job and a bike; Reggie searches for a lost dog.

On SCIFI Tonight:

6:00pm
Stargate SG-1
Small Victories
Replicators make their way to Earth.

7:00pm
Tremors: The Series
Flora or Fauna
The ``Mix-master'' creates a deadly mutation that is part plant, part animal.

8:00pm
Tremors: The Series
Hit and Run
Two small-time Vegas mobsters travel to Perfection to lay low and take in El Blanco show.

9:00pm
Stargate SG-1
Part 1 of 2: Lost City
The is the first part of the seventh season series finale

10:00pm
Stargate SG-1
Part 2 of 2: Homecoming
Anubis threatens to tear apart Jonas' home planet and enslave its people.

11:00pm
Stargate SG-1
Part 1 of 2: Lost City

12:00pm
The Outer Limits
Straight & Narrow
A student's controlling computer chip malfunctions.
INSIDE SCI-FI THIS WEEK:
Thursday, March 11:
TOP 10 SF DVD SALES:
1. Pirates of the Caribbean
2. Stargate SG-1 season six
3. Finding Nemo
4. The Two Towers extended edition
5. Futurama volume three
6. The Matrix Revolutions
7. Fellowship of the Ring extended edition
8. Angel season three
9. Buffy season six
10. Firefly
Source: Amazon.com, top-selling genre DVDs, 3/5/04
---
NEW DVD SETS: Warner Home Video will release DVD collections of the classic Hanna-Barbera TV series THE JETSONS: The Complete First Season and JONNY QUEST: Season One on May 11. The DVD sets will feature digitally remastered shows in four-disc collectors' sets, each featuring more than 11 hours of original TV programming and new enhanced content. Each set will carry a suggested retail price of $64.92. THE JETSONS set will include all 24 season-one episodes, as well as "Rosey the Robot" commentary by Janet Waldo, "A Date with Jet Screamer" commentary by Janet Waldo, "The Jetsons: The Family of the Future" featurette, character bios, "Space Age Gadgets" featurette and "Rosey the Robotic Maid" featurette. The JONNY QUEST set will include all 26 episodes from the show's first year, featuring Tim Matheson as the voice of Jonny. The set will also include "Quest Files: Fun Facts & Trivia," "Adventures in Animation: A Cartoon Called Quest" featurette, The "Jonny Quest Video Handbook" and an original P.F. Flyer sneaker commercial.
---
THE BORG IN LAS VEGAS: Las Vegas is being assimilitated! On March 18 at the Las Vegas Hilton, Paramount Parks will open "Star Trek: Borg Invasion 4D," a new state-of-the-art attraction that promises to break technological ground. It will replace an earlier attraction, "Star Trek: The Experience," which has been at the Hilton since January 1998. Like the Borg itself -- part machine and part living organism -- the new attraction is a hybrid, part ride and part movie. As the attraction's visitors tour a futuristic research facility, the drones of the Borg collective will try to capture them using 24th century technology. In the movie portion, the Borg queen, played by "Star Trek: First Contact's" Alice Krige, attempts to assimilate the visitors. The day is saved when the Enterprise arrives, along with its commander, Adm. Janeway (Kate Mulgrew), and the doctor (Robert Picardo) from the "Star Trek: Voyager" TV series.
---
THE RING 2: Variety reports that director Noam Murro has dropped out of THE RING 2. DreamWorks Pictures head Walter Parkes said, "This is a mutual parting based on two creative differences. Noam Murro is an extraordinarily gifted director and we intend without hesitation to try to work with him in the future." The release date for the film remains November 10. A new director is expected to be named as soon as this week. Naomi Watts and David Dorfman are returning for the sequel, written by Ehren Kruger, who also penned the original. Late reports indicate that Japanese director Hideo Nakata, the man behind the original Ringu upon which the 2002 horror film THE RING was based, is in negotiations to helm The Ring 2 for DreamWorks.
---
SMALLVILLE: The WB has announced which five episodes of SMALLVILLE will be aired on Wednesdays at 9 p.m. as part of the "You Say It, We Play It" stunt. Winners in the voting include "The Pilot," "Nicodemus," "Red," "Rosetta," and "X-Ray."
---
TWILIGHT: MTV Films has teamed with Maverick Films to jointly acquire feature film rights to the forthcoming novel TWILIGHT from Phoenix-based author Stephanie Meyer. Set for publication in September 2005 from Little, Brown, the high school-set novel centers on Bella, who falls in love with a vampire. The new couple leads a rival vampire clan to pursue them and attempt to force her to decide if she, too, wishes to become one of the undead. The project is slated to be released through MTV's Viacom sister company Paramount Pictures.
---
THE 4400: USA Network has firmed up casting for its sci-fi drama THE 4400. Peter Coyote (ET), Joel Gretsch (Taken) and Jacqueline McKenzie (Divine Secrets of the Ya-Ya Sisterhood) have signed on to lead the ensemble cast. In addition, former Law & Order regular Michael Moriarty (Taken) is also slated to appear. Alien-abduction is the theme of the series. THE 4400 centers on the return of 4,400 missing people to Earth. The series kicks off with an apocalyptic ball of light sailing toward earth. In place of the expected catastrophic event, however, thousands of returned abductees are left with no memory of their otherworldly experiences. Each has been gone anywhere from a few months to several decades, but hasn't aged a day. USA ordered the pilot plus five episodes of the hourlong series last year. Yves Simoneau is on board to direct the project from a script by creator Scott Peters (The Outer Limits). Mahershalalhashbaz Ali, Laura Allen, Kaj-Erik Eriksen and Chad Faust round out the cast. Production is set to begin next week in Vancouver for a summer premiere on USA.
---
Wednesday, March 10:
BEST SELLING SF BOOKS:
1. The Da Vinci Code
2. The Passion
3. Angels & Demons
4. Glorious Appearing (Left Behind)
5. The Journals of Eleanor Druse
6. Tale of Despereaux
7. Eragon
8. Harry Potter box set
9. Hobbit Rings box set
10. Wicked
Source: Amazon.com, 3/5/04
---
JAMES BOND 21: Empire Online reports that James Bond screenwriters Robert Wade and Neal Purvis (Die Another Day) have begun work on the upcoming 21st 007 movie. "We started writing the new one two weeks ago, ... so obviously all the cliches are already in place," Purvis said. At the Orange Screenwriters Seminar at the British Library in London, Purvis also confirmed that Pierce Brosnan will return as the superspy. "As far as we understand it, Pierce Brosnan is Bond," he said. "He's a great Bond, and he gives you a lot to work with as a writer, because he's very good looking. Seriously, he is very good at suggesting an undercurrent of ... you don't know what. He shows that there is a shadow on this man." Wade told the site that it's a challenge coming up with a fresh angle on the franchise. "I don't think there's a more difficult task. It's all been done. The 20th film was harder than the 19th. It's very difficult to think of new ways to blow things up! But character is the thing; it's finding new ways to explore the character."
---
ASIMOV STAMP: Science Fiction & Fantasy fans are being urged by Gordon Van Gelder, editor of The Magazine of Fantasy & Science Fiction, to join a letter-writing campaign to get legendary SF author Isaac Asimov on a U.S. postage stamp. Van Gelder has already received a letter from the U.S. Postal Service saying that it is considering an Asimov stamp for 2006. Van Gelder's editorial on the matter will appear in the May issue of the magazine. "Just as Albert Einstein became a familiar icon as a physicist, so too did Dr. A represent the genre of science fiction to the world at large—more so than any other individual, I'd say," Van Gelder writes. He suggests that letters be sent to: Citizens' Stamp Advisory Committee, c/o Stamp Development, 475 L'Enfant Plaza, SW Room 5670, Washington, D.C. 20260-2437.
---
DOCTOR WHO: The BBC reports that writers behind the British TV shows THE LEAGUE OF GENTLEMEN AND COUPLING are joining the team working on the new U.K. DOCTOR WHO series. Mark Gatiss and Steven Moffatt will join a select group of writers, led by Russell T. Davies, producing scripts for the 13-part series for BBC One. Other new writers will be Steven Moffatt, Mark Gatiss and Paul Cornell. Filming starts in Cardiff this spring for a 2005 premiere. Gatiss created the satiric League of Gentlemen (not to be confused with the film and graphic novel The League of Extraordinary Gentlemen). Moffatt's credits include BBC Two's Coupling, winner of the sitcom of the year at the British Comedy Awards and adapted into an abortive NBC series of the same name. Other writers involved in the project include Rob Shearman, author of three Big Finish Doctor Who stories, and Cornell, who wrote several original Doctor Who novels and two Doctor Who series.
---
CHAOS: Wesley Snipes, Ryan Phillippe, Jason Statham and Justine Waddell are teaming to star in the Tony Gigolo-directed action thriller CHAOS. Filming will start next week in Vancouver. The story follows a rookie and veteran cop, played by Phillippe and Statham, respectively, in pursuit of bank robber (Snipes) who knows too much about the inner workings of the police department."
---
CANDYMAN 4: Tony Todd talked to Fangoria magazine about an upcoming big-budget CANDYMAN 4 as well as a third FINAL DESTINATION flick. "Right now we're prepping a fourth CANDYMAN film," reveals Todd. "It's going to be big-budget—we're looking at $25 million. There have been a lot of successful horror films made since we did the last movie, and Clive [Barker] and I have had three or four meetings about the film, talking about storyboarding ideas. It's going to be set in New England, and the initial image will be of Candyman in a blizzard. The story is about a double identity. I can tell you that it's set at an all-girls college where there is a descendant of Candyman—a professor who doesn't actually know who or what Candyman is."
---
PAUL WINFIELD: Versatile stage, film and TV star Paul Winfield died of a heart attack yesterday. Babylon 5 fans will remember him as General Franklin (Dr. Franklin's father) from the GROPOS episode.
---
Monday, March 8:
WEEKEND BOX OFFICE: For the second week in a row, Mel Gibson's THE PASSION OF THE CHRIST topped the box office and netted over $50 million dollars. This pushes its total past $200 M. Warner Bros. made $29 M from its movie remake of the classic 70's cop show STARSKY & HUTCH while Buena Vista's HIDALGO came close to taking in $20 M. Combined, the top three films earned $100 M at the box office. THE RETURN OF THE KING came back into the top ten, undoubtedly as a result of the 11 Oscars the picture won at last week's Academy Awards. Here are the estimated box office receipts of the top ten films from March 5 through to March 7:
1. THE PASSION OF THE CHRIST $51,392,000 $212,034,000
2. STARSKY & HUTCH $29,050,000 $29,050,000
3. HIDALGO $19,600,000 $19,600,000
4. 50 FIRST DATES $7,700,000 $99,411,000
5. TWISTED $5,025,000 $16,382,000
6. CONFESSIONS OF A TEENAGE DRAMA QUEEN $4,000,000 $21,800,000
7. THE LORD OF THE RINGS: THE RETURN OF THE KING $3,175,000 $368,347,000
8. DIRTY DANCING: HAVANA NIGHTS $2,850,000 $10,040,000
9. MIRACLE $2,600,000 $59,900,000
10. MONSTER $2,250,000 $30,080,000
---
POSSESSION: Darclight, the genre label of Arclight Films, has given the go-ahead for POSSESSION, an adaptation of a Peter James' novel. Stuart Baird ("Star Trek: Nemesis") will direct the supernatural thriller about a young man who, after being killed in an auto crash, reappears to his mother to reveal a dark secret.
---
SWORD OF DRACULA: The feature film and TV rights to SWORD OF DRACULA have been optioned by Chuck Gordon's Daybreak Prods. and Adrian Askarieh's Prime Universe Productions. Based on the comicbook series created by Jason Henderson, the series, published by Image Comics, is a contemporary revamp of the Dracula story in which competing military forces find themselves racing to excavate the great vampire himself.
---
LORD OF THE RINGS: THE RETURN OF THE KING arrives on DVD and VHS on May 25, 2004. The home video debut of The Lord of the Rings: The Return of the King will follow the groundbreaking success of the multi-tiered platform releases of both "The Fellowship of the Ring" and "The Two Towers," and will be available on a two-disc DVD and VHS for $29.95 and $24.97, respectively. A special extended edition of "The Return of the King" will follow as planned in time for the holidays.
---
CSI: NEW YORK: With the second spin-off of the popular CSI coming to New York this fall, the Hollywood Reporter indicates that Gary Sinise is being courted for the lead role. CBS needs to nail down the casting for the show soon because it intends to introduce the CSI: NEW YORK main characters in this season's second-to-last episode of CSI: MIAMI, to air in May.
---
NEW RELEASES:
Schindler's List: (DVD)
Mona Lisa Smile: (DVD)
"SpongeBob SquarePants": SpongeBob Goes Prehistoric (DVD)
"Mystery Science Theater 3000": Vol. 5 (DVD)

Special Editions and Box Sets:
Futurama: Volume 3
The Raquel Welch Collection
One Million Years B.C.
Bandolero!
Myra Breckinridge
Mother, Jugs, and Speed
To Serve Them All My Days
The Mike Leigh Collection: Volume One
Hard Labour
Abigail's Party
Grown Ups
Farscape: Season 4 Collection 1
Farscape: Season 4 Collection 2
Stargate SG-1: Season Six
Little House on the Prairie: Season 4
Dark Shadows: Collection 10

CLASSICS AND CULT
Dawn of the Dead: (Special Divimax Edition)
The Ten Commandments: Special Collector's Edition
Vanishing Point
Bed and Sofa
Brother Sun, Sister Moon
---
Sunday, March 7:
LORD OF THE RINGS: Ever conscious of TV sweeps, The WB is already looking ahead to a future ratings derby. Several of them, in fact. The network has locked in the "Lord of the Rings" movie trilogy for each of the next three Novembers. The first film in the saga, "The Fellowship of the Ring," will have its network premiere this year. "The WB made a huge bet on this franchise a couple of years back and that has paid off in a way we never dreamed," Jordan Levin, the network's co-CEO, says in a statement. "The films share so many elements with our brand ... and will enable us to create event programming that can platform important series for us." "The Fellowship of the Ring," which clocks in at just over three hours, will air over two nights (The WB airs only two hours of prime-time programming on most nights) in November. The subsequent films in the trilogy, "The Two Towers" and recent Oscar champ "The Return of the King," will make their network debuts in 2005 and 2006.
---
DAWN OF THE DEAD: On Monday, March 15, in a first-ever motion picture and television event, USA will debut-in its complete, uncut entirety-the intense opening 10-minute sequence from Universal Pictures' upcoming zombie horror film Dawn of the Dead. The heart-pounding footage, which immerses viewers nearly immediately into a surreal, terrifying world under siege by zombies, will be shown between 10:00 p.m. and 10:30 p.m., near the end of USA's telecast of Final Destination, which begins at 8:00 p.m. Eastern/Pacific (check local listings) on Monday, March 15.

CAUTION: This first-time-ever telecast will allow viewers to watch a full, uncut sequence from the film five days before it hits theaters. USA Networks and Universal Pictures strongly caution that the footage contains graphic violence and language consistent with the film's R rating and recommend that viewers exercise discretion before tuning in.
---
STARGATE SG-1: As STARGATE SG-1 approaches its season finale, things are starting to twist and turn -- the story arc of the Lost City is coming to the surface and all of our favorite characters are at risk. Can't wait for this week's episode!
---
STARGATE: ATLANTIS: As STARGATE SG-1 winds down, STARGATE: ATLANTIS is just set to begin a fantastic adventure into another world. We will have a chance to meet of the series regulars during the finale of STARGATE SG-1 so stay tuned.
---
Saturday, March 6, 2004:
ENTERPRISE: ENTERPRISE Executive Producer, Rick Berman, the official Star Trek Communicator magazine that the third season will wrap up with a finale called "Zero Hour," which will air May 26. According to Berman, viewers will learn a reason for T'Pol's strange behavior this season, and a future episode may reveal that she has become addicted to small doses of Trellium-D, the substance known to cause insanity in Vulcans from "Impulse." Berman also said that an upcoming episode, "E2," will put the Enterprise into an encounter with a future version of itself.
---
REVELATIONS: According to Variety, Bill Pullman (The Grudge) will star in NBC's upcoming apocalyptic limited-run series REVELATIONS. Natascha McElhone (The Truman Show) has taken the female lead in the series, about a Harvard professor (Pullman) whose daughter is murdered by Satanists. McElhone will play a nun who recruits Pullman's character to help investigate whether what's told in the Book of Revelation is starting to come true.
---
PINK PANTHER: Variety reports that two new cast members have joined MGM's forthcoming remake of THE PINK PANTHER, which stars Steve Martin as the bumbling Inspector Clouseau. MGM is in final talks with singer-turned-actress Beyonce Knowles (Austin Powers in Goldmember, The Fighting Temptations) and French actor Jean Reno (Ronin, The Professional). Beyonce would reportedly play "the chief suspect in a diamond heist," and Reno would portray Inspector Clouseau's traveling companion.
---
THIS WEEKEND AT THE MOVIES: Two brand new movies arrive in North American movie houses this weekend. Adventure epic HIGALGO, starring The Lord of the Rings' Viggo Mortensen, premieres along with Ben Stiller and Owen Wilson's big-screen spoof of STARSKY & HUTCH. For reviews of both movies, go to http://filmforce.ign.com/articles/496/496817p1.html.
---
DVD BUYING TIPS
CostCo continues to be my favorite store for DVDs. I picked up the Season 6 DVD of STARGATE SG-1 for $39.95 there on Saturday.

Ranger Dave found JEREMIAH nearly $20 less than Amazon's price at DVDsoon.com. Dave used Brian's suggestion and went to www.dvdpricesearch.net and found STARGATE SG-1 Seasons 1,2,&3 for $32.88 each (including ) tax and free shipping). There is even a coupon for $4 off purchases over $100 from that company. Season 4 was listed at a bit over $40.

I understand from Ranger Judy that all CostCo stores don't have the prices mentioned here. Hope some of the other options given help out.

Ranger Brian sent along a terrific tip for purchasing any DVDs. Go to http://www.dvdpricesearch.net/. You can do a search on any title and it will find the lowest price for you. It includes mailing information as well. Thanks Brian!

Ranger Frank in Seattle indicates that again, CostCo is saving Babylon 5 fans money!
Costco stores have a limited time sale on the Babylon 5 DVD sets. I went into a Costco in the Seattle area today, and they have seasons 1, 2 and 3 for $59.99 each -- about $25 less than Amazon.com, and $40 less than list price, as I recall. Season 4 is $64.99. But the deal is that if you buy Season 4, you get $20 off any one of the other seasons.

Thanks Frank for passing along the info. Other folks should check out CostCo for Babylon 5 and other DVDs. They usually have very competitive prices.
SEASON FOUR OF BABYLON 5 - ON SALE NOW
BABYLON 5:
THE COMPLETE FOURTH SEASON Collectible Six-Disc DVD Set Featuring All 22 Episodes
Fully-Loaded with New Bonus Materials
Remastered in Widescreen and Dolby Digital 5.1 Audio
Available January 6 from Warner Home Video Burbank, Calif., October 14, 2003 - The future begins - or ends - here and now. Here is the huge space station Babylon 5. Now is the fateful year 2261. Commander John Sheridan has already declared the station free, breaking the ties between it and Earth Alliance. It was perhaps only a matter of time before he would have to fight to remain free. That time has come on January 6, 2003 with the complete 22-episode fourth season adventure of the acclaimed Babylon 5 sci-fi series from Warner Home Video (WHV). Presented on a must-have six-disc collector's set, Babylon 5: The Complete Fourth Season is priced to own at $99.98 SRP. Orders are due December 9. Packed with out-of-this-world DVD bonus materials including a featurette about the series composer and the making of the series' music, an original music suite composed exclusively for the DVD release, in-depth audio commentaries from cast members and the series creator, personnel files and a gag reel. "The Babylon 5 series has consistently been one of Warner Home Video's most in-demand DVD collections, proving the loyalty and strong fan base for this acclaimed sci-fi series," said Jeff Baker, Vice President, Non-Theatrical Franchise Marketing. "The TV to DVD trend has been very strong in the marketplace and WHV plans to continue releasing fan-favorite series throughout the year." Babylon 5 has won two Emmy Awards for Groundbreaking Visual Effects and Makeup as well as the 1998 Science Fiction Writers of America Ray Bradbury Award. It also earned the 1999 Saturn Award for Best Genre Cable/Syndicated Series from the Academy of Science Fiction, Fantasy & Horror Films. Currently, Babylon 5 continues to be seen by legions of fans with episodes syndicated on the Sci-Fi Channel. I have put together a listing of the episodes and pictures from each episode of Season 4 with a synopsis from the Lurker's Guide. Enjoy. If you have found bargain prices out there on this set, let us know. If you have had problems with the set, here is an address to use to report them: Send any complaints/issues directly to Sherri Bogard at sherri.bogard@warnerbros.com. She handles all DVD problems with "Babylon 5".
SEASON FIVE OF BABYLON 5 - APRIL 13, 2004
Over at TV Shows on DVD, you'll find a notice that Season 5 of Babylon 5 will be available on April 13. Nothing official from the WB yet. Here is the information available so far:

Description:
From the beginning, both were running out of time. The space station that was the last, best hope for peace was sooner or later certain to be eclipsed by new political coalitions and technical advances. And John Sheridan, who guided the massive freeport through its most tumultuous days, knew that his own fate had been inalterably prophesied.

Now both storylines converge in a 22-episode final season (with dazzling Exclusive DVD Extras!) whose events also include Sheridan's attempts to wage peace for the Interstellar Alliance, the tragic fate of the telepaths and the ultimate fireball destruction of the outmoded station after it is declared to be a spaceway navigational hazard. You're cleared for final approach...to Babylon 5.

Features:
Introduction to Wheel of Fire (Season 5 of Babylon 5) by series creator, J. Michael Straczynski
Two audio commentaries by J. Michael Straczynski
Movements of Fire and Shadow commentary by cast members Bruce Boxleitner, Peter Jurasik, Patricia Tallman and Tracy Scoggins
Digital Tomorrow - a featurette about making the special effects for the series
Beyond Babylon 5 - a featurette focusing on the fans, their reactions to the show and available Babylon 5 merchandise
The Universe of Babylon 5 including: Personnel Files, Data Files and Gag Reel
Episode previews
Easter Egg: Marcus Cole: Dead or Frozen
Additional and Extended Scenes
DISCUSSION TOPIC
With all the speculation about what JMS is currently working on, I thought it might be fun to get a look at what everyone here would like to see -- on the Babylon 5 front. (This is pure speculation and has nothing to do with what JMS might have in the works.) I find it fascinating to see which Babylon 5 universe people enjoy the most. Is it the early Babylon 5? Crusade? Technomages? G'Kar and Lyta's trip into the galaxy? I think Galen's journal would make fascinating reading. With a story as rich as Babylon 5, there are tons of story lines that could be possible jumping off points. Send in your comments and ideas to sgbruckner@aol.com. I post them on the Discussion Page for everyone to share. See what has come in so far. If you see an old topic you want to respond to, go right ahead. We enjoy hearing from you.
STARGATE SG-1

SEASON SIX DVD
Season six of STARGATE SG-1 is available TODAY! Amazon has had this DVD on their top 10 list for weeks. The DVD boasts incredible special effects sequences, rapid-fire pacing and awesome scenes of alien warfare, this all-new five-disc set of Stargate SG-1 is your gateway to pulse-pounding sci-fi action!

Special features include audio commentary for each episode and twelve "SG-1 Directors Series" featurettes!

For more details and to watch the trailer, go to http://www.mgm.com/title_title.do?title_star=XXXSETSTARGAT6.
KEEPING UP WITH CAST AND CREW
ANDREA THOMPSON: Andrea Thompson will guest star in tonight's episode of JAG.
---
CLAUDIA CHRISTIAN: Ranger Michael reports that Claudia Christian announced at the London Film and Comic Con she is in a new sci fi film. She got the lead role in Starhyke. For more information, go to www.starhyke.com . Not a lot of information there yet, but more news will be posted soon.
---
BRUCE BOXLEITNER: This Saturday, catch Bruce Boxleitner as he stars in the SCIFI original telefilm called "Snakehead Terror". The movie will debut on March 13 at 9pm ET. Carol Alt co-stars with Bruce in a story inspired by actual events you might remember from the news. Someone dumped a Chinese Snakehead fish (former pet) into a Maryland waterway.
---
STEPHEN AUSTIN: Our favorite Pak'Ma'Ra Ambassador has sent in an update.
"Everything is progressing well towards the production of our first episode of BUENA PARK AFTER DARK. I've been brought on as the Associate Producer of this weekly satirical talk show (think Fernwood Tonight meets Larry Sanders) starring L..A. radio icon and legend (just ask him) Frazer Smith. We're looking to premier in April on the Pax-owned station, KDOC-TV here in the Orange-Los Angeles County Area.
Post production is finally finished on REPTILE RANGERS. This is a film I worked on with J.G. Hertzler, Robert O'Reilly and Aron Eisenberg this past summer." Stephen will keep us posted as to when and where you will be able to see it.

---
SPECIAL CAST ACTIVITY
STEPHEN AUSTIN: Stephen has a fantastic stand-up comedy routine. Here is his latest appearance schedule:
THE ICE HOUSE, Sun., Mar. 7th - 8p
Pasadena, CA. - 626-577-1894
THE RUMBA ROOM - Mon., Mar. 15th - 8p
Universal City Walk, Universal City, CA. - 818-622-1227
AMBIENTE - Thurs., Mar. 18th - 8p
Alhambra, CA. - 626-300-5447
THE IMPROV - Fri., Mar. 26th - 10p
Hollywood, CA - 323-651-2583
---
CRUISE WITH PETER WOODWARD
Peter is considering cruising the Caribbean in January 2005 and wants to invite his fans to join the fun. He would like to see if there is sufficient interest before going too far into planning, so if you would like to receive a brochure about Peter's upcoming cruise once the details are finalized please advise of your: Name:
Postal Address, City, State, Zip:
E-mail address:
Phone number:
Total number of guests in your party:
Age range of the guests including yourself:

Send this information to pwoodwardinfo@yahoo.com. Any information you send us will be handled respectfully. This is not a commitment from you, just an indication of interest.
---
JERRY DOYLE RADIO SHOW:
"The Jerry Doyle Show", now heard Saturdays from 8-11PM PST on the Talk Radio Network, will be adding a weekday show starting April 5th. Jerry is working on an affiliate list for the 95 stations across the country. "The Jerry Doyle Show" launched in syndication, coast to coast, on 12/6 through Talk Radio Network. It's on Saturday nights, 8-11 PM PST. According to Jerry, it's about "Politics, pop culture and things that tick me off is the general theme. It's been a great ride and the folks at TRN have been fantastic. You can go to Talk Radio Network for more information.
---
BABYLON 5 BIRTHDAYS
Richard Biggs - March 18
Jesus Trevino - March 26
Ed Wasser - March 26

Have I missed anyone? If you know the birthday of someone connected with Babylon 5, pass the information along. We want to include everyone in our Happy Birthday Wishes.
READER BIRTHDAYS
Sometimes you just can't find the e-mail address for someone you know you have -- it's someone who responded to a discussion topic or you met in one of the chat rooms. You'd like to send a personal note, but .... No address!!!!

We've started a White Pages of Zocalo Readers! It's a handy way of keeping track of people -- and putting together a birthday/greeting card list as well. If you would like to be part of the listing, just send me your name, state, e-mail address and (if you'd like to have it listed) birthday (without year) to sgbruckner@aol.com. Check out the Directory of Readers.

Name: Connie Colvin
State: New York
E-mail address: CCB5Flamekeeper@aol.com
Birthday: March 4

Name: Lance Coviello
State: North Carolina
E-mail: EsperFF3@aol.com
Birthday: March 3

Name: Helen Cripe
State: Delaware
E-mail address: cripehl@itrcorporation.com
Birthday: March 2

Name: Melvin Good
State/Country: Cambridge, England, United Kingdom
E mail address melvin-good@lineone.net
Birthday 18 March
FAN CLUBS
We have a number of Fan Clubs listed here at the Zocalo. They are those associated with a particular actor -- and there are those devoted to Babylon 5 or science fiction. Be sure to check out the Clubs Page to see if there is an organization near you.
NEW SCIENCE FICTION MERCHANDISE
BABYLON 5 MERCHANDISE
Are you looking for Babylon 5 merchandise? Would you like to possess some of the wonderful patches or pins sold by the B5 Fan Club? Do you want to put in an order for the latest DVD? Bruce at Uncomyn Gifts still has one of the best collections around. Check out www.uncomyngifts.com. You may just find the magazine or t-shirt or patch you are looking for.
---
SCIENCE FICTION PUBLICATIONS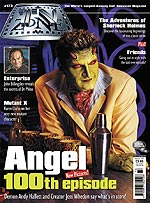 TV Zone #173: Green is his favorite color -- Andy Hallett wears a lot of the color in his role as Lorne in ANGEL. He talks about his life as a demon in this issue. Also included: John Billingsley talks about his role as Dr. Phlox on ENTERPRISE and Karen Cliche gives us some insight into Lexa Pierce on MUTANT X.



Expose Special #24: This special 2003/2004 Yearbook issue presents 88-pages of special material. Sir Ian McKellan reflects on differences between the two Gandalfs and how it feels to see his image on a stamp and coin. This issue also looks at Buffy, Angel, Harry Potter and much more.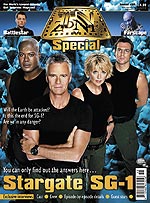 TV Zone Special #55: This issue takes a special look at the Worlds of Stargate. Special attention is given to the second half of season 7 and looks at the changes ahead. Interviews include Richard Dean Anderson, Amanda Tapping, Christopher Judge and Michael Shanks. Looks like a keeper for STARGATE SG-1 fans!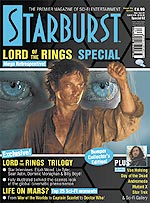 Starburst Special #62: It's all about LORD OF THE RINGS. This special issue brings you continued coverage of the trilogy. Included are interviews with Elijah Wood, Liv Tyler, Sean Astin, Billy Boyd and Dominic Monaghan. Also in this issue, you'll get an insight into VAN HELSING. The magazine talks to the cast and crew, including Hugh Jackman and Kate Keckinsale.






Cult Times #102: ANGEL's Alexis Denisof looks back on over five years as Wesley Wyndam-Price and how his character has evolved from wimp to high-powered executive at Wolfram & Hart. Also in this issue, Steve Bacic talks about ANDROMEDA and his return as Relemachus Rhade and Michael Gross talks about TREMORS - the movies and TV series.
Expose #83: In this issue, we get a look at ALIAS thru the eyes of Agent Weiss - Greg Grunberg. Sean Astin tells us about how LORD OF THE RINGS has been a life-changing experience. Co-producer of CHARMED, Peter Chomsky, looks back over six years of special effects.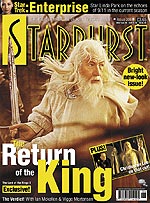 Starburst #306: This 100-page issue is full of exciting interviews -- including Sir Ian McKellen and Viggo Mortensen from LORD OF THE RINGS. Also in this issue, Neil Gaiman talks about his upcoming projects and Linda Park discusses Ensign Sato's story arc on ENTERPRISE.
NEW BOOKS ON THE HORIZON
RAY HARRYHAUSEN: AN ANIMATED LIFE
by Ray Harryhausen & Tony Dalton, with a Foreword by Ray Bradbury Ray Harryhausen is arguably the greatest stop-motion animator in the history of motion pictures, blazing new trails in special effects from the 1950s to the 1980s creating realistic dinosaurs, fantastic aliens, and imaginative mythological creatures. In the animator's own words, accompanied by hundreds of previously unpublished photographs, sketches, and storyboards from his personal archives, this book details Harryhausen's entire career — from 20 Million Miles to Earth and Earth vs. The Flying Saucers, to Clash of the Titans and Jason and the Argonauts. (356/0-8230-8402-7)
HC, 9x11, 304pg, FC..........$50.00 BookCloseOut.com

Ranger Dave writes that books by Bruce Boxleitner, John DE Lancie(Q), and William Shatner are available on Bookcloseouts.com in hard cover. They also now have a paperback listing and book prices are greatly reduced. Check it out.
BABYLON 5 NOVELS
DelRey is reprinting the original Babylon 5 novels. They started with #7 - Jeanne Cavelos' THE SHADOW WITHIN. Here's one I've been waiting for -- Kathryn Drennan's TO DREAM IN THE CITY OF SORROWS. The release date is scheduled for July 29, 2003. I love the new cover art! It can be pre-ordered from www.amazon.com. For those of you who love Babylon 5, this one reads just like an episode from the series. You just can't put it down.




COMIC BOOKS
AMAZING SPIDERMAN
AMAZING SPIDER-MAN #505
Amazing Spider-Man #505 will arrive in stores on Wednesday, March 17 from Marvel Comics. The issue is written by Fiona Avery and J. Michael Straczynski, with art and cover by John Romita Jr.
Here's how Marvel describes the issue:
"A new story arc begins as Peter delves further into the mysterious totemistic origin of his powers when the enigmatic Ezekiel returns! Is he truly Peter¹s mentor and ally, or something much more?"
Amazing Spider-Man #505 will be 32 pages and will cost $2.25.
AMAZING SPIDER-MAN #507

Written by J. Michael Straczynski, cover and pencils by John Romita Jr.
Concluding a 3-part arc, featuring the mysterious Ezekiel!
32 pages, $2.25, in stores on April 28.
AMAZING SPIDER-MAN #508 Written by J. Michael Straczynski, pencils and cover by John Romita Jr. The enigmatic Ezekiel returns to Peter's life. But is he the same man who stood by Spider-Man's side in his hour of need, or will he prove to be something much deadlier? 32 pages, $2.25, in stores on May 26.
Star Trek : The Key Collection Volume 1 The original full-color Star Trek comics reprinted in paperback at last! Star Trek comics debuted in 1967, the same year as the original television series and outlasted the TV version by 10 years. This volume collects the first eight issues of the original Enterprise crew in adventures to be found nowhere else. SC, FC ..........$22.95
SUPREME POWER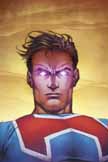 SUPREME POWER #9

Written by J. Michael Straczynski, cover and pencils by Gary Frank.
The world is still shaking from the titanic battle of Hyperion and Dr. Spectrum. Is Earth big enough for two such powerful beings? And who is Power Princess? Find out here!
32 pages, $2.99, in stores on April 7.
SMALLVILLE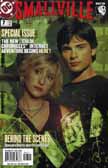 FIRST LOOK: SMALLVILLE #7
Smallville #7 will arrive in stores on Wednesday, March 17 from DC Comics. The issue is written by Clint Carpenter, with art by Tom Derenick, Adam DeKraker, Tom Grummett and Kevin Conrad and a cover by John Van Fleet.
Here's how DC describes the issue:
"A special issue kicking off a 3-month-long cross-media event. The story begins here, continues online, and concludes in May's Smallville #8. In the lead story, Chloe reopens her secret files after gaining information from a fugitive member of Lionel Luthor's Deletion Force...and her investigation leads to new secrets concerning Kryptonite! In the backup, Jonathan and Martha deal with the hazards of raising a super-powered teen. Plus, a report from Christopher James Beppo sheds new light on the enigmatic founder of Smallville."
Smallville #7 will be 48 pages and will cost $3.95.
STARGATE SG-1 CARD SET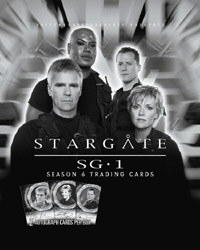 STARGATE SG-1 SEASON 6 CARDS This 72-card set features three cards per episode for each of the 22 in Season 6. Signers include Michael Shanks, Amanda Tapping, Ronnie Cox, John Billingsley, Musetta Vander, Bruce Harwood, Enid Raye-Adams, Jacqueline Samuda, Exec. Producer brad Wright, and more! Look for "Behind the Scenes with Brad Wright" cards, "In the Line of Duty" cards, "Stargate Galley" cards, and more! Also available is the album, custom designed to store the entire collection, including plastic pages, bonus promo card, and a Colonel O'Neill "From the Archives" costume card. 7 cards per pack. 40 packs per box. MSRP: $2.00 per pack.
TV SCHEDULE ON SCIFI CHANNEL
BABYLON 5 and CRUSADE are not currently listed on any SCIFI schedule. Ranger Anne reports that the SciFi Channel has scheduled "The Legend of the Rangers" for April 17, at 9:30 am ET.

STARGATE SCHEDULE:

12-MAR-04 9:00 PM STARGATE SG-1 (LBX) LOST CITY - PT 1
12-MAR-04 11:00 PM STARGATE SG-1 (LBX) LOST CITY - PT 1
19-MAR-04 9:00 PM STARGATE SG-1 (LBX) LOST CITY - PT 2
19-MAR-04 11:00 PM STARGATE SG-1 (LBX) LOST CITY - PT 2
26-MAR-04 9:00 PM STARGATE SG-1 (LBX) EVOLUTION - PT 2
26-MAR-04 11:00 PM STARGATE SG-1 (LBX) EVOLUTION - PT 2 FARSCAPE SCHEDULE:

11-MAR-04 3:00 AM FARSCAPE PICTURE IF YOU WILL
11-MAR-04 4:00 AM FARSCAPE THE WAY WE WEREN'T
11-MAR-04 5:00 AM FARSCAPE HOME ON THE REMAINS
12-MAR-04 11:00 AM DAYTIME ROTATION - FARSCAPE THANKS FOR SHARING
12-MAR-04 12:00 PM DAYTIME ROTATION - FARSCAPE GREEN EYED MONSTER
12-MAR-04 1:00 PM DAYTIME ROTATION - FARSCAPE LOSING TIME
12-MAR-04 2:00 PM DAYTIME ROTATION - FARSCAPE RELATIVITY
12-MAR-04 3:00 PM DAYTIME ROTATION - FARSCAPE INCUBATOR
14-MAR-04 1:00 AM FARSCAPE BAD TIMING
18-MAR-04 3:00 AM FARSCAPE LOOK AT THE PRINCESS - PT 1: A KISS IS BUT A KISS
18-MAR-04 4:00 AM FARSCAPE LOOK AT THE PRINCESS - PT 2: I DO, I THINK
18-MAR-04 5:00 AM FARSCAPE LOOK AT THE PRINCESS - PT 3: THE MALTESE CRICHTON
21-MAR-04 1:00 AM FARSCAPE PREMIERE
25-MAR-04 3:00 AM FARSCAPE OUT OF THEIR MINDS
25-MAR-04 4:00 AM FARSCAPE MY THREE CRICHTONS
25-MAR-04 5:00 AM FARSCAPE BEWARE OF DOG
28-MAR-04 1:00 AM FARSCAPE BACK AND BACK TO THE FUTURE

EARTH: FINAL CONFLICT

11-MAR-04 8:00 AM EARTH: FINAL CONFLICT DEJA VU
12-MAR-04 8:00 AM EARTH: FINAL CONFLICT THE ONCE AND FUTURE WORLD
15-MAR-04 8:00 AM EARTH: FINAL CONFLICT THICKER THAN BLOOD
16-MAR-04 8:00 AM EARTH: FINAL CONFLICT A LITTLE BIT OF HEAVEN
17-MAR-04 8:00 AM EARTH: FINAL CONFLICT PAD'AR
18-MAR-04 8:00 AM EARTH: FINAL CONFLICT IN MEMORY
19-MAR-04 8:00 AM EARTH: FINAL CONFLICT THE CLOISTER
22-MAR-04 8:00 AM EARTH: FINAL CONFLICT INTERVIEW
23-MAR-04 8:00 AM EARTH: FINAL CONFLICT KEEP YOUR ENEMIES CLOSER
24-MAR-04 8:00 AM EARTH: FINAL CONFLICT SUBTERFUGE
25-MAR-04 8:00 AM EARTH: FINAL CONFLICT SCORCHED EARTH
26-MAR-04 8:00 AM EARTH: FINAL CONFLICT SANCTUARY
29-MAR-04 8:00 AM EARTH: FINAL CONFLICT THROUGH YOUR EYES
30-MAR-04 8:00 AM EARTH: FINAL CONFLICT TIME BOMB
31-MAR-04 8:00 AM EARTH: FINAL CONFLICT THE FIELDS
BABYLON 5/CRUSADE PHOTOSHOP PHOTOS







Peter Woodward has sent along a new photo -- a rather dreadful one -- from his appearance on CHARMED. It will be added to the collection of photos available from Peter, including additional copies of the Crusade poster in photo format. Both are autographed by Peter. You do NOT have to pay the prices asked for over at e-bay! Here are photos of B5 and Crusade cast members at fantastic prices. Check out Photo Shop. Ordering is easy -- and you can't beat the prices! Just let me know which photos you want and I'll check to make sure they are still in stock.
---
BABYLON 5 TOONS
John Cook has a wonderful collection of cartoons -- many are take-offs from Babylon 5. Here's just one of them.

He has a cartoon caption contest going on as well. Try your hand at a punch line.

Go to http://contests.sev.com.au/index.php?contestid=1


SCI-FI CARTOONS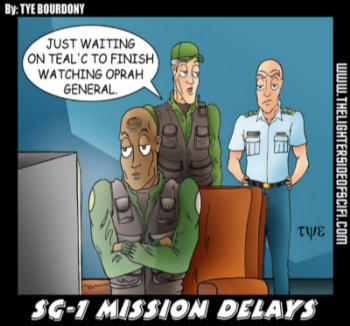 Tye Bourdony's latest Lighter Side of Sci-Fi satire can be seen in the Star Trek Communicator as well as at his website www.thelightersideofscifi.com.



BABYLON 5/CRUSADE CONVENTIONS
CONVENTION UPDATE
CONVENTION CALENDAR
Best of Both Worlds
Date: March 13-14, 2004
Place: Canberra, Australia
Theme: Lord of the Rings
Guests: Dominic Monaghan - Meriadoc "Merry" Brandybuck (The Lord Of The Rings Movie Trilogy)
For more information, visit their website at http://johnvb.tripod.com/asn2.html.
---
Cult TV Expo
Date: March 20-21, 2004
Place: Rosemont, IL
Site: Ramada O'Hare
Guests: Richard Hatch,Anne Lockhart,Sarah Rush,Laurette Spang, Jack Stauffer and Herb Jefferson, Jr.

For more information, visit their website at www.dg-promotions.5u.com/galactica.htm.
---
I-CON 23
Date: March 26-28, 2004
Place: SUNY, Stony Brook Campus
Location: Stony Brook, NY
B5 Guests: Peter Jurasik, Bill Blair
Other Guests: Vaughn Armstrong For more information, visit their website at http://www.iconsf.org.
---
United Fan Con East
Date: March 26-28, 2004
Place: Marriott Hotel
Location: Quincy, MAbr> Guests: Teryl Rothery (Maj. Janet Frasier, STARGATE); Marina Sirtis (Deanna Troi from Star Trek: The Next Generation); more guests to be announced For more information, visit their website at http://www.unitedfancon.com/.
---
Creation Entertainment GRAND SLAM: THE SCI-FI SUMMIT
March 26-28, 2004
Location: Pasadena Center
Place: Pasadena, CA
B5 Guest: Stephen Austin
Guests: William Shatner, Leonard Nimoy, Brent Spiner, Sally Kellerman, Connor Trinneer, Alexander Siddig, Dominic Keating, Anthony Montgomery, Walter Koenig, Andrew Robinson, Armen Shimerman, Kren Auberjonois, Cirroc Lofton, John Rhys-Davies, Amanda Tapping, Michael Shanks, Corin Nemec, Michael Rosenbaum, Mark Verheiden, Anthony Michael Hall, Nicole de Boer, Chris Bruno, John L. Adams, Kristen Dalton, Andy Hallett, Mercedes McNab, Robia La Morte, Iyari Limon, Mark Lutz, James Leary, Julie Benz, Jeremy Bulloch, Kenny Baker, Rusty Goffe, Ken Colley, Peter Mayhew, Leni Parker, Gina Torres

For more information, visit their website at http://www.creationent.com/calendar.htm.
---

Concourse
April 9-12, 2004
Location: The Winter Gardens
Place: Blackpool, UK
Guests: Philip Pullman, Christopher Priest, Danny Flynn, Mitchell Burnside Clapp, Sue Mason

For more information, visit their website at http://www.eastercon.com/concourse.
---

Be sure to visit the referenced sites to see if there have been changes in dates/guests attending. Also visit our Convention Calendar for a full listing of upcoming conventions featuring Babylon 5, Crusade and Legend of the Rangers cast members as guests.
CONVENTION HIGHLIGHTS
Ranger Brian had a blast with Rick, Jason and Jeffrey at the 2BeContinued Convention last week in Indiana. He sent along a picture for everyone to enjoy. Thanks Brian.
If you would like to share your convention experience with your other Zocalo readers, send along a convention report. I will gladly post it for all to read. Got pictures? I'll post those as well.
ZOCALO TRADING POST
Do you have extra copies of B5, Amazing Spiderman, Midnight Nation or Rising Stars comics you'd like to trade? How about those extra trading cards or B5 magazines? There are a lot of fans looking for these items -- and the Trading Post can help you buy or sell them. To see what's available, just use this link to the Trading Post. To have items included in The Trading Post, send a note to The Zocalo. Please put Trading Post in the subject line.
PEN PALS
If you are looking for someone to talk about Babylon 5 and Crusade with, the Pen Pal section is for you! Check it out! Drop a note to someone who is feeling B5 withdrawal -- BIG TIME!

People thought a Pen Pal page was a good idea. If you would like to meet people who you could chat with or share your opinions of the show with, send along your e-mail or snail-mail address The Zocalo. It will be incorporated on the new Pen Page Page.
MAIL FOR CAST AND CREW
Here's a recent note from JMS on the subject:

Just an FYI to those who've been using the Ventura Blvd. mail drop for fan mail to actors....

As mentioned before, we're phasing out the forwarding of fan mail because we a) don't have the resources, complicated by b) the actors have scattered to the four winds, and it makes it very difficult to get everything to everybody in a timely fashion.

So, having provided prior notice...fan mail to actors coming to the Ventura Blvd. mail drop will be sent back. Mail to actors should be sent via their official fan clubs. I will still be taking mail there, since it's my mailbox, but that's it.

Just so's y'all know and save a few bucks on postage and returns.

WARNER BROS:

Warner Bros. Address:

Warner Bros. Domestic Television Distribution
4000 Warner Blvd.
Burbank, CA 91522

Warner Home Video:

Mr. Douglas Wadleigh
VP for Marketing and Special Features
Warner Bros.
4000 Warner Blvd.
Burbank, CA 91522

SCIFI:
Bonnie Hammer, President
Sci-Fi Channel
1230 Avenue of the Americas
New York, NY. 10020-1513

Mr. Thomas Vitale
Senior VP of Acquisitions, Scheduling & Program-Planning
BACK ISSUES OF THE ZOCALO TODAY
The front page of the The Zocalo Today changes daily, so be sure to check the back issues to make sure that you haven't missed anything IMPORTANT! I don't want the front page getting too long so I shift information periodically into the archives. So if you aren't a regular visitor to The Zocalo Today, be sure to check out the back issues. Just use the button above!
---
Take care and I look forward to hearing from you.
Sandra Bruckner (sgbruckner@aol.com)
Editor/Publisher
The Zocalo Today
http://www.isnnews.net
Copyright - SBruckner, 1999-2004