[an error occurred while processing this directive]

The Zocalo Today

Welcome and thank you for dropping by. Take your shoes off, get comfortable and stay a while. There is a LOT of information here and you won't want to miss any of it.

The Zocalo Today is an interactive newsletter, encouraging readers to join a discussion topic or to send along letters that can be shared with other readers.

If you have suggestions as to how The Zocalo can be improved -- or be more responsive in some way -- send those suggestions along. The Zocalo Today is a newsletter for Babylon 5 and science fiction fans everywhere. It is as much YOUR newsletter as it is mine! I'm just pulling together things for you!

Join our discussion topic. It is just one way you can share with other Z readers. If you see Babylon 5 cast and crew in other roles on TV, let us know. We enjoy convention reports, photos, etc. Don't miss our back issues. I hope this will become more than just a newsletter for you. It's a community of people that enjoy sharing their experiences and interests. Babylon 5 brought many of us together -- and it remains with us, despite the fact that is no longer in production. Don't be shy. Join us today!

If you have questions, drop me a line at sgbruckner@aol.com. If you would like to join the mailing list for our newsletter, send me a note and I'll include you on the list. Or you can use the subscription block at the left.

Again, WELCOME!




What's New Today
Saturday, April 3:
DAYLIGHT SAVING TIME: I know quite a number of readers are here in the U.S. where we go through the ritual of changing time twice a year! Well it's that time again -- spring forward an hour and throw your entire biological schedule off! Don't forget to turn your clocks tonight. Otherwise you may just miss something important!
---
TOP SF NETWORK SHOWS:
Joan of Arcadia 6.0
Kingdom Hospital 5.7
Alias 4.7
Wonderfalls 3.1
Charmed 3.0
Smallville 2.6
Enterprise 1.7
Game Over 1.4
Source: Nielsen Galaxy Report, 3/8/04 - 3/14/04.
---
BATTLESTAR GALACTICA: Richard Hatch, Capt. Apollo in the original BATTLESTAR GALACTICA series, is in negotiations to make an appearance on the new series when it premieres on SCIFI. According to Hatch, Moore has cast him in a "Nelson Mandela kind of role," a man that's been a prisoner for 20 years. In the new GALACTICA mini-series it was established that one of the surviving ships in the fleet was the Astral Queen, a prison barge. Hatch's character would be a prisoner on that ship. Hatch expects to shoot the episode, likely the third show of the season, beginning in May. Asked if he would appear on a recurring basis, Hatch responded, "I think the way they set it up is that it's a guest star role that could have a life depending on circumstances. There's been no determination made on that." Battlestar Galactica will debut in early 2005 on SCI FI.
---
DARK SHADOWS: According to the Hollywood Reporter, Blair Brown (Altered States, Space Cowboys) has joined the cast of The WB's upcoming DARK SHADOWS remake. Brown will play Elizabeth Collins Stoddard.
---
THURSDAY NIGHT COMPETITION: The Hollywood Reporter indicates that NBC's "The Apprentice" notched another Nielsen milestone Thursday by beating CBS' "CSI: Crime Scene Investigation" for the first time in the adults 18-49 demographic. "Apprentice" brought in 20.2 million viewers and 9.8 rating/24 share in adults 18-49, which narrowly topped "CSI" (26.4 million, 9.4/23) in the 9 p.m. hour, according to preliminary estimates from Nielsen Media Research. "Apprentice," which is winding down to its two-hour April 15 finale, peaked in its second half-hour at 20.9 million viewers and 10.2/25. The Donald Trump-hosted corporate-jungle reality series also overcame a lead-in disadvantage against "CSI," as NBC started off the night relatively slowly with an 8 p.m. repeat of "Friends" (13.5 million, 5.5/16) and a fresh 8:30 p.m. episode of "Will & Grace" (13.5 million, 5.9/16).
---
WHAT'S ON TONIGHT
8:00pm on UPN
Star Trek: Enterprise
Proving Ground
The Andorian Imperial Guard helps steal the Xindi's superweapon.

On SciFi Tonight:

7:00pm
Merlin
A medieval sorcerer battles evil and seeks love.

On Syndicated TV This Weekend:

Andromeda
The World Turns All Around Her
The Andromeda prepares to make the trip through the Route of Ages to confront the Abyss.

Angel
Spin the Bottle
While Lorne restores Cordelia's memory, all revert to their high-school personas.

Angel
Guise Will Be Guise
Wesley assumes Angel's identity while the vampire is away.

BeastMaster
Mydoro
The Beastmaster must prevent the Eirons' healing crystal from falling into the hands of Voden.

Buffy the Vampire Slayer
Lover's Walk
Dumped by his love, Spike (James Marsters) returns to punish those to blame, especially Angel.

Buffy the Vampire Slayer
Bring On the Night
The gang searches for a way to annihilate the Ubervamp; Giles arrives in Sunnydale.

Sir Arthur Conan Doyle's The Lost World
Under Pressure
Alex, a kobold, takes Roxton, Malone and Veronica prisoner.

Mutant X
The Taking of Crows
When Lexa is unknowingly drugged with a lethal substance, the team races to find the antidote.

The Outer Limits
The Criminal Nature Genetic engineering creates two strains of newborns, one eminent, one deformed and violent.
INSIDE SCI-FI THIS WEEK:
Friday, April 2:
STAR TREK: ENTERPRISE: The road for STAR TREK: ENTERPRISE has been quite bumpy this year, but UPN has given the green-light to a fourth season, but will only give the struggling SF series a 12-episode commitment, according to a rumor on the SyFy Portal Web site. Citing two sources, SyFy Portal added that Enterprise could earn another 12-episode order if the ratings for the initial dozen episodes merit it. The site noted that the retooled ENTERPRISE, bolstered by heightened action and the Xindi arc, has performed reasonably well against such stiff competition. Everyone will wait to see if longime Trek executive producers Rick Berman and Brannon Braga will continue to run the show. A final announcement about the fate of Enterprise is expected within the next two weeks.
---
ANGEL: SPOILER WARNING: The WB has released this description of the April 14 episode of Angel, "Underneath"
"Hoping that Lindsay (guest star Christian Kane) has information on the Senior Partners' ultimate plans, Angel (David Boreanaz), Spike (James Marsters) and Gunn (J. August Richards) track him down in a bizarre and terrifying suburban hell. Meanwhile, a nearly invincible stranger (guest star Adam Baldwin) sent by the Senior Partners, infiltrates Wolfram & Hart looking for Eve (Sarah Thompson)."
Skip Schoolnik directed the episode, which was written by Sarah Fain and Elizabeth Craft.
---
XXX: STATE OF THE UNION: Willem Dafoe has joined the cast of Revolution Studios' sequel XXX: State of the Union, which Lee Tamahori begins filming this summer. Dafoe will play George Deckert, a five-star general and secretary of defense. Tamahori ("Die Another Day") begins production on the film in July, around Los Angeles, Baltimore and Washington, D.C., directing from a script by Simon Kinberg. The movie is scheduled for release on May 13, 2005.
---
HELLBOY: The big news this weekend is the opening of HELLBOY. Ron Perlman is wonderful in the role, according to early reviews. Selma Blair stars as the beautiful, brooding and complicated Liz Sherman in Guillermo del Toro's adaptation of HELLBOY. She talks about working in this feature over at http://www.comingsoon.net/news/featuresnews.php?id=4111.
---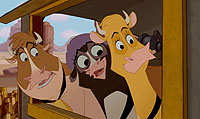 HOME ON THE RANGE: Another film opening this weekend is HOME ON THE RANGE, a Disney animated feature with a lot of well-known voices. In the film, greedy outlaw Alameda Slim (Randy Quaid) schemes to take possession of the "Patch of Heaven" dairy farm. Three determined cows (Roseanne Barr, Dame Judi Dench, and Jennifer Tilly), a karate-kicking stallion named Buck (Cuba Gooding Jr.), and a colorful corral of critters join forces to save the farm in a wild quest full of high-spirited adventure.
---
Thursday, April 1:
TOP 10 SYNDICATED SHOWS:
Stargate SG-1 2.4
She Spies 1.8
Andromeda 1.7
The X-Files 1.7
Mutant X 1.6
Angel 1.4
3rd Rock 1.3
Buffy 1.3
Beastmaster 1.2
The Lost World 1.2
Source: Nielsen Galaxy Report, 3/8/04 - 3/14/04
---
TOP SF DVD SALES:
1. Return of the King
2. The Matrix Revolutions
3. Brother Bear
4. Pirates of the Caribbean
5. The Two Towers extended edition
6. Buffy season six
7. Finding Nemo
8. Babylon 5 season five
9. Rings trilogy set
10. The Point
Source: Amazon.com, top-selling genre DVDs, 3/29/04
It is wonderful to see BABYLON 5 in the top 10 listing. The Season Five DVD goes on sale April 13.
---
SIN CITY: Karen Sisco's star, actress Carla Gugino has joined the cast of Robert Rodriguez's SIN CITY. She will play a lesbian parole officer in the crime noir film. Reportedly Gugino's scenes will involve Bruce Willis and Mickey Rourke. Gugino has worked with director Rodriguez before on the three SPY KIDS movies.
---
WONDER WOMAN: Warner Home Video will release WONDER WOMAN: The Complete First Season on DVD on June 29. The three-disc set is described:
"Meet the United States' secret and most beautiful weapon in the fight against tyranny: Wonder Woman! Season One of Wonder Woman (the Pilot Movie and 13 regular episodes) retains the World War II era of the super heroine's early comic book adventures. Also captured is the exuberant tone of a comic book come to screen life as the warrior princess, empowered by her sense of a woman's worth and by the mysterious substance Feminum that's found only on her remote native isle, battles a succession of Nazi baddies. Former Miss USA Lynda Carter stars as the heroine who hides her identity behind the oversized glasses of a War Department functionary. But when duty and danger call, she transforms. And the wonders never cease."
Special features include audio commentary and the featurette, "Beauty, Brawn and Bulletproof Braclets: A Wonder Woman Restrospective."
---
XXX: STATE OF THE UNION: In the next installment of XXX, Ice Cube replaces Vin Diesel in the lead. Samuel L. Jackson will return as NSA agent Augustus Gibbons in the Lee Tamahori-directed film. Here's some of the highlights:
-The film will begin shooting in mid-July, with locations set to include Los Angeles, Baltimore and the nation's capital.
-Michael Roof will return to the sequel, reprising his role as National Security Agency techie Toby Lee Shavers.
-According to one source, "The sequel will find a new XXX program agent, Darius Stone, embroiled in thwarting a Washington power struggle." That's the first we've seen of Ice Cube's character name.
---
DIE HARD 4: Over at About.com Mark Bomback talks about his current project, the script for DIE HARD 4, tentatively subtitled Die Hardest. Bruce Willis was noncommittal about the project, the article will give you some insight into the functions of the writer in the action franchise.
---
STAR TREK: Marina Sirtis (Deanna Troi in Star Trek: Next Generation), told fans at Boston's United Fan Convention over the weekend that there won't be another Next Gen movie. "It's over. There's not going to be another one," Sirtis said. Sirtis said that NEMESIS should have been a blockbuster, but Paramount should have released the film two months later than it did. She felt that the close proximinity of the release of THE LORD OF THE RINGS: THE TWO TOWERS greatly hurt the box office performance of NEMESIS, and had the movie opened in February, would have been a hit.
---
Wednesday, March 31:
BEST SELLING SF BOOKS:
1. The Da Vinci Code
2. Glorious Appearing (Left Behind)
3. Angels & Demons
4. Song of Susannah (Dark Tower 6)
5. Kiss of the Night
6. Shadowmancer
7. 1634: The Galileo Affair
8. Wicked
9. New Spring (Wheel of Time)
10. King of Foxes
Source: Amazon.com, 3/29/04
---
DEADWOOD: With good ratings and critical reviews, DEADWOOD has earned its spurs early at HBO. The show's second-season renewal was earned after just two episodes on the air. The premium channel has ordered 12 more episodes to begin production in July in anticipation of airing next year.
---
BUFFY: Buffy's Alyson Hannigan has landed a starring role in an as-yet untitled pilot for the coming season. The Untitled Tarses/Wrubel Project, has added Michael Landes (Special Unit) as the male lead. The show revolves around Andrea (Hannigan), an ex-nerd with a carefully, if rather artificially, constructed life that revolves around her job at a Restoration Hardware-type retailer. Her brother, Ben (Landes), disrupts that life when he brings his anti-authority worldview to his new job at the same company.
---
KING KONG: According to Variety, Adrien Brody (The Pianist) is in talks with Universal Pictures to join the cast of Peter Jackson's KING KONG. The Oscar winner has been offered the role of Jack Driscoll, a former World War I fighter pilot who is the love interest for archaeologist Ann Darrow, to be played by Naomi Watts. On Monday, the studio announced that Jack Black will play showman Carl Denham who brings the giant gorilla to New York City from Skull Island. Filling the Driscoll role is the last major casting to be done for the film, adds the trade. In the 1933 original, Driscoll spends much of the film trying to rescue Ann Darrow from Kong after the ape takes a liking to the beauty.
---
MILLION DOLLAR BABY: The Hollywood Reporter writes that Clint Eastwood will next direct, produce and star in MILLION DOLLAR BABY. Hilary Swank and Morgan Freeman are reportedly in talks to star alongside Eastwood. Production is slated to start in June in Los Angeles. Warner Bros. will distribute domestically. The film is a tragic and platonic love story involving a woman in her early 30s who is determined to begin a boxing career and a fighter-turned-trainer. It is based on two short stories from the collection "Rope Burn" by F.X. Toole. Screenwriter Paul Haggis is adapting the stories.
---
BATMAN BEGINS: Get your first glimpse of the new Batmobile at http://batmanbegins.warnerbros.com/page.html.
---
SCI-FI CHANNEL PROGRAMS: Starting on Saturday, a number of miniseries will air on the SciFi Channel. Five parts of Stephen Spielberg's TAKEN will air on Saturday, beginning at 9:00am. This will be followed by Part I and Part II of MERLIN -- at 7 and 9:00pm. Check out http://www.scifi.com/onair/movies/ for the schedule and description of each program.
---
Tuesday, March 30:
TOP SCIFI CHANNEL SHOWS:
Snakehead Terror 1.9
Stargate SG-1 1.7
The Beast, Part 2 1.3
Route 666 1.2
Tripping the Rift 1.1
Stargate 1.1
Day of the Dead 1.1
Night of the Comet 1.1
Dagon 1.0
Return of the Living Dead, Part 3 0.9
Source: Nielsen Galaxy Report, 3/8/04 - 3/14/04.
---
FIREFLY: At last week's Grand Slam convention in Pasadena, FIREFLY star Gina Torres (Zoe) told fans that creator Joss Whedon wants to get ANGEL star David Boreanaz into the upcoming feature-film version of FIREFLY, SERENITY. She also confirmed that Ron Glass (Shepherd Book) will definitely be in the movie.
---
FRANKENSTEIN: Variety reports that former X-FILES executive producer John Shiban has signed on to serve as show runner/executive producer of USA Network's upcoming drama FRANKENSTEIN. Martin Scorsese, author Dean Koontz and Flame TV head Tony Krantz are also executive producers. Koontz wrote the pilot script, which will be directed by Texas Chainsaw Massacre helmer Marcus Nispel. In the update of Mary Shelley's classic SF novel, Parker Posey plays a homicide detective, one of two who uncover the secret of Frankenstein's monster while on a routine investigation. Casting is still under way for the other lead roles.
---
TWO STARS PASS ON: The industry mourns the passing of two giants today. PETER USTINOV has died at age 82. He received an Oscar for his supporting roles in 1960's "Spartacus" and 1965's "Topaki." He wrote many books and spent decades working for UNESCO, the U.N., and UNICEF. He had a rare sense of humor that will be greatly missed.
ALISTAIR COOKE, the broadcaster who epitomized highbrow television as host of "Masterpiece Theater" and whose "Letter from America" was a radio fixture in Britain for 58 years, has died. The BBC reports that Cooke died at his home in New York at midnight. "I have had much enjoyment in doing these talks and hope that some of it has passed over to the listeners, to all of whom I now say thank you for your loyalty and goodbye," Cooke said when he stepped down on the advice of his doctor.
---
HELLBOY: HELLBOY will have its world premiere on Tuesday night at Mann Village in Westwood. Appearing from the film will be Selma Blair, Peter Briggs, Guillermo Del Toro, Rupert Evans, Lawrence Gordon, John Hurt, Doug Jones, Lloyd Levin, Mike Mignola, Patrick Palmer, Ron Perlman, Brian Steele and Jeffrey Tambor. Ron Perlman is scheduled to appear on CBS' The Late Show with Craig Kilborn on Friday, the day the film opens nationally. Jeffrey Tambor is scheduled to appear on the syndicated Live! with Regis and Kelly on Thursday. The film earned a thumb's up and a thumb's down on Ebert & Roeper over the weekend. Roger Ebert approved Perlman's performance, while Richard Roeper said the film ran out of steam after a promising first half.
---
KING KONG: Jack Black has been in cast alongside Naomi Watts in Peter Jackson's remake of KING KONG. Black will play Carl Denham, an adventurer filmmaker who is trying to make a name for himself in 1930s New York. Robert Armstrong played the role in the 1933 original. Watts is playing Ann Darrow, an American actress who makes a living performing in Broadway song and dance shows. The project, which will shoot in Jackson's native New Zealand, is set up at Universal Pictures. "I've been wanting to work with Jack Black ever since I saw him in High Fidelity," said Jackson, who is also writing the remake along with his "Lord of the Rings" co-screenwriters Fran Walsh and Philippa Boyens. "He's a smart and versatile actor blessed with an abundance of energy and charm and I'm absolutely thrilled that he is joining us on 'Kong."'
---
CHASING MONTANA: According to Variety, Michelle Pfeiffer and husband David E. Kelley are teaming up on CHASING MONTANA, a drama written by Kelley set up at Focus Features in which Pfeiffer would topline. Danish helmer Susanne Bier (Open Hearts will direct in the fall. The film was written specifically for his wife Pfeiffer, and follows a father and his daughter (Pfeiffer) - both doctors - whose bucolic Montana vacation becomes a poignant and at times amusing voyage of self discovery.
---
A SCANNER DARKLY: According to Variety, Keanu Reeves is linked to Richard Linklater's next project -- A SCANNER DARKLY, to be set up at Warner Independent Pictures, with Linklater in talks to direct. Linklater wrote the most recent draft of the script. George Clooney and Steven Soderbergh's Section 8 will produce the film, an adaptation of the Philip K. Dick novel. A SCANNER DARKLY will employ the same technology Linklater used in WAKING LIFE. It will be shot live-action, then animated. The story takes place in the future, where undercover agents change their faces along with their identities. Reeves plays one such officer, and his liberal ingestion of the drug Substance D causes him to develop a split personality. Warner Independent is preparing the film for a May start.
---
Monday, March 29:
WEEKEND BOX OFFICE: Scooby-Doo and the Mystery, Inc. took a bite out of the box office this weekend, ringing up an estimated $30.7 million to easily capture the top spot. Warner Bros. Pictures' CG-animated/live-action "Scooby-Doo 2: Monsters Unleashed" opened in 3,312 theaters with the fifth-biggest debut ever in March. Most of the weekend's new arrivals debuted at the high end of what was anticipated. Buena Vista's "The Ladykillers," from filmmakers Joel and Ethan Coen and starring Tom Hanks, opened in the second spot with an estimated $13 million from a moderate 1,583 theaters, averaging a strong $8,212 per venue. The debut for the comedy, a remake of the 1955 film, was the biggest ever for the Coen brothers, topping the $12.5 million garnered by Universal's "Intolerable Cruelty." The long-running "The Passion of the Christ" from Newmarket Films slipped into the third slot with an estimated $12.5 million, down a moderate 36% in its fifth weekend. The blockbuster has picked up an inspired $315 million to date and is expected to play strongly-- and perhaps get a significant boost -- during the upcoming Easter holidays. "Passion" was playing in 14 markets in Latin America -- having debuted in five this weekend -- and was No. 1 in every market, grossing a robust $8.8 million. 20th Century Fox is distributing "Passion" in Latin America and Asia and has reaped an estimated $25.1 million so far. Last weekend's boxoffice champ, Universal's "Dawn of the Dead," dipped a steep 61% with an estimated $10.3 million to land in the fourth spot. The R-rated zombie-fest has collected an estimated $43.9 million in 10 days. Miramax's "Jersey Girl," starring Ben Affleck and Liv Tyler and helmed and written by Kevin Smith, reaped an estimated $8.3 million from 1,520 theaters to place fifth. Fox Searchlight's "Never Die Alone" opening was disappointing. The R-rated thriller, starring DMX, David Arquette and directed by Ernest R. Dickerson, debuted with an estimated $3.1 million and was ranked 11th.
---
X-FILES MOVIE: While promoting his latest project, "Connie and Carla", David Duchovny was asked about the likelihood of an X-FILES movie. To everyone's surprise, he gave a resoundingly positive response. "It's definitely happening", the actor said. "Chris (Carter) has a great idea for the new movie and I expect we'll be able to begin shooting in the next year or so. I think we're going to be introducing a new character in the film which will allow us to cast a major star, male or female, who will want to be part of an exciting supernatural thriller. I think the new movie will appeal to both our core fans and a broad audience. I'm very excited about it."
---
DARK SHADOWS: The Dark Shadows pilot for the WB Network is expected to begin filming during the coming week at various locations in the Los Angeles area. Shooting has been delayed from the original March 22 start date in order to finalize various production matters. Six Dark Shadow scripts also have been ordered for review by the WB. The finished pilot film will be considered for a proposed new weekly series. The WB will make their decision and announce their fall schedule sometime in May. Among the cast members who have been hired are: ALEC NEWMAN (Barnabas), MARLEY SHELTON (Victoria Winters), IVANA MILICEVIC (Angelique), JESSICA CHASTAIN (Carolyn Stoddard), MARTIN DONOVAN (Roger Collins), MATT CZUCHRY (Willie) and ALEXANDER GOULD (David). Others will be confirmed in the week ahead. (Thanks to the Z reader who sent along this information.)
---
Sunday, March 28:
NEWS: Not a lot of new news out this Sunday morning. I am very happy to report that there were a lot of responses to yesterday's new discussion topic in the e-mail newsletter. All of the responses are posted on the Discussion Page. Check it out to see if you agree with your fellow readers.
---
TOY STORY 3: Disney may be testing the water, but Disney Chairman Dick Cook commented this week that he is leaning towards making a TOY STORY 3 movie a reality. "My hunch is big screen," Cook told Reuters. "I think it deserves it. These are two of the most beloved characters in the last generation. Buzz and Woody are fantastic characters, and I think that is something that would fit on the big screen nicely." Since there is no script and no deal in place to reunite the film's voice talent, Disney would have to work out which company would create the new CGI film. Cook also left the door open for Pixar to have a hand in making a third TOY STORY, but with contract negotiations declared over between the two companies, the chances of that occurring would be remote.
---
AUCTION OF NOTE
Alan Zimmerman, who hosted many signings for Michael O'Hare in the early days of Babylon 5, is starting to auction off the contents of his store, Science Fiction, Mysteries and More! Most of the items posted now are paperbacks (some of which have autographs). Many of these books are out of print. Books include science fiction, fantasies, mysteries, spy novels, true crime, romance novels, westerns, action adventure, environmental, political horror, young adult, media tie-ins, new age and the ever popular miscellaneous. Not all categories are in each lot and this is just the first lot more will come. The hardcovers, used and collectibles will be offered latter. Check out the website at www.lotauctions.com . Look for the featured auction. Science Fiction, Mysteries and More. You can bid on a single book or the whole lot.
SAVE THE HUBBLE
The Hubble project is in jeopardy. Please visit http://www.savethehubble.org/petition.jsp and sign the petition to have NASA reconsider funding for the project.
---
DISCUSSION TOPIC
Ranger Gary suggested this topic.
"I thought that because B5 Season 5 DVD set will be released on 4/13 it would be a good time to dicsuss this season. This is definitely the least watched (many have never seen it) as well as the least discussed of the 5 year arc. So, my thoughts are why not ask B5 ers what their favorite new character and story arc that were introduced during this season.

Or an alternative question: Do you feel that many of the Season 5 storylines (such as Lyta's anti-psicorps, G'Kar's need to escape his cult-like status from Narns, Garabaldi's Bestor revenge, etc..) were sufficiently tied up?

Send in your thoughts, comments and ideas to sgbruckner@aol.com. I post them on the Discussion Page for everyone to share. See what has come in so far. If you see an old topic you want to respond to, go right ahead. We enjoy hearing from you.
BABYLON 5 DVDS
SEASON FIVE OF BABYLON 5 - APRIL 13, 2004
Season Five of Babylon 5 comes to stores April 13. Here is a brief description of what will be available on the set:

From the beginning, both were running out of time. The space station that was the last, best hope for peace was sooner or later certain to be eclipsed by new political coalitions and technical advances. And John Sheridan, who guided the massive freeport through its most tumultuous days, knew that his own fate had been inalterably prophesied.

Now both storylines converge in a 22-episode final season (with dazzling Exclusive DVD Extras!) whose events also include Sheridan's attempts to wage peace for the Interstellar Alliance, the tragic fate of the telepaths and the ultimate fireball destruction of the outmoded station after it is declared to be a spaceway navigational hazard. You're cleared for final approach...to Babylon 5.

Features:
Introduction to Wheel of Fire (Season 5 of Babylon 5) by series creator, J. Michael Straczynski
Two audio commentaries by J. Michael Straczynski
Movements of Fire and Shadow commentary by cast members Bruce Boxleitner, Peter Jurasik, Patricia Tallman and Tracy Scoggins
Digital Tomorrow - a featurette about making the special effects for the series
Beyond Babylon 5 - a featurette focusing on the fans, their reactions to the show and available Babylon 5 merchandise
The Universe of Babylon 5 including: Personnel Files, Data Files and Gag Reel
Episode previews
Easter Egg: Marcus Cole: Dead or Frozen
Additional and Extended Scenes
DVD BUYING TIPS
CostCo continues to be my favorite store for DVDs. I picked up the Season 6 DVD of STARGATE SG-1 for $39.95 there on Saturday.

Ranger Dave found JEREMIAH nearly $20 less than Amazon's price at DVDsoon.com. Dave used Brian's suggestion and went to www.dvdpricesearch.net and found STARGATE SG-1 Seasons 1,2,&3 for $32.88 each (including ) tax and free shipping). There is even a coupon for $4 off purchases over $100 from that company. Season 4 was listed at a bit over $40.

I understand from Ranger Judy that all CostCo stores don't have the prices mentioned here. Hope some of the other options given help out.

Ranger Brian sent along a terrific tip for purchasing any DVDs. Go to http://www.dvdpricesearch.net/. You can do a search on any title and it will find the lowest price for you. It includes mailing information as well. Thanks Brian!

Ranger Frank in Seattle indicates that again, CostCo is saving Babylon 5 fans money!
Costco stores have a limited time sale on the Babylon 5 DVD sets. I went into a Costco in the Seattle area today, and they have seasons 1, 2 and 3 for $59.99 each -- about $25 less than Amazon.com, and $40 less than list price, as I recall. Season 4 is $64.99. But the deal is that if you buy Season 4, you get $20 off any one of the other seasons.

Thanks Frank for passing along the info. Other folks should check out CostCo for Babylon 5 and other DVDs. They usually have very competitive prices.
BABYLON 5:
THE COMPLETE FOURTH SEASON Collectible Six-Disc DVD Set Featuring All 22 Episodes
Fully-Loaded with New Bonus Materials
Remastered in Widescreen and Dolby Digital 5.1 Audio
Available January 6 from Warner Home Video I have put together a listing of the episodes and pictures from each episode of Season 4 with a synopsis from the Lurker's Guide. Enjoy. If you have found bargain prices out there on this set, let us know. If you have had problems with the set, here is an address to use to report them: Send any complaints/issues directly to Sherri Bogard at sherri.bogard@warnerbros.com. She handles all DVD problems with "Babylon 5".
STARGATE SG-1

SEASON SIX DVD
Season six of STARGATE SG-1 is now available. Amazon has had this DVD on their top 10 list for weeks. The DVD boasts incredible special effects sequences, rapid-fire pacing and awesome scenes of alien warfare, this all-new five-disc set of Stargate SG-1 is your gateway to pulse-pounding sci-fi action!

Special features include audio commentary for each episode and twelve "SG-1 Directors Series" featurettes!

For more details and to watch the trailer, go to http://www.mgm.com/title_title.do?title_star=XXXSETSTARGAT6.
KEEPING UP WITH CAST AND CREW
CLAUDIA CHRISTIAN: Claudia has landed the lead in a play called WHAT THE NIGHT IS FOR by Michael Weller. At the Laguna Playhouse from 3 April 2004 - 2 May 2004 there will be previews 30 March – 2 April. The play charts the night when two former lovers - both married - meet again for dinner in a hotel bedroom. It's truthful, powerful, and funny, and explores territory many of us have had to face - or chosen to ignore. Reservations can be made on-line by visiting the Laguna Playhouse website and clicking on tickets or calling them at 1-800-946-5556. Thanks Ranger Jim for the information.
Ranger Michael reports that Claudia Christian announced at the London Film and Comic Con she is in a new sci fi film. She got the lead role in Starhyke. For more information, go to www.starhyke.com . Not a lot of information there yet, but more news will be posted soon.
---
STEPHEN AUSTIN: Our favorite Pak'Ma'Ra Ambassador has sent in an update.
"Everything is progressing well towards the production of our first episode of BUENA PARK AFTER DARK. I've been brought on as the Associate Producer of this weekly satirical talk show (think Fernwood Tonight meets Larry Sanders) starring L..A. radio icon and legend (just ask him) Frazer Smith. We're looking to premier in April on the Pax-owned station, KDOC-TV here in the Orange-Los Angeles County Area.
Post production is finally finished on REPTILE RANGERS. This is a film I worked on with J.G. Hertzler, Robert O'Reilly and Aron Eisenberg this past summer." Stephen will keep us posted as to when and where you will be able to see it.

---
SPECIAL CAST ACTIVITY
CRUISE WITH PETER WOODWARD
Peter is considering cruising the Caribbean in January 2005 and wants to invite his fans to join the fun. He would like to see if there is sufficient interest before going too far into planning, so if you would like to receive a brochure about Peter's upcoming cruise once the details are finalized please advise of your: Name:
Postal Address, City, State, Zip:
E-mail address:
Phone number:
Total number of guests in your party:
Age range of the guests including yourself:

Send this information to
Susan Helfrich, Director
Cruise Events LLC
www.CruiseEvents.net
Susan@CruiseEvents.net
800 695 5253 - phone
215 322 0515 - phone
215 355 6664 - fax
Any information you send us will be handled respectfully. This is not a commitment from you, just an indication of interest.
---
JERRY DOYLE RADIO SHOW:
Here's the latest from Jerry:
For the radio show, Talk Radio Network is building a new site and will have jerrydoyle.com up and running soon. It will tie into the talkradionetwork.com site as well.

The M-F show launches this coming Monday(5th), 7-10P PST. The call in number is 800/449-8255. Spread the word and give a call if you've got something to plug. I'll still be doing the Saturday show, 8-11P PST. Same phone number for that too. All the best.

All the best.
JD

For more information on Jerry Doyle, Talk Radio Show Host, you may visit www.talkradionetwork.com
---
BABYLON 5 BIRTHDAYS
Christopher Franke - April 6
Maggie Egan - April 11
Tony Dow - April 13
Warren Takeuchi - April 19
Peter Jurasik - April 25

Have I missed anyone? If you know the birthday of someone connected with Babylon 5, pass the information along. We want to include everyone in our Happy Birthday Wishes.
READER BIRTHDAYS
Sometimes you just can't find the e-mail address for someone you know you have -- it's someone who responded to a discussion topic or you met in one of the chat rooms. You'd like to send a personal note, but .... No address!!!!

We've started a White Pages of Zocalo Readers! It's a handy way of keeping track of people -- and putting together a birthday/greeting card list as well. If you would like to be part of the listing, just send me your name, state, e-mail address and (if you'd like to have it listed) birthday (without year) to sgbruckner@aol.com. Check out the Directory of Readers.
FAN CLUBS
We have a number of Fan Clubs listed here at the Zocalo. They are those associated with a particular actor -- and there are those devoted to Babylon 5 or science fiction. Be sure to check out the Clubs Page to see if there is an organization near you.
NEW SCIENCE FICTION MERCHANDISE
BABYLON 5 MERCHANDISE
Are you looking for Babylon 5 merchandise? Would you like to possess some of the wonderful patches or pins sold by the B5 Fan Club? Do you want to put in an order for the latest DVD? Bruce at Uncomyn Gifts still has one of the best collections around. Check out www.uncomyngifts.com. You may just find the magazine or t-shirt or patch you are looking for.
---
SCIENCE FICTION PUBLICATIONS
Cult Times #103: 24 gets a bit of attention in this month's issue. The magazine looks at what makes the show unique. Also in this issue, CHARMED writer Krista Vernoff talks about including baby Wyatt into the story -- and her reasons for leaving to work on WONDERFALLS. CSI's Robert David Hall talks about being part of the biggest crime drama in the US.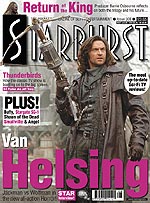 Starburst #308: Hugh Jackman and his latest VAN HELSING takes center stage in this issue. This story has been around for a long time and the magazine takes a look at vampires. This issue has one of the first stories on the upcoming THUNDERBIRDS movie.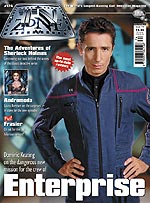 TV Zone #174: Dominic Keating talks about the Xindi arc for STAR TREK: ENTERPRISE. ANDROMEDA's Laura Bertram talks about the radical changes that have affected her Trance character on the show and you'll find a look at HBO's DEADWOOD, a dark, gritty Western.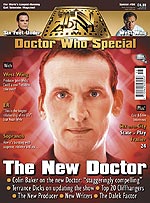 TV Zone Special #56: The big topic in this issue -- the new DOCTOR WHO! Meet Christopher Eccleston and see what qualities he will bring to the role. Also in this issue, Terrance Dicks, writer & and former script editor for DOCTOR WHO, offers some advice for the new production team. Colin Baker played the sixth Doctor and gives you some insights into his memories of the series.




Cult Times Special #29: The theme of this special issue, "Defense of the Realm" -- and we are given profiles of folks like ALIAS' Sydney Bristow, ANGEL's Wesley Wyndam-Price; THE AVENGERSs' John Steed, 24's Jack Bauer and THE MAN FROM UNCLE's Napoleon Solo. Also in this issue, hear from Michael Shanks and Christopher Judge about STARGATE SG-1 and upcoming ATLANTIS.





Expose #84: Harry Potter captures the cover of the latest issue and Daniel Radcliffe provides us with a glimpse of the third movie and what it is like learning the trade from directors with different styles. Also in this issue, Amy Acker talks about her changing role on ANGEL and Orlando Bloom and Liv Tyler look back on the RING saga.





Expose Special #24: This special 2003/2004 Yearbook issue presents 88-pages of special material. Sir Ian McKellan reflects on differences between the two Gandalfs and how it feels to see his image on a stamp and coin. This issue also looks at Buffy, Angel, Harry Potter and much more.
NEW BOOKS ON THE HORIZON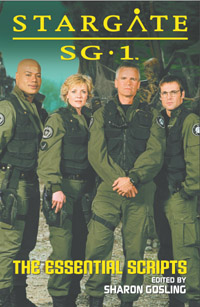 Stargate SG-1: The Essential Scripts TP
by Sharon Gosling

Far more than a script book, this essential Stargate SG-1 series guide is packed with bonus material including an in-depth introduction about writing for the show, deleted scenes, commentary and background, plus exclusive interviews with the writers, directors, and cast members. The following original Stargate SG-1 shooting scripts — complete with annotations — were specially selected for this volume: "2010," "Abyss," "The Fifth Race," "The Torment of Tantalus," "Window of Opportunity," and "Wormhole Xtreme."
(133/1-84023-887-9) (CAUT: 4)
SC, 6x9, 352pg, b&w..........$17.95
RAY HARRYHAUSEN: AN ANIMATED LIFE
by Ray Harryhausen & Tony Dalton, with a Foreword by Ray Bradbury

Ray Harryhausen is arguably the greatest stop-motion animator in the history of motion pictures, blazing new trails in special effects from the 1950s to the 1980s creating realistic dinosaurs, fantastic aliens, and imaginative mythological creatures. In the animator's own words, accompanied by hundreds of previously unpublished photographs, sketches, and storyboards from his personal archives, this book details Harryhausen's entire career — from 20 Million Miles to Earth and Earth vs. The Flying Saucers, to Clash of the Titans and Jason and the Argonauts. (356/0-8230-8402-7)
HC, 9x11, 304pg, FC..........$50.00 BookCloseOut.com

Ranger Dave writes that books by Bruce Boxleitner, John DE Lancie(Q), and William Shatner are available on Bookcloseouts.com in hard cover. They also now have a paperback listing and book prices are greatly reduced. Check it out.
BABYLON 5 NOVELS
DelRey is reprinting the original Babylon 5 novels. They started with #7 - Jeanne Cavelos' THE SHADOW WITHIN. Here's one I've been waiting for -- Kathryn Drennan's TO DREAM IN THE CITY OF SORROWS. The release date is scheduled for July 29, 2003. I love the new cover art! It can be pre-ordered from www.amazon.com. For those of you who love Babylon 5, this one reads just like an episode from the series. You just can't put it down.




COMIC BOOKS
AMAZING SPIDERMAN
AMAZING SPIDER-MAN #506
Amazing Spider-Man #506 will arrive in stores on Wednesday from Marvel Comics. The issue is written by J. Michael Straczynski, with art and cover by John Romita Jr.
Here's how Marvel describes the issue:
"Part one of an arc featuring the mysterious Ezekiel."
Amazing Spider-Man #506 will be 32 pages and will cost $2.25
AMAZING SPIDER-MAN #505
Amazing Spider-Man #505 will arrive in stores on Wednesday, March 17 from Marvel Comics. The issue is written by Fiona Avery and J. Michael Straczynski, with art and cover by John Romita Jr.
Here's how Marvel describes the issue:
"A new story arc begins as Peter delves further into the mysterious totemistic origin of his powers when the enigmatic Ezekiel returns! Is he truly Peter¹s mentor and ally, or something much more?"
Amazing Spider-Man #505 will be 32 pages and will cost $2.25.
AMAZING SPIDER-MAN #507

Written by J. Michael Straczynski, cover and pencils by John Romita Jr.
Concluding a 3-part arc, featuring the mysterious Ezekiel!
32 pages, $2.25, in stores on April 28.
AMAZING SPIDER-MAN #508 Written by J. Michael Straczynski, pencils and cover by John Romita Jr. The enigmatic Ezekiel returns to Peter's life. But is he the same man who stood by Spider-Man's side in his hour of need, or will he prove to be something much deadlier? 32 pages, $2.25, in stores on May 26.
Star Trek : The Key Collection Volume 1 The original full-color Star Trek comics reprinted in paperback at last! Star Trek comics debuted in 1967, the same year as the original television series and outlasted the TV version by 10 years. This volume collects the first eight issues of the original Enterprise crew in adventures to be found nowhere else. SC, FC ..........$22.95
SUPREME POWER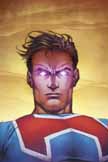 SUPREME POWER #9

Written by J. Michael Straczynski, cover and pencils by Gary Frank.
The world is still shaking from the titanic battle of Hyperion and Dr. Spectrum. Is Earth big enough for two such powerful beings? And who is Power Princess? Find out here!
32 pages, $2.99, in stores on April 7.
TV SCHEDULE ON SCIFI CHANNEL
BABYLON 5 and CRUSADE are not currently listed on any SCIFI schedule. Ranger Anne reports that the SciFi Channel has scheduled "The Legend of the Rangers" for April 17, at 9:30 am ET.

STARGATE SCHEDULE:

04/09/2004 9:00 PM STARGATE SG-1 (LBX) GRACE
04/09/2004 10:00 PM STARGATE SG-1 (LBX) LIFEBOAT
04/09/2004 11:00 PM STARGATE SG-1 (LBX) GRACE
04/09/2004 1:00 AM STARGATE SG-1 (LBX) LIFEBOAT
04/16/2004 9:00 PM STARGATE SG-1 (LBX) FALLOUT
04/16/2004 10:00 PM STARGATE SG-1 (LBX) ENEMY MINE
04/16/2004 11:00 PM STARGATE SG-1 (LBX) FALLOUT
04/16/2004 1:00 AM STARGATE SG-1 (LBX) ENEMY MINE
04/23/2004 9:00 PM STARGATE SG-1 (LBX) CHIMERA
04/23/2004 10:00 PM STARGATE SG-1 (LBX) SPACE RACE
04/23/2004 11:00 PM STARGATE SG-1 (LBX) CHIMERA
04/23/2004 1:00 AM STARGATE SG-1 (LBX) SPACE RACE
04/30/2004 9:00 PM STARGATE SG-1 (LBX) DEATH KNELL
04/30/2004 10:00 PM STARGATE SG-1 (LBX) AVENGER 2.0
04/30/2004 11:00 PM STARGATE SG-1 (LBX) DEATH KNELL
04/30/2004 1:00 AM STARGATE SG-1 (LBX) AVENGER 2.0

FARSCAPE SCHEDULE:

04-APR-04 1:00 AM FARSCAPE EXODUS FROM GENESIS
08-APR-04 5:00 AM FARSCAPE THEY'VE GOT A SECRET
11-APR-04 1:00 AM FARSCAPE THRONE FOR A LOSS
15-APR-04 5:00 AM FARSCAPE TILL THE BLOOD RUNS CLEAR
18-APR-04 1:00 AM FARSCAPE PK TEK GIRL
22-APR-04 5:00 AM FARSCAPE A BUG'S LIFE
25-APR-04 1:00 AM FARSCAPE THANK GOD IT'S FRIDAY AGAIN
29-APR-04 5:00 AM FARSCAPE RHAPSODY IN BLUE

EARTH: FINAL CONFLICT

04/05/2004 8:00 AM EARTH: FINAL CONFLICT ABDUCTION
04/06/2004 8:00 AM EARTH: FINAL CONFLICT ARRIVAL
04/07/2004 8:00 AM EARTH: FINAL CONFLICT THE FORGE OF CREATION
04/08/2004 8:00 AM EARTH: FINAL CONFLICT SINS OF THE FATHER
04/09/2004 8:00 AM EARTH: FINAL CONFLICT FIRST BREATH
04/12/2004 8:00 AM EARTH: FINAL CONFLICT LIMBO
04/13/2004 8:00 AM EARTH: FINAL CONFLICT MOTHERLODE
04/14/2004 8:00 AM EARTH: FINAL CONFLICT TAKE NO PRISONERS
04/15/2004 8:00 AM EARTH: FINAL CONFLICT SECOND WAVE
04/16/2004 8:00 AM EARTH: FINAL CONFLICT ESSENCE
04/19/2004 8:00 AM EARTH: FINAL CONFLICT PHANTOM COMPANION
04/20/2004 8:00 AM EARTH: FINAL CONFLICT DREAM STALKER
04/21/2004 8:00 AM EARTH: FINAL CONFLICT LOST GENERATION
04/22/2004 8:00 AM EARTH: FINAL CONFLICT THE SUMMIT
04/23/2004 8:00 AM EARTH: FINAL CONFLICT DARK MATTER
04/26/2004 8:00 AM EARTH: FINAL CONFLICT KEYS TO THE KINGDOM
04/27/2004 8:00 AM EARTH: FINAL CONFLICT STREET CHASER
04/28/2004 8:00 AM EARTH: FINAL CONFLICT TRAPPED BY TIME
04/29/2004 8:00 AM EARTH: FINAL CONFLICT ATONEMENT
04/30/2004 8:00 AM EARTH: FINAL CONFLICT BLOOD TIES
BABYLON 5/CRUSADE PHOTOSHOP PHOTOS







Peter Woodward has sent along a new photo -- a rather dreadful one -- from his appearance on CHARMED. It will be added to the collection of photos available from Peter, including additional copies of the Crusade poster in photo format. Both are autographed by Peter. You do NOT have to pay the prices asked for over at e-bay! Here are photos of B5 and Crusade cast members at fantastic prices. Check out Photo Shop. Ordering is easy -- and you can't beat the prices! Just let me know which photos you want and I'll check to make sure they are still in stock.
---
BABYLON 5 TOONS
John Cook has a wonderful collection of cartoons -- many are take-offs from Babylon 5. Here's just one of them.

He has a cartoon caption contest going on as well. Try your hand at a punch line.

Go to http://contests.sev.com.au/index.php?contestid=1


SCI-FI CARTOONS
While catching up on my e-mail yesterday morning, I got an instant message from LFMOA along with a nice goodie that I can share with readers. Thanks for sending along your version of Pinky and the B5 Brain.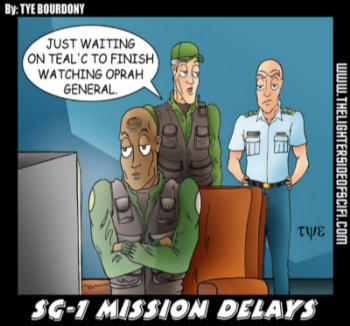 Tye Bourdony's latest Lighter Side of Sci-Fi satire can be seen in the Star Trek Communicator as well as at his website www.thelightersideofscifi.com.





CONVENTION CALENDAR
To be CONtinued
April 9-11, 2004
Place: Rosemont, IL
Location: Radisson O'Hare
B5 Guests: Tim Choate (Zathras), Jeffrey Willerth, and Peter David
Other Guests: Chase Masterson, Max Grodenchick, James Wilson

For more information, visit their website at http://www.2becontinued.
---

Concourse
April 9-12, 2004
Location: The Winter Gardens
Place: Blackpool, UK
Guests: Philip Pullman, Christopher Priest, Danny Flynn, Mitchell Burnside Clapp, Sue Mason

For more information, visit their website at http://www.eastercon.com/concourse.
---

Be sure to visit the referenced sites to see if there have been changes in dates/guests attending. Also visit our Convention Calendar for a full listing of upcoming conventions featuring Babylon 5, Crusade and Legend of the Rangers cast members as guests.
CONVENTION HIGHLIGHTS
Ranger Brian had a blast with Rick, Jason and Jeffrey at the 2BeContinued Convention last week in Indiana. He sent along a picture for everyone to enjoy. Thanks Brian.
If you would like to share your convention experience with your other Zocalo readers, send along a convention report. I will gladly post it for all to read. Got pictures? I'll post those as well.
ZOCALO TRADING POST
Do you have extra copies of B5, Amazing Spiderman, Midnight Nation or Rising Stars comics you'd like to trade? How about those extra trading cards or B5 magazines? There are a lot of fans looking for these items -- and the Trading Post can help you buy or sell them. To see what's available, just use this link to the Trading Post. To have items included in The Trading Post, send a note to The Zocalo. Please put Trading Post in the subject line.
PEN PALS
If you are looking for someone to talk about Babylon 5 and Crusade with, the Pen Pal section is for you! Check it out! Drop a note to someone who is feeling B5 withdrawal -- BIG TIME!

People thought a Pen Pal page was a good idea. If you would like to meet people who you could chat with or share your opinions of the show with, send along your e-mail or snail-mail address The Zocalo. It will be incorporated on the new Pen Page Page.
MAIL FOR CAST AND CREW
Here's a recent note from JMS on the subject:

Just an FYI to those who've been using the Ventura Blvd. mail drop for fan mail to actors....

As mentioned before, we're phasing out the forwarding of fan mail because we a) don't have the resources, complicated by b) the actors have scattered to the four winds, and it makes it very difficult to get everything to everybody in a timely fashion.

So, having provided prior notice...fan mail to actors coming to the Ventura Blvd. mail drop will be sent back. Mail to actors should be sent via their official fan clubs. I will still be taking mail there, since it's my mailbox, but that's it.

Just so's y'all know and save a few bucks on postage and returns.

WARNER BROS:

Warner Bros. Address:

Warner Bros. Domestic Television Distribution
4000 Warner Blvd.
Burbank, CA 91522

Warner Home Video:

Mr. Douglas Wadleigh
VP for Marketing and Special Features
Warner Bros.
4000 Warner Blvd.
Burbank, CA 91522

SCIFI:
Bonnie Hammer, President
Sci-Fi Channel
1230 Avenue of the Americas
New York, NY. 10020-1513

Mr. Thomas Vitale
Senior VP of Acquisitions, Scheduling & Program-Planning
BACK ISSUES OF THE ZOCALO TODAY
The front page of the The Zocalo Today changes daily, so be sure to check the back issues to make sure that you haven't missed anything IMPORTANT! I don't want the front page getting too long so I shift information periodically into the archives. So if you aren't a regular visitor to The Zocalo Today, be sure to check out the back issues. Just use the button above!
---
Take care and I look forward to hearing from you.
Sandra Bruckner (sgbruckner@aol.com)
Editor/Publisher
The Zocalo Today
http://www.isnnews.net
Copyright - SBruckner, 1999-2004