[an error occurred while processing this directive]

The Zocalo Today

Welcome! I am glad that you found The Zocalo Today and dropped by. Take your shoes off, get comfortable and stay a while. There is a LOT of information here and you won't want to miss any of it.

The Zocalo Today is an interactive newsletter, encouraging interaction with readers through a discussion topic each week. If you have suggestions as to how The Zocalo can be improved -- or be more responsive -- send them along. The Zocalo Today is as much YOUR newsletter as it is mine! I'm just pulling together things for you!

Join our weekly discussion topic. It is just one way you can interact with other Z readers. If you have other information you would like to share, send it along. If you see Babylon 5 cast and crew in other roles, let us know. We enjoy convention reports, photos, etc. Don't miss our back issues. I hope this will become more than just a newsletter. It's a community of people that enjoy sharing their experiences and interests. Don't be shy. Join us today!

If you have questions, drop me a line at sgbruckner@aol.com. If you would like to join the mailing list for our bi-weekly newsletter, send me a note and I'll include you on the list. Or you can use the subscription block at the left.

Again, WELCOME!




What's New Today
LAST UPDATE FOR A WHILE: I am off to Vienna, Austria this afternoon, so I won't be able to update the site for a couple of weeks. Great news from JMS to end the month on though -- see below. I can't wait to hear what he has in store for us. Talk to you soon.
---
Saturday, May 1:
TOP SF NETWORK SHOWS:
Alias 5.1
Joan of Arcadia 4.2
Tru Calling 2.9
Kingdom Hospital 2.6
Smallville 2.0
Charmed 1.7
Enterprise 1.3
Source: Nielsen Galaxy Report, 4/5/04 - 4/11/04.
---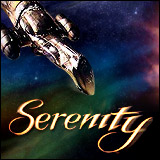 SERENITY: Zoic Studios will handle the visual effects for Joss Whedon's upcoming SF movie SERENITY, based on the TV show FIREFLY, according to The Hollywood Reporter. The Culver City, Calif., F/X house previously handled Whedon's Buffy the Vampire Slayer. Zoic's creative director Loni Peristere will serve as the movie's visual effects supervisor. "Loni Peristere and Zoic constantly expand my concept of what can be done with digital effects," Whedon said. "They're masters of the new technology, but not slaves to it. What they did on my TV show I had never seen in a movie. What they'll do on my movie ... I'm just really excited to be working with these lunatics."
---
STAR WARS TV?: TheForce.net Web site reported a rumor that Lucasfilm will mount a Star Wars television series in 2006, after the last Star Wars movie, EPISODE III, premieres in theaters in May 2005.
---
WHAT'S ON TONIGHT
8:00pm on UPN
Star Trek: Enterprise
The Forgotten
Archer attempts to convince Xindi weapon-designer, Degra, that humanity is not his enemy. CC Stereo 8:00pm on HBO
The Matrix Reloaded
Freedom fighters use extraordinary skills and weaponry to revolt against machines.

9:00pm on UPN
Unexplained Mysteries
UFO Best Evidence
A collection of the most impressive accounts and physical evidence of UFOs.

On SciFi Tonight:

5:00pm
Deadly Invasion: The Killer Bee Nightmare
Killer bees surround the home of a California couple and their three children.

7:00pm
Deadly Swarm
After traveling to a jungle, a man must recover a shipment of deadly wasps lost in a plane crash.

9:00pm
Flying Virus
Passengers aboard a plane fight deadly bees used as biological weapons

On Syndicated TV This Weekend:

Andromeda
A Symmetry of Imperfection
Rommie's connection with the ship's systems severs, leaving it vulnerable to Magog attack.

Angel
Awakening
The gang must secure Angel a moment of pure happiness in order to spur a transformation.

BeastMaster
Legend Reborn
Dar sets out on a journey to discover his true destiny, with Dartanus as his guide.

Buffy the Vampire Slayer
First Date
Buffy's dinner date with Principal Wood ends in a mission to save Xander from his disastrous date.

Sir Arthur Conan Doyle's The Lost World
The Pirate's Curse
The earth moves and the explorers are launched on a wild treasure hunt.

Mutant X
Dream Lover
The team must stop a scientist from cloning women for use as slaves in his club.

The Outer Limits
Patient Zero
A man time-travels to kill the carrier of a plague that will annihilate mankind.

She Spies
Wedding of the Century
The spies must protect a man from assassination on his wedding day, and D.D. develops a crush him.

Stargate SG-1
The Changeling
An experimental procedure may free Teal'C of the need for a symbiote.
INSIDE SCI-FI THIS WEEK:

Thursday, April 29:
TOP SYNDICATED SHOWS:
Andromeda 1.9
Mutant X 1.7
Stargate SG-1 1.7
She Spies 1.5
The X-Files 1.5
3rd Rock 1.4
Buffy 1.3
Angel 1.2
Beastmaster 1.1
The Outer Limits 1.1
Source: Nielsen Galaxy Report, 4/5/04 - 4/11/04
---
3001: Mike McCafferty (SCI FI 's The Invisible Man) has joined the cast of the 20th Century Fox film 3001, starring Luke Wilson and Maya Rudolph. This is a story about a guy and a prostitute who awake 1,000 years in the future.
---
JINX: The Hollywood Reporter confirms that Oscar-winner Charlize Theron is in talks to star in and produce JINX, the film adaptation of Brian Michael Bendis' crime book series. JINX is the name of a female bounty hunter and in Bendis' story, Jinx teams up with a man (named Goldfish) on the run from the law so they can both find the whereabouts to a secret cache of $3 million stashed by the mob. Bendis will write the screenplay for the film based on his comic. The project is set up at Universal Pictures.
---
THE MATRIX: Keanu Reeves has won the Taurus World Stunt Award. The 39-year-old star of "The Matrix Revolutions" will be honored for his work in action films by the World Stunt Association. "Keanu's work with the 'The Matrix' trilogy was some of the best from an actor of his generation, and is a perfect choice for the Taurus Action Movie Star award. He has consistently shown an ability to learn from the stunt teams on his many films and has expressed a genuine interest in the field of stunt work," says TWSA executive producer Gernot Friedhuber.
---
Wednesday, April 28:
TOP SELLING SF BOOKS:
1. The Da Vinci Code
2. Angels & Demons
3. The Confusion (Baroque Cycle)
4. Glorious Appearing (Left Behind)
5. Shadowmancer
6. Harry Potter and the Order of the Phoenix
7. Expanded Psionics Handbook
8. Kiss of the Night
9. The Song of Susannah (Dark Tower 6)
10. Tale of Despereaux
Source: Amazon.com, 4/26/04
---
ENTERPRISE: Connor Trinneer, Trip Tucker from STAR TREK: ENTERPRISE, will take part in a live chat at 2 p.m. PT April 28 at the official Trek Web site. If you can't make the chat but have a question for Tucker, you can send your query off to connorchat@startrek.com.
---
NEW MERCHANDISE: Marvel and AST Sportswear, one of the earliest producers of hip-hop clothing, have entered into a license agreement to co-brand a distinct Marvel branded apparel line of urban streetwear. The collection will include denim, fleece, wovens, varsity and full leather jackets and will feature a wide array of Marvel's proprietary character brands, including Spider-Man, The Punisher, The X-Men, Dr. Doom, Black Panther and Iron Man.
---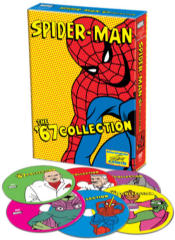 SPIDERMAN DVD: On June 29, Buena Vista Home Entertainment will release "Spider-Man: The '67 Classic Collection". Available on DVD for the first time ever, Spidey's classic 1967 animated adventures are brought together in this amazing DVD box set. The nostalgic six-DVD set brings together all 52 fully restored classic Spider-Man episodes from the original 1967 TV series. It's non-stop action and excitement as Spidey takes on his biggest foes, including Dr. Octopus, The Green Goblin, Mysterio, Rhino, Kingpin, Dr. Magneto, and many more.
---
Tuesday, April 27:
X-MEN 3: While out promoting his latest feature, VAN HELSING, Hugh Jackman, said that a sequel is in the works, but that the story has yet to be locked down. "I know they're in discussions about it," Jackman said. "They're trying to work out schedules and things like that."
---
TRANSYLVANIA: Anticipating the popularity of the upcoming VAN HELSING movie, NBC is developing a spinoff television series called TRANSYLVANIA, set in the universe of the summer movie. Transylvania "is related to the film, [but] it's not the movie for television," producer Bob Ducsay said in an interview. "It's the world of Van Helsing. It takes place in the late 1800s, like Van Helsing, and it takes place in Transylvania. But none of the characters intersect. It's actually a new idea that just takes place in the world [of the movie]." Writer-director of VAN HELSING, Stephen Sommers, said in a separate interview that he got the inspiration for the proposed TV series on the movie's elaborate Prague set. "One day we were just sitting on the set, which [production designer] Allan Cameron had built this fantastic village for, and I'm like, 'I'd hate to tear this down,'" Sommers said. "I mean, it's so fantastic, and I'd hate to bulldoze it. 'We ought to do something with it. Let's do a television show!' And that's when my wheels start spinning." The film features several classic monsters from the Universal Studios film vault, including Frankenstein's monster, Dracula and the Wolf Man. Sommers and Ducsay are executive producing TRANSYLVANIA for NBC, which is in the process of buying Vivendi Universal, the parent company of Universal and SCIFI.COM. NBC had great enthusiasm for Transylvania and brought on board TV veteran David Fury, one of the executive producers of UPN's Buffy the Vampire Slayer, to help out. "I wrote the pilot about five months ago, and NBC got all excited," Sommers said. The network ordered six more episodes and asked Sommers to start writing them right away. But Sommers was still in the middle of making VAN HELSING and told the network, "'Well, um, I've got this movie called VAN HELSING that's kind of big and is taking up a lot of my time, so, ah, no.'" VAN HELSING opens May 7.
---
THE DEAD WILL TELL: According to Variety, CBS has given the green light to THE DEAD WILL TELL, a two-hour supernatural TV movie based on one of self-styled psychic James Van Praagh's beyond-the-grave readings. Anne Heche will star in the follow-up to LIVING WITH THE DEAD, the 2002 CBS miniseries based on a Van Praagh book. Heche will play Emily Parker, who, after getting an antique engagement ring from her fiance, begins to see images of a long-deceased soul named Marie. The TV movie will shoot in New Orleans later this year for broadcast on CBS during the 2004-'05 season. Barbara Lieberman and Van Praagh will executive produce for Barbara Lieberman Productions, in association with Robert Greenwald Productions. Mark Kruger (Tru Calling), Nancy Fichman and Jennifer Hoppe are set to write the script.
---
MISSION: IMPOSSIBLE 3: The Hollywood Reporter reports that Kenneth Branagh is joining Tom Cruise and Carrie-Anne Moss in "MISSION: IMPOSSIBLE 3 for C/W Prods. and Paramount Pictures. Branagh, who recently appeared in a London production of David Mamet's play "Edmund" and the feature film "Five Children and It," has signed on for the spy action-adventure. Although there is an expectation that he will be unmasked as one of the villains, few details were available on the character Branagh will play. Further casting is under way on the sequel, which is due to go into production in late summer. Frank Darabont is penning the script for the third installment of the blockbuster, which Joe Carnahan will direct.
---
SIN CITY: Jessica Alba (Dark Angel) is up for a role in the Dimension's SIN CITY, says The Hollywood Reporter. Shooting is under way in Austin, Texas, on the project, which is being co-written, -directed and -produced by Robert Rodriguez and Frank Miller. Miller wrote the graphic novel series that inspired the film. The film will comprise three intertwining vignettes revolving around a dark set of characters who call the fictional corrupt town home. Alba will star in a section opposite Bruce Willis and Mickey Rourke playing Nancy, a beautiful exotic dancer known as "the sweetheart of Sin City." Word has it that this section of the movie is going to be shot in Black and White.
---
THE VILLAGE: A creepy new trailer has been released by Touchstone Pictures for M. Night Shyamalan's THE VILLAGE. The film, opening July 30, stars Joaquin Phoenix, Sigourney Weaver, Adrien Brody and William Hurt. It's the thrilling tale of an isolated village confronting the astonishing truth that lies just outside its borders. At first glance, this village seems picture perfect, but this close-knit community lives with the frightening knowledge that creatures reside in the surrounding woods. The evil and foreboding force is so unnerving that none dare venture beyond the borders of the village and into the woods. But when curious, headstrong Lucius Hunt plans to step beyond the boundaries of the town and into the unknown, his bold move threatens to forever change the future of the village. Go to http://www.comingsoon.net/movies/v/village.php for the trailer.
---
ANDROMEDA/MUTANT X: IGN Force reports that Canadian producer Fireworks is closing. In an announcement on Friday, Fireworks owners CanWest Global Communications made public its plan to close the doors of the Toronto based producer and sell its library of productions. According to a CanWest spokesman, discussions were underway with a number of interested parties. Fireworks was the primary producer for a number of series, mostly action / adventure shows for the U.S. syndication market. As the demand in the U.S. for such programming has declined over the past few years, Fireworks was faced with rising debt. While there could be potential for the series to continue with another producer, that possibility seems unlikely. Gene Roddenberry's ANDROMEDA was recently part of a large sale to the U.S. Sci-Fi Channel which added the series to its Friday night lineup several weeks ago. A deal for the next season to air exclusively on Sci-Fi may save that series from extinction but the possibility is remote at best. According to a number of industry insiders, Sci-Fi Channel would not have the money required to take up the slack from losing Fireworks as a co-production partner.
---
PETER WOODWARD: I had a nice chat with Peter yesterday. He was planning out his schedule for the year. He will be attending DRAGONCON this year (Labor Day weekend in Atlanta) and is looking forward to the cruise he plans in January (details are below).
---
Monday, April 26:
TOP SCIFI CHANNEL SHOWS:
20,000 Leagues Under Sea 1.5
Stargate SG-1 1.4
Dune, Part 3 1.0
Children of Dune, Part 3 1.0
Tripping the Rift 1.0
Riverworld 1.0
Deepstar Six 1.0
Children of Dune, Part 2 1.0
Andromeda 0.9
Mad Mad House 0.9
Source: Nielsen Galaxy Report, 4/5/04 - 4/11/04
---
WEEKEND BOX OFFICE: Two movies ran neck and neck for gross receipts this weekend. 20th Century Fox's "Man on Fire," starring Denzel Washington and helmed by Tony Scott, and Sony's "13 Going on 30," which marked Jennifer Garner's first starring role -- both finished strong with "Man" winning by a nose. "Man" opened with an estimated $23 million, and "13" had an estimated $22 million. Together the two films set an April record, as there has never been two pictures that grossed or opened to more than $20 million each on the same weekend during the month. Last weekend's boxoffice champ, Miramax's "Kill Bill-Vol. 2" from director Quentin Tarantino, was down a sharp 59% from its debut, slashing its way to an estimated $10.4 million to take the third spot. The Uma Thurman starrer has kicked up an estimated $43 million in 10 days, which is nearly identical to the first 10 days of "Bill 1." Lions Gate's "The Punisher" brought up the fourth slot with an estimated $6.1 million, slipping a steep 56% from its opening. The Marvel Comics character has gleaned an estimated $24 million in 10 days. Buena Vista's animated "Home on the Range" laid an estimated $3.5 million on its fourth week. The family friendly farm-set film has feathered its nest with an estimated $42.5 million to date. Fox Searchlight's "Johnson Family Vacation" grossed an estimated $3.15 million from just 1,259 theaters on its telling third session to place sixth. The Cedric the Entertainer starrer from Hallway Pictures has picked up around $25.1 million so far.
---
ELEKTRA: According to the Hollywood Reporter, Goran Visnjic, who starred as the title character in last week's USA Network movie special "Spartacus," is in negotiations to star as the male lead opposite Jennifer Garner in "Elektra" for helmer Rob Bowman. The "Daredevil" spinoff from Regency Enterprises/20th Century Fox is due to start lensing in early May in Vancouver. Garner reprises her role as Elektra Natchios, a beautiful and deadly assassin who was trained by the Hand, a clan of mystical ninjas. When she turns her back on them, they want her dead. Elektra is assigned to kill Visnjic's character by the Hand over something his grandfather did; however, she ends up falling for him. Terence Stamp rounds out the cast. Producing are Marvel's Avi Arad and Horseshoe Bay partners Mark Steven Johnson and Gary Foster. Visnjic heads to Vancouver after wrapping up duties on "ER." After the film is finished, he will return to Los Angeles to tape his final season on the NBC medical drama.
---
MUTANT X: Although Tribune Entertainment had previously announced a fourth season pick-up for MUTANT X, a representative stated the show's fate hasn't been formally decided yet. Karen Cliche, who plays Lexa Pierce, earlier this week posted on her web site that the show was over. Cliche said:
"Just thought I would be the first to let you know before it has been officially announced that Mutant X is canceled. We are all very sad. Don't know when they will make it official, but we have (the cast) been advised that we aren't going (for) another season. We are all now trying to go on with our lives and careers, and who knows? This could be an opening of wonderful opportunities for many people. Always look at the bright side!"
The third season of Mutant X will end next month with a cliffhanger.
---
BOND 21: Rumors are everywhere about the latest James Bond film. Slated for an early 2005 production and November 2005 release, you hear anything from a new "Thunderball" remake to James Bond being played by anyone from Mel Gibson to Heath Ledger to Orlando Bloom to Evan McGregor. Pierce Brosnan seems to want to come back for a remake of "Casino Royale" if Quentin Tarintino directs it. I guess time will tell who will take on the mantle of 007 next.
---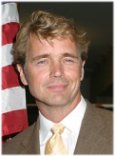 SMALLVILLE: John Schneider is scheduled to appear on The Wayne Brady Show this coming Tuesday, April 27. John is probably promoting his miniseries, 10.5, which will premiere next week on NBC. He will most likely mention his directorial debut in SMALLVILLE with next week's episode titled "Talisman."
---
Sunday, April 25:
JOHN DOE: For those of us who loved DOminic Purcell in JOHN DOE, news from the Hollywood Reporter indicates that Fox Broadcasting Co. has signed a talent holding deal with him. The deal will keep Purcell as a candidate for an unspecified Fox series role through next year.
---
TRAVEL PLANS: I will be off to Vienna, Austria this coming weekend to teach some classes. I'll return mid-May. While I'm away, I won't have a chance to update the page, but will be checking my mail as I have a chance.
---
Saturday, April 24:
TOP NETWORK SF PROGRAMS:
Joan of Arcadia 6.1
Century City 5.2
Kingdom Hospital 3.5
Tru Calling 3.4
Wonderfalls 2.0
Charmed 2.0
Smallville 2.0
Enterprise 1.5
Game Over 0.9
Source: Nielsen Galaxy Report, 3/29/04 - 4/4/04.
---
THE FOUNTAIN: While out promoting his latest film, VAN HELSING, Hugh Jackman confirmed that he will have a major role in Darren Aronofsky's SF epic movie THE FOUNTAIN. "I play three characters, and it's basically about the search for the Fountain of Youth." Jackman had high praise for writer/director Aronofsky (Requiem for a Dream). "It is really an extraordinary [film]," he said. "I think Darren could become, in the final analysis, another Kubrick. I think he's an amazing director, and he's written a script that is just phenomenal. I'm honored to be a part of it, I really am; I'm very excited about it." The movie was also delayed for a year when co-star Cate Blanchett got pregnant. A number of actors have been associated with the movie, including Brad Pitt.
---
HELLBOY: HELLBOY's leading man, Ron Perlman, has been cast in the indie movie COLDWATER. Perlman plays Morris Timberland, a harsh youth center leader known to his charges as "The Colonel". He oversees a detention facility for young offenders. The project was written by Vincent Grashaw and Mark Penney and draws inspiration from the tough environments of youth boot camps, places where the punishment can exceed the crime. Music video director Sean Michael Beyer is behind the camera and filming kicks off on June 1.
---
MILLENIUM: July 20 has finally been selected as the Regiona 1 street date for the first season of Chris Carter's MILLENNIUM. This thriller debuted on Fox in 1996 and contained storylines that were even darker than Carter's other creation, THE X-FILES. MILLENNIUM went on for three seasons before being cancelled by the network. The show starred Lance Henriksen as Frank Black, an ex-FBI serial killer profiler who was recruited by a clandestine organization known as the Millennium Group. Black's abilities to "see" into the minds of killers made him a valuable addition to the team but left him unsettled about where society might be headed. Eventually Black began to suspect the Millennium Group of holding secrets and a belief that some kind of apocalyptic event would be shortly happening, and that the crimes Black and the other Millennium operatives investigated were signs of the coming end of the world. The DVD set will contain six discs featuring all 22 episodes from the show's first season. Each of the episodes will be presented in 1.33:1 full-screen format with English, Franch and Spanish Dolby Surround sound. TV promo spots for all 22 episodes will also be included. Bonus features include a commentary by series creator Chris Carter on the pilot episode; a commentary by director David Nutter on "Gehenna"; and a commentary on "The Judge" (with unspecified individuals.) Three featurettes are also in the set: "Order in Chaos: Making MILLENNIUM Season One"; "The Academy Group"; and "Main Title Design". As well, trailers for several Fox DVDs will be bundled on the set including ones for PREDATOR: SPECIAL EDITION and the X-FILES season sets.
---
HOVER CAR RACER: SMALLVILLE's executive producers Alfred Gough and Miles Millar have taken on the sci-fi/actioner HOVER CAR RACER for the big screen.
---
JMS UPDATE
I know I've been absent for a while now, but there are reasons, especially in regards to B5:TMoS. In a project of this nature, and this size, there's stage one (let's do this) stage two (let's make everybody's deal) and stage three (making it). We're hip-deep in stage two just now, and it's taking a freaking long amount of time to get through it all. Stage two is also the most unnerving and nerve-wracking stage when there's a lot of money involved, as there is in this situation.

So every day is a case of "Are we there yet?" and being told yes...almost.

I swear, it's the kind of thing that could lead a monk to murder.

Thing of it is...there's a LOT happening right now in the B5 universe, on a multitude of fronts, some of it in response to TMoS, some of it coming up completely on its own. All I can say at this moment is that if you've been waiting for new stuff in the B5 universe, you may be getting your wish in spades very soon.

Soon, I promise, all will be made clear. I don't like being Mr. Mysterioso on this, but if I say too much, the-powers-that-be will use my head to make a 2.35:1 sized hole in the wall.

More of this update is at JMS Speaks.
RANGER SIGHTING
Ranger Anita sent in the following report:

Daniel Dae Kim (Lt. Matheson from CRUSADE) was in this week's episode of "24" playing Agent Baker, the same role he had on a few episodes last season. He made it through the episode in one piece, so maybe he'll return!

Andrea Thompson has also been in a few episodes of 24 this season as a doctor/scientist who specializes in viruses and biological agents.

Ranger Neil reports that Wayne Alexander (Jack, Lorien and a ton of other B5 characters) was spotted in a recent Ditech commercial. He portrays an optician working on the "Bank's Loan Officer". Thanks for the sighting report.
SEASON 5 BABYLON 5 DVD ON SALE NOW
Materials are arriving from Warner Bros. and will be posted shortly related to the release of the Season 5 DVD for Babylon 5.

For the press release, which includes all the details for the DVD set, go to Babylon Season 5 DVD page.
NEW MAGAZINE - PYR
Ranger John passed along this information related to a name from the B5 past! Lou Anders was the on-site reporter for the Babylon 5 magazine from Titan and later managing editor at Bookface.com. Lou, good luck in your latest endeavor.

FOR IMMEDIATE RELEASE
April 19, 2004
FOR MORE INFORMATION CONTACT:
Jill Maxick, Director of Publicity, Prometheus Books
800-853-7545, jmaxick@prometheusbooks.com
or Lou Anders, Senior Editor/Editorial Director, Pyr
Landers@prometheusbooks.com

Prometheus Books Introduces Science Fiction/Fantasy Imprint
Pyr Poised to Set the Science Fiction World on Fire

Prometheus Books is proud to announce the launch of Pyr, a new science fiction and fantasy imprint, with titles anticipated in Spring 2005. Prometheus Books is entering its thirty-fifth year of successful independent publishing; since 1969, Prometheus has been a leader in publishing books for the scientific, professional, library, educational, popular and consumer markets.

For founder Paul Kurtz, the progression from popular science nonfiction to science fiction and fantasy is a natural one.

Science and science fiction have a long history of mutual inspiration and admiration that stretches back at least as far as the 19th Century, says Kurtz, Science fiction is vital for the human person. It feeds the mind, the heart, and the creative imagination. At its best, it can inspire positive images of the future.

Prometheus Books took its name from the courageous Greek god who gave fire to humans, lighting the way to reason, intelligence, and independence. Pyr, the Greek word for fire, continues this connection to fire and the liveliness of imagination.

Prometheus Books has tested the waters of science fiction before, most notably with the well-reviewed Nothing Sacred (2004) and its prequel, Galactic Rapture (2000), by Tom Flynn. Launching a dedicated imprint proves the commitment Prometheus Books is making to the genre.

Lou Anders has been named Editorial Director of Pyr. Anders joins Prometheus with over nine years of experience in science fiction and fantasy entertainment and media. He is the editor of four anthologies, including Live Without a Net (Roc, July 2003) and has published over 500 magazine articles. Previously, Anders was Executive Editor of online publishing site Bookface.com and the Los Angeles Liaison for Titan Publishing Group. Currently, he serves as the Senior Editor of Argosy Magazine.

The challenge of developing a new imprint from the ground up with its own identity yet one that complements Prometheus is an exciting prospect, notes Anders. Since the start of the new millennium, we've been seeing a renaissance of speculative fiction. With Pyr, we'll be looking to create science fiction for the Next Age.
WRITING OPPORTUNITY
I received a note from Bob Furnell, publisher of a fan magazine called TELLYVISION dedicated to American, British and Canadian television. He writes:

I'm looking for individuals who might be interested in writing articles for the magazine on any aspect of "Babylon 5, Crusade" or any other tv show that your interested in.

As its a fan magazine, unfortunately we aren't able to pay you for contributing, but what we are able to offer contributors, is a place to have your material published, a chance to have that material exposed to an audience in Canada, the US and the UK, and a free contributors copy of the issue that your article appears in. Plus, if you run a TV-related website, I'm even willing to give your site a plug in the magazine.

So if you're interested in writing for the magazine, I would love to welcome new contributors/writers on board. You can visit the magazine's official site at: http://www.tellyvision.tvheaven.com, and I can also be contacted by email through the site too.

Thanks for letting me take a few minutes of your time.

Cheers,
Bob
Editor/Publisher
BOOK REVIEWS
Here is a new feature for your enjoyment. I received some new book reviews that I've posted on a separate Book Review Page. Let me know if you enjoy this new feature -- and we'll continue to offer them as they are received. Agree with the review? Disagree? We can post those as well.
SAVE THE HUBBLE
The Hubble project is in jeopardy. Please visit http://www.savethehubble.org/petition.jsp and sign the petition to have NASA reconsider funding for the project.
---
DISCUSSION TOPIC
Here is a great discussion topic suggested by Ranger Anne. What would you like to see as a future JMS/B5 movie? To start things off, here are her suggestions:

If I had my way, I'd turn Kathryn Drennan's novel "To Dream in the City of Sorrows" into a movie. I think it would be fascinating to see how frustrated Sinclair felt at not being able to function as an Ambassador; the verbal showdown between him & Neroon before the Council of Caste Elders. I'd especially like to see Sinclair getting into the role of Anla'shok Na (&Entil'Zha), his reunion with Catherine Sakai and the mission in Sector 14.

If not, I'd like to see Valen & the Great War. How Valen established the Rangers, the Grey Council and marshaled the forces of light against the Shadows. Besides I haven't been able to see "War Without End" yet but would like to see Michael O'Hare as a Minbari.

My third option is to see the development of the Interstellar Alliance, Sheridan & Delenn's relationship balanced with their duties as the ISA's "First Couple." I'd also include more of how the Rangers' traditional duties expanded during this time.

Wow, that should give you something to think about! Send in your thoughts, comments and ideas to sgbruckner@aol.com. I post them on the Discussion Page for everyone to share. See what has come in so far. If you see an old topic you want to respond to, go right ahead. We enjoy hearing from you.
DVD BUYING TIPS
CostCo continues to be my favorite store for DVDs. I picked up the Season 6 DVD of STARGATE SG-1 for $39.95 there on Saturday.

Ranger Dave found JEREMIAH nearly $20 less than Amazon's price at DVDsoon.com. Dave used Brian's suggestion and went to www.dvdpricesearch.net and found STARGATE SG-1 Seasons 1,2,&3 for $32.88 each (including ) tax and free shipping). There is even a coupon for $4 off purchases over $100 from that company. Season 4 was listed at a bit over $40.

I understand from Ranger Judy that all CostCo stores don't have the prices mentioned here. Hope some of the other options given help out.

Ranger Brian sent along a terrific tip for purchasing any DVDs. Go to http://www.dvdpricesearch.net/. You can do a search on any title and it will find the lowest price for you. It includes mailing information as well. Thanks Brian!

Ranger Frank in Seattle indicates that again, CostCo is saving Babylon 5 fans money!
Costco stores have a limited time sale on the Babylon 5 DVD sets. I went into a Costco in the Seattle area today, and they have seasons 1, 2 and 3 for $59.99 each -- about $25 less than Amazon.com, and $40 less than list price, as I recall. Season 4 is $64.99. But the deal is that if you buy Season 4, you get $20 off any one of the other seasons.

Thanks Frank for passing along the info. Other folks should check out CostCo for Babylon 5 and other DVDs. They usually have very competitive prices.
BABYLON 5:
THE COMPLETE FOURTH SEASON Collectible Six-Disc DVD Set Featuring All 22 Episodes
Fully-Loaded with New Bonus Materials
Remastered in Widescreen and Dolby Digital 5.1 Audio
Available January 6 from Warner Home Video I have put together a listing of the episodes and pictures from each episode of Season 4 with a synopsis from the Lurker's Guide. Enjoy. If you have found bargain prices out there on this set, let us know. If you have had problems with the set, here is an address to use to report them: Send any complaints/issues directly to Sherri Bogard at sherri.bogard@warnerbros.com. She handles all DVD problems with "Babylon 5".
STARGATE SG-1

SEASON SIX DVD
Season six of STARGATE SG-1 is now available. Amazon has had this DVD on their top 10 list for weeks. The DVD boasts incredible special effects sequences, rapid-fire pacing and awesome scenes of alien warfare, this all-new five-disc set of Stargate SG-1 is your gateway to pulse-pounding sci-fi action!

Special features include audio commentary for each episode and twelve "SG-1 Directors Series" featurettes!

For more details and to watch the trailer, go to http://www.mgm.com/title_title.do?title_star=XXXSETSTARGAT6.
KEEPING UP WITH CAST AND CREW
ROBIN ATKIN DOWNES: KEN FOREE: Ken (Pvt. Thurow in B5's Gropos episode) and Michael Berryman recently joined the cast of THE DEVIL'S REJECTS, which centers on a band of bounty hunters led by Sheriff Wydell's brother who is fueled by revenge when he finds out that his kin was slain by the Firefly family. The film will pick up shortly after HOUSE OF 1000 CORPSES with the Firefly clan going on the road after their house is burned down and a few family members have been gunned down during a police raid.
---
ALEX ZAHARA: Alex (Tulann from Crusade) has been a guest on STARGATE SG-1 for years. He has played a number of characters and he chatted with fans over at the Gateworld website in early April. For a transcript of the chat, go to http://www.gateworld.net/sg1/index.shtml.
---
BRUCE MCGILL: Bruce McGill (Major Ryan in SEVERED DREAMS) will star in Universal and Miramax's CINDERELLA MAN, directed by Ron Howard. He will play a boxing promoter who is instrumental in guiding the career of Russell Crowe's title character. McGill next can be seen in DreamWorks' COLLATERAL opposite Tom Cruise as well as SLOW BURN with Ray Liotta.
---
DANIEL DAE KIM: Daniel (Lt. Matheson from CRUSADE) has landed a role in the upcoming series PARTY OF FIVE, being produced by J.J. Abrams from ALIAS.
---
CLAUDIA CHRISTIAN: Claudia has landed the lead in a play called WHAT THE NIGHT IS FOR by Michael Weller. At the Laguna Playhouse from 3 April 2004 - 2 May 2004. The play charts the night when two former lovers - both married - meet again for dinner in a hotel bedroom. It's truthful, powerful, and funny, and explores territory many of us have had to face - or chosen to ignore. Reservations can be made on-line by visiting the Laguna Playhouse website and clicking on tickets or calling them at 1-800-946-5556. Thanks Ranger Jim for the information.
Ranger Michael reports that Claudia Christian announced at the London Film and Comic Con she is in a new sci fi film. She got the lead role in Starhyke. For more information, go to www.starhyke.com . Not a lot of information there yet, but more news will be posted soon.
---
SPECIAL CAST ACTIVITY
CRUISE WITH PETER WOODWARD
Peter is considering cruising the Caribbean in January 2005 and wants to invite his fans to join the fun. He would like to see if there is sufficient interest before going too far into planning, so if you would like to receive a brochure about Peter's upcoming cruise once the details are finalized please advise of your: Name:
Postal Address, City, State, Zip:
E-mail address:
Phone number:
Total number of guests in your party:
Age range of the guests including yourself:

Send this information to
Susan Helfrich, Director
Cruise Events LLC
www.CruiseEvents.net
Susan@CruiseEvents.net
800 695 5253 - phone
215 322 0515 - phone
215 355 6664 - fax
Any information you send us will be handled respectfully. This is not a commitment from you, just an indication of interest.
---
JERRY DOYLE RADIO SHOW:
Here's the latest from Jerry:
For the radio show, Talk Radio Network is building a new site and will have jerrydoyle.com up and running soon. It will tie into the talkradionetwork.com site as well.

The M-F show launches this coming Monday(5th), 7-10P PST. The call in number is 800/449-8255. Spread the word and give a call if you've got something to plug. I'll still be doing the Saturday show, 8-11P PST. Same phone number for that too. All the best.

All the best.
JD

For more information on Jerry Doyle, Talk Radio Show Host, you may visit www.talkradionetwork.com
---
BABYLON 5 BIRTHDAYS
Theodore Bikel - May 2
Michael O'Hare - May 6
Stephen Furst - May 8
Melissa Gilbert-Boxleitner - May 8
Bruce Boxleitner - May 12
Andreas Katsulas - May 18
Andrea Thompson - May 22
Doug Wise - May 21
Douglas Netter - May 23
Paul Winfield - May 22
Roy Dotrice - May 26
Harlan Ellison - May 27

Have I missed anyone? If you know the birthday of someone connected with Babylon 5, pass the information along. We want to include everyone in our Happy Birthday Wishes.
READER BIRTHDAYS
Sometimes you just can't find the e-mail address for someone you know you have -- it's someone who responded to a discussion topic or you met in one of the chat rooms. You'd like to send a personal note, but .... No address!!!!

We've started a White Pages of Zocalo Readers! It's a handy way of keeping track of people -- and putting together a birthday/greeting card list as well. If you would like to be part of the listing, just send me your name, state, e-mail address and (if you'd like to have it listed) birthday (without year) to sgbruckner@aol.com. Check out the Directory of Readers.
FAN CLUBS
Intergalactic Consortium
Intergalactic Consortium, a new Science Fiction / Fantasy group based in Toronto, Ontario, Canada has been formed. The group is focussed on discussing popular Science Fiction / Fantasy movies, TV shows, books, trends and anything else under the sun (or any other star for that matter). As a member you will be able to discuss Science Fiction / Fantasy of today, yesteryear and tomorrow and have lots of fun making new friends with similar interests. There is at least one regular meeting @ 4:00 pm on the last Saturday of every month. . They are always looking for new members anywhere in Toronto and or surrounding area. It does not cost anything to participate. If you require more information, have any questions, or anything else please feel free to e- mail them at torsf@yahoo.ca. They hope to hear from some of you.
United Federated Planets
Ranger Anne reports that in January, another chapter was added to the fold... EAS Winter Wolf (in Texas). For more information, go to their site at http://www.ufphq.com/chain_of_command.htm. You will find a great deal of interest in Babylon 5 -- with position currently available on the sector staff--EarthDome, EarthForce and the Alliance. Check it out.
STAR TREK CLUB VENEZUELA
Ranger Andres dropped a note to say that a new club has been formed -- Star Trek Club Venezuela. It is small right now, but they are ready for recomendations, opinions, and/or any other comments. They are plannig our first expocon at the end of the year, into the facilities of Humboldt Planetarium in Caracas. Visit their site at www.trekvenezuela.net.
We have a number of Fan Clubs listed here at the Zocalo. They are those associated with a particular actor -- and there are those devoted to Babylon 5 or science fiction. Be sure to check out the Clubs Page to see if there is an organization near you.
NEW SCIENCE FICTION MERCHANDISE
BABYLON 5 MERCHANDISE
Are you looking for Babylon 5 merchandise? Would you like to possess some of the wonderful patches or pins sold by the B5 Fan Club? Do you want to put in an order for the latest DVD? Bruce at Uncomyn Gifts still has one of the best collections around. Check out www.uncomyngifts.com. You may just find the magazine or t-shirt or patch you are looking for.
---
SCIENCE FICTION PUBLICATIONS
Cult Times #104: SMALLVILLE star Tom Welling is the focus of this issue. The interview focuses on the latest changes in the life of Clark Kent and how it may affect the relationship with Lex Luthor. Also in this issue -- Amy Acker, J. August Richards and Andy Hallett talk about the cancellation of ANGEL.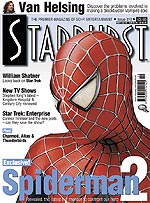 Starburst #310: SPIDER-MAN 2 will be upon us soon and the magazine takes us for a look at the new menace, Doc Ock, Alfred Molina. Also in this issue, producer Bob Ducsay talks about dealing with famous monsters in VAN HELSING and William Shatner talks about James T. Kirk, movies, legends and a lot of other things.
Expose #85: This issue is full of ANGEL interviews. James Marsters and David Boreanaz discuss Spike and Angel's rivalry; Sarah Thompson looks at Eve from Wolfram & Hart and producer Steven S. DeKnight talks about the shocking cancellation. Also in this issue Richard Roxburgh gives insight into becoming Dracula for VAN HELSING and Cary Elwes tells us about his role as the villain in ELLA ENCHANTED.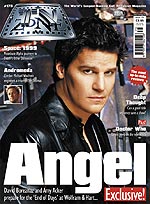 TV Zone #175: ANGEL star David Boreanaz talks about the big changes undergone by the characters in ANGEL's Season Five, his directorial début on the show, and his work on upcoming movie The Crow: Wicked Prayer. ANDROMEDA's Gordon Michael Woolvett tells us about his latest season playing fix-anything engineer Seamus Zelazny Harper, and about making his writing début on the show.
Expose Special #25: CHARMED is the focus of attention in this issue. Alyssa Milano, Holly Marie Combs and Paige McGowan look ahead to a seventh season. Others featured in the issue include co-star Dorian Gregory and producer Brad Kern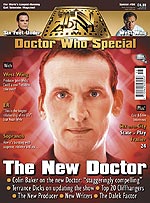 TV Zone Special #56: The big topic in this issue -- the new DOCTOR WHO! Meet Christopher Eccleston and see what qualities he will bring to the role. Also in this issue, Terrance Dicks, writer & and former script editor for DOCTOR WHO, offers some advice for the new production team. Colin Baker played the sixth Doctor and gives you some insights into his memories of the series.




Cult Times Special #29: The theme of this special issue, "Defense of the Realm" -- and we are given profiles of folks like ALIAS' Sydney Bristow, ANGEL's Wesley Wyndam-Price; THE AVENGERSs' John Steed, 24's Jack Bauer and THE MAN FROM UNCLE's Napoleon Solo. Also in this issue, hear from Michael Shanks and Christopher Judge about STARGATE SG-1 and upcoming ATLANTIS.





NEW BOOKS ON THE HORIZON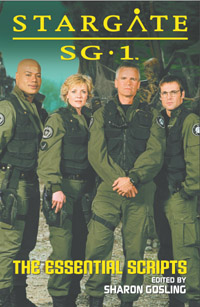 Stargate SG-1: The Essential Scripts TP
by Sharon Gosling

Far more than a script book, this essential Stargate SG-1 series guide is packed with bonus material including an in-depth introduction about writing for the show, deleted scenes, commentary and background, plus exclusive interviews with the writers, directors, and cast members. The following original Stargate SG-1 shooting scripts — complete with annotations — were specially selected for this volume: "2010," "Abyss," "The Fifth Race," "The Torment of Tantalus," "Window of Opportunity," and "Wormhole Xtreme."
(133/1-84023-887-9) (CAUT: 4)
SC, 6x9, 352pg, b&w..........$17.95
RAY HARRYHAUSEN: AN ANIMATED LIFE
by Ray Harryhausen & Tony Dalton, with a Foreword by Ray Bradbury

Ray Harryhausen is arguably the greatest stop-motion animator in the history of motion pictures, blazing new trails in special effects from the 1950s to the 1980s creating realistic dinosaurs, fantastic aliens, and imaginative mythological creatures. In the animator's own words, accompanied by hundreds of previously unpublished photographs, sketches, and storyboards from his personal archives, this book details Harryhausen's entire career — from 20 Million Miles to Earth and Earth vs. The Flying Saucers, to Clash of the Titans and Jason and the Argonauts. (356/0-8230-8402-7)
HC, 9x11, 304pg, FC..........$50.00 BookCloseOut.com

Ranger Dave writes that books by Bruce Boxleitner, John DE Lancie(Q), and William Shatner are available on Bookcloseouts.com in hard cover. They also now have a paperback listing and book prices are greatly reduced. Check it out.
BABYLON 5 NOVELS
DelRey is reprinting the original Babylon 5 novels. They started with #7 - Jeanne Cavelos' THE SHADOW WITHIN. Here's one I've been waiting for -- Kathryn Drennan's TO DREAM IN THE CITY OF SORROWS. The release date is scheduled for July 29, 2003. I love the new cover art! It can be pre-ordered from www.amazon.com. For those of you who love Babylon 5, this one reads just like an episode from the series. You just can't put it down.




COMIC BOOKS
24: One Shot #1
by J. C. Vaughn and Mark L. Haynes, with Renato Guedes
24, the award-winning TV series from Fox, comes to comics from the publisher that brought you CSI and The Shield! CTU's Jack Bauer has to keep a beautiful terrorist alive for 24 hours—and his gun only has one bullet! Brilliantly conceived by J. C. Vaughn and Mark L. Haynes (Battlestar Galactica), with photo-realistic art by Renato Guedes (CSI: Miami—Thou Shalt Not…). Prestige Format. MATURE READERS
AMAZING SPIDERMAN
AMAZING SPIDER-MAN #506
Amazing Spider-Man #506 will arrive in stores on Wednesday from Marvel Comics. The issue is written by J. Michael Straczynski, with art and cover by John Romita Jr.
Here's how Marvel describes the issue:
"Part one of an arc featuring the mysterious Ezekiel."
Amazing Spider-Man #506 will be 32 pages and will cost $2.25
AMAZING SPIDER-MAN #507

Written by J. Michael Straczynski, cover and pencils by John Romita Jr.
Concluding a 3-part arc, featuring the mysterious Ezekiel!
32 pages, $2.25, in stores on April 28.
AMAZING SPIDER-MAN #508 Written by J. Michael Straczynski, pencils and cover by John Romita Jr. The enigmatic Ezekiel returns to Peter's life. But is he the same man who stood by Spider-Man's side in his hour of need, or will he prove to be something much deadlier? 32 pages, $2.25, in stores on May 26.
SUPREME POWER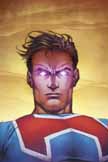 SUPREME POWER #9

Written by J. Michael Straczynski, cover and pencils by Gary Frank.
The world is still shaking from the titanic battle of Hyperion and Dr. Spectrum. Is Earth big enough for two such powerful beings? And who is Power Princess? Find out here!
32 pages, $2.99, in stores on April 7.
STARGATE SG-1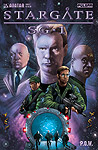 STARGATE SG-1 Comic Issue #2 now in stores
MARCH 31, 2004

The second installment of the new Stargate SG-1 comic book series is now available at retailers worldwide. "P.O.W." #2 tells part two of a 3-issue story, in which Colonel Jack O'Neill finds himself a captive of the Goa'uld. "This is meant to be our introduction to the Stargate world for new comic fans and a fun treat for the hardcore fans," said author James Anthony Kuhoric. The issue features a recounting of the events of the original "Stargate" film, as well as the beginning of the TV series. "In addition to establishing the background as a starting point for future comic book series, this feature amalgams the two universes [of the film and the TV series] into SG-1 continuity. We get to see Richard Dean Anderson as O'Neill during the first Abydos mission!"

With a story by Kuhoric and art by Renato Guedes, "P.O.W." #2 carries a $3.50 price tag and is available in several different covers. Fans who can't find the issue can order it from the publisher's online store, at ComicCavalcade.com.

"P.O.W." #3 is expected in April, followed by a brand new 3-part series, "Fall of Rome," which will introduce new characters and expand the Stargate universe.
TV SCHEDULE ON SCIFI CHANNEL
BABYLON 5 and CRUSADE are not currently listed on any SCIFI schedule. The SciFi Channel has scheduled "The Legend of the Rangers" for May 15, at 9:30 am ET.

STARGATE SCHEDULE:

03-MAY-04 6:00 PM STARGATE SG-1 SPIRITS
03-MAY-04 7:00 PM STARGATE SG-1 BRIEF CANDLE
03-MAY-04 8:00 PM STARGATE SG-1 THOR'S HAMMER
03-MAY-04 9:00 PM STARGATE SG-1 THE TORMENT OF TANTALUS
03-MAY-04 10:00 PM STARGATE SG-1 BLOODLINES
04-MAY-04 6:00 PM STARGATE SG-1 TOUCHSTONE
04-MAY-04 7:00 PM STARGATE SG-1 IN THE LINE OF DUTY
05-MAY-04 6:00 PM STARGATE SG-1 THE FIFTH RACE
06-MAY-04 6:00 PM STARGATE SG-1 A MATTER OF TIME
06-MAY-04 9:00 PM STARGATE SG-1 THE RITE OF PASSAGE
06-MAY-04 11:00 PM STARGATE SG-1 THE RITE OF PASSAGE
07-MAY-04 6:00 PM STARGATE SG-1 HOLIDAY
07-MAY-04 7:00 PM STARGATE SG-1 (RPT) WINDOW OF OPPORTUNITY
07-MAY-04 9:00 PM STARGATE SG-1 (LBX) HEROES - PT 1
07-MAY-04 10:00 PM STARGATE SG-1 (LBX) BIRTHRIGHT
07-MAY-04 11:00 PM STARGATE SG-1 (LBX) HEROES - PT 1
07-MAY-04 1:00 AM STARGATE SG-1 (LBX) BIRTHRIGHT
10-MAY-04 6:00 PM STARGATE SG-1 SERPENT'S SONG
10-MAY-04 7:00 PM STARGATE SG-1 FIRE AND WATER
10-MAY-04 8:00 PM STARGATE SG-1 HATHOR
10-MAY-04 9:00 PM STARGATE SG-1 SINGULARITY
10-MAY-04 10:00 PM STARGATE SG-1 COR-AI
11-MAY-04 6:00 PM STARGATE SG-1 ONE FALSE STEP
12-MAY-04 6:00 PM STARGATE SG-1 SHOW AND TELL
13-MAY-04 6:00 PM STARGATE SG-1 1969
13-MAY-04 9:00 PM STARGATE SG-1 THE LIGHT
13-MAY-04 11:00 PM STARGATE SG-1 THE LIGHT
14-MAY-04 6:00 PM STARGATE SG-1 OUT OF MIND
14-MAY-04 7:00 PM STARGATE SG-1 (RPT) ABSOLUTE POWER
14-MAY-04 9:00 PM STARGATE SG-1 (LBX) HEROES - PT 2
14-MAY-04 10:00 PM STARGATE SG-1 (LBX) EVOLUTION - PT 1
14-MAY-04 11:00 PM STARGATE SG-1 (LBX) HEROES - PT 2
14-MAY-04 1:00 AM STARGATE SG-1 (LBX) EVOLUTION - PT 1

FARSCAPE SCHEDULE:

02-MAY-04 1:00 AM FARSCAPE I, E.T.
06-MAY-04 3:00 AM FARSCAPE THE FLAX
06-MAY-04 4:00 AM FARSCAPE JEREMIAH CRICHTON
06-MAY-04 5:00 AM FARSCAPE DURKA RETURNS
09-MAY-04 1:00 AM FARSCAPE THAT OLD BLACK MAGIC
13-MAY-04 3:00 AM FARSCAPE A HUMAN REACTION
13-MAY-04 4:00 AM FARSCAPE NERVE
13-MAY-04 5:00 AM FARSCAPE HIDDEN MEMORY
16-MAY-04 1:00 AM FARSCAPE DNA MAD SCIENTIST
20-MAY-04 3:00 AM FARSCAPE THROUGH THE LOOKING GLASS
20-MAY-04 4:00 AM FARSCAPE BONE TO BE WILD
20-MAY-04 5:00 AM FARSCAPE FAMILY TIES
23-MAY-04 1:00 AM FARSCAPE THEY'VE GOT A SECRET
27-MAY-04 3:00 AM FARSCAPE DREAM A LITTLE DREAM
27-MAY-04 4:00 AM FARSCAPE MIND THE BABY
27-MAY-04 5:00 AM FARSCAPE VITAS MORTIS
30-MAY-04 1:00 AM FARSCAPE TILL THE BLOOD RUNS CLEAR

EARTH: FINAL CONFLICT

03-MAY-04 8:00 AM EARTH: FINAL CONFLICT HEARTS AND MIND
04-MAY-04 8:00 AM EARTH: FINAL CONFLICT EPIPHANY
05-MAY-04 8:00 AM EARTH: FINAL CONFLICT DARK HORIZON
06-MAY-04 8:00 AM EARTH: FINAL CONFLICT POINT OF NO RETURN
07-MAY-04 8:00 AM EARTH: FINAL CONFLICT UNEARTHED
10-MAY-04 8:00 AM EARTH: FINAL CONFLICT PARIAHS
11-MAY-04 8:00 AM EARTH: FINAL CONFLICT THE SEDUCTION
12-MAY-04 8:00 AM EARTH: FINAL CONFLICT SUBTERRA
13-MAY-04 8:00 AM EARTH: FINAL CONFLICT BOONE'S AWAKENING
14-MAY-04 8:00 AM EARTH: FINAL CONFLICT TERMINATION
17-MAY-04 8:00 AM EARTH: FINAL CONFLICT GUILTY CONSCIENCE
18-MAY-04 8:00 AM EARTH: FINAL CONFLICT BOONE'S ASSASSIN
19-MAY-04 8:00 AM EARTH: FINAL CONFLICT ENTOMBED
20-MAY-04 8:00 AM EARTH: FINAL CONFLICT LEGACY
21-MAY-04 8:00 AM EARTH: FINAL CONFLICT DEATH SUITE
24-MAY-04 8:00 AM EARTH: FINAL CONFLICT ATAVUS HIGH
25-MAY-04 8:00 AM EARTH: FINAL CONFLICT DEEP SLEEP
26-MAY-04 8:00 AM EARTH: FINAL CONFLICT ART OF WAR
27-MAY-04 8:00 AM EARTH: FINAL CONFLICT GRAVE DANGER
28-MAY-04 8:00 AM EARTH: FINAL CONFLICT DEPORTATION
BABYLON 5/CRUSADE PHOTOSHOP PHOTOS







Peter Woodward has sent along a new photo -- a rather dreadful one -- from his appearance on CHARMED. It will be added to the collection of photos available from Peter, including additional copies of the Crusade poster in photo format. Both are autographed by Peter. You do NOT have to pay the prices asked for over at e-bay! Here are photos of B5 and Crusade cast members at fantastic prices. Check out Photo Shop. Ordering is easy -- and you can't beat the prices! Just let me know which photos you want and I'll check to make sure they are still in stock.
---
BABYLON 5 TOONS
John Cook has a wonderful collection of cartoons -- many are take-offs from Babylon 5. Here's just one of them.

He has a cartoon caption contest going on as well. Try your hand at a punch line.

Go to http://contests.sev.com.au/index.php?contestid=1


SCI-FI CARTOONS
While catching up on my e-mail yesterday morning, I got an instant message from LFMOA along with a nice goodie that I can share with readers. Thanks for sending along your version of Pinky and the B5 Brain.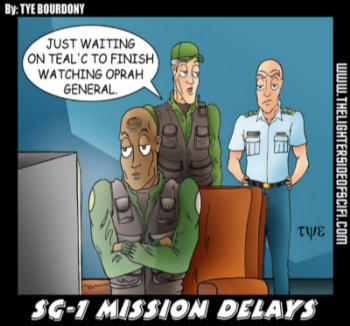 Tye Bourdony's latest Lighter Side of Sci-Fi satire can be seen in the Star Trek Communicator as well as at his website www.thelightersideofscifi.com.





CONVENTION CALENDAR
April 30-May 1-2, 2004
WONDERCON 2004
Location: Moscone Convention Center
City: San Francisco, California (USA)
Guests: To be announced
For more information, visit their website at http://www.comic-con.org .
---


April 30-May 3, 2004
COLLECTORMANIA 5
Location: Milton Keynes, England
Guests: Corin Nemec, Sarah Douglas, Robert Picardo
For more information, visit their website at http://www.collectormania.com/ .
---


April 30-May 3, 2004
Pittsburgh ComiCon
Place: Pittsburgh ExpoMart
Location: Monroeville, PA
Guests: Virginia Hey (Farscape), John Romita, Jr. (Amazing Spiderman artist)
For more information, visit their website at www.pittsburghcomicon.net .
---


William Shatner Charity Horse Show
Date: May 1, 2004
Location: Los Angeles Equestrian Center
Place: Burbank, CA
Guests: William Shatner, Brad Paisley
For more information, visit their website at http://www.horseshow.org/.
---

Creation Entertainment Cruise 2
May 14-21, 2004
Location: Ft. Lauderdale, FL
7 day Caribbean Cruise
Guests: Salute to Star Trek, Stargate and Xena
For more information, visit their website at http://www.creationent.com/calendar.htm.
---

May 15-16, 2004
BEST OF BOTH WORLDS 22
Location: Canberra, Australia
Guests: Don S. Davis, Carmen Argenziano, Frida Betrani, Alex Zahara, David Winning
For more information, visit their website at http://www.bobw.com.au/.
---

May 15-16, 2004
LONDON EXPO
Location: London, England
Guests: Alexis Cruz, Marina Sirtis
For more information, visit their website at http://www.londonexpo.co.uk/.
---

May 21-23, 2004
Fed con
Location: Bonn, Germany
Guests: Anthony Montgomery, Rene Auberjonois, Armin Shimerman, Terry Farrell, More Guests TBA
For more information, visit their website at http://www.fedcon.de/.
---

May 28-31, 2004
MEDIAWEST*CON
Location: Lansing, Mi
A SF/Media fandom convention
For more information, visit their website at http://members.aol.com/MdiaWstCon/mwc24.htm .
---

Be sure to visit the referenced sites to see if there have been changes in dates/guests attending. Also visit our Convention Calendar for a full listing of upcoming conventions featuring Babylon 5, Crusade and Legend of the Rangers cast members as guests.
CONVENTION HIGHLIGHTS
Ranger Brian had a blast with Rick, Jason and Jeffrey at the 2BeContinued Convention last week in Indiana. He sent along a picture for everyone to enjoy. Thanks Brian.
If you would like to share your convention experience with your other Zocalo readers, send along a convention report. I will gladly post it for all to read. Got pictures? I'll post those as well.
ZOCALO TRADING POST
Do you have extra copies of B5, Amazing Spiderman, Midnight Nation or Rising Stars comics you'd like to trade? How about those extra trading cards or B5 magazines? There are a lot of fans looking for these items -- and the Trading Post can help you buy or sell them. To see what's available, just use this link to the Trading Post. To have items included in The Trading Post, send a note to The Zocalo. Please put Trading Post in the subject line.
PEN PALS
If you are looking for someone to talk about Babylon 5 and Crusade with, the Pen Pal section is for you! Check it out! Drop a note to someone who is feeling B5 withdrawal -- BIG TIME!

People thought a Pen Pal page was a good idea. If you would like to meet people who you could chat with or share your opinions of the show with, send along your e-mail or snail-mail address The Zocalo. It will be incorporated on the new Pen Page Page.
MAIL FOR CAST AND CREW
Here's a recent note from JMS on the subject:

Just an FYI to those who've been using the Ventura Blvd. mail drop for fan mail to actors....

As mentioned before, we're phasing out the forwarding of fan mail because we a) don't have the resources, complicated by b) the actors have scattered to the four winds, and it makes it very difficult to get everything to everybody in a timely fashion.

So, having provided prior notice...fan mail to actors coming to the Ventura Blvd. mail drop will be sent back. Mail to actors should be sent via their official fan clubs. I will still be taking mail there, since it's my mailbox, but that's it.

Just so's y'all know and save a few bucks on postage and returns.

WARNER BROS:

Warner Bros. Address:

Warner Bros. Domestic Television Distribution
4000 Warner Blvd.
Burbank, CA 91522

Warner Home Video:

Mr. Douglas Wadleigh
VP for Marketing and Special Features
Warner Bros.
4000 Warner Blvd.
Burbank, CA 91522

SCIFI:
Bonnie Hammer, President
Sci-Fi Channel
1230 Avenue of the Americas
New York, NY. 10020-1513

Mr. Thomas Vitale
Senior VP of Acquisitions, Scheduling & Program-Planning
BACK ISSUES OF THE ZOCALO TODAY
The front page of the The Zocalo Today changes daily, so be sure to check the back issues to make sure that you haven't missed anything IMPORTANT! I don't want the front page getting too long so I shift information periodically into the archives. So if you aren't a regular visitor to The Zocalo Today, be sure to check out the back issues. Just use the button above!
---
Take care and I look forward to hearing from you.
Sandra Bruckner (sgbruckner@aol.com)
Editor/Publisher
The Zocalo Today
http://www.isnnews.net
Copyright - SBruckner, 1999-2004