[an error occurred while processing this directive]

The Zocalo Today

Welcome! I am glad that you found The Zocalo Today and dropped by. Take your shoes off, get comfortable and stay a while. There is a LOT of information here and you won't want to miss any of it.

The Zocalo Today is an interactive newsletter, encouraging interaction with readers through a discussion topic each week. If you have suggestions as to how The Zocalo can be improved -- or be more responsive -- send them along. The Zocalo Today is as much YOUR newsletter as it is mine! I'm just pulling together things for you!

Join our weekly discussion topic. It is just one way you can interact with other Z readers. If you have other information you would like to share, send it along. If you see Babylon 5 cast and crew in other roles, let us know. We enjoy convention reports, photos, etc. Don't miss our back issues. I hope this will become more than just a newsletter. It's a community of people that enjoy sharing their experiences and interests. Don't be shy. Join us today!

If you have questions, drop me a line at sgbruckner@aol.com. If you would like to join the mailing list for our bi-weekly newsletter, send me a note and I'll include you on the list. Or you can use the subscription block at the left.

Again, WELCOME!




What's New Today
Thursday, May 27:
MEMORIAL SERVICE FOR RICHARD JAMES BIGGS II
The service was held today, Wednesday May 26, 2004, at the Emmanuel Lutheran Church in North Hollywood. It is a HUGE church, and I am happy to report that it was packed wall to wall with family, co-workers from Days, B5, and Strong Medicine. Rick was born on March 18, 1960, and passed away on May 22, 2004 - a mere 44 years old. There were many beautiful bouquets of flowers, with an especially beautiful one having sunflowers located on the floor, right at the head end of the casket. Rick is the only brother, and he has four sisters. His family is very large, very close, and very loving - and he has produced two beautiful children, RJ and Hunter.There were several pictures of Rick, the most striking (IMO) being a portrait with his sons.

Service began with a beautiful rendition of "The Prayer" by Christina Ashford and Norman Large, accompanied by Sonia Ruud on the piano. Next, the welcome and opening prayer, then Rick's Life by one of his sisters, Alicia (who is known as Kathy.) Jerry Reddinger read from Job 19: 23-27, followed by Michael Lynch reading 1 Corinthians Chapter 13.

Peter Levine, Rick's friend for over 20 years, from when they attended USC together, told about what it meant to BE Rick's friend, and some of their activities... not all looked upon benevolently by the administration. Pastor Ken Frese told about The Father of RJ and Hunter, and then a tearful Andrea Lynch, one of Rick's nieces, read the Letter to Uncle Rick.

Some short prayers, followed by The Lord's Prayer (sung exquisitely, but I didn't get the lady's name!), the Benediction, and the hymn, "Joyful, Joyful." The attendees then lined up to pay their last respects to Rick and visit a moment with his lovely wife Lori and his family.

The following is transcribed exactly from a card inserted in the program:

******
In honor of Richard's most prized contributions to this world, his children, a special fund has been set up for their education. In lieu of flowers or gifts, please send donations to:
The Benefit of the Children of Richard James Biggs II
Washington Mutual Bank
840 N. San Fernando Blvd
Burbank CA 91502.

To help his children remember what a wonderful man he was and how many people's lives he touched, please send your special memory or photo to:
RJ and Hunter Biggs
1052 W. Alameda Ave #350
Burbank CA 91506.

******

From Babylon 5, I saw the following people: This is from memory, and just because I didn't SEE someone does not mean that s/he wasn't present, okay?

Andreas Katsulas
Pat Tallman and Jeff Willerth
Bruce and Melissa Boxleitner
Jerry Doyle
Jason Carter
Walter Koenig
Claudia Christian
joe
Doug Netter
John Copeland

I don't know anyone from any of Rick's other shows, but as I said, the church was PACKED. A fitting tribute to a wonderful man.

Doctor Stephen Franklin, May your walkabout be a pleasant one. Rest in Peace.

A private memorial followed at a home.

Richard "Chats" Feldman
---
Wednesday, May 26:
RICHARD BIGGS TRIBUTE VIDEO
Here is a video put together by John Hudgens:
Some of you may know my work on the official Babylon 5 music videos - I haven't done one in four years, but Rick's passing got me thinking about scenes and connections, and I made a new tribute video for Rick I'd like to share with the community...
Joe Straczynski gave me permission to post this online, so here goes... you can download it here: http://www.theforce.net/theater/temp/RickBiggs.html
Rick will be missed...
John Hudgens
++++++++
Anyone having difficulty with the plug-in to launch the movie, can get the movie directly from:
http://download.theforce.net/theater/temp/rickbiggs_320.mov.
For some, there is no indication the file is actually downloading. Be patient.
---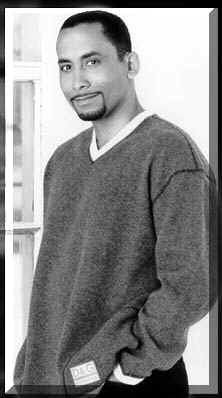 Tuesday, May 25:
LA TIMES OBITUARY: Here is the obituary as printed in the LA Times:
Richard James Biggs II
Biggs, II, Richard James
On Saturday, May 22, the world was a little less bright. Richard James Biggs, II suddenly passed from this world into the arms of his Heavenly Father leaving those of us who cherished him behind to mourn and wait to join him in Heaven.
Rick was born in Columbus, OH on March 18, 1960 to Richard J. and Delores D. Biggs. He was to be their only son and was commonly known as "The Little Prince". He grew up in an active military family living all over the Midwest finally settling in Los Angeles after attending USC in 1979. His acting career spanned over two decades and included roles on Days of Our Lives, Babylon 5, Guiding Light, Strong Medicine, and Any Day Now, plus many guest starring roles on T.V.
On August 1, 1998, Rick married the love of his life, Lori Gebers of Denver, CO and together they produced his greatest joys, Richard James Biggs III (RJ) and Hunter Lee Biggs. Rick considered himself lucky to have chosen a career which would allow him to spend many hours loving, playing, teaching and enjoying his boys.
Besides his loving wife, Lori, and two sons living in Burbank, Rick is survived by his grieving parents, Col. (Ret'd) USAF Richard J. and Delores Biggs, Spokane, WA; parents-in-law, Mr. and Mrs. John Gebers, Lakewood, CO; four sisters, Juanita Reddinger, Maryville, TN, Maria Lynch, Campbell, CA, Alicia Biggs, Denver, CO, and Celia Biggs, San Jose, CA; brothers-in-law, Gerald Reddinger, Maryville, TN, Michael Lynch, Campbell, CA, Jon Gebers, Denver, CO and Barry Gebers, Lakewood, CO; grandfather, Mr. James Washington, Denver, CO; seven nephews, Damien, Jared, Christopher Michael, Christopher Ryan, Kyle, Julian and Alexander; one niece, Andrea, and many relatives, friends and fans throughout the world. We shall let our Rick, the husband, son, grandson, brother, favorite uncle and friend go into his Father in Heaven's arms secure in the knowledge that we will see him again; otherwise the burden would be too great. "The Lord is My Shepherd, I shalt not want..."
We will bid our final farewells to him at a public funeral on Wednesday, May 26, 2004 at 1:00 p.m. at: Emmanuel Lutheran Church 6020 Radford Ave. N. Hollywood, CA 91606 A private memorial will be held for family, co-workers and close friends.
As it was Rick's hope that his sons would have a wonderful life, in his honor, a fund for their education has been set up. In lieu of flowers, please send donations to: The Benefit of the Children of Richard Biggs II Washington Mutual Bank 840 N. San Fernando Blvd. Burbank, CA 91502
Please join us as we celebrate the life of this remarkable, funny, giving and much loved man. He is already missed so much by so many.
Published in the Los Angeles Times on 5/25/2004 .
The LA Times also put out a guest book for people to sign.
Please visit the Guest Book for Richard James Biggs II.
http://www.legacy.com/Link.asp?Id=GB02262822X.
---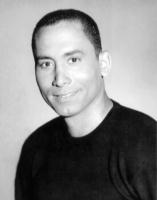 A message forum has been set up at http://www.thegalacticgateway.com and http://www.patriciatallman.com. Share your memories of Rick there as well. Pat will print them out and take it to the memorial service.

** The forum has been experiencing some problems -- the volume has been tremendous. It is back up and running now. If you experience a problem, please go back to leave a message. It will mean a great deal to the family.
RICHARD BIGGS MEMORIAL EFFORTS
A number of efforts are underway to help Rick's family in this especially hard time. Ranger Laura has some up with a unique way of showing her support.

Jan, you've inspired me. And I'm going to take it a step further, because when charity is involved, one-up-manship is a good thing. As some of you may recall, back in 1998, the Starship Modeler website (www.starshipmodeler.com) held a "Starfury Wing Art" competition. My entry, a follow-up to a customized, fully-lit, hand-painted version of Sinclair's 'Fury from the Battle of the Line (I sold an article to Fine Scale Modeler Magazine about the construction of that model, which I was paid for but which sadly never ran. See photos and details on this model at http://nova.umuc.edu/~friedman/b5md/models/starfury3.html) was a design for the Starfury I imagined Valen flew from Babylon 4 (see photos at http://nova.umuc.edu/~friedman/b5md/models/starfury4.html). It won the contest by a landslide, was featured in Fine Scale Modeler's "Great Scale Modeling 1999" special magazine, and earned a shout-out from JMS. After that, I was contacted by many collectors who wanted me to build and customize their models. Unfortunately, at that same time, I developed severe ulnar neuropathy in my right arm and had to stop painting and modelling. Two surgeries and six years later, I'm finally capable of returning to the game. And I have an unbuilt Revell Starfury model kit in my stash of "B5 collectibles I was saving for posterity."

So ... I am hereby announcing a fund-raising auction of *the winner's choice of any design of custom, fully-lit Starfury model* to be constructed by yours truly, and with all proceeds going to whatever Memorial Fund is established for Richard Biggs' sons. Pick a 'fury from the series, and I will build it and you *will* be impressed. Bidding starts at $150 ... but please realize that way back in '98, the going rates for custom-built science fiction models by other artists were more in the realm of $300-500 a model. And need I say, it's for a very good cause.

Please feel free to disseminate this offer at any B5 or other SF sites you, the reader, may frequent, or send it to any friends you think might be interested, as I want to raise as much money as is possible in memory of an actor who brought us all so much enjoyment. Bidders should send their Starfury Requests and bid amounts to l-appelbaum@mindspring.com. At the end of June, I'll announce the winner here (unless they want anonymity).
---
Ranger Jan has begun an effort to raise money for a memorial fund. Richard has two small children, and I am sure everyone in the B5 community will want to show the family how much Rick meant to us -- not only as a fine actor, but as a wonderful human being. Here is Jan's note explaining her efforts:

Upon hearing how young Richard Biggs children are, I didn't want to wait to begin raising money for his memorial fund. I'm hoping that you'll be able to help me spread the word and assure people that I'm on the level.

What I've done so far is to begin a new Ebay account called RBiggsMemorial and a new PayPal account to email address RBiggsMemorial@aol.com. I've started two auctions so far and have several more planned.

What I'm asking: If at all possible could you help me spread the news of what I'm doing to your friends/colleagues/ forums/websites etc. I will be happy to list any items that you'd like auctioned off for this also.

Please note that this is so far quite unofficial but I have already written to JMS telling him what I wanted to do. If for any reason he or Richard's family have reservations I'll stop immediately or relinquish the accounts to them. Upon finding out information for an official memorial account, I'll see what I can do about linking the PayPal account to that so that the funds will be immediately available to them.

Thanks for your help and friendship.
Jan

Auctions to benefit a Richard Biggs Memorial fund: http://tinyurl.com/2az5w
. PayPal Account: RBiggsMemorial@aol.com

Jan reports that the response to this auction:

Response has been overwhelming! I've gotten emails from people donating items to auction and some generous donations direct to the PayPal account and there are bids on almost every item already. As of a short time ago, the combined auction bids and donations totals right at $500.00!!!

One of the ongoing themes of B5 was that one person *can* make a difference and each of you who bids or donates *IS* going to make a difference to Rick's children.
EXPRESSIONS OF SADNESS:
BRUCE BOXLEITNER/MELISSA GILBERT: Bruce and Melissa have put a message in memory of Richard Biggs out at their website http://www.gilbert-boxleitner.com/.
---
PETER DAVID: Calling Biggs "one of the sweetest guys in the world," Peter David, one of the writers who contributed to the B5 universe, also expressed his condolences to Biggs' family. "I'm horrified to learn this," David said at his website. "I was supposed to see Rick at the Motor City Con but he wasn't able to make it, so I didn't, and now I won't get to again."
---
AUNT SHIRLEY (Rick's Fan Club President):

Dearest Friends,

It is with great sadness that I announce that our beloved Richard passed away on Saturday May 22nd. He was talking to his beloved Lori and he just died. They are having an autopsy, and at this moment I have no other details. I don't know where or when he will be laid out, but as soon as I know I will pass it on to you.

He was 44 years old and leaves behind his wife Lori, his mom & dad, 4 sisters and two sons.

He was as all of you know like a son to me for 17 years. I had spoken to him twice last week, and he was joking and in great spirits.

We all loved him and will miss him. Please pray for his family and for him.

He is gone, but never forgotten.

Aunt Shirley
---
For those of us fortunate enough to have met Rick, we can spend today reflecting on those encounters. He was a wonderful man, a very classy guy -- the consummate gentleman. We will all miss him tremendously.
Here is a picture of Rick, Jason and Jeffrey at a recent convention. I think Rick would enjoy seeing this picture on our front page, since he enjoyed the company of fans very much and this is how many of us will remember him -- full of life.

REMEMBERING RICHARD BIGGS
As the photo above shows, Rick loved his fans and he loved doing conventions so that he could meet the people who loved Babylon 5 as much as he did. If you have a favorite photo of Rick you would like to share, pass it along. I have already gotten a couple already and expect there will be dozens more. I will post them on a separate page. Richard Biggs.
BABYLON 5 MOVIES ANNOUNCED
Ranger Neil O. sent along the following item from http://www.tvshowsondvd.com/newsitem.cfm?NewsID=1539 No word yet on CRUSADE or the LEGEND OF THE RANGERS.

Warner Bros Home Video will continue the popular Babylon 5 DVD releases with "Babylon 5: The Movies," news we brought you back in November, 2003. This 5 disc set will contain all 5 movies as well as special features. The set will carry a $59.98 SRP and will be available in stores and online August 17th. "The Gathering" will be presented in 4:3 (original aspect ratio) while the other movies will be 16:9 anamorphic widescreen; all movies will feature Dolby Digital 5.1 tracks. The sets will be closed captioned and be subtitled in English, Spanish and French.

Each movie will contain commentary from the creator (J. Michael Straczynski), cast and crew, as well as an introduction for each movie by JMS. Rounding out the special features is the featurette, "Creating the Future - How Science Fiction and the show influenced each other."

The Gathering (1993): Alien envoys come to the giant space station in the pilot that launched the five-year TV series.

In the Beginning (1998): The B5 prequel! It's humans vs. aliens in the battle that led to the station's creation.

Thirdspace (1998): Is there a realm beyond hyperspace? Discovery of a million-years-old gateway technology may hold the answer...and more.

River of Souls (1998): After death, then what? Questions of eternity arise when a supposedly infallible harvester of souls proves to be very fallible.

A Call to Arms (1999): The torch is passed. A race against time to save Earth links the B5 mission with the Rangers' new interstellar efforts.

All we have is this small shot of the box art, but the news will be updated once a larger version is available.
JMS UPDATE
REPORT FROM NEW JERSEY
Ranger Jan traveled to New Jersey to where JMS appeared at a small comic con held by Hawthorne High School on 5/8 to benefit their art department that is sorely in need of funds. JMS traveled there at his own expense and he removed his 5 item cap and charged a $1 per autograph fee to benefit the school. Jan flew up from Florida for the day and meet up with several folks from the moderated newsgroup, JMSNews and B5TV. She has posted a report, which I have copied to the Reports Page.

I know I've been absent for a while now, but there are reasons, especially in regards to B5:TMoS. In a project of this nature, and this size, there's stage one (let's do this) stage two (let's make everybody's deal) and stage three (making it). We're hip-deep in stage two just now, and it's taking a freaking long amount of time to get through it all. Stage two is also the most unnerving and nerve-wracking stage when there's a lot of money involved, as there is in this situation.

So every day is a case of "Are we there yet?" and being told yes...almost.

I swear, it's the kind of thing that could lead a monk to murder.

Thing of it is...there's a LOT happening right now in the B5 universe, on a multitude of fronts, some of it in response to TMoS, some of it coming up completely on its own. All I can say at this moment is that if you've been waiting for new stuff in the B5 universe, you may be getting your wish in spades very soon.

Soon, I promise, all will be made clear. I don't like being Mr. Mysterioso on this, but if I say too much, the-powers-that-be will use my head to make a 2.35:1 sized hole in the wall.

More of this update is at JMS Speaks.
SEASON 5 BABYLON 5 DVD ON SALE NOW
A number of clips have been received from Warner Bros. for your viewing pleasure. Don't miss them. They have been provided in a number of formats so that everyone can enjoy them -- no matter what the speed of your connection is. Go to Season 5 to view them.

Materials are arriving from Warner Bros. and will be posted shortly related to the release of the Season 5 DVD for Babylon 5.

For the press release, which includes all the details for the DVD set, go to Babylon Season 5 DVD page.
BOOK REVIEWS
Here is a new feature for your enjoyment. I received some new book reviews that I've posted on a separate Book Review Page. Let me know if you enjoy this new feature -- and we'll continue to offer them as they are received. Agree with the review? Disagree? We can post those as well.

Other science fiction material, outside of the B5 environment can be found on the Materials Page.
SAVE THE HUBBLE
The Hubble project is in jeopardy. Please visit http://www.savethehubble.org/petition.jsp and sign the petition to have NASA reconsider funding for the project.
---
DISCUSSION TOPIC
Here is a great discussion topic suggested by Ranger Armen:
If you won the lottery, or became insanely successful on the order of at least a net worth of $100M or more, what would stop you from bankrolling your favorite show? We all know Hollywood is driven by money. If I won a huge lottery, I'd ask JMS if he'd be willing to contine production of "Crusade" or more B5 movies if I helped guarantee someone a profit. First, do you think this is right,and second, what would you bankroll if you could?
---
Send in your thoughts, comments and ideas to sgbruckner@aol.com. I post them on the Discussion Page for everyone to share. See what has come in so far. If you see an old topic you want to respond to, go right ahead. We enjoy hearing from you.
DVD BUYING TIPS
CostCo continues to be my favorite store for DVDs. I picked up the Season 6 DVD of STARGATE SG-1 for $39.95 there on Saturday.

Ranger Dave found JEREMIAH nearly $20 less than Amazon's price at DVDsoon.com. Dave used Brian's suggestion and went to www.dvdpricesearch.net and found STARGATE SG-1 Seasons 1,2,&3 for $32.88 each (including ) tax and free shipping). There is even a coupon for $4 off purchases over $100 from that company. Season 4 was listed at a bit over $40.

I understand from Ranger Judy that all CostCo stores don't have the prices mentioned here. Hope some of the other options given help out.

Ranger Brian sent along a terrific tip for purchasing any DVDs. Go to http://www.dvdpricesearch.net/. You can do a search on any title and it will find the lowest price for you. It includes mailing information as well. Thanks Brian!

Ranger Frank in Seattle indicates that again, CostCo is saving Babylon 5 fans money!
Costco stores have a limited time sale on the Babylon 5 DVD sets. I went into a Costco in the Seattle area today, and they have seasons 1, 2 and 3 for $59.99 each -- about $25 less than Amazon.com, and $40 less than list price, as I recall. Season 4 is $64.99. But the deal is that if you buy Season 4, you get $20 off any one of the other seasons.

Thanks Frank for passing along the info. Other folks should check out CostCo for Babylon 5 and other DVDs. They usually have very competitive prices.
BABYLON 5:
THE COMPLETE FOURTH SEASON Collectible Six-Disc DVD Set Featuring All 22 Episodes
Fully-Loaded with New Bonus Materials
Remastered in Widescreen and Dolby Digital 5.1 Audio
Available January 6 from Warner Home Video I have put together a listing of the episodes and pictures from each episode of Season 4 with a synopsis from the Lurker's Guide. Enjoy. If you have found bargain prices out there on this set, let us know. If you have had problems with the set, here is an address to use to report them: Send any complaints/issues directly to Sherri Bogard at sherri.bogard@warnerbros.com. She handles all DVD problems with "Babylon 5".
STARGATE SG-1

SEASON SIX DVD
Season six of STARGATE SG-1 is now available. Amazon has had this DVD on their top 10 list for weeks. The DVD boasts incredible special effects sequences, rapid-fire pacing and awesome scenes of alien warfare, this all-new five-disc set of Stargate SG-1 is your gateway to pulse-pounding sci-fi action!

Special features include audio commentary for each episode and twelve "SG-1 Directors Series" featurettes!

For more details and to watch the trailer, go to http://www.mgm.com/title_title.do?title_star=XXXSETSTARGAT6.
KEEPING UP WITH CAST AND CREW
BRUCE BOXLEITNER: Bruce's movie SNAKEHEAD TERROR will be shown again on SCIFI June 27 at 9:00pm ET. Bruce portrays Sheriff Patrick James.
---
MARJORIE MONAGHAN: Ranger Anne reports that Marjorie Monaghan (Number One from B5) will have a guest appearance in part one of "The Dissonant Interval," the two-part season 4 finale of "Gene Roddenberry's Andromeda." Monaghan's character, Louisa Messereau, is a Nietzschean & has some moments with Telemachus Rhade (a Nietzschean member of Dylan Hunt's crew). The SciFi Channel will show part one of "The Dissonant Interval" on 5/21/04 at 8pm ET (repeat 5/22/04 12am ET). Part 2 of "The Dissonant Interval" will air in syndication beginning May 22; SciFi Channel will air it on May 28 at 8pm ET. "The Dissonant Interval, Part 2" will be replayed on SciFi on May 29 at 12am ET. Yes, early Saturday morning on the East Coast of the USA.
---
BILL BLAIR: Bill Blair (I don't know how many aliens he played on Babylon 5) has been a busy fellow. He and wife Toni were on this weeks episode of THAT '70s SHOW. Bill can be seen on 'THE DIVISION on The Lifetime Network - Sundays 9PM eastern and pacific. He also turns up on the new movie GARFIELD opening June 11th (he plays a "vet tech" that grooms Garfield:-).
---
ROBIN ATKIN DOWNES: Robin dropped by an update and I'm sure you'll want to check out a couple of his current projects. He is currently working post production for an independent film he directed entitled "For Pete's Wake." Some production stills can be seen at http://babylon5.jeffcushen.com/sighcorps.php?id=peteswake-onset&keyword=various&pg=1. Be sure to look for familiar faces -- like Pat Tallman! Robin is also in the process of completing an animated film called "Geppettos Secret ." Starring with Eric Roberts, Rene Aubergenois and Tom Bosley... For more information, go to http://www.geppettossecret.com/actors%20and%20characters2.htm
---
KEN FOREE: Ken (Pvt. Thurow in B5's Gropos episode) and Michael Berryman recently joined the cast of THE DEVIL'S REJECTS, which centers on a band of bounty hunters led by Sheriff Wydell's brother who is fueled by revenge when he finds out that his kin was slain by the Firefly family. The film will pick up shortly after HOUSE OF 1000 CORPSES with the Firefly clan going on the road after their house is burned down and a few family members have been gunned down during a police raid.
---
DANIEL DAE KIM: Daniel (Lt. Matheson from CRUSADE) has landed a role in the upcoming series PARTY OF FIVE, being produced by J.J. Abrams from ALIAS. Ranger John also reports that Daniel Daniel has a role as a non-English speaking character in JJ Abrams's new pilot, LOST.
---
SPECIAL CAST ACTIVITY - CRUISIN' WITH BABYLON 5
STEPHEN AUSTIN - Here is a vacation idea you may enjoy. Vic Dunlop, Bruce Baum, Stephen Austin's 2005 Comedy Circus Cruise. Sailing March 6-13, 2005 on the Carnival Valor, from Miami, Florida visiting Belize, Isla Roatan, Grand Cayman, and Cozumel. Visit: www.cruiseevents.net/Dunlop,%20Baum,%20Austi/index.htm for all the info!
---
CRUISE WITH PETER WOODWARD
Peter Woodward is cruising the Eastern Caribbean on Jan. 9-16, 2005 and wants YOU to join the fun!!! Sailing January 9-16, 2005, on Holland America's Westerdam, the roundtrip from Ft. Lauderdale, Florida will visit Nassau, St. Marteen, Tortola, & Half Moon Cay. Experience a week in the Caribbean sharing laughs and fun with your new friends. Peter's cruise is unique! The group consists of friendly, people looking to have fun and share experiences. For more information, go to http://www.cruiseevents.net/celebrity.htm and then press Peter's photo. Space is limited! Don't delay, call today! 800-695- 5253 or e-mail: Susan@CruiseEvents.net.
---
JERRY DOYLE RADIO SHOW
Here's the latest from Jerry:
For the radio show, Talk Radio Network is building a new site and will have jerrydoyle.com up and running soon. It will tie into the talkradionetwork.com site as well.

The M-F show launches this coming Monday(5th), 7-10P PST. The call in number is 800/449-8255. Spread the word and give a call if you've got something to plug. I'll still be doing the Saturday show, 8-11P PST. Same phone number for that too. All the best.

All the best.
JD

For more information on Jerry Doyle, Talk Radio Show Host, you may visit www.talkradionetwork.com
---
BABYLON 5 BIRTHDAYS
Theodore Bikel - May 2
Michael O'Hare - May 6
Stephen Furst - May 8
Melissa Gilbert-Boxleitner - May 8
Bruce Boxleitner - May 12
Andreas Katsulas - May 18
Andrea Thompson - May 22
Doug Wise - May 21
Douglas Netter - May 23
Paul Winfield - May 22
Roy Dotrice - May 26
Harlan Ellison - May 27

Have I missed anyone? If you know the birthday of someone connected with Babylon 5, pass the information along. We want to include everyone in our Happy Birthday Wishes.
READER BIRTHDAYS
Sometimes you just can't find the e-mail address for someone you know you have -- it's someone who responded to a discussion topic or you met in one of the chat rooms. You'd like to send a personal note, but .... No address!!!!

We've started a White Pages of Zocalo Readers! It's a handy way of keeping track of people -- and putting together a birthday/greeting card list as well. If you would like to be part of the listing, just send me your name, state, e-mail address and (if you'd like to have it listed) birthday (without year) to sgbruckner@aol.com. Check out the Directory of Readers.
FAN CLUBS
Intergalactic Consortium
To anyone who lives in and or in the area of Toronto, Ontario, Canada I would like to invite you to attend or Join the Intergalactic Consortium. The I.C. is a new science fiction / fantasy group. We generally meet on the last Saturday of every month and generally do not collect any dues. WE are always looking for new members. If you have any questions, need more information or anything else please feel free to e-mail torsf@yahoo.ca or visit our yahoo group at http://ca.groups.yahoo.com/group/Intergalactic-Consortium/ Hope to hear from some of you.
United Federated Planets
Ranger Anne reports that in January, another chapter was added to the fold... EAS Winter Wolf (in Texas). For more information, go to their site at http://www.ufphq.com/chain_of_command.htm. You will find a great deal of interest in Babylon 5 -- with position currently available on the sector staff--EarthDome, EarthForce and the Alliance. Check it out.
STAR TREK CLUB VENEZUELA
Ranger Andres dropped a note to say that a new club has been formed -- Star Trek Club Venezuela. It is small right now, but they are ready for recomendations, opinions, and/or any other comments. They are plannig our first expocon at the end of the year, into the facilities of Humboldt Planetarium in Caracas. Visit their site at www.trekvenezuela.net.
We have a number of Fan Clubs listed here at the Zocalo. They are those associated with a particular actor -- and there are those devoted to Babylon 5 or science fiction. Be sure to check out the Clubs Page to see if there is an organization near you.
NEW SCIENCE FICTION MERCHANDISE
STAR WARS TRADING CARDS
This September, Topps will release a new card series, encompassing all six Star Wars movies -- including a sneak peek at the forthcoming final film, Star Wars: Episode III. Titled, Star Wars Heritage, the series is timed to coincide with the eagerly awaited Star Wars Trilogy DVD release.

"The melding of Star Wars with Topps Heritage is a great, natural fit," said Ira Friedman, Topps VP of Publishing and New Product Development. "The timeless appeal of Star Wars imagery -- combined with the nostalgia sensibilities of the Heritage brand ­ all adds up to one retro-cool collectible."

As with the sports-based Heritage releases, Star Wars Heritage features vintage card designs printed on greyback stock and a wrapped piece of bubblegum in every pack.

Topps selected photography that has never been seen before on its past cards. This required the editors to view many reels of actual footage and countless images from Lucasfilm's digital archives.

Insert cards include a new assortment of artist sketch cards, only included in hobby boxes. A select number of well-known Star Wars actors have agreed to come on board and provide their signatures for autograph cards. Participating artists, celebrity signers and other exciting content will be detailed prior to publication through the Company¹s website, www.topps.com.
BABYLON 5 MERCHANDISE
Are you looking for Babylon 5 merchandise? Would you like to possess some of the wonderful patches or pins sold by the B5 Fan Club? Do you want to put in an order for the latest DVD? Bruce at Uncomyn Gifts still has one of the best collections around. Check out www.uncomyngifts.com. You may just find the magazine or t-shirt or patch you are looking for.
---
SCIENCE FICTION PUBLICATIONS
The 100-page Angel Yearbook serves up a feast of Angel goodies for you to enjoy! There are exclusive chats with the entire cast and a complete guide to Season Five — the last season. Following Angel's transformation into a puppet in Season Five's "Smile Time," we take an in-depth look at creating an Angel Muppet! Plus the A-Z of Angel — everything you ever wanted to know… and more!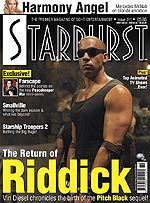 Starburst #311: CHRONICLES OF RIDDICK -- the stormy sequel to PITCH BLACK, returns to the wide screen. Vin Diesel returns and talks about his love for science fiction and his views on what makes a great sci-fi movie. Also in this issue, FARSCAPE - PEACEKEEPER WAR -- an update on the new mini-series. SMALLVILLE's Executive Producer Mark Miller also talks about what is ahead.
Cult Times #104: SMALLVILLE star Tom Welling is the focus of this issue. The interview focuses on the latest changes in the life of Clark Kent and how it may affect the relationship with Lex Luthor. Also in this issue -- Amy Acker, J. August Richards and Andy Hallett talk about the cancellation of ANGEL.




Expose #85: This issue is full of ANGEL interviews. James Marsters and David Boreanaz discuss Spike and Angel's rivalry; Sarah Thompson looks at Eve from Wolfram & Hart and producer Steven S. DeKnight talks about the shocking cancellation. Also in this issue Richard Roxburgh gives insight into becoming Dracula for VAN HELSING and Cary Elwes tells us about his role as the villain in ELLA ENCHANTED.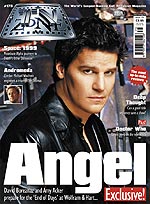 TV Zone #175: ANGEL star David Boreanaz talks about the big changes undergone by the characters in ANGEL's Season Five, his directorial début on the show, and his work on upcoming movie The Crow: Wicked Prayer. ANDROMEDA's Gordon Michael Woolvett tells us about his latest season playing fix-anything engineer Seamus Zelazny Harper, and about making his writing début on the show.
Expose Special #25: CHARMED is the focus of attention in this issue. Alyssa Milano, Holly Marie Combs and Paige McGowan look ahead to a seventh season. Others featured in the issue include co-star Dorian Gregory and producer Brad Kern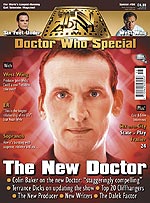 TV Zone Special #56: The big topic in this issue -- the new DOCTOR WHO! Meet Christopher Eccleston and see what qualities he will bring to the role. Also in this issue, Terrance Dicks, writer & and former script editor for DOCTOR WHO, offers some advice for the new production team. Colin Baker played the sixth Doctor and gives you some insights into his memories of the series.




Cult Times Special #29: The theme of this special issue, "Defense of the Realm" -- and we are given profiles of folks like ALIAS' Sydney Bristow, ANGEL's Wesley Wyndam-Price; THE AVENGERSs' John Steed, 24's Jack Bauer and THE MAN FROM UNCLE's Napoleon Solo. Also in this issue, hear from Michael Shanks and Christopher Judge about STARGATE SG-1 and upcoming ATLANTIS.





NEW BOOKS ON THE HORIZON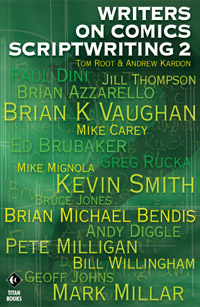 Writers On Comics Scriptwriting Volume 2 tp
by Tom Root & Andrew Kardon

Packed with fascinating behind-the-scenes information, anecdotes, and stories from the hottest writers working in comics today, this second volume of Writers on Comics Scriptwriting offers insider insight into every aspect of the creative process from the likes of Kevin Smith, Mike Mignola, Mark Millar, Brian Michael Bendis, Geoff Johns, Bruce Jones, Greg Rucka, and Bill Willingham, among other notable comics luminaries.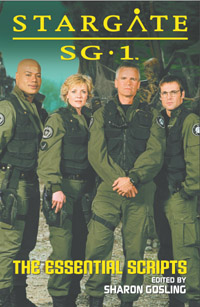 Stargate SG-1: The Essential Scripts TP
by Sharon Gosling
Far more than a script book, this essential Stargate SG-1 series guide is packed with bonus material including an in-depth introduction about writing for the show, deleted scenes, commentary and background, plus exclusive interviews with the writers, directors, and cast members. The following original Stargate SG-1 shooting scripts — complete with annotations — were specially selected for this volume: "2010," "Abyss," "The Fifth Race," "The Torment of Tantalus," "Window of Opportunity," and "Wormhole Xtreme."
(133/1-84023-887-9) (CAUT: 4)
SC, 6x9, 352pg, b&w..........$17.95
RAY HARRYHAUSEN: AN ANIMATED LIFE
by Ray Harryhausen & Tony Dalton, with a Foreword by Ray Bradbury

Ray Harryhausen is arguably the greatest stop-motion animator in the history of motion pictures, blazing new trails in special effects from the 1950s to the 1980s creating realistic dinosaurs, fantastic aliens, and imaginative mythological creatures. In the animator's own words, accompanied by hundreds of previously unpublished photographs, sketches, and storyboards from his personal archives, this book details Harryhausen's entire career — from 20 Million Miles to Earth and Earth vs. The Flying Saucers, to Clash of the Titans and Jason and the Argonauts. (356/0-8230-8402-7)
HC, 9x11, 304pg, FC..........$50.00 BookCloseOut.com

Ranger Dave writes that books by Bruce Boxleitner, John DE Lancie(Q), and William Shatner are available on Bookcloseouts.com in hard cover. They also now have a paperback listing and book prices are greatly reduced. Check it out.
BABYLON 5 NOVELS
DelRey is reprinting the original Babylon 5 novels. They started with #7 - Jeanne Cavelos' THE SHADOW WITHIN. Here's one I've been waiting for -- Kathryn Drennan's TO DREAM IN THE CITY OF SORROWS. The release date is scheduled for July 29, 2003. I love the new cover art! It can be pre-ordered from www.amazon.com. For those of you who love Babylon 5, this one reads just like an episode from the series. You just can't put it down.




COMIC BOOKS
AMAZING SPIDERMAN
AMAZING SPIDER-MAN #506
Amazing Spider-Man #506 will arrive in stores on Wednesday from Marvel Comics. The issue is written by J. Michael Straczynski, with art and cover by John Romita Jr.
Here's how Marvel describes the issue:
"Part one of an arc featuring the mysterious Ezekiel."
Amazing Spider-Man #506 will be 32 pages and will cost $2.25
AMAZING SPIDER-MAN #507

Written by J. Michael Straczynski, cover and pencils by John Romita Jr.
Concluding a 3-part arc, featuring the mysterious Ezekiel!
32 pages, $2.25, in stores on April 28.
AMAZING SPIDER-MAN #508 Written by J. Michael Straczynski, pencils and cover by John Romita Jr. The enigmatic Ezekiel returns to Peter's life. But is he the same man who stood by Spider-Man's side in his hour of need, or will he prove to be something much deadlier? 32 pages, $2.25, in stores on May 26.
SUPREME POWER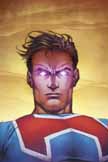 SUPREME POWER #9

Written by J. Michael Straczynski, cover and pencils by Gary Frank.
The world is still shaking from the titanic battle of Hyperion and Dr. Spectrum. Is Earth big enough for two such powerful beings? And who is Power Princess? Find out here!
32 pages, $2.99, in stores on April 7.
STARGATE SG-1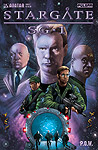 STARGATE SG-1 Comic Issue #2 now in stores
MARCH 31, 2004

The second installment of the new Stargate SG-1 comic book series is now available at retailers worldwide. "P.O.W." #2 tells part two of a 3-issue story, in which Colonel Jack O'Neill finds himself a captive of the Goa'uld. "This is meant to be our introduction to the Stargate world for new comic fans and a fun treat for the hardcore fans," said author James Anthony Kuhoric. The issue features a recounting of the events of the original "Stargate" film, as well as the beginning of the TV series. "In addition to establishing the background as a starting point for future comic book series, this feature amalgams the two universes [of the film and the TV series] into SG-1 continuity. We get to see Richard Dean Anderson as O'Neill during the first Abydos mission!"

With a story by Kuhoric and art by Renato Guedes, "P.O.W." #2 carries a $3.50 price tag and is available in several different covers. Fans who can't find the issue can order it from the publisher's online store, at ComicCavalcade.com.

"P.O.W." #3 is currently on stands, followed by a brand new 3-part series, "Fall of Rome," which will introduce new characters and expand the Stargate universe.
TV SCHEDULE ON SCIFI CHANNEL
BABYLON 5 and CRUSADE are not currently listed on any SCIFI schedule. The SciFi Channel has scheduled "The Legend of the Rangers" for May 21 at 11pm ET.

STARGATE SCHEDULE:

24-MAY-04 6:00 PM STARGATE SG-1 POINT OF VIEW
24-MAY-04 7:00 PM STARGATE SG-1 POLITICS
24-MAY-04 8:00 PM STARGATE SG-1 WITHIN THE SERPENT'S GRASP
24-MAY-04 9:00 PM STARGATE SG-1 THE SERPENT'S LIAR
24-MAY-04 10:00 PM STARGATE SG-1 IN THE LINE OF DUTY
25-MAY-04 6:00 PM STARGATE SG-1 DEAD MAN SWITCH
26-MAY-04 6:00 PM STARGATE SG-1 DEMONS
27-MAY-04 6:00 PM STARGATE SG-1 RULES OF ENGAGEMENT
28-MAY-04 6:00 PM STARGATE SG-1 FOREVER IN A DAY
28-MAY-04 7:00 PM STARGATE SG-1 (RPT) WATERGATE
28-MAY-04 9:00 PM STARGATE SG-1 (LBX) INAUGURATION
28-MAY-04 10:00 PM STARGATE SG-1 (LBX) GRACE
28-MAY-04 11:00 PM STARGATE SG-1 (LBX) INAUGURATION
28-MAY-04 1:00 AM STARGATE SG-1 (LBX) GRACE
31-MAY-04 6:00 PM STARGATE SG-1 PAST AND PRESENT
31-MAY-04 7:00 PM STARGATE SG-1 PRISONERS
31-MAY-04 8:00 PM STARGATE SG-1 GAMEKEEPER
31-MAY-04 9:00 PM STARGATE SG-1 NEED
31-MAY-04 10:00 PM STARGATE SG-1 THOR'S CHARIOT

FARSCAPE SCHEDULE:

23-MAY-04 1:00 AM FARSCAPE THEY'VE GOT A SECRET
27-MAY-04 3:00 AM FARSCAPE DREAM A LITTLE DREAM
27-MAY-04 4:00 AM FARSCAPE MIND THE BABY
27-MAY-04 5:00 AM FARSCAPE VITAS MORTIS
30-MAY-04 1:00 AM FARSCAPE TILL THE BLOOD RUNS CLEAR

EARTH: FINAL CONFLICT

24-MAY-04 8:00 AM EARTH: FINAL CONFLICT ATAVUS HIGH
25-MAY-04 8:00 AM EARTH: FINAL CONFLICT DEEP SLEEP
26-MAY-04 8:00 AM EARTH: FINAL CONFLICT ART OF WAR
27-MAY-04 8:00 AM EARTH: FINAL CONFLICT GRAVE DANGER
28-MAY-04 8:00 AM EARTH: FINAL CONFLICT DEPORTATION
BABYLON 5/CRUSADE PHOTOSHOP PHOTOS







Peter Woodward has sent along a new photo -- a rather dreadful one -- from his appearance on CHARMED. It will be added to the collection of photos available from Peter, including additional copies of the Crusade poster in photo format. Both are autographed by Peter. You do NOT have to pay the prices asked for over at e-bay! Here are photos of B5 and Crusade cast members at fantastic prices. Check out Photo Shop. Ordering is easy -- and you can't beat the prices! Just let me know which photos you want and I'll check to make sure they are still in stock.
---
BABYLON 5 TOONS
John Cook has a wonderful collection of cartoons -- many are take-offs from Babylon 5. Here's just one of them.

He has a cartoon caption contest going on as well. Try your hand at a punch line.

Go to http://contests.sev.com.au/index.php?contestid=1


SCI-FI CARTOONS
While catching up on my e-mail yesterday morning, I got an instant message from LFMOA along with a nice goodie that I can share with readers. Thanks for sending along your version of Pinky and the B5 Brain.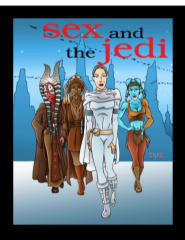 Tye Bourdony's latest Lighter Side of Sci-Fi satire can be seen here and at Tye's website www.thelightersideofscifi.com.





CONVENTION CALENDAR
May 28-31, 2004
MEDIAWEST*CON
Location: Lansing, Mi
A SF/Media fandom convention
For more information, visit their website at http://members.aol.com/MdiaWstCon/mwc24.htm .
---

Slanted Fedora
Date: June 13, 2004
Place: Washington, DC
Site: Days Inn & Conference Center, Dulles
Guests: Dwight Schultz, Elizabeth Dennehy, Hallie Todd, Douglas Arthurs, Robin Curtis, Robert O'Reilly, J.G. Hertzler, Max Grodenchik, Mary Kay Adams, Aron Eisenberg, Casey Biggs
For more information, visit their website at http://sfedora.com/washington_dc.htm.
---

Trek Expo 2004
Date: June 18-20, 2004
Location: Tulsa, OK
Site: Exposition Square
B5 Guest: Jeffrey Combs
Other Guests: Other Guests: Brent Spiner, Michael Shanks, Lexa Doig, John Billingsley, Teryl Rothery, John Glover, Katee Sackoff, Jennifer Lein, Mark Alamo, Casey Biggs, Vaughn Armstrong
For more information, visit their website at http://www.starbase21ok.com/.
---

June 18-20, 2004
JAMES DOOHAN FAREWELL CONVENTION
Location: Los Angeles
Guests: James Doohan, William Shatner, Leonard Nimoy, George Takei, Walter Koenig, Grace Lee Whitney and Majel Roddenberry.
More Guests TBA
For more information, visit their website at http://www.planetxpo.com/ .
---

June 24-27, 2004
ORIGINS Guests TBA
For more information, visit their website at http://www.originsgames.com/ .
---

Be sure to visit the referenced sites to see if there have been changes in dates/guests attending. Also visit our Convention Calendar for a full listing of upcoming conventions featuring Babylon 5, Crusade and Legend of the Rangers cast members as guests.
CONVENTION HIGHLIGHTS
Ranger Brian had a blast with Rick, Jason and Jeffrey at the 2BeContinued Convention last week in Indiana. He sent along a picture for everyone to enjoy. Thanks Brian.
If you would like to share your convention experience with your other Zocalo readers, send along a convention report. I will gladly post it for all to read. Got pictures? I'll post those as well.
ZOCALO TRADING POST
Do you have extra copies of B5, Amazing Spiderman, Midnight Nation or Rising Stars comics you'd like to trade? How about those extra trading cards or B5 magazines? There are a lot of fans looking for these items -- and the Trading Post can help you buy or sell them. To see what's available, just use this link to the Trading Post. To have items included in The Trading Post, send a note to The Zocalo. Please put Trading Post in the subject line.
PEN PALS
If you are looking for someone to talk about Babylon 5 and Crusade with, the Pen Pal section is for you! Check it out! Drop a note to someone who is feeling B5 withdrawal -- BIG TIME!

People thought a Pen Pal page was a good idea. If you would like to meet people who you could chat with or share your opinions of the show with, send along your e-mail or snail-mail address The Zocalo. It will be incorporated on the new Pen Page Page.
MAIL FOR CAST AND CREW
Here's a recent note from JMS on the subject:

Just an FYI to those who've been using the Ventura Blvd. mail drop for fan mail to actors....

As mentioned before, we're phasing out the forwarding of fan mail because we a) don't have the resources, complicated by b) the actors have scattered to the four winds, and it makes it very difficult to get everything to everybody in a timely fashion.

So, having provided prior notice...fan mail to actors coming to the Ventura Blvd. mail drop will be sent back. Mail to actors should be sent via their official fan clubs. I will still be taking mail there, since it's my mailbox, but that's it.

Just so's y'all know and save a few bucks on postage and returns.

WARNER BROS:

Warner Bros. Address:

Warner Bros. Domestic Television Distribution
4000 Warner Blvd.
Burbank, CA 91522

Warner Home Video:

Mr. Douglas Wadleigh
VP for Marketing and Special Features
Warner Bros.
4000 Warner Blvd.
Burbank, CA 91522

SCIFI:
Bonnie Hammer, President
Sci-Fi Channel
1230 Avenue of the Americas
New York, NY. 10020-1513

Mr. Thomas Vitale
Senior VP of Acquisitions, Scheduling & Program-Planning
BACK ISSUES OF THE ZOCALO TODAY
The front page of the The Zocalo Today changes daily, so be sure to check the back issues to make sure that you haven't missed anything IMPORTANT! I don't want the front page getting too long so I shift information periodically into the archives. So if you aren't a regular visitor to The Zocalo Today, be sure to check out the back issues. Just use the button above!
---
Take care and I look forward to hearing from you.
Sandra Bruckner (sgbruckner@aol.com)
Editor/Publisher
The Zocalo Today
http://www.isnnews.net
Copyright - SBruckner, 1999-2004