[an error occurred while processing this directive]

The Zocalo Today

Welcome! I am glad that you found The Zocalo Today and dropped by. Take your shoes off, get comfortable and stay a while. There is a LOT of information here and you won't want to miss any of it.

The Zocalo Today is an interactive newsletter, encouraging readers to join a discussion topic each week. If you have suggestions as to how The Zocalo can be improved -- or be more responsive -- send them along. The Zocalo Today is as much YOUR newsletter as it is mine! I'm just pulling together things for you!

Join our weekly discussion topic. It is just one way you can interact with other Z readers. If you have other information you would like to share, send it along. If you see Babylon 5 cast and crew in other roles, let us know. We enjoy convention reports, photos, etc. Don't miss our back issues. I hope this will become more than just a newsletter. It's a community of people that enjoy sharing their experiences and interests. Don't be shy. Join us today!

If you have questions, drop me a line at sgbruckner@aol.com or thezocalo@aol.com. If you would like to join the mailing list for our bi-weekly newsletter, send me a note and I'll include you on the list. Or you can use the subscription block at the left.

Again, WELCOME!




What's New Today
Friday, June 6: RATINGS: Top SF Network Shows: Smallville 4.2; Charmed 3.3; Buffy 2.7; Enterprise 2.6; Angel 2.6; Smallville encore 1.4, and Smallville encore 1.4. Source: Nielsen Galaxy Report, 5/5/03 - 5/11/03.
---

STARGATE SG-1: Be sure to catch the final episode of season six, FULL CIRCLE, tonight on SCIFI. It will run at 9:00 and 11:00pm ET. It will make next week's premiere of season seven much more meaningful. Don't forget to register for the GET IN THE GATE sweepstakes. You could win a walk-on role in the series! Go to www.scifi.com/stargate for details.
---
LUKE CAGE: With the success of X-MEN and SPIDER-MAN, another of Marvel's superheroes will be hitting the big screen. According to The Hollywood Reporter, Columbia Pictures has optioned the rights and tapped Ben Ramsey to write the script. Marvel's Avi Arad will produce, along with Neal Moritz's studio-based Original Films. Cage is about a former gang member who is framed for a crime. In prison, he volunteers for a medical experiment that goes awry, giving him super strength and bulletproof skin. Using his newfound powers, Cage escapes and becomes a hero for hire.
---
HARRY POTTER: According to Amazon.com and Reuters, advance orders for the upcoming fifth Harry Potter book now top 1 million copies. HARRY POTTER AND THE ORDER OF THE PHOENIX comes out June 21.
---
TROY: This production with Brad Pitt is moving right along. For pics, go to http://www.thezreview.co.uk/news/news939.htm.
---
INSIDE SCI-FI THIS WEEK:
Thursday, June 5:
TOP 10 SF DVD SALES: 1. Die Another Day; 2. The Two Towers; 3. The Animatrix; 4. Buffy Season Four; 5. The Animatrix; 6. Star Trek Nemesis; 7. Chamber of Secrets; 8. The Matrix; 9. Children of Dune, and 10. Stargate SG-1 Season Three. Source: Amazon.com, top-selling genre DVDs, 5/30/03.
---
GET IN THE GATE: On June 6, fans will have a chance to win a walk-on role to SCI FI's STATGATE SG-1 series. The "Get in the Gate" sweepstakes runs through July 6 and all that is required is for fans to register on the show's official Web site. In addition to actually appearing in an episode of SG-1, the grand prize winner will also receive air and hotel accommodations for two to Vancouver, B.C., where SG-1 is produced; $400 spending money; and transportation to and from the set. The sweepstakes is being launched in conjunction with MGM Home Entertainment's release of the Stargate SG-1 season-three DVD set, which hits stores June 17. The first "Get in the Gate" sweepstakes took place in 2002, drawing 25,000 entries, and the winner had a character named after him.
---
DIE ANOTHER DAY: Variety reports that MGM shipped its largest ever initial retail order of DVDs and videos for the June 3 North American release of DIE ANOTHER DAY. The studio shipped 8 million copies of the biggest 007 movie ever, with another 8 million expected to be shipped overseas by the time orders from all countries come in. Re-orders for DIE are being taken in the U.K. and other parts of Europe, where the DVD was released in late April. The title also marks what is believed to be the highest percentage of DVDs for a major release, with 93 percent of all copies being delivered in the U.S. and Canada on the digital format, compared with just 7 percent on VHS, the trade paper reported. If the studio sells all 16 million copies, consumer spending worldwide, including rental, could reach close to $300 million, according to industry estimates. Box-office receipts for the movie, released in theaters last fall, have reached $160 million in the U.S. and $430 million worldwide.
---
MUTANT X: Tribune Entertainment has announced the season three premiere for MUTANT X will be September 29.
---
Wednesday, June 4: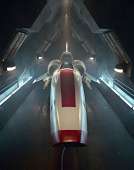 BATTLESTAR GALACTICA: SCIFI has opened a new website to introduce BATTLESTAR GALACTICA to fans. Over at http://www.scifi.com/battlestar/ you will find bios for the cast, conversations with Executive Producers Ronald Moore and David Eick, trailers (really just animated sequences), few pictures of the new show and some great images from the original series. The front page says the mini-series is coming December 2003. As the premiere date approaches, I'm sure we'll be learning more.
---
INDIANA JONES 4: According to Harrison Ford, Frank Darabont has completed his script for a proposed fourth Indiana Jones movie. "Steven [Spielberg]'s quite happy with it," Ford said in an interview. "I'm expecting to see it in a couple of weeks." Ford said that he remains eager to reprise his most famous role. "It pleases me to play a character that audiences want to see," he said. "I know that it's eagerly anticipated, and I want us to do a good job, make a film at least as good as the ones we've made before." There is a lot of time before this one even goes into production -- the projected release is July 2005.
---
DEEP SPACE NINE: DS9 fans have been waiting for a while -- but yesterday Paramount Home Video released the seven-disc set containing all 26 episodes from the show's 1994-95 season. With the third season came The Dominion, the Gamma Quadrant interstellar empire that became the show's main adversary and that launched a war with the entire Alpha Quadrant. Key episodes include "The Search, Parts I and II" which introduces the USS Defiant and sees Commander Sisko promoted to Captain; "Defiant" in which a duplicate of NEXT GENERATION's Commander Riker steals Sisko's ship; a trip to the early 21st century in "Past Tense", which shows the problems Earth faced before first contact; "Through the Looking Glass", another trip to the Mirror Universe; and the season finale "The Adversary" in which Odo has to make a choice between his people and his loyalty to DS9. Bonus material includes a featurette examining the building of the Dominion; a look at the episode "Explorers" and the ancient Bajoran ship used in it; Michael Westmore's Aliens; an examining of "Past Tense"; and interviews with cast member Rene Auberjonois about the changes to the character of Odo this season. All episodes are shown in full-screen format. The seven-disc set of STAR TREK: DEEP SPACE NINE - THE COMPLETE THIRD SEASON retails for $129.99. The fourth season is scheduled for release on August 5.
---
THE HULK: With the premiere of THE HULK approaching quickly (June 20), you will want to read through the interview Dark Horizons has with Eric Bana who portrays David Banner (The Hulk) in the film. The soundtrack from Danny Elfmann hits stores on June 17. The Hulk adaptation is being released by Marvel Comics on Wednesday. The adaptation is written by Bruce Jones, who also writes The Incredible Hulk comic. Eric Bana will be a guest on NBC's The Late Show with Conan O'Brien on Thursday, June 19.
---
Tuesday, June 3:
SF BOOKS: Top 10 Bestselling SF Books: 1. Harry Potter and the Order of the Phoenix; 2. The Da Vinci Code; 3. The Eternity Code; 4. The Lovely Bones; 5. Angels & Demons; 6. Potter box set; 7. Holes; 8. Wolves of the Calla; 9. Oryx and Crake, and 10. Fahrenheit 451. Source: Amazon.com, 5/30/03.
---
MAGIC TIME: This past weekend, Armin Shimerman (Star Trek: Deep Space Nine and Buffy) and author Marc Scott Zicree signed over 300 copies of their new audiobook novel MAGIC TIME. The marathon signing took two and a half hours and was organized by Blackstone Audio to promote the new release. The book is the first in a trilogy about a post-apocalyptic fantasy version of America.
---
E-MAIL: Here is something we can ALL relate to! SF author Arthur C. Clarke told the BBC that he foresees a time when e-mail will unite the entire globe. "I cannot imagine life before e-mail. Our ancestors live in a tiny limited world, knowing nothing about what was going on beyond the horizon. We do live in an infinitely richer world and are definitely better for it." In his BBC interview, Clarke acknowledged that the spread of technology has divided the world. "It is true that we are getting two different worlds now. Some people have access to information, and I am sure a few yak herders in Mongolia do have access to e-mail, but the bulk of the world does not. This is something that will be slowly rectified, just as, after all, there was a time when there were hardly any newspapers. When printing was invented, somebody said, 'This is very interesting, but what good is it when nobody can read?'"
---
MARVIN THE MARTIAN/DUCK DODGERS: When NASA launches its Mars Exploration Rover Missions this month, the mission patches that the control crew will be wearing on their jackets and drinking coffee from their mugs will sport two heroes from classical animation. WB's own Daffy Duck (portraying his cosmic Duck Dodgers character) and Marvin the Martian have been selected by NASA, the United States Air Force, and Boeing as the mission's "planet gladiators", representatives of exploration. With Marvin being used for rover A and Daffy for rover B, the mission logos will be seen on Team Delta crew suits, jackets and mugs and the Air Force 1SLS Delta rocket launch pad. The Mars Exploration Rover (MER) launches will bring two rovers to the surface of Mars to further explore the red planet's surface. The first rocket is scheduled for lift-off on June 8 while the second is scheduled for June 25.
---
SCARE TACTICS: SCIFI has ordered up nine new episodes of SCARE TACTICS starting Friday, June 20. Host Shannen Doherty will also return for the new episodes. Created by Scott Hallock and Kevin Healey (NBC's "Spy TV"), SCARE TACTICS debuted on April 4 and the producers have been flooded with requests from people eager to set friends and family up on a good natured science fiction hoax.
---
LEAGUE OF EXTRAORDINARY GENTLEMEN: More pictures have been released by 20th Century Fox for the upcoming LEAGUE OF EXTRAORDINARY GENTLEMEN. This fantastic looking car is just one of them. The film, starring Sean Connery in an adaptation of Alan Moore's America's Best Comics series, is due in theaters on July 11. Connery plays Allan Quartermain. Peta Wilson is featured in the film as vampiress Mina Harker. The cast also includes Tony Curran as the Invisible Man, Jason Flemyng as Dr. Jekyll/Mr. Hyde, Shane West as Tom Sawyer and Naseeruddin Shah as Captain Nemo. To see the other photos, go to http://www.comicscontinuum.com/stories/0306/02/index.htm.
---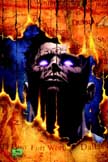 SUPREME POWER: Be sure to check out the latest on JMS' latest comic SUPREME POWER. It should be out on stands August 16.
---
Monday, June 2:
RATINGS: Top 10 SCIFI Channel Shows: Lost Voyage 1.3; Stargate SG-1 1.3; Gargantua 1.3; Scare Tactics 0.9; Anaconda 0.9; Octopus 0.8; Heart and Souls 0.8; The Haunted 0.8; Secret KGB UFO Files 0.8, and Deepstar Six 0.8. Source: Nielsen Galaxy Report, 5/5/03 - 5/11/03.
---
WEEKEND BOX OFFICE: This weekend, Buena Vista's FINDING NEMO captured an estimated $70.6 million in its debut session, leaving numerous boxoffice records in the wake of its stellar opening. It was a very good weekend for the industry. Last week's #1 film, BRUCE ALMIGHTY, slipped to #2, but still brought in an estimated $35.6 million. Paramount's "The Italian Job" came in third with an estimated $19.3 million -- as well as a strong supporting array of attractions -- the estimated total for the top 12 films rose to $165.6 million.
---
MONK: When MONK returns to the USA Network on June 20, you will see only half of the new episodes available. USA Network is splitting up the second season into summer and winter. Nine new episodes will begin airing June 20th, with the remaining seven eps due in the winter. With critical reviews and recognition, the production of Monk has seen an increase in the budget and relocated from Toronto to Los Angeles.
---
Sunday, June 1: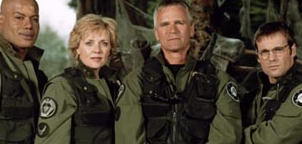 STARGATE SG-1: The big news this week will be the season six finale on Friday night. This is not only a terrific episode, but it mixes up quite a lot -- and sets the stage for Season Seven on June 13.
---
Saturday, May 31:
BATTLESTAR GALACTICA: Fans are curious about the "reimagined" BATTLESTAR GALACTICA currently under production in Vancouver for the SCI FI Channel. A report at www.scifi.com indicates that the new series will be a mix of the original TV series with new designs. A few items will remain the same -- the Colonial coins -- cubits -- are modeled after the original props. The Galactica Vipers are identical to the original, but a new ship, the Raptor, has been added to the fleet. However, some old favorites are missing -- the fighter pilot Egyptian-style helmets will be more streamlined. The villainous Cylon appearance is still under wraps. Visual special effects supervisor Gary Hutzler said in a recent interview that the old-style Cylon has been renamed "the harbinger of doom" and will be on display as an example of what the Cylons looked like in the past. Battlestar Galactica will debut in December.
---
METAL DETECTORS AT MOVIES? While metal detectors have become a part of our lives at airports -- and the office, according to Reuters, Disney has hired security guards to scan audiences with metal dectors and night-vision goggles to help prevent piracy of its new animated film FINDING NEMO. Other producers are looking for ways of preventing film piracy. Reuters indicated that Fox also used night-vision goggles in early screenings of X2 and more recently of DOWN WITH LOVE. FINDING NEMO opened last night, May 30.
---
FINDING NEMO: Speaking of FINDING NEMO, there are too few G rated movies these days -- good movies you aren't afraid to send your children out to watch. NEMO is poised to overtake last week's box office leader, BRUCE ALMIGHTY. For a review of FINDING NEMO by The Hollywood Reporter, go to http://www.hollywoodreporter.com/hollywoodreporter/reviews/article_display.jsp?vnu_content_id=1894468. It received an "A" over at E!Online.
---
INDIANA JONES/HAN SOLO/JACK RYAN GETS A STAR: Yes, Harrison Ford has finally gotten a star on the Hollywood Walk of Fame -- number 2226 to be exact! Attending Ford's star ceremony was long-time girlfriend Calista Flockhart and Steven Spielberg. Spielberg made a speech about Ford to the many fans that lined the street for this prestigious ceremony at the Kodak Theatre at Hollywood and Highland.
---
THE OUTER LIMITS: According to MGM Home Entertainment, September 2 is the release date for the second season of the original THE OUTER LIMITS. The set will be three DVDs containing 17 episodes. Some of the series most fondly remembered episodes were in this season including Harlan Ellison's "Soldier" (which provided the basis for James Cameron's THE TERMINATOR) and ""Demon with a Glass Hand"; "Cold Hands, Warm Heart" starring a pre-STAR TREK William Shatner; ""The Invisible Enemy" starring Adam West (BATMAN) and best remembered for the sandshark that swallowed astronauts whole; and "The Inheritors" starring Robert Duvall as a scientist whose IQ shoots through the roof.
---
STARGATE DVD: September 2 has been set as the release date for the third season set of STARGATE SG-1. This five disc set contains all 22 episodes, a 25-minute documentary and two featurettes. Notable episodes include "Watergate" which introduced the Russian Stargate (and which starred STAR TREK: THE NEXT GENERATION's Marina Sirtis); "Small Victories" which introduced the deadly new alien threat of the Replicators; "2010" which looks at one possible future outcome of the series; and "Exodus", the season finale which reintroduces evil System Lord Apophis back into the series.
---
RETURN OF V? Over at Cinescape there is speculation about the return of the 1980 series "V". According to sources mentioned in the article, NBC and Warner Bros have closed a deal to do another series, pending a script from Ken Johnson. From the article, it appears that they are looking to see what the original cast members are up to in case they are needed for the new series! It's been almost 20 years since V was on the tube, but fan support and interest remains high. The show was created by Ken Johnson (THE INCREDIBLE HULK) and followed the invasion of Earth by a reptilian alien race. A group of human resistance fighters eventually proved to the world that the aliens were not friends of humanity and drove them off the planet. PS Over at Dark Horizons , they report that Ken Johnson responded to the rumor, saying, "Thanks for your interest in a potential sequel to V. It's in the works. I will not be discussing any specifics regarding the story or casting until the program has been produced and is scheduled for air. I'm hopeful that some of the actors who starred in the original will be able to resume their roles, depending upon their availability and the direction NBC , Warners and I ultimately go with the story. You should watch for announcements in the press (Check TV Guide in next couple of weeks)".
---
HELLBOY: For those of you following the progress of this comic book movie, there are new pictures available at http://www.sonypictures.com/movies/hellboy/hellsite/. Ron Perlman looks just like the comic book character.
---
RIPPER: With the end of BUFFY, Anthony Stewart Head, who played Giles on the show, says he and creator Joss Whedon hope to make a TV movie in coming years called RIPPER. The project would focus on Head's frequently bemused character's darker side. Although the idea could become a TV series, he said, neither he nor Whedon want the character to get mired in a monster-of-the-week format. "He said he's more interested in the character of Giles and what happens to him alone, his solitude," Head said.
---
B5 CAST IN OTHER ROLES: Thanks to the listing sent along by Ranger Fredrica, I've updated the B5 CAST IN OTHER ROLES page. Enjoy.
---
WHAT'S ON TONIGHT
8:00 PM on FX
Predator 2
Gory sequel involving a lethal alien with an appetite for L.A. drug dealers. 8:00 PM on DISNEY
Inspector Gadget
Film adaptation of the animated TV series stars Matthew Broderick as a security guard who, after an accident, becomes a bionic crimefighter and goes up against the villainous Claw (Rupert Everett). On SciFi Tonight: 7:00 PM
Dead Zone
Scars
After learning Stillson's congressional rival---a long-time incumbent---is a war veteran with a dark secret, Johnny ponders whether the truth is more important that Stillson's defeat. 8:00 PM
Stargate SG-1
Prophecy
SG-1's mission to thwart the plans of a nefarious underlord takes a left turn when Jonas suddenly develops an ability to predict the future. 9:00 PM
Stargate SG-1
Full Circle
The spirit of Daniel Jackson (Michael Shanks) warns O'Neill that a powerful amulet will fall into Anubis's grasp unless the SG-1 team can grab it first.
AFI'S HEROES AND VILLAINS
Here are the top 10 pics from last night's CBS special: \"A.F.I.\'s 100 Years, 100 Greatest Heroes & Villains\". Heroes:
1.) Atticus Finch from "To Kill A Mockingbird"
2.) Indiana Jones from "Indiana Jones & the Temple of Doom"
3.) James Bond from "Dr. No" to "Die Another Day"
4.) Rick Blaine from "Casablanca"
5.) Will Kane from "High Noon"
6.) Clarice Starling from "Silence of the Lambs"
7.) Rocky Balboa from "Rocky"
8.) Ellen Ripley from "Aliens"
9.) George Bailey from "It's a Wonderful Life"
10.) T.E. Lawrence from "Lawrence Of Arabia" Villains:
1.) Hannibal Lecter from "Silence of the Lambs"
2.) Norman Bates from "Psycho"
3.) Darth Vader from "Star Wars"
4.) The Wicked Witch of the West from "The Wizard of Oz"
5.) Nurse Ratched from "One Flew Over The Cuckoos Nest"
6.) Mr. Potter from "It's a Wonderful Life"
7.) Alex Forrest from "Fatal Attraction"
8.) Phyllis Dietrichson from "Double Indemnity"
9.) Regan MacNeil from "The Exorcist"
10.) The Queen from "Snow White & The 7 Dwarfs"
CHATS AHEAD
SCIFI has arranged for a number of chats over the next few weeks. Here's a schedule: AMANDA TAPPING - Maj. Samantha Carter from STARGATE SG-1
Monday, June 16 at 9PM ET GLADISE JIMINEZ from TREMORS: THE SERIES
Tuesday, June 17 at 9PM ET RICHARD DEAN ANDERSON - Col. O'Neill from STARGATE SG-1
Wednesday, June 18 at 9PM ET CHRISTOPHER JUDGE - TEAL'C from STARGATE SG-1
Thursday, June 19 at 9PM ET For information on how to join a chat, go to http://www.scifi.com/chat/.
NEW BABYLON 5 RPG
Ranger Jason has filed the following report that will be some interest to you:

Mongoose Publishing recently received the B5 Licence to do a d20 style game in the B5 Universe. The main book and supplements will start rolling out very soon (next 3 weeks).

They published a sneak peak booklet at http://www.vita.clara.net/b5preview.pdf which has tons of useful B5 stuff including a diagram of the station, and a near comprehensive map of the B5 Universe.

We need B5 Fans to support this because unless JMS releases another series or book, this will be the only new B5-feel product for some time.

Mongoose's site can be reached here http://www.mongoosepublishing.com/.
BABYLON 5 SEASON THREE DVD
Warners is SO happy with sales of Babylon 5 DVDs they are pushing up the release of Season Three. The release projected date is August 12. You can put in orders now at Amazon.com. Season 3 Details
5/08/2003 Warner Brothers has announced August 12th as the street date for Babylon 5: The Complete Third Season. Subtitled "Point of No Return", it will be another 6-disc extravaganza featuring all 22 episodes of the third season. In addition, Warner is again working with producer/creator J. Michael Straczynski to bring you the very best in the way of supplements: Introduction from series creator J. Michael Straczynski
Commentaries on 3 key episodes by series creator and stars
Documentary: Behind the Mask: Creating the Aliens of Babylon 5
Documentary: Designing a Better Narn
Documentary: Designing Tomorrow: The Look of Babylon 5
Data and Personnel Files Once again this will by brought to you in 16x9 Anamorphic Widescreen, and with sound remastered in Dolby Digital 5.1...all for a list price of $99.98.
BABYLON 5 SEASON TWO DVD
Over at SciFi Dimensions you can read a review of the Season Two DVD. I think you'll agree with this closing comment: Babylon 5: The Complete Second Season firmly establishes this show as one of the great all-time franchises in science fiction. Every self-respecting fan owes it to himself or herself to own this DVD series. The WB has promoted the new Season Two DVD in a number of ways. You will see ads on the WB network and they provided a number of B5 sites with promotional material. Rather than try to deal with all the material, I invite you to visit Monica over at The Abyss who has done a marvelous job of putting all the material out for everyone to enjoy! Thanks Monica. Go to http://abyss.hubbe.net/b5/dvds/boxed-s2promos.html Don't forget about the Season One DVD! I spent a very enjoyable evening watching many of the season one episodes again -- and listening to JMS' commentary on disks 4 and 6. It is a wonderful way to keep Babylon 5 for future fans to see.
SYNOPSIS
The long-running Emmy Award-winning television series Babylon 5 takes place in the year 2257 A.D, on an immense space station floating in a stationary orbit in a neutral corner of a distant galaxy. Staffed by a crew of peaceful Earthmen and women, Babylon 5 serves as a non-political economic and social hub for the four alien races -- the Narn, Centauri, Vorlon and Minbari -- who fight to control the galaxy. Babylon 5: The Complete Second Season
$99.98 SRP
STREET DATE: April 29
RATING: NR
RUN TIME: approx: 990 minutes BARGAIN ALERT: Ranger Donita has a tip for those wanting to purchase DVDs here in the U.S.
The cheapest place to get B5 Season 1 and 2 is Playcentric. I paid $59 for season 1 and $60 for season 2. Also to get the cheapest price on all DVDs I recommend using Bargainflix.com, for those of us in the US. All you have to do is to type in the name of the DVD, or actor, or director, and they will show you the price comparison. Great for those of us who like to support our favorite sci-fi shows and movies by buying the DVD. Ranger Dave sent along this report on purchasing the Season Two DVD in the UK: " I picked up the Season 2 DVD of B5 at MVC for £5 less than most other people are selling it - including Amazon.co.UK or Play.com. If you become a card member (it is free, hardly a hassle and takes a moment) you can get the set for £37.99 where as most others are selling it at £42.99 - just a handy saving tip." Ranger Manuela has a bargain to match Dave's -- in Germany. Here is here report:

Got one like that for German readers: avides.com (despite the url, they're located in Lower-Saxony here) are selling season two for 39,95 Eur. It's got English and German on the dvds, so perfectly fine. :-)
DISCUSSION TOPIC
This topic was suggested by Ranger Helen and I think will bring in some interesting comments!
What was the first science fiction you ever read, about how old were you when you read it? How did it affect your choices of reading matter in the science fiction genre later? Send in your comments to sgbruckner@aol.com. I'll post the responses on the Discussion Page for everyone to share.
BABYLON 5 CHRONOLOGY
I've put up another wonderful segment of the Babylon 5 Chronology. This segment begins with 2249. Go to 23rd Century. I noticed that JMS used a section of Terry's chronology to answer a question the other day about Morden/Anna's trip over on the B5 moderated newsgroup. A BIG THANK YOU and note appreciation goes to Terry for taking the time (and considerable effort) to pull the chronology together -- and for updating it to include CRUSADE, the novels and other relevant Babylon 5 material. THANKS TERRY!
REVIEWS WANTED:
REVIEWS OF THE NEW DVD: A number of people have commented on the new DVD so I've begun adding them to the review page. Check it out. Send in your comments for others to see.

NEW REVIEWS! See if you agreed with the reviews received thus far! Go to Reviews to see. Want to express your opinion? Just drop me a line and you too can see your name in lights.

Read any good books lately? How about the movies. Did you like LORD OF THE RINGS, NEMESIS? Send along a review and share your thoughts with the readers here. Let's make one of our New Years Resolution one of staying in touch here at The Zocalo Today.
KEEPING UP WITH CAST AND CREW
ROBIN ATKIN DOWNES: Robin has been pretty active over the last few months. He will be turning up in conventions over the summer in Cleveland, Tampa, Indiana, England, France, Prague, Atlanta and Orange County. You will also see him in some advertisements on the tube as well. For example, beginning this summer, he will be the Irish announcer in the Sprint Yellow Pages on Golf Spot. He also plays a Russian Basketball player in love with a chicken for Dairy Queen. That spot is scheduled to run nationally beginning in September. He has done some CD ROM work as well for gamers, including BATTLESTAR GALACTICA. He plays the lead pilot, Adama. The game is coming to game cube. Visit http://www.xbox365.com/news/zcomment.cgi?article=EpVEVVFkAyPCtMysan&tmpl=xxt_zc_template&prof=dev for a preview.
---
JASON CARTER/RICHARD BIGGS: Pipeline Productions is currently organizing a Biggs & Carter Experience (acting workshop) Cruise event. Anyone Interested in participating can be added to the mailing list by emailing their name and address to JasonCarterFC@aol.com. For more information on the Biggs & Carter Experience, please visit www.biggsandcarter.com .
---
J. MICHAEL STRACZYNSKI: For those of you who just can't get enough from JMS, there is a long, but interesting interview in Sketch Magazine at http://www.hypethis.com/interviews/interview_jmichaelstraczynski.html.
---
BILL MUMY: Bill will be releasing his 5th solo CD in April on Renaissance Records. GHOSTS will be a compilation of songs (the best of) taken from the first four CD's plus a few brand new ones. The brand new songs include "Always Open", "Take it Back", "The Recalcitrant Princess" and "Just A Drop of Rain in the Ocean." Angela Cartwright from Lost in Space will design the package. The album will be available through Amazon.com and other internet sites as well as a few of the bigger stores.
---
BABYLON 5 BIRTHDAYS
Jeffrey Willerth - June 5
Donovan Brown (Optic Nerve) - June 6
Ann Bruice Aling - June 8
Mark Walters - June 10
Susan Norkin (Post) - June 10
Adrienne Barbeau (Amanda Carter) - June 11
Mike Vejar - June 25 Have I missed anyone? If you know the birthday of someone connected with Babylon 5, pass the information along. We want to include everyone in our Happy Birthday Wishes.
READER BIRTHDAYS
Sometimes you just can't find the e-mail address for someone you know you have -- it's someone who responded to a discussion topic or you met in one of the chat rooms. You'd like to send a personal note, but .... No address!!!!

We've started a White Pages of Zocalo Readers! It's a handy way of keeping track of people -- and putting together a birthday/greeting card list as well. If you would like to be part of the listing, just send me your name, state, e-mail address and (if you'd like to have it listed) birthday (without year) to sgbruckner@aol.com. Check out the Directory of Readers.

Name: Sandra Bruckner
E-mail: sgbruckner@aol.com
State: Maryland/Washington, DC/Pennsylvania
Birthday: June 2

Name: Melody Pritchard
State: North Carolina
E-mail: mockinbird_21@yahoo.com
Birthday: June 9

Name: David Shepherdson
State/Country: West Yorkshire, Great Britain
E-mail address: dragonrider@clara.co.uk
Birthday: 14th June

Name: Marilyn Strauss
E-mail: marilyn@miraclebaby.com
Birthday: June 1
COMIC BOOKS
AMAZING SPIDERMAN
AMAZING SPIDER-MAN #56
Written by J. Michael Straczynski and Fiona Avery, pencils by John Romita Jr. and cover by Mike Deodato Jr.
The conclusion of the 2-part "Unintended Consequences" story arc co-written by JMS and Fiona Avery.
32 pages, $2.25. AMAZING SPIDER-MAN #57
Written by J. Michael Straczynski, pencils by John Romita Jr. and cover by Tony Harris.
J. Michael Straczynski is back flying the Spider-Man ship solo in a 2-part story arc leading up to October's Amazing Spider-Man #500.
32 pages, $2.25, in stores on Aug. 13 and Aug. 27.
For a review of the current issue, go to http://cherokee.thmedia.net/~zenterta/comicreviews.php?op=showcontent&id=925. Amazing Spider-Man #53 is on shelves now. The issue is written by J. Michael Straczynski, with art and cover John Romita Jr. and Scott Hanna. Here's how Marvel describes the issue:
"Part 3 of a 3-part story." Amazing Spider-Man #53 is 32 pages and costs 25 cents.
RISING STARS

An original novel based on the hit comic book series! It covers the events that happened in issues #9-16.

SUPREME POWER
Joe Quesada talks about SUPREME POWER at Wizard World East. See the excerpt over at http://www.comicscontinuum.com/stories/0306/05/index.htm. Here is an update from JMS on SUPREME POWER: Just an FYI for those who've been keeping an eye on this one...on August 6, Supreme Power will hit the stands, with pre-orders being taken now at comics stores. Up until now, I'd always felt that Midnight Nation was the best thing I'd ever managed to pull off in comics. (I enjoy the heck out of writing Spidey, but there's just something about Midnight Nation that won't let me go.) Supreme Power may, I finally think, supplant that one. There's something going in in Supreme Power, a strong emotional core, that pulls me in every time I sit down to write it. It's got an edge, it's profoundly sad in places, and weirdly funny in other places. Some elements are bound to be a bit controversial, but that's part and parcel of telling this particular story. Emotions are, for me, the whole point of telling a story, and those who've read and reviewed Midnight Nation as it slowly revealed itself know what I'm talking about. Not coincidentally, Gary Frank is doing the art, who also did the art on Midnight Nation. So that may also be a part of it. The art is just stunning, especially the way he captures the emotion of the characters in their eyes. Given the reactions of some folks who've seen the black and whites proofs of the first issue, I think this is going to move out pretty fast, and Marvel for the most part doesn't reprint issues, so if it ain't ordered in advance, it might not be available until the gather it together for the trade. Anyway...I don't want to belabor the point. I don't generally come on to promote something unless I feel strongly about it, and this one I *definitely* feel strongly about. I'm inestimably proud of this book, and I hope you'll check it out. From Previews magazine:
SUPREME POWER #1
by J. Michael Straczynski & Gary Frank Presenting a brand-new vision of a world about to give birth to its first generation of superheroes! This new MAX ongoing series follows the origins of these new heroes - from their birth through adulthood, and examines how their lives and abilities change and shape the world around them. A hard edged, mature, and deeply personal saga that pushes the limits of the comics form into new, uncharted territory. FC, 32 pg ..........$2.99
CSI: BAD RAP
IDW Publishing will launch its next series of CSI: Crime Scene Investigation comic books, entitled Bad Rap, in August. IDW will return the creative team of writer Max Allan Collins and artists Gabriel Rodriguez and Ashley Wood. The publisher describes the series: "Bad Rap injects the CSI team into the world of gangsta rap and murder. Murder is something they know well; rap is one they will soon learn. When famous and volatile rapper Busta Kapp is found dead in his limo, the suspects are many. It seems that Busta had as many enemies as he had gold chains, and when things go from Bling Bling to bang bang, the CSI team will have to separate the blood from the gold." Also in August, IDW Publishing will collect their original 5-issue CSI mini-series, CSI: Crime Investigation--Serial. In addition to the story, the trade paperback features an exclusive introduction by CSI TV series creator Anthony E. Zuiker, never before seen story pages, and a new three-page story by Collins and Woods.
BOOKS
BABYLON 5 NOVEL
DelRey is reprinting the original Babylon 5 novels. They started with #7 - Jeanne Cavelos' THE SHADOW WITHIN. Here's one I've been waiting for -- Kathryn Drennan's TO DREAM IN THE CITY OF SORROWS. The release date is scheduled for July 29, 2003. I love the new cover art! It can be pre-ordered from www.amazon.com. For those of you who love Babylon 5, this one reads just like an episode from the series. You just can't put it down.




SCI FI PUBLICATIONS
Cult Times #93: Writer/director/extra Peter DeLuise talks about Season Seven of STARGATE SG-1, bringing back Daniel Jackson and some extras. Also in this issue, Gina Torres from FIREFLY and ANGEL; Chloe Sullivan from SMALLVILLE and Carl Lumbly from ALIAS.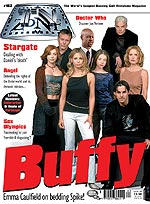 TV Zone #162: With the end coming for BUFFY, most of the SF magazines will sport covers of the cast and TVZone is right in line with the entire cast. Emma Caulfield looks back on five years with the series while Director Michael Wood from STARGATE SG-1 looks back on season six and some of his early stories.
Expose Special #77: This special issue is a review of 2002. With Harry Potter #2, Lord of the Rings and Terminator 3, they also look at Star Trek: Nemesis, FIREFLY, Buffy and Dinotopia.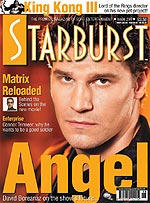 Starburst #298: ANGEL's new season is the focus of the issue. David Boreanaz talks about what makes the show so special to him. Also in this issue, a behind the scenes look at MATRIX RELOADED. Another show with changes ahead is SMALLVILLE. Alfred Gough and Miles Millar talk about what is in store for the next season.







SCI-FI SCHEDULE
BABYLON 5 06-JUN-03 9:00 AM BABYLON 5 (LBX) CONVICTIONS
09-JUN-03 9:00 AM BABYLON 5 (LBX) A DAY IN THE STRIFE 10-JUN-03 9:00 AM BABYLON 5 (LBX) PASSING THROUGH GETHSEMANE
11-JUN-03 9:00 AM BABYLON 5 (LBX) VOICES OF AUTHORITY
12-JUN-03 9:00 AM BABYLON 5 (LBX) DUST TO DUST
13-JUN-03 9:00 AM BABYLON 5 (LBX) EXOGENESIS 16-JUN-03 9:00 AM BABYLON 5 (LBX) MESSAGE FROM EARTH
17-JUN-03 9:00 AM BABYLON 5 (LBX) POINT OF NO RETURN
18-JUN-03 9:00 AM BABYLON 5 (LBX) SEVERED DREAMS
19-JUN-03 9:00 AM BABYLON 5 (LBX) CEREMONIES OF LIGHT AND DARK
20-JUN-03 9:00 AM BABYLON 5 (LBX) SIR TRANSIT VIR

23-JUN-03 9:00 AM BABYLON 5 (LBX) A LATE DELIVERY FROM AVALON
24-JUN-03 9:00 AM BABYLON 5 (LBX) SHIP OF TEARS
25-JUN-03 9:00 AM BABYLON 5 (LBX) INTERLUDES AND EXAMINATIONS

26-JUN-03 9:00 AM BABYLON 5 (LBX) WAR WITHOUT END -PT 1
27-JUN-03 9:00 AM BABYLON 5 (LBX) WAR WITHOUT END -PT 2
30-JUN-03 9:00 AM BABYLON 5 (LBX) WALKABOUT

STARGATE SCHEDULE: 06-JUN-03 8:00 PM STARGATE SG-1 (LBX) PROPHECY
06-JUN-03 9:00 PM STARGATE SG-1 (LBX) FULL CIRCLE
06-JUN-03 11:00 PM STARGATE SG-1 (LBX) FULL CIRCLE

09-JUN-03 7:00 PM STARGATE SG-1 1969
09-JUN-03 8:00 PM STARGATE SG-1 OUT OF MIND
09-JUN-03 9:00 PM STARGATE SG-1 INTO THE FIRE
09-JUN-03 10:00 PM STARGATE SG-1 SETH
09-JUN-03 1:00 AM STARGATE SG-1 1969
10-JUN-03 1:00 AM STARGATE SG-1 OUT OF MIND
11-JUN-03 1:00 AM STARGATE SG-1 INTO THE FIRE
12-JUN-03 1:00 AM STARGATE SG-1 SETH
13-JUN-03 9:00 PM STARGATE SG-1 PREMIERE MOVIE (PTS 1 & 2) FALLEN PT 1 / HOMECOMING PT 2 (LBX)
13-JUN-03 11:00 PM STARGATE SG-1 PREMIERE MOVIE (PTS 1 & 2) FALLEN PT 1 / HOMECOMING PT 2 (LBX)

16-JUN-03 7:00 PM STARGATE SG-1 FAIR GAME
16-JUN-03 8:00 PM STARGATE SG-1 LEGACY
16-JUN-03 9:00 PM STARGATE SG-1 LEARNING CURVE
16-JUN-03 10:00 PM STARGATE SG-1 POINT OF VIEW
16-JUN-03 1:00 AM STARGATE SG-1 FAIR GAME
17-JUN-03 1:00 AM STARGATE SG-1 LEGACY
18-JUN-03 1:00 AM STARGATE SG-1 LEARNING CURVE
19-JUN-03 1:00 AM STARGATE SG-1 POINT OF VIEW
20-JUN-03 9:00 PM STARGATE SG-1 (LBX)
20-JUN-03 11:00 PM STARGATE SG-1 (LBX)

23-JUN-03 7:00 PM STARGATE SG-1 DEAD MAN SWITCH
23-JUN-03 8:00 PM STARGATE SG-1 DEMONS
23-JUN-03 9:00 PM STARGATE SG-1 RULES OF ENGAGEMENT
23-JUN-03 10:00 PM STARGATE SG-1 FOREVER IN A DAY
23-JUN-03 1:00 AM STARGATE SG-1 DEAD MAN SWITCH
24-JUN-03 1:00 AM STARGATE SG-1 DEMONS
25-JUN-03 1:00 AM STARGATE SG-1 RULES OF ENGAGEMENT
26-JUN-03 1:00 AM STARGATE SG-1 FOREVER IN A DAY
27-JUN-03 9:00 PM STARGATE SG-1 (LBX)
27-JUN-03 11:00 PM STARGATE SG-1 (LBX)

30-JUN-03 7:00 PM STARGATE SG-1 PAST AND PRESENT
30-JUN-03 8:00 PM STARGATE SG-1 JOLINAR'S MEMORIES -PT 1
30-JUN-03 9:00 PM STARGATE SG-1 THE DEVIL YOU KNOW -PT 2
30-JUN-03 10:00 PM STARGATE SG-1 FOOTHOLD

FARSCAPE SCHEDULE:

06-JUN-03 5:00 AM FARSCAPE (LBX) WE'RE SO SCREWED-PT 3: LA BOMBA

08-JUN-03 12:00 AM FARSCAPE DIFFERENT DESTINATIONS
09-JUN-03 12:00 AM FARSCAPE EAT ME
10-JUN-03 12:00 AM FARSCAPE THANKS FOR SHARING
11-JUN-03 12:00 AM FARSCAPE GREEN EYED MONSTER
12-JUN-03 12:00 AM FARSCAPE LOSING TIME
13-JUN-03 5:00 AM FARSCAPE (LBX) BAD TIMING 15-JUN-03 12:00 AM FARSCAPE RELATIVITY
16-JUN-03 12:00 AM FARSCAPE INCUBATOR
17-JUN-03 12:00 AM FARSCAPE MELTDOWN
18-JUN-03 12:00 AM FARSCAPE SCRATCH & SNIFF
19-JUN-03 12:00 AM FARSCAPE INFINITE POSSIBILITIES-PT 1: DAEDALUS DEMANDS 22-JUN-03 12:00 AM FARSCAPE INFINITE POSSIBILITIES-PT 2: ICARUS ABIDES
23-JUN-03 12:00 AM FARSCAPE REVENGE ANGEL
24-JUN-03 12:00 AM FARSCAPE THE CHOICE
25-JUN-03 12:00 AM FARSCAPE FRACTURES
26-JUN-03 12:00 AM FARSCAPE I YENSCH, YOU YENSCH 29-JUN-03 12:00 AM FARSCAPE INTO THE LION'S DEN -PT 1:LAMB TO THE SLAUGHTER

BABYLON 5/CRUSADE PHOTOSHOP PHOTOS









You do NOT have to pay the prices asked for over at e-bay! Here are photos of B5 and Crusade cast members at fantastic prices. Check out Photo Shop. Ordering is easy -- and you can't beat the prices! Just let me know which photos you want and I'll check to make sure they are still in stock.
---
BABYLON 5 TOONS
John Cook has a wonderful collection of cartoons -- many are take-offs from Babylon 5. Here's just one of them.
He has a cartoon caption contest going on as well. Try your hand at a punch line.

Go to http://contests.sev.com.au/index.php?contestid=1 .


BABYLON 5/CRUSADE CONVENTIONS
CONVENTION CALENDAR
Trek Expo 2003
June 27-29, 2003
Place: Exposition Center, Tulsa, OK
B5 Guest: Walter Koenig
Other Guests: William Shatner, Leonard Nemoy, George Takei, Dominic Keating
For more information, visit their website at http://www.starbase21ok.com/trek__expo__2003.htm.
---
Toronto Trek 2003
July 11-13, 2003
Place: Regal Constellation Hotel, Toronto, CA
B5 Guest: Julie Caitlin Brown
Other guests: James Marsters, Gil Gerard, Erin Gray
For more information, visit their website at http://tcon.icomm.ca.
---
Shore Leave 25
July 11-13, 2003
Place: Marriott's Hunt Valley Inn
245 Shawan Rd., Hunt Valley, MD 21031
Tel. 410-785-7000
B5 Guest: Andrea Thompson (Talia)
For more information, visit their website at http://www.shore-leave.com.
---
Vulkon
July 18-19, 2003
Place: Tampa, Florida
Tampa Airport Hilton
B5 Guest: Robin Atkin Downes
Other Guests: James Marsters, Mercedes Mcnab, Jeams C. Leary, Andy Hallett, Iyari Limon
For more information, visit their website at http://www.vulkon.com.
---
Bill Blair Birthday Celebrity Cruise
August 18-22, 2003
Ports of Call: Key West, Cozumel
Guest: Bill Blair, Peter "Chewbacca' Mayhew
For more information, visit Bill's website at http://www.BillBlairFanClub.com.
---
DragonCon
August 29-Sept. 1, 2003
Place: Atlanta, GA
B5 Guests: Stephen Furst, Peter David, Bruce Boxleitner, Mira Furlan, Walter Koenig, Peter Woodward, Brad Dourif, Julie Caitlin Brown, Bill Mumy
Other Guests: Luke Perry, Ray Bradbury, Christopher Judge, John Rhys-Davies, George Takei, Virginia Hey, Tony Amendola

For more information, visit their website at http://www.dragoncon.org.
---
Be sure to visit our Convention Calendar for a full listing of upcoming conventions featuring Babylon 5, Crusade and Legend of the Rangers cast members as guests.
If you would like to share your convention experience with your other Zocalo readers, send along a convention report. I will gladly post it for all to read. Got pictures? I'll post those as well.
ZOCALO TRADING POST
Do you have extra copies of B5, Amazing Spiderman, Midnight Nation or Rising Stars comics you'd like to trade? How about those extra trading cards or B5 magazines? There are a lot of fans looking for these items -- and the Trading Post can help you buy or sell them. To see what's available, just use this link to the Trading Post. To have items included in The Trading Post, send a note to The Zocalo. Please put Trading Post in the subject line.
PEN PALS
If you are looking for someone to talk about Babylon 5 and Crusade with, the Pen Pal section is for you! Check it out! Drop a note to someone who is feeling B5 withdrawal -- BIG TIME!

People thought a Pen Pal page was a good idea. If you would like to meet people who you could chat with or share your opinions of the show with, send along your e-mail or snail-mail address The Zocalo. It will be incorporated on the new Pen Page Page.
MAIL FOR CAST AND CREW
Here's a recent note from JMS on the subject:

Just an FYI to those who've been using the Ventura Blvd. mail drop for fan mail to actors....

As mentioned before, we're phasing out the forwarding of fan mail because we a) don't have the resources, complicated by b) the actors have scattered to the four winds, and it makes it very difficult to get everything to everybody in a timely fashion.

So, having provided prior notice...fan mail to actors coming to the Ventura Blvd. mail drop will be sent back. Mail to actors should be sent via their official fan clubs. I will still be taking mail there, since it's my mailbox, but that's it.

Just so's y'all know and save a few bucks on postage and returns.

JMS' mail can be sent to:

14431 Ventura Boulevard, PMB 260
Sherman Oaks, CA 91423

WARNER BROS:

Warner Bros. Address:

Warner Bros. Domestic Television Distribution
4000 Warner Blvd.
Burbank, CA 91522

Warner Home Video:

Mr. Douglas Wadleigh
VP for Marketing and Special Features
Warner Bros.
4000 Warner Blvd.
Burbank, CA 91522

SCIFI:
Bonnie Hammer, President
Sci-Fi Channel
1230 Avenue of the Americas
New York, NY. 10020-1513

Mr. Thomas Vitale
Senior VP of Acquisitions, Scheduling & Program-Planning
BACK ISSUES OF THE ZOCALO TODAY
The front page of the The Zocalo Today changes daily, so be sure to check the back issues to make sure that you haven't missed anything IMPORTANT! I don't want the front page getting too long so I shift information periodically into the archives. So if you aren't a regular visitor to The Zocalo Today, be sure to check out the back issues. Just use the button above!
---
Take care and I look forward to hearing from you.
Sandra Bruckner (sgbruckner@aol.com)
Editor/Publisher
The Zocalo Today
http://www.isnnews.net
Copyright - SBruckner, 2003