[an error occurred while processing this directive]

The Zocalo Today

Welcome and thank you for dropping by. Take your shoes off, get comfortable and stay a while. There is a LOT of information here and you won't want to miss any of it.

The Zocalo Today is an interactive newsletter, encouraging readers to join a discussion topic or to send along letters that can be shared with other readers.

If you have suggestions as to how The Zocalo can be improved -- or be more responsive -- send them along. The Zocalo Today is a newsletter for Babylon 5 fans everywhere. It is as much YOUR newsletter as it is mine! I'm just pulling together things for you!

Join our discussion topic. It is just one way you can share with other Z readers. If you see Babylon 5 cast and crew in other roles, let us know. We enjoy convention reports, photos, etc. Don't miss our back issues. I hope this will become more than just a newsletter. It's a community of people that enjoy sharing their experiences and interests. Don't be shy. Join us today!

If you have questions, drop me a line at sgbruckner@aol.com. If you would like to join the mailing list for our newsletter, send me a note and I'll include you on the list. Or you can use the subscription block at the left.

Again, WELCOME!




What's New Today
Friday, August 15: RATINGS: Top SF Network Shows: Alias 2.7; Futurama 2.5; Smallville 2.2; Smallville 2.2; Enterprise 1.7; The Twilight Zone 1.7; Charmed 1.5, and Buffy 1.2. Source: Nielsen Galaxy Report, 7/14/03 - 7/20/03.
---
ANDREA THOMPSON JOINS 24: B5 fans know her as Talia Winters; others remember her from her days on NYPD Blue. Now Andrea Thompson is joining the cast of Fox's 24. She'll have a recurring role as Nicole Duncan, a tech specialist brought in by the series' counterterrorism unit to play a key role in what the network says is "an ominous terrorist attack." Thompson is to make her first appearance on the show's November 11 episode, a few weeks after the show begins its third season on October 28.
---
KINGDOM HOSPITAL: According to the Hollywood Reporter, a seasoned veteran has been chosen to portray the head of KINGDOM HOSPITAL when it comes to ABC in midseason. Ed Begley Jr. (St. Elsewhere) joins the cast as hospital chief Dr. Jesse James in this Steven King supernatural horror series. The 15-hour series also stars Andrew McCarthy and Diane Ladd.
---
THE HULK: Screen Daily reports that "The Hulk" opened big in India. The movie grossed $214,000 from 81 theatres in India for Universal's ninth biggest opening ever in the territory.
---
FREDDY VS. JASON: Robert Englund returns as FREDDY this weekend in FREDDY VS. JASON. For an interview with Robert Englund, go to http://www.comingsoon.net/news.php?id=1115 . It is his eighth time playing Freddy Krueger and he reflects on the impact Freddy has had on his career. Some may lament a typecast, but Englund embraces it.
---
WEEKEND BOX OFFICE: A number of movies premiere this weekend. New Line's FREDDY VS. JASON is set to take over the weekend box office. Launched in 3,014 theaters on Friday, there is a review at http://www.comingsoon.net/news/reviewsnews.php?id=1105.
Are Westerns back? This weekend, Kevin Costner (who also directed the film) joins Robert Duvall and Annette Bening in OPEN RANGE. It will debut in 2,075 theaters. For a review, go to http://www.comingsoon.net/news/reviewsnews.php?id=1107.
---
INSIDE SCI-FI THIS WEEK:
Thursday, August 14:
BUFFY: The new BUFFY video game, CHAOS BLEEDS hits shelves August 29. For a quick peek, go to http://www.cinescape.com/0/editorial.asp?aff_id=0&this_cat=Games&action=page&type_id=&cat_id=270351&obj_id=39394 for a few screenshots from the game. Take a look at what Buffy, Faith, Spike and Willow look like as colorful game graphics!
---
DARKSIDE: According to the Hollywood Reporter, emmy-winning director David Nutter (X-Files, Smallville, Tarzan) has been tapped by New Line Cinema to direct the vampire thriller "Darksiders." Penned by Tom Parker and Jim Jennewein, "Darksiders" revolves around a band of bloodsuckers who are turned into special operatives for the FBI. Given the bloodlust they show for their work, the vampires are closely monitored by the government agency. The project is being produced by Tracie Graham and Alison Rosenzweig, with New Line production execs Kent Alterman and Michelle Weiss overseeing for the studio.
---
EPISODE III: Many actors have already finished their sequences for the upcoming STAR WARS: EPISODE III film. However, Peter Mayhew, who reprises his role as Chewbacca, told SCI FI Wire "You've got to have a link between Episode III and Episode IV. Consequently, the older characters have got to be there. Otherwise it doesn't gel. And what better character to have, as one of the older members of the [original trilogy's] cast, than Chewbacca to come back and connect everything together? I was very surprised and very pleased to get that phone call." Episode III will be released in 2005.
---
MY SOUL TO KEEP: Variety reports that Fox Searchlight has acquired film rights to Tananarive Due's supernatural novel MY SOUL TO KEEP and has locked Blair Underwood to star and Rick Famuyiwa to direct. Famuyiwa (The Wood) will rewrite a draft by Frank Underwood, the brother of the film's star. The book deals with a man from an ancient Ethiopian village who has lived for five centuries and who wants to make his wife and child immortal.
---
MARVEL PROJECTS: Marvel Enterprises announced its slate of upcoming projects, which includes an animated MTV series based on its Blade vampire franchise. Marvel also projected release dates for several upcoming feature films based on Marvel properties, including Artisan's THE PUNISHER (spring/summer 2004), Sony's SPIDER-MAN 2 (July 2, 2004), New Line's BLADE 3 (August 2004) and Fox's FANTASTIC FOUR (December 2004). Other movies in development include Fox's X-MEN 3, Universal's THE HULK 2, Universal's NAMOR, New Regency/Fox's ELEKTRA, New Line's IRON MAN, Sony's GHOST RIDER and Paramount's DEATHLOK.
---
Wednesday, August 13:
RATINGS: Top 10 SF Syndicated Shows: The X-Files 2.3; Buffy 2.1; Stargate SG-1 2.1; Mutant X 2.0; 3rd Rock 1.8; Adventure, Inc. 1.7; Andromeda 1.5; Beastmaster 1.5; John Edward 1.4, and The Outer Limits 1.4. Source: Nielsen Galaxy Report, 7/14/03 - 7/20/03.
---
PHANTOM OF THE OPERA: Andrew Lloyd Webber's PHANTOM OF THE OPERA marked its 7,000th performance in London on Tuesday. The musical has grossed $2.6 billion worldwide. Filming begins soon on a movie version.
---
WONDER WOMAN: The revolving door of writers on this project continues. Philip Levens ("Smallville") is out and Warner Bros. has hired Laeta Kalogridis to whip the Amazonian princess into shape. Kalogridis was writer and executive producer on the "Birds of Prey" series. She also wrote the screenplay for Oliver Stone's epic "Alexander" which stars Colin Farrell as Alexander the Great. Kalogridis is known around town for writing tough, female action heroes and will be starting "Wonder Woman" from scratch, writing a completely new script, which deals with the origins of the character.
---
RANGER DANGER: Variety reports that writer/director Kevin Smith has renewed his first-look deal with Miramax Films and will begin shooting "Fletch Won" in January. It's a new film based on the mystery-solving journalist played by Chevy Chase before. In the fall of 2004, Smith will also take on the sci-fi adventure RANGER DANGER AND THE DANGER RANGERS for Dimension films. Smith says it's his "stab at a comicbook/sci-fi movie. It's in the vein of 'Flash Gordon,' something I've noodled with a couple of years. Now I feel we are mature enough filmmakers to tackle it."
---
Tuesday, August 12: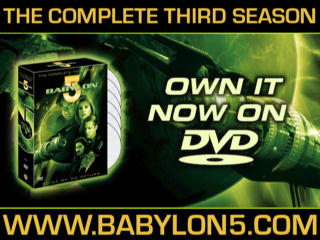 BABYLON 5 SEASON THREE DVD: Today is the day! Yes, the Season Three DVD for Babylon 5 is released today. See below for more details about the 6-disc set.
---
FIREFLY: Ranger Michael reports that the Amazon.com page for FIREFLY has changed. They've removed the expected release date and put in something that sounds a bit like a petition drive. Here's the text:
From Amazon: Availability: NOT YET RELEASED: The studio is currently not producing this title on DVD, but to be notified when it is available, enter your e-mail address at right. You'll also be voting for this release; we'll let the studio know how many customers are waiting for this title. If you would like to see FIREFLY out on DVD, I suggest you sign up at www.amazon.com and we'll see what happens.
---
LEAGUE OF EXTRAORDINARY GENTLEMEN: While there is still a LOT to choose from at the box office, the LEAGUE OF EXTRAORDINARY GENTLEMEN placed 11th at the box office over the weekend with $1.5 million, pushing its total to $62.1 million.
---
KING KONG: Universal Pictures will pay Peter Jackson (LORD OF THE RINGS director) $20 million against 20% of the gross from the new KING KONG, marking one of the largest deals ever made with a director. Jackson will share that fee with Fran Walsh and Philippa Boyens, the duo with whom he wrote "The Lord of the Rings" films. The trio shares writing duties on KING KONG. And part of the compensation goes to Walsh for producing the film with him. The $20 million advance puts Jackson in the same territory as stars like Tom Cruise and Mel Gibson. There will be no other gross players on the film, which has been greenlit and is slotted for Christmas 2005. Jackson's payday is tied to bringing in the film at an agreed-upon budget. The compensation doesn't include funds Universal will invest to shoot the film in New Zealand.
---
Monday, August 11:
RATINGS: Top 10 SCIFI Channel Shows: Stargate SG-1 1.5; Alien Hunter 1.3; Death Becomes Her 1.1; Stargate 1.1; Tremors: The Series 1.1; Red Planet 1.1; Meet Joe Black 0.9; Clan of the Cave Bear 0.9; Alien Cargo 0.9, and Witches of Eastwick 0.8. Source: Nielsen Galaxy Report, 7/14/03 - 7/20/03.
---
HELLBOY: Ron Perlman should be an old hand at heavy makeup and prosthetics. After years on BEAUTY AND THE BEAST, he certainly was prepared for the title role in the upcoming film HELLBOY. While shooting in Prague, Perlman told SCIFIWire "I realized from the get-go that I didn't need to make any adjustment. Because the mask absolutely mirrored everything that was going through my mind and what was going through my heart. It's just a question of playing Hellboy at that point." Perlman was the first choice for the role for both director Guillermo del Toro and Hellboy creator Mike Mignola. HELLBOY opens April 2, 2004.
---
NEW INDEPENDENT FILM COMPANIES: DreamWorks and Warner Bros. will open new film distribution firms to release art house and independent motion pictures. DreamWorks is calling their new indie arm Go Fish, most likely as a play on the company's familiar boy-fishing-in- the-moon logo. The new division will be led by Joan Filippini. Warner Independent Pictures will be led by Mark Gill in an effort to acquire or make up to ten different films under $20 million dollars in budget. Creating a separate, autonomous film division allows the studio and filmmakers a better opportunity to focus on the production and marketing of their product.
---
WEEKEND BOX OFFICE: Sony's "S.W.A.T" overpowered the boxoffice this weekend as the Samuel L. Jackson-Colin Farrell starrer took an estimated $37 million on its debut, landing well beyond pre-release expectations. Buena Vista's FREAKY FRIDAY took the second slot, turning in an estimated $22.3 million during the weekend and a solid $33.2 million since its release on Wednesday. Last weekend's boxoffice champ, Universal's AMERICAN WEDDING moved into the third slot, slipping a steep 55% from its debut and grossed an estimated $15.1 million. Buena Vista's crowd pleasing "Pirates of the Caribbean: The Curse of the Black Pearl" continues to do exceptional business as the Johnny Depp starrer placed fourth with an estimated $13.1 million -- down only 30% in its fifth frame while losing 220 theaters. The period actioner has buccaneered an estimated $232.8 million so far. In the fifth spot was Universal's "Seabiscuit" with an estimated $11.9 million and a third weekend drop of a mild 32%. The Tobey Maguire-Jeff Bridges starrer, co-produced with DreamWorks and Spyglass Entertainment, has an estimated purse of $69.5 million to date. Dimension's "Spy Kids 3-D: Game Over" took a 48% hit in its third weekend as the mini-Bonds took in an estimated $10.1 million. The Robert Rodriguez-directed picture's cume reached an estimated $87.4 million.
---
HARRY POTTER: Warner Bros. Pictures announced Sunday that director Mike Newell will begin work on "Harry Potter and the Goblet of Fire" in April. "Harry Potter and the Prisoner of Azkaban," the third film in the series, is currently being filmed under the direction of Alfonso Cuaron. Producer David Heyman said Newell was the "perfect choice" for the new film. "He has worked with children, made us laugh, and had us sitting on the edge of our seats, he is great with actors and imbues all his characters, all his films, with great humanity. I'm thrilled."
---
Sunday, August 10:
PRETTY QUIET: Not a lot going on this morning. Hope that you can all enjoy a quiet day off.
---
Saturday, August 9:
RATINGS: Top SF Network Shows: Alias 2.6; Futurama 2.3; Smallville 1.8; Enterprise 1.5; Charmed 1.5; Smallville encore 1.2, and The Twilight Zone 1.1. Source: Nielsen Galaxy Report, 7/7/03 - 7/13/03.
---
TARZAN: The WB has an interesting website for the new TARZAN series at http://www.tarzantheseries.com/. There is a synopsis of the story ahead of us as the series begins on October 5. This updated tale from Edgar Rice Burroughs will include at least one very familiar name -- Mitch Pileggi from X-FILES portrays Richard Clayton, CEO of Greystoke Industries! Jenna Stern has joined the cast as John's (Travis Fimmel) aunt and Richard's (Mitch Pileggi) sister, Katherine Clayton.
---
DEEP SHOCK: SCIFI Channel's original movie tonight is DEEP SHOCK. David Keith plays Navy Capt. Andy Raines, who joins an effort to avert disaster when the United Nations considers nuking a trench deep beneath the North Pole that serves as home to electric-eel aliens. Deep Shock also stars Simmone Jade MacKinnon (SCI FI Pictures' Pythons 2), Sean Whalen (Special Unit 2) and Mark Sheppard (Firefly). What was it like working with blue screen? Keith says, "The eels were all CGI. I haven't seen one yet. I have no idea what they look like. I've done quite a bit of blue screen, actually. Indian in the Cupboard was six months of nothing but blue screen. So I'm kind of an old hand at blue screen." Deep Shock premieres tonight, Aug. 9 at 9 p.m. ET/PT.
---
ANGEL: For fans of Gunn on ANGEL, there is an interview with J. August Richards at http://tv.zap2it.com/tveditorial/tve_main/1,1002,274|82762|1|,00.html.
---
TOMB RAIDER: While this has nothing to do with science fiction, I thought it was an interesting news item. TOMB RAIDER's Angelina Jolie has promised up to $1.5 million for a forest conservation project in Cambodia. The money will educate villagers about conservation awareness, draw demarcation lines to protect forest and wildlife sanctuaries and train local rangers, said Mounh Sarath, executive director of Cambodian Vision in Development, the local group in charge of the project. He said the project aims to preserve some 148,200 acres of forest in the Samlaut and Pailin areas along Cambodia's northwestern border with Thailand. "She (Jolie) loves the area, the people and the (natural) resources there," Mounh Sarath said Thursday after signing the agreement with the Ministry of Environment. Jolie, 28, adopted her son, Maddox, from a Cambodian orphanage, and she is having a house built in the country.
---
STAR WARS: The official STAR WARS website reports that EPISODE III filming has reached the halfway point. Many of the supporting cast members have completed their summer commitment on the film, and have departed from Sydney to move onto other projects. Additional shooting with some of these performers is scheduled for next year. Samuel L. Jackson completed his shooting as Mace Windu, and Ahmed Best has finished as Jar Jar Binks. Also done are Jimmy Smits as Bail Organa, and Christopher Lee as Count Dooku. Completing their roles as Senators are Kee Chan, Rena Owen, Genevieve O'Reilly, Christopher Kirby and Warren Owens. Rebecca Jackson Mendoza has also completed her part. Peter Mayhew has finished his costume tests, and has returned to the United States. He will shoot his scenes as Chewbacca next year.
---
POP-UPS: If you are like me, I HATE POP-UPS and there are more and more of them on the internet these days. If it's not FREDDY vs JASON, it's something else. One very enjoyable pop-up I ran into this morning was related to the coming release of the BABYLON 5 SEASON THREE DVD. Answer the question and your reward is a very nice video clip with JMS, John Copeland, Doug Netter, Bruce Boxleitner and Mira Furlan talking about the series and season three. That kind of pop-up I like/love/want more of.
---
WHAT'S ON TONIGHT
8:00 on USA
Mercury Rising
An FBI renegade protects an autistic boy. 8:00 on HBO
Star Wars: Episode II -- Attack of the Clones
Obi-Wan Kenobi and his apprentice protect the former queen. Directed by George Lucas. Dead Like Me
10:00 PM - Showtime
The trials and tribulations of a college-age grim reaper and her odd assortment of reaper pals continue. George (Ellen Muth) gets a pet to keep her company while Rube finds a job as a short-order cook at Der Waffle Haus. No better place to wait for people to have heart attacks than a greasy spoon, eh? Have they had Mandy Patinkin sing yet? I don't know what they're waiting for. Have you also noticed that Rebecca Gayheart is gone? What -- did she have better projects to attend to? So confusing. Monk
10:00 PM - USA
When a high powered magazine publisher chokes to death under mysterious circumstances, all clues lead to the infamous swinging party palace, The Sapphire Mansion. But while a weekend behind the gates of the legendary estate may be every man's fantasy, it's Adrian Monk's (Tony Shalhoub) worst nightmare. Bitty Schram (USA photo: Sam Jones) excels in this episode as facts come to light that prove that Sharona (Schram) once posed nude to make ends meet before becoming a nurse. Monk's reasons to fear in this episode include the fact that Danny Bonaduce and new "Brady Bunch" dad Gary Cole guest star. On SciFi Tonight: Tremors: The Series
08:00 PM - SciFi
In a shocking twist, a monster hunter comes to Perfection and helps those wacky townsfolk defend their turf. Because nothing like that ever happens in Perfection, where strange genetically engineered monsters roam the land and eat people. Stargate SG-1
Birthright
The team finds a fugitive colony of Jaffa women, who must prey on other Jaffa to acquire symbiotes.
BABYLON 5 SCREENSAVER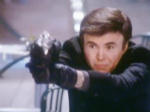 I received a wonderful note from Warner Bros. yesterday. It said:
"we also got this link from WHV for B5 screensavers, if you want to post this anywhere:
http://www.eyetide.com/download/?p=104117."
The graphics are awesome and it will add a certain measure of class to any desktop. Don't miss the preview feature. You can see what graphics have been included for your viewing pleasure. Thanks WB.
---
BABYLON 5 ROLE PLAYING AND FACT BOOK
The Babylon 5 Roleplaying Game and Fact Book
"Signs and Portents"
By Matthew Sprange
Mongoose Publishing
ISBN: 1-904577-11-3
MSRP: $49.99 From the review written at http://www.scifi.com/sfw/current/games.html B5 fans might want to pick up this game whether they actually play it or not. Based on the first season of the series, the "fact book" portion of the book includes an overview and maps of Babylon 5 and an episode-by-episode breakdown of the first season.
BABYLON 5 SEASON THREE DVD - OUT NOW!
Season Three of Babylon 5 was released on August 12. A review can be found over at http://www.imdb.com/Recommends/Rec2.html and the DVD series is on their recommended list. It was a featured item on http://www.imdb.com/. BABYLON 5: THE COMPLETE THIRD SEASON DVD Order Date: 7/15/03 Street Date: 8/12/03
Catalog #: 24243 WB Synopsis: The long-running Emmy Award-winning television series Babylon 5 takes place in the year 2257 A.D. on an immense spaces station floating in a stationary orbit in a neutral corner of a distant galaxy. Staffed by a crew of peaceful Earthmen and women, Babylon 5 serves as a non-political economic and social hub for the four alien races - the Narn, Centauri, Vorlon and Minbari - who fight to control the galaxy. Starring Bruce Boxleitner, Claudia Christian, Jerry Doyle, and Bill Mumy. Special Features and Specifications: o Six-disc DVD collector's set
o Introduction from series creator J. Michael Straczynski,
o Commentary on three key episodes by series creator and stars,
o"Behind the Mask: Creating the Aliens of Babylon 5" Documentary
o"Designing a Better Narn" Documentary
o"Designing Tomorrow: The Look of Babylon 5" Documentary
o Data and Personnel Files
o 16X19 Anamorphic Widescreen
o Dolby Digital 5.1
o English, French Spanish subtitles
o Running Time: 968 minutes For a look at Season Three, go to Season Three. Here you will find individual synopses of each episode and a graphic provided by Warner Bros. SEASON ONE AND TWO OF BABYLON 5:
DVD BARGAIN ALERT: Ranger Gary reports that CostCo has some great deals on DVDs. They have the STARGATE SG-1 SEASON THREE DVD for $39.99. That is well below what I've seen on e-bay and about $30.00 less than Suncoast Video Stores. Gary also reports that they have a huge supply of the latest BUFFY DVD. Ranger Donita has a tip for those wanting to purchase DVDs here in the U.S.
The cheapest place to get B5 Season 1 and 2 is Playcentric. I paid $59 for season 1 and $60 for season 2. Also to get the cheapest price on all DVDs I recommend using Bargainflix.com, for those of us in the US. All you have to do is to type in the name of the DVD, or actor, or director, and they will show you the price comparison. Great for those of us who like to support our favorite sci-fi shows and movies by buying the DVD. Ranger Dave sent along this report on purchasing the Season Two DVD in the UK: " I picked up the Season 2 DVD of B5 at MVC for £5 less than most other people are selling it - including Amazon.co.UK or Play.com. If you become a card member (it is free, hardly a hassle and takes a moment) you can get the set for £37.99 where as most others are selling it at £42.99 - just a handy saving tip." Ranger Manuela has a bargain to match Dave's -- in Germany. Here is here report:

Got one like that for German readers: avides.com (despite the url, they're located in Lower-Saxony here) are selling season two for 39,95 Eur. It's got English and German on the dvds, so perfectly fine. :-)
SPECIAL "BUDDY" AUCTION
Ranger Jan asked that I post this information for anyone who is interested in Babylon 5 memorabilia: I'm holding some auctions to benefit Kitten Rescue. The first one is a Dutch Auction for 3 copies of 'Tribulations'. There's a twist, though, because *one* of the copies is autographed by JMS himself. After the auction, the name of the person who wins the signed copy will be drawn by somebody uninvolved in the auction. That auction can be found at: http://tinyurl.com/jiwo There will be another listing starting shortly for a Sleeping in Light CD signed by Bruce Boxleitner and Christopher Franke. Maybe a couple of others, too. I have some of my 'regular' auctions going too, but any items to benefit Kitten Rescue will have "Buddy" in the auction title if those are all they're interested in. Check out my auctions of rare Babylon 5 scripts and memorabilia at http://tinyurl.com/bhkk
BABYLON 5 REFERENCES
Ranger Bruce sent along this report for your enjoyment:

You know that Babylon 5 has made it big time when it is mentioned in a completely unrelated movie in a different Genre. I was watching "How to loose a Guy in 10 days". I don't know if you are familiar with the movie, but during one of the early scenes (scene 4, 'Find The Guy', for those that have the DVD), one of the characters refers to a woman's appearance as being "From Babylon 5". I am not sure why other than that she looked kind of strange, or if someone felt the necklace she was wearing looked something like a Triluminary. In any case, I thought it was interesting because it was somewhere that I would have expected the mention to be of Star Trek, not Babylon 5. Oh, and one more thing. The Movie is by Paramount! LOL!
JEREMIAH
SEASON TWO BEGINS OCTOBER 10. Previously posted as as September 19, Showtime has put the actual premiere date for JEREMIAH out on the website www.sho.com/jeremiah as October 10. Here is the opening statement on the show from their website: "JEREMIAH" QUEST CONTINUES FOR SHOWTIME/MGM AS POPULAR SCI-FI SERIES IS RENEWED FOR 2003 SERIES STARS LUKE PERRY, MALCOLM-JAMAL WARNER AND SEAN ASTIN AND WILL NOW BE DELIVERED IN HDTV NEW YORK, NY (Oct. 2, 2002)-- Showtime Networks has renewed JEREMIAH for a second season with 15 additional episodes and has added Sean Astin ("The Lord of the Rings" "Staying Together") to the show, which stars Luke Perry (Beverly Hills, 90210) as "Jeremiah" and Malcolm-Jamal Warner (Malcolm & Eddie) as "Kurdy." The Sci-Fi series from MGM is created for television by sci-fi icon J. Michael Straczynski, creator & executive producer of Babylon 5. It has been an important part of Sci-Fridays on SHOWTIME along with the network's other new series ODYSSEY 5. The show will go into production October 23, 2002 and will now be produced and aired in high definition television - HDTV. In the new season, Sean Astin, known for his role as Samwise Gamgee in "The Lord of the Rings" trilogy, will play a quirky colorful character named "Mr. Smith" who will partner with Warner's character, "Kurdy." Together they will go out on the road to help forge new alliances that will help in the rebuilding of their nation. The series is set in a future post-apocalyptic world where, almost a decade before, a deadly virus wiped out the world's adult population sparing only those who hadn't reached puberty. Now, the oldest survivors of the "Big Death" are trying to survive and create a civilization out of the chaos that ensued after the adults died, and with them much of society's collective wisdom. During the first season, Jeremiah was hoping to locate a mysterious place called Valhalla, which his father claimed might hold some hope for the survivors, but this personal quest was redirected when he met up with Kurdy and they discovered a group of highly organized survivors at Thunder Mountain who wanted to enlist them to orchestrate peace among the warring factions and to try and prevent the killer virus from returning. As the second season opens, Jeremiah has been separated from Kurdy in the aftermath of a struggle with forces from the Valhalla Sector. He is being held in captivity and is about to be reunited with his father - a mysterious figure who holds the answers to many secrets about Jeremiah's world. JEREMIAH is based on Platinum Studios' comic book-to-film adaptation based on the award-winning comic book by Belgian author Hermann Huppen. The series is being produced by Jeremiah Productions Inc. in association with Lion's Gate Television and Platinum Studios and will be distributed by MGM Worldwide Television Distribution. Straczynski will serve as showrunner and executive producer, alongside Grant Rosenberg who has produced and written for "The Outer Limits" and "Lois & Clark: The New Adventures of Superman." The executive producers also include, Luke Perry, Scott Mitchell Rosenberg who developed the hit film Men In Black and Ervin Rustemagic. Showtime creative executive is John Vasey. For MGM the creative executive is Craig Roessler. JEREMIAH AND JMS FOR SEASON THREE
Here is a note from the B5 moderated newsgroup related to JMS continuing with JEREMIAH into season three: "There was a lot in that article on the Pulse that was really badly reported, things were misphrased, two different sentences were put into one, sections are wholly incomprehensible...it's just a train wreck of a piece. However, even though the article totally misstated the sentence so it didn't make any sense, the last phrase is correct, in that I have zero desire to return to a third season of Jeremiah. Showtime was great, no mistake, but MGM has overall been the most heinous, difficult and intrusive studio I've ever worked for. I've worked for, and had great relations with, Viacom, Universal, Warner Bros., and a bunch more. But I will never, ever, work for the present administration at MGM. I didn't know why so many other writers had a problem there and never wanted to go back. Now I do." In another posting, he mentioned: I read on the net -- was never informed by MGM -- that Jeremiah will be coming to DVD in January or February of next year, and season 2 begins September 19th on Showtime. ** The Pulse article referred to can be found at http://www.comicon.com/cgi-bin/pulse.cgi?http%3A//www.comicon.com/cgi-bin/ultimatebb.cgi%3Fubb%3Dget_topic%26f%3D36%26t%3D001223. There are a couple of places where you can find information on JEREMIAH. Monica has a very up-to-date site at http://abyss.hubbe.net/jeremiah/. She has a newsletter that you can sign up for as well so that information comes into your mailbox on a regular basis. The "official" website is located at http://sho.com/jeremiah/. It isn't terribly timely, but it does have background about the show if you need it.
DISCUSSION TOPIC
Here's a discussion topic suggested by Ranger Helen: Now that we've had a question regarding books made into movies, how about reversing the idea? What Babylon 5 episodes, or arc of episodes, would you like to see written up as a novel, or series of novels?

Send in your comments to sgbruckner@aol.com and I'll start posting them on the Discussion Page for everyone to share.
BABYLON 5 CHRONOLOGY
Another segment of the Babylon 5 Chronology from Terry Jones is up for your reading pleasure. This segment begins with 2263. Go to 2263 and enjoy. THANKS TERRY for all your hard work on this.!
KEEPING UP WITH CAST AND CREW
STEPHEN FURST: On August 21, most of the cast members from ANIMAL HOUSE will be in front of the Kodak Theater on Hollywood Blvd. at noon to celebrate the DVD release of that classic slob comedy. Universal Studios Home Video will present a block party fit for a toga crowd. Event highlights will include the "World's Shortest Parade" with cast members riding on the famous cake float, a massive food fight, an entire production number set to "Shout" (performed by Otis Day And The Knights), and a sizzling new rendition of the theme song "Animal House" performed by MxPx, whose remake of "Shout" appears exclusively on the DVD. Cast members scheduled to attend include Tim Matheson, Stephen Furst (Flounder), Verna Bloom (Maron Wormer), Karen Allen (Katy), Peter Riegert (Boon), Bruce McGill (D-Day), John Vernon (Dean Wormer).
---
CATCHING UP WITH JERRY DOYLE: Jerry is currently filming a feature film titled OPEN HOUSE and just completed an HBO original feature titled LOST TREASURE. In 2002, three independent features Jerry starred in, CODE HUNTER, DEVIOUS BEINGS and THE LONG RIDE HOME, were released. Jerry has done extensive voice over work on animated television series' such as Duckman and Captain Simian, along with numerous national commercial voice campaigns. Jerry is a "political junkie" and is considering running for Congress in Florida's 16th District. For those of you in the Chicago area, here's a bulletin. Jerry Doyle will be sitting in with MANCOW Thursday/Friday, August 15 and 16, at Q101 and can be heard on many stations across the country. This is a morning drive format, 5:30A - 10:00A, CST.
---
JASON CARTER/RICHARD BIGGS UPDATE:: Jason Carter's Fan Club passed along the following update for Rick & Jason:
Convention Reminder: September 26-28, 2003: MSFFA in Merrillville, IN. See details below. Book on CD: Jason Carter has completed narration work on "Ill Met by Moonlight" by Sarah A. Holt. The 8 unabridged CD set is available for pre-order from Buzzy Multimedia (www.buzzymultimedia.com) and are scheduled to ship 10/01/03. Audio clips and additional information can be found at The Official Jason Carter Fan Club site at www.jasoncarterfanclub.com. Film Project: Jason Carter and Richard Biggs are currently working on the film Revenant: (which also features Anita La Selva from Earth: Final Conflict). Film synopsis: Five years ago, six cops did the unthinkable. One of them returns home for the funeral of his partner, and finds himself confronted by the past-the woman he abandoned and the friends who share his guilty secret. When those friends are murdered one by one, his search for answers will lead he and his former lover to a final confrontation with a secret that refuses to be kept, an evil that won't stay buried, and a restless spirit that reaches out to claim them all. Principal photography begins in Fall 2003. The current trailer for this film can be found at The Official Jason Carter Fan Club site at www.jasoncarterfanclub.com. Investment opportunities are also available, information at the fan club site. Behind the Red Door (Jason Carter appears as Sonny) is still airing on Showtime (check your local listings) but is also available for rent on VHS and DVD from Blockbuster. Check your local stores or their website (www.blockbuster.com) for availability. The Mesmerist (Jason Carter appears as Dr. Pretory, the Mesmerist) is no longer showing in theaters and negotiations for a DVD release are still in the works. There is another film project from Magick Films (www.magickfilms.com) in the works for Jason (Victor where Jason Carter will be playing Victor Frankenstein). Details will be posted at The Official Jason Carter Fan Club site when available.
---
FIONA AVERY: Fiona Avery has a number of irons in the fire -- including a new TV series for Showtime based on her NO HONOR comic book series. The folks at Silver Bullet Comics recently interviewed Fiona and the transcript can be found at http://www.silverbulletcomicbooks.com/news/106022262759209.htm.
---
MARJEAN HOLDEN: You'll find Marjean's name a couple of times on today's TV Listing. She had a recurring role on BEASTMASTER for a couple of years and SCIFI presents CODE RED: THE RUBICON CONSPIRACY tonight at 9:00pm. Marjean stars with Brian McNamara in this drama. Both roles are quite a bit different from Dr. Sarah Chambers in CRUSADE.
---
PETER WOODWARD: I talked to Peter recently and he is very excited about the second season of CONQUEST on the History Channel. New episodes began July 6 so check your local listings to see when the episodes air in your location. Peter is writer, co-producer and host of this look at martial competition throughout history. It is a fun program and airs on Sunday at 10:30pm.
---
SPECIAL B5 CAST ACTIVITIES
2003 marks the 20th anniversary of SCARECROW AND MRS. KING's debut on CBS. A very special event is being planned. On October 17-19th at the Beverly Garland Holiday Inn in Los Angeles, California, a celebration is being planned. A number of guests have already confirmed -- including Bruce Boxleitner, Beverly Garland, Martha Smith, Paul Stout and Greg Morton. For more information on activities related to the anniversary, go to http://www.smk20thanniversary.com/.
CRUISE WITH PETER WOODWARD
Peter is considering cruising the Caribbean in early 2005 and wants to invite his fans to join the fun. He would like to see if there is sufficient interest before going too far into planning, so if you would like to receive a brochure about Peter's upcoming cruise once the details are finalized please advise of your: Name:
Postal Address, City, State, Zip:
E-mail address:
Phone number:
Total number of guests in your party:
Age range of the guests including yourself:

Send this information to pwoodwardinfo@yahoo.com. Any information you send us will be handled respectfully. This is not a commitment from you, just an indication of interest.
BABYLON 5 BIRTHDAYS
Daneil Dae Kim - August 4
Claudia Christian - August 10
Stephen Austin - August 11
Tim Earls - August 15
Nancy Tarczynski - August 16
Skip Beaudine - August 26 Have I missed anyone? If you know the birthday of someone connected with Babylon 5, pass the information along. We want to include everyone in our Happy Birthday Wishes.
READER BIRTHDAYS
Sometimes you just can't find the e-mail address for someone you know you have -- it's someone who responded to a discussion topic or you met in one of the chat rooms. You'd like to send a personal note, but .... No address!!!!

We've started a White Pages of Zocalo Readers! It's a handy way of keeping track of people -- and putting together a birthday/greeting card list as well. If you would like to be part of the listing, just send me your name, state, e-mail address and (if you'd like to have it listed) birthday (without year) to sgbruckner@aol.com. Check out the Directory of Readers.

Name: Michael Antol
State: Georgia
email: michaeljohn338@yahoo.com
Birthday: August 7

Name: Captain Average
E-mail address: captain.average@home.com
Birthday: August 18

Name: gkarfan (Tammy Smith)
State: California
E-Mail: gkarfan@webtv.net
Birthday: Aug. 30

Name: Colin White
State: North Carolina
E-mail: colinwhite@mymailstation.com
Birthday: Aug. 20
TRADING CARD HELP
Ranger Tia sent along this note to share with B5 card collectors:

Don't know if you've heard of my card program yet or not, but I thought the other B5 card collectors might like to try it out. With having almost all of the B5 trading cards and CCG cards available and no program to keep track of them withm, I started writing my own. Here's the website for it. Go half way down and click on the small screen shot for a full size screen shot. I have the pic of Pat Tallman's card from the Profiles card set feautured in the shot.

Oh, and I also have a lot of the card lists already saved as files so people won't need to type in all the card names. Being written by a B5 fan, ALL the card lists have already been made and are downloadable. :)

http://cardkeeper.usethis.com/keeper/index.html

Tia
COMIC BOOKS
AMAZING SPIDER-MAN #55
Amazing Spider-Man #55 will arrive in stores on Wednesday from Marvel Comics. The issue is written by J. Michael Straczynski and Fiona Avery, with art by John Romita Jr. and Scott Hanna and a cover by Mike Deodator Jr. Here's how Marvel describes the issue:
"More secrets of the enigmatic Ezekiel are revealed in this first part of a 2-part story co-written by J. Michael Straczynski and his protege Fiona Avery." Amazing Spider-Man #55 will be 32 pages and will cost $2.25.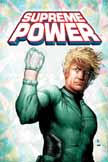 SUPREME POWER #2
Written by J. Michael Straczynski, pencils and cover by Gary Frank.
I n a world with no heroes, what happens when powerful superhumans emerge? And now that the government knows that superbeings exist, what lengths will they go to use them for their own purposes? J. Michael Straczynski tells a hard-edged, mature and deeply personal saga that pushes the limits of the comics form into new, uncharted territory.
32 pages, $2.99, in stores on Sept. 3.

SUPREME POWER
Here's a new post from JMS on SUPREME POWER from the B5 moderated newsgroup:

I've previously mentioned my new book from Marvel, called Supreme Power. I just got a note from Marvel mentioning that the cutoff for orders is going to be this Thursday, July 17th (also my birthday). I genuinely think that Surpeme Power may be one of the best things I've done in the comics field, maybe the best to date, and I just want to put out the word to any Babylon 5 folks out there who don't normally read comics, and encourage them to check this one out. This is a great book for people who don't generally go for comics, a strong character story from end to end.

Anyway, once the orders for issue #1 are filled by the 17th, they won't be taking any additional orders, and Marvel doesn't do reprints anymore. If you miss issue 1, you'll have to wait for the trade, which could take six months or more. So I wanted to let everyone know that this is your last chance, 'cause this is almost certainly going to sell out and be impossible to find afterward.

As I've noted here before, I don't usually go to this length to promote something I'm doing -- I've really not spoken a lot about the Jeremiah series for Showtime, or the B5 quote book, or other projects -- but I'm making an exception for this one because I truly believe this is something extraordinary, in large measure thanks to the amazing artwork by Gary Frank, who also penciled Midnight Nation.

You can get more info on the book at:

http://www.diamondcomics.com/news/news.asp?ai=5386

http://www.wizarduniverse.com/magazines/wizard/WZ20030616-five.cfm

And for a peek at issue 2:

http://www.marvel.com/comics/onsale/onsale.htm?id=1150

http://www.comicscontinuum.com/stories/0306/05/
RISING STARS
JMS has pointed everyone over to http://www.comicbookresources.com/columns/?column=13 for an answer to the burning question, Where is Rising Stars? While JMS' note above listed a particular column at Comic Book Resources, that page reference has changed. To read what is going on between JMS and Top Cow, go to http://www.comicbookresources.com/columns/index.cgi?column=litg&article=1670.. A number of readers have asked about JMS' comic book series, RISING STARS. It has been quite a while since the last issue came out and they were wondering when they might expect to see the next one. JMS was asked this question in the B5 moderated newsgroup not long ago. His response was: June 3: That depends entirely on a situation with Top Cow that is in need of resolution. The delay in writing has not been a delay in writing; it's been working through some problems with Top Cow for the last...almost year now. The final issues won't be turned in until those issues are resolved.
BOOKS
BABYLON 5 NOVEL - ON BOOK SHELVES NOW
DelRey is reprinting the original Babylon 5 novels. They started with #7 - Jeanne Cavelos' THE SHADOW WITHIN. Here's one I've been waiting for -- Kathryn Drennan's TO DREAM IN THE CITY OF SORROWS. The release date is scheduled for July 29, 2003. I love the new cover art! It can be pre-ordered from www.amazon.com. For those of you who love Babylon 5, this one reads just like an episode from the series. You just can't put it down.



SCIENCE FICTION TELEVISION SERIES: EPISODE GUIDES
Histories, and Casts and Credits for 62 Prime Time Shows, 1959 Through 1989
by Mark Phillips and Frank Garcia While this book has been out for a while (1996), there wasn't really a lot of advertising or promotion for this reference book and you could easily have missed it all together. However, copies show up on e-bay every so often, so you may want to give it a look-see. You can get more information on the book from the publisher's page at http://clk.about.com/?zi=1/XJ&sdn=scifi&zu=http%3A%2F%2Fwww.mcfarlandpub.com%2F and there is a review now posted at http://scifi.about.com/cs/newsinformation/fr/scifitvseries.htm. Looks like a terrific addition to any science fiction lover's book shelf.
NEW BABYLON 5 RPG
Ranger Jason has filed the following report that will be some interest to you:

Mongoose Publishing recently received the B5 Licence to do a d20 style game in the B5 Universe. The main book and supplements will start rolling out very soon (next 3 weeks).

They published a sneak peak booklet at http://www.vita.clara.net/b5preview.pdf which has tons of useful B5 stuff including a diagram of the station, and a near comprehensive map of the B5 Universe.

We need B5 Fans to support this because unless JMS releases another series or book, this will be the only new B5-feel product for some time.

Mongoose's site can be reached here http://www.mongoosepublishing.com/.
SCI FI PUBLICATIONS
CFQ 35.4: This issue promises a great deal for science fiction fans. There is a big 16-page spread on SMALLVILLE. Also included Joss Whedon looks back on BUFFY over it's seven-year run; Michael Shanks returns to STARGATE SG-1 and drops a few hints about the seventh season.







Cult Times Special #26: Immortals are the subject of this issue. There have been a number in science fiction history and whether they are people who just won't die -- or images that live on and on, it is an interesting premise to explore. Also in this issue, Richard Dean Anderson joins fellow producers Robert C. Cooper, Michael Greenburg and Brad Wright in discussing STARGATE SG-1; Ben Browder looks at the last days of FARSCAPE and JJ Abrams discusses the changes ahead for ALIAS.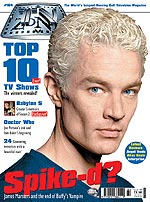 TV Zone #164: The big attraction for this issue will be JMS's look at Season Two of Babylon 5. Also included are interviews with James Marsters (Spike), Carlos Bernard from 24, and a look at what TV Zone readers feel is The Best Cult Television Program Ever.
Expose Special #77: This special issue is a review of 2002. With Harry Potter #2, Lord of the Rings and Terminator 3, they also look at Star Trek: Nemesis, FIREFLY, Buffy and Dinotopia.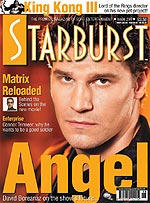 Starburst #298: ANGEL's new season is the focus of the issue. David Boreanaz talks about what makes the show so special to him. Also in this issue, a behind the scenes look at MATRIX RELOADED. Another show with changes ahead is SMALLVILLE. Alfred Gough and Miles Millar talk about what is in store for the next season.







SCI-FI SCHEDULE
BABYLON 5 13-AUG-03 9:00 AM BABYLON 5 (LBX) A VIEW FROM THE GALLERY
14-AUG-03 9:00 AM BABYLON 5 (LBX) LEARNING CURVE
15-AUG-03 9:00 AM BABYLON 5 (LBX) STRANGE RELATIONS 18-AUG-03 9:00 AM BABYLON 5 (LBX) SECRET OF THE SOUL
19-AUG-03 9:00 AM BABYLON 5 (LBX) IN THE KINGDOM OF THE BLIND
20-AUG-03 9:00 AM BABYLON 5 (LBX) A TRAGEDY OF TELEPATHS
21-AUG-03 9:00 AM BABYLON 5 (LBX) PHOENIX RISING
22-AUG-03 9:00 AM BABYLON 5 (LBX) DAY OF THE DEAD 25-AUG-03 9:00 AM BABYLON 5 (LBX) THE RAGGED EDGE
26-AUG-03 9:00 AM BABYLON 5 (LBX) THE CORPS IS MOTHER, THE CORPS IS FATHER
27-AUG-03 9:00 AM BABYLON 5 (LBX) MEDIATIONS ON THE ABYSS
28-AUG-03 9:00 AM BABYLON 5 (LBX) DARKNESS ASCENDING STARGATE SCHEDULE: 15-AUG-03 9:00 PM STARGATE SG-1 (LBX) BIRTHRIGHT
15-AUG-03 11:00 PM STARGATE SG-1 (LBX) BIRTHRIGHT 18-AUG-03 7:00 PM STARGATE SG-1 ABSOLUTE POWER
18-AUG-03 8:00 PM STARGATE SG-1 THE LIGHT
18-AUG-03 9:00 PM STARGATE SG-1 PRODIGY
18-AUG-03 10:00 PM STARGATE SG-1 ENTITY
22-AUG-03 9:00 PM STARGATE SG-1 (LBX) EVOLUTION -PT 1
22-AUG-03 11:00 PM STARGATE SG-1 (LBX) EVOLUTION -PT 1 25-AUG-03 7:00 PM STARGATE SG-1 DOUBLE JEOPARDY
25-AUG-03 8:00 PM STARGATE SG-1 EXODUS -PT 1
25-AUG-03 9:00 PM STARGATE SG-1 TBD
25-AUG-03 10:00 PM STARGATE SG-1 TBD FARSCAPE SCHEDULE:

17-AUG-03 12:00 AM FARSCAPE PROMISES
24-AUG-03 12:00 AM FARSCAPE NATURAL ELECTION
BABYLON 5/CRUSADE PHOTOSHOP PHOTOS









Peter Woodward has sent along a new photo -- a rather dreadful one -- from his appearance on CHARMED. It will be added to the collection of photos available from Peter, including additional copies of the Crusade poster in photo format. Both are autographed by Peter. You do NOT have to pay the prices asked for over at e-bay! Here are photos of B5 and Crusade cast members at fantastic prices. Check out Photo Shop. Ordering is easy -- and you can't beat the prices! Just let me know which photos you want and I'll check to make sure they are still in stock.
---
I-SCI-FI
I-SCI-FI will be re-broadcasting their interviews with The League of Extraordinary Gentlemen cast and crew tonight from 7-9pm MDT (5-7pm EDT). These are pre-recorded so you will not be able to call in and be eligible for prizes. All of these people are special in different ways. You are sure to enjoy Dave Lea, fight choreographer and cool guy. He's been in several top flight movies and taught some of Hollywood's 'A' list of actors and actresses how to fight and look like they are fighting, including Sylvester Stallone, Sandra Bullock, Ben Affleck, Colin Farrell and more. Check out his nearly one hour interview! We had so much fun talking we lost track of time! He was just here in Utah filming on the fourth Crow movie and you're going to want to listen to every word he has to say. If for some reason you have trouble getting the audio stream at I-SCI-FI, try ufpgalaxy.org, cosmiclandscapes.com, and now at radiostarfleet.com. Cosmic Landscapes, Radio Starfleet and UFPGalaxy rebroadcast live Thursday nights from 7-9 pm MDT and Cosmic Redux rebroadcasts the previous week's shows.
SCI-FI TALK
Tony Tellado has been very busy gathering interviews from the cast and crew of MATRIX RELOADED. You can listen to interviews with Keanu Reaves, Carrie Anne Moss, Laurence Fishburn Jada Pinkett Smith, Monica Bellucci plus Producer Joe Silver and Efx Master John Gaeta daily at Sci-Fi Talk At Live365.Com. The Matrix Page will feature transcripts. Be sure to check out Sci-Fi Talk's schedule on Broadcast Schedule - http://hometown.aol.com/scifitalk/broadcast.htm. Home Page - http://www.scifitalk.com
Listen To Sci-Fi Talk:
For 56K Modem or less connection - http://www.live365.com/stations/211667
Cosmic Landscapes Radio - http://www.cosmiclanscapes.com
Broadcast Schedule - http://hometown.aol.com/scifitalk/broadcast.htm
BABYLON 5 TOONS
John Cook has a wonderful collection of cartoons -- many are take-offs from Babylon 5. Here's just one of them.

He has a cartoon caption contest going on as well. Try your hand at a punch line.

Go to http://contests.sev.com.au/index.php?contestid=1


SCI-FI CARTOONS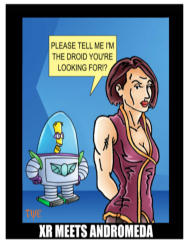 Tye Bourdony will have several cartoons published in the upcoming Cracked Magazine that hits newstands on the 29th. The issue will feature satire for Jeremy Bulloch (Star Wars) and Grace Lee Whitney, BarBara Luna, & Celeste Yarnall (Star Trek). Theese folks are all signing satires and Tye will be auctioning off one signed by Mr. Bulloch and one signed by the three Star Trek celebs for one of their favorite charities. More information on the auctions and charities shortly. I love science fiction related cartoons and Tye Bourdony is one of the most talented artists out there. He has done dozens of toons for Babylon 5. Here is his latest -- for FARSCAPE fans.



BABYLON 5/CRUSADE CONVENTIONS
CONVENTION UPDATE
ROBIN ATKIN DOWNES: Robin has been added to the list of Babylon 5 people attending DragonCon this year.
---
BRUCE BOXLEITNER: Bruce has had to cancel his appearance at DragonCon this year. Virginia Hey has also cancelled.
---
CONVENTION CALENDAR
Bill Blair Birthday Celebrity Cruise
August 18-22, 2003
Ports of Call: Key West, Cozumel
Guest: Bill Blair, Peter "Chewbacca' Mayhew
For more information, visit Bill's website at http://www.BillBlairFanClub.com.
---
DragonCon
August 29-Sept. 1, 2003
Place: Atlanta, GA
B5 Guests: Stephen Furst, Peter David, Mira Furlan, Walter Koenig, Peter Woodward, Brad Dourif, Julie Caitlin Brown, Bill Mumy
Other Guests: Luke Perry, Ray Bradbury, Christopher Judge, John Rhys-Davies, George Takei, Tony Amendola

For more information, visit their website at http://www.dragoncon.org.
---
Vulkon
September 5-7, 2003
Place: Cleveland, Ohio
B5 Guest: Mira Furlan, Julie Caitlin Brown
Other Guests: Michael Dorn, Dominic Keating, James Doohan, Richard Herd
For more information, visit their website at http://www.vulkon.com.
---
To Be CONtinued
September 26-28, 2003
Site: Radissosn Hotel & Star Plaza Theater
Place: Merrillville, Indiana
B5 Guests: Richard Biggs, Jason Carter, Julie Caitlin Brown
Other Guests: Rockne O'Bannon (Farscape Creator), & Ray Park (Darth Mall)
For more information, visit their website at www.2becontinued.com. Sign up for the Biggs & Carter Experience. The first 140 people who register for Friday will have a free dinner with Richard Biggs and Jason Carter). For more information on the convention, please visit www.msffa.org. For more information on the Biggs & Carter Experience, please visit www.biggsandcarter.co.
---
Be sure to visit our Convention Calendar for a full listing of upcoming conventions featuring Babylon 5, Crusade and Legend of the Rangers cast members as guests.
If you would like to share your convention experience with your other Zocalo readers, send along a convention report. I will gladly post it for all to read. Got pictures? I'll post those as well.
ZOCALO TRADING POST
Do you have extra copies of B5, Amazing Spiderman, Midnight Nation or Rising Stars comics you'd like to trade? How about those extra trading cards or B5 magazines? There are a lot of fans looking for these items -- and the Trading Post can help you buy or sell them. To see what's available, just use this link to the Trading Post. To have items included in The Trading Post, send a note to The Zocalo. Please put Trading Post in the subject line.
PEN PALS
If you are looking for someone to talk about Babylon 5 and Crusade with, the Pen Pal section is for you! Check it out! Drop a note to someone who is feeling B5 withdrawal -- BIG TIME!

People thought a Pen Pal page was a good idea. If you would like to meet people who you could chat with or share your opinions of the show with, send along your e-mail or snail-mail address The Zocalo. It will be incorporated on the new Pen Page Page.
MAIL FOR CAST AND CREW
Here's a recent note from JMS on the subject:

Just an FYI to those who've been using the Ventura Blvd. mail drop for fan mail to actors....

As mentioned before, we're phasing out the forwarding of fan mail because we a) don't have the resources, complicated by b) the actors have scattered to the four winds, and it makes it very difficult to get everything to everybody in a timely fashion.

So, having provided prior notice...fan mail to actors coming to the Ventura Blvd. mail drop will be sent back. Mail to actors should be sent via their official fan clubs. I will still be taking mail there, since it's my mailbox, but that's it.

Just so's y'all know and save a few bucks on postage and returns.

JMS' mail can be sent to:

14431 Ventura Boulevard, PMB 260
Sherman Oaks, CA 91423

WARNER BROS:

Warner Bros. Address:

Warner Bros. Domestic Television Distribution
4000 Warner Blvd.
Burbank, CA 91522

Warner Home Video:

Mr. Douglas Wadleigh
VP for Marketing and Special Features
Warner Bros.
4000 Warner Blvd.
Burbank, CA 91522

SCIFI:
Bonnie Hammer, President
Sci-Fi Channel
1230 Avenue of the Americas
New York, NY. 10020-1513

Mr. Thomas Vitale
Senior VP of Acquisitions, Scheduling & Program-Planning
BACK ISSUES OF THE ZOCALO TODAY
The front page of the The Zocalo Today changes daily, so be sure to check the back issues to make sure that you haven't missed anything IMPORTANT! I don't want the front page getting too long so I shift information periodically into the archives. So if you aren't a regular visitor to The Zocalo Today, be sure to check out the back issues. Just use the button above!
---
Take care and I look forward to hearing from you.
Sandra Bruckner (sgbruckner@aol.com)
Editor/Publisher
The Zocalo Today
http://www.isnnews.net
Copyright - SBruckner, 1999-2003