[an error occurred while processing this directive]

The Zocalo Today

Welcome and thank you for dropping by. Take your shoes off, get comfortable and stay a while. There is a LOT of information here and you won't want to miss any of it.

The Zocalo Today is an interactive newsletter, encouraging readers to join a discussion topic or to send along letters that can be shared with other readers.

If you have suggestions as to how The Zocalo can be improved -- or be more responsive -- send them along. The Zocalo Today is a newsletter for Babylon 5 fans everywhere. It is as much YOUR newsletter as it is mine! I'm just pulling together things for you!

Join our discussion topic. It is just one way you can share with other Z readers. If you see Babylon 5 cast and crew in other roles, let us know. We enjoy convention reports, photos, etc. Don't miss our back issues. I hope this will become more than just a newsletter. It's a community of people that enjoy sharing their experiences and interests. Don't be shy. Join us today!

If you have questions, drop me a line at sgbruckner@aol.com. If you would like to join the mailing list for our newsletter, send me a note and I'll include you on the list. Or you can use the subscription block at the left.

Again, WELCOME!




What's New Today
Friday, August 22:
HAPPY FRIDAY!
---
CONSTANTINE: According to The Hollywood Reporter, Rachel Weisz (The Mummy) is in talks to star opposite Keanu Reeves in Warner Brothers' upcoming CONSTANTINE, a movie based on the DC/Vertigo comic series Hellblazer. Francis Lawrence is directing CONSTANTINE, described as Dirty Harry set in the occult world. Reeves will star as John Constantine, a man who dabbles in the occult and teams with a female police officer to fight evil forces. The trade paper added that Weisz would play Angela, an officer who becomes involved with Constantine when her twin sister dies in a mysterious suicide. The original script was written by Kevin Brodbin (The Glimmer Man); a rewrite was done by Mark Bomback and Frank Cappello.
---
CAT WOMAN: With Halle Berry set to star in Warner Brothers upcming CATWOMAN movie, Sharon Stone has been offered the role as female villain. According to the Hollywood Reporter, Stone is expected to sign on to the film soon as Laurel, the public face of a cosmetics company and the brains behind an evil operation she runs with her husband. CATWOMAN also has its eye on Josh Lucas for the role of Detective Lone, Catwoman's love interest. The project is being directed by French helmer Pitof, with Village Roadshow Pictures and Di Novi Pictures producing.
---
THE DEAD ZONE: USA Networks has announced that THE DEAD ZONE has been renewed for a third season of episodes. Production on the cable dramatic thriller, based on the characters from Stephen King's novel, begins this fall. "THE DEAD ZONE is one of the top-rated shows on basic cable and we're confident that it will continue its strong performance in its third season," said USA Network's Jeff Wachtel, Executive Vice President, Series and Longform Programming. "Lions Gate and Paramount have consistently delivered a top-quality show that we're all extremely proud of." Good news! All of the show's creative staff as well as the regular and supporting cast members will also return. THE DEAD ZONE cast members include Anthony Michael Hall, Nicole deBoer, Chris Bruno, John L. Adams, Kristen Dalton, David Ogden Stiers, Sean Patrick Flannery and Frank Whaley.
---
ANGEL: Over at Comics Continuum you will find nine images from the fifth-season opener of Angel just released by Warner Bros. The season will open with the episode "Conviction," which will air on Wednesday, Oct. 1 at 9 p.m. This year ANGEL gets a wonderful lead-in program -- SMALLVILLE.
---
LORD OF THE RINGS: New Line Cinema will re-release The Lord of the Rings: The Fellowship of the Ring and The Lord of the Rings: The Two Towers, with additional scenes and footage added, just two weeks before the worldwide December 17 release of The Lord of the Rings: The Return of the King. Plans call for putting the films on 100-150 screens in the top 10 U.S. markets. Many other U.S. cities will have one cinema participating in the special extended edition screenings. Running times for the extended editions are 208 minutes for "Fellowship of the Ring" and 214 minutes for "The Two Towers." Advanced ticket sales are scheduled to begin in late September or early October on exhibitor Web sites and movie ticketing sites like Fandango, MovieFone and Movietickets.com. Starting the week of Dec. 5, the extended DVD cut of "Fellowship of the Ring" will be released in some 100 or so theaters in the U.S. and in 20 theaters in Canada. The week of Dec. 12, "The Two Towers" will be released, leading up to a worldwide Dec. 16 daylong marathon, during which all three films will be shown back-to-back. The screenings that day will include a 3 p.m. showing of "Fellowship" followed by a 7 p.m. screening of "Two Towers" and then an 11 p.m. screening of "Return of the King," which will carry over into Dec. 17 -- the day of its global release.
---
INSIDE SCI-FI THIS WEEK:
Thursday, August 21:
WILLY WONKA: Tim Burton is in the process of pulling together a remake of Ronald Dahl's classic CHARLIE AND THE CHOCOLATE FACTORY for Warner Bros. There are a lot of names associated with the Willy Wonka role -- the latest being Johnny Depp. Shooting will start sometime next year.
---
SUPREME POWER #2: There is a four-page preview for Supreme Power #2 over at Comics Continuum. Here is Marvel's description of the preview: "Supreme Power #2 continues the story of Mark Milton, the alien boy at the center of 'Project Hyperion' and destined to become of the most powerful and dangerous beings on face of the Earth. But issue #2 also introduces other key cast members, including Corporal Joe 'Doctor' Ledger, a covert military operative whose fate will intertwine with Milton, as detailed in the following 4-page preview." Supreme Power #2 goes on sale on Sept. 10. The 32-page book will cost $2.99.
---
TIME BREAKER: Jackie Chan, who is set to star in this Hong Kong-produced fantasy film, will have to wait until this summer to begin production. The script has been sent for a re-write. "When I looked at the script, there were a lot of special effects," Chan said in an interview. "After The Medallion [which has many computer effects], I'm not sure anymore, so now we change the script." TIME BREAKER (formerly Titanium Rain) has Chan as an Imperial Guard from the Ming Dynasty who pursues a samurai for 400 years. Now that he is committed to Rush Hour 3, Shanghai Dawn, an untitled drama and New Police Story, Chan may find it difficult to squeeze TIME BREAKER in.
---
RETURN OF THE KING: There are teaser character posters and desktop images over at http://lordoftherings.net/index_rotk_teaser.html for THE RETURN OF THE KING.
---
Wednesday, August 20:
WEST WING: There will be a familiar face in the White House this fall. Gary Cole (Captain Gideon from CRUSADE) has won the role as Vice President on THE WEST WING. Cole will play Colorado congressman Robert "Bingo Bob" Russell starting with the show's third episode this fall. Variety describes the character as having a few unconventional ideas. Cole is taking over from Tim Matheson, who played VP John Hoynes in the show's prior seasons. It's expected that Vice President Russell will appear as a recurring character throughout the season.
---
RATINGS: Top 10 SF Syndicated Shows: Stargate SG-1 2.3; The X-Files 2.3; Mutant X 2.0; Buffy 1.9; Andromeda 1.8; She Spies 1.8; 3rd Rock 1.7; Adventure, Inc. 1.7; Beastmaster 1.5, and Beyond With Van Praagh 1.2. Source: Nielsen Galaxy Report, 7/21/03 - 7/27/03.
---
NO ARNOLD UNTIL OCTOBER: SCIFI will postpone three scheduled Arnold Schwarzenegger movies until after the Oct. 7 California gubernatorial recall election. In their place on Aug. 24, SCI FI will run the following California-themed movies: Volcano: Fire on the Mountain, at 5 p.m. ET/PT; Inferno, at 7 p.m.; and Ice, at 9 p.m.
---
ALIAS: As the new season approaches, information is leeking out from a number of sources, including the TV Guide. Australian actress Melissa George joins ALIAS this year as Lauren Reed, a Brit who married Vaughn sometime during Sydney's (Jennifer Garner) two-year absence. She will first appear in the second episode of the upcoming third season. "She will be working in the intelligence community, [but] I'm not saying which part. I'm not going to make her unlovable." As originally conceived, Reed was supposed to be a recurring character. But after George read for the part with Vartan, George said series creator J.J. Abrams turned it into a regular role. ALIAS returns to its regular Sunday 9 p.m. ET/PT timeslot on Sept. 28.
---
X2 DVD: Details for the upcmoing X2 DVD have been announced by 20th Century Fox. The two-disc DVD of X2: X-MEN UNITED will go on sale starting November 25 for Region 1 DVD owners in North America. Director Bryan Singer and Director of Photography Tom Sigel will provide one of the commentaries, with producers Lauren Sculer Donner and Ralph Winter along with writers Michael Dougherty, Dan Harris and David Hayter providing commentary on the second track. 11 deleted scenes, 11 featurettes (four alone focus on the character of Nightcrawler), 3 trailers, 1 brand-new documentary and a load of stills from the production will be on the set. Widescreen anamorphic and fullscreen versions will both be available, each both capable of delivering Dolby Digital and DTS 5.1 sound. The X2: X-MEN UNITED DVD will retail for $29.98 while the VHS version is priced at $22.98. The VHS will also include four deleted scenes.
---
THE MATRIX REVOLUTIONS: There is a new trailer availablae at http://www.comingsoon.net/news/matrix3news.php?id=1156. This looks terrific.
---
Tuesday, August 19:
ANGEL: There are a number of casting changes ahead for ANGEL this year. Charisma Carpenter, who for a number of years played Cordelia Chase (in both ANGEL and BUFFY) won't be returning as a regular cast member. She spoke to the Boston Harald recently saying, "I was not prepared. I don't think you're ever prepared for that kind of situation." She said she is absolutely willing to return to the series to provide closure to her character's story arc. As the season closed last year, Cordelia was in a coma and Carpenter said, "I think it would be incomplete if it wasn't addressed but I don't know what's being planned. I haven't heard anything. As we speak today, there are no plans for me to come back."
---
EPISODE III: Producer Rick McCallum told fans in a chat on the official Star Wars Hyperspace Web site that the movie has shot about 80 pages of the 129-page script so far, and that they are two days ahead of schedule. "Everything is going well, and every day is a challenge to get through, especially the underwater work we're doing now," McCallum said in the chat. "I've just left the stage where we have an underwater tank, where we're shooting Obi-Wan [Ewan McGregor] fighting with droids." He also let a number of items slip that could be classified as "spoiler information", so if you see the full interview, be prepared.
---
TERMINATOR 3: Warner Home video has announced their plans to to release Arnold Schwarzenegger's T3: RISE OF THE MACHINES on DVD on November 11--just a little over a month after California's recall election in which the actor is running for governor.
---
SMALLVILLE: SMALLVILLE's Al Gough and Miles Millar will be speaking at the Writers Guild of America West in LA on Thursday, August 21 at 7:30 PM as part of their Writers on Writing series. Tickets are $20 with discounts for students and academic faculty. RSVP at 323-782-4692 or visit the WGA website for more details.
---
BATTLESTAR GALACTICA: In the latest issue of Script magazine, writer/producer Ronald D. Moore talks about the new BATTLESTAR GALACTICA. Set to premiere on December 7 at 9pm on SCIFI, Moore says the mini-series is not going to follow the traditional format. "Our goal is nothing less than the reinvention of the science fiction television series. We take as a given the idea that the traditional space opera, with its stock characters, techno-double-talk, bumpy-headed aliens, thespian histrionics and empty heroics, has run its course and a new approach is required." The series wrapped production in Vancouver in June. Now everyone awaits the premiere.
---
ROBIN ATKIN DOWNES: Speaking of Battlestar Galactica, B5's Robin Atkin Downes has been involved with the new Battlestar Galactica video game. Robin was recently interviewed at www.galactica2003.net. Robin portrays Ensign William "Husker" Adama. The full interview can be found at http://www.galactica2003.net/videogame/downes081603.htm.
---
STAR TREK: ENTERPRISE: Over at http://www.cnn.com/2003/SHOWBIZ/TV/08/18/weekendtv.enterprise.ap/index.html you can read about a few of the changes ahead for the crew of ENTERPRISE this year. Jolene Blalock, who plays Vulcan subcommander T'Pol, gets some new clothes and is enjoying the increased amount of action for the year ahead.
---
Monday, August 18:
BABYLON 5 DVD IN THE UK: I just got a note from the WB saying that the Season Three DVD will be released in the UK on October 27.
---
RATINGS: Top 10 SCIFI Channel Shows: Stargate SG-1 1.5; Alien Hunter 1.3; Death Becomes Her 1.1; Stargate 1.1; Tremors: The Series 1.1; Red Planet 1.1; Meet Joe Black 0.9; Clan of the Cave Bear 0.9; Alien Cargo 0.9, and Witches of Eastwick 0.8. Source: Nielsen Galaxy Report, 7/14/03 - 7/20/03.
---
WEEKEND BOX OFFICE: I guess it was worth the wait! FREDDY VS. JASON painted the town red after massacring the competition at this weekend's box office. They topped weekend charts with an estimated $36.4 million for 3,014 theaters. SWAT dropped about 50% from last week but still managed to captured about $18.6 million. Next, Kevin Costner's OPEN RANGE came in at third place. The western roped in an estimated $14.1 million. FREAKY FRIDAY earned $13.1 million according to box office estimates; UPTOWN GIRLS opened in the #5 spot with only $11.2 million.
---
SUPREME POWER: Here is a note from JMS in the release of SUPREME POWER:
Just to follow-up on this...I don't know if I passed along the info in this forum or not, but the sales on Supreme Power #1, which hit stores yesterday, the 6th, have gone over 100,000 which not only puts it in the top five books, but it's the first time (according to Joe Quesada, who knows these things) that a Max book or other imprint mainly aimed at adults has broken 100,000.

And the reviews to this point have been great. It's really hit home in a big way, which is what I was hoping would happen with this one. Several have commented on the sense that they haven't really read a story like this before (including the one at bureau42.com), which was just what I was hoping for.

I just got the pencils in on issues 4 and 5, and the whole thing just holds together so well, and the art is terrific, Gary's doing a great job.

In any event...my thanks to all who picked it up, and we're off on something quite extraordinary, I think, because the issues to come just go from strength to strength. Issue 2 is an absolute kick in the head.
---
NEWS: Updates to on-line news services is especially slow this morning. I'll catch up with everything tomorrow.
---
Sunday, August 17:
Not a lot of new news to report this morning. There are a number of good things to watch on the tube tonight, though. Can't wait to see the season finale of THE DEAD ZONE. I love that show.
---
Thanks to everyone who dropped a line about yesterday's e-mail issue. It's great to hear from you all.
---
HAPPY SUNDAY!
---
Saturday, August 16: TOP SF DVD SALES: 1. The Two Towers regular edition; 2. The Two Towers widescreen edition; 3. Adventures of Indiana Jones; 4. Babylon 5 season three; 5. Futurama volume two; 6. Finding Nemo; 7. Angel season two; 8. Stargate SG-1 season four; 9. Chronological Donald, and 10. The Lion King. Source: Amazon.com, top-selling genre DVDs, 8/11/03.
---
FUTURAMA: According to the TV Guide, Fox's FUTURAMA has blossomed into a cable and DVD hit. As part of Cartoon Network's Adult Swim lineup, Futurama averaged 2.2 million viewers in June. The series is scheduled to return Nov. 2.
---
NEW STAR TREK? William Shatner (Captain Kirk) told the Sioux City Journal that he has an idea for a new direction to take TREK. "I'm trying to interest the powers -- and that has many levels to it -- for me to conceive another STAR TREK manifestation. It would be a concept for a series." Of course Shatner didn't reveal any additional information about what his series would be or which timeframe his TREK would take place in. Hopefully we'll hear more over time.
---
BATTLESTAR GALACTICA: Richard Hatch and Dirk Benedict will be returning to BATTLESTAR GALACTICA -- but not the new mini-series coming to SCIFI. They are among the actors who have been hired to provide voices for characters in Vivendi Universal Games' upcoming BATTLESTAR GALACTICA video game. Hatch and Benedict will not only reprise their characters of Apollo and Starbuck from the original TV series, but they will provide the voices for multiple characters in the game. Also providing voice talent are Dwight Schultz (Lt. Barclay from THE NEXT GENERATION) and Kristanna Loken (the T-X from TERMINATOR 3). Schultz's character is named Erebus, who is the Imperious Leader of the Cylon battle fleet. Loken plays Iphigenia, a fellow Viper pilot and the love interest for Adama. The game is set 40 yahrens before the destruction of the Twelve Colonies and the Galactica's quest to find Earth. The BATTLESTAR GALACTICA game tells the story of a young Ensign Adama and his first deep space posting aboard the Battlestar Galactica. Gamers face hordes of Cylon attack fighters as they conduct the daily defense of humans in their Vipers. Missions range from escort sorties to search and destroy to reconnaissance. Over the course of the story-driven game, you'll be at the controls of five different spacecraft each with their own flight style and weapon armaments. The game will be released this winter for PlayStation 2 and Xbox game systems.
---
OLD FLICKS REVIVED: I am happy to see old films being resurrected and their quality enhanced by new methods for DVD distribution. One of my favorites, CASABLANCA, has recently been released by Warner Home Video in what Roger Ebert describes as a sensational new double-disc set (retail $26.99) with four-plus hours of bonus materials. Some extras are new, others are simply recycled from previous "Casablanca" videos. Most viewers won't care. Go to http://www.hollywoodreporter.com/thr/reviews/review_display.jsp?vnu_content_id=1954662 for Ebert's entire review.
---
RED DWARF: Dark Horizons reports that the film version of the Brit sci-fi/comedy sitcom RED DWARF is set to begin production in October. The £12 million film project will last 4-5 months and almost certainly will be done at the Warner Bros. Gold Coast Studios in Australia. Craig Charles said that "It's been five years in the melting pot and it looks like it's finally going to happen. The script is excellent and everyone is looking forward to making it." Winchester Films have already provisionally sold it to Australia, Britain and Japan and it should do well in America as it's shown on US TV. Money is still a stumbling block but I think BBC Worldwide is putting cash into it. The budget of £12m is massive for a non-Hollywood movie".
---
EMAIL NEWSLETTER: The e-mail version of The Zocalo Today just hit the airwaves. If you didn't get your own copy, drop me a note at sgbruckner@aol.com and I'll put you on the mailing list.
---
WHAT'S ON TONIGHT
8:30 on HBO
Men in Black II
Interstellar agents fight an alien who is in disguise. Directed by Barry Sonnenfeld. 10:00 on Showtime
Dead Like Me
Sunday Mornings
George discovers that her father is not the person she thought. On SciFi Tonight: 8:00pm
Tremors: The Series
A monster-hunter helps neighbors defend the town. 9:00pm
Stargate SG-1
Part 1 of 2: Evolution
The SG-1 team must face an unstoppable breed of Goa'uld supersoldier. 10:00pm
Scare Tactics
Chainsaw wedding cult; a house-sitter deals with the escape of an unknown creature. 10:30pm
Scare Tactics
A clown stalks a magic-shop employee; a news crew interviews a serial killer.
BABYLON 5 SCREENSAVER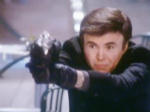 I received a wonderful note from Warner Bros. yesterday. It said:
"we also got this link from WHV for B5 screensavers, if you want to post this anywhere:
http://www.eyetide.com/download/?p=104117."
The graphics are awesome and it will add a certain measure of class to any desktop. Don't miss the preview feature. You can see what graphics have been included for your viewing pleasure. Thanks WB.
---
BABYLON 5 ROLE PLAYING AND FACT BOOK
The Babylon 5 Roleplaying Game and Fact Book
"Signs and Portents"
By Matthew Sprange
Mongoose Publishing
ISBN: 1-904577-11-3
MSRP: $49.99 From the review written at http://www.scifi.com/sfw/current/games.html B5 fans might want to pick up this game whether they actually play it or not. Based on the first season of the series, the "fact book" portion of the book includes an overview and maps of Babylon 5 and an episode-by-episode breakdown of the first season.
BABYLON 5 SEASON THREE DVD - OUT NOW!
Season Three of Babylon 5 was released in the U.S. on August 12. It will be available in the UK beginning October 27. A review can be found over at http://www.imdb.com/Recommends/Rec2.html and the DVD series is on their recommended list. It was a featured item on http://www.imdb.com/. BABYLON 5: THE COMPLETE THIRD SEASON DVD Order Date: 7/15/03 Street Date: 8/12/03
Catalog #: 24243 WB Synopsis: The long-running Emmy Award-winning television series Babylon 5 takes place in the year 2257 A.D. on an immense spaces station floating in a stationary orbit in a neutral corner of a distant galaxy. Staffed by a crew of peaceful Earthmen and women, Babylon 5 serves as a non-political economic and social hub for the four alien races - the Narn, Centauri, Vorlon and Minbari - who fight to control the galaxy. Starring Bruce Boxleitner, Claudia Christian, Jerry Doyle, and Bill Mumy. Special Features and Specifications: o Six-disc DVD collector's set
o Introduction from series creator J. Michael Straczynski,
o Commentary on three key episodes by series creator and stars,
o"Behind the Mask: Creating the Aliens of Babylon 5" Documentary
o"Designing a Better Narn" Documentary
o"Designing Tomorrow: The Look of Babylon 5" Documentary
o Data and Personnel Files
o 16X19 Anamorphic Widescreen
o Dolby Digital 5.1
o English, French Spanish subtitles
o Running Time: 968 minutes For a look at Season Three, go to Season Three. Here you will find individual synopses of each episode and a graphic provided by Warner Bros.
SPECIAL "BUDDY" AUCTION
Ranger Jan reports that the Buddy auctions went very well. "Thanks so much for helping spread the word about Monica's and my auctions to benefit http://kittenrescue.org/ who've helped out JMS in rescuing and resettling the cat and kitten colony from his property.

The auctions ended with a grand total bid of $221.67 which will be doubled by the company that Monica ( http://abyss.hubbe.net) donor of the autographed Tribulations book and co-conspirator in the auctions) works for.

I'd like to thank everyone who bid, bought or even just looked at the items. I had a lot of fun doing it!"
BABYLON 5 SIGHTINGS
Ranger Jenifer reports that Daniel Dae Kim has a recurring role on SEINFELD. Daniel was on 24 last season as Agent Tom Baker.
JEREMIAH
SEASON TWO BEGINS OCTOBER 10. Previously posted as as September 19, Showtime has put the actual premiere date for JEREMIAH out on the website www.sho.com/jeremiah as October 10. Here is the opening statement on the show from their website: "JEREMIAH" QUEST CONTINUES FOR SHOWTIME/MGM AS POPULAR SCI-FI SERIES IS RENEWED FOR 2003 SERIES STARS LUKE PERRY, MALCOLM-JAMAL WARNER AND SEAN ASTIN AND WILL NOW BE DELIVERED IN HDTV NEW YORK, NY (Oct. 2, 2002)-- Showtime Networks has renewed JEREMIAH for a second season with 15 additional episodes and has added Sean Astin ("The Lord of the Rings" "Staying Together") to the show, which stars Luke Perry (Beverly Hills, 90210) as "Jeremiah" and Malcolm-Jamal Warner (Malcolm & Eddie) as "Kurdy." The Sci-Fi series from MGM is created for television by sci-fi icon J. Michael Straczynski, creator & executive producer of Babylon 5. It has been an important part of Sci-Fridays on SHOWTIME along with the network's other new series ODYSSEY 5. The show will go into production October 23, 2002 and will now be produced and aired in high definition television - HDTV. In the new season, Sean Astin, known for his role as Samwise Gamgee in "The Lord of the Rings" trilogy, will play a quirky colorful character named "Mr. Smith" who will partner with Warner's character, "Kurdy." Together they will go out on the road to help forge new alliances that will help in the rebuilding of their nation. The series is set in a future post-apocalyptic world where, almost a decade before, a deadly virus wiped out the world's adult population sparing only those who hadn't reached puberty. Now, the oldest survivors of the "Big Death" are trying to survive and create a civilization out of the chaos that ensued after the adults died, and with them much of society's collective wisdom. During the first season, Jeremiah was hoping to locate a mysterious place called Valhalla, which his father claimed might hold some hope for the survivors, but this personal quest was redirected when he met up with Kurdy and they discovered a group of highly organized survivors at Thunder Mountain who wanted to enlist them to orchestrate peace among the warring factions and to try and prevent the killer virus from returning. As the second season opens, Jeremiah has been separated from Kurdy in the aftermath of a struggle with forces from the Valhalla Sector. He is being held in captivity and is about to be reunited with his father - a mysterious figure who holds the answers to many secrets about Jeremiah's world. JEREMIAH is based on Platinum Studios' comic book-to-film adaptation based on the award-winning comic book by Belgian author Hermann Huppen. The series is being produced by Jeremiah Productions Inc. in association with Lion's Gate Television and Platinum Studios and will be distributed by MGM Worldwide Television Distribution. Straczynski will serve as showrunner and executive producer, alongside Grant Rosenberg who has produced and written for "The Outer Limits" and "Lois & Clark: The New Adventures of Superman." The executive producers also include, Luke Perry, Scott Mitchell Rosenberg who developed the hit film Men In Black and Ervin Rustemagic. Showtime creative executive is John Vasey. For MGM the creative executive is Craig Roessler. JEREMIAH AND JMS FOR SEASON THREE
Here is a note from the B5 moderated newsgroup related to JMS continuing with JEREMIAH into season three: "There was a lot in that article on the Pulse that was really badly reported, things were misphrased, two different sentences were put into one, sections are wholly incomprehensible...it's just a train wreck of a piece. However, even though the article totally misstated the sentence so it didn't make any sense, the last phrase is correct, in that I have zero desire to return to a third season of Jeremiah. Showtime was great, no mistake, but MGM has overall been the most heinous, difficult and intrusive studio I've ever worked for. I've worked for, and had great relations with, Viacom, Universal, Warner Bros., and a bunch more. But I will never, ever, work for the present administration at MGM. I didn't know why so many other writers had a problem there and never wanted to go back. Now I do." In another posting, he mentioned: I read on the net -- was never informed by MGM -- that Jeremiah will be coming to DVD in January or February of next year, and season 2 begins September 19th on Showtime. ** The Pulse article referred to can be found at http://www.comicon.com/cgi-bin/pulse.cgi?http%3A//www.comicon.com/cgi-bin/ultimatebb.cgi%3Fubb%3Dget_topic%26f%3D36%26t%3D001223. There are a couple of places where you can find information on JEREMIAH. Monica has a very up-to-date site at http://abyss.hubbe.net/jeremiah/. She has a newsletter that you can sign up for as well so that information comes into your mailbox on a regular basis. The "official" website is located at http://sho.com/jeremiah/. It isn't terribly timely, but it does have background about the show if you need it.
DISCUSSION TOPIC
With the third DVD of Babylon 5 having hit stores, I thought it might be interesting to hear what you have really liked - and disliked - about the DVD product. Was the music better -- graphics? Did you like the commentary? Send in your comments to sgbruckner@aol.com and I'll start posting them on the Discussion Page for everyone to share.
KEEPING UP WITH CAST AND CREW
GARY COLE: Gary Cole has continued to stay quite busy since the demise of CRUSADE. This week he turns up in the latest episode of MONK. The portrays a playboy -- quite far from his B5 character of Captain Gideon.
---
STEPHEN FURST: On August 21, most of the cast members from ANIMAL HOUSE will be in front of the Kodak Theater on Hollywood Blvd. at noon to celebrate the DVD release of that classic slob comedy. Universal Studios Home Video will present a block party fit for a toga crowd. Event highlights will include the "World's Shortest Parade" with cast members riding on the famous cake float, a massive food fight, an entire production number set to "Shout" (performed by Otis Day And The Knights), and a sizzling new rendition of the theme song "Animal House" performed by MxPx, whose remake of "Shout" appears exclusively on the DVD. Cast members scheduled to attend include Tim Matheson, Stephen Furst (Flounder), Verna Bloom (Maron Wormer), Karen Allen (Katy), Peter Riegert (Boon), Bruce McGill (D-Day), John Vernon (Dean Wormer).
---
CATCHING UP WITH JERRY DOYLE: Jerry is currently filming a feature film titled OPEN HOUSE and just completed an HBO original feature titled LOST TREASURE. In 2002, three independent features Jerry starred in, CODE HUNTER, DEVIOUS BEINGS and THE LONG RIDE HOME, were released. Jerry has done extensive voice over work on animated television series' such as Duckman and Captain Simian, along with numerous national commercial voice campaigns. Jerry is a "political junkie" and is considering running for Congress in Florida's 16th District. For those of you in the Chicago area, here's a bulletin. Jerry Doyle will be sitting in with MANCOW Thursday/Friday, August 15 and 16, at Q101 and can be heard on many stations across the country. This is a morning drive format, 5:30A - 10:00A, CST.
---
JASON CARTER/RICHARD BIGGS UPDATE:: Jason Carter's Fan Club passed along the following update for Rick & Jason:
Convention Reminder: September 26-28, 2003: MSFFA in Merrillville, IN. See details below. Book on CD: Jason Carter has completed narration work on "Ill Met by Moonlight" by Sarah A. Holt. The 8 unabridged CD set is available for pre-order from Buzzy Multimedia (www.buzzymultimedia.com) and are scheduled to ship 10/01/03. Audio clips and additional information can be found at The Official Jason Carter Fan Club site at www.jasoncarterfanclub.com. Film Project: Jason Carter and Richard Biggs are currently working on the film Revenant: (which also features Anita La Selva from Earth: Final Conflict). Film synopsis: Five years ago, six cops did the unthinkable. One of them returns home for the funeral of his partner, and finds himself confronted by the past-the woman he abandoned and the friends who share his guilty secret. When those friends are murdered one by one, his search for answers will lead he and his former lover to a final confrontation with a secret that refuses to be kept, an evil that won't stay buried, and a restless spirit that reaches out to claim them all. Principal photography begins in Fall 2003. The current trailer for this film can be found at The Official Jason Carter Fan Club site at www.jasoncarterfanclub.com. Investment opportunities are also available, information at the fan club site. Behind the Red Door (Jason Carter appears as Sonny) is still airing on Showtime (check your local listings) but is also available for rent on VHS and DVD from Blockbuster. Check your local stores or their website (www.blockbuster.com) for availability. The Mesmerist (Jason Carter appears as Dr. Pretory, the Mesmerist) is no longer showing in theaters and negotiations for a DVD release are still in the works. There is another film project from Magick Films (www.magickfilms.com) in the works for Jason (Victor where Jason Carter will be playing Victor Frankenstein). Details will be posted at The Official Jason Carter Fan Club site when available.
---
FIONA AVERY: Fiona Avery has a number of irons in the fire -- including a new TV series for Showtime based on her NO HONOR comic book series. The folks at Silver Bullet Comics recently interviewed Fiona and the transcript can be found at http://www.silverbulletcomicbooks.com/news/106022262759209.htm.
---
MARJEAN HOLDEN: You'll find Marjean's name a couple of times on today's TV Listing. She had a recurring role on BEASTMASTER for a couple of years and SCIFI presents CODE RED: THE RUBICON CONSPIRACY tonight at 9:00pm. Marjean stars with Brian McNamara in this drama. Both roles are quite a bit different from Dr. Sarah Chambers in CRUSADE.
---
PETER WOODWARD: I talked to Peter recently and he is very excited about the second season of CONQUEST on the History Channel. New episodes began July 6 so check your local listings to see when the episodes air in your location. Peter is writer, co-producer and host of this look at martial competition throughout history. It is a fun program and airs on Sunday at 10:30pm.
---
SPECIAL B5 CAST ACTIVITIES
2003 marks the 20th anniversary of SCARECROW AND MRS. KING's debut on CBS. A very special event is being planned. On October 17-19th at the Beverly Garland Holiday Inn in Los Angeles, California, a celebration is being planned. A number of guests have already confirmed -- including Bruce Boxleitner, Beverly Garland, Martha Smith, Paul Stout and Greg Morton. For more information on activities related to the anniversary, go to http://www.smk20thanniversary.com/.
CRUISE WITH PETER WOODWARD
Peter is considering cruising the Caribbean in early 2005 and wants to invite his fans to join the fun. He would like to see if there is sufficient interest before going too far into planning, so if you would like to receive a brochure about Peter's upcoming cruise once the details are finalized please advise of your: Name:
Postal Address, City, State, Zip:
E-mail address:
Phone number:
Total number of guests in your party:
Age range of the guests including yourself:

Send this information to pwoodwardinfo@yahoo.com. Any information you send us will be handled respectfully. This is not a commitment from you, just an indication of interest.
BABYLON 5 BIRTHDAYS
Daneil Dae Kim - August 4
Claudia Christian - August 10
Stephen Austin - August 11
Tim Earls - August 15
Nancy Tarczynski - August 16
Skip Beaudine - August 26 Have I missed anyone? If you know the birthday of someone connected with Babylon 5, pass the information along. We want to include everyone in our Happy Birthday Wishes.
READER BIRTHDAYS
Sometimes you just can't find the e-mail address for someone you know you have -- it's someone who responded to a discussion topic or you met in one of the chat rooms. You'd like to send a personal note, but .... No address!!!!

We've started a White Pages of Zocalo Readers! It's a handy way of keeping track of people -- and putting together a birthday/greeting card list as well. If you would like to be part of the listing, just send me your name, state, e-mail address and (if you'd like to have it listed) birthday (without year) to sgbruckner@aol.com. Check out the Directory of Readers.

Name: Michael Antol
State: Georgia
email: michaeljohn338@yahoo.com
Birthday: August 7

Name: Captain Average
E-mail address: captain.average@home.com
Birthday: August 18

Name: gkarfan (Tammy Smith)
State: California
E-Mail: gkarfan@webtv.net
Birthday: Aug. 30

Name: Colin White
State: North Carolina
E-mail: colinwhite@mymailstation.com
Birthday: Aug. 20
TRADING CARD HELP
Ranger Tia sent along this note to share with B5 card collectors:

Don't know if you've heard of my card program yet or not, but I thought the other B5 card collectors might like to try it out. With having almost all of the B5 trading cards and CCG cards available and no program to keep track of them withm, I started writing my own. Here's the website for it. Go half way down and click on the small screen shot for a full size screen shot. I have the pic of Pat Tallman's card from the Profiles card set feautured in the shot.

Oh, and I also have a lot of the card lists already saved as files so people won't need to type in all the card names. Being written by a B5 fan, ALL the card lists have already been made and are downloadable. :)

http://cardkeeper.usethis.com/keeper/index.html

Tia
COMIC BOOKS
SMALLVILLE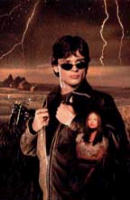 News from Comics Continuum indicates that Smallville #5 from DC Comics will include a lead story that bridges the gap between Seasons 2 and 3 of the television series. Editor Tom Palmer Jr. said, "We'll get to see what 'Bad Clark' has been up to in Metropolis and it ain't too nice!" The lead story is written by Mark Verheiden and Clint Carpenter, with art by Tom Derenick and Adam DeKraker. The back-up story, written by Clint and Jake Black with art by Pete Woods and Ron Randall, focuses on Whitney. "We saw that he died on the show, but there are some interesting events that lead up to it," Palmer said. Smallville #5 will arrive in stores in November.
AMAZING SPIDER-MAN #55
Amazing Spider-Man #55 will arrive in stores on Wednesday from Marvel Comics. The issue is written by J. Michael Straczynski and Fiona Avery, with art by John Romita Jr. and Scott Hanna and a cover by Mike Deodator Jr. Here's how Marvel describes the issue:
"More secrets of the enigmatic Ezekiel are revealed in this first part of a 2-part story co-written by J. Michael Straczynski and his protege Fiona Avery." Amazing Spider-Man #55 will be 32 pages and will cost $2.25.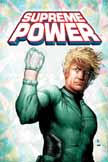 SUPREME POWER #2
Written by J. Michael Straczynski, pencils and cover by Gary Frank.
I n a world with no heroes, what happens when powerful superhumans emerge? And now that the government knows that superbeings exist, what lengths will they go to use them for their own purposes? J. Michael Straczynski tells a hard-edged, mature and deeply personal saga that pushes the limits of the comics form into new, uncharted territory.
32 pages, $2.99, in stores on Sept. 3.

SUPREME POWER
RISING STARS
JMS has pointed everyone over to http://www.comicbookresources.com/columns/?column=13 for an answer to the burning question, Where is Rising Stars? While JMS' note above listed a particular column at Comic Book Resources, that page reference has changed. To read what is going on between JMS and Top Cow, go to http://www.comicbookresources.com/columns/index.cgi?column=litg&article=1670.. A number of readers have asked about JMS' comic book series, RISING STARS. It has been quite a while since the last issue came out and they were wondering when they might expect to see the next one. JMS was asked this question in the B5 moderated newsgroup not long ago. His response was: June 3: That depends entirely on a situation with Top Cow that is in need of resolution. The delay in writing has not been a delay in writing; it's been working through some problems with Top Cow for the last...almost year now. The final issues won't be turned in until those issues are resolved.
BOOKS
BABYLON 5 NOVEL - ON BOOK SHELVES NOW
DelRey is reprinting the original Babylon 5 novels. They started with #7 - Jeanne Cavelos' THE SHADOW WITHIN. Here's one I've been waiting for -- Kathryn Drennan's TO DREAM IN THE CITY OF SORROWS. The release date is scheduled for July 29, 2003. I love the new cover art! It can be pre-ordered from www.amazon.com. For those of you who love Babylon 5, this one reads just like an episode from the series. You just can't put it down.



SCIENCE FICTION TELEVISION SERIES: EPISODE GUIDES
Histories, and Casts and Credits for 62 Prime Time Shows, 1959 Through 1989
by Mark Phillips and Frank Garcia While this book has been out for a while (1996), there wasn't really a lot of advertising or promotion for this reference book and you could easily have missed it all together. However, copies show up on e-bay every so often, so you may want to give it a look-see. You can get more information on the book from the publisher's page at http://clk.about.com/?zi=1/XJ&sdn=scifi&zu=http%3A%2F%2Fwww.mcfarlandpub.com%2F and there is a review now posted at http://scifi.about.com/cs/newsinformation/fr/scifitvseries.htm. Looks like a terrific addition to any science fiction lover's book shelf.
SCI-FI SCHEDULE
BABYLON 5 22-AUG-03 9:00 AM BABYLON 5 (LBX) DAY OF THE DEAD 25-AUG-03 9:00 AM BABYLON 5 (LBX) THE RAGGED EDGE
26-AUG-03 9:00 AM BABYLON 5 (LBX) THE CORPS IS MOTHER, THE CORPS IS FATHER
27-AUG-03 9:00 AM BABYLON 5 (LBX) MEDIATIONS ON THE ABYSS
28-AUG-03 9:00 AM BABYLON 5 (LBX) DARKNESS ASCENDING 02-SEP-03 9:00 AM BABYLON 5 (LBX) AND ALL MY DREAMS, TORN ASUNDER
03-SEP-03 9:00 AM BABYLON 5 (LBX) MOVEMENTS OF FIRE AND SHADOW
04-SEP-03 9:00 AM BABYLON 5 (LBX) THE FALL OF CENTAURI PRIME
05-SEP-03 9:00 AM BABYLON 5 (LBX) THE WHEEL OF FIRE

08-SEP-03 9:00 AM BABYLON 5 (LBX) OBJECTS IN MOTION
09-SEP-03 9:00 AM BABYLON 5 (LBX) OBJECTS AT REST
11-SEP-03 9:00 AM BABYLON 5 (LBX) THE PARLIAMENT OF DREAMS
12-SEP-03 9:00 AM BABYLON 5 (LBX) SLEEPING IN LIGHT

15-SEP-03 9:00 AM BABYLON 5 (LBX) THE GATHERING -PT 1
16-SEP-03 9:00 AM BABYLON 5 (LBX) THE GATHERING -PT 2
17-SEP-03 9:00 AM BABYLON 5 (LBX) MIDNIGHT ON THE FIRING LINE
18-SEP-03 9:00 AM BABYLON 5 (LBX) SOUL HUNTER
19-SEP-03 9:00 AM BABYLON 5 (LBX) BORN TO THE PURPLE 22-SEP-03 9:00 AM BABYLON 5 (LBX) INFECTION
23-SEP-03 9:00 AM BABYLON 5 (LBX) MIND WAR
24-SEP-03 9:00 AM BABYLON 5 (LBX) WAR PRAYER

26-SEP-03 9:00 AM BABYLON 5 (LBX) AND THE SKY FULL OF STARS
29-SEP-03 9:00 AM BABYLON 5 (LBX) DEATHWALKER
30-SEP-03 9:00 AM BABYLON 5 (LBX) BELIEVERS

STARGATE SCHEDULE: 22-AUG-03 9:00 PM STARGATE SG-1 (LBX) EVOLUTION -PT 1
22-AUG-03 11:00 PM STARGATE SG-1 (LBX) EVOLUTION -PT 1 25-AUG-03 7:00 PM STARGATE SG-1 DOUBLE JEOPARDY
25-AUG-03 8:00 PM STARGATE SG-1 EXODUS -PT 1
25-AUG-03 9:00 PM STARGATE SG-1 TBD
25-AUG-03 10:00 PM STARGATE SG-1 TBD 01-SEP-03 7:00 PM STARGATE SG-1
01-SEP-03 8:00 PM STARGATE SG-1
01-SEP-03 9:00 PM STARGATE SG-1
01-SEP-03 10:00 PM STARGATE SG-1
05-SEP-03 9:00 PM STARGATE SG-1 FALLEN -PT 1
05-SEP-03 11:00 PM STARGATE SG-1 FALLEN -PT 1 08-SEP-03 7:00 PM STARGATE SG-1
08-SEP-03 8:00 PM STARGATE SG-1
08-SEP-03 9:00 PM STARGATE SG-1
08-SEP-03 10:00 PM STARGATE SG-1
12-SEP-03 9:00 PM STARGATE SG-1 HOMECOMING -PT 2
12-SEP-03 11:00 PM STARGATE SG-1 HOMECOMING -PT 2 15-SEP-03 7:00 PM STARGATE SG-1
15-SEP-03 8:00 PM STARGATE SG-1
15-SEP-03 9:00 PM STARGATE SG-1
15-SEP-03 10:00 PM STARGATE SG-1
19-SEP-03 9:00 PM STARGATE SG-1 FRAGILE BALANCE
19-SEP-03 11:00 PM STARGATE SG-1 FRAGILE BALANCE 22-SEP-03 7:00 PM STARGATE SG-1
22-SEP-03 9:00 PM STARGATE SG-1
22-SEP-03 10:00 PM STARGATE SG-1
26-SEP-03 9:00 PM STARGATE SG-1 ORPHEUS
26-SEP-03 11:00 PM STARGATE SG-1 ORPHEUS 29-SEP-03 6:00 PM STARGATE SG-1
29-SEP-03 7:00 PM STARGATE SG-1
29-SEP-03 8:00 PM STARGATE SG-1
29-SEP-03 9:00 PM STARGATE SG-1
29-SEP-03 10:00 PM STARGATE SG-1
30-SEP-03 6:00 PM STARGATE SG-1 FARSCAPE SCHEDULE:

24-AUG-03 12:00 AM FARSCAPE NATURAL ELECTION

02-SEP-03 11:00 AM DAYTIME ROTATION - FARSCAPE DNA MAD SCIENTIST
02-SEP-03 12:00 PM DAYTIME ROTATION - FARSCAPE THROUGH THE LOOKING GLASS
02-SEP-03 1:00 PM DAYTIME ROTATION - FARSCAPE A BUG'S LIFE
02-SEP-03 2:00 PM DAYTIME ROTATION - FARSCAPE NERVE
02-SEP-03 3:00 PM DAYTIME ROTATION - FARSCAPE HIDDEN MEMORY

07-SEP-03 12:00 AM FARSCAPE JOHN QUIXOTE
14-SEP-03 12:00 AM FARSCAPE I SHRINK THEREFORE I AM
19-SEP-03 11:00 AM DAYTIME ROTATION - FARSCAPE MIND THE BABY
19-SEP-03 12:00 PM DAYTIME ROTATION - FARSCAPE CRACKERS DON'T MATTER
19-SEP-03 1:00 PM DAYTIME ROTATION - FARSCAPE THE WAY WE WEREN'T
19-SEP-03 2:00 PM DAYTIME ROTATION - FARSCAPE MY THREE CRICHTONS
19-SEP-03 3:00 PM DAYTIME ROTATION - FARSCAPE THE LOCKET

21-SEP-03 12:00 AM FARSCAPE A PREFECT MURDER
BABYLON 5/CRUSADE PHOTOSHOP PHOTOS









Peter Woodward has sent along a new photo -- a rather dreadful one -- from his appearance on CHARMED. It will be added to the collection of photos available from Peter, including additional copies of the Crusade poster in photo format. Both are autographed by Peter. You do NOT have to pay the prices asked for over at e-bay! Here are photos of B5 and Crusade cast members at fantastic prices. Check out Photo Shop. Ordering is easy -- and you can't beat the prices! Just let me know which photos you want and I'll check to make sure they are still in stock.
---
I-SCI-FI
I-SCI-FI will be re-broadcasting their interviews with The League of Extraordinary Gentlemen cast and crew tonight from 7-9pm MDT (5-7pm EDT). These are pre-recorded so you will not be able to call in and be eligible for prizes. All of these people are special in different ways. You are sure to enjoy Dave Lea, fight choreographer and cool guy. He's been in several top flight movies and taught some of Hollywood's 'A' list of actors and actresses how to fight and look like they are fighting, including Sylvester Stallone, Sandra Bullock, Ben Affleck, Colin Farrell and more. Check out his nearly one hour interview! We had so much fun talking we lost track of time! He was just here in Utah filming on the fourth Crow movie and you're going to want to listen to every word he has to say. If for some reason you have trouble getting the audio stream at I-SCI-FI, try ufpgalaxy.org, cosmiclandscapes.com, and now at radiostarfleet.com. Cosmic Landscapes, Radio Starfleet and UFPGalaxy rebroadcast live Thursday nights from 7-9 pm MDT and Cosmic Redux rebroadcasts the previous week's shows.
BABYLON 5 TOONS
John Cook has a wonderful collection of cartoons -- many are take-offs from Babylon 5. Here's just one of them.

He has a cartoon caption contest going on as well. Try your hand at a punch line.

Go to http://contests.sev.com.au/index.php?contestid=1


SCI-FI CARTOONS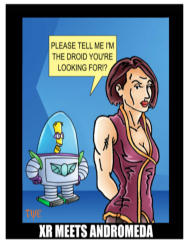 Tye Bourdony will have several cartoons published in the upcoming Cracked Magazine that hits newstands on the 29th. The issue will feature satire for Jeremy Bulloch (Star Wars) and Grace Lee Whitney, BarBara Luna, & Celeste Yarnall (Star Trek). Theese folks are all signing satires and Tye will be auctioning off one signed by Mr. Bulloch and one signed by the three Star Trek celebs for one of their favorite charities. More information on the auctions and charities shortly. I love science fiction related cartoons and Tye Bourdony is one of the most talented artists out there. He has done dozens of toons for Babylon 5. Here is his latest -- for FARSCAPE fans.



BABYLON 5/CRUSADE CONVENTIONS
CONVENTION UPDATE
ROBIN ATKIN DOWNES: Robin has been added to the list of Babylon 5 people attending DragonCon this year.
---
BRUCE BOXLEITNER: Bruce has had to cancel his appearance at DragonCon this year. Virginia Hey has also cancelled.
---
CONVENTION CALENDAR
DragonCon
August 29-Sept. 1, 2003
Place: Atlanta, GA
B5 Guests: Stephen Furst, Peter David, Mira Furlan, Walter Koenig, Peter Woodward, Brad Dourif, Julie Caitlin Brown, Bill Mumy, Robin Atkin Downes
Other Guests: Luke Perry, Ray Bradbury, Christopher Judge, John Rhys-Davies, George Takei, Tony Amendola

For more information, visit their website at http://www.dragoncon.org.
---
Vulkon
September 5-7, 2003
Place: Cleveland, Ohio
B5 Guest: Mira Furlan, Julie Caitlin Brown
Other Guests: Michael Dorn, Dominic Keating, James Doohan, Richard Herd
For more information, visit their website at http://www.vulkon.com.
---
To Be CONtinued
September 26-28, 2003
Site: Radissosn Hotel & Star Plaza Theater
Place: Merrillville, Indiana
B5 Guests: Richard Biggs, Jason Carter, Julie Caitlin Brown
Other Guests: Rockne O'Bannon (Farscape Creator), & Ray Park (Darth Mall)
For more information, visit their website at www.2becontinued.com. Sign up for the Biggs & Carter Experience. The first 140 people who register for Friday will have a free dinner with Richard Biggs and Jason Carter). For more information on the convention, please visit www.msffa.org. For more information on the Biggs & Carter Experience, please visit www.biggsandcarter.co.
---
Be sure to visit our Convention Calendar for a full listing of upcoming conventions featuring Babylon 5, Crusade and Legend of the Rangers cast members as guests.
If you would like to share your convention experience with your other Zocalo readers, send along a convention report. I will gladly post it for all to read. Got pictures? I'll post those as well.
ZOCALO TRADING POST
Do you have extra copies of B5, Amazing Spiderman, Midnight Nation or Rising Stars comics you'd like to trade? How about those extra trading cards or B5 magazines? There are a lot of fans looking for these items -- and the Trading Post can help you buy or sell them. To see what's available, just use this link to the Trading Post. To have items included in The Trading Post, send a note to The Zocalo. Please put Trading Post in the subject line.
PEN PALS
If you are looking for someone to talk about Babylon 5 and Crusade with, the Pen Pal section is for you! Check it out! Drop a note to someone who is feeling B5 withdrawal -- BIG TIME!

People thought a Pen Pal page was a good idea. If you would like to meet people who you could chat with or share your opinions of the show with, send along your e-mail or snail-mail address The Zocalo. It will be incorporated on the new Pen Page Page.
MAIL FOR CAST AND CREW
Here's a recent note from JMS on the subject:

Just an FYI to those who've been using the Ventura Blvd. mail drop for fan mail to actors....

As mentioned before, we're phasing out the forwarding of fan mail because we a) don't have the resources, complicated by b) the actors have scattered to the four winds, and it makes it very difficult to get everything to everybody in a timely fashion.

So, having provided prior notice...fan mail to actors coming to the Ventura Blvd. mail drop will be sent back. Mail to actors should be sent via their official fan clubs. I will still be taking mail there, since it's my mailbox, but that's it.

Just so's y'all know and save a few bucks on postage and returns.

JMS' mail can be sent to:

14431 Ventura Boulevard, PMB 260
Sherman Oaks, CA 91423

WARNER BROS:

Warner Bros. Address:

Warner Bros. Domestic Television Distribution
4000 Warner Blvd.
Burbank, CA 91522

Warner Home Video:

Mr. Douglas Wadleigh
VP for Marketing and Special Features
Warner Bros.
4000 Warner Blvd.
Burbank, CA 91522

SCIFI:
Bonnie Hammer, President
Sci-Fi Channel
1230 Avenue of the Americas
New York, NY. 10020-1513

Mr. Thomas Vitale
Senior VP of Acquisitions, Scheduling & Program-Planning
BACK ISSUES OF THE ZOCALO TODAY
The front page of the The Zocalo Today changes daily, so be sure to check the back issues to make sure that you haven't missed anything IMPORTANT! I don't want the front page getting too long so I shift information periodically into the archives. So if you aren't a regular visitor to The Zocalo Today, be sure to check out the back issues. Just use the button above!
---
Take care and I look forward to hearing from you.
Sandra Bruckner (sgbruckner@aol.com)
Editor/Publisher
The Zocalo Today
http://www.isnnews.net
Copyright - SBruckner, 1999-2003