[an error occurred while processing this directive]

The Zocalo Today

Welcome and thank you for dropping by. Take your shoes off, get comfortable and stay a while. There is a LOT of information here and you won't want to miss any of it.

The Zocalo Today is an interactive newsletter, encouraging readers to join a discussion topic or to send along letters that can be shared with other readers.

If you have suggestions as to how The Zocalo can be improved -- or be more responsive -- send them along. The Zocalo Today is a newsletter for Babylon 5 fans everywhere. It is as much YOUR newsletter as it is mine! I'm just pulling together things for you!

Join our discussion topic. It is just one way you can share with other Z readers. If you see Babylon 5 cast and crew in other roles, let us know. We enjoy convention reports, photos, etc. Don't miss our back issues. I hope this will become more than just a newsletter. It's a community of people that enjoy sharing their experiences and interests. Babylon 5 brought many of us together -- and it remains with us, despite the fact that is no longer in production. Don't be shy. Join us today!

If you have questions, drop me a line at sgbruckner@aol.com. If you would like to join the mailing list for our newsletter, send me a note and I'll include you on the list. Or you can use the subscription block at the left.

Again, WELCOME!



TODAY'S NEWS
Sunday, September 12, 2004:
NEWS: There isn't a lot of "new" news on any Sunday, so here is what I could find. Hope you all have a great weekend. Folks in Floria -- watch out for Ivan. Be safe.
---
MUTANT X: October 12 is the release date given by ADV Films for Mutant X: Season 2, Discs 7-8, a two-disc DVD release from the second season. Episodes featured include: "Hard Time"; "Under the Cloak of War"; "Once Around", and "Final Judgment". Extras include: interview with Lauren Lee Smith (Emma DeLauro); behind the scenes features with supervising producer Karen Wookey and Peter Mohan; a look at production design; original TV promos; image gallery; and ADV previews.
---
HARRY POTTER AND THE GOBLET OF FIRE: Two new cast members for the upcoming HARRY POTTER AND THE GOBLET OF FIRE have been named. Parvati Patil will be played by Shefali Chowdhury. Parvati is Harry's date for the Yule Ball. The part of Padma Patil, Ron's date for the Ball, will be played by Afshan Azad. The younger sister of Fleur Delacour, Gabrielle, has also been cast and will be played by Angelica Mandy (Vanity Fair). Open auditions were held for the Patil twins in London nine months ago. Filming is expected to go on until next Spring and the film hits theaters in November, 2005.
---
WHAT'S ON TONIGHT
CABLE AND NETWORK SHOWS:
7:00pm on UPN
Star Trek V: The Final Frontier
Renegade Vulcan waylays Kirk, Spock, McCoy.
8:00pm on the WB
Charmed
A Call to Arms
New Season: Paige (Rose McGowan) almost loses her fight to save the Magic School when a bored student conjures Lady Godiva and Lord Dyson, an evil land baron who feeds off humans' repressed emotions. The Charmed Ones and Leo (Brian Krause) must stop Lord Dyson from killing Lady Godiva before she can go back in time to complete her ride. Meanwhile, after Piper (Holly Marie Combs) is scolded for breastfeeding in a café, Phoebe (Alyssa Milano) tests Les' (Nick Lachey) advice by asking for his views on breastfeeding in an anonymous letter to "Ask Phoebe" before she decides to ride naked through a crowded street in support of women's liberation.
8:00pm on A&E
"Star Wars: Empire of Dreams"
The "Star Wars" trilogy didn't just change the way we look at movies. It changed the way movies are made. What began as a galactic fairy tale became a success story beyond one man's wildest dreams. For George Lucas, what began as a quest for creative freedom became a philosophy, a cultural phenomenon and his own empire of dreams. This special features riveting movie clips and fascinating screen tests plus interviews with Lucas, Steven Spielberg, Harrison Ford, Mark Hamill, Carrie Fisher and other cast members who a long time ago, in a galaxy far, far away, taught everybody in the world that there was a new and better way to make movies.
9:00pm on The WB
"Jack & Bobby"
Jack (Matt Long) and Bobby (Logan Lerman) McCallister are two bright young brothers growing up in Hart, Missouri, under the watchful eye of their eccentric single mother Grace (Christine Lahti), a college professor whose strong personality helps shape both of these young men's lives and secure one a place in the history books - as President of the United States. Their fictional story plays out in this new series with the help of a new college president, Peter Benedict (John Slattery), his beautiful daughter, Courtney (Jessica Paré) and the family friends who help shape the ideas and opinions of the brothers that one day will change the world.
10:00pm on Showtime
Dead Like Me
The Escape Artist
George nearly falls for a reap; Reggie makes friends with a young reaper.
ON SCIFI TONIGHT:
5:00pm
Shark Attack 3
Megalodon
Sailors board a boat to hunt for a prehistoric shark thought to be extinct.
7:00pm
Deep Shock
A giant eel preys on members of an oil-drilling crew responding to a distress signal in the Arctic.
9:00pm
Dark Waters
Bioengineered sharks escape to the Florida coast.
ON SYNDICATED TV THIS WEEKEND: Andromeda
Part 2 of 2: The Dissonant Interval
The crew makes a last stand against the Magog onslaught.
Angel
The Bachelor Party
Doyle's estranged wife comes to town to divorce him so she can marry another man.
BeastMaster
Rites of Passage
While searching for the Golden Auryx, Dar struggles to defeat the Lord of Darkness.
Sir Arthur Conan Doyle's The Lost World
Legacy
Veronica discovers her parents' fate and her own destiny.
MacGyver
Rush to Judgment
Murder-juror MacGyver has doubts about the accused, and breaks sequester to find the real killer.
Mutant X
The Prophecy
Brennan tries to stop the late mutant Ashlocke's plan of world domination.
NightMan
Revelations
Nightman must battle Lucien Norcus, a being who uses magic to imprison human souls.
The Outer Limits
Skin Deep
A device helps a man change his image.
The X-Files
Part 1 of 3: Anasazi
Amateur computer hacker puts the agents in danger.
INSIDE SCI-FI THIS WEEK:
Saturday, September 11, 2004:
ALIAS: When ALIAS returns to the air for its fourth season, we'll find film actress Angela Bassett as a guest star in at least two episodes, playing a superior to Sydney Bristow (Jennifer Garner). While out promoting her latest movie, MR. 3000, Bassett said "I got a call from [series creator] J.J. Abrams. They were just very excited about the possibility of me coming aboard and doing a couple of guest appearances, doing an arc as a character who's a CIA field supervisor." Bassett added, "She's a big muckety-muck at the CIA and is Sydney's new boss. And you don't know if I'm giving her a hard time or if I'm on her side or what, because there's always that secret-agent, double-back, secret-spy, double-agent thing going on. I'd seen the show a few times. So I was familiar with the characters, and I was a big fan of the actors. I'd worked with Carl Lumbly and Victor Garber on How Stella Got Her Groove Back, and I think Jennifer is quite extraordinary." Bassett has already completed one episode and will return soon for another. Bassett said, laughing. "In the first episode I'm a very competent person. She jabs at me, and I come back at her. I guess I could always take a bullet. You don't know."
---
THE POLAR EXPRESS: Tom Hanks recently told reporters that his latest computer-generated fantasy film THE POLAR EXPRESS gave him a chance to return to his childhood. The film is based on Chris Van Allsburg's best-selling children's book. Hanks is one of four adults who give voice to child characters; the others are Peter Scolari, Nona Gaya and Eddie Deezen. POLAR EXPRESS tells the story of a young boy whose faith in Santa Claus is reawakened when, on Christmas Eve, a steam trains pulls in front of his home to take him to the North Pole. The film's imagery closely follows the book's illustrations, achieving a quality that resembled drawings. The movie also made use of a new process Zemeckis described as "performance capturing". The computer animation is based on the facial movements of the actors giving voice to the characters. Hanks said the process freed him. "As an actor, I can tell you [that] making this movie was exactly like performing in theater in the round when I was in college," he said, adding that the actors didn't have to do as many takes as they normally have to do in a live-action film. He added that the actors weren't restricted by lighting or sets. The Polar Express opens nationwide on Nov. 10.
---
CORALINE: According to Neil Gaiman, author of the fantastical children's book CORALINE, director Henry Selik (Tim Burton's The Nightmare Before Christmas) is going forward with an animated version of the book. CORALINE was optioned shortly after its release in 2002. Gaiman said he was notified at last weekend's World Science Fiction Convention in Boston that the option has been exercised. The book follows the adventures of a curious young girl who discovers a portal in her new house leading to a dark mirror universe inhabited by singing mice, a talking cat and creepy "other" versions of her parents whose sweetness and attentiveness mask sinister motives. The film will be made using the same stop-motion animation techniques Selik employed in Nightmare Before Christmas. Of Selik, Gaiman wrote in his blog that "Henry read the book a year before it was published, and has been holding his breath for the last six months to find out what would happen. Right now he has ideas about, well, everything really, from the cast to the songs. He wants it to be faithful and funny and smart and spooky. I've told him he can use me, bounce ideas off me, or whatever, but that ultimately it's his movie. I just want to sit in the audience at the premiere, with a thing of popcorn on my lap, grinning like a goof."
---
AREA 51: Screenwriter Dean Georgaris (PAYCHECK) has been hired to write the screenplay for the AREA 51 movie. Based on the Midway video game, and in development at Paramount Pictures, the movie will likely adapt the storyline for the forthcoming new AREA 51 game which sees a special forces team dispatched to the top secret base to investigate a distress call. What they find is an extraterrestrial Watergate and a deadly alien threat that must be contained.
---
DISNEY ANIMATOR FRANK THOMAS: His name is not one you recognize immediately, but the images he created are fond memories from your childhood -- or your children as they watch some of Disney's marvelous animated films. Frank Thomas animated two dogs romantically nibbling a single strand of spaghetti in the 1955 Disney film "Lady and the Tramp". Thomas died Wednesday at his home at the age of 92 following a extended illness. In his 43-year history at Disney, Thomas, often working with old friend and collaborator Ollie Johnston, also animated the dancing penguins in "Mary Poppins" and Thumper teaching Bambi how to ice skate. Walt Disney jokingly dubbed Thomas and other top animators his "Nine Old Men," derived from a description of the Supreme Court by President Franklin Roosevelt.
---
Friday, September 10, 2004:
TOP SF NETWORK SHOWS:
Charmed 1.4
Smallville 1.4
Enterprise 0.8
Source: Nielsen Galaxy Report, 8/16/04 - 8/22/04.
---
STAR WARS: In the new releases of STAR WARS on DVD, there are a number of changes that creator George Lucas made -- some of which are controversial. Lucasfilms defends Lucas' right make controversial alterations to his beloved original trilogy of films in the upcoming DVD release. "It comes down to what [Lucas] has said constantly, which is that he very strongly believes in an artist's right to have his work presented in the way he wants it presented." The DVD set of STAR WARS, THE EMPIRE STRIKES BACK, and RETURN OF THE JEDI includes changes to the 1997 so-called "special editions" of the movies, which were released theatrically. Those films in turn significantly altered the original release versions of the movies. Over at www.scifi.com you can find a detailed listing of changes made. The STAR WARS Trilogy DVD set hits retailers on Sept. 21.
At the roll-out for the DVD Trilogy, one of the surprise guests was Mark Hamill, Luke Skywalker himself. He enthusiastically recalled humorous anecdotes about the making of the original films, working with Kevin Smith, seeing TROOPS for the first time, and more. Lucasfilm's Jim Ward confirmed that a "Star Wars" TV series is on the way in the near future (though he didn't say when it would be set).
---
SMALLVILLE: The Kryptonsite has once again broken an exclusive news story concerning SMALLVILLE's new season. The website reports that actress Margot Kidder, who played Daily Planet report Lois Lane in Warner Bros. four SUPERMAN movies, will appear in at least two episodes of the WB television teen series including the fourth season opener. Kidder's character is named Bridgette Crosby and will serve as an "emissary" to Christopher Reeve's character on the show, Dr. Virgil Swann. In addition to appearing in the pilot episode (where she will share a scene with her SUPERMAN III co-star Annette O'Toole, who plays Clark Kent's mother in the series), Crosby will also show up in the new season's sixth episode, "Transference".
---
HUGO AWARDS: On Saturday, September 4, the 2004 Hugo Awards were presented at Noreascon Four held in Boston, Massachusetts. The Hugos honor the best genre writing, artwork and entertainment released in 2003. The Best Novel Hugo went to Lois McMaster Bujold's PALADIN OF SOULS while Neil Gaiman's "A Study in Emerald" won the Best Short Story award. THE LORD OF THE RINGS: THE RETURN OF THE KING won Best Dramatic Presentation (Long Form) while it was a RINGS acceptance speech that won the Hugo for the Short Form competition, besting two episodes of FIREFLY and the series finale of BUFFY THE VAMPIRE SLAYER. Best Novella was awarded to "The Cookie Monster" by Vernor Vinge while Michael Swanwick's "Legions in Time" won the Best Novelette award. You can find a complete list of the winners of each category at http://www.noreascon.org/hugos/retroresults.html .
---
THE PASSION OF THE CHRIST: Mel Gibson's THE PASSION OF THE CHRIST is a bona fide hit on home video. Following on the heels of the title's groundbreaking first day sales (which saw over 4 million units being sold within the first 24 hours of release), in its first week of release the combined DVD/VHS sales of PASSION almost matched 9 million units. Those seven days already have made the film the top-selling live-action home video release of all-time, eclipsing the past record holder, New Line's THE LORD OF THE RINGS. As far as rentals go, the film is also making a killing: PASSION earned $9.45 million in its first week of release.
---
DEAD ZONE: Shows like THE DEAD ZONE and MONK are very important to the success of the USA network. On Thursday (Sept. 9), USA announced that "The Dead Zone" will return for a fourth season. "'The Dead Zone' continues to perform for USA Network, delivering higher ratings with every season. It is consistently one of the top-rated shows on basic cable and we're thrilled to continue to air it on our network," says Jeff Wachtel, USA's executive vice president of series and longform programming. Production begins in November for a 22-episode season, bringing the show's total run to 67 episodes. Based on characters created by Stephen King, "The Dead Zone" averaged 3.5 million viewers per week in its third season and joined forces with "The 4400" and "Monk" to push USA to the top of the cable heap for much of the summer. The series showed solid ratings improvement over the previous season.
---
Thursday, September 9, 2004:
TOP 10 SF DVD SALES:
1. Star Wars trilogy
2. The Passion of the Christ
3. Angel season four
4. Alias season three
5. The Prisoner of Azkaban
6. Buffy season seven
7. Star Trek TOS season one
8. Shrek 2
9. The Punisher
10. Smallville season three
Source: Amazon.com, top-selling genre DVDs, 9/7/04
---
PATIENT 14: A number of well-known names in SF TV will be turning up in the new independent film PATIENT 14. Star Trek's George Takei (Sulu) teams up with Trek veteran, John de Lancie (Q) for PATIENT 14, a political SF thriller about a strange anomaly that happens to certain people who get serious head injuries. Takei said, "As they're recovering they develop the ability to hear what other people around them are thinking, and it drives most of them crazy, because they hear everyone around and can't cope with all of those voices going through their minds." Takei added, "John de Lancie and I head up a research team that is looking into the anomaly and trying to get these people to focus in on one individual so that it doesn't drive them mad. It's like tuning in one radio station and tuning out others. And this, of course, becomes of interest to a governmental secret intelligence agency, especially when one female patient seems to be succeeding in our research. Then things start happening to our research team members, horrific things, and with that to tantalize you I'll leave it at that." Finished in early 2004, PATIENT 14 also features Tucker Smallwood (Space: Above and Beyond), Iona Morris (Star Trek: Voyager) and Robert David Hall (C.S.I.: Crime Scene Investigation). First-timer Andrew Bakalar wrote, produced and directed the movie. Takei said that the filmmaker was still seeking a distibutor. "[Bakalar] was talking about trying to get it into film festivals," Takei said. "He said he almost got it into Sundance. It's an independent production, so it's got a little bit rockier road than a big studio film."
---
SMALLVILLE: As the fourth season premiere approaches, The WB has released a description of CRUASADE, the opening episode scheduled to air on Wednesday, Sept. 22. The network describes the episode in this way: SPOILER WARNING:
"Clark (Tom Welling) returns to Smallville re-programmed as Kal-El. Intent on fulfilling his destiny, Kal-El takes to the skies to steal a powerful kryptonite crystal. Meanwhile, Lois Lane (Erica Durance) comes to town to investigate the murder of her cousin Chloe (Allison Mack). Also, Lana (Kristin Kreuk) returns from Paris with a new attitude and a new boyfriend (Jensen Ackles, "Dark Angel"), Jonathan (John Schneider) lies in a coma, and Lionel (John Glover) faces a grim new life in prison." Greg Beeman directed the episode, which was written by Al Gough and Miles Milla.
---
HAWAII FIVE-O: Variety reports that Warner Bros. has acquired remake rights to HAWAII FIVE-O, with Ocean's Twelve screenwriter George Nolfi set to write the script. George Litto, who was the agent of series creator Leonard Freeman, will produce the film. With its lush Oahu setting, popular theme song and signature lead detective character Steve McGarrett (played by Jack Lord), Hawaii Five-O is perhaps the most remake-friendly TV series not previously under studio control. CBS broadcast the series from 1968 to 1980. Nolfi has begun writing and filming is expected to start next Spring in Oahu for an early Summer 2006 release. There is even a time schedule for sequels. Nolfi is reportedly sticking close to the original "Five-O" series plot.
---
COSMONAUT: According to Variety, Robert and Michelle King are onboard to adapt sci-fi thriller COSMONAUT for Warner Bros. Pictures. The project was originally set up at the studio in March, 2003. Based on the bestselling Australian novel by Peter McAllister, COSMONAUT is the story of the first murder in space aboard the International Space Station. The film marks the first feature collaboration of husband-and-wife team of Robert and Michelle King, though they have worked extensively in TV. The duo have written The Line and Suburban Cop. They also co-wrote and he produced and directed Angels in the Infield.
---
Wednesday, September 8, 2004:
TOP SF SYNDICATED SERIES:
Andromeda 1.6
The X-Files 1.6
Mutant X 1.5
Stargate SG-1 1.5
3rd Rock 1.3
Buffy 1.3
Angel 1.1
Beastmaster 1.1
The Outer Limits 1.0
John Edward 0.8
Source: Nielsen Galaxy Report, 8/16/04 - 8/22/04
---
LOST: David Fury, co-executive producer of ABC's upcoming SF series LOST, promises lots of surprises as the show gets ready to premiere on September 22 at 8:00pm on ABC. LOSt is the story about plane crash survivors stranded on a mysterious South Pacific island. Fury said, "It is very interesting and has its own mythology that will hopefully unfold over many seasons. We are hearing and seeing very odd occurrences, like a polar bear on the island. How does something like that happen in the South Pacific?" Co-created by Alias' J.J. Abrams, the series has a core cast of 11 main characters, led by Matthew Fox (Haunted) and newcomer Evangeline Lily. With that many characters, it gives the creative team a lot to explore. Fury said, "We are discovering there are so many stories to tell. There will be burgeoning romances that will be handled in a credible fashion and triangles, and not to get soap opera-y, but things are going to happen. Also, the show will always be from the perspective [of] the people on the island, so we never see the outside world, except from their perspective. We'll see how things go, whether or not other people can arrive on the island. There could be an errant parachute, but certainly not the Harlem Globetrotters," he said with a laugh. "I hope people recognize this is a show that is unique and compelling, because there will be lots of surprises."
---
FRANKENSTEIN: USA Networks has opened a new Web site, including images and a new teaser trailer, for its upcoming adaptation of Frankenstein, which premieres Oct. 10 at 9 p.m. ET/PT.
---
NEW DVDS COMING: Got a newsletter from MGM this morning. It includes MARTIAN CHRONICLES and SPACE BALLS (available today), STARGATE SG-1, Season 7 (available October 17), UNSPEAKABLE (available October 5), and SPECIES (October 19). Also making an appearance in DVD is DAWN OF THE DEAD and THE ALFRED HITCHCOCK SIGNATURE COLLECTION box set, which also includes the previously-released special edition of NORTH BY NORTHWEST!

There is a LONG list of new releases over at Cinescape. Here are some of my personal favorites:
---
(O) ALIAS: Complete Third Season (Buena Vista) With commentraks, featurettes (including a cartoon one, and a MONDAY NIGHT FOOTBALL parody), deleted scenes, bloopers, and more.
(O) ANGEL: Season 4 (Fox) Dramatic season-long story arc involves the disappearance of Angel and Cordelia. Includes commentraks, interviews, featurettes and more.
(O) THE BOSTON STRANGLER (Fox) Richard Fleischer's classic serial killer true crime case study, with Tony Curtis in the title role. Includes featurettes and newsreel.
(O) COLUMBO: Complete First Season (Universal) This oddball 1971 TV movie series featured mysteries in which the audience already knows whodunit, but stay glued to see how disheveled Lt. Columbo (Peter Falk) solves it. Includes seven episodes plus two more TV movies.
(O) DAVEY CROCKETT (Buena Vista) 50th Anniversary double feature presents Fess Parker as the frontier hero in KING OF THE WILD FRONTIER and DAVEY CROCKETT AND THE RIVER PIRATES. Includes Chip & Dale cartoon.
(O) DAWN OF THE DEAD: Ultimate Edition (Anchor Bay) This chunky four-disc set honoring George Romero's classic zombie sequel includes the remastered theatrical release disc from earlier this year, plus the 118-minute Dario Argento European version, and the 139-minute extended premiere edition, all with commentraks. Plus, Roy Frumke's great DOCUMENT OF THE DEAD documentary, the new DEAD WILL WALK doc, home movies, and more. Sure to take your breath away.
(O) DAY OF THE DEAD (Anchor Bay) Budget priced single disc edition of one of the best ABE releases of 2003.
(O) DOCTOR WHO: Earthshock (BBC) 1982 episodes with the Doctor fighting the Cybermen again. Includes commentrak, featurettes and more.
(O) DOCTOR WHO: Pyramids of Mars (BBC) A '70s story arc with Tom Baker, plus commentrak, deleted scenes, featurettes and more.
(O) ISLAND AT THE TOP OF THE WORLD (Buena Vista) 30th anniversary edition of this Jules Verne adaptation.
(O) JIM HENSON'S THE STORYTELLER: Greek Myths (Columbia TriStar) Old Greek mythology retold using creations from Henson's Creature Shop, not Muppets.
(O) MAGNUM P.I.: Complete First Season (Universal) 18 episodes of surprisingly entertaining TV about a gumshoe who works as security chief on the Hawaiian estate of a mysterious millionaire.
(O) THE MARTIAN CHRONICLES (MGM) 1980 TV miniseries adaptation of Ray Bradbury's classic anthology of stories about the exploration of Mars.
(O) MORK & MINDY: Complete First Season (Paramount) This HAPPY DAYS spin-off sitcom about an alien who moves in with a young single woman proves that Robin Williams was once sort of funny.
(O) NIGHT OF THE LIVING DEAD (Fox) Restored original black and white classic, plus a new colorized version with commentrak by Mike Nelson, a game, and more.
(O) THE PUNISHER (Lions Gate) Very violent but enjoyable adaptation of the Marvel Comics vigilante series. Includes featurettes, interviews and deleted scenes.
(O) WITHOUT A TRACE: Complete First Season (Warner Bros.) TV policier in which Anthony LaPaglia leads a team hunting down missing persons.
---
ANGEL DVD SET: The fourth season of ANGEL hits store shelves today, packing all 22 episodes of the show's next-to-last season. Spread out over the six-disc set are a number of bonus features including commentary audio tracks by series co-creator Joss Whedon and directors including Steven S. DeKnight, Tim Minear, David Fury, and Jeffrey Bell as well as some of the show's actors; and five featurettes including an assembly of season four outtakes. The set is priced at $59.98 US / $89.98 Canada. Fox Home Entertainment and CINESCAPE are giving away two sets of ANGEL Season Four. To enter all you have to do to enter the drawing is send an email to with the subject heading "ANGEL". Two entries will be randomly selected from contestants in region 1 (North America only) and they will each win one of the DVD sets.
---
JANE DOE: According to The Hollywood Reporter, Lea Thompson has been cast as JANE DOE for the Hallmark Channel. DOE is one of three "Mystery Movie" franchises set to premiere on the cable network in January. In JANE DOE, Thompson will portray Cathy Davis, a soccer mom with an extraordinary ability to solve puzzles who has a secret life as an independent contractor working for the government. Hallmark also has cast Joe Penny (CBS' "Jake and the Fatman") as Cathy's former partner in a top-secret government operation.
---
Tuesday, September 7, 2004:
TOP SELLING SF BOOKS:
1. The Da Vinci Code
2. Angels & Demons
3. The Dark Tower (Dark Tower 7)
4. Jonathan Strange & Mr. Norrell
5. The Grim Grotto (Lemony Snicket 11)
6. The Time Traveler's Wife
7. Tanequil (Shannara)
8. The Battle of Corrin (Legends of Dune 3)
9. Song of Susannah (Dark Tower 6)
10. Harry Potter and the Order of the Phoenix
Source: Amazon.com, 8/30/04
---
WEEKEND BOX OFFICE: According to early estimations, Miramax's HERO remained strong and emerged as the number one film at the box office for a second week in a row. Even with tepid grosses (from it being the "last" weekend of summer), HERO claimed the crown with $11.5 million in ticket sales. Second place went to Paramount's comedy WITHOUT A PADDLE, with $9.4 M. Sony Pictures' ANACONDAS is making a nice profit for its owners, adding another $8 M to the studio's bank account. Of the new releases, Fox's PAPARAZZI performed the best of all of them, earning $7.8 M. WICKER PARK clocked in at sixth overall with $6.7 M earned while VANITY FAIR and THE COOKOUT are running neck and neck in the estimates with aboiut $20,000 separating the latter from eighth overall spot. Next week we've got the thriller CELLULAR, the survival horror RESIDENT EVIL: APOCALYPSE and the crime drama CRIMINAL. Here are the estimates for the week:
1. HERO $11,534,000 - $35,256,000
2. WITHOUT A PADDLE $9,400,000 - $40,240,000
3. ANACONDAS: THE HUNT FOR THE BLOOD ORCHID $8,000,000 - $23,852,000
4. PAPARAZZI $7,850,000 - $7,850,000
5. THE PRINCESS DIARIES 2: ROYAL ENGAGEMENT $7,315,000 - $85,279,000
6. WICKER PARK $6,750,000 - $6,750,000
7. COLLATERAL $6,500,000 - $88,916,000
8. VANITY FAIR $6,121,000 - $7,259,000
9. THE COOKOUT $6,100,000 - $6,100,000
10. THE BOURNE SUPREMACY $5,369,000 - $164,824,000
11. EXORCIST: THE BEGINNING $4,615,000 - $38,150,000
12. GARDEN STATE $3,900,000 - $16,022,000
---
TIDELAND: Jeff Bridges has signed on to Terry Gilliam's next feature, TIDELAND. This reunites the actor and director who last teamed in 1991 for the Oscar-winning feature "The Fisher King." The cast includes 9-year-old newcomer Jodelle Ferland, Jennifer Tilly, Janet McTeer and Brendan Fletcher. Based on Mitch Cullin's Southern gothic novel -- and adapted for the big screen by Tony Grisoni ("Fear and Loathing in Las Vegas") -- TIDELAND follows the story of a girl who creates a surreal fantasy world to escape the pain of her father's death.
---
THE ANDROMEDA STRAIN: According to Variety, the Sci Fi Channel has signed Ridley Scott to executive produce and supervise a four-hour remake of the 1971 thriller THE ANDROMEDA STRAIN. Frank Darabont is to take charge of a four-hour remake of The Thing. Scott and Darabont join an already bulging roster of Hollywood players working on projects for Sci Fi, including Steven Spielberg (Nine Lives), Martin Scorsese (The Twelve), Gale Anne Hurd (Red Mars), Nicolas Cage (Dresden Files) and Bryan Singer and Dean Devlin (The Triangle). Pulitzer Prize-winning playwright Robert Schenkkan is writing the adaptation of "Andromeda," based on Michael Crichton's novel, and David Johnson is working on the script of The Thing, based on the short story "Who Goes There" by John W. Campbell Jr. THE ANDROMEDA STRAIN centers on a group of scientists who gather at an underground facility to destroy a virus from outer space that that has killed the inhabitants of a small town in New Mexico. Darabont said Johnson should complete his adaptation by Christmas and shooting could get under way next year for an airdate on Sci Fi of either December 2005 or early spring 2006.
---
HERCULES/XENA: Not quite a return to prime time, but Hercules & Xena: The Animated Movie will premiere on Cartoon Network on Saturday, Oct. 10 at 5 p.m. (ET/PT), with a replay on Friday, Oct. 15 at 3 p.m.
---
HALF LIGHT: Production begins today on Demi Moore's new romantic thriller HALF LIGHT, directed by Craig Rosenberg. The film is being shot in in England, Ireland and Wales. HALF LIGHT, based on Rosenberg's original screenplay, is described as a Hitchcockian thriller with a supernatural twist. Moore will play Rachel Carlson, a successful mystery novelist whose life falls apart when her 5-year-old son drowns at her country home. A year later, in an effort to heal her wounds and help her to start writing again, her best friend rents her a secluded cottage in a remote fishing village. But events unfold that rock the tranquil village and cause Rachel to fear for her sanity and her life.
---
Monday, September 6, 2004:
TOP 10 SCIFI CHANNEL SHOWS:
Stargate Atlantis 1.8
Raptor Island 1.8
Stargate SG-1 1.8
Dragon Fighter 1.1
The 13th Warrior 1.1
Shark Attack 3 1.0
Deep Shock 1.0
The Beast, part 2 1.0
Universal Soldier 0.9
Interceptor Force 2 0.9
Source: Nielsen Galaxy Report, 8/16/04 - 8/22/04.
---
FATHER OF THE PRIDE: Variety reported that NBC's computer-animated fantasy series FATHER OF THE PRIDE averaged a solid 5.4 rating in adults 18-49 and drew 12.39 million viewers overall in its Aug. 31 premiere, making it the night's top-rated program.
---
CURSED: The first posster for Dimension Films' CURSED has turned up online. The thriller, from "Scream" duo director Wes Craven and writer Kevin Williamson, hits theaters on February 25. Craven and Williamson put their signature on the classic werewolf tale, re-inventing the genre with their hip, edge-of-your-seat style. CURSED, starring Christina Ricci and James Brolin, centers around an estranged brother and sister dealing with the recent loss of their parents, whose lives are irrevocably altered one dark night in Los Angeles by a vicious animal attack.
---
CRUSADE DVD - COMING DECEMBER 7
Warner Bros Home Video has announced that the Babylon 5 spinoff, Crusade will hit DVD on December 7. The series stars Peter Woodward, Gary Cole, Marjean Holden, Tracy Scoggins, Daniel Dae Kim, David Allen Brooks and Carrie Dobro. This 13 episode series (576 mins) will be released in a 4 disc set, and carries a suggested price of $59.98 US. It'll contain an English Dolby Digital 5.1 audio track, along with English, French and Spanish subtitles. The video will be presented in the original aspect ratio: 1.33:1. We have little information on the special features, just that there will be audio commentaries and a documentary.

For those of you not familiar with CRUSADE, here is a synopsis of the plot:
In 2267 the Earth is quarantined, having been infected with a deadly plague by an attacking alien force. Scientists estimate that it will kill every inhabitant within 5 years, not nearly enough time for a cure to be developed. So the planet's only hope lies with the Excalibur, an advanced prototype starship sent out to search ancient alien ruins for their former inhabitant's secrets, hoping that somewhere out there a cure can be found.
BABYLON 5 MOVIES -- AVAILABLE NOW
While there are a lot of places where you can pick up the new DVD of BABYLON 5: THE MOVIES, my favorite is CostCo. The price is hard to beat! They have a terrific on-line catalog as well.

Today, Warner Bros Home Video releases the "Babylon 5: The Movies," on DVD. This 5 disc set will contain all 5 movies as well as special features. The set will carry a $59.98 SRP and will be available in stores and online August 17th. "The Gathering" will be presented in 4:3 (original aspect ratio) while the other movies will be 16:9 anamorphic widescreen; all movies will feature Dolby Digital 5.1 tracks. The sets will be closed captioned and be subtitled in English, Spanish and French.

Each movie will contain commentary from the creator (J. Michael Straczynski), cast and crew, as well as an introduction for each movie by JMS. Rounding out the special features is the featurette, "Creating the Future - How Science Fiction and the show influenced each other."

The Gathering (1993): Alien envoys come to the giant space station in the pilot that launched the five-year TV series.

In the Beginning (1998): The B5 prequel! It's humans vs. aliens in the battle that led to the station's creation.

Thirdspace (1998): Is there a realm beyond hyperspace? Discovery of a million-years-old gateway technology may hold the answer...and more.

River of Souls (1998): After death, then what? Questions of eternity arise when a supposedly infallible harvester of souls proves to be very fallible.

A Call to Arms (1999): The torch is passed. A race against time to save Earth links the B5 mission with the Rangers' new interstellar efforts.

For more information on Babylon 5 DVDs, go to Babylon 5 DVDs.
---
DISCUSSION TOPICS
What do you/did you find the most fascinating about BABYLON 5? Story? Characters? Visuals? What brought you back week after week to see the show?

Send in your thoughts and comments to sgbruckner@aol.com. I post them on the Discussion Page for everyone to share and enjoy. See what has come in so far. If you see an old topic you want to respond to, go right ahead. We enjoy hearing from you.
REMEMBERING RICHARD BIGGS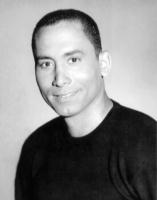 BIGGS AND CARTER EXPERIENCES DVD
Copies of the BIGGS AND CARTER EXPERIENCES DVD are no available at http://www.pipetap.com/dvd.htm. All proceeds from the sale of this DVD (which includes a personalized autograph from Jason Carter) will be donated to the RJ & Hunter Biggs Educational Trust Fund.

Additional items have been donated to the fund raising efforts, please visit http://www.biggsandcarter.com for new additions.

Jason and Donna would also like to thank everyone for their support and donations for the RJ & Hunter Biggs Educational Trust Fund at this year's DragonCon event.

Ranger Jan has come up with a wonderful way for raising funds for the Richard Biggs Memorial. Read on and decide which package you want to bid on!

The latest phase of my fund raising for Richard Biggs children is ready to unveil. So many people have donated so many wonderful things that I've put together six Prize Packages that I'll be raffling off. Simon from www.starstuff.co.uk/ has put up a *really* nice website at http://rbiggsmemorial.starstuff.co.uk so that anybody anywhere can buy chances to win the prize packages I've put together.

The drawing will be held on November 15 which should give me time to get items to the winners in time for Christmas.

Chances will be priced $5 each, 3 chances for $10, 6 chances for $20 or 10 chances for $30. Each chance can be designated for whichever drawing the buyer wants.

Be sure to check out the packages at Richard Biggs Memorial Page.
KEEPING UP WITH CAST AND CREW
PAT TALLMAN: Check out Pat Tallman (Lyta in Babylon 5) in BODY ELECTRIC. There is a clip at http://www.bfofilmco.com/ for your viewing enjoyment. The movie will preview at Shockerfest in Modesto, Calif.
DATE: Saturday, September 25, 2004
TIME: 6 PM
WHERE: Stanislaus River Room -- Modesto Centre Plaza (K St between 9th and 10th St.)
Ticket prices $15 for all day.
---
JASON CARTER: News from the Jason Carter Fan Club:
Jason's birthday is 09/23. Want to send him a special greeting? Drop a line to jcbirthday@pipetap.com
Principle photography has ended for the film "Dixon Maison" (where Jason has been cast as Dixon Maison) and Jason shot his last scene on 08/27. The film is in post-production and being prepared for the upcoming Sundance Film Festival. The Official Jason Carter Fan Club has 2 screen shots from the raw footage (with more on the way) posted at www.jasoncarterfanclub.com.
Jason has also completed shooting the upcoming film, Dead End Road (where Jason has been cast as the lead Raven). More information to be released soon.
---
MARJORIE MONAGHAN: Part 1 of the Andromeda season 4 finale, "The Dissonant Interval," returns to syndication this weekend... featuring Marjorie Monaghan [B5's Teresa Halloran (aka #1)] as Louisa Messereau.
---
GARY COLE: Gary has been nothing but busy since leaving the role of Capt. Gideon on B5's CRUSADE. Gary stars as Jerry "The Blade" in POP ROCKS, premiering Sept. 10 on ABC Family. The story follows Jerry as financial circumstances force him to return to his heavy metal rock band past -- and try to keep his secret from his family. You can read more about Gary's new show at http://abcfamily.go.com/poprocks/. Gary is also in MOZART AND THE WHALE with Josh Hartnett. This film is due out in December and follows a couple with Asperger's Syndrome who fall in love. (Asperger's is a form of autism, one of Gary's special interests.)
---
SPECIAL CAST ACTIVITY
PAT TALLMAN
For years, Pat Tallman has been involved with the Penny Lane Organization. The provide social services for abused children. On October 23 at 6:00pm, VOICES OF OUR CHILDREN, takes place at the Center at Cathedral Plaza, L.A. This year's honorees include Marg Helgenberger and Alan Rosenberg. This is an event where celebrated Film and Television Actors gather to read poems and diary entries from the lives of abused , abandoned and neglected children served by Penny Lane. Tickets are $125/person; $1,200/table of 10. Visit the Penny Lane website for more info.

Patty will be gearing up for her BE A SANTA program in October, so get ready. Pat wants to again make sure that each child at the PENNY LANE facilities has a Christmas gift. More details will follow.

Patricia Tallman is looking for any recordings of her speaking appearances at conventions. She will reimburse anyone who can send in a video or DVD of Pat telling stories at a convention. She will also send along a new autographed photo (one that no one has yet) and will pay postage and the cost of the vide tape. Here is an address you can use to contact Pat:
Patricia Tallman
6433 Topanga Canyon Blvd. #207
Canoga Park, CA 91303
CRUISIN' WITH BABYLON 5
STEPHEN AUSTIN: Stephen Austin (B-5's "Pak'Ma'Ra Ambassador") along with comedy legends Vic Dunlop and Bruce Baum, Stephen will be cruising the Caribbean and he wants YOU to join the fun!!! Here are the details:
Departing March 6-13, 2005
The Carnival V a lor
Sailing roundtrip from Miami Florida
visiting Belize, Isla Roatan, Grand Cayman, and Cozumel
http://www.cruiseevents.net/dunlop/index.htm.
---
CRUISE WITH PETER WOODWARD
Peter Woodward sent along a reminder about his cruise:
"Just wanted to say hello to my fans and friends out there, and tell you the latest on my Caribbean Cruise plans, January 9-16 of 2005. I will be giving live teaching sessions with medieval weapons from the Conquest series, and we'll be talking about B5/Crusade and the Sci-fi universe, and uncensored stuff about Egypt. Booking is going well, and we are sailing on Holland America's Westerdam, roundtrip from Fort Lauderdale to Nassau, St Marteen, Tortola, and Half-Moon Cay."

For more information, go to http://www.cruiseevents.net/celebrity.htm and then press Peter's photo. Space is limited! Don't delay, call today! 800-695- 5253 or e-mail: Susan@CruiseEvents.net.
---
JERRY DOYLE RADIO SHOW
Here's the latest from Jerry:
For the radio show, Talk Radio Network is building a new site and will have jerrydoyle.com up and running soon. It will tie into the talkradionetwork.com site as well.

The M-F show launches this coming Monday(5th), 7-10P PST. The call in number is 800/449-8255. Spread the word and give a call if you've got something to plug. I'll still be doing the Saturday show, 8-11P PST. Same phone number for that too. All the best.

All the best.
JD
---
BABYLON 5 BIRTHDAYS
Pat Tallman - September 4
Cinzia Zanetti - September 5
Robin Atkin Downes - September 6
Mira Furlan - September 7
Walter Koenig - September 14
Paul Williams - September 19
Robert Rusler - September 20
Gary Cole - September 20
Bear Burge - September 23
Jason Carter - September 23
Manny Case - September 23

Have I missed anyone? If you know the birthday of someone connected with Babylon 5, pass the information along. We want to include everyone in our Happy Birthday Wishes.
STARGATE SG-1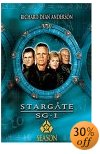 Season 7 of STARGATE SG-1 will be released on DVD October 19, 2004. The set can be pre-ordered at places like Amazon.com.









SEASON SIX DVD
Season six of STARGATE SG-1 is now available. Amazon has had this DVD on their top 10 list for weeks. The DVD boasts incredible special effects sequences, rapid-fire pacing and awesome scenes of alien warfare, this all-new five-disc set of Stargate SG-1 is your gateway to pulse-pounding sci-fi action!

Special features include audio commentary for each episode and twelve "SG-1 Directors Series" featurettes!

For more details and to watch the trailer, go to http://www.mgm.com/title_title.do?title_star=XXXSETSTARGAT6.
SCIENCE FICTION PUBLICATIONS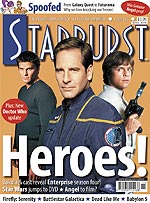 Starburst #315: Heroes: This 116 page issue focus on heroes! Scott Bakula talks about his role as Captain Archer on Star Trek: Enterprise and the new season ahead. You'll also get a look at some new series ahead --LOST, BATTLESTAR GALACTICA and DR. WHO 2005! B5/CRUSADE's Carrie Dobro also looks back on her time in these two fine shows, as well as pondering why Sci-Fi produces strong female characters.




AMAZING STORIES: An old favorite is returning to newstands! Amazing Stories returns with a September 2004 issue. Amazing Stories is one of the most beloved magazines in the history of science fiction. Launched in 1926 under the watchful eye of legendary editor Hugo Gernsback, Amazing Stories introduced generations of fans to exciting adventure and equally exciting cover art. The magazine was published regularly (as a monthly, bimonthly or quarterly) all the way up to 1995. It was revived briefly as a quarterly by Wizards of the Coast (WotC) in 1998 but couldn't make it past the summer of 2000. Now WotC and Paizo Publishing have revived Amazing Stories yet again with the "first issue of the 21st century!" - issue #603 (September 2004), a slick magazine-sized monthly that hit newsstands on August 3, 2004. This new Amazing promises a much wider range of subject matter than its previous incarnations. This isssue includes 20 pages of original fiction from luminaries such as Harlan Ellison, Gene Wolfe and Bruce Sterling, it is also packs in news, reviews and interviews covering feature films, DVDs, books, comics - even genre-related music CDs.
---
Cult Times #108: SMALLVILLE: Jeph Loeb talks about the upcoing fourth season of SMALLVILLE. With the upcoming premiere of FARSCAPE: PEACKEEPER WARS, star Ben Browder chats about returning to FARSCAPE. Producers Robert C. Cooper and Andy Mikita talk about the changes ahead for the eighth season of STARGATE SG-1.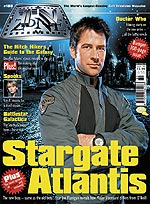 Time Zone Special #180: STARGATE ATLANTIS: In this 100 page issue, you'll have a chance to learn more about Joe Flanigan, who steps into the role of Major John Sheppard on STARGATE ATLANTIS. Emmy award-winning special effects/prosthetics artist and guru Todd Masters takes us to the strange and unusual worlds of ATLANTIS, and the new deadly aliens found there. Also in this issue, a photo report from the production at the BBC of DOCTOR WHO.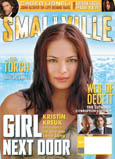 Smallville Issue #3: In Smallville Magazine this month we are joined by everyone's favorite girl next door, Lana Lang! Actress Kristin Kreuk will be telling us all about life, love, and Smallville. In the latest edition of The Torch we'll be keeping you up-to-date with the most up-to-the-minute Smallville news. We'll be unearthing the dark secrets of LuthorCorp and John Glover reveals how Lionel Luthor is coping with life behind bars! Plus there's a free, gorgeous Lana Lang poster! (Titan) (CAUT: 4)

NEWSSTAND COVER..........$5.99
PREVIEWS EXCLUSIVE COVER..........$5.99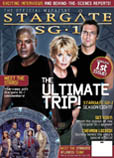 Stargate Issue #1: This is the launch of Stargate SG-1 the official magazine! Follow the missions, exploits, and adventures of the U.S. Air Force special operations team SG-1. In the first issue we'll have exclusive interviews with cast and crew, tour the set, and learn the secrets behind the special effects! Plus, get the inside story on Season 8 and meet the Stargate: Atlantis team! (Titan) (CAUT: 4)
Magazine, 68pgs, FC..........$6.99
Doctor Who Magazine reaches its 350th issue, and celebrates with a free reprint of "Doctor Who Weekly" issue #1 from 1979! The magazine is still the only official source for news, features, interviews and full-color comic strip action devoted to BBC Television's immortal traveller in time and space ... In this issue, all the latest from the new BBC One series, with exclusive reports and interviews! Meanwhile, Alan Barnes takes a look back to the story that was shown exactly 25 years ago, as The Fact of Fiction examines "City of Death"! Doctor Who Magazine speaks to the writers of the new series about the task of reinventing the Doctor for the 21st century! Gareth Roberts and Tat Wood return with the answers to more intriguing Doctor Who mysteries! The Time Team continue their quest to watch every single "Doctor Who" adventure, as they face "The Seeds of Doom"! There's yet more hints and news from Executive Producer Russell T Davies as he documents the making of the new series in his "Production Notes" column! And there's the fifth part of the epic comic strip, "The Flood" by Scott Gray, Martin Geraghty, and Adrian Salmon! (Panini Publishing Ltd) (CAUT: 4)
Magazine, FC..........$6.80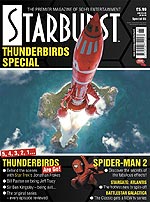 Starburst Special #65: This issue has a lot of information about the new THUNDERBIRDS movie. You go behind the scenes with Director Jonathan (Star Trek) Frakes, young stars Brady Corbet, Vanessa Anne Hudgens and Soren Fultobn who play Alan, Tin Tin and Fermat and Sir Ben Kingsley, aka 'The Hood' and Sophia (Lady Penelope) Myles and Ron (Parker)Cook. The magazine looks at the the CGI effects and the costume designs as well. You'll also find articles on STARGATE ATLANTIS as Producer Peter Deluise talks about working on the series, and actors Torri Higginson, Rachel Luttrell and Rainbow Sun Francks chat about their roles on the new Stargate team.
Expose #88: In this issue, HARRY POTTER, Daniel Radcliffe, talks about working with new directors and growing up as he looks ahead to The Prisoner of Azkaban, and beyond. Also, Ian Spelling catches up with Hagrid, alias Robbie Coltrane.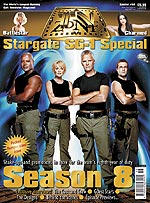 TV Zone Special #58: You will get a guide to the first part of Stargate SG-1's eighth season, complete with cast and crew interviews – and a look at the making of the new spin-off series Stargate Atlantis. Also Battlestar Galactica 2004 -- Commander William Adama, Edward James Olmos, takes the battle to the Cylons – and deals with family issues – in the continuing revival of the classic Sci-Fi show.
Expose Special #26: This 88-page Special edition brings you a comprehensive retrospective of ANGEL's five years on the air. THE DEAD ZONE's Sarah Wynter talks about playing the newest addition to the spooky paranormal series, psychologist Rebecca Caldwell, and tells us what's in store for the character and ALIAS' Alias executive producer Jesse Alexander tells us what shifting allegiances and convoluted plotting we can expect to see in the forthcoming Season Four of the hit spy series.
BABYLON 5 MERCHANDISE
Are you looking for Babylon 5 merchandise? Would you like to possess some of the wonderful patches or pins sold by the B5 Fan Club? Do you want to put in an order for the latest DVD? Bruce at Uncomyn Gifts still has one of the best collections around. Check out www.uncomyngifts.com. You may just find the magazine or t-shirt or patch you are looking for.
---
BABYLON 5 INTERVIEWS ON VIDEO
Ranger Mark was Dragon-Con's OFFICIAL videographer for 1998 and 1999. He has pulled together a series of interviews from various conventions over the past 10 years available and they are now available on e-bay. This includes footage from Dragon-Con with Peter Jurasik hosting the Dawn Look a Like Contest , and 2 panels of the B5ers, one all women the other the men. There is now a 2-hour tape devoted to BABYLON 5 cast members, including two interviews with the late Richard Biggs.

Mark's Ebay page is http://stores.ebay.com/markscelebrityinterviews and his text page is http://members.tripod.com/cosmicmc/. If you are interested, drop over and give this a look-see.

For those of us who have enjoyed going to DragonCon over the last few years, these tapes will be especially enjoyable. They will bring back memories -- that can be shared.
---
NEW ON THE BOOK SHELVES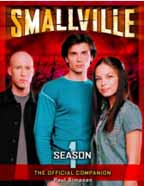 Titan Books has announced a September release for the first in a series of Smallville companion books, the first of which focuses on Season 1.

The book's author is Paul Simpson, with a foreword by executive producers Al Gough and Miles Millar.

The Season 2 Companion will be released in early 2005, with Seasons 3 and 4 to follow before the end of the year.
BABYLON 5 NOVELS
DelRey is reprinting the original Babylon 5 novels. They started with #7 - Jeanne Cavelos' THE SHADOW WITHIN. Here's one I've been waiting for -- Kathryn Drennan's TO DREAM IN THE CITY OF SORROWS. The release date is scheduled for July 29, 2003. I love the new cover art! It can be pre-ordered from www.amazon.com. For those of you who love Babylon 5, this one reads just like an episode from the series. You just can't put it down.




CITY OF DREAMS
For those of you who have just joined us here at The Zocalo Today, you may want to check out The City of Dreams over at the SciFi Channel website. J. Michael Straczynski, the creator of Babylon 5, worked with Seeing Ear Theatre at SciFi to bring an exclusive, all-new audio drama anthology series featuring tales of dreamers, madmen and fanatics. If you haven't listened to the stories, you'll not want to miss them. If you haven't listened in a while, you will want to go back and listen again.
BOOK REVIEWS
Here is a new feature for your enjoyment. I received some new book reviews that I've posted on a separate Book Review Page. Let me know if you enjoy this new feature -- and we'll continue to offer them as they are received. Agree with the review? Disagree? We can post those as well.

Other science fiction material, outside of the B5 environment can be found on the Materials Page.
COMIC BOOKS
RISING STARS RETURNS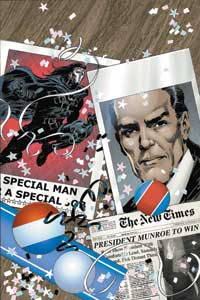 RISING STARS #22
by J. Michael Straczynski & Brent Anderson
"Phoenix In Ascension" Pt. 1 of 3. J. Michael Straczynski's superhero tour-de-force returns and speeds toward its whipsaw conclusion! The superpowered "Specials" set out to change the world. Now that one of the Specials is elected President of the United States, the world will change...whether it wants to or not!
FC, 32pg..........$2.99

Saw this in the B5 moderated newsgroup and thought I would pass it along:
http://previews.diamondcomics.com/support/previews_docs/orderforms/cof.txt

In The October 2004 Solicitations...
AUG04 1597 RISING STARS #1/2 (O/A) $2.95 = $
AUG04 1598 RISING STARS #10 (O/A) $2.50 = $
AUG04 1599 RISING STARS #12 (O/A) $2.50 = $
AUG04 1600 RISING STARS #13 (O/A) $2.50 = $
AUG04 1601 RISING STARS #14 (O/A) $2.50 = $
AUG04 1602 RISING STARS #15 (O/A) $2.50 = $
AUG04 1603 RISING STARS #16 (O/A) $2.50 = $
AUG04 1604 RISING STARS #17 (O/A) $2.50 = $
AUG04 1605 RISING STARS #18 (O/A) $2.50 = $
AUG04 1606 RISING STARS #19 (Of 24) (O/A) $2.50 = $
AUG04 1607 RISING STARS #20 (Of 24) (O/A) $2.99 = $
AUG04 1608 RISING STARS #21 (Of 24) (O/A) $2.99 = $
AUG04 1609 RISING STARS PRELUDE (O/A) $2.95 = $
AUG04 1623 RISING STARS #22 (Of 24) $2.99 = $
AUG04 1624 RISING STARS VOL 1 BORN IN FIRE TP (STAR12207) $19.95 = $
AUG04 1625 RISING STARS VOL 2 POWER TP (STAR15724) $19.95 = $
AUG04 1626 RISING STARS VISITATIONS TP (STAR16700) $8.99 = $
(The dates related to the issue of Previews and the item number in the catalogue, not the release date which is OCTOBER).
AMAZING SPIDERMAN
AMAZING SPIDER-MAN #514
Written by J. Michael Straczynski, art and cover by Mike Deodato.
"Sins Past," part 6 of 6. All is revealed in the pulse-pounding conclusion to "Sins Past"!
32 pages, $2.25, in stores on Nov. 24.
AMAZING SPIDER-MAN #513 "Sins Past," part 5 of 5. The worst defeat that Peter Parker ever endured -- a moment frozen in the minds of Spider-Man fans everywhere -- was supposed to be far in his past. But now, two villains -- ripped, perhaps, directly from that very moment -- have emerged, and they threaten to destroy everything that he holds dear.

32 pages, $2.25, in stores on Oct. 27.

AMAZING SPIDER-MAN #512
Written by J. Michael Straczynski, art and cover by Mike Deodato.

"Sins Past," part 4 of 5. The worst defeat that Peter Parker ever endured -- a moment frozen in the minds of Spider-Man fans everywhere -- was supposed to be far in his past. But now, two villains -- ripped, perhaps, directly from that very moment -- have emerged and they threaten to destroy everything that he holds dear.

32 pages, $2.25, in stores on Sept. 29.

"'Sins Past,' part 2 of 6. The second part of a Spider-Man arc that will have people talking for years. Featuring art by new series regular Mike Deodato."
SUPREME POWER
SUPREME POWER #13
Written by J. Michael Straczynski, art and cover by Gary Frank.
"The Squadron," part 1 of 6. In their first adventure as a team, Hyperion, Blur and Nighthawk -- the newly formed Squadron -- encounter a super-powered serial killer! But will they live long enough to stop him?

32 pages, $2.99, in stores on Oct. 27.
STRANGE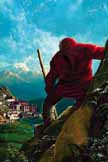 Strange #1 will arrive in stores on Sept. 15 from Marvel Comics. The issue is written by J. Michael Straczynski and Samm Barnes, with art and cover by Brandon Peterson.

Here's how Marvel describes the issue:
" The master of the mystic arts is back -- as only J. Michael Straczynski and superstar artist Brandon Peterson could envision him. Brash young surgeon Dr. Stephen Strange is on a collision course with destiny -- a journey that will force him to search the deepest corners of his own heartŠand the outer reaches of the cosmos."

Strange #1 will be 32 pages and will cost $3.50.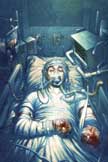 STRANGE #2
Written by J. Michael Straczynski and Samm Barnes, art and cover by Brandon Peterson.
Brash young surgeon Dr. Stephen Strange is on a collision course with destiny -- a journey that will force him to search the deepest corners of his own heart...and the outer reaches of the cosmos. The adventures of the Master of the Mystic Arts in the year's most highly anticipated origin story.

32 pages, $3.50, in stores on Oct. 13.
DOCTOR SPECTRUM
DOCTOR SPECTRUM #3
Written by Samm Barnes, art by Travel Foreman, cover by Dale Keown, creative consultant J. Michael Straczynski.

Part 3 of 6. From the pages of Supremere Power, the limited series that reveals the dark secrets of Joe Ledger¹s past. And while figures from Dr. Spectrum¹s past continue to haunt him, the government searches for a way to solve the Hyperion problem.

32 pages, $2.99, in stores on Oct. 13.

AMAZING FANTASY
Amazing Fantasy #3 will arrive in stores on Wednesday from Marvel Comics. The issue is written by Fiona Avery, with art by Roger Cruz and a cover by Mark Brooks.

Here's how Marvel describes the issue:
"Enough with the questions -- now it's time for some answers! Marvel's newest heroine confronts the tall, dark, and mysterious stranger who¹s been shadowing her every move. The secret she's about to learn has a history far bigger and far older than anything she's ever dreamed -- so how exactly does a scrappy girl from Brooklyn figure in? "

Amazing Fantasy #3 will be 32 pages and will cost $2.99.
TV SCHEDULE ON SCIFI CHANNEL
BABYLON 5 and CRUSADE are not currently listed on any SCIFI schedule. STARGATE SCHEDULE: 09/13/2004 06:00 PM STARGATE SG-1 TIN MAN (STARGATE)
09/13/2004 07:00 PM STARGATE SG-1 2010
09/13/2004 08:00 PM STARGATE SG-1 ABSOLUTE POWER
09/13/2004 09:00 PM STARGATE SG-1 THE LIGHT
09/13/2004 10:00 PM STARGATE SG-1 PRODIGY
09/14/2004 06:00 PM STARGATE SG-1 THERE BUT FOR THE GRACE OF GOD
09/15/2004 06:00 PM STARGATE SG-1 POLITICS - PT- 1
09/16/2004 06:00 PM STARGATE SG-1 WITHIN THE SERPENT'S GRASP - PT 2

STARGATE ATLANTIS SCHEDULE:

09/17/2004 10:00 PM STARGATE ATLANTIS THE STORM
09/17/2004 12:00 AM STARGATE ATLANTIS THE STORM
09/24/2004 10:00 PM STARGATE ATLANTIS RISING - PT 1
09/24/2004 12:00 AM STARGATE ATLANTIS RISING - PT 1

FARSCAPE SCHEDULE:

09/12/2004 01:00 AM FARSCAPE VITAS MORTIS
09/16/2004 08:00 AM FARSCAPE MENTAL AS ANYTHING
09/16/2004 09:00 AM FARSCAPE BRINGING HOME THE BEACON
09/16/2004 10:00 AM FARSCAPE A CONSTELLATION OF DOUBT
09/16/2004 11:00 AM FARSCAPE PRAYER
09/16/2004 12:00 PM FARSCAPE WE'RE SO SCREWED - PART 1: FETAL ATTRACTION
09/16/2004 01:00 PM FARSCAPE WE'RE SO SCREWED - PART 2: HOW TO KATRATZI
09/16/2004 02:00 PM FARSCAPE WE'RE SO SCREWED - PART 3: LA BOMBA
09/16/2004 03:00 PM FARSCAPE BAD TIMING
09/16/2004 03:00 AM FARSCAPE PROMISES
09/16/2004 04:00 AM FARSCAPE NATURAL ELECTION
09/16/2004 05:00 AM FARSCAPE JOHN QUIXOTE
09/19/2004 01:00 AM FARSCAPE TAKING THE STONE
BABYLON 5/CRUSADE PHOTOSHOP PHOTOS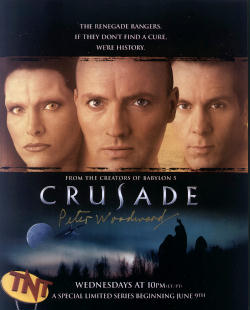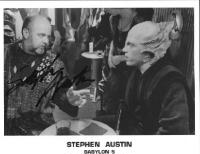 Peter Woodward has sent along a new photo -- a rather dreadful one -- from his appearance on CHARMED. It will be added to the collection of photos available from Peter, including additional copies of the Crusade poster in photo format. Both are autographed by Peter. You do NOT have to pay the prices asked for over at e-bay! Here are photos of B5 and Crusade cast members at fantastic prices. Check out Photo Shop. Ordering is easy -- and you can't beat the prices! Just let me know which photos you want and I'll check to make sure they are still in stock.
---
BABYLON 5 TOONS
John Cook has a wonderful collection of cartoons -- many are take-offs from Babylon 5. Here's just one of them.

He has a cartoon caption contest going on as well. Try your hand at a punch line.

Go to http://contests.sev.com.au/index.php?contestid=1




SCI-FI CARTOONS
While catching up on my e-mail yesterday morning, I got an instant message from LFMOA along with a nice goodie that I can share with readers. Thanks for sending along your version of Pinky and the B5 Brain.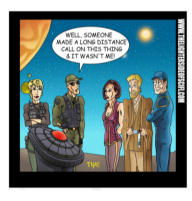 Tye Bourdony's latest Lighter Side of Sci-Fi satire can be seen here and at Tye's website www.thelightersideofscifi.com.








FAN CLUBS
Intergalactic Consortium

To anyone who lives in and or in the area of Toronto, Ontario, Canada I would like to invite you to attend or Join the Intergalactic Consortium. The I.C. is a new science fiction / fantasy group. We generally meet on the last Saturday of every month and generally do not collect any dues. WE are always looking for new members. If you have any questions, need more information or anything else please feel free to e-mail torsf@yahoo.ca or visit our yahoo group at http://ca.groups.yahoo.com/group/Intergalactic-Consortium/ Hope to hear from some of you.

United Federated Planets

The Babylon 5 Sector of United Federated Planets The Babylon 5 Sector is a chartered branch of United Federated Planets (UFP); a not-for-profit fan club for all fans of Star Trek, science fiction and fantasy. We've been part of UFP almost from the time the series first went on the air. We welcome all fans of Babylon 5--from the series & TV movies, to "Crusade" & "Legend of the Rangers," to the literary works in between. Our parent organization, UFP, has its roots in Star Trek & the late Gene Roddenberry's vision of the future; which includes community service along with social & fan-related activities. Our sector takes those ideas and puts them into the Babylon 5 universe that J. Michael Straczynski created. We're here for fellowship, good times, service and, in a way, living the fantasy that is Babylon 5. To that end, we enjoy role-play via the written word & live action; costuming; discussions; literary works; and anything else that we can imagine. No matter what you're interested in, we can accomodate you. We have positions currently available on the sector staff--EarthDome, EarthForce and the Alliance; chapter opportunities limited only by your imagination; and ways for you to live out your Babylon 5 fantasy. You can even be part of the B5 station staff! Our sector staff is available to answer your questions about what we do, how to join, how to start a B5 chapter, and more. To contact us, visit www.ufphq.com/chain_of_command.htm. In addition, we also put out a newsletter called "Voice of the Alliance." This newsletter--available in electronic & hard copy formats--informs our sector members with staff reports, upcoming events, available staff positions, chapter activities and more. For a sample copy of "Voice of the Alliance" contact our editor, Anne Zecca, via our website www.ufphq.com/babylon5sec.htm ("Chain of Command").

Membership in United Federated Planets is required to join UFP's Babylon 5 Sector. For information on joining UFP, contact:
Mike Ferguson, President/CEO
United Federated Planets
300 W. Oak Street
Midwest City, OK 73110 USA
E-Mail: mikeferg1@yahoo.com
Organization Website: www.ufphq.com
SubSpace Newsletter (on-line): www.ufphq.com/current.htm
Application: www.ufphq.com/application.htm (on-line version available)
Chapter Application: www.ufphq.com/chapterApp.htm (on-line version available)

For more information, go to the Clubs Page.

United Federated Planets (UFP) has a Rick Biggs memorial page set up at the following address:
http://www.ufphq.com/rick_biggs.htm

STAR TREK CLUB VENEZUELA

Ranger Andres dropped a note to say that a new club has been formed -- Star Trek Club Venezuela. It is small right now, but they are ready for recomendations, opinions, and/or any other comments.

This is the last update of our 1st Expo in November 2004. This event will take place in the Best Western Hotel CCCT Caracas. Visit their site at www.trekvenezuela.net for more information.

We have a number of Fan Clubs listed here at the Zocalo. They are those associated with a particular actor -- and there are those devoted to Babylon 5 or science fiction. Be sure to check out the Clubs Page to see if there is an organization near you.
CONVENTION CALENDAR
September 10-12, 2004
Chicagoland Entertainment Collectors Expo
Place: Rosemont, IL
Site: Ramada O'Hare
Guests: Boris Vallejo, Julie Bell, Chris Achilleos, Dick Durock, Kathy Garver, Jeremy Bulloch, Tim Dry, Gerald Home, Michael Dante, BarBara Luna, Christine Hewett, Steve Speirs, Mark Allan Shepard, Sean Crawford,Warren Martineck plus a surprise guest
For more information, visit their website at http://www.nonsportcardexpo.com.
---

Sept. 12, 2004
WOLF GATEDAYS
Location: Paris, France
Guests: John Novak, Suanne Braun, Teryl Rothery
For more information, visit their website at http://www.dragoncon.com/ .
---

September 17-19, 2004
Slanted Fedora
Place: Salt Lake City, UT
Site: Holiday Inn Downtown
B5 Guests: Jerry Doyle, Jason Carter, Mary Kay Adams
Other Guests: Garrett Wang, Robin Curtis, Robert O'Reilly, J.G. Hertzler, Max Grodenchik, Aron Eisenberg, Casey Biggs, Tony Amendola, Julie Benz, Greg Evigan, Dee Wallace Stone
For more information, visit their website at http://sfedora.com/salt_lake_city.htm.
---

September 24-25, 2004
Slanted Fedora
Place: Rochester, NY
Site: The Rochester Museum and Science Center
B5 Guests: Jerry Doyle, Jason Carter, Mary Kay Adams
Other Guests: Garrett Wang, Robin Curtis, Robert O'Reilly, J.G. Hertzler, Max Grodenchik, Aron Eisenberg, Casey Biggs, Tony Amendola, Julie Benz, Greg Evigan, Dee Wallace Stone
For more information, visit their website at http://sfedora.com/rochester,_ny.htm.
---

October 1-3, 2004
Sunnydale Central 3 - a Buffy/Angel/Firefly event
Place: Toronto, Ontario, Canada
Guests: Clare Kramer "Glory" from Buffy the Vampire Slayer, Jonathan M. Woodward "Tracey" from Firefly" ("Holden" from BtVS, and Knox" from Angel), and assistant costume designer from "Angel", Carrie Grace.
For more information, check out their website at www.primedia.ca/sunnydale.
---

Be sure to visit the referenced sites to see if there have been changes in dates/guests attending. Visit our Convention Calendar for a full listing of upcoming conventions.
MAIL FOR CAST AND CREW
Here's a recent note from JMS on the subject:

Just an FYI to those who've been using the Ventura Blvd. mail drop for fan mail to actors....

As mentioned before, we're phasing out the forwarding of fan mail because we a) don't have the resources, complicated by b) the actors have scattered to the four winds, and it makes it very difficult to get everything to everybody in a timely fashion.

So, having provided prior notice...fan mail to actors coming to the Ventura Blvd. mail drop will be sent back. Mail to actors should be sent via their official fan clubs. I will still be taking mail there, since it's my mailbox, but that's it.

Just so's y'all know and save a few bucks on postage and returns.

WARNER BROS:

Warner Bros. Address:

Warner Bros. Domestic Television Distribution
4000 Warner Blvd.
Burbank, CA 91522

Warner Home Video:

Mr. Douglas Wadleigh
VP for Marketing and Special Features
Warner Bros.
4000 Warner Blvd.
Burbank, CA 91522

SCIFI:
Mr. Thomas Vitale
Senior VP of Acquisitions, Scheduling & Program-Planning

Sci-Fi Channel
1230 Avenue of the Americas
New York, NY. 10020-1513
BACK ISSUES OF THE ZOCALO TODAY
The front page of the The Zocalo Today changes daily, so be sure to check the back issues to make sure that you haven't missed anything IMPORTANT! I don't want the front page getting too long so I shift information periodically into the archives. So if you aren't a regular visitor to The Zocalo Today, be sure to check out the back issues. Just use the button above!
---
Take care and I look forward to hearing from you.
Sandra Bruckner (sgbruckner@aol.com)
Editor/Publisher
The Zocalo Today
http://www.isnnews.net
Copyright - SBruckner, 1999-2004