[an error occurred while processing this directive]

The Zocalo Today

Welcome and thank you for dropping by. Take your shoes off, get comfortable and stay a while. There is a LOT of information here and you won't want to miss any of it.

The Zocalo Today is an interactive newsletter, encouraging readers to join a discussion topic or to send along letters that can be shared with other readers.

If you have suggestions as to how The Zocalo can be improved -- or be more responsive -- send them along. The Zocalo Today is a newsletter for Babylon 5 fans everywhere. It is as much YOUR newsletter as it is mine! I'm just pulling together things for you!

Join our discussion topic. It is just one way you can share with other Z readers. If you see Babylon 5 cast and crew in other roles, let us know. We enjoy convention reports, photos, etc. Don't miss our back issues. I hope this will become more than just a newsletter. It's a community of people that enjoy sharing their experiences and interests. Babylon 5 brought many of us together -- and it remains with us, despite the fact that is no longer in production. Don't be shy. Join us today!

If you have questions, drop me a line at sgbruckner@aol.com. If you would like to join the mailing list for our newsletter, send me a note and I'll include you on the list. Or you can use the subscription block at the left.

Again, WELCOME!



TODAY'S NEWS
Saturday, September 18, 2004:
STARGATE WALK ON: The winner of SCIFI's annual Stargate "Get in the Gate" sweepstakes has been named. Nathan Flamino of Wausau, Wisconsin will travel to Vancouver, B.C., for walk-on roles on both SCI FI hit series Stargate SG-1 and Stargate Atlantis. This year's "Get in the Gate" promotion was run in partnership with SCIFI.COM and Yahoo!, which hosted Stargate production stills, behind-the-scenes photos and video and also sponsored fan events in New York, Chicago and Los Angeles. This was the biggest sweepstakes in the history of the channel, with nearly 700,000 entries, for a whopping 1,150 percent increase over last year's entries.
---
MISSION IMPOSSIBLE: 3: According to the Hollywood Reporter, ALIAS creator J.J. Abrams, who will direct MISSION IMPOSSIBLE: 3, will team with ALIAS writers Alex Kurtzman and Roberto Orci to work on the movie's script. M:I 3 will star Tom Cruise and is being produced by his Cruise/Wagner production company, with Paramount aiming to release the movie in summer 2006.
---
ISIS: Variety reports that Paramount-based Grammnet Productions, headed by Kelsey Grammer, has acquired novice writer Ali Russell's ISIS, a fantasy pitch with feature-film and TV potential. The family action- adventure story centers on a young girl who finds the bracelet of Isis and inherits her powers—but also awakens a dark force. The project is based on the Darren Davis comic book of the same name. Russell (21 years old) recently moved to Los Angeles to pursue screenwriting and was scouted by Weaver out of the UCLA writing program.
---
X-FILES: David Duchovny from THE X-FILES is scheduled to take part in the 18th Annual Nautica Malibu Triathlon at Malibu's Zuma Beach between lifeguard towers thirteen and fifteen. All money raised by the Triathlon will benefit the Elizabeth Glaser Pediatric AIDS Foundation. On Sunday, stars will join other brave citizens in the demanding events that include a half mile ocean swim, eighteen-mile bike ride and a four-mile run. Visit the AIDS Foundation web home for more information on the Triathlon. Other stars participating include Jennifer Garner (ALIAS) and David James Elliott (JAG).
---
GHOST RIDER: Next January, Nicholas Cage, an avid comic book fan, finally get his wish when filming starts in Melbourne on GHOST RIDER, the latest big-budget flick from Daredevil director (and ace foosball player), Mark Steven Johnson. Cage will play Johnny Blaze, a circus motorcycle stuntman who, after a series of tragic events, is tricked by Satan into becoming the Spirit of Vengeance aka the Ghost Rider; a flame-skulled, motorcycle-riding demon. But with Johnny's pure heart initially over-riding the Satanic imprint, the Ghost Rider becomes a vigilante, charged with cleansing impure souls via various arcane weapons, including the blistering penance stare. Early reports suggest that the movie will see Ghost Rider take on Blackheart, the son of the Devil, and Cage is looking forward to the challenge of his first comic book movie. In an interview for Empire magazine, Cage said, "Ghost Rider is one of the original American Marvel comic icons. He was sort of the icon for motorcyclists that the Silver Surfer was for surfers. Imagine Evel Knievel with a flaming skull for a head. It should be fun."
---
WHAT'S ON TONIGHT
CABLE AND NETWORK SHOWS:
6:00pm on UPN
Star Trek: Enterprise
Zero Hour
Archer puts his life on the line to disarm the superweapon from within.
ON SCIFI TONIGHT:
4:00pm
Indiana Jones and the Temple of Doom
Jones, a singer and an orphan look for missing stones. Directed by Steven Spielberg.
6:00pm
Indiana Jones and the Last Crusade
Archaeologist Jones rescues his kidnapped father, and the two race the Nazis to find the Holy Grail.
9:00pm

Darklight
"Roswell" star Shiri Appleby headlines this sci-fi thriller as a woman who finds out that she is actually an ancient demoness after she is captured by a secret society. The society needs her help to stop a monster that is spreading a lethal plague across the Earth, but will she help? The demoness seems to like her new power more than anybody cares to admit until it might be too late.
ON SYNDICATED TV THIS WEEKEND: Andromeda
The Spider's Stratagem
The crew intercepts a smuggler's stash of mysterious living armor on its way to a war-torn galaxy.
BeastMaster
End Game
Dar receives hidden signals that his final challenge is about to begin.
Sir Arthur Conan Doyle's The Lost World
Trapped
A discovery reveals more of Marguerite's connection to the Druids.
Mutant X
Cirque des Merveilles
Lexa's suspicions lead the team to unveil a traveling death camp posing as a circus.
Stargate SG-1
Full Circle
The SG-1 team races to prevent Anubis from capturing a powerful necklace.
The Twilight Zone
The Pharaoh's Curse; The Collection
A magician decides to pass on his famous trick to a rival; a baby sitter fears her charge's dolls.
The Outer Limits
Mona Lisa
An android escapes from her laboratory to search for friendship.
---
INSIDE SCI-FI THIS WEEK:
---
Friday, September 17, 2004:
TOP SF NETWORK PROGRAMS:
Joan of Arcadia 2.5
Smallville 1.8
Charmed 1.5
Enterprise 0.8
Source: Nielsen Galaxy Report, 8/23/04 - 8/29/04.
---
JEREMIAH: JEREMIAH's Executive Producer, Scott Mitchell Rosenberg, has big plans for the show after it ends its 35-hour saga with a two-episode finale on Sept. 24. "We here at Platinum have many things in the works to keep giving the fans exactly what they want," Rosenberg said in an interview. While there has been no indication of a third season from Showtime, Rosenberg said, "Trust me, though, that no matter what decision that is, the Jeremiah universe will continue to expand." Rosenberg said the company is preparing an electronic Jeremiah comic book, to be released online biweekly starting in January 2005. Some preliminary artwork is already available at the official Web site, Jeremiah Portal.
---
THE PUNISHER: According to The Hollywood Reporter, THE PUNISHER sold some 1.8 million combined DVD and VHS units during its first five days in release. THE PUNISHER's first-week sales figure makes it one of the top-selling live-action titles of the year respective to its $33 million domestic box-office take.
---
Thursday, September 16, 2004:
TOP SF DVD SALES:
1. Star Wars trilogy
2. The Passion of the Christ
3. Buffy season seven
4. Angel season four
5. The Prisoner of Azkaban
6. Alias season three
7. THX 1138 director's cut
8. Shrek 2
9. Star Trek TOS season one
10. The Punisher
Source: Amazon.com, top-selling genre DVDs, 9/10/04
---
BATMAN BEGINS: In a recent interview, Christian Bale, who stars as Bruce Wayne in the upcoming BATMAN BEGINS movie, said that he is taking a fresh approach to the character, playing him with a feral duality that adds reality to the comic-book mythology. To distinguish the two characters, Bale even uses one voice for Wayne and a different, coarser baritone for the caped crusader. Bale said, "... I just felt that everything about him should become different [when he becomes Batman]. The look. The voice. And also see that he's able to have his own life, somewhat [when he's Wayne]. Because it seemed to me that if he was just going to be Bruce Wayne in a batsuit, first of all, that seemed a little bit ridiculous to me. It would have been as ridiculous as any of us getting into a batsuit and genuinely thinking we could go out on the town and intimidate people. I think most people would probably laugh, you know? So you have to kind of really go for it in every way. And for me that kind of, you know, involved taking on a slightly beastlike voice, as I hear it." BATMAN BEGINS was on day 126 of a 128-day shoot, also stars Gary Oldman as Lt. James Gordon, Katie Holmes as Rachel, Cillian Murphy as Dr. Jonathan Crane and Ken Watanabe as Ra's Al Ghul. BATMAN BEGINS, from director Christopher Nolan, is slated to open next summer.
---
BOX OFFICE BATTLE: While 20th Century Fox first set a July 1, 2005 release date for its Marvel Comics adaptation FANTASTIC FOUR, Paramount Pictures has now moved the Steven Spielberg-directed and Tom Cruise adaptation of H.G. Wells novel THE WAR OF THE WORLDS two days earlier, to Wednesday, June 29. This means FANTASTIC FOUR has four days to tally up a big box office, since the Fourth lands on a Monday. With the new release date for WORLDS, it has positioned itself for an even bigger six day box office opening. FANTASTIC FOUR is in the league of 'X-Men' and 'Spider-Man,' and over the last two summers those movies have opened to an average of over $100 million," Fox executive vp marketing Jeffrey Godsick said. FANTASTIC FOUR has been shooting for a while and looks to be true to its name -- fantastic.
---
SMALLVILLE: SMALLVILLE's John Glover is on a mission -- and it is one we can all help. Glover wants to help raise money for the Alzheimer's Association of Maryland in memory of his father, Jack Glover. Glover has donated several unique items - this year through EBay - to help raise money for the event. These items include a Season 1 DVD set signed by the cast of the show, and the book "Superman: For All Seasons" by the cast as well as author Jeph Loeb (and by "cast" it appears to be the cast from Season 4-on, including the new additions!). A few items are posted now, but others will be listed later - among the upcoming items to be posted will be apparel from the show and a signed cel of Glover as the Riddler from 'Batman: The Animated Series.' The items are listed under seller alzheimersmemorywalk. Current items can be found at http://www.comics2film.com/FanFrame.php?f_id=9802. You can read more about Glover's efforts over at http://www.kryptonsite.com/.
---
Wednesday, September 15, 2004:
TOP SF SYNDICATED SHOWS:
Andromeda 1.6
Stargate SG-1 1.6
Mutant X 1.4
The X-Files 1.4
Angel 1.3
Buffy 1.2
3rd Rock 1.1
Beastmaster 1.1
The Outer Limits 1.1
She Spies 0.9
Source: Nielsen Galaxy Report, 8/23/04 - 8/29/04
---
JMS SIGNATURE FORGERIES: Here is a note from the B5 moderated newsgroup regarding a number of items on Ebay -- that are fake.
Several usenet folks -- foremost among them Jan -- have alerted me to a number of forgeries on Ebay...comics, posters or photos that have the worst fake signatures I've ever seen, supposedly from me.

If you're out there buying anything that's allegedly signed by me...compare it with what's been out there before. And be careful...a number of JMS-fake signatures look exactly the same, which leads me to conclude that a bunch of them are being pumped out by the same guy.

Sometimes it's good to have a signature that looks like elvish script written while drunk...harder to counterfeit.
---
STARGATE: The Air Force announced yesterday that Richard Dean Anderson, star and executive producer of STARGATE SG-1, was recognized at the Air Force Association's 57th Annual Air Force Anniversary Dinner in Washington, D.C., on Tuesday, Sept. 14. The service's chief of staff, Gen. John P. Jumper, who made a cameo appearance in the seventh season finale of Stargate SG-1, was scheduled to be on hand to participate in the special recognition. The Air Force Association is an independent, nonprofit, civilian organization promoting public understanding of aerospace power and the role it plays in national security. Anderson and STARGATE SG-1 were recognized for the show's continuous positive depiction of the Air Force. In addition to receiving the award, Anderson was to tour the Pentagon and visit with wounded troops at Walter Reed Hospital.
---
SCARECROW: The Hollywood Reporter reports that Director Sam Raimi and partner Rob Tapert are set to produce the horror film SCARECROW, directed by brothers Oxide and Danny Pang (The Eye, Bangkok Dangerous). The film will be the first English-language feature for the brothers from Hong Kong. SCARECROW follows the lives of a family moving into a run-down sunflower farm who begin to notice uncomfortable and alarming changes in their father's behavior. Stuart Beattie (Collateral) has written the screenplay, from an original script by Todd Farmer. Raimi said, "I'm thrilled that the Pang brothers have agreed to direct Scarecrow." "I've been a big fan ever since The Eye. Danny and Oxide have an exciting and unique vision and are at the forefront of the neo-horror movement in Asian filmmaking." Production is scheduled to begin this spring.
---
THRESHOLD: Variety reports that CBS has committed to a pilot for an alien-themed series from executive producers David Goyer (Batman Begins), David Heyman (Harry Potter) and Bragi Schut. Tentatively titled THRESHOLD, Paramount Network Television will produce the hour-long SF drama about the government's response to an alien threat. Goyer, who wrote the currently filming Batman Begins for director Christopher Nolan and will direct the upcoming vampire sequel Blade Trinity from his own script, is attached as director and executive-producer of the pilot, with Bragi set to write and co-executive produce. Heyman also will serve as executive producer.
---
DOOM: According to The Hollywood Reporter, Karl Urban, who played the assassin in "The Bourne Supremacy," will star in "Doom" for Universal Pictures. The video game adaptation is being directed by Andrzej Bartkowiak, with Lorenzo Di Bonaventura and John Wells producing. DOOM was written by Dave Callaham. Urban will play John Grimm, the leader of a special ops team that is at the center of the futuristic action-adventure film. When dealing with alien demons, he is forced to cross paths with the organization responsible for his parents' deaths. Production is slated to begin late next month, with an Aug. 5 release planned.
---
Tuesday, September 14, 2004:
TOP 10 BEST SELLING BOOKS:
1. Jonathan Strange & Mr. Norrell
2. The Dark Tower (Dark Tower 7)
3. The Da Vinci Code
4. Angels & Demons
5. The Grim Grotto (Lemony Snicket 11)
6. Incubus Dreams (Anita Blake Vampire Hunter)
7. The Time Traveler's Wife
8. Song of Susannah (The Dark Tower 6)
9. The Wrath of Mulgarath (Spiderwick Chronicles 5)
10. The Golem's Eye (Bartimaeus Trilogy 2)
Source: Amazon.com, 9/10/04
---
POINT PLEASANT: Variety reports that Fox has ordered 12 episodes of the supernatural soap opera POINT PLEASANT from Buffy the Vampire Slayer executive producer Marti Noxon.
---
RESIDENT EVIL: It didn't take long for the producers of this week's #1 opener, RESIDENT EVIL, to start planning for a third installment to their story. According to The Hollywood Reporter, screenwriter and first EVIL director Paul W.S. Anderson always had in mind a trilogy of movies. "The first film was a prequel to the game world," explained Anderson in a recent interview. "The new movie intersects the film and game worlds. And the third movie will act as a follow-up to the games. It's a nice arc -- prehistory, in-game and then a sequel to the games." Star Milla Jovovich has already gone on record stating that she'd love to come back for a third round against the zombies. Anderson said that he already has a working title for the second sequel: RESIDENT EVIL: AFTERLIFE.
---
TRU CALLING: FOX has decided to delay the second season of TRU CALLING. In the series, Eliza Dushku portrays a medical student/morgue attendant who has the ability to go back in time to prevent untimely deaths. Originally slated to premiere Thursday, Nov. 4, the network said the show will now debut "later in the season." The non-specific time frame is usually not a good sign for a show. A FOX spokesman says, however, that "Tru" is in production, which is better news. Instead of "Tru Calling," FOX will place "North Shore" in the 9 p.m. Thursday spot after baseball's World Series concludes, pairing with "The O.C." for an all-soap lineup. The FOX spokesman says that the move is intended to build momentum on "North Shore" -- which will have the benefit of a decent lead-in in "The O.C." -- after Shannen Doherty joins the cast in late September. Unscripted offering "Trading Spouses" will move into "North Shore's" 8 p.m. Monday spot beginning Nov. 1, where it will lead into "The Swan."
---
DARKLIGHT: SCIFI Saturday comes up with some interesting movies. This Saturday, the feature is DARKLIGHT, starring Shiri Appleby ("Rosswell"). Shiri plays Lilith, an immortal demon based on mythology from the Kabbalah -- a sexy, tormented anti-heroine who becomes humanity's last hope. The movie also stars Richard Burgi ("24," "Cellular," Fox's new "Point Pleasant" series), John De Lancie (Q on "Star Trek") and David Hewlett ("Stargate: Atlantis," "Cube").
---
Monday, September 13, 2004:
TOP 10 SCIFI CHANNEL SHOWS:
Stargate SG-1 2.1
Stargate Atlantis 1.9
Vampires: Los Muertos 1.3
Deep Core 1.3
Ice 1.2
Post Impact 1.2
Epoch 1.1
Casper 1.0
Pumpkinhead 2 1.0
Raptor Island 1.0
Source: Nielsen Galaxy Report, 8/23/04 - 8/29/04.
---
WEEKEND BOX OFFICE:
RESIDENT EVIL: APOCALYPSE's debut this weekend is estimated at $23.7 million dollars in three days. The first film took in $17 million in its opening weekend, eventually going on to gross $40 M domestic, giving way to speculation of a third outing. Second place went to New Line Cinema's thriller CELLULAR which opened with $10.6 M, a little weaker than expected. Both WITHOUT A PADDLE and last week's champ HERO are still earning respectible numbers, clocking in at third and fourth place. PRINCESS DIARIES 2, in its fifth week, came in at fifth spot on the box office chart. The week's other winner has to be NAPOLEON DYNAMITE which jumped four spots to ninth overall place thanks to another expansion in its screen count. The comedy, which had a budget of less than half-a-million dollars, has now earned over $30 M and is ahead of OPEN WATER, the summer's other much-talked about indie success story. Here are the estimated box office receipts of the top twelve films:
1. RESIDENT EVIL: APOCALYPSE $23,700,000 - $23,700,000
2. CELLULAR $10,600,000 - $10,600,000
3. WITHOUT A PADDLE $4,575,000 - $45,581,000
4. HERO $4,420,000 - $41,652,000
5. THE PRINCESS DIARIES 2: ROYAL ENGAGEMENT $2,931,000 - $89,258,000
6. ANACONDAS: THE HUNT FOR THE BLOOD ORCHID $2,900,000 - $27,671,000
7. VANITY FAIR $2,750,000 - $11,232,000
8. COLLATERAL $2,700,000 - $92,674,000
9. NAPOLEON DYNAMITE $2,650,000 - $30,427,000
10. PAPARAZZI $2,600,000 - $11,835,000
11. WICKER PARK $2,550,000 - $11,113,000
12. THE BOURNE SUPREMACY $2,500,000 - $168,700,000
---
SABRINA: Paramount Pictures has signed a deal with Archie Comics Entertainment for the rights to co-produce a live-action film based on the comic book character, Sabrina, the Teenage Witch. This is also the character the Melissa Joan Hart TV series was also based. The Hollywood Reporter says Paramount will distribute the film, to be produced by Archie Comics Entertainment president Allan Grafman and CEO Chuck Grimes. Archie Comics Publications Inc. chairman Michael Silberkleit and president Richard Goldwater will serve as executive producers. "While the movie will be empowering for girls, it is going to have the action and science-fiction fantasy that appeals to boys," Grafman said.
---
DOOM: The latest word out is that The Rock is indeed starring in DOOM, the story of Space Marines fighting evil Hell-Spawned demons on a remote space station. Alongside that news is the confirmation that the Director is none other than Andrzej Bartkowiak, the man behind "Romeo Must Die" & "Cradle 2 The Grave".
---

JAMES BOND: You may remember him as the baddie in MISSION IMPOSSIBLE 3. Today, the Sunday Mirror reports that Dougray Scott has beaten an army of rivals including Eric Bana, Clive Owen and Ioan Gruffud to take over cinema's most famous role, that of MI6 agent 007 aka. James Bond. While still rumor, Scott, 38, would be the seventh actor to play Bond on the big screen.
---
Sunday, September 12, 2004:
NEWS: There isn't a lot of "new" news on any Sunday, so here is what I could find. Hope you all have a great weekend. Folks in Floria -- watch out for Ivan. Be safe.
---
MUTANT X: October 12 is the release date given by ADV Films for Mutant X: Season 2, Discs 7-8, a two-disc DVD release from the second season. Episodes featured include: "Hard Time"; "Under the Cloak of War"; "Once Around", and "Final Judgment". Extras include: interview with Lauren Lee Smith (Emma DeLauro); behind the scenes features with supervising producer Karen Wookey and Peter Mohan; a look at production design; original TV promos; image gallery; and ADV previews.
---
HARRY POTTER AND THE GOBLET OF FIRE: Two new cast members for the upcoming HARRY POTTER AND THE GOBLET OF FIRE have been named. Parvati Patil will be played by Shefali Chowdhury. Parvati is Harry's date for the Yule Ball. The part of Padma Patil, Ron's date for the Ball, will be played by Afshan Azad. The younger sister of Fleur Delacour, Gabrielle, has also been cast and will be played by Angelica Mandy (Vanity Fair). Open auditions were held for the Patil twins in London nine months ago. Filming is expected to go on until next Spring and the film hits theaters in November, 2005.
---
CRUSADE DVD - COMING DECEMBER 7
Warner Bros Home Video has announced that the Babylon 5 spinoff, Crusade will hit DVD on December 7. The series stars Peter Woodward, Gary Cole, Marjean Holden, Tracy Scoggins, Daniel Dae Kim, David Allen Brooks and Carrie Dobro. This 13 episode series (576 mins) will be released in a 4 disc set, and carries a suggested price of $59.98 US. It'll contain an English Dolby Digital 5.1 audio track, along with English, French and Spanish subtitles. The video will be presented in the original aspect ratio: 1.33:1. We have little information on the special features, just that there will be audio commentaries and a documentary.

For those of you not familiar with CRUSADE, here is a synopsis of the plot:
In 2267 the Earth is quarantined, having been infected with a deadly plague by an attacking alien force. Scientists estimate that it will kill every inhabitant within 5 years, not nearly enough time for a cure to be developed. So the planet's only hope lies with the Excalibur, an advanced prototype starship sent out to search ancient alien ruins for their former inhabitant's secrets, hoping that somewhere out there a cure can be found.
BABYLON 5 MOVIES -- AVAILABLE NOW
While there are a lot of places where you can pick up the new DVD of BABYLON 5: THE MOVIES, my favorite is CostCo. The price is hard to beat! They have a terrific on-line catalog as well.

Today, Warner Bros Home Video releases the "Babylon 5: The Movies," on DVD. This 5 disc set will contain all 5 movies as well as special features. The set will carry a $59.98 SRP and will be available in stores and online August 17th. "The Gathering" will be presented in 4:3 (original aspect ratio) while the other movies will be 16:9 anamorphic widescreen; all movies will feature Dolby Digital 5.1 tracks. The sets will be closed captioned and be subtitled in English, Spanish and French.

Each movie will contain commentary from the creator (J. Michael Straczynski), cast and crew, as well as an introduction for each movie by JMS. Rounding out the special features is the featurette, "Creating the Future - How Science Fiction and the show influenced each other."

The Gathering (1993): Alien envoys come to the giant space station in the pilot that launched the five-year TV series.

In the Beginning (1998): The B5 prequel! It's humans vs. aliens in the battle that led to the station's creation.

Thirdspace (1998): Is there a realm beyond hyperspace? Discovery of a million-years-old gateway technology may hold the answer...and more.

River of Souls (1998): After death, then what? Questions of eternity arise when a supposedly infallible harvester of souls proves to be very fallible.

A Call to Arms (1999): The torch is passed. A race against time to save Earth links the B5 mission with the Rangers' new interstellar efforts.

For more information on Babylon 5 DVDs, go to Babylon 5 DVDs.
---
DISCUSSION TOPICS
What do you/did you find the most fascinating about BABYLON 5? Story? Characters? Visuals? What brought you back week after week to see the show?

Send in your thoughts and comments to sgbruckner@aol.com. I post them on the Discussion Page for everyone to share and enjoy. See what has come in so far. If you see an old topic you want to respond to, go right ahead. We enjoy hearing from you.
REMEMBERING RICHARD BIGGS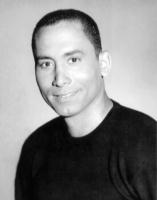 BIGGS AND CARTER EXPERIENCES DVD
Copies of the BIGGS AND CARTER EXPERIENCES DVD are no available at http://www.pipetap.com/dvd.htm. All proceeds from the sale of this DVD (which includes a personalized autograph from Jason Carter) will be donated to the RJ & Hunter Biggs Educational Trust Fund.

Additional items have been donated to the fund raising efforts, please visit http://www.biggsandcarter.com for new additions.

Jason and Donna would also like to thank everyone for their support and donations for the RJ & Hunter Biggs Educational Trust Fund at this year's DragonCon event.

Ranger Jan has come up with a wonderful way for raising funds for the Richard Biggs Memorial. Read on and decide which package you want to bid on!

The latest phase of my fund raising for Richard Biggs children is ready to unveil. So many people have donated so many wonderful things that I've put together six Prize Packages that I'll be raffling off. Simon from www.starstuff.co.uk/ has put up a *really* nice website at http://rbiggsmemorial.starstuff.co.uk so that anybody anywhere can buy chances to win the prize packages I've put together.

The drawing will be held on November 15 which should give me time to get items to the winners in time for Christmas.

Chances will be priced $5 each, 3 chances for $10, 6 chances for $20 or 10 chances for $30. Each chance can be designated for whichever drawing the buyer wants.

Be sure to check out the packages at Richard Biggs Memorial Page.
KEEPING UP WITH CAST AND CREW
PAT TALLMAN: Check out Pat Tallman (Lyta in Babylon 5) in BODY ELECTRIC. There is a clip at http://www.bfofilmco.com/ for your viewing enjoyment. The movie will preview at Shockerfest in Modesto, Calif.
DATE: Saturday, September 25, 2004
TIME: 6 PM
WHERE: Stanislaus River Room -- Modesto Centre Plaza (K St between 9th and 10th St.)
Ticket prices $15 for all day.
---
JASON CARTER: News from the Jason Carter Fan Club:
Jason's birthday is 09/23. Want to send him a special greeting? Drop a line to jcbirthday@pipetap.com
Principle photography has ended for the film "Dixon Maison" (where Jason has been cast as Dixon Maison) and Jason shot his last scene on 08/27. The film is in post-production and being prepared for the upcoming Sundance Film Festival. The Official Jason Carter Fan Club has 2 screen shots from the raw footage (with more on the way) posted at www.jasoncarterfanclub.com.
Jason has also completed shooting the upcoming film, Dead End Road (where Jason has been cast as the lead Raven). More information to be released soon.
---
GARY COLE: Gary has been nothing but busy since leaving the role of Capt. Gideon on B5's CRUSADE. Gary stars as Jerry "The Blade" in POP ROCKS, premiering Sept. 10 on ABC Family. The story follows Jerry as financial circumstances force him to return to his heavy metal rock band past -- and try to keep his secret from his family. You can read more about Gary's new show at http://abcfamily.go.com/poprocks/. Gary is also in MOZART AND THE WHALE with Josh Hartnett. This film is due out in December and follows a couple with Asperger's Syndrome who fall in love. (Asperger's is a form of autism, one of Gary's special interests.)
---
SPECIAL CAST ACTIVITY
PAT TALLMAN
For years, Pat Tallman has been involved with the Penny Lane Organization. The provide social services for abused children. On October 23 at 6:00pm, VOICES OF OUR CHILDREN, takes place at the Center at Cathedral Plaza, L.A. This year's honorees include Marg Helgenberger and Alan Rosenberg. This is an event where celebrated Film and Television Actors gather to read poems and diary entries from the lives of abused , abandoned and neglected children served by Penny Lane. Tickets are $125/person; $1,200/table of 10. Visit the Penny Lane website for more info.

Patty will be gearing up for her BE A SANTA program in October, so get ready. Pat wants to again make sure that each child at the PENNY LANE facilities has a Christmas gift. More details will follow.

Patricia Tallman is looking for any recordings of her speaking appearances at conventions. She will reimburse anyone who can send in a video or DVD of Pat telling stories at a convention. She will also send along a new autographed photo (one that no one has yet) and will pay postage and the cost of the vide tape. Here is an address you can use to contact Pat:
Patricia Tallman
6433 Topanga Canyon Blvd. #207
Canoga Park, CA 91303
CRUISIN' WITH BABYLON 5
STEPHEN AUSTIN: Stephen Austin (B-5's "Pak'Ma'Ra Ambassador") along with comedy legends Vic Dunlop and Bruce Baum, Stephen will be cruising the Caribbean and he wants YOU to join the fun!!! Here are the details:
Departing March 6-13, 2005
The Carnival V a lor
Sailing roundtrip from Miami Florida
visiting Belize, Isla Roatan, Grand Cayman, and Cozumel
http://www.cruiseevents.net/dunlop/index.htm.
---
CRUISE WITH PETER WOODWARD
Peter Woodward sent along a reminder about his cruise:
"Just wanted to say hello to my fans and friends out there, and tell you the latest on my Caribbean Cruise plans, January 9-16 of 2005. I will be giving live teaching sessions with medieval weapons from the Conquest series, and we'll be talking about B5/Crusade and the Sci-fi universe, and uncensored stuff about Egypt. Booking is going well, and we are sailing on Holland America's Westerdam, roundtrip from Fort Lauderdale to Nassau, St Marteen, Tortola, and Half-Moon Cay."

For more information, go to http://www.cruiseevents.net/celebrity.htm and then press Peter's photo. Space is limited! Don't delay, call today! 800-695- 5253 or e-mail: Susan@CruiseEvents.net.
---
JERRY DOYLE RADIO SHOW
Here's the latest from Jerry:
For the radio show, Talk Radio Network is building a new site and will have jerrydoyle.com up and running soon. It will tie into the talkradionetwork.com site as well.

The M-F show launches this coming Monday(5th), 7-10P PST. The call in number is 800/449-8255. Spread the word and give a call if you've got something to plug. I'll still be doing the Saturday show, 8-11P PST. Same phone number for that too. All the best.

All the best.
JD
---
BABYLON 5 BIRTHDAYS
Pat Tallman - September 4
Cinzia Zanetti - September 5
Robin Atkin Downes - September 6
Mira Furlan - September 7
Walter Koenig - September 14
Paul Williams - September 19
Robert Rusler - September 20
Gary Cole - September 20
Bear Burge - September 23
Jason Carter - September 23
Manny Case - September 23

Have I missed anyone? If you know the birthday of someone connected with Babylon 5, pass the information along. We want to include everyone in our Happy Birthday Wishes.
STARGATE SG-1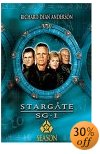 Season 7 of STARGATE SG-1 will be released on DVD October 19, 2004. The set can be pre-ordered at places like Amazon.com.









SEASON SIX DVD
Season six of STARGATE SG-1 is now available. Amazon has had this DVD on their top 10 list for weeks. The DVD boasts incredible special effects sequences, rapid-fire pacing and awesome scenes of alien warfare, this all-new five-disc set of Stargate SG-1 is your gateway to pulse-pounding sci-fi action!

Special features include audio commentary for each episode and twelve "SG-1 Directors Series" featurettes!

For more details and to watch the trailer, go to http://www.mgm.com/title_title.do?title_star=XXXSETSTARGAT6.
SCIENCE FICTION PUBLICATIONS
Cult Times Special #31: STARGATE: This issue looks like a keeper for STARGATE fans. There are interviews with Richard Dean Anderson, Michael Shanks, Brad Wright, Stargate Atlantis cast and crew as well. JEREMIAH's Scott Rosenberg talks about season two and what is ahead.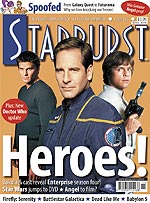 Starburst #315: Heroes: This 116 page issue focus on heroes! Scott Bakula talks about his role as Captain Archer on Star Trek: Enterprise and the new season ahead. You'll also get a look at some new series ahead --LOST, BATTLESTAR GALACTICA and DR. WHO 2005! B5/CRUSADE's Carrie Dobro also looks back on her time in these two fine shows, as well as pondering why Sci-Fi produces strong female characters.
AMAZING STORIES: An old favorite is returning to newstands! Amazing Stories returns with a September 2004 issue. Amazing Stories is one of the most beloved magazines in the history of science fiction. Launched in 1926 under the watchful eye of legendary editor Hugo Gernsback, Amazing Stories introduced generations of fans to exciting adventure and equally exciting cover art. The magazine was published regularly (as a monthly, bimonthly or quarterly) all the way up to 1995. It was revived briefly as a quarterly by Wizards of the Coast (WotC) in 1998 but couldn't make it past the summer of 2000. Now WotC and Paizo Publishing have revived Amazing Stories yet again with the "first issue of the 21st century!" - issue #603 (September 2004), a slick magazine-sized monthly that hit newsstands on August 3, 2004. This new Amazing promises a much wider range of subject matter than its previous incarnations. This isssue includes 20 pages of original fiction from luminaries such as Harlan Ellison, Gene Wolfe and Bruce Sterling, it is also packs in news, reviews and interviews covering feature films, DVDs, books, comics - even genre-related music CDs.
---
Cult Times #108: SMALLVILLE: Jeph Loeb talks about the upcoing fourth season of SMALLVILLE. With the upcoming premiere of FARSCAPE: PEACKEEPER WARS, star Ben Browder chats about returning to FARSCAPE. Producers Robert C. Cooper and Andy Mikita talk about the changes ahead for the eighth season of STARGATE SG-1.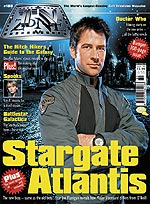 Time Zone Special #180: STARGATE ATLANTIS: In this 100 page issue, you'll have a chance to learn more about Joe Flanigan, who steps into the role of Major John Sheppard on STARGATE ATLANTIS. Emmy award-winning special effects/prosthetics artist and guru Todd Masters takes us to the strange and unusual worlds of ATLANTIS, and the new deadly aliens found there. Also in this issue, a photo report from the production at the BBC of DOCTOR WHO.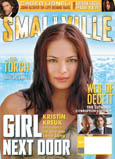 Smallville Issue #3: In Smallville Magazine this month we are joined by everyone's favorite girl next door, Lana Lang! Actress Kristin Kreuk will be telling us all about life, love, and Smallville. In the latest edition of The Torch we'll be keeping you up-to-date with the most up-to-the-minute Smallville news. We'll be unearthing the dark secrets of LuthorCorp and John Glover reveals how Lionel Luthor is coping with life behind bars! Plus there's a free, gorgeous Lana Lang poster! (Titan) (CAUT: 4)

NEWSSTAND COVER..........$5.99
PREVIEWS EXCLUSIVE COVER..........$5.99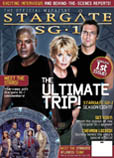 Stargate Issue #1: This is the launch of Stargate SG-1 the official magazine! Follow the missions, exploits, and adventures of the U.S. Air Force special operations team SG-1. In the first issue we'll have exclusive interviews with cast and crew, tour the set, and learn the secrets behind the special effects! Plus, get the inside story on Season 8 and meet the Stargate: Atlantis team! (Titan) (CAUT: 4)
Magazine, 68pgs, FC..........$6.99
Doctor Who Magazine reaches its 350th issue, and celebrates with a free reprint of "Doctor Who Weekly" issue #1 from 1979! The magazine is still the only official source for news, features, interviews and full-color comic strip action devoted to BBC Television's immortal traveller in time and space ... In this issue, all the latest from the new BBC One series, with exclusive reports and interviews! Meanwhile, Alan Barnes takes a look back to the story that was shown exactly 25 years ago, as The Fact of Fiction examines "City of Death"! Doctor Who Magazine speaks to the writers of the new series about the task of reinventing the Doctor for the 21st century! Gareth Roberts and Tat Wood return with the answers to more intriguing Doctor Who mysteries! The Time Team continue their quest to watch every single "Doctor Who" adventure, as they face "The Seeds of Doom"! There's yet more hints and news from Executive Producer Russell T Davies as he documents the making of the new series in his "Production Notes" column! And there's the fifth part of the epic comic strip, "The Flood" by Scott Gray, Martin Geraghty, and Adrian Salmon! (Panini Publishing Ltd) (CAUT: 4)
Magazine, FC..........$6.80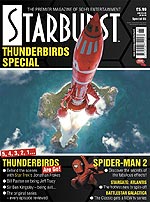 Starburst Special #65: This issue has a lot of information about the new THUNDERBIRDS movie. You go behind the scenes with Director Jonathan (Star Trek) Frakes, young stars Brady Corbet, Vanessa Anne Hudgens and Soren Fultobn who play Alan, Tin Tin and Fermat and Sir Ben Kingsley, aka 'The Hood' and Sophia (Lady Penelope) Myles and Ron (Parker)Cook. The magazine looks at the the CGI effects and the costume designs as well. You'll also find articles on STARGATE ATLANTIS as Producer Peter Deluise talks about working on the series, and actors Torri Higginson, Rachel Luttrell and Rainbow Sun Francks chat about their roles on the new Stargate team.
Expose #88: In this issue, HARRY POTTER, Daniel Radcliffe, talks about working with new directors and growing up as he looks ahead to The Prisoner of Azkaban, and beyond. Also, Ian Spelling catches up with Hagrid, alias Robbie Coltrane.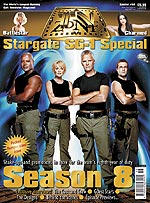 TV Zone Special #58: You will get a guide to the first part of Stargate SG-1's eighth season, complete with cast and crew interviews – and a look at the making of the new spin-off series Stargate Atlantis. Also Battlestar Galactica 2004 -- Commander William Adama, Edward James Olmos, takes the battle to the Cylons – and deals with family issues – in the continuing revival of the classic Sci-Fi show.
Expose Special #26: This 88-page Special edition brings you a comprehensive retrospective of ANGEL's five years on the air. THE DEAD ZONE's Sarah Wynter talks about playing the newest addition to the spooky paranormal series, psychologist Rebecca Caldwell, and tells us what's in store for the character and ALIAS' Alias executive producer Jesse Alexander tells us what shifting allegiances and convoluted plotting we can expect to see in the forthcoming Season Four of the hit spy series.
BABYLON 5 MERCHANDISE
Are you looking for Babylon 5 merchandise? Would you like to possess some of the wonderful patches or pins sold by the B5 Fan Club? Do you want to put in an order for the latest DVD? Bruce at Uncomyn Gifts still has one of the best collections around. Check out www.uncomyngifts.com. You may just find the magazine or t-shirt or patch you are looking for.
---
BABYLON 5 INTERVIEWS ON VIDEO
Ranger Mark was Dragon-Con's OFFICIAL videographer for 1998 and 1999. He has pulled together a series of interviews from various conventions over the past 10 years available and they are now available on e-bay. This includes footage from Dragon-Con with Peter Jurasik hosting the Dawn Look a Like Contest , and 2 panels of the B5ers, one all women the other the men. There is now a 2-hour tape devoted to BABYLON 5 cast members, including two interviews with the late Richard Biggs.

Mark's Ebay page is http://stores.ebay.com/markscelebrityinterviews and his text page is http://members.tripod.com/cosmicmc/. If you are interested, drop over and give this a look-see.

For those of us who have enjoyed going to DragonCon over the last few years, these tapes will be especially enjoyable. They will bring back memories -- that can be shared.
---
NEW ON THE BOOK SHELVES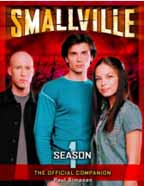 Titan Books has announced a September release for the first in a series of Smallville companion books, the first of which focuses on Season 1.

The book's author is Paul Simpson, with a foreword by executive producers Al Gough and Miles Millar.

The Season 2 Companion will be released in early 2005, with Seasons 3 and 4 to follow before the end of the year.
BABYLON 5 NOVELS
DelRey is reprinting the original Babylon 5 novels. They started with #7 - Jeanne Cavelos' THE SHADOW WITHIN. Here's one I've been waiting for -- Kathryn Drennan's TO DREAM IN THE CITY OF SORROWS. The release date is scheduled for July 29, 2003. I love the new cover art! It can be pre-ordered from www.amazon.com. For those of you who love Babylon 5, this one reads just like an episode from the series. You just can't put it down.




CITY OF DREAMS
For those of you who have just joined us here at The Zocalo Today, you may want to check out The City of Dreams over at the SciFi Channel website. J. Michael Straczynski, the creator of Babylon 5, worked with Seeing Ear Theatre at SciFi to bring an exclusive, all-new audio drama anthology series featuring tales of dreamers, madmen and fanatics. If you haven't listened to the stories, you'll not want to miss them. If you haven't listened in a while, you will want to go back and listen again.
BOOK REVIEWS
Here is a new feature for your enjoyment. I received some new book reviews that I've posted on a separate Book Review Page. Let me know if you enjoy this new feature -- and we'll continue to offer them as they are received. Agree with the review? Disagree? We can post those as well.

Other science fiction material, outside of the B5 environment can be found on the Materials Page.
COMIC BOOKS
RISING STARS RETURNS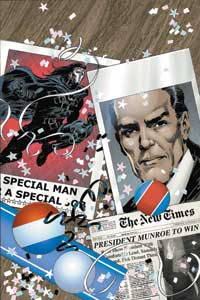 RISING STARS #22
by J. Michael Straczynski & Brent Anderson
"Phoenix In Ascension" Pt. 1 of 3. J. Michael Straczynski's superhero tour-de-force returns and speeds toward its whipsaw conclusion! The superpowered "Specials" set out to change the world. Now that one of the Specials is elected President of the United States, the world will change...whether it wants to or not!
FC, 32pg..........$2.99

Saw this in the B5 moderated newsgroup and thought I would pass it along:
http://previews.diamondcomics.com/support/previews_docs/orderforms/cof.txt
AMAZING SPIDERMAN
AMAZING SPIDER-MAN #514
Written by J. Michael Straczynski, art and cover by Mike Deodato.
"Sins Past," part 6 of 6. All is revealed in the pulse-pounding conclusion to "Sins Past"!
32 pages, $2.25, in stores on Nov. 24.
AMAZING SPIDER-MAN #513 "Sins Past," part 5 of 5. The worst defeat that Peter Parker ever endured -- a moment frozen in the minds of Spider-Man fans everywhere -- was supposed to be far in his past. But now, two villains -- ripped, perhaps, directly from that very moment -- have emerged, and they threaten to destroy everything that he holds dear.

32 pages, $2.25, in stores on Oct. 27.

AMAZING SPIDER-MAN #512
Written by J. Michael Straczynski, art and cover by Mike Deodato.

"Sins Past," part 4 of 5. The worst defeat that Peter Parker ever endured -- a moment frozen in the minds of Spider-Man fans everywhere -- was supposed to be far in his past. But now, two villains -- ripped, perhaps, directly from that very moment -- have emerged and they threaten to destroy everything that he holds dear.

32 pages, $2.25, in stores on Sept. 29.

"'Sins Past,' part 2 of 6. The second part of a Spider-Man arc that will have people talking for years. Featuring art by new series regular Mike Deodato."
SUPREME POWER
SUPREME POWER #13
Written by J. Michael Straczynski, art and cover by Gary Frank.
"The Squadron," part 1 of 6. In their first adventure as a team, Hyperion, Blur and Nighthawk -- the newly formed Squadron -- encounter a super-powered serial killer! But will they live long enough to stop him?

32 pages, $2.99, in stores on Oct. 27.
STRANGE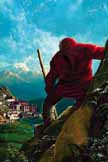 Strange #1 will arrive in stores on Sept. 15 from Marvel Comics. The issue is written by J. Michael Straczynski and Samm Barnes, with art and cover by Brandon Peterson.

Here's how Marvel describes the issue:
" The master of the mystic arts is back -- as only J. Michael Straczynski and superstar artist Brandon Peterson could envision him. Brash young surgeon Dr. Stephen Strange is on a collision course with destiny -- a journey that will force him to search the deepest corners of his own heartŠand the outer reaches of the cosmos."

Strange #1 will be 32 pages and will cost $3.50.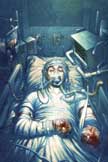 STRANGE #2
Written by J. Michael Straczynski and Samm Barnes, art and cover by Brandon Peterson.
Brash young surgeon Dr. Stephen Strange is on a collision course with destiny -- a journey that will force him to search the deepest corners of his own heart...and the outer reaches of the cosmos. The adventures of the Master of the Mystic Arts in the year's most highly anticipated origin story.

32 pages, $3.50, in stores on Oct. 13.
DOCTOR SPECTRUM
DOCTOR SPECTRUM #3
Written by Samm Barnes, art by Travel Foreman, cover by Dale Keown, creative consultant J. Michael Straczynski.

Part 3 of 6. From the pages of Supremere Power, the limited series that reveals the dark secrets of Joe Ledger¹s past. And while figures from Dr. Spectrum¹s past continue to haunt him, the government searches for a way to solve the Hyperion problem.

32 pages, $2.99, in stores on Oct. 13.

AMAZING FANTASY
Amazing Fantasy #3 will arrive in stores on Wednesday from Marvel Comics. The issue is written by Fiona Avery, with art by Roger Cruz and a cover by Mark Brooks.

Here's how Marvel describes the issue:
"Enough with the questions -- now it's time for some answers! Marvel's newest heroine confronts the tall, dark, and mysterious stranger who¹s been shadowing her every move. The secret she's about to learn has a history far bigger and far older than anything she's ever dreamed -- so how exactly does a scrappy girl from Brooklyn figure in? "

Amazing Fantasy #3 will be 32 pages and will cost $2.99.
TV SCHEDULE ON SCIFI CHANNEL
BABYLON 5 and CRUSADE are not currently listed on any SCIFI schedule. STARGATE SCHEDULE: 09/20/2004 06:00 PM STARGATE SG-1 SOLITUDES
09/20/2004 07:00 PM STARGATE SG-1 DOUBLE JEOPARDY
09/20/2004 08:00 PM STARGATE SG-1 EXODUS - PT 1
09/20/2004 09:00 PM STARGATE SG-1 ENEMIES - PT 2
09/20/2004 10:00 PM STARGATE SG-1 THRESHOLD - PT 3
09/21/2004 06:00 PM STARGATE SG-1 IN THE LINE OF DUTY
09/22/2004 06:00 PM STARGATE SG-1 PRISONERS
09/23/2004 06:00 PM STARGATE SG-1 GAMEKEEPER
09/24/2004 06:00 PM STARGATE SG-1 NEED
09/24/2004 08:00 PM STARGATE SG-1 SERPENT'S SONG
09/24/2004 09:00 PM STARGATE SG-1 (SEASON 8) NEW ORDER - PT 1
09/24/2004 10:00 PM STARGATE ATLANTIS RISING - PT 1
09/24/2004 11:00 PM STARGATE SG-1 (SEASON 8) NEW ORDER - PT 1
09/24/2004 12:00 AM STARGATE ATLANTIS RISING - PT 1
09/25/2004 06:30 PM MOVIE STARGATE
09/27/2004 06:00 PM STARGATE SG-1 THOR'S CHARIOT
09/27/2004 07:00 PM STARGATE SG-1 ENTITY
09/27/2004 08:00 PM STARGATE SG-1 ASCENSION
09/27/2004 09:00 PM STARGATE SG-1 THE FIFTH MAN
09/27/2004 10:00 PM STARGATE SG-1 RED SKY
09/28/2004 06:00 PM STARGATE SG-1 MESSAGE IN A BOTTLE (STARGATE)
09/29/2004 06:00 PM STARGATE SG-1 FAMILY
09/30/2004 06:00 PM STARGATE SG-1 SECRETS (STARGATE)

STARGATE ATLANTIS SCHEDULE:

09/24/2004 10:00 PM STARGATE ATLANTIS RISING - PT 1
09/24/2004 12:00 AM STARGATE ATLANTIS RISING - PT 1
10/01/2004 10:00 PM STARGATE ATLANTIS RISING - PT 2
10/01/2004 12:00 AM STARGATE ATLANTIS RISING - PT 2
10/08/2004 10:00 PM STARGATE ATLANTIS HIDE AND SEEK
10/08/2004 12:00 AM STARGATE ATLANTIS HIDE AND SEEK
10/15/2004 10:00 PM STARGATE ATLANTIS SUSPICION
10/15/2004 12:00 AM STARGATE ATLANTIS SUSPICION
10/22/2004 10:00 PM STARGATE ATLANTIS CHILDHOOD'S END
10/22/2004 12:00 AM STARGATE ATLANTIS CHILDHOOD'S END
10/29/2004 10:00 PM STARGATE ATLANTIS POISONING THE WELL
10/29/2004 12:00 AM STARGATE ATLANTIS POISONING THE WELL

FARSCAPE SCHEDULE:

09/19/2004 01:00 AM FARSCAPE TAKING THE STONE
09/23/2004 03:00 AM FARSCAPE I SHRINK THEREFORE I AM
09/23/2004 04:00 AM FARSCAPE A PREFECT MURDER
09/23/2004 05:00 AM FARSCAPE COUP BY CLAM
09/26/2004 01:00 AM FARSCAPE CRACKERS DON'T MATTER
09/30/2004 03:00 AM FARSCAPE UNREALIZED REALITY
09/30/2004 04:00 AM FARSCAPE KANSAS
09/30/2004 05:00 AM FARSCAPE TERRA FIRMA
10/01/2004 08:00 AM FARSCAPE PREMIERE (FARSCAPE)
10/01/2004 09:00 AM FARSCAPE BACK & BACK TO THE FUTURE
10/01/2004 10:00 AM FARSCAPE EXODUS FROM GENESIS
10/01/2004 11:00 AM FARSCAPE THRONE FOR A LOSS
10/01/2004 12:00 PM FARSCAPE PK TEK GIRL
10/01/2004 01:00 PM FARSCAPE THANK GOD IT'S FRIDAY AGAIN
10/01/2004 02:00 PM FARSCAPE I, E.T.
10/01/2004 03:00 PM FARSCAPE THAT OLD BLACK MAGIC
10/03/2004 01:00 AM FARSCAPE PICTURE IF YOU WILL
10/04/2004 08:00 AM FARSCAPE DNA MAD SCIENTIST
10/04/2004 09:00 AM FARSCAPE THEY'VE GOT A SECRET
10/04/2004 10:00 AM FARSCAPE TILL THE BLOOD RUNS CLEAR 10/04/2004 11:00 AM FARSCAPE A BUG'S LIFE
10/04/2004 12:00 PM FARSCAPE RHAPSODY IN BLUE
10/04/2004 01:00 PM FARSCAPE THE FLAX
10/04/2004 02:00 PM FARSCAPE JEREMIAH CRICHTON
10/04/2004 03:00 PM FARSCAPE DURKA RETURNS
10/05/2004 08:00 AM FARSCAPE A HUMAN REACTION
10/05/2004 09:00 AM FARSCAPE NERVE
10/05/2004 10:00 AM FARSCAPE THE HIDDEN MEMORY
10/05/2004 11:00 AM FARSCAPE THROUGH THE LOOKING GLASS
10/05/2004 12:00 PM FARSCAPE BONE TO BE WILD
10/05/2004 01:00 PM FARSCAPE FAMILY TIES
10/05/2004 02:00 PM FARSCAPE DREAM A LITTLE DREAM
10/05/2004 03:00 PM FARSCAPE MIND THE BABY
10/06/2004 08:00 AM FARSCAPE VITAS MORTIS
10/06/2004 09:00 AM FARSCAPE TAKING THE STONE
10/06/2004 10:00 AM FARSCAPE CRACKERS DON'T MATTER
10/06/2004 11:00 AM FARSCAPE PICTURE IF YOU WILL
10/06/2004 12:00 PM FARSCAPE THE WAY WE WEREN'T
10/06/2004 01:00 PM FARSCAPE HOME ON THE REMAINS
10/06/2004 02:00 PM FARSCAPE OUT OF THEIR MINDS
10/06/2004 03:00 PM FARSCAPE LOOK AT THE PRINCESS PT 1: A KISS IS BUT A KISS
BABYLON 5/CRUSADE PHOTOSHOP PHOTOS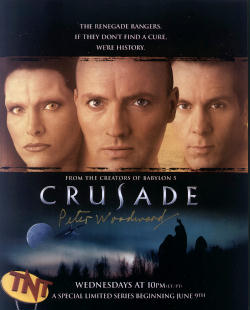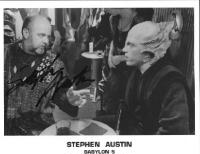 Peter Woodward has sent along a new photo -- a rather dreadful one -- from his appearance on CHARMED. It will be added to the collection of photos available from Peter, including additional copies of the Crusade poster in photo format. Both are autographed by Peter. You do NOT have to pay the prices asked for over at e-bay! Here are photos of B5 and Crusade cast members at fantastic prices. Check out Photo Shop. Ordering is easy -- and you can't beat the prices! Just let me know which photos you want and I'll check to make sure they are still in stock.
---
BABYLON 5 TOONS
John Cook has a wonderful collection of cartoons -- many are take-offs from Babylon 5. Here's just one of them.

He has a cartoon caption contest going on as well. Try your hand at a punch line.

Go to http://contests.sev.com.au/index.php?contestid=1




SCI-FI CARTOONS
While catching up on my e-mail yesterday morning, I got an instant message from LFMOA along with a nice goodie that I can share with readers. Thanks for sending along your version of Pinky and the B5 Brain.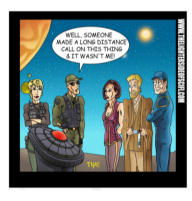 Tye Bourdony's latest Lighter Side of Sci-Fi satire can be seen here and at Tye's website www.thelightersideofscifi.com.








FAN CLUBS
Intergalactic Consortium

To anyone who lives in and or in the area of Toronto, Ontario, Canada I would like to invite you to attend or Join the Intergalactic Consortium. The I.C. is a new science fiction / fantasy group. We generally meet on the last Saturday of every month and generally do not collect any dues. WE are always looking for new members. If you have any questions, need more information or anything else please feel free to e-mail torsf@yahoo.ca or visit our yahoo group at http://ca.groups.yahoo.com/group/Intergalactic-Consortium/ Hope to hear from some of you.

United Federated Planets

The Babylon 5 Sector of United Federated Planets The Babylon 5 Sector is a chartered branch of United Federated Planets (UFP); a not-for-profit fan club for all fans of Star Trek, science fiction and fantasy. We've been part of UFP almost from the time the series first went on the air. We welcome all fans of Babylon 5--from the series & TV movies, to "Crusade" & "Legend of the Rangers," to the literary works in between. Our parent organization, UFP, has its roots in Star Trek & the late Gene Roddenberry's vision of the future; which includes community service along with social & fan-related activities. Our sector takes those ideas and puts them into the Babylon 5 universe that J. Michael Straczynski created. We're here for fellowship, good times, service and, in a way, living the fantasy that is Babylon 5. To that end, we enjoy role-play via the written word & live action; costuming; discussions; literary works; and anything else that we can imagine. No matter what you're interested in, we can accomodate you. We have positions currently available on the sector staff--EarthDome, EarthForce and the Alliance; chapter opportunities limited only by your imagination; and ways for you to live out your Babylon 5 fantasy. You can even be part of the B5 station staff! Our sector staff is available to answer your questions about what we do, how to join, how to start a B5 chapter, and more. To contact us, visit www.ufphq.com/chain_of_command.htm. In addition, we also put out a newsletter called "Voice of the Alliance." This newsletter--available in electronic & hard copy formats--informs our sector members with staff reports, upcoming events, available staff positions, chapter activities and more. For a sample copy of "Voice of the Alliance" contact our editor, Anne Zecca, via our website www.ufphq.com/babylon5sec.htm ("Chain of Command").

Membership in United Federated Planets is required to join UFP's Babylon 5 Sector. For information on joining UFP, contact:
Mike Ferguson, President/CEO
United Federated Planets
300 W. Oak Street
Midwest City, OK 73110 USA
E-Mail: mikeferg1@yahoo.com
Organization Website: www.ufphq.com
SubSpace Newsletter (on-line): www.ufphq.com/current.htm
Application: www.ufphq.com/application.htm (on-line version available)
Chapter Application: www.ufphq.com/chapterApp.htm (on-line version available)

For more information, go to the Clubs Page.

United Federated Planets (UFP) has a Rick Biggs memorial page set up at the following address:
http://www.ufphq.com/rick_biggs.htm

STAR TREK CLUB VENEZUELA

Ranger Andres dropped a note to say that a new club has been formed -- Star Trek Club Venezuela. It is small right now, but they are ready for recomendations, opinions, and/or any other comments.

This is the last update of our 1st Expo in November 2004. This event will take place in the Best Western Hotel CCCT Caracas. Visit their site at www.trekvenezuela.net for more information.

We have a number of Fan Clubs listed here at the Zocalo. They are those associated with a particular actor -- and there are those devoted to Babylon 5 or science fiction. Be sure to check out the Clubs Page to see if there is an organization near you.
CONVENTION CALENDAR
October 1-3, 2004
Sunnydale Central 3 - a Buffy/Angel/Firefly event
Place: Toronto, Ontario, Canada
Guests: Clare Kramer "Glory" from Buffy the Vampire Slayer, Jonathan M. Woodward "Tracey" from Firefly" ("Holden" from BtVS, and Knox" from Angel), and assistant costume designer from "Angel", Carrie Grace.
For more information, check out their website at www.primedia.ca/sunnydale.
---

October 22-24 2004
Slanted Fedora
Place: Salt Lake City, UT
B5 Guests: Mary Kay Adams, Jason Carter
Other Guests: Garrett Wang, Robin Curtis, Robert O'Reilly, J.G. Hertzler, Max Grodenchik, Aron Eisenberg, Casey Biggs, Tony Amendola, Julie Benz, Greg Evigan, Dee Wallace Stone
For more information, visit their website at http://sfedora.com/salt_lake_city.htm.
---

October 29-31 2004
Vulkon
Place: Sheraton Nashville Downtown
Guests: Kate Mulgrew, George Takei, Garrett Wang
For more information, visit their website at http://www.vulkon.com/nashvillescifi2004/.
---

November 19-21, 2004
Vulkon
Place: Orlando North Hilton
Altamonte Springs, FL
B5 Guest: Peter Jurasik
Other Guests: Leonard Nimoy, Kevin Sorbo, Gary Lockwood, Keir Dullea
For more information, visit their website at http://www.vulkon.com/orlandoscifi2004/.
---

November 26-28, 2004
Slanted Fedora
Place: Indianapolis, IN
Site: Indianapolis Omni North
B5 Guests: Mary Kay Adams
Other Guests: Garrett Wang, Robin Curtis, Robert O'Reilly, J.G. Hertzler, Max Grodenchik, Dwight Schultz, Aron Eisenberg, Casey Biggs, Tony Amendola, Julie Benz, Greg Evigan, Dee Wallace Stone
For more information, visit their website at http://sfedora.com/rochester,_ny.htm.
---

Be sure to visit the referenced sites to see if there have been changes in dates/guests attending. Visit our Convention Calendar for a full listing of upcoming conventions.
MAIL FOR CAST AND CREW
Here's a recent note from JMS on the subject:

Just an FYI to those who've been using the Ventura Blvd. mail drop for fan mail to actors....

As mentioned before, we're phasing out the forwarding of fan mail because we a) don't have the resources, complicated by b) the actors have scattered to the four winds, and it makes it very difficult to get everything to everybody in a timely fashion.

So, having provided prior notice...fan mail to actors coming to the Ventura Blvd. mail drop will be sent back. Mail to actors should be sent via their official fan clubs. I will still be taking mail there, since it's my mailbox, but that's it.

Just so's y'all know and save a few bucks on postage and returns.

WARNER BROS:

Warner Bros. Address:

Warner Bros. Domestic Television Distribution
4000 Warner Blvd.
Burbank, CA 91522

Warner Home Video:

Mr. Douglas Wadleigh
VP for Marketing and Special Features
Warner Bros.
4000 Warner Blvd.
Burbank, CA 91522

SCIFI:
Mr. Thomas Vitale
Senior VP of Acquisitions, Scheduling & Program-Planning

Sci-Fi Channel
1230 Avenue of the Americas
New York, NY. 10020-1513
BACK ISSUES OF THE ZOCALO TODAY
The front page of the The Zocalo Today changes daily, so be sure to check the back issues to make sure that you haven't missed anything IMPORTANT! I don't want the front page getting too long so I shift information periodically into the archives. So if you aren't a regular visitor to The Zocalo Today, be sure to check out the back issues. Just use the button above!
---
Take care and I look forward to hearing from you.
Sandra Bruckner (sgbruckner@aol.com)
Editor/Publisher
The Zocalo Today
http://www.isnnews.net
Copyright - SBruckner, 1999-2004
Search Engine Optimization