[an error occurred while processing this directive]

The Zocalo Today

Welcome and thank you for dropping by. Take your shoes off, get comfortable and stay a while. There is a LOT of information here and you won't want to miss any of it.

The Zocalo Today is an interactive newsletter, encouraging readers to join a discussion topic or to send along letters that can be shared with other readers.

If you have suggestions as to how The Zocalo can be improved -- or be more responsive -- send them along. The Zocalo Today is a newsletter for Babylon 5 fans everywhere. It is as much YOUR newsletter as it is mine! I'm just pulling together things for you!

Join our discussion topic. It is just one way you can share with other Z readers. If you see Babylon 5 cast and crew in other roles, let us know. We enjoy convention reports, photos, etc. Don't miss our back issues. I hope this will become more than just a newsletter. It's a community of people that enjoy sharing their experiences and interests. Babylon 5 brought many of us together -- and it remains with us, despite the fact that is no longer in production. Don't be shy. Join us today!

If you have questions, drop me a line at sgbruckner@aol.com. If you would like to join the mailing list for our newsletter, send me a note and I'll include you on the list. Or you can use the subscription block at the left.

Again, WELCOME!




What's New Today
Friday, September 26: BLADE: TRINITY: Parker Posey has just been cast as a vampire in the upcoming BLADE: TRINITY. No word on what her character's name is yet or what role she might play in the film's storyline. Posey joins Wesley Snipes, Kris Kristofferson, Jessica Biel, Ryan Reynolds, Dominic Pursell and wrestling star Triple H in the film. Director David Goyer will get production moving before the end of the month.
---
INDIANA JONES: A new site has been opened for Indiana Jones, including information about the upcoming DVD (available October 21), games, an Indy scrapbook and much more.
---
LOST IN SPACE: LOST IN SPACE is coming to DVD. The 8-disc set will be released on January 6, 2004 by 20th Century Fox. While there are no features mentioned, Disc 8 contains the un-aired pilot - "No Place To Hide" plus CBS Network presentation.
---
FIREFLY: As you can see below, FIREFLY is on the Top 10 SF DVD Sales list. It won't hit shelves until December 9, but the four-disc set is packed with material, including commentary for eight episodes, "Heres How How it Was" featurette, "Making of" featurette, "Serenity: The Tenth Character" featurette, Joss' Tour of the set, Alan Tudyk's audition, Gag reel, Joss (Whedon) Sings the Firefly theme, Deleted scenes, and Easter egg: Adam Baldwin sings "Hero of Canton".
---
INSIDE SCI-FI THIS WEEK:
Thursday, September 25:
TOP SF DVD SALES: 1. Firefly; 2. Buffy season five; 3. Finding Nemo; 4. The Two Towers extended edition; 5. The Matrix Reloaded; 6. Adventures of Indiana Jones; 7. X2; 8. The Two Towers regular edition; 9. Smallville season one, and 10. Pirates of the Caribbean. Source: Amazon.com, top-selling genre DVDs, 9/19/03.
---
LOST IN SPACE: Kevin Burns and Jon Jashni's Synthesis Entertainment is teaming with film director John Woo and writer Doug Petrie to bring back LOST IN SPACE to TV. According to Variety, Regency and 20th Century Fox TV will produce the show, with Fox TV Studios-based Synthesis and Woo's Terence Chang-headed Lion Rock Productions. Multiple networks have been pitched the project by packaging agency Endeavor, and network insiders said there's been strong response to the idea.
---
SMALLVILLE: SPOILER WARNING: In issue 4 of the Smallville comic, Executive Producer, Al Gough, said that the upcoming third season will show how Clark (Tom Welling) deals with all the new information he has received about his origins. "How does he process it, and how will it help him on his road to becoming Superman?" Gough also revealed a number of spoilers for the upcoming season. "We'll see Lex take a very dark turn early on," Gough said. He added: "Clark will get a new superpower. There aren't that many left, so I'll leave you to guess which one. But he gets it in a very interesting way." Smallville makes its second season debut Oct. 1 in its new Wednesday 8 p.m. ET/PT timeslot.
---
Wednesday, September 24:
PAT TALLMAN: Pat Tallman is doing a HALLOWEEN CONVENTION, Oct. 31 and Nov. 1 at the HALLOWEEN CONVENTION at the Pasadena (Calif.) Convention Center!
---
Speaking of Pat Tallman, she is a major supporter of Penny Lane, a home for abused children in Los Angeles. Each year, she conducts a Christmas drive -- providing items for each resident of the center. Her, "BE A SANTA" program has been highly successful in the past and it is something that we support each year as well. Pop over to www.beasanta.org for more information about this very worthwhile endeavor. Pat needs your support.
---
ALIAS: SCIFI.COM has an interview with the cast of ALIAS at http://www.scifi.com/sfw/advance/22_interview.html. They talk about changed coming for this season.
---
STAR TREK: ENTERPRISE: UPN has confirmed that they will be changing the name of "Enterprise" to STAR TREK: ENTERPRISE with the Sept. 24 episode. UPN sources said in an interview, "It's just a natural tie-in. Everyone calls it Star Trek anyway." A September 23 memo written by UPN's director of communications, Diane Kuri, told affiliates of the change, saying, "Over the past few weeks our marketing and publicity efforts have been using Star Trek: Enterprise for promotional purposes, and by formally changing the show's title, we will be able to further capitalize on and form a stronger connection to the famous and highly successful Star Trek franchise."
---
BEST SELLING SF BOOKS: 1. The Da Vinci Code; 2. The Time Traveler's Wife; 3. Angels & Demons; 4. Harry Potter and the Order of the Phoenix; 5. The Slippery Slope (Lemony Snicket); 6. Quicksilver: Volume One of The Baroque Cycle; 7. Sandman: Endless Nights; 8. The Machine Crusade (Dune); 9. Wolves of the Calla, and 10. The Lovely Bones. Source: Amazon.com, 9/19/03.
---
SANDMAN: ENDLESS NIGHTS: Sandman has returned to the Top 10 Best Seller List and author Neil Gaiman talked to USA Today about coming back to SANDMAN after a seven year break. "When I stopped doing Sandman in 1996, people said, 'Why? Do you hate the character or something?' Gaiman added, "Sandman was always a big resilient structure that was never about superheroes. The giant 2,000-page story is an enormously upbeat tragedy, if such a thing is possible."
---
TARZAN: The Hollywood Reporter indicates that Shaun Cassidy has left COLD CASE to join WBTV's TARZAN. Cassidy will serve as an executive producer alongside Laura Ziskin, David Gerber, P.K. Simonds and David Nutter. Eric Kripke, who wrote the pilot, is co-executive producing. Sources said the move was amicable and prompted by the greater need on "Tarzan," an ambitious new addition to the WB schedule that has a logistically complicated production, with filming based in Toronto. Cassidy is expected to help the show's producing team with overseeing the writing, production and postproduction on the series.
---
SAG PRESIDENT: MELISSA GILBERT: To Babylon 5 fans, she will always be Anna Sheridan; or Mrs. Bruce Boxleitner. However, Melissa Gilbert has been re-elected to a second two-year term as president of the performers guild, defeating SAG treasurer Kent McCord Tuesday. Gilbert's running mate, James Cromwell, was elected to the position of secretary-treasurer, defeating board member Esai Morales, who ran on McCord's slate. Gilbert received 15,670 votes, or 49.7% of the 31,500 national ballots tallied, while McCord received 13,242 votes (42.6%). Third-party candidate Gordon Drake got 2,418 votes (7.7%).
---
LORD OF THE RINGS: The two minute and 30 seconds theatrical trailer for The Lord of the Rings: The Return of the King will make its worldwide debut September 26.
---
Tuesday, September 23:
RATINGS: Top 10 SCIFI Channel Shows: Spiders 2 1.6; Congo 1.4; Creature 1.3; Spiders 1.3; Stargate SG-1 1.3; Sometimes They ... Again 1.2; Trucks 1.0; Fangs 1.0; The Swarm 1.0, and It, Part 2 0.9. Source: Nielsen Galaxy Report, 8/25/03 - 8/31/03.
---
911: Brandon Camp and Mike Thompson's spec script 911, a supernatural thriller about an emergency operator who may be receiving calls from her deceased sister has been purchased by Columbia Pictures . Mark Gordon will produce the project. Both writers will also get executive producer credit on the film as well as somewhere between half-a-million and a million dollars for their screenplay. The story centers around a female 911 operator that answers a string of the mysterious phone calls and begins to believe that her dead sibling is warning her about a serial killer and alerting her to who's next on the killer's list. When no one else believes her story she seeks the help of a homicide detective to try and track down the murderer herself before she becomes his next victim.
---
THE HORROR CHANNEL: There is the Food Network, SCI Channel -- why not the HORROR Channel? Entrepreneurs Nick Psaltos and Kim Bangash are pitching their concept of The Horror Channel, a 24-hour cable specialty network that will broadcast the darker side of entertainment. To help them scare up investors, Psaltos and Bangash have signed veteran horror film directors Wes Craven (SCREAM), John Carpenter (HALLOWEEN) and Tobe Hooper (THE TEXAS CHAINSAW MASSACRE) to serve on the channel's advisory board. The Horror Channel needs about $4 million dollars from investors to get off the ground in time for a Halloween night, 2004 launch date. So far only $750,000 of venture capital has been confirmed. As well, another uphill challenge is to convince cable operators to take on the network and offer it to their subscribers.
---
LORD OF EVERQUEST: When Sony Online Entertainment's LORDS OF EVERQUEST hits shelves this fall, this new real-time strategy (RTS) game inspired by the massively successful EVERQUEST online game will have some really familiar voices associated with it. Taking place in the fantasy land of Antonica, players assume control of one of 15 Lords and manage massive armies in their quest for domination. The game's roster of voice talent has just been announced -- a virtual who's who from genre television and film. Among the voice talent taking part in the game are Kate Mulgrew (STAR TREK: VOYAGER), Ron Perlman (HELLBOY), Claudia Black (FARSCAPE), Kevin Conroy (BATMAN: THE ANIMATED SERIES), Fairuza Balk (THE CRAFT), Hudson Leick (XENA: WARRIOR PRINCESS), Dwight Schultz (STAR TREK: THE NEXT GENERATION), Katey Segal (FUTURAMA), John Rhys-Davies (the LORD OF THE RINGS movies), Michael T. Weiss (THE PRETENDER) and Cree Summer (RUGRATS! GO WILD).
---
Monday, September 22:
EMMY AWARDS: The folks at the SCIFI Channel must be beaming this morning -- they received an Emmy for the Best Miniseries. "Steven Spielberg Presents Taken" not only racked up record ratings for the channel in December, but brought them home an Emmy -- their first in their 11-year history. "The West Wing" beat out "The Sopranos" and "Six Feet Under" for honors as Best Dramatic Series. For a complete rundown of the night's honors, go to The Hollywood Reporter.
---
WEEKEND BOX OFFICE: It was a weekend of Vampires, Werewolves and Matrix-swiped F/X. Kate Beckinsale in UNDERWORLD took the #1 spot at the box office, gathering in $22 million since opening Friday. Other new releases this weekend did reasonably well; The Fighting Temptations pulled in $13.2 million (second); Secondhand Lions receipts totalled $12.9 million (third), and Cold Creek Manor gathered $8.3 million (fifth). :ast week's champ, Once Upon a Time in Mexico came in fourth with $11.5 million. 1. Underworld, $22 million
2. The Fighting Temptations, $13.2 million
3. Secondhand Lions, $12.9 million
4. Once Upon a Time in Mexico, $11.5 million
5. Cold Creek Manor, $8.3 million
6. Matchstick Men, $7.8 million
7. Cabin Fever, $3.9 million
8. Dickie Roberts: Former Child Star, $3.8 million
9. Pirates of the Caribbean: The Curse of the Black Pearl, $3.5 million
10. Lost in Translation, $2.8 million
---
ANGEL: Over at Comics Continuum you will find new ANGEL cast photos for the upcoming fifth season, which begins October 1 at 9pm. The two-part opener was written and directed by series creator and executive producer Joss Whedon.
---
Sunday, September 21:
BACK ON-LINE: Well it has been an interesting few days. First Isabel came for a visit and the power left! Power Restored never sounded so good! Having been without power for nearly 3 days, logging on to get mail is wonderful! I hope all of you on the East Coast came through the storm well. Big blow, lots of rain, but no major damage! Things are gradually getting back to normal -- traffic lights are still out but the flood waters will here recede shortly. Thanks for all your notes of concern -- I really do appreciate them.
---
SEASON FOUR ON DVD: Ranger Monica alerted me to the announcement of SEASON FOUR OF BABYLON 5 on DVD by WB. The new set will be out on January 6. Details are below. Nothing official from WB yet. Hopefully they will send along more information as they have in the past!
---
RATINGS: Top SF Network Shows: Futurama Special 2.7; Futurama 2.3; Smallville 1.8; Charmed 1.7; Charmed rerun 1.6; Enterprise 1.5; Enterprise rerun 1.4; Smallville 1.3, and Buffy 1.2. Source: Nielsen Galaxy Report, 8/18/03 - 8/24/03.
---
ENTERPRISE: UPN announced that the second third-season episode ENTERPRISE saw double-digit ratings growth over last week's season premiere in all key adult, male and female demographics. The revamped Star Trek prequel remains ahead of its performance last season by 9 percent in total viewers.
---
SCOTT BAKULA: Captain Archer of ENTERPRISE, Scott Bakula, will return for a chat to STARTREK.COM on September 22 at 4pm ET. He will talk about this week's episode "Extinction". Scott comes back again on Wednesday, October 1, to talk about the new episode scheduled to air that night, "Rajiin."
---
CATWOMAN: Filming begins shortly on the much anticipated CATWOMAN movie, with Halle Berry in the title role. Benjamin Bratt has won the part of Det. Tom Lone, a Lake City cop who develops romantic feelings for Catwoman's alter ego, veternarian Patience Price. Sharon Stone and MATRIX RELOADED's Lambert Wilson play the wife-and-husband who use their cosmetics company as a front for criminal activity.
---
THUNDERBIRDS: Over at Empire OnLine you will find a video interview with Jonathan Frakes, director of the upcoming THUNDERBIRDS movie. He talks about filming in England, and the interview includes a few clips from the movie.
---
WHAT'S ON TONIGHT
8:00pm on CBS
Joan of Arcadia
Pilot
Amber Tamblyn stars as Joan Girardi in this drama about a teenage girl who finds herself talking with God via his messengers. In the premiere episode, Joan has her first unsolicited advice from on high when told by a perfect stranger to take a part-time job at a bookstore. Telling her folks, especially her father (Joe Mantegna), is not an option. 9:00 on UPN
Jake 2.0 (repeat of series pilot)
The Tech
Nanites endow a computer technician with superhuman abilities. On SCIFI Tonight:

8:00pm
Tremors: The Series
Hit and Run
Two small-time Vegas mobsters travel to Perfection to lay low and take in El Blanco show.

9:00pm
Stargate SG-1
Orpheus
Teal'c is powerless to save his son from enslavement in a death camp.
SEASON FOUR OF BABYLON 5
Warner Brothers have announced that January 6th, 2004 (Region 1) is the release date for Babylon 5: The Complete Fourth Season ("No Surrender, No Retreat"). There is no information at this time about when region 2 will be released. DESCRIPTION:
The future begins -- or ends -- here and now. Here is the huge space station Babylon 5. Now is the fateful year 2261. Commander John Sheridan has already declared the station free, breaking the ties between it and Earth Alliance. It was perhaps only a matter of time before he would have to fight to remain free. That time has come in this complete 22-episode fourth-season adventure presented on 6 discs and featuring an exciting array of Exclusive Extras. This six DVD set will include (preliminary listing):
Introduction to Babylon 5 - Season 4 by series creator J. Michael Straczynski
Two commentaries by series creator J. Michael Straczynski and another from director Mike Vejar
Commentary by cast members Bruce Boxleitner, Jerry Doyle, Peter Jurasik and Patricia Tallman
"Celestial Sounds" featurette about series composer Christopher Franke and the making of the series music
"No Surrender, No Retreat" DVD Suite, original music composed exclusively for the DVD
"The Universe of Babylon 5"
Personnel Files and Data Files
Gag Reel
Episode Previews
16x9 Anamorphic Widescreen
Dolby Surround 5.1 (English only)
Subtitles in English, French, and Spanish
Closed Captioned for the hearing impaired Pre-orders should be available soon.
BABYLON 5 SEASON THREE DVD - OUT NOW!
Season Three of Babylon 5 was released in the U.S. on August 12. It will be available in the UK beginning October 27. A review can be found over at http://www.imdb.com/Recommends/Rec2.html and the DVD series is on their recommended list. It was a featured item on http://www.imdb.com/. BABYLON 5: THE COMPLETE THIRD SEASON DVD Order Date: 7/15/03 Street Date: 8/12/03
Catalog #: 24243 WB Synopsis: The long-running Emmy Award-winning television series Babylon 5 takes place in the year 2257 A.D. on an immense spaces station floating in a stationary orbit in a neutral corner of a distant galaxy. Staffed by a crew of peaceful Earthmen and women, Babylon 5 serves as a non-political economic and social hub for the four alien races - the Narn, Centauri, Vorlon and Minbari - who fight to control the galaxy. Starring Bruce Boxleitner, Claudia Christian, Jerry Doyle, and Bill Mumy. Special Features and Specifications: o Six-disc DVD collector's set
o Introduction from series creator J. Michael Straczynski,
o Commentary on three key episodes by series creator and stars,
o"Behind the Mask: Creating the Aliens of Babylon 5" Documentary
o"Designing a Better Narn" Documentary
o"Designing Tomorrow: The Look of Babylon 5" Documentary
o Data and Personnel Files
o 16X19 Anamorphic Widescreen
o Dolby Digital 5.1
o English, French Spanish subtitles
o Running Time: 968 minutes For a look at Season Three, go to Season Three. Here you will find individual synopses of each episode and a graphic provided by Warner Bros.
GAG REEL
As with the other DVDs, there is a gag reel portion on the Season Three DVD as well. Ranger Mike sent along instructions on how to get there.

Babylon 5 Season 3 DVD Blooper Reel

The Season 3 "Gag Reel" is for real! It is actually an Easter Egg (a hidden component in the DVD) and is about three minutes long. There is a brief musical introduction and the segment mostly contains dialog goofs and other blunders the cast had.

To get to the Gag Reel, put in disc #6 and from the main menu:

* Select "The Universe Of Babylon 5"
* Select "Data Files"
* Cursor down Between the middle menu option "The Battle For Babylon 5" and the bottom menu option "The Universe Of Babylon 5". You should get a highlighted "5" logo to appear
* Press select to view the Gag Reel.
PROBLEMS WITH BABYLON 5 DVDS
Ranger Bruce from Uncomyn Gifts sent along the following note regarding the Season Two DVD. It made me wonder if anyone else has encountered any problems or seen any changes that they would like to raise with other Babylon 5 fans. I have received a couple of notes, but so far there hadn't been anything major to mention. See if you have the same problem Bruce has.

Have you had any of your readers mention a production error in the B5 S2 DVD set? I have not had a chance to verify it, but one of my customers says that Knives is on the disks twice - at the end of Disk 4 and the beginning of Disk 5. And the booklet is incorrect from disk 4 on. It shows that there is only 1 episode on disk 6, but there are actually 2. Someone needs to check to see if any episodes are missing from the DVDs... Is there anyone that should be notified over at Warner, or perhaps JMS?

If you have the problem Bruce mentions above -- or you have any others, drop me a note and I'll compile them to share with all of our readers.
JEREMIAH
SEASON TWO TWO-PART OPENER- OCTOBER 10 at 10PM Showtime has released synopses for "Letters From the Other Side," the two-part second-season opener of Jeremiah. Ranger Monica has been capturing promo clips from Showtime for JEREMIAH and has them listed at http://abyss.hubbe.net/jeremiah/gallery/clips_s2.html. PART 1 "Jeremiah (Luke Perry), Markus (Peter Stebbings) and Erin (Ingrid Kavelaars) are held as prisoners at Valhalla Sector, where Jeremiah's father, Devon (Robert Wisden), tells his son that his presence has given those in charge a dangerous advantage in their effort to take control of the country. Military dictators of Valhalla Sector use Jeremiah to try to force Devon to reveal the secret of the Black Death. Kurdy (Malcolm-Jamal Warner), dodging pursuers, encounters the enigmatic Mister Smith (Sean Astin) who says God is sending him messages. One message is for Kurdy to stop trying to find his friend; he will find him if he gives himself over to those who are chasing him. Eventually, Kurdy is captured -- by Lee Chen (Byron Lawson), who takes him back to Thunder Mountain. "Jeremiah meets Devon's lab assistant, Liberty 'Libby' Kaufman (Joanne Kelly) who tends to him after the Valhalla Sector leaders torture him in an attempt to break Devon's resolve. "At Thunder Mountain, Lee introduces Kurdy to Meaghan (Suzy Joachim) and outlines a desperate plan to get Jeremiah, Markus and Erin released in exchange for Meaghan. The unsuspecting leaders of Valhalla Sector agree to the swap." PART 2 "While Valhalla Sector prepares to exchange Markus and Erin, Lee Chen and Kurdy convince a group of dubious Thunder Mountain volunteers to undertake a mission to attack Valhalla Sector. Although they still do not trust Lee, the group has faith in Kurdy and agrees to the mission. "The leaders take Devon prisoner and place him in the cell next to Jeremiah. Father and son know the leaders are exchanging Markus and Erin but they cannot imagine what Thunder Mountain is offering in exchange -- except that it must provide a key to the Big Death. "When the exchange takes place, Markus sees Meaghan but is unable to stop her from carrying out her part in the drama. Meanwhile, the Thunder Mountain forces launch their attack on Valhalla Sector. Mister Smith makes his way to the battle just in time to save Kurdy from a sleeper agent within the attack team as the Valhalla Sector leaders return to the base and lock it down with Jeremiah, Devon, Libby and Meaghan inside. As the Big Death spreads through Valhalla Sector, Libby's quick thinking provides a way for Jeremiah and Devon to try attempt survival amidst the turmoil." Jeremiah's second season launches Friday, Oct. 10 at 10 p.m (ET). JEREMIAH AND JMS FOR SEASON THREE
Here is a note from the B5 moderated newsgroup related to JMS continuing with JEREMIAH into season three: "There was a lot in that article on the Pulse that was really badly reported, things were misphrased, two different sentences were put into one, sections are wholly incomprehensible...it's just a train wreck of a piece. However, even though the article totally misstated the sentence so it didn't make any sense, the last phrase is correct, in that I have zero desire to return to a third season of Jeremiah. Showtime was great, no mistake, but MGM has overall been the most heinous, difficult and intrusive studio I've ever worked for. I've worked for, and had great relations with, Viacom, Universal, Warner Bros., and a bunch more. But I will never, ever, work for the present administration at MGM. I didn't know why so many other writers had a problem there and never wanted to go back. Now I do." In another posting, he mentioned: I read on the net -- was never informed by MGM -- that Jeremiah will be coming to DVD in January or February of next year, and season 2 begins September 19th on Showtime. ** Follow this link to The Pulse article referred to above. There are a couple of places where you can find information on JEREMIAH. Monica has a very up-to-date site at http://abyss.hubbe.net/jeremiah/. She has a newsletter that you can sign up for as well so that information comes into your mailbox on a regular basis. The "official" website is located at http://sho.com/jeremiah/. It isn't terribly timely, but it does have background about the show if you need it.
DISCUSSION TOPIC
Here's a sort of daydream question for you. If you were SCIFI, what would you evening line-up be? You have a number of good science fiction shows. How would you pull them together? For example, here is my dream line-up for SCIFI:

Monday - 4 episodes of Stargate SG-1
Tuesday - 4 episodes of Farscape
Wednesday - 4 episodes of Babylon 5
Thursday - 1 episode of Crusade, Invisible Man, The Chronicle, First Wave
Friday - 1 episode of Babylon 5, NEW episode of STARGATE SG-1, switch episodes of some old favorites like The Hulk, Knight Rider.

Send in your ideas and comments to sgbruckner@aol.com and I'll start posting them on the Discussion Page for everyone to share.
KEEPING UP WITH CAST AND CREW
STEPHEN AUSTIN: I got a wonderful note from the Pa'Ka'Ma Ambassador, saying that he will be appearing at UNITED FAN CON, November 7-9 at the Sheraton Hotel, Springfield, Mass. (For more information on the convention, go to http://www.unitedfancon.com/. In addition, he's been quite busy with a number of projects. He has has completed work on two CDs and is putting the finishing touches on a DVD/Video -- a compelation of several of his stand-up comedy performances. Another CD is a work done by an ensemble group of comedians including Stephen, Vic Dunlop and The Unknown Comic titiled "Lunatics and Losers" a lampoon about our war on terrorism.
---
JASON CARTER: Jason will appear this season of SHE SPIES as an assassin named Morgan Porter. The episode was to begin shooting 09/10/03. Jason's new audio book, ILL MET BY MOONLIGHT (written by Sarah Hoyt) began shipping on October 1.
---
ROBIN ATKIN DOWNES: Robin (Byron from Babylon 5) has been quite busy since the end of the series. His latest project, the BATTLESTAR GALACTICA video game where he provides the voice for Ensign William "Husker" Adama . To read more, go to www.galactica2003.net/videogame/downes081603.htm.
---
DANIEL DAE KIM: Over at StarTrek.com you can find out about the season premiere of ENTERPRISE. Look closely and you'll see Daniel's name under Guest Cast -- Corporal Chang.
---
PETER WOODWARD: Ranger Spiffy reports: The History Channel UK website has a simple on-line game of Peter Woodward's Conquest. The setup is hilarious! Peter's character challenges the player to a duel involving crossbows, longbows, and battle axes. The design is not morbid--it is cartoonish and the quips from Peter's character are very comical. I think that the game would appeal to anyone who likes history and especially the Conquest tv show. (It may also be a good stress-reliever!) Go to http://www.thehistorychannel.co.uk/index_continue.htm, select games and go to CONQUEST.
---
GARY COLE: A very familiar face will be showing up on THE WEST WING in the fall. Captain Gideon from CRUSADE, Gary Cole, will be sworn in as the Vice President of the United States. Cole will play Colorado congressman Robert "Bingo Bob" Russell starting with the show's third episode this fall. The character is described by Variety as having a few unconventional ideas.
---
SPECIAL B5 CAST ACTIVITIES
PAT TALLMAN: THE PENNY LANE VOICES OF OUR CHILDREN EVENT!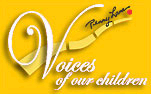 This year's Masters of Ceremony are PATRICIA TALLMAN and Edd Hall. The event takes place at The Center at Cathedral Plaza, 555 West Temple Street in Los Angeles. The evening includes a silent auction and performances of the children's writings. In addition to Pat and Edd, other celebs appearing include Yvette Freeman from ER, Marg Helgenberger from CSI, Simon Baker and Alan Rosenberg from The Guardian and Juliet Mills from Passions.

For tickets and more information, call 818.892.3423, ext. 344. Or visit .
2003 marks the 20th anniversary of SCARECROW AND MRS. KING's debut on CBS. A very special event is being planned. On October 17-19th at the Beverly Garland Holiday Inn in Los Angeles, California, a celebration is being planned. A number of guests have already confirmed -- including Bruce Boxleitner, Beverly Garland, Martha Smith, Paul Stout and Greg Morton. For more information on activities related to the anniversary, go to http://www.smk20thanniversary.com/.
CRUISE WITH PETER WOODWARD
Peter is considering cruising the Caribbean in early 2005 and wants to invite his fans to join the fun. He would like to see if there is sufficient interest before going too far into planning, so if you would like to receive a brochure about Peter's upcoming cruise once the details are finalized please advise of your: Name:
Postal Address, City, State, Zip:
E-mail address:
Phone number:
Total number of guests in your party:
Age range of the guests including yourself:

Send this information to pwoodwardinfo@yahoo.com. Any information you send us will be handled respectfully. This is not a commitment from you, just an indication of interest.
BABYLON 5 BIRTHDAYS
Pat Tallman - September 4
Cinzia Zanetti - September 5
Robin Atkin Downes - September 6
Mira Furlan - September 7
Walter Koenig - September 14
Paul Williams - September 19
Robert Rusler - September 20
Gary Cole - September 20
Bear Burge - September 23
Jason Carter - September 23
Manny Case - September 23 Have I missed anyone? If you know the birthday of someone connected with Babylon 5, pass the information along. We want to include everyone in our Happy Birthday Wishes.
READER BIRTHDAYS
Sometimes you just can't find the e-mail address for someone you know you have -- it's someone who responded to a discussion topic or you met in one of the chat rooms. You'd like to send a personal note, but .... No address!!!!

We've started a White Pages of Zocalo Readers! It's a handy way of keeping track of people -- and putting together a birthday/greeting card list as well. If you would like to be part of the listing, just send me your name, state, e-mail address and (if you'd like to have it listed) birthday (without year) to sgbruckner@aol.com. Check out the Directory of Readers.

Name: Barbara Smith :-)
State: Indiana
E-mail address: microsmith@hotmail.com
Birthday: September 26
BABYLON 5 FANS - SPECIAL HELP SECTION
BABYLON 5 MERCHANDISE
Are you looking for Babylon 5 merchandise? Would you like to possess some of the wonderful patches or pins sold by the B5 Fan Club? Do you want to put in an order for the latest DVD? Bruce at Uncomyn Gifts still has one of the best collections around. Check out www.uncomyngifts.com. You may just find the magazine or t-shirt or patch you are looking for.
---
BABYLON 5 SCREENSAVER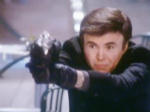 I received a wonderful note from Warner Bros. yesterday. It said:
"we also got this link from WHV for B5 screensavers, if you want to post this anywhere:
http://www.eyetide.com/download/?p=104117."
The graphics are awesome and it will add a certain measure of class to any desktop. Don't miss the preview feature. You can see what graphics have been included for your viewing pleasure. Thanks WB.
---
BABYLON 5 ROLE PLAYING AND FACT BOOK
The Babylon 5 Roleplaying Game and Fact Book
"Signs and Portents"
By Matthew Sprange
Mongoose Publishing
ISBN: 1-904577-11-3
MSRP: $49.99 From the review written at http://www.scifi.com/sfw/current/games.html B5 fans might want to pick up this game whether they actually play it or not. Based on the first season of the series, the "fact book" portion of the book includes an overview and maps of Babylon 5 and an episode-by-episode breakdown of the first season.
TRADING CARD HELP
Ranger Tia sent along this note to share with B5 card collectors:

Don't know if you've heard of my card program yet or not, but I thought the other B5 card collectors might like to try it out. With having almost all of the B5 trading cards and CCG cards available and no program to keep track of them withm, I started writing my own. Here's the website for it. Go half way down and click on the small screen shot for a full size screen shot. I have the pic of Pat Tallman's card from the Profiles card set feautured in the shot.

Oh, and I also have a lot of the card lists already saved as files so people won't need to type in all the card names. Being written by a B5 fan, ALL the card lists have already been made and are downloadable. :)

http://cardkeeper.usethis.com/keeper/index.html

Tia
iBOOKS PUBLISHES JMS' PROSE WORK
Press Release
He raised the bar for epic science-fiction storytelling on television with his syndicated series Babylon 5, then followed it by elevating the way in which superhero tales are told with his critically acclaimed scripts for Marvel's The Amazing Spider-Man and Supreme Power. Now, New York-based publishing house ibooks, inc. is pleased to announce that it has solidified plans with Hugo, Eisner and Emmy award-winning writer and producer J. Michael Straczynski to re-introduce his growing number of fans to some of his earlier works.

October 2003 will see the release of Demon Night, Straczynski's first novel. "What made Demon Night work", says Straczynski in a new afterword written specifically for this edition, "and the reason that it has now been picked up for republication by ibooks, is that I wrote it for myself, out of a love of the form, the genre, and a desire to be entertained by a story told about characters who mattered to me."

Following Demon Night will be Straczynski Unplugged, to be released in April 2004, a collection of published and all-new short stories, including a number of dark tales adapted from his episodes written for the TV series The New Twilight Zone. At press time, release dates for the remaining titles, the horror novel Othersyde and the supernatural-mystery Tribulations, had not been determined.

Demon Night is not ibooks' first encounter with the writer, however: His best-selling comic book series J. Michael Straczynski's Rising Stars" published by Top Cow Comics was novelized for ibooks in two volumes by author Arthur Byron Cover. Both volumes are still available from book retailers, with Book 3 to follow after the series reaches its conclusion.

One doesn't have to look far to see just how popular a writer Straczynski has become in recent years. At this year's Comic-Con International: San Diego, Marvel Comics announced that pre-orders for his upcoming Mature Readers series Supreme Power passed the 100,000-copy marks a new record for retailer orders on a Mature Readers title. He has worked as writer/producer for such series as Murder, She Wrote, Jeremiah and Walker, Texas Ranger, and he has published over 500 articles and numerous short stories for such publications as the Los Angeles Times, Time Inc, Amazing Stories, Penthouse, Writer's Digest, Pulphouse, The Los Angeles Herald Examiner and Twilight Zone Magazine.

Scheduled for release in October 2003, Demon Night is a trade paperback-sized novel retailing for $11.95, available now for ordering through comic shops, book stores, and on-line book retailers (ISBN 0-7434-7522-4).
NEW SCI-FI PUBLICATIONS
The Buffy finale saw Spike crumbling into the light, sacrificing himself so that humanity, and Buffy, might be saved. But now he's back from limbo and settling into LA life alongside Angel. We talk to James Marsters about his new role. Plus, Alexis Denis tells about Wes' transformation from Watcher to Rogue Demon Hunter and now Commander of Angel Investigations. Available at Newsstand.
Cult Times #100: Celebrate a century of Cult Times with this issue. Read interviews with the stars, and features on shows currently airing in the UK. A Classic Series is given a light-hearted but informative look in our Instant Guide and the highlights of the previous month's viewing are featured in Times Past. Cult Times is the complementary magazine to TV Zone, and together they provide the ultimate guide to the many worlds of Cult Television.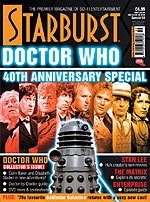 Starburst Special #59 A look back at 40 years of Doctor Who makes this issue special indeed. Also included in this issue - Battlestar Galactica -- an update on the SCIFI miniseries; Stan Lee on his upcoming film projects, and Michael Rosenbaum talk about being Lex Luthor on SMALLVILLE.



Cult Times Special #27: With the passing of BUFFY the Vampire Slyaer, CT looks back over the series; its characters and why it was so successful. Also included in this issue, Joss Whedon talks about possiblities for the future, including a movie for FIREFLY -- and BUFFY.



Shivers #107: As the new season approaches, everyone is speculating about the fireworks that could occur between Spike and ANGEL. Shivers takes a look at that this month -- along with Freddy vs. Jason, Underworld, and House of the Dead. There is an interview with Jeffrey Combs -- who most will know from Babylon 5 and Star Trek.



TV Zone #167: For Babylon 5 fans, the most interesting part of this issue will be JMS' column about season three -- the one where labor unions could have been a problems. Also in this issue, Keven Sorbo talked about the new season of Andromeda with production designer Richard B. Lewis discussing some of the universe he has created for the show. Keifer Sutherland looks at season three of 24.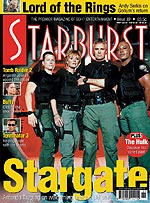 Starburst #301: Amanda Topping talks about her portrayal as Major Samantha Carter on STARGATE SG-1. It is tough being feminine in fatigues! Also in this issue, Angelina Jolie returns in TOMB RAIDER 2 and Pablo Helman talks about the challenges in doing special effects for TERMINATOR 3.



Battlestar Galactica Magazine
The classic 1970's space adventure has returned! And the official Battlestar Galactica Souvenir Magazine is the best place to get the inside track on this eagerly awaited mini-series. Featuring a stellar selection of interviews from all the main players: Edward James Olmos (Commander Adama), Mary McDonnell (Laura Roslin), Jamie Bamber (Apollo), and Kate Sackhoff (Starbuck). Plus, insider information from writers, producers, and directors, all lavishly illustrated with fantastic on-set photos and cast portraits. Available with Previews Exclusive cover! (Titan) (CAUT: 4) Magazine, 100pg, FC..........$9.99



COMIC BOOKS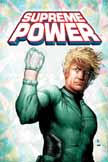 SUPREME POWER #2
Written by J. Michael Straczynski, pencils and cover by Gary Frank.
I n a world with no heroes, what happens when powerful superhumans emerge? And now that the government knows that superbeings exist, what lengths will they go to use them for their own purposes? J. Michael Straczynski tells a hard-edged, mature and deeply personal saga that pushes the limits of the comics form into new, uncharted territory.
32 pages, $2.99, in stores on Sept. 10.

SUPREME POWER
RISING STARS
Here is an update from Comics Continuum: Top Cow's Rising Stars: Untouchables, a five-issue series originally solicited bi- monthly to start in September, is being resolicited as a monthly title to start in April 2004. "Rather than put out issue #1 now and have fans wait months until the next issue is ready, we figured we'd wait, give Brent plenty of time to do several issues, and resolicit it so fans can follow it on a monthly basis," said editor Renae Geerlings. Written by Fiona Avery with story edits by J. Michael Stracynzski, Rising Stars: Untouchables tells the story of Laurel Darkhaven, one of the 113 Specials from Peterson, Illinois. While her telekinetic power seemed unimpressive while she grew up, the CIA recruited her with the promise of serving her country. Instead, she was forced into wetwork operations and turned against the Agency to find the employer responsible for her missions. The series chronicles her life from high school graduation to the moment she dies in Poet's arms.
BOOKS
BABYLON 5 NOVEL - ON BOOK SHELVES NOW
DelRey is reprinting the original Babylon 5 novels. They started with #7 - Jeanne Cavelos' THE SHADOW WITHIN. Here's one I've been waiting for -- Kathryn Drennan's TO DREAM IN THE CITY OF SORROWS. The release date is scheduled for July 29, 2003. I love the new cover art! It can be pre-ordered from www.amazon.com. For those of you who love Babylon 5, this one reads just like an episode from the series. You just can't put it down.




SCI-FI SCHEDULE
BABYLON 5 26-SEP-03 9:00 AM BABYLON 5 (LBX) AND THE SKY FULL OF STARS
29-SEP-03 9:00 AM BABYLON 5 (LBX) DEATHWALKER
30-SEP-03 9:00 AM BABYLON 5 (LBX) BELIEVERS 27-OCT-03 9:00 AM BABYLON 5 (LBX) SURVIVORS 28-OCT-03 9:00 AM BABYLON 5 (LBX) BY ANY MEANS NECESSARY 29-OCT-03 9:00 AM BABYLON 5 (LBX) SIGNS AND PORTENTS 30-OCT-03 9:00 AM BABYLON 5 (LBX) TKO CRUSADE: 05-OCT-03 2:00 AM CRUSADE EACH NIGHT I DREAM OF HOME
12-OCT-03 2:00 AM CRUSADE PATTERNS OF THE SOUL
19-OCT-03 2:00 AM CRUSADE THE PATH OF SORROWS
26-OCT-03 2:00 AM CRUSADE RULING FROM THE TOMB STARGATE SCHEDULE: 26-SEP-03 9:00 PM STARGATE SG-1 ORPHEUS
26-SEP-03 11:00 PM STARGATE SG-1 ORPHEUS 29-SEP-03 6:00 PM STARGATE SG-1
29-SEP-03 7:00 PM STARGATE SG-1
29-SEP-03 8:00 PM STARGATE SG-1
29-SEP-03 9:00 PM STARGATE SG-1
29-SEP-03 10:00 PM STARGATE SG-1
30-SEP-03 6:00 PM STARGATE SG-1 01-OCT-03 6:00 PM STARGATE SG-1 UPGRADES
02-OCT-03 6:00 PM STARGATE SG-1 CROSSROADS
03-OCT-03 6:00 PM STARGATE SG-1 DIVIDE AND CONQUER
03-OCT-03 7:00 PM STARGATE SG-1 (LBX) FALLEN -PT 1
03-OCT-03 9:00 PM STARGATE SG-1 (LBX) REVISIONS
03-OCT-03 11:00 PM STARGATE SG-1 (LBX) REVISIONS
06-OCT-03 6:00 PM STARGATE SG-1 WINDOW OF OPPORTUNITY
06-OCT-03 7:00 PM STARGATE SG-1 CHILDREN OF THE GODS -PT 1
06-OCT-03 8:00 PM STARGATE SG-1 CHILDREN OF THE GODS -PT 2
06-OCT-03 9:00 PM STARGATE SG-1 THE ENEMY WITHIN
06-OCT-03 10:00 PM STARGATE SG-1 EMANCIPATION
07-OCT-03 6:00 PM STARGATE SG-1 WATERGATE
08-OCT-03 6:00 PM STARGATE SG-1 THE FIRST ONES
09-OCT-03 6:00 PM STARGATE SG-1 SCORCHED EARTH
10-OCT-03 6:00 PM STARGATE SG-1 BENEATH THE SURFACE
10-OCT-03 7:00 PM STARGATE SG-1 (LBX) HOMECOMING -PT 2
10-OCT-03 9:00 PM STARGATE SG-1 (LBX) LIFEBOAT
10-OCT-03 11:00 PM STARGATE SG-1 (LBX) LIFEBOAT
13-OCT-03 6:00 PM STARGATE SG-1 POINT OF NO RETURN
13-OCT-03 7:00 PM STARGATE SG-1 THE BROCA DIVIDE
13-OCT-03 8:00 PM STARGATE SG-1 THE FIRST COMMANDMENT
13-OCT-03 9:00 PM STARGATE SG-1 COLD LAZARUS
13-OCT-03 10:00 PM STARGATE SG-1 THE NOX
14-OCT-03 6:00 PM STARGATE SG-1 TANGENT
15-OCT-03 6:00 PM STARGATE SG-1 THE CURSE FARSCAPE SCHEDULE:

14-OCT-03 8:00 AM FARSCAPE MARATHON PREMIERE
14-OCT-03 9:00 AM FARSCAPE MARATHON I, E.T.
14-OCT-03 10:00 AM FARSCAPE MARATHON EXODUS FROM GENESIS
14-OCT-03 11:00 AM FARSCAPE MARATHON THRONE FOR A LOSS
14-OCT-03 12:00 PM FARSCAPE MARATHON BACK AND BACK TO THE FUTURE
14-OCT-03 1:00 PM FARSCAPE MARATHON THANK GOD IT'S FRIDAY AGAIN
14-OCT-03 2:00 PM FARSCAPE MARATHON PK TEK GIRL
14-OCT-03 3:00 PM FARSCAPE MARATHON THAT OLD BLACK MAGIC
14-OCT-03 4:00 PM FARSCAPE MARATHON DNA MAD SCIENTIST
14-OCT-03 5:00 PM FARSCAPE MARATHON THEY'VE GOT A SECRET
15-OCT-03 8:00 AM FARSCAPE MARATHON TILL THE BLOOD RUNS CLEAR
15-OCT-03 9:00 AM FARSCAPE MARATHON RHAPSODY IN BLUE
15-OCT-03 10:00 AM FARSCAPE MARATHON THE FLAX
15-OCT-03 11:00 AM FARSCAPE MARATHON JEREMIAH CRICHTON
15-OCT-03 12:00 PM FARSCAPE MARATHON DURKA RETURNS
15-OCT-03 1:00 PM FARSCAPE MARATHON A HUMAN REACTION
15-OCT-03 2:00 PM FARSCAPE MARATHON THROUGH THE LOOKING GLASS
15-OCT-03 3:00 PM FARSCAPE MARATHON A BUG'S LIFE
15-OCT-03 4:00 PM FARSCAPE MARATHON NERVE
15-OCT-03 5:00 PM FARSCAPE MARATHON HIDDEN MEMORY
16-OCT-03 8:00 AM FARSCAPE MARATHON BONE TO BE WILD
16-OCT-03 9:00 AM FARSCAPE MARATHON FAMILY TIES
16-OCT-03 10:00 AM FARSCAPE MARATHON DREAM A LITTLE DREAM
17-OCT-03 8:00 AM FARSCAPE MARATHON MIND THE BABY
17-OCT-03 9:00 AM FARSCAPE MARATHON VITAS MORTIS
17-OCT-03 10:00 AM FARSCAPE MARATHON TAKING THE STONE

EARTH: FINAL CONFLICT

26-SEP-03 5:00 AM EARTH: FINAL CONFLICT HEARTS AND MIND

03-OCT-03 5:00 AM EARTH: FINAL CONFLICT EPIPHANY
10-OCT-03 5:00 AM EARTH: FINAL CONFLICT DARK HORIZONS
17-OCT-03 5:00 AM EARTH: FINAL CONFLICT POINT OF NO RETURN
24-OCT-03 5:00 AM EARTH: FINAL CONFLICT UNEARTHED
BABYLON 5/CRUSADE PHOTOSHOP PHOTOS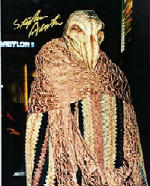 Peter Woodward has sent along a new photo -- a rather dreadful one -- from his appearance on CHARMED. It will be added to the collection of photos available from Peter, including additional copies of the Crusade poster in photo format. Both are autographed by Peter. You do NOT have to pay the prices asked for over at e-bay! Here are photos of B5 and Crusade cast members at fantastic prices. Check out Photo Shop. Ordering is easy -- and you can't beat the prices! Just let me know which photos you want and I'll check to make sure they are still in stock.
---
BABYLON 5 TOONS
John Cook has a wonderful collection of cartoons -- many are take-offs from Babylon 5. Here's just one of them.

He has a cartoon caption contest going on as well. Try your hand at a punch line.

Go to http://contests.sev.com.au/index.php?contestid=1


SCI-FI CARTOONS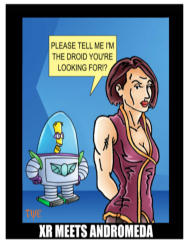 Tye Bourdony will have several cartoons published in the upcoming Cracked Magazine that hits newstands on the 29th. The issue will feature satire for Jeremy Bulloch (Star Wars) and Grace Lee Whitney, BarBara Luna, & Celeste Yarnall (Star Trek). Theese folks are all signing satires and Tye will be auctioning off one signed by Mr. Bulloch and one signed by the three Star Trek celebs for one of their favorite charities. More information on the auctions and charities shortly. I love science fiction related cartoons and Tye Bourdony is one of the most talented artists out there. He has done dozens of toons for Babylon 5. Here is his latest -- for FARSCAPE fans.



BABYLON 5/CRUSADE CONVENTIONS
CONVENTION UPDATE
KOSH added to convention guest list! Yes, Jeffrey Willerth has been added to the guest list for the 2BeContinued convention coming up on September 26 in Merriville, Indiana. The details are below.
CONVENTION CALENDAR
To Be CONtinued
September 26-28, 2003
Site: Radissosn Hotel & Star Plaza Theater
Place: Merrillville, Indiana
B5 Guests: Richard Biggs, Jason Carter, Julie Caitlin Brown, Jeffrey Willerth
Other Guests: Rockne O'Bannon (Farscape Creator), & Ray Park (Darth Mall)
For more information, visit their website at www.2becontinued.com. Sign up for the Biggs & Carter Experience. The first 140 people who register for Friday will have a free dinner with Richard Biggs and Jason Carter). For more information on the convention, please visit www.msffa.org. For more information on the Biggs & Carter Experience, please visit www.biggsandcarter.co.
---



Archon
October 2-5, 2003
Place: Collinsville, IL
B5 Guests: Andreas Katsulas, Julie Caaitlin Brown
For more information, visit their website at http://www.stlf.org/archon/.
---



Maquis Gras 2003
October 4-6, 2002
Place: Ramada Inn, Portage, Indiana
B5 Guest: Bill Blair
For more information, visit their website at http://www.maquis.com/mfa/gras1.htm.
---



Point North
October 5-6, 2003
Place: Salem Civic Center
Salem, VA
B5 Guest: Stephen Austin
For more information, visit their website at http://www.point-north.com.
---



FantiCon
October 10-12, 2003
City: Wilmington, NC
Place: Hampton Inn
B5 Guest: Peter Jurasik
Other guests: Lisa Wilcox, Pat Hingle, Henry Darrow, Juliet Cesario, Scott Simpson, Frank Capra, Jr.

For more information, visit their website at http://www.fanticon.org/ .
---



JVL-CON 2003
October 24-27, 2003
Jainesville, Wisconsin
Place: Ramada Inn
Guest: Barbara March
For more information, visit their website at www.si-fi-nut.com .
---



Galacticon 2003
October 24-26, 2003
Place: Sheraton Universal Hotel, Los Angeles, CA
Guests: Stars, Producers, Writers and Crew fro the Original Battlestar Galactica
For more information, visit their website at http://www.galacticonevents.com/index2.html .
---



Vulkon
October 31-November 2, 2003
Place: Nashville, TN
B5 Guest: Robin Atkin Downes
Other Guests: Julie Benz, Robia LaMorte, George Hertzberg
For more information, visit their website at http://www.vulkon.com.
---



Be sure to visit our Convention Calendar for a full listing of upcoming conventions featuring Babylon 5, Crusade and Legend of the Rangers cast members as guests.

If you would like to share your convention experience with your other Zocalo readers, send along a convention report. I will gladly post it for all to read. Got pictures? I'll post those as well.
ZOCALO TRADING POST
Do you have extra copies of B5, Amazing Spiderman, Midnight Nation or Rising Stars comics you'd like to trade? How about those extra trading cards or B5 magazines? There are a lot of fans looking for these items -- and the Trading Post can help you buy or sell them. To see what's available, just use this link to the Trading Post. To have items included in The Trading Post, send a note to The Zocalo. Please put Trading Post in the subject line.
PEN PALS
If you are looking for someone to talk about Babylon 5 and Crusade with, the Pen Pal section is for you! Check it out! Drop a note to someone who is feeling B5 withdrawal -- BIG TIME!

People thought a Pen Pal page was a good idea. If you would like to meet people who you could chat with or share your opinions of the show with, send along your e-mail or snail-mail address The Zocalo. It will be incorporated on the new Pen Page Page.
MAIL FOR CAST AND CREW
Here's a recent note from JMS on the subject:

Just an FYI to those who've been using the Ventura Blvd. mail drop for fan mail to actors....

As mentioned before, we're phasing out the forwarding of fan mail because we a) don't have the resources, complicated by b) the actors have scattered to the four winds, and it makes it very difficult to get everything to everybody in a timely fashion.

So, having provided prior notice...fan mail to actors coming to the Ventura Blvd. mail drop will be sent back. Mail to actors should be sent via their official fan clubs. I will still be taking mail there, since it's my mailbox, but that's it.

Just so's y'all know and save a few bucks on postage and returns.

WARNER BROS:

Warner Bros. Address:

Warner Bros. Domestic Television Distribution
4000 Warner Blvd.
Burbank, CA 91522

Warner Home Video:

Mr. Douglas Wadleigh
VP for Marketing and Special Features
Warner Bros.
4000 Warner Blvd.
Burbank, CA 91522

SCIFI:
Bonnie Hammer, President
Sci-Fi Channel
1230 Avenue of the Americas
New York, NY. 10020-1513

Mr. Thomas Vitale
Senior VP of Acquisitions, Scheduling & Program-Planning
BACK ISSUES OF THE ZOCALO TODAY
The front page of the The Zocalo Today changes daily, so be sure to check the back issues to make sure that you haven't missed anything IMPORTANT! I don't want the front page getting too long so I shift information periodically into the archives. So if you aren't a regular visitor to The Zocalo Today, be sure to check out the back issues. Just use the button above!
---
Take care and I look forward to hearing from you.
Sandra Bruckner (sgbruckner@aol.com)
Editor/Publisher
The Zocalo Today
http://www.isnnews.net
Copyright - SBruckner, 1999-2003