[an error occurred while processing this directive]

The Zocalo Today

Welcome and thank you for dropping by. Take your shoes off, get comfortable and stay a while. There is a LOT of information here and you won't want to miss any of it.

The Zocalo Today is an interactive newsletter, encouraging readers to join a discussion topic or to send along letters that can be shared with other readers.

If you have suggestions as to how The Zocalo can be improved -- or be more responsive -- send them along. The Zocalo Today is a newsletter for Babylon 5 fans everywhere. It is as much YOUR newsletter as it is mine! I'm just pulling together things for you!

Join our discussion topic. It is just one way you can share with other Z readers. If you see Babylon 5 cast and crew in other roles, let us know. We enjoy convention reports, photos, etc. Don't miss our back issues. I hope this will become more than just a newsletter. It's a community of people that enjoy sharing their experiences and interests. Babylon 5 brought many of us together -- and it remains with us, despite the fact that is is no longer in production. Don't be shy. Join us today!

If you have questions, drop me a line at sgbruckner@aol.com. If you would like to join the mailing list for our newsletter, send me a note and I'll include you on the list. Or you can use the subscription block at the left.

Again, WELCOME!




What's New Today
Friday, September 5: RATINGS: Top SF Network Shows: Futurama 2.7; Charmed 1.8; Charmed rerun 1.7; Smallville 1.7; The Twilight Zone 1.5; Enterprise 1.4, and Buffy 1.0. Source: Nielsen Galaxy Report, 8/4/03 - 8/10/03.
---
HARRY POTTER: The Sun, a British tabloid, reported that production on the latest Harry Potter movie, HARRY POTTER AND THE PRISONER OF AZKABAN was halted when the train used as the Hogworth Express was vandalized. In the popular books by J.K. Rowling, the Hogwarts Express transports Harry Potter and his friends to Hogwarts School of Witchcraft and Wizardry for their third year. The bright red train had been covered in graffiti and damage to the rented train cost an estimated $5,000 to fix. James Shuttleworth, from the West Coast Railway Company which operates the train, said that the vandalism was "heartbreaking" and called the perpetrators "mindless toerags."
---
ALIAS: Djimon Hounson, last seen in LARA CROFT TOMB RAIDER: THE CRADLE OF LIFE, will appear in at least two episodes of ALIAS playing a new adversary for heroine Sydney Bristow. His character will be the leader of a evil organization that the CIA wants to eradicate.
---
FINDING NEMO: FINDING NEMO closed the summer season as the summer's biggest film. The G-rated undersea adventure has netted $332.4 million since its release
---
INSIDE SCI-FI THIS WEEK:
Thursday, September 4:
FIREFLY - THE MOVIE: In today's Hollywood Reporter, you can read about Joss Whedon's success in turning FIREFLY, an all too short lived TV series on Fox, into a feature film. Whedon has teamed with Universal Pictures on the project, set to go into production in the first quarter of 2004. Universal recently acquired the rights to FIREFLY from 20th Century Fox Television, where Whedon's Mutant Enemy Inc. production company has a television deal. Whedon is producing the film through his Mutant Enemy Inc. along with studio-based producer Barry Mendell. Mendell, a former agent at UTA, used to represent Whedon. Mutant Enemy president Christopher Buchanan is executive producing. Universal production president Mary Parent is shepherding the project. "Ever since the show went off the air, our fan base has grown even more," Buchanan said. "We've had tremendous outpouring from the U.S. and Canada as well as the U.K., which just finished a run of 'FIREFLY' over there. Every comic book and sci-fi convention has had a 'Firefly' presence since the show first aired." Whedon produced 15 hours of television, including a two-hour episode of FIREFLY. Three shows never aired on Fox but will likely be featured on the series' DVD release, due out in December. Buchanan said fans created such a demand that DVD presales on Amazon.com sold out within 24 hours.
---
BATMAN: According to The Hollywood Reporter, there is quite a long list of contenders for the title role in the next BATMAN movie, to be directed by Christopher Nolan (MEMENTO). Atop the list are: Christian Bale, Cillian Murphy, Joshua Jackson, Jake Gyllenhaal, Henry Cavill and Eion Bailey, with another possibility being Hugh Dancy (that is, if he can pry himself away from the shooting of KING ARTHUR.) A number of internet sites indicate Bale has long been rumored to be one of the top contenders for the role. Gyllenhaal, star of DONNIE DARKO, had been an alternative for the role of Peter Parker in SPIDER-MAN s before Tobey Maguire settled his issues with the filmmakers. Cavill was reported under consideration for the lead role in the new SUPERMAN film; is new to the mix for the Dark Knight role. The same can be said for Murphy (28 DAYS LATER), Bailey (MINDHUNTERS) and Jackson. Dancy's name was first mentioned late last month on Dark Horizons and IGN FilmForce. A production date has not yet been set, but it is rumored to be in February of 2004.
---
ALIAS: The second season six-disc box-set is due out in December.
---
Wednesday, September 3:
HUGO AWARDS: Ranger Charles forwarded the following results of the Hugo Award Ceremony of Torcon3, 30 August 2003: Best Novel: Hominids by Robert J. Sawyer (Tor Books, Analog SF/Science Fact Magazine Jan-April 2002)
Best Novella: Coraline by Neil Gaiman (HarperCollins)
Best Novelette: "Slow Life" by Michael Swanwick (Analog, December 2002)
Best Short Story: "Falling Onto Mars" by Geoffrey Landis (Analog, July-August, 2002)
Best Related Book: Better To Have Loved: The Life of Judith Merril by Judith Merril and Emily Pohl-Weary (Between the Lines)
Best Dramatic Presentation, Short Form: "Conversations With Dead People", Buffy the Vampire Slayer (Directed by Nick Marak, Teleplay by Jane Espenson and Drew Goddard
Best Dramatic Presentation, Long Form: The Lord of the Rings: The Two Towers (Directed by Peter Jackson, Screenplay by Peter Jackson, Fran Walsh, Phillipa Boyens and Stephen Sinclair)
Best Professional Editor: Gardner Dozois
Best Professional Artist: Bob Eggleton
Best Semi-Prozine: Locus edited by Charles N. Brown, Jennifer A. Hall and Kirsten Gong-Wong
Best Fanzine: Mimosa edited by Richard and Nicki Lynch
Best Fan Writer: Dave Langford
Best Fan Artist: Sue Mason
John W. Campbell Award for Best New Writer: Wes Spenser (Sponsored by Dell Magazines, not a Hugo Award) For updates on future Worldcons or the archival websites of previous conventions, please go to: http://www.worldcon.org. Next year's WorldCon will be hosted in Boston (September 4-6, 2004). For more information, to go http://www.norescon.org
---
RATINGS: Top SF Syndicated Series: Stargate SG-1 2.2; Mutant X 2.1; Buffy 2.0; The X-Files 2.0; Andromeda 1.9; Adventure, Inc. 1.8; 3rd Rock 1.7; Beastmaster 1.5; John Edward 1.4, and The Lost World 1.3. Source: Nielsen Galaxy Report, 8/4/03 - 8/10/03.
---
SMALLVILLE: SMALLVILLE has been about change -- Clark, Lana, Pete and Chloe -- all changing, developing, discovering. For the last two years, Chloe has had her heart broken more than once, but she has matured and Allison Mack says her character Chloe will step to the fore this year and toward the dark side. She will be faced with the question, "Am I the most important person in my life or are my friends?' That's a tough question. It's good. It's very tantalizing, the dark side, and it's very interesting to her. Lionel Luthor [John Glover] makes it sound even more tantalizing. So she definitely plays with it and touches it, and I think that Chloe definitely has it in her to go that way." Season three begins on October 1 with "Exile," part one of a two-part opener that will conclude the following week with "Phoenix."
---
XENA: The second season of XENA: WARRIOR PRINCESS is being released by Anchor Bay Entertainment today. This seven-disc boxed set includes all 22 episodes from the 1996-97 season, audio and video commentaries with stars Lucy Lawless, Renee O'Connor and producer Robert Tapert on three episodes as well as a 30-minute interview with the trio, photo galleries, "Xena Chronicles" trivia and actor/director biographies. To celebrate Lucy Lawless' involvement with the season two set, Anchor Bay will donate a portion of the proceeds from each DVD sold to The Ovarian Cancer Research Fund. Additionally, Anchor Bay is also offering a $15 rebate if you also purchase either the XENA season one or HERCULES season one box sets. The XENA: WARRIOR PRINCESS - SEASON TWO DVD box set is retail priced at $69.98 and is out today in stores.
---
ANGEL: Today is also the release date for the second season of ANGEL by 20th Century Fox Home Entertainment. This six-disc set compiles all 990 minutes worth of the show's sophomore season which includes the introduction of series regular Lorne (he's green, has horns, likes to sing) and the return of Angel's former love and hellraiser, Darla. Bonus material includes commentaries for two episodes, scripts for two episodes ("Darla" and "Disharmony"), four featurettes, a still gallery and blue prints. The season two DVD set of ANGEL retails for $59.98 US/$89.98 CDN.
---
NBC BUYS VIVENDI: The acquisition of VIVENDI (including SCIFI Channel, USA Network and Universal Pictures film studio) has been in the works for a very long time. Yesterday, NBC was the only one standing, transforming the last major TV network owner without studio affiliation into a major media conglomerate. "This is a fabulous deal for NBC," said Ken Marlin, managing partner at media investment bank Marlin & Associates. "It is a strategic coup at a great price and catapults their entertainment assets into the big leagues." NBC and Vivendi Uni have yet to outline how their merged assets would work together. But Vivendi Uni chairman and CEO Jean-Rene Fourtou said the new firm will benefit considerably from "the reinforcement of existing channels" through cross-programming and other measures.
---
BATMAN AND AOL: This Fall, a brand new online comic strip will be introduced, created for America Online by DC Comics. Through a special agreement between AOL and DC Comics, Batman: Shadow of Sin Tzu will appear online exclusively on AOL five days a week. This new Batman ongoing storyline was developed especially for the online environment and for KOL, AOL's new experience for kids, which will be available to consumers this Fall. In the upcoming daily strip written by Mark Schultz and with art by Rick Burchett, two of comics' finest talents, Gotham's most notorious villains have banded together under mysterious circumstances. Batman must discover who is behind this diabolical conspiracy before an all-out war descends on the city. Could it be Two-face, Mr. Freeze, Catwoman, the Joker, or perhaps Sin Tzu - the latest criminal mastermind and shadowy eastern mystic created by comic book superstar Jim Lee and Flint Dille? As the mystery unfolds, kids can go online each weekday and get a new episode in this exciting year-long serial. "'Batman: Shadow of Sin Tzu' is the first-ever strip exclusively developed by DC for the online environment, and we are thrilled to give AOL members access to this special online edition of such an exciting comic," said Richard Bruning, Senior VP & Creative Director at DC Comics. "By bringing this world-class superhero to the Internet, we are literally bridging the generational gap between parents who grew up reading Batman stories in comic books and watching him on television and their kids who will now be able to check out Batman's daily adventures online." America Online will introduce KOL, the first version of AOL designed entirely for kids, this Fall. Combining exclusive content from industry leading kids brands and all-new original programming, this new service will offer kids a fun and entertaining online experience just for them that is fully integrated with AOL's Parental Controls.
---
Tuesday, September 2:
BEST SELLING SF BOOKS: 1. The Da Vinci Code; 2. Harry Potter and the Order of the Phoenix; 3. Angels & Demons; 4. The Lovely Bones; 5. Shadow Game; 6. Jarka Ruus, High Druid of Shannara; 7. Harry Potter paper box set; 8. D&D Player's Handbook, Core Rulebook 3.5; 9. Dungeon Master's Guide, Core Rulebook 3.5, and 10. Hobbit and Lord of the Rings. Source: Amazon.com, 8/29/03.
---
WEEKEND BOXOFFICE: This was the biggest Labor Day weekend in boxoffice history. MGM/United Artists' "Jeepers Creepers 2" scared up an estimated $18.5 million and topped a field of holdovers and expanding indie films. The Walt Disney Co. placed three films in the holiday weekend's top five. Disney's "Freaky Friday" continued its successful run with a second-place finish and an estimated $11.7 million take. "Pirates of the Caribbean: The Curse of the Black Pearl " and the Western "Open Range," were tied at fourth with an estimated $10.2 million each. Sony's actioner "S.W.A.T." stormed in third place with an estimated $10.5 million gross. Overall, the boxoffice ended the summer season on a high note with four films -- "S.W.A.T.," "Seabiscuit," "The Italian Job," and "Charlie's Angels" -- breaking the $100 million barrier during the weekend. The weekend's top 12 films were also up 11% compared to last year, and The Hollywood Reporter projects that the cumulative gross for all films in release this weekend will land somewhere in the low- to mid-$120 million range, a solid improvement from last year's $115.8 million cume and the previous 2001 record of $118.9 million.
---
ANGEL: According to the TV Guide, Sarah Michelle Gellar (BUFFY) will be a guest on two episodes of ANGEL two episodes this year. When you say -- during "sweeps" period of course — either February or May. The president of the WB network told the magazine that bringing some of the characters from "Buffy the Vampire Slayer" over to "Angel" — either to visit or to stay — helped in deciding not to cancel the show. ANGEL makes its season premiere Oct. 1.
---
Monday, September 1:
24 MARATHON ON FX: If you are a fan of 24, you won't want to miss the marathon going on NOW on FX. Starting at 12:00am this morning, FX began running DAY 2 episodes and will continue through the day. If you missed this series (or any episode from this year), you will want to watch -- or keep your VCR tuned -- so that you can catch this excellent series.
---
RATINGS: Top 10 SCIFI Channel Shows: Stargate SG-1 1.7; Code Red: Rubicon 1.6; The 13th Warrior 1.2; Tremors: The Series 1.1; Hollow Man 1.1; Scare Tactics 1.0; Primal Force 0.9; Momentum 0.9; Candyman 3 0.9, and The Fly 0.8. Source: Nielsen Galaxy Report, 7/28/03 - 8/3/03.
---
PETER WINGFIELD: You may or may not recognize the name -- you definitely will recognize the face. Peter Wingfield has had some very memorable roles in science fiction series & movies. He was Methos on THE HIGHLANDER. I know him best for his role on STARGATE SG-1, but he has also turned up in the X-MEN 2. Peter talks to Frank Garcia about moving to Vancouver and working on X-MEN 2 with Hugh Jackman, Patrick Stewart, Ian McKellan and Halle Berry. Read the entire interview at http://www.hollywoodnorthreport.com/pages/interviews/wingfield1.htm.
---
NEW FALL TV SEASON: Have you had a chance to check out the new fall season ahead for each of the networks? Over at Zap2it.com there is a review for each network. I don't know about you, but there are a few that I'll need to check out closely. Can't wait to see TARZAN. Loved the story and movies as a kid and still can't miss an old Johnny Weismuller version on the tube. CBS looks like a winner to me this year. They will have Navy NCIS, Cold Case, The Handler, THe Brotherhood of Poland, N.H. and Joan of Arcadia. Other networks have slim pickins' as far as my viewing tastes. THe WB will have TARZAN, UPN has JAKE 2.0 and ABC has Karen Sisco. All look promising but time will tell. I'm not much for comedy, so you'll have to help with reviews on any new shows that you particularly like. Overall, it looks like networks are moving ahead with more drama and comedy series. TARZAN and JAKE 2.0 look like the only SF entrants.
---
CHARLES BRONSON: Action star CHARLES BRONSON lost his battle with pneumonia yesterday. He was 81. For a look at his career and a glimpse into his life, go to the story at The Hollywood Reporter http://www.thehollywoodreporter.com/thr/article_display.jsp?vnu_content_id=1967146.
---
Sunday, August 31:
AMAZING SPIDERMAN: Issue #57 is now on news stands. I picked up my issues yesterday. As quickly as they fly off shelves, you might want to do the same.
---
NEWS: As with any Sunday, there isn't a lot of news to report -- especially a Sunday before a holiday. Most non-news services have closed for the weekend and there isn't a lot of information available. A reader sent in a problem encountered with Season Two DVDs for Babylon 5. You may want to check to see if you have the same thing -- or perhaps there are other things you noticed. One reader wrote me to say that The Zocalo (familiar name) changed to The Bazaar somewhere within the Third Season. I guess I'll have to keep an eye out for that one. Anyone else notice anything? Send along your observations.


E-MAIL ZOCALO TODAY: I sent out an e-mail version of the newsletter yesterday and with all the virus alerts going out, I hope you aren't having as much trouble as I am. I have checked my computers and have found nothing, so it's not me! E-mail is becoming a very frustrating exercise in deleting messages that I don't recognize the sender or the subject. So if you sent me a note and haven't received a response, please send it again -- with The Zocalo or something in the subject line. The folks creating all these viruses have far too much time on their hands. And it would be so nice if they could devote that time to some creative--helpful endeavors.
---
Saturday, August 30:
RATINGS: Top SF Network Shows: Futurama 2.7; Alias 2.4; Charmed 1.9; The Twilight Zone 1.6; Smallville 1.6; Enterprise 1.5, and Buffy 1.4. Source: Nielsen Galaxy Report, 7/28/03 - 8/3/03.
---
13th FLOOR: According to Variety, X-FILES executive producer Frank Spotnitz has set up a supernatural series at FX tentatively titled THE 13th FLOOR. Spotnitz is working with novelist Brad Meltzer and Washington insider Steve "Scoop" Cohen on the series about a lawyer who serves as an advocate for dead people who believe they've been wrongly condemned to hell.
---
IQ Spotnitz is also linked with an upcoming CBS series -- IQ -- a murder mystery series with a unique (and top secret) twist to it. All Spotnitz would say of IQ's protagonist is that they have a "fascinating mind" and the show is more like older, classic whodunits from TV land. Spotnitz has written the pilot for IQ and will serve as executive producer on the series.
---
STARGATE SG-1: Over at Zap2It.com there is a delightful piece on Amanda Tapping - Maj. Samantha Carter on STARGATE SG-1. This year she actually gets to have a love life -- and the guy doesn't die. See how Amanda is handling the changes! WARNING: May contain some spoiler information.
---
MUTANT X: On October 5, ADV Films will release Mutant X: Season One, Disc 5, the fifth DVD volume of the first season of the syndicated television series Mutant X. Mutant X: Season One, Disc 5 includes two complete episodes: "Crime of the New Century" and "Dark Star Rising." Extras include: widescreen video and Dolby Digital sound; outtakes; episodic photo gallery; character profile: Jesse; cast biography: Forbes March; original TV promos; and ADV previews.
---
WHAT'S ON TONIGHT
8:00pm on USA
Peacemakers : Pilot
An old-fashioned federal marshal and his young partner investigate a murder. 9:30 on USA
Peacemakers
No Excuse
A dead body disrupts the mayor's promotion of Silver City to Republican Party leaders. 10:00 on CBS
CSI: Miami
Simple Man
An innocent man stands trial for murder while Horatio and the team race to find the real killer. 10:00 on Showtime
Dead Like Me
The Bicycle Thief
George leaves Happy Time for a new job and a bike; Reggie searches for a lost dog. On SciFi Tonight: 8:00pm
Tremors: The Series
Night of the Shriekers
Government scientists test an experiment in Perfection. 9:00pm
Stargate SG-1
Part 1 of 2: Fallen
SG-1 must defeat Anubis' bid for domination of the galaxy. 10:00pm
Scare Tactics
A caretaker tries to help the victim of a psychotic stalker. 10:30pm
Scare Tactics
Chainsaw wedding cult; a house-sitter deals with the escape of an unknown creature.
PROBLEMS WITH BABYLON 5 DVDS
Ranger Bruce from Uncomyn Gifts sent along the following note regarding the Season Two DVD. It made me wonder if anyone else has encountered any problems or seen any changes that they would like to raise with other Babylon 5 fans. I have received a couple of notes, but so far there hadn't been anything major to mention. See if you have the same problem Bruce has.

Have you had any of your readers mention a production error in the B5 S2 DVD set? I have not had a chance to verify it, but one of my customers says that Knives is on the disks twice - at the end of Disk 4 and the beginning of Disk 5. And the booklet is incorrect from disk 4 on. It shows that there is only 1 episode on disk 6, but there are actually 2. Someone needs to check to see if any episodes are missing from the DVDs... Is there anyone that should be notified over at Warner, or perhaps JMS?

If you have the problem Bruce mentions above -- or you have any others, drop me a note and I'll compile them to share with all of our readers.
iBOOKS PUBLISHES JMS' PROSE WORK
Press Release
He raised the bar for epic science-fiction storytelling on television with his syndicated series Babylon 5, then followed it by elevating the way in which superhero tales are told with his critically acclaimed scripts for Marvel's The Amazing Spider-Man and Supreme Power. Now, New York-based publishing house ibooks, inc. is pleased to announce that it has solidified plans with Hugo, Eisner and Emmy award-winning writer and producer J. Michael Straczynski to re-introduce his growing number of fans to some of his earlier works.

October 2003 will see the release of Demon Night, Straczynski's first novel. "What made Demon Night work", says Straczynski in a new afterword written specifically for this edition, "and the reason that it has now been picked up for republication by ibooks, is that I wrote it for myself, out of a love of the form, the genre, and a desire to be entertained by a story told about characters who mattered to me."

Following Demon Night will be Straczynski Unplugged, to be released in April 2004, a collection of published and all-new short stories, including a number of dark tales adapted from his episodes written for the TV series The New Twilight Zone. At press time, release dates for the remaining titles, the horror novel Othersyde and the supernatural-mystery Tribulations, had not been determined.

Demon Night is not ibooks' first encounter with the writer, however: His best-selling comic book series J. Michael Straczynski's Rising Stars" published by Top Cow Comics was novelized for ibooks in two volumes by author Arthur Byron Cover. Both volumes are still available from book retailers, with Book 3 to follow after the series reaches its conclusion.

One doesn't have to look far to see just how popular a writer Straczynski has become in recent years. At this year's Comic-Con International: San Diego, Marvel Comics announced that pre-orders for his upcoming Mature Readers series Supreme Power passed the 100,000-copy marks a new record for retailer orders on a Mature Readers title. He has worked as writer/producer for such series as Murder, She Wrote, Jeremiah and Walker, Texas Ranger, and he has published over 500 articles and numerous short stories for such publications as the Los Angeles Times, Time Inc, Amazing Stories, Penthouse, Writer's Digest, Pulphouse, The Los Angeles Herald Examiner and Twilight Zone Magazine.

Scheduled for release in October 2003, Demon Night is a trade paperback-sized novel retailing for $11.95, available now for ordering through comic shops, book stores, and on-line book retailers (ISBN 0-7434-7522-4).
BABYLON 5 SEASON THREE DVD - OUT NOW!
Season Three of Babylon 5 was released in the U.S. on August 12. It will be available in the UK beginning October 27. A review can be found over at http://www.imdb.com/Recommends/Rec2.html and the DVD series is on their recommended list. It was a featured item on http://www.imdb.com/. BABYLON 5: THE COMPLETE THIRD SEASON DVD Order Date: 7/15/03 Street Date: 8/12/03
Catalog #: 24243 WB Synopsis: The long-running Emmy Award-winning television series Babylon 5 takes place in the year 2257 A.D. on an immense spaces station floating in a stationary orbit in a neutral corner of a distant galaxy. Staffed by a crew of peaceful Earthmen and women, Babylon 5 serves as a non-political economic and social hub for the four alien races - the Narn, Centauri, Vorlon and Minbari - who fight to control the galaxy. Starring Bruce Boxleitner, Claudia Christian, Jerry Doyle, and Bill Mumy. Special Features and Specifications: o Six-disc DVD collector's set
o Introduction from series creator J. Michael Straczynski,
o Commentary on three key episodes by series creator and stars,
o"Behind the Mask: Creating the Aliens of Babylon 5" Documentary
o"Designing a Better Narn" Documentary
o"Designing Tomorrow: The Look of Babylon 5" Documentary
o Data and Personnel Files
o 16X19 Anamorphic Widescreen
o Dolby Digital 5.1
o English, French Spanish subtitles
o Running Time: 968 minutes For a look at Season Three, go to Season Three. Here you will find individual synopses of each episode and a graphic provided by Warner Bros.
JEREMIAH
SEASON TWO BEGINS OCTOBER 10. Previously posted as as September 19, Showtime has put the actual premiere date for JEREMIAH out on the website www.sho.com/jeremiah as October 10. JEREMIAH AND JMS FOR SEASON THREE
Here is a note from the B5 moderated newsgroup related to JMS continuing with JEREMIAH into season three: "There was a lot in that article on the Pulse that was really badly reported, things were misphrased, two different sentences were put into one, sections are wholly incomprehensible...it's just a train wreck of a piece. However, even though the article totally misstated the sentence so it didn't make any sense, the last phrase is correct, in that I have zero desire to return to a third season of Jeremiah. Showtime was great, no mistake, but MGM has overall been the most heinous, difficult and intrusive studio I've ever worked for. I've worked for, and had great relations with, Viacom, Universal, Warner Bros., and a bunch more. But I will never, ever, work for the present administration at MGM. I didn't know why so many other writers had a problem there and never wanted to go back. Now I do." In another posting, he mentioned: I read on the net -- was never informed by MGM -- that Jeremiah will be coming to DVD in January or February of next year, and season 2 begins September 19th on Showtime. ** The Pulse article referred to can be found at http://www.comicon.com/cgi-bin/pulse.cgi?http%3A//www.comicon.com/cgi-bin/ultimatebb.cgi%3Fubb%3Dget_topic%26f%3D36%26t%3D001223. There are a couple of places where you can find information on JEREMIAH. Monica has a very up-to-date site at http://abyss.hubbe.net/jeremiah/. She has a newsletter that you can sign up for as well so that information comes into your mailbox on a regular basis. The "official" website is located at http://sho.com/jeremiah/. It isn't terribly timely, but it does have background about the show if you need it.
DISCUSSION TOPIC
Here is a discussion topic from Ranger Gary! This one will test your powers of observation -- and memory!
After recently watching most of seasons 1-4 of Highlander I noticed about 10 actors who later showed up in the Stargate SG1 Series (there were three in just two back-to-back episodes including Michael Shanks and Don Davis!). There are many actors who have been in two or more great scifi series (its like the 7 degrees of separation).So, it would be great to see who could name actors who have been in 3 or more of the following series (regular cast members such as Lockley who crossed over from B5 to Crusade do not count. Also, good Canadian actors seem to have an advantage in that most of these shows are filmed there):
B5
Crusade
X Files
Highlander: the Series
Stargate SG1
Earth:Final Conflict
The Outer Limits (because so many Scifi actors show up here for cameos)
Andromeda
I left out all of Star Trek on purpose because you know that the great Jeffrey Combs and "Q" would dominate the discussion. The actor does not have to be a lead in any of the shows. Send in your comments to sgbruckner@aol.com and I'll start posting them on the Discussion Page for everyone to share.
KEEPING UP WITH CAST AND CREW
DANIEL DAE KIM: Over at StarTrek.com you can find out about the season premiere of ENTERPRISE. Look closely and you'll see Daniel's name under Guest Cast -- Corporal Chang.
---
PETER WOODWARD: Ranger Spiffy reports: The History Channel UK website has a simple on-line game of Peter Woodward's Conquest. The setup is hilarious! Peter's character challenges the player to a duel involving crossbows, longbows, and battle axes. The design is not morbid--it is cartoonish and the quips from Peter's character are very comical. I think that the game would appeal to anyone who likes history and especially the Conquest tv show. (It may also be a good stress-reliever!) Go to http://www.thehistorychannel.co.uk/index_continue.htm, select games and go to CONQUEST.
---
GARY COLE: A very familiar face will be showing up on THE WEST WING in the fall. Captain Gideon from CRUSADE, Gary Cole, will be sworn in as the Vice President of the United States. Cole will play Colorado congressman Robert "Bingo Bob" Russell starting with the show's third episode this fall. The character is described by Variety as having a few unconventional ideas.
---
CATCHING UP WITH JERRY DOYLE: Jerry is currently filming a feature film titled OPEN HOUSE and just completed an HBO original feature titled LOST TREASURE. In 2002, three independent features Jerry starred in, CODE HUNTER, DEVIOUS BEINGS and THE LONG RIDE HOME, were released. Jerry has done extensive voice over work on animated television series' such as Duckman and Captain Simian, along with numerous national commercial voice campaigns. Jerry is a "political junkie" and is considering running for Congress in Florida's 16th District. For those of you in the Chicago area, here's a bulletin. Jerry Doyle will be sitting in with MANCOW Thursday/Friday, August 15 and 16, at Q101 and can be heard on many stations across the country. This is a morning drive format, 5:30A - 10:00A, CST.
---
JASON CARTER/RICHARD BIGGS UPDATE:: Jason Carter's Fan Club passed along the following update for Rick & Jason:
Convention Reminder: September 26-28, 2003: MSFFA in Merrillville, IN. See details below. Book on CD: Jason Carter has completed narration work on "Ill Met by Moonlight" by Sarah A. Holt. The 8 unabridged CD set is available for pre-order from Buzzy Multimedia (www.buzzymultimedia.com) and are scheduled to ship 10/01/03. Audio clips and additional information can be found at The Official Jason Carter Fan Club site at www.jasoncarterfanclub.com. Film Project: Jason Carter and Richard Biggs are currently working on the film Revenant: (which also features Anita La Selva from Earth: Final Conflict). Film synopsis: Five years ago, six cops did the unthinkable. One of them returns home for the funeral of his partner, and finds himself confronted by the past-the woman he abandoned and the friends who share his guilty secret. When those friends are murdered one by one, his search for answers will lead he and his former lover to a final confrontation with a secret that refuses to be kept, an evil that won't stay buried, and a restless spirit that reaches out to claim them all. Principal photography begins in Fall 2003. The current trailer for this film can be found at The Official Jason Carter Fan Club site at www.jasoncarterfanclub.com. Investment opportunities are also available, information at the fan club site. Behind the Red Door (Jason Carter appears as Sonny) is still airing on Showtime (check your local listings) but is also available for rent on VHS and DVD from Blockbuster. Check your local stores or their website (www.blockbuster.com) for availability. The Mesmerist (Jason Carter appears as Dr. Pretory, the Mesmerist) is no longer showing in theaters and negotiations for a DVD release are still in the works. There is another film project from Magick Films (www.magickfilms.com) in the works for Jason (Victor where Jason Carter will be playing Victor Frankenstein). Details will be posted at The Official Jason Carter Fan Club site when available.
---
SPECIAL B5 CAST ACTIVITIES
2003 marks the 20th anniversary of SCARECROW AND MRS. KING's debut on CBS. A very special event is being planned. On October 17-19th at the Beverly Garland Holiday Inn in Los Angeles, California, a celebration is being planned. A number of guests have already confirmed -- including Bruce Boxleitner, Beverly Garland, Martha Smith, Paul Stout and Greg Morton. For more information on activities related to the anniversary, go to http://www.smk20thanniversary.com/.
CRUISE WITH PETER WOODWARD
Peter is considering cruising the Caribbean in early 2005 and wants to invite his fans to join the fun. He would like to see if there is sufficient interest before going too far into planning, so if you would like to receive a brochure about Peter's upcoming cruise once the details are finalized please advise of your: Name:
Postal Address, City, State, Zip:
E-mail address:
Phone number:
Total number of guests in your party:
Age range of the guests including yourself:

Send this information to pwoodwardinfo@yahoo.com. Any information you send us will be handled respectfully. This is not a commitment from you, just an indication of interest.
BABYLON 5 BIRTHDAYS
Pat Tallman - September 4
Cinzia Zanetti - September 5
Robin Atkin Downes - September 6
Mira Furlan - September 7
Walter Koenig - September 14
Paul Williams - September 19
Robert Rusler - September 20
Gary Cole - September 20
Bear Burge - September 23
Jason Carter - September 23
Manny Case - September 23 Have I missed anyone? If you know the birthday of someone connected with Babylon 5, pass the information along. We want to include everyone in our Happy Birthday Wishes.
READER BIRTHDAYS
Sometimes you just can't find the e-mail address for someone you know you have -- it's someone who responded to a discussion topic or you met in one of the chat rooms. You'd like to send a personal note, but .... No address!!!!

We've started a White Pages of Zocalo Readers! It's a handy way of keeping track of people -- and putting together a birthday/greeting card list as well. If you would like to be part of the listing, just send me your name, state, e-mail address and (if you'd like to have it listed) birthday (without year) to sgbruckner@aol.com. Check out the Directory of Readers.

Name: Barbara Smith :-)
State: Indiana
E-mail address: microsmith@hotmail.com
Birthday: September 26
BABYLON 5 FANS - SPECIAL HELP SECTION
BABYLON 5 MERCHANDISE
Are you looking for Babylon 5 merchandise? Would you like to possess some of the wonderful patches or pins sold by the B5 Fan Club? Do you want to put in an order for the latest DVD? Bruce at Uncomyn Gifts still has one of the best collections around. Check out www.uncomyngifts.com. You may just find the magazine or t-shirt or patch you are looking for.
---
BABYLON 5 SCREENSAVER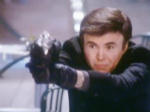 I received a wonderful note from Warner Bros. yesterday. It said:
"we also got this link from WHV for B5 screensavers, if you want to post this anywhere:
http://www.eyetide.com/download/?p=104117."
The graphics are awesome and it will add a certain measure of class to any desktop. Don't miss the preview feature. You can see what graphics have been included for your viewing pleasure. Thanks WB.
---
BABYLON 5 ROLE PLAYING AND FACT BOOK
The Babylon 5 Roleplaying Game and Fact Book
"Signs and Portents"
By Matthew Sprange
Mongoose Publishing
ISBN: 1-904577-11-3
MSRP: $49.99 From the review written at http://www.scifi.com/sfw/current/games.html B5 fans might want to pick up this game whether they actually play it or not. Based on the first season of the series, the "fact book" portion of the book includes an overview and maps of Babylon 5 and an episode-by-episode breakdown of the first season.
TRADING CARD HELP
Ranger Tia sent along this note to share with B5 card collectors:

Don't know if you've heard of my card program yet or not, but I thought the other B5 card collectors might like to try it out. With having almost all of the B5 trading cards and CCG cards available and no program to keep track of them withm, I started writing my own. Here's the website for it. Go half way down and click on the small screen shot for a full size screen shot. I have the pic of Pat Tallman's card from the Profiles card set feautured in the shot.

Oh, and I also have a lot of the card lists already saved as files so people won't need to type in all the card names. Being written by a B5 fan, ALL the card lists have already been made and are downloadable. :)

http://cardkeeper.usethis.com/keeper/index.html

Tia
NEW SCI-FI PUBLICATIONS
TV Zone #167: For Babylon 5 fans, the most interesting part of this issue will be JMS' column about season three -- the one where labor unions could have been a problems. Also in this issue, Keven Sorbo talked about the new season of Andromeda with production designer Richard B. Lewis discussing some of the universe he has created for the show. Keifer Sutherland looks at season three of 24.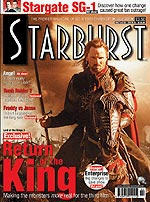 Starburst #302 Special effects have played a large part in the Lord of the Rings production. Richard Taylor, special effects guru, talks about the last segment of the saga, Return of the King. Stargate SG-1's Robert C. Cooper looks at the latest season of the show and Rogert Englund setps back to look at being Freddy.



Cult Times #96: Christopher Judge has proven not only a valuable cast member for STARGATE SG-1, but he has written some interesting and exciting episodes as well. Christopher is featured this month, talking about the new challenges ahead for the new season. Also in this issue, Shawn Piller talks about the new "season 2.5' for DEAD ZONE and CHARMED looks back over two weddings and a season finale or two.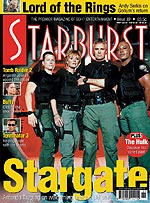 Starburst #301: Amanda Topping talks about her portrayal as Major Samantha Carter on STARGATE SG-1. It is tough being feminine in fatigues! Also in this issue, Angelina Jolie returns in TOMB RAIDER 2 and Pablo Helman talks about the challenges in doing special effects for TERMINATOR 3.



Battlestar Galactica Magazine
The classic 1970's space adventure has returned! And the official Battlestar Galactica Souvenir Magazine is the best place to get the inside track on this eagerly awaited mini-series. Featuring a stellar selection of interviews from all the main players: Edward James Olmos (Commander Adama), Mary McDonnell (Laura Roslin), Jamie Bamber (Apollo), and Kate Sackhoff (Starbuck). Plus, insider information from writers, producers, and directors, all lavishly illustrated with fantastic on-set photos and cast portraits. Available with Previews Exclusive cover! (Titan) (CAUT: 4) Magazine, 100pg, FC..........$9.99



Enterprise Season 2 Cards & Album
This 81-card case set features all 26 Season 1 episodes in one series, with three cards per episode. Features two hand signed autographed cards per box from stars like Scott Bakula (Captain Archer), Anthony Montgomery (Ensign Travis Mayweather), and Linda Park (Ensign Hoshi Sato). Plus key guest stars Bruce Davison, Jeffery Combs, J. Hertler, Robert O'Reilly, Kellie Waymire, Matt Winston, Suzie Plakson, and Dan Riordan will be signing cards too! Also available is the collector's album, custom designed to store the whole collection. Comes with 12 plastic sheets, plus a bonus promo card and autograph card. 9 cards per pack. 40 packs per box. MSRP: $2.00 per pack. (CAUT: 4)
COMIC BOOKS
SMALLVILLE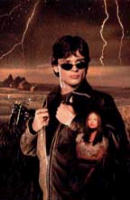 News from Comics Continuum indicates that Smallville #5 from DC Comics will include a lead story that bridges the gap between Seasons 2 and 3 of the television series. Editor Tom Palmer Jr. said, "We'll get to see what 'Bad Clark' has been up to in Metropolis and it ain't too nice!" The lead story is written by Mark Verheiden and Clint Carpenter, with art by Tom Derenick and Adam DeKraker. The back-up story, written by Clint and Jake Black with art by Pete Woods and Ron Randall, focuses on Whitney. "We saw that he died on the show, but there are some interesting events that lead up to it," Palmer said. Smallville #5 will arrive in stores in November.
AMAZING SPIDER-MAN #55
Amazing Spider-Man #55 is on stands now. The issue is written by J. Michael Straczynski and Fiona Avery, with art by John Romita Jr. and Scott Hanna and a cover by Mike Deodator Jr. Here's how Marvel describes the issue:
"More secrets of the enigmatic Ezekiel are revealed in this first part of a 2-part story co-written by J. Michael Straczynski and his protege Fiona Avery." Amazing Spider-Man #55 will be 32 pages and will cost $2.25.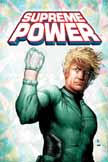 SUPREME POWER #2
Written by J. Michael Straczynski, pencils and cover by Gary Frank.
I n a world with no heroes, what happens when powerful superhumans emerge? And now that the government knows that superbeings exist, what lengths will they go to use them for their own purposes? J. Michael Straczynski tells a hard-edged, mature and deeply personal saga that pushes the limits of the comics form into new, uncharted territory.
32 pages, $2.99, in stores on Sept. 3.

SUPREME POWER
RISING STARS
JMS has pointed everyone over to http://www.comicbookresources.com/columns/?column=13 for an answer to the burning question, Where is Rising Stars? While JMS' note above listed a particular column at Comic Book Resources, that page reference has changed. To read what is going on between JMS and Top Cow, go to http://www.comicbookresources.com/columns/index.cgi?column=litg&article=1670.. A number of readers have asked about JMS' comic book series, RISING STARS. It has been quite a while since the last issue came out and they were wondering when they might expect to see the next one. JMS was asked this question in the B5 moderated newsgroup not long ago. His response was: June 3: That depends entirely on a situation with Top Cow that is in need of resolution. The delay in writing has not been a delay in writing; it's been working through some problems with Top Cow for the last...almost year now. The final issues won't be turned in until those issues are resolved.
BOOKS
BABYLON 5 NOVEL - ON BOOK SHELVES NOW
DelRey is reprinting the original Babylon 5 novels. They started with #7 - Jeanne Cavelos' THE SHADOW WITHIN. Here's one I've been waiting for -- Kathryn Drennan's TO DREAM IN THE CITY OF SORROWS. The release date is scheduled for July 29, 2003. I love the new cover art! It can be pre-ordered from www.amazon.com. For those of you who love Babylon 5, this one reads just like an episode from the series. You just can't put it down.




SCI-FI SCHEDULE
BABYLON 5 05-SEP-03 9:00 AM BABYLON 5 (LBX) THE WHEEL OF FIRE

08-SEP-03 9:00 AM BABYLON 5 (LBX) OBJECTS IN MOTION
09-SEP-03 9:00 AM BABYLON 5 (LBX) OBJECTS AT REST
11-SEP-03 9:00 AM BABYLON 5 (LBX) THE PARLIAMENT OF DREAMS
12-SEP-03 9:00 AM BABYLON 5 (LBX) SLEEPING IN LIGHT

15-SEP-03 9:00 AM BABYLON 5 (LBX) THE GATHERING -PT 1
16-SEP-03 9:00 AM BABYLON 5 (LBX) THE GATHERING -PT 2
17-SEP-03 9:00 AM BABYLON 5 (LBX) MIDNIGHT ON THE FIRING LINE
18-SEP-03 9:00 AM BABYLON 5 (LBX) SOUL HUNTER
19-SEP-03 9:00 AM BABYLON 5 (LBX) BORN TO THE PURPLE 22-SEP-03 9:00 AM BABYLON 5 (LBX) INFECTION
23-SEP-03 9:00 AM BABYLON 5 (LBX) MIND WAR
24-SEP-03 9:00 AM BABYLON 5 (LBX) WAR PRAYER

26-SEP-03 9:00 AM BABYLON 5 (LBX) AND THE SKY FULL OF STARS
29-SEP-03 9:00 AM BABYLON 5 (LBX) DEATHWALKER
30-SEP-03 9:00 AM BABYLON 5 (LBX) BELIEVERS

CRUSADE: 07-SEP-03 2:00 AM CRUSADE THE LONG ROAD
14-SEP-03 2:00 AM CRUSADE VISTORS FROM DOWN THE STREET
17-SEP-03 11:00 AM DAYTIME ROTATION - CRUSADE PATTERNS OF THE SOUL
17-SEP-03 12:00 PM DAYTIME ROTATION - CRUSADE THE PATH OF SORROWS
17-SEP-03 1:00 PM DAYTIME ROTATION - CRUSADE RULING FROM THE TOMB
17-SEP-03 2:00 PM DAYTIME ROTATION - CRUSADE THE RULES OF THE GAME
17-SEP-03 3:00 PM DAYTIME ROTATION - CRUSADE WAR ZONE
21-SEP-03 2:00 AM CRUSADE THE WELL OF FOREVER
05-OCT-03 2:00 AM CRUSADE EACH NIGHT I DREAM OF HOME
12-OCT-03 2:00 AM CRUSADE PATTERNS OF THE SOUL
19-OCT-03 2:00 AM CRUSADE THE PATH OF SORROWS
26-OCT-03 2:00 AM CRUSADE RULING FROM THE TOMB STARGATE SCHEDULE: 05-SEP-03 9:00 PM STARGATE SG-1 FALLEN -PT 1
05-SEP-03 11:00 PM STARGATE SG-1 FALLEN -PT 1 08-SEP-03 7:00 PM STARGATE SG-1
08-SEP-03 8:00 PM STARGATE SG-1
08-SEP-03 9:00 PM STARGATE SG-1
08-SEP-03 10:00 PM STARGATE SG-1
12-SEP-03 9:00 PM STARGATE SG-1 HOMECOMING -PT 2
12-SEP-03 11:00 PM STARGATE SG-1 HOMECOMING -PT 2 15-SEP-03 7:00 PM STARGATE SG-1
15-SEP-03 8:00 PM STARGATE SG-1
15-SEP-03 9:00 PM STARGATE SG-1
15-SEP-03 10:00 PM STARGATE SG-1
19-SEP-03 9:00 PM STARGATE SG-1 FRAGILE BALANCE
19-SEP-03 11:00 PM STARGATE SG-1 FRAGILE BALANCE 22-SEP-03 7:00 PM STARGATE SG-1
22-SEP-03 9:00 PM STARGATE SG-1
22-SEP-03 10:00 PM STARGATE SG-1
26-SEP-03 9:00 PM STARGATE SG-1 ORPHEUS
26-SEP-03 11:00 PM STARGATE SG-1 ORPHEUS 29-SEP-03 6:00 PM STARGATE SG-1
29-SEP-03 7:00 PM STARGATE SG-1
29-SEP-03 8:00 PM STARGATE SG-1
29-SEP-03 9:00 PM STARGATE SG-1
29-SEP-03 10:00 PM STARGATE SG-1
30-SEP-03 6:00 PM STARGATE SG-1 FARSCAPE SCHEDULE:

07-SEP-03 12:00 AM FARSCAPE JOHN QUIXOTE
14-SEP-03 12:00 AM FARSCAPE I SHRINK THEREFORE I AM
19-SEP-03 11:00 AM DAYTIME ROTATION - FARSCAPE MIND THE BABY
19-SEP-03 12:00 PM DAYTIME ROTATION - FARSCAPE CRACKERS DON'T MATTER
19-SEP-03 1:00 PM DAYTIME ROTATION - FARSCAPE THE WAY WE WEREN'T
19-SEP-03 2:00 PM DAYTIME ROTATION - FARSCAPE MY THREE CRICHTONS
19-SEP-03 3:00 PM DAYTIME ROTATION - FARSCAPE THE LOCKET

21-SEP-03 12:00 AM FARSCAPE A PREFECT MURDER EARTH: FINAL CONFLICT

05-SEP-03 5:00 AM EARTH: FINAL CONFLICT TRAPPED BY TIME
12-SEP-03 5:00 AM EARTH: FINAL CONFLICT ATONEMENT
16-SEP-03 11:00 AM DAYTIME ROTATION - EARTH: FINAL CONFLICT DEATH SUITE
16-SEP-03 12:00 PM DAYTIME ROTATION - EARTH: FINAL CONFLICT ATAVUS HIGH
16-SEP-03 1:00 PM DAYTIME ROTATION - EARTH: FINAL CONFLICT DEEP SLEEP
16-SEP-03 2:00 PM DAYTIME ROTATION - EARTH: FINAL CONFLICT ART OF WAR
16-SEP-03 3:00 PM DAYTIME ROTATION - EARTH: FINAL CONFLICT GRAVE DANGER
19-SEP-03 5:00 AM EARTH: FINAL CONFLICT BLOOD TIES
26-SEP-03 5:00 AM EARTH: FINAL CONFLICT HEARTS AND MIND
BABYLON 5/CRUSADE PHOTOSHOP PHOTOS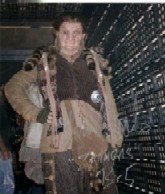 Peter Woodward has sent along a new photo -- a rather dreadful one -- from his appearance on CHARMED. It will be added to the collection of photos available from Peter, including additional copies of the Crusade poster in photo format. Both are autographed by Peter. You do NOT have to pay the prices asked for over at e-bay! Here are photos of B5 and Crusade cast members at fantastic prices. Check out Photo Shop. Ordering is easy -- and you can't beat the prices! Just let me know which photos you want and I'll check to make sure they are still in stock.
---
I-SCI-FI
I-SCI-FI will be re-broadcasting their interviews with The League of Extraordinary Gentlemen cast and crew tonight from 7-9pm MDT (5-7pm EDT). These are pre-recorded so you will not be able to call in and be eligible for prizes. All of these people are special in different ways. You are sure to enjoy Dave Lea, fight choreographer and cool guy. He's been in several top flight movies and taught some of Hollywood's 'A' list of actors and actresses how to fight and look like they are fighting, including Sylvester Stallone, Sandra Bullock, Ben Affleck, Colin Farrell and more. Check out his nearly one hour interview! We had so much fun talking we lost track of time! He was just here in Utah filming on the fourth Crow movie and you're going to want to listen to every word he has to say. If for some reason you have trouble getting the audio stream at I-SCI-FI, try ufpgalaxy.org, cosmiclandscapes.com, and now at radiostarfleet.com. Cosmic Landscapes, Radio Starfleet and UFPGalaxy rebroadcast live Thursday nights from 7-9 pm MDT and Cosmic Redux rebroadcasts the previous week's shows.
BABYLON 5 TOONS
John Cook has a wonderful collection of cartoons -- many are take-offs from Babylon 5. Here's just one of them.

He has a cartoon caption contest going on as well. Try your hand at a punch line.

Go to http://contests.sev.com.au/index.php?contestid=1


SCI-FI CARTOONS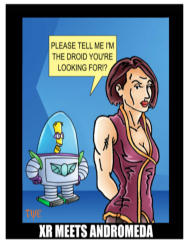 Tye Bourdony will have several cartoons published in the upcoming Cracked Magazine that hits newstands on the 29th. The issue will feature satire for Jeremy Bulloch (Star Wars) and Grace Lee Whitney, BarBara Luna, & Celeste Yarnall (Star Trek). Theese folks are all signing satires and Tye will be auctioning off one signed by Mr. Bulloch and one signed by the three Star Trek celebs for one of their favorite charities. More information on the auctions and charities shortly. I love science fiction related cartoons and Tye Bourdony is one of the most talented artists out there. He has done dozens of toons for Babylon 5. Here is his latest -- for FARSCAPE fans.



BABYLON 5/CRUSADE CONVENTIONS
CONVENTION UPDATE
CONVENTION CALENDAR
Vulkon
September 5-7, 2003
Place: Cleveland, Ohio
B5 Guests: Mira Furlan, Julie Caitlin Brown
Other Guests: Michael Dorn, Dominic Keating, James Doohan, Richard Herd
For more information, visit their website at http://www.vulkon.com.
---
To Be CONtinued
September 26-28, 2003
Site: Radissosn Hotel & Star Plaza Theater
Place: Merrillville, Indiana
B5 Guests: Richard Biggs, Jason Carter, Julie Caitlin Brown
Other Guests: Rockne O'Bannon (Farscape Creator), & Ray Park (Darth Mall)
For more information, visit their website at www.2becontinued.com. Sign up for the Biggs & Carter Experience. The first 140 people who register for Friday will have a free dinner with Richard Biggs and Jason Carter). For more information on the convention, please visit www.msffa.org. For more information on the Biggs & Carter Experience, please visit www.biggsandcarter.co.
---
Archon
October 2-5, 2003
Place: Collinsville, IL
B5 Guests: Andreas Katsulas, Julie Caaitlin Brown
For more information, visit their website at http://www.stlf.org/archon/.
---
Maquis Gras 2003
October 4-6, 2002
Place: Ramada Inn, Portage, Indiana
B5 Guest: Bill Blair
For more information, visit their website at http://www.maquis.com/mfa/gras1.htm.
---
Point North
October 5-6, 2003
Place: Salem Civic Center
Salem, VA
B5 Guest: Stephen Austin
For more information, visit their website at http://www.point-north.com.
---
FantiCon
October 10-12, 2003
City: Wilmington, NC
Place: Hampton Inn
B5 Guest: Peter Jurasik
Other guests: Lisa Wilcox, Pat Hingle, Henry Darrow, Juliet Cesario, Scott Simpson, Frank Capra, Jr.

For more information, visit their website at http://www.fanticon.org/ .
---
JVL-CON 2003
October 24-27, 2003
Jainesville, Wisconsin
Place: Ramada Inn
B5 Guest: Stephen Austin
For more information, visit their website at www.si-fi-nut.com .
---
Galacticon 2003
October 24-26, 2003
Place: Sheraton Universal Hotel, Los Angeles, CA
Guests: Stars, Producers, Writers and Crew fro the Original Battlestar Galactica
For more information, visit their website at http://www.galacticonevents.com/index2.html .
---
Vulkon
October 31-November 2, 2003
Place: Nashville, TN
B5 Guest: Robin Atkin Downes
Other Guests: Julie Benz, Robia LaMorte, George Hertzberg
For more information, visit their website at http://www.vulkon.com.
---
Be sure to visit our Convention Calendar for a full listing of upcoming conventions featuring Babylon 5, Crusade and Legend of the Rangers cast members as guests.
If you would like to share your convention experience with your other Zocalo readers, send along a convention report. I will gladly post it for all to read. Got pictures? I'll post those as well.
ZOCALO TRADING POST
Do you have extra copies of B5, Amazing Spiderman, Midnight Nation or Rising Stars comics you'd like to trade? How about those extra trading cards or B5 magazines? There are a lot of fans looking for these items -- and the Trading Post can help you buy or sell them. To see what's available, just use this link to the Trading Post. To have items included in The Trading Post, send a note to The Zocalo. Please put Trading Post in the subject line.
PEN PALS
If you are looking for someone to talk about Babylon 5 and Crusade with, the Pen Pal section is for you! Check it out! Drop a note to someone who is feeling B5 withdrawal -- BIG TIME!

People thought a Pen Pal page was a good idea. If you would like to meet people who you could chat with or share your opinions of the show with, send along your e-mail or snail-mail address The Zocalo. It will be incorporated on the new Pen Page Page.
MAIL FOR CAST AND CREW
Here's a recent note from JMS on the subject:

Just an FYI to those who've been using the Ventura Blvd. mail drop for fan mail to actors....

As mentioned before, we're phasing out the forwarding of fan mail because we a) don't have the resources, complicated by b) the actors have scattered to the four winds, and it makes it very difficult to get everything to everybody in a timely fashion.

So, having provided prior notice...fan mail to actors coming to the Ventura Blvd. mail drop will be sent back. Mail to actors should be sent via their official fan clubs. I will still be taking mail there, since it's my mailbox, but that's it.

Just so's y'all know and save a few bucks on postage and returns.

JMS' mail can be sent to:

14431 Ventura Boulevard, PMB 260
Sherman Oaks, CA 91423

WARNER BROS:

Warner Bros. Address:

Warner Bros. Domestic Television Distribution
4000 Warner Blvd.
Burbank, CA 91522

Warner Home Video:

Mr. Douglas Wadleigh
VP for Marketing and Special Features
Warner Bros.
4000 Warner Blvd.
Burbank, CA 91522

SCIFI:
Bonnie Hammer, President
Sci-Fi Channel
1230 Avenue of the Americas
New York, NY. 10020-1513

Mr. Thomas Vitale
Senior VP of Acquisitions, Scheduling & Program-Planning
BACK ISSUES OF THE ZOCALO TODAY
The front page of the The Zocalo Today changes daily, so be sure to check the back issues to make sure that you haven't missed anything IMPORTANT! I don't want the front page getting too long so I shift information periodically into the archives. So if you aren't a regular visitor to The Zocalo Today, be sure to check out the back issues. Just use the button above!
---
Take care and I look forward to hearing from you.
Sandra Bruckner (sgbruckner@aol.com)
Editor/Publisher
The Zocalo Today
http://www.isnnews.net
Copyright - SBruckner, 1999-2003