[an error occurred while processing this directive]

The Zocalo Today

Welcome and thank you for dropping by. Take your shoes off, get comfortable and stay a while. There is a LOT of information here and you won't want to miss any of it.

The Zocalo Today is an interactive newsletter, encouraging readers to join a discussion topic or to send along letters that can be shared with other readers.

The Zocalo Today is a newsletter for Babylon 5 and science fiction fans everywhere. It is as much YOUR newsletter as it is mine! I'm just pulling together things for you!

Join our discussion topic. It is just one way you can share with other Z readers. If you see Babylon 5 cast and crew in other roles, let us know. We enjoy convention reports, photos, etc. Don't miss our back issues. I hope this will become more than just a newsletter. It's a community of people that enjoy sharing their experiences and interests. Babylon 5 brought many of us together -- and it remains with us, despite the fact that is no longer in production. Don't be shy. Join us today!

If you have questions, drop me a line at sgbruckner@aol.com. If you would like to join the mailing list for our newsletter, send me a note and I'll include you on the list. Or you can use the subscription block at the left.

Again, WELCOME!
SATURDAY, JANUARY 3, 2009
NEW DOCTOR WHO SOON
According to the Hollywood Reporter, the BBC will reveal the identity of the new Doctor Who after the departure of David Tennant as part of a special edition of "Doctor Who Confidential" that will air Saturday evening on BBC1, executive producer and lead writer Steven Moffat said Friday. The show will reveal the identity of the 11th Timelord, one of the best-loved characters on TV. James Nesbitt, John Simm, David Morrissey and Paterson Joseph are among the actors whose names have been mentioned in connection with the role, but the BBC said a decision had finally been made over Christmas and the announcement would allow scripts to be produced ahead of filming for the fifth series, which would begin in the summer.
"We believe the actor is going to bring something very special to the role and will make it absolutely their own," BBC Wales head of drama Piers Wenger said. "I just can't wait to tell everyone who it is -- it has been a nail-biting Christmas trying to keep this under wraps."
Tennant announced that he was stepping down from the role in October. He will appear in four "Doctor Who" specials this year, and a new series will begin in 2010.
DIRECTOR ROUNDTABLE
Over at the Hollywood Reporter, you'll find a great series of videos -- directors talking about their jobs -- their way of telling stories. Oscar Roundtable. "Ron Howard and Clint Eastwood are key figures in the discussion. Clint's comments about the writing process and writers is interesting.
9
I haven't heard much about this film, but the trailer is most interesting http://link.brightcove.com/services/link/bcpid714034225/bclid713046265/bctid6267202001. In a parallel reality Earth, humanity has destroyed itself in an endless series of world wars, but the last human scientist creates some genetically engineered sock-puppet sized creatures to be defenders of our legacy. They have to go on a quest hunted by evil droids that have also survived. Elijah Wood stars with an impressive cast that includes (Christopher Plummer), a war veteran; Two (Martin Landau), an inventor; Five (John C. Reilly), a mechanic; Six (Crispin Glover), an artist; and Seven (Jennifer Connelly), a warrior.
THE NIGHT PROJECTIONIST
According to Variety, Myriad Pictures and publisher Studio 407 will adapt the upcoming horror comic book mini-series THE NIGHT PROJECTIONIST for the big screen. The story takes place on Halloween Eve in a small-town movie theater, where an all-night Draculathon draws throngs of moviegoers who suddenly find themselves locked inside the theater, which is slowly filling with vampires.
The first issue hits stores in February. 407 and Myriad are also scheduled to begin production later this year on an adaptation of the comic book "Hybrid".
TOP SCIENCE FICTION NEWS STORIES:
To catch up on the latest news from around the world of science fiction, go to News Page. You'll find the highlights this week and this month here.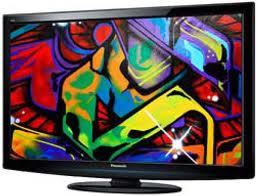 8:00pm on BBC America
Doctor Who - The Unicorn and the Wasp
Agatha Christie's 10-day disappearance in 1926 may have been the result of amnesia, a nervous breakdown, or a giant alien wasp.
8:00pm on SpikeTV
Star Wars: Episode II -- Attack of the Clones(2002)
Obi-Wan Kenobi and his Jedi apprentice, Anakin Skywalker, protect the former queen from political separatists.
8:00pm on HBO
Jumper(2008)
A young man's ability to teleport himself anywhere in the world makes him a target for those who have sworn to kill him and others like him. Based on a novel by Steven Gould.
9:00pm on BBC America
Doctor Who - Silence in the Library
The Doctor and Donna must uncover the truth behind the Nodes and the Data Ghost to uncover the library's secret.
9:00pm on SciFi
Serenity(2005)
Crew members aboard a transport vessel get caught in a deadly conflict in the wake of a galactic war. Based on the TV series ``Firefly.''
DISCUSSION TOPIC
Now that we have some time to kick back and relax (right?), let's talk about the new shows -- Fringe, Eleventh Hour, The Mentalist, etc. What do you like/hate about them? Are there other programs you enjoy watching? What are they and why do you watch?

Send in your comments to sgbruckner@aol.com and I'll post them on our discussion page for all readers to share. I'll be posting some of my comments in my blog -- see below. I don't get to watch much TV during the week, but thanks to hulu.com and some of the networks, I don't miss a lot.
BABYLON 5 MUSIC VIDEOS AND TRIBUTES
I found this message on the Babylon 5 moderated newsgroup this morning and just had to post it so that others might enjoy the marvelous music videos created by John Hudgens.

+++++++++++++++++++++++++ As some of you may know, I was hired by Joe Straczynski back in the day to create Babylon 5 music videos for him to use at science fiction conventions, and later to promote the show to networks. Eight were produced over the run of the series, not including the memorial videos I did later for Rick Biggs and Andreas Katsulas.

For the longest time, the only way to see these was if Joe or I showed them at a convention, but now, after numerous requests from fans over the years, Joe has given me permission me to post these online.

Danger Zone: http://www.youtube.com/watch?v=xYNG0ow0G0k

I Need a Hero: http://www.youtube.com/watch?v=PFo3Lau2Occ

Requiem: http://www.youtube.com/watch?v=X7ckXY6yiVQ

Nobody's Side: http://www.youtube.com/watch?v=Wk9LvldiOf0

Welcome to the Third Age: http://www.youtube.com/watch?v=YT5q_ltXiY0

Keep Yourself Alive: http://www.youtube.com/watch?v=t0lRtpWR5lo

The Phantom B5 Video: http://www.youtube.com/watch?v=uV4GMNjDdYc

Third Age 2K: http://www.youtube.com/watch?v=HqIyY0PWjbI

Richard Biggs memorial: http://www.youtube.com/watch?v=HyD4L8yNtsA

Andreas Katsulas memorial: http://www.youtube.com/watch?v=h2UQ2l9NPIg

- This is the extended version that I did for Andreas' widow ater the original cut was released on the net. It's never been seen online until now.

For those of you who've never seen these, I hope you enjoy them - and for those that have (and emailed me many times over the years about releasing them), I hope they're as good as you remember. Working with Joe on these videos was one of the highlights of my career, and I'll be forever grateful to him for the doors these have opened for me. I'm proud to have them on my resume.

John Hudgens
www.zteamproductions.com
ISN BLOG
I have just created ISN News Blog at http://isnnews.blogspot.com. This is an experiment for me -- and I hope you'll join me by entering news you have to share. I'll put in stuff that I think is interesting for others to read about and we'll see how it goes. Join me.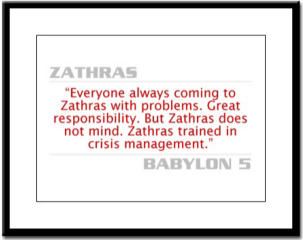 BABYLON 5 QUOTE STORE
CafePress has a number of items to offer. TheJoeStore, only now it's the Babylon 5 Quote store -- and everything in it is NEW. Head over to see how your favorite quote can be that special gift for your favorite B5 fan. www.b5quotes.com.




While Andreas Katsulas (G'Kar), Rick (Biggs) and Tim (Choate) are no longer with us, we will not forget their wonderful personalities and talent -- as well as their significant contributions to the BABYLON 5 universe. Be sure to visit In Memory Of for more information about memorial efforts. Until we met again, in a place where no shadows fall.
BABYLON 5 BIRTHDAYS
January 9 - David Allen Brooks
January 24 - Peter Woodward
January 27 - Julie Caitlin Brown
January 27 - Tamilyn Tomita

Have I missed anyone? If you know the birthday of someone connected with Babylon 5, pass the information along. We want to include everyone in our Happy Birthday Wishes.

For more of these fabulous cartoons, go to http://cartoons.sev.com.au/Sev-Space/Sevylon-5/.
MOONLIGHT
Release Date: January 20, 2009
Website: www.moonlightondvd.com
Synopsis:
Any private eye knows a lot about other people?s secrets. L.A. private eye Mick St. John (Alex O'Loughlin) has a secret of his own. He's a vampire, dwelling in a covert netherworld complicated by friendship with an undead finance honcho (Jason Dohring), memories of the alluring ex- wife (Shannyn Sossamon) who turned him into a vampire, and a relationship with a human (Sophia Myles) he feels drawn to protect -- and maybe to love. But no matter how tempting, Mick knows a vampire-human romance is eternally dangerous. This 16-episode, 4-disc set of the series voted the 2008 People's Choice Award for Favorite New TV Drama is a sure entertainment bet for all who like their vampire stories sleek, intense and passionate.
Dark Knight
Release date: November 25, 2008
Official website: thedarkknight.com
Synopsis:
The follow-up to BATMAN BEGINS, THE DARK KNIGHT reunites director Christopher Nolan and star Christian Bale, who reprises the role of Batman/Bruce Wayne in his continuing war on crime. With the help of Lt. Jim Gordon and District Attorney Harvey Dent, Batman sets out to destroy organized crime in Gotham for good. The triumvirate proves effective, but soon find themselves prey to a rising criminal mastermind known as The Joker, who thrusts Gotham into anarchy and forces Batman closer to crossing the fine line between hero and vigilante. Heath Ledger stars as archvillain The Joker, and Aaron Eckhart plays Dent. Maggie Gyllenhaal joins the cast as Rachel Dawes. Returning from BATMAN BEGINS are Gary Oldman as Gordon, Michael Caine as Alfred and Morgan Freeman as Lucius Fox. Some clips from the WB
Business Deal put on hold (1:02)
http://raincloud.warnerbros.com/wbol/us/whv/med/darkknight/exclips/dkexfc_businessdealputonhold_300.asx
Die hero live long enough become villan (1:10)
http://raincloud.warnerbros.com/wbol/us/whv/med/darkknight/exclips/dkexfc_dieherolivelongenoughbecomevillian_300.asx
Do you know who you are stelling from (1:03)
http://raincloud.warnerbros.com/wbol/us/whv/med/darkknight/exclips/dkexfc_doyouknowwhoyouarestealingfrom_300.asx
We're tonight's sent entertainment (1:00)
http://raincloud.warnerbros.com/wbol/us/whv/med/darkknight/exclips/dkexfc_weretonightsentertainment_300.asx
REVIEW
If ever there was a movie made for the BIG screen, it is THE DARK KNIGHT. If you thought you had seen some fantastic visual effects in BATMAN BEGINS, just wait until you see what they do in this movie!!!! It is awesome.
I have loved Batman since I was a kid. The thought of a regular guy fighting crime is very appealing. Unlike Superman, he has no special powers, only his intelligence and wit. That usually is enough to outsmart or outwit his adversaries. The Joker (masterfully played by the late Heath Ledger) is a different kind of criminal. He wants to control everything and everyone.
There are many characters to absolutely love in this series. Gary Oldman is perfect as Lt. Gordon, but I absolutely adore Michael Caine as Alfred and Morgan Freeman as Lucas Fox. They steal every scene they are in.
There is no doubt this saga will continue. As long as there are criminals that need to be brought to justice, there needs to be a Batman somewhere out there to help the police force.
NEW FAMILY DVDS
Looking for movies you can watch with your children? I have moved many of the family-oriented DVDs to a Family DVDs page. Here you will find wonderful DVDs you can enjoy with your entire family -- no matter the age. You will find background information about the DVD, but there are clips as well from Warner Bros. Enjoy!

For more information on other DVDs that have just been released and reviewed, go to New DVDs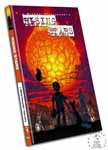 RISING STARS COMPENDIUM HARDCOVER
(W) J. Michael Straczynski, Fiona Avery (A) Brent Anderson, Keu Cha, David Finch, Karl Moline
When Rising Stars first debuted in 1999, people hailed its fresh take on the superhero mythos, grounding the fantastic in reality. The groundbreaking series by acclaimed writer J. Michael Straczynski (Amazing Spider-Man, Babylon 5, Squadron Supreme, Thor, Ultimate Power) spawned three spin-off mini-series and has influenced successful TV shows like The 4400 and Heroes.
Now, for the first time ever, every issue of Rising Stars, from the #0 to the last issue of the last mini-series, is collected into one comprehensive deluxe hardcover.
Collects Rising Stars #1-24, #0 issue, #1/2 issue, Prelude issue, Rising Stars: Bright, Rising Stars: Voices of the Dead and Rising Stars: Untouchable.
Full Color 1,008 pages $99.99 hardcover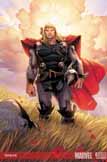 THOR #10
Written by J. Michael Straczynski, pencils and cover by Olivier Coipel.
As the Asgardians returned to this life and Thor returned to Midgard, so came the ills that have plagued the gods and man for millennia. Now for the first time since their rebirth, Thor and his fellow hero-gods are venturing forth from the Shining City to confront the growing evils that amass on their horizon...and within their walls... 32 pages, $2.99.
CIVIL WAR CHRONICLES #12
Written by J. Michael Straczynski and Paul Jenkins, penciled by Ron Garney and Ramon Bachs, cover by Steve McNiven.
Experience Civil War and its major tie-ins in chronological order! In Captain America #25, find out what happens next in the life of the Sentinel of Liberty! The biggest Cap story that Ed Brubaker and Steve Epting have yet to tell, "Death of a Dream" will stun readers and send shockwaves through the entire Marvel Universe for the next year and it begins here! And in Civil War: The Confession, the team that brought you the start of Civil War with the New Avengers: Illuminati special presents a heart-wrenching finale. Two of the Marvel heroes most affected by the shocking conclusion of the war get together one last time. What is said between them will set the course of the Marvel Universe for years to come.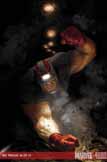 THE TWELVE #6
Written by J. Michael Straczynski, penciled by Chris Weston, cover by Paolo Rivera.
The Laughing Mask--behind bars! Secrets of the Black Widow--revealed! Dynamic Man kicks ass! The Blue Blade bombs out! And the truth behind the origin of underground secret agent Rockman!
MARVEL ADVENTURES THE AVENGERS #17
Marvel Adventures The Avengers #17 will arrive in stores on Oct. 17 from Marvel Comics. The issue is written by J. Michael Straczynski, with art and cover by Joe Quesada. Here's how Marvel describes the issue:
"Ok, you're a super hero. And you've got to fight a robot. But while the robot can punch and blast you with lasers, you can't touch him. That's a problem, right? That's what the Avengers are up against when they encounter The Vision!"
Marvel Adventures The Avengers #17 will be 32 pages and will cost $2.99.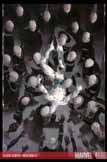 SILVERS SURFER: REQUIEM #4
Silver Surfer: Reqiuem #4 will arrive in stores on August 29 from Marvel Comics. The issue is written by J. Michael Straczynski, with art and cover by Esad Ribic. Here's how Marvel describes the issue:
"For untold years, Norrin Radd surfed the galaxy, exploring the darkness between stars, witnessing the rise and fall of vast civilizations. Now his ride comes to an end. Zenn-La, the planet of his birth, the planet he saved through his own sacrifice -- the Silver Surfer crossed the galaxy to draw his last breath here. He¹s home. What waits for him?"
Silver Surfer: Reqiuem #4 will be 32 pages and will cost $3.99.





February 13-15, 2009
FARPOINT 2009
Place: Crowne Plaza Hotel
City: Timonium, Maryland
Guests: Alan Tudyk (Serenity), Harve Bennett (Star Trek producer), Phil Weyland (actor, dialogue coach)
For more information, go to http://www.farpointcon.com/.

February 27-March 1, 2009
Megacon 2009
Place: Orange County Convention Center
For more information, go to http://www.megaconvention.com
March 27-29, 2009
Narutotrek 2009
Place: Sheraton Suites Cypress Creek
City: Ft. Lauderdale, FL
Guests: Walter Koenig, Denise Crosby and more
For more information, go to http://www.narutotrek.com

SPECIAL ANNOUNCEMENTS!
Creation Entertainment has a large number of conventions planned for the next several months. They include stars from STARGATE, ENTERPRISE, FARSCAPE, XENA, BATTLESTAR GALACTICA, etc. Check out their calendar to see if one will be in your neighborhood soon. Don't miss their Videos page as well. It is full of some priceless video from a number of conventions.
JUMPCON CONVENTIONS
Sites are closed for these conventions. If you are holding tickets for any of these conventions, please get in touch with convention organizers.
Be sure to visit the referenced sites to see if there have been changes in dates/guests attending. Visit our Convention Calendar for a full listing of upcoming conventions.
BACK ISSUES OF THE ZOCALO TODAY
The front page of the The Zocalo Today changes daily, so be sure to check the back issues to make sure that you haven't missed anything IMPORTANT! I don't want the front page getting too long so I shift information periodically into the archives. So if you aren't a regular visitor to The Zocalo Today, be sure to check out the back issues. Just use the button above!
---
Take care and I look forward to hearing from you.
Sandra Bruckner (sgbruckner@aol.com)
Editor/Publisher
ISN News: The Zocalo Today
http://www.isnnews.net
Copyright - SBruckner, 1999-2008