[an error occurred while processing this directive]

The Zocalo Today

Welcome and thank you for dropping by. Take your shoes off, get comfortable and stay a while. There is a LOT of information here and you won't want to miss any of it.

The Zocalo Today is an interactive newsletter, encouraging readers to join a discussion topic or to send along letters that can be shared with other readers.

The Zocalo Today is a newsletter for Babylon 5 and science fiction fans everywhere. It is as much YOUR newsletter as it is mine! I'm just pulling together things for you!

Join our discussion topic. It is just one way you can share with other Z readers. If you see Babylon 5 cast and crew in other roles, let us know. We enjoy convention reports, photos, etc. Don't miss our back issues. I hope this will become more than just a newsletter. It's a community of people that enjoy sharing their experiences and interests. Babylon 5 brought many of us together -- and it remains with us, despite the fact that is no longer in production. Don't be shy. Join us today!

If you have questions, drop me a line at sgbruckner@aol.com. If you would like to join the mailing list for our newsletter, send me a note and I'll include you on the list. Or you can use the subscription block at the left.

Again, WELCOME!






SATURDAY, May 31, 2008
MIRRORS
Fox has released a behind-the-scenes video featurette from the upcoming supernatural horror film MIRRORS, starring 24's Kiefer Sutherland and directed by French helmer Alexandre Aja (High Tension). Sutherland plays troubled ex New York cop Ben Carson, who takes a job as a night security guard at a long-closed department store ravaged by fire. He discovers that the store's mirrors harbor a horrific secret that threatens him and his family. The film opens Aug. 15. The video is embedded on the page at www.scifi.com.
---
FIREFLY'S TIM MINEAR
According to the Hollywood Reporter, writer-producer Tim Minear (Firefly, Wonderfalls) has signed a new two-year overall deal with 20th Century Fox TV. Under the seven-figure pact, Minear will work on existing 20th TV series, such as Joss Whedon's upcoming DOLLHOUSE, and develop new projects for the studio. For his future development, Minear is leaning toward genre shows.
---
SHORTS
Variety reports that Jon Cryer, William H. Macy, Leslie Mann and James Spader are set to star in Robert Rodriguez's family comedy adventure SHORTS. Rodriguez is writing, directing and producing the film for Warner Brothers. Production will begin soon in Austin, Texas. Jimmy Bennett, Kat Dennings, Trevor Gagnon, Leo Howard, Devon Gearhart, Rebel Rodriguez, Jake Short and Jolie Vanier also star. SHORTS is set in a suburb where all the houses look the same and everyone works for Black Box, manufacturer of the ultimate communication and do-it-all gadget. Chaos follows when an 11-year-old boy is hit in the head with a rainbow-colored rock that grants wishes to anyone who holds it. Rodriguez is serving as his own director of photography, editor and visual effects supervisor.
---
YOUR HIGHNESS
According to Variety, Danny McBride will star in the fantasy comedy YOUR HIGHNESS for director David Gordon Green. Scott Stuber will produce through his Universal- based company. Production begins in January, 2009. McBride, who wrote the script with Ben Best, will play an arrogant, lazy prince who must complete a quest to save his father's kingdom. "This is such an original idea for a comedy that takes place in a kingdom with dragons and wizards, with Danny at the center as the outcast brother who gets an opportunity to prove himself," Stuber told the trade paper. Former college classmates Green and McBride previously collaborated on the drama ALL THE REAL GIRLS, which was McBride's acting debut. McBride has also worked with Best on the comedy THE FOOT FIST WAY, in which he played a small-town martial arts teacher. He is currently filming the big-screen version of LAND OF THE LOST, starring Will Ferrell and Anna Friel.
---
THURSDAY NIGHT RATINGS RACE - LOST FINALE
The numbers for the season finale of LOST were good enough for ABC to win the Thursday night ratings race. ABC averaged a 6.4 rating/11 share for the night, beating FOX, 5.9/10, for the top spot. CBS took third with a 4.9/8. NBC, 2.8/5, came in fourth, and The CW brought up the rear with a 1.1/2. The adults 18-49 race played out the same way, with ABC's 4.0 rating in the lead. FOX finished second in the demographic with a 3.6. CBS, 1.9, was third, followed by NBC, 1.7, and The CW, 0.6. FOX led the 8 p.m. hour with "So You Think You Can Dance," 5.8/10. A repeat of the most recent LOST drew a 4.5/8 for ABC. THE BIG BANG THEORY and HOW I MET YOUR MOTHER averaged 3.2/6 for CBS. An OFFICE rerun and LAST COMIC STANDING put NBC in fourth, ahead of a SMALLVILLE repeat, 1.2/2, on The CW. LOST, 7.1/12, moved ABC to the front at 9 p.m. SO YOU THINK YOU CAN DANCE improved slightly to 6.0/10, keeping FOX in front of CBS and CSI, 5.9/10. LAST COMIC STANDING drew a 3.0/5 for NBC. A SUPERNATURAL rerun on The CW fell off a little from its lead-in. At 10 p.m., LOST rose to 7.6/13, but it failed to match its ratings from last year. This year's finale averaged about 12.2 million viewers, while last years, which aired a week earlier but was partially opposite the AMERICAN IDOL finale, drew 13.8 million. A WITHOUT A TRACE repeat scored a 5.7/10 for CBS, while the conclusion of LAST COMIC STANDING and another OFFICE rerun averaged 2.9/5 for NBC.
---
EMILY
According to the Hollywood Reporter, another comic should be hitting the big screen in the near future, though this one isn't based around an iconic superhero. Instead, it will be based on the Dark Horse comic series EMILY THE STRANGE. HELLBOY and 30 DAYS OF NIGHT producer (and also Dark Horse president) Mike Richardson is on board to produce the adaptation. Original comic book creator Rob Reger is also producing and they're both looking for a director who "gets the character". Richardson's company began publishing the title in 2005, with "Emily the Strange #1: Chairman of the Bored," which was followed by several other popular miniseries. "Emily herself is very appealing little girl, there's an edge to her," Richardson said. "There is something very alluring to her image; people see it and respond to it immediately."
Plot Concept: Created by Skateboarder Reger, the comic tells the origin of a gothic figure and her four mysterious cats. The movie will also have 13 new characters with names like Earwig, Umlaut, McFreeley and Officer Summers. The story forms the basis of an "Emily" young adult novel, which will be published next year by HarperCollins. No studio is yet attached to distribute but Universal Pictures has a first-look deal with Dark Horse so they're the #1 contender.
---
CADILLAC BEGINS PRODUCTION
Production has officially begun on DOLAN'S CADILLAC, the next Stephen King adaptation for theaters. The upcoming psychological thriller will star Christian Slater, Wes Bentley and Emmanuelle Vaugier. Director Jeff Beesley is leading the project, based on a screenplay by Richard Dooling.
Plot Concept: Tom Robinson (Wes Bentley) is a peaceful, law-abiding schoolteacher until his wife Elizabeth (Emmanuelle Vaugier) accidentally witnesses a murder. Jimmy Dolan (Christian Slater), Las Vegas¹ most ruthless and untouchable mob boss, never leaves behind a witness. Haunted by the ghost of his wife, Robinson transforms himself into an obsessed vengeance machine, pushing himself beyond the breaking point of mind, body and spirit. When the two men finally meet deep in the heart of the desert, DOLAN'S CADILLAC climaxes with an amazing test of wills the ultimate duel. The Cadillac, which has been Dolan's armor, may just as easily become his tomb.
---
TOP SCIENCE FICTION NEWS STORIES:
To catch up on the latest news from around the world of science fiction, go to News Page. You'll find the highlights this week and this month here.
---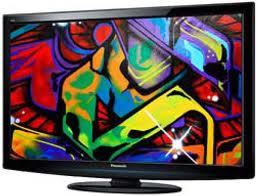 7:30 on Cinemax
Transformers
Humanity's fate rests in the hands of a youth when two races of warring robots make Earth their final battleground. Credits: Shia LaBeouf, Tyrese Gibson, Josh Duhamel, Anthony Anderson, Megan Fox

8:00pm on CBS
CSI: Crime Scene Investigation - Bull
Grissom and his team investigate two murders at the annual bull-riding finals - killings that may be related to illegal bull breeding; Ty Murray, Jewel and Shooter Jennings guest star as themselves.

8:00pm on A&E
The Andromeda Strain
A reporter uncovers a government conspiracy when a deadly pathogen from a U.S. satellite spreads through Utah. Based on a novel by Michael Crichton. Credits: Benjamin Bratt, Eric McCormack, Ricky Schroder

8:00pm on BBC America
Robin Hood - The Angel of Death
Will faces a short-lived reconciliation with his father; the sheriff is testing a poison on a Nottingham street and blaming its effects on the pestilence.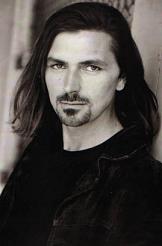 9:00pm on BBC America - NEW
Robin Hood - Ducking and Diving
Robin realizes he has a traitor in his gang when a plan to capture the Sheriff's spy is foiled.
9:00pm on SciFi
Heatstroke
A major and his team of commandos must prevent an alien race from destroying Earth. Credits: D.B. Sweeney, Danica McKellar, Chris Cleveland, Kelly Rice
NINJA ASSASSIN
Ranger Gordon alerted me to this WB announcement:

''Ninja Assassin'' Starts Production in Berlin
Rain Stars in the Film under the Direction of James McTeigue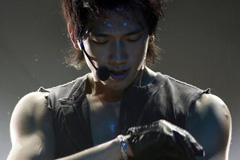 BURBANK, Calif.--(BUSINESS WIRE)--Filming is underway on "Ninja Assassin," being directed by James McTeigue ("V for Vendetta") from a screenplay by Matthew Sand and J. Michael Straczynski. Joel Silver, Grant Hill, Larry Wachowski and Andy Wachowski are producing, with Thomas Tull, Jon Jashni and William Fay serving as executive producers.
"Ninja Assassin" stars Korean pop star Rain ("Speed Racer") as the central character, Raizo; Naomie Harris ("Pirates of the Caribbean: At World's End") as Europol researcher Mika Coretti; Ben Miles ("V for Vendetta") as Europol Agent Ryan Maslow; legendary martial arts performer Sho Kosugi ("Revenge of the Ninja") as the ruthless leader of the Ozunu Clan; and Rick Yune ("Die Another Day") as Raizo's rival, Takeshi.
Principal photography is taking place at Babelsberg Studios and on location in various parts of Berlin.
"Ninja Assassin" follows Raizo (Rain), one of the deadliest assassins in the world. Taken from the streets as a child, he was transformed into a trained killer by the Ozunu Clan, a secret society whose very existence is considered a myth. But haunted by the merciless execution of his friend by the Clan, Raizo breaks free from them… and vanishes. Now he waits, preparing to exact his revenge.
In Berlin, Europol agent Mika Coretti (Naomie Harris) has stumbled upon a money trail linking several political murders to an underground network of untraceable assassins from the Far East. Defying the orders of her superior, Ryan Maslow (Ben Miles), Mika digs into top secret agency files to learn the truth behind the murders. Her investigation makes her a target, and the Ozunu Clan sends a team of killers, led by the lethal Takeshi (Rick Yune), to silence her forever. Raizo saves Mika from her attackers, but he knows that the Clan will not rest until they are both eliminated. Now, entangled in a deadly game of cat and mouse through the streets of Europe, Raizo and Mika must trust one another if they hope to survive…and finally bring down the elusive Ozunu Clan.
The behind-the-scenes creative team includes director of photography Karl Walter Lindenlaub, production designer Graham "Grace" Walker, costume designer Carlo Poggioli and editor Giancarlo Ganziano. The Wachowski brothers' longtime stunt coordinators Chad Stahelski and David Leitch are also on board as second unit co-directors.
"Ninja Assassin" is a Warner Bros. Pictures presentation in association with Legendary Pictures and Dark Castle Entertainment.

BABYLON PODCAST #113
Welcome to Show #113!

Jeffrey secretly traverses the back hallways of VH-1 in search of quiet place to chat with us, and Tim has questions about the B5 action figures, seeing as how he came across a rare Ivanova variant and didn't know it until we told him. But he opened it, alas.

Jeffrey also thinks that all of the female action figures on that run all had the exact same faces, so we're sure someone will investigate. Summer never collected the action figures, and instead focused on the trading cards.

Deep Geeking: Tim and Summer discuss "The Summoning". There are many levels summoning going on in this episode, so the title is more apropos than initially apparent.

Discussion: Tim asks Jeffrey about the long tracking shot at the opening of this episode, and about how the sets were built to allow for longer shots to be made, and whether or not the crew had fun wrapping Jerry Doyle in a massive amounts of clingwrap. Could it have been the Snackman supplying the cling wrap?

To catch up on all the wonderful podcasts, go to www.babylonpodcast.com.
THE CHANGELING
I don't know about you, but I have been watching reports from Cannes all week. THE CHANGELING is getting fantastic reviews and here are some pictures from a recent press conference where JMS is featured. We've known of JMS' talent for years -- it is just now coming to the attention of others.
THE CHANGELING PRESS CONFERENCE
Ranger Regis sent along a link to the video of this Press Conference from Cannes http://www.festival-cannes.fr/en/mediaPlayer/9426.html. The entire 40-minute press conference (with translation in French) can be seen at http://cannes2008.canalplus.fr/film-changeling-20-mai-2008-page1.aspx?PlayVideo=4.
---
Ranger Mike sent in the following clipping from IMDb:
Movie Reviews: 'Changeling'
Clint Eastwood's Changeling has drawn some of the strongest early reviews yet at the Cannes Film Festival. (Critics were unsure what the actual title was. The festival said on Tuesday that it had received a written notice from the studio that the title had been changed to The Exchange, aligning it with the French title, L'Échange. But at a news conference Eastwood implied that he had not agreed to a such a change, and the daily festival program, after revising the title on Tuesday changed it back to Changeling today.) Geoffrey MacNab in the London Independent called the film a "magisterial piece of work." While predicting that the movie won't become a big box-office success for Eastwood, he concluded that "in its unfussy craftsmanship and emotional punch, it shows him still at the peak of his powers." Writing for the British trade publication Screen Daily, Mike Goodridge predicted that the movie will "go all the way from the Palais to the Academy Awards." Several critics attending the screening came away forecasting an Oscar nomination not only for Eastwood but also for the film's star, Angelina Jolie. "She is the entire, anxious point of Eastwood's film," wrote James Christopher in the London Times, "and absolutely terrific." Todd McCarthy in Daily Variety called her performance "top notch." And Kurt Honeycutt wrote in the Hollywood Reporter," Jolie puts on a powerful emotional display."
Another article noted is at http://www.festival-cannes.fr/en/article/56129.html

Ranger Jim found this article that includes a quote from JMS:
"I was so astonished by the extent to which she suffered by asking one simple, clear question: What happened to my child," said J. Michael Straczynski, who researched Christine Collins' ordeal and wrote the screenplay for "Changeling." "She did all the heavy lifting. I just wrote it down."
From a longer article at http://movies.msn.com/news/article.aspx?news=315022.

Variety has reviewed the film as well. You can read all about it at http://www.variety.com/VE1117937210.html

The Hollywood Reporter's review can be found at http://www.hollywoodreporter.com/hr/awards_festivals/fest_reviews/article_display.jsp?&rid=11148&imw=Y
---
Over at http://blogs.amctv.com/shootout/ you will find an interview with J. Michael Straczynski, screenwriter for THE CHANGELING.
OTHER VOICES
Babylon 5 Scripts: Other Voices
VOLUME 1
Price: $39.99
$29.99 $10 off good through Wed May 21 ONLY
Volume 1 will never be offered at a discount again

For more information about B5 Other Voices, go to www.B5OtherVoices.com

Featuring these scripts
• "Born to the Purple" by Larry DiTillio
• "The War Prayer" by D.C. Fontana
• "DeathWalker" by Larry DiTillio
• "Believers" by David Gerrold
• "Survivors" by Marc Scott Zicree
• "Grail" by Christy Marx

PLUS A SPECIAL BONUS:
David Gerrold's complete outline for "Laser-Mirror-Starweb," a never-produced, never-seen episode of Babylon 5.

All scripts include an introduction/commentary by the writers written exclusively for these volumes revealing how the stories came to be, why these writers made the choices they did, what it was like to write for the Babylon 5 universe, and, most important, what you didn't see.

Coming June 15, 2008
Babylon 5 Scripts: Other Voices - Volume 2
featuring "By Any Means Necessary" by Kathryn Drennan, which includes a 9,000 word introduction written by her exclusively for this volume.
RANGER REPORTS
Ranger Lyta reports that it is Hugo Award Nominations time again. Ballots have to be received in early July. This year's nominees include Harry Potter, the entire season of HEROES, DOCTOR WHO and TORCHWOOD.

2008: Denvention 3, the 66th World Science Fiction Convention http://www.denvention3.org
---
Ranger Michael from Austria sent in the following report:

Bruxe Boxleitner appears in "Heroes"
http://eguide-online.de/babylon5/index.php?seite=news&show=detail&get=4114

Bruce Boxleitner nominated for Constellation Award
http://eguide-online.de/babylon5/index.php?seite=news&show=detail&get=4105

Some weeks ago it was rumored that JMS will be writing the script for a "Lensman"- screening (http://en.wikipedia.org/wiki/Lensman)
Now (1-2 days ago) at IMDbPro stands JMS as writer for "Lensman (2011) "
(Filmmakers: Edward E. Smith - Writer (novels), J. Michael Straczynski - Writer (writer), Brian Grazer - Producer, Ron Howard - Producer )

Tamlyn Tomita Joins the Cast of 'General Hospital'
http://eguide-online.de/babylon5/index.php?seite=news&show=detail&get=4129
http://www.buddytv.com/articles/general-hospital/tamlyn-tomita-joins-the-cast-o-19015.aspx

I've done an interview with Reiner Schöne, who played Dukhat in Babylon 5
http://eguide-online.de/babylon5/index.php?seite=artikel&aktion=show&id2=293 (only german, because he is a german guy)

Thank you for your report.




With Hulu.com having Babylon 5 online for us in the U.S. to enjoy again, I wonder if you are like me. This time `round, I am seeing more about the story than I did the first, second, even third time. How about you? Does knowing the story actually enhance your viewing pleasure of the series? Or does knowing how it ends spoil it for you?

Send in your thoughts and comments to sgbruckner@aol.com. I will post them on the Discussion Page for everyone to share and enjoy. There are some good ones so far. Add yours! If you see an old topic you want to respond to, go right ahead. We enjoy hearing from you.
KEEPING UP WITH CAST AND CREW
FOR PETE'S WAKE
FOR PETE'S WAKE (starring Pat Tallman and Robin Atkin Downes) is temporarily available online, for consideration into the Independent Features Film Festival. Film selection is done ONLINE via a web-based competition. The top 21 films will receive an invitation to the Independent Features Film Festival which will be hosted July 25-27, 2008 at the acclaimed Tribeca Cinemas in New York City. Please watch the film, and vote, so we can make it into the fest!!!!!!
Use this link to watch For Pete's Wake http://cinema.lycos.com/movies/for_petes_wake.
---
PETER JURASIK SIGNING
Peter Jurasik, our loveable Londo Mollari, will be at the STAR TREK: THE EXPERIENCE in Las Vegas June 17 from 1-4:00pm. If you are going to be in Las Vegas, don't miss the chance of getting together again with Peter. Go to http://www.startrekexp.com/ for more information.
---
BILL MUMY
Ranger Glenda from Bill's fan club dropped by this latest information:
Bill Mumy's new CD "Circular" will be released in July.
Bill will be performing July 12, at 9pm at the Universal CityWalk in Los Angeles. There will be no charge for this gig.
---
DEAD AIR
Patty Tallman has just finished up her work on DEAD AIR, a zombie movie being directed by Corbin Bernsen (LA Law). You can see a behind-the-scenes clip over at http://www.reelzchannel.com/video/33472/dead-air-set-visit.
---
ED WASSER
Babylon 5's Mr. Morden, Ed Wasser, will co-star with EUREKA's Erica Cerra and Christopher Judge (Stargate SG-1) in DARK SWARM. Tim Pyle (Decaying Orbit)has co-written and will direct. Pyle will also handle the visual effects, as he's done on such productions as Jimmy Neutron: Boy Genius and the SCI FI original miniseries Children of Dune. DARK SWARM goes into production this summer with an eye toward a 2009 release.
---
IN MEMORY OF:
While Andreas Katsulas (G'Kar), Rick (Biggs) and Tim (Choate) are no longer with us, we will not forget their wonderful personalities and talent. Be sure to visit In Memory Of for more information about memorial efforts. Until we met again, in a place where no shadows fall.
BABYLON 5 BIRTHDAYS
Theodore Bikel - May 2
Michael O'Hare - May 6
Stephen Furst - May 8
Melissa Gilbert-Boxleitner - May 8
Bruce Boxleitner - May 12
Andreas Katsulas - May 18 - we miss you!
Andrea Thompson - May 22
Doug Wise - May 21
Douglas Netter - May 23
Paul Winfield - May 22
Roy Dotrice - May 26
Harlan Ellison - May 27

Have I missed anyone? If you know the birthday of someone connected with Babylon 5, pass the information along. We want to include everyone in our Happy Birthday Wishes.
CHiPS: The Complete Second Season
Release date: June 3, 2008
Official website: www.CHIPSthedvd.com

Synopsis:
Can't drive 55? There's a ticket with your name on it - sign here, please. Just jumped three freeway lanes and endangered everyone in your path? Pull it over, pal, and dig out that license and registration. California Highway Patrol motorcycle officers Jon Baker and Francis "Ponch" Poncherello are on patrol. Erik Estrada and Larry Wilcox return as Ponch and Jon, and the action and fun are ready to roll in 22 road-ripping episodes. Also returning: Robert Pine as amiable Sgt. Getraer. Strap on helmets and goggles for a deadly chain-reaction crash, the appearance of a nettlesome TV-news crew, Ponch's disco dancing, Halloween patrol and a caped biker daredevil. Remember: safety first. And always signal before turning.

Actors: Erik Estrada, Larry Wilcox, Robert Pine, Lou Wagner, Paul Linke, Brodie Greer, Lew Saunders

Some clips from Warner Bros:
Hospital (2:01)
Windows Media:
http://raincloud.warnerbros.com/wbol/us/whv/med/chips/season2/chips_s2_pav_hospital_300.asx

Quicktime
http://raincloud.warnerbros.com/wbol/us/whv/med/chips/season2/chips_s2_pav_hospital_qt_300.mov

Shots Fired (2:01)
Windows Media
http://raincloud.warnerbros.com/wbol/us/whv/med/chips/season2/chips_s2_pav_shots_fired_300.asx

Quicktime
http://raincloud.warnerbros.com/wbol/us/whv/med/chips/season2/chips_s2_pav_shots_fired_qt_300.mov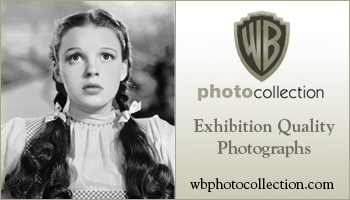 WB PHOTO COLLECTION
Official site: http://www.wbphotocollection.com/
Synopsis:
The magic of Warner Bros. can now be yours. Introducing the Warner Bros. Photo Collection. Fine art prints from Warner Bros. Entertainment?s, extensive archive available for sale online direct from, the Warner Bros. Studios Photo Lab at www.WBPhotoCollection.com

THE WATERHORSE
Release date: April 8, 2008
Actors: Bruce Allpress, Eddie Campbell, Ben Chaplin, Peter Corrigan (II), Brian Cox
Director: Jay Russell
I love movies like this -- something you can watch with your kids -- or just enjoy on your own. WATERHORSE is beautifully filmed, capturing the beauty of Scotland.
The movie tells the legend of the water horse that lives for one generation and when he is ready to die, lays an egg from which a new water horse is hatched to grow up on its own. Angus McMurrow is a troubled young lad, his father has gone off to war and he and his mother and sister are left to manage their farm. Their world is invaded by British soldiers coming to protect England from the Germans, presenting new challenges for young Angus. He finds the water horse egg and when it hatches, he helps the creature grow by feeding it scraps and keeping it in the bath tub. This story may bring back memories of ET for some.
---
BATMAN-GOTHAM KNIGHT
I have posted a new interview with writer Greg Rucka. Drop over to Gotham Knight page for the latest on this new video.
---
BATMAN - GOTHAM KNIGHT
Click on this widget to check out the latest images, trailer, clips, character & DVD info. and sign up for email updates. The Official Batman Gotham Knight website is at http://warnervideo.com/batmangothamknight/.
---
Be sure to visit the official website at www.batmangothamknight.com to see the new teaser for this video. It arrives in stores July 8. Go to Batman-Gotham for an interview with writer Alan Barnett. More information about the video can be found below in the DVD section.

BATMAN GOTHAM KNIGHT is a fresh and exciting new entry into the Batman mythos, spinning out of a 40-year history in animation including the Emmy®-winning "Batman: The Animated Series," widely considered a pivotal moment in American animation. A cross section of distinguished creators, award winning producers, and acclaimed writers weave six interlocking stories that reveal Bruce Wayne's journey to The Dark Knight, each with stylish art from some of the world's most revered animation visionaries. BATMAN GOTHAM KNIGHT will arrive July 8, 2008 on DVD and Blu-Ray Disc, and will also be available On Demand via digital cable and for download through broadband sites.
Below is the official trailer from Warner Bros:
http://raincloud.warnerbros.com/wbol/us/whv/med/batman/gothamknight/tvspots/Batman_ Gotham_Knight_WVBAT-A0010_300.asx

http://raincloud.warnerbros.com/wbol/us/whv/med/batman/gothamknight/tvspots/Batman_Gotham_ Knight_WVBAT-A0010_qt_300.mov

Warner Bros. is pushing the limits on this one. The graphics and music are wonderful. The Batman story is one I have enjoyed for years -- along with others in my family. I can't wait to see this video. Go to Gotham-Knight for more information.

For more information on other DVDs that have just been released and reviewed, go to New DVDs
STARGATE ATLANTIS - SEASON FOUR
Season four of SCI FI Channel's original series Stargate Atlantis drops on DVD July 8 from MGM Home Entertainment. The DVD set of the fourth season--in which former Stargate SG-1 star Amanda Tapping joins Atlantis as a regular cast member-- is timed to the release of the new feature-length DVD and Blu-ray premiere of STARGATE CONTINUUM on July 29. The Atlantis DVD set includes 20 episodes on five discs, as well as cast and crew commentaries, deleted scenes, photo galleries, the first Atlantis blooper reel and more. The DVD will be available for the suggested retail price of $49.98.
---
ONE MISSED CALL
Release Date: April 22, 2008
Official website: http://www.onemissedcallmovie.com

Synopsis:
It happens to one. Then another. And another. College students discover eerie voicemail messages on their cell phones. Each call comes from the near future. Each call has the chilling voice of the student during his or her last moments alive. And each call comes true. Terror is One Missed Call away in this got-your-number shocker based on the hit Japanese thriller Chakushin ari. Does the viral spree of calls have a single source? Is there something that links the victims? Psych student Beth Raymond (Shannyn Sossamon) and detective Jack Andrews (Ed Burns) scramble for answers. And they?re working fast. Because Beth just discovered an ominous message. Director: Eric Valette Actors: Edward Burns, Shannyn Sossamon, Azura Skye

Warner Bros. Clips:
All Connected: :46
http://raincloud.warnerbros.com/wbol/us/whv/med/onemissedcall/clips/omc_fea_all_ connected_300.asx
http://raincloud.warnerbros.com/wbol/us/whv/med/onemissedcall/clips/omc_fea_all_ connected_qt_300.mov

Fire at St. Lukes 1:17
http://raincloud.warnerbros.com/wbol/us/whv/med/onemissedcall/clips/omc_fea_fire_ at_st_lukes_300.asx
http://raincloud.warnerbros.com/wbol/us/whv/med/onemissedcall/clips/omc_fea_fire_at_ st_lukes_qt_300.mov
---

Cult Times Issue #152: DOCTOR WHO: Douglas MacKinnon talks about directing the two-part story that brings the Doctor, Donna and Martha together for the first time. BATTLESTAR GALACTICA: Jamie Bamber looks ahead to Lee 'Apollo' Adama's new life outside of a Viper. But will a career change keep him out of harm's way? LOST: Michael Emerson (Ben) talks about what's ahead for the show.
---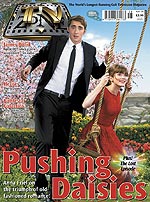 TV Zone #228: PUSHING DAISIES: Star Anna Friel said 'Never again,' after her first attempt to make it in Hollywood - but the quirky style of the series lured her back to Los Angeles. She talks about why she reckons the series' success is a testament to the appeal of old-fashioned romance. BATTLESTAR GALACTICA: Actress Rekha Sharma has discovered her true, Cylon, nature. She discusses her nerves during her first days on set, and discovering her new role.
---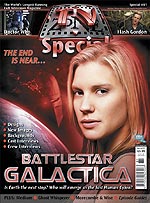 TV Zone Special #81: BATTLESTAR GALACTICA: This massive 60-page overview lets you recap the series. There are inerviews with many of the cast, including Katee Sackhoff, Callum Keith Rennie, Michael Trucco, Alessandro Juliani. Also hear from some of the behind-the-scenes folks -- Richard Hudolin and Douglas McLean - production designers; Glenne Campbell - costume design and Gerald Gibbons - hair stylist.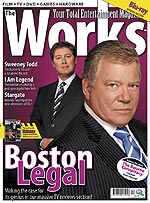 The Works #20: Sweeney Todd: The Demon Barber of Fleet Street - Director Tim Burton and stars Johnny Depp and Helena Bonham Carter discuss the latest version of the classic tale of the man hell-bent on revenge who still finds time to do the occasional short back, sides… and throat! I AM LEGEND - Director Francis Lawrence talks about the process of bringing Richard Matheson's novel to the screen again, and star Will Smith chats about acting alone; STARGATE SG-1's Amanda Tapping talks about the SG-1 team taking its adventures to the next level with the release of the straight-to-DVD movie The Ark of Truth.
---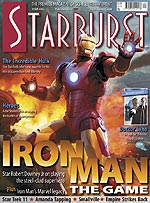 Starburst Issue #362: IRON MAN - Get to see the nuts (and bolts) over the metal clad superhero with a double feature. Robert Downey Jr. talks about what attracted him to the franchise to play the eponymous hero. Videogame Game producer Kevin Boyle gives insider info on what is sure to be the biggest tie-in of the year. STAR TREK 11: Simon Pegg talks about landing the part of Scotty in JJ Abrams Trek reboot. THE INCREDIBLE HULK - Star Tim Roth tells us what attracted him to the role of evil super villain Emil Blonksy and taking on the mean, green, blockbuster machine. SANCTUARY: Amanda Tapping talks about all things Stargate and her new series Sanctuary. SMALLVILLE: Aaron Ashmore, aka photographer Jimmy Olsen, celebrates his role on the show.



Be sure to drop over to Titan Magazine's website for updates on magazines associated with specific shows like 24, ALIAS, ANGEL, BUFFY, CHARMED, LOST, PRISON BREAK, SMALLVILLE and STARGATE SG-1.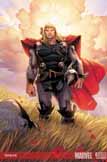 THOR #10
Written by J. Michael Straczynski, pencils and cover by Olivier Coipel.
As the Asgardians returned to this life and Thor returned to Midgard, so came the ills that have plagued the gods and man for millennia. Now for the first time since their rebirth, Thor and his fellow hero-gods are venturing forth from the Shining City to confront the growing evils that amass on their horizon...and within their walls... 32 pages, $2.99.
INDIANA JONES AND THE TOMB OF THE GODS #1
Dark Horse Comics

Dr. Henry Jones, Jr. sets out on another globe-hopping adventure in Indiana Jones and the Tomb of the Gods, the all-new mini-series filled with ancient treasures, Nazis, and a spectacular cover by Tony Harris (Ex Machina)!




CIVIL WAR CHRONICLES #12
Written by J. Michael Straczynski and Paul Jenkins, penciled by Ron Garney and Ramon Bachs, cover by Steve McNiven.
Experience Civil War and its major tie-ins in chronological order! In Captain America #25, find out what happens next in the life of the Sentinel of Liberty! The biggest Cap story that Ed Brubaker and Steve Epting have yet to tell, "Death of a Dream" will stun readers and send shockwaves through the entire Marvel Universe for the next year and it begins here! And in Civil War: The Confession, the team that brought you the start of Civil War with the New Avengers: Illuminati special presents a heart-wrenching finale. Two of the Marvel heroes most affected by the shocking conclusion of the war get together one last time. What is said between them will set the course of the Marvel Universe for years to come.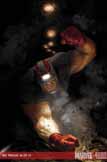 THE TWELVE #6
Written by J. Michael Straczynski, penciled by Chris Weston, cover by Paolo Rivera.
The Laughing Mask--behind bars! Secrets of the Black Widow--revealed! Dynamic Man kicks ass! The Blue Blade bombs out! And the truth behind the origin of underground secret agent Rockman!
DOCTOR WHO CLASSICS #1
by Pat Mills, Wagner & Gibbons
IDW Publishing is proud to kick off its Doctor Who line with monthly re-presentations of classic Doctor Who comics, featuring some of the best talents in the business! Up first, adventures featuring the fourth doctor courtesy of Pat Mills, John Wagner, and Dave Gibbons (Watchmen). Each issue will feature all-new state-of-the-art coloring by color artist Charlie Kirchoff, as well as an all-new cover by Joe Corroney (Star Trek).
Here's how IDW describes the issue:
"The legendary Doctor Who is back, with the first-ever stories created exclusively for the U.S. market. The Doctor is the last of the Time Lords, survivors of a Great Time War and, along with his loyal friend and companion Martha Jones from London, they stop oppression, darkness and evil spreading throughout the galaxies. They're also on the hunt for the best chocolate milkshakes in the cosmosŠ and while they track that down, someone else has the Doctor in their sights. As the very last Time Lord out there, he's highly collectable, to the right people..."
MARVEL ADVENTURES THE AVENGERS #17
Marvel Adventures The Avengers #17 will arrive in stores on Oct. 17 from Marvel Comics. The issue is written by J. Michael Straczynski, with art and cover by Joe Quesada. Here's how Marvel describes the issue:
"Ok, you're a super hero. And you've got to fight a robot. But while the robot can punch and blast you with lasers, you can't touch him. That's a problem, right? That's what the Avengers are up against when they encounter The Vision!"
Marvel Adventures The Avengers #17 will be 32 pages and will cost $2.99.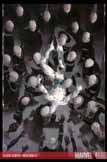 SILVERS SURFER: REQUIEM #4
Silver Surfer: Reqiuem #4 will arrive in stores on August 29 from Marvel Comics. The issue is written by J. Michael Straczynski, with art and cover by Esad Ribic. Here's how Marvel describes the issue:
"For untold years, Norrin Radd surfed the galaxy, exploring the darkness between stars, witnessing the rise and fall of vast civilizations. Now his ride comes to an end. Zenn-La, the planet of his birth, the planet he saved through his own sacrifice -- the Silver Surfer crossed the galaxy to draw his last breath here. He¹s home. What waits for him?"
Silver Surfer: Reqiuem #4 will be 32 pages and will cost $3.99.
HULU.COM
THE SITE IS NOW COMPLETE! If you are a fan of old series, you just have to visit www.hulu.com". While BABYLON 5 is not listed, there are a lot of my old favorites, including IT TAKES A THIEF, IRONSIDE, AIRWOLF, BATTLESTAR GALACTICA (all of them), THE PRETENDER, REMINGTON STEELE, HART TO HART, ROSWELL, MIAMI VICE, BIONIC WOMAN, THE SIXTH SENSE, JOHN DOE, 24 -- and many, many more. The list of movies available is pretty good as well, including ALIEN (4 of them), PLANET OF THE APES, X-FILES, X-MEN (2) and more. I can see that I'll be spending a lot more time on-line in the very near future. Now that the first season of BABYLON 5 has been made available, we can only wait to see what other favorites will follow.
There are some great series for the kids, including FLIPPER and ASTRO BOY. The best part -- IT IS FREE!
---
BABYLON 5/CRUSADE PHOTOSHOP PHOTOS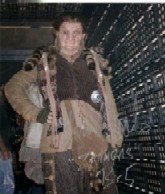 You do NOT have to pay the prices asked for over at e-bay! Here are photos of B5 and Crusade cast members at fantastic prices. Check out Photo Shop. Ordering is easy -- and you can't beat the prices! Just let me know which photos you want and I'll check to make sure they are still in stock.
---
CONVENTION CALENDAR
May 30-June 1, 2008
The Wrath of Con
Place: Panama City Beach, Florida
B5 Guest: Jerry Doyle

For more information on the con, go to http://www.wrathofcon.org.
---

June 6-8, 2008
SALUTE TO SUPERNATURAL
Place: Hyatt Regency DFW City: Dallas, Texas
Guests: Jensen Ackles, Jared Padalecki, Frederic Lane, Chad Lindberg, Steve Carlson
For more information, go to http://www.creationent.com/cal/supernatural_tx.htm.
---

June 20-22, 2008
FANGORIA'S WEEKEND OF HORRORS
Place: Crowne Plaza Meadowlands Hotel, 2 Harmon Plaza
B5 Guest: Tony Todd
Other Guests: James Marsters, Art Hindle, George Romero
For more information, go to http://www.creationent.com/cal/fangonj.htm.
---

July 4-6, 2008
JUMPCON
Place: Kalamazoo,Michigan
B5 Guests: Jason Carter
Other Guests: Tons of people from Star Trek, Andromeda and others
For more information, go to http://www.jumpcon.com/kalamazoo.
---

July 23-27, 2008
SAN DIEGO COMICON
City: San Diego, California
Place: San Diego Convention Center
B5 Guest: J. Michael Straczynski
Guests: Tons of people from the comic book realm
For more information, go to http://www.comic-con.org/cci/.
---

July 26-27, 2008
STEEL CITY CON
Place: Monroeville, PA (near Pittsburgh)
Guests: Anthony Forrest, Star Wars, Vanessa Branch and Lauren Maher, Pirates of the Caribbean, THE BATMOBILE - 1966 model
For more information, go to http://www.steelcitycon.com.
---

SPECIAL ANNOUNCEMENTS! Creation Entertainment has a large number of conventions planned for the next several months. They include stars from STARGATE, ENTERPRISE, FARSCAPE, XENA, BATTLESTAR GALACTICA, etc. Check out their calendar to see if one will be in your neighborhood soon. Don't miss their Videos page as well. It is full of some priceless video from a number of conventions.

Be sure to visit the referenced sites to see if there have been changes in dates/guests attending. Visit our Convention Calendar for a full listing of upcoming conventions.
BACK ISSUES OF THE ZOCALO TODAY
The front page of the The Zocalo Today changes daily, so be sure to check the back issues to make sure that you haven't missed anything IMPORTANT! I don't want the front page getting too long so I shift information periodically into the archives. So if you aren't a regular visitor to The Zocalo Today, be sure to check out the back issues. Just use the button above!
---
Take care and I look forward to hearing from you.
Sandra Bruckner (sgbruckner@aol.com)
Editor/Publisher
ISN News: The Zocalo Today
http://www.isnnews.net
Copyright - SBruckner, 1999-2008
Search Engine Optimization and Free Submission