[an error occurred while processing this directive]

The Zocalo Today

Welcome and thank you for dropping by. Take your shoes off, get comfortable and stay a while. There is a LOT of information here and you won't want to miss any of it.

The Zocalo Today is an interactive newsletter, encouraging readers to join a discussion topic or to send along letters that can be shared with other readers.

The Zocalo Today is a newsletter for Babylon 5 and science fiction fans everywhere. It is as much YOUR newsletter as it is mine! I'm just pulling together things for you!

Join our discussion topic. It is just one way you can share with other Z readers. If you see Babylon 5 cast and crew in other roles, let us know. We enjoy convention reports, photos, etc. Don't miss our back issues. I hope this will become more than just a newsletter. It's a community of people that enjoy sharing their experiences and interests. Babylon 5 brought many of us together -- and it remains with us, despite the fact that is no longer in production. Don't be shy. Join us today!

If you have questions, drop me a line at sgbruckner@aol.com. If you would like to join the mailing list for our newsletter, send me a note and I'll include you on the list. Or you can use the subscription block at the left.

Again, WELCOME!
SATURDAY, JUNE 28, 2008
JMS INTERVIEW
Over at http://www.comicbookresources.com/?page=article&id=16965, JMS talks about his latest projects, including THE CHANGELING and RISING STARS along with his comic book efforts, THOR, SILVER SURFER and AMAZING SPIDER-MAN. This is just part I, so we'll have to wait for the rest next week.
---
HELLBOY II: THE GOLDEN ARMY
As Doug Jones reprises his role as Abe Sapien in the HELLBOY sequel film HELLBOY II: THE GOLDEN ARMY, he says that the project represents a major professional milestone for him: He not only voices Abe for the first time, he also plays other costumed creatures. "I've been acting for 22 years, and I have never been this nervous, excited, jittery about a film opening ever, and I think it's because I have a lot riding on this one," Jones said at the Saturn Awards. "The role of Abe Sapien has been expanded and grown so much in this that [writer-director] Guillermo [del Toro] made him into a leading romantic male for this film. So it's like, that's a lot. And also, with the other two characters that I have in the film--the Angel of Death and the Chamberlain--it was like I did triple duty on this movie." Jones appeared in the first film as Sapien, Hellboy's merman-like comrade in arms and fellow agent of the Bureau for Paranormal Research and Defense (or B.P.R.D.), but his voice was dubbed over by David Hyde Pierce in the final cut. This time, he provided the voice for that character, as well as the other two he plays. One of the most exciting aspects of the film for Jones was the fact that Sapien will have a romantic storyline with an elfin princess named Nuala, played by Anna Walton. "I get a love interest," Jones said. "Aww. I've never had a love on camera like that. And she's beautiful. Anna Walton played the princess, Nuala. And she's divine. And she's Cate Blanchett good. You know what I'm saying? She's a really wonderful actress. And I get to carry a weapon, and I fight bad guys. I've got buddy-buddy brother time with Hellboy [Ron Perlman]. I've got brother-sister time with Liz Sherman, played by Selma [Blair]. So it is a lot going on." Jones added that he got to play some funny scenes as well. As for his future plans, Jones couldn't confirm with certainty that he will be involved in del Toro's upcoming project, a pair of films based on J.R.R. Tolkien's THE HOBBIT. But he did say that it was very likely. "I will quote Guillermo del Toro, and that is, nothing official to report yet, exactly, on what role that is, or what he might have for me," Jones said. "But he said, 'If I direct a hemorrhoid commercial, Doug Jones will be in it.' So I think that's a wink-wink, nudge-nudge that there's something for me in THE HOBBIT, but I don't know yet." HELLBOY II opens July 11. For trailers and prologue,go to http://www.apple.com/trailers/universal/hellboy2thegoldenarmy/. For more information on the movie, go to http://www.hellboymovie.com/main.html.
---
SEQUEL FOR CLOVERFIELD ON HOLD
CLOVERFIELD director Matt Reeves said during the recent Saturn Awards that plans for a sequel film have been put on hold until the filmmakers can come up with an idea as interesting as the original. "The thing that we sort of promised ourselves is we only wanted to do another one if we could come up with something that felt as fresh to us to make as that one did," Reeves said. He added: "We're still kind of toying with what it's going to be and whether or not we're going to find something that will be as exciting for us to make and, hopefully, for an audience to watch. So we'll see. It's really in the baby, baby stages. And right now it's definitely on hold until we come up with what that would be." Press reports have suggested a prequel that would go into the backstory of the creature that attacks New York in the original or a parallel story set on the same night with different characters. Reeves said that both of those ideas have been under discussion. "We did talk about that, and I think that we would find some way, if we did it," he said. "Some of the ideas we've come up with reference this idea and reference the film, so that there is a sense that it's related to this film. But it would be different. I would need [it] to be really different." Meanwhile, Reeves has been talking about other potential ideas with producer J.J. Abrams and writer Drew Goddard that aren't necessarily related to CLOVERFIELD. "We have a couple ideas," Reeves said. "We have a couple pretty exciting ideas, but it's in the very, very early stages of that. And whether or not that will develop into something that we want to do is really unclear at this point. But as long as J.J. and Drew and I come up with something that seems worth doing, then I think we'll do it."
---
JOURNEY TO THE CENTER OF THE EARTH
According to Brendan Fraser, star of the latest version of Jules Verne's classic, JOURNEY TO THE CENTER OF THE EARTH, the 3-D film is both a groundbreaking technical accomplishment and a vast improvement over the 1959 big-screen version, which starred James Mason and Pat Boone. Fraser plays scientist Trevor Anderson, who is joined on an inadvertent trek to a world within the world by his young nephew (Josh Hutcherson) and an Icelandic guide (Anita Briem). As they desperately try to find a way out, they must contend with flying piranha, translucent birds, rampaging dinosaurs, flesh-eating plants and fast-rising temperatures. "We were able to make the world's first live-action, feature-length, digital, narrative-driven 3-D picture based on a classic piece of literature written by the godfather of science fiction well over 100 years ago," Fraser said. "And for that, it's a fleur-de-lis in the cap of filmmaking, because this film is like none other ever created. Yes, it's in 3-D. I don't go to movies all the time, but I recall that 3-D was something that showed up at the end of the movie with Michael Caine and a shark went [motions as if it's coming at him]. That was Jaws, and I was like, 'That's it?'" (Fraser actually meant Jaws 3-D, with Dennis Quaid and Louis Gossett Jr.; Caine starred in Jaws: The Revenge). Three-dimensional imagery actually dates back to the time of Verne, Fraser said. "Whether he knew it or not, this guy was pretty innovative," he said. "I'd like to think he's somewhere, hopefully not spinning in his grave, since Pat Boone showed up with a ukulele and a goose and James Mason in Journey to the Center of the Earth." The new JOURNEY opens nationwide on July 11.
---
JEFF GOLDBLUM
JURASIK PARK's Jeff Goldblum has joined LAW & ORDER: CRIMINAL INTENT," replacing Chris Noth, who is leaving the crime drama after three seasons. Goldblum will split starring duties with co-lead Vincent D'Onofrio the way D'Onofrio did with Noth. "Jeff's presence will add a new dimension to an already successful show," series chief Dick Wolf said. LAW & ORDER: CI migrated from NBC to USA last year and was recently renewed by the cable network for an 16-episode eighth season. The Wolf Films/NBCU Cable Studio series gets a second window on NBC. Goldblum is coming off a starring turn on the stage opposite Kevin Spacey in the London production of David Mamet's "Speed-the-Plow." Goldblum will be seen next on the big screen in "Adam Resurrected."
---
CLASH OF THE TITANS
Variety reports that Warner Bros. has set Louis Leterrier (The Incredible Hulk) to direct their remake of CLASH OF THE TITANS, with script by Lawrence Kasdan. In CLASH OF THE TITANS, Perseus, the son of Zeus, must overcome a series of obstacles to save his beloved Princess Andromeda, including cutting off the serpent-tressed head of Medusa, who can turn a man to stone with a single glance. The original 1981 CLASH OF THE TITANS starred Harry Hamlin as Perseus and Laurence Olivier as Zeus but is best remembered for Ray Harryhausen's visual effects that brought to life Medusa, the Kraken and other creatures. No production date has been set.
---
WAR OF THE GODS
The Hollywood Reporter writes that producers Mark Canton and Gianni Nunnari (300) will produce WAR OF THE GODS, and have attached Tarsem Singh, much known as a music- video and commercial director, to direct. Charley and Vlas Parlapanides, the brothers who penned the script for Universal's 50 Cent vehicle LIVE BET, penned the WAR OF THE GODS spec. The script concerns the battles waged by Theseus, a warrior from Greek mythology. That moves it into a somewhat different historical time than 300 -- which concerned the battles of King Leonidas against the Persians -- but ensures a similar vibe and young-male demo. Production on WAR OF THE GODS could start as soon as early 2009.
---
TOP SCIENCE FICTION NEWS STORIES:
To catch up on the latest news from around the world of science fiction, go to News Page. You'll find the highlights this week and this month here.
---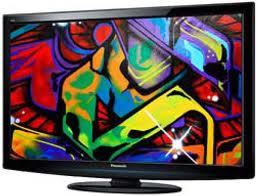 8:00pm on ABC
The Haunted Mansion
A real estate agent and his family encounter ghosts in an old New Orleans house on a remote bayou. Credits: Eddie Murphy, Terence Stamp, Wallace Shawn, Marsha Thomason, Jennifer Tilly

8:00pm on CBS
CSI: NY - Sweet 16
The team investigates the competitive world of pigeon racing when a trainer is murdered and the birds are poisoned; a girl's father is found dead behind the wheel of her new car at her sweet-16 party.

9:00pm on SciFi
Copperhead
Thousands of deadly snakes descend upon a small town in the Old West. Credits: Brad Johnson, Billy Drago, Brad Greenquist

9:00pm on CBS
The Unit - Freefall
Jonas joins Bob on a mission to take down a terrorist leader, but a parachute malfunction abruptly changes the focus of the mission.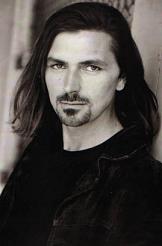 9:00pm on BBC America
Robin Hood - Lardner's Ring
A dying messenger from the King tells Robin that he is needed to return to the fight in the Holy Land; the gang tries to figure out the meaning of ``Lardner.''
10:00pm on NBC
Eli Stone - Pilot
Eli Stone, a successful corporate lawyer, begins experiencing visions that compel him to redefine his life and work, despite opposition from his family, friends and colleagues.
FOR PETE'S WAKE
There are only four days left for voting on FOR PETE'S WAKE for the Independent Features Film Festival. This film stars Babylon 5's Pat Tallman (Lyta) and Robin Atkin Downes (Byron), who also directed the film. Go to http://cinema.lycos.com/movies/for_petes_wake to watch the film and vote.
Film selection is done ONLINE via a web-based competition. The top 21 films will receive an invitation to the Independent Features Film Festival which will be hosted July 25-27, 2008 at the acclaimed Tribeca Cinemas in New York City. Please watch the film, and vote, so they can make it into the fest!!!!!!

---
G'KAR MASK GIVEN TO MUSEUM
Ranger Amy sent along this link to make sure that all Babylon 5 fans know that the prosthetic mask worn by Andreas Katsulas as G'Kar is now on display at the Museum of the Moving Image. The mask is mounted on a life mask of Andreas Katsulas. You have to read the wonderful story of Babylon 5 fans who banned together to purchase the mask so that it could be shared by fans and the general public. Go to http://collection.movingimage.us/index.php?g=detail&object_id=99056&representation_id=4587 to read how this piece of Babylon 5 history was preserved. The Museum of the Moving Image is located at 35 Avenue at 36 Street, Astoria, New York 11106. There website can be viewed at http://www.movingimage.us/site/site.php.
---
JMS - RESEARCH HELP
This is from the B5 moderated news group (June 17):

I apologize for the cryptic nature of what follows, but in time this will all be cleared up.

Starting mid-July into August and possibly September, I'm going to be traveling quite a lot in researching a new movie project that I cannot, for the moment, announce. (Not Lensman, this is a different project, and I've already started on Lensman.) Suffice to say that the research stage is going to be extensive in the extreme.

The main emphasis is on advanced technology. If someone who can do the math were to look down the road a million years and see what advances might be there, based on what we know now, what would that look like? Advanced tech here covers warfare, living, toys, environment, health, media, space travel, you name it. Everything that a civilization a million years more advanced than we are might use or encounter.

Secondarily to this would be information on planetary physics and alien biology.

To that effect, my intent is to visit as many of the following places as possible: NASA Florida, the Wright-Paterson Air Force Base High Technology Labs, MIT, CalTech, and any other places that seem like good prospects. (If there's anything missing from that list, feel free to add it.) I'm going to listen, ask questions, and try to keep up. And no, there's no money involved, though if anyone proves to be insanely helpful, I can try to work out a consulting credit. No promises.

The studio is going to help with some of the legwork here, they say they can get me into Wright-Pat, but we'll see...even so, the ways of studios grind very slowly. So I turn to you lot for assistance since a number of you either are, or know someone who is, directly involved with this stuff.

So...let the games begin.
jms
OTHER VOICES - VOLUME 2
Babylon 5 Scripts: Other Voices
VOLUME 2
Price: $39.99

For more information and to order B5 Other Voices, go to www.B5OtherVoices.com.

Featuring these 6 scripts
• "By Any Means Necessary" by Kathryn M. Drennan
• "TKO" by Larry DiTillio
• "Eyes" by Larry DiTillio
• "Legacies" by D.C. Fontana
• "A Distant Star" by D.C. Fontana
• "Spider in the Web" by Larry DiTillio

All scripts include an introduction/commentary by the writers, written exclusively for these volumes.

PLUS A SPECIAL BONUS:
Just like previous volumes, the scripts included in Volume 2 are early drafts that include never-before-seen dialogue and action that were later cut from the episodes.

Because there are so many differences, you also get the Script/DVD Variations inventory, which catalogues all the changes, deletions, additions and extras that were in the script but you never actually got to see in a handy, easy-to-reference grid.

Volume 2 has a total of 140 entries detailing these B5 Script/DVD variations you probably never knew.

Volume 2 is part of a 3-volume limited edition release that will only be available through September 30, 2008.

VOLUME 2 EPISODE SYNOPSES
"By Any Means Necessary"
An accident is the catalyst for an illegal strike by dock workers. A strike negotiator sent from Earth causes tensions to escalate. Londo has the only plant G'Kar can use for an important religious ceremony.

"TKO"
Walker Smith, a friend of Garibaldi's, participates in the Mutai, which causes Smith to have a newfound respect for alien ways. Rabbi Koslov brings Ivanova a legacy from her father; Ivanova allows herself to mourn her father's death.

"Eyes"
Sinclair is the focus of an internal investigation. Ivanova refuses to submit to a scan by the Psi Corps, even if it means she has to resign her commission. Garibaldi gets too much help from Lennier in building his motorcycle.

"Legacies"
When the body of a revered Minbari military leader mysteriously disappears, Sinclair has to overcome his feelings about the Earth-Minbari War to keep the peace. Talia and Ivanova both try to influence a young telepath coming into her powers.

"A Distant Star"
The Explorer Class ship Cortez stops over for resupply, bringing an old friend of Sheridan's who shares stories of exploring the Rim with the crew. Later, an accident aboard the Cortez leaves it stranded in hyperspace unless Zeta Squadron can rescue it.

"Spider in the Web"
A pro-Mars independence businessman, a good friend of Talia's, is murdered during negotiations. The Mars representative is taken hostage by the businessman's murderer. Sheridan realizes that the murderer is a victim of the Lazarus Project.

TIME IS RUNNING OUT.
J. Michael Straczynski's 14 Volume Series will no longer be available after June 30, 2008. HURRY.

BABYLON PODCAST #117
Welcome to Show #117!

Tim and Summer are again flying without Jeffrey, but Tim reads some news from JMS posted to the news group about his experience at Cannes, and hinting that more news would be coming soon on a new project. Summer really wants to know more about this "Ninja Assassin" movie JMS has written… it's an imperative!

Deep Geeking: Tim and Summer jump into Deep Geeking on "The Long Night". Tim does not like the title of this episode because for him, it doesn't reflect or evoke anything significant from the episode for him. What do you think?

Sheridan finds a way to make a stand against the Shadows and the Vorlons at the same time, and convinces the League to stand together with him; and Londo's and G'Kar's plans come to fruition in an unexpected way. There's plenty of emotional impact to go around, and despite Tim's dislike of the episode title, he agrees that it's one of the better all-around episodes.

Chit-Chat: Jeffrey joins us for the episode closing, and he gives us an update on the Space Station flyby viewing from Los Angeles. Kurt in St George weighs in on Tim's comments on Shadows vs The Empire… he takes Tim to task, while also risking invoking the wrath of TD-0013, and also has a different view on Shadows vs Borg. Kurt… you need to detox from the Rock Star overdose!!

Also, Tim has wrangled an interview with The great Luke Ski, so stay tuned for that, coming up soon!

To catch up on all the wonderful podcasts, go to www.babylonpodcast.com.




It seems like every day I hear something that reminds me of Babylon 5. The other day, Senator Barack Obama was giving a speech and he used the phrase, Earth's last, best hope. I wonder where that came from!!! Have you heard others? While I was in Rome recently, I came across Garabaldi street and a Garabaldi restaurant! I'm sure there are more.

Send in your thoughts and comments to sgbruckner@aol.com. I will post them on the Discussion Page for everyone to share and enjoy. There are some good ones so far. Add yours! If you see an old topic you want to respond to, go right ahead. We enjoy hearing from you.
KEEPING UP WITH CAST AND CREW
DEAD AIR
A new trailer for DEAD AIR can be found at http://www.joblo.com/arrow/index.php?id=12567.Directed by Corbin Bersen, written by B5's Kenny Yakkel, stars Bill Moseley and Patricia Tallman.
---
BILL MUMY
Ranger Glenda from Bill's fan club dropped by this latest information:
Bill Mumy's new CD "Circular" will be released in July.
Bill will be performing July 12, at 9pm at the Universal CityWalk in Los Angeles. There will be no charge for this gig.
---
IN MEMORY OF:
While Andreas Katsulas (G'Kar), Rick (Biggs) and Tim (Choate) are no longer with us, we will not forget their wonderful personalities and talent. Be sure to visit In Memory Of for more information about memorial efforts. Until we met again, in a place where no shadows fall.
BABYLON 5 BIRTHDAYS
Jeffrey Willerth - June 5
Donovan Brown (Optic Nerve) - June 6
Ann Bruice Aling - June 8
Mark Walters - June 10
Susan Norkin (Post) - June 10
June 11 - Adrienne Barbeau (Amanda Carter)
Enid-Raye Adams - June 16
Mike Vejar - June 25

Have I missed anyone? If you know the birthday of someone connected with Babylon 5, pass the information along. We want to include everyone in our Happy Birthday Wishes.
JEREMIAH ON SCIFI
JEREMIAH fans rejoice!!!! The SciFi Channel will begin running this JMS series on July 10 at 7:00pm -- running four episodes in a row: The Long Road, part 1 and 2; Man of Iron, Woman Under Glass and ...And the Ground, Sown with Salt.
Many of you will remember this exceptional series from Showtime a few years back. Luke Perry and Malcolm Jamal Warner starred in this drama that followed survivors of a virus that kills everyone over 13. Season One is out on DVD. Season Two has not yet been released.
BATMAN BEGINS
Release Date: July 8, 2008
Batman Begins: Limited Edition Gift Set
Synopsis:
Batman Begins explores the origins of the Batman legend and the Dark Knight's emergence as a force for good in Gotham. In the wake of his parents' murder, disillusioned industrial heir Bruce Wayne (Christian Bale)travels the world seeking the means to fight injustice and turn fear against those who prey on the fearful. He returns to Gotham and unveils his alter-ego: Batman, a masked crusader who uses his strength, intellect and an array of high tech deceptions to fight the sinister forces that threaten the city.
Director: Christopher Nolan
Actors: Christian Bale, Michael Caine, Liam Neeson, Katie Holmes, Gary Oldman, Cillian Murphy, Tom Wilkinson, Rutger Hauer, Ken Watanabe, Morgan Freeman, Mark Boone, Jr., Gus Lewis, Linus Roache, Rade Serbedzija
Blu-ray™ Hi-Def Limited Edition Gift Set extras include The Dark Knight Prologue, a 32-Page Booklet featuring an exclusive comic adaptation of The Dark Knight Prologue, a BATMAN BEGINS Motion Art Lenticular, 5 Collectible Batman Begins Postcards and $7.50 "Movie Cash" to see The Dark Knight in theaters.
BIRDS OF PREY: THE COMPLETE SERIES
Release Date: July 15, 2008
Birds of Prey: The Complete Series
Synopsis:
Who will stand up to villains now that a heartbroken Dark Knight has mysteriously vanished? Never fear, New Gothamites, a trio of champions is ready to take wing - and Helena, the daughter of Batman and Catwoman, is among them. She calls herself Huntress and crime is her prey. Teenaged Dinah is the youngest of the group, learning as she goes and gifted in clairvoyance. And overseeing the awesome threesome's high- tech nerve center is Batgirl. Left wheelchair-bound by The Joker, she has reinvented herself as Oracle, the team's cyber expert. Huntress, Dinah, Oracle: They are the Birds of Prey. Fighting together. Living together. And soaring into adventure together in 13 breathtaking live-action episodes.
THE CLOSER: THE COMPLETE THIRD SEASON
Release Date: July 1, 2008
Official website: www.thecloserdvd.com
The Closer: The Complete Third Season
Synopsis:
Golden Globe Award-winner and Emmy Award nominee, Kyra Sedgwick portrays the role of Deputy Police Chief Brenda Leigh Johnson, a CIA-trained detective who has been brought from Atlanta to Los Angeles to head up the Priority Murder Squad, a special unit of the LAPD that handles sensitive, high-profile murder cases. Despite her offbeat personality and tendency to step on people's toes, Brenda's tough-as-nails approach and track record prove her to be one of the country's leading investigators. Brenda is tapped to lead the team because she is a world-class interrogator, and when it comes to obtaining confessions, she is a closer. But her quirky attitude and hard-nosed approach to her job sometimes rub her colleagues the wrong way, as does the fact that she is a tough-minded Southern woman in a department dominated by men.
During season three, Brenda faces several challenges both personal and professional, as she is assigned to some very complex cases. She investigates a retirement facility where a man confesses to seven murders but refuses to give his name. She is put on a case that involves the slaughter of an entire family in an upscale Los Angeles neighborhood and has to deal with becoming the most downloaded video on YouTube after she's assaulted by a bride whose wedding she stopped. Half-way through the season, Brenda begins to feel ill until test results from the doctor reveal what's going on. The series also stars J.K. Simmons (Juno), Corey Reynolds (The Guardian), Robert Gossett (Passions), G.W. Bailey (The Jeff Foxworthy Show), Tony Denison (Prison Break) and Jon Tenney (The Division).
Arresting Bonus Features on the DVD set include:
- The Art of Interrogation - A featurette that depicts law enforcement professionals and criminal psychologists explaining the real-world art of interrogation and the skills necessary to be a "closer." The show's producers, writers and creators discuss the techniques used on the show and the advantages of using a female Deputy Police Chief as the show's main character.
- Gag Reel
- Unaired Scened
Here are some clips from the WB for you:
Retirement 1:42
Windows Media
http://pdl.warnerbros.com/wbol/us/whv/med/closerthe/season3/closer_s3_trf_retirement_home_300.wmv
Quicktime
http://pdl.warnerbros.com/wbol/us/whv/med/closerthe/season3/closer_s3_trf_retirement_home_qt_300.mov
THE BUCKET LIST
Synopsis:
You only live once, so why not go out in style? That's what two cancer- ward roommates, an irascible billionaire (Jack Nicholson) and a scholarly mechanic (Morgan Freeman), decide when they get the bad news. They compose a bucket list - things to do before you kick the bucket - and head off for the around-the-world adventure of their lives. Sky dive? Check. Power a Shelby Mustang around a racetrack? Check. Gaze at the Great Pyramid of Khufu? Check. Discover the joy in their lives before it's too late? Check!

Under the nimble direction of Rob Reiner, the two great stars provide the heart and soul, wit and wiles of this inspired salute to life that proves that the best time of all is right now.

Director: Rob Reiner
Actors: Jack Nicholson, Morgan Freeman, Sean P. Hayes, Rob Morrow

BRIEF REVIEW: I LOVED THIS MOVIE!
There aren't many movies about impending death that you can say are funny, full of wit and uplifting. I am a big fan of Morgan Freeman. This actor has limitless range and he proves again that he can take any role and make you care about the character. He and Jack Nickolson are marvelous together -- playing off each other, making you laugh and cry. You hear the phrase often, "Life's too short." What would you do if you had only a short time to live.

RAILS & TIES
Synopsis:
Kevin Bacon and Marcia Gay Harden give soaring performances in Rails & Ties, director Alison Eastwood's moving tale of people in crisis and emotions at the brink. Bacon plays Tom Stark, a train engineer unable to face his wife's (Harden) illness. Then a terrifying railway collision leaves a little boy orphaned. Tom takes the boy into his home and - step by step, strength by strength - learns how to bond with the wife he adores by opening his heart to a boy who needs the security of a devoted family.

Director: Alison Eastwood
Actors: Kevin Bacon, Miles Heizer, Marcia Gay Harden, Eugene Byrd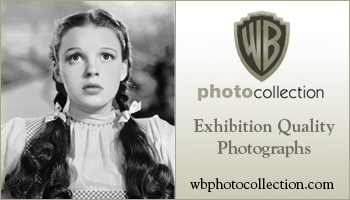 WB PHOTO COLLECTION
Official site: http://www.wbphotocollection.com/
Synopsis:
The magic of Warner Bros. can now be yours. Introducing the Warner Bros. Photo Collection. Fine art prints from Warner Bros. Entertainment?s, extensive archive available for sale online direct from, the Warner Bros. Studios Photo Lab at www.WBPhotoCollection.com
BATMAN-GOTHAM KNIGHT
I have posted a new interview with writer Greg Rucka. Drop over to Gotham Knight page for the latest on this new video.
---
BATMAN - GOTHAM KNIGHT
Click on this widget to check out the latest images, trailer, clips, character & DVD info. and sign up for email updates. The Official Batman Gotham Knight website is at http://warnervideo.com/batmangothamknight/.
---
Be sure to visit the official website at www.batmangothamknight.com to see the new teaser for this video. It arrives in stores July 8. Go to Batman-Gotham for an interview with writer Alan Barnett. More information about the video can be found below in the DVD section.

BATMAN GOTHAM KNIGHT is a fresh and exciting new entry into the Batman mythos, spinning out of a 40-year history in animation including the Emmy®-winning "Batman: The Animated Series," widely considered a pivotal moment in American animation. A cross section of distinguished creators, award winning producers, and acclaimed writers weave six interlocking stories that reveal Bruce Wayne's journey to The Dark Knight, each with stylish art from some of the world's most revered animation visionaries. BATMAN GOTHAM KNIGHT will arrive July 8, 2008 on DVD and Blu-Ray Disc, and will also be available On Demand via digital cable and for download through broadband sites.
Below is the official trailer from Warner Bros:
http://raincloud.warnerbros.com/wbol/us/whv/med/batman/gothamknight/tvspots/Batman_ Gotham_Knight_WVBAT-A0010_300.asx

http://raincloud.warnerbros.com/wbol/us/whv/med/batman/gothamknight/tvspots/Batman_Gotham_ Knight_WVBAT-A0010_qt_300.mov

Warner Bros. is pushing the limits on this one. The graphics and music are wonderful. The Batman story is one I have enjoyed for years -- along with others in my family. I can't wait to see this video. Go to Gotham-Knight for more information.

For more information on other DVDs that have just been released and reviewed, go to New DVDs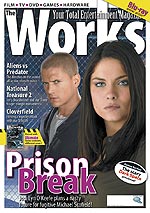 THe Workd A21: Prison Break: As a representative of The Company, the mysterious Susan caused a lot of trouble for banged-up Michael Scofield in the third season. Jodi Lyn O'Keefe talks waterboarding, severed heads and more. Oscar-winning star of NO COUNTRY FOR OLD MEN Javier Bardem and co-star Josh Brolin take a thoughtful look at their roles as killer Anton Chigurh and opportunistic hunter Llewelyn Moss respectively. CLOVERFIELD: He might have spent most of the film behind a camera, but actor TJ Miller was vital to the movie's success as Hud, the man who documents a shocking monster attack on New York. NATIONAL TREASURE's Diane Kruger relates the horrors she was put through as Abigail Chase, and producer Jerry Bruckheimer on producing high-octane successes.
Cult Times Issue #153: HEROES: Kristen Bell joins the cast as the electrically charged Elle. But whose side is she on? SMALLVILLE's Aaron Ashmore relates some of the latest adventures of his character, ace Daily Planet photographer Jimmy Olsen. REAPER - Genre veteran and all-round smoothie Ray Wise sits down for a chat about how he landed the plum role of The Devil in the hip comedy-drama. MEDIUM's David Cubitt takes a look at what the fourth season has brought for him in his guise of Detective Lee Scanlon, and how the character's attitude to Allison Dubois' psychic abilities has changed.
---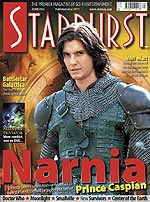 Starburst Issue #363: PRINCE CASPIAN: Director and co-writer Andrew Adamson discusses the second, and darker, CHRONICLES OF NARNIA installment to be adapted for the big screen. IRON MAN - Director Jon Favreau, and actor Jeff Bridges who plays the villainous Iron Monger are interviewed. BATTLESTAR GALACTICA (2000s) Michael Hogan and Donnelly Rhodes (aka Colonel Saul Tigh and Doctor Cottle) reflect on their roles in the final season of the Sci-Fi drama. SMALLVILLE's Laura Vandervoort swoops in to chat to us about playing Clark Kent's super-powered cousin Kara, who some may know as Supergirl...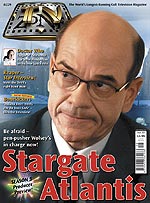 TV Zone #229: STARGATE ATLANTIS: Star Trek: Voyager's Robert Picardo as pen-pusher Richard Woolsey and producer N John Smith gives us a preview of the other surprises to come in the imminent Season Five, including Teyla's undercover mission among the Wraith.… DOCTOR WHO: League of Gentlemen's Steve Pemberton guests as the owner of the greatest library of the universe, leading an expedition to discover why everyone within has disappeared… REAPER: Bret Harrison reflects on how his slacker character Sam is, ironically, becoming a better man thanks to Satan's influence in the hellishly funny comic Fantasy. CSI: Miami's Rex Linn reveals why he's astonished to find himself becoming a regular on the show, as the financier-turned-actor thought they'd 'never have that bald guy back' after the way he treated star David Caruso on his first appearance as Detective Frank Tripp.


Be sure to drop over to Titan Magazine's website for updates on magazines associated with specific shows like 24, ALIAS, ANGEL, BUFFY, CHARMED, LOST, PRISON BREAK, SMALLVILLE and STARGATE SG-1.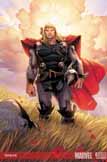 THOR #10
Written by J. Michael Straczynski, pencils and cover by Olivier Coipel.
As the Asgardians returned to this life and Thor returned to Midgard, so came the ills that have plagued the gods and man for millennia. Now for the first time since their rebirth, Thor and his fellow hero-gods are venturing forth from the Shining City to confront the growing evils that amass on their horizon...and within their walls... 32 pages, $2.99.
INDIANA JONES AND THE TOMB OF THE GODS #1
Dark Horse Comics
Dr. Henry Jones, Jr. sets out on another globe-hopping adventure in Indiana Jones and the Tomb of the Gods, the all-new mini-series filled with ancient treasures, Nazis, and a spectacular cover by Tony Harris (Ex Machina)!
CIVIL WAR CHRONICLES #12
Written by J. Michael Straczynski and Paul Jenkins, penciled by Ron Garney and Ramon Bachs, cover by Steve McNiven.
Experience Civil War and its major tie-ins in chronological order! In Captain America #25, find out what happens next in the life of the Sentinel of Liberty! The biggest Cap story that Ed Brubaker and Steve Epting have yet to tell, "Death of a Dream" will stun readers and send shockwaves through the entire Marvel Universe for the next year and it begins here! And in Civil War: The Confession, the team that brought you the start of Civil War with the New Avengers: Illuminati special presents a heart-wrenching finale. Two of the Marvel heroes most affected by the shocking conclusion of the war get together one last time. What is said between them will set the course of the Marvel Universe for years to come.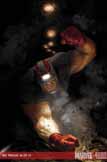 THE TWELVE #6
Written by J. Michael Straczynski, penciled by Chris Weston, cover by Paolo Rivera.
The Laughing Mask--behind bars! Secrets of the Black Widow--revealed! Dynamic Man kicks ass! The Blue Blade bombs out! And the truth behind the origin of underground secret agent Rockman!
DOCTOR WHO CLASSICS #1
by Pat Mills, Wagner & Gibbons
IDW Publishing is proud to kick off its Doctor Who line with monthly re-presentations of classic Doctor Who comics, featuring some of the best talents in the business! Up first, adventures featuring the fourth doctor courtesy of Pat Mills, John Wagner, and Dave Gibbons (Watchmen). Each issue will feature all-new state-of-the-art coloring by color artist Charlie Kirchoff, as well as an all-new cover by Joe Corroney (Star Trek).
Here's how IDW describes the issue:
"The legendary Doctor Who is back, with the first-ever stories created exclusively for the U.S. market. The Doctor is the last of the Time Lords, survivors of a Great Time War and, along with his loyal friend and companion Martha Jones from London, they stop oppression, darkness and evil spreading throughout the galaxies. They're also on the hunt for the best chocolate milkshakes in the cosmosŠ and while they track that down, someone else has the Doctor in their sights. As the very last Time Lord out there, he's highly collectable, to the right people..."
MARVEL ADVENTURES THE AVENGERS #17
Marvel Adventures The Avengers #17 will arrive in stores on Oct. 17 from Marvel Comics. The issue is written by J. Michael Straczynski, with art and cover by Joe Quesada. Here's how Marvel describes the issue:
"Ok, you're a super hero. And you've got to fight a robot. But while the robot can punch and blast you with lasers, you can't touch him. That's a problem, right? That's what the Avengers are up against when they encounter The Vision!"
Marvel Adventures The Avengers #17 will be 32 pages and will cost $2.99.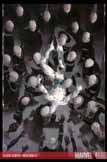 SILVERS SURFER: REQUIEM #4
Silver Surfer: Reqiuem #4 will arrive in stores on August 29 from Marvel Comics. The issue is written by J. Michael Straczynski, with art and cover by Esad Ribic. Here's how Marvel describes the issue:
"For untold years, Norrin Radd surfed the galaxy, exploring the darkness between stars, witnessing the rise and fall of vast civilizations. Now his ride comes to an end. Zenn-La, the planet of his birth, the planet he saved through his own sacrifice -- the Silver Surfer crossed the galaxy to draw his last breath here. He¹s home. What waits for him?"
Silver Surfer: Reqiuem #4 will be 32 pages and will cost $3.99.
HULU.COM
THE SITE IS NOW COMPLETE! If you are a fan of old series, you just have to visit www.hulu.com". While BABYLON 5 is not listed, there are a lot of my old favorites, including IT TAKES A THIEF, IRONSIDE, AIRWOLF, BATTLESTAR GALACTICA (all of them), THE PRETENDER, REMINGTON STEELE, HART TO HART, ROSWELL, MIAMI VICE, BIONIC WOMAN, THE SIXTH SENSE, JOHN DOE, 24 -- and many, many more. The list of movies available is pretty good as well, including ALIEN (4 of them), PLANET OF THE APES, X-FILES, X-MEN (2) and more. I can see that I'll be spending a lot more time on-line in the very near future. Now that the first season of BABYLON 5 has been made available, we can only wait to see what other favorites will follow.
There are some great series for the kids, including FLIPPER and ASTRO BOY. The best part -- IT IS FREE!
---
BABYLON 5/CRUSADE PHOTOSHOP PHOTOS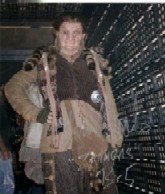 You do NOT have to pay the prices asked for over at e-bay! Here are photos of B5 and Crusade cast members at fantastic prices. Check out Photo Shop. Ordering is easy -- and you can't beat the prices! Just let me know which photos you want and I'll check to make sure they are still in stock.
---
CONVENTION CALENDAR
July 4-6, 2008
JUMPCON
Place: Kalamazoo,Michigan
B5 Guests: Jason Carter
Other Guests: Tons of people from Star Trek, Andromeda and others
For more information, go to http://www.jumpcon.com/kalamazoo.
---

July 11-13, 2008
SHORE LEAVE
Place: Marriot's Hunt Valley Inn
City: Baltimore, MD
B5 Guest: W. Morgan Sheppard (Soul Hunter) Guests: David Hewlett, George Takei, Malcolm McDowell, Jewel Staite, Kate Hewlett, Mark Sheppard, Leah Cairns

For more information, go to www.shore-leave.com.
---

July 23-27, 2008
SAN DIEGO COMICON
City: San Diego, California
Place: San Diego Convention Center
B5 Guest: J. Michael Straczynski
Guests: Tons of people from the comic book realm
For more information, go to http://www.comic-con.org/cci/.
---

July 26-27, 2008
STEEL CITY CON
Place: Monroeville, PA (near Pittsburgh)
Guests: Anthony Forrest, Star Wars, Vanessa Branch and Lauren Maher, Pirates of the Caribbean, THE BATMOBILE - 1966 model
For more information, go to http://www.steelcitycon.com.
---

SPECIAL ANNOUNCEMENTS! Creation Entertainment has a large number of conventions planned for the next several months. They include stars from STARGATE, ENTERPRISE, FARSCAPE, XENA, BATTLESTAR GALACTICA, etc. Check out their calendar to see if one will be in your neighborhood soon. Don't miss their Videos page as well. It is full of some priceless video from a number of conventions.

Be sure to visit the referenced sites to see if there have been changes in dates/guests attending. Visit our Convention Calendar for a full listing of upcoming conventions.
BACK ISSUES OF THE ZOCALO TODAY
The front page of the The Zocalo Today changes daily, so be sure to check the back issues to make sure that you haven't missed anything IMPORTANT! I don't want the front page getting too long so I shift information periodically into the archives. So if you aren't a regular visitor to The Zocalo Today, be sure to check out the back issues. Just use the button above!
---
Take care and I look forward to hearing from you.
Sandra Bruckner (sgbruckner@aol.com)
Editor/Publisher
ISN News: The Zocalo Today
http://www.isnnews.net
Copyright - SBruckner, 1999-2008