[an error occurred while processing this directive]

The Zocalo Today

Welcome and thank you for dropping by. Take your shoes off, get comfortable and stay a while. There is a LOT of information here and you won't want to miss any of it.

The Zocalo Today is an interactive newsletter, encouraging readers to join a discussion topic or to send along letters that can be shared with other readers.

The Zocalo Today is a newsletter for Babylon 5 and science fiction fans everywhere. It is as much YOUR newsletter as it is mine! I'm just pulling together things for you!

Join our discussion topic. It is just one way you can share with other Z readers. If you see Babylon 5 cast and crew in other roles, let us know. We enjoy convention reports, photos, etc. Don't miss our back issues. I hope this will become more than just a newsletter. It's a community of people that enjoy sharing their experiences and interests. Babylon 5 brought many of us together -- and it remains with us, despite the fact that is no longer in production. Don't be shy. Join us today!

If you have questions, drop me a line at sgbruckner@aol.com. If you would like to join the mailing list for our newsletter, send me a note and I'll include you on the list. Or you can use the subscription block at the left.

Again, WELCOME!
SATURDAY, JULY 19, 2008
STAR TREK
Entertainment Weekly (via TrekMovie.com) has put up four teaser posters for J.J. Abrams' upcoming Star Trek movie, which will be available at next week's Comic-Con International in San Diego and which offer the first glimpses of Zachary Quinto's Spock, Chris Pine's Kirk, Zoe Saldana's Uhura and Eric Bana's villainous Nero.
---
MIRABILIS
David James Elliott and Natassia Malthe have been cast by the SciFi Channel in a four-hour fantasy movie entitled MIRABILIS. The film centers on a knight, John (Elliott of Lovesick, JAG), who wanders the land of Mirabilis, and Malthe (Elektra), another knight who is also John's love interest. They and two other knights come together to save Mirabilis. Sam Egan (Jeremiah) wrote the script. The movie will be produced by Reunion Pictures, with RHI Entertainment and Industry Entertainment attached.
---
WIZARD'S FIRST RULE
WIZARD'S FIRST RULE, a fantasy TV series based on Terry Goodkind's book series, will debut in syndication on the Nov. 1 weekend, Disney-ABC Domestic Television and ABC Studios announced. The one-hour series, which is shot in New Zealand, comes from executive producers Sam Raimi, Rob Tapert, Joshua Donen, Ned Nalle and Kenneth Biller. It kicks off with a two-hour premiere event. WIZARD'S FIRST RULE follows the travels of woodsman Richard Cypher (Craig Horner), who discovers his own magical powers. With the help of a mysterious woman, Kahlan (Bridget Regan), and a wise old wizard named Zedd, Richard must stop a ruthless tyrant from unleashing an ancient evil and enslaving the world.
---
WEEKEND BOX OFFICE
The news of THE DARK KNIGHT's success should not come as a surprise to anyone. If you have been watching the trailers available on the internet, you already know what a terrific movie this is -- with a good story as well as amazing special effects. The Hollywood Reporter writes that the domestic box office went into overdrive on Friday as Warner Bros.' Batman sequel THE DARK KNIGHT stood ready to deliver the best opening day gross ever, taking in an estimated $60 million to $63 million in ticket sales from a record 4,366 theaters.
Universal's film adaptation of musical MAMMA MIA was no wallflower, either. The Meryl Streep-Amanda Seyfried starrer -- the ideal counter-programming -- looked headed to gross an estimated $9 million to $10 million from 2,976 theaters on Friday.
DARK KNIGHT, toplining Christian Bale and directed by Christopher Nolan, could nab the highest opening ever for a non-holiday weekend if business stays as strong as expected on Saturday and Sunday. Previous record-holdover for both opening day and best opening for a non-holiday weekend is SPIDER-MAN 3.
The critically acclaimed DARK KNIGHT is Nolan's follow-up to BATMAN BEGINS, which grossed $15 million on its opening day in June 2006, and $48.7 million for the weekend. DARK KNIGHT's transformation into the event film of the summer confirms that Warners and Nolan have successfully relaunched a franchise that has seen several stops-and-starts. DARK KNIGHT's appeal is due at least in part to the late Heath Ledger's performance as the Joker. Aaron Eckhart, Maggie Gyllenhaal, Morgan Freeman and Michael Caine also star.
If Friday's surge in theater traffic continues through the weekend, the frame could bring the best box office gross overall for a non-holiday weekend.
DARK NIGHT's Friday haul includes an estimated $18.5 million in midnight shows, beating the previous midnight record set by Fox's STAR WARS, EPISODE III: THE REVENGE OF THE SITH which grossed $16.9 million from 3,663 venues.
---
HARRY POTTER AND THE HALF-BLOOD PRINCE
The teaser for Harry Potter and the Half-Blood Prince that is playing in IMAX theaters with The Dark Knight has hit the web.
Voldemort is tightening his grip on both the Muggle and wizarding worlds and Hogwarts is no longer the safe haven it once was. Harry suspects that dangers may even lie within the castle, but Dumbledore is more intent upon preparing him for the final battle that he knows is fast approaching. Together they work to find the key to unlock Voldemort's defenses and, to this end, Dumbledore recruits his old friend and colleague, the well-connected and unsuspecting bon vivant Professor Horace Slughorn, whom he believes holds crucial information. Meanwhile, the students are under attack from a very different adversary as teenage hormones rage across the ramparts. Harry finds himself more and more drawn to Ginny, but so is Dean Thomas. And Lavender Brown has decided that Ron is the one for her, only she hadn't counted on Romilda Vane's chocolates! And then there's Hermione, simpering with jealously but determined not to show her feelings. As romance blossoms, one student remains aloof. He is determined to make his mark, albeit a dark one. Love is in the air, but tragedy lies ahead and Hogwarts may never be the same again. HARRY POTTER AND THE HALF-BLOOD PRINCE hits theaters and IMAX November 21st.
---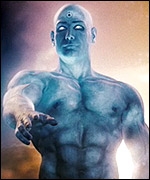 WATCHMEN
Warner Bros. has unveiled the teaser trailer for Zack Snyder's adaptation of WATCHMEN, starring Patrick Wilson, Jackie Earle Haley, Matthew Goode, Billy Crudup and Jeffrey Dean Morgan.
It all begins with the paranoid delusions of a half-insane hero called Rorschach. But is Rorschach really insane or has he in fact uncovered a plot to murder super- heroes and, even worse, millions of innocent civilians? On the run from the law, Rorschach reunites with his former teammates in a desperate attempt to save the world and their lives, but what they uncover will shock them to their very core and change the face of the planet! Following two generations of masked superheroes from the close of World War II to the icy shadow of the Cold War comes this groundbreaking comic story - the story of The Watchmen.

A complex, multi-layered mystery adventure, the film is set in an alternate 1985 America in which costumed superheroes are part of the fabric of everyday society, and the "Doomsday Clock" - which charts the USA's tension with the Soviet Union - is permanently set at five minutes to midnight. When one of his former colleagues is murdered, the washed-up but no less determined masked vigilante Rorschach sets out to uncover a plot to kill and discredit all past and present superheroes. As he reconnects with his former crime-fighting legion - a ragtag group of retired superheroes, only one of whom has true powers - Rorschach glimpses a wide-ranging and disturbing conspiracy with links to their shared past and catastrophic consequences for the future. Their mission is to watch over humanity...but who is watching the Watchmen?
---
---
TOP SCIENCE FICTION NEWS STORIES:
To catch up on the latest news from around the world of science fiction, go to News Page. You'll find the highlights this week and this month here.
---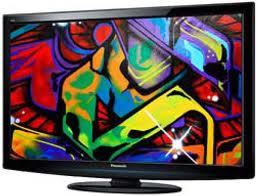 8:00pm on CBS
NCIS - Iceman
With a young Marine on life support, the team tracks his movements in the days leading up to his being left for dead.

9:00pm on CBS
The Unit - The Kill Zone
Jonas and his team try to eliminate a militia rebel leader in Paraguay, but the mission is put on hold when they must rescue two team members trapped by a sniper.

9:00pm on SciFi
Saw II
A detective races against time to save his son from a sadistic madman holding a group of people captive. Credits: Donnie Wahlberg, Tobin Bell, Shawnee Smith, Franky G, Glenn Plummer
9:00pm on BBC America - NEW
Robin Hood - Treasure of the Nation
Robin decides he must sacrifice Locksley to an Army of the Sheriff's mercenaries to adhere to a request from the King.
UNITED FAN CON - JUMPCON - BOSTON CONVENTION
The organizers of United Fan Con, are coming to the rescue of fans who had expected to participate in a convention this weekend -- one run by JumpCon. JumpCon has cancelled the event, but United Fan Con wanted to make sure science fiction fans were not left hanging.
This Fan Con will be free to all attendees and include; games, videos, fan panels, auctions, vendors and more. The event will take place at the Hilton Back Bay, located at 40 Dalton Street, Boston MA (directly across the street from the Boston Sheraton). The event will run from 3pm – 10pm on Friday, 10am – 6pm on Saturday and 12pm – 6pm on Sunday.

For more information, go to http://www.nefe.us/.
UPDATE FROM JMS
Date: 7/13/2008 6:42:18 PM
From the Babylon 5 Moderated Newsgroup

Putting this on a recent thread here where it's more likely to be seen in a quick fashion....

Several things just to update folks.

First, many thanks to all those who sent along research suggestions and offerings to be of assistance on the project I can't talk about. I've been swamped with deadlines and unable to reply to any of the public notes and private emails, but as soon as I can get my head above water, be assured that I'll be in touch with many of you.

Second, as noted in the original thread before I hijacked it, yes, the plan at the moment is that I will be at Comic Con San Diego this year, primarily doing my thing on Thursday and Saturday afternoons.

There is a *chance* -- mind you, it's just a slim chance but to be honorable I must mention it -- that a work situation *may* preclude my appearance there. Or it may not. I'll know more by the end of next week, and for now as far as I know, everything's on target for me to be at SDCC. If that changes, I'll be sure to let everyone know as far in advance as possible.

One final note re: recent discussions on TMoS and more Lost Tales.

B5:TLT was commissioned at a $2 million budget to, yet one more time, "test the waters" for B5. We did what we could with that, and that was that. As we did with Rangers, which also suffered from not having a lot of money because of concerns about "is there really a B5 audience?" Which is, of course, a foolish question from a studio that has never really understood what it has in B5.

Of late, there have been more discussions from WB about doing more DVDs, again at a low cost, or a cable thing, again with minimal investment.

So for the last few months, I've been giving this whole subject a lot of quiet thought. And I've come to a conclusion.

B5 as a five year story stands beautifully on its own. If anything else is to be continued from that story, it should be something that adds to the legacy of B5, rather than subtracts from it.

As well intentioned as Rangers and TLT were, as enticing as it was to return to those familiar waters, in the end I think they did more to subtract from the legacy than add to it. I don't regret having made them, because I needed to go through that to get to the point where I am now psychologically, but from where I sit now, I wouldn't make them again.

So I've let everyone up here know that I'm not interested in doing any more low-budget DVDs. I'm not interested in doing any low-budget cable things or small computer games. The only thing I would be interested in doing regarding Babylon 5 from this point on is a full- featured, big-budget feature film.

It's that or nothing.

And if it's nothing, I'm totally cool with that because the original story stands on its own just fine. I'm not lobbying for it, I'm not asking fans to write in about it (nor should you) because such campaigns never really have much impact...that's simply the position I've taken up here. Lord knows I don't lack for other things to do these days. I'm busier on more prestige projects with terrific people and great film-makers than at any other time in my career.

At the end of the day, for me, it's not just a matter of getting more B5. It's a matter of getting more *good* B5 that respects what came before it and doesn't have to compromise visually or in terms of action. The original show deserves better than that, the surviving cast members deserve better than that, and the fans who have supported it over the years definitely deserve better than that. A lot better.

So I've drawn that line in the sand, and I'm happy living on whichever side of that line the universe puts me. Just thought you should know, 'cause it's your show too.

jms
FULL SAN DIEGO COMIC-CON SCHEDULE
For those of you lucky enough to go to the San Diego Comic-Con, July 23-27, there will be more than enough to occupy your time -- and I hope that some of you will remember us back here and send in some reports of what is going on.

Here is the schedule Comic-Con 2008 with a couple of items of particular interest to Babylon 5 Fans:
Thursday, July 24
11:00-12:00 Professional Writing: Threat or Menace?—
Let's talk writing, creativity, and selling (and selling out), and what the world of professional writing is like. Questions that you've always wanted to ask? Creative blocks bugging you? Wondered what the H*O*L*L*Y*W*O*O*D life is really like? Show up and get answers to those questions. This no-holds-barred talk is moderated by J. Michael Straczynski. Room 5AB

Saturday, July 26
4:45-5:45 Spotlight on J. Michael Straczynski—
Yes, it's him again. Somehow—we have no idea how—he's gone from writing comics and TV to working with Tom Cruise, Clint Eastwood, Ron Howard, Paul Greengrass, Tom Hanks, the Wachowski Brothers, and Angelina Jolie. His long career (he's also known for Babylon 5, Twilight Zone, and others) stands as proof positive that there is no such thing as a just God. What's he up to now? What's coming next? What secrets remain yet untold? How did he achieve this (well, okay, we know that and let's just say it has something to do with a contract signed with Ba'al)? Come and ask the man responsible—J. Michael Straczynski—for Thor, The Twelve, and such upcoming movies ass Changeling, World War Z, Proving Ground, The Flickering Light, The Grays, and Lensman. Room 6B




If you had to describe Babylon 5 in a sentence or two, what would you say? There have many descriptions written, but what would make a new science fiction fan want to pick up the DVDs or VHS copies and watch – and then read all the books that are canon?

Send in your thoughts and comments to sgbruckner@aol.com. I will post them on the Discussion Page for everyone to share and enjoy. There are some good ones so far. Add yours! If you see an old topic you want to respond to, go right ahead. We enjoy hearing from you.
G'KAR MASK GIVEN TO MUSEUM
Ranger Amy sent along this link to make sure that all Babylon 5 fans know that the prosthetic mask worn by Andreas Katsulas as G'Kar is now on display at the Museum of the Moving Image. The mask is mounted on a life mask of Andreas Katsulas. You have to read the wonderful story of Babylon 5 fans who banned together to purchase the mask so that it could be shared by fans and the general public. Go to http://collection.movingimage.us/index.php?g=detail&object_id=99056&representation_id=4587 to read how this piece of Babylon 5 history was preserved. The Museum of the Moving Image is located at 35 Avenue at 36 Street, Astoria, New York 11106. There website can be viewed at http://www.movingimage.us/site/site.php.

**Hear Amy talk about the mask and how she and other B5 fans banded together to preserve this piece of Babylon 5 history for fans around the world during the latest Babylon 5 Podcast. See the section on the podcast below.
OTHER VOICES - VOLUME 3 JUST RELEASED
Babylon 5 Scripts: Other Voices
VOLUME 3
Price: $29.99
Discount until July 21, 2008

For more information and to order B5 Other Voices, go to www.B5OtherVoices.com.

Volume 3 will never be offered at a discount again.
This limited edition run ends on September 30, 2008

Featuring these 6 scripts
• "The Long Dark" by Scott Frost
• "Soul Mates" by Peter David
• "There All the Honor Lies" Peter David
• "Gropos" by Larry DiTillio
• "Knives" by Larry DiTillio
• "Day of the Dead" by Neil Gaiman

All scripts include an introduction/commentary by the writers, written exclusively for these volumes. A sample of what you'll discover in Volume 3:

* What Scott Frost believes is less-than-perfect about Cirrus's character.
* Why Peter David wrote "Soul Mates" even though J. Michael Straczynski said "no."
* From on-the-set: Peter David details his perspective of the different acting styles of Bruce Boxleitner and Andreas Katsulas.
* Find out which actor wore their make-up home on Halloween to answer the door for trick-or-treaters.
* Why all the actors were barefoot in "Soul Mates"...and why it was specifically written that G'Kar had his boots on.
* Revealed for the first time ever -- read all about the night that Bruce Boxleitner referred to his character as Sinclair...and Peter David's inside theory on why he did.
* The story of the legendary Babylon 5 bear told in captivating detail including how the bear war began, the alien race Strazyn, and how a final retribution was thwarted.
* Peter David's one, final regret about "There All the Honor Lies."
* Find out which line of dialogue Mira Furlan "despised with the fiery passion of a thousand suns" and why this line might be the most important revelation of the episode it's in.
* What actor Jerry Doyle was miffed that Londo got to do that Garibaldi had not... and how Jerry's real life past came back to the set in "Gropos."
* Who was originally cast as Dr. Franklin's father.
* What inspired "Knives" to open with Londo and Vir discussing opera.
* The tale behind the dramatic changes in Sheridan's story line in "Knives"...and what was written out and the scenes not shot that later prompted writer Larry DiTillio to ask himself "what was I thinking?"
* Find out what Larry DiTillio always bought 5 pounds of for the crew when shooting his scripts.
* Discover why Andreas Katsulas refused to go to sci-fi conventions.
* Read the version of "Day of the Dead" with a talking Zooty.
* The line of dialogue that Neil Gaiman refers to as "astoundingly awful" which, to his relief, was edited out as well as one of his "favorite TV moments."

Volume 3 also includes --

* A 47 page guide to the Alien Races of the League of Non-Aligned Worlds which details as many as 21 characteristics and history including each race's homeworld, height, weight, hair, limbs, reproductive methods, skin colors, special powers, governments, religions, social structure, economics technology, military power, recreation, art forms, alliances and enemies. This 13,000 word "bible" covers the Abbai, Brakiri, Drazi, Grome, Hurr, Hyach, Llort, Markab, pak'ma'ra and Yolu and also includes a short Centauri/Minbari/Narn glossary.

* A brief introduction by J. Michael Straczynski for Neil Gaiman's "Day of the Dead"

(Note: J. Michael Straczynski's introduction to "Day of the Dead" and Neil Gaiman's script are reprinted from the 1998 "Day of the Dead: A Babylon 5 Script book")

Just like previous volumes, the scripts included in Volume 3 are early drafts.

Because there are so many differences, you also get the Script/DVD Variations inventory, which catalogues all the changes, deletions, additions and extras that were in the script but you never actually got to see in a handy, easy-to- reference grid.

Volume 3 has a total of 81 entries detailing these B5 Script/DVD variations you probably never knew.
KEEPING UP WITH CAST AND CREW
JASON CARTER
Joellyn from Jason's fan club writes that: Jason Carter will not be attending JumpCon (Boston, Pittsburgh, or Washington DC). Jason's name is still on the JumpCon website and tickets are still available for purchase, so because he is not attending do not purchase.
If you did purchase a ticket for Jason, per Shane Senter's post on the JumpCon forums regarding refund/changes:
"Email sales@jumpcon.com or call 603-249-9002 for what you would like to change."
---
DEAD AIR
A new trailer for DEAD AIR can be found at http://www.joblo.com/arrow/index.php?id=12567.Directed by Corbin Bersen, written by B5's Kenny Yakkel, stars Bill Moseley and Patricia Tallman.






IN MEMORY OF:
While Andreas Katsulas (G'Kar), Rick (Biggs) and Tim (Choate) are no longer with us, we will not forget their wonderful personalities and talent. Be sure to visit In Memory Of for more information about memorial efforts. Until we met again, in a place where no shadows fall.
BABYLON 5 BIRTHDAYS
Jerry Doyle - July 16
J. Michael Straczynski - July 17
David Warner - July 29

Have I missed anyone? If you know the birthday of someone connected with Babylon 5, pass the information along. We want to include everyone in our Happy Birthday Wishes.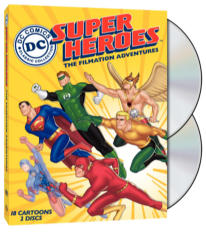 DC Super Heroes: The Filmation Adventures
Official website: http://www.DCSuperheroesfilmation.com

Release date: August 12, 2008

Synopsis:
Episodes. Disc 1. The Atom Cartoons, Invasion Of The Beetle-Men (1967), The Plant Master (1967), The House Of Doom (1967), The Flash Cartoons, The Chemo-Creature (1967), Take a Giant Step (1967), To Catch a Blue Bolt (1967), Green Lantern Cartoons, Evil is as Evil Does (1967), The Vanishing World (1967), Sirena, Empress of Evil (1967), Disc 2. Hawkman Cartoons, Peril from Pluto (1967), A Visit To Venus (1967), The Twenty Third Dimension (1967), Justice League Of America Cartoons, Between Two Armies (1967), Target Earth (1967), Bad Day on Black Mountain (1967), Teen Titans Cartoons, The Monster Machine (1967), The Space Beast Round-Up (1967), Operation: Rescue (1967).
Official website: www.kidswb.com/whv
Release Date: July 29, 2008
Synopsis:
Cyber nerd Dexter Douglas surfs the web one fateful night, gets swept into a digital techno-electro smash-up that bites him in the gigabytes and ? ZAP! ? goes from geek to freak. To Freakazoid!, that is, a smart- mouthing, butt-kicking, mega-voltage superhero with things to do (unless there?s something really good on TV). It's Freaka-Me, Freaka-You fun. Episodes. 14 episodes; each 22 minutes, Disc 1. 1) Five Day Forecast / Dance of Doom / Hand Man, 2) Candle Jack / Toby Danger in Doomsday Bet / The Lobe, 3) Mo-Ron / The Sewer Rescue / The Big Question / The Legends Who Lunch, 4) And Fan Boy Is His Name / Lawn Gnomes: Ch. IV - Fun in the Sun / Freak's French Lesson, 5) Foamy the Freakadog / Office Visit / Ode to Leonard Nimoy / Emergency Broadcast System, 6) The Cloud / Candle Jack (repeat). Disc 2 . Side 1 7) The Chip (Acts I - III), 8) The Chip (Act IV) / Freakazoid is History, 9) Hot Rods From Heck / A Time for Evil, 10) Relax-O-Vision / Fatman and Boy Blubber / Limbo Lock-up / Terror Palace, 11) In Arms Way / The Cloud (repeat), 12) Next Time, Phone Ahead / Nerdator. Side 2, 13) House of Freakazoid / Sewer or Later, 14) The Wrath of Guitierrez, Plus EC.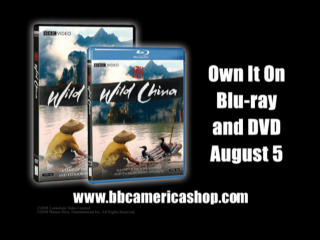 Wild China
Official website: www.bbcamerica.shop.com Release date: August 5, 2008

Synopsis:
An exotic fusion of natural history and Oriental adventure, "Wild China" is a series of journeys through four startlingly different landscapes, each based around the travels of a real historical character. With splendour, scale and romance, Wild China lifts the veil on the world's most enigmatic and magnificent country, delving into its vibrant habitats to reveal a land of unbelievable natural complexity. Journey across China from the glittering peaks of the Himalayas to the barren steppe, the sub-Arctic to the tropical islands, through deserts both searingly hot and mind-numbingly cold and see, in pioneering images, a dazzling array of mysterious, beautiful, wild and rare creatures.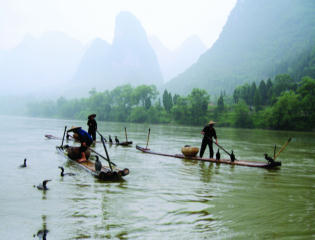 Video clips from Warner Bros.:

Chinese Pond Herring 1:07
Windows Media:
http://raincloud.warnerbros.com/wbol/us/whv/med/bbc/wildchina/clips/wc_ chinese_pond_herring_300.asx
Quicktime:
http://raincloud.warnerbros.com/wbol/us/whv/med/bbc/wildchina/clips/ wc_chinese_pond_herring_qt_300.mov

Giant Salamander 1:28
Windows Media:
http://raincloud.warnerbros.com/wbol/us/whv/med/bbc/wildchina/clips/wc_giant_ salamander_300.asx
Quicktime: http://raincloud.warnerbros.com/wbol/us/whv/med/bbc/wildchina/clips/wc_giant_ salamander_qt_300.mov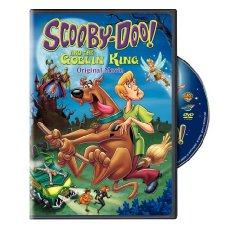 SCOOBY-DOO AND THE GOBLIN KING
Release Date: September 23, 2008

Synopsis:
What a predicament! The Amazing Krudsky, whose carnival tricks are anything but, steals the light magic from Princess Fairy Willow and it's up to Scooby-Doo and Shaggy to stop him or everyone will be turned into horrible Halloween monsters! Our heroes board the Grim Reaper Railroad bound for the fantastic world of Halloween Land to retrieve the powerful Goblin Scepter from the Goblin King before Krudsky can. Along the way, the Mystery Inc. crew encounters the infamous Headless Horseman, the helpful Jack O'Lantern and a frisky broomstick that takes them on the ride of their afterlife. Your house will shake with enchanted creatures and weird worlds in this merry animated adventure where hobnobblin' with a goblin is frightful fun!

An amazing cast including: Hayden Panettiere, Jay Leno, Lauren Bacall, Tim Curry, Jim Belushi + more

Scooby-Doo Trailer:
Windows Media:
http://raincloud.warnerbros.com/wbol/us/whv/med/scooby/scoobydooandthegoblinking/ tvspots/WVSD-S0025_300.asx
Quicktime:
http://raincloud.warnerbros.com/wbol/us/whv/med/scooby/scoobydooandthegoblinking/ tvspots/WVSD-S0025_qt_300.mov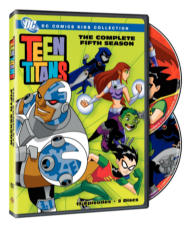 Teen Titans: Season 5 & The Batman: Season 5
Release date: July 8, 2008
Official website: www.kidswb.com

Synopsis:
The Emmy-winning animated series The Batman is an action-packed animation adventure that currently airs on Saturdays on the Kids WB. In the fifth season, the Caped Crusader works side by side with the likes of Superman, The Flash, Robin, Batgirl and Green Arrow to protect the streets of Gotham City as they are infiltrated by cunning criminal masterminds. The Joker, Lex Luthor, and Firefly are just a few of the evil foes who give the heroes a run for their money with each one bringing their own brand of chaos to the city. The Batman: The Complete Fifth Season 2-disc collection contains 13 action-packed episodes and amazing bonus features including:

JOINING FORCES:
The Batman's Legendary Team-Ups - The producers and writers from the show have taken a page from classic DC Comics titles to present a series of team-up tales. Throughout the season, the Dark Knight joins forces with individual heroes from the DC Universe to fend off a whole new batch of super villains.

The Batman: Justice League Profiles - This featurette covers the design and level of authentic detail, stemming from the comics to the screen in an installment of The Batman.

WHV will also release Teen Titans: The Complete Fifth Season which currently airs on the Cartoon Network. Robin, Starfire and Raven square off with Brain, and his ultimate team of villains in The Brotherhood of Evil. Some Titans will be lost along the way as the vendetta escalates into a global war, and the teen phenoms must rely on Beast Boy to bring them to victory as he performs his most amazing transformation yet. This action packed 2-disc collection contains thirteen episodes and special features highlighting a motley crew of scoundrels and crooks including:

Teen Titans: Friend and Foes - The fifth season of Teen Titans finds our heroes in a worldwide membership drive recruiting new allies to combat the growing Brotherhood of Evil. In order to prepare for the final battle, all new character files for the Titans database have been created. The vignettes include:

1.) Control Freak
2.) Bob & The Source
3.) Billy Numerous
4.) Mother Mae-Eye
5.) Trigon
Some clips from Warner Bros:
The Batman S5 Joker Express:
Caves 1:18
Windows Media:
http://raincloud.warnerbros.com/wbol/us/whv/med/teentitansthebatman/season5/ tbs5_jokerexpress_caves_300.asx
Quicktime:
http://raincloud.warnerbros.com/wbol/us/whv/med/teentitansthebatman/season5/ tbs5_jokerexpress_caves_qt_300.mov

Laughers 1:20
http://raincloud.warnerbros.com/wbol/us/whv/med/teentitansthebatman/season5/ tbs5_jokerexpress_laughers_300.asx
http://raincloud.warnerbros.com/wbol/us/whv/med/teentitansthebatman/season5/ tbs5_jokerexpress_laughers_qt_300.mov

Moving 1:11
http://raincloud.warnerbros.com/wbol/us/whv/med/teentitansthebatman/season5/ tbs5_jokerexpress_moving_300.asx
http://raincloud.warnerbros.com/wbol/us/whv/med/teentitansthebatman/season5/ tbs5_jokerexpress_moving_qt_300.mov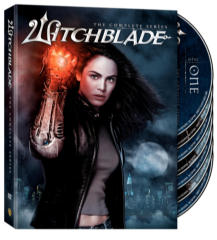 WITCHBLADE: THE COMPLETE SERIES

Release date: July 29, 2008
Official Website: www.witchbladedvd.com

Witchblade: The Complete Series Synopsis:
In this adaptation of the Top Cow comic book, Witchblade is the story of a New York detective, Sara "Pez" Pezzini, whose search for justice brings her into contact with the Witchblade, an ancient, intelligent, living weapon so powerful it can battle Earth's darkest evil forces. Week in and week out, "Pez" employs her skills as a police detective to fight crime. She finds she must employ the Witchblade to combat a much greater and frighteningly organized conspiracy of evil that threatens the very soul of humanity. As Sara tries to keep the secret of the Witchblade, do her job and have a personal life, she finds that her most formidable adversary may be the Witchblade itself.

Video clips from Warner Bros.
Murder Scene 1:41
Windows Media:
http://raincloud.warnerbros.com/wbol/us/whv/med/witchblade/complete/ Witchblade_diplopia_murder_scene_300.asx
Quicktime
http://raincloud.warnerbros.com/wbol/us/whv/med/witchblade/complete/ Witchblade_diplopia_murder_scene_qt_300.mov

Photo Shoot 1:52
Windows Media
http://raincloud.warnerbros.com/wbol/us/whv/med/witchblade/complete/ witchblade_ep102_conundrum_photoshoot_300.asx
Quicktime
http://raincloud.warnerbros.com/wbol/us/whv/med/witchblade/complete/ witchblade_ep102_conundrum_photoshoot_qt_300.mov

Sara Pezzini 1:17
Windows Media:
http://raincloud.warnerbros.com/wbol/us/whv/med/witchblade/complete/ witchblade_ep102_conundrum_sara_pezzini_300.asx
Quicktime
http://raincloud.warnerbros.com/wbol/us/whv/med/witchblade/complete/ witchblade_ep102_conundrum_sara_pezzini_qt_300.mov

Witchblade 0:49
Windows Media
http://raincloud.warnerbros.com/wbol/us/whv/med/witchblade/complete/ witchblade_ep102_conundrum_witchblade_300.asx
Quicktime
http://raincloud.warnerbros.com/wbol/us/whv/med/witchblade/complete/ witchblade_ep102_conundrum_witchblade_qt_300.mov
BATMAN BEGINS
Release Date: July 8, 2008

Batman Begins: Limited Edition Gift Set
Synopsis:
Batman Begins explores the origins of the Batman legend and the Dark Knight's emergence as a force for good in Gotham. In the wake of his parents' murder, disillusioned industrial heir Bruce Wayne (Christian Bale)travels the world seeking the means to fight injustice and turn fear against those who prey on the fearful. He returns to Gotham and unveils his alter-ego: Batman, a masked crusader who uses his strength, intellect and an array of high tech deceptions to fight the sinister forces that threaten the city.

Director: Christopher Nolan
Actors: Christian Bale, Michael Caine, Liam Neeson, Katie Holmes, Gary Oldman, Cillian Murphy, Tom Wilkinson, Rutger Hauer, Ken Watanabe, Morgan Freeman, Mark Boone, Jr., Gus Lewis, Linus Roache, Rade Serbedzija

Blu-ray™ Hi-Def Limited Edition Gift Set extras include The Dark Knight Prologue, a 32-Page Booklet featuring an exclusive comic adaptation of The Dark Knight Prologue, a BATMAN BEGINS Motion Art Lenticular, 5 Collectible Batman Begins Postcards and $7.50 "Movie Cash" to see The Dark Knight in theaters.
BIRDS OF PREY: THE COMPLETE SERIES
Release Date: July 15, 2008

Birds of Prey: The Complete Series
Synopsis:
Who will stand up to villains now that a heartbroken Dark Knight has mysteriously vanished? Never fear, New Gothamites, a trio of champions is ready to take wing - and Helena, the daughter of Batman and Catwoman, is among them. She calls herself Huntress and crime is her prey. Teenaged Dinah is the youngest of the group, learning as she goes and gifted in clairvoyance. And overseeing the awesome threesome's high- tech nerve center is Batgirl. Left wheelchair-bound by The Joker, she has reinvented herself as Oracle, the team's cyber expert. Huntress, Dinah, Oracle: They are the Birds of Prey. Fighting together. Living together. And soaring into adventure together in 13 breathtaking live-action episodes.

A video clip from WB:
Connection with Cops - 1:43
Windows
http://raincloud.warnerbros.com/wbol/us/whv/med/birdsofprey/clips/bops_connection_with_ cops_300.asx
Quicktime:
http://raincloud.warnerbros.com/wbol/us/whv/med/birdsofprey/clips/bops_connection_ with_cops_qt_300.mov




THE CLOSER: THE COMPLETE THIRD SEASON
Release Date: July 1, 2008
Official website: www.thecloserdvd.com

The Closer: The Complete Third Season
Synopsis:
Golden Globe Award-winner and Emmy Award nominee, Kyra Sedgwick portrays the role of Deputy Police Chief Brenda Leigh Johnson, a CIA-trained detective who has been brought from Atlanta to Los Angeles to head up the Priority Murder Squad, a special unit of the LAPD that handles sensitive, high-profile murder cases. Despite her offbeat personality and tendency to step on people's toes, Brenda's tough-as-nails approach and track record prove her to be one of the country's leading investigators. Brenda is tapped to lead the team because she is a world-class interrogator, and when it comes to obtaining confessions, she is a closer. But her quirky attitude and hard-nosed approach to her job sometimes rub her colleagues the wrong way, as does the fact that she is a tough-minded Southern woman in a department dominated by men.

During season three, Brenda faces several challenges both personal and professional, as she is assigned to some very complex cases. She investigates a retirement facility where a man confesses to seven murders but refuses to give his name. She is put on a case that involves the slaughter of an entire family in an upscale Los Angeles neighborhood and has to deal with becoming the most downloaded video on YouTube after she's assaulted by a bride whose wedding she stopped. Half-way through the season, Brenda begins to feel ill until test results from the doctor reveal what's going on. The series also stars J.K. Simmons (Juno), Corey Reynolds (The Guardian), Robert Gossett (Passions), G.W. Bailey (The Jeff Foxworthy Show), Tony Denison (Prison Break) and Jon Tenney (The Division).

Arresting Bonus Features on the DVD set include:
- The Art of Interrogation - A featurette that depicts law enforcement professionals and criminal psychologists explaining the real-world art of interrogation and the skills necessary to be a "closer." The show's producers, writers and creators discuss the techniques used on the show and the advantages of using a female Deputy Police Chief as the show's main character.
- Gag Reel
- Unaired Scened

Here are some clips from the WB for you:

Retirement 1:42
Windows Media
http://pdl.warnerbros.com/wbol/us/whv/med/closerthe/season3/ closer_s3_trf_retirement_home_300.wmv

Quicktime
http://pdl.warnerbros.com/wbol/us/whv/med/closerthe/season3/ closer_s3_trf_retirement_home_qt_300.mov
BATMAN-GOTHAM KNIGHT
I have posted a new interview with writer Greg Rucka. Drop over to Gotham Knight page for the latest on this new video.



BATMAN - GOTHAM KNIGHT
The Official Batman Gotham Knight website is at http://warnervideo.com/batmangothamknight/.


Be sure to visit the official website at www.batmangothamknight.com to see the new teaser for this video. It arrives in stores July 8. Go to Batman-Gotham for an interview with writer Alan Barnett. More information about the video can be found below in the DVD section.

BATMAN GOTHAM KNIGHT is a fresh and exciting new entry into the Batman mythos, spinning out of a 40-year history in animation including the Emmy®-winning "Batman: The Animated Series," widely considered a pivotal moment in American animation. A cross section of distinguished creators, award winning producers, and acclaimed writers weave six interlocking stories that reveal Bruce Wayne's journey to The Dark Knight, each with stylish art from some of the world's most revered animation visionaries. BATMAN GOTHAM KNIGHT will arrive July 8, 2008 on DVD and Blu-Ray Disc, and will also be available On Demand via digital cable and for download through broadband sites.
Below is the official trailer from Warner Bros:
http://raincloud.warnerbros.com/wbol/us/whv/med/batman/gothamknight/tvspots/Batman_ Gotham_Knight_WVBAT-A0010_300.asx

http://raincloud.warnerbros.com/wbol/us/whv/med/batman/gothamknight/tvspots/Batman_Gotham_ Knight_WVBAT-A0010_qt_300.mov

Warner Bros. is pushing the limits on this one. The graphics and music are wonderful. The Batman story is one I have enjoyed for years -- along with others in my family. I can't wait to see this video. Go to Gotham-Knight for more information.

For more information on other DVDs that have just been released and reviewed, go to New DVDs

Cult Times Issue #154: BATTLESTAR GALACTICA: James Callis talks about his character, Dr Gaius Baltar and whether his character's luck is changing in the final season. HEROES: Brand new Hero actress Dana Davis discusses why she avoided news of Hurricane Katrina when she got the part, and what it's like having Star Trek's Uhura as a grandmother! GHOST WHISPERER: Star Jennifer Love Hewitt relates tales of the recent spooky happenings on set and gives some insight into Melinda Gordon's far darker third season world.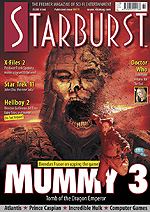 Starburst Issue #364: MUMMY 3: TOMB OF THE DRAGON EMPEROR: Actor Brendan Fraser dusts the sand off his boots and discusses the second sequel to the 1999 action Fantasy film. DOCTOR WHO: Director Graeme Harper provides details on the return of former companion Rose Tyler (Billie Piper) and the changing life of Donna (Catherine Tate). HELLBOY 2: THE GOLDEN ARMY - Director Guillermo del Toro provides a ring-side-seat right in the middle of a night-shoot of this sequel near Budapest… THE INCREDIBLE HULK - Director Louis Leterrier talks about his hopes for a hulking success with his rebooted version of the big green giant.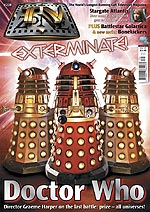 TV Zone #230: DOCTOR WHO: Director Graeme Harper discuses the epic drama of season finale Journey's End - and casting a new Davros! STARGATE ATLANTIS: Actress Rachel Luttrell returns to Atlantis following onscreen and real life maternity, to take on a new guise as her character Teyla goes undercover as a Wraith Queen… BATTLESTAR GALACTICA: As the Galactica nears Earth and the pressure comes to bear on President Roslin, star Mary McDonnell reflects on the burdens of command. REAPER: Former Invasion star Tyler Labine reveals how he knew the part of slacker Sock was made for him when he spotted that the character indulged in the same 'tape hand' stunts that he did in reality…


Be sure to drop over to Titan Magazine's website for updates on magazines associated with specific shows like 24, ALIAS, ANGEL, BUFFY, CHARMED, LOST, PRISON BREAK, SMALLVILLE and STARGATE SG-1.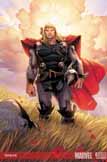 THOR #10
Written by J. Michael Straczynski, pencils and cover by Olivier Coipel.
As the Asgardians returned to this life and Thor returned to Midgard, so came the ills that have plagued the gods and man for millennia. Now for the first time since their rebirth, Thor and his fellow hero-gods are venturing forth from the Shining City to confront the growing evils that amass on their horizon...and within their walls... 32 pages, $2.99.
INDIANA JONES AND THE TOMB OF THE GODS #1
Dark Horse Comics
Dr. Henry Jones, Jr. sets out on another globe-hopping adventure in Indiana Jones and the Tomb of the Gods, the all-new mini-series filled with ancient treasures, Nazis, and a spectacular cover by Tony Harris (Ex Machina)!
CIVIL WAR CHRONICLES #12
Written by J. Michael Straczynski and Paul Jenkins, penciled by Ron Garney and Ramon Bachs, cover by Steve McNiven.
Experience Civil War and its major tie-ins in chronological order! In Captain America #25, find out what happens next in the life of the Sentinel of Liberty! The biggest Cap story that Ed Brubaker and Steve Epting have yet to tell, "Death of a Dream" will stun readers and send shockwaves through the entire Marvel Universe for the next year and it begins here! And in Civil War: The Confession, the team that brought you the start of Civil War with the New Avengers: Illuminati special presents a heart-wrenching finale. Two of the Marvel heroes most affected by the shocking conclusion of the war get together one last time. What is said between them will set the course of the Marvel Universe for years to come.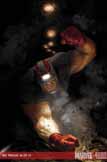 THE TWELVE #6
Written by J. Michael Straczynski, penciled by Chris Weston, cover by Paolo Rivera.
The Laughing Mask--behind bars! Secrets of the Black Widow--revealed! Dynamic Man kicks ass! The Blue Blade bombs out! And the truth behind the origin of underground secret agent Rockman!
DOCTOR WHO CLASSICS #1
by Pat Mills, Wagner & Gibbons
IDW Publishing is proud to kick off its Doctor Who line with monthly re-presentations of classic Doctor Who comics, featuring some of the best talents in the business! Up first, adventures featuring the fourth doctor courtesy of Pat Mills, John Wagner, and Dave Gibbons (Watchmen). Each issue will feature all-new state-of-the-art coloring by color artist Charlie Kirchoff, as well as an all-new cover by Joe Corroney (Star Trek).
Here's how IDW describes the issue:
"The legendary Doctor Who is back, with the first-ever stories created exclusively for the U.S. market. The Doctor is the last of the Time Lords, survivors of a Great Time War and, along with his loyal friend and companion Martha Jones from London, they stop oppression, darkness and evil spreading throughout the galaxies. They're also on the hunt for the best chocolate milkshakes in the cosmosŠ and while they track that down, someone else has the Doctor in their sights. As the very last Time Lord out there, he's highly collectable, to the right people..."
MARVEL ADVENTURES THE AVENGERS #17
Marvel Adventures The Avengers #17 will arrive in stores on Oct. 17 from Marvel Comics. The issue is written by J. Michael Straczynski, with art and cover by Joe Quesada. Here's how Marvel describes the issue:
"Ok, you're a super hero. And you've got to fight a robot. But while the robot can punch and blast you with lasers, you can't touch him. That's a problem, right? That's what the Avengers are up against when they encounter The Vision!"
Marvel Adventures The Avengers #17 will be 32 pages and will cost $2.99.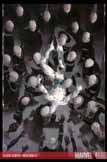 SILVERS SURFER: REQUIEM #4
Silver Surfer: Reqiuem #4 will arrive in stores on August 29 from Marvel Comics. The issue is written by J. Michael Straczynski, with art and cover by Esad Ribic. Here's how Marvel describes the issue:
"For untold years, Norrin Radd surfed the galaxy, exploring the darkness between stars, witnessing the rise and fall of vast civilizations. Now his ride comes to an end. Zenn-La, the planet of his birth, the planet he saved through his own sacrifice -- the Silver Surfer crossed the galaxy to draw his last breath here. He¹s home. What waits for him?"
Silver Surfer: Reqiuem #4 will be 32 pages and will cost $3.99.
HULU.COM
THE SITE IS NOW COMPLETE! If you are a fan of old series, you just have to visit www.hulu.com". While BABYLON 5 is not listed, there are a lot of my old favorites, including IT TAKES A THIEF, IRONSIDE, AIRWOLF, BATTLESTAR GALACTICA (all of them), THE PRETENDER, REMINGTON STEELE, HART TO HART, ROSWELL, MIAMI VICE, BIONIC WOMAN, THE SIXTH SENSE, JOHN DOE, 24 -- and many, many more. The list of movies available is pretty good as well, including ALIEN (4 of them), PLANET OF THE APES, X-FILES, X-MEN (2) and more. I can see that I'll be spending a lot more time on-line in the very near future. Now that the first season of BABYLON 5 has been made available, we can only wait to see what other favorites will follow.
There are some great series for the kids, including FLIPPER and ASTRO BOY. The best part -- IT IS FREE!
BABYLON 5/CRUSADE PHOTOSHOP PHOTOS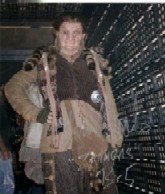 You do NOT have to pay the prices asked for over at e-bay! Here are photos of B5 and Crusade cast members at fantastic prices. Check out Photo Shop. Ordering is easy -- and you can't beat the prices! Just let me know which photos you want and I'll check to make sure they are still in stock.
---
---
CONVENTION CALENDAR
July 23-27, 2008
SAN DIEGO COMICON
City: San Diego, California
Place: San Diego Convention Center
B5 Guest: J. Michael Straczynski
Guests: Tons of people from the comic book realm
For more information, go to http://www.comic-con.org/cci/.


July 25-27, 2008
JUMPCON - Pittsburgh
Place: Westin Convention Center
City: Pittsburgh, PA
B5 Guest: Marjean Holden (Crusade), Dylan Neal (Legend of the Rangers)
Guests: Adrian Paul, Elizabeth Gracen, Spike Spencer, Paul Wingfield,JR Bourne, Vic Mignogna, Colin Baker, Steve Bacic
For more information, go to http://www.jumpcon.com/?q=Pittsburgh


July 26-27, 2008
STEEL CITY CON
Place: Monroeville, PA (near Pittsburgh)
Guests: Anthony Forrest, Star Wars, Vanessa Branch and Lauren Maher, Pirates of the Caribbean, THE BATMOBILE - 1966 model
For more information, go to http://www.steelcitycon.com.


August 1-3, 2008
JumpCon
Place: Somerset, New Jersey
Babylon 5 Guest: Dylan Neal (Legend of the Rangers) Guests: Edward James Olmos, Mary McDonnell, tons of people from Star Trek, Stargate and others
For more information, go to http://www.jumpcon.com/somerset.



August 6-10, 2008
STAR TREK CONVENTION
City: Las Vegas, Nevada
Place: Las Vegas Hilton Hotel
Guests: Zachary Quinto, Leonard Nimoy and a huge guest list of Star Trek cast members
For more information, go to http://www.creationent.com/cal/stlv.htm.

August 6-10, 2008
WORLDCON 2008 - DENVENTION 3
Place: Denver, Colorado
For more information, go to http://www.denvention3.org

August 8-10, 2008
JumpCon
Place: Washington, DC
B5 Guests: Jason Carter (cancelled), Bruce Boxleitner, Tracy Scoggins, Mira Furlan, Claudia Christian, Peter Woodward, Walter Koenig, Ed Wasser, Maggie Egan, Peter Jurasik, William Forsythe, Marjean Holden, Joshua Cox, Mary Kay Adams, Stephen Furst, Kitty Swink
Other Guests: Tons of people from Star Trek, Stargate and others
For more information, go to http://www.jumpcon.com/washington.

August 15-17, 2008
JumpCon
Place: Cleveland, Ohio
B5 Guests: Jason Carter, Kitty Swink
Other Guests: Adrian Paul, Tim Russ, Teryl Rothery, tons of people from Star Trek, Stargate and others
For more information, go to http://www.jumpcon.com/cleveland.

August 22-24, 2008
JumpCon
Place: Detroit, Michigan
B5 Guests: Jason Carter
Other Guests: Edward James Olmos, Mary McDonnell, Adrian Paul, Teryl Rothery, tons of people from Star Trek, Stargate and others
For more information, go to http://www.jumpcon.com/detroit.

August 22-24, 2008
STARGATE CONVENTION
City: Chicago, Illinois
Place: Wyndham O'Hare
Guests: Michael Shanks, Ben Browder, Don Davis, Alexis Cruz, Lexa Doig, David Kykl
For more information, go to http://www.creationent.com/cal/sgchi.htm.

SPECIAL ANNOUNCEMENTS! Creation Entertainment has a large number of conventions planned for the next several months. They include stars from STARGATE, ENTERPRISE, FARSCAPE, XENA, BATTLESTAR GALACTICA, etc. Check out their calendar to see if one will be in your neighborhood soon. Don't miss their Videos page as well. It is full of some priceless video from a number of conventions.
Be sure to visit the referenced sites to see if there have been changes in dates/guests attending. Visit our Convention Calendar for a full listing of upcoming conventions.
BACK ISSUES OF THE ZOCALO TODAY
The front page of the The Zocalo Today changes daily, so be sure to check the back issues to make sure that you haven't missed anything IMPORTANT! We had a system crash recently, so many of the back issues are not available. I hope that you find this newsletter of interest and come back often.
---
Take care and I look forward to hearing from you.
Sandra Bruckner (sgbruckner@aol.com)
Editor/Publisher
ISN News: The Zocalo Today
http://www.isnnews.net
Copyright - SBruckner, 1999-2008