[an error occurred while processing this directive]

The Zocalo Today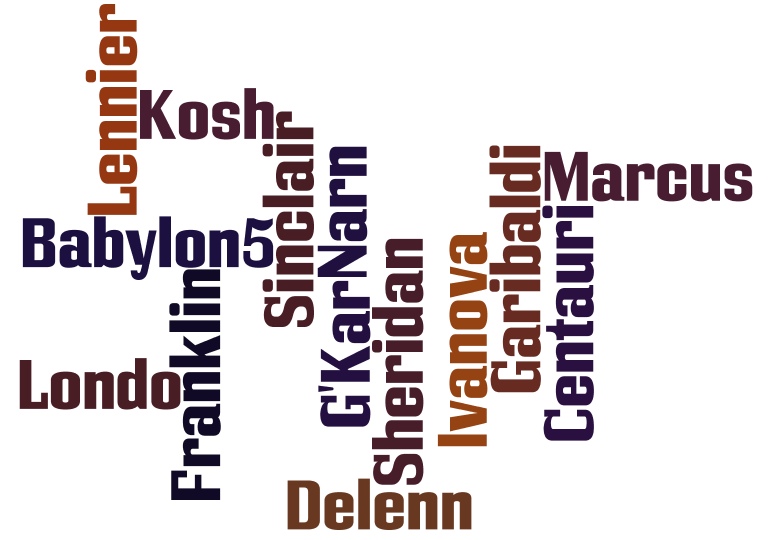 Welcome and thank you for dropping by. Babylon 5 brought many of us together -- and it remains with us, despite the fact that is no longer in production. The good thing is that the internet gives a LOT of ways to stay in touch. Don't be shy. Join in the discussion today or drop by Facebook or Twitter.

If you have questions or items for the news, drop me a line at sgbruckner@aol.com.


SUNDAY, AUGUST 25, 2013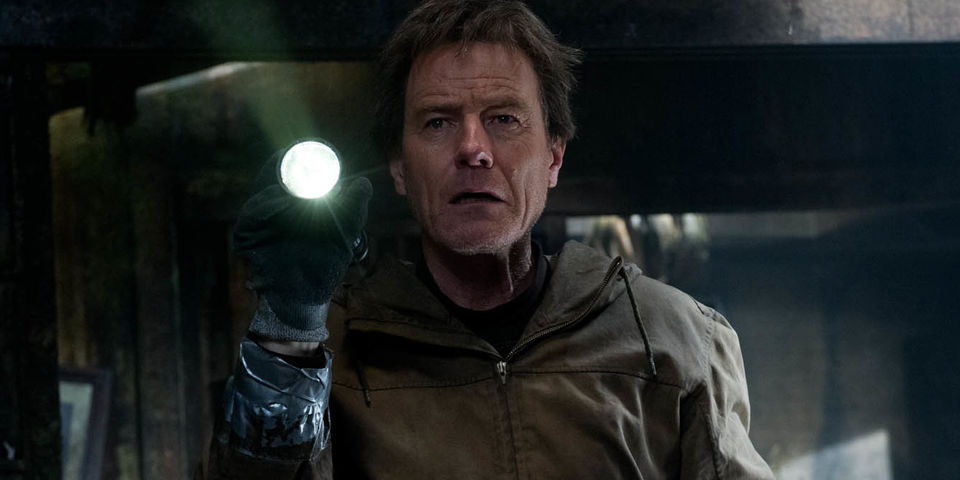 BATMAN/SUPERMAN NEWS
"Breaking Bad" star Bryan Cranston may have been cast in the role of Lex Luthor in the "Man of Steel" sequel, according to reports. If true, this means that Cranston will play the ultimate Superman foe in at least six DC superhero movies.
Cosmic Book News cites an unidentified source for its information about Cranston. The website had previously reported that the Lex Luthor role had been cast, but no details were available. Now, it appears that Cranston has the role -- he will appear in some capacity as the super-villain in at least six films. That number could rise as high as 10, if DC gets to make as many films as it wants.
Cranston's casting is not expected to be formally announced until around the time of the series finale of "Breaking Bad" on Sept. 29.
These wouldn't be major roles in all of the films. Much like Nick Fury (Samuel L. Jackson) in the Marvel superhero films, Cranston's Luthor would only have to appear briefly on screen in some cases. While Lex Luthor is reportedly going to be part of the upcoming "Man of Steel" sequel (featuring Ben Affleck as Batman and Henry Cavill returning as Superman), the nature of his specific role in the film is unknown.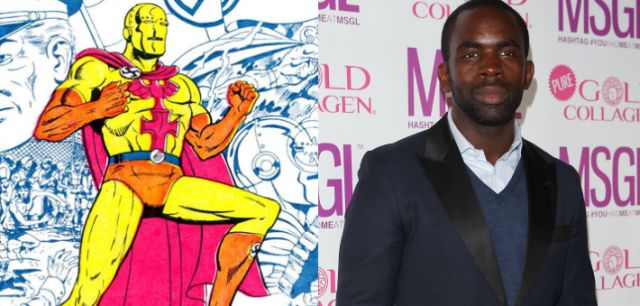 ARROW NEWS
Arrow's second season has found its new Big Bad, and it turns out he'll have a fairly major connection to the Batman mythology.
Actor Navid Negahban, best known for playing the terrorist Abu Nazir on Showtime's Homeland, has signed to play the new baddie Al-Owal. He'll be introduced in episode five, "The Hunted," and his weapon of choice will apparently be a scimitar. Nice.
Even cooler? Al-Owal is apparently a member of evil DC organization the League of Assassins, best known for its founder (and famed Batman baddie) Ra's al Ghul. This tidbit begs the question of how he might be connected to last season's Big Bad, Malcolm Merlyn (John Barrowman), who was also a member of the shadowy organization. We're thinking there's a definite connection, because c'mon, that's too good to pass up.
During his tenure on the hit series Homeland, Negahban proved he can play a truly sinister, nuanced type of evil — and we can't wait to see what he brings to Arrow.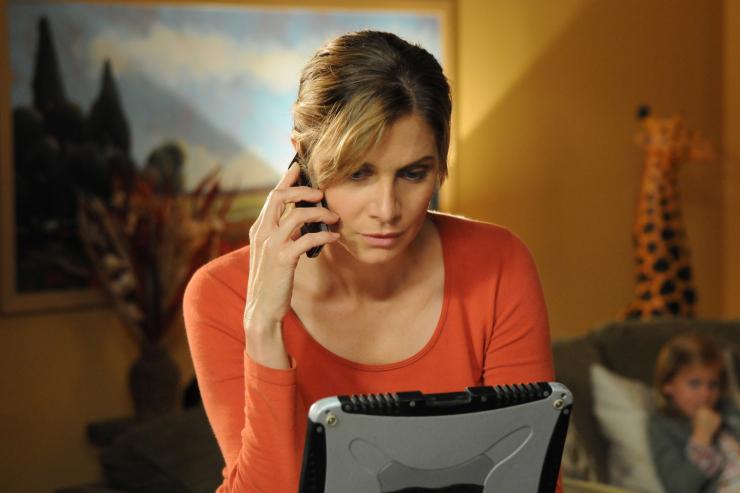 REVOLUTION
The producers had been dropping hints all through season one about the other territories in the world of Revolution, and now we know we'll definitely see Texas in season two. But why?
It has a lot to do with the recent casting of Stephen Collins (7th Heaven), who will apparently be playing Rachel's (Elizabeth Mitchell) father, who lives in Texas. Apparently the events of the season finale take a toll on Rachel — so the gang takes her to Texas to reconnect with her dad.
But don't expect things to be all warm and fuzzy, 7th Heaven-style. Apparently Collins' character is not a very nice guy. TV Line broke the news as part of a Q&A piece, talking to producer Eric Kripke about season two.
Check out the excerpt below:
You will get scoop on one of the new players — and only one. (For now.) With Rachel in a very bad place in the wake of the season finale, Aaron and Miles will bring her to Texas to reunite with her father Gene, played by 7th Heaven's Stephen Collins. And "this role is unlike anything Stephen's ever done before," says showrunner Eric Kripke. "He's gruff and pissed off and tough. It's really fascinating to see Stephen playing this part, all whiskered and haggard. I think people are going to be blown away by the work he's doing."
SCI-FI BUZZ - BABYLON 5 LOOK BACK
From the Syfy archives:
Twenty years ago, something called the SCI FI Channel (crazy, right?) ran a preview for a little show named Babylon 5.
It's always fun to dig into the archives and see how TV shows, books and movies that went on to become hugely popular were originally promoted.
Back in the day, Babylon 5 spent a lot of time heralding itself as the anti-Trek. It would be less about a pristinely perfect Federation of Planets and focus instead on the real difficulty of interspecies diplomatic relations.
I love Babylon 5 very much, but it's kind of hilarious that Deep Space Nine came out at almost exactly the same time. It's also slightly cringe-worthy when Straczynski rags on practical effects in favor of some incredibly dated-looking CGI. B5 proper absolutely holds up, but, looking back, we'll take models over early '90s CGI any day.
Still, it's a fun little time capsule getting to see how it all began. Plus, Straczynki's shop-teacher glasses and that '80s dad 'stache? Absolutely incredible. Why that look didn't make it into Babylon 5 proper, we'll never understand.
SATURDAY, AUGUST 24, 2013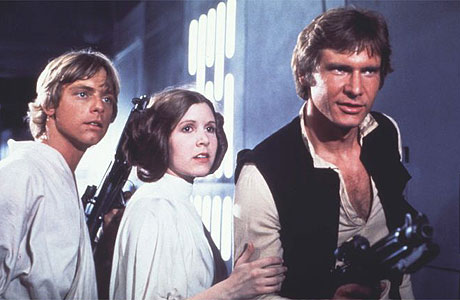 STAR WARS CINEMATOGRAPHER DIES
Gilbert Taylor, a veteran cinematographer known for his work on films like "Star Wars," "The Omen" and "Dr. Strangelove," has died on the Isle of Wight in Britain at the age of 99.
Active in the film industry since 1929, Taylor started out as a camera assistant who later began to specialize in cinematography. By the 1960s, he sufficiently in-demand that he was able to turn down work on one of the James Bond films. Taylor's work appeared in the Beatles' film "A Hard Day's Night," Alfred Hitchcock's "Frenzy," and television shows like "The Avengers.".
The cinematographer worked on several films -- including "Repulsion" and "Cul-de-Sac" -- with Roman Polanski, a man he considered to be a close personal friend. For Stanley Kubrick, Taylor was the cinematographer for the classic, "Dr. Strangelove." He later called the lighting on that film's set "sheer magic."
Despite his many credits, Taylor is perhaps best-known for his cinematography for the original "Star Wars" film in 1977. The cinematographer later described the job as not his favorite experience. "George avoided all meetings and contact with me from day one," Taylor said in an interview with the American Cinematographer magazine. "So I read the extra-long script many times and made my own decisions as to how I would shoot the picture."
Taylor made his final feature film in 1994 but continued to work on commercials for several years afterwards. The BBC reports that Gilbert Taylor died with his wife and family by his side.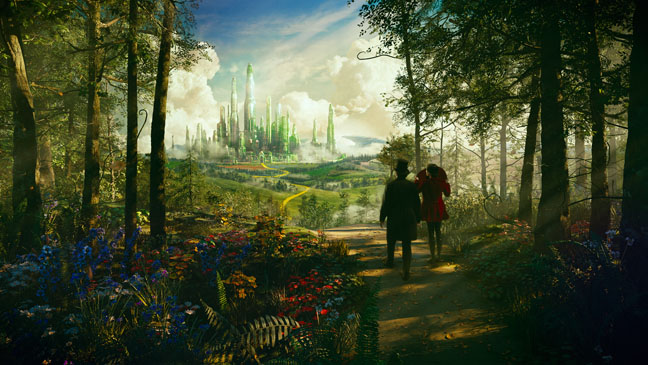 EMERALD CITY
Deadline reports on Friday (Aug. 23) that NBC has purchased "Emerald City," a "Wizard of Oz"-themed drama from "Siberia" creator Matthew Arnold -- just two weeks after CBS put "Dorothy," a medical soap inspired by "Oz" into development.
"Emerald City," which will be written by Arnold, is described as a dark remaining of the classic tale of Oz more in the vein of "Game of Thrones," using stories from author L. Frank Baum's original 14 books.
"Dorothy" and "Emerald City" aren't the only "Oz" shows making the rounds, either, it would seem. Reportedly, a treatment from "Heroes" alums Adam Armus and Nora Kay Foster, with "Heroes" creator Tim Kring supervising, is working its way about town. Syfy also has a miniseries titled "Warriors of Oz" in development. The mini, from "Wanted" director Timur Bekmambetov, is said to be a fantasy-action remaining of the well-known story.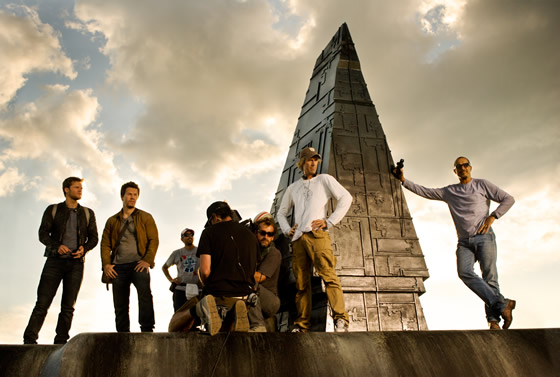 TRANSFORMERS 4
If Michael Bay is the Superman of anything, it's needless explosions. Where there are none, he swoops in to save the day with dynamite and CGI. Perhaps that's why he's posing like the Man of Steel in a photo from the set of "Transformers 4," which stars Mark Wahlberg. It also doubles as the first official image from the movie's production.
Bay posted the set photo on his own website, writing "Just another say on the set of 'Transformers 4'." If that's what shooting a "Transformers" movie looks like, count us in. There doesn't seem to be a lot of work going on and the setting is rather picturesque ... Even if there's some sort of weird alien structure next to them. Wahlberg is also in the photo, striking a far less heroic pose.
"Transformers 4" is slates for a July 27, 2014 release.
AGENTS OF S.H.I.E.L.D.
With the series' Sept. 24 premiere date getting closer and closer, Marvel has rolled out a new promo trailer with a voiceover intro from Avengers co-star Cobie Smulders (Maria Hill) talking about how the series picks up after the battle of New York.
It's a smart bit of cross-promotion (especially since Smulders cameos in the pilot) and should help catch the eye of your average TV fan, who might not realize exactly how the ABC series fits into the Marvel continuity they already know and love.
The teaser also shows off some snippets of new action footage, with explosions and gunplay galore. They're definitely playing up the movie-like budget to connect the two worlds, and we can't wait to see Coulson's gang in action for ourselves.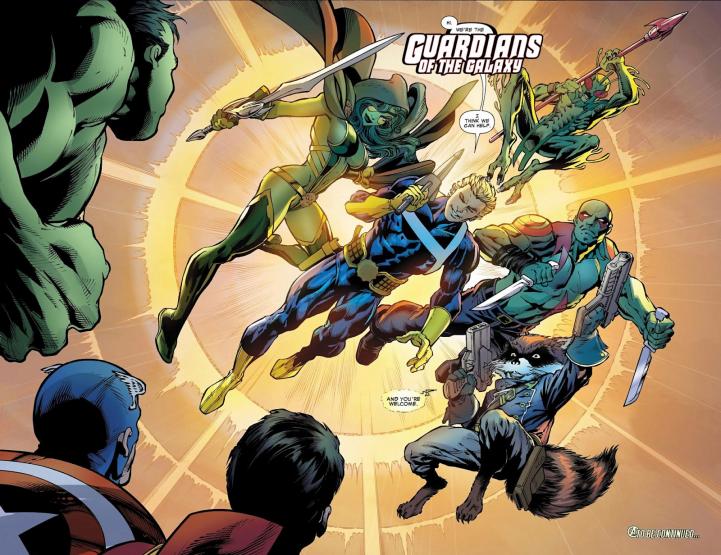 GUARDIANS OF THE GALAXY
Now that filming for Guardians of the Galaxy is happening in earnest, we're finding out more and more about our unlikely heroes.
Guardians has become the Marvel movie where, the more you hear about it, the more intriguing it becomes. Still licking our collective wounds from the bomb that was the Green Lantern movie, most of us comic fans have been very hesitant to see another space-based superhero team hit the big screen. Somewhere along the line, though, with the leaked trailer, James Gunn at the helm, some inspired casting and a bald Karen Gillan, we started to become believers.
The latest word from Marvel lord and master Kevin Feige is making us further believers even still. He's revealed some key details about each of the Guardian team members.
They are an unlikely band. It's pure circumstance that brings them all together throughout the course of the movie. Rocket has been genetically and mechanically altered, he's an experiment from one part of the galaxy. Groot is a species that happens to look like trees look, and is quite communicative if you can understand the different inflections in the way he says, "I am Groot." Peter Quill left Earth in the mid'80s, but when we meet back up with him he's very much a citizen of the universe. Drax has one goal and one goal only, which is to kill Ronan because of a past tragedy. When we meet Gamora, she's a bad guy working with Ronan and Nebula and Korath, and by extension for Thanos. Gamora doesn't necessarily like doing that anymore, and tries to find a new path for herself. But she has a reputation as the deadliest woman in the galaxy that people aren't greeting her with open arms.
First, of all, yes, Gamora starting as a villain was the headline for a reason. Her playing bad is not only narratively intriguing, it also makes a lot of sense. But can we talk about Groot? It sounds like he may just say the line "I am Groot" a lot, but in slightly different ways. It's hard to pinpoint why, but that feels hilariously inspired. All of this doesn't even mention Drax as an intergalactic Inigo Montoya or Peter Quill being an outer-space '80s kid.
Make no mistake. There is no middle ground here -- Guardians of the Galaxy is either going to be mind-blowingly amazing or fall spectacularly on its face. But if you're doing a movie like this, you've got to go big or go home. So we're glad they're going big.
DIVERGENT
We've been wondering which new, young adult sci-fi series could unseat The Hunger Games from atop the box office — and the first footage from Divergent shows it'll be trying its hardest.
With the first trailer expected to hit in the coming days, the studio has released a teaser clip showing off the first official footage from the film. So how does it look? Not surprisingly, very Hunger Games-esque. In a (mostly) good way.
The film stars up-and-comer Shailene Woodley, and if it proves to be a monster hit, it could make Marc Webb regret dropping her from Amazing Spider-Man 2. The storyline follows a teen (Woodley) living in a dystopian future where humanity has broken into manageable factions. But Woodley's character turns out to be "Divergent," meaning she can't be controlled by any one group. Cue the action, intrigue and sexiness.
Folks seem to think Woodley is poised to be a star of the Jennifer Lawrence variety, though we likely won't know for sure until this one opens on March 21, 2014.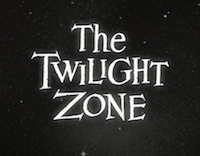 THE TWILIGHT ZONE
The Twilight Zone feature film continues to swap out writers and directors. Recently, Joseph Kosinski (Oblivion) was brought in to helm the film (replacing Matt Reeves), which has been in development since 2009.
Variety now says Ari Eli Coleite is going to write. Anthony Peckham (Invictus) came before him and before Anthony, Jason Rothenberg. Rand Ravich and Joby Harold also took a crack at it as well somewhere along the way.
Coleite's credits include television shows like "The River" and "Heroes".
Leonardo Di Caprio's company, Appian Way, is still producing for Warner Bros. The film will not be an anthology - like the '80s feature - but will instead be a single story with various elements from "The Twilight Zone" series.

BABYLON 5 TOONS
Ranger Todd has created some amazing toons that he has allowed me to share here and on Facebook. Be sure to check them out. Wonderful stuff. Thanks Todd.

CONVENTION CALENDAR
I have updated the Convention Calendar below to include a number of events coming up. If you know of conventions that will be taking place over the next few months you want to share with fellow readers, please forward the information along to me and I will post it on the calendar. Thanks for your help on this.

SCIENCE FICTION NEWS STORIES:
Did you miss the news from yesterday -- or earlier in the week. Catch up by going to the News Archive. It will bring you up to date for all that has been going on in the world of science fiction.
THE ZOCALO ON FACEBOOK
I hope that you will join us over on FACEBOOK. We have a great discussion group, tons of visuals and just a nice group of people participating on the page every day. Do drop over and stay a while.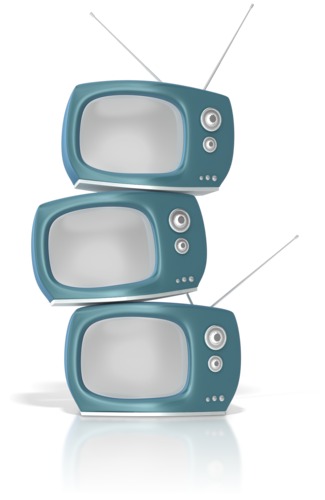 ON THE TUBE TONIGHT
6:30pm on ABC Family
National Treasure (2004)
An adventurer must steal the Declaration of Independence and use its hidden map to find a legendary fortune. Nicolas Cage, Hunter Gomez, Diane Kruger, Justin Bartha, Sean Bean

7:10pm on HBO
The Dark Knight Rises (2012)
Eight years after he took the blame for Harvey Dent's death and vanished into the night, Batman is forced out of his self-imposed exile by a cunning cat burglar and a merciless terrorist called Bane. Christian Bale, Anne Hathaway, Tom Hardy, Marion Cotillard, Joseph Gordon-Levitt

8:00pm on FX
Transformers: Revenge of the Fallen (2009)
When an ancient Decepticon rises for revenge, Sam and Mikaela must figure out the history of the Transformers' presence on Earth and find a way to save the planet. Shia LaBeouf, Megan Fox, Josh Duhamel, Tyrese Gibson, Kevin Dunn

8:00pm on Hallmark
Cedar Cove Episode: Free Spirits NEW S01, E06
Justine and Olivia must each face their own fears when Seth goes missing in Alaska; love is in the air in Cedar Cove as the local theater company puts on ``Romeo and Juliet'' while Jack wants to take his relationship with Olivia to the next level.

9:00pm on CBS
Unforgettable Episode: Past Tense NEW S02, E05
When it's revealed that a murdered cabdriver was a government informant, the case could become a matter of national security.

9:00pm on Syfy
G.I. Joe: The Rise of Cobra (2009)
The elite G.I. Joe team uses the latest technology in its battle against corrupt arms dealer Destro and a mysterious organization known as Cobra. Channing Tatum, Dennis Quaid, Adewale Akinnuoye-Agbaje, Christopher Eccleston, Sienna Miller

10:00pm on ABC
Castle Episode: The Wild Rover S05, E18 (First Aired: Mar. 25, 2013)
When a body is discovered in an industrial cake mixer, the murder is traced to an Irish gang and a bar owner named Siobhan O'Doul (Cara Buono); Detective Ryan reveals a history with Siobhan from his time working under cover in narcotics.

10:00pm on CBS
The Mentalist Episode: Not One Red Cent S05, E03 (First Aired: Oct. 14, 2012)
The team tries to track down the person who killed a bank employee during a robbery; Lisbon is drawn further into the CBI/FBI rivalry.

10:00pm on BBC America
Copper Episode: Think Gently of the Erring NEW S02, E09
Corcoran finds a close friend in peril; Donovan is focused on a business affair; Freeman wants to join forces with Morehouse.

KEEPING UP WITH CAST AND CREW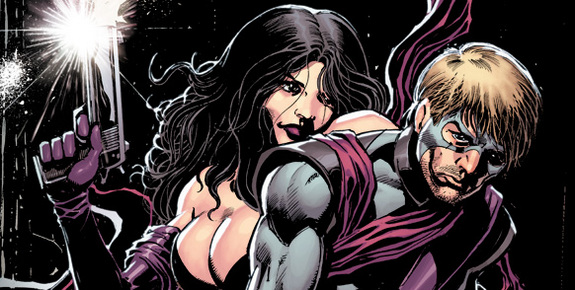 JMS' SIDEKICK
From Newsarama.com:
J. Michael Straczynski has a lot to say about superheroes; for years he's said it at Marvel and DC with the biggest characters in the world. But what he's saying now in his new Image series Sidekick with artist Tom Mandrake is something the Big Two would never let him say on his own.
Launched earlier this month via his Joe's Comic imprint at Image, Sidekick follows the life of a superhero sidekick named Flyboy who finds himself washed-up after his partner and mentor Red Cowl is assassinated. Pigeon-holed by his career as a sidekick and still carrying around the memories of his partner's tragic death, Flyboy is walking down a dark path – and it looks to be getting darker every issue.
With Sidekick #2 scheduled for release on September 11, Newsarama spoke with JMS about this stunning superhero portrayal and how years writing for the Big Two inspired him to tell this story on his own.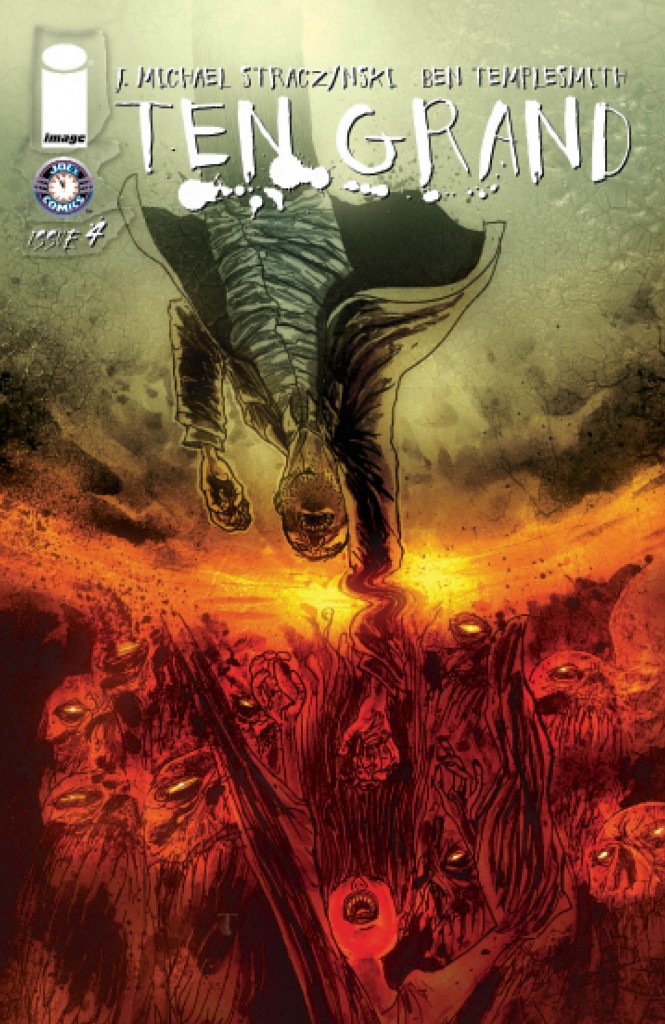 JMS' TEN GRAND #4
IGN has posted a review of Issue #4 of TEN GRAND by J. Michael Straczynski, calling it "one of the most morbid, ominous and dark comics out on shelves right now. Much of the book revolves around the idea of death, after all. But since its first issue its one of the books I can't wait for every month.
The Ten Grand team continues to consistently fill every page with meaningful progression. As a result this issue retains the series' potency and Straczynski and Templesmith build another successful chapter in what's shaping up to be one of the best stories in comics this year." This is just one of many rave reviews for the work of JMS and Ben Templesmith (artist).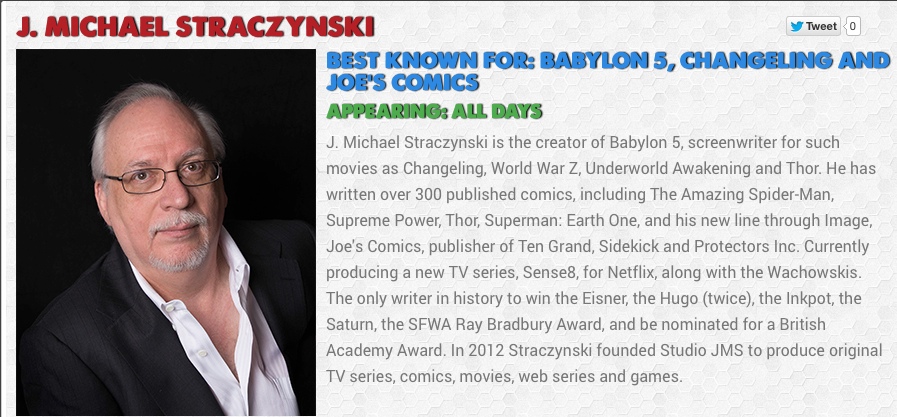 J. MICHAEL STRACZYNSKI - NEW YORK COMIC CON ADDS WRITING WORKSHOP IN OCTOBER
New York Comic Con has just announced that JMS will be a guest Oct 10-13. For more information, go to http://www.newyorkcomiccon.com/.
Two new reviews, for Sidekick 1 and Ten Grand 4, in stores now:
http://www.comichype.com/2013/08/06/j-michael-straczynskis-ten-grand-4-review/ and http://robpatey.com/2013/08/06/sidekick-1-review-joes-comics/.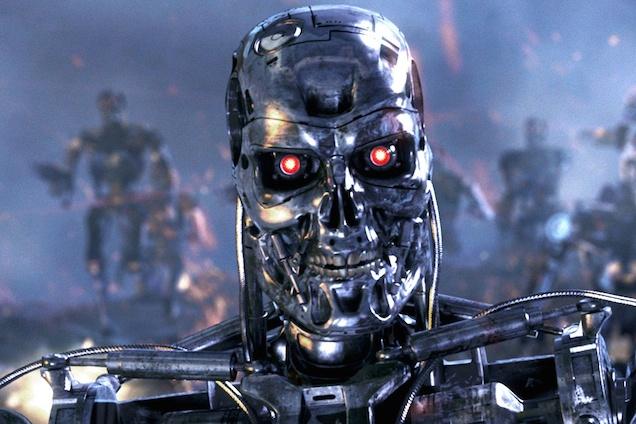 TERMINATOR: THE FINAL BATTLE
Update and sample page of the upcoming Terminator comic:
"Aaand I just turned in the script for issue two of Terminator: The Final Battle. Here's the b&w inked cover page for issue one. Tired but pleased."
Aaand I just turned in the script for issue two of Terminator: The Final Battle. Here's the b&w inked cover page for issue one. Tired but pleased.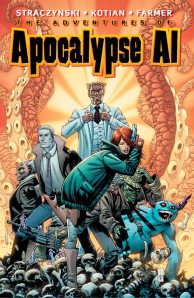 APOCALYPSE AL
From JMS about the long-awaited Adventures of Apocalypse Al:
"Yesterday I got the first 69 inked pages of The Adventures of Apocalypse Al, coming out later this year through MTV.com.
Beautiful work by Sid Kotian (who will be doing Dream Police for us once he's done with Al). Very excited. I think this is going to be a real sleeper hit. Here's a glimpse of page two...."
Yesterday I got the first 69 inked pages of The Adventures of Apocalypse Al, coming out later this year through MTV.com. Beautiful work by Sid Kotian (who will be doing Dream Police for us once he's done with Al). Very excited. I think this is going to be a real sleeper hit. Here's a glimpse of page two.... PENDRAGON P.I. - HELP JASON CARTER
Want to see British actor Jason Carter (Marcus on the classic hit sci-fi series Babylon 5) return as an unconventional private investigator who's a bit of Sherlock Holmes, a splash of Sam Spade, and a dash of The Doctor?
Jason Carter is working with Jerry Seward, creator and executive producer of an independent movie pilot titled Pendragon, P.I.that They are developing a gifted and accomplished production team to produce this series. Jason will play the lead, a man who - along with his helper Lucy (played by April Washko) - relies on his deductive skills to sort through a maze of clues in an attempt to solve the case of mysterious disappearances in a small, lakeside town where impossible things happen.
For more information on how you can help, go to http://www.indiegogo.com/projects/help-get-pendragon-p-i-jason-carter-project-made?show_todos=true. BILL MUMY - ACTOR/COMIC AUTHOR/MUSICIAN
BILL MUMY is quite a musician as well as a marvelous actor. We all know and love him as Lennier, but here is a link to his latest CD "Illumination" http://gragroup.com/bill_mumy.html. The CD can also be purchased on iTunes and Amazon.
After nearly 2 years of waiting Bill Mumy is back with a new release. Bill's latest release Illuminations is truly a masterpiece of Americana music. This album continues the musical format journey that Bill has been developing over his last three albums, Carnival Sky, Glorious in Defeat and Until the Big Bang Whimpers were all leading up to the pinnacle and that is Bill's latest release Illuminations.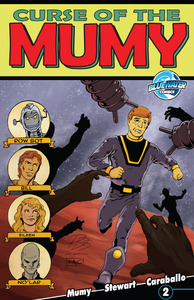 THE CURSE OF THE MUMY - Issue #2
As the first arc of The Curse of the Mumy continues... The Wolf Cub has captured Spaceboy and is holding him prisoner on the nazi moon base with plans to sacrifice the nobel boy astronaut in a blood ritual to summon a demon... We meet the mysterious alien mystic warrior, No'Lar... and learn that Mumy's family infiltrated the Illuminati over a century ago in hopes to thwart the present danger that threatens to wipe out millions. All this, plus Eileen makes tea!
You can order an issue at http://www.comicfleamarket.com/servlet/the-432/Curse-of-the-Mumy/Detail.


READER'S CORNER
If anyone would like to submit reports from a convention they recently attended or items they would like to share with fellow Zocalo readers, please send them along to me at sgbruckner@aol.com. I will happily open up a new page for any submissions you care to send along.
BABYLON 5 20TH ANNIVERSARY BOOK - PRICES GOING UP SOON
UPDATE:
Prices are going up! THe cost of shipping has doubled and the end of the first printing is in sight. If you order B5-20 by Friday, you'll pay only $88 for the book ($46 off the retail price of $134) for a total savings of up to $53.
If you have any questions, send a note to help@B5Books.com. FIRST EVER BABYLON 5 BOOK PRINTED EXCLUSIVELY IN COLOR
Not just full color, but the actual colors of the sets, costumes and props. Extensive care was taken to ensure that the final pages precisely matched the color qualities of the original photographs, which were taken on set during production. B5-20 covers everything from the pilot through The Lost Tales.
DETAILS ABOUT THE PHYSICAL BOOK
256 pages. 753 images. 150gsm heavy-weight paper designed for high-resolution, full-color printing. Matte finish. Extra durable WIBALIN® cloth cover. WIBALIN® slipcase. Title and B5-20 logo embossed with foil stamping. Ribbon bookmark.
A NOTE ABOUT THE BINDING
We used the highest quality Smyth-sewn binding. This means the book lays flat for every page. More importantly, the pages will not pull away from the binding (nor will the spine crack) because the pages are NOT glued.
HOW THIS OVERSIZED BOOK IS BEING SHIPPED
We had a custom shipping box made to the exact specs of the book. It is a padded, double-walled bumper box that will withstand the weight of this book during shipping. The book itself is shrink-wrapped for authenticity and additional protection. Your B5-20 is guaranteed to arrive in perfect condition and if not, we will pay all expenses to get you one in pristine condition (including return shipping, and this does include international orders.) There is zero risk to you.
ABOUT THE PRICE
The retail price—the final price the book will be sold for—is $134.
The final day to get B5 at Twenty for $88 -- $46 off the retail price of $134 -- is July 31.
For more information on this magnificant volume, go to b5books.com.




Here is a quote from J. Michael Straczynski about emotions.
I had this theory that the more important and intimate the emotion, the fewer words are required to express it.

First it's in dating: "Will you go out with me?" Six words.
"Honey, I care for you." Five words.
"You matter to me." Four words.
"I love you." Three words.
"Marry me." Two words.
But what's left? What's the one most important and intimate word you can ever say to somebody? It's "goodbye."

While Michael O'Hare (Sinclair), Andreas Katsulas (G'Kar), Rick Biggs (Dr. Franklin), Tim Choate (Zathras) and Jeff Conoway (Zach Allen) are no longer with us, we will not forget their wonderful personalities and talent -- as well as their significant contributions to the BABYLON 5 universe. Be sure to visit In Memory Of for more information about memorial efforts.
Until we met again, in a place where no shadows fall.
BABYLON 5 BIRTHDAYS
Martin Sheen - August 3
Daneil Dae Kim - August 4
Claudia Christian - August 10
Stephen Austin - August 11
Tim Earls - August 15
Nancy Tarczynski - August 16
Skip Beaudine - August 26

Have I missed anyone? If you know the birthday of someone connected with Babylon 5, pass the information along. We want to include everyone in our Happy Birthday Wishes.


BABYLON 5 PRESENCE ON FACEBOOK
I know a lot of you are already on FaceBook. However, I don't know if you knew how many other Babylon 5 folks have taken the plunge and opened FaceBook accounts. In fact, Pat Tallman has reopened her Fan Club using FaceBook at the site. For a peek, go to http://www.facebook.com/group.php?gid=45593318387. Claudia Christian has been really active -- sharing pictures of her recent trips and letting us know about upcoming convention activities. J. Michael Straczynski (JMS) has a FaceBook page as well as a new "Fans of J. Michael Straczynski" page. So check it out!

NEW BOOKS OF INTEREST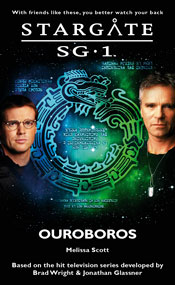 STARGATE SG-1: Ouroboros
From the pen of Melissa Scott (co-author of the STARGATE ATLANTIS Legacy series) comes STARGATE SG-1: Ouroboros, a fast paced adventure taking Colonel O'Neill and his team into new and dangerous territory. Oh, and if you're a fan of STARGATE Legacy, watch out for a few familiar faces along the way… These books are now available for the kindle as well as paperback. Go to www.stargatenovels.com to order or to to Amazon.com.

Have you read a good book lately? Do you want to share your thoughts? That is what I'm doing over at Book Reviews. I have gotten a number of marvelous books to review related to film making and I want to share my observations with you. If you have books you'd like to post, send them along.
NEW DVDS OF INTEREST
For information on new DVDs coming out that may be of interest to you, go to New DVD Releases for more information.
BABYLON 5 MUSIC VIDEOS AND TRIBUTES
John Hudgens has created many Babylon 5 videos, but I believe this is the most moving. It was first shown at the Phoenix Comic Con 20th Anniversary and honors many of the Babylon 5 family who have passed on.

Here is a link to John's Babylon 5 videos:
https://www.youtube.com/user/Babylon5MusicVideos?feature=watch

Richard Biggs memorial: http://www.youtube.com/watch?v=HyD4L8yNtsA

Andreas Katsulas memorial: http://www.youtube.com/watch?v=h2UQ2l9NPIg

- This is the extended version that I did for Andreas' widow ater the original cut was released on the net. It's never been seen online until now.

For those of you who've never seen these, I hope you enjoy them - and for those that have (and emailed me many times over the years about releasing them), I hope they're as good as you remember. Working with Joe on these videos was one of the highlights of my career, and I'll be forever grateful to him for the doors these have opened for me. I'm proud to have them on my resume.

John Hudgens
www.zteamproductions.com
---





Salute to SUPERNATURAL
Dates: August 23-25, 2013
Place: Vancouver, British Colombia - Sheraton Vancouver Wall Centre
Guests: Jensen Ackles, Jared Padalecki, Misha Collins, Mark Sheppard and more
For more information, go to http://www.creationent.com/cal/supernatural_van.htm. TREK SEATTLE
Dates: August 24-25, 2013
Place: Seattle, Washington - Hilton Seattle Airport
Guests: William Shatner, Kate Mulgrew, Gates McFadden, Marina Sirtis, LeVar Burton, Nana Visitor, Denise Crosby, Connor Trinneer, Dominic Keating, Garrett Wang, and many more
For more information, go to http://www.creationent.com/cal/st_seattle.html. Worldcon 2013: Lone Star Con 3 the 71st World Science Fiction Convention,
Place: San Antonio, Texas, USA
Date: Thur 29 Aug 2013 - Mon 2 Sept 2013
For more information: Email: info@lonestarcon3.org
Postal: Alamo, Inc., PO Box 27277, Austin, TX 78755-7277
Writer Guests: Ellen Datlow, James Gunn, Willie Siros, Norman Spinrad, Paul Cornell, Leslie Fish
Nominations for Hugo Awards is now open, download the link.
All Attendees and Supporters can vote http://www.lonestarcon3.org/hugo-awards/index.shtml.

Dragoncon 2013
Dates: Aug. 30 - Sept. 2, 2013
Place: Atlanta, GA
Wknd Memberships: $100 to 5/15; $115, 5/15-7/15; $130, 8/16 to door, And daily memberships
Banquet $65
Guests include: Eddie McClintock, Richard Dean Anderson, John Barrowman, Edward James Olmos, William Shatner, George Takei, Nicholas Brendon, Avery Brooks, and many, many more. Alex Zahara is scheduled from LEGEND OF THE RANGERS
For more information, go to http://www.dragoncon.org/

TREK NASHVILLE
Dates: September 7-8 , 2013
Place: Nashville, Tennessee
Guests include: Kate Mulgrew, Walter Koenig, Rene Auberjonois, Nana Visitor, Armin Shimerman and many more
For more information, go to http://www.creationent.com/cal/st_nashville.html.

Salute to SUPERNATURAL
Dates: September 20-22, 2013
Place: Dallas, Texas - Westin Park Central Hotel
Guests: Jensen Ackles, Jared Padalecki, Misha Collins, Mark Sheppard and more
For more information, go to http://www.creationent.com/cal/supernatural_dallas.htm. New York Comic Con
Dates: October 10-13, 2013
Place: Javits Center, NYC
Guests: J. Michael Straczynski
For more information go to http://www.newyorkcomiccon.com/. Salute to SUPERNATURAL
Dates: October 11-13, 2013
Place: Toronto, Canada - Westin Harbour Castle
Guests: Jensen Ackles, Jared Padalecki, Misha Collins, Mark Sheppard and more
For more information, go to http://www.creationent.com/cal/supernatural_toronto.htm. Spooky Empire's Ultimate Horror Weekend
Date: October 25-27, 2013
Place: Doubletree Universal, Orlando, FL
Just added, special guest George Romero
For more information, go to www.spookyempire.com. STEEL CITY CON
Dates: December 6-8, 2013
Place: Monroeville Convention Center, Monroeville, PA
Guests: Star Trek's George Takei, Terminator's Michael Biehn, Catherine Bach, Kyle Szymanski and more.
For more information, go to http://www.steelcitycon.com. FARPOINT
Dates: February 15-17, 2014
Place: Corwne Plaza, Baltimore, MD
Guests: Melissa McBride, others to be named shortly
For more information, go to . SPECIAL ANNOUNCEMENTS!
Creation Entertainment has a large number of conventions planned for the next several months. They include stars from TWILIGHT, SUPERNATURAL, STARGATE, FARSCAPE, XENA, SERENITY, STAR TREK, etc. Check out their calendar to see if one will be in your neighborhood soon. Don't miss their Videos page as well. It is full of some priceless video from a number of conventions.

Be sure to visit the referenced sites to see if there have been changes in dates/guests attending. Visit our Convention Calendar for a full listing of upcoming conventions.
BACK ISSUES OF THE ZOCALO TODAY
The front page of the The Zocalo Today changes daily, so be sure to check the back issues to make sure that you haven't missed anything IMPORTANT! I hope you will become a regular visitor to The Zocalo Today!
---
Take care and I look forward to hearing from you.
Sandra Bruckner (sgbruckner@aol.com)
Editor/Publisher
ISN News: The Zocalo Today
http://www.isnnews.net
Copyright - SBruckner, 1999-2013