[an error occurred while processing this directive]

The Zocalo Today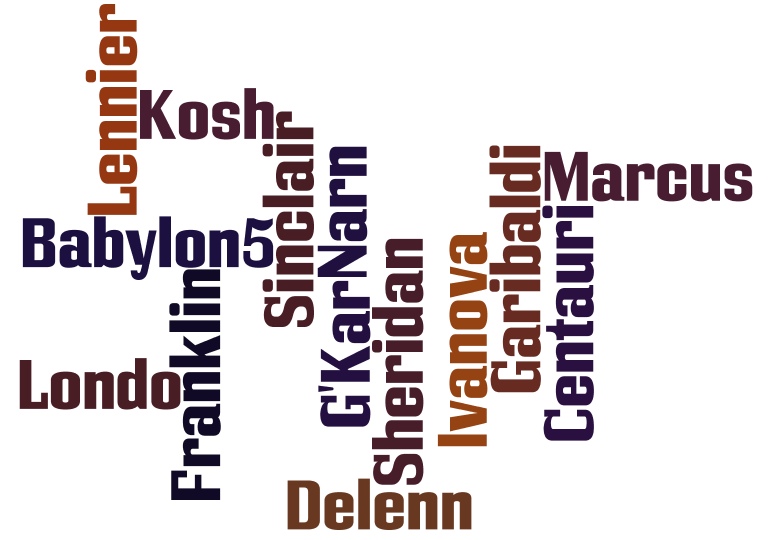 Welcome and thank you for dropping by. Babylon 5 brought many of us together -- and it remains with us, despite the fact that is no longer in production. The good thing is that the internet gives a LOT of ways to stay in touch. Don't be shy. Join in the discussion today or drop by Facebook or Twitter.

If you have questions or items for the news, drop me a line at sgbruckner@aol.com.


SUNDAY, SEPTEMBER 1, 2013
THE VAMPIRE DIARIES
The first Vampire Diaries season-five promo is live, and it's filled with a whole lotta sexiness.
If you've been waiting all summer long for some more Delena — happy Delena (Damon, played by Ian Somerhalder, and Elena, played by Nina Dobrev, for the uninitiated amongst us) — as well for more of Stefan's (Paul Wesley) big bad evil double Silas (again Paul Wesley), then you're in for a treat!
'Cause there's a whole lot of that going on in that chock-full-of-flirtation-galore thirty-second promo. Along with a sparky car crash. Yep, it's full of awesome.
Also, bubble baths are hot (pun intended), and it looks like a newly human Katherine (also Nina Dobrev) found her way into Damon's bathtub with evil naughty Ivan telling her "human looks better on you than I would've thought." Attaboy! That's definitely the right way to Katherine's heart. Awww.
But the best line of them all? Damon's quip about the unendless parade of doppelgangers and the fact that he can't spell it: "If I have to hear doppelganger one more time, I may have to learn how to spell it."
The CW's The Vampire Diaries season five premieres on Oct. 3, 8 p.m.

THOR: THE DARK WORLD
You just can't trust that silver-tongued God of Mischief Loki, can you?
Still, when faced with a powerful enemy in the guise of Christopher Eccleston's Malekith the Accursed and his Dark Elves that not even the Allfather Odin (Sir Anthony Hopkins) and the might of Asgard can resist, our fave God of Thunder Thor (Chris Hemsworth) has no choice but to ask for his adopted little brother Loki's (the totally awesome Tom Hiddleston) help.
This first new extended TV spot for Thor: The Dark World features more of everyone's favorite Prince of Lies Loki, along with his big brother with the hammer, who makes a little detour to pick up his lady love Jane Foster (Natalie Portman) along the way.
The intensely dramatic minute-long trailer features a few snippets of brand-new scenes, but what we like about it is how it underlines the total family dysfunction between Thor and Loki, as well as between Loki and the other Asgardians—including Sif (Jaimie Alexander) and the Warriors Three. Just like any good ol' family, we'd say.
Thor: The Dark World also stars Kat Dennings, Idris Elba, Rene Russo, Stellan Skarsgard, Zachary Levi, Ray Stevenson and Christopher Eccleston. It'll hit theaters with all the might of Mjolnir on Nov. 8.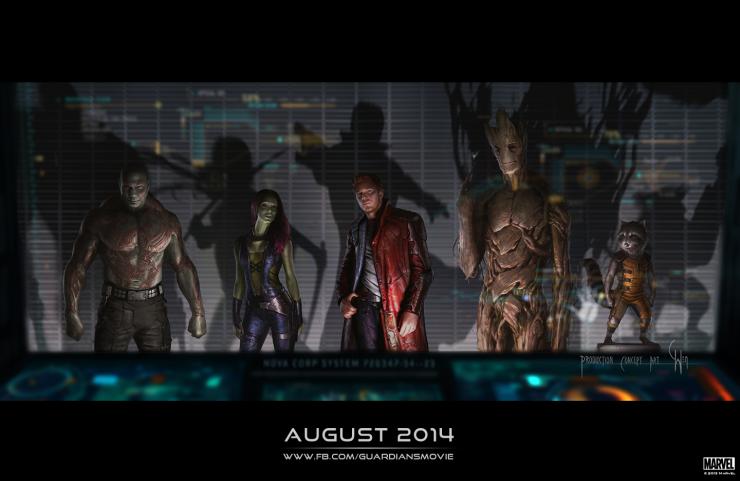 GUARDIANS OF THE GALAXY
They might both be space adventures, but Marvel mastermind Kevin Feige isn't out to copy Star Wars with Guardians of the Galaxy. Speaking to Empire about the film, which will be the first to really explore the cosmic side of the Marvel Cinematic Universe, Feige responded to the Star Wars comparison by not just pointing out the differences between the two franchises, but also by pointing out that with Guardians, Marvel has a very specific goal.
"We're not making this to make Marvel's Star Wars," he said. "We're doing this to explore the other side of the existing Marvel Universe. The fact that Peter Quill (Chris Pratt) is a human from our time, that he carries a personal cassette recorder with him, already it's very different. It's not a long time ago in a galaxy far, far away, it's now in a galaxy far, far away."
When asked where the film fits into the rest of the Marvel Cinematic Universe so far, Feige noted that Guardians is "certainly" more of a standalone film than the other Marvel Studios productions thus far, but the use of Thanos in the flick definitely gives it at least some connection to The Avengers. He also said that, though it's never specifically stated exactly when the events of Guardians are taking place, "it's the same time" as the other Marvel Phase Two films. He also, once again, confirmed that Ronan the Accuser (Lee Pace) is the main villain — though "Thanos is lurking above it all."
Then Feige was asked to break down the five main characters who make up the Guardians team, and gave a brief summation of each character. So if you're not familiar with the Guardians, or you've just been wondering how these characters would be portrayed in relation to their comic-book forms, consider this your cheat sheet:
"Rocket [Raccoon] has been genetically and mechanically altered, he's an experiment from one part of the galaxy.
"Groot is a species that happens to look like trees look, and is quite communicative if you can understand the different inflections in the way he says, 'I am Groot.'
"Peter Quill left Earth in the mid-'80s, but when we meet back up with him he's very much a citizen of the Universe.
"Drax (Dave Bautista) has one goal and one goal only, which is to kill Ronan because of a past tragedy.
"When we meet Gamora (Zoe Saldana), she's a bad guy working with Ronan and Nebula (Karen Gillan) and Korath (Djimon Hounsou), and by extension for Thanos. Gamora doesn't necessarily like doing that anymore, and tries to find a new path for herself. But she has such a reputation as the deadliest woman in the galaxy that people aren't greeting her with open arms."
As usual, it seems Feige has a very clear picture of what his studio is trying to accomplish with this film. But, will director James Gunn and company pull it off? Find out when Guardians of the Galaxy hits theaters on August 1, 2014.
SATURDAY, AUGUST 31, 2013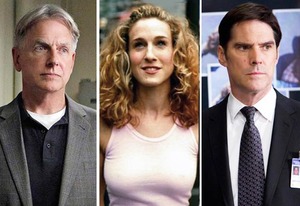 LABOR DAY WEEKEND MARATHONS
Labor Day weekend is here for 2013 and if you don't have any plans, there are plenty of great shows to check out over the weekend. You can catch up on "Continuum" Season 2 on Syfy, or watch the first three episodes of "The White Queen" on Starz. Sunday, Sept. 1 there's a killer Alfred Hitchcock movie marathon running all day on TCM. Here are just a few suggestions.

Saturday, Aug. 31
BBC America: "Doctor Who: The Doctors Revisited" special, 9 p.m. to 11:30 p.m.
Starz: "The White Queen" marathon, 9 p.m. to 12:30 the next day
Syfy: Scary movie marathon, 9 a.m. to 5:30 a.m. the next day ("Dracula 2000," "Halloween H20," "Nightmare on Elm Street 3," "Freddy's Dead: The Final Nightmare," "Freddy vs. Jason," "30 Days of Night," "Blade II," "Nightmare on Elm street 3," "Freddy's Dead," "Dracula 2000")
TCM: Rex Harrison movie marathon, 6 a.m. to 6 a.m. the next day ("Men Are Not Gods," "Storm in a Teacup," "The Citadel," "Over the Moon," "King Richard and the Crusaders," "Unfaithfully Yours," "My Fair Lady," "Anna and the King of Siam," "Sidewalks of London," "The Foxes of Harrow," "The Rake's Progress," "The Long Dark Hall")
USA: Indiana Jones movie marathon, 1 p.m. to 11:30 p.m.

Sunday, Sept. 1
AMC: New "Breaking Bad," "Low Winter Sun," "Talking Bad," 9 p.m. to 11:30 p.m.
BBC American: "Top Gear" marathon, 10 a.m. to 3 p.m., "Broadchurch" marathon, 3 p.m. to 7 p.m.
Syfy: Monster movie marathon, 9 a.m. to 10 p.m. ("Grenel," "Rise of the Gargoyles," "Reign of the Gargoyles," "Godzilla," "The Abyss"), "Ghost Mine" marathon, 10 p.m. to 4 a.m. the next day
TCM: Alfred Hitchcock movie marathon, 10 a.m. to 5:30 a.m. the next day ("Murder," "Rope," "Spellbound," "Marnie," "The Birds," "Shadow of a Doubt," "Psycho," "The Lodger," "Blackmail," "Frenzy")
TNT: "Law & Order" marathon, 4 a.m. to 1 p.m.

Monday, Sept. 2
Chiller: "Ghost Whisperer" marathon, 6 a.m. to 6 p.m. the next day
ION: "Criminal Minds" marathon, 11 a.m. to
Showtime: "Dexter" Season 8 marathon, 1 p.m. to 10 p.m.
Syfy: Shark movie marathon, 9 a.m. to 1 a.m. the next day ("Sand Sharks," "Jersey Shore Shark Attack," "Dinoshark," "Sharktopus," "Super Shark," "Ghost Shark," "Sharknado," "2 Headed Shark Attack")
TNT: "Castle" marathon, 10 a.m. to 10 p.m.
USA: "NCIS" marathon, 8 a.m. to 8 p.m., "Summer Camp" finale at 11 p.m.

THE ORIGINALS
"The Originals" may have a half-werewolf/half-hybrid pregnancy in the midst of a supernatural civil war between the witches and vampires of New Orleans, but the main conflict at the center of "The Vampire Diaries" spinoff series is the supernatural pissing match between Klaus (Joseph Morgan) and his former-protege Marcel (Charles Michael Davis).
The CW released a new promo focusing on just that, giving the tense conflict an almost romantic feel with the dark shots and stare-downs between the former-friends-turned-rivals. Who will come out on top, gaining control of the entire supernatural community of New Orleans?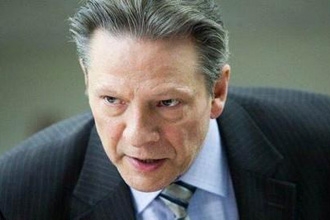 GUARDIANS OF THE GALAXY
He's going from the worst "Hangover" of his life to the farthest reaches of the galaxy: Rocket Raccoon will be voiced by none other than Academy Award-nominated actor Bradley Cooper, Marvel announced on Friday (Aug. 30).
The "Silver Linings Playbook" star has officially joined the cast of Marvel's "Guardians of the Galaxy." He is set to voice to the fan-favorite raccoon, joining already cast Chris Pratt, Zoe Saldana, Michael Rooker, Lee Pace, Karen Gillan, and Dave Bautista. Action star Vin Diesel is currently in talks to voice Groot.
"Guardians of the Galaxy" -- Cooper's first voiceover work -- takes place in the far reaches of the Marvel Cinematic Universe, with an unlikely team of characters including Peter Quill, Gamora, Drax, Groot and Rocket Raccoon. The ragtag team of heroes must join forces to defeat a cosmic force of epic proportions.
Directed by James Gunn, the live-action "Guardians of the Galaxy" hits theaters August 1, 2014.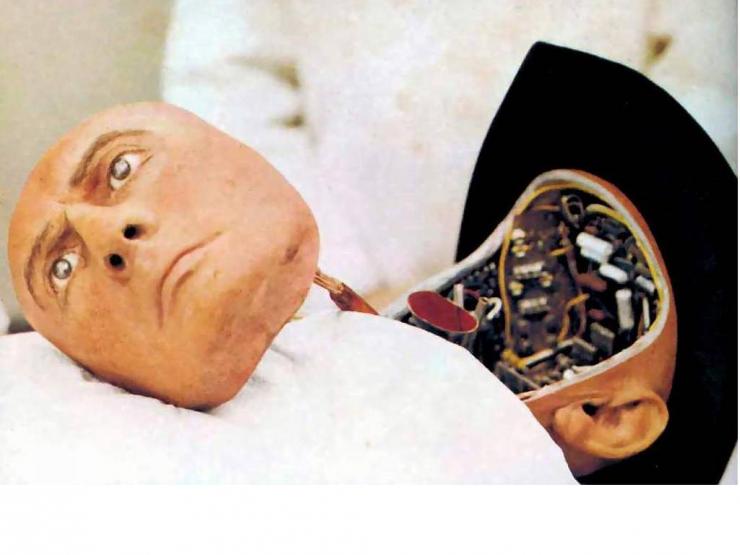 WESTWORLD REBOOT
J.J. Abrams is teaming up with Christopher Nolan's slightly less-famous brother Jonathan to make a big-budget TV adaptation of Michael Crichton's 1973 sci-fi thriller Westworld for HBO.
The series order is being described is one of the biggest ever for the network, which is saying a lot when you're talking about a channel that kicks in millions to make Game of Thrones one of the most gorgeous series on television.
The near-future story focuses on androids, artificial intelligence and sci-fi gunslinging — which could be positively epic when combined with HBO's high standard and loose censors.
Abrams is best-known for his myriad sci-fi series, from Lost, to Revolution and several more in-between. Nolan also brings a stellar pedigree, most notably his work with his director brother on The Dark Knight trilogy. He also produces CBS's hit sci-fi procedural Person of Interest. Nolan is attached to direct the pilot, and both he and Abrams will stay on to produce the series if it is picked up.
This isn't the first time someone has tried to revamp Westworld (See: the brief 1980 series Beyond Westworld), but its easily the most well-connected.
ARROW PREVIEW
Here's a fresh teaser teaming up a hot pair of CW stars speeding into the fall TV season, cousins Stephen Amell of Arrow fame and Robbie Amell with The Tomorrow People.
Centering on paranormal youths of a highly evolved nature, The Tomorrow People is a slick new series based on the cult British sci-fi series from the '70s. This energetic clip reveals a volley of whooshing arrows, teleporting teens and levitating barbells to set the autumnal mood. It's defintely some cool footage, and it seems Tomorrow People might actually match Arrow in pound-for-pound action.
The network's strategy is letting both shows bunk together on the Wednesday schedule, and from the rockin' preview here it could be a slam-dunk combo. The second season of Arrow and the premiere of The Tomorrow People begins on Oct. 9, 2013.
BABYLON 5 TOONS
Ranger Todd has created some amazing toons that he has allowed me to share here and on Facebook. Be sure to check them out. Wonderful stuff. Thanks Todd.
SCIENCE FICTION NEWS STORIES:
Did you miss the news from yesterday -- or earlier in the week. Catch up by going to the News Archive. It will bring you up to date for all that has been going on in the world of science fiction.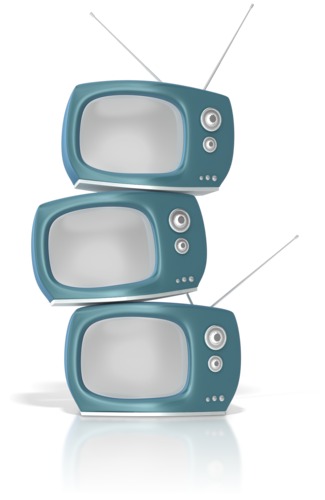 ON THE TUBE TONIGHT
6:00pm on Syfy
The Abyss (1989)
Oil-platform workers, including an estranged couple, and a Navy SEAL make a startling deep-sea discovery. Ed Harris, Mary Elizabeth Mastrantonio, Michael Biehn, Leo Burmester, Todd Graff

8:00pm on Hallmark
Cedar Cove Episode: Help Wanted S01, E07 (First Aired: Aug. 31, 2013)
Olivia and Jack finally have their Seattle getaway, but things don't quite go as planned; Olivia becomes distracted trying to help an ex-con she put away who claims to have turned his life around; Rosie and Zach Cox try to deal with shared custody.

9:00pm on CBS
Unforgettable Episode: Line Up or Shut Up NEW S02, E06
A murdered young man is found in the expensive sports car he was delivering to a diplomat; various clues cause Carrie and Al to consider multiple motives. 10:00pm on CBS
The Mentalist Episode: Red Velvet Cupcakes S05, E20 (First Aired: Apr. 21, 2013)
When a woman dies after receiving advice from a radio love doctor, Van Pelt and Rigsby go under cover as a couple with relationship issues.

10:00pm on Syfy
Ghost Mine Episode: Descent Into Darkness S01, E01 (First Aired: Jan. 16, 2013)
A Texas oilman reopens the old Crescent, an abandoned mine in Sumpter, Oregon; locals claim it is full of gold and the spirits of the men who died trying to get it.

KEEPING UP WITH CAST AND CREW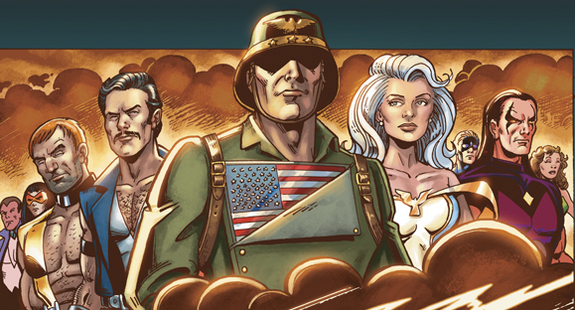 THE PROTECTORS - NEW FROM JMS
What's it like to be a hero in a world without villains? In PROTECTORS, INC., the life of a superhero is wonderful, thanks to a bevy of corporate sponsors, an adoring public, polite rivalries, sports franchises, and best of all, no super-powered bad guys to worry about. Wonderful, that is, until a hero is murdered in such a way that the only possible culprit is an unknown person with superpowers, throwing the status quo into upheaval. PROTECTORS, INC. comes from a place of deep appreciation for genre fiction.
"I've always loved superhero stories told from the bottom-up, from the point of view of ordinary people caught up in extraordinary circumstances, between people with massive amounts of power that can be used for good or ill," says Straczynski. "The book is a twelve-issue maxiseries, a superhero story crossed with a mystery and a procedural police story, and should be a fun read for folks interested in any one of those three genres."
The latest project from writer J. Michael Straczynski (TEN GRAND, SIDEKICK, RISING STARS) and artist Gordon Purcell (Star Trek: The Next Generation/Doctor Who, The X-Files), PROTECTORS, INC. focuses on Lieutenant Detective John Riley's search for the truth behind the murder of a being that shouldn't have been able to be murdered by anyone. Nothing is as it seems, however, and Riley's case will lead to a fifty-year-old secret, love affairs, and possibly even more death.
Purcell is equally excited and ready to unleash PROTECTORS, INC. on the world.
"Protectors, Inc. is one of the best projects I've ever worked on! Joe's script (I have all 12 issues here!) is fantastic and fascinating, and I feel like I'm drawing on all my comic experience to flesh out the Protectors world. I'm so jazzed to be able to share this project with the fans! Dig in–this is tasty stuff!"
PROTECTORS, INC. #1 will be in stores on November 6, is currently available to pre-order from the September issue of Previews, and features two separate covers. Cover A (Diamond Code SEP130489) features art by Gordon Purcell and Mike Atiyeh, while Cover B (Diamond Code SEP130489) features art by Whilce Portacio and Mike Atiyeh.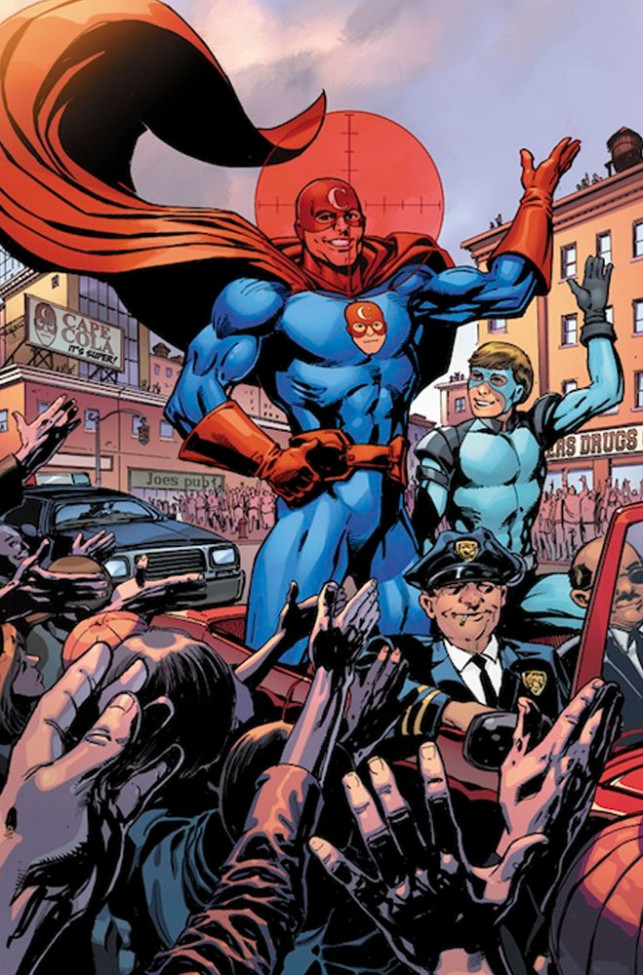 SIDEKICK AUDIO ONE
For those who bought issue 1 of Sidekick and missed or can't use the QR code for the audio track, it can be found at http://studiojms.com/sidekick-audio-one/.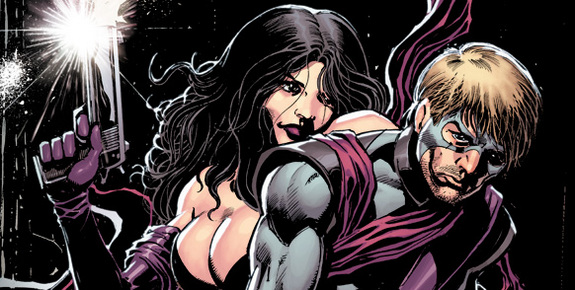 JMS' SIDEKICK
From Newsarama.com:
J. Michael Straczynski has a lot to say about superheroes; for years he's said it at Marvel and DC with the biggest characters in the world. But what he's saying now in his new Image series Sidekick with artist Tom Mandrake is something the Big Two would never let him say on his own.
Launched earlier this month via his Joe's Comic imprint at Image, Sidekick follows the life of a superhero sidekick named Flyboy who finds himself washed-up after his partner and mentor Red Cowl is assassinated. Pigeon-holed by his career as a sidekick and still carrying around the memories of his partner's tragic death, Flyboy is walking down a dark path – and it looks to be getting darker every issue.
With Sidekick #2 scheduled for release on September 11, Newsarama spoke with JMS about this stunning superhero portrayal and how years writing for the Big Two inspired him to tell this story on his own.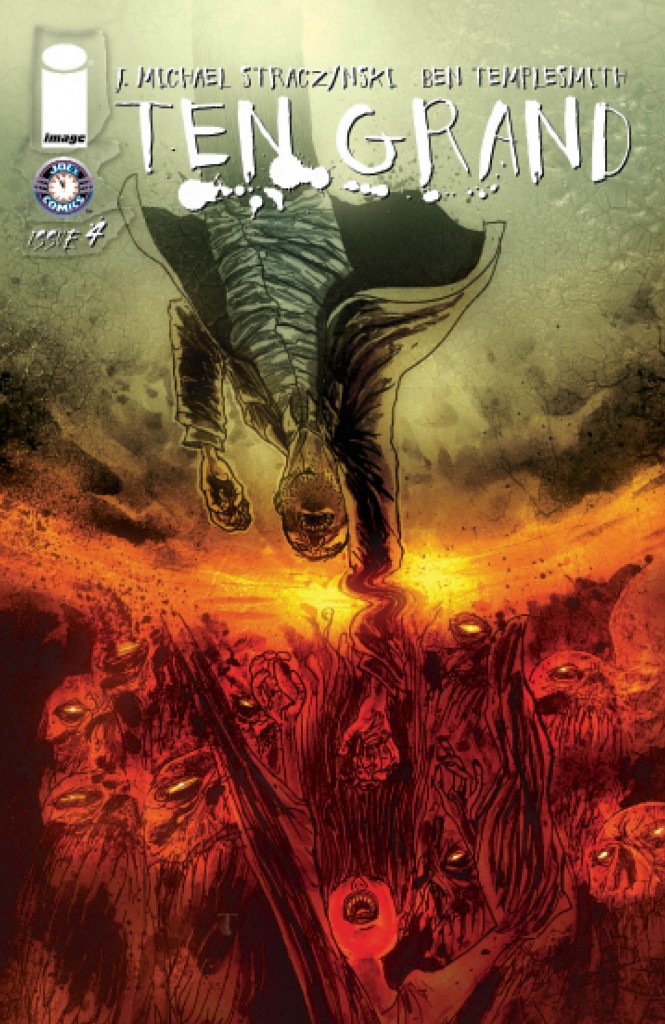 JMS' TEN GRAND #4
IGN has posted a review of Issue #4 of TEN GRAND by J. Michael Straczynski, calling it "one of the most morbid, ominous and dark comics out on shelves right now. Much of the book revolves around the idea of death, after all. But since its first issue its one of the books I can't wait for every month.
The Ten Grand team continues to consistently fill every page with meaningful progression. As a result this issue retains the series' potency and Straczynski and Templesmith build another successful chapter in what's shaping up to be one of the best stories in comics this year." This is just one of many rave reviews for the work of JMS and Ben Templesmith (artist).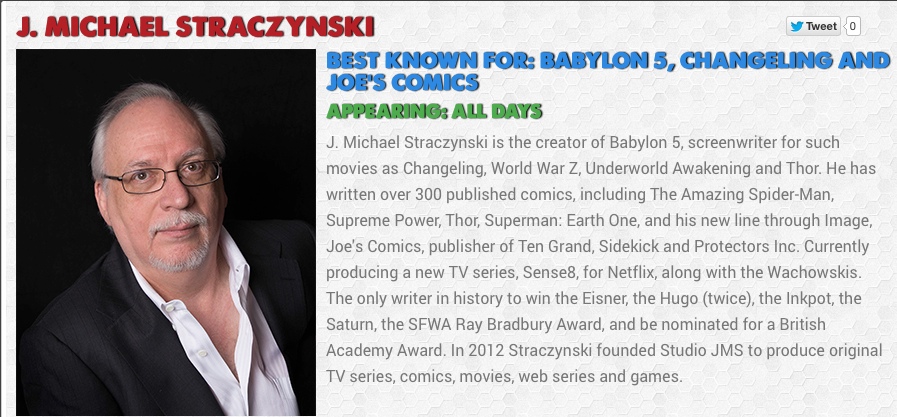 J. MICHAEL STRACZYNSKI - NEW YORK COMIC CON ADDS WRITING WORKSHOP IN OCTOBER
New York Comic Con has just announced that JMS will be a guest Oct 10-13. For more information, go to http://www.newyorkcomiccon.com/.
Two new reviews, for Sidekick 1 and Ten Grand 4, in stores now:
http://www.comichype.com/2013/08/06/j-michael-straczynskis-ten-grand-4-review/ and http://robpatey.com/2013/08/06/sidekick-1-review-joes-comics/.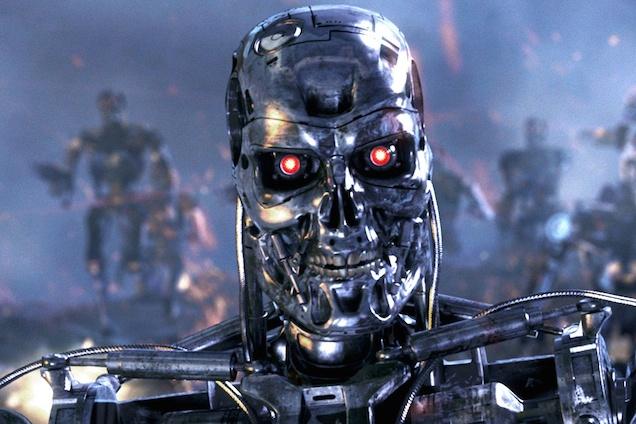 TERMINATOR: THE FINAL BATTLE
Update and sample page of the upcoming Terminator comic:
"Aaand I just turned in the script for issue two of Terminator: The Final Battle. Here's the b&w inked cover page for issue one. Tired but pleased."
Aaand I just turned in the script for issue two of Terminator: The Final Battle. Here's the b&w inked cover page for issue one. Tired but pleased.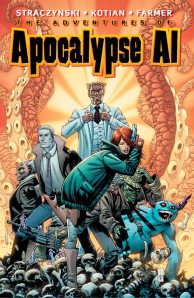 APOCALYPSE AL
From JMS about the long-awaited Adventures of Apocalypse Al:
"Yesterday I got the first 69 inked pages of The Adventures of Apocalypse Al, coming out later this year through MTV.com.
Beautiful work by Sid Kotian (who will be doing Dream Police for us once he's done with Al). Very excited. I think this is going to be a real sleeper hit. Here's a glimpse of page two...."
Yesterday I got the first 69 inked pages of The Adventures of Apocalypse Al, coming out later this year through MTV.com. Beautiful work by Sid Kotian (who will be doing Dream Police for us once he's done with Al). Very excited. I think this is going to be a real sleeper hit. Here's a glimpse of page two.... PENDRAGON P.I. - HELP JASON CARTER
Want to see British actor Jason Carter (Marcus on the classic hit sci-fi series Babylon 5) return as an unconventional private investigator who's a bit of Sherlock Holmes, a splash of Sam Spade, and a dash of The Doctor?
Jason Carter is working with Jerry Seward, creator and executive producer of an independent movie pilot titled Pendragon, P.I.that They are developing a gifted and accomplished production team to produce this series. Jason will play the lead, a man who - along with his helper Lucy (played by April Washko) - relies on his deductive skills to sort through a maze of clues in an attempt to solve the case of mysterious disappearances in a small, lakeside town where impossible things happen.
For more information on how you can help, go to http://www.indiegogo.com/projects/help-get-pendragon-p-i-jason-carter-project-made?show_todos=true. BILL MUMY - ACTOR/COMIC AUTHOR/MUSICIAN
BILL MUMY is quite a musician as well as a marvelous actor. We all know and love him as Lennier, but here is a link to his latest CD "Illumination" http://gragroup.com/bill_mumy.html. The CD can also be purchased on iTunes and Amazon.
After nearly 2 years of waiting Bill Mumy is back with a new release. Bill's latest release Illuminations is truly a masterpiece of Americana music. This album continues the musical format journey that Bill has been developing over his last three albums, Carnival Sky, Glorious in Defeat and Until the Big Bang Whimpers were all leading up to the pinnacle and that is Bill's latest release Illuminations.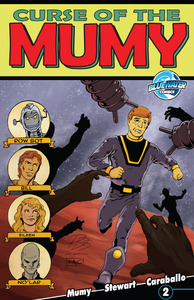 THE CURSE OF THE MUMY - Issue #2
As the first arc of The Curse of the Mumy continues... The Wolf Cub has captured Spaceboy and is holding him prisoner on the nazi moon base with plans to sacrifice the nobel boy astronaut in a blood ritual to summon a demon... We meet the mysterious alien mystic warrior, No'Lar... and learn that Mumy's family infiltrated the Illuminati over a century ago in hopes to thwart the present danger that threatens to wipe out millions. All this, plus Eileen makes tea!
You can order an issue at http://www.comicfleamarket.com/servlet/the-432/Curse-of-the-Mumy/Detail.


THE ZOCALO ON FACEBOOK
I hope that you will join us over on FACEBOOK. We have a great discussion group, tons of visuals and just a nice group of people participating on the page every day. Do drop over and stay a while.
READER'S CORNER
If anyone would like to submit reports from a convention they recently attended or items they would like to share with fellow Zocalo readers, please send them along to me at sgbruckner@aol.com. I will happily open up a new page for any submissions you care to send along.
BABYLON 5 20TH ANNIVERSARY BOOK - PRICES GOING UP SOON
UPDATE:
Prices are going up! THe cost of shipping has doubled and the end of the first printing is in sight. If you order B5-20 by Friday, you'll pay only $88 for the book ($46 off the retail price of $134) for a total savings of up to $53.
If you have any questions, send a note to help@B5Books.com. FIRST EVER BABYLON 5 BOOK PRINTED EXCLUSIVELY IN COLOR
Not just full color, but the actual colors of the sets, costumes and props. Extensive care was taken to ensure that the final pages precisely matched the color qualities of the original photographs, which were taken on set during production. B5-20 covers everything from the pilot through The Lost Tales.
DETAILS ABOUT THE PHYSICAL BOOK
256 pages. 753 images. 150gsm heavy-weight paper designed for high-resolution, full-color printing. Matte finish. Extra durable WIBALIN® cloth cover. WIBALIN® slipcase. Title and B5-20 logo embossed with foil stamping. Ribbon bookmark.
A NOTE ABOUT THE BINDING
We used the highest quality Smyth-sewn binding. This means the book lays flat for every page. More importantly, the pages will not pull away from the binding (nor will the spine crack) because the pages are NOT glued.
HOW THIS OVERSIZED BOOK IS BEING SHIPPED
We had a custom shipping box made to the exact specs of the book. It is a padded, double-walled bumper box that will withstand the weight of this book during shipping. The book itself is shrink-wrapped for authenticity and additional protection. Your B5-20 is guaranteed to arrive in perfect condition and if not, we will pay all expenses to get you one in pristine condition (including return shipping, and this does include international orders.) There is zero risk to you.
ABOUT THE PRICE
The retail price—the final price the book will be sold for—is $134.
The final day to get B5 at Twenty for $88 -- $46 off the retail price of $134 -- is July 31.
For more information on this magnificant volume, go to b5books.com.




Here is a quote from J. Michael Straczynski about emotions.
I had this theory that the more important and intimate the emotion, the fewer words are required to express it.

First it's in dating: "Will you go out with me?" Six words.
"Honey, I care for you." Five words.
"You matter to me." Four words.
"I love you." Three words.
"Marry me." Two words.
But what's left? What's the one most important and intimate word you can ever say to somebody? It's "goodbye."

While Michael O'Hare (Sinclair), Andreas Katsulas (G'Kar), Rick Biggs (Dr. Franklin), Tim Choate (Zathras) and Jeff Conoway (Zach Allen) are no longer with us, we will not forget their wonderful personalities and talent -- as well as their significant contributions to the BABYLON 5 universe. Be sure to visit In Memory Of for more information about memorial efforts.
Until we met again, in a place where no shadows fall.
BABYLON 5 BIRTHDAYS
Pat Tallman - September 4
Cinzia Zanetti - September 5
Robin Atkin Downes - September 6
Mira Furlan - September 7
Walter Koenig - September 14
Paul Williams - September 19
Robert Rusler - September 20
Gary Cole - September 20
Bear Burge - September 23
Jason Carter - September 23
Manny Case - September 23

Have I missed anyone? If you know the birthday of someone connected with Babylon 5, pass the information along. We want to include everyone in our Happy Birthday Wishes.


BABYLON 5 PRESENCE ON FACEBOOK
I know a lot of you are already on FaceBook. However, I don't know if you knew how many other Babylon 5 folks have taken the plunge and opened FaceBook accounts. In fact, Pat Tallman has reopened her Fan Club using FaceBook at the site. For a peek, go to http://www.facebook.com/group.php?gid=45593318387. Claudia Christian has been really active -- sharing pictures of her recent trips and letting us know about upcoming convention activities. J. Michael Straczynski (JMS) has a FaceBook page as well as a new "Fans of J. Michael Straczynski" page. So check it out!

NEW BOOKS OF INTEREST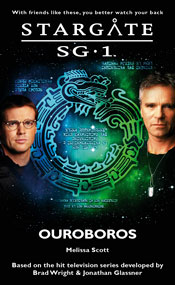 STARGATE SG-1: Ouroboros
From the pen of Melissa Scott (co-author of the STARGATE ATLANTIS Legacy series) comes STARGATE SG-1: Ouroboros, a fast paced adventure taking Colonel O'Neill and his team into new and dangerous territory. Oh, and if you're a fan of STARGATE Legacy, watch out for a few familiar faces along the way… These books are now available for the kindle as well as paperback. Go to www.stargatenovels.com to order or to to Amazon.com.

Have you read a good book lately? Do you want to share your thoughts? That is what I'm doing over at Book Reviews. I have gotten a number of marvelous books to review related to film making and I want to share my observations with you. If you have books you'd like to post, send them along.
NEW DVDS OF INTEREST
For information on new DVDs coming out that may be of interest to you, go to New DVD Releases for more information.
BABYLON 5 MUSIC VIDEOS AND TRIBUTES
John Hudgens has created many Babylon 5 videos, but I believe this is the most moving. It was first shown at the Phoenix Comic Con 20th Anniversary and honors many of the Babylon 5 family who have passed on.

Here is a link to John's Babylon 5 videos:
https://www.youtube.com/user/Babylon5MusicVideos?feature=watch

Richard Biggs memorial: http://www.youtube.com/watch?v=HyD4L8yNtsA

Andreas Katsulas memorial: http://www.youtube.com/watch?v=h2UQ2l9NPIg

- This is the extended version that I did for Andreas' widow ater the original cut was released on the net. It's never been seen online until now.

For those of you who've never seen these, I hope you enjoy them - and for those that have (and emailed me many times over the years about releasing them), I hope they're as good as you remember. Working with Joe on these videos was one of the highlights of my career, and I'll be forever grateful to him for the doors these have opened for me. I'm proud to have them on my resume.

John Hudgens
www.zteamproductions.com
---





Worldcon 2013: Lone Star Con 3 the 71st World Science Fiction Convention,
Place: San Antonio, Texas, USA
Date: Thur 29 Aug 2013 - Mon 2 Sept 2013
For more information: Email: info@lonestarcon3.org
Postal: Alamo, Inc., PO Box 27277, Austin, TX 78755-7277
Writer Guests: Ellen Datlow, James Gunn, Willie Siros, Norman Spinrad, Paul Cornell, Leslie Fish
Nominations for Hugo Awards is now open, download the link.
All Attendees and Supporters can vote http://www.lonestarcon3.org/hugo-awards/index.shtml.

Dragoncon 2013
Dates: Aug. 30 - Sept. 2, 2013
Place: Atlanta, GA
Wknd Memberships: $100 to 5/15; $115, 5/15-7/15; $130, 8/16 to door, And daily memberships
Banquet $65
Guests include: Eddie McClintock, Richard Dean Anderson, John Barrowman, Edward James Olmos, William Shatner, George Takei, Nicholas Brendon, Avery Brooks, and many, many more. Alex Zahara is scheduled from LEGEND OF THE RANGERS
For more information, go to http://www.dragoncon.org/

TREK NASHVILLE
Dates: September 7-8 , 2013
Place: Nashville, Tennessee
Guests include: Kate Mulgrew, Walter Koenig, Rene Auberjonois, Nana Visitor, Armin Shimerman and many more
For more information, go to http://www.creationent.com/cal/st_nashville.html.

Salute to SUPERNATURAL
Dates: September 20-22, 2013
Place: Dallas, Texas - Westin Park Central Hotel
Guests: Jensen Ackles, Jared Padalecki, Misha Collins, Mark Sheppard and more
For more information, go to http://www.creationent.com/cal/supernatural_dallas.htm. New York Comic Con
Dates: October 10-13, 2013
Place: Javits Center, NYC
Guests: J. Michael Straczynski
For more information go to http://www.newyorkcomiccon.com/. Salute to SUPERNATURAL
Dates: October 11-13, 2013
Place: Toronto, Canada - Westin Harbour Castle
Guests: Jensen Ackles, Jared Padalecki, Misha Collins, Mark Sheppard and more
For more information, go to http://www.creationent.com/cal/supernatural_toronto.htm. Spooky Empire's Ultimate Horror Weekend
Date: October 25-27, 2013
Place: Doubletree Universal, Orlando, FL
Just added, special guest George Romero
For more information, go to www.spookyempire.com. STEEL CITY CON
Dates: December 6-8, 2013
Place: Monroeville Convention Center, Monroeville, PA
Guests: Star Trek's George Takei, Terminator's Michael Biehn, Catherine Bach, Kyle Szymanski and more.
For more information, go to http://www.steelcitycon.com. FARPOINT
Dates: February 15-17, 2014
Place: Corwne Plaza, Baltimore, MD
Guests: Melissa McBride, others to be named shortly
For more information, go to . SPECIAL ANNOUNCEMENTS!
Creation Entertainment has a large number of conventions planned for the next several months. They include stars from TWILIGHT, SUPERNATURAL, STARGATE, FARSCAPE, XENA, SERENITY, STAR TREK, etc. Check out their calendar to see if one will be in your neighborhood soon. Don't miss their Videos page as well. It is full of some priceless video from a number of conventions.

Be sure to visit the referenced sites to see if there have been changes in dates/guests attending. Visit our Convention Calendar for a full listing of upcoming conventions.
BACK ISSUES OF THE ZOCALO TODAY
The front page of the The Zocalo Today changes daily, so be sure to check the back issues to make sure that you haven't missed anything IMPORTANT! I hope you will become a regular visitor to The Zocalo Today!
---
Take care and I look forward to hearing from you.
Sandra Bruckner (sgbruckner@aol.com)
Editor/Publisher
ISN News: The Zocalo Today
http://www.isnnews.net
Copyright - SBruckner, 1999-2013