[an error occurred while processing this directive]

The Zocalo Today

Welcome and thank you for dropping by. Take your shoes off, get comfortable and stay a while. There is a LOT of information here and you won't want to miss any of it.

The Zocalo Today is an interactive newsletter, encouraging readers to join a discussion topic or to send along letters that can be shared with other readers.

The Zocalo Today is a newsletter for Babylon 5 and science fiction fans everywhere. It is as much YOUR newsletter as it is mine! I'm just pulling together things for you!

Join our discussion topic. It is just one way you can share with other Z readers. If you see Babylon 5 cast and crew in other roles, let us know. We enjoy convention reports, photos, etc. Don't miss our back issues. I hope this will become more than just a newsletter. It's a community of people that enjoy sharing their experiences and interests. Babylon 5 brought many of us together -- and it remains with us, despite the fact that is no longer in production. Don't be shy. Join us today!

If you have questions, drop me a line at sgbruckner@aol.com. If you would like to join the mailing list for our newsletter, send me a note and I'll include you on the list. Or you can use the subscription block at the left.

Again, WELCOME!
SATURDAY, SEPTEMBER 6, 2008
BACK ON TRACK
I'm back!!!! Had a wonderful time in both Denver and St. Paul -- wonderful cities and the experience was awesome. I hope to get back to keeping you up to date on all things science fiction over the next few days.
---
THE RETURN
Variety reports that Greg Berlanti (EVERWOOD) is developing THE RETURN, an SF TV series for ABC, with THE 4400's Rene Echevarria through ABC Studios. The show revolves around the effect on the world--including the White House--of an alien landing. Echevarria is a former writer/producer of STAR TREK and DARK ANGEL, and his other credits include MEDIUM and NOW AND AGAIN.
---
NEW GHOSTBUSTERS
According to reports in Variety, Columbia Pictures is setting up a new installment of its GHOSTBUSTERS film franchise, hiring THE OFFICE co-executive producers Lee Eisenberg and Gene Stupnitsky to write a script. Variety indicated that the intent is to reunite the original cast of Harold Ramis, Bill Murray, Dan Aykroyd and Ernie Hudson. However, the studio would not comment on the development and has been mum on recent rumors that there was interest in making another installment of the franchise. The writers just wrote Year One, a comedy that was directed by Ramis. Ramis with Aykroyd wrote the first two Ghostbusters movies. No deals will be made with the original cast until the script is ready.
---
LOST
Entertainment Weekly reported that Zuleikha Robinson has been tapped to play the pivotal role of Ilana in the upcoming fifth season of ABC's LOST. Robinson--who was last seen in Fox's short-lived NEW AMSTERDAM--will start off as a recurring player with an option to become a series regular in the sixth and final season. Ilana is described as a European who is intelligent but very dangerous. Robinson-- an English-born actress whose first name is pronounced Zoo-Lika--previously played the slave girl Gaia on HBO's ROME and may be familiar to SF fans as Yves Adele Harlow in THE LONE GUNMEN.
---
TOP SCIENCE FICTION NEWS STORIES:
To catch up on the latest news from around the world of science fiction, go to News Page. You'll find the highlights this week and this month here.
---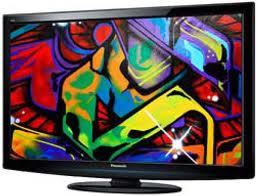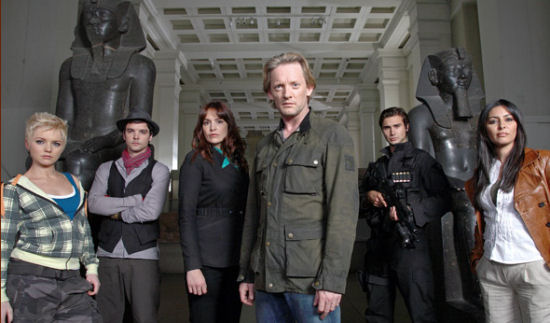 8:00pm on BBC America
Primeval
The team deals with a flock of dodos carrying a deadly parasite.

9:00pm on BBC America - NEW
Primeval
Nick is trapped with Claudia while investigating the arrival of a prehistoric winged reptile.

9:00pm on SciFi
Death Tunnel
Terror awaits five college women as they spend the night at a haunted Kentucky sanatorium. Credits: Steffany Huckaby, Annie Burgstede, Kristin Novak, Jason Lasater, Melanie Lewis
BABYLON 5 CHRONOLOGIES
For the first time ever available in print and authorized by J. Michael Straczynski
Across Time and Space:
The Chronologies of Babylon 5

* Contains two complete chronologies: Terry Jones' Babylon 5 Historical Database (parts of which were previously published in the now-defunct Official Babylon 5 magazine) and I. Marc Carlson's "Time Line of the Babylon 5/Crusade Universe."

* Together these two documents are the only sources that give you a complete picture of the Babylon 5 universe and how it fits in the history of the world

* Contains important Babylon 5 canon buried in the novels, comic, books and short stories.

* Up to the minute -- includes "The Lost Tales".

* Includes information that has not been published in a decade from out-of-print publications such as the Official B5 magazine.

* The ultimate Babylon 5 reference because it weaves the entire B5 universe into a cohesive narrative.

* Includes data from all televised episodes of Crusade and some that weren't even produced.

* Includes an introduction by Fiona Avery, reference editor for Babylon 5 and Crusade (and writer of 3 Crusade episodes).

Go to http://www.babylon5scripts.com/B5%20Chronology%20Book%20Sample.pdf to see some sample pages of the work. To place your order, go to www.babylon5scripts.com.
BABYLON 5: OTHER VOICES
Sale of The Babylon 5 Scripts: Other Voices ends September 30. Don't miss your opportunity to have scripts written by Larry D'Tillio, DC Fontana, Scott Frost and Neil Gaiman. Go to www.B5OtherVoices.com for more details and ordering.














BABYLON PODCAST: SHOW 126
Babylon Podcast: Show #126
Kosholympics. Run with it.
Summer clarifies the details behind her cryptic statements from a few weeks ago, dispelling the many rumors that she's leaving the podcast (never!), or that we're going to start making Babylon 5 Phase II independent/fan film productions (tempting!). All she did was help out with cleaning up some of the chronology data that'll be in "The Chronologies of Babylon 5? book that's coming our from babylon5scripts.com.
Deep Geeking: This week, Tim and Summer talk about "The Illusion of Truth", and the impact of propaganda, and how Sheridan's hopes for getting their side of the story out to the people of Earth and the Earth Alliance by manipulating the ISN crew that comes on board backfire, creating the exact opposite impression that they wanted to make.
Go check out Deep Geeking when you get a chance, and if you want to contribute a geeking essay, get ahold of Summer.
Discussion: Mike plays a B5/Gnome mashup that appeared in the Slice of SciFi Voicemail Show… Garden Gnome 5! Jeffrey affirms that Hollywood has run completely out of ideas, since they're bringing back "The Banana Splits Show" (we just want the Danger Island segment, actually).
Tim reads some comments from the website as feedback on some of our more recent shows about the rights to Babylon 5 stories (films and books and tv specials), and the script for The Memory of Shadows; A Studio Lurker lets us know the intricacies and the hoops involved in getting permissions to print more B5 books and comics, and further cements Summer's opinion that WB is a broken system hogtied by it's own divisional competition rather than a healthy, efficient entertainment corporation (apparently it doesn't really make money, as the poor TW/AOL/WB shareholders can attest).
Yes, Summer is a bit of an idealist… why do you ask?
To catch up on previous Babylon 5 Podcasts, go to www.babylonpodcast.com.




How do you feel about JMS' posting about the future of Babylon 5? Do you agree with him that if Warners isn't ready to fully fund a project, he should not do it? Do you feel he is just ready to move on?

Send in your thoughts and comments to sgbruckner@aol.com. I will post them on the Discussion Page for everyone to share and enjoy. There are some good ones so far. Add yours! If you see an old topic you want to respond to, go right ahead. We enjoy hearing from you.




While Andreas Katsulas (G'Kar), Rick (Biggs) and Tim (Choate) are no longer with us, we will not forget their wonderful personalities and talent -- as well as their significant contributions to BABYLON 5. Be sure to visit In Memory Of for more information about memorial efforts. Until we met again, in a place where no shadows fall.
BABYLON 5 BIRTHDAYS
Daneil Dae Kim - August 4
Claudia Christian - August 10
Stephen Austin - August 11
Tim Earls - August 15
Nancy Tarczynski - August 16
Skip Beaudine - August 26

Have I missed anyone? If you know the birthday of someone connected with Babylon 5, pass the information along. We want to include everyone in our Happy Birthday Wishes.
For more of these fabulous cartoons, go to http://cartoons.sev.com.au/Sev-Space/Sevylon-5/.
THE DEADBOOKS PROJECT - LAUNCHES AUGUST 18
Here's something new for you to take a look at.

The creator of The Deadbooks Project was looking for a new form of SF/Horror entertainment. With the help of 30 actors and about 40 musical groups from almost as many countries, he is taking a novel and transforming it into something that has not been seen on the Net. It's not really a novel anymore, but nor is it a movie, nor an old-time radio show, though it contains attributes of all those story-telling techniques. He calls it a Hyper-Serialization.

Web-launch of the first 10 hour season is set for August 18.

Right now there are movie trailers on YouTube giving everyone a sneak peak at what PantherRun Productions has created. If you have a moment, would you please drop by YouTube and put in DeadBooks…
NEW SCIENCE FICTION BOOKS COMING
Here are a couple of books that would make any science fiction fan's library complete. Science Fiction Television Series: Episode Guides, Histories, and Casts and Credits for 62 Prime Time Shows, 1959 - 1989. Written by Mark Phillips & Frank Garcia, the book looks at science fiction series, providing excerpts, trivia and much, much more.




Science Fiction Television Series: Histories, Casts and Credits for 58 Prime Time Shows, 1990 - 2004
By Frank Garcia and Mark Phillips - with a foreward by Stargate's Brad Wright.
This books covers more recent shows, including BABYLON 5, THE DEAD ZONE, QUANTUM LEAP, STAR TREK: THE NEXT GENERATION and THE X-FILES. Go to http://legacyweb.com/scifibook/index.shtml for more information and a link for ordering.
If you enjoy science fiction and have followed a number of TV series over the years, you'll love these books.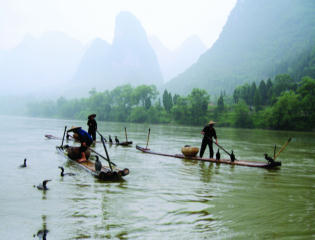 Wild China
Official website: www.bbcamerica.shop.com
Release date: August 5, 2008

Synopsis:
An exotic fusion of natural history and Oriental adventure, "Wild China" is a series of journeys through four startlingly different landscapes, each based around the travels of a real historical character. With splendour, scale and romance, Wild China lifts the veil on the world's most enigmatic and magnificent country, delving into its vibrant habitats to reveal a land of unbelievable natural complexity. Journey across China from the glittering peaks of the Himalayas to the barren steppe, the sub-Arctic to the tropical islands, through deserts both searingly hot and mind-numbingly cold and see, in pioneering images, a dazzling array of mysterious, beautiful, wild and rare creatures.

New video clip from Warner Bros.:
Bamboo 3:25
Windows
http://raincloud.warnerbros.com/wbol/us/whv/med/bbc/wildchina/clips/wc_bamboo_300.asx
Quicktime
http://raincloud.warnerbros.com/wbol/us/whv/med/bbc/wildchina/clips/wc_bamboo_qt_300.mov

REVIEW:

As we sit in awe of the tremendous atheltic competitions being met during the Olympics, this video puts China into yet another category -- one of old traditions, vast wilderness, many near extinct species and absolutely awesome landscapes. Segments that show how rice crops can be grown and harvested -- along with the fish that inhabit the paddies is a wonderful example of man co-habitating with the world around him. The conservation efforts of the Chinese people are little known but should be applauded. This is a story of a remarkable people and land.

As with other BBC series, this is wonderfully done with a magnificant narration by Bernard Hill (King Theoden of THE LORD OF THE RINGS).
GOSSIP GIRL: THE COMPLETE FIRST SEASON
Release date: August 19, 2008

Gossip Girl: The Complete First Season Comes Out August 19 But You Can Generate Your Own Gossip Now!! Create your own juicy gossip to text to all of your friends at www.gossipgirltvondvd.com

Plus enter to win a $1,000 gift card and a 2 night trip to NYC + more.

The second season of GOSSIP GIRL begins September 1.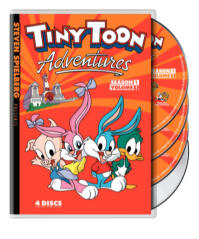 STEVEN SPIELBERG PRESENTS: TINY TOONY ADVENTURES S1 V1
Release Date: 7/29/08
Official Website: www.kidswb.com/whv

Synopsis:
Rejoice, potatoes du couch, 'cause they're finally on DVD – in 35 furry, funny, Montana Max-has-money episodes from the debut season. Here you'll find Buster Bunny, Babs Bunny (no relation!), Plucky Duck, Hamton Pig and more denizens of Acme Acres. And here you'll find Acme Looniversity, where the Toonsters are schooled under the wise(guy) guidance of Warner Bros. 'toon legends from Bugs Bunny to Yosemite Sam. Enroll today!

Key Highlights:
• Produced by Steven Spielberg and Bruce Timm
• The first 35 episodes on 4 discs on DVD for the first time ever!
• 2-time Emmy Award Winner for Outstanding Animated Program (1991, 1993)
Some video clips from the WB
Windows:
http://raincloud.warnerbros.com/wbol/us/whv/med/tinytoons/vol1/ttv1twoc_puppy_300.asx

Quicktime:
http://raincloud.warnerbros.com/wbol/us/whv/med/tinytoons/vol1/ttv1twoc_puppy_qt_300.mov

Windows:
http://raincloud.warnerbros.com/wbol/us/whv/med/tinytoons/vol1/ttv1twoc_win_or_lose_300.asx

Quicktime:
http://raincloud.warnerbros.com/wbol/us/whv/med/tinytoons/vol1/ttv1twoc_win_or_lose_qt_300.mov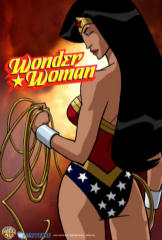 WONDER WOMAN
On Blu-Ray, DVD and On Demand February 2009
Official Site: www.wonderwomanmovie.com

Synopsis:
On the mystical island of Themyscira, a proud and fierce warrior race of Amazons have raised a daughter of untold beauty, grace and strength – Princess Diana. When an Army fighter pilot, Steve Trevor, crash-lands on the island, the rebellious and headstrong Diana defies Amazonian law by accompanying Trevor back to civilization. Meanwhile, Ares (the god of War) has escaped his imprisonment at the hands of the Amazonians and has decided to exact his revenge - intending to start a world war that will not only last for centuries – but will wipe out every living being on the planet, starting with the Amazons! It is up to Princess Diana to save her people and the world – by using her gifts and becoming the ultimate Wonder Woman!

Voice Talent: Keri Russell (Felicity, Waitress)-voice of Wonder Woman, Nathan Fillion (Waitress, Desperate Housewives)- voice of Steve Trevor, Virginia Madsen (Sideways)-voice of Hypolyta, Oliver Platt (West Wing, Huff) -voice of Hades , David McCallum (The Man From U.N.C.L.E., NCIS) – voice of Zeus, Alfred Molina –(Spider Man 2)-voice of Ares, Rosario Dawson (Sin City)-voice of Artemis)

Video clips from the WB:
Windows:
http://raincloud.warnerbros.com/wbol/us/whv/med/wonder_woman/tvspots/ wvww_a0001_wonderwoman_300.asx

Quicktime:
http://raincloud.warnerbros.com/wbol/us/whv/med/wonder_woman/tvspots/ wvww_a0001_wonderwoman_qt_300.mov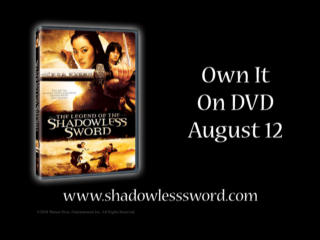 LEGEND OF THE SHADOWLESS SWORD
Release date: August 12, 2008
Official website: http://www.shadowlesssword.com"

Synopsis:
927 A.D. The Killer-Blade Army has toppled the ruling dynasty, plunging the kingdom into chaos. The only remaining heir, Prince Jung-Hyun (Lee Seo Jin) is living in exile, unaware of his family's dark fate. Still loyal to the dynasty, the beautiful and deadly warrior Soha (Yoon Soy) sets out to find Jung-Hyun and guide him to become the great leader he was born to be. But with the Army's greatest assassins and the criminal underworld hunting them, Soha and Jung-Hyun are swept into an explosive, nonstop battle of swords, wits and bloodshed as they fight to reclaim the fallen throne.
JUSTICE LEAGUE
Release Date: August 19, 2008
Synopsis:
Superman, Batman, Wonder Woman, The Flash, Green Lantern, Martian Manhunter and Hawkgirl they have all used their unique powers to fight evil across the galaxy. These 7 super heroes unite to become the Justice League. These 26 adventures feature battles with favorite villains like Lex Luthor, Vandal Savage and sorceress Morgan Le Fey. Acts of justice include saving Aquaman from a coup and clearing Green Lantern's name in a charge of genocide. From the smash hit TV series, these triumphant tales of teamwork will enthrall and inspire!
REVIEW:
High above the Earth in the great Watchtower of the Justice League, there are assembled the world's seven greatest heroes created from the cosmic legends of the universe - Superman, Wonder Woman, Batman, the Flash, Green Lantern, the Martian Manhunter, Hawkgirl. Their mission: To fight injustice, to right that which is wrong, and to serve all mankind.
In this DVD set, you will learn more about these superheroes and provide some of the backstory that has been missing over the years. In "Blackest Night", Green Lantern takes center stage. SMALLVILLE's Michael Rosenbaum is perfect as The Flash. The other voice actors are marvelous -- including Phil LaMaar as Green Lantern, Maria Canas as Hawkgirl and Susan Eisenberg as Wonder Woman.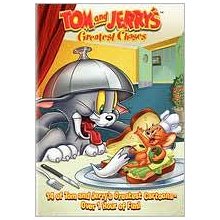 TOM AND JERRY TALES V5
Release date: August 12, 2008
Official website: http://www.kidswb.com\whv

Tom and Jerry Tales: Vol. 5 presents viewers with 12 totally terrific cartoons loaded with fur-flying, fun-filled chases, mischief and general high-jinks, including encounters with space aliens in Invasion of the Body Slammers, and Big Foot in Sasquashed. In Monster Con, legendary monster hunter, Van Helsing, chases after Tom when he's transformed into a werewolf. Jerry transforms into a skateboarder while Tom chases him down on a dirt bike in Xtreme Trouble. Endless Bummer features Tom, Jerry and the lovable Droopy entering a surfing competition. Tom and Jerry Tales originally premiered on Kids' WB in September 2006 and features characters from the classic Tom and Jerry cartoons in newly created shorts, which audiences have not seen done in 30 years. Tom and Jerry Tales can be seen online at kidswb.com.



Steven Spielberg Presents Freakazoid!: The Complete First Season
Official website: www.kidswb.com/whv
Release Date: July 29, 2008
Synopsis:
Cyber nerd Dexter Douglas surfs the web one fateful night, gets swept into a digital techno-electro smash-up that bites him in the gigabytes and ? ZAP! ? goes from geek to freak. To Freakazoid!, that is, a smart- mouthing, butt-kicking, mega-voltage superhero with things to do (unless there?s something really good on TV). It's Freaka-Me, Freaka-You fun. Episodes. 14 episodes; each 22 minutes, Disc 1. 1) Five Day Forecast / Dance of Doom / Hand Man, 2) Candle Jack / Toby Danger in Doomsday Bet / The Lobe, 3) Mo-Ron / The Sewer Rescue / The Big Question / The Legends Who Lunch, 4) And Fan Boy Is His Name / Lawn Gnomes: Ch. IV - Fun in the Sun / Freak's French Lesson, 5) Foamy the Freakadog / Office Visit / Ode to Leonard Nimoy / Emergency Broadcast System, 6) The Cloud / Candle Jack (repeat). Disc 2 . Side 1 7) The Chip (Acts I - III), 8) The Chip (Act IV) / Freakazoid is History, 9) Hot Rods From Heck / A Time for Evil, 10) Relax-O-Vision / Fatman and Boy Blubber / Limbo Lock-up / Terror Palace, 11) In Arms Way / The Cloud (repeat), 12) Next Time, Phone Ahead / Nerdator. Side 2, 13) House of Freakazoid / Sewer or Later, 14) The Wrath of Guitierrez, Plus EC.

Clips from the WB
Sidekick Chronicles 1:58 with commentary (out of pilot)
Windows
http://raincloud.warnerbros.com/wbol/us/whv/med/freakazoid/season1/clips/ frkzds1eps1_sidekick_chronicles_300.asx
Quicktime
http://raincloud.warnerbros.com/wbol/us/whv/med/freakazoid/season1/clips/ frkzds1eps1_sidekick_chronicles_qt_300.mov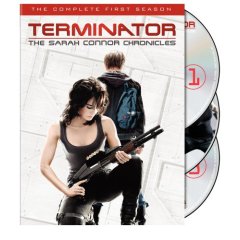 TERMINATOR: THE SARAH CONNOR CHRONICLES
Release Date: August 19
Official website: www.terminatorondvd.com
But You Can Recruit and Destroy Now!!
Choose to fight for the MACHINES or the HUMANS, then recruit friends, fight the enemy and rise through the ranks with the official TSCC Facebook widget at www.terminatorondvd.com
The series stars Lena Headey (300), Summer Glau ("The 4400", "The Unit", "Firefly"), Thomas Dekker ("Heroes"), and Richard T. Jones (Vantage Point, "Judging Amy").
The mother of all destiny. Her son, the future leader of mankind. Their protector, a terminator from the future. Together they must take back the future as Sarah Connor (300's Lena Headey) prepares her son to fight the war against machines determined to annihilate the human race. The clock is ticking. Can they stop Judgment Day? The man-vs-machines tale that has thrilled millions gets a reboot with this popular series, set after the events of Terminator 2: Judgment Day. Will John Connor (Dekker) seize his destiny? Will a cell phone salesman's chess program evolve into Skynet? Can the sweet but deadly cyborg (Glau) be trusted? Answers - and the fight for the future - are here and now!
Terminator - The Sarah Connor Chronicles: The Complete First Season DVD Special Features Include:
" "Creating the Chronicles" featurette - an all-encompassing look at the production process involved with every aspect of bringing Terminator: The Sarah Connor Chronicles to television.
" Commentaries - includes executive producers Josh Freidman & John Wirth, cast members Summer Glau & Thomas Dekker, and more.
" Terminated Scenes (i.e. deleted scenes)
" Gag Reel
" Cast Audition Tapes - includes Lena Headey, Thomas Dekker, and Richard T. Jones
" Storyboard Animatic - featuring the storyboard sequence of the school session where Cromartie attacks and John narrowly escapes
" Summer Glau Dance Rehearsal
" Extended Director's Cut of Episode The Demon Hand
REVIEW
I hadn't watched this series when it first came on the tube. I was never a fan of the original movies, but when I began watching TERMINATOR: THE SARAH CONNOR CHRONICLES, I got hooked. It is an interesting and exciting drama that reminds me a lot of some very old TV series -- like THE IMMORTAL. In this case however, the baddies are almost invincible robots.
Lena Headey is wonderful as Sarah Connor and Summer Glau is terrific as their protector. If you have an afternoon when it's raining and not much on TV (and that happen more and more lately), pick up this series and give it a try. Season Two begins shortly and you'll be able to catch up very quickly.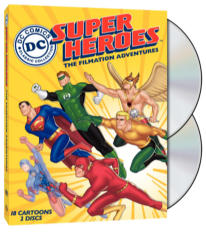 DC Super Heroes: The Filmation Adventures
Official website http://www.DCSuperheroesfilmation.com Release date: August 12, 2008

Synopsis:
Episodes. Disc 1. The Atom Cartoons, Invasion Of The Beetle-Men (1967), The Plant Master (1967), The House Of Doom (1967), The Flash Cartoons, The Chemo-Creature (1967), Take a Giant Step (1967), To Catch a Blue Bolt (1967), Green Lantern Cartoons, Evil is as Evil Does (1967), The Vanishing World (1967), Sirena, Empress of Evil (1967), Disc 2. Hawkman Cartoons, Peril from Pluto (1967), A Visit To Venus (1967), The Twenty Third Dimension (1967), Justice League Of America Cartoons, Between Two Armies (1967), Target Earth (1967), Bad Day on Black Mountain (1967), Teen Titans Cartoons, The Monster Machine (1967), The Space Beast Round-Up (1967), Operation: Rescue (1967).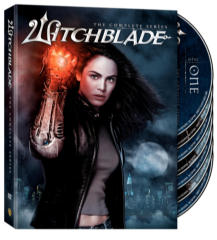 WITCHBLADE: THE COMPLETE SERIES

Release date: July 29, 2008
Official Website: www.witchbladedvd.com

Witchblade: The Complete Series
Synopsis:
In this adaptation of the Top Cow comic book, Witchblade is the story of a New York detective, Sara "Pez" Pezzini, whose search for justice brings her into contact with the Witchblade, an ancient, intelligent, living weapon so powerful it can battle Earth's darkest evil forces. Week in and week out, "Pez" employs her skills as a police detective to fight crime. She finds she must employ the Witchblade to combat a much greater and frighteningly organized conspiracy of evil that threatens the very soul of humanity. As Sara tries to keep the secret of the Witchblade, do her job and have a personal life, she finds that her most formidable adversary may be the Witchblade itself.


REVIEW:
I remember this series when it was on TNT and thought it was absolutely awesome. The special effects for a TV drama were just astounding. Yancy Butler was unbelievable as Sarah Pezzini - in the title role. She was perfect to play this very conflicted person who saw so much injustice around her and was trying to make a difference not only be being a policeman -- but by being a good policeman.

This was one of the most under-rated TV series of its day. The cast was wonderful and you couldn't wait for the next week to see what would happen next as Sarah learned more about the Witchblade and why she was chosen to wear it.

Video clips from Warner Bros.
Murder Scene 1:41
Windows Media:
http://raincloud.warnerbros.com/wbol/us/whv/med/witchblade/complete/ Witchblade_diplopia_murder_scene_300.asx
Quicktime
http://raincloud.warnerbros.com/wbol/us/whv/med/witchblade/complete/ Witchblade_diplopia_murder_scene_qt_300.mov

Photo Shoot 1:52
Windows Media
http://raincloud.warnerbros.com/wbol/us/whv/med/witchblade/complete/ witchblade_ep102_conundrum_photoshoot_300.asx
Quicktime
http://raincloud.warnerbros.com/wbol/us/whv/med/witchblade/complete/ witchblade_ep102_conundrum_photoshoot_qt_300.mov

Sara Pezzini 1:17
Windows Media:
http://raincloud.warnerbros.com/wbol/us/whv/med/witchblade/complete/ witchblade_ep102_conundrum_sara_pezzini_300.asx
Quicktime
http://raincloud.warnerbros.com/wbol/us/whv/med/witchblade/complete/ witchblade_ep102_conundrum_sara_pezzini_qt_300.mov

Witchblade 0:49
Windows Media
http://raincloud.warnerbros.com/wbol/us/whv/med/witchblade/complete/ witchblade_ep102_conundrum_witchblade_300.asx
Quicktime
http://raincloud.warnerbros.com/wbol/us/whv/med/witchblade/complete/ witchblade_ep102_conundrum_witchblade_qt_300.mov
BATMAN BEGINS
Release Date: July 8, 2008

Batman Begins: Limited Edition Gift Set
Synopsis:
Batman Begins explores the origins of the Batman legend and the Dark Knight's emergence as a force for good in Gotham. In the wake of his parents' murder, disillusioned industrial heir Bruce Wayne (Christian Bale)travels the world seeking the means to fight injustice and turn fear against those who prey on the fearful. He returns to Gotham and unveils his alter-ego: Batman, a masked crusader who uses his strength, intellect and an array of high tech deceptions to fight the sinister forces that threaten the city.

Director: Christopher Nolan
Actors: Christian Bale, Michael Caine, Liam Neeson, Katie Holmes, Gary Oldman, Cillian Murphy, Tom Wilkinson, Rutger Hauer, Ken Watanabe, Morgan Freeman, Mark Boone, Jr., Gus Lewis, Linus Roache, Rade Serbedzija

Blu-ray™ Hi-Def Limited Edition Gift Set extras include The Dark Knight Prologue, a 32-Page Booklet featuring an exclusive comic adaptation of The Dark Knight Prologue, a BATMAN BEGINS Motion Art Lenticular, 5 Collectible Batman Begins Postcards and $7.50 "Movie Cash" to see The Dark Knight in theaters.

REVIEW

To me, this is the BEST BATMAN movie to date. While I loved Michael Keaton as BATMAN, Christian Bale gives a more somber look to the caped crusader. Michael Caine is just wonderful as Alfred as are Gary Oldman and Morgan Freeman.
While the story of BATMAN has been shown in many ways, Christopher Nolan does a wonderful job of adding tone and emotion through lighting and shadows. Liam Neeson as Bruce Wayne's early mentor is awesome and the final climax -- just the right touch of myth and wonder. You leave the theater (or in this case your living room) with anticipation about the next adventure in this saga. While you have seen BATMAN before, it hasn't been THIS BATMAN.

Let's not miss the toys! How about the Batmobile!!!! Can't you see that tooling down the highway??? I wonder how many miles to a gallon it gets???

Timing for this DVD release was brilliant. For those who did not catch this film when it first came out, there was time to catch up before going to THE DARK KNIGHT (released on July 18). For those who went to see THE DARK KNIGHT, this DVD was on the shelve waiting to give the back story and bring you up to date. I can't wait to see what is in the future for this one.
BIRDS OF PREY: THE COMPLETE SERIES
Release Date: July 15, 2008

Birds of Prey: The Complete Series
Synopsis:
Who will stand up to villains now that a heartbroken Dark Knight has mysteriously vanished? Never fear, New Gothamites, a trio of champions is ready to take wing - and Helena, the daughter of Batman and Catwoman, is among them. She calls herself Huntress and crime is her prey. Teenaged Dinah is the youngest of the group, learning as she goes and gifted in clairvoyance. And overseeing the awesome threesome's high- tech nerve center is Batgirl. Left wheelchair-bound by The Joker, she has reinvented herself as Oracle, the team's cyber expert. Huntress, Dinah, Oracle: They are the Birds of Prey. Fighting together. Living together. And soaring into adventure together in 13 breathtaking live-action episodes.

A video clip from WB:
Connection with Cops - 1:43
Windows
http://raincloud.warnerbros.com/wbol/us/whv/med/birdsofprey/clips/bops_connection_with_ cops_300.asx
Quicktime:
http://raincloud.warnerbros.com/wbol/us/whv/med/birdsofprey/clips/bops_connection_ with_cops_qt_300.mov



For more information on other DVDs that have just been released and reviewed, go to New DVDs

DOCTOR WHO MAGAZINE #400
Doctor Who Magazine, the official publication of the hit BBC TV series, reaches its 400th issue — and celebrates in style! Packed with exclusive photos and interviews, this very special publication features actor David Tennant talking candidly about being the Doctor — and his plans for the future; showrunner Russell T. Davies reveals secrets about his years working on Doctor Who; a new era for the full-color comic strip begins as the Doctor discovers "The Secrets of the Space Gulag"; the Time Team concludes their epic viewing of "The Trial of a Time Lord" in a surprising way; and all of the latest books, audios and DVDs are previewed and reviewed! Plus much, much more — including a massive free double-sided poster! (Panini Publishing Ltd) (C: 0-1-2) Magazine, 68pgs, FC SRP: $7.99
---
INDIANA JONES MAGAZINE #4 SPECIAL
PREVIEWS EXCLUSIVE

The chase is on as we count down Indy's Top Ten chases! Featuring an exclusive interview with Ray Winstone ("Mac" in Kingdom of the Crystal Skull) as he talks about working for both sides! Then, learn the "50 Things You Never Knew" about The Last Crusade! Plus, meet the guy who whips Harrison Ford into shape. Available in Newsstand and PREVIEWS Exclusive editions. (Titan) (C: 1-1-2) NOTE: Not available in the U.K. (May Purchase from U.K. Vendor) NEWSSTAND—Magazine, 100pgs, FC SRP: $9.99
---
Cult Times Issue #154: BATTLESTAR GALACTICA: James Callis talks about his character, Dr Gaius Baltar and whether his character's luck is changing in the final season. HEROES: Brand new Hero actress Dana Davis discusses why she avoided news of Hurricane Katrina when she got the part, and what it's like having Star Trek's Uhura as a grandmother! GHOST WHISPERER: Star Jennifer Love Hewitt relates tales of the recent spooky happenings on set and gives some insight into Melinda Gordon's far darker third season world.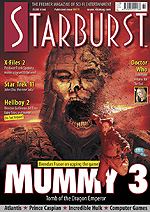 Starburst Issue #364: MUMMY 3: TOMB OF THE DRAGON EMPEROR: Actor Brendan Fraser dusts the sand off his boots and discusses the second sequel to the 1999 action Fantasy film. DOCTOR WHO: Director Graeme Harper provides details on the return of former companion Rose Tyler (Billie Piper) and the changing life of Donna (Catherine Tate). HELLBOY 2: THE GOLDEN ARMY - Director Guillermo del Toro provides a ring-side-seat right in the middle of a night-shoot of this sequel near Budapest… THE INCREDIBLE HULK - Director Louis Leterrier talks about his hopes for a hulking success with his rebooted version of the big green giant.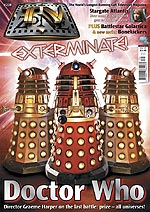 TV Zone #230: DOCTOR WHO: Director Graeme Harper discuses the epic drama of season finale Journey's End - and casting a new Davros! STARGATE ATLANTIS: Actress Rachel Luttrell returns to Atlantis following onscreen and real life maternity, to take on a new guise as her character Teyla goes undercover as a Wraith Queen… BATTLESTAR GALACTICA: As the Galactica nears Earth and the pressure comes to bear on President Roslin, star Mary McDonnell reflects on the burdens of command. REAPER: Former Invasion star Tyler Labine reveals how he knew the part of slacker Sock was made for him when he spotted that the character indulged in the same 'tape hand' stunts that he did in reality…


Be sure to drop over to Titan Magazine's website for updates on magazines associated with specific shows like 24, ALIAS, ANGEL, BUFFY, CHARMED, LOST, PRISON BREAK, SMALLVILLE and STARGATE SG-1.
JIM BUTCHER'S THE DRESDEN FILES VOLUME 1 PREVIEWS EXCLUSIVE TP
by Jim Krueger & Mike Lilly
This original story is set in The New York Times-bestselling world of Jim Butcher's Dresden Files, and is scripted by Butcher himself! When the supernatural world goes out of control, there's only one man to call: Harry Dresden, the only professional wizard in the Chicago phonebook. Collecting the mini-series in its entirety, this PREVIEWS Exclusive trade paperback is limited to a print run of 2,500!
---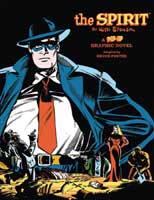 WILL EISNER'S THE SPIRIT: A POP-UP GRAPHIC NOVEL
by Will Eisner

On the dead body of a police officer the Spirit discovers a note with the name "Sand Saref," his lost childhood sweetheart. Saref has come to Central City peddling a deadly Nazi virus on the black market, but plans go awry when she is double-crossed by a scoundrel bent on destruction. In a twisted tale of betrayal, the remorseful Spirit must bring his long-lost love to justice and find the virus before it's too late! Born from shadow and mystery, Will Eisner's deathless hero returns in a recreation of The Spirit's final two issues. Coinciding with Frank Miller's upcoming film, Will Eisner's The Spirit: A Pop-Up Graphic Novel spins a noir tale of blackmail, murder, and espionage innovatively crafted into seven full-color pop-up spreads. Reborn, The Spirit breaks out of the conventional comic book frame, animating the vigor and dynamism of Eisner's original vision. Designed by renowned paper engineer Bruce Foster, Will Eisner's The Spirit: A Pop-Up Graphic Novel comes alive with expansive panoramic cityscapes, three-dimensional action sequence pop-outs, frame-by-frame expanding mini-booklets, and scene change pullouts. From the noir aficionado to the comic zealot, fans will celebrate this renaissance of Eisner's masterpiece, heralding the interactive ingenuity of a new format for sequential art. (C: 0-1-2) $34.95
---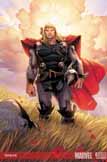 THOR #10
Written by J. Michael Straczynski, pencils and cover by Olivier Coipel.

As the Asgardians returned to this life and Thor returned to Midgard, so came the ills that have plagued the gods and man for millennia. Now for the first time since their rebirth, Thor and his fellow hero-gods are venturing forth from the Shining City to confront the growing evils that amass on their horizon...and within their walls... 32 pages, $2.99.
INDIANA JONES AND THE TOMB OF THE GODS #1
Dark Horse Comics
Dr. Henry Jones, Jr. sets out on another globe-hopping adventure in Indiana Jones and the Tomb of the Gods, the all-new mini-series filled with ancient treasures, Nazis, and a spectacular cover by Tony Harris (Ex Machina)!
CIVIL WAR CHRONICLES #12
Written by J. Michael Straczynski and Paul Jenkins, penciled by Ron Garney and Ramon Bachs, cover by Steve McNiven.
Experience Civil War and its major tie-ins in chronological order! In Captain America #25, find out what happens next in the life of the Sentinel of Liberty! The biggest Cap story that Ed Brubaker and Steve Epting have yet to tell, "Death of a Dream" will stun readers and send shockwaves through the entire Marvel Universe for the next year and it begins here! And in Civil War: The Confession, the team that brought you the start of Civil War with the New Avengers: Illuminati special presents a heart-wrenching finale. Two of the Marvel heroes most affected by the shocking conclusion of the war get together one last time. What is said between them will set the course of the Marvel Universe for years to come.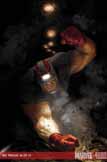 THE TWELVE #6
Written by J. Michael Straczynski, penciled by Chris Weston, cover by Paolo Rivera.
The Laughing Mask--behind bars! Secrets of the Black Widow--revealed! Dynamic Man kicks ass! The Blue Blade bombs out! And the truth behind the origin of underground secret agent Rockman!
DOCTOR WHO CLASSICS #1
by Pat Mills, Wagner & Gibbons
IDW Publishing is proud to kick off its Doctor Who line with monthly re-presentations of classic Doctor Who comics, featuring some of the best talents in the business! Up first, adventures featuring the fourth doctor courtesy of Pat Mills, John Wagner, and Dave Gibbons (Watchmen). Each issue will feature all-new state-of-the-art coloring by color artist Charlie Kirchoff, as well as an all-new cover by Joe Corroney (Star Trek).
Here's how IDW describes the issue:
"The legendary Doctor Who is back, with the first-ever stories created exclusively for the U.S. market. The Doctor is the last of the Time Lords, survivors of a Great Time War and, along with his loyal friend and companion Martha Jones from London, they stop oppression, darkness and evil spreading throughout the galaxies. They're also on the hunt for the best chocolate milkshakes in the cosmosŠ and while they track that down, someone else has the Doctor in their sights. As the very last Time Lord out there, he's highly collectable, to the right people..."
MARVEL ADVENTURES THE AVENGERS #17
Marvel Adventures The Avengers #17 will arrive in stores on Oct. 17 from Marvel Comics. The issue is written by J. Michael Straczynski, with art and cover by Joe Quesada. Here's how Marvel describes the issue:
"Ok, you're a super hero. And you've got to fight a robot. But while the robot can punch and blast you with lasers, you can't touch him. That's a problem, right? That's what the Avengers are up against when they encounter The Vision!"
Marvel Adventures The Avengers #17 will be 32 pages and will cost $2.99.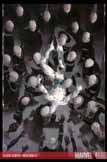 SILVERS SURFER: REQUIEM #4
Silver Surfer: Reqiuem #4 will arrive in stores on August 29 from Marvel Comics. The issue is written by J. Michael Straczynski, with art and cover by Esad Ribic. Here's how Marvel describes the issue:
"For untold years, Norrin Radd surfed the galaxy, exploring the darkness between stars, witnessing the rise and fall of vast civilizations. Now his ride comes to an end. Zenn-La, the planet of his birth, the planet he saved through his own sacrifice -- the Silver Surfer crossed the galaxy to draw his last breath here. He¹s home. What waits for him?"
Silver Surfer: Reqiuem #4 will be 32 pages and will cost $3.99.
HULU.COM
THE SITE IS NOW COMPLETE! If you are a fan of old series, you just have to visit www.hulu.com". While BABYLON 5 is not listed, there are a lot of my old favorites, including IT TAKES A THIEF, IRONSIDE, AIRWOLF, BATTLESTAR GALACTICA (all of them), THE PRETENDER, REMINGTON STEELE, HART TO HART, ROSWELL, MIAMI VICE, BIONIC WOMAN, THE SIXTH SENSE, JOHN DOE, 24 -- and many, many more. The list of movies available is pretty good as well, including ALIEN (4 of them), PLANET OF THE APES, X-FILES, X-MEN (2) and more. I can see that I'll be spending a lot more time on-line in the very near future. Now that the first season of BABYLON 5 has been made available, we can only wait to see what other favorites will follow.
There are some great series for the kids, including FLIPPER and ASTRO BOY. The best part -- IT IS FREE!
TRADING POST
Charles has updated his merchandise list in our TRADING POST. Be sure to wander over to see if there is something to your liking.

If you have items you would like to get rid of, drop me a line and I'll post a note in our Trading Post. You never know who might be looking for the very thing you no longer have room to store.
August 22-24, 2008
STARGATE CONVENTION
City: Chicago, Illinois
Place: Wyndham O'Hare
Guests: Michael Shanks, Ben Browder, Alexis Cruz, Lexa Doig, David Kykl
For more information, go to http://www.creationent.com/cal/sgchi.htm.

August 29-September 1, 2008
DRAGONCON 2008
Guests: Sean Astin, Adam Baldwin, Brad Dourif, Robert Englund, Walter Koenig, Phil Morris, Peter David, as well as Michael Dorn who was in Capt Simian with Jerry Doyle.
For more information, go to http://www.dragoncon.com

September 18-20, 2008
MID-ATLANTIC NOSTALGIA CONVENTION
Place: The Clarion Hotel
City: Aberdeen, Maryland
Guests: Edd Byrnes, Patty McCormack, Jon Provost, Kathleen Hughes, Larry Storch, Margaret Kerry -- and more to come
For more information, go to http://www.midatlanticnostalgiaconvention.com/. Last year the convention raised over $4,900 for the Johns Hopkins Comprehensive Cancer Center.

October 24-26, 2008
STEEL CITY CON
Place: Pittsburgh, PA
Guests: Chuck Norris, Lou Ferrigno, CJ Graham, Richard Kiel
For more information, go to http://www.steelcitycon.com

SPECIAL ANNOUNCEMENTS!
Creation Entertainment has a large number of conventions planned for the next several months. They include stars from STARGATE, ENTERPRISE, FARSCAPE, XENA, BATTLESTAR GALACTICA, etc. Check out their calendar to see if one will be in your neighborhood soon. Don't miss their Videos page as well. It is full of some priceless video from a number of conventions.
JUMPCON CONVENTIONS
Sites are closed for these conventions. If you are holding tickets for any of these conventions, please get in touch with convention organizers.
Be sure to visit the referenced sites to see if there have been changes in dates/guests attending. Visit our Convention Calendar for a full listing of upcoming conventions.
BACK ISSUES OF THE ZOCALO TODAY
The front page of the The Zocalo Today changes daily, so be sure to check the back issues to make sure that you haven't missed anything IMPORTANT! We had a system crash recently, so many of the back issues are not available. I hope that you find this newsletter of interest and come back often.
---
Take care and I look forward to hearing from you.
Sandra Bruckner (sgbruckner@aol.com)
Editor/Publisher
ISN News: The Zocalo Today
http://www.isnnews.net
Copyright - SBruckner, 1999-2008