[an error occurred while processing this directive]

The Zocalo Today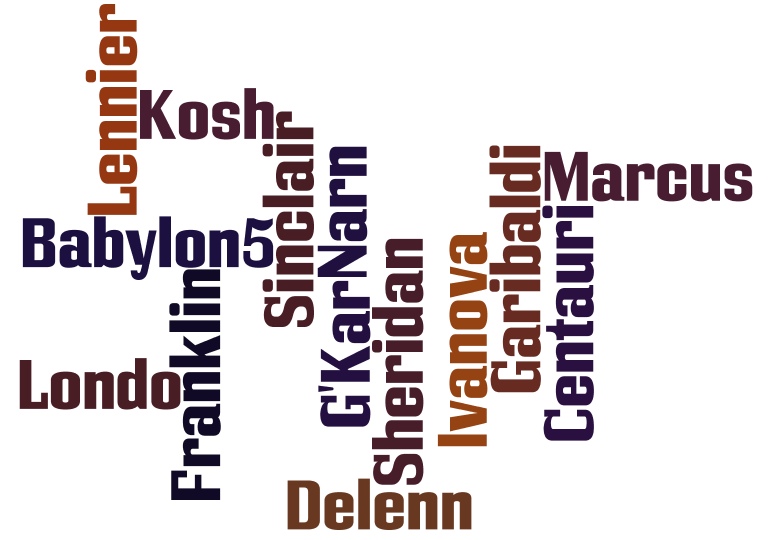 Welcome and thank you for dropping by. Babylon 5 brought many of us together -- and it remains with us, despite the fact that is no longer in production. The good thing is that the internet gives a LOT of ways to stay in touch. Don't be shy. Join in the discussion today or drop by Facebook or Twitter.

If you have questions or items for the news, drop me a line at sgbruckner@aol.com.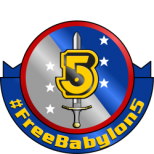 SUNDAY, SEPTEMBER 15, 2013
#FREEBABYLON5
The Voice of the Resistance has started. Become part of the avalanche! Make your own video. Tag it FreeBabylon5, Babylon 5 and Warner Bros. Entertainment. Email your video link to FreeBabylon5@gmail.com and we will help you spread the message. "
There are more talented folks out there who can make more videos. Let's create our own Voice of Free Babylon 5!

WEEKEND BOX OFFICE
Marking another big win for horror, James Wan's Insidious 2 topped the Friday box office with roughly $20 million in ticket sales, the highest single day gross ever for the month of September and putting the movie on course to cross $40 million in its North American debut.
From FilmDistrict and costing a mere $5 million to make, Insidious 2 even has a shot at becoming the top September opener of all time. Sony's Hotel Transylvania (2012) is the current record-holder ($42.5 million). Insidious 2 also may eclipse the $41.9 million opening of New Line's The Conjuring, which currently boasts the top horror opening of 2013.
Insidious 2, produced by horror masters Jason Blum and Oren Peli, returns Patrick Wilson and Rose Byrne in the title roles. It opens more than two years after the original Insidious turned into a sleeper hit, opening to $13.3 million on its way to grossing north of $54 million domestically and $43 million internationally.
Both films were co-financed and co-produced by Blum's Blumhouse, Entertainment One (Alliance) and IM Global.
From a script by Leigh Whannell, Insidious 2 follows the Lambert family as they seek to understand the mysterious childhood secret that has left them dangerously connected to the spirit world. Lin Shaye and Ty Simpkins also star.
Executive producers are Steven Schneider, Brian Kavanaugh-Jones, Charles Layton, Peter Schlessel, Lia Buman and Xavier Marchand.
FilmDistrict is targeting younger moviegoers, focusing on females and Hispanics. It hosted a number of fan events and conducted a grassroots campaign at Comic-Con, among numerous other promotions.
Luc Besson's star-studded dark mob comedy, The Family, is the weekend's other new nationwide offering. The film is expected to open to $15 million after earning $5.4 million on Friday, putting it at No. 2.
With a cast led by Tommy Lee Jones, Robert De Niro and Michelle Pfeiffer, The Family was produced for $30 million by Relativity Media and Besson's EuropaCorp media. The movie, playing heavily to adults, is likely being hurt by poor reviews and a C CinemaScore from moviegoers. Still, it will represent one of De Niro's best openings outside of the Meet the Fockers franchise. The Family revolves around Mafia boss Fred Blake (De Niro), who enters the Witness Protection program with his family after snitching on the mob. The family, however, can't help but get into trouble after being relocated to a sleepy town in France, despite the best efforts of a government agent (Jones) to keep them in line. Dianna Argon and John D'Leo also star.

AGENTS OF S.H.I.E.L.D.
In anticipation of their new series, of which a new TV spot debuted this morning, Marvel Entertainment and ABC have revealed the official website for the upcoming "Marvel's Agents of S.H.I.E.L.D."
Clark Gregg reprises his role as Agent Phil Coulson from Marvel's feature films as he assembles a small, highly select group of Agents that also includes: Brett Dalton as Agent Grant Ward, Iain De Caestecker as Agent Leo Fitz, Elizabeth Henstridge as Agent Jemma Simmons, Ming-Na Wen as Agent Melinda May and Chloe Bennet as the mysterious computer hacker Skye.
"Marvel's Agents of S.H.I.E.L.D." will premiere on ABC on Tuesday, September 24 at 8 p.m.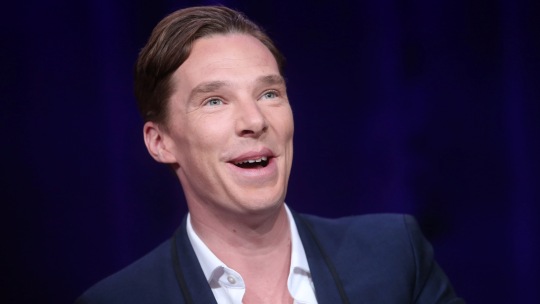 SATURDAY,SEPTEMBER 14, 2013
BENEDICT CUMBERBATCH TALE OF KIDNAPPING
Benedict Cumberbatch is a great actor, stealing scenes in everything from "Sherlock" to "Star Trek into Darkness" to the upcoming "The Fifth Estate." Everyone knows that these days. But did you know that Cumberbatch was once kidnapped in South Africa?
The bizarre tale came out during an interview with The Hollywood Reporter. Amidst questions about "The Fifth Estate," in which Cumberbatch plays Wikileaks hero/villain Julian Assange, the actor described the incident from about a decade ago.
Cumberbatch and two friends were heading back to the set of a miniseries ("To the Ends of the Earth") after a weekend of diving. They ended up traveling at night through the KwaZulu-Natal region of South Africa and had to stop for car trouble.
"It was cold, and it was dark. I felt rotten. We were wary because that's a notoriously dangerous place to drive," Cumberbatch explained. "Then, poof, the front-right tire blows. So we got the spare, but that meant getting all of our luggage out. We were like sitting ducks, adverts for -- not prosperity necessarily but materialism."
At this point, six armed men appeared and demanded money, drugs and weapons from the three travelers. Then, the kidnappers drove away with Cumberbatch and his friends bound in the car -- the actor later was placed in the trunk.
The group eventually did stop in the middle of nowhere. "I was scared, really scared. I said: 'What are you going to do with us? Are you going to kill us?' I was really worried that I was going to get raped or molested or just tortured or toyed with in some way, some act of control and savagery."
Fortunately for the victims of this crime, the kidnappers eventually left the group alone in that location. A local man later found and unbound them. Cumberbatch was mostly happy to just be alive. "It really, really enriches your values in life," he says. "It's incredibly important."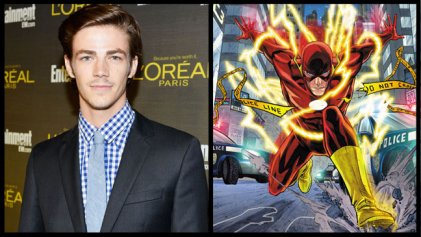 THE FLASH
With shooting set to start soon on the first few cameos, the producers of Arrow have finally cast the small screen version of The Flash. So, who will be bringing Barry Allen to life?
As has been rumored in recent days, Glee co-star Grant Gustin, 23, will portray The Flash in episodes 8, 9 and 20 of Arrow's second season. He'll also anchor the planned spin-off series, assuming The CW picks it up (which seems pretty likely at the moment).
He's definitely an interesting choice, seeing as he's almost a decade younger than Arrow star Stephen Amell, 32. The producers have said The Flash will have a lighter tone, and Gustin's baby face definitely fits the bill.
This adaptation of the character will be introduced as a forensic scientist in episodes 8 and 9, with his return appearance in episode 20 serving as a backdoor pilot.
Along with the casting scoop, The Hollywood Reporter also scored a few more details about the character's introduction. Here's an excerpt:
Barry Allen is described a Central City assistant police forensic investigator who arrives in Starling to look into a series of unexplained robberies that may have a connection to a tragedy in his past. A comic book fan boy, Barry is obsessed with the Arrow unaware that working with Oliver and Felicity to solve the crime has brought him right into the dangerous world of the vigilante.
The second season of Arrow debuts on October 9, and we should get to meet Gustin's version of Barry Allen by the end of the year.
THE WALKING DEAD
Rick and his battle-weary society of survivors on The Walking Dead are about to get the last thing they need — a new freakin' threat that is "not really walkers" nor is it "other people," co-executive producer Denise Huth teases in the following extended preview of the AMC smash's fourth season (bowing Sunday, Oct. 13). "The relative safety that they've created at the prison begins to fall apart."
Um, if it's not zombies, and it's not humans… Then what is it?!
"You can't put your finger on where it's going to come next," adds EP Greg Nicotero, allowing only that "it's from the inside."
That ominous spoiler is but one of the many newsworthy nuggets dispensed in the four-minute video, which, in addition to featuring interviews with the cast and EPs, includes a generous amount of never-before-seen footage. Among the highlights:
* New showrunner Scott M. Gimple reveals the length of the time jump between Seasons 3 and 4.
* We get a first look at Carl interacting with his new age-appropriate friends.
* Michonne cracks a smile, and it's directed at [spoiler].
* Carol forms a day school, featuring the popular class Knife Fighting for Self Defense.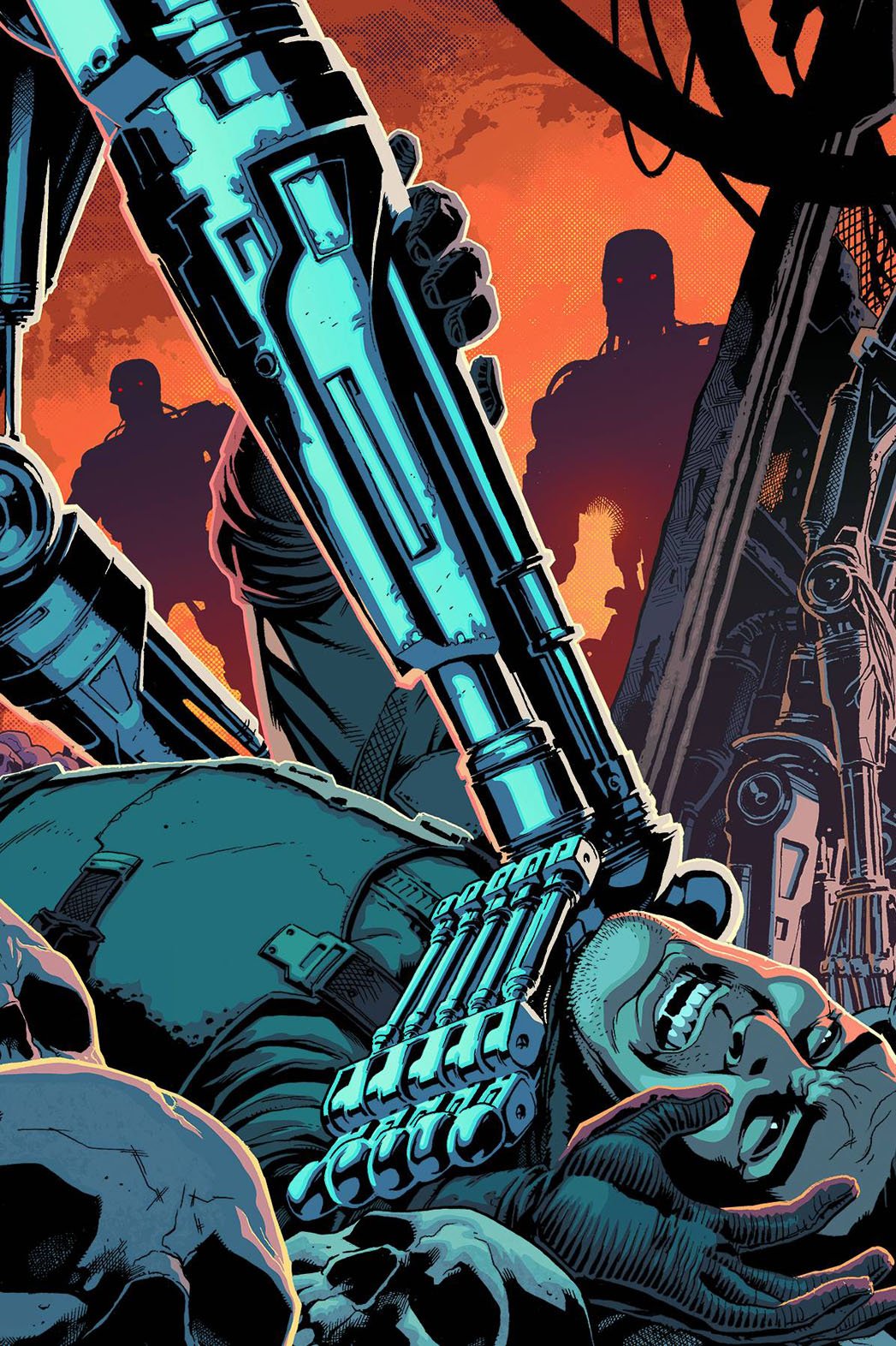 TERMINATOR SALVATION: FINAL BATTLE
The big-screen reboot of the Terminator franchise -- which may or may not be directed by Thor: The Dark World's Alan Taylor -- is still some years away. But that doesn't mean that fans of unstoppable killing machines that travel through time will be starved of the sight of a John Connor/Skynet clash in the meantime, as this winter sees J. Michael Straczynski launching a new comic series about the end of the Machine War.
Announced at this summer's San Diego Comic-Con, Straczynski and artist Pete Woods are responsible for Terminator Salvation: Final Battle, a new yearlong series spinning out of the most recent installment of the movie series from Dark Horse Comics this December.
The first issue is advertised with the plot summary: "Hopping between the future and the past, this sweeping, 12-issue epic counts down the end of the Machine War -- but not the one fans expect! Everything's at stake, and the fates of Skynet and John Connor will be told!"
Given that we know that there's a reboot of the entire franchise on the way, what is the possibility that Straczynski will have the chance to wrap up the first incarnation of the story, which has theoretically stretched from the first movie in the 1980s all the way through the more recent Salvation?
Terminator Salvation: Final Battle will be released on December 4.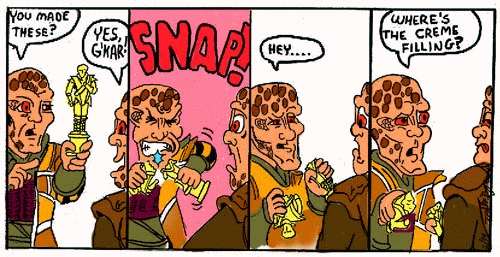 BABYLON 5 TOONS
Ranger Todd has created some amazing toons that he has allowed me to share here and on Facebook. Be sure to check them out. Wonderful stuff. Thanks Todd.
SCIENCE FICTION NEWS STORIES:
Did you miss the news from yesterday -- or earlier in the week. Catch up by going to the News Archive. It will bring you up to date for all that has been going on in the world of science fiction.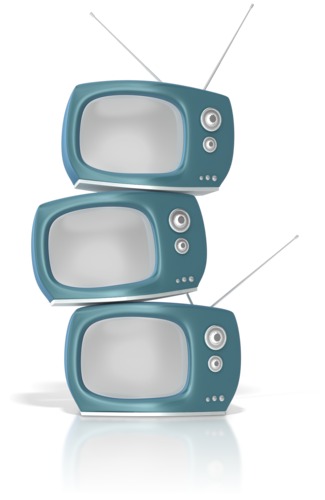 ON THE TUBE TONIGHT
8:00pm on AMC
Breaking Bad Episode: To'hajiilee S05, E13 (First Aired: Sep. 08, 2013)
Things heat up for Walt.

8:00pm on BBC America
The League of Extraordinary Gentlemen (2003)
Allan Quatermain, Capt. Nemo, Dorian Gray, Dr. Jekyll, Tom Sawyer and others unite to stop a mad bomber. Sean Connery, Shane West, Stuart Townsend, Richard Roxburgh, Peta Wilson

8:00pm on FX
X-Men: First Class (2011)
Charles Xavier and Erik Lehnsherr work with other mutants to prevent a nuclear nightmare, but a situation soon tears the close friends apart. James McAvoy, Michael Fassbender, Rose Byrne, Jennifer Lawrence, January Jones

8:00pm on Hallmark
Cedar Cove Episode: Old Flames, New Sparks S01, E09 (First Aired: Sep. 14, 2013)
Grace finds herself drawn to two different men; Jack worries about Olivia getting closer to her ex-husband; Seth and Justine take their relationship to the next level; Maryellen and John grow closer but his secretive behavior makes Maryellen worry.

8:00pm on Syfy
X-Men 2 (2003)
After a mutant-hating militarist named Stryker invades their school, the X-Men must join forces with Magneto to rescue Professor Xavier and neutralize the threat posed by Stryker. Patrick Stewart, Hugh Jackman, Ian McKellen, Halle Berry, Famke Janssen

8:00pm on TNT
The Dark Knight (2008)
Batman has to keep a balance between heroism and vigilantism to fight a vile criminal known as the Joker, who would plunge Gotham City into anarchy. Christian Bale, Heath Ledger, Aaron Eckhart, Michael Caine, Maggie Gyllenhaal

9:00pm on AMC
Breaking Bad Episode: Ozymandias NEW S05, E14
Everyone tries to cope during vastly changed circumstances.

10:00pm on CBS
The Mentalist Episode: Red John's Rules S05, E22 (First Aired: May. 05, 2013)
As Jane pares down the Red John suspect list, a new victim -- with a link to Jane's past -- is discovered.

KEEPING UP WITH CAST AND CREW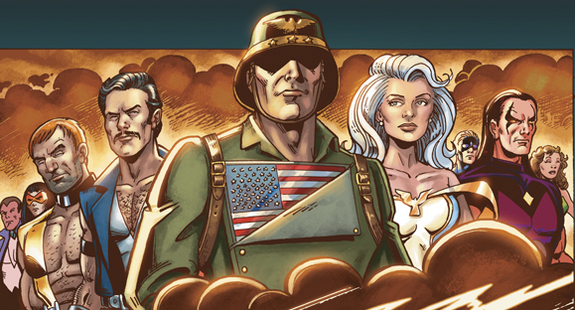 THE PROTECTORS - NEW FROM JMS
What's it like to be a hero in a world without villains? In PROTECTORS, INC., the life of a superhero is wonderful, thanks to a bevy of corporate sponsors, an adoring public, polite rivalries, sports franchises, and best of all, no super-powered bad guys to worry about. Wonderful, that is, until a hero is murdered in such a way that the only possible culprit is an unknown person with superpowers, throwing the status quo into upheaval. PROTECTORS, INC. comes from a place of deep appreciation for genre fiction.
"I've always loved superhero stories told from the bottom-up, from the point of view of ordinary people caught up in extraordinary circumstances, between people with massive amounts of power that can be used for good or ill," says Straczynski. "The book is a twelve-issue maxiseries, a superhero story crossed with a mystery and a procedural police story, and should be a fun read for folks interested in any one of those three genres."
The latest project from writer J. Michael Straczynski (TEN GRAND, SIDEKICK, RISING STARS) and artist Gordon Purcell (Star Trek: The Next Generation/Doctor Who, The X-Files), PROTECTORS, INC. focuses on Lieutenant Detective John Riley's search for the truth behind the murder of a being that shouldn't have been able to be murdered by anyone. Nothing is as it seems, however, and Riley's case will lead to a fifty-year-old secret, love affairs, and possibly even more death.
Purcell is equally excited and ready to unleash PROTECTORS, INC. on the world.
"Protectors, Inc. is one of the best projects I've ever worked on! Joe's script (I have all 12 issues here!) is fantastic and fascinating, and I feel like I'm drawing on all my comic experience to flesh out the Protectors world. I'm so jazzed to be able to share this project with the fans! Dig in–this is tasty stuff!"
PROTECTORS, INC. #1 will be in stores on November 6, is currently available to pre-order from the September issue of Previews, and features two separate covers. Cover A (Diamond Code SEP130489) features art by Gordon Purcell and Mike Atiyeh, while Cover B (Diamond Code SEP130489) features art by Whilce Portacio and Mike Atiyeh.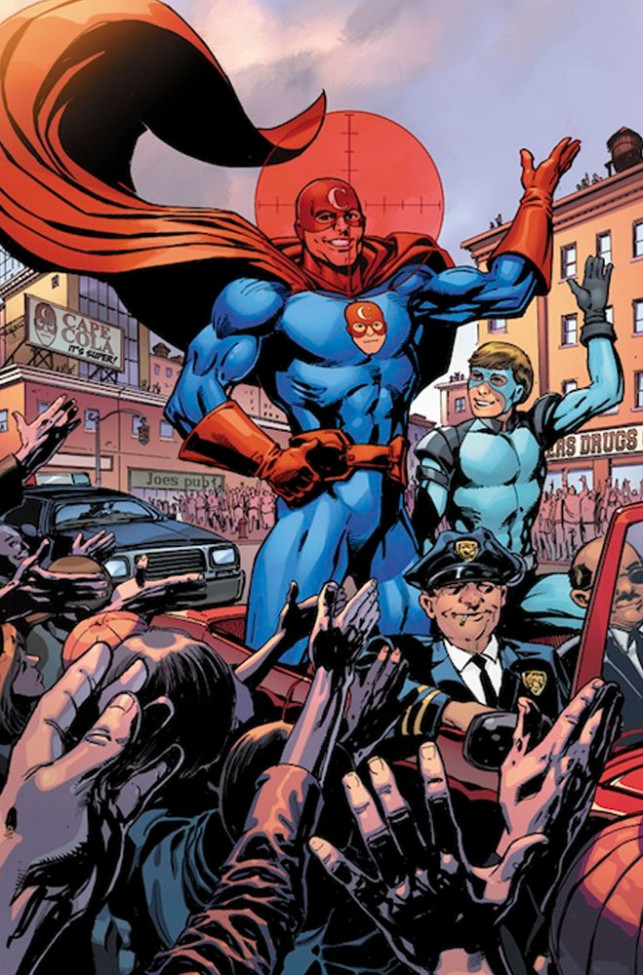 SIDEKICK AUDIO ONE
For those who bought issue 1 of Sidekick and missed or can't use the QR code for the audio track, it can be found at http://studiojms.com/sidekick-audio-one/.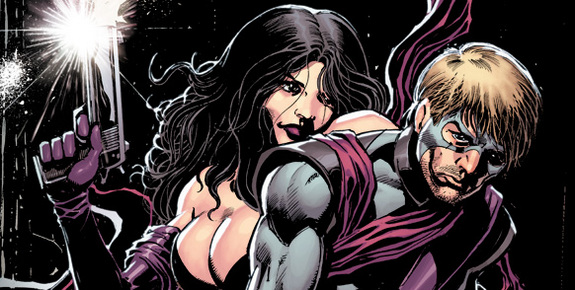 JMS' SIDEKICK
From Newsarama.com:
J. Michael Straczynski has a lot to say about superheroes; for years he's said it at Marvel and DC with the biggest characters in the world. But what he's saying now in his new Image series Sidekick with artist Tom Mandrake is something the Big Two would never let him say on his own.
Launched earlier this month via his Joe's Comic imprint at Image, Sidekick follows the life of a superhero sidekick named Flyboy who finds himself washed-up after his partner and mentor Red Cowl is assassinated. Pigeon-holed by his career as a sidekick and still carrying around the memories of his partner's tragic death, Flyboy is walking down a dark path – and it looks to be getting darker every issue.
With Sidekick #2 scheduled for release on September 11, Newsarama spoke with JMS about this stunning superhero portrayal and how years writing for the Big Two inspired him to tell this story on his own.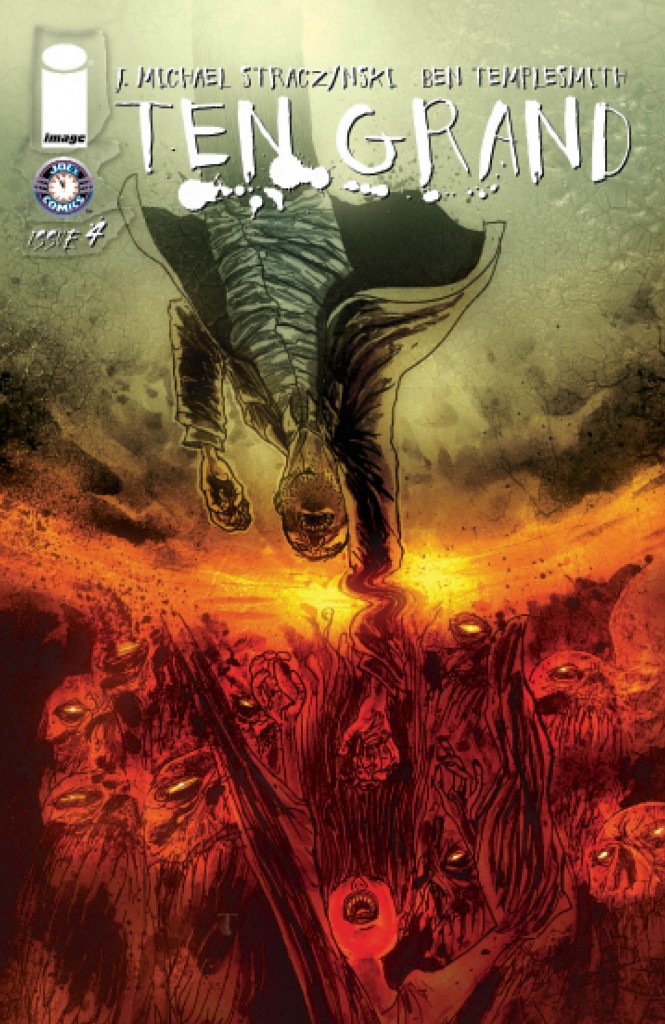 JMS' TEN GRAND #4
IGN has posted a review of Issue #4 of TEN GRAND by J. Michael Straczynski, calling it "one of the most morbid, ominous and dark comics out on shelves right now. Much of the book revolves around the idea of death, after all. But since its first issue its one of the books I can't wait for every month.
The Ten Grand team continues to consistently fill every page with meaningful progression. As a result this issue retains the series' potency and Straczynski and Templesmith build another successful chapter in what's shaping up to be one of the best stories in comics this year." This is just one of many rave reviews for the work of JMS and Ben Templesmith (artist).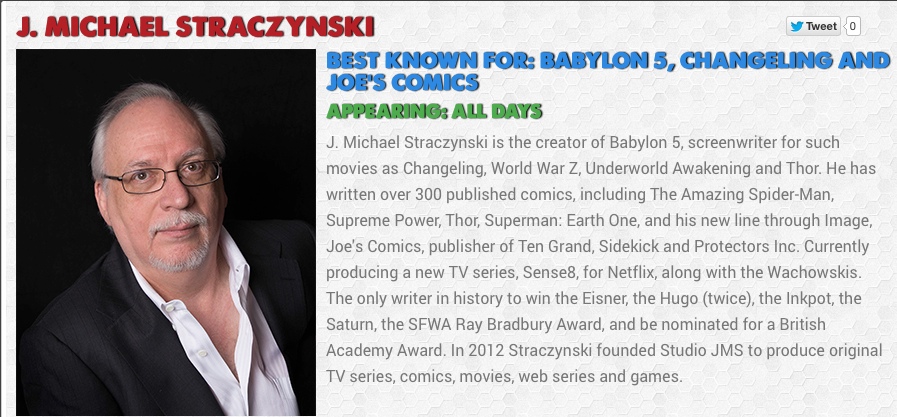 J. MICHAEL STRACZYNSKI - NEW YORK COMIC CON ADDS WRITING WORKSHOP IN OCTOBER
New York Comic Con has just announced that JMS will be a guest Oct 10-13. For more information, go to http://www.newyorkcomiccon.com/.
Two new reviews, for Sidekick 1 and Ten Grand 4, in stores now:
http://www.comichype.com/2013/08/06/j-michael-straczynskis-ten-grand-4-review/ and http://robpatey.com/2013/08/06/sidekick-1-review-joes-comics/.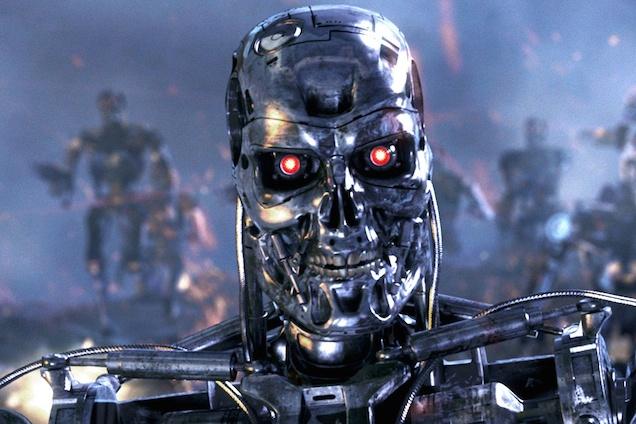 TERMINATOR: THE FINAL BATTLE
Update and sample page of the upcoming Terminator comic:
"Aaand I just turned in the script for issue two of Terminator: The Final Battle. Here's the b&w inked cover page for issue one. Tired but pleased."
Aaand I just turned in the script for issue two of Terminator: The Final Battle. Here's the b&w inked cover page for issue one. Tired but pleased.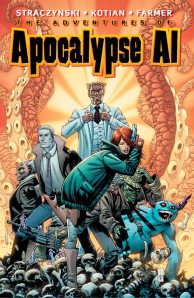 APOCALYPSE AL
From JMS about the long-awaited Adventures of Apocalypse Al:
"Yesterday I got the first 69 inked pages of The Adventures of Apocalypse Al, coming out later this year through MTV.com.
Beautiful work by Sid Kotian (who will be doing Dream Police for us once he's done with Al). Very excited. I think this is going to be a real sleeper hit. Here's a glimpse of page two...."
Yesterday I got the first 69 inked pages of The Adventures of Apocalypse Al, coming out later this year through MTV.com. Beautiful work by Sid Kotian (who will be doing Dream Police for us once he's done with Al). Very excited. I think this is going to be a real sleeper hit. Here's a glimpse of page two.... PENDRAGON P.I. - HELP JASON CARTER
Want to see British actor Jason Carter (Marcus on the classic hit sci-fi series Babylon 5) return as an unconventional private investigator who's a bit of Sherlock Holmes, a splash of Sam Spade, and a dash of The Doctor?
Jason Carter is working with Jerry Seward, creator and executive producer of an independent movie pilot titled Pendragon, P.I.that They are developing a gifted and accomplished production team to produce this series. Jason will play the lead, a man who - along with his helper Lucy (played by April Washko) - relies on his deductive skills to sort through a maze of clues in an attempt to solve the case of mysterious disappearances in a small, lakeside town where impossible things happen.
For more information on how you can help, go to http://www.indiegogo.com/projects/help-get-pendragon-p-i-jason-carter-project-made?show_todos=true. BILL MUMY - ACTOR/COMIC AUTHOR/MUSICIAN
BILL MUMY is quite a musician as well as a marvelous actor. We all know and love him as Lennier, but here is a link to his latest CD "Illumination" http://gragroup.com/bill_mumy.html. The CD can also be purchased on iTunes and Amazon.
After nearly 2 years of waiting Bill Mumy is back with a new release. Bill's latest release Illuminations is truly a masterpiece of Americana music. This album continues the musical format journey that Bill has been developing over his last three albums, Carnival Sky, Glorious in Defeat and Until the Big Bang Whimpers were all leading up to the pinnacle and that is Bill's latest release Illuminations.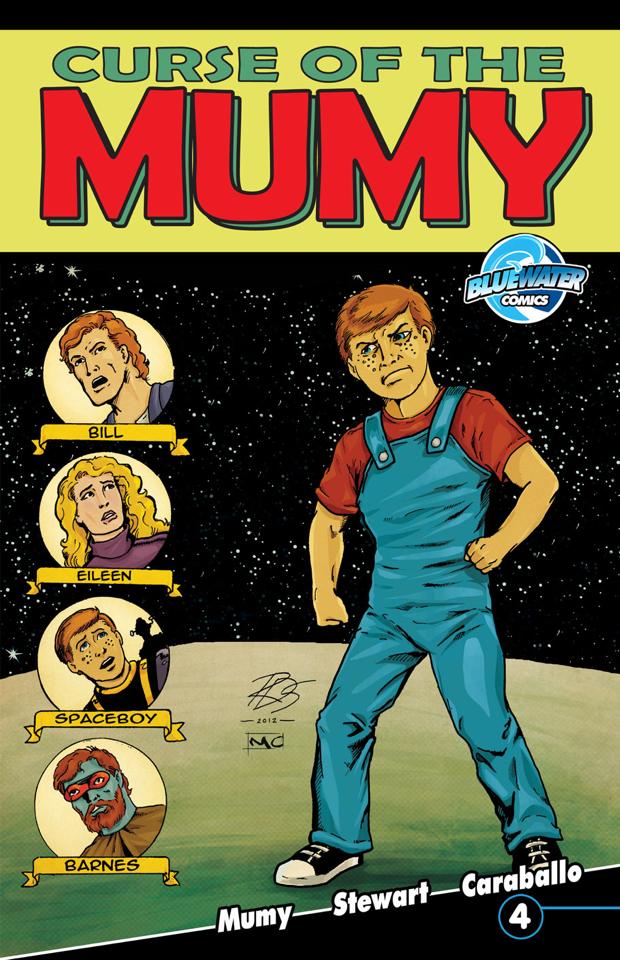 THE CURSE OF THE MUMY - Issue #4
Issue #4 The Curse of the Mumy continues...
You can order an issue at http://www.comicfleamarket.com/servlet/the-432/Curse-of-the-Mumy/Detail.


THE ZOCALO ON FACEBOOK
I hope that you will join us over on FACEBOOK. We have a great discussion group, tons of visuals and just a nice group of people participating on the page every day. Do drop over and stay a while.
READER'S CORNER
If anyone would like to submit reports from a convention they recently attended or items they would like to share with fellow Zocalo readers, please send them along to me at sgbruckner@aol.com. I will happily open up a new page for any submissions you care to send along.
BABYLON 5 20TH ANNIVERSARY BOOK - PRICES GOING UP SOON
FIRST EVER BABYLON 5 BOOK PRINTED EXCLUSIVELY IN COLOR
Not just full color, but the actual colors of the sets, costumes and props. Extensive care was taken to ensure that the final pages precisely matched the color qualities of the original photographs, which were taken on set during production. B5-20 covers everything from the pilot through The Lost Tales.
DETAILS ABOUT THE PHYSICAL BOOK
256 pages. 753 images. 150gsm heavy-weight paper designed for high-resolution, full-color printing. Matte finish. Extra durable WIBALIN® cloth cover. WIBALIN® slipcase. Title and B5-20 logo embossed with foil stamping. Ribbon bookmark.
A NOTE ABOUT THE BINDING
We used the highest quality Smyth-sewn binding. This means the book lays flat for every page. More importantly, the pages will not pull away from the binding (nor will the spine crack) because the pages are NOT glued.
HOW THIS OVERSIZED BOOK IS BEING SHIPPED
We had a custom shipping box made to the exact specs of the book. It is a padded, double-walled bumper box that will withstand the weight of this book during shipping. The book itself is shrink-wrapped for authenticity and additional protection. Your B5-20 is guaranteed to arrive in perfect condition and if not, we will pay all expenses to get you one in pristine condition (including return shipping, and this does include international orders.) There is zero risk to you.
For more information on this magnificant volume, go to b5books.com.




Here is a quote from J. Michael Straczynski about emotions.
I had this theory that the more important and intimate the emotion, the fewer words are required to express it.

First it's in dating: "Will you go out with me?" Six words.
"Honey, I care for you." Five words.
"You matter to me." Four words.
"I love you." Three words.
"Marry me." Two words.
But what's left? What's the one most important and intimate word you can ever say to somebody? It's "goodbye."

While Michael O'Hare (Sinclair), Andreas Katsulas (G'Kar), Rick Biggs (Dr. Franklin), Tim Choate (Zathras) and Jeff Conoway (Zach Allen) are no longer with us, we will not forget their wonderful personalities and talent -- as well as their significant contributions to the BABYLON 5 universe. Be sure to visit In Memory Of for more information about memorial efforts.
Until we met again, in a place where no shadows fall.
BABYLON 5 BIRTHDAYS
Pat Tallman - September 4
Cinzia Zanetti - September 5
Robin Atkin Downes - September 6
Mira Furlan - September 7
Walter Koenig - September 14
Paul Williams - September 19
Robert Rusler - September 20
Gary Cole - September 20
Bear Burge - September 23
Jason Carter - September 23
Manny Case - September 23

Have I missed anyone? If you know the birthday of someone connected with Babylon 5, pass the information along. We want to include everyone in our Happy Birthday Wishes.


BABYLON 5 PRESENCE ON FACEBOOK
I know a lot of you are already on FaceBook. However, I don't know if you knew how many other Babylon 5 folks have taken the plunge and opened FaceBook accounts. In fact, Pat Tallman has reopened her Fan Club using FaceBook at the site. For a peek, go to http://www.facebook.com/group.php?gid=45593318387. Claudia Christian has been really active -- sharing pictures of her recent trips and letting us know about upcoming convention activities. J. Michael Straczynski (JMS) has a FaceBook page as well as a new "Fans of J. Michael Straczynski" page. So check it out!

NEW BOOKS OF INTEREST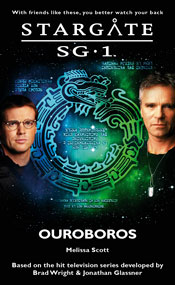 STARGATE SG-1: Ouroboros
From the pen of Melissa Scott (co-author of the STARGATE ATLANTIS Legacy series) comes STARGATE SG-1: Ouroboros, a fast paced adventure taking Colonel O'Neill and his team into new and dangerous territory. Oh, and if you're a fan of STARGATE Legacy, watch out for a few familiar faces along the way… These books are now available for the kindle as well as paperback. Go to www.stargatenovels.com to order or to to Amazon.com.

Have you read a good book lately? Do you want to share your thoughts? That is what I'm doing over at Book Reviews. I have gotten a number of marvelous books to review related to film making and I want to share my observations with you. If you have books you'd like to post, send them along.
NEW DVDS OF INTEREST
For information on new DVDs coming out that may be of interest to you, go to New DVD Releases for more information.
BABYLON 5 MUSIC VIDEOS AND TRIBUTES
John Hudgens has created many Babylon 5 videos, but I believe this is the most moving. It was first shown at the Phoenix Comic Con 20th Anniversary and honors many of the Babylon 5 family who have passed on.

Here is a link to John's Babylon 5 videos:
https://www.youtube.com/user/Babylon5MusicVideos?feature=watch

Richard Biggs memorial: http://www.youtube.com/watch?v=HyD4L8yNtsA

Andreas Katsulas memorial: http://www.youtube.com/watch?v=h2UQ2l9NPIg

- This is the extended version that I did for Andreas' widow ater the original cut was released on the net. It's never been seen online until now.

For those of you who've never seen these, I hope you enjoy them - and for those that have (and emailed me many times over the years about releasing them), I hope they're as good as you remember. Working with Joe on these videos was one of the highlights of my career, and I'll be forever grateful to him for the doors these have opened for me. I'm proud to have them on my resume.

John Hudgens
www.zteamproductions.com
---





Salute to SUPERNATURAL
Dates: September 20-22, 2013
Place: Dallas, Texas - Westin Park Central Hotel
Guests: Jensen Ackles, Jared Padalecki, Misha Collins, Mark Sheppard and more
For more information, go to http://www.creationent.com/cal/supernatural_dallas.htm. New York Comic Con
Dates: October 10-13, 2013
Place: Javits Center, NYC
Guests: J. Michael Straczynski
For more information go to http://www.newyorkcomiccon.com/. Salute to SUPERNATURAL
Dates: October 11-13, 2013
Place: Toronto, Canada - Westin Harbour Castle
Guests: Jensen Ackles, Jared Padalecki, Misha Collins, Mark Sheppard and more
For more information, go to http://www.creationent.com/cal/supernatural_toronto.htm. Spooky Empire's Ultimate Horror Weekend
Date: October 25-27, 2013
Place: Doubletree Universal, Orlando, FL
Just added, special guest George Romero
For more information, go to www.spookyempire.com. STEEL CITY CON
Dates: December 6-8, 2013
Place: Monroeville Convention Center, Monroeville, PA
Guests: Star Trek's George Takei, Terminator's Michael Biehn, Catherine Bach, Kyle Szymanski and more.
For more information, go to http://www.steelcitycon.com. SPACE CITY CON
Dates: January 3-5, 2014
Place: Galveston City, Texas
Guests: Claudia Christian, Mira Furlan, Bill Mumy. Peter Jurasik, Stephen Furst, Pat Tallman, Julie Caitlin Brown, Tracey Scoggins, Jerry Doyle
For more information, go to http://spacecitycon.com/.

FARPOINT
Dates: February 15-17, 2014
Place: Corwne Plaza, Baltimore, MD
Guests: Melissa McBride, others to be named shortly
For more information, go to . SPECIAL ANNOUNCEMENTS!
Creation Entertainment has a large number of conventions planned for the next several months. They include stars from TWILIGHT, SUPERNATURAL, STARGATE, FARSCAPE, XENA, SERENITY, STAR TREK, etc. Check out their calendar to see if one will be in your neighborhood soon. Don't miss their Videos page as well. It is full of some priceless video from a number of conventions.

Be sure to visit the referenced sites to see if there have been changes in dates/guests attending. Visit our Convention Calendar for a full listing of upcoming conventions.
BACK ISSUES OF THE ZOCALO TODAY
The front page of the The Zocalo Today changes daily, so be sure to check the back issues to make sure that you haven't missed anything IMPORTANT! I hope you will become a regular visitor to The Zocalo Today!
---
Take care and I look forward to hearing from you.
Sandra Bruckner (sgbruckner@aol.com)
Editor/Publisher
ISN News: The Zocalo Today
http://www.isnnews.net
Copyright - SBruckner, 1999-2013