[an error occurred while processing this directive]

The Zocalo Today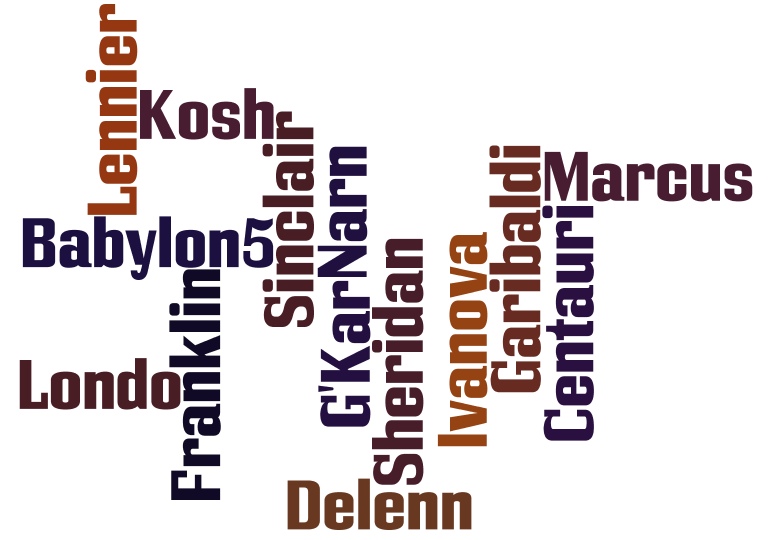 Welcome and thank you for dropping by. Babylon 5 brought many of us together -- and it remains with us, despite the fact that is no longer in production. The good thing is that the internet gives a LOT of ways to stay in touch. Don't be shy. Join in the discussion today or drop by Facebook or Twitter.

If you have questions or items for the news, drop me a line at sgbruckner@aol.com.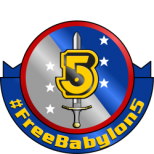 SUNDAY, SEPTEMBER 22, 2013
WEEKEND BOX OFFICE
Denis Villeneuve's $30 million dark crime thriller Prisoners topped the Friday box office with $7 million, putting the movie on course for a solid $20 million debut.
Fully financed and produced by Alcon Entertainment, the Hugh Jackman and Jake Gyllenhaal starrer is being fueled by adults, who gave the film a B+ CinemaScore. Warner Bros. is distributing the movie, which opens in roughly the same corridor that the studio used to launch Ben Affleck's Argo last year.
Also starring Viola Davis, Maria Bello, Terrence Howard and Paul Dano, Prisoners tells the story of two families whose daughters are kidnapped. Jackman's character, the father of one of the girls, begins to clash with the police detective in charge of the investigation (Gyllenhaal) and takes matters into his own hands.
Prisoners made its world premiere at the Telluride Film Festival this month before heading to the Toronto Film Festival.
Insidious 2, which opened to a rousing $40.3 million last weekend, is expected to take in north of $13 million to in its second outing, a solid number for a genre film and putting the film at No. 2. By Sunday, the film's domestic cume will be roughly $60 million for FilmDistrict and the producers.
Overall box-office revenue isn't expected to be hurt by this week's release of video game Grand Auto Theft V -- which has already racked up an unprecedented $1 billion in worldwide sales in its first three days of release -- since none of the new offerings directly goes after the video game audience. Prisoners is being billed as an adult drama, while Sony/Screen Gems' Chris Brown 3D dance movie Battle of the Year will cater to younger females.
Battle of the Year, the weekend's only other new nationwide release, may have trouble crossing $4 million in its debut, a dismal number. Costing $20 million to produce and directed by Benson Lee, the 3D movie stars Brown opposite Josh Holloway, Laz Alonso, Josh Peck and Caity Lotz. The film is based on Lee's documentary about break dancing.
Imax's exclusive 3D release of The Wizard of Oz is doing impressive business, opening to $753,000 on Friday from 318 theaters for a projected weekend gross of $2.5 million.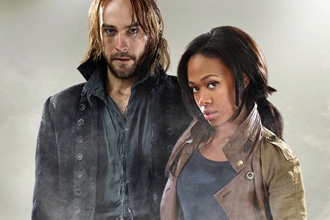 SLEEPY HOLLOW NEWS
Even with a strong live ratings start, Fox's fantasy mystery drama "Sleepy Hollow" still managed to make a remarkable impression when DVR usage was taken into account.
The September 16th debut episode jumped 43% in Live + 3 ratings, nabbing a 5.0 rating & 13.2 million viewers compared with the Live + Same Day numbers which were a 3.5 rating & 10.1 million viewers.
That makes it the best debut for a Fox fall drama series since the launch of "24" (5.4/13) all the way back in 2001. The jump of 1.5 ratings points is also the biggest new series L+3 jump this year - more than "Revolution" (1.4), "The Following" (1.1) or "Under The Dome" (0.9).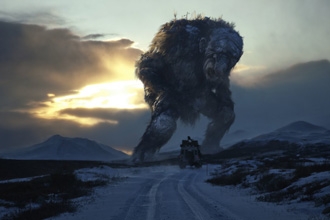 THE TROLL HUNTER
"The Descent" director Neil Marshall has been set to rewrite and direct the $25 million English-language remake of the 2010 Norwegian cult hit "Troll Hunter" at IMG Global.
The original followed a group of students investigating a series of mysterious bear killings. They soon come upon a mysterious hunter, and learn the creatures responsible won't just confine their killing to that species.
Marshall will get to work re-writing an earlier script draft from Marc Haimes. He'll also soon secure a lead for the film, and is aiming for a big name actor not normally associated with the genre.
Christopher Columbus, Michael Barnathan, John Jacobsen and Sveinung Golimo are producing. Filming is scheduled to begin in early 2014.
Before he films that, Marshall will head to Ireland to shoot the biggest episode of the fourth season of "Game of Thrones." The episode in question is said to be on the scale of Marshall's last episode for the series - the highly acclaimed "Blackwater".
SATURDAY, SEPTEMBER 21, 2013
FIREFLY COMIC COMING
Good news, "Firefly" fans: the beloved Joss Whedon series lives to see another day after all.
According to Comic Book Resources, Dark Horse Comics is launching a "Firefly" comic book series called "Serenity" that will take place after the events of the 2005 movie. Better yet, "Buffy the Vampire Slayer" artist Georges Jeanty will be behind the comic. This news was first teased back in August.
The new "Serenity" comic book series will begin with Mal and his group recouperating from their attach on the Alliance. CBR writes, "With River Tam in the co-pilot chair and a very pregnant Zoe reeling from the death of her husband, Wash, Mal is finding himself and his ship in greater danger than ever."
The writer of the comic book series has not been announced yet.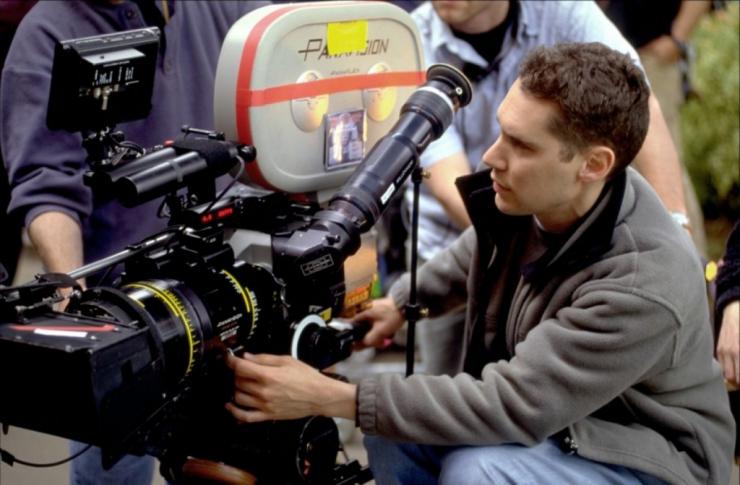 CREATURE AT BAY
In addition to getting the X-Men back on track, Bryan Singer just took on an intriguing new project.
Singer is developing a new series called Creature at Bay for Syfy, which has just received a 90-minute pilot script order. The series will be set in a small-town in the weeks and months following a Kaiju monster attack.
Here's how Deadline describes the project:
Creature At Bay is set in the wake of the US military taking down a giant, rampant creature — a modern-day "Kaiju" monster – just off the Northern California coast. A middle-management Undersecretary from the California Emergency Management Agency is charged with leading the clean-up efforts as the small town becomes the focus of the entire world.
Singer is signed on to produce the series, while the pilot will be written by John Cabrera. Cabrera co-created the acclaimed H+ digital series in a previous collaboration with Singer, which is a pretty solid pedigree. H+ is awesome, and Cabrera definitely knows how to build suspense.
This is definitely one of the most intriguing sci-fi projects we've heard about in a while, and it could make for a fascinating jumping off point for a full series.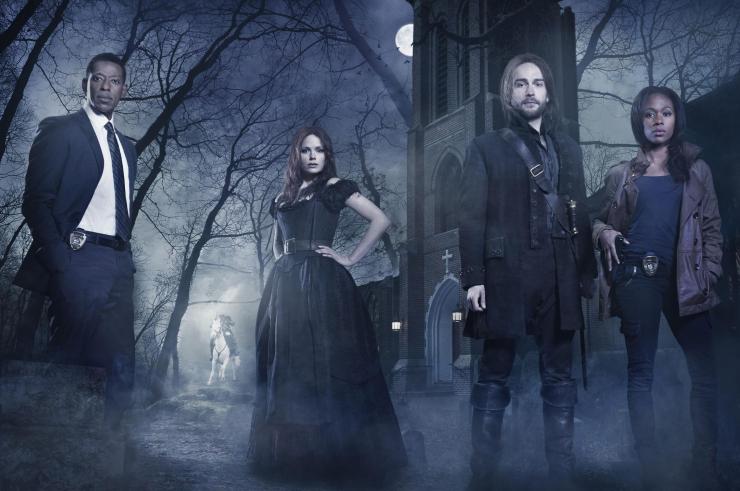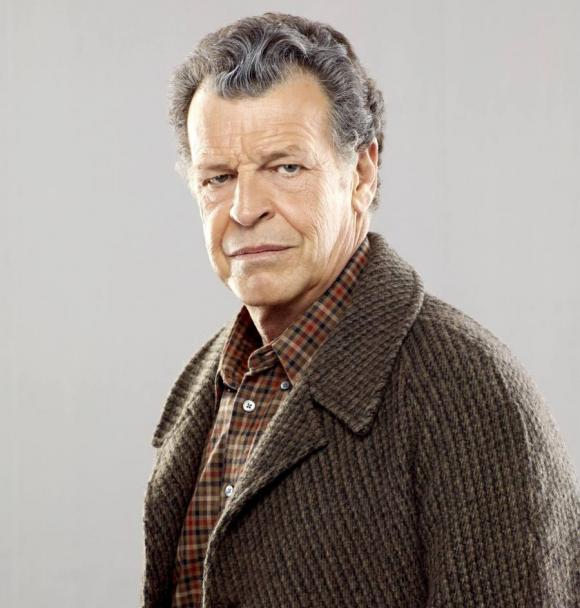 SLEEPY HOLLOW NEWS
Just when you thought the cast of Sleepy Hollow couldn't get more awesome.
According to Deadline, Fringe (and The Lord of The Rings) actor John Noble is set to star in a major recurring role on Fox's new hit drama series Sleepy Hollow.
The actor is thus reuniting with Fox, as well as with Fringe co-creators Alex Kurtzman and Roberto Orci—who co-created and executive produce Sleepy Hollow.
Noble will appear later in the season as Henry Parrish, who is described as "a kind and reclusive man who possesses supernatural powers that have the potential to help the series' protagonist, Ichabod Crane (Tom Mison)."
This exciting casting news comes hot on the heels of the casting of True Blood and Grimm star James Frain in upcoming multiple episodes. Perhaps this is when Noble's character will be of help to Ichabod against Frain's "modern-day nobleman" named Rutledge?
With John Cho (Star Trek) and fan-favorite Clancy Brown (Highlander) having both appeared in last week's season premiere, we gotta say Sleepy Hollow's main cast—as well as its roster of guest-stars—are looking rather impressive to us.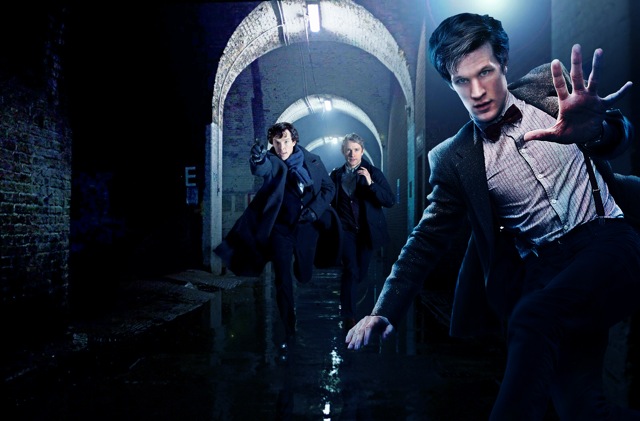 NEW HULU ADDITIONS
'Doctor Who' and 'Sherlock' will now be joining the many popular TV shows available through the American based HULU Plus service.
The subscription service, which offers video streaming of TV and movies, has entered a non-exclusive multi-year agreement with BBC Worldwide North America. The deal also includes many other popular BBC shows.
Richard Hammond's Crash Course is also available to stream for Plus members, starting today (September 18).
Meanwhile, Top Gear, MI-5 (known as Spooks in the UK), Luther and Fawlty Towers will be added in the autumn.
It was recently announced that BBC America's documentary series The Doctors Revisited will air in the UK on Watch later this year.
Showrunner Steven Moffat also stated that Sherlock could not go on without stars Benedict Cumberbatch and Martin Freeman.
#FREEBABYLON5
The Voice of the Resistance has started. Become part of the avalanche! Make your own video. Tag it FreeBabylon5, Babylon 5 and Warner Bros. Entertainment. Email your video link to FreeBabylon5@gmail.com and we will help you spread the message. "
There are more talented folks out there who can make more videos. Let's create our own Voice of Free Babylon 5!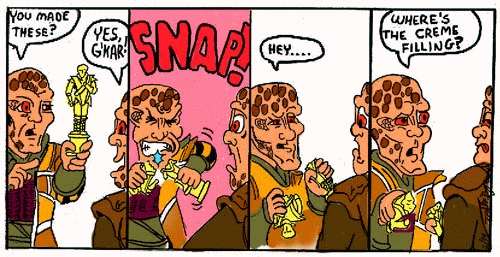 BABYLON 5 TOONS
Ranger Todd has created some amazing toons that he has allowed me to share here and on Facebook. Be sure to check them out. Wonderful stuff. Thanks Todd.
SCIENCE FICTION NEWS STORIES:
Did you miss the news from yesterday -- or earlier in the week. Catch up by going to the News Archive. It will bring you up to date for all that has been going on in the world of science fiction.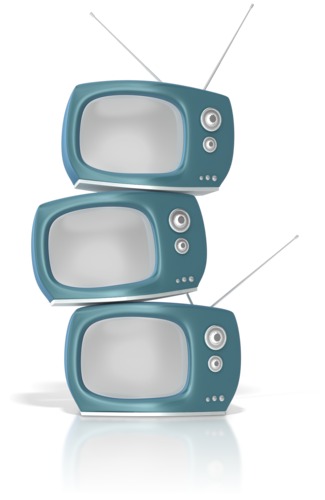 ON THE TUBE TONIGHT
8:00pm on ABC
Once Upon a Time Episode: And Straight on 'Til Morning S02, E22 (First Aired: May. 12, 2013)
Storybrooke's inhabitants brace themselves as Greg and Tamara activate the trigger within the curse; Mr. Gold mourns; Hook rescues Bae, who is being pursued by the Lost Boys.

8:00pm on CBS
The 65th Primetime Emmy Awards LIVE
Honoring excellence in television, at the Nokia Theater in Los Angeles; Neil Patrick Harris hosts.

8:00pm on AMC
Breaking Bad Episode: Ozymandias S05, E14 (First Aired: Sep. 15, 2013)
Everyone tries to cope during vastly changed circumstances.

9:00pm on ABC Family
Pirates of the Caribbean: On Stranger Tides (2011)
Capt. Jack Sparrow encounters a woman from his past, who forces him to go aboard Blackbeard's ship on a quest to find the legendary Fountain of Youth. Suggested by a novel by Tim Powers. Johnny Depp, Penélope Cruz, Ian McShane, Geoffrey Rush, Astrid Bergès-Frisbey

9:00pm on AMC
Breaking Bad Episode: Granite State NEW S05, E15
A conclusion closes in from events set in motion long ago.

9:00pm on Syfy
Ghost Rider (2007)
A motorcycle stuntman who sold his soul to save a loved one becomes a fiery agent for justice at night in the presence of evil. Based on the comic book. Nicolas Cage, Eva Mendes, Wes Bentley, Sam Elliott, Donal Logue

10:00pm on BBC America
Copper Episode: The Place I Called My Home NEW S02, E13
Corcoran, Morehouse and Freeman join the effort to hunt down John Wilkes Booth; Tammany Hall finds an unlikely successor.

KEEPING UP WITH CAST AND CREW
BILL MUMY - ACTOR/COMIC AUTHOR/MUSICIAN
Been really busy for the last several days... writing final scripting tweaks on the "Curse of the Mumy" comic book issue # 4, Shooting on location for a new "Illuminations" video, voice over auditions, writing two other new spec projects... (who knows?)... wrote a new song yesterday... and I'm writing new instrumental music for a soundtrack to a novel... (interesting!)... AND, this Friday, I'll be on a panel with Marc Vahanian at the Billy Wilder Theater in Westwood at a screening of Stanley Kramer's "Bless the Beasts & Children"... come on down and see the film.

CD "Illumination" http://gragroup.com/bill_mumy.html. The CD can also be purchased on iTunes and Amazon.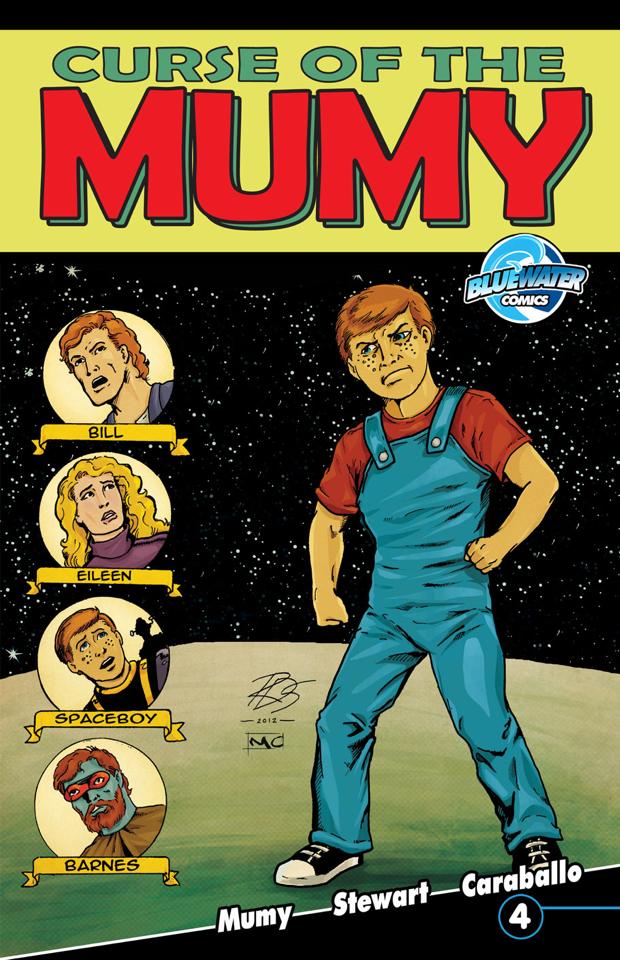 THE CURSE OF THE MUMY - Issue #4
Issue #4 The Curse of the Mumy continues...
You can order an issue at http://www.comicfleamarket.com/servlet/the-432/Curse-of-the-Mumy/Detail.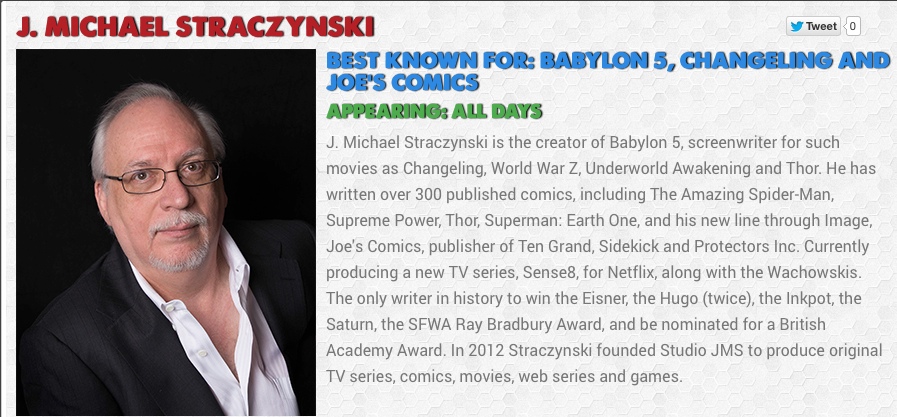 J. MICHAEL STRACZYNSKI - NEW YORK COMIC CON ADDS WRITING WORKSHOP IN OCTOBER
Revised NYCC Schedule:
Friday 12:30 writing workshop 1a03; 4:00 signing with Tom Mandrake at table dd10 for Sidekick 3; 5:15 MTV panel about The Adventures of Apocalypse Al.
Saturday: spotlight at 12:15 in 1a14; 2:00 JMS signing and distribution window for convention variant issue 1 of Protectors, Inc. at table dd10. 500 copies, first come, first gone.
For more information, go to http://www.newyorkcomiccon.com/.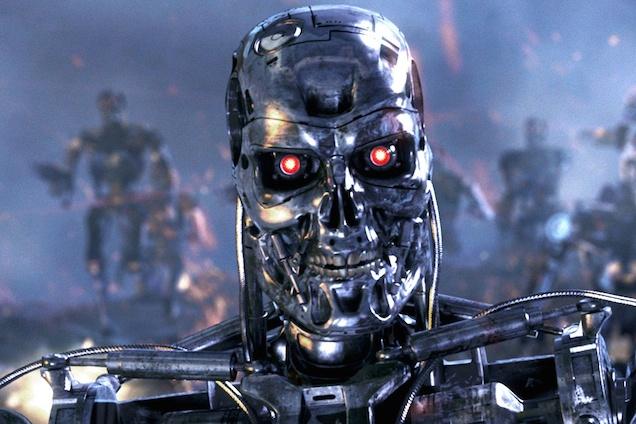 TERMINATOR: THE FINAL BATTLE
Update and sample page of the upcoming Terminator comic:
"Aaand I just turned in the script for issue two of Terminator: The Final Battle. Here's the b&w inked cover page for issue one. Tired but pleased."
Aaand I just turned in the script for issue two of Terminator: The Final Battle. Here's the b&w inked cover page for issue one. Tired but pleased.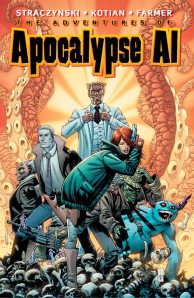 APOCALYPSE AL
From JMS about the long-awaited Adventures of Apocalypse Al:
"Yesterday I got the first 69 inked pages of The Adventures of Apocalypse Al, coming out later this year through MTV.com.
Beautiful work by Sid Kotian (who will be doing Dream Police for us once he's done with Al). Very excited. I think this is going to be a real sleeper hit. Here's a glimpse of page two...."
Yesterday I got the first 69 inked pages of The Adventures of Apocalypse Al, coming out later this year through MTV.com. Beautiful work by Sid Kotian (who will be doing Dream Police for us once he's done with Al). Very excited. I think this is going to be a real sleeper hit. Here's a glimpse of page two....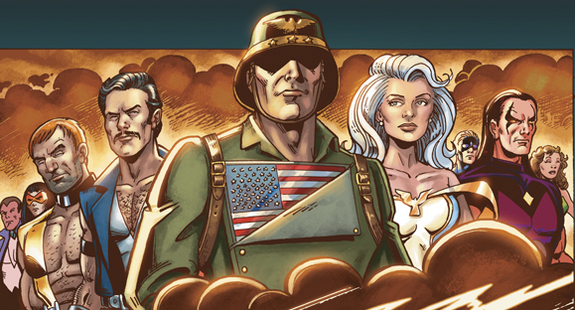 THE PROTECTORS - NEW FROM JMS
What's it like to be a hero in a world without villains? In PROTECTORS, INC., the life of a superhero is wonderful, thanks to a bevy of corporate sponsors, an adoring public, polite rivalries, sports franchises, and best of all, no super-powered bad guys to worry about. Wonderful, that is, until a hero is murdered in such a way that the only possible culprit is an unknown person with superpowers, throwing the status quo into upheaval. PROTECTORS, INC. comes from a place of deep appreciation for genre fiction.
"I've always loved superhero stories told from the bottom-up, from the point of view of ordinary people caught up in extraordinary circumstances, between people with massive amounts of power that can be used for good or ill," says Straczynski. "The book is a twelve-issue maxiseries, a superhero story crossed with a mystery and a procedural police story, and should be a fun read for folks interested in any one of those three genres."
The latest project from writer J. Michael Straczynski (TEN GRAND, SIDEKICK, RISING STARS) and artist Gordon Purcell (Star Trek: The Next Generation/Doctor Who, The X-Files), PROTECTORS, INC. focuses on Lieutenant Detective John Riley's search for the truth behind the murder of a being that shouldn't have been able to be murdered by anyone. Nothing is as it seems, however, and Riley's case will lead to a fifty-year-old secret, love affairs, and possibly even more death.
Purcell is equally excited and ready to unleash PROTECTORS, INC. on the world.
"Protectors, Inc. is one of the best projects I've ever worked on! Joe's script (I have all 12 issues here!) is fantastic and fascinating, and I feel like I'm drawing on all my comic experience to flesh out the Protectors world. I'm so jazzed to be able to share this project with the fans! Dig in–this is tasty stuff!"
PROTECTORS, INC. #1 will be in stores on November 6, is currently available to pre-order from the September issue of Previews, and features two separate covers. Cover A (Diamond Code SEP130489) features art by Gordon Purcell and Mike Atiyeh, while Cover B (Diamond Code SEP130489) features art by Whilce Portacio and Mike Atiyeh. PENDRAGON P.I. - HELP JASON CARTER
Want to see British actor Jason Carter (Marcus on the classic hit sci-fi series Babylon 5) return as an unconventional private investigator who's a bit of Sherlock Holmes, a splash of Sam Spade, and a dash of The Doctor?
Jason Carter is working with Jerry Seward, creator and executive producer of an independent movie pilot titled Pendragon, P.I.that They are developing a gifted and accomplished production team to produce this series. Jason will play the lead, a man who - along with his helper Lucy (played by April Washko) - relies on his deductive skills to sort through a maze of clues in an attempt to solve the case of mysterious disappearances in a small, lakeside town where impossible things happen.
For more information on how you can help, go to http://www.indiegogo.com/projects/help-get-pendragon-p-i-jason-carter-project-made?show_todos=true.
THE ZOCALO ON FACEBOOK
I hope that you will join us over on FACEBOOK. We have a great discussion group, tons of visuals and just a nice group of people participating on the page every day. Do drop over and stay a while.
READER'S CORNER
If anyone would like to submit reports from a convention they recently attended or items they would like to share with fellow Zocalo readers, please send them along to me at sgbruckner@aol.com. I will happily open up a new page for any submissions you care to send along.
BABYLON 5 20TH ANNIVERSARY BOOK
FIRST EVER BABYLON 5 BOOK PRINTED EXCLUSIVELY IN COLOR
Not just full color, but the actual colors of the sets, costumes and props. Extensive care was taken to ensure that the final pages precisely matched the color qualities of the original photographs, which were taken on set during production. B5-20 covers everything from the pilot through The Lost Tales.
DETAILS ABOUT THE PHYSICAL BOOK
256 pages. 753 images. 150gsm heavy-weight paper designed for high-resolution, full-color printing. Matte finish. Extra durable WIBALIN® cloth cover. WIBALIN® slipcase. Title and B5-20 logo embossed with foil stamping. Ribbon bookmark.
A NOTE ABOUT THE BINDING
We used the highest quality Smyth-sewn binding. This means the book lays flat for every page. More importantly, the pages will not pull away from the binding (nor will the spine crack) because the pages are NOT glued.
HOW THIS OVERSIZED BOOK IS BEING SHIPPED
We had a custom shipping box made to the exact specs of the book. It is a padded, double-walled bumper box that will withstand the weight of this book during shipping. The book itself is shrink-wrapped for authenticity and additional protection. Your B5-20 is guaranteed to arrive in perfect condition and if not, we will pay all expenses to get you one in pristine condition (including return shipping, and this does include international orders.) There is zero risk to you.
For more information on this magnificant volume, go to b5books.com.




Here is a quote from J. Michael Straczynski about emotions.
I had this theory that the more important and intimate the emotion, the fewer words are required to express it.

First it's in dating: "Will you go out with me?" Six words.
"Honey, I care for you." Five words.
"You matter to me." Four words.
"I love you." Three words.
"Marry me." Two words.
But what's left? What's the one most important and intimate word you can ever say to somebody? It's "goodbye."

While Michael O'Hare (Sinclair), Andreas Katsulas (G'Kar), Rick Biggs (Dr. Franklin), Tim Choate (Zathras) and Jeff Conoway (Zach Allen) are no longer with us, we will not forget their wonderful personalities and talent -- as well as their significant contributions to the BABYLON 5 universe. Be sure to visit In Memory Of for more information about memorial efforts.
Until we met again, in a place where no shadows fall.
BABYLON 5 BIRTHDAYS
Pat Tallman - September 4
Cinzia Zanetti - September 5
Robin Atkin Downes - September 6
Mira Furlan - September 7
Walter Koenig - September 14
Paul Williams - September 19
Robert Rusler - September 20
Gary Cole - September 20
Bear Burge - September 23
Jason Carter - September 23
Manny Case - September 23

Have I missed anyone? If you know the birthday of someone connected with Babylon 5, pass the information along. We want to include everyone in our Happy Birthday Wishes.


BABYLON 5 PRESENCE ON FACEBOOK
I know a lot of you are already on FaceBook. However, I don't know if you knew how many other Babylon 5 folks have taken the plunge and opened FaceBook accounts. In fact, Pat Tallman has reopened her Fan Club using FaceBook at the site. For a peek, go to http://www.facebook.com/group.php?gid=45593318387. Claudia Christian has been really active -- sharing pictures of her recent trips and letting us know about upcoming convention activities. J. Michael Straczynski (JMS) has a FaceBook page as well as a new "Fans of J. Michael Straczynski" page. So check it out!

NEW BOOKS OF INTEREST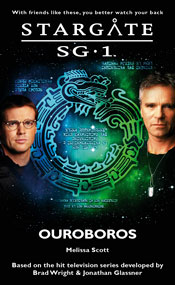 STARGATE SG-1: Ouroboros
From the pen of Melissa Scott (co-author of the STARGATE ATLANTIS Legacy series) comes STARGATE SG-1: Ouroboros, a fast paced adventure taking Colonel O'Neill and his team into new and dangerous territory. Oh, and if you're a fan of STARGATE Legacy, watch out for a few familiar faces along the way… These books are now available for the kindle as well as paperback. Go to www.stargatenovels.com to order or to to Amazon.com.

Have you read a good book lately? Do you want to share your thoughts? That is what I'm doing over at Book Reviews. I have gotten a number of marvelous books to review related to film making and I want to share my observations with you. If you have books you'd like to post, send them along.
NEW DVDS OF INTEREST
For information on new DVDs coming out that may be of interest to you, go to New DVD Releases for more information.
BABYLON 5 MUSIC VIDEOS AND TRIBUTES
John Hudgens has created many Babylon 5 videos, but I believe this is the most moving. It was first shown at the Phoenix Comic Con 20th Anniversary and honors many of the Babylon 5 family who have passed on.

Here is a link to John's Babylon 5 videos:
https://www.youtube.com/user/Babylon5MusicVideos?feature=watch

Richard Biggs memorial: http://www.youtube.com/watch?v=HyD4L8yNtsA

Andreas Katsulas memorial: http://www.youtube.com/watch?v=h2UQ2l9NPIg

- This is the extended version that I did for Andreas' widow ater the original cut was released on the net. It's never been seen online until now.

For those of you who've never seen these, I hope you enjoy them - and for those that have (and emailed me many times over the years about releasing them), I hope they're as good as you remember. Working with Joe on these videos was one of the highlights of my career, and I'll be forever grateful to him for the doors these have opened for me. I'm proud to have them on my resume.

John Hudgens
www.zteamproductions.com
---





Salute to SUPERNATURAL
Dates: September 20-22, 2013
Place: Dallas, Texas - Westin Park Central Hotel
Guests: Jensen Ackles, Jared Padalecki, Misha Collins, Mark Sheppard and more
For more information, go to http://www.creationent.com/cal/supernatural_dallas.htm. New York Comic Con
Dates: October 10-13, 2013
Place: Javits Center, NYC
Guests: J. Michael Straczynski
For more information go to http://www.newyorkcomiccon.com/. Salute to SUPERNATURAL
Dates: October 11-13, 2013
Place: Toronto, Canada - Westin Harbour Castle
Guests: Jensen Ackles, Jared Padalecki, Misha Collins, Mark Sheppard and more
For more information, go to http://www.creationent.com/cal/supernatural_toronto.htm. Spooky Empire's Ultimate Horror Weekend
Date: October 25-27, 2013
Place: Doubletree Universal, Orlando, FL
Just added, special guest George Romero
For more information, go to www.spookyempire.com. STEEL CITY CON
Dates: December 6-8, 2013
Place: Monroeville Convention Center, Monroeville, PA
Guests: Star Trek's George Takei, Terminator's Michael Biehn, Catherine Bach, Kyle Szymanski and more.
For more information, go to http://www.steelcitycon.com. SPACE CITY CON
Dates: January 3-5, 2014
Place: Galveston City, Texas
Guests: Claudia Christian, Mira Furlan, Bill Mumy. Peter Jurasik, Stephen Furst, Pat Tallman, Julie Caitlin Brown, Tracey Scoggins, Jerry Doyle
For more information, go to http://spacecitycon.com/.

FARPOINT
Dates: February 15-17, 2014
Place: Corwne Plaza, Baltimore, MD
Guests: Melissa McBride, others to be named shortly
For more information, go to . SPECIAL ANNOUNCEMENTS!
Creation Entertainment has a large number of conventions planned for the next several months. They include stars from TWILIGHT, SUPERNATURAL, STARGATE, FARSCAPE, XENA, SERENITY, STAR TREK, etc. Check out their calendar to see if one will be in your neighborhood soon. Don't miss their Videos page as well. It is full of some priceless video from a number of conventions.

Be sure to visit the referenced sites to see if there have been changes in dates/guests attending. Visit our Convention Calendar for a full listing of upcoming conventions.
BACK ISSUES OF THE ZOCALO TODAY
The front page of the The Zocalo Today changes daily, so be sure to check the back issues to make sure that you haven't missed anything IMPORTANT! I hope you will become a regular visitor to The Zocalo Today!
---
Take care and I look forward to hearing from you.
Sandra Bruckner (sgbruckner@aol.com)
Editor/Publisher
ISN News: The Zocalo Today
http://www.isnnews.net
Copyright - SBruckner, 1999-2013