[an error occurred while processing this directive]

The Zocalo Today

Welcome and thank you for dropping by. Take your shoes off, get comfortable and stay a while. There is a LOT of information here and you won't want to miss any of it.

The Zocalo Today is an interactive newsletter, encouraging readers to join a discussion topic or to send along letters that can be shared with other readers.

The Zocalo Today is a newsletter for Babylon 5 and science fiction fans everywhere. It is as much YOUR newsletter as it is mine! I'm just pulling together things for you!

Join our discussion topic. It is just one way you can share with other Z readers. If you see Babylon 5 cast and crew in other roles, let us know. We enjoy convention reports, photos, etc. Don't miss our back issues. I hope this will become more than just a newsletter. It's a community of people that enjoy sharing their experiences and interests. Babylon 5 brought many of us together -- and it remains with us, despite the fact that is no longer in production. Don't be shy. Join us today!

If you have questions, drop me a line at sgbruckner@aol.com. If you would like to join the mailing list for our newsletter, send me a note and I'll include you on the list. Or you can use the subscription block at the left.

Again, WELCOME!



TODAY'S NEWS
Saturday, January 15, 2005:
NEW SCI FI PROGRAMMING:
SCI FI Channel announced that it was developing a slate of new shows, including several that build on the success of its hit series GHOST HUNTERS and SCARE TACTICS, and stretch the boundaries of reality TV. The following project was given the green light for production:

-Master Blasters, a half-hour weekly documentary-style show produced by First Television, pits teams of amateur rocket scientists against each other in a race to design, build and launch some bizarre things into orbit, from rocket-bolstered La-Z-Boys to fuel-injected Mini Coopers.

The following alternative series are in development:

-Gordian, a half-hour weekly animated series from First Television, depicts a futuristic world where humans and robots live side by side. It centers on ex-video jockey Jake Gordian and his band of laser-cowboys, robots, animal freaks and talking body parts.

-Mind Game, an hourlong weekly series produced by Hallock-Healey Entertainment (Scare Tactics), is a reality competition series in which contestants must rely on their powers of observation, recall, judgment and intuition to collect clues and be the first to claim the grand prize. The Mastermind, a mysterious unseen figure, will guide contestants through a series of situations that offer signs to advance them toward their goal.

-The Gauntlet, a weekly reality competition produced by Reveille and Hoegl/Singer, in association with Princess Productions, challenges contestants to navigate an elaborate, futuristic maze over a 24-hour period, with no sunlight, no rest and, seemingly, no way out.

-Dallas in Wonderland, a weekly half-hour reality series executive produced by R.J. Cutler, from Actual Reality Pictures, is hosted by Dallas Campbell, who undergoes a bizarre set of challenges, from applying to NASA to become an astronaut to asking the Raelians to clone him.

-Still in Search of (working title), a half-hour documentary spoof of the original series In Search of ... , from FremantleMedia North America, is hosted by Jonathan Frankle, who investigates paranormal phenomena on a shoestring budget, but instead finds trouble with his producer and crew.

Previously announced alternative series in development include Monster Smash, which puts a SCI FI spin on competitive wrestling by introducing fictitious, genetically engineered monsters into the sport, and Amazing Screw On Head, an animated series about a robot secret agent charged with defending President Lincoln against a band of evil villains. The series is written by Bryan Fuller (Dead Like Me) and Mike Mignola (Hellboy), based on his comic.
---
THE DA VINCI CODE:
French film star Jean Reno will play Detective Bezu Fache in greatly anticipated THE DA VINCI CODE movie. Tom Hanks has already been cast as symbologist Robert Langdon, the man that discovers hidden clues in the works of the legendary European genius that hint to a great secret the Church doesn't want revealed. Reno has had major parts in GODZILLA, the first MISSION: IMPOSSIBLE film and RONIN. The DA VINCI CODE will be directed by Ron Howard, with filming slated to begin later this year for a May 19, 2006 release.
---
TOP SCIENCE FICTION NEWS STORIES:
To see what has been happening this week in science fiction, go to News Page.
---
WHAT'S ON THE TUBE TONIGHT
On Network/Cable:
6:00pm on UPN
Star Trek: Enterprise
Daedelus
The inventor of the transporter device tests new transporter upgrades on the Enterprise.

8:00pm on NBC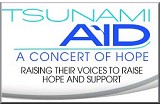 "A Concert of Hope"
The LIVE "Tsunami Aid" concert telethon raises money for the Red Cross International Response Fund. This is the most important show on television tonight. Performers already on the books to entertain viewers include Madonna, Sheryl Crow, Diana Ross, Stevie Wonder, Maroon 5, Norah Jones, Sarah McLachlan, Mary J. Blige, Lenny Kravitz, John Mayer, Eric Clapton, Kenny Chesney, Gloria Estefan, Elton John and Nelly. Presidents George Bush and Bill Clinton will be featured in a special appeal. This commercial free telethon will also be shown on Bravo, Trio, SCI FI, PAX, Telemundo, MSNBC and CNBC.
10:00pm on A&E
"MI-5"
MI-5 persuades a renowned chemical engineer and Nobel Prize winner to help set a trap for terrorist groups, telling him that it's in the best interests of England. But Tom (Matthew MacFadyen), fearing for the good man's life, begins to put his safety first, threatening the operation.
On Sci-Fi:
5:30pm
Indiana Jones and the Temple of Doom
Jones, a singer and an orphan look for missing stones.
8:00pm
Tsunami Aid: A Concert of Hope
Raising funds to help tsunami survivors.
10:00pm
Indiana Jones and the Last Crusade
Archaeologist Jones rescues his kidnapped father, and the two race the Nazis to find the Holy Grail.
On Syndicated TV This Weekend:
Andromeda
The Test
A mysterious stranger torments the crew members with horrible visions of their past crimes.
Andromeda
When Goes Around ...
A stranger who holds the link between the past and Seefra's present pursues Dylan.
MacGyver
Unfinished Business
A beautiful woman (Kristian Alfonso) with a mission returns to kill MacGyver.
Mutant X
Power Play
Col. Aaron Gaumont (Stephen McHattie) threatens the world with nuclear holocaust.
Stargate SG-1
Space Race
Carter pairs with Warrick in a race in which more is at stake than a lucrative contract.
The Outer Limits
The Beholder
When a blind man regains his sight, he can see an alien.
The Twilight Zone
Future Trade; Found & Lost
An unhappy man trades his future for that of another, more-fortunate man.
A CALL TO ARMS - THE MEMORY OF SHADOWS
With time passing and no new information on the film project yet, an ad hoc group of fans have banded together in an effort to support the original cast as part of the project.

A letter writing and media campaign is now underway. Go to www.keepb5alive.com. Here you will find samples of letters you can use to voice your support and encourage Warner Bros. to include the original cast members in the upcoming movie. This is a call to action. With production scheduled to begin in April, we need to make our voice heard now. Write letters -- and include your BABYLON BUCKS -- a way of showing your financial support to the project.

Ask your friends for support. If you are part of a science fiction group, ask for their help as well. The more people who get involved, the better!

For more information on the project, go to The Memory of Shadows page here at The Zocalo Today.

Keep Babylon 5 Alive!
Support Our Cast!
DISCUSSION TOPICS
Topic #1:
"Out of all of the Sci-fi TV shows in the last 20 years, which 5 female characters are the most heroic and well-played by their actors and why?"

Topic#2:
Optional add-on to this: Who are the 2 most annoying female leads in Sc-fi TV in the last 20 years?

Send in your thoughts and comments to sgbruckner@aol.com and I will post them on the Discussion Page for everyone to share and enjoy. See what has come in so far. If you see an old topic you want to respond to, go right ahead. We enjoy hearing from you.
KEEPING UP WITH CAST AND CREW
ENID RAYE ADAMS:
Tony Tellado is currently running an audio interview with actress Enid Raye Adams who had a recurring role on JEREMIAH and she shared some nice behind the scenes memories. Visit http://www.scifitalk.com/ to listen to this and other interviews Tony has conducted with Babylon 5 cast members. Tony covers the science fiction landscape, interviewing people from STARGATE and other leading series -- and movies.
---
DYLAN NEAL:
Dylan Neal (David Martel "The Legend of the Rangers") will star in CHUPACABRA: DARK SEAS on SCIFI January 29 at 9:00pm. Here is the description of the movie.
A team of hunters captures a live Chupacabra, a monster said to prey on livestock and humans throughout Central America. Unfortunately, their attempt to smuggle it into the United States aboard a cruise ship goes fatally awry, and a squad of U.S. Navy SEALs is dispatched to terminate the creature before it turns all the hostage passengers into hors d'oeuvres. John Rhys-Davies (The Lord of the Rings trilogy, the Indiana Jones films, TV's Sliders), Dylan Neal (star of SCI FI Pictures' Babylon 5: The Legend of the Rangers) and Giancarlo Esposito (The Usual Suspects, the SCI FI Original Miniseries 5ive Days to Midnight, TV's Homicide: Life on the Street) star in this creepy man-vs.-monster adventure.
---
BRUCE BOXLEITNER:
Bruce has landed the role of Captain Duvall, the head of the King's Musketeers in "Young Blades", a $20 million series from producers Kirk Shaw and James Shavick ("The (new) Addams Family"). The action/adventure series follows the exploits of The Three Musketeers as sword-fighters-in training who will take on the Establishment and a mystical, evil society as they come of age in 17th century France. Well known Canadian actor Michael Ironside who has made most of his career playing heavies has been cast in the role of the evil Cardinal Mazarin. The series will premiere on January 23 on PAX TV.
---
STEPHEN AUSTIN: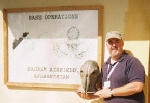 Our Pak'Ma'Ra Ambassador takes his stand-up comedy routine on the road. Here is his upcoming schedule:
THE ICE HOUSE ANNEX
Jan.16th, 2005, 8p
Pasadena, CA
www.theicehousecomedyclub.com

WIT'S END COMEDY CLUB
Jan. 19th - 22nd,2005
Westminster, CO
303-430-4242

THE LEGENDARY ICE HOUSE COMEDY CLUB
"Combat Comics" (CD Recording)
Jan. 26th, 2005, 8p
Pasadena, CA
www.theicehousecomedyclub.com

DOMENICO'S
Jan. 29th, 2005, 9p
Arcadia, CA
626-574-7433

Here is a link where you can see more of Stephen's tour of Afghanistan and other ports of call in the Middle East.
---
SPECIAL CAST ACTIVITIES: To learn more about what cast members are doing away from the tube, go to CAST ACTIVITIES page.
---
REMEMBERING RICHARD BIGGS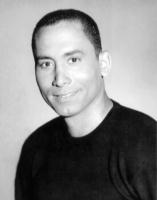 For those of you just coming to the site for the first time, this may be a shock, but Richard Biggs, the wonderful Dr. Stephen Franklin on Babylon 5, died on May 22 of an brain anyerism. There are many efforts underway to help with his two small children. Be sure to go to the Richard Biggs Memorial Page for more information.
A memorial fund has been set up for Richard's two small sons. Donations can be sent to:
For the benefit of the sons of Richard James Biggs II
Washington Mutual Bank
840 N. San Fernando Blvd.
Burbank, CA 91502
REMEMBERING TIM CHOATE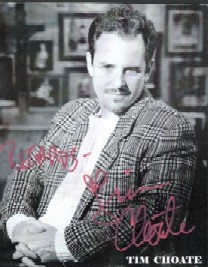 Tim Choate, the wonderful Zathras on Babylon 5, was killed when he was struck by a car while going to a play rehearsal on his motorcycle. A memorial fund has been set up in lieu of flowers for Tim. The address for the memorial fund is:

The Tim Choate Memorial Fund
P.O. Box 861355
Los Angeles, CA 90086

Proceeds will be placed in an educational trust for Flynn, who is 4 years old.
BABYLON 5 BIRTHDAYS
January 9 - David Allen Brooks
January 24 - Peter Woodward
January 27 - Julie Caitlin Brown
January 27 - Tamilyn Tomita Have I missed anyone? If you know the birthday of someone connected with Babylon 5, pass the information along. We want to include everyone in our Happy Birthday Wishes.
BABYLON 5 DVDS
CRUSADE DVD
Warner Bros Home Video has announced that the Babylon 5 spinoff, Crusade will hit DVD on December 7. The series stars Peter Woodward, Gary Cole, Marjean Holden, Tracy Scoggins, Daniel Dae Kim, David Allen Brooks and Carrie Dobro. This 13 episode series (576 mins) will be released in a 4 disc set, and carries a suggested price of $59.98 US. It'll contain an English Dolby Digital 5.1 audio track, along with English, French and Spanish subtitles. The video will be presented in the original aspect ratio: 1.33:1. We have little information on the special features, just that there will be audio commentaries and a documentary.

For those of you not familiar with CRUSADE, here is a synopsis of the plot:
In 2267 the Earth is quarantined, having been infected with a deadly plague by an attacking alien force. Scientists estimate that it will kill every inhabitant within 5 years, not nearly enough time for a cure to be developed. So the planet's only hope lies with the Excalibur, an advanced prototype starship sent out to search ancient alien ruins for their former inhabitant's secrets, hoping that somewhere out there a cure can be found.

For a review, go to Crusade Review.
For more information on the BABYLON 5 and CRUSADE DVDs, go to Babylon 5 DVDs Page.
NEW DVDS AND DVD REVIEWS

Here are a couple of fun DVD sets you may want to add to your collection. For anyone who enjoyed these cartoons as a kid -- you'll want to share them with your kids -- or even grandkids. The stories are good -- the animation still holds up after all these years!

For a listing of new DVDs, visit our NEW DVD Page. Here you will find information about new DVDs that may be of interest to you.

Also be sure to visit to the Review Page for a run down of what the DVD sets include.
SCIENCE FICTION PUBLICATIONS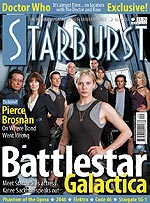 Starburst #330: BATTLESTAR GALACTICA: Galactica's Lt Kara 'Starbuck' Thrace, Katee Sackhoff tells us why she's now happy to roll with the punches. ST: ENTERPRISE's Dominic Keating (Lt Malcolm Reed) is excited about the show's future…and discovers that we can put a man on the Moon, but we can't make a spacesuit that's comfortable. History of Star Wars - the second of a six-part series brings you the history of the greatest Sci-Fi saga of them all. Look at the release of Episode V: The Empire Strikes Back.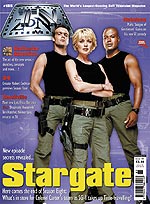 TV Zone #185: STARGATE SG-1: Executive producer Michael Greenburg talks about stories in Season Eight and hints that the best is yet to come! GALACTICA's Production designer Richard Hudolin discusses how he created the series' unique retro-futuristic look, in an extra-long feature packed with production artwork and design sketches. SMALLVILLE's got Lois Lane and newcomer Erica Durance steps into the shoes of Margot Kidder and Teri Hatcher to play Superman's future girlfriend.






Expose #91: Lemony Snicket's A Series of Unfortunate Events -- zany Jim Carrey stars as Count Olaf, the evil and multi-faced uncle of the unfortunate Baudelaire children. He reveals the inspiration for the many guises his character adopts in pursuit of his nefarious plans. Also, visit the set of Harry Potter's The Goblet of Fire, to reveal a shaggier look for Harry, and more stylish togs for the off-set Hermione.






Cult Times #112: FARSCAPE finally makes it's premiere in the UK and this issue brings an interview with director Brian Henson, one of the men who's been determinedly campaigning for the show's return. Also in this issue: Charmed's angelic Brian Krause tells us about the changes in store for Leo in Season Seven; WITHOUT A TRACE's Poppy Montgomery about her role as Agent Samantha Spade on the massively popular New York-based crime drama and BATTLESTAR GALACTICA's Jamie Bamber speaks about meeting the original, why he's not getting romantic liaisons and his hope that the series runs and runs.
Cult Times Special #32: Looking back on 2004, and forward to 2005! This issue includes previews of Andromeda, Boston Legal, Charmed, CSI: Crime Scene Investigation, CSI: Miami, CSI: NY, Dead Like Me, Desperate Housewives, Joan of Arcadia, Las Vegas, Lost, Scrubs, Smallville, Star Trek: Enterprise and Without a Trace.
Expose Special #27: This 100-page yearbook takes a look back at the past year of science fiction and fantasy. LORD OF THE RINGS, ANGEL, LOST, CHARMED -- all this and more in this issue.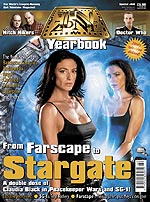 TV Zone Special #60: Claudia Black talks about returning to FARSCAPE -- and her guest role in Season 8 of STARGATE SG-1. The Year in TV Zone -- Extensive 12-page review of the highs and lows from the world of Cult Television, looking back on the past year of TV Zone…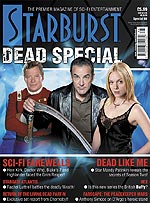 Starburst Special #66: In this issue, Mandy Patinkin talks about his role as Rube, the leader of the somewhat- less-than-grim band of Reapers from DEAD LIKE ME. Neil Gaiman, author of the SANDMAN stories turns director and talks about bringing his newest project, Death – The High Cost of Living to the big screen. And more from the land of the living, Atlantis star Rachel Luttrell tells us about developing her role as a feisty freedom fighter battling vampiric creatures in the new series.
Dreamwatch USA #4: The U.S. edition: This month you will find interviews with Tru Calling star Eliza Dushku, taking a look at the sequel to The Mask, Son of The Mask, and stepping aboard the final Stargate SG-1 mission of season eight! Plus, all the latest from your favorite TV shows!






NEW IN BOOK STORES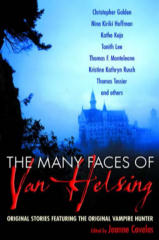 The Many Faces of Van Helsing; edited by Jeanne Cavelos
Ace Books (Penguin Putnam Inc.); NYC; April, 2004; 400 pp.; trade paperback; $14.95 U.S. $22.50 Can. ISBN 0-441-01170-5
First introduced in Bram Stoker's immortal Dracula, Abraham Van Helsing became the ultimate adversary for the vampire--as enigmatic and complex as the fiend he so relentlessly pursued. Now, in this unique anthology of stories, masters of horror and fantasy each give the original vampire hunter his due as they reimagine the history and reinvent the adventures of a fascinating, mysterious, and unforgettable character who was the greatest foe of the most evil icon in literary history.
For more information on this book, go to Jeanne Cavelos' website. Jeanne is a wonderful author -- one that spent a good bit of time in the Babylon 5 universe. Her Techno-Mage series will be required reading for those just coming to the story with THE MEMORY OF SHADOWS.
GRAPHIC NOVELS
LOST IN SPACE:
To commemorate the 40th annivesary of LOST IN SPACE, Bubblehead Publishing, is set to release a 360-page, full-color graphic novel collecting and completing Bill Mumy's 12-part adventure LOST IN SPACE: VOYAGE TO THE BOTTOM OF THE SOUL, a story originally published in serialized form by Innovation Publishing in 1992-93 but left unfinished when the publisher went out of business.
Current plans call for Bubblehead to release the graphic novel in July at San Diego's Comic-Con International, to coincide with the 40th anniversary of Lost in Space, the TV series, but advance pre-publication sales of the book will be available on the company's internet commerce site www.lisvoyage.com. .
Said Mumy: "I'm working with some great people on this project. I'm so glad the original team is back to finish "Voyage to the Bottom of the Soul" properly. For over ten years fans have been asking me how this huge story ended, wanting me to print the unpublished second half of the scripts alone, but I didn't want to diminish the piece that way. Michal's artwork looks great and I'm very excited about it. I've always been proud of this story. You don't have to be a fan of the old television show to get into this book but those who are will especially enjoy it. It really advances the classic arc of Lost in Space."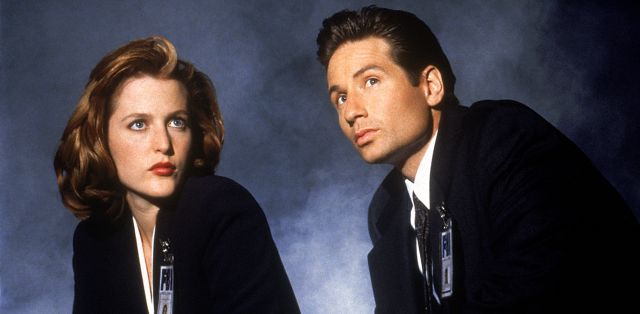 X-FILES VOLUME 1 TP
by Stefan Petrucha, John Rozum, Charles Adlard & Miran Kim
Checker introduces its first collection of the adventures of everyone's two favorite FBI agents, Mulder and Scully. This compilation collects the much sought-after Topps comics, offering X-Files fans original stories to wrap their minds around, and also gives this well-admired yet hard to find series new life in trade paperback form. Picking up where Topps left off, this volume collects issues #13-19, with the bonus features of the rare issue #0 and the pilot episode adaptation. Featuring writers Stefan Petrucha and John Rozum, interior art by Charles Adlard, and additional art created by world-renowned artist Miran Kim, this collection is a must-have for any X-Files fan.

STARGATE SG-1 VOLUME 1: POW
by James Anthony, Renato Guedes, & Jorge Correa
TRADE PAPERBACK
HARDCOVER
The first collected edition of Stargate SG-1 is finally here! Daniel Jackson's successful decoding of the ancient Stargate hieroglyphics opened the inter-dimensional doorway to thousands of alien worlds. SG-1 leads the USAF effort to establish alliances with other races and find new technologies to be used against the ever present threat of the Goa'uld. Posing as the mythological gods these parasitic creatures subjugate the races of the universe under their self-serving banners, destroying those who would stand against them. Collecting the three issue Stargate SG1: P.O.W. series and the original stories "Know Your Enemy" and "First Prime," this trade paperback is the perfect introduction to the Stargate SG-1 universe for fans new and old. Colonel Jack O'Neill, Captain Samantha Carter, Daniel Jackson, and the Jaffa Warrior Teal'c bring television's longest running hit sci-fi series to comics in bigger-than-life fashion. Jack has been captured by the Goa'uld and his very memories may be used against the SGC in an all out alien invasion. The SG-1 team must find a way to infiltrate a planet of enemies mobilizing for war to rescue their fallen leader. Crammed with special features and re-mastered for the highest quality this trade paperback is the cornerstone of the Stargate SG-1 comic archive! Available in regular paperback or a special hardcover edition that is limited to 1000 copies. (CAUT: 4)
TP-SC, 7x10, 96pgs, FC..........$13.99
HC-HC, 7x10, 96pgs, FC..........$24.99
COMIC BOOKS
CSI: SECRET IDENTITY #4
Written by Steven Grant, art by Gabriel Rodriguez and Steven Perkins.
The discovery of a burning coffin in the desert leads to more questions for Grissom and his team. It also leads to an increasingly complicated and puzzling murder conspiracy that the CSIs are desperate to solve before more bodies start piling up. Based on the top-rated CBS crime drama.
32 pages, $3.99.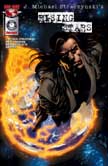 RISING STARS: FIRE AND ASH PAPERBACK
Written by J. Michael Straczynski, art by Brent Anderson, colored by John Starr and Brian Buccellato.
Writer J. Michael Straczynski's superhero tour-de-force reaches its stunning conclusion as the final fate of the 113 ³Pederson Specials² is revealed. The final chapter of one of the greatest comic series ever is now available in trade paperback for your bookshelf.
208 pages, $29.95.
AMAZING SPIDERMAN #514
Amazing Spider-Man #514 will arrive in stores on Wednesday from Marvel Comics. The issue is written by J. Michael Straczynski, with art and cover by Mike Deodaot.
Here's how Marvel describes the issue:
"'Sins Past,' part 6 of 6. All is revealed in the pulse-pounding conclusion to 'Sins Past.'"
AMAZING SPIDERMAN #517
Written by J. Michael Straczynski, penciled by Mike Deodato and Mark Brooks, cover by Gary Frank.
"Skin Deep," part 3 of 4. When a former classmate of Peter Parker's is caught in a horrific experiment, he blames Peter for the resulting transformation...But is Peter to blame? And how will Peter react when someone targets his personal life instead of Spider-Man's life, for a change?
32 pages, $2.25, in stores on Feb. 23.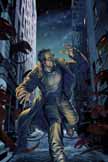 STRANGE
Written by J. Michael Straczynski and Sara (Samm) Barnes, pencils and cover by Brandon Peterson.
The Master of the Mystic Arts is back -- as only J. Michael Straczynski and artist Brandon Peterson could envision him. In this issue, Stephen Strange at last learns what the Ancient One has planned for him.
32 pages, $3.50, in stores on Feb. 16.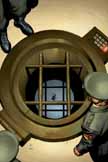 SUPREME POWER #15
Written by J. Michael Straczynski, pencils and cover by Gary Frank.
What does the most powerful being on the planet do when he finds out he's been manipulated and that his whole life is practically a lie? How will Hyperion react -- and what does that mean for the rest of humanity--and the government that's organized these deceitful machinations? Another pulse-pounding issue from the architects of the Supremeverse!
32 pages, $2.99, in stores on Feb. 2.
JMS COMIC BOOKS: For a listing of current comic books written by J. Michael Straczynski, go to COMIC BOOK page. There is a brief synopsis of the book and a date when publication is expected.
TV SCHEDULE ON SCIFI CHANNEL
STARGATE SCHEDULE: 01/17/2005 06:00 PM STARGATE SG-1 ( SEASONS 1-5) 48 HOURS
01/17/2005 07:00 PM STARGATE SG-1 ( SEASONS 1-5) SINGULARITY
01/17/2005 08:00 PM STARGATE SG-1 ( SEASONS 1-5) COR-AI
01/17/2005 09:00 PM STARGATE SG-1 ( SEASONS 1-5) ENIGMA (STARGATE)
01/18/2005 06:00 PM STARGATE SG-1 ( SEASONS 1-5) SUMMIT - PT 1
01/19/2005 06:00 PM STARGATE SG-1 ( SEASONS 1-5) LAST STAND - PT 2
01/20/2005 06:00 PM STARGATE SG-1 ( SEASONS 1-5) FAIL SAFE
01/21/2005 08:00 PM STARGATE SG-1 (SEASON 8) GEMINI
01/21/2005 11:00 PM STARGATE SG-1 (SEASON 8) GEMINI
01/24/2005 07:00 PM STARGATE SG-1 ( SEASONS 1-5) SOLITUDES
01/24/2005 08:00 PM STARGATE SG-1 ( SEASONS 1-5) TIN MAN (STARGATE)
01/24/2005 09:00 PM STARGATE SG-1 ( SEASONS 1-5) THERE BUT FOR THE GRACE OF GOD
01/25/2005 06:00 PM STARGATE SG-1 ( SEASONS 1-5) THE WARRIOR
01/26/2005 06:00 PM STARGATE SG-1 ( SEASONS 1-5) MENACE
01/27/2005 06:00 PM STARGATE SG-1 ( SEASONS 1-5) SENTINEL
01/28/2005 06:00 PM STARGATE SG-1 ( SEASONS 1-5) MERIDIAN
01/28/2005 08:00 PM STARGATE SG-1 (SEASON 8) PROMETHEUS UNBOUND
01/28/2005 11:00 PM STARGATE SG-1 (SEASON 8) PROMETHEUS UNBOUND
01/31/2005 06:00 PM STARGATE SG-1 ( SEASONS 1-5) REVELATIONS
01/31/2005 07:00 PM STARGATE SG-1 ( SEASONS 1-5) POLITICS - PT- 1
01/31/2005 08:00 PM STARGATE SG-1 ( SEASONS 1-5) WITHIN THE SERPENT'S GRASP - PT 2
01/31/2005 09:00 PM STARGATE SG-1 ( SEASONS 1-5) THE SERPENT'S LAIR

STARGATE ATLANTIS:

01/21/2005 09:00 PM STARGATE ATLANTIS THE EYE
01/21/2005 12:00 AM STARGATE ATLANTIS THE EYE
01/28/2005 09:00 PM STARGATE ATLANTIS THE DEFIANT ONE
01/28/2005 12:00 AM STARGATE ATLANTIS THE DEFIANT ONE

BATTLESTAR GALACTICA:
01/16/2005 03:00 PM ORIGINAL MINISERIES BATTLESTAR GALACTICA PART 1 & 2 - 4 HOUR VERSION
01/16/2005 07:00 PM BATTLESTAR GALACTICA 33/WATER
01/17/2005 04:00 PM BATTLESTAR GALACTICA 33/WATER
01/18/2005 01:00 AM BATTLESTAR GALACTICA 33
01/19/2005 02:00 AM BATTLESTAR GALACTICA WATER

FARSCAPE SCHEDULE:

02/28/2005 08:00 AM DAYTIME ROTATION - FARSCAPE
BABYLON 5/CRUSADE PHOTOSHOP PHOTOS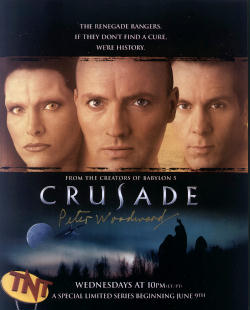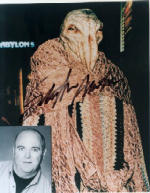 You do NOT have to pay the prices asked for over at e-bay! Here are photos of B5 and Crusade cast members at fantastic prices. Check out Photo Shop. Ordering is easy -- and you can't beat the prices! Just let me know which photos you want and I'll check to make sure they are still in stock.
---
BABYLON 5 TOONS
John Cook has a wonderful collection of cartoons -- many are take-offs from Babylon 5. Here's just one of them.

He has a cartoon caption contest going on as well. Try your hand at a punch line.

Go to http://contests.sev.com.au/index.php?contestid=1




SCI-FI CARTOONS
While catching up on my e-mail yesterday morning, I got an instant message from LFMOA along with a nice goodie that I can share with readers. Thanks for sending along your version of Pinky and the B5 Brain.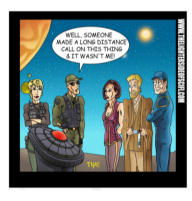 Tye Bourdony's latest Lighter Side of Sci-Fi satire can be seen here and at Tye's website www.thelightersideofscifi.com.








CALENDAR OF EVENTS
RICHARD BIGGS MEMORIAL SHOW
Here's a date to put on your calendar -- Saturday, March 19, 2005. A few of Rick's friends are getting together for a day of remembering their friend. The guest list for the day is:
Guests attending Breakfast & Afternoon:
Matthew Ashford (Days of Our Lives)
Bruce Boxleitner (Babylon 5, TRON)
Ricardo Antonio Chavira (Desperate Housewives)
Jerry Doyle (Babylon 5)
Mira Furlan (Babylon 5, Lost)
Melissa Gilbert (Little House on the Prairie)
Lisa Howard (Earth Final Conflict, Highlander)
Michael T. Weiss (The Pretender)
Stephen Nichols (Days of our Lives)
Melinda Clark (The OC/Days of our Lives)
Rick Hearst (General Hospital)
George Jenesky (Days of our Lives)

Appearing at the afternoon signing - 12:30 to 4:00pm:
Babylon 5 cast members: Andreas Katsulas, Pat Tallman, Bill Mumy, Jason Carter, Ed Wasser, Stephen Austin, Bruce Boxleitner, Jerry Doyle, Melissa Gilbert, Julie Caitlin Brown, Tracy Scoggins
Matthew Ashford (Days of our Lives)
Lisa Howard (Earth Final Conflict, Highlander)
Michael T. Weiss (The Pretender)

Place: The event will be held at the Beverly Garland Hotel, 4222 Vineland Ave., N. Hollywood, CA 91602. The schedule is as follows:
10am to 12pm
Celebrity - Buffet Breakfast
(Including made-to-order omelets)

12:30pm to 4pm
Autograph* Signings

All Proceeds to the family of Richard Biggs. To purchase tickets: Pay $100 for each breakfast ticket; $25 for each afternoon autograph session. If both events are purchased the total cost is reduced to $115, a $10 savings. Visit PayPal and enter email address Blkcat1067@ aol.com. When paying be sure to enter email address so that we can send the ticket back.

For mailing checks, make checks payable to: Richard Biggs Memorial Show
1052 W. Alameda Avenue #350; Burbank, CA 91506

* Celebrities appear subject to work commitments. A charge will be made for autographs. ALL proceeds to the family of Richard Biggs.
CONVENTION CALENDAR
January 14-16, 2005
THE ONE RING CELEBRATION
Presented in association with TheOneRing.net
City: Pasadena, CA
Place: Pasadena Center, 300 E. Green St.
Guests: Tons of stars from Lord of the Rings
For more information, visit the website at http://www.creationent.com/cal/one_ring.htm
---
January 21-23, 2005
OFFICIAL XENA CONVENTION: THE 10TH ANNIVERSARY CELEBRATION
Place: Burbank Airport Hilton and Towers, 2500 Hollywood Way
City: Burbank, CA
Guests: LUCY LAWLESS (Xena) Saturday; RENEE O'CONNOR(Gabrielle) Saturday; HUDSON LEICK (Callisto) Saturday; CLAIRE STANSFIELD (Alti) Sunday and many, many more
For more information, visit the website at http://www.creationent.com/cal/xebur.htm



---
January 28-30, 2005
"The 16th Annual Florida eXtravaganza"
Place: Orlando (FL) Expo Center
B5 guest: Walter Koening
Other guests include Marina Sirtis (ST:TNG), David Hedison, several Star Wars actors, a couple of the Harry Potter kids & Cindy Morgan (Lora, Alan's love interest in "Tron").
The following website will have more info: www.fxshow.com/index.htm
---
February 2-4, 2005
THE OFFICIAL STARGATE SG-1 and STARGATE: ATLANTIS CONVENTION
Place: Sheraton National Hotel, 900 South Orme St.
City: Arlington, VA
Guests: Michael Shanks, Christoper Judge, Don Davis, Teryl Rothery, Peter Williams
For more information, visit the Creation Entertainment website at http://www.creationent.com/cal/sgva.htm

---
February 11-13, 2005
Farpoint
Place: Hunt Valley, MD (near Baltimore)
Guests include: Jeffrey Combs, Kathy Garver, Bob Bergen, Tony Amendola, David Franklin, Wayne Pygram
For more information, visit their website at http://www.bcpl.net/~wilsonr/farpoint.html.
---

February 18-20, 2005
VisionCon 2005
Place: Springfield, Missouri
B5 Guest: Mira Furlan
For more information, visit their website at http://www.visioncon.net/Welcome.htm.
---

February 18-20, 2005
Gallifrey 2005
Place: The Airtel Plaza Hotel
City: Los Angeles (Van Nuys), California
The Sixteenth Annual North American DOCTOR WHO and Science Fiction Media Convention
For more information, go to http://www.gallifreyone.com/gallifrey.php



---
February 25-27, 2005
Redemption 05
Blake's 7, Babylon 5 and Beyond
Guests: Jason Carter, Jim Mortimore and Mat Irvine
Place: Hinckley, Leicestershire, UK
For more information, visit their website at http://www.smof.com/redemption
---
February 25-27, 2005
THE OFFICIAL STARGATE SG-1 and STARGATE: ATLANTIS CONVENTION
Place: Hilton DFW Lakes, 1800 Hwy. 26 E.
City: Grapevine, TX. (near Dallas)
Guests: Michael Shanks, Christoper Judge, Don Davis, Teryl Rothery, Peter Williams
For more information, visit the Creation Entertainment website at http://www.creationent.com/cal/sgtx.htm

---
March 11-13, 2005
Grand Slam XIII - The Sci-Fi Summit
City: PASADENA, CA
Place: Pasadena Center, 300 E. Green St.
Guests: Stars from Star Trek, Stargate, Firefly and more
For more information, visit the Creation Entertainment website at http://www.creationent.com/cal/stgs.htm

---
March 19, 2005
Richard Biggs Memorial Show
Place: Beverly Garland Hotel, 4222 Vineland Ave., N. Hollywood, CA 91602
Guests: Matthew Ashford (Days of Our Lives); Bruce Boxleitner (Babylon 5, TRON); Ricardo Antonio Chavira (Desperate Housewives); Jerry Doyle (Babylon 5); Mira Furlan (Babylon 5, Lost); Melissa Gilbert (Babylon 5, Little House on the Prairie), Lisa Howard (Earth Final Conflict, Highlander), Michael T. Weiss (The Pretender); Afternoon Only: Andreas Katsulas (Babylon 5, Star Trek)

For more information, visit the website at http://www.richardbiggs.com.
---

May 6-8, 2005
TO BE CONTINUED
Place: Chicago Marriott Schaumburg Hotel
City: Schaumberg, IL.
For more information, visit www.2becontinued.com.
---
Be sure to visit the referenced sites to see if there have been changes in dates/guests attending. Visit our Convention Calendar for a full listing of upcoming conventions.
MAIL FOR CAST AND CREW
Here's a recent note from JMS on the subject:

Just an FYI to those who've been using the Ventura Blvd. mail drop for fan mail to actors....

As mentioned before, we're phasing out the forwarding of fan mail because we a) don't have the resources, complicated by b) the actors have scattered to the four winds, and it makes it very difficult to get everything to everybody in a timely fashion.

So, having provided prior notice...fan mail to actors coming to the Ventura Blvd. mail drop will be sent back. Mail to actors should be sent via their official fan clubs. I will still be taking mail there, since it's my mailbox, but that's it.

Just so's y'all know and save a few bucks on postage and returns.

WARNER BROS:

Phone: 818.954.3000
Fax: 818.954.7829
E-mail: wbsf@warnerbros.com
Hours: M-F, 9A to 6P PST
Address:4000 Warner Blvd.
Burbank, CA 91522

PRODUCTION SUPPORT SERVICES
Dominick Bruno
Phone: 818.954.5690
wbsfproperty@warnerbros.com

Warner Home Video:

Mr. Douglas Wadleigh
VP for Marketing and Special Features
Warner Bros.
4000 Warner Blvd.
Burbank, CA 91522
BACK ISSUES OF THE ZOCALO TODAY
The front page of the The Zocalo Today changes daily, so be sure to check the back issues to make sure that you haven't missed anything IMPORTANT! I don't want the front page getting too long so I shift information periodically into the archives. So if you aren't a regular visitor to The Zocalo Today, be sure to check out the back issues. Just use the button above!
---
Take care and I look forward to hearing from you.
Sandra Bruckner (sgbruckner@aol.com)
Editor/Publisher
ISN News: The Zocalo Today
http://www.isnnews.net
Copyright - SBruckner, 1999-2005
Search Engine Optimization and Free Submission