[an error occurred while processing this directive]

The Zocalo Today

Welcome and thank you for dropping by. Take your shoes off, get comfortable and stay a while. There is a LOT of information here and you won't want to miss any of it.

The Zocalo Today is an interactive newsletter, encouraging readers to join a discussion topic or to send along letters that can be shared with other readers.

If you have suggestions as to how The Zocalo can be improved -- or be more responsive in some way -- send those suggestions along. The Zocalo Today is a newsletter for Babylon 5 and science fiction fans everywhere. It is as much YOUR newsletter as it is mine! I'm just pulling together things for you!

Join our discussion topic. It is just one way you can share with other Z readers. If you see Babylon 5 cast and crew in other roles on TV, let us know. We enjoy convention reports, photos, etc. Don't miss our back issues. I hope this will become more than just a newsletter for you. It's a community of people that enjoy sharing their experiences and interests. Babylon 5 brought many of us together -- and it remains with us, despite the fact that is no longer in production. Don't be shy. Join us today!

If you have questions, drop me a line at sgbruckner@aol.com. If you would like to join the mailing list for our newsletter, send me a note and I'll include you on the list. Or you can use the subscription block at the left.

Again, WELCOME!




What's New Today
Friday, January 30:
TOP SF NETWORK SHOWS:
Joan of Arcadia 7.9
Alias 5.3
Charmed 3.1
Tru Calling 2.8
Smallville 2.5
Enterprise 1.8
Angel 1.6
Jake 2.0 1.2
Source: Nielsen Galaxy Report, 1/5/03 - 1/11/03.
---
SHREK 2: Although the movies only opens in North America on May 21, SHREK 2 has already been selected for the main competition at this year's Cannes Film Festival, which runs May 12-23. DreamWorks is planning to screen the movie on May 15 at 7:30 p.m. local time.
---
BLACK DAHLIA: With the film set to begin shooting on May 24, Brian DePalma's BLACK DAHLIA now has a leading lady. Scarlett Johansson has been cast as the mysterious lady named Kay. Johansson's character is a lookalike of the slain Black Dahlia woman, 1940s starlet Elizabeth Short, and she also proves to be a femme fatale for the two Los Angeles policemen (Mark Wahlberg and Josh Hartnett) investigating the Dahlia murder.
---
HAVE SPACESUIT, WILL TRAVEL: According to The Hollywood Reporter, David Reynolds (FINDING NEMO) has closed a deal to adapt the Robert A. Heinlein science fiction classic HAVE SPACESUIT, WILL TRAVEL for Warner Bros. Pictures. David Heyman is producing the live-action film through his Heydey Prods. shingle. Originally published in 1958, SPACESUIT tells the story of Kip, a high school senior who yearns to go to the moon. He wins a real spacesuit in a contest but is forced to sell it for college tuition. Deciding to take one last walk in the suit in his backyard, he playfully calls out on the radio only to unexpectedly contact a passing spaceship. The adventure that follows finds the very fate of Earth in the his hands.
---
ALIAS: The Academy of Motion Picture Arts and Sciences announced Thursday that ALIAS' Jennifer Garner will host the Scientific and Technical Awards on Feb. 14 at the Ritz Carlton Huntington Hotel in Pasadena. The Valentine's Day event precedes the overall Oscar ceremony on Feb. 29. Garner will appear on the ABC telecast two weeks later to introduce a run-down of the sci-tech honorees.
---
PIXAR/DISNEY SPLIT: Pixar Animation Studios said Thursday that it has broken off its talks with the Walt Disney Co. and will not extend its distribution agreement with the studio once it expires in 2005 after the completion of two more films. The move could have a dramatic impact on Disney's standing as the industry's leading distributor of animated films. It is sure to set off a fierce competition among its rival studios, all eager to distribute Pixar's lucrative product. Pixar chairman Steve Jobs said: "After 10 months of trying to strike a deal with Disney, we're moving on. We've had a great run together -- one of the most successful in Hollywood history -- and it's a shame that Disney won't be participating in Pixar's future successes." In a statement, Disney's Michael Eisner wished Jobs and John Lassiter, Pixar's creative head, "much success in the future," adding, "Although we would have enjoyed continuing our successful collaboration under mutually acceptable terms, Pixar understandably has chosen to go its own way to grow as an independent company."
---
BUCK ROGERS: According to TVShowsonDVD.com, Universal is planning a DVD boxed set release of BUCK ROGERS IN THE 25TH CENTURY for the shows 25th Anniversary later this year. The Digital Bits website has confirmed that the discs are indeed in production. Gil Gerard & Erin Gray have also been contacted to record audio commentary. The boxed set would also include the movie which started it all. No word if it will be the entire 37 episode run, or just the 24 (including the film) episode first season.
---
SMALLVILLE LEDGER: Here's a cool newsletter for you. Visit this site for the Smallville Ledger . It is full of nifty information -- as well as a ton of SMALLVILLE data.
WHAT'S ON TONIGHT
8:00pm on CBS
Joan of Arcadia
Bringeth It On
God asks Joan to try out for the cheerleading squad; a baby is abandoned in a gym bag. 10:00pm on Showtime
Dead Like Me
Reaping Havoc
George decides that even grim reapers need friends. 10:00pm on USA
Monk
"Mr. Monk and the TV Star"
After visiting the set of the hit TV series "Crime Lab S.F.," Monk (Tony Shalhoub) suspects the show's star, Brad Terry (guest star Billy Burke), of murdering his ex-wife during a celebration of its one hundredth episode. But the actor's alibi seems solid and a fan (guest star Sarah Silverman) confesses to the crime. On SCIFI Tonight: 6:00pm
Stargate SG-1
A Matter of Time
The SG-1 team is sucked into a black hole. 7:00pm
Tremors: The Series
The Key
A Las Vegas thug returns to Perfection to retrieve the key to a lockbox. 8:00pm
Tremors: The Series
A Little Paranoia Among Friends
While investigating a Graboid sighting in Toluca, Burt tries to reason with paranoid townspeople. 9:00pm
Stargate SG-1
Chimera
Osiris manipulates Daniel's dreams. 10:00pm
Code Name Eternity
The Long Drop
Ethaniel and Laura become the main suspects in a businessman's death.
---
INSIDE SCI-FI THIS WEEK:
Thursday, January 29:
STAR TREK: ENTERPRISE: Beginning March 10, STAR TREK: ENTERPRISE will take over their old timeslow -- 9:00pm on UPN. The network is shaking up their Wednesday line-up. They cancelled JAKE 2.0 and will start off the evening with the return of THE MULLETS and insert a new video game-themed series titled GAME OVER at 10:00pm. Nothing from UPN to indicate this is a permanent change.
---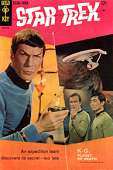 CLASSIC STAR TREK COMICS: Checker Book Publishing has announced plans to reprint several of the now-classic Gold Key STAR TREK comic books. First published when the series was still on the air, Gold Key printed sixty issues of STAR TREK over 12 years, continuing on the adventures of Kirk and his Enterprise crew even after NBC had cancelled the show. Today the books are highly desired collectibles and fetch prices in the hundreds of dollars if their condition is very fine to near mint. The first STAR TREK trade paperback will go on sale in March 2004 and comprise issues #1 through #8 of the Gold Key run.
---
HIDE AND SEEK: Filming has begun for 20th Century Fox psychological thriller HIDE AND SEEK. The cast includes Oscar-winner Robert De Niro, Dakota Fanning, Famke Janssen, Elisabeth Shue, Melissa Leo and Robert John Burke. John Polson (Swimfan) directs from a screenplay by Ari Schlossberg. Barry Josephson produces. Hide and Seek follows "a widowed father who desperately tries to break through to his 9-year-old daughter when she creates a creepy, maniacal imaginary friend with a terrifying vendetta."
---
HITCHHIKER'S GUIDE TO THE GALAXY: According to Variety, Martin Freeman ["The Office"], Zooey Deschanel and Mos Def will top the cast of the film, based on the book of the same name by Douglas Adams. The story centers on Arthur Dent (Freeman), who is whisked off the planet by Ford Prefect (Def), an undercover alien researching "The Hitchhiker's Guide" just before Earth is destroyed to create a new hyperspace freeway. Deschanel plays Trillian, girlfriend of Zaphod Beeblebrox, a two-headed, three-armed ex-hippie and current president of the Galaxy. Garth Jennings and Nick Goldsmith will direct the film, which starts shooting April 19 in London.
---
TREK AND PICCARD: According to SyFy Portal, Patrick Stewart will not be appearing in any more "Star Trek" movies as Jean- Luc Piccard. "The last one didn't do too well," Stewart said of the film. "That was one of the best two movies we made, and it didn't do well. When we finished filming that movie, I realized that up until then, I've done 15 years of Jean-Luc Picard. And I'm very proud of 'The Next Generation.' But now that is past, and it is an excellent time to hang up my space suit." Stewart soon will be doing several productions, including voice work for "Racing Stripes," "The Water Warriors" and the upcoming Disney movie, "Bambi II."
---
TIME TUNNEL: Beginning in June, fans of the series can look watch the series on the pay per view Encore Channel. The series will be uncut and yes, digital if you have digital cable.
---
SCIFI NETWORK: January was a very good month for the SCIFI Channel. It delivered a 1.1 prime-time rating, making it the best January in the network's history and the second highest-rated month ever. The 1.1 household rating was second only to December 2002, which drew a 1.65 rating partly as a result of the premiere of the Emmy-Award-winning miniseries Steven Spielberg Presents Taken. Overall, SCI FI ranked 10th among all non-news, advertising-supported cable networks. The Channel's 1.1 prime-time rating (951,000 households or 1.4 million viewers) was 10 percent higher than the previous January. The January 9 premiere of STARGATE SG-1 episode drew a 2.2 rating, the highest for an original SCI FI episode of SG-1 to date. With 2. 66 million viewers, the episode was the most-watched original segment of the show in the series' cable run and delivered more viewers than any episode of any original series in SCI FI Channel history. SCI FI's Saturday Action Original DRAGON STORM (directed by Stephen Furstj) was the most-watched original movie in the channel's history, with 3.03 million total viewers and a 2.3 household rating, tying Epoch as the network's highest-rated original movie ever. Dragon Storm will air again Jan. 29 at 9 p.m. ET/PT.
---
Wednesday, January 28:
TOP 10 SF SYNDICATED SHOWS:
Stargate SG-1 2.3
Andromeda 2.1
Mutant X 2.0
She Spies 2.0
The X-Files 1.7
Beastmaster 1.5
Buffy 1.5
3rd Rock 1.3
Ripley's 1.3
Angel 1.2
Source: Nielsen Galaxy Report, 1/5/03 - 1/11/03
---
ACADEMY AWARD NOMINATIONS: THE LORD OF THE RINGS: THE RETURN OF THE KING led the Academy Awards race on Jan. 27, with 11 nominations, including best picture and director. RETURN OF THE KING also earned nominations for best original score and song, visual effects, film editing and adapted screenplay, for Peter Jackson, Fran Walsh and Philippa Boyens' script based on J.R.R. Tolkien's fantasy trilogy of books. Among the other nominations were Johnny Depp for best actor for his performance in PIRATES OF THE CARIBBEAN: THE CURSE OF THE BLACK PEARL. Contenders for supporting actor included Alec Baldwin as a sleazy casino owner in THE COOLER. FINDING NEMO was nominated for animated feature film, along with BROTHER BEAR and the French film THE TRIPLETS OF BELLEVILLE. NEMO also got a nod for best original screenplay.
---
SILVER LAKE: Variety reports that UPN has ordered a pilot for SILVER LAKE, a supernatural drama series from producer Aaron Spelling (Beverly Hills 90210). Justin Tanner (Gilmore Girls) will write and executive produce the pilot with Spelling and E. Duke Vincent. The drama revolves around a record-store owner who uses his psychic abilities to communicate with the dead and help them resolve issues they left behind.
---
CARS: According to Variety, Paul Newman, a long-time racing enthusiast, will lend his voice to Pixar Animation Studios' upcoming computer-animated film CARS. The project will be helmed by John Lasseter (Toy Story). Newman will voice the lead car in the movie, which also features Bonnie Hunt, Owen Wilson, Dan Whitney and NASCAR vet Richard Petty. CARS deals with a variety of autos as characters who get their kicks on Route 66. Darla K. Anderson (A Bug's Life) is producing and they are eyeing a 2005 holiday release. As part of Newman's participation, Disney and Pixar also will sponsor the actor's Porsche as he races in the Rolex 24 at Daytona on Jan. 31 and Feb. 1, attempting to break his own record at the age of 79 as the oldest man to ever win a professionally sanctioned race. Newman already has a cheering section for him in Lesseter. He says, "Paul Newman is an acting and racing legend," remarked Lasseter of the announcement. "He is one of the greatest actors of all time, and his love and close attention with automobiles makes him the perfect choice for our film. I can't wait to see him beat his own record at Daytona and he'll have a lot fans here at Pixar cheering him on."
---
Tuesday, January 27:
TOP SCI-FI CHANNEL SHOWS:
Stargate SG-1 2.2
Code Name Eternity 1.7
Dark Waters 1.5
Sabretooth 1.4
Crocodile 2 1.2
Tremors: The Series 1.2
Shark Attack 3 1.1
Storm of Century, Pt. 3 1.0
Shark Hunter 1.0
Storm of Century, Pt. 2 1.0
Source: Nielsen Galaxy Report, 1/5/03 - 1/11/03.
---
THE GRUDGE: Production gets underway later this month on THE GRUDGE, a project that stars Sarah Michelle Gellar and Jason Behr. Also in the cast is INDEPENDENCE DAY's Bill Pullman, THE FACULTY's Clea DuVall and William Mapother (SWORDFISH).
---
JOHNNY BRAVO: Jessica Biel, who is playing Abigail in BLADE: TRINITY, will be providing a guest voice in JOHNNY BRAVO GOES TO HOLLYWOOD, a 30-minute special that premieres on Cartoon Network on Friday, Feb. 20 at 8 p.m. Alec Baldwin and Don Knotts also provide guest voices.
---
STAR WARS: EPISODE III: In an interview with Scotland Today, Ewan McGregor talked about the Star Wars: Episode III script and says things tie-up nicely with Episode IV. "I tell you what's very difficult about it is that it's difficult to...know really. I hope, I think what it does nicely is it ties up all the ends, all the loose ends and it meets Episode 4 with Alec Guinness and the crew very nicely I think. I don't think there's anything left unsolved and there's a huge but enormous fight at the end of it Enormous, I've never been more exhausted in my life. We spent weeks and weeks shooting this fight!" In other STAR WARS news, a number of clips taken from the set of the movie have turned up on the internet. One 12-minute segment shows a light-saber battle between Hayden Christiansen (Darth Vader) and Obi-Wan Kenobi (Ewan McGregor).
---
DARK WATER: According to Variety, Tim Roth has been cast in Disney's remake of the Japanese thriller DARK WATER. The story reportedly "revolves around a mother and daughter who escape a custody battle by retreating to a run-down apartment building. There, they are haunted by the ghost of a former resident. Roth will play the mother's attorney, an odd lawyer who works out of his car." The cast includes Jennifer Connelly, Pete Postlethwaite and John C. Reilly. Walter Salles will direct for producer Bill Mechanic's Pandemonium from a screenplay by Rafael Yglesias (From Hell).
---
Monday, January 26:
GOLDEN GLOBE AWARDS: Peter Jackson and LORD OF THE RINGS: RETURN OF THE KING were the big winners at last nights Golden Globe Awards. "The Lord of the Rings: The Return of King" seized "the precious" -- a win for best dramatic motion picture. Among the year's leading actors, "Mystic River's" Sean Penn and "Monster's" Charlize Theron took home top drama honors, while the comedy kudos went to Bill Murray for "Lost in Translation" and Diane Keaton for "Something's Gotta Give." In television, HBO's epic miniseries "Angels in America" led the field with five wins, including best miniseries/telefilm and lead actor and actress trophies for Al Pacino and Meryl Streep.
---
WEEKEND BOX OFFICE: According to The Hollywood Reporter, New Line Cinema's THE BUTTERFLY EFFECT took over top spot at the boxoffice on its premiere weekend and brought home an estimated $17.1 million. The time-traveling sci-fi thriller, starring Ashton Kutcher and Amy Smart, attracted a mostly young audience, despite its R-rating. Last weekend's boxoffice champ, Universal's ALONG CAME POLLY, starring Ben Stiller and Jennifer Aniston, fell into the second spot with an estimated $16.6 million. The romantic comedy, from Jersey Films and director-writer John Hamburg, was off a soft 40% from its debut while moving its 10-day total to a solid $53.5 million. The other new wide release this weekend was DreamWorks' WIN A DATE WITH TAD HAMILTON! arrived in the third slot with a disappointing $7.5 million. The teen romantic comedy found its target audience of mostly females but just not in the numbers hoped for. The PG-13-rated film stars Kate Bosworth, Topher Grace and Josh Duhamel and was helmed by Robert Luketic. Sony's BIG FISH pulled in an estimated $7.3 million to come aboard the fourth spot, down a slim 29% from a week earlier. The Tim Burton-directed fable has netted an estimated $49.1 million so far. New Line's THE LORD OF THE RINGS: THE RETURN OF THE KING came in at fifth position with an estimated $6.9 million. The epic fantasy-adventure is now the ninth-highest-grossing film of all time in North America with an estimated $337.9 million in revenue. 20th Century Fox's CHEAPER BY THE DOXEN placed sixth and was down only 27% from the previous session with an estimated $6.6 million. The Steven Martin starrer has accumulated an estimated $122.8 million to date.
---
CATWOMAN: You think being a leading lady in an action film is fun! Ask Halle Berry. A report out at Hollywood North indicates that Berry was rushed to St. Paul's Hospital in Downtown Vancouver around midnight on Saturday. She was hit by a boom while doing some physical work at the Performing Arts Center (formerly Ford Center). CATWOMAN has been at this locale for the last week and a half doing special effects/stunt work and was set to move on this week. Thankfully Berry's stay at the hospital was brief (a few hours) and she was more shaken than anything.
---
Sunday, January 25:
STEPHEN KING'S KINGDOM HOSPITAL: Ed Begley, Jr. is once again doning the lab coat of a doctor for ABC's upcoming limited series STEPHEN KING'S KINGDOM HOSPITAL. You will remember Begley from his days on ST> ELSEWHERE and he also had a recurring role as a doctor on 7TH HEAVEN. He says the new role brings things full circle. "St. Elsewhere was a pretty bizarre hospital when you think about it. The final episode it was decided the whole hospital was a dream in the mind of an autistic child. So this is probably a little weirder than that." Begley plays Dr. Jesse James, whom he describes as "the chief administrator of the hospital, a highly ineffectual man. His idea of medicine is to paint the walls a bright color and put little happy buttons on people and make them feel better that way. I don't think he's the best doctor around." The cast also includes Andrew McCarthy, Diane Ladd and Bruce Davison in a story about a haunted hospital. Begley added that the story reflects King's own bad experiences with the health-care system following his near-fatal accident in 1999, in which he was struck by a van as he walked on a road near his Maine home.
---
SUNDAY: There is the usual lack of new "news" on Sunday. We're waiting for the next snow storm here in the East! For joy. It will probably arrive so that rush hour tomorrow will be right out of a Stephen King novel. Have a great weekend.
---
Saturday, January 24:
GOOD BYE CAPTAIN KANGAROO: Yesterday we lost a TV icon - Captain Kangaroo. For many he embodied the essence of children's television, along with Mister Rogers. The Captain encouraged you to read and introduced many to the world of educational entertainment. He taught without being preachy; he introduced us to gentle characters like Mr. Green Jeans and Mr. Moose as he wandered about the Treasure House. His show lasted for 30 years on CBS and 6 more on public television. Parents did not fear their children watching this program. There was nothing violent or agressive about it. This gentle man, a former Marine, taught kindness, manners and friendship. We will miss him greatly. Bob Keeshan, who portrayed the Captain, was 76 years old. Let's hope there is a Treasure House waiting for him of all the people he has helped through childhood by encouraging you to learn and share a smile and kind word.
---
HARRY POTTER: As Alfonso Cuaron steps into the director shoes for HARRY POTTER AND THE PRISONER OF AZKABAN, the young stars of the film are noticing some distinct differences between Cuaron and original director Christopher Columbus. Emma Watson (Hermione), Daniel Radcliffe (Harry) and Rupert Grint (Ron) agree that Cuarón is bringing out the teenager in the characters. "Chris always had this fantastically energetic approach to doing the scenes, which suited the first two films absolutely perfectly," Radcliffe said. "And he made two absolutely fantastic films. With the third one, Alfonso has a much more kind of laid back, kind emotional, intense way of directing." Watson added, "Yeah, and he wanted a lot of our input in the characters and a lot more he kind of said, 'Well, how would you do it? What would you do it like?' And 'No, I'm not going to tell you how to do it. It's got to come from what you think and from your own experiences and stuff.'" This third project based on author J.K. Rowling's best-selling Potter novels, is slated for release on June 4.
---
DRAGON STORM: This weekend, the SCIFI channel premieres DRAGON STORM, and as director, Babylon 5's Stephen Furst describes the project by saying, "I just think it's a purely fun movie. It's great escapism. I can't even tell you how much fun I had doing this film. [The Bulgarian crew] turned out to be just wonderful. In Bulgaria, they'll say, 'We'll go 15 hours, no problem. We'll catch ourselves on fire another four times.'" Set in medieval times, DRAGON STORM follows two enemy kingdoms reluctantly joining forces in order to defeat fire-breathing alien dragons. Furst directed a cast that included John Rhys-Davies (The Lord of the Rings), Maxwell Caulfield (Oblivion 2), Angel Boris (SCI FI's Epoch: Evolution) and Tony Amendola (Stargate SG-1). "I'd give John a joke, and he'd expound on it, and then Tony would get in on it," Furst said. "I think you're going to see a tremendous chemistry between John and Tony. Angel was very nice. Max is known as Michelle Pfeiffer's sidekick in Grease 2, but he's a very, very underrated actor." Dragon Storm will premiere Jan. 24 at 9 p.m. ET/PT.
---
SHREK 3: DreamWorks has placed SHREK 3 on a fast-track, even though SHREK 2 doesn't hit theaters until May 21. Variety reports the third installment in the franchise will see the green ogre (voiced by Mike Myers) tackle the legend of King Arthur and the knights of the Round Table. The first task at hand is hiring a second set of writers to work with SHREK 2 scribes David Stem, Joe Stillman and David N. Weiss. DreamWorks is also reportedly at work on SHARK TALE 2, even though the first SHARK TALE movie won't debut until Oct. 1. SHARK TALE, featuring the voice of Will Smith, tells the story of a fish who becomes a hero when he takes credit for the demise of a nasty shark.
---
24: On January 27, American fans of 24 will get to experience what U.K. fans already know -- you always hurt the one you love. Inspired by a British show called "Pure 24," which aired after each "24" episode on BBC3, FOX is premiering "24inside," a live Web show presented from 10-10:15 p.m. ET, right after the Eastern-time-zone airing of the night's new episode (there will be spoiler warnings). The Web address is www.24inside.com/index.htm. "24inside" features guests from the show, along with fans expressing opinions and asking questions in the studio audience and via phone and e-mail. Executive Producer Howard Gordon and Penny Johnson Jerald, who plays Sherry Palmer, the devious ex-wife of U.S. President Palmer (Dennis Haysbert), are the guests for the first installment. "Whether we have the tone for it remains to be seen," Gordon continues. "It's a British idiom, the ability to take something apart and love it at the same time, with equal vigor. It sounds great. I hope somebody tunes in."
---
DVD BUYING TIPS
Ranger Brian sent along a terrific tip for purchasing any DVDs. Go to http://www.dvdpricesearch.net/. You can do a search on any title and it will find the lowest price for you. It includes mailing information as well. Thanks Brian!

Ranger Frank in Seattle indicates that again, CostCo is saving Babylon 5 fans money!
Costco stores have a limited time sale on the Babylon 5 DVD sets. I went into a Costco in the Seattle area today, and they have seasons 1, 2 and 3 for $59.99 each -- about $25 less than Amazon.com, and $40 less than list price, as I recall. Season 4 is $64.99. But the deal is that if you buy Season 4, you get $20 off any one of the other seasons.

Thanks Frank for passing along the info. Other folks should check out CostCo for Babylon 5 and other DVDs. They usually have very competitive prices.
SEASON FOUR OF BABYLON 5 - ON SALE NOW
BABYLON 5:
THE COMPLETE FOURTH SEASON Collectible Six-Disc DVD Set Featuring All 22 Episodes
Fully-Loaded with New Bonus Materials
Remastered in Widescreen and Dolby Digital 5.1 Audio
Available January 6 from Warner Home Video Burbank, Calif., October 14, 2003 - The future begins - or ends - here and now. Here is the huge space station Babylon 5. Now is the fateful year 2261. Commander John Sheridan has already declared the station free, breaking the ties between it and Earth Alliance. It was perhaps only a matter of time before he would have to fight to remain free. That time has come on January 6, 2003 with the complete 22-episode fourth season adventure of the acclaimed Babylon 5 sci-fi series from Warner Home Video (WHV). Presented on a must-have six-disc collector's set, Babylon 5: The Complete Fourth Season is priced to own at $99.98 SRP. Orders are due December 9. Packed with out-of-this-world DVD bonus materials including a featurette about the series composer and the making of the series' music, an original music suite composed exclusively for the DVD release, in-depth audio commentaries from cast members and the series creator, personnel files and a gag reel. "The Babylon 5 series has consistently been one of Warner Home Video's most in-demand DVD collections, proving the loyalty and strong fan base for this acclaimed sci-fi series," said Jeff Baker, Vice President, Non-Theatrical Franchise Marketing. "The TV to DVD trend has been very strong in the marketplace and WHV plans to continue releasing fan-favorite series throughout the year." Babylon 5 has won two Emmy Awards for Groundbreaking Visual Effects and Makeup as well as the 1998 Science Fiction Writers of America Ray Bradbury Award. It also earned the 1999 Saturn Award for Best Genre Cable/Syndicated Series from the Academy of Science Fiction, Fantasy & Horror Films. Currently, Babylon 5 continues to be seen by legions of fans with episodes syndicated on the Sci-Fi Channel. I have put together a listing of the episodes and pictures from each episode of Season 4 with a synopsis from the Lurker's Guide. Enjoy. If you have found bargain prices out there on this set, let us know. If you have had problems with the set, here is an address to use to report them: Send any complaints/issues directly to Sherri Bogard at sherri.bogard@warnerbros.com. She handles all DVD problems with "Babylon 5".
SEASON FIVE OF BABYLON 5 - APRIL 13, 2004
Over at TV Shows on DVD, you'll find a notice that Season 5 of Babylon 5 will be available on April 13. Nothing official from the WB yet. Here is the information available so far:

Description:
From the beginning, both were running out of time. The space station that was the last, best hope for peace was sooner or later certain to be eclipsed by new political coalitions and technical advances. And John Sheridan, who guided the massive freeport through its most tumultuous days, knew that his own fate had been inalterably prophesied.

Now both storylines converge in a 22-episode final season (with dazzling Exclusive DVD Extras!) whose events also include Sheridan's attempts to wage peace for the Interstellar Alliance, the tragic fate of the telepaths and the ultimate fireball destruction of the outmoded station after it is declared to be a spaceway navigational hazard. You're cleared for final approach...to Babylon 5.

Features:
Introduction to Wheel of Fire (Season 5 of Babylon 5) by series creator, J. Michael Straczynski
Two audio commentaries by J. Michael Straczynski
Movements of Fire and Shadow commentary by cast members Bruce Boxleitner, Peter Jurasik, Patricia Tallman and Tracy Scoggins
Digital Tomorrow - a featurette about making the special effects for the series
Beyond Babylon 5 - a featurette focusing on the fans, their reactions to the show and available Babylon 5 merchandise
The Universe of Babylon 5 including: Personnel Files, Data Files and Gag Reel
Episode previews
Easter Egg: Marcus Cole: Dead or Frozen
Additional and Extended Scenes
NEW BABYLON 5 WEBSITE
A new Babylon 5 website is up and ready for your use! Babylon 5 Command offers forums and chat rooms. You will be able to join teams, create units, play games, earn points and ranks. Everyone is welcome.
BABYLON 5 ANNIVERSARY
Ranger Nick pointed out that on January 24, 2004, we will celebrate the 10th anniversary of Babylon 5 coming to the airwaves. As I thought about this, I wondered how we might best mark this event -- making it special in some way! Send along your ideas and we can see what we might be able to do.
Perhaps a special page with reflections of what Babylon 5 has meant to us? Perhaps we could suggest to SCIFI -- a special day of special episodes! Give it a little thought and let's see what we can come up with. Here is the first suggestion on how we can celebrate the 10th Anniversary of Babylon 5.

Ranger Karen wrote: Why not collect "thank you"s that could be compiled & sent to Joe from the community that he created? Perhaps some of the cast and crew members would enjoy participating in something like that as well. We love the world Joe created so much that almost 11 years after the pilot was first aired, we excitedly anticipate new B5 projects. I can't think of a better way to encourage him than to let him know we are still with him.

Check out the new Anniversary Page. Send along your suggestions to add to those already listed.
DISCUSSION TOPIC
What are some of your favorite DVD special features? With more and more films and TV series coming out on DVD, what do you think are the best add-ons? Do you like the behind-the-scenes interviews with the cast? How about learning how some of the special effects were created? Send in your comments and views to sgbruckner@aol.com and I'll post them on the Discussion Page for everyone to share.
JEREMIAH
SEASON ONE DVD
$5 COUPON FOR JEREMIAH Here's a great value for you. Download this $5 coupon that can be applied to your purchase of the season one DVD set of JEREMIAH. Here's a link to the file. Jeremiah coupon.

For information on the season one DVD of JEREMIAH, read the Season One Press Release which describes the DVD set in detail. You will also find links to clips from the DVD here.

NEW PORTAL PAGE FOR JEREMIAH: For new information on JEREMIAH, visit the JEREMIAH PORTAL . You'll find a lot of new information for the series, including a photo gallery, wallpaper, links to other JEREMIAH sites and much more. For all that is new with JEREMIAH, go to JEREMIAH page. Showtime does not have the show on it's schedule right now. Fans are putting pen to paper and writing to voice their support for the series and their desire to have it back on the airwaves. Check out how you can help.

Nothing official, but I read somewhere that Showtime will return JEREMIAH to their schedule in March of 2004. Hopefully we will get a date on that soon.
STARGATE SG-1

SEASON FIVE DVD
For information on the season five DVD of STARGATE SG-1, read the Press Release which describes the DVD set in detail. More information on both of this DVD, go to Stargate Season 5 DVD. You will find photos from episodes as well as a TV trailer.
KEEPING UP WITH CAST AND CREW
ROBERT FOXWORTH: Robert Foxworth has been on tons of sci-fi shows. He recently was on the JEREMIAH (as the President) and STARGATE SG-1. He will provide the voice of Professor Emil Hamilton in the third season of Cartoon Network's Justice League animated series. In animation, Foxworth was the voice behind Race Bannon in the mid-90's The Real Adventures of Jonny Quest.
---
MICHAEL YORK: You can't forget Michael York in the Babylon 5 episode "A Late Delivery From Avalon." He will provide a guest-voice during the third season of Cartoon Network's JUSTICE LEAGUE animated series. York will portray Ares next season. He previously provided the voice of Count Vertigo in Batman: The Animated Series. York is also appearing in a few episodes of GILMORE GIRLS; he's already been in one episode. He's playing a Yale professor who has a fling w/ one of the students (a secondary reoccuring character).
---
JERRY DOYLE: Over the holiday, I received a note from Jerry. It announced 'The Jerry Doyle Show" launched in syndication, coast to coast, on 12/6 through Talk Radio Network. It's on Saturday nights, 8-11 PM PST. According to Jerry, it's about "Politics, pop culture and things that tick me off is the general theme. It's been a great ride and the folks at TRN have been fantastic. This week, I've been sitting in this week for "The Rusty Humphries Show", 1-4 PM PST. I guess it went well enough that the brain trust at TRN are having me sit in for Savage this Friday, 4-7 PM PST. He's got over 9.9 million listeners. Should be fun." You can go to Talk Radio Network for more information.
---
CRUISE WITH PETER WOODWARD
Peter is considering cruising the Caribbean in early 2005 and wants to invite his fans to join the fun. He would like to see if there is sufficient interest before going too far into planning, so if you would like to receive a brochure about Peter's upcoming cruise once the details are finalized please advise of your: Name:
Postal Address, City, State, Zip:
E-mail address:
Phone number:
Total number of guests in your party:
Age range of the guests including yourself:

Send this information to pwoodwardinfo@yahoo.com. Any information you send us will be handled respectfully. This is not a commitment from you, just an indication of interest.
BABYLON 5 BIRTHDAYS
January 9 - David Allen Brooks
January 24 - Peter Woodward
January 27 - Julie Caitlin Brown
January 27 - Tamilyn Tomita Have I missed anyone? If you know the birthday of someone connected with Babylon 5, pass the information along. We want to include everyone in our Happy Birthday Wishes.
READER BIRTHDAYS
Sometimes you just can't find the e-mail address for someone you know you have -- it's someone who responded to a discussion topic or you met in one of the chat rooms. You'd like to send a personal note, but .... No address!!!!

We've started a White Pages of Zocalo Readers! It's a handy way of keeping track of people -- and putting together a birthday/greeting card list as well. If you would like to be part of the listing, just send me your name, state, e-mail address and (if you'd like to have it listed) birthday (without year) to sgbruckner@aol.com. Check out the Directory of Readers.

Name: Justin Fisch
State: Ohio
E-mail address: jfisch2042@aol.com
Birthday: January 1

Name: Lessa Redding
State: Colorado
E-mail address: queendragonrider@juno.com
Birthday: January 26

Name: Arwen Rosenbaum
State: New York
E-mail: arwen@panix.com
Birthday: Jan. 1

Name: Michael Rosenthal
Birthday: January 12

Clubs Page to see if there is an organization near you.
NEW SCIENCE FICTION MERCHANDISE
BABYLON 5 MERCHANDISE
Are you looking for Babylon 5 merchandise? Would you like to possess some of the wonderful patches or pins sold by the B5 Fan Club? Do you want to put in an order for the latest DVD? Bruce at Uncomyn Gifts still has one of the best collections around. Check out www.uncomyngifts.com. You may just find the magazine or t-shirt or patch you are looking for.
---
SCIENCE FICTION PUBLICATIONS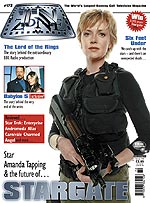 TV Zone #172: JMS concludes his series on BABYLON 5 in this issue. He reminisces about the making of the series during the final season. Also in this issue, Amanda Tapping talks about things coming up for her character, Maj. Samantha Carter during the final season of the series and set dectorators Mark and Robert Davidson explain how a blank canvas can be transformed into a scene for the hit TV series.



Expose #83: In this issue, we get a look at ALIAS thru the eyes of Agent Weiss - Greg Grunberg. Sean Astin tells us about how LORD OF THE RINGS has been a life-changing experience. Co-producer of CHARMED, Peter Chomsky, looks back over six years of special effects.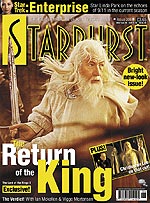 Starburst #306: This 100-page issue is full of exciting interviews -- including Sir Ian McKellen and Viggo Mortensen from LORD OF THE RINGS. Also in this issue, Neil Gaiman talks about his upcoming projects and Linda Park discusses Ensign Sato's story arc on ENTERPRISE.
Cult Times #100: This huge, 100-page issue is full of great articles and interviews. Among them, you can read about STARGATE SG-1's Richard Dean Anderson as he approaches Season Eight of the show; Linda Park from ENTERPRISE talks about her role as a translator and Alfred Gough provides some hints on what we'll see in season three of SMALLVILLE.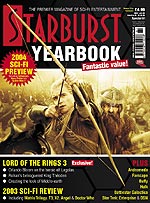 Starburst Special #61 It is the end of another year and time to look back on 2003. This Starburst Yearbook offers quite a bit -- with 132 pages! Orlando Bloom talks about the end of LORD OF THE RINGS; Bernard Hill discusses acting and his King Theoden role in LOTR. It has been a year of great movies, including X2, LORD OF THE RINGS, MATRIX. This issue also looks at BATTLESTAR GALACTICA with Dirk Benedict (Starbuck).
Expose Special #24: Sir Ian McKellen talks about Gandalf in LORD OF THE RINGS and there are highlights from 2003. This issue includes a 32-page farewell to BUFFY.






Cult Times Special #28: The magazine looks back at 2003; at BUFFY's end and DOCTOR WHO's return. It also includes previews for such favorites as ALIAS, JEREMIAH, SMALLVILLE, 24 and TRU CALLING. Angel's Jeffrey Bell talks about the changes ahead for this year at Wolfram and Hart. Christopher Gorham from Jake 2.0 answers the question, "what is it like being the ultimate human upgrade."
TV Zone #54: This issue offers a 12-page review of the highs and lows of 2003. Also in this issue, Joss Whedon talks about FIREFLY. John Schneider, Jonathan Kent on SMALLVILLE, tells us about life, family values and the future of his hit show. Stargate SG-1's Prop master Dave Sinclair takes us into his world, including a look at some amazing hardware.
NEW BOOKS ON THE HORIZON
BookCloseOut.com
Ranger Dave writes that books by Bruce Boxleitner, John DE Lancie(Q), and William Shatner are available on Bookcloseouts.com in hard cover. They also now have a paperback listing and book prices are greatly reduced. Check it out.
CSI Companion TP
by Mike Flaherty Featuring episode summaries, behind-the-scenes information, exclusive celebrity interviews, and more, this official companion book to TV's most watched drama, CSI: Crime Scene Investigation, takes fans behind the scenes to the world behind the yellow tape. (248/0-7434-6741-8) (CAUT: 4) RES. from Previews V13, #6 (JUN032803) SC, 7x9, 272pg, FC..........$24.00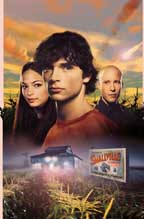 SMALLVILLE TRADE PAPERBACK
DC Comics will release the first Smallville Trade Paperback on April 7. The 160-page book will cost $9.95. The paperback will feature nine stories, collecting material from Smallville: The Comic and Smallville #1-4, an introduction by Smallville consulting producer Jeph Loeb and a cover by John Van Fleet. Contributors include writers by Mark Verheiden, Clint Carpenter and Michael Green and artists Roy Allan Martinez, Kilian Plunkett, John Paul Leon, Renato Guedes, Tom Derenick, Mark Morales, Oclair Albert, Norm Rapmund and Adam DeKraker.
DC describes the book:
"Witness young Clark Kent's battles with a raptor-like Kryptonite freak in Smallville and another foe he can't even see! Watch as strange things happen at the Miss Smallville beauty pageant, then find out what Chloe did on her summer internship at the Daily Panet! Plus, one of Lex¹s old friends is murdered, and he's the prime suspect! All this, and much, much more!"
BABYLON 5 NOVELS
DelRey is reprinting the original Babylon 5 novels. They started with #7 - Jeanne Cavelos' THE SHADOW WITHIN. Here's one I've been waiting for -- Kathryn Drennan's TO DREAM IN THE CITY OF SORROWS. The release date is scheduled for July 29, 2003. I love the new cover art! It can be pre-ordered from www.amazon.com. For those of you who love Babylon 5, this one reads just like an episode from the series. You just can't put it down.




COMIC BOOKS
AMAZING SPIDERMAN
AMAZING SPIDER-MAN #507

Written by J. Michael Straczynski, cover and pencils by John Romita Jr.
Concluding a 3-part arc, featuring the mysterious Ezekiel!
32 pages, $2.25, in stores on April 28.
SUPREME POWER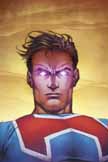 SUPREME POWER #9

Written by J. Michael Straczynski, cover and pencils by Gary Frank.
The world is still shaking from the titanic battle of Hyperion and Dr. Spectrum. Is Earth big enough for two such powerful beings? And who is Power Princess? Find out here!
32 pages, $2.99, in stores on April 7.
NEW CSI GAME
You can now become part of Gil Grissom's CSI team! Check out the latest video game featuring CBS' CSI series. Here is the storyline:
Master the Tools. Solve the crime.
A murdered woman…a slain police officer…a mysterious arson case. What do these crimes have in common? Enter the gritty world of CSI and search for the truth with Grissom, Catherine, and the entire Crime Scene Investigation team. Armed with high-powered forensic equipment and razor-sharp wits, delve deeply into the mysteries of 5 baffling crime scenes to reveal the truth. Don't just watch the action. Live it! For more information, go to http://csi.ubi.com/index.php.
STARGATE SG-1 CARD SET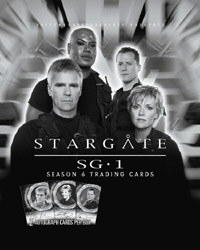 STARGATE SG-1 SEASON 6 CARDS This 72-card set features three cards per episode for each of the 22 in Season 6. Signers include Michael Shanks, Amanda Tapping, Ronnie Cox, John Billingsley, Musetta Vander, Bruce Harwood, Enid Raye-Adams, Jacqueline Samuda, Exec. Producer brad Wright, and more! Look for "Behind the Scenes with Brad Wright" cards, "In the Line of Duty" cards, "Stargate Galley" cards, and more! Also available is the album, custom designed to store the entire collection, including plastic pages, bonus promo card, and a Colonel O'Neill "From the Archives" costume card. 7 cards per pack. 40 packs per box. MSRP: $2.00 per pack.
TV SCHEDULE ON SCIFI CHANNEL
BABYLON 5 and CRUSADE are not currently listed on any SCIFI schedule. STARGATE SCHEDULE: 30-JAN-04 6:00 PM STARGATE SG-1 A MATTER OF TIME
30-JAN-04 9:00 PM STARGATE SG-1 (LBX) CHIMERA
30-JAN-04 11:00 PM STARGATE SG-1 (LBX) CHIMERA
02-FEB-04 7:00 PM STARGATE SG-1 CRYSTAL SKULL
02-FEB-04 8:00 PM STARGATE SG-1 NEMESIS
02-FEB-04 9:00 PM STARGATE SG-1 SMALL VICTORIES
02-FEB-04 10:00 PM STARGATE SG-1 THE OTHER SIDE
06-FEB-04 9:00 PM STARGATE SG-1 DEATH KNELL
06-FEB-04 11:00 PM STARGATE SG-1 DEATH KNELL
09-FEB-04 7:00 PM STARGATE SG-1 UPGRADES
09-FEB-04 8:00 PM STARGATE SG-1 CROSSROADS
09-FEB-04 9:00 PM STARGATE SG-1 DIVIDE AND CONQUER
09-FEB-04 10:00 PM STARGATE SG-1 WINDOW OF OPPORTUNITY
13-FEB-04 9:00 PM STARGATE SG-1 HEROES - PT 1
13-FEB-04 11:00 PM STARGATE SG-1 HEROES - PT 1

FARSCAPE SCHEDULE:

01-FEB-04 11:00 PM FARSCAPE (LBX) PRAYER
05-FEB-04 3:00 AM FARSCAPE RHAPSODY IN BLUE
05-FEB-04 4:00 AM FARSCAPE THE FLAX
05-FEB-04 5:00 AM FARSCAPE JEREMIAH CRICHTON
08-FEB-04 11:00 PM FARSCAPE (LBX) WE'RE SO SCREWED - PT 1: FETAL ATTRACTION
12-FEB-04 3:00 AM FARSCAPE DURKA RETURNS
12-FEB-04 4:00 AM FARSCAPE A HUMAN REACTION
12-FEB-04 5:00 AM FARSCAPE NERVE
15-FEB-04 11:00 PM FARSCAPE (LBX) WE'RE SO SCREWED - PT 2: HOT TO KATRATZI

EARTH: FINAL CONFLICT

30-JAN-04 8:00 AM EARTH: FINAL CONFLICT INFECTION
02-FEB-04 8:00 AM EARTH: FINAL CONFLICT DESTRUCTION
03-FEB-04 8:00 AM EARTH: FINAL CONFLICT THE JOINING
04-FEB-04 8:00 AM EARTH: FINAL CONFLICT FIRST OF IT'S KIND
05-FEB-04 8:00 AM EARTH: FINAL CONFLICT ATAVUS
06-FEB-04 8:00 AM EARTH: FINAL CONFLICT A STITCH IN TIME
09-FEB-04 8:00 AM EARTH: FINAL CONFLICT DIMENSIONS
10-FEB-04 8:00 AM EARTH: FINAL CONFLICT MOONSCAPE
11-FEB-04 8:00 AM EARTH: FINAL CONFLICT SLEEPERS
12-FEB-04 8:00 AM EARTH: FINAL CONFLICT FISSURES
13-FEB-04 8:00 AM EARTH: FINAL CONFLICT REDEMPTION
BABYLON 5/CRUSADE PHOTOSHOP PHOTOS







Peter Woodward has sent along a new photo -- a rather dreadful one -- from his appearance on CHARMED. It will be added to the collection of photos available from Peter, including additional copies of the Crusade poster in photo format. Both are autographed by Peter. You do NOT have to pay the prices asked for over at e-bay! Here are photos of B5 and Crusade cast members at fantastic prices. Check out Photo Shop. Ordering is easy -- and you can't beat the prices! Just let me know which photos you want and I'll check to make sure they are still in stock.
---
BABYLON 5 TOONS
John Cook has a wonderful collection of cartoons -- many are take-offs from Babylon 5. Here's just one of them.

He has a cartoon caption contest going on as well. Try your hand at a punch line.

Go to http://contests.sev.com.au/index.php?contestid=1


SCI-FI CARTOONS
Tye Bourdony's latest Lighter Side of Sci-Fi satire can be seen in the latest issue of the Star Trek Communicator #148. See more of Tye's works at www.thelightersideofscifi.com.



BABYLON 5/CRUSADE CONVENTIONS
CONVENTION UPDATE
CONVENTION CALENDAR
Creation Entertainment
February 6-8, 2004
Location: Doubletree Bellevue Hotel
Place: Seattle, Washington
Guests: Robert Beltran, Amanda Tapping, Tim Russ, Robert Picardo, Ethan Phillips, Peter Mayhew, Jeremy Bulloch

For more information, visit their website at http://www.creationent.com/calendar.htm.
---

Creation Entertainment
February 14, 2004
Location: Phoenix Hilton East/Mesa
Place: Phoenix, Arizona
Guest: William Shatner

For more information, visit their website at http://www.creationent.com/calendar.htm.
---

Creation Entertainment (Buffy & Angel)
February 15, 2004
Location: Phoenix Hilton East/Mesa
Place: Phoenix, Arizona
B5 Guest: Robin Atkin Downes
Guests: Stephanie Romanov, Julie Benz, Iyari Limon, John Kassir, Jacqueline Lichtenberg

For more information, visit their website at http://www.creationent.com/calendar.htm.
---

Farpoint
February 13-15, 2004
Location: Marriott's Hunt Valley Inn
Place: Baltimore, MD
B5 Guests: Bill Mumy, Brad Dourif
Other Guests: Peter David, Liliana Mumy

For more information, visit their website at http://www.farpointcon.com.
---
SF Ball
February 13-15, 2004
Location: Carrington House Hotel
Place: Bournemouth, UK
B5 Guests: Richard Biggs, Jason Carter
Other Guests: Linda Thorson, Dwight Schultz, Carolyn Seymour, Scott Macdonald, Celeste Yarnall, Michael Sheard, Michael Dorn and Alexandra Tydings

For more information, visit their website at http://www.sfball.com.
---
Marcon
March 5-7, 2004
Location: Hilton Mpls/St. Paul Airport Hotel
Place: Bloomington, Minneapolis
B5 Guest: Richard Biggs
Other Guests: Dr. Demento, John M. Ford, Davina, David E Romm, the Great Luke Ski, The Nick Atoms, Tri-Destiny

For more information, visit their website at http://www.marscon.org.
---
Best of Both Worlds
Date: March 13-14, 2004
Place: Canberra, Australia
Theme: Lord of the Rings
Guests: Dominic Monaghan - Meriadoc "Merry" Brandybuck (The Lord Of The Rings Movie Trilogy)
For more information, visit their website at http://johnvb.tripod.com/asn2.html.
---
I-CON 23
Date: March 26-28, 2004
Place: SUNY, Stony Brook Campus
Location: Stony Brook, NY
B5 Guests: Peter Jurasik, Bill Blair
Other Guests: Vaughn Armstrong For more information, visit their website at http://www.iconsf.org.
---
United Fan Con East
Date: March 26-28, 2004
Place: Marriott Hotel
Location: Quincy, MAbr> Guests: Teryl Rothery (Maj. Janet Frasier, STARGATE); Marina Sirtis (Deanna Troi from Star Trek: The Next Generation); more guests to be announced For more information, visit their website at http://www.unitedfancon.com/.
---
Creation Entertainment GRAND SLAM: THE SCI-FI SUMMIT
March 26-28, 2004
Location: Pasadena Center
Place: Pasadena, CA
Guests: William Shatner, Leonard Nimoy, Brent Spiner, Sally Kellerman, Connor Trinneer, Alexander Siddig, Dominic Keating, Anthony Montgomery, Walter Koenig, Andrew Robinson, Armen Shimerman, Kren Auberjonois, Cirroc Lofton, John Rhys-Davies, Amanda Tapping, Michael Shanks, Corin Nemec, Michael Rosenbaum, Mark Verheiden, Anthony Michael Hall, Nicole de Boer, Chris Bruno, John L. Adams, Kristen Dalton, Andy Hallett, Mercedes McNab, Robia La Morte, Iyari Limon, Mark Lutz, James Leary, Julie Benz, Jeremy Bulloch, Kenny Baker, Rusty Goffe, Ken Colley, Peter Mayhew, Leni Parker, Gina Torres

For more information, visit their website at http://www.creationent.com/calendar.htm.
---

Be sure to visit the referenced sites to see if there have been changes in dates/guests attending. Also visit our Convention Calendar for a full listing of upcoming conventions featuring Babylon 5, Crusade and Legend of the Rangers cast members as guests.
CONVENTION HIGHLIGHTS
Ranger Brian had a blast with Rick, Jason and Jeffrey at the 2BeContinued Convention last week in Indiana. He sent along a picture for everyone to enjoy. Thanks Brian.
If you would like to share your convention experience with your other Zocalo readers, send along a convention report. I will gladly post it for all to read. Got pictures? I'll post those as well.
ZOCALO TRADING POST
Do you have extra copies of B5, Amazing Spiderman, Midnight Nation or Rising Stars comics you'd like to trade? How about those extra trading cards or B5 magazines? There are a lot of fans looking for these items -- and the Trading Post can help you buy or sell them. To see what's available, just use this link to the Trading Post. To have items included in The Trading Post, send a note to The Zocalo. Please put Trading Post in the subject line.
PEN PALS
If you are looking for someone to talk about Babylon 5 and Crusade with, the Pen Pal section is for you! Check it out! Drop a note to someone who is feeling B5 withdrawal -- BIG TIME!

People thought a Pen Pal page was a good idea. If you would like to meet people who you could chat with or share your opinions of the show with, send along your e-mail or snail-mail address The Zocalo. It will be incorporated on the new Pen Page Page.
MAIL FOR CAST AND CREW
Here's a recent note from JMS on the subject:

Just an FYI to those who've been using the Ventura Blvd. mail drop for fan mail to actors....

As mentioned before, we're phasing out the forwarding of fan mail because we a) don't have the resources, complicated by b) the actors have scattered to the four winds, and it makes it very difficult to get everything to everybody in a timely fashion.

So, having provided prior notice...fan mail to actors coming to the Ventura Blvd. mail drop will be sent back. Mail to actors should be sent via their official fan clubs. I will still be taking mail there, since it's my mailbox, but that's it.

Just so's y'all know and save a few bucks on postage and returns.

WARNER BROS:

Warner Bros. Address:

Warner Bros. Domestic Television Distribution
4000 Warner Blvd.
Burbank, CA 91522

Warner Home Video:

Mr. Douglas Wadleigh
VP for Marketing and Special Features
Warner Bros.
4000 Warner Blvd.
Burbank, CA 91522

SCIFI:
Bonnie Hammer, President
Sci-Fi Channel
1230 Avenue of the Americas
New York, NY. 10020-1513

Mr. Thomas Vitale
Senior VP of Acquisitions, Scheduling & Program-Planning
BACK ISSUES OF THE ZOCALO TODAY
The front page of the The Zocalo Today changes daily, so be sure to check the back issues to make sure that you haven't missed anything IMPORTANT! I don't want the front page getting too long so I shift information periodically into the archives. So if you aren't a regular visitor to The Zocalo Today, be sure to check out the back issues. Just use the button above!
---
Take care and I look forward to hearing from you.
Sandra Bruckner (sgbruckner@aol.com)
Editor/Publisher
The Zocalo Today
http://www.isnnews.net
Copyright - SBruckner, 1999-2003