[an error occurred while processing this directive]

The Zocalo Today

Welcome and thank you for dropping by. Take your shoes off, get comfortable and stay a while. There is a LOT of information here and you won't want to miss any of it.

The Zocalo Today is an interactive newsletter, encouraging readers to join a discussion topic or to send along letters that can be shared with other readers.

If you have suggestions as to how The Zocalo can be improved -- or be more responsive -- send them along. The Zocalo Today is a newsletter for Babylon 5 fans everywhere. It is as much YOUR newsletter as it is mine! I'm just pulling together things for you!

Join our discussion topic. It is just one way you can share with other Z readers. If you see Babylon 5 cast and crew in other roles, let us know. We enjoy convention reports, photos, etc. Don't miss our back issues. I hope this will become more than just a newsletter. It's a community of people that enjoy sharing their experiences and interests. Babylon 5 brought many of us together -- and it remains with us, despite the fact that is no longer in production. Don't be shy. Join us today!

If you have questions, drop me a line at sgbruckner@aol.com. If you would like to join the mailing list for our newsletter, send me a note and I'll include you on the list. Or you can use the subscription block at the left.

Again, WELCOME!




What's New Today
Saturday, December 13:
WEEKEND BOX OFFICE: This weekend, there are three films making their North American debut movie theaters. LOVE DON'T COST A THING, a retooled version of the 1987 flick Can't Buy Me Love, starring Nick Cannon and Christina Milian; SOMETHING'S GOTTA GIVE, with Jack Nicholson, Amanda Peet, Diane Keaton and Keanu Reeves; and STUCK ON YOU, the Farrelly brothers' comedy starring Greg Kinnear and Matt Damon. For a little help in picking which one you might want to see, go to http://filmforce.ign.com/articles/445/445940p1.html.
---
INSIDE SCI-FI THIS WEEK:
Friday, December 12: TOP SF NETWORK SHOWS:
Joan of Arcadia 7.3
Smallville 4.2
Charmed 3.3
Angel 2.9
Enterprise 2.7
Tru Calling 2.4
Smallville 2.0
Jake 2.0 1.8
Tarzan 1.8
Source: Nielsen Galaxy Report, 11/10/03 - 11/16/03.
---
JAKE 2.0: In the Dec. 17 episode of JAKE 2.0, entitled "Double Agent", former Six Million Dollar Man Lee Majors guest stars as retired NSA agent Dick Fox. Pulled out of retirement to help Gorham's Jake hunt down an ex-KGB operative planning a deadly attack on the United States, Major spent about 10 days last month shooting his role in Vancouver, B.C., much of it at night and in lousy weather. Will he return? "They said they would love to have me back, and I guess if the show does well, they'll have me back, hopefully," Majors said. "I hope a lot of people watch it. It was fun. Chris Gorham is a super kid, and the rest of the cast, they all fit together." Jake 2.0 airs Wednesdays at 9 p.m. ET/PT.
---
SPIDER-MAN 2: On Monday, December 15, at 12:01am EST, the first teaser trailer for SPIDER-MAN 2 will premiere on Yahoo. Our web-slinging hero is based on the comic book superhero and brings back Tobey Maguire as the mild-mannered Peter Parker, who is juggling the delicate balance of his dual life as a college student and a superhuman crime fighter.
---
LORD OF THE RINGS: New Line has provided ComingSoon.net with many new images from director Peter Jackson's LORD OF THE RINGS: THE RETURN OF THE KING. Ten clips from the film are available as well as eight pages of incredible pictures.
---
JOSIAH'S CANON: 20th Century Fox has signed Brett Ratner to direct JOSIAH'S CANON -- a bank caper film starring Pierce Brosnan. Set to start shooting as early as next summer in New York and on location in Europe, CANON is a dramatic heist story about a Holocaust survivor who leads the world's foremost team of bank robbers. The criminal mastermind sets his sights on an supposedly impenetrable bank in Switzerland, which holds special appeal: It purportedly houses gelt deposited by Jews prior to the Holocaust.
---
KING KONG: LORD OF THE RINGS director Peter Jackson considers the $150 million that Universal has agreed to pay in order to make a new version of KING KONG a bargain. In an interview with the London Daily Telegraph, Jackson said, "There are six or seven movies in production at the moment that will cost $200 million, so Universal will get it $50 million cheaper than elsewhere." He added that, like the Rings films, he intends to approach the ape movie as if it were actual history, imparting "a reality and a grittiness" to the story. It will be set, he said, in 1933, the year the story first appeared. "I think that's the last time you could expect to go exploring the South Seas and find an uncharted island," he explained." Jackson said that he plans to begin production in New Zealand in August for a Christmas release the following year.
---
Thursday, December 11:
TOP SF SYNDICATED SHOWS:
Andromeda 2.2
Mutant X 2.2
Stargate SG-1 2.2
She Spies 2.0
The X-Files 1.7
3rd Rock 1.3
Angel 1.3
Beastmaster 1.3
Buffy 1.3
John Edward 1.3
Source: Nielsen Galaxy Report, 11/10/03 - 11/16/03
---
BATTLESTAR GALACTICA: According to The Hollywood Reporter, the second night of Sci Fi's BATTLESTAR GALACTICA rocketed past the first to deliver the channel's highest-rated program of the year. "Galactica," starring Edward James Olmos, gathered 4.5 million total viewers Tuesday, surpassing the 3.9 million who watched Monday's opening of the four-hour miniseries. Tuesday's tally gave Sci Fi not only enough ratings power to blast past the WB Network and UPN in primetime but provided the third-highest-ranked program in the station's history. With an average of 4.2 million viewers, "Galactica" finished behind "Steven Spielberg Presents Taken" (5 million) and "Frank Herbert's Dune" (4.6 million) but bettered the more recent sequel, "Children of Dune" (2.7 million). Also Tuesday, Bravo's combination of "Celebrity Poker Showdown" and "Queer Eye for the Straight Guy" cooled in their second week together. "Showdown" dropped to 1.3 million from 1.6 million last week, while "Queer Eye" slipped on a similar scale to 2 million.
---
STAR TREK: ENTERPRISE: TrekWeb is reporting a rumor that UPN has trimmed its order for Star Trek Enterprise to 24 episodes this season from the original 26. Speculation is running high at to why the episodes were cut. They range from the series cancellation to moving the show to another night to see if ratings would improve.
---
ANGELS IN AMERICA: The first part of HBO's "Angels in America" -- adapted by Tony Kushner from his award-winning play and one of the most universally praised TV projects of the year -- debuted Sunday (Dec. 7) to a little less than 4.2 million viewers, according to Nielsen figures. The "Angels" premiere was HBO's highest-rated original movie or miniseries this year, but it fell below the viewership for a typical episode of "Sex and the City" or "Six Feet Under." In fact, it won't even be HBO's most-watched program of the week; Saturday's (Dec. 6) heavyweight fight between Vitali Klitschko and Kirk Johnson takes that prize with about 4.3 million viewers.
---
PICARESQUE REVENGE: New Line Cinema has attached Sean Connery to star in and is seeking a director to further develop "The Picaresque Revenge," a con movie said to be in the spirit of "The Sting." The project, penned by Jason Keller, centers on a former FBI agent who is released after spending 15 years in prison for a crime he didn't commit. Desiring to target those he believes put him behind bars and to re-obtain his $360,000 pension, the man pulls a series of brilliant crimes and ultimately gets his revenge..."
---
BATMAN: Cillian Murphy (Girl with a Pearl Earring) has landed the role of one of the Caped Crusader's villains in Warner Bros.' new Batman film. Which villain he would play was not yet announced. The young Irish actor would become the fourth to be cast in the Christopher Nolan-helmed project that stars Christian Bale. He first came to the attention of Nolan after he tested for the role of Batman. Michael Caine has also joined the cast to play Alfred and the producers are now zeroing in on Katie Holmes to play the female lead subject to a screen test with Nolan. The film's plot, scripted by David Goyer, is being kept tightly under wraps, but the studio and Nolan are gearing up for a 2004 start date and 2005 release.
---
VAN HELSING: Everyone has been waiting for a trailer for Hugh Jackman's latest project, VAN HELSING. Looks like me may have to wait until the Super Bowl. Universal has lots of plans for Hugh -- and VAN HELSING. Here are some juicy tidbits Jackman's Landing...
- Universal has designs for VH tie-ins in their theme parks with "multiple themed attractions and events."
- The studio plans to release an original animated adventure, starring Hugh as the voice of Van Helsing, available exclusively on DVD.
- The previously announced TV series that takes place in the same universe will be called Transylvania.
- Universal is already announcing they're hoping to have a DVD release for Van Helsing ready to roll in time for Halloween '04!
---
CLANDESTINE: High Horse Films, the production company of CSI star and co-executive producer William Petersen, has pacted with TNT to develop an original movie based on the James Ellroy bestseller CLANDESTINE. Petersen is set to star and executive produce the noir drama, one of several projects on High Horse's growing development slate. Cindy Chvatal, Petersen's High Horse partner, is also set to executive produce. CLANDESTINE centers on a 1950s-era Los Angeles-based officer (Petersen) on the rise. While on the trail of a serial killer, he finds himself in alliance with some bad cops, inevitably taking the fall for their misdeeds.
---
DOGSTAR: Also in development at High Horse Films is the independent feature DOGSTAR, written by David Klass (Kiss the Girls, Desperate Measures). William Petersen and Cindy Chvatal are also developing a superhero action comedy feature with screenwriter Steve DeKnight (Buffy the Vampire Slayer) that will serve as a potential starring vehicle for Petersen.
---
Wednesday, December 10:
FIREFLY: In a recent TV Guide interview, FIREFLY creator Joss Whedon was asked what the 411 was on his big-screen version of the short-lived television series -- and it looks like the engine has cooled off a bit. "I have interest, I have hope, but I have no news," Whedon said. "I can't really talk about it. When there is news, I will [tell you]. But if I start talking about it before there is [anything definitive to say], it lessens the chance that [it will get made]." FIREFLY leading man Nathan Fillion was a bit more optomistic when speaking with The Toronto Star. Fillion said "The last rumour I heard, and from reliable sources, is that it's still moving in a very positive direction ... a negative direction being either it's not going, or it's not going forward. The last thing that I heard was that things were still looking good. I'm very hopeful." Sale of the FIREFLY box DVD set of all FIREFLY episodes went on sale yesterday. Universal Pictures, which is where the FIREFLY movie is set up, may be waiting to see how sales of the DVD set fair before moving ahead on the next phase of the film's development.
---
PIRATES OF THE CARIBBEAN: Buena Vista Home Entertainment released figures on how well PIRATES OF THE CARIBBEAN sold in its first week of release, and the results are very good. In just one week, 11 million DVD and VHS copies of PIRATES have been sold to consumers which gives the movie the distinction of being the largest opening week live-action home entertainment release so far. With the holiday gift giving season now in full swing, Buena Vista is anticipating that this quarter is likely to be its biggest and most profitable for home releases to date. The company has already been swimming in greenbacks thanks to the record-breaking video release of FINDING NEMO and a very successful October release for THE LION KING DVD.
---
BATTLESTAR GALACTICA: Over at Eclipse Magazine, writer/producer Ronald D. Moore talks about how he came to the project and what he wanted to accomplish. This is an interesting and thought provoking interview.
---
Tuesday, December 9:
BEST SELLING SF BOOKS: 1. The Da Vinci Code
2. Harry Potter and the Order of the Phoenix
3. Wolves of the Calla
4. Eragon (Inheritance, Book 1)
5. Angels & Demons
6. The Slippery Slope (Lemony Snicket)
7. The Time Traveler's Wife
8. The Cat in the Hat
9. Final Fantasy X-2 Strategy Guide
10. Alice's Adventures in Wonderland pop-up
Source: Amazon.com, 12/1/03
---
FARSCAPE: According to SCI FI Wire, production will begin Dec. 15 in Australia on a new four-hour Farscape miniseries, with stars Ben Browder, Claudia Black and others reprising their roles. A source close to the production indicated that series creators Rockne O'Bannon and David Kemper are readying a script for the miniseries, which as yet has no air date and no TV distribution deal. The SCI FI Channel, which originally aired four seasons of Farscape, had no comment on the report. A spokesperson for Jim Henson Co., which produced the series, also had no comment. The proposed miniseries will probably wrap up the events of the show, which ended with a cliffhanger. The source added, "I believe it will certainly air on television. At this point, it's in the early stages of finding that home."
---
> DAREDEVIL II: As Ben Affleck makes his rounds promoting his latest movie, PAYCHECK, he told SCI FI Wire that he's reluctant to reprise his superhero role in any Daredevil sequel film. "I don't know about Daredevil II," Affleck said in an interview. "That may be too much work for me. I don't have any idea." Affleck added that he'd consider it if friend, filmmaker and sometime Daredevil comic-book writer Kevin Smith took part. "I suppose that if Kevin Smith wrote it and was going to be involved, I would do it," he said. Affleck added that he'd be willing to take up the red cowl and billy club again in the proposed Elektra movie spinoff, which would star his Daredevil leading lady Jennifer Garner. "I would do some sort of cameo in Jen's movie—she's going to do Elektra—just because she's cool, and she's my friend. But I'm not banging down the door trying to get Daredevil II made. You'll know when my career is really on the slide when I start resurrecting the franchise."
---
HARRY POTTER: With production of HARRY POTTER AND THE GOBLET OF FIRE set to begin in late April or early May, director Mike Newell wants to make sure his film picks up where director Alfonso Cuarón' third film, HARRY POTTER AND THE PRISONER OF AZKABAN leaves off. Daniel Radcliffe (Harry), Rupert Grint (Ron) and Emma Watson (Hermione) will be reprising their roles. "They're all actually the age they are in the story," Newell said in an interview. "What Alfonso has done very remarkably is he's developed the films from a sunny vision of childhood into something that is much darker and blacker," Newell said. "And he's done that without taking away any of the romance of the thing. But he has transformed it into adolescence, and I must go on from what he's done. [I] can't go back." Newell is currently in preproduction, dealing with creature design. "I am currently working with dragons," he said.
---
STARGATE: ATLANTIS: Over at FilmJerk.com you'll find a report regarding the upcoming STARGATE: ATLANTIS series. Production is set to begin in February in Vancouver. STARGATE: ATLANTIS follows an international team of scientists and military personnel representing Earth who have ventured to a newly discovered and abandoned Ancient City on a distant planet in the Pegasus Galaxy. From there, they encounter a whole new Stargate network that leads to numerous human populated worlds. They will also come to face a sinister new enemy called the Wraith who is even more powerful than the Ancients who were originally being sought. Three members of this new Stargate team, all of whom are series regulars, will include:
Major John Sheppard: A gifted military pilot. Though people might see a good-ol' boy exterior he is also a closet mathematical genius. He has a wry sense of humor and likes to pretend he's not as smart as he really is. Most of the time a perfect gentlemen – who tries his best to be charming – when he's pushed to fight he can be an absolute animal with single-minded purpose. He distrusts authority and always goes with his gut letting his strong sense of common sense morality lead his actions. The character is listed as being between 35 and 40 years old.
Dr. Elizabeth Weir: Described as "attractive, brilliant, and the master of five languages," this 35-year-old started out as a critic of government spending on the military. But she ultimately decided the best way to fight the establishment was to join it and change what she could from within by brokering peace and being a voice of reason to whoever would listen. She worked behind the scenes for the U.S. government as a high level international negotiator for years before being offered command of the Stargate Program by the new President. Now, she has been given the opportunity to lead an international team through the gate to a new galaxy on a grand mission to save all of humanity and she is not one to turn that challenge down.
Mikala: Beautiful and soulful, she is a native of post-apocalyptic alien world viewers will encounter in the initial episode and has lost most of her family to the Wraith. Despite her youth, she has become somewhat of a leader to her people. Initially seen as a love interest for Sheppard, she joins our team's effort to defeat our common enemy in the Wraith and their budding romance becomes playful sexual tension as they focus on their mission. She proves herself early on to be a surprisingly scrappy fighter, a survivor under any circumstances and an invaluable source of knowledge about the people and worlds we will be visiting. The producers are looking for an actress of any ethnicity for the role, which is listed as being between 20 and 25 years old.
The series will debut as a two-hour movie in summer 2004, featuring appearances by certain members of the SG-1 team. Following its premiere, "Stargate: Atlantis" will assume a regular hourly slot, scheduled as a companion series to "Stargate SG-1." The Sci-Fi has commissioned a 20-episode order for the series. While a joint press release by MGM and the network announced that the series will be executive produced by "Stargate: SG-1" co-creator Brad Wright and also Robert C. Cooper, casting documents list John Smith as an executive producer as well. The initial installment of the series is written by Brad Wright and Robert Cooper.
---
FINDING NEMO: According to The Hollywood Reporter, for the fourth weekend in a row, overseas moviegoers had no trouble FINDING NEMO, which dominated the international market with a mammoth take of $45.9 million from 5,189 screens in 26 countries. The Disney/Pixar CGI-animated film has hit an offshore gross of $283.4 million and appears on its way to pass the $300 million mark this coming weekend. With "Lord of the Rings: The Return of the King" set to enter the year-end holiday market with a massive splash starting Dec. 17, a number of other high-profile titles -- either expanding into new markets or enjoying favorable holdovers -- are displaying varying degrees of vigor in the run-up to the richest boxoffice period of the year. Among the current contenders -- in addition to runaway "Nemo" -- with a substantial number of screens working are "S.W.A.T.," "Love Actually," "Master and Commander: The Far Side of the World," "The Matrix Revolutions," "Kill Bill-Vol. I," "Elf" and the single opening in Japan of "The Last Samurai."
---
THE VILLAGE: SCIFI has recently cut deals with big names like Martin Scorsese, Bryan Singer, Dean Devlin and Gale Anne Hurd. Add to that list Oscar nominated filmmaker M. Night Shyamalan. He has granted unprecedented access to the Sci Fi Channel, which will get a behind the scenes glimpse at the making of the director's latest, THE VILLAGE. The footage will be assembled into a multipart event. Shyamalan gave his approval to producer Callum Greene ("Lost in Translation," "Rudy: The Rudy Giuliani Story") and director Nathaniel Kahn ("My Architect: A Son's Journey"), who will be on set for the production of "The Village." Set in 1897, the new film stars Joaquin Phoenix, William Hurt, Adrien Brody, Bryce Howard and Sigourney Weaver and focuses on a community and the mysterious woods around their town. Shooting on "The Village" began in October. "M. Night Shyamalan is a fascinating filmmaker and person," says Bonnie Hammer, the cable network's president. "At Sci Fi, we are always trying to take things to another level. Our hope is to dig out the source of this normally secretive artist's inspiration. We are thrilled at the possibility of doing an out-of-the-ordinary project on an extraordinary filmmaker."
---
Monday, December 8:
WEEKEND BOX OFFICE: Snowy conditions coupled with the usual post-Thanksgiving weekend malaise tempered business at the boxoffice this weekend. Warner Bros. Pictures' THE LAST SAMURAI debuted atop the field with an estimated $24.4 million. The "Samurai" opening, while below the expectations of industry observers who had predicted a bow in the $30 million range, was still good enough to easily win the weekend. The weekend's only other wide debut, Universal Pictures' dance drama "Honey," took in an estimated $14 million and finished in second place, while Buena Vista's "The Haunted Mansion," New Line Cinema's "Elf" and Universal's "Dr. Seuss' The Cat in the Hat" rounded out the weekend's top five.
---
BATTLESTAR GALACTICA: This re-imagined version of the BATTLESTAR GALACTICA series of the 1970s premieres tonight at 9:00pm on SCIFI. There are a number of reviews available, including one at http://tv.zap2it.com/tveditorial/tve_main/1,1002,274|84881|1|,00.html.
---
X-3: X2 helmer Bryan Singer is in talks with Century Fox to direct a third installment of the hit comic-book franchise. Singer also signed a development deal with Fox to produce some nonmutant projects.
---
RATINGS RACE: Thursday night belongs to CBS -- usually. This Thursday, Survivor: Pearl Islands, brought in a 12.8 rating and a 19 share to beat a rerun of NBC's Friends, which drew an 11.6/17 at 8:00 p.m., and the new The Tracy Morgan Show, which managed only a 9.8/14 at 8:30 p.m. A rerun of CBS's CSI: Crime Scene Investigation took the 9:00 p.m. hour with a 15.5/22, well ahead of NBC's Will & Grace (12.1/17) and Scrubs (9.9/14). At 10:00, however, NBC roared back with a 16.0/24 for E.R. (which made it the highest-rated show of the night). CBS's Without a Trace remained competitive, however, with a 10.2/15. In overall households, CBS averaged a 12.8/19 for the night, a hair's breadth above NBC's 12.6/18. ABC was well behind in third place with a 5.4/8.
---
Sunday, December 7:
ANGEL: David Boreanaz, star of ANGEL, will make his directorial debut with an episode of ANGEL entitled, "Soul Purpose." Set to air on January 21, Boreanaz said, "It was a really fantastic journey for me. I had a great time. I found myself immersed in the work so heavily that I really needed some sleep, but I couldn't because I had to shoot the next episode," he says. Nonetheless, Boreanaz found the experience rewarding and hopes he gets a chance to direct again somewhere down the line.
---
MISS MATCH: FIREFLY's Nathan Fillion makes a special appearance on this week's MISS MATCH entitled, "Who's Sari Now?" Fillion plays Adam Logan, a college buddy of Michael (David Conrad), Kate's current love interest, and the soon-to-be-ex-husband of Michael's ex-girlfriend, Lauren (Dina Meyer, "Birds of Prey"), who is Kate's divorce client.
---
MUTANT X: For the first two seasons of MUTANT X, John Shea (Adam Cane) was in every episode. This year he has been missing -- but is set to return for a four-episode run. He is in Toronto now for pre-production. Tribune Entertainment, which syndicates the series, has released three more upcoming episode titles and dates: "Possibilities" the week of Jan. 26, Conspiracy Theory the week of Feb. 2 and "Art of Attraction" the week of Feb. 9.
---
BATTLESTAR GALACTICA: There has been quite a bit of hype over this "re-imagined" miniseries from SCIFI set to premiere tomorrow night at 8:00pm. Over at IGN.COM you'll find a review of the upcoming miniseries. If nothing else, it emphasizes one thing each Babylon 5 fan knows -- writing makes a difference. You can have the best, most expensive special effects known to man, but if the writing doesn't make you can about the characters, you have nothing. Reviewer Glen Oliver is an old B5 fan -- so he knows quality when he sees it.
---
E-MAIL NEWSLETTER: A new issue of The Zocalo went out via e-mail yesterday. Did you get your copy? If not, let me know so that I can check the mailing list for you. If you aren't on the mailing list, let me know and I can add you. Take care and have a great Sunday.
---
WHAT'S ON TONIGHT
12:00 noon on TNT
Ghostbusters
Parapsychologists with nuclear guns go into business ridding New York of poltergeists.

2:00 on TNT
Jumanji
A magic board-game brings forth African perils and a guy who disappeared in 1969 while playing it.

8:00pm on UPN
Star Trek: Enterprise
Extinction
Archer, Reed and Hoshi are exposed to a contagious virus while exploring a tropical alien world.

On SCIFI Tonight:

7:00pm
Route 666
Two federal agents encounter zombies on a desert highway years after the massacre of a chain gang.

9:00pm
Faust: Love of the Damned
A troubled artist seeks revenge for his girlfriend's death.

11:00
Candyman 3: Day of the Dead
A woman tries to disprove a legend that her ancestor can appear and kill people with his hook.

On Syndicated TV This Weekend:

Andromeda
Waking the Tyrant's Device
The crew tries to stop the maker of the Magog Worldship from unleashing his android army.

Angel
Provider
Cordelia fears Angel is taking on too much work in order to provide for the baby's future.

BeastMaster
Tears of the Sea
Ancestral protectors of a tribe of divers take the form of dolphins in the sea.

Sir Arthur Conan Doyle's The Lost World
Camelot
After slapping a young king, Marguerite must choose between instant death or marrying the boy.

Mutant X
The Breed
The team is brought in to help when a military base becomes infected with a deadly disease.

The Outer Limits
The Conversion
A vengeful man meets a woman and a visionary.

Star Trek: Voyager

Repentance

Seven of Nine deals with repressed feelings when she witnesses an alien prisoner's rehabilitation.
BABYLON 5 ANNIVERSARY
Ranger Nick pointed out that on January 24, 2004, we will celebrate the 10th anniversary of Babylon 5 coming to the airwaves. As I thought about this, I wondered how we might best mark this event -- making it special in some way! Send along your ideas and we can see what we might be able to do.
Perhaps a special page with reflections of what Babylon 5 has meant to us? Perhaps we could suggest to SCIFI -- a special day of special episodes! Give it a little thought and let's see what we can come up with. Here is the first suggestion on how we can celebrate the 10th Anniversary of Babylon 5.

Ranger Karen wrote: Why not collect "thank you"s that could be compiled & sent to Joe from the community that he created? Perhaps some of the cast and crew members would enjoy participating in something like that as well. We love the world Joe created so much that almost 11 years after the pilot was first aired, we excitedly anticipate new B5 projects. I can't think of a better way to encourage him than to let him know we are still with him.

Check out the new Anniversary Page. Send along your suggestions to add to those already listed.
JMS UPDATE
I just caught this on the B5 moderated newsgroup and thought I'd best post this ASAP, so that everyone can start thinking ahead toward January when we will hear more from JMS regarding Babylon 5. This latest update from JMS gives us a lot to be thankful for:

RISING STAR:

Yes. There were a number of conditions set before Top Cow in order to resolve this, and those conditions were met. So the final three scripts will be turned in by late January/early February, and the Rising Stars story will be complete.

DOC STRANGE:

Well, lessee...the first issue of the Doc Strange mini is nearly done, and I've turned in the first issue of a new series for Marvel which will have to await a more formal word from them, I'm afraid, since PR is properly their venue on things like this, and the next Supreme Power comes out next week. Spidey 501 came out a few days ago (and the last page is kind of a goof from what I'd originally scripted...it's a long story, but it doesn't look like it should.)

BABYLON 5:

On the B5 front, there has been something of rather substantial proportion that's finally gone from talk to money, such that I'm now working frantically to meet some deadlines, but there's nothing I can say about this until after January 15th, probably closer to the end of that month.

The only thing I can say is that phase one of the new project is a go, hence the furious writing schedule at this end of things, which is why I've been silent until deciding to kick up some dust on the political discusion. I've been writing my little brains out.

I know the immediate result of this will be speculation, but if we could keep that to a low roar on the nets to avoid precluding anything, that would be a wonderfulness. But trust me: I wouldn't go on about something in this way if it wasn't a significant development. Just trust me on this one for a bit and hold fire until further word.

(Longtime followers of the various news groups know that an eep means that something significant has happened, but that I can't talk about it...the eep is just a way of saying, on the QT, that something has, indeed, happened and it's real, not just speculation or maybe-gonna-happens. So on that basis, you may consider this an eep.)

And on the topic of fans for a moment...I'm happy to mention that we've included a thanks to Steve Grimm (Lurker's Guide) and our resident moderator Jay Denebeim on the Season 5 DVD. Just a way of saying thanks for years of help and support.

Oh, yeah...and next year you can expect two new DVD sets that a) include all of the TV movies in one package (with commentaries from me on "The Gathering" and "In the Beginning") and b) package all 13 of the Crusade episodes into one box.
SPECIAL HOLIDAY ACTIVITIES
For a number of years, Pat Tallman (Lyta) has been heavily involved with Penny Lane, a family treatment center that cares for the most difficult to manage children with the highest quality care. These kids have been so sexually, emotionally and physically abused, they cannot be placed in regular foster care. Children come from all over California, Nevada and Arizona. This program focuses on kids who are the 104 in residence in the North Hills main facility and 9 satellite houses. Penny Lane also services over 700 young children in foster care. Pat would like to focus this year on the 104 teens in residence and provide Target gift cards to the 40 young adults in Penny Lane's revolutionary Transitional Living program. To learn more about Pat's efforts at Penny Lane, go to the Be A Santa page. Here you will find a note from Pat and some responses from children who are current at the Penny Lane facility. At this special time of year, open up your heart and make one of these children feel special. If readers would like to join together and present Pat with a number of gift certificates, I can coordinate the effort. Just let me know if you are interested -- and what you would like to donate. We can get gift certificates for Target, Tower Records, Borders and Barnes and Noble Books. Let's pull together and show the kids that the Babylon 5 community really does have the holiday spirit.
SEASON FOUR OF BABYLON 5
Warner Brothers have announced that January 6th, 2004 (Region 1) is the release date for Babylon 5: The Complete Fourth Season ("No Surrender, No Retreat"). There is no information at this time about when region 2 will be released. DESCRIPTION:
The future begins -- or ends -- here and now. Here is the huge space station Babylon 5. Now is the fateful year 2261. Commander John Sheridan has already declared the station free, breaking the ties between it and Earth Alliance. It was perhaps only a matter of time before he would have to fight to remain free. That time has come in this complete 22-episode fourth-season adventure presented on 6 discs and featuring an exciting array of Exclusive Extras. This six DVD set will include (preliminary listing):
Introduction to Babylon 5 - Season 4 by series creator J. Michael Straczynski
Two commentaries by series creator J. Michael Straczynski and another from director Mike Vejar
Commentary by cast members Bruce Boxleitner, Jerry Doyle, Peter Jurasik and Patricia Tallman
"Celestial Sounds" featurette about series composer Christopher Franke and the making of the series music
"No Surrender, No Retreat" DVD Suite, original music composed exclusively for the DVD
"The Universe of Babylon 5"
Personnel Files and Data Files
Gag Reel
Episode Previews
16x9 Anamorphic Widescreen
Dolby Surround 5.1 (English only)
Subtitles in English, French, and Spanish
Closed Captioned for the hearing impaired Pre-orders can be placed at a number of locations, including www.amazon.com and Uncomyn Gifts.
BABYLON 5 SEASON THREE DVD
DVD Order Date: 7/15/03 Street Date: 8/12/03
Catalog #: 24243 WB Synopsis: The long-running Emmy Award-winning television series Babylon 5 takes place in the year 2257 A.D. on an immense spaces station floating in a stationary orbit in a neutral corner of a distant galaxy. Staffed by a crew of peaceful Earthmen and women, Babylon 5 serves as a non-political economic and social hub for the four alien races - the Narn, Centauri, Vorlon and Minbari - who fight to control the galaxy. Starring Bruce Boxleitner, Claudia Christian, Jerry Doyle, and Bill Mumy. Special Features and Specifications: o Six-disc DVD collector's set
o Introduction from series creator J. Michael Straczynski,
o Commentary on three key episodes by series creator and stars,
o"Behind the Mask: Creating the Aliens of Babylon 5" Documentary
o"Designing a Better Narn" Documentary
o"Designing Tomorrow: The Look of Babylon 5" Documentary
o Data and Personnel Files
o 16X19 Anamorphic Widescreen
o Dolby Digital 5.1
o English, French Spanish subtitles
o Running Time: 968 minutes For a look at Season Three, go to Season Three. Here you will find individual synopses of each episode and a graphic provided by Warner Bros.
GAG REEL
As with the other DVDs, there is a gag reel portion on the Season Three DVD as well. Ranger Mike sent along instructions on how to get there.

Babylon 5 Season 3 DVD Blooper Reel

The Season 3 "Gag Reel" is for real! It is actually an Easter Egg (a hidden component in the DVD) and is about three minutes long. There is a brief musical introduction and the segment mostly contains dialog goofs and other blunders the cast had.

To get to the Gag Reel, put in disc #6 and from the main menu:

* Select "The Universe Of Babylon 5"
* Select "Data Files"
* Cursor down Between the middle menu option "The Battle For Babylon 5" and the bottom menu option "The Universe Of Babylon 5". You should get a highlighted "5" logo to appear
* Press select to view the Gag Reel.
DISCUSSION TOPIC
Have you read any good books lately? There seem to be a ton of science fiction books in stores these days. Do any of them stand out? You can post a review -- or just let us know what you have found interesting, exciting, intriguing. Send in your comments and observations to sgbruckner@aol.com and I'll post them on the Discussion Page for everyone to share.
JEREMIAH
For all that is new with JEREMIAH, go to JEREMIAH page. Showtime does not have the show on it's schedule right now. Fans are putting pen to paper and writing to voice their support for the series and their desire to have it back on the airwaves. Check out how you can help.

Nothing official, but I read somewhere that Showtime will return JEREMIAH to their schedule in March of 2004. Hopefully we will get a date on that soon.
KEEPING UP WITH CAST AND CREW
STEPHEN AUSTIN: This wonderful Pak'Ma'Ra Ambassador is multi-talented. He has a wonderful stand-up comedy routine. In fact, he has several gigs coming up, including:
THE IMPROV, Dec 12th, Hollywood, CA, 323-651-2583
THE IMPROV, Jan 6th, Ontario, CA, 909-484-5411
THE ICE HOUSE (special CD tapping), Jan 18th, Pasadena, Ca, 626-577-1894
---
LUKE PERRY: JEREMIAH's Luke Perry is starring in an upcoming theatrical version of WHEN HARRY MET SALLY in London's West End; he'll play Billy Crystal's role. Meg Ryan's role as Sally has not been cast, but an American actress is expected to play the part.
---
GARY COLE Jason Bateman teams up with Gary Cole in Fox's upcoming dodgeball comedy. The untitled project centers on a group of neighborhood residents who challenge the developers of a giant fitness center. The dodgeball picture stars Ben Stiller, Vince Vaughn and Christine Taylor.
---
SEAN ASTIN: Sean Astin went directly from LORD OF THE RINGS to JEREMIAH. He has been marvelous in the role as Mister Smith and Frank Garcia caught up with him as he was busy directing an episode of JEREMIAH this summer. Read all at http://www.scifi.com/sfw/current/interview2.html.
---
ALEXANDER ZAHARA: Alex has been very busy since the close of LEGEND OF THE RANGERS. He turns up every so often on STARGATE or JEREMIAH. He just opened a new website at http://www.alexzahara.com/. He's got a contest going -- he's offering up t-shirts from LEGEND. You'll note that he has just finished a number of projects -- including OPEN RANGE -- in which he gets to shoot Kevin Costner and a recurring role in Stephen King's KINGDOM HOSPITAL.
---
CRUISE WITH PETER WOODWARD
Peter is considering cruising the Caribbean in early 2005 and wants to invite his fans to join the fun. He would like to see if there is sufficient interest before going too far into planning, so if you would like to receive a brochure about Peter's upcoming cruise once the details are finalized please advise of your: Name:
Postal Address, City, State, Zip:
E-mail address:
Phone number:
Total number of guests in your party:
Age range of the guests including yourself:

Send this information to pwoodwardinfo@yahoo.com. Any information you send us will be handled respectfully. This is not a commitment from you, just an indication of interest.
BABYLON 5 BIRTHDAYS
Mary Woronov (Kka'Dath) - December 8
Sarah Douglas (Jha'Dur) - December 12
Kim Holly - December 25
Dark Hoffman - December 28
John C. Flinn III - December 2 Have I missed anyone? If you know the birthday of someone connected with Babylon 5, pass the information along. We want to include everyone in our Happy Birthday Wishes.
READER BIRTHDAYS
Sometimes you just can't find the e-mail address for someone you know you have -- it's someone who responded to a discussion topic or you met in one of the chat rooms. You'd like to send a personal note, but .... No address!!!!

We've started a White Pages of Zocalo Readers! It's a handy way of keeping track of people -- and putting together a birthday/greeting card list as well. If you would like to be part of the listing, just send me your name, state, e-mail address and (if you'd like to have it listed) birthday (without year) to sgbruckner@aol.com. Check out the Directory of Readers.

Name: Brenda Gallagher
E-mail address: brenda_birch@hotmail.com
Birthday: December 5th

Name: Gary Magid
State: Michigan
Email: SCIFIREAD@aol.com
Birthday: December 10
BABYLON 5 FANS - SPECIAL HELP SECTION
BABYLON 5 FAN CLUBS
Minneapolis Babylon 5 Fan Club White Star Phoenix! The White Star Phoenix fan club meets once a month in Bloomington, Minnesota, to socialize, to view Babylon 5, Crusade, Farscape, Buffy the Vampire Slayer and other excellent SF, & to enjoy engaging, animated conversations about our favorite books, films and tv shows. We regularly host SF-related programming at local science fiction conventions, and we host occasional parties. For more information, go to http://home.comcast.net/~whitestarphoenix/. Swedish Babylon 5-Club We're situated in Gothenburg, Sweden's second largest city, and have been around since 1999. Our activities consist of showing B5 episodes on the big screen. The next time will be on November 8th here in Gothenburg. Our webpage is at http://www.babcon.org/. Asbjorn
President, Interstellar Alliance
sheridan@babcon.org -- Interstellar Alliance - Sweden's largest Babylon 5 club
BabCon XIII on November 8th 12.30 - 02.00
http://www.babcon.org/ Italian Babylon 5 News Ranger Bianca has a website that provides Italian Babylon 5 fans with news. The site is located at www.babylon5.it.
BABYLON 5 MERCHANDISE
Are you looking for Babylon 5 merchandise? Would you like to possess some of the wonderful patches or pins sold by the B5 Fan Club? Do you want to put in an order for the latest DVD? Bruce at Uncomyn Gifts still has one of the best collections around. Check out www.uncomyngifts.com. You may just find the magazine or t-shirt or patch you are looking for.
---
BABYLON 5 SCREENSAVER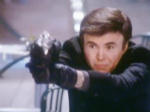 I received a wonderful note from Warner Bros. yesterday. It said:
"we also got this link from WHV for B5 screensavers, if you want to post this anywhere:
http://www.eyetide.com/download/?p=104117."
The graphics are awesome and it will add a certain measure of class to any desktop. Don't miss the preview feature. You can see what graphics have been included for your viewing pleasure. Thanks WB.
---
BABYLON 5 ROLE PLAYING AND FACT BOOK
The Babylon 5 Roleplaying Game and Fact Book
"Signs and Portents"
By Matthew Sprange
Mongoose Publishing
ISBN: 1-904577-11-3
MSRP: $49.99 From the review written at http://www.scifi.com/sfw/current/games.html B5 fans might want to pick up this game whether they actually play it or not. Based on the first season of the series, the "fact book" portion of the book includes an overview and maps of Babylon 5 and an episode-by-episode breakdown of the first season.
TRADING CARD HELP
Ranger Tia sent along this note to share with B5 card collectors:

Don't know if you've heard of my card program yet or not, but I thought the other B5 card collectors might like to try it out. With having almost all of the B5 trading cards and CCG cards available and no program to keep track of them withm, I started writing my own. Here's the website for it. Go half way down and click on the small screen shot for a full size screen shot. I have the pic of Pat Tallman's card from the Profiles card set feautured in the shot.

Oh, and I also have a lot of the card lists already saved as files so people won't need to type in all the card names. Being written by a B5 fan, ALL the card lists have already been made and are downloadable. :)

http://cardkeeper.usethis.com/keeper/index.html

Tia
NEW SCIENCE FICTION PUBLICATIONS
Cult Times #99: Michael Shanks talks about his return to STARGATE SG-1 and his recent marriage to Lexa Doig from ANDROMEDA. Also in this issue: Connor Trinneer talks about 'Trip Tucker' of ENTERPRISE and Kevin Sorbo looks at the changes for the fourth season of ANDROMEDA.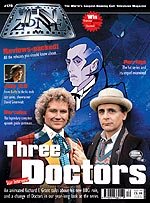 TV Zone #170: DOCTOR WHO returns! A new TV series is getting closer to reality and the BBC has a new webcast "Scream of the Shalka starring Richard E. Grant as the good doctor. Also in this issue: David Greenwalk talks about JAKE 2.0 and we look back at HERCULES: THE LEGENDARY JOURNEYS.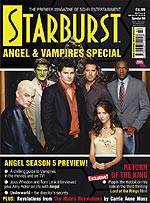 Starburst Special #60 Starburst takes a look at vampires -- on the big and little screen -- from Dracula to Angel. In addition to ANGEL and BUFFY features, you'll find production designer for LORD OF THE RINGS Grant Major talking about THE RETURN OF THE KING and UNDERWORLD's director Len Wiseman breathing life into vampires and werewolves.
Expose #81: Mercedes McNab talks about her roles on BUFFY and ANGEL. Gerard Butler talks about the transition from LARA CROFT to TIMELINE. Mary Steenbergen reveals how she's developed a talent for motherhood and her transition from ELF to JOAN OF ARCADIA.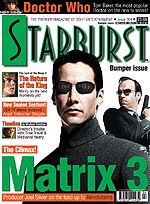 Starburst #304: MATRIX REVOLUTIONS - the final installment of this trilogy is discussed by producer Joel Silver. Also in this issue: Dominic Monaghan talks about his role in LORD OF THE RINGS; Michael Crichton's TIMELINE comes to the big screen and director Richard Donner talks about troubles with time travel and mediaeval fakery.
Dreamwatch: In stark contrast to what we know the future to hold, Lex and Clark have forged a close friendship on Smallville. This month we chat with archenemy in waiting, actor Michael Rosenbaum. Nicole deBoer, a.k.a. The Dead Zone's Sarah Bannerman, discusses the taut psychological thriller and reveals visions of the show¹s future. Plus, new season news from Angel, Alias and Stargate SG-1. (Titan) Magazine, 84pg,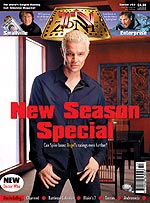 TV Zone #53: This special issue looks at all the returning shows -- and some of the hotter new ones. Inside, Scott Bakula looks at the coming second season of ENTERPRISE; Executive Producer Alfred Gough discusses the challenges of re-creating a superhero on SMALLVILLE. Among new shows, they look at BATTLESTAR GALACTICA, JAKE 2.0, JOAN OF ARCADIA and TARZAN.





Cult Times #100: Celebrate a century of Cult Times with this issue. Read interviews with the stars, and features on shows currently airing in the UK. A Classic Series is given a light-hearted but informative look in our Instant Guide and the highlights of the previous month's viewing are featured in Times Past. Cult Times is the complementary magazine to TV Zone, and together they provide the ultimate guide to the many worlds of Cult Television.
BABYLON 5 NOVEL - ON BOOK SHELVES NOW
DelRey is reprinting the original Babylon 5 novels. They started with #7 - Jeanne Cavelos' THE SHADOW WITHIN. Here's one I've been waiting for -- Kathryn Drennan's TO DREAM IN THE CITY OF SORROWS. The release date is scheduled for July 29, 2003. I love the new cover art! It can be pre-ordered from www.amazon.com. For those of you who love Babylon 5, this one reads just like an episode from the series. You just can't put it down.




COMIC BOOKS
NEW CSI - MINI SERIES
IDW has announced its newest CSI: Crime Scene Investigation mini-series, entitled Demon House, which will launch in February. In Demon House, Gil Grissom and his team of Las Vegas CSIs already have their hands full with a gang of costumed robbers, when what looks like an accidental killing inside a charity-event "haunted house" may turn out to be murder. Demon House is written by award-winning crime writer Max Allan Collins, creator of the Nate Heller mystery novels and the original graphic novel Road to Perdition. Collins is also the writer of the CSI novels and video games. Art for the mini-series is by the same team as previous mini-series, with Gabriel Rodriguez on the main story and Ashley Wood on flashback and crime reenactment scenes, mirroring the visual styles of the TV series. "Max Allan Collins has topped himself this time," IDW editor-in-chief Jeff Mariotte said. "In Demon House we have a visually fascinating location for a mystery that's as full of twists and turns as the best episodes of TV's most popular drama." Each issue of CSI: Crime Scene Investigation‹Demon House will be 32 pages and will cost $3.99. As before, IDW promises additional CSI-related matter in every issue.
SUPREME POWER
SUPREME POWER #7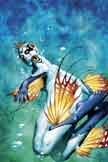 Written by J. Michael Straczynski, cover and pencils by Gary Frank. Jump on board one of the biggest hits of the year as it starts a new, second major story arc! Another new super power rises out of the "depths" of obscurity -- Amphibian! Plus: witness the first (and possibly last!) climactic meeting of Hyperion and Doctor Spectrum! 32 pages, $2.99, in stores on Feb. 4.
* New story arc.
* Marvel's latest hit series.
* Coming next month: Supreme Power Vol. 1, collecing #1-6.
AMAZING SPIDERMAN
AMAZING SPIDER-MAN #504
Written by Fiona Avery with J. Michael Straczynski, cover and pencils by John Romita Jr. "Chasing a Dark Shadow," pt. 2 (of 2). In the aftermath of the inter-dimensional rift caused by Spider-Man and Doctor Strange's battle with Dormammu, a sorceress of limitless power is set free from years of captivity ... and sets forth on a quest through Manhattan to properly thank the one responsible for it: Spider-Man. And if that weren't bad enough, guess who's on her trail? Loki... 32 pages, $2.25, in stores on Feb. 25.
Amazing Spider-Man #501 will arrive in stores on Wednesday from Marvel Comics. The issue is written by J. Michael Straczynski, with art by John Romita Jr. and a cover by Tony Harris. Here's how Marvel describes the issue:
"A brand new story arc starts following the historic issue #500. The drive to Amazing Spider-Man #1000 starts here." Amazing Spider-Man #501 will be 32 pages and will cost $2.25.
STARGATE SG-1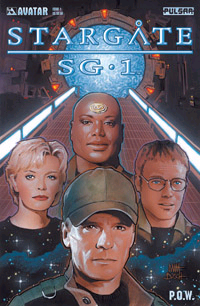 STARGATE SG-1: P.O.W. #1
by James Anthony & Renato Guedes; cover by Matt Busch
The first issue of the new Stargate series is finally here! The greatest sci-fi show on television comes to comics for the first time in a full-length action-packed series! Reconnaissance has discovered an alien invasion force with plans of conquest for planet Earth. Caught in a firefight, the escaping team from Stargate Command unknowingly allows a mysterious serpent-headed Goa'uld Lord access into the SGC. The invaders lay waste to the debarkation chamber, while locking a naquadah-laced bomb onto the Stargate. In the resulting attack, Colonel Jack O'Neill finds himself on a distant world, face to face with a thousand Goa'uld warriors. With the SGC under lockdown and O'Neill already a prisoner of war, the SG1 team must find a way to remove a doomsday bomb from the gate and rescue him from a Goa'uld fortress. Join the SG1 team for a full force adventure as they fight for survival against a race bent on subjecting the universe to their rule as the gods of legend. Jack O'Neill, Daniel Jackson, Samantha Carter, and Teal'c begin a new chapter of Stargate adventures in the pages of Stargate SG1: P.O.W.! Regular cover by Matt Busch; wraparound cover by Renato Guedes. Also available with a photo cover, and as a special "Golden Armor" edition, featuring an all-new solid gold foil wraparound cover with the Serpent Head Goa'ulds illustrated by Jacen Burrows and limited to 2,000 copies.
RISING STARS UPDATE
Since many of us wonder when JMS will be able to finish the RISING STARS comic book, here is an update from JMS: I've asked Top Cow for three things: for Dream Police back, since they've had it now for 3 years and have done nothing with it...for confirmation that the Joe's Comics title belongs to me, and for an apology for deliberately keeping me out of the loop on my own project at the feature stage and misleading me about drafts that had come in. Once those three things have been attended to, I can finish the series.
TV SCHEDULE ON SCIFI CHANNEL
BABYLON 5 15-DEC-03 9:00 AM BABYLON 5 (LBX) THE LONG, TWILIGHT STRUGGLE
15-DEC-03 11:00 PM SCI FI PICTURES BABYLON 5: THE LEGEND OF THE RANGERS (LBX)
16-DEC-03 9:00 AM BABYLON 5 (LBX) COME THE INQUISITOR
17-DEC-03 9:00 AM BABYLON 5 (LBX) THE FALL OF NIGHT
18-DEC-03 9:00 AM BABYLON 5 (LBX) MATTERS OF HONOR
19-DEC-03 9:00 AM BABYLON 5 (LBX) CONVICTIONS
22-DEC-03 9:00 AM BABYLON 5 (LBX) A DAY IN THE STIFE
23-DEC-03 9:00 AM BABYLON 5 (LBX) PASSING THROUGH GETHSEMANE
24-DEC-03 9:00 AM BABYLON 5 (LBX) VOICES OF AUTHORITY
29-DEC-03 9:00 AM BABYLON 5 (LBX) DUST TO DUST
30-DEC-03 9:00 AM BABYLON 5 (LBX) EXOGENESIS CRUSADE:

14-DEC-03 2:00 AM CRUSADE THE WELL OF FOREVER
21-DEC-03 2:00 AM CRUSADE EACH NIGHT I DREAM OF HOME
28-DEC-03 2:00 AM CRUSADE PATTERNS OF THE SOUL

STARGATE SCHEDULE: 15-DEC-03 6:00 PM STARGATE SG-1 THE NOX
15-DEC-03 7:00 PM STARGATE SG-1 THE FIFTH RACE
15-DEC-03 8:00 PM STARGATE SG-1 A MATTER OF TIME
15-DEC-03 9:00 PM STARGATE SG-1 HOLIDAY
15-DEC-03 10:00 PM STARGATE SG-1 SERPENT'S SONG
16-DEC-03 6:00 PM STARGATE SG-1 BRIEF CANDLE
17-DEC-03 6:00 PM STARGATE SG-1 THOR'S HAMMER
18-DEC-03 6:00 PM STARGATE SG-1 THE TORMENT OF TANTALUS
19-DEC-03 6:00 PM STARGATE SG-1 BLOODLINES
19-DEC-03 7:00 PM STARGATE SG-1 (LBX) BIRTHRIGHT
19-DEC-03 9:00 PM STARGATE SG-1 (LBX) EVOLUTION - PT 1
19-DEC-03 11:00 PM STARGATE SG-1 (LBX) EVOLUTION - PT 1
22-DEC-03 6:00 PM STARGATE SG-1 FIRE AND WATER
22-DEC-03 7:00 PM STARGATE SG-1 ONE FALSE STEP
22-DEC-03 8:00 PM STARGATE SG-1 SHOW AND TELL
22-DEC-03 9:00 PM STARGATE SG-1 1969
22-DEC-03 10:00 PM STARGATE SG-1 OUT OF MIND
23-DEC-03 6:00 PM STARGATE SG-1 HATHOR
24-DEC-03 6:00 PM STARGATE SG-1 SINGULARITY
29-DEC-03 6:00 PM STARGATE SG-1 COR-AI
29-DEC-03 7:00 PM STARGATE SG-1 INTO THE FIRE
29-DEC-03 8:00 PM STARGATE SG-1 SETH
29-DEC-03 9:00 PM STARGATE SG-1 FAIR GAME
29-DEC-03 10:00 PM STARGATE SG-1 LEGACY
30-DEC-03 6:00 PM STARGATE SG-1 ENIGMA FARSCAPE SCHEDULE:

14-DEC-03 12:00 AM FARSCAPE UNREALIZED REALITY
16-DEC-03 11:00 AM DAYTIME ROTATION - FARSCAPE LIARS, GUNS, AND MONEY PT 1
16-DEC-03 12:00 PM DAYTIME ROTATION - FARSCAPE LIARS, GUNS, AND MONEY PT 2
16-DEC-03 1:00 PM DAYTIME ROTATION - FARSCAPE LIARS, GUNS, AND MONEY PT 3
16-DEC-03 2:00 PM DAYTIME ROTATION - FARSCAPE DIE ME, DICHOTOMY
16-DEC-03 3:00 PM DAYTIME ROTATION - FARSCAPE SEASON OF DEATH
21-DEC-03 12:00 AM FARSCAPE KANSAS
28-DEC-03 12:00 AM FARSCAPE TERRE FIRMA

EARTH: FINAL CONFLICT

19-DEC-03 5:00 AM EARTH: FINAL CONFLICT GUILTY CONSCIENCE
BABYLON 5/CRUSADE PHOTOSHOP PHOTOS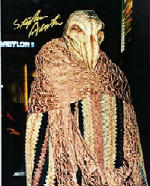 Peter Woodward has sent along a new photo -- a rather dreadful one -- from his appearance on CHARMED. It will be added to the collection of photos available from Peter, including additional copies of the Crusade poster in photo format. Both are autographed by Peter. You do NOT have to pay the prices asked for over at e-bay! Here are photos of B5 and Crusade cast members at fantastic prices. Check out Photo Shop. Ordering is easy -- and you can't beat the prices! Just let me know which photos you want and I'll check to make sure they are still in stock.
---
BABYLON 5 TOONS
John Cook has a wonderful collection of cartoons -- many are take-offs from Babylon 5. Here's just one of them.

He has a cartoon caption contest going on as well. Try your hand at a punch line.

Go to http://contests.sev.com.au/index.php?contestid=1


SCI-FI CARTOONS
With the new Battlestar Galactica coming in December, Tye brings back old memories of Captain Apollo and the old series with this new satire. Apollo Discovers Feng Shui.Enjoy Tye's other works at www.thelightersideofscifi.com.



BABYLON 5/CRUSADE CONVENTIONS
CONVENTION UPDATE
CONVENTION CALENDAR
GenCon
December 10-14, 2003
Location: Anaheim Convention Center
Place: Anaheim, CA
B5 Guests: Richard Biggs, Jason Carter, Jerry Doyle, Robin Atkin Downes
Other Guests: William Shatner, original Battlestar Galactica cast members

For more information, visit their website at http://www.gencon.com/socalhome.aspx?file=socal.
---

Creation Second Annual STAR TREK CONVENTION
January 9-11, 2004
Location: Hilton Metropole Hotel
Place: London, England
Guests: Robbie McNeil, Nana Visitor, Leonard Nimoy, Robert Beltran

For more information, visit their website at http://www.creationent.com/calendar.htm.
---

Creation Entertainment
February 6-8, 2004
Location: Doubletree Bellevue Hotel
Place: Seattle, Washington
Guests: Robert Beltran, Amanda Tapping, Tim Russ, Robert Picardo, Ethan Phillips, Peter Mayhew, Jeremy Bulloch

For more information, visit their website at http://www.creationent.com/calendar.htm.
---

Creation Entertainment
February 14, 2004
Location: Phoenix Hilton East/Mesa
Place: Phoenix, Arizona
Guest: William Shatner

For more information, visit their website at http://www.creationent.com/calendar.htm.
---

Creation Entertainment (Buffy & Angel)
February 15, 2004
Location: Phoenix Hilton East/Mesa
Place: Phoenix, Arizona
B5 Guest: Robin Atkin Downes
Guests: Stephanie Romanov, Julie Benz, Iyari Limon, John Kassir, Jacqueline Lichtenberg

For more information, visit their website at http://www.creationent.com/calendar.htm.
---

Farpoint
February 13-15, 2004
Location: Marriott's Hunt Valley Inn
Place: Baltimore, MD
B5 Guests: Bill Mumy, Brad Dourif
Other Guests: Peter David, Liliana Mumy

For more information, visit their website at http://www.farpointcon.com.
---
Marcon
March 5-7, 2004
Location: Hilton Mpls/St. Paul Airport Hotel
Place: Bloomington, Minneapolis
B5 Guest: Richard Biggs
Other Guests: Dr. Demento, John M. Ford, Davina, David E Romm, the Great Luke Ski, The Nick Atoms, Tri-Destiny

For more information, visit their website at http://www.marscon.org.
---
Best of Both Worlds
Date: March 13-14, 2004
Place: Canberra, Australia
Theme: Lord of the Rings
Guests: Dominic Monaghan - Meriadoc "Merry" Brandybuck (The Lord Of The Rings Movie Trilogy)
For more information, visit their website at " TARGET="_new"> http://johnvb.tripod.com/asn2.html.
---
Creation Entertainment GRAND SLAM: THE SCI-FI SUMMIT
March 26-28, 2004
Location: Pasadena Center
Place: Pasadena, CA
Guests: William Shatner, Leonard Nimoy, Brent Spiner, Sally Kellerman, Connor Trinneer, Alexander Siddig, Dominic Keating, Anthony Montgomery, Walter Koenig, Andrew Robinson, Armen Shimerman, Kren Auberjonois, Cirroc Lofton, John Rhys-Davies, Amanda Tapping, Michael Shanks, Corin Nemec, Michael Rosenbaum, Mark Verheiden, Anthony Michael Hall, Nicole de Boer, Chris Bruno, John L. Adams, Kristen Dalton, Andy Hallett, Mercedes McNab, Robia La Morte, Iyari Limon, Mark Lutz, James Leary, Julie Benz, Jeremy Bulloch, Kenny Baker, Rusty Goffe, Ken Colley, Peter Mayhew, Leni Parker, Gina Torres

For more information, visit their website at http://www.creationent.com/calendar.htm.
---

Be sure to visit the referenced sites to see if there have been changes in dates/guests attending. Also visit our Convention Calendar for a full listing of upcoming conventions featuring Babylon 5, Crusade and Legend of the Rangers cast members as guests.
CONVENTION HIGHLIGHTS
Ranger Brian had a blast with Rick, Jason and Jeffrey at the 2BeContinued Convention last week in Indiana. He sent along a picture for everyone to enjoy. Thanks Brian.
If you would like to share your convention experience with your other Zocalo readers, send along a convention report. I will gladly post it for all to read. Got pictures? I'll post those as well.
ZOCALO TRADING POST
Do you have extra copies of B5, Amazing Spiderman, Midnight Nation or Rising Stars comics you'd like to trade? How about those extra trading cards or B5 magazines? There are a lot of fans looking for these items -- and the Trading Post can help you buy or sell them. To see what's available, just use this link to the Trading Post. To have items included in The Trading Post, send a note to The Zocalo. Please put Trading Post in the subject line.
PEN PALS
If you are looking for someone to talk about Babylon 5 and Crusade with, the Pen Pal section is for you! Check it out! Drop a note to someone who is feeling B5 withdrawal -- BIG TIME!

People thought a Pen Pal page was a good idea. If you would like to meet people who you could chat with or share your opinions of the show with, send along your e-mail or snail-mail address The Zocalo. It will be incorporated on the new Pen Page Page.
MAIL FOR CAST AND CREW
Here's a recent note from JMS on the subject:

Just an FYI to those who've been using the Ventura Blvd. mail drop for fan mail to actors....

As mentioned before, we're phasing out the forwarding of fan mail because we a) don't have the resources, complicated by b) the actors have scattered to the four winds, and it makes it very difficult to get everything to everybody in a timely fashion.

So, having provided prior notice...fan mail to actors coming to the Ventura Blvd. mail drop will be sent back. Mail to actors should be sent via their official fan clubs. I will still be taking mail there, since it's my mailbox, but that's it.

Just so's y'all know and save a few bucks on postage and returns.

WARNER BROS:

Warner Bros. Address:

Warner Bros. Domestic Television Distribution
4000 Warner Blvd.
Burbank, CA 91522

Warner Home Video:

Mr. Douglas Wadleigh
VP for Marketing and Special Features
Warner Bros.
4000 Warner Blvd.
Burbank, CA 91522

SCIFI:
Bonnie Hammer, President
Sci-Fi Channel
1230 Avenue of the Americas
New York, NY. 10020-1513

Mr. Thomas Vitale
Senior VP of Acquisitions, Scheduling & Program-Planning
BACK ISSUES OF THE ZOCALO TODAY
The front page of the The Zocalo Today changes daily, so be sure to check the back issues to make sure that you haven't missed anything IMPORTANT! I don't want the front page getting too long so I shift information periodically into the archives. So if you aren't a regular visitor to The Zocalo Today, be sure to check out the back issues. Just use the button above!
---
Take care and I look forward to hearing from you.
Sandra Bruckner (sgbruckner@aol.com)
Editor/Publisher
The Zocalo Today
http://www.isnnews.net
Copyright - SBruckner, 1999-2003