[an error occurred while processing this directive]

The Zocalo Today

Welcome and thank you for dropping by. Take your shoes off, get comfortable and stay a while. There is a LOT of information here and you won't want to miss any of it.

The Zocalo Today is an interactive newsletter, encouraging readers to join a discussion topic or to send along letters that can be shared with other readers.

The Zocalo Today is a newsletter for Babylon 5 and science fiction fans everywhere. It is as much YOUR newsletter as it is mine! I'm just pulling together things for you!

Join our discussion topic. It is just one way you can share with other Z readers. If you see Babylon 5 cast and crew in other roles, let us know. We enjoy convention reports, photos, etc. Don't miss our back issues. I hope this will become more than just a newsletter. It's a community of people that enjoy sharing their experiences and interests. Babylon 5 brought many of us together -- and it remains with us, despite the fact that is no longer in production. Don't be shy. Join us today!

If you have questions, drop me a line at sgbruckner@aol.com. If you would like to join the mailing list for our newsletter, send me a note and I'll include you on the list. Or you can use the subscription block at the left.

Again, WELCOME!



TODAY'S NEWS
Saturday, February 19, 2005:
TOP 10 SF&F NETWORK SHOWS:
1. Medium 10.3
2. Desperate Housewives 8.3
3. Lost 7.8
4. Joan of Arcadia 5.7
5. Smallville 2.9
6. Charmed 2.4
7. Enterprise 1.8
Source: Nielsen Galaxy Report, 1/24/05 - 1/30/05.
---
JMS AND STAR TREK:
If you missed the exchange this week from J. Michael Straczynski on the continuation of STAR TREK -- the one that Gene Roddenberry created -- go to JMS Speaks page for a complete posting.
---
GHOST RIDER:
The Hollywood Reporter reports that Peter Fonda (Easy Rider) is in negotiations to appear in the upcoming comic- book adaptation of GHOST RIDER. Donal Logue (the WB's Grounded for Life) has also joined the cast, which includes Nicolas Cage, Eva Mendes, Wes Bentley and Sam Elliott. Based on the Marvel comic book of the same name, the film centers around the adventures of Johnny Blaze (Cage), a demonic, motorcycle-riding vigilante who saves the world from evil spirits. Fonda is eyeing the role of Mephistopheles. Logue will play Mack, Johnny's chief mechanic and best friend. GHOST RIDER began shooting this week in Australia under the direction of Mark Steven Johnson (Daredevil). The film is scheduled for release in 2006.
---
LOONATICS:
A new animated series starring futuristic versions of Bugs Bunny, Daffy Duck, Wile E. Coyote and the rest of the Looney Tunes characters has been announced by Warner Bros. Associated Press reported that LOONATICS, which will air Saturday mornings in the fall on the Kids' WB, is set in the year 2272 and features characters such as Buzz Bunny and other superhero descendants of the Looney Tunes family. David Janollari, president of the Kids' WB, told the news service that the network was impressed with the re-imagining of the classic characters and that the new series will not tarnish their legacy. "I think the legacy is intact," he said. "If anything, it's an homage to the legacy instead of a destruction of the legacy."
---
THE FOG:
According to The Hollywood Reporter, SMALLVILLE's Tom Welling has won the lead male role in the remake of John Carpenter's THE FOG. Joining him for the spooky redo is LOST's Maggie Grace (she plays Shannon on the series). FOG is set in a Northern California town where, about 100 years ago, a ship sank under mysterious circumstances in a thick, eerie fog. The ghosts of the deceased mariners return from their watery graves to seek their revenge. Welling will play a local boat owner who never left the town, and Grace will portray a college girl who is back in her hometown for the summer. Rupert Wainwright is directing and Debra Hill, David Foster and Carpenter are producing the film.
---
THE FALL:
Variety reports that David Goyer (Batman Begins, Blade: Trinity) has optioned the movie rights to the graphic novel THE FALL, written by Ed Brubaker and illustrated by Jason Lutes. The film is described as a "modern-noir" that follows a "luckless clerk who gets caught up in an unsolved murder case when he finds a mislaid credit card." Writer Ed Brubaker's website sets it up like this: "Kirk, a down on his luck convenience store clerk, uses a stolen credit card and gets himself caught up in an unsolved murder case almost ten years old." THE FALL is described as a "lo-fi thriller in the tradition of Jim Thompson and Roman Polanski." Brubaker will write the screenplay himself and Goyer will produce.
---
COMIC BOOK UPDATE:
There are a number of new JMS comic books coming out in May -- Amazing Spiderman, Strange -- and his first FANTASTIC FOUR issue! I've included a couple of entries for Fiona Avery as well (CRUSADE's "Well of Forever"). So be sure to drop over to your local comic store -- don't miss the stories you are following.
---
TOP SCIENCE FICTION NEWS STORIES:
To see what has been happening this week in science fiction, go to News Page.
---
DISCUSSION TOPICS
BABYLON 5 - NEW GENERATION:
A reader recently dropped me a note asking what he might do with his collection of Babylon 5 VHS tapes now that he had replaced them with the DVD series. E-bay is always a good solution, but I suggested he donate them to a local library. It occurred to me that this is something we all might do -- as a way of introducing new science fiction fans to BABYLON 5 -- and creating a new generation of dedicated fans and viewers.

So my discussion topic for this period is:
What are some other ways in which we might bring new fans into the BABYLON 5 fold?

Do you have an idea or suggestion? Want to share it with other readers here at The Zocalo Today? Send in your thoughts and comments to sgbruckner@aol.com. I will post them on the Discussion Page for everyone to share and enjoy. There are some good ones so far. Add yours! If you see an old topic you want to respond to, go right ahead. We enjoy hearing from you.
KEEPING UP WITH CAST AND CREW
JERRY DOYLE:
It looks like the JERRY DOYLE SHOW is a success! According to the press release I received, Jerry's radio show is the fastest growing program in (The Radio Network) TRN Enterprises and TRN's combined history. The show was launched into weekday national syndication just 10 months ago by TRN Enterprises and has already surpassed the 150 weekday-station mark. TRN Enterprises, CEO Mark Masters couldn't be more pleased by Doyle's phenomenal growth, commenting, "Jerry has a style that is infectious, programmers love him, and so do the listeners – he is becoming a phenomenon". The Jerry Doyle Show is pop culture, politics and candidly fast-paced discussion on the issues of the day. A self-described conservative, Doyle boldly takes talk radio beyond the predictable. "I call it like I see it, "says Jerry, "I don't hold back when it comes to being candid on the hot issues." The Jerry Doyle Show airs live Monday - Friday noon to 3p.m. Pacific, 3p.m. to 6p.m. Eastern with a re-feed 7p.m. to 10p.m. Pacific and 10p.m. to 1a.m. Eastern. The Jerry Doyle is also available live Saturday's 8p.m. to 11p.m. Pacific, making the show live six days a week.
---
PETER WOODWARD:
CLOSING THE RING, a feature film written by Peter, and to be directed by Lord Richard Attenborough, is now scheduled to start official "prep"... whenever all those final little details can be nailed into place. The film business being what it is, this is not unusual. Current expectation is that it will begin photography about March 2005.
---
STEPHEN AUSTIN: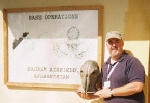 Here is a link where you can see more of Stephen's tour of Afghanistan and other ports of call in the Middle East.
---
SPECIAL CAST ACTIVITIES: To learn more about what cast members are doing away from the tube, go to CAST ACTIVITIES page.
---
SPECIAL ITEMS

For those of you who would LOVE to have an autographed photo of William Shatner AND Leonard Nimoy -- a vintage item by the way -- here's your chance. Ranger Becky sent along a note saying that a special auction is being held by the Tyler Hamilton Foundation, which benefits people with MS. The signed photo from Star Trek: TOS. Signed by both William Shatner & Leonard Nimoy can be viewed at http://www.cmarket.com/catalog/itemDetail.do?ID=b5bbe2e291ca360119232391fb3a1832&cate=null&sortby=null>
---
NEW MOVIES
THE JACKET:
Warner Bros. has sent along some trailers for your viewing pleasure for the upcoming film,THE JACKET. It stars Academy Award winner Adrien Brody, Kris Kristopherson and Kiera Knightly. Opening in theaters on March 4, you can find more information on The Jacket page here at The Zocalo Today, or at The Jacket website.
---
REMEMBERING RICHARD BIGGS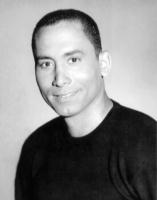 For those of you just coming to the site for the first time, this may be a shock, but Richard Biggs, the wonderful Dr. Stephen Franklin on Babylon 5, died on May 22 of an brain anyerism. There are many efforts underway to help with his two small children. Be sure to go to the Richard Biggs Memorial Page for more information.
A memorial fund has been set up for Richard's two small sons. Donations can be sent to:
For the benefit of the sons of Richard James Biggs II
Washington Mutual Bank
840 N. San Fernando Blvd.
Burbank, CA 91502

A memorial event for Rick will take place on March 19 in North Hollywood -- go to the events calendar for more information.
REMEMBERING TIM CHOATE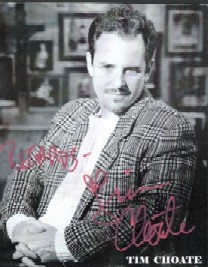 Tim Choate, the wonderful Zathras on Babylon 5, was killed when he was struck by a car while going to a play rehearsal on his motorcycle. A memorial fund has been set up in lieu of flowers for Tim. The address for the memorial fund is:

The Tim Choate Memorial Fund
P.O. Box 861355
Los Angeles, CA 90086

Proceeds will be placed in an educational trust for Flynn, who is 4 years old.
BABYLON 5 BIRTHDAYS
Michael Beck - February 4
Ardwight Chamberlain - February 16
Karen Harrell - February 21
John Iacovelli - February 25
Bill Mumy - February 1
Matt Plummer - February 26
Majel Barrett Roddenberry - February 23
John Schuck - February 4, 1940
Myriam Sirois – February 2

Have I missed anyone? If you know the birthday of someone connected with Babylon 5, pass the information along. We want to include everyone in our Happy Birthday Wishes.
BABYLON 5 DVDS
For information on the Babylon 5 DVDs, please go to Babylon 5 DVD page.
CRUSADE DVD
Warner Bros Home Video has announced that the Babylon 5 spinoff, Crusade was released on DVD December 7. The series stars Peter Woodward, Gary Cole, Marjean Holden, Tracy Scoggins, Daniel Dae Kim, David Allen Brooks and Carrie Dobro. This 13 episode series (576 mins) will be released in a 4 disc set, and carries a suggested price of $59.98 US. It'll contain an English Dolby Digital 5.1 audio track, along with English, French and Spanish subtitles. The video will be presented in the original aspect ratio: 1.33:1. We have little information on the special features, just that there will be audio commentaries and a documentary.

For those of you not familiar with CRUSADE, here is a synopsis of the plot:
In 2267 the Earth is quarantined, having been infected with a deadly plague by an attacking alien force. Scientists estimate that it will kill every inhabitant within 5 years, not nearly enough time for a cure to be developed. So the planet's only hope lies with the Excalibur, an advanced prototype starship sent out to search ancient alien ruins for their former inhabitant's secrets, hoping that somewhere out there a cure can be found.

For a review, go to Crusade Review.
For more information on the BABYLON 5 and CRUSADE DVDs, go to Babylon 5 DVDs Page.
DVD NEWS AND REVIEWS


JUSTICE LEAGUE UNLIMITED: SAVING THE WORLD
The Battles are Unleashed on DVD February 15th from Warner Home Video

For more information on the upcoming DVD, go to Justice League page here at The Zocalo Today.

SEA LAB 2021
The crew of the classic 1972 series Sealab 2020 has been replaced with a gang of misfits unfit for public service. Their mission: to investigate underwater colonization. They are doing a very bad job. For more information on this cartoon series, go to http://www.adultswim.com/shows/. For video clips from Warner Bros., go to SeaLab 2021.
We have a lot of information on new WB DVDs. Visit our NEW DVD Page for press releases and video clips that may be of interest to you. Information includes KUNG FU, MI-5, Carnivale, Troy, The Matrix, and more.
Also be sure to visit to the Review Page for a review of the DVD sets.
SCIENCE FICTION PUBLICATIONS
New from the March issue of PREVIEWS: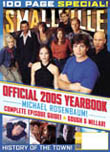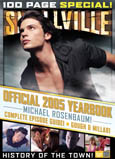 SMALLVILLE MAGAZINE 2005 YEARBOOK
Previews Exclusive Cover Edition! It's the second Smallville Yearbook! Another 100-page Smallville extravaganza with interviews with the cast and crew of the fantastic show! Plus: a complete episode guide; Alfred Gough and Miles Millar discuss the ongoing chronicles of the young Clark Kent; and an exploration of the history of the Kansas farm town! Available in Newsstand and Previews Exclusive cover editions!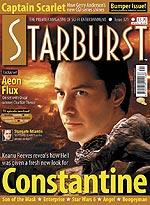 Starburst #331: CONSTANTINE: Keanu Reeves talks about this adaptation of Satanic comic book Hellblazer. Stars Reeves and Djimon Hounsou and producer Lauren Shuler Donner talk about the project in an exclusive set visit. Also in this issue Gerry Anderson talks about his re-imaged Captain Scarlet with CGI for a new generation and former Battlestar Galactica Apollo Richard Hatch returns as a new character to his old intergalactic stomping ground. He talks about fans' reactions and why he fell in love with the new vision of the series.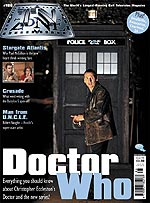 TV Zone #186: DOCTOR WHO: The BBC is bringing back DOCTOR WHO and this issue gives you a look at the show, episode-by-episode. Also inside you'll find articles on Paul McGillion from STARGATE ATLANTIS as he talks about going from a walk-on to regular. For BABYLON 5 fans, this issue takes a look at the ill-fated Babylon 5 spin-off series, and find out why a promising series was cut short before it had a chance to shine.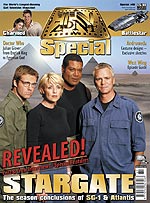 TV Zone Special #61: STARGATE SG-1 and ATLANTIS: The season finales! Here is your guide to Stargate SG-1 as the eighth season concludes. You'll find an overview the first episodes of 2005, complete with cast and crew interviews – and take a look at STARGATE ATLANTIS as it completes its first season.
Expose #92: HARRY POTTER: A Coming Attractions special, previewing the upcoming Harry Potter and the Goblet of Fire film, complete with new photos! Also inside, Patricia Arquette talks about taking on the role of real-life psychic Allison DuBois in MEDIUM -- she tells us how a real person's life story has been turned into a Fantasy series.
Cult Times #113: STARGATE ATLANTIS takes center stage in this issue. Star Joe Flanigan looks back on the series so far and what he enjoys in life. Also in this issue, Claudia Black talks about her recurring role of Vala on STARGATE SG-1 and how she feels about joining the show and working with FARSCAPE's Ben Browder again.
Cult Times Special #32: Looking back on 2004, and forward to 2005! This issue includes previews of Andromeda, Boston Legal, Charmed, CSI: Crime Scene Investigation, CSI: Miami, CSI: NY, Dead Like Me, Desperate Housewives, Joan of Arcadia, Las Vegas, Lost, Scrubs, Smallville, Star Trek: Enterprise and Without a Trace.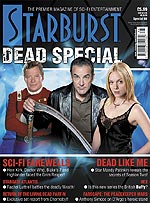 Starburst Special #66: In this issue, Mandy Patinkin talks about his role as Rube, the leader of the somewhat- less-than-grim band of Reapers from DEAD LIKE ME. Neil Gaiman, author of the SANDMAN stories turns director and talks about bringing his newest project, Death – The High Cost of Living to the big screen. And more from the land of the living, Atlantis star Rachel Luttrell tells us about developing her role as a feisty freedom fighter battling vampiric creatures in the new series.
NEW IN BOOK STORES
THE CREATURES OF FARSCAPE: INSIDE JIM HENSON'S CREATURE SHOP HC
by Joe Nazzaro

Featuring never-before-seen stills and exclusive contributions from the cast and crew, The Creatures of Farscape takes readers behind-the-scenes of this acclaimed television series, revealing the secrets of the most advanced special effects yet created by the world-famous Jim Henson Company. (6337/1-903111-85-4)

WAR OF THE WORLDS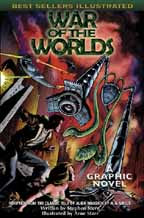 Best Sellers Illustrated will launch its line of graphic novels in May with an adaptation of the H.G. Wells science-fiction classic, THE WAR OF THE WORLDS. Vice-president Aron Kessler said, "Wells was far ahead of his time when The War of the Worlds was first published in book form in 1898. Not only was he a visionary, but he was also an astute social critic whose writings are as relevant today as they were over a century ago. For these reasons, we're able to remain true to the original story, while completely updating it for a modern audience."
The adaptation is written by Stephen Stern, writer/creator of the independent comic-book, Zen Intergalactic Ninja. "The War of the Worlds isn't just a great science-fiction novel; it's great literature," Stern said. "As always in modernizing a classic, the task is to remain faithful to the spirit of the source material while re-imagining it in a contemporary context. In this instance, I'm also shifting the locale from London and its environs to the New York metropolitan area. In light of recent history, this attack by the Martians takes on a chilling relevancy and poignancy." WAR OF THE WORLDS is illustrated by veteran Star Trek comic-book artist Arne Starr. The graphic novel will feature a cover by Frank Brunner.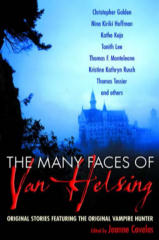 The Many Faces of Van Helsing; edited by Jeanne Cavelos
Ace Books (Penguin Putnam Inc.); NYC; April, 2004; 400 pp.; trade paperback; $14.95 U.S. $22.50 Can. ISBN 0-441-01170-5
First introduced in Bram Stoker's immortal Dracula, Abraham Van Helsing became the ultimate adversary for the vampire--as enigmatic and complex as the fiend he so relentlessly pursued. Now, in this unique anthology of stories, masters of horror and fantasy each give the original vampire hunter his due as they reimagine the history and reinvent the adventures of a fascinating, mysterious, and unforgettable character who was the greatest foe of the most evil icon in literary history.
For more information on this book, go to Jeanne Cavelos' website. Jeanne is a wonderful author -- one that spent a good bit of time in the Babylon 5 universe. Her Techno-Mage series will be required reading for those just coming to the story with THE MEMORY OF SHADOWS.
GRAPHIC NOVELS
LOST IN SPACE:
To commemorate the 40th annivesary of LOST IN SPACE, Bubblehead Publishing, is set to release a 360-page, full-color graphic novel collecting and completing Bill Mumy's 12-part adventure LOST IN SPACE: VOYAGE TO THE BOTTOM OF THE SOUL, a story originally published in serialized form by Innovation Publishing in 1992-93 but left unfinished when the publisher went out of business.
Current plans call for Bubblehead to release the graphic novel in July at San Diego's Comic-Con International, to coincide with the 40th anniversary of Lost in Space, the TV series, but advance pre-publication sales of the book will be available on the company's internet commerce site www.lisvoyage.com. .
Said Mumy: "I'm working with some great people on this project. I'm so glad the original team is back to finish "Voyage to the Bottom of the Soul" properly. For over ten years fans have been asking me how this huge story ended, wanting me to print the unpublished second half of the scripts alone, but I didn't want to diminish the piece that way. Michal's artwork looks great and I'm very excited about it. I've always been proud of this story. You don't have to be a fan of the old television show to get into this book but those who are will especially enjoy it. It really advances the classic arc of Lost in Space."
COMIC BOOKS
COMIC BOOKS COMING IN MAY
AMAZING SPIDERMAN
Written by J. Michael Straczynski, art and cover by Mike Deodato.

In this tale for the ages, written by Stupendous J. Michael Straczynski and penciled by Magnificent Mike Deodato, Peter and the family are forced to deal with the radical changes in their lives. Straight from the pages of the New Avengers. Part 2 of 5.

32 pages, $2.25, in stores on May 25. >p>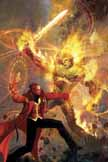 STRANGE #6
Written by J. Michael Straczynski and Samm Barnes, art and cover Brandon Peterson.
On their journey to discover Blackthroat, Marco and Director Joel Cameron's crew end up on a dark island in the heart of the Bermuda Triangle. Plotting to fuel Marco's thirst for revenge, Cameron hatches a trap with Jeanine's life in the balance. As the small crew turns on one another they soon learn that this island is not as deserted as it seems; it is home to an ancient clan of vampires whose dark secret has ramifications for all of humanity.
32 pages, $3.50, in stores on May 18.
FANTASTIC FOUR #527
Written by J. Michael Straczynski, art and cover by Mike McKone.
"Distant Music." A new arc begins here. Just in time for movie season, new ongoing creative team J. Michael Straczynski and Mike McKone unite their talents to chart a new course for the world's greatest comic magazine! First up: an intriguing offer for a conflicted Reed, and a windfall for Ben.
32 pages, $2.99, in stores on May 25.
AMAZING FANTASY #8
Written by Fred Van Lenet, art by Leonard Kirk, cover by James Jean.
"Motherless Country," part 2 of 5. The all-new Scorpion follows the only clue to her dark past halfway around the world to exotic Madripoor-- and smack-dab into trouble with the local Triad crime lords! Will her first mission for S.H.I.E.L.D. be her last?
32 pages, $2.99, in stores on May 4.
ARAÑA: THE HEART OF THE SPIDER #5
Written by Fiona Avery, art by Roger Cruz, cover by Mark Brooks.
Her teammate's at Death's Door, her nemesis wants a showdown, and her best friend is falling for the wrong boy -­ if this is Anya's destiny, then she¹s taking it back to the store! But rejecting her fate might only make matters worse for Anya -- and better for the perfectly evil Sisterhood of the Wasp!
32 pages, $2.99, in stores on May 25.
AMAZING SPIDERMAN #517
Amazing Spider-Man #517 will arrive in stores on Feb. 23 from Marvel Comics. The issue is written by J. Michael Straczynski, with art by Mike Deodato Jr. and Mark Brooks, with a cover by Gary Frank.
Here's how Marvel describes the book:
"'Skin Deep,' part 3 of 4. When a former classmate of Peter Parker's is caught in a horrific experiment, he blames Peter for the resulting transformation... But is Peter to blame? And how will Peter react when someone targets his personal life instead of Spider-Man¹s life, for a change?"
Amazing Spider-Man #517 will be 32 pages and will cost $2.25
JMS COMIC BOOKS: For a listing of current comic books written by J. Michael Straczynski, go to COMIC BOOK page. There is a brief synopsis of the book and a date when publication is expected.
TV SCHEDULE ON SCIFI CHANNEL
STARGATE SCHEDULE:
02/21/2005 06:00 PM STARGATE SG-1 (SEASON 6) PARADISE LOST
02/21/2005 07:00 PM STARGATE SG-1 ( SEASONS 1-5) FAMILY
02/21/2005 08:00 PM STARGATE SG-1 ( SEASONS 1-5) SECRETS (STARGATE)
02/21/2005 09:00 PM STARGATE SG-1 ( SEASONS 1-5) BANE
02/22/2005 06:00 PM STARGATE SG-1 (SEASON 6) METAMORPHOSIS
02/23/2005 06:00 PM STARGATE SG-1 (SEASON 6) DISCLOSURE
02/24/2005 06:00 PM STARGATE SG-1 (SEASON 6) FORSAKEN
02/25/2005 06:00 PM STARGATE SG-1 (SEASON 6) THE CHANGELING
02/25/2005 08:00 PM STARGATE SG-1 (SEASON 8) RECKONING - PART 1
02/25/2005 11:00 PM STARGATE SG-1 (SEASON 8) RECKONING - PART 1
02/28/2005 06:00 PM STARGATE SG-1 (SEASON 6) MEMENTO
02/28/2005 07:00 PM STARGATE SG-1 ( SEASONS 1-5) THE TOK'RA, PT. 1
02/28/2005 08:00 PM STARGATE SG-1 ( SEASONS 1-5) THE TOK'RA, PT. 2
02/28/2005 09:00 PM STARGATE SG-1 ( SEASONS 1-5) SPIRITS

STARGATE ATLANTIS:
02/25/2005 09:00 PM STARGATE ATLANTIS THE BROTHERHOOD
02/25/2005 12:00 AM STARGATE ATLANTIS THE BROTHERHOOD

BATTLESTAR GALACTICA:
02/21/2005 10:00 PM BATTLESTAR GALACTICA 6 DEGREES OF SEPARATION
02/25/2005 10:00 PM BATTLESTAR GALACTICA FLESH AND BONE
02/25/2005 01:00 AM BATTLESTAR GALACTICA FLESH AND BONE
02/28/2005 10:00 PM BATTLESTAR GALACTICA FLESH AND BONE

FARSCAPE SCHEDULE:
02/28/2005 08:00 AM FARSCAPE DNA MAD SCIENTIST
02/28/2005 09:00 AM FARSCAPE THEY'VE GOT A SECRET
02/28/2005 10:00 AM FARSCAPE TILL THE BLOOD RUNS CLEAR
02/28/2005 11:00 AM FARSCAPE RHAPSODY IN BLUE
02/28/2005 12:00 PM FARSCAPE THE FLAX
02/28/2005 01:00 PM FARSCAPE JEREMIAH CRICHTON
02/28/2005 02:00 PM FARSCAPE DURKA RETURNS
02/28/2005 03:00 PM FARSCAPE A HUMAN REACTION
BABYLON 5/CRUSADE PHOTOSHOP PHOTOS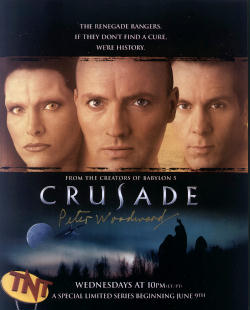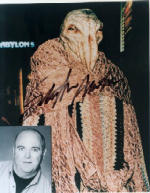 You do NOT have to pay the prices asked for over at e-bay! Here are photos of B5 and Crusade cast members at fantastic prices. Check out Photo Shop. Ordering is easy -- and you can't beat the prices! Just let me know which photos you want and I'll check to make sure they are still in stock.
---
SCI-FI CARTOONS
While catching up on my e-mail yesterday morning, I got an instant message from LFMOA along with a nice goodie that I can share with readers. Thanks for sending along your version of Pinky and the B5 Brain.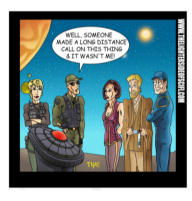 Tye Bourdony's latest Lighter Side of Sci-Fi satire can be seen here and at Tye's website www.thelightersideofscifi.com.
CALENDAR OF EVENTS
RICHARD BIGGS MEMORIAL SHOW
Here's a date to put on your calendar -- Saturday, March 19, 2005. A few of Rick's friends are getting together for a day of remembering their friend and colleague. The guest list for the day is:
Guests attending Breakfast & Afternoon:
Matthew Ashford (Days of Our Lives)
Bruce Boxleitner (Babylon 5, TRON)
Ricardo Antonio Chavira (Desperate Housewives)
Jerry Doyle (Babylon 5)
Mira Furlan (Babylon 5, Lost)
Melissa Gilbert (Little House on the Prairie)
Lisa Howard (Earth Final Conflict, Highlander)
Michael T. Weiss (The Pretender)
Stephen Nichols (Days of our Lives)
Melinda Clark (The OC/Days of our Lives)
Rick Hearst (General Hospital)
George Jenesky (Days of our Lives)

Appearing at the afternoon signing - 12:30 to 4:00pm:
Babylon 5 cast members: Andreas Katsulas, Pat Tallman, Bill Mumy, Jason Carter, Ed Wasser, Stephen Austin, Bruce Boxleitner, Jerry Doyle, Melissa Gilbert, Julie Caitlin Brown, Tracy Scoggins
Matthew Ashford (Days of our Lives)
Lisa Howard (Earth Final Conflict, Highlander)
Michael T. Weiss (The Pretender)

Place: The event will be held at the Beverly Garland Hotel, 4222 Vineland Ave., N. Hollywood, CA 91602. The schedule is as follows:
10am to 12pm
Celebrity - Buffet Breakfast
(Including made-to-order omelets)

12:30pm to 4pm
Autograph* Signings

All Proceeds to the family of Richard Biggs. To purchase tickets: Pay $100 for each breakfast ticket; $25 for each afternoon autograph session. If both events are purchased the total cost is reduced to $115, a $10 savings. Visit PayPal and enter email address Blkcat1067@ aol.com. When paying be sure to enter email address so that we can send the ticket back.

For mailing checks, make checks payable to: Richard Biggs Memorial Show
1052 W. Alameda Avenue #350; Burbank, CA 91506

* Celebrities appear subject to work commitments. A charge will be made for autographs. ALL proceeds to the family of Richard Biggs.
CONVENTION CALENDAR
February 18-20, 2005
VisionCon 2005
Place: Springfield, Missouri
B5 Guest: Mira Furlan
For more information, visit their website at http://www.visioncon.net/Welcome.htm.
---
February 18-20, 2005
Gallifrey 2005
Place: The Airtel Plaza Hotel
City: Los Angeles (Van Nuys), California
The Sixteenth Annual North American DOCTOR WHO and Science Fiction Media Convention
For more information, go to http://www.gallifreyone.com/gallifrey.php
---
February 25-27, 2005
Redemption 05
Blake's 7, Babylon 5 and Beyond
Guests: Jason Carter, Jim Mortimore and Mat Irvine
Place: Hinckley, Leicestershire, UK
For more information, visit their website at http://www.smof.com/redemption
---
February 25-27, 2005
THE OFFICIAL STARGATE SG-1 and STARGATE: ATLANTIS CONVENTION
Place: Hilton DFW Lakes, 1800 Hwy. 26 E.
City: Grapevine, TX. (near Dallas)
Guests: Michael Shanks, Christoper Judge, Don Davis, Teryl Rothery, Peter Williams
For more information, visit the Creation Entertainment website at http://www.creationent.com/cal/sgtx.htm
---
March 11-13, 2005
Grand Slam XIII - The Sci-Fi Summit
City: PASADENA, CA
Place: Pasadena Center, 300 E. Green St.
Guests: MARK HAMILL, JOLENE BLALOCK, WILLIAM SHATNER, JAMES DARREN, MICHAEL SHANKS, CHRISTOPHER JUDGE, NATHAN FILLION, ROBERT WALKER, JR (in his first convention appearance) and scores more
For more information, visit the Creation Entertainment website at http://www.creationent.com/cal/stgs.htm
---
March 19, 2005
Richard Biggs Memorial Show
Place: Beverly Garland Hotel, 4222 Vineland Ave., N. Hollywood, CA 91602
Guests: Matthew Ashford (Days of Our Lives); Bruce Boxleitner (Babylon 5, TRON); Ricardo Antonio Chavira (Desperate Housewives); Jerry Doyle (Babylon 5); Mira Furlan (Babylon 5, Lost); Melissa Gilbert (Babylon 5, Little House on the Prairie), Lisa Howard (Earth Final Conflict, Highlander), Michael T. Weiss (The Pretender); Afternoon Only: Andreas Katsulas (Babylon 5, Star Trek)

For more information, visit the website at http://www.richardbiggs.com.
---
May 6-8, 2005
TO BE CONTINUED
Place: Chicago Marriott Schaumburg Hotel
City: Schaumberg, IL.
For more information, visit www.2becontinued.com.
---
Be sure to visit the referenced sites to see if there have been changes in dates/guests attending. Visit our Convention Calendar for a full listing of upcoming conventions.
MAIL FOR CAST AND CREW
Here's a recent note from JMS on the subject:

Just an FYI to those who've been using the Ventura Blvd. mail drop for fan mail to actors....

As mentioned before, we're phasing out the forwarding of fan mail because we a) don't have the resources, complicated by b) the actors have scattered to the four winds, and it makes it very difficult to get everything to everybody in a timely fashion.

So, having provided prior notice...fan mail to actors coming to the Ventura Blvd. mail drop will be sent back. Mail to actors should be sent via their official fan clubs. I will still be taking mail there, since it's my mailbox, but that's it.

Just so's y'all know and save a few bucks on postage and returns.

WARNER BROS:

Phone: 818.954.3000
Fax: 818.954.7829
E-mail: wbsf@warnerbros.com
Hours: M-F, 9A to 6P PST
Address: 4000 Warner Blvd.
Burbank, CA 91522

PRODUCTION SUPPORT SERVICES
Dominick Bruno
Phone: 818.954.5690
wbsfproperty@warnerbros.com

Warner Home Video:

Mr. Douglas Wadleigh
VP for Marketing and Special Features
Warner Bros.
4000 Warner Blvd.
Burbank, CA 91522
BACK ISSUES OF THE ZOCALO TODAY
The front page of the The Zocalo Today changes daily, so be sure to check the back issues to make sure that you haven't missed anything IMPORTANT! I don't want the front page getting too long so I shift information periodically into the archives. So if you aren't a regular visitor to The Zocalo Today, be sure to check out the back issues. Just use the button above!
---
Take care and I look forward to hearing from you.
Sandra Bruckner (sgbruckner@aol.com)
Editor/Publisher
ISN News: The Zocalo Today
http://www.isnnews.net
Copyright - SBruckner, 1999-2005
Search Engine Optimization and Free Submission