[an error occurred while processing this directive]

The Zocalo Today

Welcome! I am glad that you found The Zocalo Today and dropped by. Take your shoes off, get comfortable and stay a while. There is a LOT of information here and you won't want to miss any of it.

The Zocalo Today is an interactive newsletter, encouraging interaction with readers through a discussion topic each week. If you have suggestions as to how The Zocalo can be improved -- or be more responsive -- send them along. The Zocalo Today is as much YOUR newsletter as it is mine! I'm just pulling together things for you!

Join our weekly discussion topic. It is just one way you can interact with other Z readers. If you have other information you would like to share, send it along. If you see Babylon 5 cast and crew in other roles, let us know. We enjoy convention reports, photos, etc. Don't miss our back issues. I hope this will become more than just a newsletter. It's a community of people that enjoy sharing their experiences and interests. Don't be shy. Join us today!

If you have questions, drop me a line at sgbruckner@aol.com. If you would like to join the mailing list for our bi-weekly newsletter, send me a note and I'll include you on the list. Or you can use the subscription block at the left.

Again, WELCOME!




What's New Today
Saturday, April 24:
TOP NETWORK SF PROGRAMS:
Joan of Arcadia 6.1
Century City 5.2
Kingdom Hospital 3.5
Tru Calling 3.4
Wonderfalls 2.0
Charmed 2.0
Smallville 2.0
Enterprise 1.5
Game Over 0.9
Source: Nielsen Galaxy Report, 3/29/04 - 4/4/04.
---
THE FOUNTAIN: While out promoting his latest film, VAN HELSING, Hugh Jackman confirmed that he will have a major role in Darren Aronofsky's SF epic movie THE FOUNTAIN. "I play three characters, and it's basically about the search for the Fountain of Youth." Jackman had high praise for writer/director Aronofsky (Requiem for a Dream). "It is really an extraordinary [film]," he said. "I think Darren could become, in the final analysis, another Kubrick. I think he's an amazing director, and he's written a script that is just phenomenal. I'm honored to be a part of it, I really am; I'm very excited about it." The movie was also delayed for a year when co-star Cate Blanchett got pregnant. A number of actors have been associated with the movie, including Brad Pitt.
---
HELLBOY: HELLBOY's leading man, Ron Perlman, has been cast in the indie movie COLDWATER. Perlman plays Morris Timberland, a harsh youth center leader known to his charges as "The Colonel". He oversees a detention facility for young offenders. The project was written by Vincent Grashaw and Mark Penney and draws inspiration from the tough environments of youth boot camps, places where the punishment can exceed the crime. Music video director Sean Michael Beyer is behind the camera and filming kicks off on June 1.
---
MILLENIUM: July 20 has finally been selected as the Regiona 1 street date for the first season of Chris Carter's MILLENNIUM. This thriller debuted on Fox in 1996 and contained storylines that were even darker than Carter's other creation, THE X-FILES. MILLENNIUM went on for three seasons before being cancelled by the network. The show starred Lance Henriksen as Frank Black, an ex-FBI serial killer profiler who was recruited by a clandestine organization known as the Millennium Group. Black's abilities to "see" into the minds of killers made him a valuable addition to the team but left him unsettled about where society might be headed. Eventually Black began to suspect the Millennium Group of holding secrets and a belief that some kind of apocalyptic event would be shortly happening, and that the crimes Black and the other Millennium operatives investigated were signs of the coming end of the world. The DVD set will contain six discs featuring all 22 episodes from the show's first season. Each of the episodes will be presented in 1.33:1 full-screen format with English, Franch and Spanish Dolby Surround sound. TV promo spots for all 22 episodes will also be included. Bonus features include a commentary by series creator Chris Carter on the pilot episode; a commentary by director David Nutter on "Gehenna"; and a commentary on "The Judge" (with unspecified individuals.) Three featurettes are also in the set: "Order in Chaos: Making MILLENNIUM Season One"; "The Academy Group"; and "Main Title Design". As well, trailers for several Fox DVDs will be bundled on the set including ones for PREDATOR: SPECIAL EDITION and the X-FILES season sets.
---
HOVER CAR RACER: SMALLVILLE's executive producers Alfred Gough and Miles Millar have taken on the sci-fi/actioner HOVER CAR RACER for the big screen.
---
WHAT'S ON TONIGHT
4:00pm on Spike TV
Star Trek: Deep Space Nine
Part 1 of 2: Past Tense
A transporter malfunction sends Sisko, Bashir and Dax to 21st-century Earth.

5:00pm on Spike TV
Star Trek: Deep Space Nine
Part 2 of 2: Past Tense
Trapped in the past, Sisko must risk his life to preserve the future.

6:30 on HBO
Harry Potter and the Chamber of Secrets
Young wizards investigate a dark force at their school. Based on a book by J.K. Rowling.

8:00pm on UPN
Star Trek: Enterprise
Damage
Archer sacrifices his ethics in order to intercept the Xindi weapon.

9:00pm on UPN
Unexplained Mysteries
Real People, Real UFOs Stories of people who have encountered UFOs.

On SciFi Tonight:

5:00pm
Crocodile
An angry mother crocodile stalks college students.

7:00pm
Crocodile 2: Death Roll
A giant crocodile stalks a band of criminals after their plane crashes in a Mexican swamp.

9:00pm
Dinocroc
Several townspeople step forward to save their community from the jaws of a prehistoric reptile.

11:00pm
DNA
DNA expert, fed try to stop scientist's monster.

On Syndicated TV This Weekend:

Andromeda
Trusting the Gordian Maze
The Triumvirate sends a beautiful spy to tempt Dylan and retrieve the star map.

Angel
Long Day's Journey
The gang learns that the one who can stop the Beast is among them.

BeastMaster
Clash of the Titans
Dar is drawn into a battle between Zad and Voden in order to save Tao and Arina.

Sir Arthur Conan Doyle's The Lost World
Survivor
Supernatural forces threaten to destroy the explorers when they enter an ancient temple.

Mutant X
In Between
Brennan must connect with Jesse and guide him through past experiences in order to save his life.

Stargate SG-1
Abyss
O'Neill becomes the prisoner of a system lord, with no memory of how he got there.

The Outer Limits
The Surrogate A struggling artist signs up to be a surrogate mother.
INSIDE SCI-FI THIS WEEK:
Friday, April 23:
TOP SF DVD SALES: 1. The Matrix Revolutions
2. Return of the King
3. Star Wars Trilogy
4. Buffy season six
5. Big Fish
6. Babylon 5 season five
7. Pirates of the Caribbean
8. The Two Towers extended edition
9. Brother Bear
10. The Monster Legacy Collection
Source: Amazon.com, top-selling genre DVDs, 4/19/04
---
STARGATE: ATLANTIS: SCIFI has put up a new website for it's upcoming original series STARGATE ATLANTIS which premieres July 16. This preliminary site includes a welcome message from "President Henry Hayes"; cast and crew biographies; a gallery of images; wallpaper, e-card and IM icon downloads; and a bulletin board. A spinoff of STARGATE SG-1, the new series features a new cast led by Joe Flanigan, playing a crew that undertakes humanity's greatest and most dangerous mission yet. ATLANTIS will debut with a two-hour premiere in July and feature crossover appearances by members of the SG-1 team. Following its premiere, 18 additional original episodes of ATLANTIS will air during the show's regular Friday 10 p.m. ET/PT timeslot as a companion series to the new eighth season of SG-1, which airs at 9 p.m. STARGATE ATLANTIS is featured in the current issue of TV Guide, with new photos inside and on the cover. The issue, covering the week of April 25, is now on newsstands.
---
FLASH GORDON: Two different sources no report that VAN HELSING director Stephen Sommers is presently attached to produce a new FLASH GORDON movie. Inside word is that the gentleman is waiting to see how his new movie, VAN HELSING, fares at the box office come May. If VAN HELSING proves to be a monster-sized hit, Sommers may have to pass on writing and directing FLASH in favor of VAN HELSING 2.
---
NEW TREK FEATURE: STAR TREK producer Rick Berman has finally dropped the first hints of a new theatrical project for the franchise. In the latest issue of "Dreamwatch" magazine, Berman confirms for the first time that he is now developing a STAR TREK feature film project: "I am involved in the very early stages of what could be the next STAR TREK movie," reveals Berman, in an excerpt provided by Dreamwatch. "It's something I will be producing with two other producers." He cryptically describes it as "a prequel" without any further elaboration. The names of his producing cohorts will have to remain unknown for now, as well. This follows a report earlier this week from Dark Horizons that Paramount may be working on a project the site described as "Starfleet Command." Coincidentally, former TREK producer Harve Bennett (STAR TREKs II-VI) revealed recently that several years ago he had pitched a Starfleet Academy-based STAR TREK movie concept. On the television front, while the future of their first series remains in limbo, Berman confirms that he is developing a non-STAR TREK sci-fi series with partner Brannon Braga. Both Berman and Braga have development deals with Paramount. If a new series begins development in earnest, TrekWeb insiders suggest Berman and/or Braga might take a reduced role in a fourth season of ENTERPRISE, though this is entirely speculation."
---
AMERICAN GOTHIC: Gary Cole will be returning as Sheriff Lucas Buck in "American Gothic : The Movie". Producer Craig Marquardo ["Sway"] says Cole was on board the moment he heard that it was a go picture. The film – which will be a re-telling of the events of the television series – has also signed original cast members Brenda Bakke, Nick Searcy and Jake Weber. It's believed many of the other original players – including young Lucas Black, who's now too old to play the role of the child, Caleb – will be replaced. Sam Raimi is circling the film as a possible directing gig. "American Gothic" aired from September 1995 to July 1996. Executive Prodced by Sam Raimi and Robert G. Tapert and created by Shaun Cassidy, it told the story of a charming small-town Sheriff who seems to be posses a hellish power that's used on anyone who gets in the way of his plans. It was axed after only one season, but developed quite a following in that short amount of time. It's planned that a new season of the series will follow the eventual film.
---
PATTERN RECOGNITION: Director Peter Weir (Master and Commander: The Far Side of the World) is attached to direct PATTERN RECOGNITION, a thriller at Warner Bros. Weir will co-write the script with David Arata. The film follows the adventures of a marketing expert who finds herself in a dangerous puzzle when she's hired to track down the source of a strange collection of video footage on the Internet. William Gibson published the novel last year through Penguin Putnam.
---
Thursday, April 22:
THE VILLAGE: According to the ComingSoon website, Director M. Night Shyamalan will host an April 26 ABC telecast of THE SIXTH SENSE, during which he will present a world-premiere trailer for his next film, THE VILLAGE, which opens July 30. On May 3 at 8 p.m. ET/PT, Shyamalan hosts the ABC debut of UNBREAKABLE, during which he will showcase never-before-seen material for THE VILLAGE.
---
TOP VIDEOS: The Hollywood Reporter indicates that MASTER AND COMMANDER: THE FAR SIDE OF THE WORLD sold more than 2 million combined DVD and VHS units during its first day in release Tuesday, according to 20th Century Fox Home Entertainment executives.
---
SKY CAPTAIN AND THE WORLD OF TOMORROW: SKY CAPTAIN AND THE WORLD OF TOMORROW, will have to wait until September to take flight. Paramount Pictures' retro-futuristic action-adventure movie starring Jude Law, Gwyneth Paltrow and Angelina Jolie, has postponed the film originally scheduled for release on June 25. Paramount said the shift comes because of moves on the part of its competitors. "Sky Captain," which first-time director Kerry Conran shot with his actors performing in front of green screens with elaborate CG settings and effects added in postproduction, had been scheduled to open a week before Sony Pictures' "Spider-Man 2," which was originally set to bow Friday, July 2. However, at last month's ShoWest convention, Sony said it was moving "Spider-Man's" debut up two days to Wednesday, June 30. With "Spider-Man" previews expected to take place Tuesday night, June 29, that would have left "Sky Captain" just four days before it had to fend off "Spider-Man."
---
24: FOX has issued renewals for a number of programs, including the real-time drama "24". "24" received full-season orders -- 24 episodes in the case of "24".
---
THE WRONG ELEMENT: Harrison Ford has decided to jump into a new thriller from writer Joe Forte. According to Variety, THE WRONG ELEMENT, will have Ford play a security chief for a global bank whose family is kidnapped. He's asked to topple his own security safeguards and steal $37 million from the bank to save his family. Then he has to stop the kidnappers, who've created a complex trail that will make him look guilty of embezzlement.
---
DERAILED: Variety reports that Clive Owen (King Arthur) has joined DERAILED for Miramax Films and producer Lorenzo di Bonaventura. Swedish helmer Mikael Hafstrom is making his English- language directing bow on the thriller, in which the life of an advertising executive takes an unpredictable turn when he misses his morning train to the office. Stuart Beattie (Collateral) adapted the screenplay from James Siegel's novel.
---
IRON MAN: According to The Hollywood Reporter, X-Men and X2: X-Men United screenwriter David Hayter has signed on to rewrite IRON MAN, New Line Cinema's adaptation of the Marvel Comics character. In the comic, IRON MAN's real identity is that of billionaire industrialist Tony Stark, who develops an armored suit that lets him fly and shoot repulsor rays. The comic debuted in the 1960s, and IRON MAN's origin involved Stark being a prisoner of the Viet Cong. The comic evolved into Stark fighting spies, both political and industrial, while also battling alcoholism. The film will reportedly reflect a modern world climate, as well as modern technological, political and societal trends.
---
Wednesday, April 21:
TOP SF SYNDICATED SHOWS:
Stargate SG-1 2.3
Andromeda 1.7
Mutant X 1.7
She Spies 1.6
The X-Files 1.6
3rd Rock 1.4
Angel 1.4
Beastmaster 1.3
Buffy 1.3
Ripley's 1.1
Source: Nielsen Galaxy Report, 3/29/04 - 4/4/04
---
STAR WARS: The official Star Wars website announced that Lucasfilm will open a Star Wars pavilion at the International Comic-Con in San Diego, July 21-25. The pavilion will occupy the front row in Hall D at the San Diego Convention Center. Friday is Star Wars day at Comic-Con, featuring seminars on everything from toys and collectibles to books and comics.
---
BEST SELLING SF BOOKS:
1. The Da Vinci Code
2. Angels & Demons
3. The Confusion (Baroque Cycle)
4. Glorious Appearing (Left Behind)
5. Expanded Psionics Handbook
6. The Song of Susannah (Dark Tower 6)
7. Wicked
8. The Time Traveler's Wife
9. New Spring (Wheel of Time)
10. King of Foxes (Conclave of Shadows)
Source: Amazon.com, 4/19/04
---
ASIMOV'S SCIENCE FICTION: According to Dell Magazine, Gardner Dozois is stepping down as editor at Asimov's Science Fiction magazine to "pursue other projects, including his own writing." Current executive editor Sheila Williams will replace Dozois, who will remain as a contributing editor. The magazine, under Dozois, earned the Hugo Award 14 times in the Best Professional Editor category.
---
THE PUNISHER: Producers are already talking about a sequel to THE PUNISHER. The modest production could film again in Tampa, Fla., the Tampa Tribune newspaper reported. Hillsborough County Film Commissioner Edie Emerald told members of the Tampa Downtown Partnership that the producers are interested in doing another film there. The movie brought in $20 million to the Tampa economy when it shot there for 11 weeks. THE PUNISHER opened in second place at the April 16 weekend box office, with about $14 million in ticket sales.
---
Looking for more information on Thomas Jane who portrays Frank Castle in THE PUNISHER. Catch the interview over at Prevue Magazine.
---
HENSON/MGM: Variety reports that the Jim Henson Co. has signed a two-year first-look deal with MGM to produce live-action films. Jim Henson Pictures is already developing a sequel to last year's Henson/MGM-produced SF dog movie GOOD BOY!, which was made for $18 million and generated $38 million in domestic box-office receipts. Henson has a similar deal with the Walt Disney Co. to produce animated films.
---
STARGATE SG-1: STARGATE SG-1 won the award for Best Canadian TV Series from viewers of Canada's SPACE: The Imagination Station this past weekend! Congratulations to everyone.
---
Speaking of STARGATE SG-1, have you been over to the STARGATE at SCIFI website lately. You will find a host of material -- including deleted scenes from some of the latest episodes.

Tuesday, April 20:
BATTLESTAR GALACTICA: Production begins this week in Vancouver for SCI FI Channel's BATTLESTAR GALACTICA. GALACTICA returns to SCI FI Channel as a one-hour weekly drama in early 2005 after an auspicious debut in December, when they were the most-watched cable miniseries of the year. Richard Hatch, who starred as Apollo in the original 1970s BATTLESTAR GALACTICA TV series, will make a special guest appearance in an early episode of the new show, playing a Nelson Mandela-like figure, Peter Zarek. Having spent the last 20 years in jail for inciting civil unrest against the government of the 12 Colonies of Kobol, Zarek and his followers riot against the leadership of the ragtag fleet, taking over the vessel on which they are being held and creating a hostage situation, which Adama (Edward James Olmos) and President Roslin (Mary McDonnell) must resolve. The show reunites miniseries stars Olmos, McDonnell, Katee Sackhoff (Starbuck) and Tricia Helfer (Number Six) with the rest of the Galactica cast. The series is executive produced by Ronald D. Moore and David Eick. Michael Rymer, who directed the four-hour mini, returns to direct the series' premiere episode.
---
MISSION IMPOSSIBLE 3: According to The Hollywood Reporter, THE MATRIX trilogy star Carrie-Anne Moss has signed on to MISSION: IMPOSSIBLE 3, which is aiming for an August start date. Moss will take a leading role in the sequel, which will see Tom Cruise reprise his role as secret agent Ethan Hunt. His Paramount-based Cruise/Wagner Productions has recently been scouting locations in Ghana and Berlin.
---
THE RING 2: Variety reports that EVERWOOD's Emily VanCamp (Amy) is in final talks to play the young female lead in DreamWorks' horror sequel THE RING 2. VanCamp joins Naomi Watts, David Dorfman and Simon Baker in the film, being directed by Japanese helmer Hideo Nakata. Sissy Spacek will have a minor role in the film. Shooting begins next month. VanCamp also stars in the upcoming Lions Gate film A DIFFERENT LOYALTY, with Sharon Stone.
---
HARRY POTTER: HARRY POTTER AND THE PRISONER OF AZKABAN opens on June 4. Mark your calendars now for May 4. On that date, ABC will air a 10-minute sneak peek at the third film. It'll air following HARRY POTTER AND THE SORCER'S STONE on Sunday, May 9 at 7/6c. Four new character-themed posters for PRISONER are up at the Hpana website. They're a nice compliment to the recently released international posters. Potter collectors are gonna be all over them. AZKABAN centers around infamous inmate, Sirius Black, who escapes from the dreaded wizard prison of Azkaban. Convicted of killing thirteen people, Black was said to be Lord Voldemort's right-hand man. And word on the street is that he's out to take revenge on Harry Potter. Alfonso Cuaron directed POA from a script adapted by Steve Kloves. New additions to the cast include Michael Gambon as Albus Dumbledore; Gary Oldman plays Sirius Black; and David Thewlis (Timeline, Dinotopia) is Professor Remus Lupin. Emma Thompson is Professor Trelawny. Timothy Spall (Nicholas Nickleby) is Peter Pettigrew. Pam Ferris (Matilda) plays Harry's Aunt Marge.
---
SPY-HUNTER: The Rick is set to star in this project as Alec Sects, a former military pilot who becomes a secret agent. Using his fully-armed vehicle, the G-6155 Interceptor (it can morph into a motorcycle and a boat), he pursues a slew of dangerous individuals, who take him on in tricked-out vehicles of their own.Who will direct? Rumor has it that John Woo has been wooed to another game-to-film adaptation. Woo, whose directing credits include Face/Off, M:I-2 and Broken Arrow, was recently linked to the big-screen adaptation of Metriod. At last report, Universal was eyeing a June production start for SPY-HUNTER with a summer '05 release in mind.
---
NEWS: Quite a bit of new material for you today. Below find out what Lou Anders (B5 magazine) is up to these days. Also, if you have an urge to write, there's an offer you may find hard to refuse below as well. AND, some new book reviews are available as well. Be sure to check them out and let us know what you think. Cheers!
---
Monday, April 19:
TOP SCIFI CHANNEL PROGRAMS:
Stargate SG-1 1.8
Merlin, Part 2 1.6
Merlin, Part 1 1.3
Andromeda 1.2
Taken, Part 10 1.1
Tripping the Rift 1.0
Taken, Part 9 1.0
Taken, Part 8 0.9
Phantom Force 0.9
Battlefield Earth 0.9
Source: Nielsen Galaxy Report, 3/29/04 - 4/4/04
---
WEEKEND BOX OFFICE: Quentin Tarantino's KILL BILL VOL. 2 emerged as the victor of the weekend box office, earning an estimated $25.5 million from Friday to Sunday. In second place was Lions Gate's THE PUNISHER with a gross of $14 M from a little more than 300 screens less than KILL BILL. JOHNSON FAMILY VACATION is hanging in there at the third spot and Guillermo del Toro's HELLBOY took fourth. HELLBOY still has about $15 M to go before it recoups its production budget, which it should do before it departs from theaters. Disney's HOME ON THE RANGE and Warner Bros.' SCOOBY-DOO 2 both moved up one spot to fifth and sixth position, respectively, while MGM's WALKING TALL slipped two spots to seventh position. Last week's top grosser, THE PASSION OF THE CHRIST, fell to number nine this week and will probably fall from the top ten in the near future. This week's other new release, Universal's CONNIE AND CARLA, opened with $3.2 M and at position thirteen. Here are the estimated numbers from the top 10 films from April 16 through to April 18:
1. KILL BILL VOL. 2 $25,565,000 $25,565,000
2. THE PUNISHER $14,000,000 $14,000,000
3. JOHNSON FAMILY VACATION $6,425,000 $21,453,000
3. HELLBOY $5,700,000 $50,357,000
5. HOME ON THE RANGE $5,404,000 $37,679,000
6. SCOOBY-DOO 2: MONSTERS UNLEASHED $5,135,000 $72,216,000
7. WALKING TALL $4,600,000 $36,633,000
8. ELLA ENCHANTED $4,418,000 $13,757,000
9. THE PASSION OF THE CHRIST $4,193,000 $360,904,000
10. THE ALAMO $4,052,000 $16,316,000
---
THE RING 2: Sissy Spacek has joined the cast of THE RING 2 for DreamWorks and director Hideo Nakata. The Oscar-winning actress joins Naomi Watts and Simon Baker in the film, due to start shooting in mid-May. Sources close to the film said the filmmakers want to keep a level of mystery around Spacek's character. DreamWorks co-heads Walter Parkes and Laurie MacDonald are producing, with production executive Mark Sourian overseeing at the studio. Ehren Kruger wrote the script.
---
DELGO: SCOOBY-DOO's star Freddie Prinze Jr. is the voice of DELGO in the upcoming computer-generated movie from Fathom Studios. The film is set in a divided land where a troubled youth and some unlikely friends must save the world from itself. Prinze Jr. leads the all-star voice cast that includes Jennifer Love Hewitt, Chris Kattan, Anne Bancroft, Michael Clarke Duncan, Val Kilmer, Kelly Ripa, Eric Idle,Burt Reynolds and Louis Gossett Jr.
---
TEKWAR: The William Shatner series is heading to DVD for $29.95. It's a Canadian only release, but you can purchase the item from Amazon.com. The set is the 18 episodes, but does not include the telefilms.
---
Sunday, April 18:
WILL SMITH: Will Smith's Overbrook Entertainment bought a screenplay from writer Sid Quashie about the real-life exploits of Harvard professor Dr. S. Allen Counter and his explorations around the world. Smith would play the adventurer in the proposed movie. Not many details on how Quashie adapted the doctor's travels into a movie script are known but two possibilities include Counter's trips to Suriname where he made contact with the tribes of the rain forest and his time spent living among Eskimos in Greenland. The story line is described by the Hollywood Reporter as a "adventure romance." The project is set up with Columbia Pictures.
---
WEEKEND BOX OFFICE: Early reports indicate that THE PUNISHER opened in second place Friday with $5.2 million from 2,649 theaters. The film, which only cost $33 million to make, was topped by KILL BILL VOL. 2, which made $10.7 million from 2,971 theaters. JOHNSON FAMILY VACATION took third with $1.7 million from 1,326 theaters for a total of $16.7 million, while HELLBOY added $1.5 million for a total of $46.2 million. Disney's HOME ON THE RANGE rounded out the top five with $1.49 million for $33.8 million total.
---
SEASON 5 BABYLON 5 DVD ON SALE NOW
Materials are arriving from Warner Bros. and will be posted shortly related to the release of the Season 5 DVD for Babylon 5.

For the press release, which includes all the details for the DVD set, go to Babylon Season 5 DVD page.
BABYLON 5 SIGHTINGS
Ranger Neil reports that Wayne Alexander (Jack, Lorien and a ton of other B5 characters) was spotted in a recent Ditech commercial. He portrays an optician working on the "Bank's Loan Officer". Thanks for the sighting report.
NEW MAGAZINE - PYR
Ranger John passed along this information related to a name from the B5 past! Lou Anders was the on-site reporter for the Babylon 5 magazine from Titan and later managing editor at Bookface.com. Lou, good luck in your latest endeavor.

FOR IMMEDIATE RELEASE
April 19, 2004
FOR MORE INFORMATION CONTACT:
Jill Maxick, Director of Publicity, Prometheus Books
800-853-7545, jmaxick@prometheusbooks.com
or Lou Anders, Senior Editor/Editorial Director, Pyr
Landers@prometheusbooks.com

Prometheus Books Introduces Science Fiction/Fantasy Imprint
Pyr Poised to Set the Science Fiction World on Fire

Prometheus Books is proud to announce the launch of Pyr, a new science fiction and fantasy imprint, with titles anticipated in Spring 2005. Prometheus Books is entering its thirty-fifth year of successful independent publishing; since 1969, Prometheus has been a leader in publishing books for the scientific, professional, library, educational, popular and consumer markets.

For founder Paul Kurtz, the progression from popular science nonfiction to science fiction and fantasy is a natural one.

Science and science fiction have a long history of mutual inspiration and admiration that stretches back at least as far as the 19th Century, says Kurtz, Science fiction is vital for the human person. It feeds the mind, the heart, and the creative imagination. At its best, it can inspire positive images of the future.

Prometheus Books took its name from the courageous Greek god who gave fire to humans, lighting the way to reason, intelligence, and independence. Pyr, the Greek word for fire, continues this connection to fire and the liveliness of imagination.

Prometheus Books has tested the waters of science fiction before, most notably with the well-reviewed Nothing Sacred (2004) and its prequel, Galactic Rapture (2000), by Tom Flynn. Launching a dedicated imprint proves the commitment Prometheus Books is making to the genre.

Lou Anders has been named Editorial Director of Pyr. Anders joins Prometheus with over nine years of experience in science fiction and fantasy entertainment and media. He is the editor of four anthologies, including Live Without a Net (Roc, July 2003) and has published over 500 magazine articles. Previously, Anders was Executive Editor of online publishing site Bookface.com and the Los Angeles Liaison for Titan Publishing Group. Currently, he serves as the Senior Editor of Argosy Magazine.

The challenge of developing a new imprint from the ground up with its own identity yet one that complements Prometheus is an exciting prospect, notes Anders. Since the start of the new millennium, we've been seeing a renaissance of speculative fiction. With Pyr, we'll be looking to create science fiction for the Next Age.
WRITING OPPORTUNITY
I received a note from Bob Furnell, publisher of a fan magazine called TELLYVISION dedicated to American, British and Canadian television. He writes:

I'm looking for individuals who might be interested in writing articles for the magazine on any aspect of "Babylon 5, Crusade" or any other tv show that your interested in.

As its a fan magazine, unfortunately we aren't able to pay you for contributing, but what we are able to offer contributors, is a place to have your material published, a chance to have that material exposed to an audience in Canada, the US and the UK, and a free contributors copy of the issue that your article appears in. Plus, if you run a TV-related website, I'm even willing to give your site a plug in the magazine.

So if you're interested in writing for the magazine, I would love to welcome new contributors/writers on board. You can visit the magazine's official site at: http://www.tellyvision.tvheaven.com, and I can also be contacted by email through the site too.

Thanks for letting me take a few minutes of your time.

Cheers,
Bob
Editor/Publisher
BOOK REVIEWS
Here is a new feature for your enjoyment. I received some new book reviews that I've posted on a separate Book Review Page. Let me know if you enjoy this new feature -- and we'll continue to offer them as they are received. Agree with the review? Disagree? We can post those as well.
SAVE THE HUBBLE
The Hubble project is in jeopardy. Please visit http://www.savethehubble.org/petition.jsp and sign the petition to have NASA reconsider funding for the project.
---
DISCUSSION TOPIC
As I wander through e-bay (or other auction sites) and see materials for sale from various TV series -- or movies, I wondered what some favorite items would be. Do you like being able to buy a script so that you can read how your favorite episode was put together -- and perhaps what was not seen? Do you like to pick up items of apparel so that you can wear a t-shirt or hat or jacket to represent your favorite show? What are you willing to pay for?

Send in your thoughts, comments and ideas to sgbruckner@aol.com. I post them on the Discussion Page for everyone to share. See what has come in so far. If you see an old topic you want to respond to, go right ahead. We enjoy hearing from you.
DVD BUYING TIPS
CostCo continues to be my favorite store for DVDs. I picked up the Season 6 DVD of STARGATE SG-1 for $39.95 there on Saturday.

Ranger Dave found JEREMIAH nearly $20 less than Amazon's price at DVDsoon.com. Dave used Brian's suggestion and went to www.dvdpricesearch.net and found STARGATE SG-1 Seasons 1,2,&3 for $32.88 each (including ) tax and free shipping). There is even a coupon for $4 off purchases over $100 from that company. Season 4 was listed at a bit over $40.

I understand from Ranger Judy that all CostCo stores don't have the prices mentioned here. Hope some of the other options given help out.

Ranger Brian sent along a terrific tip for purchasing any DVDs. Go to http://www.dvdpricesearch.net/. You can do a search on any title and it will find the lowest price for you. It includes mailing information as well. Thanks Brian!

Ranger Frank in Seattle indicates that again, CostCo is saving Babylon 5 fans money!
Costco stores have a limited time sale on the Babylon 5 DVD sets. I went into a Costco in the Seattle area today, and they have seasons 1, 2 and 3 for $59.99 each -- about $25 less than Amazon.com, and $40 less than list price, as I recall. Season 4 is $64.99. But the deal is that if you buy Season 4, you get $20 off any one of the other seasons.

Thanks Frank for passing along the info. Other folks should check out CostCo for Babylon 5 and other DVDs. They usually have very competitive prices.
BABYLON 5:
THE COMPLETE FOURTH SEASON Collectible Six-Disc DVD Set Featuring All 22 Episodes
Fully-Loaded with New Bonus Materials
Remastered in Widescreen and Dolby Digital 5.1 Audio
Available January 6 from Warner Home Video I have put together a listing of the episodes and pictures from each episode of Season 4 with a synopsis from the Lurker's Guide. Enjoy. If you have found bargain prices out there on this set, let us know. If you have had problems with the set, here is an address to use to report them: Send any complaints/issues directly to Sherri Bogard at sherri.bogard@warnerbros.com. She handles all DVD problems with "Babylon 5".
STARGATE SG-1

SEASON SIX DVD
Season six of STARGATE SG-1 is now available. Amazon has had this DVD on their top 10 list for weeks. The DVD boasts incredible special effects sequences, rapid-fire pacing and awesome scenes of alien warfare, this all-new five-disc set of Stargate SG-1 is your gateway to pulse-pounding sci-fi action!

Special features include audio commentary for each episode and twelve "SG-1 Directors Series" featurettes!

For more details and to watch the trailer, go to http://www.mgm.com/title_title.do?title_star=XXXSETSTARGAT6.
KEEPING UP WITH CAST AND CREW
ALEX ZAHARA: Alex (Tulann from Crusade) has been a guest on STARGATE SG-1 for years. He has played a number of characters and he chatted with fans over at the Gateworld website in early April. For a transcript of the chat, go to http://www.gateworld.net/sg1/index.shtml.
---
BRUCE MCGILL: Bruce McGill (Major Ryan in SEVERED DREAMS) will star in Universal and Miramax's CINDERELLA MAN, directed by Ron Howard. He will play a boxing promoter who is instrumental in guiding the career of Russell Crowe's title character. McGill next can be seen in DreamWorks' COLLATERAL opposite Tom Cruise as well as SLOW BURN with Ray Liotta.
---
DANIEL DAE KIM: Daniel (Lt. Matheson from CRUSADE) has landed a role in the upcoming series PARTY OF FIVE, being produced by J.J. Abrams from ALIAS.
---
CLAUDIA CHRISTIAN: Claudia has landed the lead in a play called WHAT THE NIGHT IS FOR by Michael Weller. At the Laguna Playhouse from 3 April 2004 - 2 May 2004. The play charts the night when two former lovers - both married - meet again for dinner in a hotel bedroom. It's truthful, powerful, and funny, and explores territory many of us have had to face - or chosen to ignore. Reservations can be made on-line by visiting the Laguna Playhouse website and clicking on tickets or calling them at 1-800-946-5556. Thanks Ranger Jim for the information.
Ranger Michael reports that Claudia Christian announced at the London Film and Comic Con she is in a new sci fi film. She got the lead role in Starhyke. For more information, go to www.starhyke.com . Not a lot of information there yet, but more news will be posted soon.
---
SPECIAL CAST ACTIVITY
CRUISE WITH PETER WOODWARD
Peter is considering cruising the Caribbean in January 2005 and wants to invite his fans to join the fun. He would like to see if there is sufficient interest before going too far into planning, so if you would like to receive a brochure about Peter's upcoming cruise once the details are finalized please advise of your: Name:
Postal Address, City, State, Zip:
E-mail address:
Phone number:
Total number of guests in your party:
Age range of the guests including yourself:

Send this information to
Susan Helfrich, Director
Cruise Events LLC
www.CruiseEvents.net
Susan@CruiseEvents.net
800 695 5253 - phone
215 322 0515 - phone
215 355 6664 - fax
Any information you send us will be handled respectfully. This is not a commitment from you, just an indication of interest.
---
JERRY DOYLE RADIO SHOW:
Here's the latest from Jerry:
For the radio show, Talk Radio Network is building a new site and will have jerrydoyle.com up and running soon. It will tie into the talkradionetwork.com site as well.

The M-F show launches this coming Monday(5th), 7-10P PST. The call in number is 800/449-8255. Spread the word and give a call if you've got something to plug. I'll still be doing the Saturday show, 8-11P PST. Same phone number for that too. All the best.

All the best.
JD

For more information on Jerry Doyle, Talk Radio Show Host, you may visit www.talkradionetwork.com
---
BABYLON 5 BIRTHDAYS
Christopher Franke - April 6
Maggie Egan - April 11
Tony Dow - April 13
Warren Takeuchi - April 19
Peter Jurasik - April 25

Have I missed anyone? If you know the birthday of someone connected with Babylon 5, pass the information along. We want to include everyone in our Happy Birthday Wishes.
READER BIRTHDAYS
Sometimes you just can't find the e-mail address for someone you know you have -- it's someone who responded to a discussion topic or you met in one of the chat rooms. You'd like to send a personal note, but .... No address!!!!

We've started a White Pages of Zocalo Readers! It's a handy way of keeping track of people -- and putting together a birthday/greeting card list as well. If you would like to be part of the listing, just send me your name, state, e-mail address and (if you'd like to have it listed) birthday (without year) to sgbruckner@aol.com. Check out the Directory of Readers.
FAN CLUBS
Intergalactic Consortium
Intergalactic Consortium, a new Science Fiction / Fantasy group based in Toronto, Ontario, Canada has been formed. The group is focussed on discussing popular Science Fiction / Fantasy movies, TV shows, books, trends and anything else under the sun (or any other star for that matter). As a member you will be able to discuss Science Fiction / Fantasy of today, yesteryear and tomorrow and have lots of fun making new friends with similar interests. There is at least one regular meeting @ 4:00 pm on the last Saturday of every month. . They are always looking for new members anywhere in Toronto and or surrounding area. It does not cost anything to participate. If you require more information, have any questions, or anything else please feel free to e- mail them at torsf@yahoo.ca. They hope to hear from some of you.
United Federated Planets
Ranger Anne reports that in January, another chapter was added to the fold... EAS Winter Wolf (in Texas). For more information, go to their site at http://www.ufphq.com/chain_of_command.htm. You will find a great deal of interest in Babylon 5 -- with position currently available on the sector staff--EarthDome, EarthForce and the Alliance. Check it out.
STAR TREK CLUB VENEZUELA
Ranger Andres dropped a note to say that a new club has been formed -- Star Trek Club Venezuela. It is small right now, but they are ready for recomendations, opinions, and/or any other comments. They are plannig our first expocon at the end of the year, into the facilities of Humboldt Planetarium in Caracas. Visit their site at www.trekvenezuela.net.
We have a number of Fan Clubs listed here at the Zocalo. They are those associated with a particular actor -- and there are those devoted to Babylon 5 or science fiction. Be sure to check out the Clubs Page to see if there is an organization near you.
NEW SCIENCE FICTION MERCHANDISE
BABYLON 5 MERCHANDISE
Are you looking for Babylon 5 merchandise? Would you like to possess some of the wonderful patches or pins sold by the B5 Fan Club? Do you want to put in an order for the latest DVD? Bruce at Uncomyn Gifts still has one of the best collections around. Check out www.uncomyngifts.com. You may just find the magazine or t-shirt or patch you are looking for.
---
SCIENCE FICTION PUBLICATIONS
Cult Times #104: SMALLVILLE star Tom Welling is the focus of this issue. The interview focuses on the latest changes in the life of Clark Kent and how it may affect the relationship with Lex Luthor. Also in this issue -- Amy Acker, J. August Richards and Andy Hallett talk about the cancellation of ANGEL.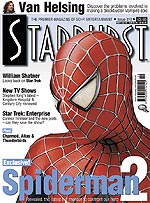 Starburst #310: SPIDER-MAN 2 will be upon us soon and the magazine takes us for a look at the new menace, Doc Ock, Alfred Molina. Also in this issue, producer Bob Ducsay talks about dealing with famous monsters in VAN HELSING and William Shatner talks about James T. Kirk, movies, legends and a lot of other things.
Expose #85: This issue is full of ANGEL interviews. James Marsters and David Boreanaz discuss Spike and Angel's rivalry; Sarah Thompson looks at Eve from Wolfram & Hart and producer Steven S. DeKnight talks about the shocking cancellation. Also in this issue Richard Roxburgh gives insight into becoming Dracula for VAN HELSING and Cary Elwes tells us about his role as the villain in ELLA ENCHANTED.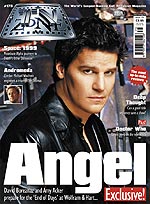 TV Zone #175: ANGEL star David Boreanaz talks about the big changes undergone by the characters in ANGEL's Season Five, his directorial début on the show, and his work on upcoming movie The Crow: Wicked Prayer. ANDROMEDA's Gordon Michael Woolvett tells us about his latest season playing fix-anything engineer Seamus Zelazny Harper, and about making his writing début on the show.



Expose Special #25: CHARMED is the focus of attention in this issue. Alyssa Milano, Holly Marie Combs and Paige McGowan look ahead to a seventh season. Others featured in the issue include co-star Dorian Gregory and producer Brad Kern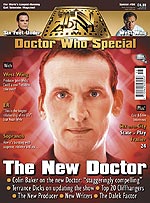 TV Zone Special #56: The big topic in this issue -- the new DOCTOR WHO! Meet Christopher Eccleston and see what qualities he will bring to the role. Also in this issue, Terrance Dicks, writer & and former script editor for DOCTOR WHO, offers some advice for the new production team. Colin Baker played the sixth Doctor and gives you some insights into his memories of the series.




Cult Times Special #29: The theme of this special issue, "Defense of the Realm" -- and we are given profiles of folks like ALIAS' Sydney Bristow, ANGEL's Wesley Wyndam-Price; THE AVENGERSs' John Steed, 24's Jack Bauer and THE MAN FROM UNCLE's Napoleon Solo. Also in this issue, hear from Michael Shanks and Christopher Judge about STARGATE SG-1 and upcoming ATLANTIS.





NEW BOOKS ON THE HORIZON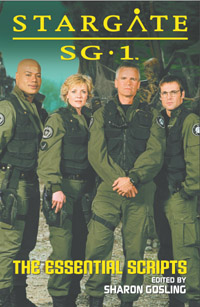 Stargate SG-1: The Essential Scripts TP
by Sharon Gosling

Far more than a script book, this essential Stargate SG-1 series guide is packed with bonus material including an in-depth introduction about writing for the show, deleted scenes, commentary and background, plus exclusive interviews with the writers, directors, and cast members. The following original Stargate SG-1 shooting scripts — complete with annotations — were specially selected for this volume: "2010," "Abyss," "The Fifth Race," "The Torment of Tantalus," "Window of Opportunity," and "Wormhole Xtreme."
(133/1-84023-887-9) (CAUT: 4)
SC, 6x9, 352pg, b&w..........$17.95
RAY HARRYHAUSEN: AN ANIMATED LIFE
by Ray Harryhausen & Tony Dalton, with a Foreword by Ray Bradbury

Ray Harryhausen is arguably the greatest stop-motion animator in the history of motion pictures, blazing new trails in special effects from the 1950s to the 1980s creating realistic dinosaurs, fantastic aliens, and imaginative mythological creatures. In the animator's own words, accompanied by hundreds of previously unpublished photographs, sketches, and storyboards from his personal archives, this book details Harryhausen's entire career — from 20 Million Miles to Earth and Earth vs. The Flying Saucers, to Clash of the Titans and Jason and the Argonauts. (356/0-8230-8402-7)
HC, 9x11, 304pg, FC..........$50.00 BookCloseOut.com

Ranger Dave writes that books by Bruce Boxleitner, John DE Lancie(Q), and William Shatner are available on Bookcloseouts.com in hard cover. They also now have a paperback listing and book prices are greatly reduced. Check it out.
BABYLON 5 NOVELS
DelRey is reprinting the original Babylon 5 novels. They started with #7 - Jeanne Cavelos' THE SHADOW WITHIN. Here's one I've been waiting for -- Kathryn Drennan's TO DREAM IN THE CITY OF SORROWS. The release date is scheduled for July 29, 2003. I love the new cover art! It can be pre-ordered from www.amazon.com. For those of you who love Babylon 5, this one reads just like an episode from the series. You just can't put it down.




COMIC BOOKS
24: One Shot #1
by J. C. Vaughn and Mark L. Haynes, with Renato Guedes
24, the award-winning TV series from Fox, comes to comics from the publisher that brought you CSI and The Shield! CTU's Jack Bauer has to keep a beautiful terrorist alive for 24 hours—and his gun only has one bullet! Brilliantly conceived by J. C. Vaughn and Mark L. Haynes (Battlestar Galactica), with photo-realistic art by Renato Guedes (CSI: Miami—Thou Shalt Not…). Prestige Format. MATURE READERS
AMAZING SPIDERMAN
AMAZING SPIDER-MAN #506
Amazing Spider-Man #506 will arrive in stores on Wednesday from Marvel Comics. The issue is written by J. Michael Straczynski, with art and cover by John Romita Jr.
Here's how Marvel describes the issue:
"Part one of an arc featuring the mysterious Ezekiel."
Amazing Spider-Man #506 will be 32 pages and will cost $2.25
AMAZING SPIDER-MAN #507

Written by J. Michael Straczynski, cover and pencils by John Romita Jr.
Concluding a 3-part arc, featuring the mysterious Ezekiel!
32 pages, $2.25, in stores on April 28.
AMAZING SPIDER-MAN #508 Written by J. Michael Straczynski, pencils and cover by John Romita Jr. The enigmatic Ezekiel returns to Peter's life. But is he the same man who stood by Spider-Man's side in his hour of need, or will he prove to be something much deadlier? 32 pages, $2.25, in stores on May 26.
SUPREME POWER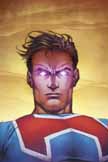 SUPREME POWER #9

Written by J. Michael Straczynski, cover and pencils by Gary Frank.
The world is still shaking from the titanic battle of Hyperion and Dr. Spectrum. Is Earth big enough for two such powerful beings? And who is Power Princess? Find out here!
32 pages, $2.99, in stores on April 7.
STARGATE SG-1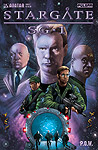 STARGATE SG-1 Comic Issue #2 now in stores
MARCH 31, 2004

The second installment of the new Stargate SG-1 comic book series is now available at retailers worldwide. "P.O.W." #2 tells part two of a 3-issue story, in which Colonel Jack O'Neill finds himself a captive of the Goa'uld. "This is meant to be our introduction to the Stargate world for new comic fans and a fun treat for the hardcore fans," said author James Anthony Kuhoric. The issue features a recounting of the events of the original "Stargate" film, as well as the beginning of the TV series. "In addition to establishing the background as a starting point for future comic book series, this feature amalgams the two universes [of the film and the TV series] into SG-1 continuity. We get to see Richard Dean Anderson as O'Neill during the first Abydos mission!"

With a story by Kuhoric and art by Renato Guedes, "P.O.W." #2 carries a $3.50 price tag and is available in several different covers. Fans who can't find the issue can order it from the publisher's online store, at ComicCavalcade.com.

"P.O.W." #3 is expected in April, followed by a brand new 3-part series, "Fall of Rome," which will introduce new characters and expand the Stargate universe.
TV SCHEDULE ON SCIFI CHANNEL
BABYLON 5 and CRUSADE are not currently listed on any SCIFI schedule. The SciFi Channel has scheduled "The Legend of the Rangers" for April 17, at 9:30 am ET.

STARGATE SCHEDULE:

04/23/2004 1:00 AM STARGATE SG-1 (LBX) SPACE RACE
04/30/2004 9:00 PM STARGATE SG-1 (LBX) DEATH KNELL
04/30/2004 10:00 PM STARGATE SG-1 (LBX) AVENGER 2.0
04/30/2004 11:00 PM STARGATE SG-1 (LBX) DEATH KNELL
04/30/2004 1:00 AM STARGATE SG-1 (LBX) AVENGER 2.0

FARSCAPE SCHEDULE:

25-APR-04 1:00 AM FARSCAPE THANK GOD IT'S FRIDAY AGAIN
29-APR-04 5:00 AM FARSCAPE RHAPSODY IN BLUE

EARTH: FINAL CONFLICT

04/26/2004 8:00 AM EARTH: FINAL CONFLICT KEYS TO THE KINGDOM
04/27/2004 8:00 AM EARTH: FINAL CONFLICT STREET CHASER
04/28/2004 8:00 AM EARTH: FINAL CONFLICT TRAPPED BY TIME
04/29/2004 8:00 AM EARTH: FINAL CONFLICT ATONEMENT
04/30/2004 8:00 AM EARTH: FINAL CONFLICT BLOOD TIES
BABYLON 5/CRUSADE PHOTOSHOP PHOTOS







Peter Woodward has sent along a new photo -- a rather dreadful one -- from his appearance on CHARMED. It will be added to the collection of photos available from Peter, including additional copies of the Crusade poster in photo format. Both are autographed by Peter. You do NOT have to pay the prices asked for over at e-bay! Here are photos of B5 and Crusade cast members at fantastic prices. Check out Photo Shop. Ordering is easy -- and you can't beat the prices! Just let me know which photos you want and I'll check to make sure they are still in stock.
---
BABYLON 5 TOONS
John Cook has a wonderful collection of cartoons -- many are take-offs from Babylon 5. Here's just one of them.

He has a cartoon caption contest going on as well. Try your hand at a punch line.

Go to http://contests.sev.com.au/index.php?contestid=1


SCI-FI CARTOONS
While catching up on my e-mail yesterday morning, I got an instant message from LFMOA along with a nice goodie that I can share with readers. Thanks for sending along your version of Pinky and the B5 Brain.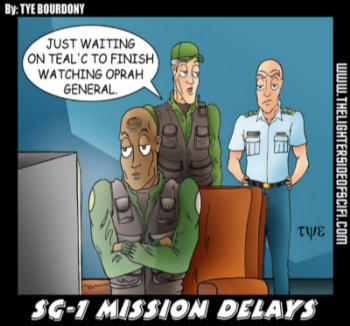 Tye Bourdony's latest Lighter Side of Sci-Fi satire can be seen in the Star Trek Communicator as well as at his website www.thelightersideofscifi.com.





CONVENTION CALENDAR
StarFest, Denver
April 16-18, 2004
Location: Marriott Denver Tech Center
Place: I-25 and Bellevue, Denver. CO
Guests: Sean Astin - Michael Shanks - Dominic Keating - Lexa Doig - Lance Henriksen - Gary Graham - Lani Tupu - Peter Mayhew - Richard Hatch - David Franklin Director: Roland Emmerich Authors: Christie Golden - Dayton Ward - Kevin Dilmore - Dave McDonnell Also: Walt Faulconer - Jeff Walker - Kevin Atkins
For more information, visit their website at http://www.starland.com.
---


April 16-18, 2004
CHIMERACON
Location: San Antonio, TX
Guests: Brent Strait,
For more information, visit their website at http://www.chimaeracon.com/ .
---


April 16-18, 2004
ARMAGEDDON PULP CULTURE EXPO
Location: Auckland, New Zealand
Guests: Corin Nemec
For more information, visit their website at http://www.pulpexpo.com/ .
---


April 24-25, 2004
CREATION CONVENTION
Location: Chicago, IL
Guests: William Shatner, Leonard Nimoy
For more information, visit their website at http://www.creationent.com/ .
---


April 30-May 1-2, 2004
WONDERCON 2004
Location: Moscone Convention Center
City: San Francisco, California (USA)
Guests: To be announced
For more information, visit their website at http://www.comic-con.org .
---


April 30-May 3, 2004
COLLECTORMANIA 5
Location: Milton Keynes, England
Guests: Corin Nemec, Sarah Douglas, Robert Picardo
For more information, visit their website at http://www.collectormania.com/ .
---


April 30-May 3, 2004
Pittsburgh ComiCon
Place: Pittsburgh ExpoMart
Location: Monroeville, PA
Guests: Virginia Hey (Farscape), John Romita, Jr. (Amazing Spiderman artist)
For more information, visit their website at www.pittsburghcomicon.net .
---


William Shatner Charity Horse Show
Date: May 1, 2004
Location: Los Angeles Equestrian Center
Place: Burbank, CA
Guests: William Shatner, Brad Paisley
For more information, visit their website at http://www.horseshow.org/.
---

Creation Entertainment Cruise 2
May 14-21, 2004
Location: Ft. Lauderdale, FL
7 day Caribbean Cruise
Guests: Salute to Star Trek, Stargate and Xena
For more information, visit their website at http://www.creationent.com/calendar.htm.
---

May 15-16, 2004
BEST OF BOTH WORLDS 22
Location: Canberra, Australia
Guests: Don S. Davis, Carmen Argenziano, Frida Betrani, Alex Zahara, David Winning
For more information, visit their website at http://www.bobw.com.au/.
---

May 15-16, 2004
LONDON EXPO
Location: London, England
Guests: Alexis Cruz, Marina Sirtis
For more information, visit their website at http://www.londonexpo.co.uk/.
---

May 21-23, 2004
Fed con
Location: Bonn, Germany
Guests: Anthony Montgomery, Rene Auberjonois, Armin Shimerman, Terry Farrell, More Guests TBA
For more information, visit their website at http://www.fedcon.de/.
---

May 28-31, 2004
MEDIAWEST*CON
Location: Lansing, Mi
A SF/Media fandom convention
For more information, visit their website at http://members.aol.com/MdiaWstCon/mwc24.htm .
---

Be sure to visit the referenced sites to see if there have been changes in dates/guests attending. Also visit our Convention Calendar for a full listing of upcoming conventions featuring Babylon 5, Crusade and Legend of the Rangers cast members as guests.
CONVENTION HIGHLIGHTS
Ranger Brian had a blast with Rick, Jason and Jeffrey at the 2BeContinued Convention last week in Indiana. He sent along a picture for everyone to enjoy. Thanks Brian.
If you would like to share your convention experience with your other Zocalo readers, send along a convention report. I will gladly post it for all to read. Got pictures? I'll post those as well.
ZOCALO TRADING POST
Do you have extra copies of B5, Amazing Spiderman, Midnight Nation or Rising Stars comics you'd like to trade? How about those extra trading cards or B5 magazines? There are a lot of fans looking for these items -- and the Trading Post can help you buy or sell them. To see what's available, just use this link to the Trading Post. To have items included in The Trading Post, send a note to The Zocalo. Please put Trading Post in the subject line.
PEN PALS
If you are looking for someone to talk about Babylon 5 and Crusade with, the Pen Pal section is for you! Check it out! Drop a note to someone who is feeling B5 withdrawal -- BIG TIME!

People thought a Pen Pal page was a good idea. If you would like to meet people who you could chat with or share your opinions of the show with, send along your e-mail or snail-mail address The Zocalo. It will be incorporated on the new Pen Page Page.
MAIL FOR CAST AND CREW
Here's a recent note from JMS on the subject:

Just an FYI to those who've been using the Ventura Blvd. mail drop for fan mail to actors....

As mentioned before, we're phasing out the forwarding of fan mail because we a) don't have the resources, complicated by b) the actors have scattered to the four winds, and it makes it very difficult to get everything to everybody in a timely fashion.

So, having provided prior notice...fan mail to actors coming to the Ventura Blvd. mail drop will be sent back. Mail to actors should be sent via their official fan clubs. I will still be taking mail there, since it's my mailbox, but that's it.

Just so's y'all know and save a few bucks on postage and returns.

WARNER BROS:

Warner Bros. Address:

Warner Bros. Domestic Television Distribution
4000 Warner Blvd.
Burbank, CA 91522

Warner Home Video:

Mr. Douglas Wadleigh
VP for Marketing and Special Features
Warner Bros.
4000 Warner Blvd.
Burbank, CA 91522

SCIFI:
Bonnie Hammer, President
Sci-Fi Channel
1230 Avenue of the Americas
New York, NY. 10020-1513

Mr. Thomas Vitale
Senior VP of Acquisitions, Scheduling & Program-Planning
BACK ISSUES OF THE ZOCALO TODAY
The front page of the The Zocalo Today changes daily, so be sure to check the back issues to make sure that you haven't missed anything IMPORTANT! I don't want the front page getting too long so I shift information periodically into the archives. So if you aren't a regular visitor to The Zocalo Today, be sure to check out the back issues. Just use the button above!
---
Take care and I look forward to hearing from you.
Sandra Bruckner (sgbruckner@aol.com)
Editor/Publisher
The Zocalo Today
http://www.isnnews.net
Copyright - SBruckner, 1999-2004