[an error occurred while processing this directive]

The Zocalo Today

Welcome to ISN NEWS: THE ZOCALO TODAY. There is a lot of information available for you here, so take your shoes off and stay a spell..

THE ZOCALO TODAY was created to keep fans of BABYLON 5 informed as to what the stars were currently doing -- what new projects they are involved with -- and where they would could be seen -- convention dates. It is an an interactive newsletter, encouraging readers to join a discussion topic or to send along letters that can be shared with other readers.

THE ZOCALO TODAY has evolved into a newsletter for Babylon 5 and science fiction fans everywhere. It is as much YOUR newsletter as it is mine! I'm just pulling together things for you!

Join our discussion topic. It is just one way you can share with other Z readers. If you see Babylon 5 cast and crew in other roles, let us know. We enjoy convention reports, photos, etc. Don't miss our back issues. I hope this will become more than just a newsletter. It's a community of people that enjoy sharing their experiences and interests. Babylon 5 brought many of us together -- and it remains with us, despite the fact that is no longer in production. Don't be shy. Join us today!

If you have questions, drop me a line at sgbruckner@aol.com. If you would like to join the mailing list for our newsletter, send me a note and I'll include you on the list. Or you can use the subscription block at the left.

Again, WELCOME!



WHAT'S NEW
Saturday, August 13, 2005:
SUPERMAN RETURNS:
Over at the Superman Homepage you will find a rare photo of SUPERMAN RETURNS' Brandon Routh, in his Superman costume, holding up a car from the August 10th filming in Martin Place (Sydney). There are also two video files: Bryan Singer doing his Superman impersonation and showing Brandon how he wants him to position himself for this scene. The second video is a quick shot of Routh (not in costume) and Singer beneath the car as they discuss the scene. This is a great website and a terrific way to keep up on this production.
---
HARRY POTTER AND THE GOBLET OF FIRE:
Over at The Leaky Cauldron , you can view an early preview of HARRY POTTER AND THE GOBLET OF FIRE, hopefully scenes from the new trailer, an early version of which was shown at Comic-Con International last month. The footage gives a pretty good idea what to expect from the Tri-Wizard Tournament, including lots of scenes of Harry fighting the dragon, plus there are brief glimpses of Hogwarts' new Professor of the Dark Arts, Mad-Eye Moody, as played by Brendan Gleeson, and Harry's new love interest Cho Chang.
---
ABRAHAM LINCOLN:
According to the New York Daily News and The Indy Experience, Steven Spielberg will be directing Liam Neeson as Abraham Lincoln in a Lincoln bio-pic next Spring. Though Spielberg first considered Tom Hanks for the role, the plan seems to have the "Schindler's List" actor in the role for filming. Neeson himself says "We're definitely going to do it. We've been working on it since November." The story of a nation rent by war "speaks to our time," says Neeson. How the filming on this project will affect the schedule of "Indiana Jones IV" is unsure.
---
Friday, August 12, 2005:
TOP SF&F NETWORK SHOWS:
Medium 4.5
Desperate Housewives 3.9
Lost 3.1
Revelations 1.5
Smallville 1.4
Charmed 0.9
Source: Nielsen Galaxy Report, 7/18/05 - 7/24/05.
---
TIDELAND:
While out to promote his latest project, BROTHERS GRIMM, director Terry Gilliam said that his next movie, TIDELAND, deals with the resilience of children in the face of grief and loss. "It's about what happens when you put a kid with an imagination in difficult circumstances. It's really about [the] resilience of childhood, and I'm so bored about hearing about these little children that are so victimized and are so weak. Children are the toughest creatures on the planet, and they're being protected. It's partly one reason why I tried to keep Grimm as close to the original tales as possible." In TIDELAND, starring Jennifer Tilly, Janet McTeer and Jeff Bridges, a girl loses her mother to a heroin overdose, then begins to communicate via her Barbie-doll heads. She befriends a neighborhood woman who wears a beekeeper's veil and delves into her own fantasy world. Gilliam said the girl is played by Jodelle Ferland, and he enthusiastically introduced the young actress last year at the Toronto International Film Festival just before he began shooting. "She is a phenomenal little 9 1/2-year-old girl that plays the lead, and she's in every scene," Gilliam said.
---
GARFIELD 2:
The Hollywood Reporter indicates that 20th Century Fox is in talks with Bill Murray to once again provide the voice of Garfield in GARFIELD 2. Breckin Meyer and Jennifer Love Hewitt have already signed on to the sequel. Fox is also in talks with Lucy Davis and Billy Connolly to join the cast. Davis would play animal lover Abby Westminster, a fashionable professional who has been brought in to try and trap Lord Dargis, to be played by Connelly, into revealing his evil plans. Hewitt's role will be greatly reduced because she is filming the new CBS series GHOST WHISPERER.
---
DREAM HOUSE:
Variety reports that Universal Pictures has made a preemptive deal for $600,000 against $1 million for David Loucka's supernatural thriller DREAM HOUSE. The story centers on a man who moves his family into what appears to be the ideal residence in the country, but ominous things are going on there. Daniel Bobker and THE SKELETON KEY's Ehren Kruger will produce. Stokely Chaffin will be executive produce.
---
WESTWORLD
According to Variety, Warner Bros. Pictures has signed THE CELL's Tarsem to direct the remake of WESTWORLD. At one point Arnold Schwarzenegger was looking to possibly star in the film but had to give that up when he was elected governor of California. The original film starred Yul Brynner as a robotic gunfighter who turns an Old West vacation theme park into a nightmare for the park's guests. No script has been written yet nor has a writer been attached.
---
SPLINTER CELL
Variety reports that DreamWorks is close to acquiring the film rights to Tom Clancy's videogame SPLINTER CELL, with Daniel Pyne (The Manchurian Candidate) attached to write the script. The studio would take the project over from Paramount, where it was originally set up last winter. Michael Ovitz, Clancy's longtime manager, is still producing. SPLINTER CELL, now in its third edition, follows the adventures of government spy Sam Fisher as he's dispatched to infiltrate an international terrorist syndicate and stop a high-tech threat. Clancy and Yves Guillemot, chief of videgame publisher Ubisoft, are executive producing.
---
MATT HELM:
DreamWorks' plans to revive spy MATT HELM and has signed Michael Brandt and Derek Haas to write a new pic. Brand & Haas recently have been at work on adaptations of the comic "Wanted" and Tom Clancy's Jack Ryan novel "Red Rabbit". The duo will pen a contemporary pic based on the subject of around two dozen novels by Donald Hamilton. Helm is a former spy during WWII who, upon retiring from his top-secret organization, unsuccessfully attempts to put his past behind him. Columbia Pictures released four Matt Helm-inspired spy spoofs starring Dean Martin starting in 1966. The first Helm book was "Death of a Citizen," published in 1960. DreamWorks has dabbled with the idea of a Helm franchise before but it never came to fruition.
---
MAIL BAG:
Got something you want to talk about here -- and it's not a discussion topic? Just drop a note and I'll put it out on the MAIL BAG page for everyone to share.
---
TOP SCIENCE FICTION NEWS STORIES:
To catch up on the latest news from this week -- and last month, go to News Page. You'll find the everything from our front page -- but over a longer period of time.
---
NEW SHOWS COMING THIS FALL
SUPERNATURAL - COMING SEPTEMBER 13
Tuesday, September 13, 2005 The WB Television Network is proud to announce the premier of "Supernatural" starring Jared Padalecki ("Gilmore Girls", "House of Wax", "Flight of the Phoenix") and Jensen Ackles ("Smallville, "Dark Angel", "Blonde" and "Dawson's Creek"); in association with Warner Bro. Television Production Inc.
For more information, including clips from this upcoming series, go to Supernatural Page here at The Zocalo Today.
INVASION - COMING SEPTEMBER 21
Wednesday, September 21, 2005, ABC Television Network is pleased to announce the premiere of "Invasion"; from Shaun Cassidy Productions in association with Warner Bros. Television Production.
For centuries, humans have searched the skies for signs of intelligent life...to no avail. But what if the explanation lies in the fact that aliens were already here...already among us? And what if all of the natural disasters we have been experiencing of late were smokescreens designed to mask something far more ominous? From Shaun Cassidy Productions in association with Warner Bros. Television Production Inc. comes "Invasion," starring William Fichtner ("The Longest Yard," "Black Hawk Down," "Pearl Harbor," "The Perfect Storm"), Eddie Cibrian ("Third Watch," "Sunset Beach"), Lisa Sheridan ("FreakyLinks"), Kari Matchett ("Angel Eyes," "A Nero Wolfe Mystery"), Tyler Labine ("That Was Then," "My Boss's Daughter"), Evan Peters ("The Days"), Ariel Gade ("Envy"), Alexis Dziena ("Strangers with Candy" movie, "Wonderland" movie) and Aisha Hinds ("Assault on Precinct 13" [2005], "The Shield"). "Invasion" airs Wednesdays (10:00 - 11:00 p.m. ET/PT) on the ABC Television Network.
For more information, including clips from this upcoming series, go to Invasion Page here at The Zocalo Today.
KEEPING UP WITH CAST AND CREW
DANIEL DAE KIM:
Ranger Penny reports that a new movie coming out on 8/26/05 called THE CAVE stars Daniel Dae Kim. He plays Alex Kim. The movie's plot line says: Bloodthirsty creatures await a pack of divers who become trapped in an underwater cave network. The movie trailer: http://imdb.com/title/tt0402901/trailers says: "When 7 men discover the entrance to the world's largest cave system, they were never seen again. Now a team of expert cave explorers has been assembled to find out why. There are places man was never meant to go ... beneath heaven lies hell, beneath hell lies .... THE CAVE"
---
JEFFREY WILLERTH:
Jeffrey Willerth, Ambassador Kosh, has been produced a number of special programs that will air on the History Channel soon. Here is information so that you can mark your calendars:
"UFOs and the White House"
Airs on Monday, August 22 at 8:00pm ET
Did you know that the office of President of the United States has had a direct involvement with UFOs for over 50 years? Since WWII, every Chief Executive has publicly discussed, issued, or received documents from the White House pertaining to "Unidentified Flying Objects". Many of these documents have never been seen on television before and some of the stories surrounding these UFO-presidential encounters are broadcast for the first time. Find out which administrations had to defend our country from unidentified objects...who was sitting in the Oval Office during the biggest UFO sightings... and how the government's UFO files are handled, depending on political affiliations. We'll gather the facts and glean information from presidential libraries that reveal startling insight on UFOs and the White House. TVPG
---
PAT TALLMAN:
Pat has a few items up on e-bay! Right now she has some kid stuff and some sci fi mags...She will be adding more each week. Her seller name is SCIFIMOGUL. Check it out.
---
SPECIAL CAST ACTIVITIES: To learn more about what cast members are doing away from the tube, go to CAST ACTIVITIES page.
---
IN MEMORY OF: While Rick (Biggs) and Tim (Choate) are no longer with us, we will not forget their wonderful personalities and talent. Be sure to visit In Memory Of for more information about memorial efforts. Until we met again, in a place where no shadows fall.
BABYLON 5 BIRTHDAYS
Daneil Dae Kim - August 4
Claudia Christian - August 10
Stephen Austin - August 11
Tim Earls - August 15
Nancy Tarczynski - August 16
Skip Beaudine - August 26




If there is anyone we have missed, be sure to drop me a note so that I can add them to our Cast and Crew Birthday Listing. We want to include everyone in our Happy Birthday Wishes.
BABYLON 5 DVDS
For information on the Babylon 5 DVDs, please go to Babylon 5 DVD page.





NEW DVDS COMING
STARGATE SG-1 SEASON EIGHT

Stargate SG-1
Release Date: October 4, 2005
Item can be pre-ordered through www.amazon.com
---
EARTH 2:
Ranger Graham reports that EARTH 2 is finally available on DVD. Released on July 19, this DVD set is available in Region 1 coding only. Starring: Debrah Farentino, Clancy Brown and Antonio Sabato Jr., this three disc set is available at amazon.com. Here is a description:
Embark on the quest to find a new home planet for humanity in the year 2192 as the complete sci-fi epic Earth 2 lands on DVD for the first time ever! From the producers of Miami Vice and ER comes the thrilling story of Devon Adair (Debrah Farentino), who is struggling to find a healthy environment for her deathly ill son, Ulysses. Disregarding government orders, she puts together an expedition to found a new civilization on an Earth-like planet 22 light years in the future. But after their ship crash-lands on the wrong side of planet G889, the "colonists" quickly discover that their new home already has some very strange and hostile inhabitants. Catch DVD-exclusive bonus features and join stellar guest stars including Tim Curry, Virginia Madsen, Terry O'Quinn and more on all 21 groundbreaking episodes of the Emmy-winning series that critics cheered "soars to new sci-fi heights."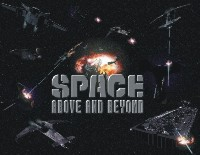 Ranger Dave writes that the SciFi series SPACE: ABOVE AND BEYOND is due for release on October 4th. Bestbuy.com is taking preorders for it. Amazon.com, however doesn't list it yet.
The television series "Space: Above and Beyond", created and produced by Glen Morgan and James Wong, chronicled the interplanetary adventures of a Marine squadron battling hostile aliens in the years 2063-2064. Part (anti-)war drama, part science fiction, it examined such themes as courage, loyalty and faith. Through the eyes of the Wild Cards, it explored what we, as humans, live for... and what we would be willing to die for.
"Space" aired on Fox-TV in 1995 and 1996, but - despite critical praise, decent ratings, viewer support, and four Emmy Award nominations - was cancelled.
---
SPACE STATION:
WARNER HOME VIDEO BLASTS OFF WITH THE
MOST SUCCESSFUL IMAX® SPACE FILM OF ALL TIME
NARRATED BY TOM CRUISE
SPACE STATION
Launching onto DVD for the First Time June 7
Space Station follows two separate space shuttles that leave from Florida's Kennedy Space Center and Russia's Baikonur Cosmodrome to rendezvous with their new home in orbit 220 miles above Earth. Now people of every age and language can work side by side with their space-walking crewmates, building and inhabiting this unprecedented structure in space.
For video clips from the DVD, go to Space Station page. Now that the shuttle is back in space, this is a very timely video. Learn what the astronauts are going through with weightlessness.
For a review of the DVD, go to DVD Reviews.


BATMAN DVDs COMING
According to the Hollywood Reporter, Warner Home Video will release a series of two-disc special editions of the four original BATMAN movies from the late 1980s and '90s. BATMAN, BATMAN RETURNS, BATMAN FOREVER and BATMAN & ROBIN will be released October 18. They will be available individually and as a gift set, "Batman: The Motion Picture Anthology 1989-1997." Each special-edition DVD features a new digital transfer of the movie. Bonus features include director commentaries by Joel Schumacher and Tim Burton, cast and crew interviews, several new documentaries, "making of" featurettes and nine music videos from Prince, Seal and the Smashing Pumpkins.
---
EPISODE III: REVENGE OF THE SITH
November 1st has been set as the release date for EPISODE III: REVENGE OF THE SITH. The explosive and emotional finale to the saga, Star Wars: Episode III Revenge of the Sith, arrives on DVD and "Star Wars Battlefront II," the sequel to the most successful "Star Wars" game ever, arrives on Xbox, Playstation 2, Windows PC and Sony PSP formats.
Lucasfilm and Fox Home Entertainment present a two-disc set for the "Revenge of the Sith" DVD, with uncompromising picture and sound mastered directly from the original digital source material. The DVD will include a brand-new full-length documentary produced by Lucasfilm Ltd. as well as two new featurettes -- one that explores the prophecy of Anakin Skywalker as the Chosen One, and the other that looks at the movie's amazing stunts. A 15-part collection of Lucasfilm's groundbreaking web documentary series, Making Episode III, will also be included in the set. A two-level playable demo of Star Wars Battlefront II is also included on the DVD.
"'Revenge of the Sith' gave audiences an extraordinary experience, and we want this DVD to do the same," said Jim Ward, Vice President of Marketing and Distribution for Lucasfilm Ltd. "From the beginning of production, George wanted to be sure we chronicled everything that went into the making of 'Episode III' specifically to create an incredible DVD experience. This DVD has literally been three years in the making, and it's going to be a fantastic way to complete the Star Wars saga at home."
In addition to its November 1st debut in the U.S. and Canada, "Revenge of the Sith" debuts on DVD in most major territories around the world on or about the same day.
---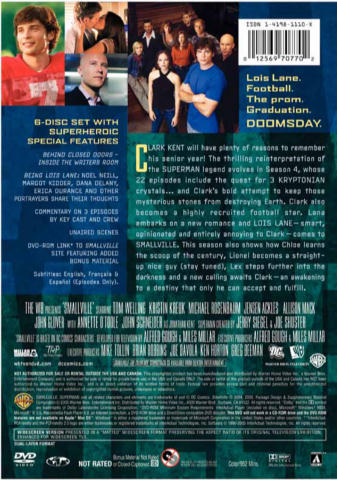 SMALLVILLE -- SEASON FOUR
Warner Home Video has released the back cover art for Smallville: The Complete Fourth Season, which arrives on DVD on Tuesday, Sept. 13.
All 22 episodes from season 4 will be included in this 6 disc set (990 mins). In addition to the episodes, Warner Bros has included some exciting bonus material. You can expect to find 25 minutes of deleted scenes (21 scenes total), episodes commentaries by Alfred Gough, Miles Millar and others, "Inside the Writers Room" documentary, and "Being Lois Lane" featuring interviews with Noel Neill, Margot Kidder, Dana Delaney and Erica Durance. The set is part of Warner Television's 50th Anniversary, and a bonus DVD featuring an episode of The Flash has been included.





DEAD LIKE ME: SEASON TWO
Synopsis:
Proving that "reapers are anything but grim company" (Cleveland Plain Dealer), this "deliciously dark comedy about the afterlife" (Newsday) returns for "a second season as strong as its first" (Philadelphia Daily News). Thanks to breakout star Ellen Muth's prickly charm, Dead Like Me has "an amusingly odd and touching energy all its own" (Detroit News and Free Press After more than a year as a grim reaper, George (Muth) has realized that being a teenager in the afterlife is as complex as in real life. There are still unrequited crushes, agonizing dilemmas and the occasional bad attitude. Along with her kooky "co-reapers" Mason, Daisy, Roxy and Rube, George struggles to collect souls while managing her own awkward development... into an adult reaper!
Includes Special Features:
"Dead Like Me... Again" Featurette
Putting Life Into Death
Deleted Scenes
Photo Gallery

---
DVD REVIEWS
If you are like me, DVDs present a new challenge! Which ones are worth the expense -- and which ones are a necessity! For Babylon 5 fans, the entire series is a MUST HAVE!!! But there are tons of videos now available and we'll try to look at as many as we can -- and with the help of Warner Bros. look at what they have to offer as well.

Visit to the DVD Reviews page to see what I thought of the set. Let me know if you agree -- or found some other special material that should be noted. Some recent reviews include:
Wonder Woman - Season Two
Wonder Woman - Season Three
Lois & Clark - First Season
The West Wing - Fourth Season
SCIENCE FICTION MAGAZINES
MONTHLY MAGAZINES: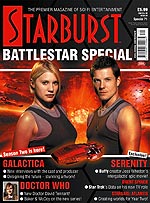 Starburst Special #71: BATTLESTAR GALACTICA takes front and center position in this issue. As season two begins, the magazine gives you a behind the scenes look at cast and crew! Jamie Bamber talks about playing headstrong Captain Lee 'Apollo' Adama; Edward James Olmos discusses his character of Commander Adama, and the repercussions of the assassination attempt; Producer Ron Moore talks about the changes and surprises in store for Year Two; Tricia Helfer who plays Cyclon agent Number Six talks about playing a villainess and production designer Richard Hudolin discusses creating new worlds for Galactica, illustrated with concept drawings, set photos and sketches.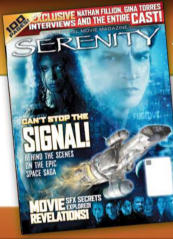 With the release of SERENITY on September 30, Titan magazines will release a 100-page souvenir magazineso that fans can continue the Firefly saga as the magazine takes you on board with exclusive interviews with the entire crew, including Nathan Fillion (Captain Malcolm Reynolds), Gina Torres (Zoe) and Adam Baldwin (Jayne Cobb). Plus, creator Joss Whedon exposes Serenity's secrets and we go behind the scenes of the filming and the extraordinary special effects.
"Joss Whedon, the genius creator behind Buffy the Vampire Slayer and Angel, applies his trademark wit and arresting characters to the big screen with Serenity, continuing the adventures first began in the television show, Firefly. Promising to be one of the years best films, this special collectors' souvenir movie magazine will offer the fans a look behind the scenes into the mind of Joss Whedon." - Martin Eden, Editor, Official Serenity Movie Magazine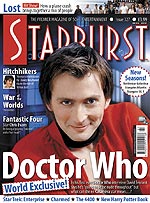 Starburst #327: DOCTOR WHO: A new DOCTOR WHO is set to take on the second season of the BBC's smash hit. In this issue, you will find a world exclusive first interview with David Tennant - the Tenth Doctor! You will also find an interview with Nick Briggs -- the man who gave voice to the Daleks talks to us about the challenges of recreating the monsters' original menace in three action-packed episodes of the last series and The Mill-- The last part of an extensive look behind the scenes at the special effects and CG magic created by The Mill as they helped bring the series into the new millennium. Natalie Portman (STAR WARS) speaks along with producer Joel Silver and director James McTeigue about this dark screen adaptation of V for Vendetta.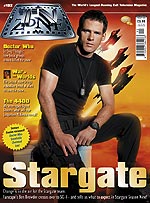 TV Zone #192: STARGATE SG-1: Ben Browder has crossed the gulf of Space in Farscape, and now he's exploring Avalon with the SG-1 team, as the squad's latest member Lt Col Cameron Mitchell. Go on set with TV Zone to find out what's in store for him in Season Nine. Also inside, an interview with the new Doctor – David Tennant's version of the Time Lord is revealed as shooting begins on the new series of Doctor Who.
Cult Times #119: LOST: With the series becoming a huge hit in the U.S., Matthew Fox talks about filming in Hawaii and about his character and the survivors of a plane crash on a mysterious island. Also in this issue, ENTERPRISE's Rick Berman looks back on the final season and gives his thoughts on the last episode and the future of Trek and MEDIUM's Medium Glenn Gordon Caron, the show's creator, explains what he hoped to accomplish through the tale of a woman who attempts to live a normal family life despite being frequently visited by spirits who want her help.
Expose Special #29: HARRY POTTER AND THE HALF-BLOOD PRINCE: Get a review of the latest installment of the Harry Potter adventure -- and talk with fantasy authors James Patterson, Juliet E. McKenna, Francis Hardinge and Ian Ogilvy on the resurgence of fantasy fiction.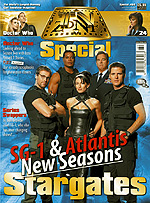 TV Zone Special #64: NEW SEASON PREVIEWS: STARGATE SG-1 and STARGATE ATLANTIS. In this issue, you will find previews of the new seasons, with cast changes, new plotlines and new foes ahead. Cast interviews with Ben Browder, Joe Flanigan, Amanda Tapping, Chris Judge, Michael Shanks, Beau Bridges, Cliff Simon, Mitch Pileggi, Paul McGillion and Jason Momoa. Also inside, preparing for the 10th Doctor Who and a look at the end of the past season.
Cult Times Special #34: DOCTOR WHO: This issue can be a primer for Doctor Who fans. After a nine-year absence, 2005 marked the return of Doctor Who, bigger and better than ever before. Under the guidance of Russell T Davies, it's moved from being a fondly-remembered piece of kitsch to a vital, ratings-grabbing part of the BBC's schedule. You get an in-depth look at the past, present and future of the galaxy's best-loved Time Lord. New to DOCTOR WHO? This issue will give you a look at the 26 years of DOCTOR WHO. This guide features the high points of the series so far and the facts you need to know to fully immerse yourself in the Whoniverse! Also included in this issue, SMALLVILLE's executive producer Alfred Gough looks back on the fourth season of this pre-Superman Clark Kent and tells us why he thinks it's the best year yet! Paul McGillion talks about his role as Dr. Beckett in STARGATE ATLANTIS and BATTLESTAR GALACTICA's Edward James Olmos looks at the series cliffhanger.
Expose #94: HARRY POTTER: In this issue, you'll learn more about the weird and wonderful world of unlicensed fan fiction as it pushes back the boundaries of JK Rowling's fictional world… and, in some cases, the boundaries of taste. HERCULES: NBC's new mini-series explores the darker side of the Greek hero. Meet star Paul Telfer as he talks about taking the character back to his murderously gory origins, and how he pushed to play the character with an English accent.


Be sure to drop over to Titan Magazine's website for updates on magazines associated with specific shows like ALIAS, ANGEL, LOST, SMALLVILLE and STARGATE SG-1. They are gearing up the presses for a BATTLESTAR GALACTICA magazine and a special issue for SERENITY.
COMIC BOOKS
FANTASTIC FOUR #523
Amazing Spider-Man #523 will arrive in stores on August 31 from Marvel Comics. The issue is written by J. Michael Straczynski, with art by Mike Deodato and a cover by Terry Dodson.
Here's how Marvel describes the book:
""Moving Up" It's the sensational Spider-Man versus the horrendous hordes of Hydra as the villainous organization makes its final push to seize control of the country! Standing in the way? Everyone¹s favorite wall-crawler. But will Spidey have enough left in the tank to take out the group of terrorists and save the day? Part 5 (of 6). "
Amazing Spider-Man #523 will be 32 pages and will cost $2.50.
SUPREME POWER: HYPERION #2
Written by J. Michael Straczynski, penciled by Dan Jurgens, cover by Mike Deodato.
"Hunting the Alien." Now that the world knows his dark secret, Hyperion suddenly finds himself both alone and hunted. Four new super-powered individuals -- each based on a character from the original Squadron Supreme -- are after his hide, and they've got the will and means to take him down!
32 pages, $2.99, in stores on Oct. 19.
THE BOOK OF LOST SOULS #1
Written by J. Michael Straczynski, pencils and cover by Colleen Doran.
The destinies of most people are defined early on. Then there are the others -- the lost. Those whose numbers aren't in yet, who could go toward the light or toward the darkness -- indeed, who could be tipped one direction or another. And everything starts with the book. That's what Jonathan is about to discover. When he took a suicide plunge off the London Bridge more than a century ago, the last place he expected to land was on his feet, in the present, standing at the entrance to a tunnel into a world of mysteries beyond his wildest imagination. A world of powers and principalities and, above all, rules that he'd best learn quickly. Or he'll have to deal with the Dark Man. And what the Dark Man can't turn, he devours.
32 pages, $2.99, in stores on Oct. 26
FANTASTIC FOUR #529
Fantastic Four #529 will arrive in stores on July 27 from Marvel Comics. The issue is written by J. Michael Straczynski, with art and cover by Mike McKone.
Here's how Marvel describes the issue:
"'Appointment Overdue!' Reed's got a rendezvous to keep at the edge of space‹but in order to reach it, he's going to have to work his way through a battalion of America's best-trained fighting men!"
Fantastic Four #529 will be 32 pages and will cost $2.50.
FANTASTIC FOUR #530
Written by J. Michael Straczynski, pencils and cover by Mike McKone.
It's a reunion with destiny as the Fantastic Four once more brave the hazards of outer space for a rendezvous with a fateful cosmic storm ­ And the secret that lies therein!
32 pages, $2.99, in stores on Aug. 24.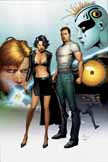 SUPREME POWER #18
Written by J. Michael Straczynski, pencils and cover by Gary Frank.
"Exhibit R: The Statement of Mark Milton." Hyperion's world is turned upside down when his dark secret is exposed to the entire world. But the worst is yet to come... Next month's news will blow you away!
32 pages, $2.99, in stores on Aug. 31.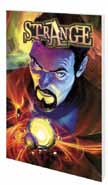 STRANGE: BEGINNINGS AND ENDINGS TPB
Written by J. Michael Straczynski and Sara "Samm" Barnes, penciled by Brandon Peterson, cover by Peterson.
Brash young surgeon Dr. Stephen Strange is on a collision course with destiny -- a journey that will force him to search the deepest corners of his own heartŠand the outer reaches of the cosmos! Masters of the comic-book medium J. Michael Straczynski, Samm Barnes and Brandon Peterson chronicle the adventures of the Master of the Mystic Arts in the year's most highly anticipated origin story! Collects Strange #1-6.
144 pages, $17.99.
AMAZING SPIDER-MAN #522
Written by J. Michael Straczynski, penciled by Mike Deodato, cover by Kaare Andrews.
It's an action-packed extravaganza as the hordes of Hydra make a final push to take over the United States!! And it's up to everyone's favorite red, white, and blue web-slinger to make sure that "Hail Hydra" isn't the new national anthem!
COMIC BOOKS: For a listing of current comic books written by J. Michael Straczynski, go to JMS COMIC BOOKS page. There is a brief synopsis of the book and a date when publication is expected. Issued covered are AMAZING SPIDERMAN, FANTASTIC FOUR, STRANGE, RISING STARS, and others.
For other comic book titles for such shows as STARGATE, SERENITY, CSI, ANGEL, etc., go to COMIC BOOKS - OTHER TITLES.
NEW TOONS

















Tye Bourdony has sent along his latest satires for your enjoyment.




TV SCHEDULE ON SCIFI CHANNEL
FIREFLY
08/19/2005 07:00 PM FIREFLY SHINDIG
08/26/2005 07:00 PM FIREFLY SAFE

STARGATE SCHEDULE:
08/15/2005 06:00 PM STARGATE SG-1 (SEASONS 1-5) THERE BUT FOR THE GRACE OF GOD
08/15/2005 07:00 PM STARGATE SG-1 (SEASON 6) PARADISE LOST
08/15/2005 08:00 PM STARGATE SG-1 (SEASON 6) METAMORPHOSIS
08/15/2005 09:00 PM STARGATE SG-1 (SEASON 6) DISCLOSURE
08/15/2005 10:00 PM STARGATE SG-1 (SEASON 6) FORSAKEN
08/16/2005 06:00 PM STARGATE SG-1 (SEASONS 1-5) POLITICS - PT- 1
08/17/2005 06:00 PM STARGATE SG-1 (SEASONS 1-5) WITHIN THE SERPENT'S GRASP - PT 2
08/18/2005 06:00 PM STARGATE SG-1 (SEASONS 1-5) THE SERPENT'S LAIR
08/19/2005 06:00 PM STARGATE SG-1 (SEASONS 1-5) IN THE LINE OF DUTY
08/19/2005 08:00 PM STARGATE SG-1 (SEASON 9) BEACHHEAD
08/19/2005 11:00 PM STARGATE SG-1 (SEASON 9) BEACHHEAD
08/22/2005 06:00 PM STARGATE SG-1 (SEASONS 1-5) PRISONERS
08/22/2005 07:00 PM STARGATE SG-1 (SEASON 6) THE CHANGELING
08/22/2005 08:00 PM STARGATE SG-1 (SEASON 6) MEMENTO
08/22/2005 09:00 PM STARGATE SG-1 (SEASON 6) PROPHECY
08/22/2005 10:00 PM STARGATE SG-1 (SEASON 6) FULL CIRCLE
08/23/2005 06:00 PM STARGATE SG-1 (SEASONS 1-5) GAMEKEEPER
08/24/2005 06:00 PM STARGATE SG-1 (SEASONS 1-5) NEED
08/25/2005 06:00 PM STARGATE SG-1 (SEASONS 1-5) THOR'S CHARIOT
08/26/2005 06:00 PM STARGATE SG-1 (SEASONS 1-5) MESSAGE IN A BOTTLE (STARGATE)
08/26/2005 08:00 PM STARGATE SG-1 (SEASON 9) EX-DEUS MACHINA
08/26/2005 11:00 PM STARGATE SG-1 (SEASON 9) EX-DEUS MACHINA
08/29/2005 06:00 PM STARGATE SG-1 (SEASONS 1-5) FAMILY
08/29/2005 07:00 PM STARGATE SG-1 (SEASONS 1-5) CHILDREN OF THE GODS - PT 1
08/29/2005 08:00 PM STARGATE SG-1 (SEASONS 1-5) CHILDREN OF THE GODS - PT 2
08/29/2005 09:00 PM STARGATE SG-1 (SEASONS 1-5) THE ENEMY WITHIN (STARGATE)
08/29/2005 10:00 PM STARGATE SG-1 (SEASONS 1-5) EMANCIPATION (STARGATE)
08/30/2005 06:00 PM STARGATE SG-1 (SEASONS 1-5) SECRETS (STARGATE)
08/31/2005 06:00 PM STARGATE SG-1 (SEASONS 1-5) BANE

STARGATE ATLANTIS:
08/19/2005 09:00 PM STARGATE ATLANTIS (SEASON 2) TRINITY
08/19/2005 12:00 AM STARGATE ATLANTIS (SEASON 2) TRINITY

BATTLESTAR GALACTICA:
08/15/2005 11:00 PM BATTLESTAR GALACTICA (SEASON 2) THE FARM
08/16/2005 07:00 PM BATTLESTAR GALACTICA (SEASON 2) SCATTERED
08/16/2005 08:00 PM BATTLESTAR GALACTICA (SEASON 2) VALLEY OF DARKNESS
08/16/2005 09:00 PM BATTLESTAR GALACTICA (SEASON 2) FRAGGED
08/16/2005 10:00 PM BATTLESTAR GALACTICA (SEASON 2) RESISTANCE
08/16/2005 11:00 PM BATTLESTAR GALACTICA (SEASON 2) THE FARM
BABYLON 5/CRUSADE PHOTOSHOP PHOTOS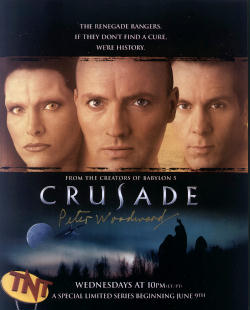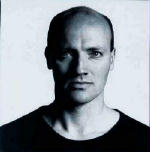 You do NOT have to pay the prices asked for over at e-bay! Here are photos of B5 and Crusade cast members at fantastic prices. Check out Photo Shop. Ordering is easy -- and you can't beat the prices! Just let me know which photos you want and I'll check to make sure they are still in stock.
---
CONVENTION CALENDAR
August 19-21, 2005
OFFICIAL STARGATE SG-1 CONVENTION TOUR
Location: Columbus, Ohio
Guests: Christopher Judge, Michael Shanks, Don S. Davis, Teryl Rothery, Peter Williams
For more information, go to: http://www.fansofstargate.com/
---

August 26-28, 2005
OFFICIAL STARGATE SG-1 CONVENTION TOUR
Location: Chicago, Illinois
Guests: Christopher Judge, Michael Shanks, Don S. Davis, Teryl Rothery, Tony Amendola, Peter Williams
For more information, go to: http://www.fansofstargate.com/
---

September 10-11, 2005
THE BIG APPLE COMIC-CON: COMIC BOOK, ART & TOY SHOW
Location: New York, NY
War, Horror, Suspence, Swords, and Sorcery! Big Apple Comic-Con's salute to Adventure Comics! Over 300 tables of Comic Books, Toys! Contests, Giveaways, Anime, Gaming, Panels, Seminars & Surprises!
For more information, visit www.bigapple.con.com or call 201-865-3288
Admission: $10 per day. Children under 8 free.
Tickets available: https://www.paypal.com/cgi-bin/webscr
---

Be sure to visit the referenced sites to see if there have been changes in dates/guests attending. Visit our Convention Calendar for a full listing of upcoming conventions.
BACK ISSUES OF THE ZOCALO TODAY
The front page of the The Zocalo Today changes daily, so be sure to check the back issues to make sure that you haven't missed anything IMPORTANT! I don't want the front page getting too long so I shift information periodically into the archives. So if you aren't a regular visitor to The Zocalo Today, be sure to check out the back issues. Just use the button above!
---
Take care and I look forward to hearing from you.
Sandra Bruckner (sgbruckner@aol.com)
Editor/Publisher
ISN News: The Zocalo Today
http://www.isnnews.net
Copyright - SBruckner, 1999-2005
Search Engine Optimization and Free Submission