DVD REVIEWS
LUTHER 2
Release date: October 25, 2011
Available for pre-order at: www.bbcamerica.shop.com

SYNOPSIS:
Idris Elba (The Wire) expands his gritty role as John Luther, a near-genius detective struggling with his own demons. Devastated by his wife's brutal murder, Luther returns to policing in the newly created Serious and Serial unit, prepared to solve some of London's most brutal murders. A highly acclaimed psychological crime drama, crackling with energy and snappy dialogue. Seen on BBC America.

The dark psychological drama starring Emmy nominee Idris Elba (The Wire, American Gangster) as John Luther, the near-genius detective struggling with his own demons, returns with two distinctive, thrilling crime stories.
Crackling with energy and beautifully shot this series sees Luther take bigger risks and face even darker challenges.
Who is John Luther? Clip http://youtu.be/wz23Wyzwukc
See You in the Morning Clip http://youtu.be/lNSvspCTs0U
Review:
Like so many BBC series, LUTHER is absolutely riveting. The story revolves around a series of murders where the police are taunted at each step of the way. The murderer plays to the street cameras and the police are helpless as they watch women being murdered before their eyes. This only deepens Luther's desire to catch the villain. When his partner is actually captured by the murderer, the stakes are raised even higher. Will they catch the guy before he kills a bus load of children? The writing is done so well, you can't help but be on the edge of your seat as each kernel of the story is unfolded. Given the subject matter, this is not a DVD for anyone under age, but if you are looking for a good who-done-it, Luther is a very good choice.
PS: Don't feel that you will be confused by the fact that this is the second season of the series. If you watched season one, you may know a bit more about the characters, but you won't need that to enjoy the drama.
CATWOMAN
Catwoman animated short premiere is centerpiece of DC Universe Animated Panel at New York Comic Con.
Eliza Dushku reprises Batman: Year One role as Selina Kyle/Catwoman in 15-minute short; Animation guru Bruce Timm, nine-time Emmy-winning dialogue director Andrea Romano and fan favorite voice of Batman Kevin Conroy to also discuss upcoming Justice League: Doom.
Warner Home Video will present the world premiere of Catwoman, the latest addition to the DC Showcase Animated Shorts series, as part of its DC Universe Animated panel on Friday, October 14 from 3:00-4:00 p.m. in the IGN Theater at New York Comic Con.
Catwoman is included in the October 18 Blu-ray/DVD release of Batman: Year One, the next entry in the popular, ongoing series of DC Universe Animated Original Movies.
The panel includes animation legend Bruce Timm, nine-time Emmy Award-winning dialogue director Andrea Romano, and the fan favorite voice of Batman, Kevin Conroy. The panelists will discuss the Catwoman short, the upcoming release of Batman: Year One, and next spring's release of Justice League: Doom.
The world premiere of the Justice League: Doom trailer is another New York Comic Con exclusive to be unveiled during the panel.
Catwoman/Selina Kyle is voiced by Eliza Dushku, well known for her television roles in Buffy the Vampire Slayer, Tru Calling and Dollhouse. The 15-minute short is penned by respected comics/animation writer Paul Dini.
The short finds Catwoman posing as an entertainer in a strip club to get close to black market diamond smuggler Rough Cut who doesn't take kindly to Catwoman's interference in his business, leading to an all-out battle through the streets of Gotham City.
When Alan Burnett and I first started discussing the idea of a Catwoman short, we both agreed that we wanted to make the story and the settings as adult as we could, Dini explains. The world of burlesque has returned in a big way to the contemporary consciousness, and that proved to be a very natural setting for this Catwoman story. At the time I wrote the initial screenplay, I didn't know the short would be paired up with Batman: Year One, but the steamy setting that Selina inhabits in that book also proved to be ideal for the short.
For the short, Dini created the character Rough Cut, a villain whose smuggling interests beyond diamonds catches Catwoman's attention.
I liked the idea of a villain who was obsessed with diamonds, but as this story takes place in the down and dirty side of Gotham, I felt the bad guy couldn't be too glamorous, Dini says. I came up with the name Rough Cut both to describe the man and the kinds of crude, unfinished diamonds he pedals. There's always a market for industrial diamonds, but lately Rough Cut has been feeling the economic pinch, so he's smuggling more precious cargo. That's what brings Catwoman into the picture.
Dushku was very happy to return to her Batman: Year One role, having already taken equity in the part of Catwoman/ Selina Kyle. Dushku has definitely found a clear understanding of her character's emotional make-up.
A lot of people are familiar with the characters I've played these strong and vicious women who are, very deep down inside, really wounded women with an entirely unexpected side, so there's nothing black and white about them, Dushku says. I think people identify with the characters I play because even though they do terrible things, there's a humanity there. They've got lots of layers. They're not just good or evil. Selina is a prostitute, and she's abrasive and in your face, but she also has this maternal, protective, loyal quality to her. Her relationship with Holly is a perfect example it shows a side you might not expect.

BATMAN: YEAR ONE
Batman: Year One is based on the landmark 1987 DC Comics titles from 12-time Eisner Award winner Frank Miller and illustrator David Mazzucchelli. The film depicts young Bruce Wayne's return to Gotham City in his first attempts to fight injustice as a costumed vigilante. The playboy billionaire chooses the guise of a giant bat to combat crime, creates an early bond with a young Lieutenant James Gordon (who is already battling corruption from inside the police department), inadvertently plays a role in the birth of Catwoman, and helps to bring down a crooked political system that infests Gotham.
Primetime television stars Bryan Cranston (Breaking Bad), Ben McKenzie (Southland, The O.C.), Eliza Dushku (Dollhouse, Buffy the Vampire Slayer) and Katee Sackhoff (Battlestar Galactica) provide the core voices for Batman: Year One. Three-time Emmy Award winner Cranston gives voice to young Jim Gordon, while McKenzie makes his animated voiceover debut as Bruce Wayne/Batman. Fanboy favorites Dushku and Sackhoff fill the roles of Selina Kyle/Catwoman and Detective Sarah Essen, respectively. Alex Rocco (The Godfather) is the voice of crime lord Carmine Falcone.
Animation master Bruce Timm is executive producer of Batman: Year One. Directors are Lauren Montgomery (Superman/Batman: Apocalypse) and Sam Liu (All-Star Superman) from a script penned by Academy Award nominee Tab Murphy (Gorillas in the Mist, Superman/Batman: Apocalypse).
Here is a new clip just received from the WB:
BatmanYearOne.wmv

For information on more DVDs coming out soon, go to New DVD Releases.

Here's a treat for you old movie buffs! The official CITIZEN KANE Facebook page http://on.fb.me/KANE70 to Watch the FIRST 10 MINS. of the Orson Welles' classic. CITIZEN KANE – the 70th Anniversary Edition is now available for the first time on Blu-ray and For DOWNLOAD including on iTunes with Extras: http://bit.ly/CitizenK_70.

THE HOUR
Synopsis:
Romola Garai, Dominic West and Ben Whishaw star in The Hour, a thrilling six-part drama set in 1950s London when the BBC is about to launch an entirely new way of presenting the news. The dynamic Bel (Garai) is chosen to produce the new program, to be called ?The Hour,? with handsome and well connected Hector (West) set to become the anchor, much to the annoyance of Freddie (Whishaw), a brilliant and outspoken journalist, whose passion continually lands him in trouble. Over the six episodes, the interplay of intense ambitions between our rising news team play out against the backdrop of a mysterious murder and Freddie's controversial and dangerous investigation.

Video Clips
http://raincloud.warnerbros.com/wbol/us/whv/med/bbc/hourthe/clips/The_Hour_Clip_01_300.asx
http://raincloud.warnerbros.com/wbol/us/whv/med/bbc/hourthe/clips/The_Hour_Clip_02_300.asx
http://raincloud.warnerbros.com/wbol/us/whv/med/bbc/hourthe/clips/The_Hour_Clip_03_300.asx
http://raincloud.warnerbros.com/wbol/us/whv/med/bbc/hourthe/clips/The_Hour_Clip_04_300.asx

Review:
Like so many BBC series, THE HOUR exemplifies entertainment at its finest. The stories are finely crafted with intricite dialogue and pacing. While only six episodes, the tension builds from the start. The cast is excellent. While set in 1956, you get a true idea of what it is like to put a news broadcast together. It takes you back to the 1950s when the news consisted of Cold War-era England, the Suez crisis, and the world wide speculation of JFK as a vice presidential candidate in the US.
A side benefit for anyone that has only watched the series on BBC America. The DVD has the full episodes -- not the cut to fit 60-minutes as seen on the tube.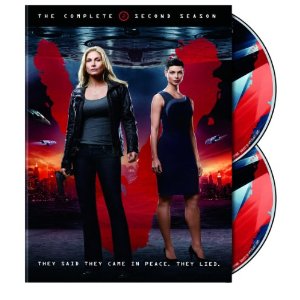 V: THE COMPLETE SECOND SEASON
Release date: October 18, 2011

Synopsis: Earthlings, prepare for the return of the Visitors! Queen Anna and her alien followers hatch their secret plan as Warner Home Video (WHV) releases V: The Complete Second Season on DVD and Blu-ray on October 18. Known for its stunning special effects, the sci-fi series' second season is filled with hovering spaceships and jaw-dropping moments of the Visitors morphing into reptilian forms. In addition to all 10 episodes, the two-disc set Blu-ray includes an extra hour of bonus content including two behind-the-scenes featurettes: "The Arc of the Story: Mining the Human Emotion" and "A Visual Masterpiece for the Small Screen."
Described as "darker, funnier, faster than last season" by Entertainment Weekly Online, V's surprising second season reveals Queen Anna's (Morena Baccarin - Firefly, Serenity) master plan toclaim Earth as her own. Meanwhile, FBI Counterterrorism Agent Erica Evans (Elizabeth Mitchell-Lost), conflicted Visitor Ryan Nichols (Morris Chestnut - Ladder 49, Boyz n the Hood), disillusioned priest Father Jack Landry (Joel Gretsch - The 4400) and others join an underground unit of resistence fighters called the Fifth Column that are attempting to put a stop to the Visitors before it's too late. Season Two also stars Logan Juffman (America), Laura Vandervoort (Smallville), Charles Mesure (Xena: Warrior Princess) and Scott Wolf (Everwood).
DOCTOR WHO: SERIES SIX, PART 1
Release date: July 19, 2011
Synopsis:
Matt Smith and Karen Gillan make their triumphant return as the Doctor and his companion in an all-new series of Doctor Who! The new series will split in two parts, with DVD/Blu-ray release dates in July and in early November, closely following their premiere runs on BBC America, and then a complete series gift set just in time for the holidays. In Part 1, the Doctor, Amy and Rory find themselves in Sixties America, battling the invasion the world forgot, then journey on the high seas of 1696 aboard a pirate ship, to solve the mystery of the Siren. In a bubble universe at the very edge of reality, the Doctor meets an old friend with a new face, and in a monastery on a remote island in the near future, an industrial accident takes on a terrible human shape. And waiting for them, at the end of all this, is the battle of Demon's Run, and the Doctor's darkest hour. Can even the truth about River Song save the Time Lord's soul? Only two things are certain. Silence will fall. And a good man is going to die...
GREEN LANTERN Available in Blu-ray 3D/Blu-ray/DVD/Digital Copy
Release date: October 14, 2011
Product Description
In a universe as vast as it is mysterious, an elite force of protectors for peace and justice has existed for centuries. They are the Green Lantern Corps. When a new enemy called Parallax threatens to destroy the Universe, their fate and the fate of Earth lie in the hands of the Corps' newest recruit, the first human ever selected: Hal Jordan (Ryan Reynolds). Bringing the popular superhero to the big screen for the first time, Green Lantern also stars Blake Lively (Gossip Girl), Peter Sarsgaard (Orphan), Mark Strong (Sherlock Holmes), Academy Award nominee Angela Bassett* and Academy Award winner Tim Robbins**.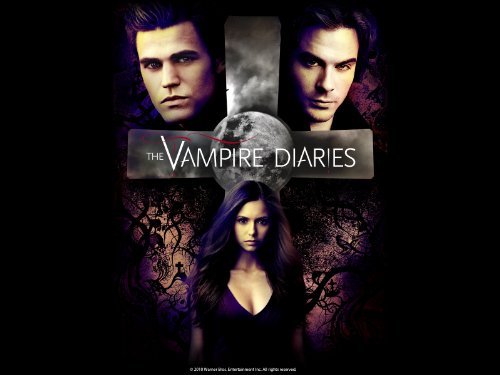 THE VAMPIRE DIARIES: THE COMPLETE SECOND SEASON
Release Date: August 30, 2011
Synopsis: They're back – and they're not alone. The seductive characters of The Vampire Diaries return for a stunning 5-Disc 22-Episode Season Two. This time Elena, Stefan, Damon and the other residents of Mystic Falls are joined by sinister new blood. Released from the tomb, Katherine unleashes her personal brand of evil in a diabolical plot. The Originals – the world's oldest and most dangerous vampires – hunt for Elena, who discovers she has a terrifying connection to their world. And now bloodsuckers aren't the only monsters in town. On moonlit nights, werewolves roam in search of victims…including vampires, who succumb to a single werewolf bite. The Vampire Diaries: unending suspense, undying romance. Special Features:
Into Mystic Falls: Bringing Vampire Lore and the High School Experience from Page to Screen
When Vampires Don't Suck!: The Popularity of Vampires and the Fans Who Love Them
The Vampire Diaries: A New Breed of Vampires -- Casting the Series
The Vampire Diaries: Vampires 101 – The Rules of the Vampire
Creators/Director Pilot Commentary
Unaired Scenes
The Vampire Diaries: A Darker Truth Webisodes
Second Bite: Gag Reel
Downloadable Audiobook of the Bestselling Novel The Vampire Diaries: The Awakening by L.J. Smith
Cinderella Story: Once Upon a Song
Release date: September 6, 2011
Synopsis:
It's a modern and enchanting twist on an enduring classic! Katie (Lucy Hale of Pretty Little Liars) dreams of being a recording artist but is continually thwarted by her cruel stepmother (Missi Pyle) and stepsister (Megan Park of The Secret Life of the American Teenager). When Katie falls hard for Luke (Freddie Stroma), the new boy at her Performing Arts school, she tries to get his attention with her singing. But when her stepsister takes credit for Katie's amazing voice and Luke falls for the wrong girl, Katie must learn to stand up for her dreams before her stepmother forces Katie to sing Luke into the arms of her wicked stepsister.
Special Features:
Spotlighting Lucy Hale: Our New Cinderella
A Cinderella Story: Meet Prince Charming
A Cinderella Story: Make'em Move
Flippin' On Set
Lucy Hale "Bless Myself" Music Video
In the Recording Studio with Lucy Hale
Review:
Here is a film that you could watch with your teenage children. The story is an old (very old) one, but with a new look. Can Katie break out on her own despite the plans of her cruel stepmother and step sister to steal her songs and voice? You are rooting for her to stand up to her stepmother and tell Luke she's really the voice behind her step sister. The songs and dance numbers are great. Missi Pyle is wonderful as the evil stepmother. A good way to spend some quality time as a family.
FRINGE: THE COMPLETE THIRD SEASON
Release date: September 6, 2011

Synopsis: Immersive. Compelling. Hypnotic. Brilliantly imaginative. Endlessly thrilling. Pick your term. The mystery of the universes deepens in the critically acclaimed 22-episode third season of television's most exciting sci-fi. The Fringe team escapes from the parallel universe – except for Olivia, trapped in the other world and replaced in ours by her double, who turns Peter and Olivia's tentative relationship into a love affair. Then Olivia returns, bonds of trust fray, ever more bizarre and terrifying phenomena occur and secrets that stretch back to 1985 threaten to destroy our universe. Or theirs. "Fringe continues its hot streak known as Season 3. It's been firing on all cylinders all season� (Andrew Hanson, LATimes.com).

Review:
FRINGE has been one of my favorite shows from the very beginning. Following the complex story line has been fun and constantly keeps you guessing. The third season has been full of twists and turns -- with the cast going between parallel worlds. This season, the relationship between Peter and Olivia heats up, creating even more plot twists for the coming year.
The actors, Joshua Jackson, Anne Torv and John Noble are amazing. Even if you haven't followed the series from the start, I don't think it would be hard to follow the story. You see each character struggle with their own demons and this propels you into "what can happen next?" What happened to Peter? Will he return? These are only a few questions fans are waiting to hear answers to in the coming season.

CHUCK: THE COMPLETE FOURTH SEASON
Release date: September 6, 2011

Synopsis: Operation Wedded Bliss: will Chuck and Sarah finally become Mr. and Mrs. Superspy? Season Four's 24 laugh- and action-filled episodes include the duo's romance from proposal to planning to the big day. Yes, Chuck's in love, but he has more than romance (and the Intersect) on his mind. His mom comes in from the cold, escaping the evil control of an international arms dealer to become part of the Nerd Herder-turned-spy's life – and making it even tougher for Chuck to keep his professional and personal worlds separate. On some days, Chuck outwits assassins and out-martial-arts hordes of black-clad bad guys. On others, he pursues Sarah and prepares to become a doting uncle. On most days, he does it all!
REVIEWS
There are dozens of DVDs coming out each month. I have divided them into several types -- regular entertainment, family and WB Archives. Information about regular DVDs can be found at DVDs. Looking for movies you can watch with your children? I have moved many of the family-oriented DVDs to a Family DVDs page. Here you will find wonderful DVDs you can enjoy with your entire family -- no matter the age. You will find background information about the DVD, but there are clips as well from Warner Bros.
Warner Home Video has provided me with old videos that they are restored and made available over time. Those can now be found in the WB Archives. Enjoy!

TOP GEAR: SEASON ONE
Release date: August 2

Top Gear, races across the pond with the first season of the U.S. version of the world's most popular car entertainment show. Coming to DVD this July, Top Gear: The Complete First Season, produced by BBC Worldwide Productions, includes all 10 episodes and exclusive DVD extras. The debut 3-disc DVD set features comedian Adam Ferrara, champion rally car and drift racer Tanner Foust and racing analyst Rutledge Wood. The intrepid trio packs the first season with super-cars, extreme stunts and challenges, car reviews, celebrity interviews and, of course, the Stig, Top Gear's silent and mysterious racing driver. The show is chock-full of high-adrenaline action entertainment as it tracks the colorful history of the automobile as well as the eccentric adventures of its hosts with Top Gear's customary wit and humor.
In this series, Ferrara, Foust and Wood take on extreme challenges including a moonshine run along a Prohibition route in the Deep South, teaching a blind man to drift a Nissan 370Z and racing a HALO jumper in a Hennessey VelociRaptor across the Arizona desert. The Stig also appears to set definitive "Power Laps� and the team tests some of the world's fastest cars including a Dodge Viper SRT10 ACR, a Porsche Panamera Turbo, an Aston Martin V12 Vantage and more.
Celebrity guests take the wheel in the "Big Star, Small Car� segment including astronaut Buzz Aldrin, actors Ty Burrell (Modern Family) and Dominic Monaghan (Lost), musician Bret Michaels and skateboarder Tony Hawk. Arriving in stores on July 19, Top Gear: The Complete First Season is fully loaded with special features including audio commentary, webisodes and more.
Review:
Top Gear UK is a very tough act to follow. James, Jeremy and Richard are irreplacable. They are awesomely funny. Adam, Tanner and Rutledge are still solid hosts and perhaps they will grow more into the roles as the series continues. Tanner is a professional Rally Car driver and stunt car driver that could have been The American Stig. Rutledge is very funny as he is on Speed Channel's NASCAR coverage. Adam completes the trio and just like his co-hosts is funny. The US is more "politically correct" than the UK version. Unfortunately, the humor suffers as a result of that. Still, if you like cars and you love seeing beautiful scenery, this is the show for you. It is a perfect match for the UK version. Perhaps it will become your second favorite TV show -- behind the UK version.
V: THE COMPLETE SECOND SEASON
Available on DVD: October 18, 2011

BURBANK, CA (July 14, 2011) – Earthlings, prepare for the return of the Visitors! Queen Anna and her alien followers hatch their secret plan as Warner Home Video (WHV) releases V: The Complete Second Season on DVD and Blu-ray™ on October 18, 2011, for $39.98/$49.99 SRP. Known for its stunning special effects, the sci-fi series' second season is filled with hovering spaceships and jaw-dropping moments of the Visitors morphing into reptilian forms. In addition to all 10 episodes, the two-disc set Blu-ray™ includes an extra hour of bonus content including two behind-the-scenes featurettes: "The Arc of the Story: Mining the Human Emotion� and "A Visual Masterpiece for the Small Screen.�
Described as "darker, funnier, faster than last season� by Entertainment Weekly Online, V's surprising second season reveals Queen Anna's (Morena Baccarin - Firefly, Serenity) master plan to claim Earth as her own. Meanwhile, FBI Counterterrorism Agent Erica Evans (Elizabeth Mitchell - Lost), conflicted Visitor Ryan Nichols (Morris Chestnut - Ladder 49, Boyz n the Hood), disillusioned priest Father Jack Landry (Joel Gretsch - The 4400) and others join an underground unit of resistance fighters called the Fifth Column that are attempting to put a stop to the Visitors before it's too late! Season two also stars Logan Huffman (America), Laura Vandervoort (Smallville), Charles Mesure (Xena: Warrior Princess) and Scott Wolf (Everwood).
"Warner Home Video is happy to bring the final installment of V to DVD and Blu-ray for both fans of the series as well as new audiences to enjoy,� said Rosemary Markson, WHV Vice President, TV and Special Interest Marketing. "V's stunning visuals coupled with a gripping plot makes this season one that shouldn't be missed.�
CHRISTINA
Release date: September 6, 2011
CAST:
Stephen Lang (Fox's Terra Nova, Avatar, Conan, Gettysburg, Public Enemies)
Nicki Aycox (TNT's Dark Blue, CBS Cold Case, WB's SuperNatural, Jeepers Creepers)
Jordan Belfi (HBO's Entourage, Surrogates, ABC's Shark, CBS the Mentalist)

SYNOPSIS:
Inspired by a true story, arises this shocking tale that begins with the fall of Berlin, 1945. In the immediate aftermath of WWII, a young German woman prepares to leave her war-torn city to begin life anew with her American G.I. fiancé. Standing between her and a new future is a relentless police inspector, determined to prevent her from escaping her past.

Review:
I like a good story -- and this movie is a prime example of one. It reminded me more of a play, set in a single room with only a few cast members. The exchange between the three main characters is intense, particularly as the story comes to a close. Steven Lang is powerful as the inspector trying to do his duty and haunted by suspicions of wrong doing. Set in 1945, you are aware of the death and destruction in Berlin following the war -- is a fitting backdrop for this story, matching the extreme emotions between duty and love. It drags a little in the middle, but the ending is well-worth it.

Trailer Preview:
http://www.indicanpictures.com/films/drama/christina/
NEW RELEASES FROM THE WARNER ARCHIVE
Celebrate 75 Years of the iconic DC!

Starting this July, Warner Bros. Digital Distribution begins its celebration of the DC 75th Anniversary by bringing dozens of films and animated / TV series inspired by your favorite Comics (Batman, Superman, Watchmen…) FOR DOWNLOAD and ON DEMAND.
Download DC Favorites on Amazon On Demand, WBshop.com and on the all-new DC iTunes Experience page: http://bit.ly/WB_DC75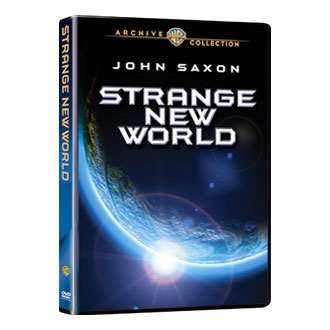 STRANGE NEW WORLD
Release date: May 18, 2010

Synopsis:
Cult icon John Saxon (Enter the Dragon) battles clones, barbarians, beasts and more in this startling sci-fi adventure based on concepts developed by Gene Roddenberry, the visionary creator of Star Trek. After 180 years in a cryogenic freeze, a trio of astronauts returns to Earth, only to find giant asteroids have devastated the planet. Roaming across America's vast wastelands, they encounter weird new cities, strange civilizations and bizarre descendants of Earth's distant past. Co-written by Academy Award® winner* Walon Green (The Wild Bunch), Strange New World features foxy film femmes Martine Beswick (Thunderball), Catherine Bach (The Dukes of Hazzard) and 1974 Playmate of the Year Cynthia Wood (Apocalypse Now) in an otherworldly thriller where Earth itself is the final frontier.

Director: Robert Butler
Cast: Ford Rainey, James Olson, John Saxon, Kathleen Miller, Keene Curtis, Martine Beswick, Reb Brown
Important Note: This film has been manufactured from the best-quality video master currently available and has not been remastered or restored specifically for this DVD and Digital Download release.

LOUIE L'AMOUR COLLECTION
Release Date: May 19, 2010

Western lovers! Have I got a deal for you. Warner Bros. has three classics to fill out your Western collection. The Louis L'Amour Collection: THE SACKETTS, CONAGHER and CATLOW. Featuring Acclaimed Actors Including Tom Selleck, Sam Elliott, and Yul Brynner.

"Known as 'America's Storyteller,' Louis L'Amour brought the American Frontier to life through his novels and we are proud to share his work through these terrific films," said Rosemary Markson, WHV Vice President, TV and Special Interest Marketing. "Following our successful Tom Selleck and Sam Elliott Western collections and just in time for Father's Day, The Louis L'Amour Collection is one we are confident Western fans will treasure and enjoy."

THE SACKETTS - Tom Selleck, Sam Elliott and Jeff Osterhage play brothers who migrate west to make their fortunes in cattle-herding and gold prospecting. Each aims to make it on his own - but each also stands up for the other when the going gets tough. And their guns blaze a name for themselves in untamed New Mexico territory.

CONAGHER - He conquered the range. She conquered his heart. Sam Elliott and Katharine Ross star as a cowhand and a widowed ranch owner who are drawn to each other when ruthless rustlers threaten his livelihood and her homestead.

CATLOW - A renegade outlaw wants to pull off a gold heist but finds it hard because he's such a wanted man - by the Mexican Army, his hellcat girlfriend, an Indian war party, a vengeful killer and several hotheaded cowpokes from his former gang. Yul Brynner, Richard Crenna and Leonard Nimoy star.

REVIEW
I love a good Western and here you have a number of them. Babylon 5 fans will recognize the name of Doug Netter on the production side of the Sackett videos. These videos harken back to another time when Westerns were all over the TV. THe stories were rich and full; the scenery was marvelous and rustic. It was easy to identify to good guys -- they didn't necessarily wear white hats, but they talked and shot straight. Having grown up with Roy Rogers, Gene Autry, The VIrginian and others, these movies brought back good memories and a yearning for something similar today. Where have all the westerns gone?

NIP/TUCK: THE SIXTH AND FINAL SEASON
Release date: June 8, 2010
19 episodes on five discs
Featurette: Tell Me What You Don't Like About Yourself--The Psychology

Sex. Seduction. Liposuction. Find them all in the fearless Nip/Tuck, the award-winning series that's the scalpel's edge of entertainment...and the spark for debate about what cosmetic surgery can or cannot bring to a patient's life. Dylan Walsh and Julian McMahon play plastic surgeons/best friends whose glamorous South Beach practice is a revolving door for Season 4's hot-button issues (including a terrifying story arc about an organ-harvest ring) and human foibles (a ventriloquist wants to look like his dummy). Guest stars include Jacqueline Bissett, Larry Hagman, Alanis Morissette, Mo'Nique, Rosie O'Donnell, Brooke Shields and more. Thrills, surprises, shocks, stars abound in this 5-disc set. And all it takes is a little Nip/Tuck.

SPACE STATION:

FOR IMMEDIATE RELEASE
WARNER HOME VIDEO BLASTS OFF WITH THE
MOST SUCCESSFUL IMAX® SPACE FILM OF ALL TIME
NARRATED BY TOM CRUISE
SPACE STATION
REVIEW:
With the successful launch and return of the space shuttle this week, the arrival of the I-MAX film SPACE STATION is very timely. This is a terrific video that takes you on your own personal tour of the international space station. You ride along with the astronauts as they bring the space station new supplies and bring up new crew members.
This video provides you with a hint of what it would be like to work and live in space. Quarters are small and I would guess that team work is paramount. Everyone has to pull together and that is a good lesson to learn for all of us.
If you want to know more about the international space station -- this video is definitely for you. The presentation is wonderful and it is packed of wonderful video segments showing the astronauts getting ready for sleep, moving supplies from shuttle to station and much, much more.
This is a good one for the kids as well. If they are curious, especially given the recent shuttle flight, this video will give them a lot more information about what it is like to live in space.
Be sure to visit the Space Station page for all the information on this DVD -- including videos received directly from Warner Bros.
---
LOIS & CLARK: THE NEW ADVENTURES OF SUPERMAN
This show was on for four seasons from 1993-1997. The actors involved in this adaptation of an old classic SUPERMAN really made this series. The chemistry between Dean Cain and Teri Hatcher was terrific. I have always been a huge fan of SUPERMAN. George Reeves was wonderful as the first Man of Steel (I actually met him when I was about 8 years old). Christopher Reeve will always remain tops in my book as far as men who have taken on this lead role. However, Dean Cain was very believable and enjoyable to watch. In addition, Lane Smith was perfect as Perry White.
This set has some wonderful extras, including interviews with Dean Cain and Terri Hatcher. A double bonus in the DVD Smallville episode "Crusade". If you are a fan of Superman, this is a DVD set you should seriously consider adding to your collection. The series was well done with a mix of drama and comedy.
Lois & Clark: The New Adventures of Superman
Season 1 Episode List
1: "Pilot"
2: "Strange Visitor"
3: "Neverending Battle"
4: "I'm Looking Through You"
5: "Requiem for a Superhero"
6: "I've Got A Crush On You"
7: "Smart Kids"
8: "The Green, Green Glow of Home"
9: "Man of Steel Bars"
10: "Pheromone, My Lovely"
11: "Honeymoon in Metropolis"
12: "All Shook Up"
13: "Witness"
14: "Illusions of Grandeur"
15: "The Ides of Metropolis"
16: "The Foundling"
17: "The Rival"
18: "Vatman"
19: "Fly Hard"
20: "Barbarians at the Planet"
21: "The House of Luthor"
DVD Features:
Available subtitles: English, Spanish, French
Available Audio Tracks: English (Dolby Digital 2.0 Stereo)
21 episodes on six discs, including the two-hour pilot
Commentary on the pilot by Dean Cain, executive producer Deborah Joy LeVine, and director Robert Butler
From Rivals to Romance: series retrospective documentary
"Taking Flight: The Visual Effects of Lois & Clark"
Original pilot presentation introducted by Deborah Joy LeVine
Interviews with Dean Cain and Teri Hatcher
Limited-quantity commemorative bonus disc containing the never-before-released-on-DVD Smallville episode "Crusade"
Number of discs: 6
---
WONDER WOMAN, SEASON THREE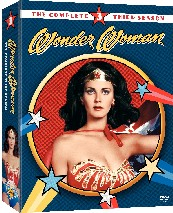 During this season, Wonder Woman got two new outfits -- one for riding her motocycle and one for under water. These were new to the character we found in the comic book, but fit with the modernization of the character.
I have always loved Wonder Woman -- from the comic books through the TV series. Now looking back, I can't believe she wore glasses like that! And it is sort of retro -- watching people dial telephones with rotary dialers. However, the stories still hold up pretty well. It is the traditional good versus evil -- and you know Wonder Woman always prevails.
The special features on this set were very different from those found on the Second Season set. Lynda Carter had much more to say about her character and how she became Wonder Woman as soon as she donned ther head piece. Others commented on Wonder Woman's influence on the feminist movement. Here was a strong character, a role model that did not exist before.
Lynda Carter's parting comment says it all -- she hopes that this DVD will introduce the character to a new generation.
WONDER WOMAN, SEASON TWO
Another great collection from Warner Bros. If you are looking for entertainment that your kids will enjoy, here is a collection that you can consider. Here's an example of one episode:
A magician has developed a process for turning lead into gold. One problem -- it only lasts for two days. He makes a deal with an oil producing country -- oil for gold. Sound familiar? The laboratory set where the gold is transformed into gold would make Frankenstein envious. The special effects are good -- especially when you consider when this series was made. Of course, good prevails and Wonder Woman brings the evil magician to justice.
The special feature on this one is very good. It includes brief comments from Lynda Carter, Douglas Cramer and the artists who brought Wonder Woman to life -- as a comic book character and as a TV personality. Lynda Carter "is" Wonder Woman and she brought a certain grace and poise to the character that everyone remembers. When she would put on that costume, you just believed she was Wonder Woman.
---
WEST WING: FOURTH SEASON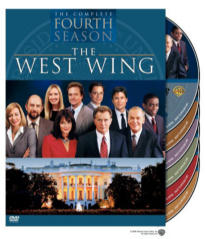 The West Wing is one of those shows that is so full of talent you don't know where to look first. In the fourth season, President Bartlet is fighting for re-election, against a foreign government dangerous to the U.S., and MS. Over the course of this year, you see characters change and grow stronger. Each and every cast member contributes to this masterful work.
My only quibble about this DVD set is the special commentary. I'm not a fan of the voice-over style, where the commentary is added to the actual footage of the episode being reviewed. While in some instances it can add valuable insight into how the scene was developed, it can also be confusing as you are trying to figure out what is being said -- along with what actions are taking place on the screen. Watching the scene for "Twenty Five" where Toby and Leo sit in a dark room following the birth of his twins -- this is a very poinient moment. To then have Aaron Sorken ando thers talk over the scene, despite the relevance, leaves me scratching my head. I would have preferred to have been shown the seen and then have the discussion follow.
Otherwise, this is a terrific DVD set. The packaging is minimal, but you still get enough information to easily find the episode you most want to watch -- or the commentary you would like to listen to.
---
BABYLON 5 DVDS
CRUSADE
This series had it all -- a good cast, terrific writing, wonderful production values -- and a good story. Unfortunately, in today's world of show business, that's not always enough. J. Michael Straczynski started out to create a totally different universe from the one first brought into being with Babylon 5. He continued to give us characters we cared about -- but this time around, he gave us different worlds to visit, different problems to solve. In the quest for a cure for the Drakh plague, the crew of the Excalibur could seek out new civilizations and go where many feared to tread. The series ended after only 13 episodes, but it was imaginative and represented some of the best science fiction of the time period -- and still ranks up there when compared with what we have to watch today.

The DVD set is divided into 4 disks. There are two different sets of commentaries. The first features director Janet Greek, Fiona Avery, Carrie Dobro and Peter Woodward as they talk through the episode "The Well of Forever". At first it was a little disorienting - watching the action and just hearing their voiceover of their comments. But very quickly I found that it is like having someone whisper in your ear little tidbits that make the episode more enjoyable. All four people obviously loved making this episode - Fiona Avery wrote it with a very definite feel for the character of Galen and technomages. Janet Greek directed a number of Babylon 5 episodes so she had an advantage in knowing the general story and environment around Babylon 5. While Crusade was different in nature, the production crew was much the same and their care in visual storytelling is most apparent. I had the good fortune of actually seeing this episode being made at Babylonian Productions in California. It was amazing to see the end product on film when you know how tiny the studio facility was and how large it looked - especially with all the talking & walking segments throughout the series. This exchange between the four is very intelligent -- and a delight to listen to.

The second set of commentaries begins with "The Making of Crusade". J. Michael Straczynski, John Copeland, Doug Netter, John Iacovelli and others go over casting, set design and story concepts. Getting insights from Marjean Holden (Dr. Sarah Chambers) and hearing from David Brooks (Max Eilerson) that he knew his character was headed for a fall were interesting. Like many good actors, they created a total environment for their characters - one in which they had fun and were able to share their talents with everyone.

All in all, watching the CRUSADE DVD is like meeting an old friend again after an extended absense. I still can't say I like the music, but perhaps I've matured enough to appreciate it a bit more than I did when the series began. Peter, Marjean, Carrie and David are lovely people and a joy to work with - on and off the set. I've run into them at conventions and we share some very fond memories of CRUSADE. Joe Straczynski, John Copeland and Doug Netter did a phenomenal job on this series - too bad it didn't reach the heights it could have reached.