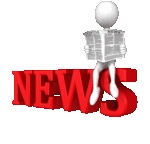 FEBRUARY NEWS
WEDNESDAY, FRIDAY 26, 2014
GODZILLA
The first full-length trailer for Godzilla has roared onto the scene, showing a lot more destruction, but only brief glimpses of the massive monster.
"You're hiding something out there and it is going to send us back to the stone age!" says Bryan Cranston's character in the opening moments of the new two-and-a-half-minute trailer.
The rest of the trailer for the Warner Bros. and Legendary project features lots of destruction (fire! planes falling from the sky!), some other scary creatures and a lot of freaked out humans.
Directed by Gareth Edwards, the film stars Cranston, Aaron Taylor-Johnson and Elizabeth Olsen and is slated for release in 3D and 2D on May 16, 2014.
Much like the first teaser trailer for the film, released in December, this new trailer focuses on the big scenes of destruction, and leaves fans waiting for a better look at the infamous monster. BEING HUMAN CANCELLED - CAST SAYS THANK YOU
Being Human is currently in its fourth, and now final season. Syfy has confirmed that the series will end this spring. Josh (Sam Huntington), Aidan (Sam Witwer), Sally (Meaghan Rath) and Nora (Kristen Hager) will be no more. According to the official press release, the show will go out with a bang. Before signing off, the characters will encounter "twists, turns and surprises that will culminate in a spectacular series finale."
Showrunner Anna Fricke and the talented producers, writers, cast and crew have done an amazing job bringing this show to life over the past four seasons and we sincerely thank them and the series' production company Muse Entertainment for their hard work," Syfy said in a statement announcing the cancellation. "They've saved the best for last with the final six episodes that revisit the story's beginning, leading to a not-to-be-missed send-off for Aidan, Sally, Josh and Nora.
Despite the sad news, the cast of Being Human created a thank-you video for fans. The series never had huge ratings (drawing around 1 million viewers), but it definitely had its followers. Watch the cast's heartfelt message to those who've been there since the beginning.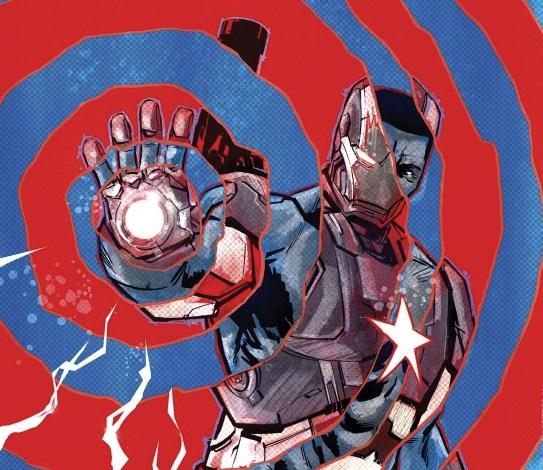 IRON PATRIOT
Rhodey Rhodes is set to flip on the red white and blue afterburners and rocket into his own All-New Marvel NOW! comic series next month. Written by Ales Kot (Wild Children, Zero), with art by Garry Brown (The Massive, Incorruptible), Iron Patriot #1 features Tony Stark's crimebusting buddy off on solo adventures around the globe. Iron Patriot #1 launches on March 26, 2014.
Here's Marvel's official announcement:
This March, peel back the layers of Colonel James Rhodes in IRON PATRIOT #1 – the all-new series from critically acclaimed writer Ales Kot and fan-favorite artist Garry Brown! Who is the man in the armor? What drives him? James Rhodes may have quit the Secret Avengers, but that's not going to stop him from bringing the fight to the bad guys from inside the Iron Patriot armor! But his heroism will come with a steep price… As new villains emerge and a deadly conspiracy from within America grows – the Iron Patriot stands alone against impossible foes. This March, the war comes to the home front in IRON PATRIOT #1!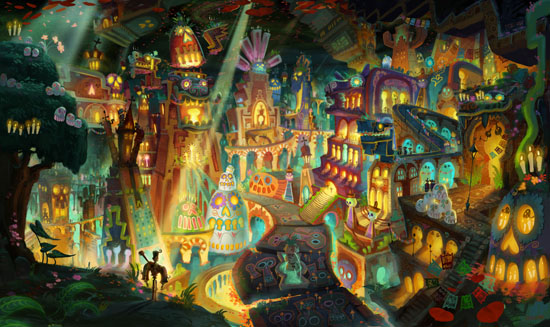 BOOK OF LIFE
It's always bugged Jorge Gutierrez when the concept art for an animated film gets substantially altered for the finished film.
Gutierrez, the co-writer and director of Fox Animation's upcoming animated feature The Book of Life, describes himself as a huge animation lover, and some of the things he likes to buy are "The Art of…" books for the movies. "I saw every single one that comes out and my biggest heartbreak is that I see all this glorious art, and then the movie doesn't look like that!" he tells Heat Vision. So he wanted to break that mold.
"The mandate of this movie was: Our 'Art of' book is going to look exactly like the movie. And every artist poured their heart and soul into that idea," he says.
Book of Life hails from Fox Animation and Reel FX Animation Studios (which previously made Free Birds). Guillermo del Toro is one of the producers of the feature, which is set on the Mexican holiday the Day of the Dead and tells of a young man named Manolo who is torn between what he wants to do (play guitar and win the heart of the girl of his dreams) and what his family wants him to do. He ends up traveling across three different worlds to find himself.
Channing Tatum and Zoe Saldana lead a voice cast that counts Danny Trejo, Ice Cube, Christina Applegate and Diego Luna among others.
Gutierrez says the movie, which has a release date of Oct. 17, takes its building blocks from Mexican folk art, old Mexican movies and stories from his childhood.
"All my favorite albums, all my favorite books and films, they are all personal stories that take place in a very specific culture but that are universal," he says. "So I wanted to make something that happened in my family but make it for the world."
Fox Animation threw an unveiling of the art at Beverly Hills' Ace Gallery on Monday that included music that will be heard in the movie.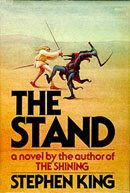 THE STAND
Following the departure of briefly-attached helmer Scott Cooper (Crazy Heart) last fall, TheWrap is reporting that The Fault in Our Stars director Josh Boone is in talks to take on Warner Bros.' big screen adaptation of Stephen King's The Stand.
Previously adapted as a television miniseries in 1994, "The Stand" tells the story of a full-scale apocalypse, driven by the accidental release of a biological weapon and the ensuing struggle of good versus evil carried out by the world's final survivors.
Although previous plans called for a multi-film adaptation of the property, the outlet's source claims that the plan is now to adapt the book as a single film that will not shy away from an R rating.
Boone is said to be a longtime fan of King and even gave the novelist a cameo in his 2012 film, Stuck in Love.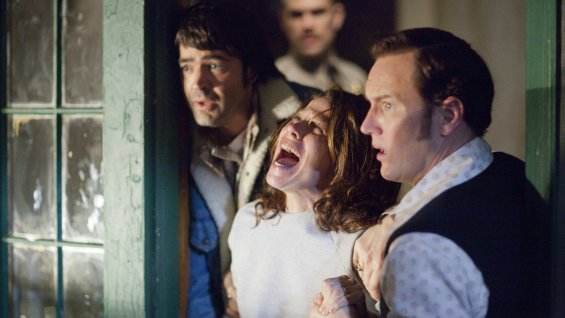 CONJURING 2
New Line and Warner Bros. have set a release date for The Conjuring 2 as well as dates for the female-skewing projects Mean Moms and How to Be Single. Also on the docket is an untitled horror movie.
Conjuring 2, which will not be directed by James Wan (it doesn't have a director at all at this stage), will open Oct. 23, 2015. No other movies are on that date at this point, although Universal is opening up Guillermo del Toro's gothic horror movie Crimson Peak on Oct. 16.
Mean Moms, which is based on the book Queen Bee Moms & Kingpin Dads, will open May 8, 2015, putting it near the start of the traditional summer moviegoing season. So far, New Line/Warners have the date all to themselves, although The Avengers: Age of Ultron is opening a week earlier.
How to Be Single, an ensemble romantic comedy, has been set for a Feb. 12, 2016, release, putting it in play for Valentine's Day. Lily Collins may be the first person to join the cast as she is in early talks to star.
New Line also has slotted an Oct. 3 date for an untitled horror movie. The company did not disclose details of the project but since the date is under eight months away, speculation is running rampant that it could be the Conjuring spinoff Annabelle or the Wan-produced Crawlspace.
TUESDAY, FEBRUARY 25, 2014
STAR WARS: CLONE WARS
In case all the buzz over Star Wars: Rebels isn't getting you too fired up, we have good news -- here's the first trailer for Netflix's new season of Star Wars: Clone Wars.
Of course, the Mouse House pulled the plug on Clone Wars to make way for the new Disney XD series Rebels, when a whole new season was already halfway through development. Though it seemed like those unfinished eps might never see the light of day, this spiffy new Netflix deal has found 'em finished up and repackaged as the "Lost Missions."
The trailer is our first tease at what we'll find. Here's a full rundown: Yoda communes with Qui-Gon Jinn and is sent on a journey; Jedi Master Plo Koon discovers Sifo-Dyas' lightsaber and a clue to the creation of the clone army; Count Dooku looks to protect the secret of Order 66; Anakin Skywalker rescues Padme Amidala; and Mace Windu battles multiple foes.
The full series of Clone Wars, complete with director's cut episodes and the "Lost Missions," debuts March 7 on Netflix Instant.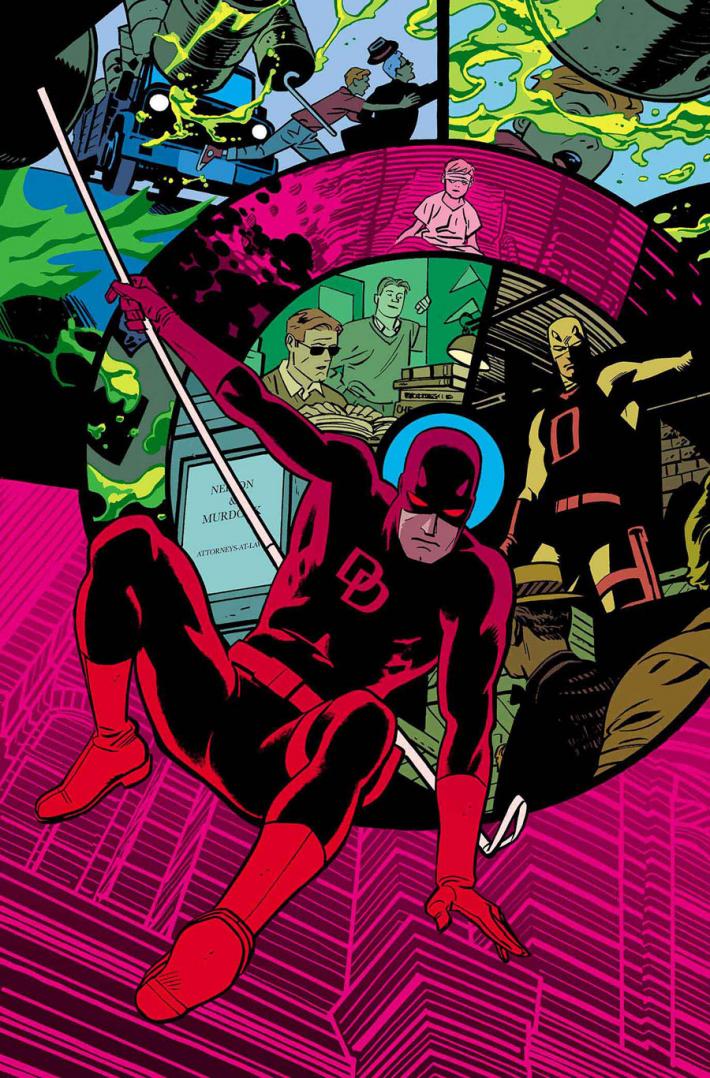 DAREDEVIL
The Eisner Award-winning duo of Mark Waid and Chris Samnee take The Man Without Fear into the bustling Bay Area with this revealing San Francisco treat. Daredevil gets his All-New Marvel NOW! launch next month, with variant covers by Alex Ross, Paolo Rivera and Skottie Young.
Here's Marvel's official announcement:
Gifted with an imperceptible radar sense, blind lawyer Matt Murdock patrols the streets with a billy club and a passion for justice. Only this time, it's a brand new city, with even more dangerous foes. Join Matt Murdock as he journeys from the dark streets of Hell's Kitchen to the sun-drenched boulevards of San Francisco. And the scenery isn't the only new thing in store for ol' Hornhead. A world of changes are in store for Matt Murdock as old haunts and familiar faces rise up to give the devil his due. Changes that will turn his life upside down yet again! Don't miss one moment of the highly anticipated series this March when DAREDEVIL #1 comes to comic shops and digital devices!
Daredevil #1 hits the shelves on March 19, 2014.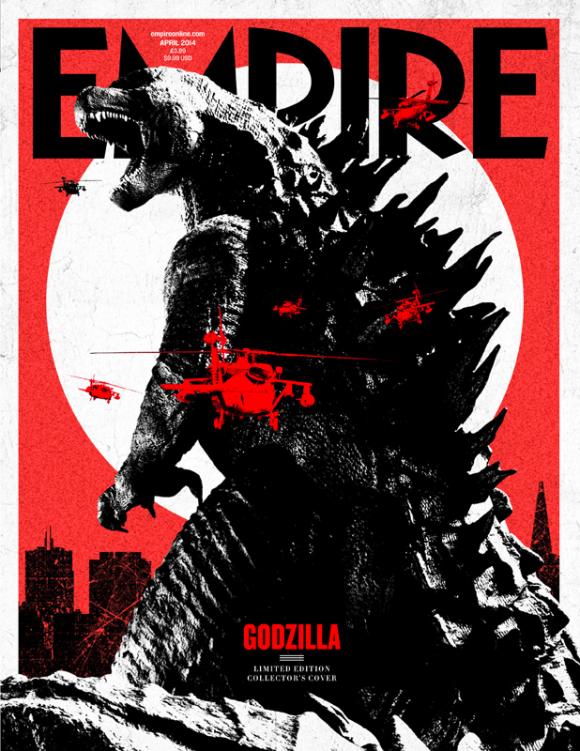 GODZILLA
A double dose of Godzilla goodness comes our way today as the giant monster and his fearsome roar have both been revealed to the world.
The visual comes courtesy of the U.K.'s Empire magazine (via Slashfilm), which has posted a "limited edition collector's cover" online that features our most clear look yet at the beast in all his awesome glory. Yes, the image is deliberately stylized so that we don't get a "complete" look, but this is without doubt the most we've seen yet.
It's available to subscribers only, so apparently you can't even get it at those newsstands and bookstores that carry it here in the Colonies, but it's reproduced here for everyone to salivate over:
And then there's the big green guy's new roar, which is long and fearsome and savage and...well, just listen!
Godzilla comes out May 16 courtesy of Legendary Pictures and Warner Bros. Pictures. Gareth Edwards (Monsters) directs a cast that includes Aaron Taylor-Johnson, Ken Watanabe, Elizabeth Olsen, Juliette Binoche, Sally Hawkins, David Strathairn, Bryan Cranston and, of course, the greatest monster the world has ever known.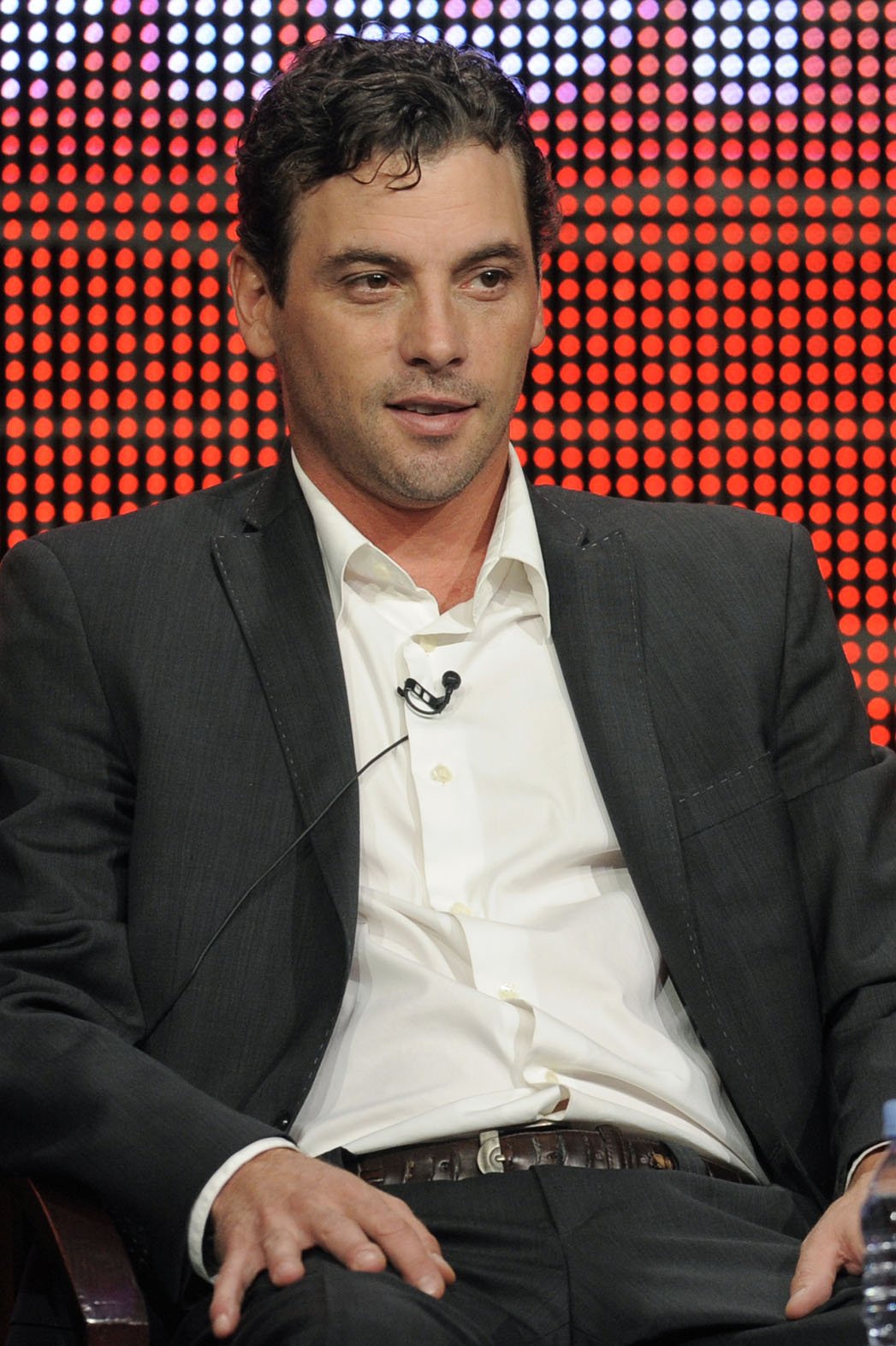 BABYLON FIELDS
Jericho's Skeet Ulrich will play identical twin brothers in NBC's Babylon Fields, the drama starring Meagan Good, The Hollywood Reporter has learned.
The drama, from Gerald Cuesta, centers on the dead rising again in Babylon, N.Y., where lives are regained, old wounds are reopened and families are restored -- for better or worse. The newly regenerated bodies are healing faster and growing stronger, prompting discussion that this might be the next step in human evolution.
Ulrich will play Father Harries, a local priest, and his twin brother, Graham, a junkie when alive, who returns from the dead.
Cuesta will write the script and executive produce alongside Michael Atkinson and Michael Cuesta, the latter of whom will direct the 20th Century Fox Television pilot.
The casting keeps Ulrich (Robot Chicken, Law & Order: Los Angeles) in the 20th TV family; he starred in the network's passed-over Howard Gordon drama Anatomy of Violence last year. Ulrich is repped by UTA and Brillstein. He is currently shooting the independent feature Lost in Austin and will next be seen in the indie feature 50 to 1.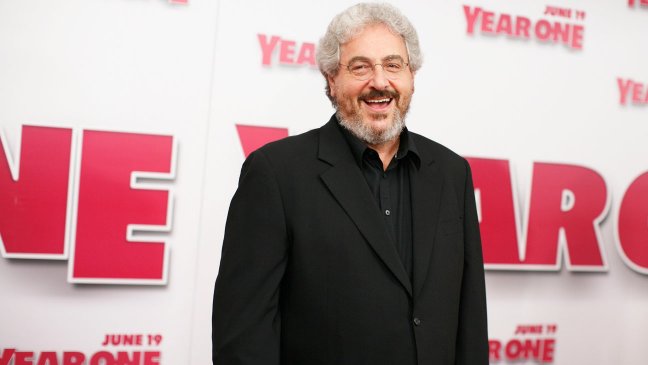 HAROLD RAMIS - DEAD AT 69
The man behind comedy hits like "Animal House," "Caddyshack" and "Ghostbusters" died from complications related to autoimmune inflammatory vasculitis, a condition he battled for the past four years. He was 69.
Ramis died Monday morning in his Chicago-area home, surrounded by family and friends.
Ramis is likely best known for his acting roles in Ghostbusters and Ghostbusters II, both of which he co-wrote. He also co-wrote National Lampoon's Animal House, Stripes, Caddyshack and National Lampoon's Vacation, directing the latter two films. He co-wrote, produced and directed other comedy classics like Groundhog Day, Multiplicity and the Billy Crystal-Robert De Niro films Analyze This and Analyze That. He directed 2005's The Ice Harvest, starring John Cusack and Billy Bob Thornton. Most recently he wrote, co-produced and directed 2009's Year One, starring Jack Black and Michael Cera.
"His creativity, compassion, intelligence, humor and spirit will be missed by all who knew and loved him," UTA said in a statement.
Ramis was born in Chicago and earned his bachelor's degree from Washington University in St. Louis. He got his start in comedy in 1969 at Chicago's famed Second City.
He was also involved with the long-rumored Ghostbusters III. Ramis won a BAFTA, American Comedy Award and British Comedy Award.
He is survived by his wife, Erica Mann Ramis, his sons, Julian and Daniel, daughter Violet, and two grandchildren.
FEBRUARY 24, 2014
ARROW SUICIDE SQUAD
We don't know about you but, for us, Arrow can't return fast enough. Next month, viewers are in for a very special treat. The writers are going to pay off a storyline that's been in the works since the beginning of the season. With Amanda Waller in play, Arrow is ready to unleash its version of The Suicide Squad.
In the comics, the Suicide Squad is a group of super-villains, who work under Waller. They take on high-risk missions on behalf of the government with the promise of shortened prison sentences. Over at CBR, they've published two photos featuring Waller and her newly assembled team.
The Suicide Squad includes Ben Turner/Bronze Tiger (Michael Jai White), Mark Scheffer/Shrapnel (Sean Maher) and Floyd Lawton/Deadshot (Michael Rowe). One of the most interesting things about this incarnation is the inclusion of Arrow's right-hand man, Diggle (David Ramsey). He and Deadshot share a tumultuous backstory, which may be problematic.
Executive producer Andrew Kreisberg reveals, "Dig was our way into Amanda Waller, and in this episode, Amanda comes to Dig and Lyla, and she recruits Dig for a mission, and tells him he's going to need a team –– and she saddles him with the Suicide Squad." It sounds like Diggle's going on his own adventure that's Arrow-free.
Arrow's Suicide Squad episode airs March 19 on The CW.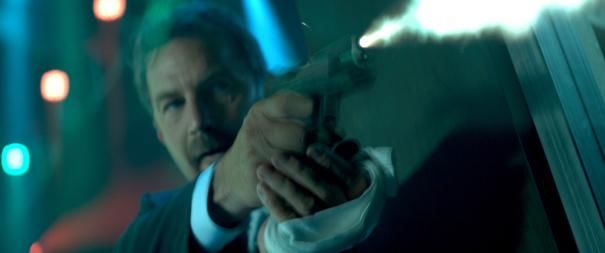 WEEKEND BOX OFFICE
Two new movies opened in wide release on Friday. Not that anyone would notice as the blockbuster smash The LEGO Movie (Warner Bros.) ran rampant over the box office for a third week in a row, this time grossing two-and-a-half times the amount brought in by the #2 movie. Most of the movies that opened over the extended dual holiday weekend last week also took a massive drop this week, which meant that the two new movies could venture into second and third place despite weak showings.

The LEGO Movie easily won the weekend with $31.4 million, down 37% from the holiday weekend as it has achieved $183 million total after three weekends in theaters. Warner Bros. has already set a plum Memorial Day release date of May 26, 2017 for the sequel to the insanely successful animated movie.

But back to those two new movies that no one seemed to care about. Kevin Costner continued his run at the comeback trail by starring in the Luc Besson-McG collaboration with Amber Heard and Hailee Steinfeld. Although Costner had 3 Days to Kill, his first starring role in some time had to settle for second place with $12.3 million in 2,872 theaters. Produced at a fairly low budget of $28 million, it averaged $4,283 per theater.

Paul W.S. Anderson's attempt to break away from the "Resident Evil" franchise with the 3D historic epic with Pompeii (TriStar Pictures/Sony) was met with very little interest from moviegoers. Starring Kit Harrington, Carrie-Anne Moss, Emily Browning, Adewale Akinnuoye-Agbaje, Jessica Lucas, Jared Harris and Kiefer Sutherland--even Anderson's wife Milla Jovovish (once married to Luc Besson) was smart enough not to star in this one--the epic film that reportedly cost $80 million brought in just $10 million in 2,658 theaters or $3,762 per venues.

Various other Sony divisions filled out the next three slots, although their two movies from last weekend took a dive with the sci-fi action remake RoboCop (MGM/Sony), holding up the best despite dropping 57% from its opening weekend. It took fourth place with $9.4 million over the weekend, bringing its domestic total to $43.6 million. Like most movies, it's doing better internationally where it brought in another $17.7 million this weekend to bring its worldwide total to $100 million.

Dropping one notch to fifth place, George Clooney's WWII drama The Monuments Men (Sony) added another $8.1 million to its total gross of $58 million.

The romantic comedy remake About Last Night (Sony/Screen Gems) took a massive nosedive without the boost of Valentine's Day, dropping 71% to $7.4 million, down to 6th place from its impressive opening weekend beating RoboCop for second place. So far, it's grossed $38.1 million.

The ubiquitous Kevin Hart also starred in the action-comedy Ride Along (Universal) with Ice Cube, which continued to do well with another $4.7 million in its sixth weekend, for a total of $123.2 million.

Walt Disney's unstoppable animated blockbuster musical Frozen just won't leave the Top 10 despite opening three months ago! It remained in eighth place with $4.4 million, down 30% from the holiday weekend, with a whopping domestic total gross of $384 million.

Globally, the animated hit is about $20 million away from becoming one of those rare blockbusters that hits a billion dollars worldwide, as it's currently at $980 million with nearly $600 million of that coming from overseas. The movie's popular soundtrack is also gunning after Titanic's record for most weeks at #1 for a soundtrack having already sold nearly 85,000 copies to date.

The top 10 was rounded out by two of last week's romantics offerings, both taking massive plunges with Endless Love (Universal) dropping to ninth place with $4.3 million with a total gross of $20.1 million. Last week's only new non-remake, the fantasy romance Winter's Tale, starring Colin Farrell and Russell Crowe, took tenth place with $2.1 million, similarly down 71% without having a Valentine's Day bump.

This week, the Top 10 grossed an estimated $94 million, up about $10 million from last year, helped greatly by the fact that The LEGO Movie did nearly double last year's #1, the comedy Identity Thief, which retook #1 over Dwayne Johnson's action-thriller Snitch.

As far as the limited releases, Touchstone Pictures released a dubbed version of Hayao Miyazaki's latest animated feature The Wind Rises into 21 theaters where it grossed $306 thousand, roughly $14.5 thousand per theater. Also, the period drama In Secret (Roadside Attractions), starring Elizabeth Olsen, Tom Felton, Oscar Isaac and Jessica Lange, only made $275 thousand despite opening in 266 theaters, which is about a thousand per theater.
SUNDAY, FEBRUARY 23, 2014
HEROES REBORN
Someone's been paying close attention to the event series return of "24" and that person is "Heroes" creator Tim Kring. It was announced during NBC's primetime coverage of the 2014 Winter Olympics that "Heroes Reborn" will air on the network in 2015.
NBC says they are keeping all storyline and character details under wraps or now, but the stand-alone series will be executive produced by Kring. "Shows with that kind of resonance don't come around often and we thought it was time for another installment," NBC Entertainment President Jennifer Salke said in a release. "We're thrilled that visionary creator Tim Kring was as excited about jumping back into this show as we were and we look forward to all the new textures and layers Tim plans to add to his original concept."
While NBC is being secretive on the details, Salke adds that it's possible some familiar faces may return for the miniseries. NBC will also launch a digital series to introduce new characters and storylines to the mythology before it premieres. "Heroes" originally ran on NBC from 2006-2010.

TRANSFORMERS: AGE OF EXTINCTION
Though the first three movies had a brighter edge to all the action and mayhem, it sounds like folks might want to think twice before taking their kiddos to see Transformers: Age of Extinction.
Titus Welliver (Lost, Argo), who has a mystery role in the upcoming sequel, opened up with Nerdist about what fans can expect from the semi-reboot (but don't call it a reboot) that Michael Bay is cooking up with Mark Wahlberg. According to Welliver, Extinction will have a much darker slant than the first three films.
Here's the choice excerpt:
"I've now won the hard earned respect of my children because I'm in aTransformers film, and I've always wanted to work with Michael Bay and certainly Mark Wahlberg and Kelsey Grammer. It's a bit more of a darker vision of the Transformers world… It's not a kids movie, I'll tell you that much."
The more we hear, the more curious we become to see how this one turns out. Obviously, Transformers is a kid-teen brand, but it definitely needed something to happen creatively to necessitate a reason to continue the film franchise. Going darker, with a fresh cast, is at least something different.
It also brings up another interesting question: Will Transformers fans turn out en masse for a "darker," more mature take on the franchise? We think so, especially when you consider that most of the teens who enjoyed the first film are actually young adults now ... meaning Michael Bay might be smarter than we think by aiming for this demographic.

THE HOBBIT: THE DESOLATION OF SMAUG
Peter Jackson's Weta Digital has released a new video exclusively to The Hollywood Reporter detailing its Oscar-nominated work to create the massive dragon Smaug and meld it with the performance of Benedict Cumberbatch for The Hobbit: The Desolation of Smaug. "Our challenge with Smaug was making him every bit as engaging and believable as his live-action counterparts," explains David Clayton of Smaug's Oscar-nominated VFX team from Weta Digital.
Clayton tells THR that to get started, Cumberbatch came to Wellington, N.Z.'s Weta in early 2012. "Using our motion-capture stage, we recorded his performances, which focused on the conversation with Bilbo sequence. Having Benedict in a mocap suit was lots of fun -- for us, and hopefully for him, too -- and seemed to help get him immersed and home in on the character."
The animation team then grafted Cumberbatch's performance onto the CG dragon. "The translation of performance from Benedict to Smaug wasn't a one-to-one match like you'd get from a humanoid creature. They have very different physiologies," Clayton explains. "As animators we had to transpose the elements of Benedict's performance that were critical to the shot, such as head nuances and facial expressions. We then built up the majority of his motion with keyframe animation" --meaning that it was animated by hand.
"Smaug needed a formidable presence, so we worked hard to craft impressive poses for his massive body, wings and tail. He also covered a full range of moods -- from supreme arrogance to paranoid suspicion, from curiosity to violent rage. Adding to his versatility as a character was the creation of his hands. We achieved this by adding a thumb and extra forefingers to Smaug's wings."
To allow Smaug to live in his chamber of Erebor -- which is filled with gold coins -- the team wanted his movement to be "confident and self assured. We got creative with his locomotion through the gold by plowing him through the coins like a train through snow."
This was a formidable challenge, as the VFX team had to simulate all the coins with each movement of the dragon. Some of the action sequences involved hundreds of millions of CG coins moving at once."
As the Weta team built up Smaug sequences with more evolved animation, Cumberbatch used those visuals for additional ADR, working with the sound team (Smaug is also nominated for sound editing and sound mixing Oscars). "It became this great collaboration through which we were able to get the most out of this amazing character," Clayton says.
SATURDAY, FEBRUARY 22, 2014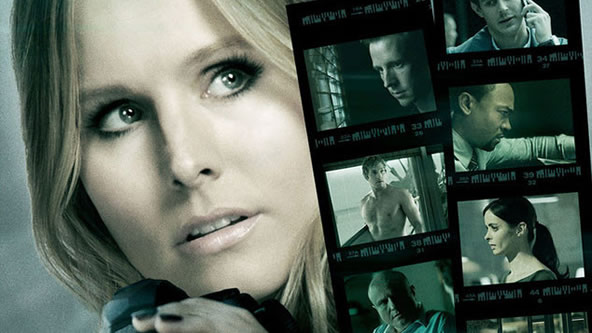 VERONICA MARS
"Veronica Mars" keeps changing the way things are done. The fact that it was funded almost entirely by fans was the first big step, but it's still breaking the mold. Creator and director Rob Thomas revealed in an e-mail to Kickstarter backers that the movie will be released online and through cable and satellite providers on the day of its theatrical release.
It's a move that's pretty much unheard of for a release from a major studio like Warner Bros., as theaters like to have a release window that will draw people out of the house and into the multiplex. The "Veronica Mars" movie seems to like doing things that are unheard of, though.
That means it will be available worldwide on release day, including roughly 270 theaters. That also means backers who donated $35 or more to the cause will get to download their free copy of the movie earlier than they probably expected.
"Veronica Mars" is out on March 14.

FARSCAPE
It's been more than a decade since Farscape came to an end, but most fans still carry around a Moya-sized hole in their hearts. Well, good news -- more Farscape could be on the way.
It's being reported that Justin Monjo, who wrote several episodes of the original Farscape series, is working on a screenplay for a new Farscape film (likely a TV movie) which would pick up the story of John Crichton and company several years after the end of the Peacekeeper Wars miniseries.
The report comes via screenwriter news site if.com.au, and also notes Monjo is penning the pilot for HBO's new Peter Dinklage-led sci-fi/fantasy project The Beasts of Valhalla. That sounds cool, too, but what has us chomping at the bit is the thought of some new Farscape adventures.
The plot line is pretty thin at the moment, though Monjo has apparently revealed the story will follow John and Aeryn's 19-year-old son, who is discovered in hiding and forced to rejoin his parents on their spaceship. The project will apparently be directed by Brian Henson, with Jim Henson Productions. Henson served as a producer for Farscape's entire run, though his directorial credits are a bit thin, with just a handful of scattered television episodes on the list.
This is obviously great news, and we're psyched to hear there's momentum to bring Farscape back to life, but there's no obvious indication that series creator Rockne S. O'Bannon (Revolution, Defiance) is involved in any meaningful way. He was the heart and soul of the series, and we just hope Monjo and Henson make it a point to involve him if this actually gets off the ground.

JINN
When last seen in Star Wars Episode I: The Phantom Menace playing the seething Sith Lord Darth Maul, Ray Park was being separated in mid-torso by Obi-Wan's scorching lightsaber. Now Park is back on the attack as Gabriel, leader of a gang of badass genie hunters in director Ajmal Zaheer Ahmad's supernatural thriller Jinn. Ahmad is better known as a Hollywood storyboard artist and music video director with one feature, It's a Mismatch, under his belt. Here, in his first indie horror film, the rich vein of Arabian folklore is mined with riveting results, centering around the legends of The Jinn, supernatural creation entities infused into the core beliefs of many international cultures.
Here's the official synopsis:
In the beginning, three were created. Man made of clay. Angels made of light. And a third made of fire. Stories of angels and men have captured the imagination and been etched into history crossing boundaries of culture, religion and time. These two races have dominated the landscape of modern mythology, shrouding the evidence that a third was ever created. This third race, born of smokeless fire, was named the jinn. Modern man has all but forgotten this third race ever existed.
It is time for him to remember...
The solid cast stars Ray Park as Gabriel and Serinda Swan as Jasmine, plus Faran Tahir, William Atherton and Dominic Rains as the intrepid monster murderers. Jinn will open in the U.S. on April 4, 2014, in limited release.

CAPTAIN AMERICA: WINTER SOLDIER
Did Marvel Studios just give away a major new development in its cinematic universe?
The marketing machine for Captain America: The Winter Soldier is officially in high gear, and that means fans (including us) are scouring every poster, every interview and every possible snippet of new footage for as much Marvel awesomeness as they can handle. Sometimes all these tidbits -- like toy releases, for example -- leave us with little more than idle speculation that we'll never really sort out until we see the film. Sometimes, though, Marvel puts something right out in the open, either because they want us to know it or they want us to think we do, and that's certainly the case with the latest Winter Soldier TV spot.
Oh, and we'd warn you about spoilers, but since this is going to be hitting pretty much every TV in America at some point, you'll probably have a hard time escaping it.
Did you hear it?
"Fury's last words were not to trust anyone."
Fury's last words?
We already know from the Winter Soldier footage that's hit so far that Samuel L. Jackson's Nick Fury gets into a pretty serious dust-up with the metal-armed villain in the flick, something that's shown again here when Winter Soldier flips Fury's car via carefully placed explosive device. We expected Fury to go through some rough stuff, but will it really kill him?
Obviously, Marvel's not going to just telegraph a major character death in a TV spot like this, but even if they accidentally did, we already know that Jackson's Marvel work doesn't end here. He's already committed to returning for Avengers: Age of Ultron, and his current (as far as we know) nine-film deal with the company means he'd have at least two more big-screen appearances after that. So, since we have all that knowledge, we have to ask ourselves: What does Marvel want us to believe is happening here?
Well, Joss Whedon has already established that returning from the dead in the Marvel Cinematic Universe is possible, and if it happened for one of Fury's subordinates, it can certainly happen for him, too. So, will Fury get a Coulson-style rebirth? It seems unlikely that Marvel would pull the same trick again that quickly, so let's consider another, more likely option. This could be our indicator that Cap and company just think that Fury's dead, and meanwhile Cap has to deal with the less familiar side of S.H.I.E.L.D. under Alexander Pierce (Robert Redford). Whatever happens, though, we've now got Fury's fate to think about for the next month and a half, and for whatever reason, Marvel wanted it that way.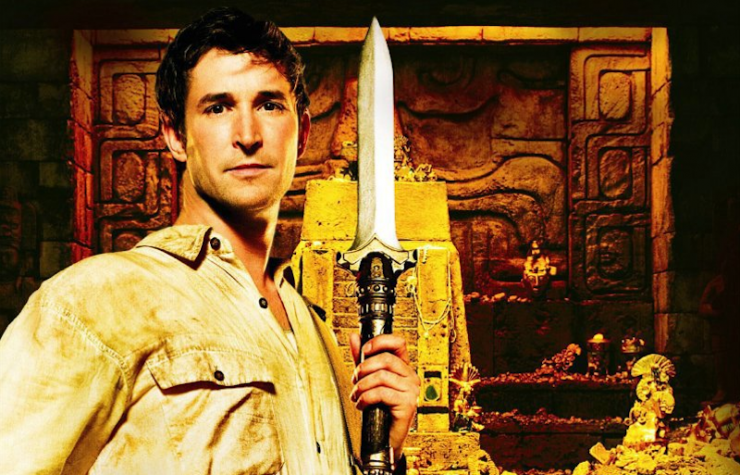 THE LIBRARIAN
TNT is developing a new series based on The Librarian. If you're not familiar, it's a trilogy of made-for-TV movies starring Noah Wyle as the title character. The network aired the first installment, The Librarian: Quest for the Spear, in 2004, followed by Return to King Solomon's Mines in 2006 and Curse of the Judas Chalice in 2008. They're very fun fantasy films that have an Indiana Jones vibe.
All three movies were successful, and now, six years after the last entry, TNT wants more. But this time they're interested in a 10-episode series. As we all know, Wyle is currently the star of TNT's Falling Skies, which is moving into its fourth season. Yet the network still wants the actor to reprise his role of Flynn Carsen for its new project.
According to TVLine, the show's tentatively called The Librarians and it "would center on four ordinary people with extraordinary talents who discover that they have been selected by Wyle's Flynn to work for The Library, an ancient fellowship of knowledge and heroism. The quartet travels the world investigating strange occurrences, battling ancient conspiracies and protecting the innocent from the dangerous, secret world of magic."
While the network wants Wyle to appear in a recurring capacity, the remaining cast has yet to be announced. The previous Librarian films featured Bob Newhart, Joan Curtain, Sonya Walger, Kelly Hu, Gabrielle Anwar and Stana Katic.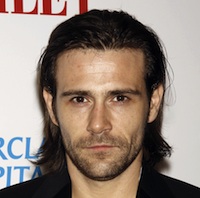 CONSTANTINE
NBC has found its "Constantine"! Deadline reports that Welsh actor Matt Ryan ("Collision," "Criminal Minds: Suspect Behavior") will play John Constantine, DC Comics' rogueish supernatural detective, in their upcoming television pilot.
Written by David S. Goyer (Batman Begins, Man of Steel) and Daniel Cerone ("The Mentalist"), "Constantine" follows the titular character, created by Alan Moore during his run on "Swamp Thing" but better known for his solo series, "Hellblazer." Launched as a DC Comics title, it shifted to their Vertigo imprint in 1993 and finally concluded only a few years ago after 300 issues. Constantine now exists in the "New 52" continuity as a younger man.
The series joins "Arrow," "The Flash" and "Gotham" as another DC comics-based television series.
ARROW
The CW has released the first clip from episode 2.14 of "Arrow." Titled "Time of Death," the episode is described as follows:
"Oliver brings Sara into the Arrow team. Watching Oliver and Diggle spar with Sara and talk old scars, Felicity starts to feel left out. The team is investigating a villain named William Tockman, a.k.a. The Clock King (guest star Robert Knepper), who is a brilliant thief armed with technology that can open any bank vault in Starling City. After The Clock King infiltrates the computer systems in the lair, Felicity feels pressure to prove her worth. When she gets a lead on Tockman's whereabouts, she heads out without the team, putting her in peril. Meanwhile, Oliver throws Sara a welcome home party, but Laurel refuses to attend. After Lance makes his case for a family dinner, Laurel acquiesces, but when Oliver shows up with Sara, she loses her temper on both of them."
Directed by Nick Copus and written by Wendy Mericle & Beth Schwartz, "Time of Death" will air February 26. "Arrow" airs on Wednesdays at 8 P.M. ET/PT on The CW.
FRIDAY, FEBRUARY 21, 2014
STAR WARS: REBELS
"Star Wars Rebels," an animated series coming to Disney Channel in the fall of 2014, tells the story of the Ghost Crew, a group fighting against the Empire. Hera, voiced by Vanessa Marshall, is an ace pilot and the "heart of the Ghost crew."
Described as strong-willed, warm and nurturing, Hera is a Twi'lek who keeps the crew together. "She knows how to talk to them to get the best out of themselves and to be part of that team," says Joel Aron, the CG supervisor for "Star Wars Rebels."
What are Hera's reasons for rebelling against the Empire? They start out being mysterious, but discovering them is part of the show.
"Star Wars Rebels" will have a one-hour premiere in the fall of 2014 with the series following on Disney XD channels worldwide.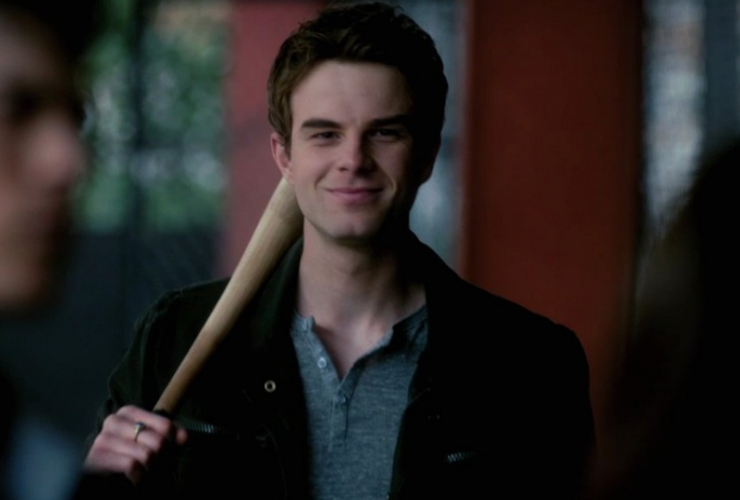 SUPERNATURAL: TRIBES
The CW has a lot of faith in the Supernatural fanbase. Not only did they renew the series for an impressive 10th season, they've also picked up a pilot for a spinoff. The new show is called Supernatural: Tribes and it's already filled two of its leading roles.
Tribes takes place in the Midwest and follows "various mafia-esque monster families that unknowingly-to-humans 'run' the underbelly of Chicago, and who are being tracked by a newly-minted Hunter who's trying to stop them and rid Chicago of anything or anyone supernatural."
Keeping it in the family, The CW has tapped former Vampire Diaries star Nathaniel Buzolic to play one of the primary roles. The Australian actor will appear as a shapeshifter called David Hayden. The character is part of one of Chicago's ruling families but gave up his monster lifestyle years ago. These days, he tries to live quietly as a human.
British actor Lucien Laviscount, who's best known for his work on Skins, will play police academy trainee Ennis Roth. After his fiancee becomes a casualty of the the city's supernatural war, he turns into a revenge-seeking monster-hunter.
The Tribes pilot will air April 29 as part of Supernatural's current season.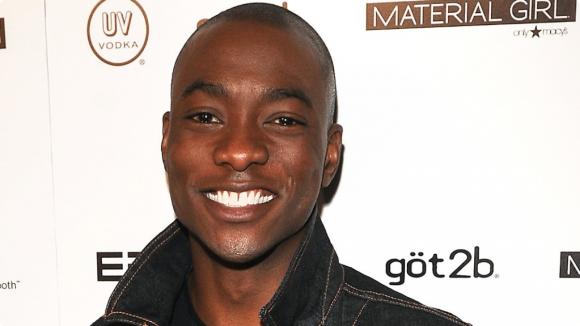 AGENTS OF S.H.I.E.L.D.
A little while back, we told you that the awesome Bill Paxton (Aliens) was coming aboard Marvel's Agents of S.H.I.E.L.D. as a badass agent named John Garrett who had ties both to Agent Coulson (Clark Gregg) and Agent Ward (Brett Dalton).
But there was also a second agent meant to join the group (both in a recurring role), and we finally know who.
This is what we learned according to TV Line's Matt Webb Mitovich:
You had mentioned that Episode 14 of Marvel's Agents of S.H.I.E.L.D. would introduce two recurring characters. One of them seems to be Bill Paxton's character, but what about the African-American role? Do you know who's playing that, and if he is a Marvel character or not? –Andy B.
Andy, collect your 250 TVLine Power User Points (of no cash value but damn suitable for framing), because you led me to this casting scoop: B.J. Britt (One Tree Hill, Being Mary Jane) wound up scoring the role of Agent Triplett, an associate of Bill Paxton's character who appears in the March 4 episode.
Not only did Britt appear on One Tree Hill and Being Mary Jane but he also guest-starred in such genre shows as The Vampire Diaries, Nikita, Grimm and that failed Wonder Woman TV pilot. DIVERGENT
A new extended trailer for the upcoming film Divergent will be shown tonight during the Winter Olympics.
The spot, which is 60 seconds long, is heavy on action but doesn't quite explain what exactly it means to be "Divergent" -- a problem that has dogged the marketing of this movie from the start.
Here's the latest synopsis released by the studio (Summit):
Divergent is a thrilling action-adventure film set in a world where people are divided into distinct factions based on human virtues. Tris Prior (Shailene Woodley) is warned she is Divergent and will never fit into any one group. When she discovers a conspiracy by a faction leader (Kate Winslet) to destroy all Divergents, Tris must learn to trust in the mysterious Four (Theo James) and together they must find out what makes being Divergent so dangerous before it's too late. Based on the best-selling book series by Veronica Roth.
The idea of a society being split into factions based on personality traits seems so nebulous that it's hard to imagine how that translates to the screen, or why having multiple traits could be a threat. I confess to not having read the book, so perhaps Roth does a better and clearer job of selling the concept on the page.
What is clear, however, is that Summit, which gave us the Twilight movies (and whose sister company, Lionsgate, produces the Hunger Games series), very badly wants this to be its next young adult sci-fi smash (the sequel, Insurgent, is already in preproduction). But those two franchises we just mentioned have been the only success stories so far -- the last few years have seen movie theaters littered with box-office corpses like The Host, The Mortal Instruments, I Am Number Four and Vampire Academy. Can Divergent break that streak?
Divergent is out in theaters March 21.

DOCTOR STRANGE
Marvel Studios has started looking for talent to helm their upcoming Doctor Strange. According to The Hollywood Reporter, the current names in contention include Mark Andrews (Brave), Jonathan Levine (Warm Bodies), Nikolaj Arcel (A Royal Affair) and Dean Israelite (the upcoming Welcome to Yesterday). Jon Aibel and Glenn Berger (Kung Fu Panda) are also said to have met with the studio on the project, but as screenwriters only.
"[Doctor Strange] checks the box off this criteria that I have," Marvel Studios President Kevin Feige told SuperHeroHype recently about the long-gestating feature. "He's totally different from anything else we have."
Although a specific release date for Doctor Strange has not yet been set, Marvel has three placeholder dates set for unnamed features on May 6 and July 8, 2016 and on May 5, 2017. It's starting to look more and more likely that the good doctor will be claiming one of those spots.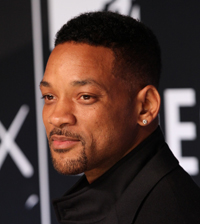 BRILLIANCE
Will Smith is targeting Universal and Legendary Pictures' upcoming adaptation of Marcus Sakey's sci-fi/superhero novel Brilliance. The Wrap reports that Smith would play the lead role of Federal Agent Nick Cooper in the big screen version, to be directed by Julius Onah with a script by David Koepp.
The original book, published last year, is officially described as follows:
In Wyoming, a little girl reads people's darkest secrets by the way they fold their arms. In New York, a man sensing patterns in the stock market racks up $300 billion. In Chicago, a woman can go invisible by being where no one is looking. They're called "brilliants," and since 1980, one percent of people have been born this way. Nick Cooper is among them; a federal agent, Cooper has gifts rendering him exceptional at hunting terrorists. His latest target may be the most dangerous man alive, a brilliant drenched in blood and intent on provoking civil war. But to catch him, Cooper will have to violate everything he believes in—and betray his own kind.
Producers on Brilliance include Jon Jashni, Joe Roth and Thomas Tul with Alex Hedlund, Eric McLeod and Palek Patel executive producing. GAME OF THRONES
HBO has debuted a new behind-the-scenes featurette for the upcoming fourth season of their hit series "Game of Thrones."
Season four premieres on Sunday, April 6 at 9 p.m. Based on the popular book series "A Song of Ice and Fire," by George R.R. Martin, the hit Emmy-winning fantasy series chronicles an epic struggle for power in a vast and violent fantasy kingdom.
Members of the ensemble cast include Peter Dinklage, Lena Headey, Emilia Clarke, Nikolaj Coster-Waldau, Kit Harington, Natalie Dormer, Maisie Williams and Sophie Turner. The executive producers are David Benioff, D.B. Weiss, Carolyn Strauss, Frank Doelger and Bernadette Caulfield, and co-executive producers are Guymon Casady, Vince Gerardis and George R.R. Martin.
THURSDAY, FEBRUARY 20, 2014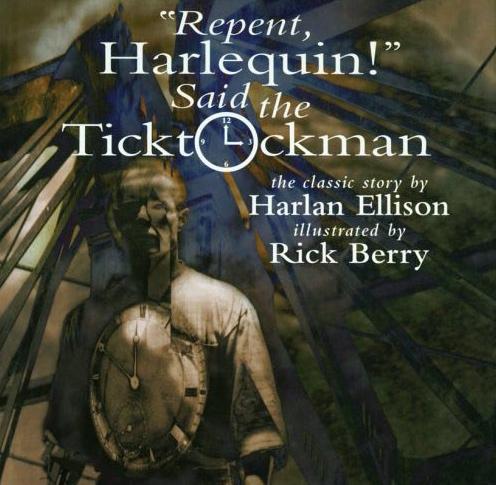 REPENT, HARLEQUIN - JMS RECEIVES FILM OPTION
If all goes according to plan, one of the most famous sci-fi stories of the 20th century could finally be coming to the big screen.
Even in a career as storied and decades-spanning as Harlan Ellison's, the short story "'Repent, Harlequin!' Said the Ticktockman" stands out. Ellison famously wrote the satirical dystopian tale in just six hours, then got it published in a 1965 issue of Galaxy magazine. It's the story of Everett C. Marm, a normal guy living life in a dystopian future in which time is strictly regulated by a timekeeper known as "The Ticktockman" and simply being late for something is a crime. In an effort to rebel against this strictly regulated society, Marm poses as the anarchic Harlequin, and sets out to disrupt everyone's schedule with a number of whimsical distractions. If the Ticktockman finds out who he really is, though, death will be his punishment.
The story won the 1965 Nebula Award and the 1966 Hugo Award for Best Short Story, and has since become one of the most reprinted short stories ever. The one thing it's never been, though, is a film, because Ellison -- whose relationship with Hollywood has ranged from cautious to combative over the years -- has never trusted anyone enough to allow them the license to adapt the iconic work. Until now, that is.
Deadline reported yesterday that Babylon 5 creator J. Michael Straczynski has been given a film option on the story by Ellison. The two previously worked together on Babylon 5, where Ellison served as a creative consultant, but Straczynski still had to work to convince Ellison to let him have the story. According to Deadline, it was only after Straczysnki submitted a finished script that Ellison granted him the option.
The film adaptation will be produced in part by Straczynski's own company, Studio JMS, but in order to get it off the ground he's got to snag more production muscle and, of course, a director, and he's going straight for the big guns. So who does he want? Apparently, he's starting the process at the top by pitching it to the likes of Peter Jackson and Guillermo del Toro.
That's an ambitious starting point, but after all, this is one of the most beloved science fiction stories of all time, so surely some big-name filmmaker wants to join Straczysnki in adaptating it, right? We'll keep an eye out for any more "Repent ..." movie news. In the meantime, let's just ponder the idea that, nearly 50 years after its publication, a film adaptation of this story could finally happen.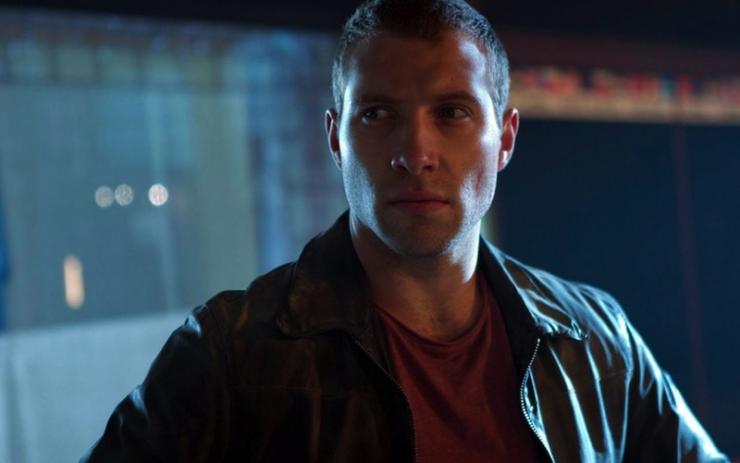 TERMINATOR NEWS
After months of waiting, the Terminator reboot has finally cast Kyle Reese. The last time we checked, the pivotal role was wavering between two actors: Boyd Holbrook and Jai Courtney. They'd previously beat out the likes of Sam Reid, Thomas Cocquerel and Wilson Bethel for the part. But there's only room for one Kyle, and this time he'll be played by Jai Courtney.
Variety confirms that Paramount and Skydance have chosen Courtney to join the expanding Terminator franchise. He'll star opposite Emilia Clarke as Sarah Connor and Jason Clarke as their son John Connor. Once again, Arnold Schwarzenegger is expected to return in his iconic role as the title character. The film is directed by Alan Taylor, who previously helmed Thor: The Dark World.
This Terminator will be the starting point for a new trilogy. The plot's being kept under wraps, so we're not sure how they'll tackle the origin story. Considering the actor playing John Connor is older than both his fictional parents, we assume time travel or flashbacks are involved.
Courtney previously appeared in Jack Reacher and A Good Day to Die Hard. Next month he'll co-star in Summit Entertainment's Divergent.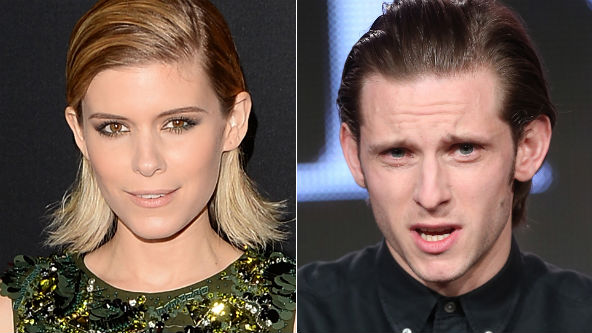 NEW FANTASTIC FOUR
The new "Fantastic Four" is here.
Fox is in the process of making deals with the four actors who they've chosen to jump-start the reboot of the Marvel superhero franchise, THR reports. So who are they? "House of Cards" star Kate Mara, Jamie Bell (from AMC's upcoming "Turn"), Miles Teller ("That Awkward Moment"), along with long-rumored Michael B. Jordan.
Mara will take on the role of Sue Storm/Invisible Girl, while Bell will star as Ben Grimm/The Thing alongside Teller as Reed Richards/Mr. Fantastic. Jordan, of course, is attached at Johnny Storm/the Human Torch.
Teller and Mara were rumored to be on their roles' respective shortlists since October, with Jordan in the mix long before that. The surprise name here is Bell, as no real casting rumors for The Thing had been in circulation.
The reboot, to be directed by Josh Trank, is slated for release on June 19, 2015. It follows Fox's first attempt at a hit franchise, which released two films in 2005 and 2007, starring Ioan Gruffudd, Jessica Alba, Chris Evans and Michael Chiklis. GODZILLA 60TH ANNIVERSARY
Just one month ahead of the release of a massive new reboot, the original Japanese cut of Godzilla will return to U.S. theaters in honor of its 60th anniversary.
A new restoration of the 1954 film will debut on April 12 at the fifth annual TCM Classic Film Festival in Hollywood, followed by a national release that will kick off on April 18 with a weeklong run at New York City's Film Forum.
Why is this important? Because the original Godzilla -- actual title Gojira -- directed by the great Ishiro Honda, is a very different film from the version released in the U.S. in 1956 as Godzilla, King of the Monsters.
The original Gojira was a dark, somber and powerful cry of anguish over the atomic attacks on Hiroshima and Nagasaki, filtered through the metaphor of Godzilla as untamed nuclear power. Scenes of radiation burn victims and sobbing children amid the wreckage of Tokyo still pack an incredible punch today.
They were also a little too much for the U.S. distributor, who thought that the explicit references to the atomic attacks against Japan were anti-American in nature. Nearly a third of the original film was removed and replaced with scenes of Raymond Burr as an American reporter covering Godzilla's rampage on the ground in Japan.
While the 1954 film -- which features an all-Japanese cast -- is available on Blu-ray thanks to the Criterion Collection, it has only been screened sporadically in the U.S., making this a fantastic opportunity for fans to catch up to a film that is now widely regarded among the greatest examples of Japanese cinema.
Gojira/Godzilla is also the movie that launched the kaiju genre and, after decades of sequels, spinoffs and remakes, it arguably remains the best. And it may be the perfect film to see before director Gareth Edwards (Monsters) unleashes his own vision of the king of the monsters on May 16.
Godzilla is back!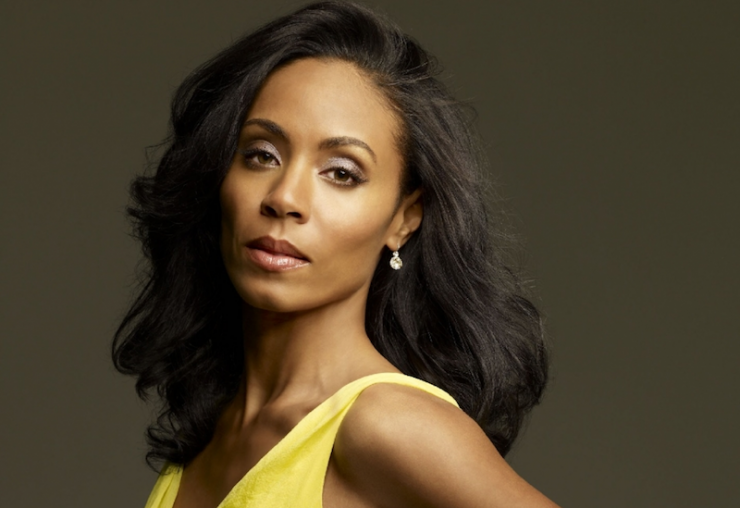 GOTHAM
DC Comics is making a killing on the small screen. Properties like Arrow and The Flash are attracting top-tier talent, and Gotham is following suit. The pilot's latest addition comes in the form of Jada Pinkett Smith. This is good news for us, but bad news for the Gotham Police Department, as Smith won't be one of the good guys.
According to The Hollywood Reporter, the actress will play a sadistic gangster called Fish Mooney. She's "a nightclub owner who has the street smarts and almost extra-sensory abilities to read people like an open book. Imposing and hotheaded, she's not one to be crossed." You know what else makes her interesting? She's also Oswald Cobblepot's (Robin Lord Taylor) boss. In other words, she gives orders to the man who will later become the Penguin.
At the moment, Oswald hides his greed and thirst for power behind a smile. His polite demeanor is nothing more than a facade for his sadistic nature. We think it'll only be a matter of time before he and Fish bump heads. Gotham is also expected to feature young incarnations of the Joker, the Riddler and Catwoman as well as Bruce Wayne, aka Batman.
Smith joins the cast, which already includes Benjamin McKenzie as rookie James Gordon and Donal Logue as his partner Harvey Bullock. We don't know about you, but Gotham's quickly becoming our most anticipated pilot.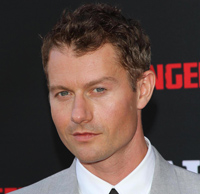 SPECTRAL
First announced back in 2011, Legendary Pictures' supernatural thriller Spectral appears to have found its first leading man. The Hollywood Reporter today brings word that James Badge Dale is in talks to headline the Joachim Rønning and Espen Sandberg (Kon-Tiki) film.
The script, originally written by George Nolfi from a treatment by Ian Fried, was rewritten by John Gatins. It follows a special ops force that has trained in hunting the supernatural. They come up against ghosts that have taken over Manhattan.
Dale played supporting roles last year in The Lone Ranger, World War Z, Parkland and Iron Man 3. Among his upcoming credits is a part in Joe Carnahan's microbudget actioner Stretch. JINN
Arriving on April 4 is Jinn and, after following this one for quite some time, we now have an official trailer for you! This one looks like a slick enough creature feature (they really love that car) and it's good to see Ray Park dishing out some ass-kicking. We shall see!
The film, written and directed by Ajmal Zaheer Ahmad, was produced by Ahmad and Benjamin Dresser, and stars Park, Faran Tahir, William Atherton, Serinda Swan and Dominic Rains.
The story of Jinn involves ancient mythological creatures who have never been seen in U.S. cinemas before. The premise of the jinn concept, known to over 1 billion people around the world, involves supernatural entities and revolves around creation mythology: In the beginning, three were created; man made of clay; angels made of light; and a third…made of fire. They are powerful due to their existence in a parallel world, and also because they have free will and can be both good and evil. STAR WARS: REBELS - SABINE
"Star Wars Rebels" has revealed its first female character, a Mandalorian (Boba Fett's species) named Sabine. She's said to be a key member of the Ghost crew and, as you can see in the video below, she's especially fond of blowing things up and tagging her work with graffiti. She is said to have a great understanding of weapons and combat like few others, and has turned against the Empire.
"She is spunky, she's feisty, she's got a little bit of attitude," says actress Tiya Sircar, who is voicing the character, "...I think she's kind of an inspiration."
Additionally, Sabine is an artist, which is reflected in her hair, personalized armor, and graffiti calling cards. After the Ghost crew hits the Empire, Sabine makes sure the Empire knows who did it. Concept artist Amy Beth Christenson says that the "Star Wars Rebels" animation team has created a library of graffiti tags for Sabine, and is constantly adding to it.
Set between the events of "Episode III" and "IV" — an era spanning almost two decades never-before explored on-screen – "Star Wars Rebels" takes place in a time where the Empire is securing its grip on the galaxy and hunting down the last of the Jedi Knights as a fledgling rebellion against the Empire is taking shape.
The show will be produced by Lucasfilm Animation, featuring many of the key talents that made "Star Wars: The Clone Wars." "Star Wars Rebels" is scheduled to premiere this fall as a one hour special on Disney Channel and will be followed by the series on Disney XD.
WEDNESDAY, FEBRUARY 19, 2013
GUARDIANS OF THE GALAXY
"Guardians of the Galaxy" is going to be an insane movie, featuring Chris Pratt's insane six-pack!
Marvel just released a :15 tease of the full trailer, which will premiere on "Jimmy Kimmel Live!" later tonight -- and it's full of strange creatures, a very green Zoe Saldana and a brief glimpse of a raccoon firing a machine gun.
Like we said, INSANE.
And while most of the actors went through some crazy transformations to play aliens, Pratt had to totally transform his physique.
Though the actor was ripped for "Zero Dark Thirty," he quickly packed on 60 pounds for his role in "Delivery Man" -- and then had to drop it all again to play Star-Lord in the new flick.
Judging by the quick shot of his washboard abs, his trainer did a very good job!
"Basically I cried forty pounds off and the rest of it was just being hungry and working out," Pratt said of his weight loss at Comic-Con last year. Director James Gunn revealed the actor even celebrated his birthday on set with a plate of vegetables, no cake.
"Guardians of the Galaxy" opens August 1, 2014.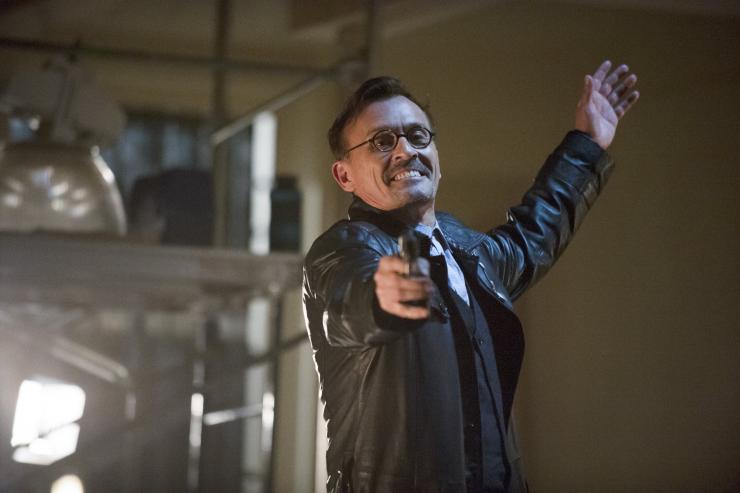 ARROW
The CW's hit superhero series Arrow is set to introduce yet another DC baddie via the Clock King next week, and we have our first look at genre alum Robert Knepper in the tick-tocky role.
The Clock King has been bouncing around DC lore for decades, and has been a foe of Green Arrow since the 1960s. Though there have been a few different adaptations, Knepper (Stargate Universe, Cult) will be playing the classic William Tockman version.
The baddie is best known for his rigid adherence to time and order, and has been known to use a fair share of clock-like gadgetry. It'll be interesting to see how they take a somewhat quirky character and make him a true threat in the more grounded Arrow-verse. Judging by the creepy look, and the gun, we're thinking something serial killer-y?
The episode, dubbed "Time of Death," is set to air next Wednesday on The CW. STAR WARS REBELS
IGN has debuted a first look at one of the many new characters that will be introduced in "Star Wars Rebels," and this time around it's Zeb, a member of an alien race unseen in the Star Wars universe previously, or is he? Set to be voiced by Steve Blum, most famous for playing Spike Spiegel in "Cowboy Bebop," the design for Zeb is actually lifted directly from one of concept artist Ralph McQuarrie's original sketches for what Chewbacca might look like in Star Wars: Episode IV.
"I think I actually screamed when I was booked to play Zeb," Blum told IGN. "It is literally a role of a lifetime. I've been lucky enough to play some major superhero roles in my career, but to be given the chance to play a new character in a Star Wars series? Brain explosion. As if working on a Star Wars series – in any capacity – wasn't enough to cause a grown man to squee, Zeb challenges every acting skill in my arsenal and beyond. His character design is amazing. I get to vocally take on ape-like physical power and abilities, a wicked sense of humor, intelligence and integrity, and so much more that I can't yet reveal. The attention to detail from the entire production team is inspiring. Every bit of minutia is carefully crafted to satisfy the most discerning fan of the franchise. I'm humbled and honored to be a part of the Rebels crew. I promise I will dig as deep as I'm allowed to give you guys the performance I would hope for as a fan. Get ready, guys. You're in for one helluva ride."?
Set between the events of "Episode III" and "IV" — an era spanning almost two decades never-before explored on-screen – "Star Wars Rebels" takes place in a time where the Empire is securing its grip on the galaxy and hunting down the last of the Jedi Knights as a fledgling rebellion against the Empire is taking shape.
The show will be produced by Lucasfilm Animation, featuring many of the key talents that made "Star Wars: The Clone Wars." "Star Wars Rebels" is scheduled to premiere this fall as a one hour special on Disney Channel and will be followed by the series on Disney XD.
TUESDAY, FEBRUARY 11, 2014
DOCTOR WHO NEWS
The Daleks almost became a constant toward the end of Matt Smith's run on "Doctor Who." They were there for the 50th anniversary special and were one of the chief adversaries in "The Time of the Doctor." While you might think the BBC would let them cool for a while before they come back, that may not be the case.
According to a new report, the Daleks will be back in Season 8, specifically because it was requested by new Doctor Peter Capaldi. The Daily Star says Capaldi asked producers to include the evil pepper shakers because he's been a fan since childhood. Not wanting to let a Doctor down, they report that producers agreed.
It's already been revealed, via fan photos from the set, that Strax and Vastra will be back for the Season 8 premiere.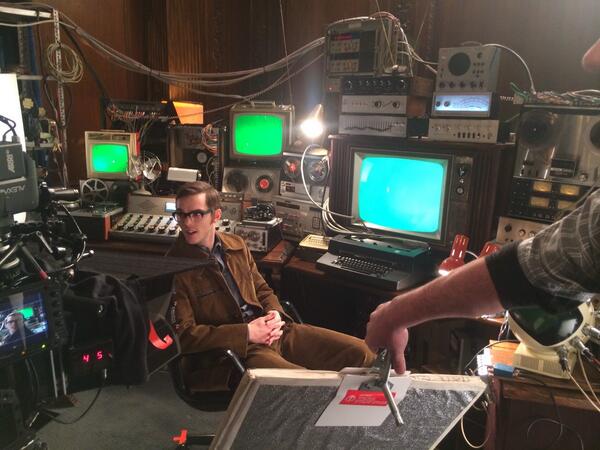 X-MEN: DAYS OF FUTURE PAST
Bryan Singer knows you want more X-Men in your life.
One of my favorite things about X-Men: First Class was that it was a period piece. And while some of Days of Future Past takes place in an apocalyptic future, we'll be getting some wacky '70s style, too.
And that's what Bryan Singer has shared in his latest behind-the-scenes tweet -- Hank McCoy hanging out, wearing a lot of brown, and seated in front of the kind of technology that requires a lot of tubes. Kind of like the Internet!
Hank's computer kind of looks like an RCA TV with a typewriter in front of it. So it's not really steampunk, it's typepunk. STAR WARS REBELS
The premiere of the latest Star Wars animated series is just months away, and Lucasfilm has finally hit us with a taste of the action.
We've known for nearly a year now that the first major animated project to come out of Lucasfilm since the Disney purchase (apart from the long-awaited completion of The Clone Wars, that is) would be Star Wars: Rebels, a series set between Episodes III and IV that will chronicle both the Empire's consolidation of power in the galaxy and the rise of the early Rebellion. We've seen a lot of intriguing glimpses of the show so far, including character breakdowns, concept art and descriptions of the show's principal setting, but now, for the first time, we get to see some actual footage from the series itself.
Disney and Lucasfilm just dropped two new teaser trailers for the show, amounting to about one minute of footage, total, and while they don't give us much in the way of dialogue or plot, they do offer first looks at the final animated versions of new characters and a new planet. The new Outer Rim world, Lothal, with its grasslands and giant stones, is heavily featured, as is Ezra (voiced by Taylor Gray), one of the show's main characters. There's also plenty of TIE fighter action, a glimpse of the new droid, Chopper, a new version of the iconic Rebel Alliance logo, and a starship crash that looks like it could be the spark that sets the whole series in motion.
Star Wars: Rebels premieres on Disney XD this fall.
MONDAY, FEBRUARY 17, 2014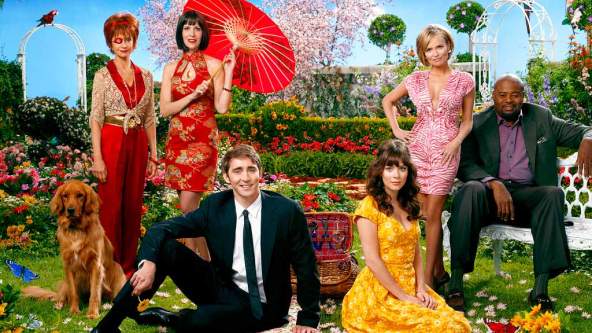 PUSHING DAISIES REVIVAL?
"Pushing Daisies" met an early death almost five years ago. Isn't it time for a magical revival? Ned's touch might still work, since show creator Bryan Fuller is hinting that either a film or a theater musical is in its early stages.
Canceled after two seasons in 2009, "Pushing Daisies" was critically acclaimed -- the show received 17 Emmy nominations (and won 7 of them) -- but unfortunately a little too odd for mainstream success. A movie or a stage musical might just be a better fit for this particular brand of candy-colored oddness.
"I've had conversations very recently with Barry Sonnenfeld about financing a film, and with Kristin Chenoweth and Warner Brothers about developing a stage musical," Fuller teased in an interview.
This isn't a new idea for Fuller, who has been casually dropping hints about a return for "Pushing Daisies" since 2012. "We're working on something that is definitely a 'Pushing Daisies' revival," the "Hannibal" creator told TVLine at the time. "And the idea would be to have as many cast [members] as we can to participate in it."

THE WALKING DEAD
AMC has released the first promo and clip for "The Walking Dead" episode 4.11, airing on Sunday, February 23 and titled "Claimed."
Following the devastating events of the mid-season finale, Rick and the group are still reeling from the loss of their home, family, and friends. With the destruction of the prison, we see the group of survivors broken apart and sent on divergent paths, unsure of everyone else's fate. What was a challenging life behind fences and walls grows that much more perilous and precious as they are exposed to new dangers, new enemies, and heartbreaking choices. They will have their faith thoroughly tested -- a faith that breaks some of them and redeems others.

GAME OF THRONES
Following the first trailer and 15-Minute Ice and Fire: A Foreshadowing special, HBO has today debuted the new trailer for Game of Thrones Season 4.
The fourth season will premiere on Sunday, April 6 at 9 p.m. Based on the popular book series "A Song of Ice and Fire," by George R.R. Martin, the hit Emmy-winning fantasy series chronicles an epic struggle for power in a vast and violent fantasy kingdom.
Members of the ensemble cast include Peter Dinklage, Lena Headley, Emilia Clarke, Nikolaj Coster-Waldau, Kit Harington, Natalie Dormer, Maisie Williams and Sophie Turner. The executive producers are David Benioff, D.B. Weiss, Carolyn Strauss, Frank Doelger and Bernadette Caufield, and co-executive producers are Guymon Casady, Vince Gerardis and George R.R. Martin.
X-MEN: DAYS OF FUTURE PAST
Twentieth Century Fox has started a new tradition of releasing promo images featuring the characters in the upcoming X-Men: Days of Future Past. So far we've seen both versions of Magneto that will appear in the film in addition to the Charles Xavier of the past. Now Fox has debuted the promo image of Patrick Stewart as the 'future' Charles Xavier .
Opening in theaters on May 23, 2014, X-Men: Days of Future Past also stars, Ian McKellen, Hugh Jackman, Michael Fassbender, James McAvoy, Jennifer Lawrence, Halley Berry, Nicholas Hoult, Ellen Page, Shawn Ashmore, Peter Dinklage, Omar Sy, David Cudmore, Fan Bingbing, Boo Boo Stewart, Adan Canto, Evan Peters, Josh Helman, Lucas Till and Evan Jonigkeit.
SUNDAY, FEBRUARY 16, 2014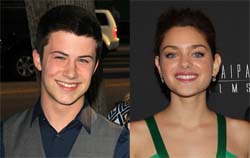 GOOSEBUMPS
The two young leads of Columbia Pictures' Goosebumps have been found! Deadline and TheWrap respectively report that Dylan Minnette (Prisoners) and Odeya Rush (The Odd Life of Timothy Green) are now set to star opposite Jack Black in the upcoming feature film based on the R.L. Stine book series.
To be directed by Rob Letterman, Goosebumps will star Black as a fictionalized version of Stine, who winds up being the suburban neighbor of Minnette's Zach Cooper. When Slappy, a ventriloquist dummy, sets loose all the terrifying ideas in Stine's head, it's up to Zach and Stine's niece, Hannah (Rush) to save the day.
The "Goosebumps" series have sold more than 300 million copies worldwide, second only to the "Harry Potter" series in total sales.
Neal Moritz is producing the film through his Original Film banner with Deborah Forte of Scholastic Entertainment.

300: RISE OF AN EMPIRE
A new TV spot from 300: Rise of an Empire.
Directed by Noam Murro, the film stars Sullivan Stapleton, Eva Green, Lena Headey, Hans Matheson, David Wenham, Rodrigo Santoro, Igal Naor, Callan Mulvey, Jack O'Conell and Andrew Tiernan. Based on Frank Miller's graphic novel "Xerxes" and told in the breathtaking visual style of the blockbuster 300, this new chapter of the epic saga takes the action to a fresh battlefield--onthe sea-as Greek general Themistokles (Sullivan Stapleton) attempts to unite all of Greece by leading the charge that will change the course of the war. 300: Rise of an Empire pits Themistokles against the massive invading Persian forces led by mortal-turned-god Xerxes (Rodrigo Santoro) and Artemesia (Eva Green), vengeful commander of the Persian navy.
300: Rise of an Empire opens in 3D, 2D and IMAX theaters on March 7. 2014.
SATURDAY, FEBRUARY 15, 2014
JERI RYAN JOINS HELIX
It's been a while since we've seen actress Jeri Ryan wear her Seven of Nine catsuit for Star Trek: Voyager, but she's back tonight with another tough character, if one in a less revealing outfit. Ryan joins the cast of Syfy's Helix as Constance Sutton, the COO of Ilaria Corporation, who's come to "help" with the problems at the fridge outpost.
[Spoilers ahead!]
"This was a really fun role to play, because she's kind of out there. You know, she's not subtle, which I love. So it was fun to just let go and just really play and let her go to those places. That was a treat as an actor," said Ryan during a press call.
"This is my sort of first foray back into sci-fi in a number of years, so it was nice. It was a lot of fun to get back into it. And it's a fantastic show," she said.
Constance is not your typical COO.
In "Survivor Zero," Constance arrives at the outpost with her men, but all is not what it seems, as Hatake and the beleaguered CDC investigators quickly discover.
"She's kind of a ball-buster. I think that's the best way to describe her, which I love," said Ryan. As for what motivates her, "I can't really tell you exactly what motivates her. That you sort of find out."
What we do know is that Constance will be none too pleased when she discovers that Hatake has been pursuing his own agenda.
"I also love, as you'll see, without trying to give too much away, she's definitely [in] the corporate world, and very much looking out for the best interests of Ilaria. But you find out that there's a little more personal issue for her at stake as well," she said.
"She's certainly driven, and she definitely has an agenda that she is there to do. Hatake has gone off the rails. He is supposed to be finding them a virus and a cure, and he's screwed up. He's messing around and doing his own thing, and that's not okay, so she's there to fix it, and whatever she has to do to make that happen is what has to happen," said Ryan.
Constance and Seven of Nine ... a universe apart
Constance has little in common with Ryan's iconic sci-fi role, Seven of Nine, from Voyager, admits the actress.
"Everything about it is different. The character is very different. Seven of Nine, her emotions were very internal. Constance's are not. She's a little more demonstrative with her feelings. She doesn't quite hide it as much as Seven, so that's kind of the biggest difference right off the bat," she said.
"The costumes are certainly infinitely more comfortable than they were on Star Trek. There's no corset involved in this one. So yes, I'd take this costume every day over the other one."
Working her way back to sci-fi
It wasn't the corset that kept her away from sci-fi for years as she went on to do non-genre roles, including Body of Proof and Leverage.
"In the very beginning, when I had first ended Voyager, then yes, that was a conscious decision, because one of my concerns when I signed on to Voyager to begin with was that Star Trek is kind of notorious for its actors getting pigeonholed and not really being able to break out and do other things. And so that was a big concern of mine in the beginning, which thank God has turned out to be completely unfounded, and I've been very lucky. More recently, it's just because I go where the interesting roles are, and this was the first one that really caught my interest," said Ryan.
The ninja of Helix
Since working on the show she's become a big fan of all things Helix, from Hiroyuki Sanada to the more gory elements of the series.
"Oh, I love the gore. Are you kidding me? Oh, God, more gore. I love it. The goo and the guts, and all of it. I love it. So much fun. Come on. I observed autopsies when I was on Body of Proof. I love this stuff. I love the science of it. I love the gore. I love all of it," she said.
But even more than the gory nature of the show, she's become a total "fangirl" of Hiroyuki Sanada, who plays Dr. Hiroshi Hatake, the mysterious head of the base.
"I have to brag about Hiro for a minute. That man is unbelievable. I was in awe of him. I still am in awe of him. He's ... the man is a ninja," said Ryan.
"The scene where I had to throw the book at his head, and I have to throw it directly at his face, and there, you know, it's on me. I can't like pretend to throw it. I have to wail it at him, and he's standing like six feet away from me, and I was a wreck shooting the scene. I was so nervous. I was like, 'Dude, I have no aim. I can't.' He was like, 'Just throw it. Just do it. Just right at my face. Just go.'
"And there's cameras set up right behind him, and so he has to knock the book away, and we're worried about hitting the lens and all this expensive equipment. He never even blinked. Never flinched. Never breathed heavy. Nothing. Every take, he just batted it out of the way like it was nothing in the exact spot that it was supposed to land so it didn't hit any equipment. He is amazing. He is amazing ... he's just in another world. He's not even human. It's crazy," she said. However, "he couldn't be more the antithesis of Hatake in real life."
Sci-fi has grown on her
"You know, it's funny. When I started on Voyager I had never ever been interested in science fiction. It just wasn't my genre to watch," said Ryan.
"My son grew up loving Star Trek and loving Star Wars and all of that, and I just was never really interested. And now I've got a daughter who's now almost 6, and so I started watching things with her with her big brother showing her Star Wars, for example, and she loves it. She's obsessed with Star Wars, and I became a big fan of it through her eyes, watching it with her. And I've really started to enjoy it, so we have a great time," she said.
"I'm actually getting into science fiction now as an adult, which is really kind of crazy at this point in my life, to start to be a fan. And all The Avengers and Iron Man, and all those movies I love, so yes, it's fun. Discovered a new interest," said Ryan.
Helix airs on Syfy on Fridays at 10 p.m.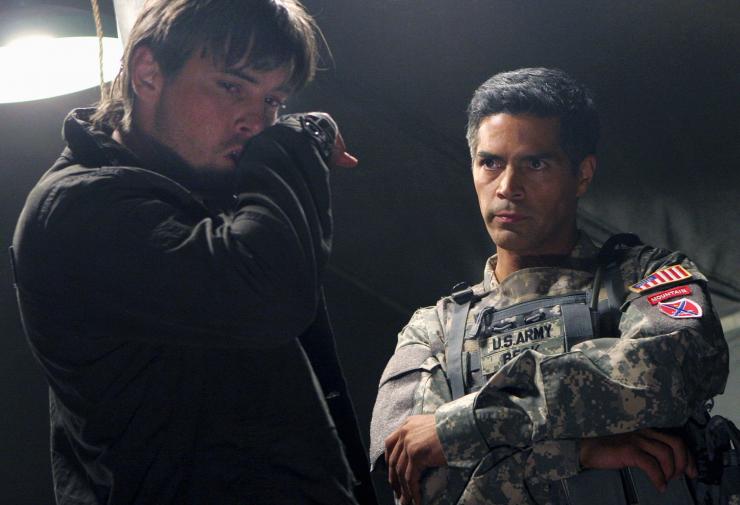 JERICHO RETURN RUMORS
Rumors have been swirling since the show was cancelled in 2008 that someone might step in and save CBS's Jericho, and it sounds like we shouldn't give up hope just yet.
In a wide-ranging piece about the popularity of apocalyptic series on sci-fi television these days, TV Guide let slip that Netflix's rumored flirtation to revive the series is still ongoing, despite the fact that's it's been almost a year since we'd heard any buzz. It also sounds like the fans are still making an effort to keep the show on the radar, as well, which is a positive sign.
Here's the choice excerpt:
Netflix is still kicking the tires on CBS' long-canceled post-nuclear explosion mystery Jericho, which it has considered reviving. Execs at the streaming service said fans shipped them several more boxes of peanuts over the holidays.
The show had solid ratings, though not good enough for CBS standards, so the network nuked the post-apocalyptic series after an abbreviated second season. But it found a brand-new audience thanks to streaming services like Netflix, and the show apparently remains a solid performer for the service. The Jericho universe has also continued via some successful comic-book projects, which means the fandom is still alive and well.
The show was an odd fit on CBS, but the premise was a great slice into how a nuclear apocalypse would affect America on the smallest scale: the tiny town of Jericho. From battles over supplies with neighboring towns to the bigger conspiracy surrounding why the bombs fell, the series developed a great mythos.
Though some of the cast and crew has moved on, none of them seem to be so overbooked that they couldn't fit in a limited series run if it was worth the time. Here's hoping Netflix will eventually get tired of kicking the tires and want to take it for a spin.

DOCTOR STRANGE FILM?
Yet another Doctor Strange film rumor has surfaced, and this one claims the project is finally officially on the Marvel slate.
Even amid all the other eventual Marvel Studios projects we'd love to see, Doctor Strange remains one of the most talked-about, alongside the likes of Ant-Man, which we know we're getting, and Black Panther, which we're also still waiting for. For at least two years now, the official Marvel Studios line has seemed to be something resembling "We want to make it, but we have to wait for the right time." Well, according to the folks at Schmoes Know, the right time is approaching, and it's Marvel Studios Phase Three.
We're well into "Phase Two" of Marvel's superhero universe at the moment. Iron Man 3 and Thor: The Dark World have already been released, Captain America: The Winter Soldier and Guardians of the Galaxy are on the way this year, and Ant-Man and Avengers: Age of Ultron are headed our way next year. After Age of Ultron, Marvel will presumably be kicking Phase Three into high gear, and Schmoes Know has what they deem a "very reliable source" who claims to know exactly what films are on the slate for that phase.
"The movies that will be part of Phase III for absolute certain are: Ant-Man, Captain America 3, Thor 3, The Avengers 3 and Dr. Strange," the source said.
So, while we certainly have to take this with a hefty dose of salt, we've got another rumor -- coupled with the previous report that Johnny Depp is already on Marvel's radar to play the title role in the film -- claiming that Doctor Strange is absolutely on the way. So, why does this source think it's finally happening? Well, it all comes down to Marvel Studios President Kevin Feige.
"Feige has pretty much confirmed Dr. Strange for some time now. They really wanted it to be a part of Phase 2 at one point, but like Ant-Man that just didn't happen. That's probably the one that Feige is personally rooting for the most and as a result it is the solo film that is the highest priority other than the sequels."
So, in this version of events, Doctor Strange is the next big new hero project after Ant-Man, but what about the other films we want? What about Black Panther?
"There has been talk about Black Panther and lots of talk about The Inhumans, they're in the pipeline but are pretty much in the same boat that Dr. Strange and Ant-Man were in two years ago, where they want them to happen, and they will most likely both happen, but it's just a question of how soon. However, those five films (Ant-Man, Cap 3, Thor 3, Dr. Strange & Avengers 3) are sure things and I can guarantee you they will all be announced at Comic Con if not sooner."
Well, this source certainly seems to be sure about the timeline. We've been burned before, of course, but we'll definitely keep an eye out. Comic-Con is only five short months away, after all, and it's always a big stage for Marvel fanfare.
PENNY DREADFUL
Showtime has released the full trailer for their upcoming "Penny Dreadful".
In "Penny Dreadful," some of literature's most famously terrifying characters – including Dr. Frankenstein, Dorian Gray and iconic figures from the novel Dracula – have become embroiled in Victorian London. The series is a frightening psychosexual thriller created, written and executive produced by three-time Oscar nominee John Logan (Hugo, The Aviator, Gladiator) and executive produced by Logan's Desert Wolf Productions, along with Oscar winner Sam Mendes (American Beauty, Skyfall) and Pippa Harris (Revolutionary Road), both of Neal Street.
"Penny Dreadful," starring Josh Hartnett, Timothy Dalton, Eva Green, Reeve Carney, Rory Kinnear, Billie Piper, Danny Sapani and Harry Treadaway, will premiere on May 11.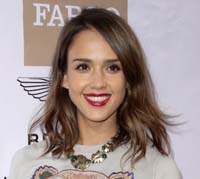 THE VEIL
Jessica Alba is, according to The Hollywood Reporter, negotiating to star opposite Thomas Jane in Universal Pictures' upcoming supernatural thriller The Veil. To be directed by Phil Joanou, the film boasts a screenplay by Robert Ben Garant.
The Veil begins 30 years ago, when members of a religious cult known as "Heaven's Veil" take their own lives. The truth behind what really happened remains buried deep in the memory of the sole survivor, a five-year-old girl, who returns to the compound with a documentary crew as an adult. They soon discover something that is far more terrifying than anything they could have imagined.
Alba recently starred on the television miniseries "The Spoils of Babylon." She can soon be seen in Joe Carnahan's microbudget actioner Stretch, Robert Rodriguez's Frank Miller anthology sequel Sin City: A Dame to Kill For, Tom Vaughn's romantic comedy How to Make Love Like an Englishman and Kyle Newman's teen assassin comedy actioner Barely Lethal.
Production on The Veil is slated to begin in April.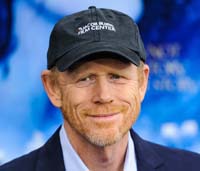 THE JUNGLE BOOK
Following the departure of the briefly-attached Alejandro Gonzalez Inarritu last month, Warner Bros. has found a new helmer for their upcoming The Jungle Book. The Hollywood Reporter brings word today that Rush helmer Ron Howard will direct the new adaptation of Rudyard Kipling's classic tome.
The original book was published in 1894 and includes, among a number of other animal-themed stories, the classic tales of an Indian boy named Mowgli who is raised by wolves and lives among the other animals in the jungle.
Warner's version of The Jungle Book will have to compete with another adaptation currently in the works. Jon Favreau is set to helm a Walt Disney Pictures take, planned for release on October 9, 2015.
FRIDAY, FEBRUARY 14, 2014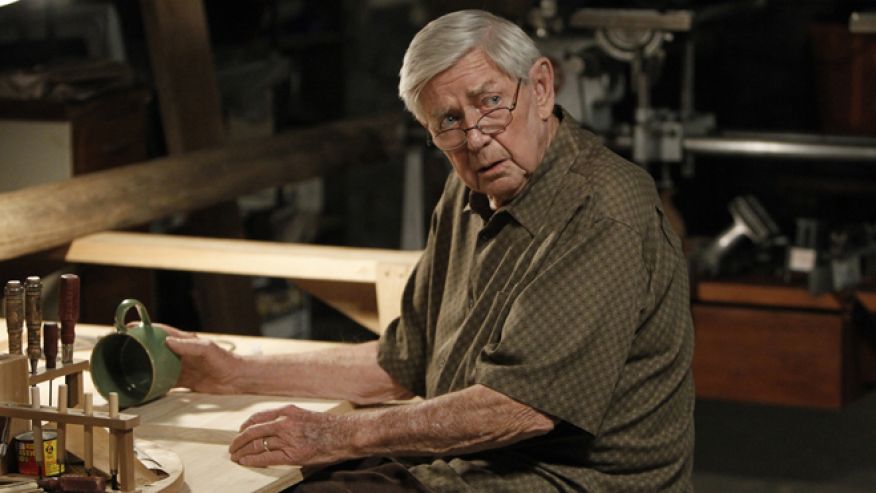 RALPH WAITE HAS DIED
While not science fiction, you have to salute talent when you see it. Ralph Waite, a veteran actor best known for his role on "The Waltons," died on Thursday (Feb. 13). He passed away at his home in South Palm Desert, Calif. at the age of 85.
Waite's first big role was on the 1970s family drama, "The Waltons," in which he played patriarch John Walton. Although nominated for an Emmy in 1978 for the role, Waite had only one TV credit prior to his nine-year run. During this time, the actor received another Emmy nomination for his role in "Roots."
With a multi-decade career that included television, film, theater and even politics, Waite never strayed far from the public eye. He most recently appeared on such shows as "NCIS" and "Bones" -- playing Booth's grandfather, Hank, Waite was last seen in that show's big wedding episode.
Born in New York State on June 22, 1928, Waite initially worked as a social worker and as a minister. He left his church position at the age of 32 and started his acting career on Broadway and in films.
Waite is survived by two daughters.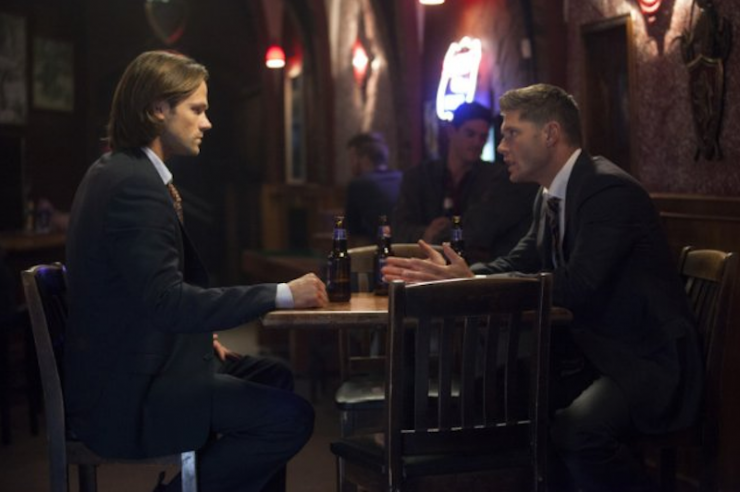 THE CW RENEWS SUPERNATURAL AND OTHERS
The CW is getting down to business with its upcoming slate. Instead of waiting until May to announce its 2014-2015 renewals, it's giving us a heads-up. Five shows will be back next season, and two of them include freshman dramas The Originals and Reign.
The least surprising returns are Arrow and The Vampire Diaries. Arrow is actually the network's most-watched series, with 3.9 million viewers. It's also thriving creatively, so much so the network is producing a spinoff based on another DC Comics character, the Flash. Arrow will return in the fall for its third season, while The Vampire Diaries will begin its sixth.
When it comes to oldies but goodies, no one can deny the staying power of Supernatural. A show that originally aired on the defunct WB Network (R.I.P.) has stood the test of time. The CW has officially renewed the series for a 10th season, putting it in league with another genre favorite, Smallville.
"This season we've had great success with our new hit series The Originals paired with Supernatural, giving us our best Tuesday nights in years," CW president Mark Pedowitz said. "The Vampire Diaries is No. 2 in its time period in the young adult demos, and with Arrow continuing to gain among young men, and Reign growing its time period, we now have strong nights on Tuesday, Wednesday and Thursday. I'm very pleased to announce early pickups for all five series, and let our fans know they'll have more great drama to look forward to next season."
So far, there's no word on the fate of Beauty and the Beast or The Tomorrow People.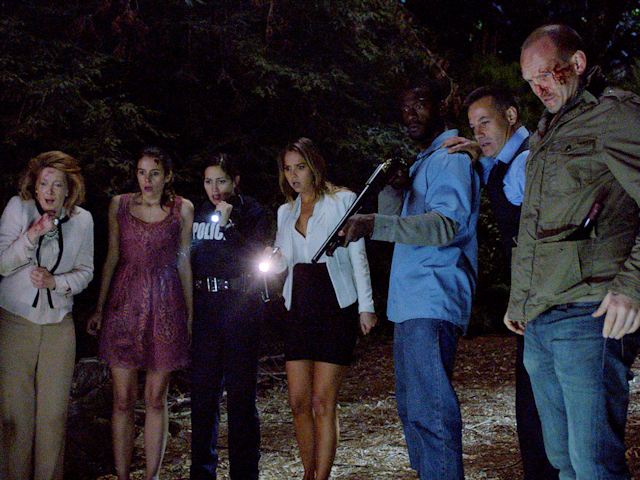 THE AFTER
The jury is still out on whether the pilot gets a full-season pickup, but X-Files creator Chris Carter is back on the small screen -- and he has some "big ideas" for his latest sci-fi series.
With the full pilot for Carter's new sci-fi series The After available to stream on Amazon Prime, the producer has opened up about what he wants to do if the online video service gives the project a season order. Not surprisingly, he's keeping things on the down low, though it does sound like The After has rekindled some of that X-Files-level excitement for Carter.
Here's an excerpt from what he told TV Guide:
"While something has happened, we don't know if it's a terrorist act or if someone was able to shut down the power grid. Originally the entire story took place in one location. But as you see in this, it now moves out of the parking garage where it begins … I think it's fun, I think it's dangerous, I think the cast is unexpected. I got very, very lucky, as I have been in the past, to cast people who not only were really good, but came together and were greater than the sum of their parts.
I've got big ideas about where it goes. I'm keeping those things pretty close to my vest. I think I'm trying to take advantage of this new technology where you can watch things again and again and try to put as much detail and drop as many hints and along the way see if people pick up on the layers. It's not dissimilar to what I did on The X-Files."
Carter notes that he needed a "recharge" after a decade of The X-Files, and we're glad to see the sci-fi legend is fired up once again about a small-screen project. We're also intrigued by that X-Files comparison. Hey, if we can't have X-Files 3 anytime soon, we'll take a new Carter series over nothing.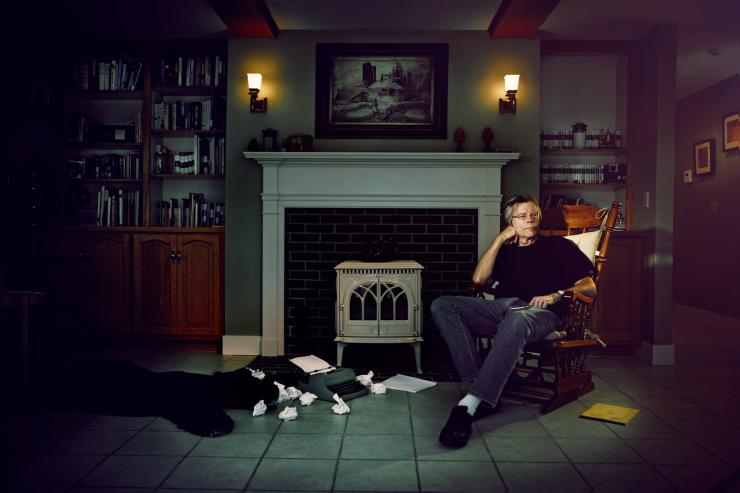 NEW STEPHEN KING NOVEL
Stephen King has heard your cries and is ready to creep us out again. The legendary author has announced his latest novel with a full plot description. It's called Revival and, from what we understand, it's filled with suspense. In other words, it will fit right in with the rest of King's titles.
Here's the official plot synopsis.
In a small New England town, over half a century ago, a shadow falls over a small boy playing with his toy soldiers. Jamie Morton looks up to see a striking man, the new minister. Charles Jacobs, along with his beautiful wife, will transform the local church. The men and boys are all a bit in love with Mrs. Jacobs; the women and girls feel the same about Reverend Jacobs—including Jamie's mother and beloved sister, Claire. With Jamie, the Reverend shares a deeper bond based on a secret obsession.
When tragedy strikes the Jacobs family, this charismatic preacher curses God, mocks all religious belief, and is banished from the shocked town. Jamie has demons of his own. Wed to his guitar from the age of 13, he plays in bands across the country, living the nomadic lifestyle of bar-band rock and roll while fleeing from his family's horrific loss. In his mid-thirties—addicted to heroin, stranded, desperate—Jamie meets Charles Jacobs again, with profound consequences for both men. Their bond becomes a pact beyond even the Devil's devising, and Jamie discovers that revival has many meanings.
There's nothing better than a story rooted in loss, desperation and mysterious circumstances. That's classic Stephen King. Revival will be published Nov. 11 by Scribner and Hodder & Stoughton. Meanwhile, Mr. Mercedes hits stores this summer on June 3.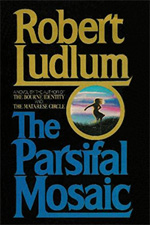 THE PARSIFAL MOSAIC
One time eyed to become source material for a Bourne franchise entry, Universal Pictures is now seeking to develop Robert Ludlum's The Parsifal Mosaic as its own feature film. Today, The Hollywood Reporter brings word that the studio is setting Zhang Yimou (Hero, Raise the Red Lantern) to direct.
First published in 1982, The Parsifal Mosaic is officially described as follows:
Michael Havelock's world died on a moonlit beach on the Costa Brava as he watched his partner and lover, double agent Jenna Karas, efficiently gunned down by his own agency. There's nothing left for him but to quit the game, get out. Then, in one frantic moment on a crowded railroad platform in Rome, Havelock sees Jenna. Racing around the globe in search of his beautiful betrayer, Havelock is now marked for death by both U.S. and Russian assassins, trapped in a massive mosaic of treachery created by a top-level mole with the world in his fist: Parsifal.
Zhang most recently directed The Flowers of War, starring Christian Bale.
THURSDAY, FEBRUARY 13, 2014
INTERVIEW WITH J. MICHAEL STRACZYNSKI
ABOUT THIS INTERVIEW:
In his three-and-a-half hour Archive interview, J. Michael Straczynski talks about his early life and writing career. He discusses working as an assistant to Norman Corwin and having a chance meeting with Rod Serling at an early age. He recalls his journalism career and his book on screenwriting, and discusses his time writing for the animated series He-Man and the Masters of the Universe and for Ghostbusters. Straczynski recalls making the transition to live-action writing on the revival of The Twilight Zone, which led to a job on the writing staff of Jake and the Fatman and later on Murder, She Wrote. He outlines creating, writing and producing the cult-classic television show Babylon 5 and shares his "five year plan" for the series. He speaks of lead actor Michael O'Hare's mental illness in season one, which led to O'Hare leaving the show and being replaced by Bruce Boxleitner. He talks about the CGI, special effects and storylines of Babylon 5 and discusses working with the cast and directors. He recounts his post-Babylon 5 career, which has included the follow-up series Crusade as well as comic books and several successful feature films. Karen Herman conducted the interview on May 15, 2013 in Encino, California.
Go to http://www.emmytvlegends.org/interviews/people/j-michael-straczynski to read through the interview, see the highlights of the intreview and watch the related video. This is a very well-done interview.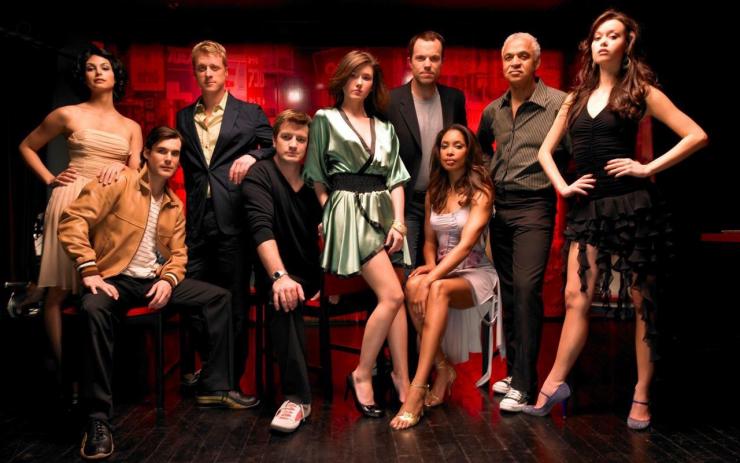 FIREFLY REVIVAL
It's been more than a decade since Firefly was unceremoniously dumped by Fox after a short debut season, but Joss Whedon's little cowboy sci-fi series is still alive in our hearts and minds. So, what form could a revival take?
Entertainment Weekly sat down with Firefly producer Tim Minear to talk about just that topic, who teased that the recent Arrested Development/Netflix model could prove the most viable option if Capt. Mal and the gang were to ever, really fly again.
With most of the cast and crew off working on other projects (most notably Nathan Fillion on Castle), Minear points out a shorter schedule and miniseries-sized run could best accommodate the varied moving pieces. Hey, whatever Tim! Just make it happen:
"I would never foreclose the possibility [of a revival]. The fact that it was even a feature film after it spectacularly failed on Fox was a miracle. And of course it lives on in other forms. In terms of getting the band back together to make a new adventure, who knows? I would love it. It would be great. But first everybody has their respective projects that limits them from crossing over into other things. It's just trying to coordinate everybody's obligations so they could somehow participate.
I'm completely talking off the top of my head, but there's a show that's been on for the last couple years that's reinvented the form in terms of the limited series. I'm trying to think of the name of that show — Oh yes! American Horror Story! It doesn't have to be 13 episodes. Look how Sherlock does it … I think a limited series of some kind would work best. Something like that could also work if, say, 20th could partner with Netflix, or another distributor. It would have its home on Fox, of course [then a second window on streaming]. A limited series would do very well, I bet."
Considering the fervent fan love that still exists, and all the new fans that have discovered the series in the years since it went off the air, we'd have to agree. Though Minear lays out a perfect plan, he's the first to admit that there's not currently any real effort to make a revival happen. According to Minear, the last Firefly-related conversation he had came about eight years ago in regards to a potential spin-off. Sadly, he didn't elaborate on what that could've been.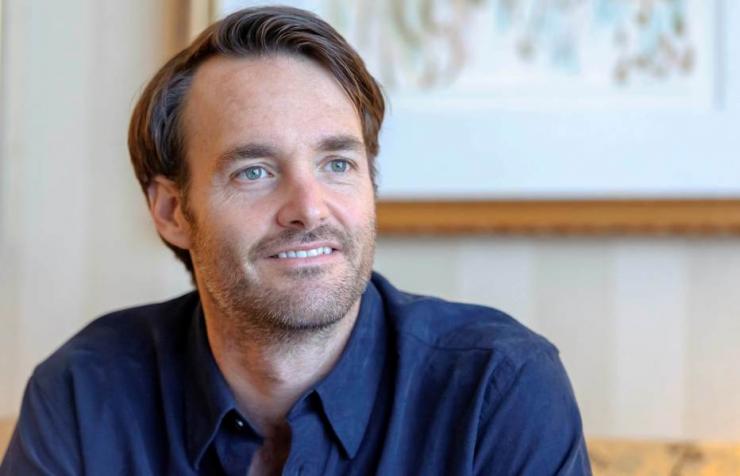 THE LAST MAN ON EARTH
While there have been plenty of funny movies about the end of the human race, does that scenario lend itself to a ongoing sitcom?
The Fox network is about to find out, since it has ordered a series called The Last Man on Earth into production. According to Deadline, the show will star former Saturday Night Live cast member and series creator Will Forte as the "last human on Earth."
Or is he? In reports on the show at Variety and the Hollywood Reporter, Forte's character is described as the last "man" on Earth, as per the title. That's a big distinction, since if he's the last man, that implies that there are still women around.
And if that's the case, Fox could run into a big old legal hassle with writer Brian K. Vaughn, artist Pia Guerra and Vertigo Comics, whose five-time Eisner-winning comic book Y: The Last Man was about that very subject (a Y: The Last Man film has been in development forever at New Line Cinema, although the rights may soon revert back to the creators if the movie doesn't get off the ground).
It's unclear from these reports whether Forte will be the last "man" or "human," but someone or something else has to eventually show up, unless he intends to be the sole character on the show for its entire run.
Production is slated to begin this summer so that the show can premiere midway through the 2014/2015 television season.

THE LEGO MOVIE
It's already become a surprise box office hit, but in addition to being one of the best family movies of the year, The LEGO Movie also includes one of the greatest renditions of Batman, via Will Arnett.
Arnett's toy-scale version of the Dark Knight is a meta-trip into the mythos of Batman, and serves as a stellar deconstruction of the cliched "dark" bent that has become almost required in a modern-day Batman film. This version of Batman is cluelessly awesome, hilarious, and wears his emotions on his sleeve.
That comes through hilariously in a scene in which Bats plays a heavy metal song he wrote and recorded himself, which includes some choice lines like "Darkness!" and "No parents!" Thankfully for all of us, the complete song (and lyrics) has made its way online.

TRANSCENDENCE
A new Transcendence trailer is here, and it definitely plays up the film's thriller elements.
We're now a little more than two months away from the release of what looks to be a very ambitious sci-fi directorial debut from Oscar-winning cinematographer Wally Pfister (Inception), and as we roll toward the release date, the film's marketing campaign is giving us a closer look at some of its more intense elements, namely what happens when an artificial intelligence truly becomes smarter and stronger than any human.
In case you hadn't heard much about the film yet, a quick synopsis: Johnny Depp stars as Dr. Will Caster, a researcher who's heavily pushing the idea of "Transcendence," the term he's given to designing and activating an AI that would quickly overcome all human intelligence in history. Caster's team, which includes his wife Evelyn (Rebecca Hall) and his best friend Max (Paul Bettany), tout Transcendence as a chance for amazing new technological breakthroughs that would be achieved with the help of the AI's superior intelligence.
But not everyone is enthusiastic about the theory, most notably a group known as Revolutionary Independence From Technology (RIFT), an anti-tech extremist group that stages an attack on Caster's lab and on Caster himself, shooting him with a radioactive bullet that will kill him in months. Desperate to save her husband and further his work, Evelyn decides to upload Caster's consciousness into his AI system, but the consequences of her actions could be disastrous.
The film looks to be a cross between contemplative drama about the future of humanity as we know it and breakneck techno thriller about an experiment gone wrong, and the new trailer from Warner Bros. definitely highlights the latter. Check it out below, and see what happens when an AI becomes so powerful that a single computer mainframe can't contain it anymore.
Transcendence also stars Morgan Freeman, Cillian Murphy and Kate Mara. It his theaters April 18.

DAWN OF THE PLANET OF THE APES
Things aren't going too well for humanity in the Planet of the Apes movies.
Rise of the Planet of the Apes ended on a pretty serious humanity-killing-virus note, and the sequel promises to drop us right into the deep end of the ape apocalypse.
In Dawn of the Planet of the Apes, Gary Oldman will be playing the "designated leader" of one community of humans. In an interview, Oldman revealed some details on what his character will be up to, along with some elements of the plot.
It's interesting -- Oldman describes his character as a former police officer who becomes a sort of elected official, but it's the "personal loss" Oldman mentions that seems to drive his character most. Yes, the plot on the surface is that his community needs power. Yes, there's a group of apes that stand in the way of getting it. But it's the way he'll choose to deal with that, "wipe them out," that makes the movie sound compelling.
Oldman describes his character as a hero, but I can't help but wonder if this film won't challenge the viewer to question the fine line between a hero who fights for vengeance and a hero who fights for the future.

STAR WARS: THE CLONE WARS
The Galactic Republic, Disney/ABC Television Group, Lucasfilm and Netflix Inc. today announced the highly-anticipated debut of the sixth and final season of the Emmy Award-winning series "Star Wars: The Clone Wars" exclusively to Netflix members in the U.S. and Canada on Friday, March 7. Accompanying the 13-episode new season dubbed "The Lost Missions" will be the entire "Star Wars: The Clone Wars" saga, which includes several director's cut episodes never seen on TV as well as the feature film. This multi-year agreement also makes Netflix the exclusive subscription service for the entire "Star Wars: The Clone Wars" series.
In these eagerly anticipated episodes of "Star Wars: The Clone Wars," some of the deepest mysteries of the conflict between the light and the dark sides of the Force are revealed. An intrepid clone trooper discovers a shocking secret, Anakin Skywalker's closest relationship is tested to its limits and what Master Yoda discovers while investigating the disappearance of a Jedi could forever change the balance of power in the galaxy. Fans will not only be able to watch the thrilling finale, they'll be able to see more of "The Clone Wars" than ever before as Netflix will also stream the director's cut of seasons 1 – 5.
"Star Wars is one of the most iconic franchises of all time and this series joins a long line of Disney content that Netflix members are and will continue to enjoy for years to come," said Ted Sarandos, Netflix chief content officer. "'The Clone Wars' marks an important moment as Netflix welcomes more and more first-run content from The Walt Disney Company and its subsidiaries."
"Star Wars: The Clone Wars" is the first time any Star Wars content has been available for Netflix streaming members. The deal follows a recent announcement from Netflix and The Walt Disney Company to bring multiple original series based on Marvel characters to the service in 2015. Netflix will be the exclusive U.S. subscription television service for first-run, live-action and animated movies from the Walt Disney Studios including titles from Disney, Walt Disney Animation Studios, Pixar Animation Studios, Marvel Studios, Disneynature and Lucasfilm beginning in 2016. Netflix members can currently enjoy a wide range of Disney, ABC Entertainment Group and Disney Channel films and TV shows across the 41 countries where Netflix operates.

PIONEER
On the heels of their The Monuments Men opening, George Clooney and Grant Heslov are, according to The Hollywood Reporter, making plans to produce an English-language remake of the 2013 Norwegian thriller, Pioneer. Directed by Erik Skjoldbjærg, the original film is officially described as follows:
Set in the early 80's, "Pioneer" takes place at the beginning of the Norwegian Oil Boom. Enormous oil and gas deposits are discovered in the North Sea and the authorities aim to bring the oil ashore through a pipeline from depths of 500 meters. A professional diver, Petter is obsessed with reaching the bottom of the Norwegian Sea. Along with his brother Knut he has the discipline, strength and courage to take on the world's most dangerous mission. But a sudden, tragic accident changes everything. Petter is sent on a perilous journey where he loses sight of who's pulling the strings. Gradually he realizes that he is in way over his head and that his life is at stake.
Sony Pictures is now negotiating to secure the rights to Pioneer for Clooney and Heslov's Smokehouse Pictures. The trade notes that Clooney has not made any indication that he plans to make the film a directing project nor is Heslov attached to write.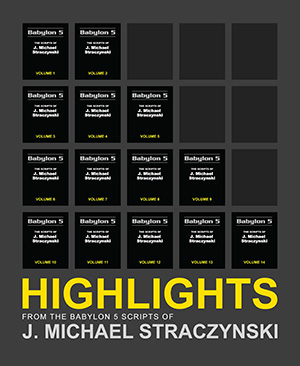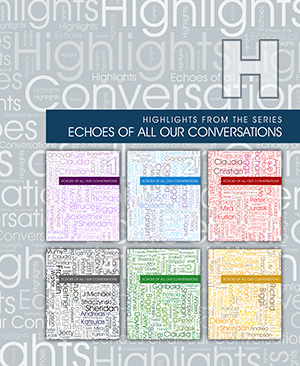 BOOK SAMPLERS
ABOUT THIS SCRIPT SERIES SAMPLER
In the six years since The Babylon 5 Scripts of J. Michael Strazynski limited edition series was retired on June 30, 2008, the B5 Books Team receives weekly (sometimes daily) emails from new fans about the availability of this limited series.
While we would never re-issue the books, the sheer volume of requests warranted our consulting with our Babylon 5 Fan Board -- great arbitors of what is fair to the fans and what isn't -- to get their feedback about a compilation that surveys a snippet of content from each of the 14 volumes.
In honor of the 20th anniversary of the series (January 26, 2014), the idea is to give fans an abbreviated experience of the full set. This highlights volume would solve several issues:
" a glimpse for the fans who never could have afforded the original investment
" a preview for fans who are now paying hundreds of dollars per volume for copies on eBay
" a "loaner" edition to friends for people who own the complete set
WHAT IS "ECHOES OF ALL OUR CONVERSATIONS?"
Fifteen years of "behind the scenes" Babylon 5 history as told by the actors and crew who were there in word-for-word transcripts of interviews with journalist Joe Nazzaro while the show was in production.
The limited-edition, six-volume series (and supplemental index) presented the uncensored and complete transcripts of Nazzaro's interviews with detailed editor's notes to provide a context for each conversation.
While this highlight sampler only contains 13.4% of the total pages from the series, it gives a comprehensive experience by including 27 interviews from across all volumes.
For complete details on what's included in this Highlights Sampler Edition, visit http://www.b5books.com.
WEDNESDAY, FEBRUARY 12, 2014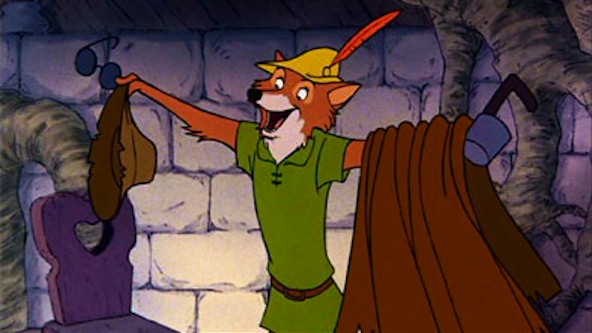 NEW ROBIN HOOD - NOTTINGHAM
BBC America already has a new version of "The Three Musketeers" debuting this year, and now the network is taking its own spin on the classic "Robin Hood" tale.
Per Deadline, BBC America is creating a new series called "Nottingham" based on the story of Robin Hood. Except in this case, it's the villainous Sheriff of Nottingham who is both the villain and the hooded vigilante Robin Hood.
Described as a "'Game of Thrones' reinvention of the classic mythology" (likely they were inspired by this), the project comes from "Dracula" creator Cole Haddon. He is currently writing the series, which will be the first time the Sheriff of Nottingham will be depicted as a hero.
This is how Deadline explains the series' premise:
"Described as a soapy class drama, 'Nottingham' centers on the Sheriff of Nottingham whose wife is killed by King John's men. When nobody is brought to justice, the Sheriff launches a one-man war against the Crown. By day, he remains the reviled Sheriff, loyal servant of the King, but by night he puts on a hood and, using the intelligence he gains from his office, attacks the King where it hurts the most -- his coffers. As Robin Hood, he systematically raids the King's men, his noble loyalists and political allies, giving the spoils to the starving peasantry and starting a rebellion that will change England forever."
THE FLASH
The CW's The Flash has snagged Dawson's Creek star John Wesley Shipp, who played The Flash in the early 1990s CBS television series, The Hollywood Reporter has learned.
Shipp will guest star in the pilot playing a mysterious character. Details for his character are being kept close to the vest. If the proposed Arrow spinoff receives a series order, his role would expand to recurring status. Grant Gustin stars as Barry Allen/The Flash in The CW pilot, which serves as an origin story similar in vein to Arrow. Barry -- introduced in Arrow's two-part winter finale in December -- is a Central City assistant police forensic investigator who visits Starling City to look into a series of unexplained robberies that may have a connection to a tragedy in his past. Through a freak accident, he is given the power of super speed that transforms him into the fastest man alive.
The news comes as The Flash pilot nears the end of its casting process. Shipp joins a cast that includes Tom Cavanagh as physics "rock star" Harrison Wells; Jesse L. Martin as Detective West; Candice Patton as West's daughter and Barry's love interest Iris; Danielle Panabaker as Caitlin Snow, a bioengineering expert; and Rick Cosnett as Detective Eddie Thawne. This leaves one main role open: Hartley Rathaway.
Arrow's Greg Berlanti, Andrew Kreisberg and director David Nutter will serve as executive producers on Warner Bros. TV's eyed spinoff. Berlanti, Kreisberg and DC Entertainment's Geoff Johns will write the pilot script, with Nutter directing. Melissa Kellner Berman will serve as co-executive producer.
Flash originally was slated for a backdoor pilot on Arrow airing in the second half of the season, similar to how The Vampire Diaries helped launch spinoff The Originals last year. The change in tune is an effort for Flash to debut "with a bang like we launched Arrow," The CW president Mark Pedowitz told reporters in January at the TCA winter press tour.
CBS' The Flash aired 22 episodes during the 1990-91 season, getting the ax after struggling against tough competition from Fox and NBC's strong Thursday primetime lineups before being relegated to Saturdays.
Shipp, repped by Stewart Talent, starred as patriarch Mitch Leery in The WB's Dawson's Creek and most recently recurred on MTV's Teen Wolf as Isaac's father.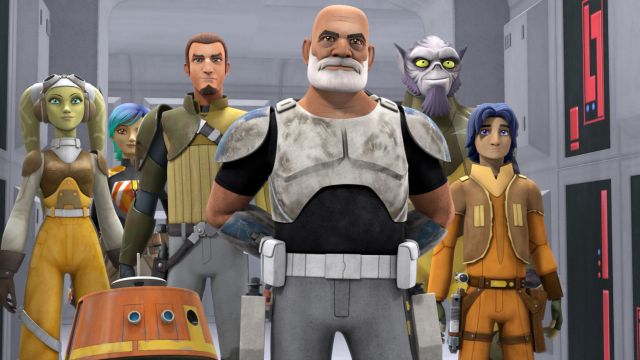 STAR WARS: REBELS
The new animated series Star Wars: Rebels will feature a character described as a "cowboy Jedi," who is voiced by Freddie Prinze Jr. Yep, you read that correctly.
The folks at Disney are finally starting to peel back the layers of who'll be fighting for freedom in a galaxy far, far away when this show debuts in the fall, and the first protagonist has been revealed: Kanan, a gunslinger Jedi who is "full of bravado and the Force."
USA Today broke the story, noting that Kanan has been on the run ever since the evil Emperor put out Order 66 during the prequel trilogy to try and take out all the Jedis. In the 14 years since Revenge of the Sith, Kanan has spent his days keeping a low profile with his lightsaber locked away. But he takes up his Jedi mantle once again with the crew of his ship The Ghost to do battle with the series' new baddie, the Inquisitor.
The Mouse House has signed Freddie Prinze Jr. (Scooby Doo, 24), aka Mr. Sarah Michelle Gellar, to bring the character to life. Though he seems like an odd casting choice, Prinze seems genuinely psyched to be a part of the Star Wars universe, noting that he's been a fan ever since he was a kid.
The Disney XD series is set to debut this fall with a one-hour special, and will then launch as a half-hour episodic series.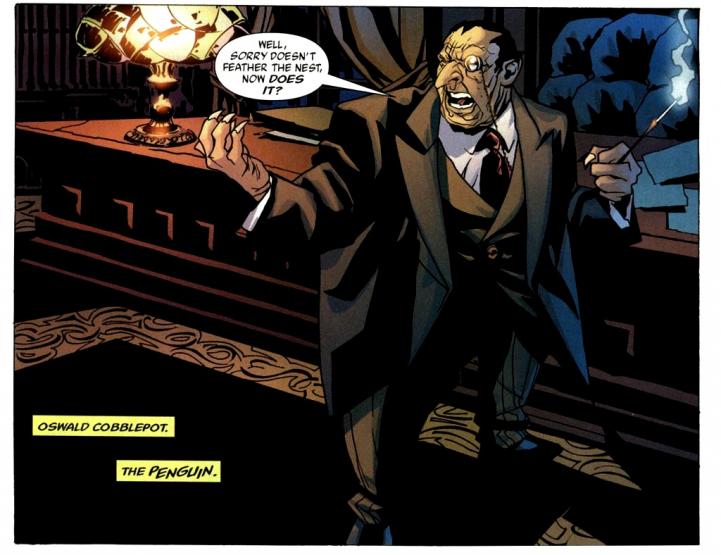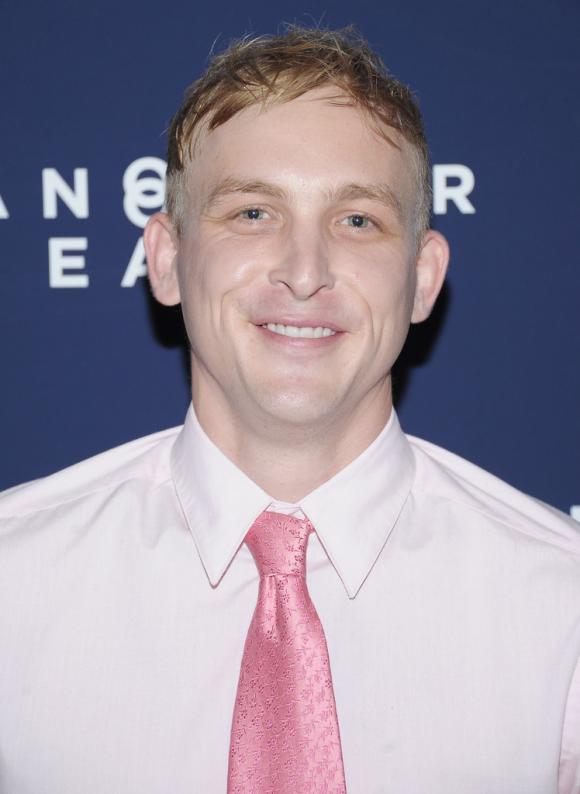 GOTHAM
Two more big roles have just been filled on Fox's Gotham series, including its first villain.
Over the weekend, we found out that Southland star Ben McKenzie will take the lead on the show, meant to be a prequel to the life of Batman and an origin story for many of Gotham's best-known citizens, as police detective and future commissioner James Gordon. Now the show has cast both Bruce Wayne's closest ally and one of his most intriguing future foes.
The role of Alfred Pennyworth on Gotham will be played by English actor (and son of Third Doctor Jon Pertwee) Sean Pertwee, whom you may have recently seen as Lestrade on the CBS series Elementary.
According to TV Guide, Pertwee's Alfred will be "a tough-as-nails ex-Marine from East London" who sees it as his duty to protect young Bruce after the death of his parents, so we can likely expect a bit more action-heavy Alfred than what we saw from Michael Caine in the Dark Knight trilogy.
Next, we have the Penguin, who will be played by Robin Lord Taylor, an actor who we saw last year in the Walking Dead season-four episode "Indifference."
Taylor's Penguin will reportedly differ a good deal from the classic comic-book incarnation. Rather than a Gotham aristocrat who's far less crazy than many of Batman's other foes, this Penguin will be a "low-level psycopath" and "gangster" who is polite but also possesses a "sadistic lust for power." Casting the Penguin as a more low-level criminal rather than a high-society outcast is not without precedent in the pages of DC Comics, but this description sounds like we could be getting a very savage new incarnation indeed.
Two other key roles have also been filled, though they're not quite as high-profile. Erin Richards (Being Human U.K., Breaking In) has been cast as emergency room doctor Barbara Kean, Gordon's fiancee, while actress Zabryna Guevara has been cast as Captain Essen, Gordon's boss at the Gotham P.D.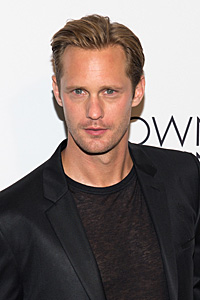 TARZAN
Warner Bros. Pictures announced today that the studio has entered into pre-production on a new live-action 3D Tarzan action adventure, bringing Edgar Rice Burroughs' legendary character back to the big screen. The announcement was made today by Greg Silverman, President, Creative Development and Worldwide Production, and Sue Kroll, President, Worldwide Marketing and International Distribution, Warner Bros. Pictures.
Dan Fellman, President, Domestic Distribution, Warner Bros. Pictures, also announced that the film has been slated to open domestically on July 1, 2016.
Alexander Skarsgård (HBO's "True Blood") has been set to star as the man who was orphaned as a baby and raised in the jungle, later to return to the urban jungle of London. The film also stars Oscar nominee Samuel L. Jackson (Pulp Fiction); Margot Robbie (The Wolf of Wall Street), as Jane Porter, who becomes the love of Tarzan's life; and two-time Academy Award winner Christoph Waltz (Inglourious Basterds, Django Unchained).
David Yates, who helmed the last four "Harry Potter" blockbusters, will direct the new feature from a screenplay based on the works of Edgar Rice Burroughs. A Jerry Weintraub production, the film is being produced by Weintraub (Behind the Candelabra, the "Ocean's" trilogy), together with David Barron and Alan Riche.
In making the announcement, Silverman said, "We have assembled a phenomenal international cast to tell this extraordinary story. Warner Bros. has also enjoyed long and successful collaborations with both David Yates and Jerry Weintraub, and we look forward to seeing what they and the entire team have in store for this timeless tale."
Kroll added, "Tarzan has been an enduring and enigmatic figure in literature and cinema for more than a century. The adventures of a man who was torn between two worlds has entertained and intrigued people young and old, and we are excited to bring him to the screen for a new generation."
Fellman stated, "This is a perfect entry for the summer movie season corridor, with a terrific combination of action, adventure, romance and suspense that is sure to appeal to a broad audience."
Jerry Weintraub added, "I am so pleased to be reuniting with the team at Warner Bros. on this thrilling project. David Yates and I are going to be using the best of today's technology in creating this new adventure, and we can't wait to get started."
The other films currently scheduled for July 1, 2016 are Angry Birds and Independence Day 2.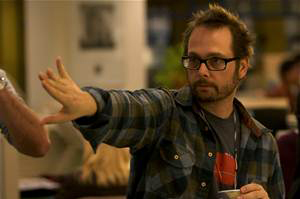 INSURGENT
EXCLUSIVE: Summit Entertainment has found its director for Insurgent, the follow-up to the upcoming Divergent that will launch a three-pic series based on Veronica Roth's sci-fi novels. Robert Schwentke, whose credits include the 2010 action comedy Red that also came from Summit, has been tapped for duty, and he will helm the script currently being written by Akiva Goldsman Robert_Schwentke_v2based on a draft by Brian Duffield. In December, Summit had to explain that Divergent director Neil Burger couldn't helm the second pic because of postproduction on the first movie overlapping preproduction. That second pic has been fast-tracked for next year and has a March 20, 2015 release date already.
Divergent, which stars Shailene Woodley, Theo James and Kate Winslet, comes out March 21. The third pic in the trilogy, Allegiant, will bow on March 18, 2016.
TUESDAY, FEBRUARY 11, 2014
SALEM
WGN America's first scripted series "Salem" centers on the Salem witch trials that ruined many innocent lives in the name of finding and killing witches. The series won't shy away from all that death and destruction by the looks of the just-released trailer.
It may only be a quick 15-second video, but the footage teases quite a lot of dark creatures and evil forces. Of course, the big question is who is the real villain: The witches or the leaders of the witch hunt who killed and tortured innocent humans?
And don't expect this supernatural series to feature brooding hot guys falling in love amidst all the magic and mayhem. "Salem" is focusing on the literal 17th century lifestyle, giving male leads Shane West and Seth Gabel dirty, hairy faces -- and based on the trailer, the characters are more worried about surviving and ridding their town of evil than love triangles.
"Salem" premieres Sunday, April 20th on WGN America.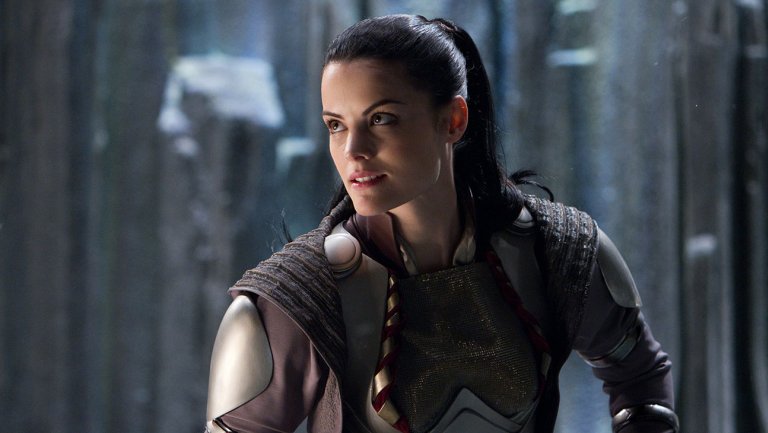 AGENTS OF S.H.I.E.L.D.
The first look at Jaimie Alexander in "Marvel's Agents of SHIELD" has debuted. Her "Thor" character Lady Sif arrives in the ABC drama in episode 15, "Yes Men."
In a new interview with TV Guide, co-showrunner Jed Whedon explains what brings Sif to Earth. "Lady Sif comes here on a hunting mission -- sent by Odin -- to find her arch-enemy Lorelei and bring her back to Asgard," he says. "It throws our agents for a loop when they find themselves in a fight right alongside this powerful woman from Thor's world."
Zap2it got a sneak peek at the showdown between Sif and Lorelei when we visited the set back in January, and it's pretty intense. Let's just say that there's a bit of a dispute over who has the hots for Thor.
While the men of "Agents of SHIELD" will be enraptured with sorceress Lorelei, it's Lady Sif who catches Melinda May's eye. "She is a woman warrior and she's godlike and she has to wear these kicka** boots and I was so happy I wasn't the only one who had to walk around this awful floor and fight in high heel boots," Ming-Na Wen told Zap2it with a laugh while on set. "It was just nice to have someone else on set to empathize with."
Though Sif is on Earth for business, she's not without her (unintentional) comedic relief. "The language barriers, it was really fun to write," Whedon told Zap2it of conversations between the SHIELD team and Lady Sif. Fellow showrunner Maurissa Tancharoen added, "And seeing how she will take something literally. If Coulson will throw a line at her, she actually does the literal version of that physically."
Alexander's episode of "Agents of SHIELD" will air on ABC on March 11 at 8 p.m. ET/PT.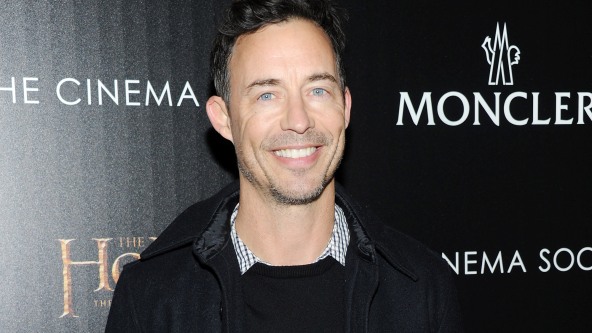 THE FLASH NEWS
"The Flash" has cast another part for the "Arrow" spinoff: Tom Cavanagh ("Ed") will play physicist Harrison Wells on the potential, DC Comics-based series.
According to The Hollywood Reporter, Cavanagh's character of Wells was a "rock star in the world of physics" before his pet project went horribly awry. That would be the S.T.A.R. Labs Particle Accelerator. In the "Three Ghosts" episode of "Arrow," Barry Allen (Grant Gustin) went home to Central City just in time to get caught in the accelerator's bizarre explosion.
That confluence of events is set to create the superhero known as the Flash.
Unfortunately for Wells, the explosion also means that he's a scientific pariah -- he only gets a shot at redemption when he realizes Barry has gained super speed as a result of the accident.
With the casting of Cavanagh, the "Flash" pilot has almost all of its characters set. In addition to Gustin and Cavanagh, Jesse L. Martin, Danielle Panabaker, Candice Patton, Carlos Valdes and Rick Cosnett are set to appear. One other main role, Hartley Rathaway, has not yet been announced. The character of Barry was introduced in two Season 2 episodes of "Arrow."
Best known as the lead on "Ed," Cavanagh has also appeared on "Royal Pains," "Scrubs," "Eli Stone" and more. If picked up by The CW, "The Flash" will likely premiere in fall 2014.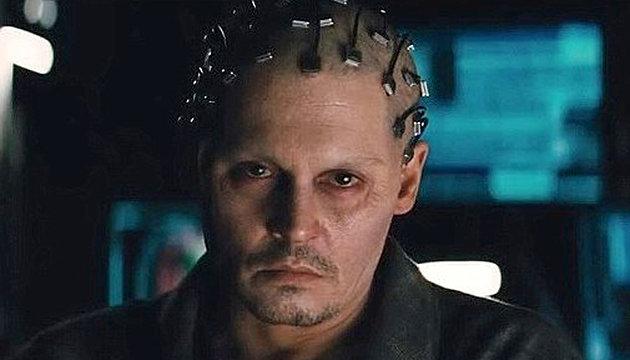 TRANSCENDENCE
The Johnny Depp sci-fi thriller Transcendence is coming to theaters in a little over two months, and now there's a cool new poster out to get people talking.
As Slashfilm points out, the poster is a reverse shot of that eerie image above of a very ill-looking Depp with his head wired to the max. But the colors, design and overall look also call to mind sci-fi paperback covers of the '70s and '80s -- hopefully, a sign of the mood and kind of story the film is aiming for.
Depp stars as a scientist named Will Caster whose research is bringing him closer to creating the first truly sentient AI, a plan that makes him the target of anti-technology extremists. An assassination attempt leads to Caster's own consciousness being uploaded online, where he begins to expand his reach and power rapidly for purposes unknown.
To be sure, the story is not exactly a new one, but if the movie does its job well, it could be the kind of intelligent, cautionary sci-fi film that we can always use more of. A new trailer is scheduled to hit iTunes tomorrow (Tuesday, February 11) at 7:30 p.m. ET -- we'll grab it as soon as possible.
Transcendence also stars Rebecca Hall (Iron Man 3), Paul Bettany (The Avengers: Age of Ultron) and Kate Mara (House of Cards) and was directed by Wally Pfister, Christopher Nolan's longtime cinematographer who is making his directorial debut. The film arrives on April 17.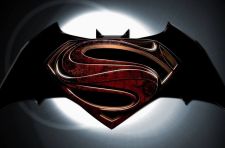 BATMAN VS. SUPERMAN
When Warner Bros.' upcoming Batman vs. Superman was first announced, director Zack Snyder decided to use a quote from Frank Miller's famous series The Dark Knight Returns as a way to reveal it. Since then it's been established that the film will draw some influence from the series, but in what way? Speaking with French magazine Popcorn (via Comic Book Therapy), Snyder said the influence of the comic which will serve as a building block of sorts.
"The comic book will influence the history of Batman vs. Superman, on which the writer David S. Goyer and myself will work."
Snyder elaborated on the set-up that The Dark Knight Returns provides for their cinematic world, explaining that Ben Affleck's version of Bruce Wayne will serve as a good opposition to Henry Cavill's Superman.
"Ben brings an interesting counterweight to the performance of Henry in the role of Superman. He has the experience necessary to paint the picture of an older and more advised man than Clark Kent, who bears the scars of a seasoned vigilante while retaining the charm that Bruce Wayne deploys when present in the world."
Written by Chris Terrio, from a screenplay by David S. Goyer, the film will star Henry Cavill and Ben Affleck, in addition to Gal Gadot as Wonder Woman/Diana Prince, Jesse Eisenberg as Lex Luthor and Jeremy Irons as Alfred. Set to open worldwide on May 6, 2016, the film also reunites Man of Steel stars Amy Adams, Laurence Fishburne and Diane Lane.
MONDAY, FEBRUARY 10, 2014
GAME OF THRONES
The new "Game of Thrones" Season 4 special, "Ice and Fire: A Foreshadowing," is now online. It's an amazing tease of the new season, and filled with significant moments for those who know what they're looking for. Can it be April 6 already? COMIC BOOK MEN
When Kevin Smith's "Comic Book Men" returns to wrap up its third season on AMC on Sunday (Feb. 9), he and the guys will be welcoming a guest star of high geek proportions.
In the premiere, Jay and Silent Bob's Secret Stash is throwing a big bash to celebrate Superman's 75th anniversary and they've gotten none other than Supes himself, Dean Cain, to attend the festivities.
Can we just say: Bryan Johnson dressed as kryptonite is pretty perfect.
Though AMC tries their hardest to keep Dean Cain's appearance under wraps. Why? Who knows.
"Comic Book Men" returns Sunday at midnight ET/PT on AMC. WEEKEND BOX OFFICE
BERLIN -- Bringing one of the world's most popular toys to the big screen, Warner Bros. and Village Roadshow's The Lego Movie opened to a gigantic $69.1 million in North America, the second biggest opening of all time for the month of February and launching an instant franchise.
Mel Gibson's The Passion of the Christ holds the record, debuting to $83.8 million in late February 2004.
Lego, nabbing an A CinemeaScore, was made in association with the Denmark-based Lego Systems A/S. The voice cast includes Chris Pratt, Will Ferrell, Elizabeth Banks, Will Arnett, Liam Neeson and Morgan Freeman. Warners and Village Roadshow made the 3D animated pic with Lin Pictures and Vertigo Entertainment.
Overseas, the film opened to a strong $18.1 million from 34 markets, many of them smaller. It grossed $4.1 million in Mexico, despite the fact that the Lego brand is relatively new there.
One of the best reviewed animated films of all time, Lego follows an ordinary minifigure named Emmet who is mistaken for the hero who can save the Lego universe. With the aid of Batman, Uni-Kitty and Benny, among other characters, he must learn to defeat the tyrant Lord Business.
"I think this sends a signal that we are very interested in this space," said Warners domestic distribution chief Dan Fellman. "You will be hearing more from us, and we will definitely be talking very shortly about our plans for Lego." Males made up 55 percent of Lego's audience, while 41 percent of ticket buyers were under the age of 18.
George Clooney's latest directing effort, The Monuments Men, enjoyed a pleasing debut despite largely negative reviews, grossing $22.7 million and coming in No. 2 domestically. It's the biggest opening for a film Clooney has directed and underscores his appeal among adults.
From Sony and 20th Century Fox, the $70 million World War II comedy-drama stars Clooney opposite Matt Damon, Bill Murray, John Goodman, Jean Dujardin, Bob Balaban, Hugh Bonneville and Cate Blanchett.
Monuments Men, earning a B+ CinemaScore, was originally supposed to roll out over Christmas, but its release was pushed back until this weekend. On Saturday, it made its international premiere at the Berlin Film Festival, receiving a standing ovation. Berlin was a natural fit for the movie, since it was shot in Germany.
Monuments Men, made in association with Babelsberg Studio and based on the nonfiction book The Monuments Men: Allied Heroes, Nazi Thieves and the Greatest Treasure Hunt in History, follows a ragtag Allied squad of out-of-shape museum directors, artists, architects, curators and art historians tasked with saving important works of art before they are destroyed by the Nazis.
"We are very pleased with the opening, and it came in on the high end of our expectations. It's a fascinating story and a great ensemble cast. Audiences really like the film," said Sony's distribution chief Rory Bruer.
The weekend's third new offering, Vampire Academy, quickly tanked, earning only $4.1 million and coming in No. 7. The movie is the latest YA film adaptation to disappoint outside of the Twilight and Hunger Games films. Vampire Academy was financed by IM Global and Reliance, and released in the U.S. by The Weinstein Co.
Based on Richelle Mead's 2007 novel and directed by Mark Waters, Vampire Academy stars Zoey Deutch, Danila Kozlovsky and Lucy Fry. The story revolves around three friends who are dragged back to St. Vladimir's Academy, where they must contend with a dangerous hierarchy, along with lies and secrets.
Among holdovers, Universal's Ride Along came in No. 3 in its fourth weekend, grossing $9.4 million and zooming past the $100 million mark to finish Sunday with a cume of $105.2 million. Amazingly, Disney's animated blockbuster hit Frozen stayed high up on the chart despite Lego. Coming in No. 4 domestically with $6.9 million, Frozen's North America cume is now $368.8 million, passing Despicable Me 2 ($368.1 million).
Worldwide, Frozen passed the $900 million mark to become the No. 4 animated title of all time, not counting reissues. Its total through Sunday is an estimated $913.8 million.
Overseas, MGM and Sony's RoboCop reboot grossed $20.2 million from 47 markets on the eve of its North American debut for an early foreign total of $28.7 million. Universal's 47 Ronin inched its way toward the $100 million mark at the foreign box office, but that won't stem a loss. The pic finished Sunday with a domestic total of $99.8 million and a domestic cume of $38 million.
Here are the top 10 estimates for the weekend of Jan. 31-Feb. 2 at domestic box office:
Title, Weeks in Release/Theater Count, Studio, Weekend Total, Percentage Drop, Cume
1. The Lego Movie, 1/3,775, Warner Bros./Village Roadshow, $69.1 million.
2. The Monuments Men, 1/3,083, Sony/Fox, $22.7 million.
3. Ride Along, 3/2,867, Universal, $ million, -42.2%, $93 million.
4. Frozen, 11/2,754, Disney, $9.3 million, +2.1%, $360 million.
5. That Awkward Moment, 2/2,809, Focus Features, $5.5 million, -36.6%, $16.8 million
6. Lone Survivor, 7/2,869, Universal, $5.3 million, -25.4%, $112.6 million.
7. Vampire Academy, 1/2,676, The Weinstein Co., $4.1 million.
8. The Nut Job, 4/3,004, Open Road Films, $3.8 million, -47.7%, $55.1 million.
9. Jack Ryan: Shadow Recruit, 4/2,139, Paramount, $3.6 million, -32.2%, $44.5 million.
10. Labor Day, 2/2,584, Paramount, -37.6%,, $3.2 million, $10.2 million.
SUNDAY, FEBRUARY 9, 2014
GAME OF THRONES
With the release of the third season of Game of Thrones on DVD and Blu-ray approaching fast, we're getting some nifty making-of videos. Including this one. If you're into special effects and direwolves, this one's for you.
This video -- courtesy of The Wall Street Journal -- gives us a great sneak peek at Jon Snow's (Kit Harington) escape from the wildlings in the season-three episode "The Rains of Castamere" (which featured the infamous Red Wedding), and how they filmed with green screen and real wolves.
We really liked the guy flailing about in the rain and mud around the 20-second mark, pretending to get his throat ripped by a direwolf. Nice acting chops there. Also: Jon Snow's awesome hair clip. Just sayin'.
Are you impressed by how they achieved the special effects for this scene? Game of Thrones returns to HBO on April 6. You can get your hands on the season-three DVD and Blu-ray sets on Feb. 18.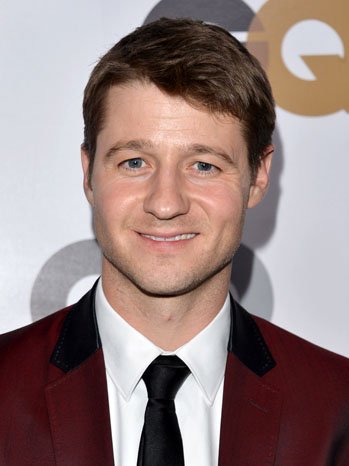 GOTHAM NEWS
Ben McKenzie, the Southland and The O.C. alum has been tapped to topline the network's Gotham, playing James Gordon, The Hollywood Reporter has learned.
Seven years after Fox's The O.C. helped to launch McKenzie's career, the actor will play the man who will go on to become the commissioner of the city and work hand-in-hand to restore the community with the eventual Caped Crusader.
Gotham is described as an origin tale centering on DC Comics fixture Commissioner James Gordon and the villains that made Gotham famous.
The Warner Bros. Television drama pilot, which has series commitment attached, is being written and executive produced by The Mentalist showrunner Bruno Heller. Danny Cannon (CSI, Nikita) will direct and executive produce the pilot.
Gotham's Gordon is a rookie detective for Gotham City Open Police Department's Homicide Squad. A college football star, and a war hero, Gordon was fast-tracked through the GCPD ranks. He's brave, energetic and honest. Driven to live up to the classical virtues of a father he barely knew, he's an idealistic soul, to the point of naiveté. That virtue is tempered by analytical intelligence and an ambitious alpha male ego -- he'll back up his naive ideals with action. The casting also marks a reunion for Heller with McKenzie, who starred in The Mentalist boss' passed-over 2013 CBS drama pilot Advocates opposite Mandy Moore. That casting was in second position to TNT's critical darling but ratings underperformer Southland, which was canceled last year.
Worth noting: McKenzie also voiced Bruce Wayne/Batman in 2011's DC animated movie adaptation of Frank Miller's Batman: Year One, which like Gotham was an origin story centering on the comics hero. And McKenzie's former Southland co-star Michael Cudlitz also signed on to another comic-themed series: playing pivotal comics character Abraham in AMC's zombie drama The Walking Dead.
McKenzie becomes the latest actor to play Gordon. The role was played by Neil Hamilton on ABC's 1960s series Batman; Pat Hingle had the role in Tim Burton's 1989 feature; and Gary Oldman most recently portrayed the dogged detective who became the commissioner in Christopher Nolan's Batman franchise.
Speaking to reporters last month at the Television Critics Association's winter press tour, Fox entertainment president Kevin Reilly said the series will explore other characters from DC's massive Batman cannon.
"This is not one of the things where you bought a franchise and then none of characters people know," Reilly said. "We will follow Bruce Wayne right up until the point where he gets interesting."
Reilly confirmed that Gotham will be as much of an origin story for Batman as for Gordon. "It's Gotham teetering on the edge," he said. "This is all of the classic Batman characters."
The Joker, Riddler, Penguin and Catwoman are also expected to be part of the project, with the plan for the series is to ultimately end with Bruce Wayne putting on the cape and becoming Batman -- much as Smallville did with Superman.
Following the session, Reilly told reporters that the series will be very serialized and not an "adjunct companion" show. "This is the Batman franchise just backing it up," he said. "It gives a real focus as to what this show is about and what stories we're telling."
McKenzie is repped by CAA, Management 360 and Ziffren Brittenham.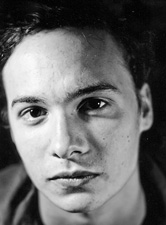 MAESTRO
Frank Dillane (Heart of the Sea, Harry Potter and the Half-Blood Prince) will star in Maestro from director Catherine Jarvis, whose screenplay is based on the acclaimed book of the same name by Peter Goldsworthy. Slated to begin lensing in spring 2014 in Northern Australia and Vienna, Austria, the film is produced by Daniel Harvey and Bow Street Films partners Joe Jenckes and David Dickson. Music Producer Craig Leon's original music for the film will be featured alongside recordings by internationally renowned Chinese pianist Lang Lang, whose work was highlighted during the Beijing 2008 Olympic Opening Ceremony. The soundtrack will be released internationally by Deutsche Grammophon/Universal.
Set in the melting heat of tropical Australia and the rich concert halls of wintry Vienna, Maestro is a story of extremes. When Paul, a talented pianist (Frank Dillane), moves to an exotic outpost of 1960's Northern Australia, he is forced to learn from the only piano teacher his father can find - the eccentric, enigmatic Herr Keller, a Viennese refugee with a shadowed past, known to the locals as 'Maestro.' The piano becomes a battle ground with volleys of Wagner and Hendrix alike thrown between the pair as Paul tries to make sense of his own identity and ambition to become a concert pianist while coming closer to the truth about the Maestro's past.
Bow Street Films' Joe Jenckes and David Dickson said, "We were immediately inspired by the universal themes brought to life in Catherine's screenplay, particularly how she frames the story within this very powerful music. Frank's amazing talent and screen presence coupled with Lang Lang's unparalleled skill as a pianist will appeal to audiences worldwide."
Casting is underway for the role of Herr Keller/'Maestro.'
Dillane was recently cast in writer/director Gerardo Naranjo's untitled new drama alongside Dakota Fanning.

THE DORM
Pitch Perfect and Project X star Alexis Knapp is set to headline a horror project titled The Dorm for MTV, Deadline reports. Joining her are Cassie Steele ("Degrassi: The Next Generation") and Max Lloyd Jones ("Teen Wolf") with Tank Girl and Freddy's Dead: The Final Nightmare helmer Rachel Talalay attached to direct.
Scripted by Sean Hood (Halloween: Resurrection), The Dorm follows a student, Vivian (Knapp) who begins college as a shy, self-consciousness freshman but who, after becoming a dorm mate of the popular Sarah (Steele), begins a complete transformation.
The Dorm has cameras ready to roll next week in Calgary, Canada with Mike Frisley, Maggie Malina and Chad Oakes executive producing through Nomadic Pictures Corp.
CAPTAIN AMERICA: WINTER SOLDIER
Marvel Studios has released the new TV spot for Captain America: The Winter Soldier.
Opening in theaters on April 4, Captain America: The Winter Soldier will pick-up where Marvel's The Avengers left off, as Steve Rogers struggles to embrace his role in the modern world and teams with Natasha Romanoff, aka Black Widow, to battle a powerful yet shadowy enemy in present-day Washington, D.C.
Chris Evans, Scarlett Johansson, Samuel L. Jackson, Robert Redford, Sebastian Stan Anthony Mackie, Cobie Smulders, Frank Grillo, Georges St-Pierre, Haley Atwell, Toby Jones, Emily VanCamp and Maximillano Hernandez star.
SATURDAY, FEBRUARY 8, 2014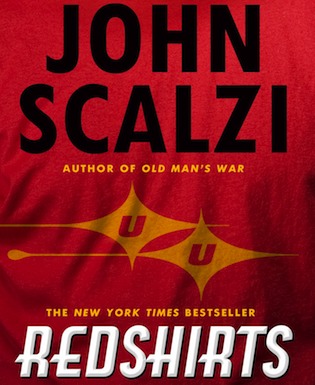 REDSHIRTS
A new "Star Trek" TV series might not be happening any time soon, but the next best thing is. FX has greenlit a limited series based on "Redshirts," a satirical science fiction novel written by John Scalzi published in 2012. Down to its name, Scalzi has some obvious "Trek" origins. It follows a group of recruits on the Starship Intrepid who realize that members of the ship's crew are dying at a troublesome rate.
Eventually they discover that a 21st century sci-fi TV show somehow is influencing their reality by turning it into a narrative they can't control. "Redshirts" won the Hugo Award in 2013.
Currently the only people attached to the project are film producer Jon Shestack and producer-director Ken Kwapis. Deadline reports Kwapis is slated to direct the pilot episode of the series, while the search is underway for writers for the show. Kwapis says of the novel, "If Jorge Luis Borges had been a staff writer on the original 'Star Trek,' he would no doubt have concocted a story like 'Redshirts.'"

SHERLOCK
At the end of the "Sherlock" Season 3 finale, "His Final Vow," a surprising message from Jim Moriarty (Andrew Scott) appears on screens all across Britain. A repeating, electronic voice says "Did you miss me?" and Sherlock (Benedict Cumberbatch) gets called home from certain death to deal with it.
But does this mean that Moriarty is still alive? Could he have possibly survived his apparent suicide in the Season 2 finale?
While show creator Steven Moffat isn't likely to give definitive answers until "Sherlock" returns for Season 4, he does give a few hints in an interview with Digital Spy.
"He was definitely dead!" Moffat explains. "You can't fake shooting yourself in the face -- part of his head came off."
Fans, however, know now that even the most apparent of deaths can be staged.
As for the "live" message from Moriarty at the tail end of the credits, that is, according to Moffat, nothing but a treat for viewers. "That was [decided] in the cutting room," Moffat says. "It was Mark [Gatiss]'s idea to get one more little blip of him, and we shot the live action shot which we hadn't done for the actual show and put that it after the credits."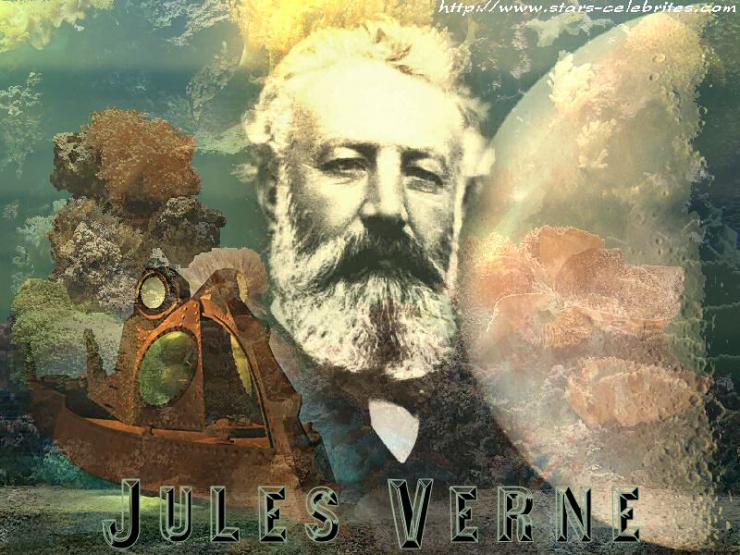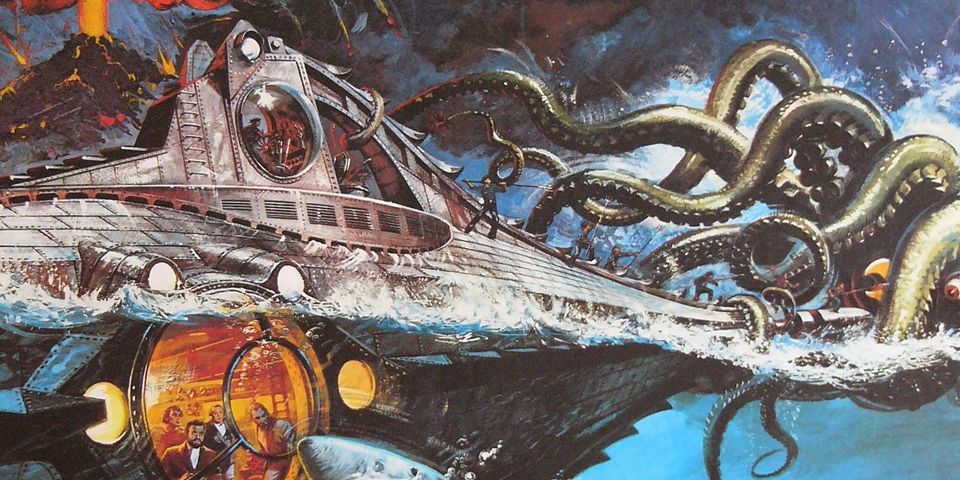 JULES VERNE
Saturday marks the birthday of the man most consider to be the Father of Science Fiction -- the famed French poet, novelist and playwright Jules Gabriel Verne. Born on Feb. 8, 1828, Verne ushered in the age of imagination with his legendary works 20,000 Leagues Under the Sea, From the Earth to the Moon, Around the World in 80 Days and Journey to the Center of the Earth.
These Voyages Extraordinaires were a series of fanciful adventure yarns incorporating modern industrial technology, meticulous research, wild scientific concepts and an indomitable spirit of discovery. The former lawyer enjoyed wide popular appeal during his lifetime and is now the most translated author on the planet after some bard named William Shakespeare. The entire steampunk sci-fi subculture of anime, literature, comics and cosplay is inspired and derived from Verne's (and H.G. Wells') revolutionary literature. Stricken with diabetes and deteriorating health, Verne died at the age of 77 on March 24, 1905, in his home in Amiens, France.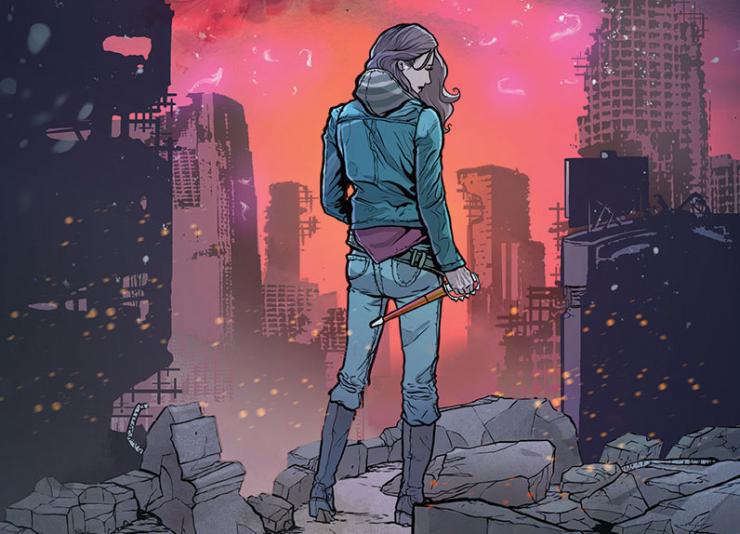 HAUNTED
Though he'll be busy cranking out X-Men sequels for the foreseeable future, Bryan Singer has signed on to bring a new horror comic to the big screen. Prepare to be Haunted.
Singer's production company, Bad Hat Harry, has picked up the film rights to the Red 5 comic, while the first part of the four-issue series is set to hit shelves on April 30. The comic is written by Scott Chitwood (Drone, Dead or Alive), illustrated by Danny Luckert and colored by Ivan Plascencia. It sounds like an action-packed story and has a bit of a Buffy vibe.
Here's the official synopsis:
In the story of Haunted, the barrier between our world and the spiritual realm was mysteriously torn apart, allowing the Earth to be overrun by ghosts, demons, and poltergeists. Creatures once thought to be mythological terrorized mankind, and society collapsed. Thirteen years later, Sarah McCallister manages to survive by being tough, smart, and looking out only for herself. But when a chance to set the world back to normal arises, she finds herself in the compromising position of putting her faith in strangers for the first time.
No word on how involved Singer will be on the project, though if it moves forward anytime soon we'd think he'd only be able to serve as producer due to his X-Men commitments. Regardless, we'll definitely be keeping an eye on it.
FRIDAY, FEBRUARY 7, 2014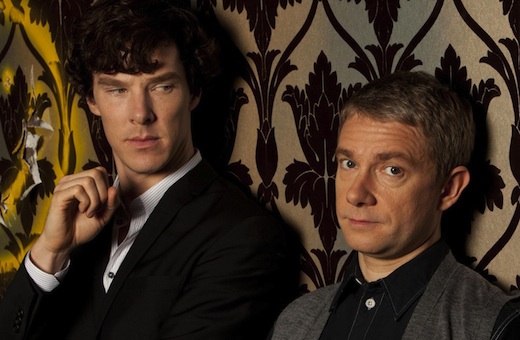 SHERLOCK NEWS
When will "Sherlock" Season 4 premiere? How has Sherlock Holmes (Benedict Cumberbatch) changed since Season 1? Will Janine ever return? Executive producer Steven Moffat has some answers in an interview with IGN.
Sherlock and dating
Did you enjoy that brief moment when "Sherl" and Janine were dating? If so, you are in luck -- Moffat hints strongly that actress Yasmine Akram will return later in the series.
"He'll see her again. They'll be pals," Moffat explains. "I loved Yasmine's performance as Janine -- she still likes him in the end. At some point, you know, if Sherlock Holmes has to go to a function and he needs a date, he'll phone her up. Now, he'll not expect her to say no. She'll be very cross with him, but she'll show up, and they'll have a good time. They will, because he likes her."
Considering how amusingly self-serving Janine is in Season 3, any future dates may just be hilarious.
Holmes brotherly love
If you paid close attention toward the end of "His Final Vow," you probably noticed Mycroft's offhand mention of another brother in the Holmes family. Although Moffat doesn't give specifics about something as big as that, he is willing to be a tease. "Wait and see!" he exclaims when asked about what part the third Holmes brother might play in the future of "Sherlock."
As for the two existing Holmes brothers, Moffat has strong feelings about what the relationship is between the two geniuses. "He's quite close to his brother, from the very start -- that's not something that's changed -- from the very, very beginning of 'A Study in Pink,'" Moffat says of Mycroft (Mark Gatiss). "He's trying to look out for him. He's worried about him. He's worried about what his junkie little brother might do next, as you would be in real life. If your little brother or something wanted to be a detective, not a junkie anymore, now a detective, because crime is really fascinating, you'd be worried. He's worried, that's all."
Season 4?
Whatever teases fans may get from Moffat, the big question is always: When will Season 4 premiere? "I have no idea," is Moffat's infuriatingly vague answer. "Sue [Vertue]'s working on the schedules right now. I just started with [Peter] Capaldi on the new series of 'Doctor Who.' You know, we'll do what we can, but with no sacrifice in quality -- that's the thing."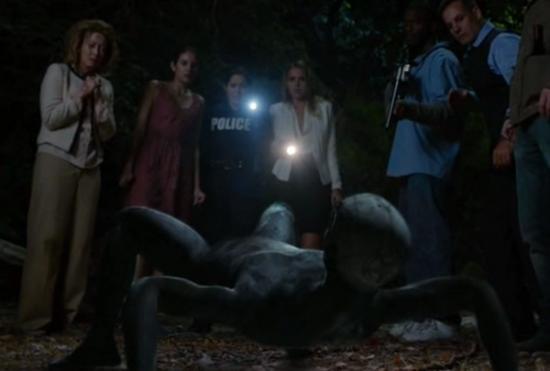 THE AFTER
Well, that was fast. Just a few days after the first action-packed clip dropped for Chris Carter's new sci-fi series The After, the entire pilot episode has gone live at Amazon.
Though he's had a few projects crash and burn in development hell over the years, this marks Carter's first real return to sci-fi television since The X-Files, and it doesn't skimp on the ambition. If the pilot is picked up, the series will follow eight strangers who must "help each other survive in a violent world that defies explanation." Yeah, that's vague, but we wouldn't want to spoil things.
The expansive cast includes Aldis Hodge, Andrew Howard, Arielle Kebbel, Jamie Kennedy, Sharon Lawrence, Sam Littlefield, Louise Monot, Jaina Lee Ortiz, Adrian Pasdar, Jason Lewis, Brynn Bowie, Madison Bowie, Giovanni Lopes, Fred Cross, Stacey Rand, Greg Collins, Don Harvey, Rolando Boyce, Dove Meir and J.R. Cruz.
After rolling out some half-hour comedies and kiddie shows last season, Amazon is definitely ramping things up this year. The After is a huge shot across the bow at scripted sci-fi, and we'd love to see more of what Carter could do with the concept. It definitely has a Flashforward and The Event vibe, though hopefully Carter can avoid the pitfalls that killed those fellow "high-concept" projects.
Amazon Prime.
An Amazon Prime subscription is required, but you can sign up for a 30-day trial and watch it for free. The company will use viewership data and feedback to determine which projects will move forward for a full season.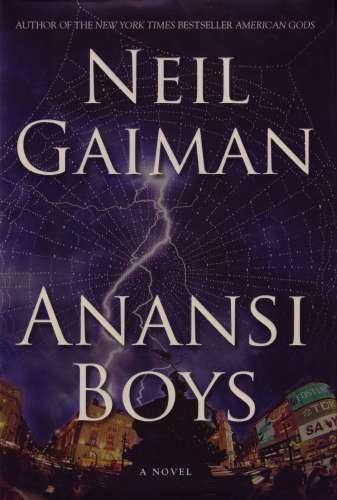 THE ANANSI BOYS
It's a good time to be a Neil Gaiman fan, as another one of the acclaimed author's works is getting the adaptation treatment.
According to BBC News, Gaiman's 2005 novel Anansi Boys is being turned into a TV miniseries by the BBC itself. The book, which won the British Fantasy Award for best novel, follows a young man who discovers that he has a brother whom he never previously knew about -- and that both of them are the sons of the West African spider god Anansi.
Gaiman wrote a screenplay for a proposed film adaptation of the book back in 2010, but that apparently fell down the studio rabbit hole. He said in a statement that he was "thrilled" with the announcement of the miniseries and that he hoped it would be "an absolutely brilliant faithful version." There's no word yet on casting, production, air dates or anything like that, with the project said to be in "very early development."
This is the third Gaiman-related project to be unveiled in just the past few months. Gaiman's 2001 novel, American Gods, was picked up earlier this week by Freemantle Media, who are going to give a TV adaptation a go after it spent a few years collecting dust at HBO. And then of course there is the great white whale of the Gaiman catalog, Sandman, which everyone in Hollywood has seemingly tried to make. Now actor/director Joseph Gordon-Levitt (The Dark Knight Rises) is going to take a stab at it.
Gaiman adaptations have been few and far between, but when they do arrive -- as with Coraline and Stardust -- people seem to like them.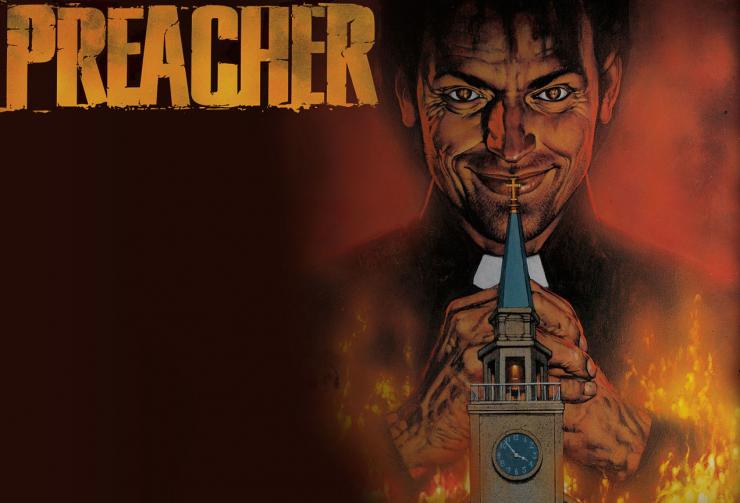 THE PREACHER
It took them long enough, but Seth Rogen and Evan Goldberg's Preacher adaptation is moving forward. The TV series, which is based on the DC/Vertigo comic, has finally found a network brave enough to air it. Preacher has been in development for years but has just now gotten an official green light. AMC and Sony Pictures Television will produce the show, which will air on the AMC Network.
Back in 2008, HBO showed interest but eventually passed due to its harsh content. Screenwriter Mark Steven Johnson revealed that the network believed it was "too dark and too violent and too controversial." That's something coming from the home of True Blood, Boardwalk Empire and Game of Thrones.
In a joint statement, Rogen and Goldberg said, "We've tried for seven years to work on Preacher and we're so psyched AMC is finally letting us. It is our favorite comic of all time, and we're going to do everything we can to do it right. Humperdoo!" Sam Catlin, who previously produced Breaking Bad, will serve as showrunner for the series.
Preacher centers on Jesse Custer, a small-town, no-nonsense minister who goes on a journey to find God -- literally. The Holy One has abandoned his heavenly duties, and Custer attempts to track him down. Meanwhile, he's joined on the road by an old girlfriend and a vampire. Custer also has a very special gift. He accidentally merged with a supernatural force called Genesis, which gives him power that rivals God himself. In other words, this is some heavy stuff.
With The Walking Dead wrapping its fourth season, we're not surprised that AMC is looking for its next big thing. It's earned great success with what others may have considered a simple zombie show.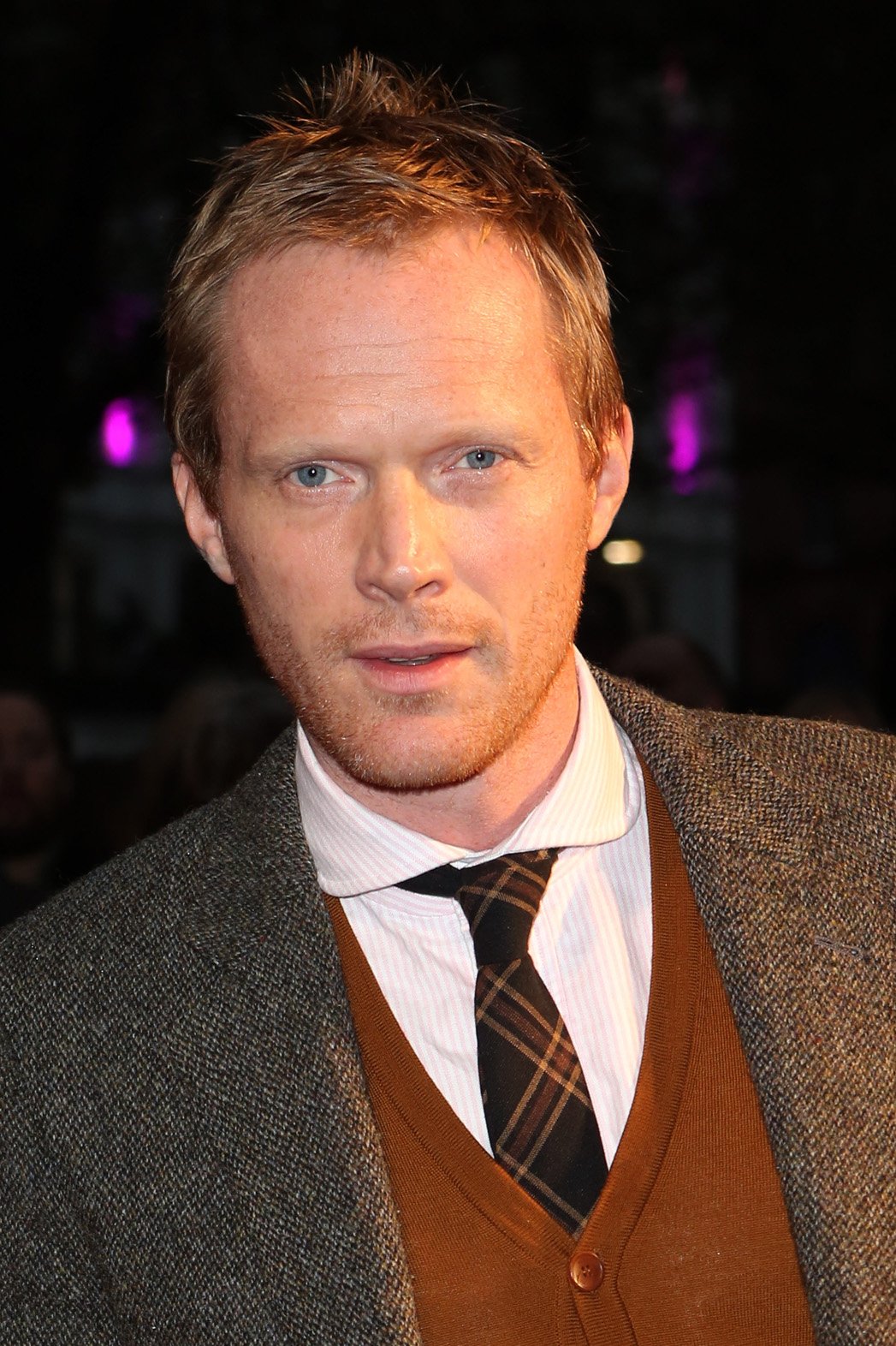 AGE OF ULTRON
Paul Bettany is getting an upgrade.
The actor, who has been lending his voice to Jarvis, the computer program-cum-butler in Marvel's Iron Man movies, has now been cast as iconic Avenger hero the Vision in The Avengers: The Age of Ultron.
Joss Whedon is directing the movie, which promises to be chock-a-block with heroes and villains. The cast of the first movie are returning, which will now include Elizabeth Olsen as the Scarlett Witch and Aaron Taylor-Johnson as Quicksilver. James Spader is playing the lead villain, Ultron, while Thomas Kretschmann will play Baron Strucker.
Bettany's casting puts Age of Ultron and maybe even Ant-Man into a clearer lens. Ultron is a classic Marvel villain who was created by Dr. Hank Pym, who he looked at as a father figure. He eventually turned on Pym -- and humanity -- and went on to "father" his own creation, the synthetic orange-skinned android known as the Vision. Vision, in turn, rejects Ultron and joins the Avengers, eventually striking up a romance with the Scarlett Witch.
Michael Douglas is cast as Pym in Ant-Man, which opens July 17, after Age of Ultron, which is due to open May 1. It also offers up the possibility of Douglas appearing in the Avengers sequel.
It also begs the question of whether the movie takes a turn from the comic book canon and makes the Jarvis computer system the basis for the creation of Vision.
Bettany next appears in Alcon's Transcendence opposite Johnny Depp.
THURSDAY, FEBRUARY 6, 2014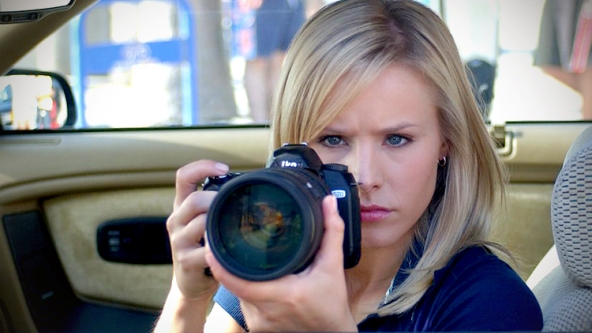 VERONICA MARS/RAVENWOOD - FAN FICTION
Fans of "Veronica Mars" and "Ravenswood" will soon be able to express their love in legal, lucrative fan fiction. Amazon has just announced that the two TV shows have been licensed for Kindle Worlds.
Under the Kindle Worlds program, the two Warner Bros. shows are valid topics for unaffiliated writers. Want to get Veronica and Duncan back together forever? That's a possibility. Writers could even change characters' fates on a show like "Ravenswood."
The really good part of this -- and the part that sets the program apart from normal fan fiction -- is that writers can get paid for their product.
"'Veronica Mars' fans are amazingly loyal and anything we can do to give them more access to her world and that of her character is great," says the show's creator, Rob Thomas, in an official statement. "I'm looking forward to seeing what new worlds and characters are created by fans and Kindle Worlds writers."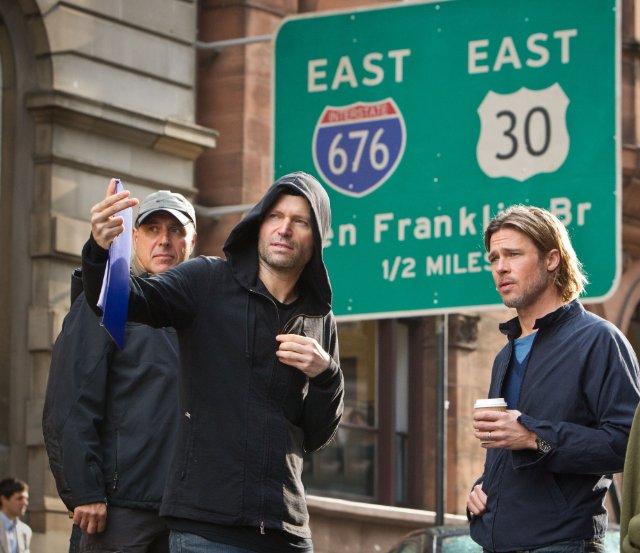 RED RISING
Even though World War Z was a box-office victory pulled from the jaws of defeat, director Marc Forster isn't coming back for a sequel. But he has another sci-fi project in the works.
Deadline reports that Forster has signed to direct Red Rising, based on a recently published science fiction novel by Pierce Brown. The author has already written a screenplay, and the project is being shopped around to studios. Here is the plot synopsis (via Slashfilm):
Darrow is a Red, a member of the lowest caste in the color-coded society of the future. Like his fellow Reds, he works all day, believing that he and his people are making the surface of Mars livable for future generations. Yet he spends his life willingly, knowing that his blood and sweat will one day result in a better world for his children.
But Darrow and his kind have been betrayed. Soon he discovers that humanity reached the surface generations ago. Vast cities and sprawling parks spread across the planet. Darrow - and Reds like him - are nothing more than slaves to a decadent ruling class.
Inspired by a longing for justice, and driven by the memory of lost love, Darrow sacrifices everything to infiltrate the legendary Institute, a proving ground for the dominant Gold caste, where the next generation of humanityÕs overlords struggle for power. He will be forced to compete for his life and the very future of civilization against the best and most brutal of SocietyÕs ruling class. There, he will stop at nothing to bring down his enemiesÉ even if it means he has to become one of them to do so.
Sounds kind of like a mashup of The Hunger Games, Metropolis and Total Recall to me. Nevertheless, this looks like it's going to be Forster's next film, since it was made pretty clear that he would not be returning for the followup to World War Z.
Even though that movie grossed $540 million worldwide, Forster had a tough time making the picture and reportedly clashed with producer/star Brad Pitt and the studio. The production was so troubled that the entire final third of the movie had to be rewritten and reshot, although in the end a movie predicted to be a colossal flop turned out to be a hit for Paramount Pictures (who probably won't get back in business with Forster for Red Rising).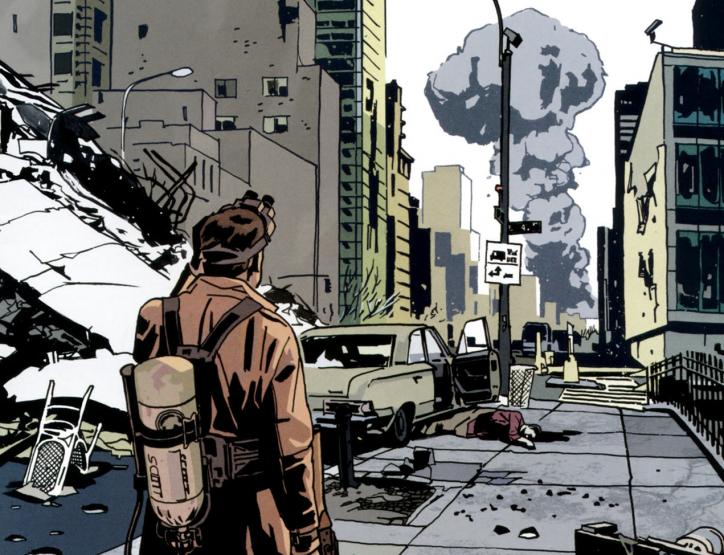 DMZ
Small-screen DC properties Arrow, Flash, Gotham and Constantine could have a bit more company soon, as Syfy is developing a series around the acclaimed future-set war comic DMZ.
The comic, created by Brian Wood and Riccardo Burchielli, ran from 2005 to 2012 on DCÕs Vertigo imprint. It was set in a near-future version of Manhattan, following a young man trapped in a demilitarized zone (hence the name DMZ) in the wake of a second American civil war.
The small-screen adaptation is being developed by Gravity producer David Heyman, along with longtime Mad Men executive producers Andre and Maria Jacquemetton. If you donÕt already realize it, thatÕs a pretty loaded resume of talent putting this one together, so itÕll definitely be a project to keep an eye on.
The comic was an edgy, alt-future take on war and is ripe for adaptation as a TV series. The plot followed the battle between the federal government of the United States of America and the secessionist groups that make up the Free States armies. ItÕs a great, politically tinged action story that could make for some smart, highbrow sci-fi if handled well. ODD THOMAS
The little boy from The Sixth Sense isn't the only one who sees dead people. So do the supernatural roommates of Being Human. The Winchester brothers in Supernatural have met the dead -- even Death himself. Let's not forget Norman in Paranorman. Now there's a new person with the ability to see those who have shuffled off their mortal coil. And it's Chekov from Star Trek.
We mean Anton Yelchin.
In this trailer for Odd Thomas, based on a novel by Dean Koontz, we meet Odd, the fry-order cook, whose particular talent isn't just flipping pancakes. But can he save his town from a swarm of chaotic evil ghosts?
Odd Thomas is the first book in the Odd Thomas series.
The movie will hit theaters in the U.S., as well as iTunes, on Feb. 28, 2014.

CAPTAIN AMERICA: THE WINTER SOLDIER
With less than two months to go before Captain America: The Winter Soldier hits theaters, The Walt Disney Company CEO Bob Iger has revealed that the Marvel Studios sequel will pave the way for 2015's Avengers: Age of Ultron and the repercussions of the blockbuster's storyline will also be felt on Marvel's Agents of S.H.I.E.L.D..
Iger did not reveal any specifics about what overall effect The Winter Soldier will have on the Marvel Cinematic Universe, but he did say that the stsoryline will "set critical events in motion" that leads to the May 1, 2015 release. In between the two films, Marvel will release James Gunn's Guardians of the Galaxy on August 1. Although it has already been revealed that the space adventure will expand on Thanos' brief appearance during the post-credits of Marvel's The Avengers, there's no word yet on whether o not that particular film will relate directly to Age of Ultron.
Directed by Anthony and Joe Russo, Captain America: The Winter Soldier stars Chris Evans, Scarlett Johansson, Samuel L. Jackson, Robert Redford, Sebastian Stan, Anthony Mackie, Cobie Smulders and Frank Grillo and hits theaters in 2D and 3D April 4.
WEDNESDAY, FEBRUARY 5, 2014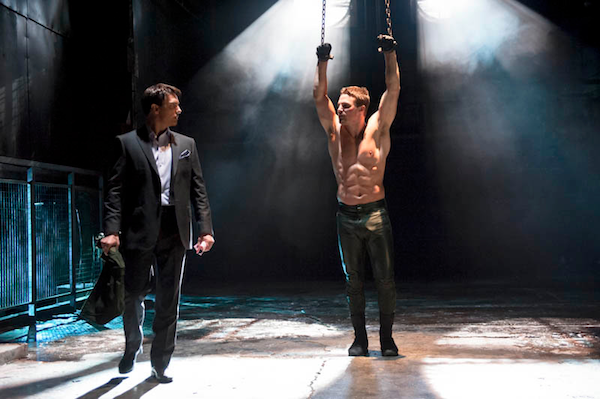 ARROW
With so many new baddies making their way to Starling City, youÕd think the creators of Arrow might be too busy to focus on an Òultimate foeÓ Ñ but it seems Oliver will definitely have his own, permanent archnemesis.
With all the focus on the League of Assassins, and the upcoming appearance of Nyssa al Ghul, the obvious choice for ArrowÕs Òultimate foeÓ could be first-tier DC baddie RaÕs al Ghul. Though producer Greg Berlanti promises thereÕs Òmore that will be revealedÓ about RÕas al Ghul in the coming weeks, heÕs apparently not destined to become ArrowÕs super-Big Bad.
So who is it? Our old friend Malcolm Merlyn (John Barrowman), aka the Dark Archer, himself. Berlanti promises that MerlynÕs recent reappearance will go on to have some major consequences, despite the fact that all the attention is focused on Slade/Brother Blood at the moment.
HereÕs what he told Digital Spy about the Dark ArcherÕs long-term plan:
ÒHe's the Dark Archer so he's an integral part of the show.He is the ultimate foe, but you want to use it in a way that it doesn't diminish who The Arrow is, you know? Obviously, we know that he's Thea's dad and there'll be other steps taken there. So we'll definitely be taking that story further this year.Ó
As huge fans of John Barrowman, weÕre glad to hear that he will definitely be a part of the seriesÕ deeper mythos. He was such a perfect foe and match in season one that we canÕt wait for him to regroup and start wreaking more havoc on Starling City.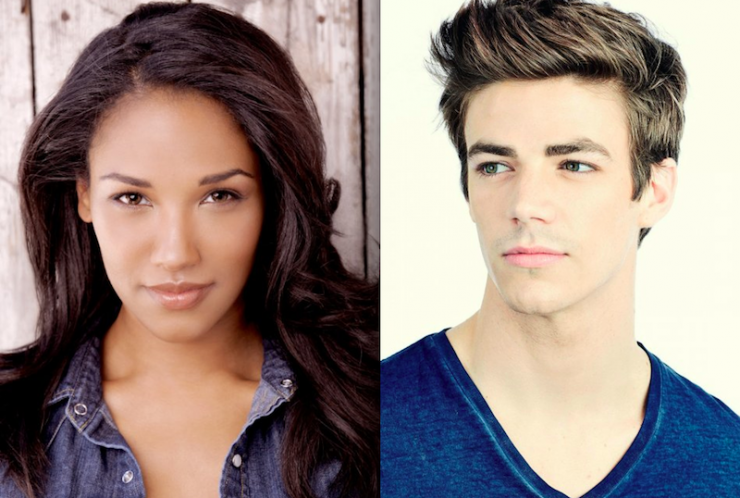 THE FLASH
The cast for The CW's Flash is filling out nicely, and now Grant Gustin's Barry Allen is getting a potential love interest. For those who enjoyed his stint on Arrow, you'll have to put your hopes for him and Felicity aside. This new woman is a huge part of Allen's story, and it's necessary for them to bring her in.
According to Deadline, Candice Patton has signed on to play Iris West. She's described as "AllenÕs fast-talking, quick-witted best friend who is also the daughter of Detective West (Jesse L. Martin), who serves as a surrogate father to Barry." Now, those of you who are familiar with The Flash comics know how important Iris is.
At one point she becomes Mrs. Barry Allen, and later her nephew, Wally West, takes on the Flash monicker. Iris is a very important piece of the Flash puzzle. As for the rest of the cast, it also features Rick Cosnett as Detective Eddie Thawne and Danielle Panabaker as Caitlin Snow. Patton has previously appeared on NBC's Heroes, HBO's Entourage and BET's The Game.
SCORPION
CBS has picked up its sixth drama pilot of the season -- and the second for Sleepy Hollow duo Alex Kurtzman and Roberto Orci.
Scorpion is inspired by Walter O'Brien's life and how the man with the fourth-highest documented IQ became a real-life Professor X. It centers on a an eccentric genius and his international network of super-geniuses who form the last line of defense against the complex threats of the modern age. O'Brien, who will produce, goes by the hacker name of Scorpion and serves as CEO ofScorpionComputerServices.com, a global think-tank for any funded problems. The show is centered on O'Brien's life and how he recruited and trained other geniuses from around the world to save lives and solve problems, from casino security to military drone warfare. Together, the geniuses have learned to help one another round out their personalities in order to better fit in and provide a greater benefit to society than they could working alone. Nick Santora (Prison Break,Breakout Kings,Vegas) will pen the script and executive produce alongside K/O Paper Products' Kurtzman and Orci. The drama hails from CBS Television Studios, where Santora and K/O are both under overall deals.
K/O Paper Products' banner president Heather Kadin and Perfect Storm Entertainment's Justin Lin will also exec produce, with the latter on board to direct the pilot. O'Brien is attached to executive produce. SB Films' Scooter Braun -- who manages Justin Bieber -- will also exec produce; Danny Rose is on board as a co-EP and Scott Manson will produce. Lin's Perfect Storm partners Danielle Woodrow and Troy Craig Poon will co-exec produce and produce, respectively. (For his part, Braun was teaming with Bieber for a semi-autobiographical comedy based on the singer's life at ABC.)
Scorpion, which landed at CBS as a put pilot in October, is one of multiple projects Kurtzman and Orci had in the works this development season. The drama is the second pilot order for the Star Trek duo, joining The CW's terrorism entry Identity.
For CBS, this brings the network's drama pilot haul to six. Last year, the network ordered 11 hourlong dramas.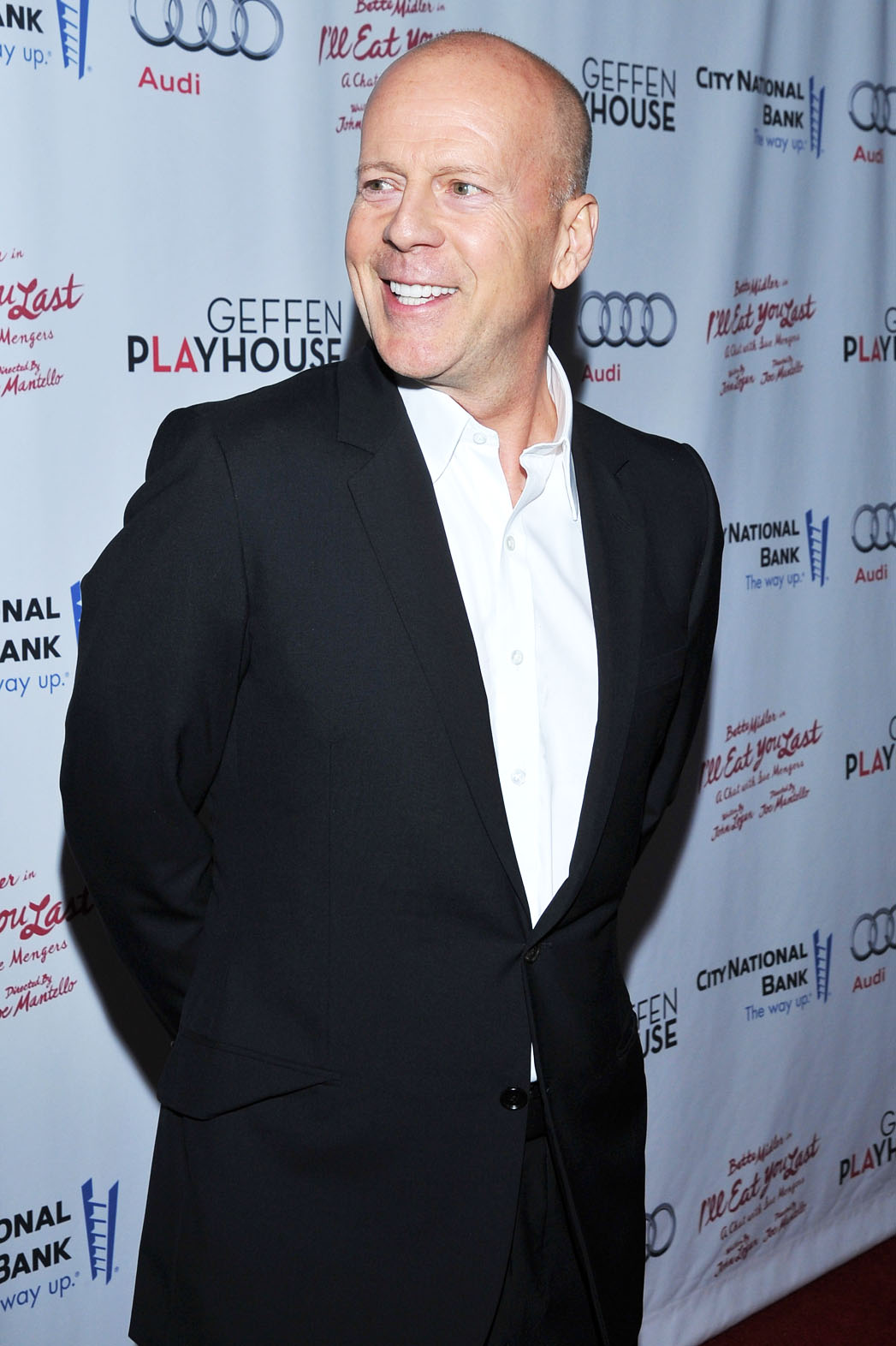 VICE
Berlin -- The Bruce Willis sci-fi action project Vice, to be directed by Brian A. Miller, will be shopped to buyers at EFM by German/U.K. sales and finance banner K5 International.
Willis stars alongside Ambyr Childers (The Master) and Thomas Jane (The Mist) in the film set on a futuristic resort where synthetic humans serve the rich who live out their darkest fantasies.
The humanoids are reset every night by the resortÕs owner played by Willis but one female employee Kelly (Childers) malfunctions and retains every terrifying memory.
Realizing what the tourists are doing to the staff members, she sets out to exact revenge.
Emmett/Furla/Oasis Films, whose box office hit Lone Survivor has taken more than $100 million in the U.S., is behind the production. K5 Media Capital is financing the picture alongside Emmett/Furla/Oasis Films.
Directed by Miller, Vice will be produced by Randall Emmett, George Furla of Emmett/Furla/Oasis Films and Adam Goldworm, executive produced by K5Õs Oliver Simon and Daniel Baur alongside Grindstone EntertainmentÕs Barry Brooker and Stan Wertlieb. Written by Andre Fabrizio and Jeremy Passmore (The Prince, upcoming San Andreas starring Dwayne Johnson), Vice begins shooting in Alabama in March.
K5 International is handling international sales and will be pre-selling at BerlinÕs European Film Market.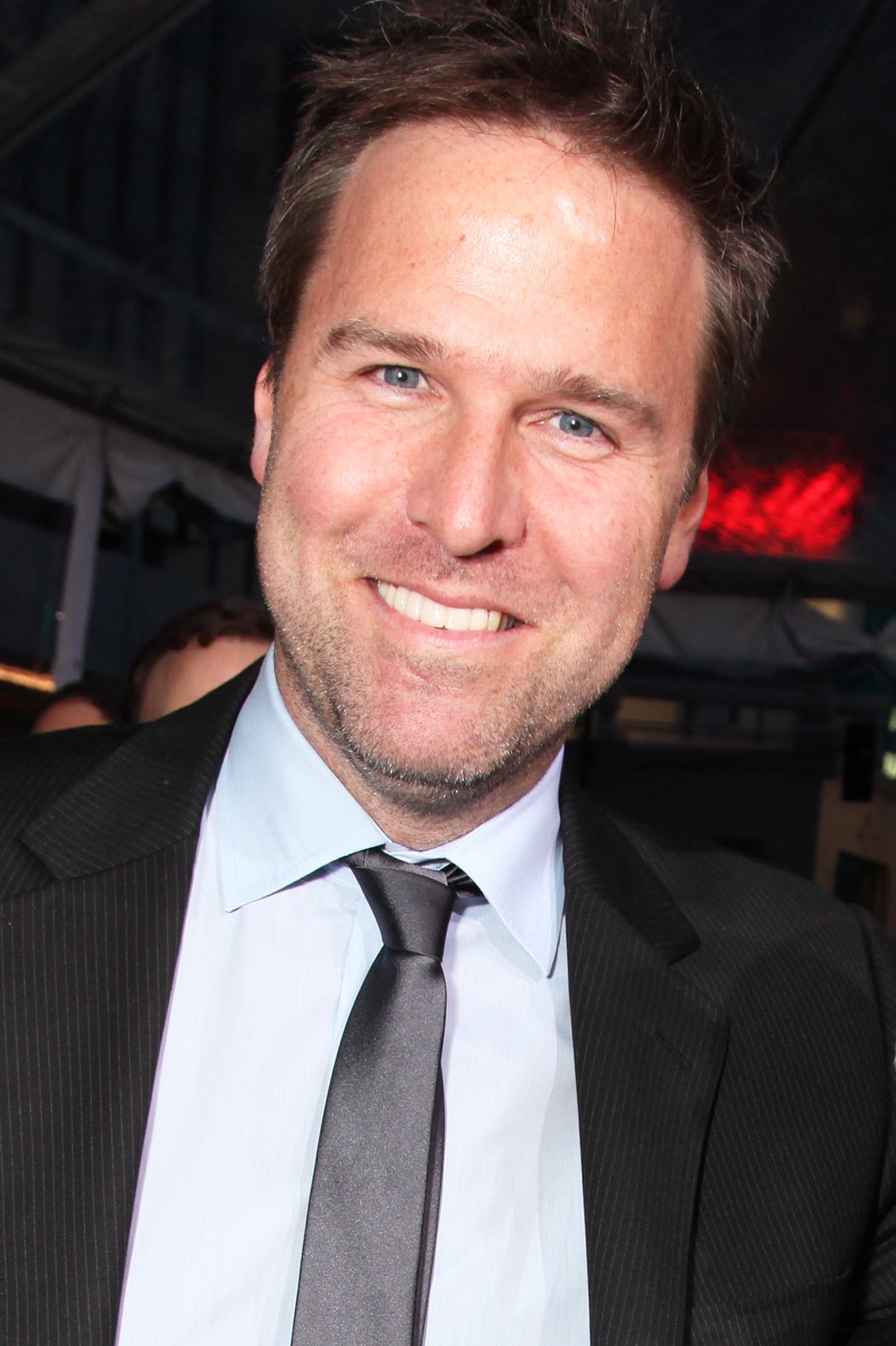 THE MESSENGERS
The CW has picked up its sixth drama pilot of the season.
The network has ordered The Messengers, a sci-fi drama from feature producer Basil Iwanyk, The Hollywood Reporter has learned.
The Messengers centers on a group of seemingly unconnected strangers who die from an energy pulse after a mysterious object crashes down to Earth. They awaken to learn that they have been deemed responsible for preventing the impending apocalypse.
Thunder Road's Iwanyk (The Town, The Expendables, Clash of the Titans) will executive produce the CBS Television drama. Eoghan O'Donnell (Teen Wolf) will pen the script and co-executive produce alongside Kent Kubena and Ava Jamshidi.
The pilot order brings The CW's tally to six, two off from last year. Messengers joins Arrow spinoff The Flash, Identity, Rob Thomas' iZombie, Jane the Virgin and Supernatural spinoff Supernatural: Tribes.
This marks the latest sci-fi drama in the works at the young-skewing network that will launch similarly themed midseason dramas Star-Crossed and The 100.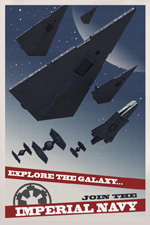 STAR WARS REBELS
Following this morning's Imperial propaganda posters, the shroud of mystery surrounding Disney's plans for "Star Wars Rebels" is slowly being pulled back. Jedi News managed to get their hands on a company shareholder letter that reveals that the series is targeted to launch this summer with a Disney Channel movie.
"[W]eÕre introducing 'Star Wars Rebels' to television audiences this summer with a movie and a series of shorts on Disney Channel," the letter reads, "followed by a continuing series on Disney XD."
"Star Wars Rebels" is set between the events of "Episode III" and "IV" Ñ an era spanning almost two decades never-before explored on-screen. It takes place in a time where the Empire is securing its grip on the galaxy and hunting down the last of the Jedi Knights as a fledgling rebellion against the Empire is taking shape.
The show will be produced by Lucasfilm Animation, featuring many of the key talents that made "Star Wars: The Clone Wars." The full series is expected to debut this fall.
TUESDAY, FEBRUARY 4, 2014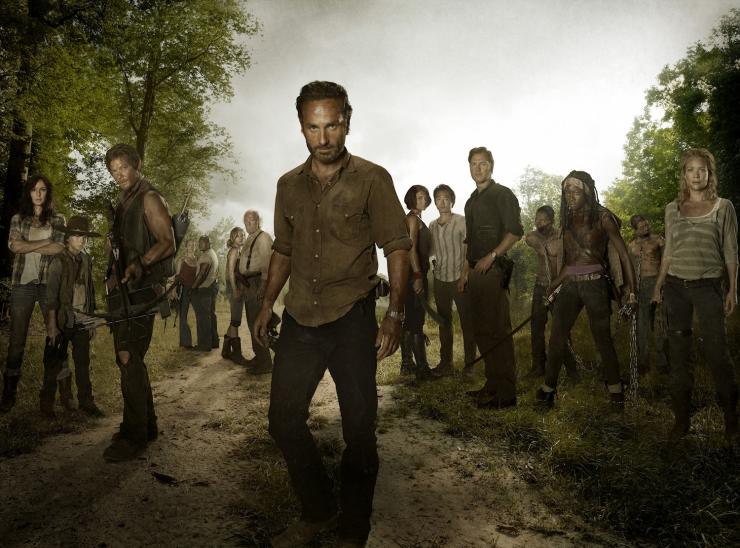 THE WALKING DEAD
POTENTIAL SPOILERS AHEAD
Sure, it mightÕve seemed like the GovernorÕs storyline had come to an end on The Walking Dead, but we apparently will get to see David Morrissey at least one more time this season.
The scoop comes via TV Guide, which was dropping some major hints about the back half of season four in anticipation of the seriesÕ return this week. Though we saw the GovernorÕs arc come to an inglorious (and seemingly final) end, it seems the former King of Woodbury has at least one more appearance left.
HereÕs the excerpt:
Don't expect to see too many familiar faces since Rick and Carl take center stage when the AMC drama returns. While Rick heals from his beating from The Governor Ñ whom you will see again Ñ Carl will lose something very important to him. (No, not his innocence!) In other news, it won't be long before [MichonneÕs backstory] is blown wide open.
Of course, that doesnÕt tell us exactly how the Governor will be back, which leaves open a boatload of options. This could certainly refer to a flashback scene, or he could even return as a hallucination or in a dream. The most fun option? Undead Governor, kicking butt and eating brains! HereÕs hoping.
WeÕre also psyched to hear weÕll get to dig into MichonneÕs backstory some more. SheÕs grown into a key member of the group, and we know less about her than anybody. SheÕs a fascinating character, as anyone who has read the comic knows, and weÕre glad sheÕll get a little more time to shine.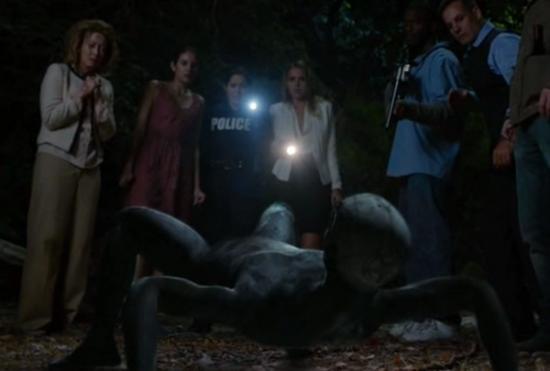 THE AFTER
Good news, X-Files fans -- we finally have our first look at Chris CarterÕs new sci-fi series, The After, and it looks positively epic.
The Amazon Studios series Òfollows eight strangers who are thrown together by mysterious forces and must help each other survive in a violent world that defies explanation,Ó and Carter has managed to keep most of the secrets very close to his vest. Though the first footage is action-packed, it still manages not to tell us too much.
The 1+ minute clip doesnÕt offer up many details, but it does set a pretty massive tone for the series, and it arguably looks to be one of the biggest pilots Amazon has worked on up to this point. The scene basically shows pure anarchy on a city-wide scale, as nobody knows what the heck is going on.
If youÕre looking for a point of reference, it bears some striking similarities to the opening episode of ABCÕs ill-fated Flashforward, as far as the scope is concerned. There are also some undercurrents of Lost in there, as well, as there seem to be secrets piled on top of more secrets.
The series stars Sharon Lawrence (Drop Dead Diva), Adrian Pasdar (Heroes), Jamie Kennedy (Ghost Whisperer), Aldis Hodge (Leverage), Andrew Howard (Limitless), Arielle Kebbel (The Vampire Diaries), Jaina Lee Ortiz and Louise Monot. The pilot is expected to debut online at some point within the next few months, and at that point the studio will make a pickup decision based on public input.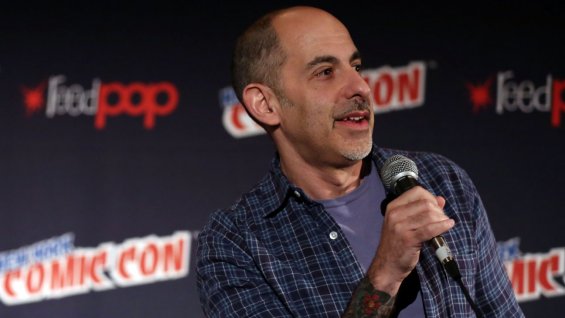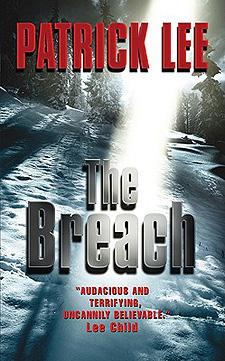 THE BREACH
David S. Goyer is going back to the director's chair with a new, intriguing sci-fi thriller called The Breach.
According to The Hollywood Reporter, the Man of Steel and Batman vs. Superman scribe -- who's also penning NBCÕs Constantine TV series as well as StarzÕs Da VinciÕs Demons -- will direct the adaptation of the New York Times bestseller written by Patrick Lee and published in 2009. Justin Rhodes wrote the script, and itÕll be produced by Lorenzo di Bonaventura, with Nellie Stevens-Reed of Goyer's production banner Phantom 4 co-producing.
Here's what The Breach is about:
The story centers on a corrupt ex-cop who is trying to get his life back in order when he discovers a crashed plane in the Alaska wilderness. The first lady is among those dead in the wreckage. That sets off an adventure featuring a beautiful survivor, assassins, a secret organization, alien technology and an end-of-the-world scenario.
Goyer had optioned the book late last year and developed it independently with di Bonaventura with the clear intent of directing the sci-fi thriller.
It only went to the studios last week, with Warner Bros., Fox, Relativity and Millenium showing interest in the project. However, Lionsgate nabbed the project and is now showing interest in fast-tracking The Breach.
David S. Goyer's previous directing gigs include Blade: Trinity, The Invisible and The Unborn.
The Breach is the first in a trilogy of novels which includes Ghost Country and Deep Sky. AGENTS OF S.H.I.E.L.D.
The on-off schedule is a bit wonky for ABC's Agents of S.H.I.E.L.D., but the small-screen Marvel spinoff is new again this week Ñ and hereÕs our first look.
The episode looks to follow the team as they search for the mysterious Clairvoyant, and that mission takes them on a high-speed train full of enemy agents. WeÕd imagine this new footage is the cold-open, which shows Agent Ward getting jumped and having to fight his way out of a train car.
This TuesdayÕs new episode will also mark the beginning of the highly touted Deathlok arc, with Mike Peterson (J. August Richards) fighting the enemy within for his freedom to see if heÕll rejoin S.H.I.E.L.D. or become a new nemesis. The pitch definitely has potential, and we can't wait to see what they do with it. This episode also features that Stan Lee cameo, so keep an eye out for Excelsior, as well.
Though it had a few logic gaps, the most recent episode set at the S.H.I.E.L.D. academy was one of the showÕs strongest hours, so hereÕs hoping Joss Whedon and company are finally hitting their stride.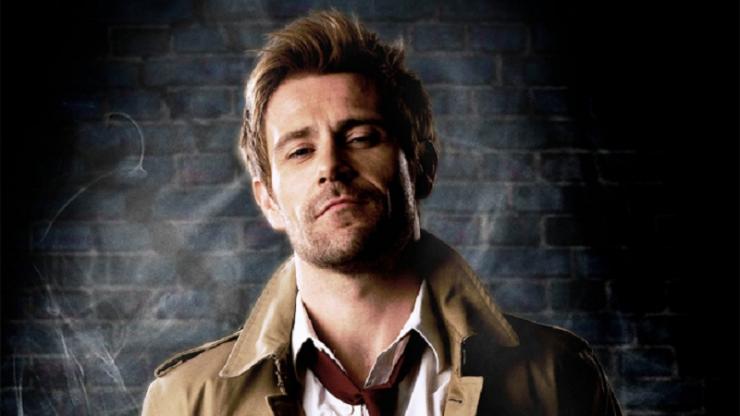 CONSTANTINE - TV SERIES
We may not yet know whoÕll step into the shoes of the titular character of NBCÕs upcoming Constantine TV show, but we know at least one very, very important thing: HeÕs going to be British.
Well, we actually know two important things. Stick with us, guys, we'll get there.
According to Bleeding Cool, the TV show's John Constantine will be unlike the last big-screen version of the character who was played by a dark-haired and very American Keanu Reeves back in 2005.
This time, the magician/occult detective and chain-smoking con man will be a Londoner (instead of being born in Liverpool, as per the comics) and will speak with a British accentÑjust like his Hellblazer comic-book iteration.
So that probably means nabbing an actor from the other side of the pond, now, doesnÕt it? Perhaps someone a bit like Tom Mison from Sleepy Hollow ... unless an American or Canadian actor can totally do a killer British accent, which is still very much possible.
Not only will Constantine be a Brit, but he'll also sport the mop of blond hair that he does in the comics (John Constantine's look was based on that of music legend Sting, after all).
Being blond and British may be superficial traits, you'll say, and you'll be right; but that's how John Constantine was created, and, more importantly, thatÕs how the NBC powers-that-be want him. WhatÕs really important is that the actor chosen for the role of Constantine actually nails the world-weariness and cleverness we've come to know and love on the page. DIVERGENT
The excitement over the first installment of the Divergent trilogy is turning into such a fan frenzy that even the trailer is getting teased.
An action-packed clip from the upcoming film, based on the best-selling novel by Veronica Roth, aired on Jimmy Kimmel Live! on Monday night, ahead of Tuesday's unveiling of the full preview.
Set in futuristic Chicago and starring Shailene Woodley and Theo James, the adventure is is being touted as the next Hunger Games, and its stars made a dramatic entrance via zipline as they flew onto the stage, looking a little shaken as they touched down to chat with Kimmel.
When asked if that is something they do in the movie, Shailene replied, "No, we just do it in life. Traffic is just insane."
British actor James is best known for his role in Downton Abbey. "I had a big wig on. It was 20 minutes of... yeah. Can you imagine actually dying, mid... you know," he said, while trying to politely explain how he died "after making love to Lady Mary," as Kimmel described his demise.
Divergence tells the story of Beatrice "Tris" Prior (Woodley) who challenges the authoritarian leadership of the city, which is divided into five factions: Abnegation (for the selfless); Amity (for the peaceful); Candor (meant for the honest); Dauntless (for the brave); and Erudite (for the knowledgeable).
Those citizens who fail to be categorized are dubbed as "divergents," and when Tris uncovers a conspiracy to destroy the outcasts, she sets out to discover why they are deemed a threat to society.
Predicted to transform them into teen idols like Jennifer Lawrence, Kristen Stewart and Robert Pattinson, Jimmy asked the young stars if they had "really thought about it before accepting the roles."
"You have to think about it and contemplate how it will change your career and your life, but at the same token, you don't know what anything will be and you can't predict the future," said James.
Shailene went on to reveal that, "the lack of anonymity is the biggest factor, taking on a movie like this, but you never know."
In the special sneak peek, viewers got to see a teaser of the film, as Tris reveals in a voiceover: "A hundred years ago our founders created a system they thought would create lasting peace. They divided society into five factions. Everyone is tested to determine who we are and where we belong."
But Tris is an exception. "It is not impossible, it is just extremely rare -- you are able to control and conquer your fears, they call it divergent," she is told. "You don't fit into a category, they can't control you You can't trust anyone." "Fear doesn't shut you down, it wakes you up, that's what makes you dangerous," James' character, Four later tells her. Directed by Neil Burger from a screenplay by Evan Daugherty and Vanessa Taylor, the film also stars Kate Winslet, Ansel Elgort, Miles Teller, Jai Courtney, Ashley Judd, Zoe Kravitz and Maggie Q.
Divergent opens in theaters on March 21.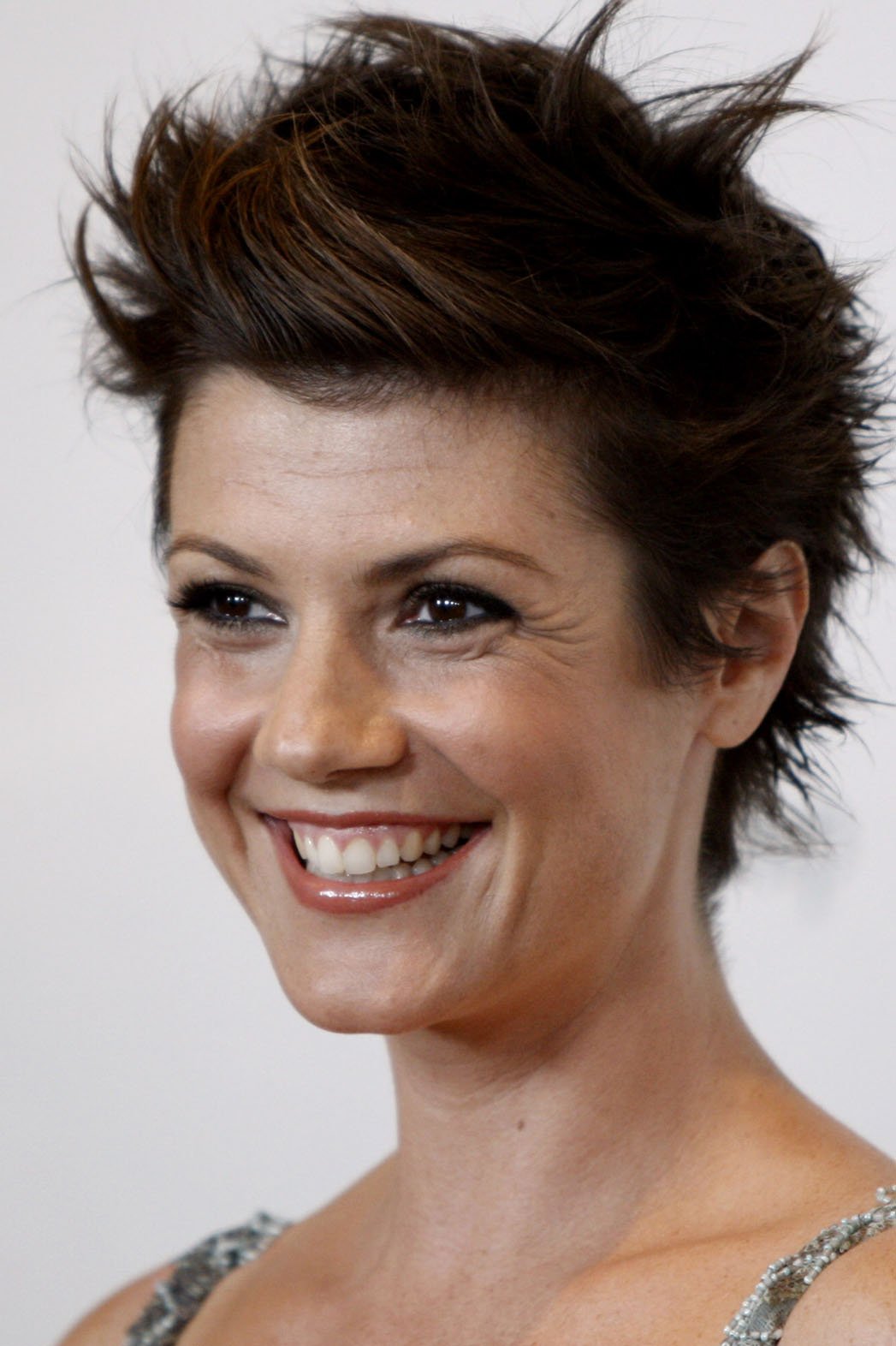 NCIS: NEW ORLEANS
CBS' NCIS spinoff set in New Orleans has found its female lead.
JAG alum Zoe McLellan will play Special Agent Brody, The Hollywood Reporter has learned.
The character is described as a Midwestern transplant and the show's fish-out-of-water. Brody arrives in New Orleans looking for a fresh start and a safe haven to heal old wounds.
Set to air in the spring, the two-part planted pilot centers on the NCIS New Orleans office, which handles cases from Pensacola through Mississippi and Louisiana to the Texas panhandle. New Orleans, with its rich setting of music, fun and debauchery is a magnet for military personnel on leave -- and with fun comes trouble.
NCIS showrunner Gary Glasberg and star Mark Harmon will executive produce the spinoff. Looking's Scott Bakula will star as Special Agent Pride.
For her part, McLellan, whose credits include Dirty Sexy Money, played Jennifer Coates on seasons seven through 10 of JAG; NCIS started as a backdoor pilot from that offshoot of the CBS drama. The actress is repped by Domain.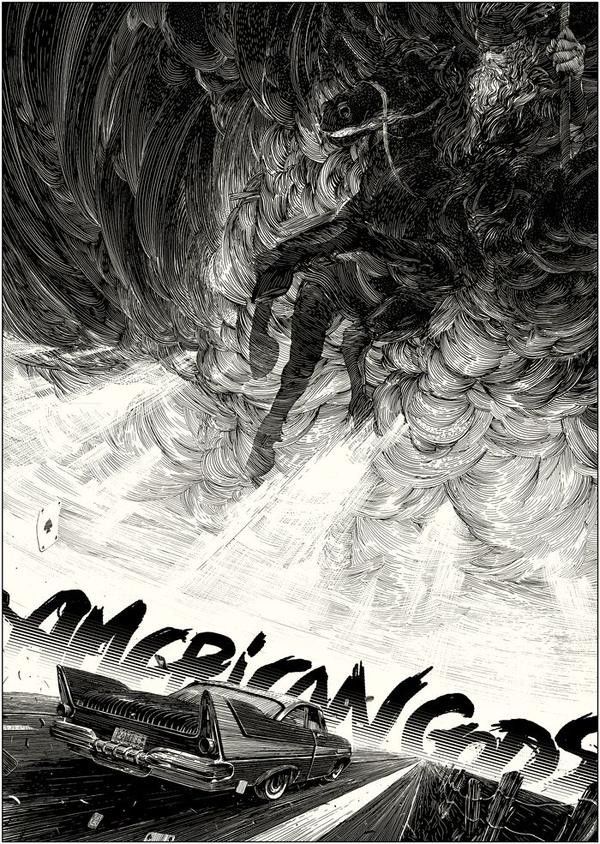 AMERICAN GODS
Plans to bring Neil Gaiman's bestseller American Gods to the small screen are back on track today FremantleMedia reveals that it has secured the rights to the fantasy novel and has Gaiman himself set to executive produce a television series adaptation.
The plot posits a war brewing between old and new gods: the traditional gods of biblical and mythological roots from around the world steadily losing believers to an upstart pantheon of gods reflecting societyÕs modern love of money, technology, media, celebrity and drugs. Its protagonist, Shadow Moon, is an ex-con who becomes bodyguard and traveling partner to Mr. Wednesday, a conman but in reality one of the older gods, on a cross-country mission to gather his forces in preparation to battle the new deities.
Initial (and now-defunct) plans for a small screen take on American Gods were first announced back in 2011 when Tom Hanks and Gary Goetzman's Playtone were planning on bringing the project to HBO.
At the moment, there are no specific details available as to how exactly FreemantleMedia is planning to adapt the book, but check back for updates as soon as they become available.
MONDAY, FEBRUARY 3, 2014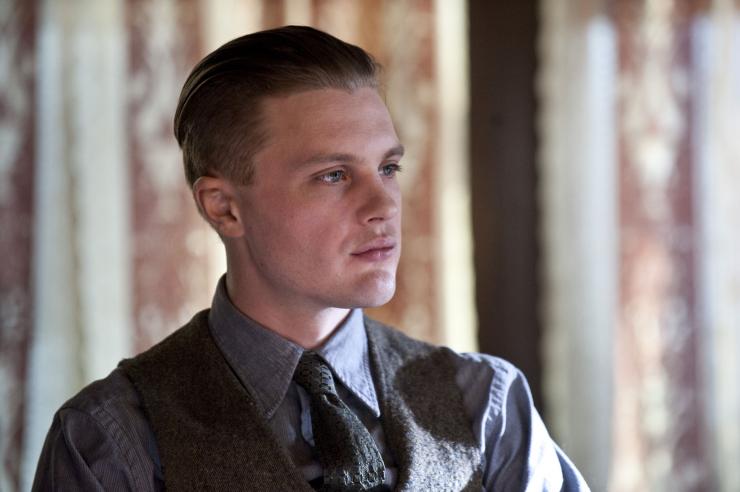 HANNIBAL
Another important chapter in the Hannibal Lecter legend kicks off with some big casting news.
One of the great things about Hannibal's debut season, among many other elements, was its ambition. Bryan Fuller is determined not just to tell his own Hannibal Lecter tales, but also to take the classic Thomas Harris characters and explore them in new ways. Now NBC has announced that Boardwalk Empire star Michael Pitt will join the cast late in Hannibal's second season as another Harris character: the rich but disturbed Mason Verger.
First introduced in Harris' 1999 novel Hannibal (and played by Gary Oldman in the film adaptation of that book), Verger is a patient of Lecter's who is left severely and permanently mutilated and disabled after a drug-fueled session with the doctor. By the time we meet him in the novel, the disfigurement has already happened, and Verger is plotting to get revenge on Lecter by feeding him to a group of ravenous, wild boars. Pitt, obviously, will play a version of the character who hasn't experienced this yet (if he'll experience it at all), and according to EW, he'll be engaging in a "cat-and-mouse" game with Lecter. Katharine Isabelle, of Ginger Snaps, American Mary and Being Human fame, has been cast as Verger's sister, Margot. In the Hannibal novel, Margot is molested by Verger as a child, and their relationship as adult siblings is rather disturbing as a result, but it's unknown whether the TV series will pursue that particular plotline, or Verger's pedophilic tendencies overall.
Wherever Fuller decides to take the Verger family, it's clear he's set to take the series into even more ambitious (and potentially terrifying) territory with this addition. We'll see Lecter and Verger face off later this year.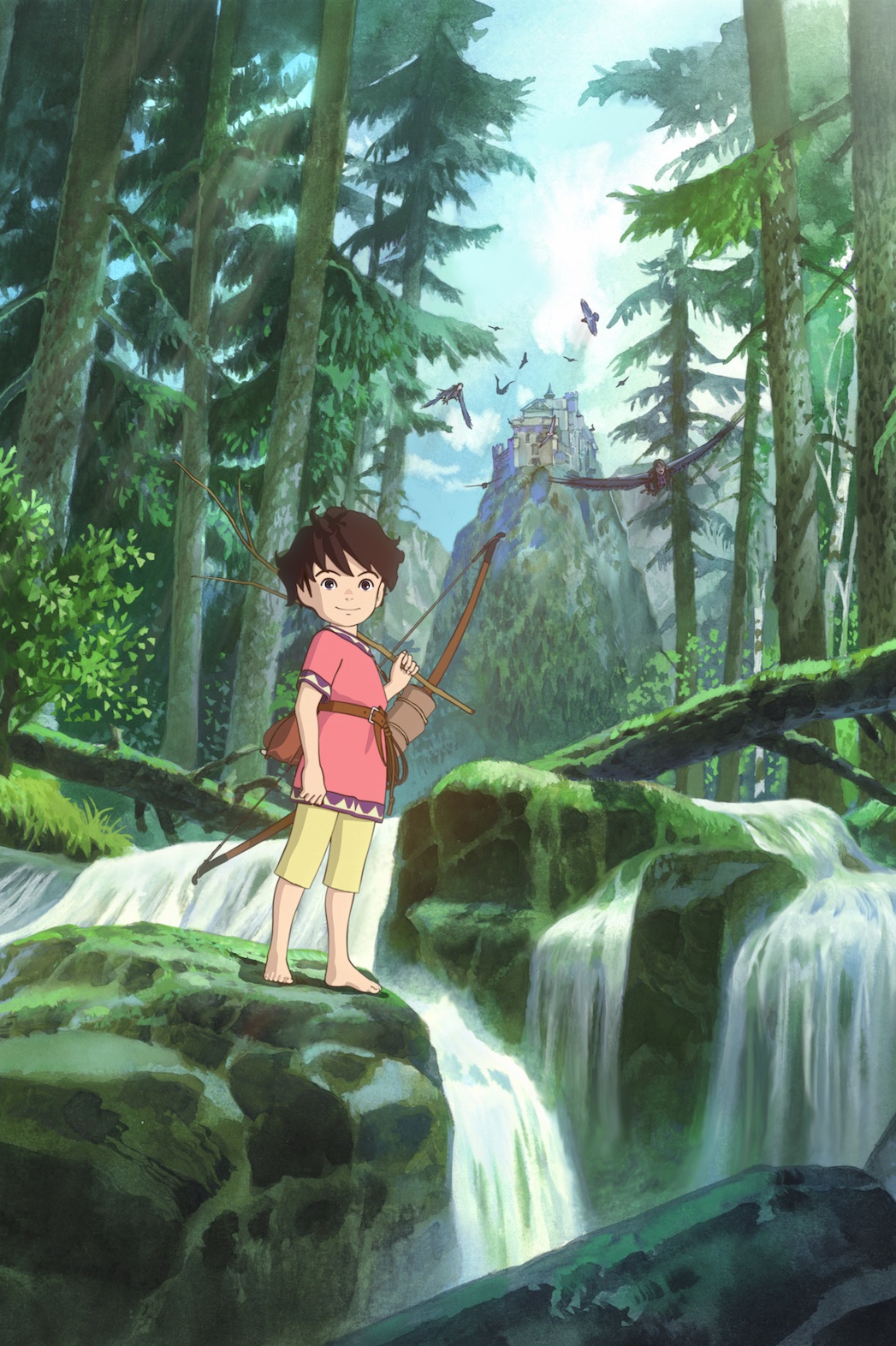 RONJA THE ROBBER'S DAUGHTER
Studio Ghibli is to produce its first TV anime series, to be directed by Goro Miyazaki, son of recently retired studio founder Hayao Miyazaki. A 3D CG adaptation of Swedish author Astrid Lindgren's children's book Ronja the Robber's Daughter (Sanzoku no Musume Ronja), it will be produced in collaboration with Polygon Pictures, Dwango and NHK Enterprises. The show is scheduled for broadcast in Japan this fall.
NHK Enterprises is a subsidiary of Japan's public broadcaster, and the series will air on BS Premium, one of NHK's satellite channels.
The series will tell the tale of the daughter of a bandit clan's chief, and her adventures in the mysterious forest in which they live.
"The story is not just about a girl growing up, but also about the development and love of the parent-child relationship, and a story about the ties between friends," according to Goro Miyazaki.
The book was filmed in 1984 by Tage Danielsson, winning a Silver Bear at the 1985 Berlin International Film Festival and becoming the biggest grossing film of the year in Sweden.
Miyazaki made his directing debut in 2006 with Tales from Earthsea (Gedo Senki), after staying away from the world of animation in his younger years. Focus on him has increased since his acclaimed father announced his retirement from making anime features last year.
Tokyo-headquartered Polygon Pictures has worked on animated CG productions including Star Wars: The Clone Wars and Transformers Prime. THE AMAZING SPIDER-MAN 2
The Amazing Spider-Man 2 hit the Super Bowl Sunday with two big game spots teasing the upcoming sequel.
It's not the first look fans have from the Marc Webb-directed sequel. Sony released a lengthy trailer in early December, and teased an epic Time Square battle with a teaser released Dec. 31.
The Amazing Spider-Man 2 reunites Andrew Garfield (Peter Parker/Spider-Man) with costar Emma Stone (Gwen Stacy), and welcomes series newcomers Jamie Foxx (Max/Electro), Dane DeHaan (Harry Osborn), Paul Giamatti (Rhino) and Chris Cooper (Norman Osborn).
The new four-minute sizzle, titled "Enemies Unite," opens with Peter (Garfield) and Aunt May (Sally Field) arguing over his inability to do the laundry because the last time he attempted to do so, he turned everything "blue and red." "I was washing the American flag," stutters Peter in his search for a reasonable explanation without blowing his Spider-Man cover to the "Laundry Sheriff."
It's clear Peter is far more comfortable in his Spider-Man skin than in the previous film, and the trailer capitalizes on that, infusing Max's fascination with the celebrity that now surrounds everybody's favorite web-slinger. "I wish I was like him," he says. Be careful what you wish for.
When Electro and Spider-Man have their Times Square showdown, things between the acquaintances get off on the wrong foot when Spider-Man feigns not remembering who Electro is. And when Peter discovers that Oscorp had had him under surveillance, things go from bad to worse. "Nothing is what I thought it was," Peter says.
In another light-hearted moment, when Aunt May catches a dusted-up Peter in his bed, she questions him on his lack of cleanliness. "I was cleaning the chimney," Peter lies. "We have no chimney...," Aunt May says in response. "What???" The film hits theaters May 2, with plenty more of Spider-Man to come. The third and fourth films centering on the web slinger are already on the slate, with Venom and The Sinister Six spinoffs also in the works. MUPPETS MOST WANTED Walt Disney Pictures aired a new spot for Muppets Most Wanted during the Super Bowl pre-game and we have it here.
The March 21 release takes the entire Muppets gang on a global tour, selling out grand theaters in some of Europe's most exciting destinations, including Berlin, Madrid and London. But mayhem follows the Muppets overseas, as they find themselves unwittingly entangled in an international crime caper headed by Constantine--the World's Number One Criminal and a dead ringer for Kermit--and his dastardly sidekick Dominic, aka Number Two, portrayed by Ricky Gervais. The film stars Tina Fey as Nadya, a feisty prison guard, and Ty Burrell as Interpol agent Jean Pierre Napoleon. TRANSFORMERS: AGE OF EXTINCTION
Paramount Pictures has revealed the first footage from Michael Bay's Transformers: Age of Extinction in the film's Super Bowl spot.
Opening in theaters and IMAX on June 27, the action adventure stars Mark Wahlberg, Jack Reynor, Nicola Pietz, Stanley Tucci, Kelsey Grammer, Sophia Myles, Li Bingbing, T.J. Miller, Han Geng and Titus Welliver.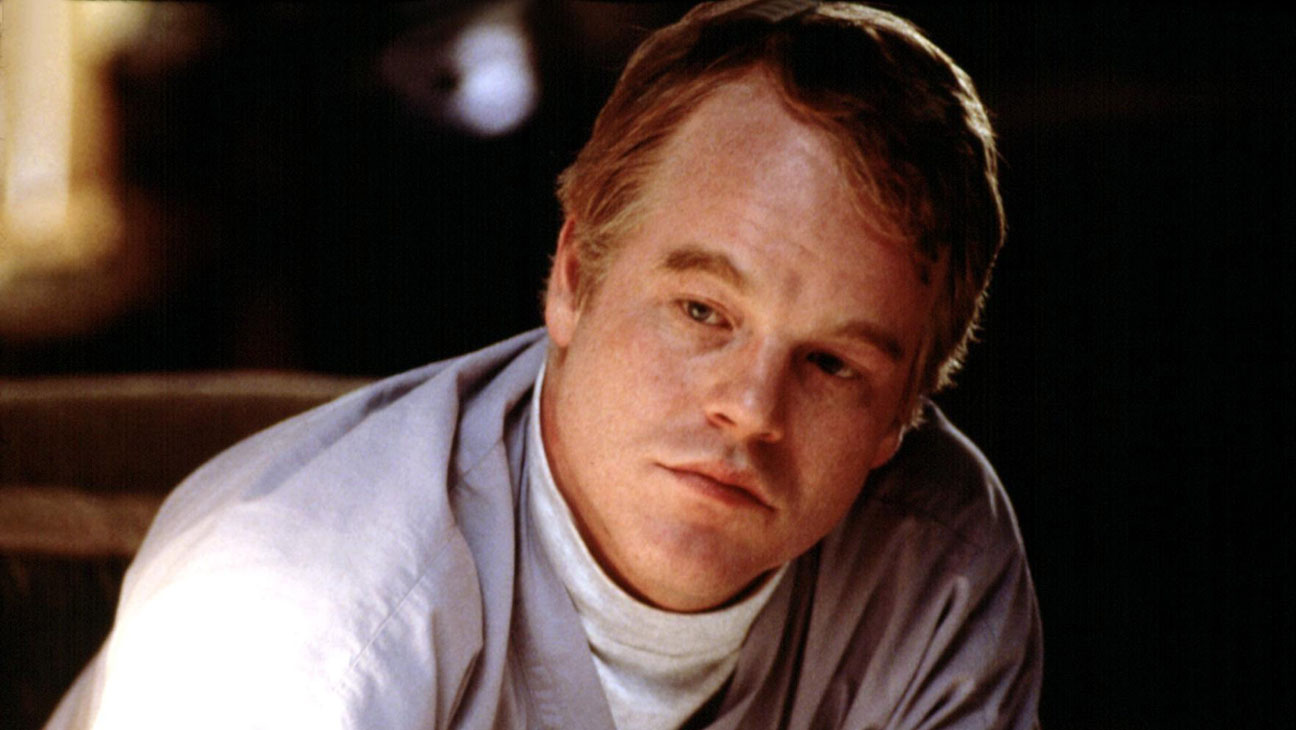 PHILIP SEYMOUR HOFFMAN
The world has lost an amazing actor as Philip Seymour Hoffman died Sunday. He was an amazing talent, starring in such films as Boogie Nights, Magnolia, Charlie Wilson's War, and The Big Lebowski.
The Hollywood Reporter writes: No announcement has yet been made, but tradition decrees that Broadway lights will be dimmed later this week in memory of Hoffman. For those of us lucky enough to have seen this brilliant, mercurial actor's stage work, that solemn occasion will also serve as a reminder of the countless great theater roles he still had left to play.
We are sad to see someone so talented die too young.
SUNDAY, FEBRUARY 2, 2014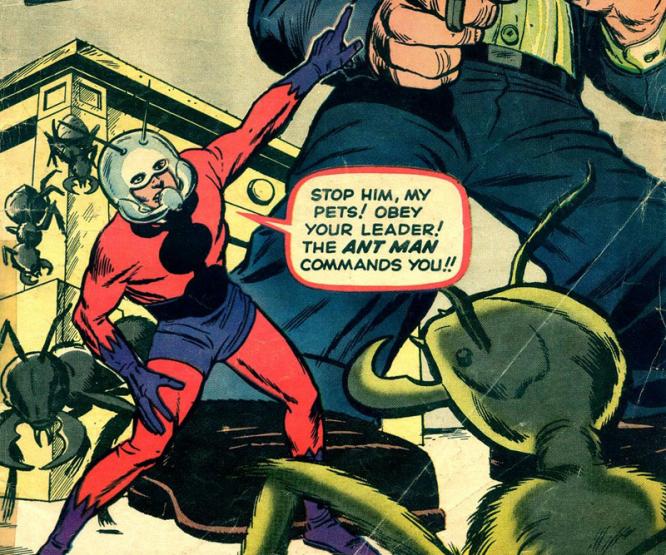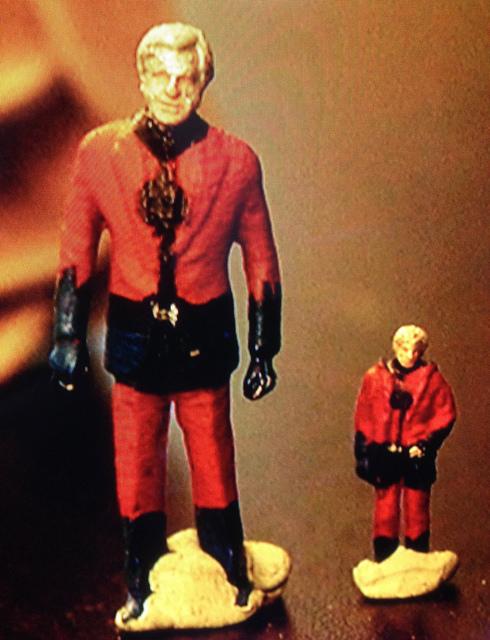 ANT-MAN NEWS
Looks like Edgar Wright could be planning to hit us with a little '60s Ant-Man style.
After years of development, Wright's long-awaited Ant-Man film is finally emerging from the shadows and taking shape before our very eyes. The film's got two stars in Paul Rudd and Michael Douglas, a prime July 2015 release date, and a completed script. Now all that's left is to shoot the thing so we can finally see it, and luckily for us, that means we'll likely get some new glimpses of the film's look as production ramps up.
Of course, a big part of the fun of waiting for more Ant-Man developments is that Wright himself has so far been rather playful about it, dropping little teaser photos now and then to get us talking and get us excited. The week before we got the news that Douglas would play an older version of the first Ant-Man, Hank Pym, while Rudd would play the second Ant-Man, Scott Lang, Wright posted a screencap on his website from the Avengers: Earth's Mightiest Heroes episode in which Lang first steals Pym's Ant-Man suit and becomes the diminutive superhero. Whether he was deliberately pointing us toward the eventual Scott Lang announcement or just having a laugh, it's enough to make us sit up and pay attention any time Wright posts something that could be Ant-Man-related.
With that in mind, it was a little exciting to see this image pop up on Wright's website this week.
The picture is (perhaps deliberately) low-def, but it seems to show two Ant-Man miniatures (an image from just a few days earlier shows a much more nondescript miniature figure standing in a miniature hallway) at two different scales. The face certain has similar structure to Douglas', and the color scheme and design look very much like Pym's original Ant-Man costume.
So, what can we learn from this? Well, perhaps nothing, but given that Wright has spoken in the past about his desire to kick off his movie with a portrayal of Pym having adventures as Ant-Man in the '60s, this could be a hint that we will indeed see Pym in action in his classic costume, and in two different sizes to boot. And, given that Wright teased a Scott Lang development a week before the Scott Lang news hit, the timing of this teaser could also mean we'll see an official costume reveal soon. That's just little old me speculating, though, so don't get your hopes up.
Ant-Man hits theaters July 17, 2015.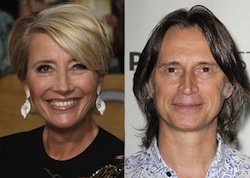 THE LONG MIDNIGHT
An adaptation of Douglas Lindsay's The Long Midnight of Barney Thomson (the first book in his "Barney Thomson" series) is on the way to the big screen, Variety reports. Emma Thompson, who recently starred in Saving Mr. Banks, will headline opposite Robert Carlyle (Trainspotting), who will also be using the project to mark his directorial debut.
Richard Cowan and Colin McLaren are providing the adapted screenplay for the comedy thriller, which will feature Carlyle as the titular Thomson, a Scottish barber who haplessly stumbles into a new life as a serial killer. Thompson, then, will play the character's vicious mother.
The project, which could foreseeably, like the books, launch a franchise, will also feature roles for Ewen Bremner and Ray Winstone.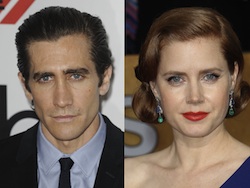 EZEKIEL MOSS
Amy Adams and Jake Gyllenhaal are, according to The Hollywood Reporter, set to headline the upcoming Ezekiel Moss. The project was first announced back in the fall of 2012 when Philip Seymour Hoffman to direct.
The film is a depression era ghost story about a young, imaginative boy living in a small dead end town who befriends a mysterious drifter who may or may not have the supernatural ability to communicate with the dead. Gyllenhaal will play that drifter (the titular Ezekiel Moss) while Adams will play Iris, the mother of the young boy who begins to fall in love with Moss.
The Black List voted the script, written by Keith Bunin, one of the top ten scripts of 2011. The film is a Likely Story and Mandalay Pictures production in association with Hoffman's CooperÕs Town Productions. Bregman and Schulman will produce. Stefanie Azpiazu of Likely Story, Adam Stone of Mandalay Pictures and Emily Ziff of Cooper's Town Productions will also produce. Sara Murphy of CooperÕs Town will co-produce.
POMPEII
TriStar Pictures has released the Super Bowl spot for Paul W.S. Anderson's Pompeii hitting theaters on February 21. The action adventure stars Kit Harington, Carrie-Anne Moss, Emily Browning, Adewale Akinnuouye-Agbaje, Paz Vega, Jessica Lucas, Jared Harris and Keifer Sutherland.
Set in 79 A.D., Pompeii tells the epic story of Milo (Kit Harington), a slave turned invincible gladiator who finds himself in a race against time to save his true love Cassia (Emily Browning), the beautiful daughter of a wealthy merchant who has been unwillingly bethrothed to a corrupt Roman Senator. As Mount Vesuvius erupts in a torrent of blazing lava, Milo must fight his way out of the arena in order to save his beloeved as the once magnificent Pompeii crumbles around him.
SATURDAY, FEBRUARY 1, 2014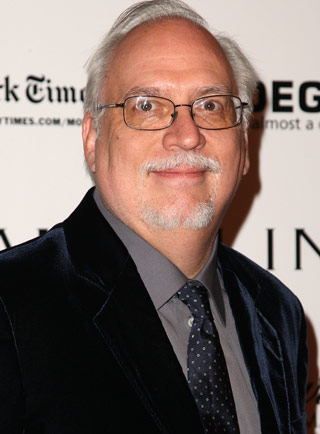 INTERVIEW WITH JMS - 20th ANNIVERSARY INTERVIEW
How do you think "Babylon 5" would do in today's TV landscape?
I think it would do well. The fans are still out there clamoring for it. ... If we were to launch that show today, obviously you update the CGI and some of the makeup and wardrobe and some of the stories, but I think it would do as well now as it did then, maybe even better.
To read the entire interview, go to Zap2It.com.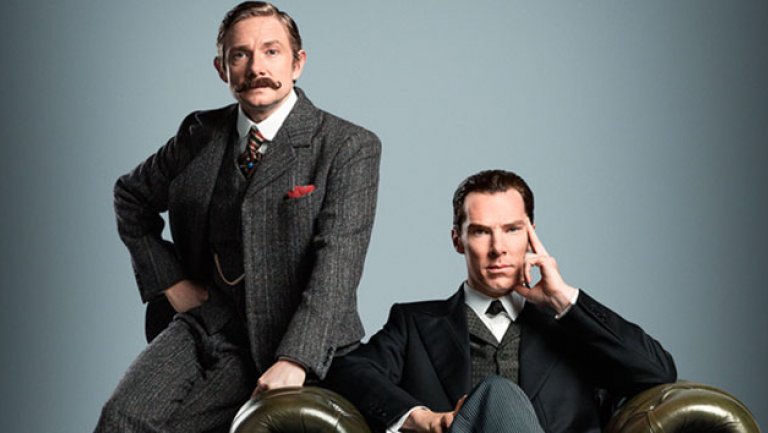 SHERLOCK
Sorry, "Sherlock" fans looking for a swift return for Season 4 -- producers Steven Moffat and Sue Vertue aren't planning to rush the detective show back into production. While not ruling out a Christmas 2014 return for "Sherlock," it sounds like a later date is more likely.
Moffat and Vertue share the sad news in a recent interview with Collider.com. The producers also dish on busy actors and other work to do.
Don't expect a 'Sherlock' Christmas present
Rumors seeming to originate from the BBC (which produces "Sherlock") have indicated a return date for "Sherlock" Season 4 of Christmas 2014. Vertue isn't so sure that's a possibility. "I've seen that talk too. It's just a hope," she explains. "I can't see that we'd have a [season] by Christmas. But we'll do what we can. I'm not being secretive about it. I just don't know when we're going to shoot it."
Blame scheduling for everything
Shooting and availability schedules seem likely as the cause of all delays when it comes to "Sherlock." That's fair when you figure on the producers working on "Doctor Who" and the actors' growing film careers, plus Martin Freeman's starring role in FX's "Fargo." They still try to work around it.
"I've also got to do 'Doctor Who.' I've got no choice about that. That's the day job," Moffat says. "It's a matter of when everyone's available and when Mark [Gatiss] and I think we've got a strong enough script. We're quite picky. We want every episode of 'Sherlock' to be really, really good."
Audiences should not think that anyone wants to delay production though. "The will is there. They want to do more," Vertue says. "It's just trying to get everyone free at the same time ... Benedict [Cumberbatch] said, 'I'm free in February,' and I said, 'But we haven't got a script!'"
At least there are plans ...
While the producers don't know when they'll film Seasons 4 and 5, they do know what those seasons might look like. Moffat confirms that plans for Season 4 are set, and Season 5 is ready to follow:
"It's really [Season] 4 that we've got, but it throws forward to a terrifying [Season] 5. It wasn't a planned thing. We had just got out of the rain and because we don't have the lovely big trailers that Benedict and Martin have, we had to go sit in the accountancy department and we just talked about what we could do. We just started having what I think are the best set of ideas we've ever had. I think they're just wild. And when I say ideas, it's what stories we'll tackle, what big twists there will be, what gut punches there will be, and what surprises there will be, and I think it's really exciting."
Fans may just have to wait awhile for that excitement to hit their televisions. For now, the Season 3 finale of "Sherlock" airs Sunday (Feb. 2) on PBS.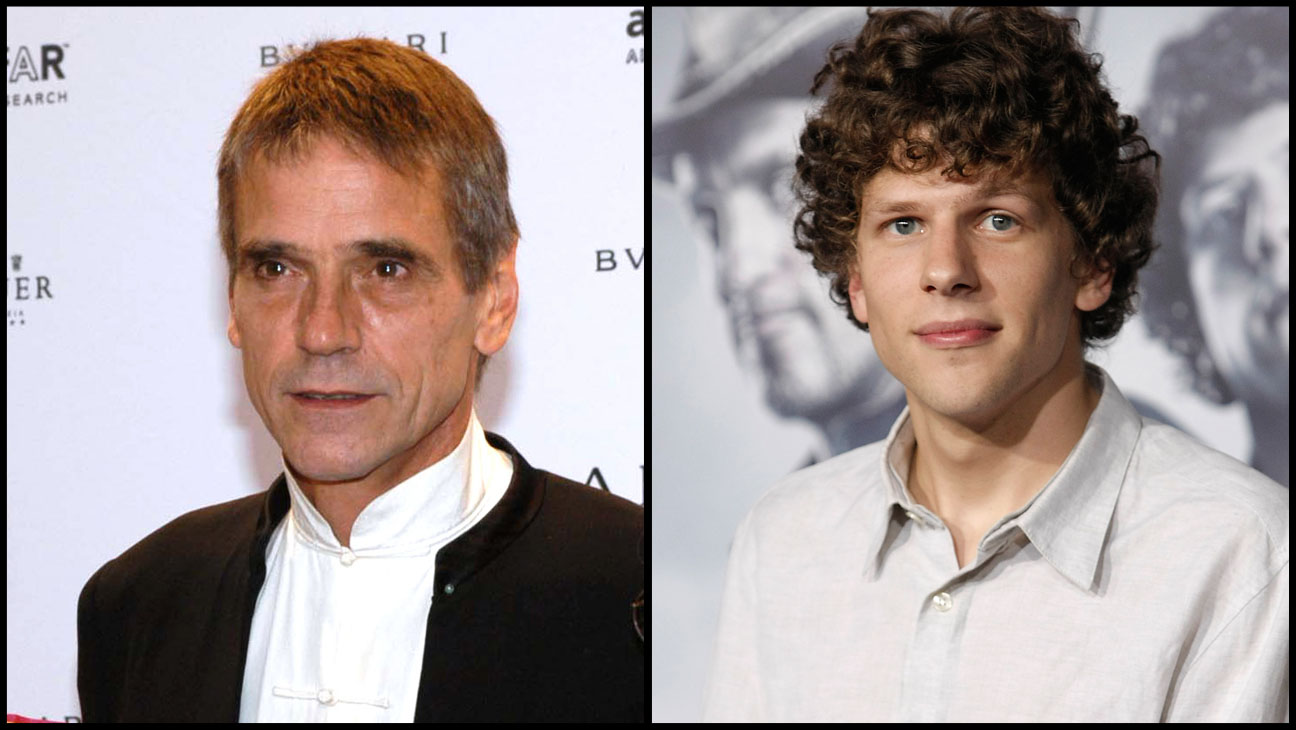 BATMAN VS. SUPERMAN NEWS
Earlier today, Warner Bros. dropped a bomb on its comic-book fans. It made two casting announcements for its Man of Steel sequel, Batman vs. Superman. First, Jeremy Irons has been cast as Batman's confidante and butler, Alfred.
But Irons wasn't the problem. He's not the one who made Twitter, Facebook, Tumblr and the Internet, as a whole, explode. Jesse Eisenberg holds that honor, as it was confirmed that he'd play Superman's archrival, Lex Luthor. For the most part, the reactions have been either indifferent or negative. Indifferent because some people have given up on Snyder's vision, and negative because Eisenberg doesn't fit the "look" they wanted.
Personally, I'm willing to give Eisenberg a shot. Why? Because he's a ridiculously talented actor who has a lot to bring to the table, and because his type and presence give us exactly the kind of foil that works against a superhero who has been shown to be the ultimate expression of physical power. As fans, we don't know what version of Luthor the writers are going for. Does he have to be a cartoonish megalomaniac like Gene Hackman and Kevin Spacey's Luthor? Or should he be an imposing guy that wears robotic battle suits in his spare time?
When I saw Eisenberg's name, I immediately thought of Michael Rosenbaum from Smallville. His Lex Luthor started off as morally ambiguous and eventually became a slimy politician whose desire for power had no bounds. I think that's the route they could take with Eisenberg. He's very smart and quick-witted. He's in no way a physical threat to Superman, but what Luthor lacks in stature, he makes up for in intellect.
To me, it's less about Eisenberg, and more about the script. They obviously wanted Luthor and Superman to be as different as possible. If they write Luthor as cunning and manipulative as he should be, we're in for a treat. I'd like to see him as an insecure businessman who's notorious for using intimidation tactics. He can do more damage with his words than his fists, and he doesn't need an imposing build when it's his brain that does the heavy lifting.
Batman vs. Superman is part of a much bigger story. So we need a Lex Luthor who has an unlimited supply of Kryptonite on tap. We need a villain who hires a team of other villains to do his dirty work. We need someone so underhanded that he could bring Superman to his knees without lifting a finger. Luthor isn't some meathead off the street. He's always been a man with a plan. I like the idea of the most dangerous person being the one you least suspect. Eisenberg can give us that.
The bottom line: It's not always about the looks, but the challenge. Superman needs someone who pushes him to his breaking point, who forces him to ask for help without overpowering him. Eisenberg's shown us he can be that guy. Cue the Justice League.
CAPTAIN AMERICA: WINTER SOLDIER
A teaser for the Captain America: The Winter Soldier Super Bowl TV spot has appeared online, and itÕs full of explosive goodness.
The 16-second clip features more of Sebastian StanÕs Winter Soldier, as well as brief shots of Col. Nick Fury (Samuel L. Jackson), Black Widow (Scarlett Johansson), the Falcon (Anthony Mackie) spreading his wings and, of course, our good olÕ Captain America himself (Chris Evans).
It boasts lots of action and explosions (hooray!) and has Cap on his motorcycle trying to outride a menacing fighter jet -- as well as an ominous face-off with his former BFF.
The full trailer will air during this SundayÕs Super Bowl.
Captain America: The Winter Soldier will be released in theaters on April 4.
LEFT BEHIND
The always-crazy Nicolas Cage is starring in a remake of the religious thriller Left Behind, and the first clip has landed online. Yeah, this could be interesting.
For the uninitiated, Left Behind is based on the religious book series written by Tim LaHaye and Jerry Jenkins, which focuses on people left behind after the Rapture. Cage plays Ray Steele, a jumbo jet pilot who has half the occupants of his plane vanish into thin air during a flight. Cage is joined by TV vet Chad Michael Murray (One Tree Hill) and a cast of relative unknowns.
As the official synopsis puts it:
Emergency forces everywhere are devastated. Gridlock, riots and looting overrun the cities. And there is no one to help or provide answers. In an instant, the earth has been plunged into darkness...this is the story of the Rapture, the story of those LEFT BEHIND.
The long-running book franchise was made into a series of semi-low-budget films in the early-to-mid 2000s starring Kirk Cameron, and flew largely under the mainstream radar. But word of a reboot actually generated a little buzz when news broke that theyÕd signed legit (albeit insane) movie star Nic Cage to star.
No release date has been announced yet, but the first clip was dropped online, showing Cage in a personal, quiet moment.
CAPER
The superheroes are turning to a life of crime in the new comedy superhero series Caper, developed by Felicia DayÕs Geek & Sundry channel. Why? Hey, you got to pay the rent.
The online comedy series was developed by Amy Berg (Eureka, Leverage) and Mike Sizemore, and follows a team of superheroes who are forced to start pulling heists and capers just to make rent on their apartment. Crime may not pay, but it apparently pays a lot better than being a hero. Go figure.
The trailer is a bit clunky, but we have faith in Felicia DayÕs Geek & Sundry channel, so weÕll definitely give it a chance. The show stars Abby Miller (Justified), Beth Riesgraf (Leverage), Harry Shum Jr. (Glee), and Hartley Sawyer (Glory Daze).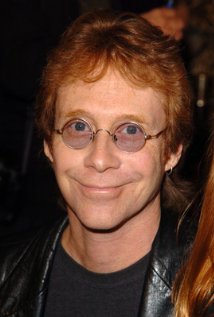 HAPPY BIRTHDAY, BILL
Today is Bill Mumy's birthday. Be sure to drop him a line on his Facebook page to wish him the best.
BACK ISSUES OF THE ZOCALO TODAY
The front page of the The Zocalo Today changes daily, so be sure to check the back issues to make sure that you haven't missed anything IMPORTANT! I hope you will become a regular visitor to The Zocalo Today!
---
Take care and I look forward to hearing from you.
Sandra Bruckner (sgbruckner@aol.com)
Editor/Publisher
ISN News: The Zocalo Today
http://www.isnnews.net
Copyright - SBruckner, 1999-2013