[an error occurred while processing this directive]

The Zocalo Today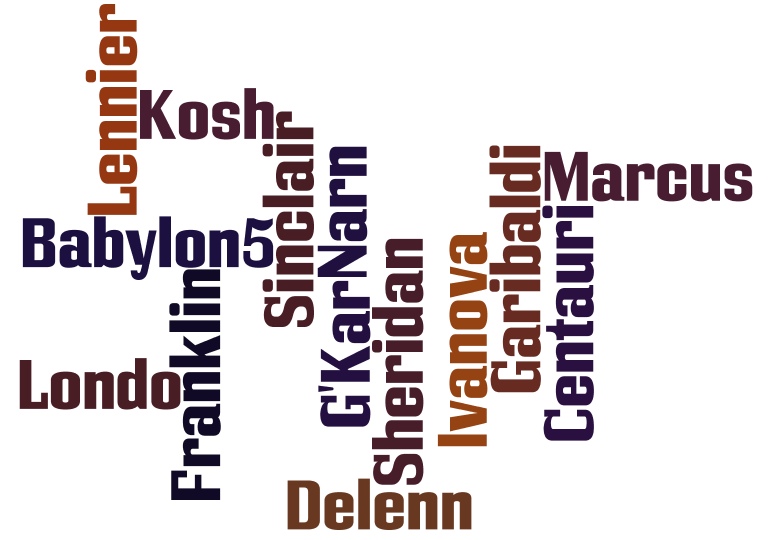 Welcome and thank you for dropping by. Babylon 5 brought many of us together -- and it remains with us, despite the fact that is no longer in production. The good thing is that the internet gives a LOT of ways to stay in touch. Don't be shy. Join in the discussion today or drop by Facebook or Twitter.

If you have questions or items for the news, drop me a line at sgbruckner@aol.com.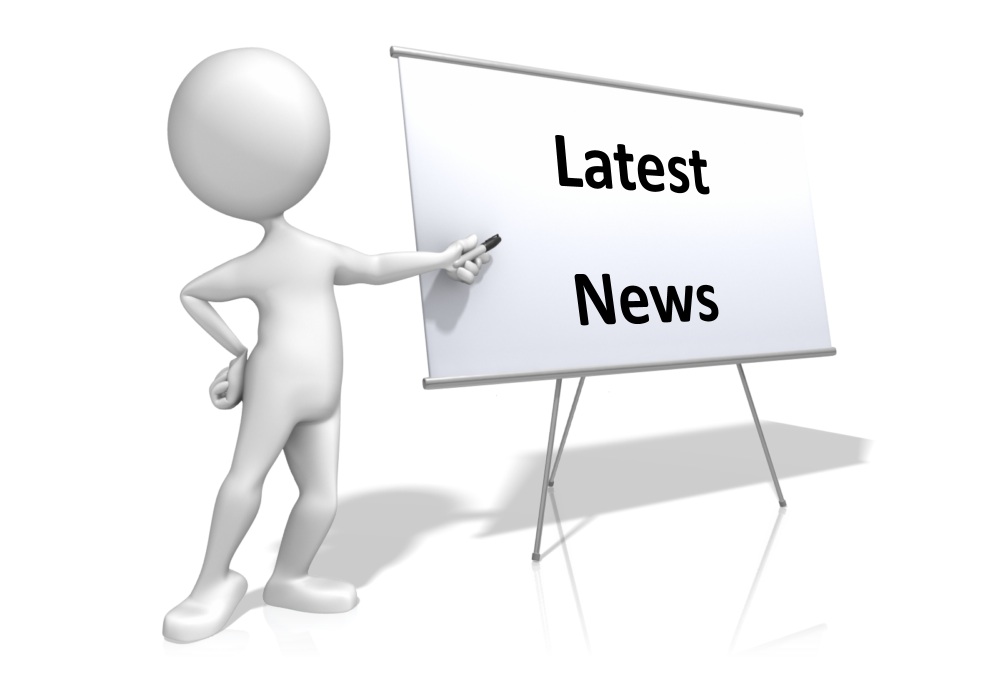 SUNDAY, JANUARY 19, 2014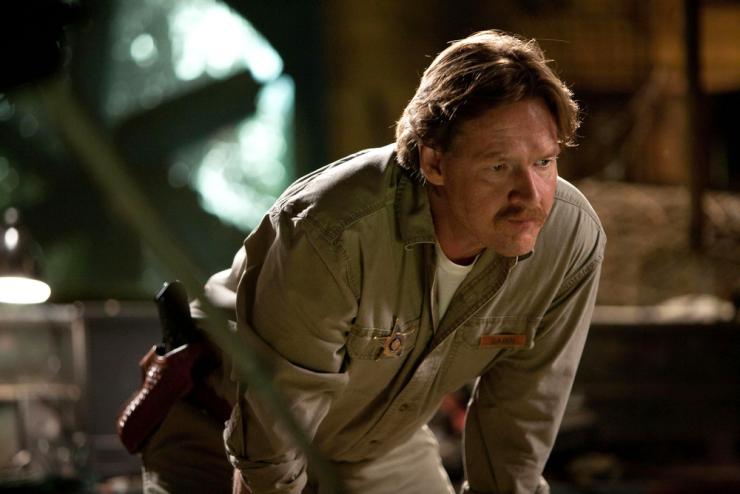 GOTHAM NEWS
You may have heard some stories about Sons of Anarchy actor Donal Logue. Well ...
Tiny tidbits and rumors are hard to keep under control, especially when a show has only been recently announced and casting hasn't been officially finalized. In that spirit, we originally balked when we heard rumors that Donal Logue would be playing the part of Jim Gordon on the upcoming Gotham series. The source was good, but Logue denied it and, frankly, it just didn't feel like smart casting. Logue as Gordon? Nah. Not the right fit.
But today we got an update. Seems there'd been a mistake and the rumor now makes a lot more sense. The character Logue's actually supposedly playing is ...
Detective Harvey Bullock.
Now, THAT makes sense. In the comics (and the '90s animated series) Bullock was an older cop, on the beat for years, and so he's jaded and, on occasion, even flat-out corrupt. In the instance of Gotham, the story will allegedly be changed so that Bullock is a mentor to Gordon.
And, well ... that works for us. Good casting, interesting dynamic. So we're running with this rumor because it just makes sense.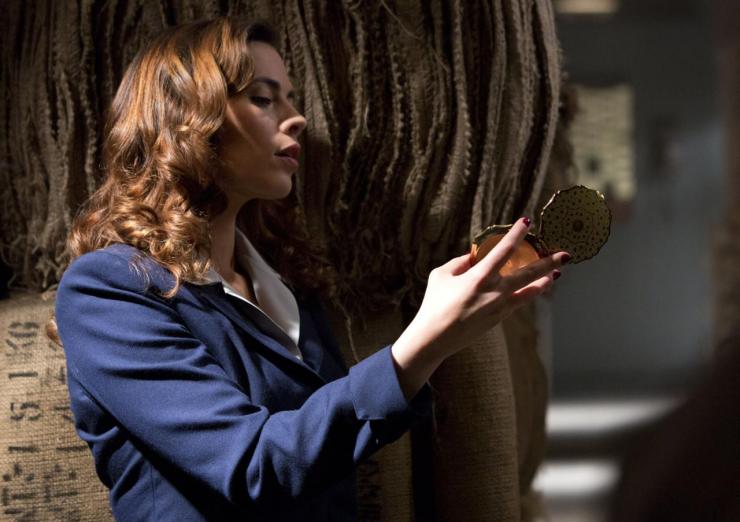 AGENT CARTER
Aside from the fact that it's in development, we haven't heard much about Marvel's Agent Carter series — but now we finally have some new details. For example, here's who'll be calling the shots behind the scenes.
The Wrap is reporting Tara Butters (Reaper, Dollhouse) and Michele Fazekas (Resurrection) have signed on to executive produce the new series, which has reportedly locked up Captain America star Hayley Atwell to reprise her role as Peggy Carter. The stellar 2013 one-shot short Agent Carter gave fans a glimpse of how the series could work, and it was a hell of a lot of fun.
The script for the pilot has also been turned in, and it was written by none other than Captain America scribes Christopher Markus and Stephen McFeely, so it should definitely have the right vibe. Sadly, the new producing duo didn't offer up any details about their approach, with Fazekas joking: "You know Marvel. I think they send Captain America after you. But we're involved in it."
No word yet on who might be co-starring, though fellow Captain America: First Avenger alum Dominic Cooper (Howard Stark) recently told Collider he'd been chatting with Atwell about the project. The company didn't lock him into a long-term contract at the time, but Cooper said he'd love to return if the elder Stark is a part of the sci-fi spy period piece. Which, judging by the Agent Carter short, is pretty likely.
Here''s an excerpt from that interview:
"Yeah, I saw Hayley Atwell recently and she mentioned the whole idea of the Carter thing since the short. So yeah, any way that Stark could make a comeback I'd be well up for it, because he's a really fun character to play and he's so influential in the backbone of what they become. So I love being part of it and they're an incredible group of people to be working with. They're making some extraordinary stuff … So I'd be well up for doing anything like that."
The first Captain America was easily one of the most fun Marvel movies to date, and the period setting had a lot to do with that. As the recent Agent Carter short showed, there are still a lot of cool stories left to mine from the early days of S.H.I.E.L.D., when the agency is still getting off the ground. Plus, it might actually have what big brother Agents of S.H.I.E.L.D. has been sorely missing — that rag-tag feel that makes the battle against evil so much darn fun and entertaining.
With the series seemingly coming together on the back end, it also begs the question of where it might land. An ABC exec told the crowds at the ongoing TCA press tour the series "certainly has a good chance to be on the network," and corporate synergy led flagship series Agents of S.H.I.E.L.D. to ABC. But, that massive Netflix deal shows Marvel is not afraid to mix things up. So, that'll be an interesting storyline to follow.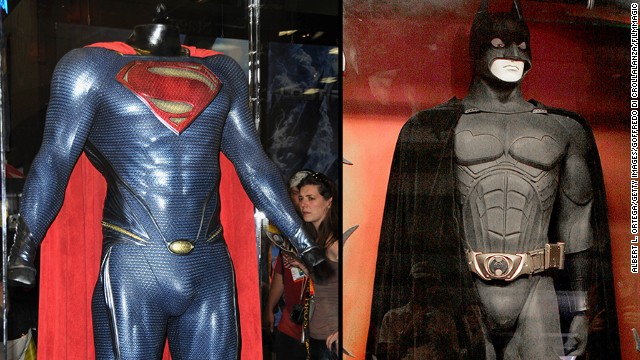 BATMAN/SUPERMAN DELAYED
Superman and Batman fans will have to wait another two years before the two superheroes meet on the big screen.
Warner Bros. Pictures decided to delay the release of the so-far untitled movie until May 6, 2016, to give "filmmakers time to realize fully their vision, given the complex visual nature of the story," the studio said Friday.
The Zack Snyder-directed production had been scheduled for release on July 17, 2015.
"We know that there is already great anticipation building for the next super hero film from Zack Snyder, and we are equally eager to see what he has in store for Superman and Batman as they share the big screen for the first time ever," said Veronika Kwan Vandenberg, president of Warner Bros. Pictures' international distribution.
Henry Cavill will reprise his Superman/Clark Kent role, while Ben Affleck will step into the Batman/Bruce Wayne character. Amy Adams, Laurence Fishburne and Diane Lane will also be in the film, with Gal Gadot as Wonder Woman/Diana Prince.
It may not be much consolation to those fans, but Warner Bros. also announced that a new Peter Pan adventure film will take the July 17, 2015, release slot vacated by Superman and Batman.
"Peter Pan has delighted people of every generation for more than a century, so we are thrilled to bring him back to the screen next summer for today's moviegoers," said Dan Fellman, president of Warner Bros. Pictures' domestic distribution.
SATURDAY, JANUARY 18, 2014
SLEEPY HOLLOW
Attention, all evil fighting audience members: FOX has put together an epic, cinematic trailer for the two-hour "Sleepy Hollow" Season 1 finale that you probably should watch immediately.
The new spot rehashes the crazy-bananas story of Season 1 so far: Ichabod Crane wakes up in modern day, there's a headless horseman, two witnesses will team together to solve stuff, Katrina, purgatory, Moloch seeks to unleash hell on Earth -- yadda yadda yadda. You know the deal.
It's all set to some epic operatic choral music, but it's still got a few of "Sleepy Hollow's" trademark jokes. "Horsemen and locusts and zombie George Washington, oh my!"
The two-hour Season 1 of "Sleepy Hollow" airs Monday, Jan. 20 at 8 p.m. ET/PT on FOX.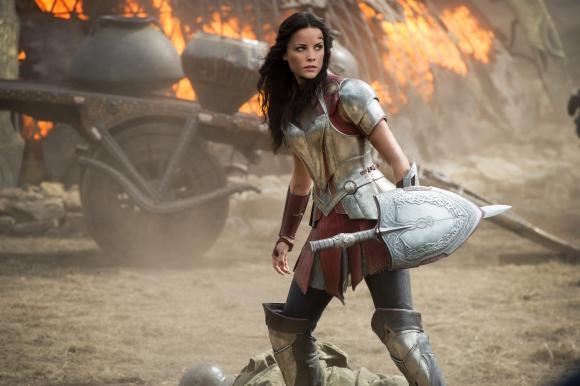 AGENTS OF S.H.I.E.L.D.
First Nick Fury, then Stan Lee, and now another Marvel star is making their way to Agents of S.H.I.E.L.D., this time by way of Asgard.
Agent Coulson and his team have already encountered Asgardian characters and relics in the eighth episode of the series, "The Well," which also saw the team cleaning up after that London-based chaos at the end of Thor: The Dark World. This time, though, they'll be getting even closer to the Asgardians, as one of that realm's heroes makes an appearance on the show. It's not Thor, or Loki, but you'll probably still be pleased.
During a presentation at the Television Critics Association press tour on Friday, ABC President Paul Lee announced that Jaimie Alexander will appear in the show's 15th episode as her fan-favorite character from the Thor franchise, Lady Sif.
What exactly Sif will be doing in her encounter with the S.H.I.E.L.D. team still isn't clear, but unlike Samuel L. Jackson's very brief, very nonessential cameo earlier this season, Lee said Sif will be "integral" to the plot of her episode.
Lee also teased that the mysterious, still-unseen villain known only as "The Clairvoyant" will be revealed this year, and that the show has some "very cool" plans for its final run of episodes in season one. He also noted that he's feeling "very good" about the creative direction of the series, which has to give fans a bit more hope that the show will return for season two. At this point, though, the future for Agents of S.H.I.E.L.D. is still uncertain.
Still, the appearance of Sif on an episode could certainly be a major boost to the series. Other than Fury and, perhaps, Maria Hill (who appeared in the pilot), she's the biggest Marvel Cinematic Universe crossover yet for the show, and the first in some time. Whether or not her appearance can really grow the show at this point, and whether it will lead to even bigger Marvel Cinematic Universe cameos in the future, remain to be seen.
We'll keep you updated with more details of Sif's episode as we have them. Agents of S.H.I.E.L.D. returns with new episodes on Feb. 4.
THE WALKING DEAD
If you've been jonesing for more zombies in this season of The Walking Dead, the latest trailer for season four's return should definitely sate your undead appetite.
We're just a few weeks away from The Walking Dead's return on Feb. 9, and with the prison destroyed, it looks like the problems are only beginning for the members of the gang who made it out alive. This all-too-brief trailer catches up with most of the core cast, and it looks like everyone is pretty much screwed.
For those who have read the comics, it seems they'll be following at least some of those post-prison threads, as we get a peek at Rick and Carl hiding out in a neighborhood and Michonne chopping off a whole lot of walker heads. Everyone else looks just as desperate (if not more so). To put it simply: All hell is about to break loose.
AMC has also released the first official pic from the back half of season four, which you can see above. If that doesn't help set the stakes, nothing will. Also, we want to keep yelling "Turn around, Carl!" every time we look at it. February can't get here soon enough.
MALIFICENT
Disney Channel aired a preview of Maleficent! Opening in theaters on May 30, 2014, the action adventure stars Angelina Jolie, Sharlto Copley, Elle Fanning, Sam Riley, Imelda Staunton, Juno Temple and Lesley Manville.
From Disney comes Maleficent—the untold story of Disney's most iconic villain from the 1959 classic Sleeping Beauty. A beautiful, pure-hearted young woman, Maleficent has an idyllic life growing up in a peaceable forest kingdom, until one day when an invading army threatens the harmony of the land. Maleficent rises to be the land's fiercest protector, but she ultimately suffers a ruthless betrayal—an act that begins to turn her pure heart to stone. Bent on revenge, Maleficent faces an epic battle with the invading king's successor and, as a result, places a curse upon his newborn infant Aurora. As the child grows, Maleficent realizes that Aurora holds the key to peace in the kingdom—and perhaps to Maleficent's true happiness as well.
THE ZOCALO TODAY
Be sure to check out The Zocalo Today on Facebook as well as at ISN News: The Zocalo Today on Yahoo Groups. SCIENCE FICTION NEWS STORIES:
Did you miss the news from yesterday -- or earlier in the week. Catch up by going to the January News Archive. I have broken up the huge file into months to make it easier to load. It will bring you up to date for all that has been going on in the world of science fiction. Go to:
December News
November News
October News.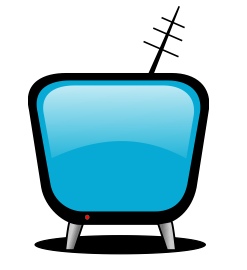 ON THE TUBE TONIGHT
7:00pm on BBC America
Star Trek V: The Final Frontier (1989)
A renegade Vulcan makes Kirk, Spock, McCoy and the Enterprise go to a planet at the center of the galaxy. William Shatner, Leonard Nimoy, DeForest Kelley, James Doohan, Walter Koenig

8:00pm on AMC
Bruce Almighty (2003)
After a bad day at work, a frustrated reporter meets God, who endows him with divine powers for one week. Jim Carrey, Morgan Freeman, Jennifer Aniston, Philip Baker Hall, Catherine Bell

8:00pm on FX
Rise of the Planet of the Apes (2011)
A scientist's quest to find a cure for Alzheimer's disease unintentionally results in a highly intelligent chimpanzee, which may signal the end of man's dominion over Earth. James Franco, Freida Pinto, John Lithgow, Brian Cox, Tom Felton

9:00pm on CBS
The Mentalist Episode: Red, White and Blue S05, E17 (First Aired: Mar. 17, 2013)
A female Army medic who worked with soldiers with post-traumatic stress disorder is found dead near a military base.

9:00pm on Syfy


Underworld: Evolution (2006)
Vampire warrior Selene and her werewolf lover trace the origins of the ancient feud between their races. Kate Beckinsale, Scott Speedman, Tony Curran, Derek Jacobi, Bill Nighy

9:30pm on BBC America
Star Trek VI: The Undiscovered Country (1991)
Kirk, Spock, McCoy and the Enterprise encounter sabotage on the way to peace talks with the Klingon Federation. William Shatner, Leonard Nimoy, DeForest Kelley, James Doohan, Walter Koenig

10:00pm on CBS
Criminal Minds Episode: Final Shot S09, E03 (First Aired: Oct. 09, 2013)
The BAU team must determine if the anniversary of the Kennedy assassination is a motivating factor when a sniper strikes Dallas.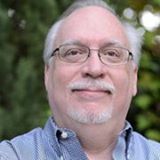 UPDATE FROM JMS
Here's a posting from the Fans of J. Michael Straczynski Facebook page. I thought it would give you an update on what The Great Maker is up to now.

"See, here's why I have no right whatsoever to complain about any part of my life, regardless of how annoying some of it may be on a nearly daily basis.
As a kid, all the way through adolescence and adulthood, I loved the Twilight Zone. Never thought I'd get near doing anything related to it. But on top of working for the '88 Twilight Zone, I have a new Twilight Zone book coming out this week. The geek in me is ecstatic.
Now, you'd think that would be enough. But it ain't. I can still remember when and where I saw the first Terminator movie: Larry DiTillio and I caught one of the last showings at a theater in Eagle Rock just abaft from Glendale. We were both wog-boggled (his term) by it. There was absolutely no question that James Cameron had created something truly extraordinary. As I sat watching T2 years later, I thought, wouldn't it be amazing to play in that universe? But of course the odds of that were pretty much zero.
Yet this week, the second issue of my Terminator series for Dark Horse also hits the stands, a story that will stitch together all of the Terminator mythos. Two geek dreams realized in the same week, no less. (And both beginning with the letter T.)
Sometimes I think things like this are the way the universe rewards you for staying true to the art. Other times I think I'm just really fucking lucky.
And as if that weren't fun enough, this week French publisher Delcort announced that come January they will be reprinting Midnight Nation in a French language edition.
I am in geek paradise.
Lucky. Really freaking lucky."
KEEPING UP WITH CAST AND CREW
THE TWILIGHT ZONE
The trailer is up for the first issue of the Twilight Zone maxi-series JMS is writing for Dynamite. Ranger Anne sent along the following report: two current holiday direct-to-DVD releases have B5 connections. Here goes...:

Bruce Boxleitner stars in "Jingle Bells." Bruce plays Bruce Dalt, an ultra-competitive TV sportscaster who wants his son on the local school's basketball team. When he gets into a scuffle with his son's coach, Bruce has to pay for his "crime" by managing a Salvation Army kettle during the holidays. It's the start of a journey for Bruce to discover hope and the true meaning of the season. The film is available in both standard & Blu-ray formats. The production company, Pure Flix Entertainment, has released other faith-based films such as "Christmas Angel" with Della Reese, and "What If..." with Kevin Sorbo & Kristy Swanson.

Nancy Stafford (Dr. Mary Kirkish "Messages from Earth") stars in "Christmas Oranges," based on a classic holiday story. Nancy plays Mrs. Hartley, the owner of an orphanage that takes in a little girl named Rose (Bailee Michelle Johnson). When Mrs. Hartley dies of influenza, Rose and the other children are sent to other locations. Rose ends up at an orphanage run by a cold, heartless man named Mr. Crampton (Edward Herrmann). She finds joy in the simple things, including the oranges Crampton's brother hopes to bring to the kids at Christmas. The film was made last year, but is just now out on DVD (Blu-ray availability unknown).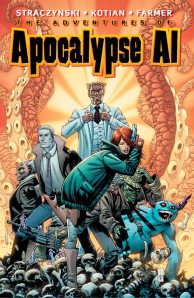 THE ADVENTURES OF APOCALYPSE AL #1
You may remember this from the Syfy audio adventure series. It's now a comic book. For a review, go to Rob Patey'sBlog.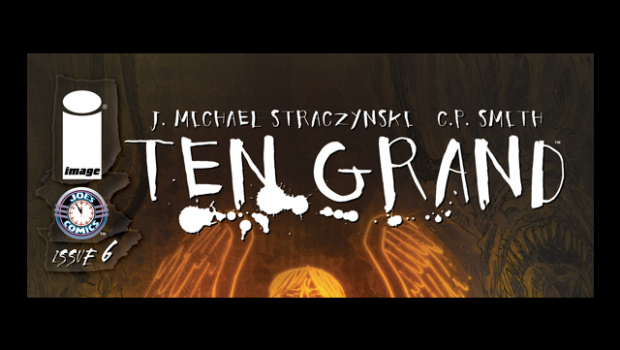 TEN GRAND - ISSUE #6
JMStraczynski's TEN GRAND, issue #6, is out. For a review, go to TM Smash.
BABYLON 5 20TH ANNIVERSARY BOOK
FIRST EVER BABYLON 5 BOOK PRINTED EXCLUSIVELY IN COLOR
Not just full color, but the actual colors of the sets, costumes and props. Extensive care was taken to ensure that the final pages precisely matched the color qualities of the original photographs, which were taken on set during production. B5-20 covers everything from the pilot through The Lost Tales.
For more information on this magnificant volume, go to b5books.com.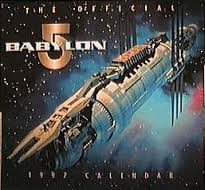 BABYLON 5 1997 CALENDAR
A reader on Facebook pointed out an interesting fact yesterday -- one I hope you will enjoy. The dates on the 1997 Babylon 5 calendar are the same as 2014. Drag out your old calendars and use them this year! Should be wonderful counting down the days, remembering the episodes!
#FREEBABYLON5
Here's a note from Ranger Jan:
Here it is! It's time to 'get organized and loud', as JMS said back in September.
Support the Thunderclap and send the word out to everyone that you want Babylon 5 back on the air and you want all of your contacts to join us in contacting anybody likely to show Babylon 5 and let them know that we want to #FreeBabylon5!
Go to ThunderClapto show your support.

BABYLON 5 is back on TV and from the comments on the Watch site, people are enjoying the first season all over again. Episodes air daily at 5:00pm. If you are in the UK, dial up Watch (Sky 109/Virgin 124). Don't miss an episode.
Would you believe 118 comments for just the first day of showing the series! I sure hope someone takes notice. Be sure to use the @Watch_channel twitter handle and link to the Watch Facebook page when posting. http://watch.uktv.co.uk/shows.babylon-5.
Be sure to visit the the newFree Babylon 5 website. It is time to gather and support the show we know and love.




Here is a quote from J. Michael Straczynski about emotions.
I had this theory that the more important and intimate the emotion, the fewer words are required to express it.

First it's in dating: "Will you go out with me?" Six words.
"Honey, I care for you." Five words.
"You matter to me." Four words.
"I love you." Three words.
"Marry me." Two words.
But what's left? What's the one most important and intimate word you can ever say to somebody? It's "goodbye."

While Michael O'Hare (Sinclair), Andreas Katsulas (G'Kar), Rick Biggs (Dr. Franklin), Tim Choate (Zathras) and Jeff Conoway (Zach Allen) are no longer with us, we will not forget their wonderful personalities and talent -- as well as their significant contributions to the BABYLON 5 universe. Be sure to visit In Memory Of for more information about memorial efforts.
Until we met again, in a place where no shadows fall.
BABYLON 5 BIRTHDAYS
January 9 - David Allen Brooks
January 24 - Peter Woodward
January 27 - Julie Caitlin Brown
January 27 - Tamilyn Tomita Have I missed anyone? If you know the birthday of someone connected with Babylon 5, pass the information along. We want to include everyone in our Happy Birthday Wishes.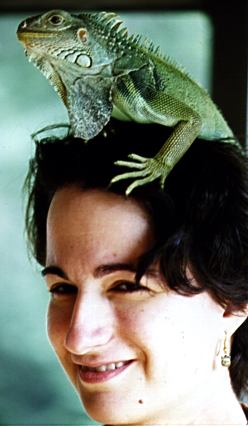 ITEMS OF INTEREST
Jeanne Cavelos, Author/Writer of novels that include Babylon5: Invoking Darkness, Summoning Light, Casting Shadows, and The Shadow Within; will be hosting Odyssey Workshops early in the coming year. Check her website and newsletter for details.
BABYLON 5 MUSIC VIDEOS AND TRIBUTES
John Hudgens has created many Babylon 5 videos, but I believe this is the most moving. It was first shown at the Phoenix Comic Con 20th Anniversary and honors many of the Babylon 5 family who have passed on.

Here is a link to John's Babylon 5 videos:
https://www.youtube.com/user/Babylon5MusicVideos?feature=watch

Richard Biggs memorial: http://www.youtube.com/watch?v=HyD4L8yNtsA

Andreas Katsulas memorial: http://www.youtube.com/watch?v=h2UQ2l9NPIg

- This is the extended version that I did for Andreas' widow ater the original cut was released on the net. It's never been seen online until now.

For those of you who've never seen these, I hope you enjoy them - and for those that have (and emailed me many times over the years about releasing them), I hope they're as good as you remember. Working with Joe on these videos was one of the highlights of my career, and I'll be forever grateful to him for the doors these have opened for me. I'm proud to have them on my resume.

John Hudgens
www.zteamproductions.com
---





PORTLAND COMIC CON
Dates: January 24-26, 2014
Place: Oregon Convention Center
Guests: William Shatner, Ron Perlman, Robert Englund, Summer Glau, Stan Lee and many others.
Go to Portland for more information.

NEW ORLANDS COMIC CON
Dates: February 7-9, 2014
Place: New Orleans Ernest N. Morial Convention Center
Guests: Stan Lee, Matt Smith, J. August Richards and many others.
Go to New Orleans for more information.

FARPOINT
Dates: February 14-16, 2014
Place: Crowne Plaza, Baltimore, MD
Guests: Melissa McBride, others to be named shortly
For more information, go to Farpoint.

SACRAMENTO COMIC CON
Dates: March 7-9, 2014
Place: Sacramento Convention Center
Guests: Stan Lee, William Shatner, Michael Rosenbaum, James Marsters, and many others.
Go to Sacramento for more information.

MEGACONVENTION 2014
Dates: March 21-23, 2014
Place: Orange County Convention Center, Orlando, FL
Guests include Stan Lee and David Morrissey.
For more information, go to www.Megaconvention.com.

STEEL CITY CON
Dates: April 11-13, 2014
Place: Monroeville Convention Center, Monroeville, PA
Guests: Jonathan Frakes, Lee Majors, Brent Spiner, Travis Love, Nicholas Brendon - and more
For more information, go to Steel City Con. PHILADELPHIA COMIC CON
Dates: June 19-22, 2014
Place: Pennsylvania Convention Center, Philadelphia, PA
Guests include: Michael Rooker, David McClintock, James Marsters, Sean Austin, and many others.
Go to Philadelphia for more information.

Florida Super Convention
Dates: July 3-6, 2014
Place: Miami Beach Convention Center, Miami Beach, FL
Guests: William Katt, Nichelle Nichols, Peter David
For more information, go to www.floridasupercon.com.

COMIC-CON INTERNATIONAL
Dates: July 24-27, 2014 Place: San Diego Convention Center
Guests: J. Michael Straczynski will be there along with a host of other guests
For more information, go to San Diego Comic Con. Star Trek Convention - Creation Entertainment
Dates: July 31 - August 3, 2014
Place: Rio Suites Hotel, Las Vegas, Nevada
Guests: WILLIAM SHATNER, KATE MULGREW, COLM MEANEY, WALTER KOENIG, NICHELLE NICHOLS, "ROM and NOG" as portrayed by Max Grodenchik and Aron Eisenberg, ANTHONY MONTGOMERY, JERRY HARDIN, TIM RUSS and MICHAEL FOREST. 87 plus more guests to come!
For more information, go to www.creationent.com/cal/st_lasvegas.html. SPECIAL ANNOUNCEMENTS!
Wizard World Conventions has a large number of events planned for the year. Be sure to visit the page to see if there is a convention of interest near you.

Creation Entertainment has a large number of conventions planned for the next several months. They include stars from TWILIGHT, SUPERNATURAL, STARGATE, FARSCAPE, XENA, SERENITY, STAR TREK, etc. Check out their calendar to see if one will be in your neighborhood soon. Don't miss their Videos page as well. It is full of some priceless video from a number of conventions.

Be sure to visit the referenced sites to see if there have been changes in dates/guests attending. Visit our Convention Calendar for a full listing of upcoming conventions.
BACK ISSUES OF THE ZOCALO TODAY
The front page of the The Zocalo Today changes daily, so be sure to check the back issues to make sure that you haven't missed anything IMPORTANT! I hope you will become a regular visitor to The Zocalo Today!
---
Take care and I look forward to hearing from you.
Sandra Bruckner (sgbruckner@aol.com)
Editor/Publisher
ISN News: The Zocalo Today
http://www.isnnews.net
Copyright - SBruckner, 1999-2014