[an error occurred while processing this directive]

The Zocalo Today

Welcome and thank you for dropping by. Take your shoes off, get comfortable and stay a while. There is a LOT of information here and you won't want to miss any of it.

The Zocalo Today is an interactive newsletter, encouraging readers to join a discussion topic or to send along letters that can be shared with other readers.

The Zocalo Today is a newsletter for Babylon 5 and science fiction fans everywhere. It is as much YOUR newsletter as it is mine! I'm just pulling together things for you!

Join our discussion topic. It is just one way you can share with other Z readers. If you see Babylon 5 cast and crew in other roles, let us know. We enjoy convention reports, photos, etc. Don't miss our back issues. I hope this will become more than just a newsletter. It's a community of people that enjoy sharing their experiences and interests. Babylon 5 brought many of us together -- and it remains with us, despite the fact that is no longer in production. Don't be shy. Join us today!

If you have questions, drop me a line at sgbruckner@aol.com. If you would like to join the mailing list for our newsletter, send me a note and I'll include you on the list. Or you can use the subscription block at the left.

Again, WELCOME!
SATURDAY, JANUARY 24, 2009
CHARLES SCHNEER DIES
The Hollywood Reporter writes that Charles Schneer, a producer who collaborated with special-effects wizard Ray Harryhausen to make such film fantasy classics as "The 7th Voyage of Sinbad" and "Jason and the Argonauts," died Jan. 21 at a hospice in Boca Raton, Fla. He was 88. Also among Schneer's 25 films as producer was "Hellcats of the Navy" (1957), in which former President Ronald Reagan and former first lady Nancy Reagan made their only screen appearance together. Schneer and Harryhausen also teamed on "The 3 Worlds of Gulliver" (1960), two other films about the mythical nautical adventurer Sinbad, "It Came from Beneath the Sea" (1955) and their last film together, "Clash of the Titans" (1981). "The 7th Voyage of Sinbad" (1958) was the duo's first film in "Dynamation," the name they had given to the stop-motion process.
FARSCAPE COMICS COMING
A new batch of FARSCAPE comics are on the way. See the comic section for more information.
MEDICAL SERIES PILOTS
With the end of ER close at hand, NBC is serious about finding a new medical drama, picking up the pilot TRAUMA. Variety writes that Dario Scardapane wrote TRAUMA, which revolves around the high-energy world of medical emergencies out in the field. Pickup of TRAUMA is contingent on finding a director.
This greenlight comes a day after NBC picked up another medical-themed pilot, MERCY, described as is a drama with comedic elements that revolves around three nurses bound together in friendship by the highs and lows of their personal and professional lives.
HARRY POTTER TRAILERS
A new trailer for HARRY POTTER AND THE HALF-BLOOD PRINCE has shown up in Japan. http://www.traileraddict.com/trailer/harry-potter-and-half-blood-prince/japanese-trailer is excellent! Another trailer can be found at the Warner Bros. site, http://harrypotter.warnerbros.com/harrypotterandthehalf-bloodprince/. The film is set for release on July 17.
Voldemort is tightening his grip on both the Muggle and wizarding worlds and Hogwarts is no longer the safe haven it once was. Harry suspects that dangers may even lie within the castle, but Dumbledore is more intent upon preparing him for the final battle that he knows is fast approaching. Together they work to find the key to unlock Voldemort's defenses and, to this end, Dumbledore recruits his old friend and colleague, the well-connected and unsuspecting bon vivant Professor Horace Slughorn, whom he believes holds crucial information. Meanwhile, the students are under attack from a very different adversary as teenage hormones rage across the ramparts. Harry finds himself more and more drawn to Ginny, but so is Dean Thomas. And Lavender Brown has decided that Ron is the one for her, only she hadn't counted on Romilda Vane's chocolates! And then there's Hermione, simpering with jealously but determined not to show her feelings. As romance blossoms, one student remains aloof. He is determined to make his mark, albeit a dark one. Love is in the air, but tragedy lies ahead and Hogwarts may never be the same again.
CORALINE
Borders has just released a new trailer for the upcoming film, Coraline, which is set for release on February 6. Author Neil Gaiman appears in the video as well, discussing Koumpounophobia - the fear of buttons. Use this link to see the trailer. http://www.bordersmedia.com/backlot/coraline.asp. Based on Neil Gaiman's international best-selling book, Coraline is the story of a young girl (voiced by Dakota Fanning) who unlocks a mysterious door in her new home, and enters into an adventure in a parallel reality. On the surface, this other world eerily mimics her own life - though much more fantastical. In it, Coraline encounters such off-kilter inhabitants as the morbidly funny Miss Forcible and Miss Spink (French and Ms. Saunders, respectively), and a counterfeit mother (Terry Hatcher) - who attempts to keep her. Ultimately, Coraline must count on her resourcefulness, determination, and bravery to get back home.
WEBSITE WEIRDNESS
For those of you on-line early yesterday, you noticed the website didn't look like itself. Our jolly-on-the-spot webmaster David, got it fixed up fairly quickly and back in good working order. Sorry for the inconvenience -- and thanks to David for working fast to restore the site.
TOP SCIENCE FICTION NEWS STORIES:
To catch up on the latest news from around the world of science fiction, go to News Page. You'll find the highlights this week and this month here.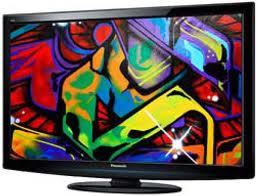 8:00pm on ABC
Lost - Destiny Calls
Exploring the mysteries of the island and its inhabitants; Oceanic 6; Charles Widmore; questions that have been answered, and those that remain.
8:00pm on NBC - NEW
Crusoe - Hour 12 - The Traveler
A ship's rocket explodes above Friday and Crusoe as they search for food; Crusoe saves a man from a small capsized boat, only to find he has rescued Mr. Blackthorn; Friday has trouble trusting Mr. Blackthorn.
8:00pm on BBC America
Doctor Who - Midnight
The Doctor is trapped, powerless and terrified, on the planet Midnight, as a knocking on the wall begins.
8:00pm on SciFi
Merlin's Apprentice(2006)
Merlin and a young thief embark on a dangerous quest to find the Holy Grail and save Camelot.
9:00pm on ABC
Lost - Because You Left; The Lie
Despite the discord among them, Jack and Ben urge the rest of the Oceanic 6 to return to the island to save those left behind; the survivors left behind on the island come under attack by unknown forces; an old friend has shocking advice for Kate.
9:00pm on BBC America
Doctor Who - Turn Left
Donna gets help from a mysterious blond woman.
JMS CANCELS APPEARANCE AT NEW YORK COMIC CON
New York Comic Con (NYCC) today announced that Guest of Honor J. Michael Straczynski will no longer be able to participate in its 2009 event. Straczynski, a writer noted for creating the television series Babylon 5 and writing the recent feature film Changeling, had to cancel his New York Comic Con appearance due to CHANGELING's script's nomination for a British Academy of Film and Television Arts (BAFTA) Award and his need to be in England during the entirety of the convention for BAFTA events. New York Comic Con takes place February 6-8 in the Jacob Javits Center in New York, NY. Guests of Honor include Brian Michael Bendis, Carmine Infantino, Geoff Johns, Takashi Miike, Grant Morrison, and Bruce Timm and Special Guests include Seth Green, Jackson Publick, J.J. Sedelmaier, and Art Spiegelman.
"I never in a million years imagined that I might be nominated for a British Academy Award for Best Original Screenplay for Changeling," Straczynski said. "It simply was never on my radar screen. I'm devastated at not being able to be at the con, and I send my deepest regrets and apologies to everybody who was looking forward to seeing me. With massive, massive amounts of apologies and bowing and scraping and forelock- tugging, I have no choice but to say that I can't be there for the convention."
DISCUSSION TOPIC - TOP 10 SCI FI FILMS
It will soon be Oscar time and I started thinking about the best movies I have enjoyed from the science fiction genre. What are your favorites? Would it start with STAR WARS, CLOSE ENCOUNTERS, BLADERUNNER and go on? Or would it be different?

Send in your comments to sgbruckner@aol.com. I'll post your selections our discussion page for all readers to share. I'll post some of my comments in my blog -- see below. I don't get to watch much TV during the week, but thanks to hulu.com and some of the networks, I don't miss a lot.
ISN BLOG
I have just created ISN News Blog at http://isnnews.blogspot.com. This is an experiment for me -- and I hope you'll join me by entering news you have to share. I'll put in stuff that I think is interesting for others to read about and we'll see how it goes. Join me.
KEEPING UP WITH CAST AND CREW
Ranger Michael conducted an interview with Julie Caitlin Brown on December 28. Here is a link to the interview -- in German and English: Julie Caitlin Brown interview. PS: It's Julie's birthday on January 27! HAPPY BIRTHDAY JULIE!

While you are there, don't miss the other Babylon 5 interviews with Claudia Christian and Bill Mumy.




While Andreas Katsulas (G'Kar), Rick (Biggs) and Tim (Choate) are no longer with us, we will not forget their wonderful personalities and talent -- as well as their significant contributions to the BABYLON 5 universe. Be sure to visit In Memory Of for more information about memorial efforts. Until we met again, in a place where no shadows fall.
BABYLON 5 BIRTHDAYS
January 9 - David Allen Brooks
January 24 - Peter Woodward
January 27 - Julie Caitlin Brown
January 27 - Tamilyn Tomita

Have I missed anyone? If you know the birthday of someone connected with Babylon 5, pass the information along. We want to include everyone in our Happy Birthday Wishes.

For more of these fabulous cartoons, go to http://cartoons.sev.com.au/Sev-Space/Sevylon-5/.
YOU'RE A GOOD SPORT CHARLIE BROWN
Available on DVD: January 27, 2009
Official Site URL: www.kidswb.com
Start your engines! Its Motocross season and competing against the likes of Peppermint Patty and the Masked Marvel – aka a certain daredevil beagle named Snoopy – can intimidate anyone. But if Charlie Brown – tagged with unlucky number 13 – can keep the pace slow and steady (as well as hold onto his helmet), he might just win the race! It's fast and furious fun right up through the finish line of this wonderful Emmy Award® winner as Outstanding Children's Special, rolling out in a spit-shined re-mastered deluxe edition with improved picture and audio.
DVD Special Features Include:
You're the Greatest, Charlie Brown - A new-to-DVD bonus episode. Hard work and team spirit are what Charlie Brown needs for decathlon victory but this junior Olympian had better keep his eye on the track to win.
Dust Yourself Off and Pick Yourself Up, Charlie Brown - An original featurette that tells the story of how Charles Schulz' son Craig and his life-long passion for dirt biking, served as an inspiration for his dad to include it in his famous comic strip.
MOONLIGHT
Release Date: January 20, 2009
Website: www.moonlightondvd.com

Synopsis:
Any private eye knows a lot about other people?s secrets. L.A. private eye Mick St. John (Alex O'Loughlin) has a secret of his own. He's a vampire, dwelling in a covert netherworld complicated by friendship with an undead finance honcho (Jason Dohring), memories of the alluring ex- wife (Shannyn Sossamon) who turned him into a vampire, and a relationship with a human (Sophia Myles) he feels drawn to protect -- and maybe to love. But no matter how tempting, Mick knows a vampire-human romance is eternally dangerous. This 16-episode, 4-disc set of the series voted the 2008 People's Choice Award for Favorite New TV Drama is a sure entertainment bet for all who like their vampire stories sleek, intense and passionate.



Dark Knight
Release date: November 25, 2008
Official website: thedarkknight.com
Synopsis:
The follow-up to BATMAN BEGINS, THE DARK KNIGHT reunites director Christopher Nolan and star Christian Bale, who reprises the role of Batman/Bruce Wayne in his continuing war on crime. With the help of Lt. Jim Gordon and District Attorney Harvey Dent, Batman sets out to destroy organized crime in Gotham for good. The triumvirate proves effective, but soon find themselves prey to a rising criminal mastermind known as The Joker, who thrusts Gotham into anarchy and forces Batman closer to crossing the fine line between hero and vigilante. Heath Ledger stars as archvillain The Joker, and Aaron Eckhart plays Dent. Maggie Gyllenhaal joins the cast as Rachel Dawes. Returning from BATMAN BEGINS are Gary Oldman as Gordon, Michael Caine as Alfred and Morgan Freeman as Lucius Fox. Some clips from the WB
Business Deal put on hold (1:02)
http://raincloud.warnerbros.com/wbol/us/whv/med/darkknight/exclips/dkexfc_businessdealputonhold_300.asx
Die hero live long enough become villan (1:10)
http://raincloud.warnerbros.com/wbol/us/whv/med/darkknight/exclips/dkexfc_dieherolivelongenoughbecomevillian_300.asx
Do you know who you are stelling from (1:03)
http://raincloud.warnerbros.com/wbol/us/whv/med/darkknight/exclips/dkexfc_doyouknowwhoyouarestealingfrom_300.asx
We're tonight's sent entertainment (1:00)
http://raincloud.warnerbros.com/wbol/us/whv/med/darkknight/exclips/dkexfc_weretonightsentertainment_300.asx
REVIEW
If ever there was a movie made for the BIG screen, it is THE DARK KNIGHT. If you thought you had seen some fantastic visual effects in BATMAN BEGINS, just wait until you see what they do in this movie!!!! It is awesome.
I have loved Batman since I was a kid. The thought of a regular guy fighting crime is very appealing. Unlike Superman, he has no special powers, only his intelligence and wit. That usually is enough to outsmart or outwit his adversaries. The Joker (masterfully played by the late Heath Ledger) is a different kind of criminal. He wants to control everything and everyone.
There are many characters to absolutely love in this series. Gary Oldman is perfect as Lt. Gordon, but I absolutely adore Michael Caine as Alfred and Morgan Freeman as Lucas Fox. They steal every scene they are in.
There is no doubt this saga will continue. As long as there are criminals that need to be brought to justice, there needs to be a Batman somewhere out there to help the police force.
NEW FAMILY DVDS
Looking for movies you can watch with your children? I have moved many of the family-oriented DVDs to a Family DVDs page. Here you will find wonderful DVDs you can enjoy with your entire family -- no matter the age. You will find background information about the DVD, but there are clips as well from Warner Bros. Enjoy!

For more information on other DVDs that have just been released and reviewed, go to New DVDs



FARSCAPE: D'ARGO'S LAMENT #1>br> Written by Keith R.A. DeCandido, art by Tommy Patterson, covers by Michael DiPascale and Will Sliney.

Ka D'argo lives on -- only in this Farscape mini-series set in continuity during Season 3 between episodes "Revenging Angel" and "Fractures!" Follow the adventures of John Crichton's best friend D'argo as he's forced to not only save the day and end planetary war, he's got to do it all with mouthy "princess" Jool along for the ride. And that means trouble!
FARSCAPE: STRANGE DETRACTORS #2
Written by Rockne S. O'Bannon and Keith R.A. DeCandido, art by Will Sliney, covers by Joe Corroney and Dennis Calero.
Farscape creator Rockne O'Bannon is back! Television's science fiction masterpiece Farscape continues with the same hit writing team from the first sold out mini-series! Crichton and crew are all here as it's friend vs. friend and ally vs. ally as a mysterious wave of violence sweeps through the crew of Moya. And worse, an entire planet!
Flash Gordon Volume 1: The Mercy Wars HC
by Brendan Deneen & Paul Green

Discover what all the buzz is about! This beautiful hardcover collects issues #1-6 of Ardden Entertainment's critically acclaimed new Flash Gordon monthly series, and includes the almost-impossible-to-find issue #0. In this first arc of the new series, Flash, CIA Agent Dale Arden, and mad scientist Dr. Hans Zarkov rocket off to the planet Mongo and find themselves in the middle of a deadly civil war with none other than Ming the "Merciful" at the center of the conflict! Available in Regular and Remarked Signed editions.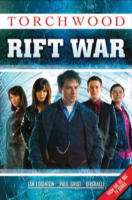 Torchwood: Rift War GN
by Williamson, Furman, Edginton, Grist, & D'Israeli
Torchwood is an action-packed sci-fi series spinning out of the BBC hit Doctor Who, following the adventures of a secret team of investigators who use scavenged alien technology to solve present day crimes — both alien and human. When Torchwood comes under fire in an all-out attack by extra-dimensional shock troopers, the team is torn in all directions. And with a deadly rift bleeding through into their own reality, time itself could be destroyed if the Torchwood team can't stop it! Featuring story and artwork by a whole host of top British comic creators, including Paul Grist (Jack Staff), Ian Edginton and D'Israeli (Scarlet Traces), and Simon Furman (Transformers), Torchwood: Rift War collects the comic strips from Titan Publishing's best-selling Torchwood: The Official Magazine, based on BBC America's highest-rated series ever.
Battlestar Galactica: The Manga
by Salzfass, Wellman, Hatch, Wu, Delk, & Schons
Culled from storylines that didn't make it past the cutting room floor, the Battlestar Galactica manga takes place in Season 3 of the popular television series. In "Teacher's Pet," teacher Laura Roslin struggles to educate and inspire her young students with a "human-centric" curriculum on New Caprica, until she begins to suspect one of her own students may be a Cylon informer. Back on board the Galactica after Adama's daring rescue of the human population in "Shelf Life," President Tom Zarek is determined to root out and punish any human traitor suspected of collaborating with the Cylons during the occupation by death. But will he be able to follow through when a long- lost friend is on top of the target list? And in "Visitation," Starbuck is stunned when she discovers the young girl Kacey living in squalor in the shantytown, so stunned that in her attempt to help, she crosses a line that shocks even those closest to her.
Battlestar Galactica: The Final Five #1
by Seamus Fahey, David Reed & Nigel Raynor
While the critically acclaimed series may be coming to an end, Dynamite Entertainment enters 2009 with a series of new and exciting Battlestar Galactica comic book events Beginning with The Final Five, a three-issue event tying directly into the events of the final episodes of the series, Dynamite will continue to provide a home for great Galactica stories in 2009 and beyond! The Final Five #1 (of 4) is overseen By Seamus Kevin (Origins) Fahey and David Reed with the complete authorization of Sci Fi and the producers and features the back story of the Cylons, man and their current struggle against one another! Joining the writers is Galactica veteran Nigel Raynor, who also provide one of the two incredible covers! And to top it all off, Red Sonja and Super Zombies artist Mel Rubi is also providing an incredible cover!
BABYLON 5 MUSIC VIDEOS AND TRIBUTES
I found this message on the Babylon 5 moderated newsgroup this morning and just had to post it so that others might enjoy the marvelous music videos created by John Hudgens.

+++++++++++++++++++++++++ As some of you may know, I was hired by Joe Straczynski back in the day to create Babylon 5 music videos for him to use at science fiction conventions, and later to promote the show to networks. Eight were produced over the run of the series, not including the memorial videos I did later for Rick Biggs and Andreas Katsulas.

For the longest time, the only way to see these was if Joe or I showed them at a convention, but now, after numerous requests from fans over the years, Joe has given me permission me to post these online.

Danger Zone: http://www.youtube.com/watch?v=xYNG0ow0G0k

I Need a Hero: http://www.youtube.com/watch?v=PFo3Lau2Occ

Requiem: http://www.youtube.com/watch?v=X7ckXY6yiVQ

Nobody's Side: http://www.youtube.com/watch?v=Wk9LvldiOf0

Welcome to the Third Age: http://www.youtube.com/watch?v=YT5q_ltXiY0

Keep Yourself Alive: http://www.youtube.com/watch?v=t0lRtpWR5lo

The Phantom B5 Video: http://www.youtube.com/watch?v=uV4GMNjDdYc

Third Age 2K: http://www.youtube.com/watch?v=HqIyY0PWjbI

Richard Biggs memorial: http://www.youtube.com/watch?v=HyD4L8yNtsA

Andreas Katsulas memorial: http://www.youtube.com/watch?v=h2UQ2l9NPIg

- This is the extended version that I did for Andreas' widow ater the original cut was released on the net. It's never been seen online until now.

For those of you who've never seen these, I hope you enjoy them - and for those that have (and emailed me many times over the years about releasing them), I hope they're as good as you remember. Working with Joe on these videos was one of the highlights of my career, and I'll be forever grateful to him for the doors these have opened for me. I'm proud to have them on my resume.

John Hudgens
www.zteamproductions.com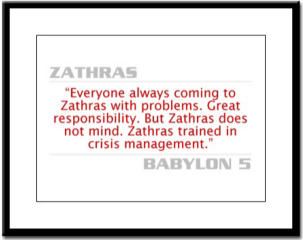 BABYLON 5 QUOTE STORE
CafePress has a number of items to offer. TheJoeStore, only now it's the Babylon 5 Quote store -- and everything in it is NEW. Head over to see how your favorite quote can be that special gift for your favorite B5 fan. www.b5quotes.com.








January 24, 2009
Naruto Trek Events
Star Trek VI: The Undiscovered Country
Hosted by Christopher Plummer (General Chang) Time: 10:00pm - Cinema Paradiso
Fort Lauderdale, Florida
All seats $5
For more information, go to www.fliff.com

February 13-15, 2009
FARPOINT 2009
Place: Crowne Plaza Hotel
City: Timonium, Maryland
Guests: Alan Tudyk (Serenity), Harve Bennett (Star Trek producer), Phil Weyland (actor, dialogue coach)
For more information, go to http://www.farpointcon.com/.


February 27-March 1, 2009
Megacon 2009
Site: Orange County Convention Center
City: Orlando, Florida For more information, go to http://www.megaconvention.com.



March 27-29, 2009
Narutotrek 2009
Place: Sheraton Suites Cypress Creek
City: Ft. Lauderdale, FL
Guests: Walter Koenig, Denise Crosby and more
For more information, go to http://www.narutotrek.com

April 24-26, 2009
STEEL CITY CON
Location: Pittsburgh, Pennsylvania
Guests: Catherine Bach, Mick Foley, Sandra Taylor
For more information, go to http://www.steelcitycon.com
SPECIAL ANNOUNCEMENTS!
Creation Entertainment has a large number of conventions planned for the next several months. They include stars from STARGATE, ENTERPRISE, FARSCAPE, XENA, BATTLESTAR GALACTICA, etc. Check out their calendar to see if one will be in your neighborhood soon. Don't miss their Videos page as well. It is full of some priceless video from a number of conventions.
Be sure to visit the referenced sites to see if there have been changes in dates/guests attending. Visit our Convention Calendar for a full listing of upcoming conventions.
BACK ISSUES OF THE ZOCALO TODAY
The front page of the The Zocalo Today changes daily, so be sure to check the back issues to make sure that you haven't missed anything IMPORTANT! I don't want the front page getting too long so I shift information periodically into the archives. So if you aren't a regular visitor to The Zocalo Today, be sure to check out the back issues. Just use the button above!
---
Take care and I look forward to hearing from you.
Sandra Bruckner (sgbruckner@aol.com)
Editor/Publisher
ISN News: The Zocalo Today
http://www.isnnews.net
Copyright - SBruckner, 1999-2009