[an error occurred while processing this directive]

The Zocalo Today

Welcome and thank you for dropping by. Take your shoes off, get comfortable and stay a while. There is a LOT of information here and you won't want to miss any of it.

The Zocalo Today is an interactive newsletter, encouraging readers to join a discussion topic or to send along letters that can be shared with other readers.

The Zocalo Today is a newsletter for Babylon 5 and science fiction fans everywhere. It is as much YOUR newsletter as it is mine! I'm just pulling together things for you!

Join our discussion topic. It is just one way you can share with other Z readers. If you see Babylon 5 cast and crew in other roles, let us know. We enjoy convention reports, photos, etc. Don't miss our back issues. I hope this will become more than just a newsletter. It's a community of people that enjoy sharing their experiences and interests. Babylon 5 brought many of us together -- and it remains with us, despite the fact that is no longer in production. Don't be shy. Join us today!

If you have questions, drop me a line at sgbruckner@aol.com. If you would like to join the mailing list for our newsletter, send me a note and I'll include you on the list. Or you can use the subscription block at the left.

Again, WELCOME!
SATURDAY, March 14, 2009
KINGS
KINGS is a contemporary David-and-Goliath saga. Ian McShane (RIVER OF SOULS) plays King Silas Benjamin, leader of Gilboa. When a young soldier named David Shepard (Chris Egan) ignores orders and unwittingly saves the King's son, Jack (Sebastian Stan), everyone's lives are forever changed.
Kings premieres Sunday at 8 p.m. ET/PT.
For a review of this new mini-series, go to http://blog.zap2it.com/frominsidethebox/2009/03/kings-review.html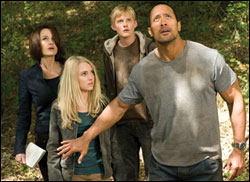 WEEKEND BOX OFFICE
There is a lot of variety at the box office this weekend.
RACE TO WITCH MOUNTAIN, starring Dwayne Johnson, opened Friday at the domestic box office in 3,187 runs. RACE TO WITCH MOUNTAIN, a reimagining of the 1970s family franchise, reunites Johnson and director Andy Fickman in their first pairing since sleeper hit THE GAME PLAN. That film, also a Disney title, opened to $23 million in September 2007 on its way to cuming $90.6 million domestically. WITCH MOUNTAIN, because of its action and special effects, will play older than GAME PLAN while still drawing the kids. One big advantage for WITCH MOUNTAIN is its PG rating. Family-friendly films are few and far between at this time of year, helping explain why Sony's PG-rated comedy PAUL BLART: MALL COP has turned into a blockbuster, grossing $134.4 million since opening in mid-January.
Rogue Pictures/Universal's horrorfest THE LAST HOUSE ON THE LEFT also enters the scene and could take men away from WATCHMEN. The R-rated LAST HOUSE opens in 2,401 theaters.
The weekend's other new release is raunchy comedy MISS MARCH, a Fox Atomic title being distributed by big Fox. Pic opens in 1,752.
Warner Bros.' WATCHMEN heads into its second weekend with a domestic gross of $65.3 million through Wednesday. The picture opened to $55.2 million domestically and over $26 million internationally.
ALIEN ZOO
Variety reports that Joe Stillman ("Shrek 1 & 2," "Planet 51") is set to pen the high-concept family comedy ALIEN ZOO for Warner Bros. and Unique Features. Based on an original idea by Dylan Sellers, the concept is Jurassic Park with aliens. The film will be live-action with CGI. Bob Shaye, Michael Lynne and Sellers will produce.
TOP SCIENCE FICTION NEWS STORIES:
News from this week and the last couple of months has been moved to the News Archive Page. Check it out to catch up on all that has been going on in the world of science fiction.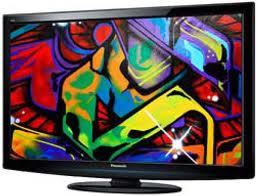 8:00pm on CBS
NCIS - Episode: Agent Afloat (First Aired: September 30, 2008)
DiNozzo's investigation into a Navy lieutenant's suicide takes a surprising and deadly turn when its seems that it has a connection to a larger scheme.
9:00pm on CBS
The Mentalist - Episode: The Thin Red Line (First Aired: November 25, 2008)
Patrick disagrees with authorities when they suspect a drug dealer on trial is behind the murders of the witness and the witness's girlfriend.
9:00pm on SciFi
Sea Beast(2009)
An amphibious creature invades a small fishing village. Starring: Corin Nemec
10:00pm on ABC
Castle - Episode: Flowers for Your Grave (First Aired: March 09, 2009)
Mystery novelist Richard Castle works with New York police to find a real-world killer who is modeling his crimes after scenes from Castle's novels.
THE JENATORS RETURN
Bill Mumy's band, The Jenators, will play at Rusty's Surf Ranch (on the Santa Monica Pier) March 14 at 9:00pm for one set only. (Band members: Tom Hebenstreit, David Jolliffe, Bill Mumy, Chris Ross and Gary Stockdale). For more info, call 310-393-7437.
NEW BABYLON 5 MOVIE BOOK UNTIL APRIL 30
THE BABYLON 5 SCRIPTS OF
J. MICHAEL STRACZYNSKI
THE TV MOVIES

Featuring these Scripts
• Thirdspace
• The River of Souls
• The Legend of the Rangers
• The Lost Tales

These TV Movie scripts are twice the length of a single episode of Babylon 5 and are the page count equivalent of EIGHT episodic scripts making it the second biggest book ever with more than 450 pages!

ALL THAT PLUS THESE SPECIAL BONUSES

* The included version of The Legend of the Rangers is an early draft that is 20 pages longer than the script that was filmed, which means you get to read scenes and exchanges of dialogue that never made it to the screen.

* Exhumed from Joe's vault, a 3-page fragment of an outline detailing the premise for a Psi Corps feature film . Focusing on The Telepath War, and appropriately titled "Wars of the Mind," JMS' notes reveal the background of the conflict -- teeps vs. teeps, the cast of characters -- including the identity of the Interstellar Alliance's Vice President, and the explosive deaths of two B5 regulars -- something hinted at, but never stated in an official series document.

* J. Michael Straczynski's personal, behind-the-scenes photos taken on the set of The Lost Tales and The Legend of the Rangers -- included in these 36 images are the last pictures taken of Andreas Katsulas as G'Kar.

For more information about this book, go to http://www.cafepress.com/thejoestore. The $10 discount is only good through February 5. This book will only be available through April 30.
BABYLON PODCAST
Welcome to Show #148!

Tim and Summer lament about whether or not the entry requirements are too hard for the Chronologies contest, since we haven't received any entries yet. Not a one.

Is the contest entry requirement too hard? Seriously, as of 2pm PT, March 11 2009, I have received ZERO entries for this contest. Is this too hard a task for our lurkers and rangers, or does everyone already have the Chronologies book?

Tim also relays a note from JMS saying that the studio has completely scrapped the screenplay for the Forbidden Planet remake, so we hope the person that leaked it was held responsible for theft of intellectual property and is now working off a period of indentured servitude in that studio's salt mines.

Contest: We've come up with a contest to give away a copy of the B5 Chronologies scriptbook! Can you identify all the voices in the podcast opening montage? If you think you can, submit your entries to contest [at] sliceofscifi [dot] com with the Subject line of Babylon Podcast Chronologies Contest, and include your mailing address.

We need all 12 voices correctly identified and in order, and a single winner will be selected from all the people who submit fully correct entries, and participants who helped with the lines are not eligible to enter this contest… maybe next time, gang.

Submit your entries by midnight Pacific time, March 3rd, and we'll randomly pick a winner from pool of correct entries live on the live feed on March 4th (extended to March 25th)

Interview: Captain Jaclyn, Jason Davis and Amy Guskin from the Babylon 5 Scripts Team join us to discuss the new scriptbooks project that's been kept secret and tightly under wraps until now.

Asked and Answered: JMS answers Thousands of Fan Questions about Babylon 5 is the title of the new series, and it's an exhaustive compendium of questions ever asked about B5. Starting in November 1991, and current through 2008, the team went through over 20,000 questions from many sources that aren't available online anymore (online chat transcripts, convention transcripts, etc) in addition to the newsgroup archives from GEnie, AOL and Usenet.

It's arranged in chronological order, without editing, so it's a rare glimpse at the actual development process as the show is ongoing. Most people have seen some of the answers before, but a lot of work went into establishing the original question with the answer to preserve the original context.

Keep an eye out at the Babylon 5 Scripts store for more details as the official announcement date of March 17th and the release date of April 7th (not April 1st) draw near.

Feel free to ask the Scripts Team any questions about the project, and if you want to see that electronic version (for easier searching) or an electronic index, then let the Scripts Team know! (you know, there's a free Kindle app available for the iPhone and iPod Touch, if a Kindle version of the book could be made available someday)

Discussion: Tim and Summer nitpick a little more about the contents of these new books, and are looking forward to having the finished product to dig into later. But now Summer won't get her Crusade books until 2010… grumblefrack.

Second Life Info: FarPoint Media's Second Life space is now the penthouse suite of Third Life Books. You can find the castle at http://slurl.com/secondlife/beraudes/203/151/49. Come see the castle roof pool, and more!
ANOTHER B5 PODCAST
There is another Babylon 5 podcast available for your enjoyment. It was started recently over at http://theb5station.mypodcast.com. Two friends discuss Babylon 5, one episode at a time, starting from the beginning.

There are 6 episodes currently posted. I'll be going over to listen. Thanks Mitch for sending along the information.
DISCUSSION TOPIC - TOP 10 SCI FI FILMS
I started thinking about conventions this morning and thought this might a a good discussion topic -- one that everyone who has gone to a convention could share with readers here at THE ZOCALO TODAY. What is your best, worst convention experience?

Send in your comments to sgbruckner@aol.com. I'll post your selections our discussion page for all readers to share. I'll post some of my comments in my blog -- see below.
ISN BLOG
I have just created ISN News Blog at http://isnnews.blogspot.com. This is an experiment for me -- and I hope you'll join me by entering news you have to share. I'll put in stuff that I think is interesting for others to read about and we'll see how it goes. Join me.




While Andreas Katsulas (G'Kar), Rick (Biggs) and Tim (Choate) are no longer with us, we will not forget their wonderful personalities and talent -- as well as their significant contributions to the BABYLON 5 universe. Be sure to visit In Memory Of for more information about memorial efforts. Until we met again, in a place where no shadows fall.
BABYLON 5 SHIP MODELS
I received a note from Ranger Glenn this morning about a company he discovered. See his note below:
For years I have seen companies like Entertainment Earth sell figurines and ship models for practically every science fiction, fantasy, horror or anime that you can imagine. One big missing product line is Babylon 5. I never understood this as there is a large fan base. I have always wanted a good model of a Whitestar.
Recently on eBay I found a company, www.eModelAirplanes.com selling high quality wooden models of aircraft, spacecraft and science fiction starships. They have a large collection of Babylon 5 spacecraft from Shadow ships to Babylon 5 itself. I bought a Whitestar model. It is gorgeous and is of the high quality expected of professionally crafted aircraft models. My photo doesn't do it justice.
Thanks Glenn for sending along the note -- and the picture.
MORE MODELS
Ranger John passed along a note about more Babylon 5 models:
If you are interested in B5 models, check out Federationmodels.com and look in the Warp Models section for some good B5 ships.
BABYLON 5 BIRTHDAYS
Richard Biggs - March 18 (in loving memory)
Jesus Trevino - March 26
Ed Wasser - March 26

Have I missed anyone? If you know the birthday of someone connected with Babylon 5, pass the information along. We want to include everyone in our Happy Birthday Wishes.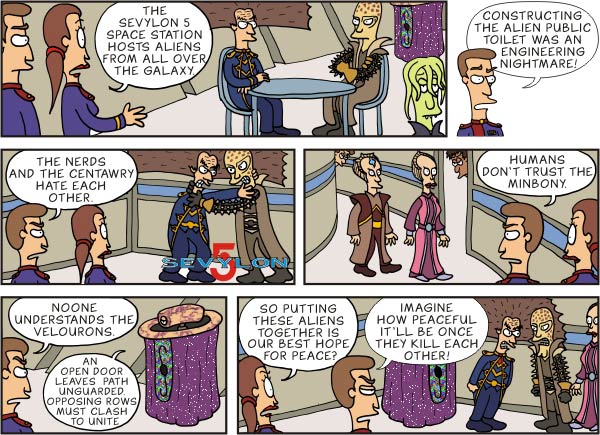 For more of these fabulous cartoons, go to http://cartoons.sev.com.au/Sev-Space/Sevylon-5/.
STAR WARS: THE CLONE WARS: A GALAXY DIVIDED
Release date: March 24, 2009
Synopsis:
The CLONE WARS goes back to the original Star Wars film when Obi-Wan Kenobi tells Luke Skywalker that he was once a Jedi knight the same as your father and that they fought together in the Clone Wars. Since that moment fans have been obsessed with what the clone wars were. This new TV series takes place immediately after the events of Star Wars-Episode II: Attack of the Clones. The series follows Obi-Wan Kenobi and his apprentice Anakin Skywalker and introduces us to some new characters such as Ahsoka Tano a girl Jedi knight as well as characters we already know.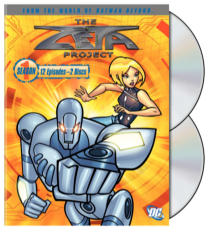 The Zeta Project: The Complete First Season
Release Date: March 17, 2009
Official website: www.kidswb.com
Synopsis:
Zeta, a robot programmed by the U.S. government to fight the countrys enemies using weaponry and a holographic self-projector, evolves to the point where he acquires both emotion and a conscience. As the value of human life became evident, he flees the government, who believes he has been reprogrammed by a foreign power. On the run, Zeta encounters Rosalie Ro Rowan, a street orphan who is wanted by the law herself.
Join Zeta and Ro in The Zeta Project: The Complete First Season as they set out across America to find both Ros parents, and Zetas creator who can prove the robot is acting of his own free will.
GREEN LANTERN: FIRST FLIGHT
Release Date: july 28, 2009
Synopsis: The fabric of intergalactic justice is threatened - until Hal Jordan arrives for his initial mission - in the animated GREEN LANTERN: FIRST FLIGHT, the fifth entry in the popular DVD series of DC Universe Animated Original PG-13 Movies. A co-production of Warner Premiere, DC Comics and Warner Bros. Animation, the illuminated hero's first-ever full-length animated film is set for release by Warner Home Video on July 28, 2009. GREEN LANTERN: FIRST FLIGHT will be available as a special edition 2-disc version on DVD and Blu-Ray™ Hi-Def .
Acclaimed actor Christopher Meloni (Law & Order: Special Victims Unit) fills the lead voice of Hal Jordan aka Green Lantern. Meloni is joined by fellow Emmy Award nominee Victor Garber (Milk, Titanic) as the villainous Sinestro, Tricia Helfer (Battlestar Galactica) as the voice of Boodikka, and Michael Madsen (Reservoir Dogs) as Kilowog.
Produced by animation legend Bruce Timm, Green Lantern: First Flight is helmed by heralded director Lauren Montgomery (Wonder Woman, Superman Doomsday) and scripted by four-time Emmy Award-winning writer Alan Burnett (The Batman).
GREEN LANTERN: FIRST FLIGHT finds Hal Jordan recruited to join the Green Lantern Corps and placed under the supervision of respected senior Lantern Sinestro. The earthling soon discovers his mentor is actually the central figure in a secret conspiracy that threatens the philosophies, traditions and hierarchy of the entire Green Lantern Corps. Hal must quickly hone his newfound powers and combat the treasonous Lanterns within the ranks to maintain order in the universe.
SMURFS: VOLUME 1
Release date: March 3, 2009
Synopsis:
The Smurfs are a group of over 100 bluish, three-apple tall creatures who live in the mushroom homes of Smurf Village. They are led by 543-year-old Papa Smurf (who doesn't look a day over 530). Their lives would be perfect were it not for the villainous Gargamel, a wizard who spends his days trying to capture them to eat, turn into gold, or for other evil reason. Gargamel's cat Azrael adds to the menace, always looking for a smurfalicious snack.. Its Season Two, Vol. 1 of Smurf Adventures, the Emmy-winning animated series [Outstanding Childrens Entertainment Series 1982-83] that delighted Saturday morning cartoon fans for nearly a decade.
WATCHMEN: MOTION COMICS
Release date: March 3, 2009
Official website: www.watchmenmovie.warnerbros.com

Synopsis:
Watched any great books lately? Now you can. The most celebrated graphic novel of all time that broke the conventional mold continues to break new ground WATCHMEN illustrator Dave Gibbons oversees this digital version of the graphic novel that adds limited motion, voice and sound to the books strikingly drawn panels. All 12 chapters of the story are here nearly 5 hours spanning everything from the mysterious demise of the Comedian to the crisscrossed destinies of loosely allied superheroes to their fateful impact on the world. Be in the know. Be watching. With Watchmen: The Complete Motion Comic.
THE REAL ADVENTURES OF JONNY QUEST, Season 1, Volume 1
Release date: February 17, 2009
Jonny and his pal Hadji are once again headed for action-packed fun and excitement in The Real Adventures of Jonny Quest: Season 1, Volume 1, available for the first time on DVD from Warner Home Video on February 17, 2009. A remake of the classic science-fiction/adventure animated television series Jonny Quest, The Real Adventures of Jonny Quest: Season 1, Volume 1 chronicles the all new adventures of our hero and his friends Hadji and Jessie in 13 episodes guaranteed to keep fans on the edge of their seats.
"Jonny Quest is truly a classic character beloved by kids of all ages," said Amit Desai, WHV Vice President of Family, Animation & Sports Marketing. "We are very happy to add The Real Adventures of Jonny Quest: Season 1, Volume 1 to our library of animated offerings for kids, their parents and fans of animation."
The sequel to one of TV's first animated science fiction action-adventure series is about to take viewers on a breathless ride. The first 13 year-one episodes charting the fantastic exploits of brave and brainy Jonathan Quest come in a deluxe multi-disc set featuring exciting new and vintage bonus materials from Hanna-Barbera. Jonny Quest drew on science and detective-style logic to solve mysteries and apprehend sophisticated villains. Viewers are transported to exotic locales as Jonny and the Indian boy Hadji, along with new characters such as Jessie, tackle each government assignment.

WONDER WOMAN
Release Date: March 3, 2009
Official website: www.wonderwomanmovie.com
Synopsis:
On the mystical island of Themyscira, a proud and fierce warrior race of Amazons have raised a daughter of untold beauty, grace and strength Princess Diana. When an Army fighter pilot, Steve Trevor, crash-lands on the island, the rebellious and headstrong Diana defies Amazonian law by accompanying Trevor back to civilization. Meanwhile, Ares (the god of War) has escaped his imprisonment at the hands of the Amazonians and has decided to exact his revenge - intending to start a world war that will not only last for centuries but will wipe out every living being on the planet, starting with the Amazons! It is up to Princess Diana to save her people and the world by using her gifts and becoming the ultimate Wonder Woman!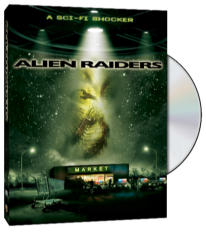 ALIEN RAIDERS
Release date: February 17, 2009
Official website: www.rawfeed.com
Buy link: http://whv.warnerbros.com/WHVPORTAL/Portal/product.jsp?OID=71658
How do you fight an extraterrestrial invasion … when you can't tell who is friend or foe?
From Raw Feed, creators of the Rest Stop and Otis shockers, comes the sci-fi/horror tale ALIEN RAIDERS, a nerve-shredding battle for human survival against aliens that invade our world by invading our bodies. Be alert. Beware. Be afraid. The creatures' next host could be your neighbor. Your kid brother. No – it's you!
Produced by Dan Myrick (co-director of The Blair Witch Project, co-writer of BOOK OF SHADOWS: BLAIR WITCH 2, director of Solstice, The Believers, and The Objective) and directed by Ben Rock (Shadow of the Blair Witch, Conversations), Alien Raiders is WHV's sixth acquired title from the successful "Raw Feed" film franchise. "Alien Raiders explores the mystery, suspense, fear and tension behind mankind's fight for survival against alien invasion," said producer Dan Myrick. "It takes the ingredients of horror and suspense from previous Raw Feed installments and adds a science fiction element to increase the anxiety factor."
Some video clips from the WB:
DEEP BREATH 1:38 YouTube
Windows:
http://raincloud.warnerbros.com/wbol/us/whv/med/rawfeed/alienraiders/clips/ar_deep_breath_300.asx
Quicktime:
http://raincloud.warnerbros.com/wbol/us/whv/med/rawfeed/alienraiders/clips/ar_deep_breath_qt_300.mov
GETTING UGLY 1:45 YouTube
Windows
http://raincloud.warnerbros.com/wbol/us/whv/med/rawfeed/alienraiders/clips/ar_getting_ugly_300.asx
Quicktime
http://raincloud.warnerbros.com/wbol/us/whv/med/rawfeed/alienraiders/clips/ar_getting_ugly_qt_300.mov
SIMON SCHAMA THE AMERICAN FUTURE - A HISTORY
Release Date: January 20, 2009
Official website: http://www.bbcamericashop.com

Description:
Ever wonder how modern-day America appears to the rest of the world? Renowned historian Simon Schama delves into American history to explain our present-day motivations, expectations and crises. Taking the long perspective, Schama looks at four of the critical issues facing our country: war, religion, immigration and the economic and environmental crises we face. Turning to fascinating moments in American history to understand the present, he connects such legendary presences as Thomas Jefferson, Henry Ford and Mark Twain with today's soldiers, businessmen, truckers, school teachers and politicians-especially Barack Obama. In the wake of the historic 2008 Presidential election, this series offers a timely and gripping vision of the United States-past and present-as we face our moment of truth.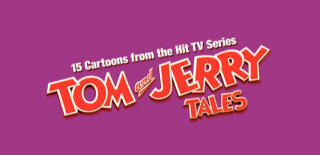 TOM AND JERRY TALES: VOLUME 6
Release date: February 3, 2009
Everyone's favorite cat and mouse duo Tom and Jerry return to DVD in an all-new set of adventures on Tom and Jerry Tales Volume 6, which will be released by Warner Home Video (WHV) February 3, 2009. The sixth volume of the hit Kids' WB TV series will feature 15 action-packed cartoons showcasing Tom and Jerry's latest adventures.
In this volume of Tom and Jerry Tales, Tom and Jerry's unending pursuit takes them around the world from Africa to Australia and on. The duo also learns some valuable lessons about history, including an episode where Tom inadvertently turns the Declaration of Independence into a paper airplane and an episode where Jerry has a role in the Wright Brothers first flight at Kitty Hawk. Tom and Jerry are also involved in a number of musical adventures that are anything but harmonious -- Jerry sabotages Tom's efforts to win a Flamenco dance contest and Tom tries to avert his girlfriend's attention from Jerry by singing the blues. Three very cool episodes on this DVD are entirely devoted to the theme of snow and ice. The duo confronts each other on a frozen pond where Jerry wants to skate but Tom plans to play hockey. Tom and Jerry also engage in an all-out snowball battle and later on, find themselves face-to-face with the giant abominable snowmouse.
"Tom and Jerry is one of the greatest cartoons of all time," commented Amit Desai, WHV Vice President of Family, Animation & Sports Marketing. He added, "The essence of the show has remained unchanged and that's why it's as successful today as it was decades ago. Tom and Jerry Tales maintains the same classic formula that has made this cartoon a success but places the characters in a contemporary setting, which is why the show continues to be a big hit with kids today."
YOU'RE A GOOD SPORT CHARLIE BROWN
Available on DVD: January 27, 2009
Official Site URL: www.kidswb.com

Start your engines! Its Motocross season and competing against the likes of Peppermint Patty and the Masked Marvel – aka a certain daredevil beagle named Snoopy – can intimidate anyone. But if Charlie Brown – tagged with unlucky number 13 – can keep the pace slow and steady (as well as hold onto his helmet), he might just win the race! It's fast and furious fun right up through the finish line of this wonderful Emmy Award® winner as Outstanding Children's Special, rolling out in a spit-shined re-mastered deluxe edition with improved picture and audio.

DVD Special Features Include:
You're the Greatest, Charlie Brown - A new-to-DVD bonus episode. Hard work and team spirit are what Charlie Brown needs for decathlon victory but this junior Olympian had better keep his eye on the track to win.

Dust Yourself Off and Pick Yourself Up, Charlie Brown - An original featurette that tells the story of how Charles Schulz' son Craig and his life-long passion for dirt biking, served as an inspiration for his dad to include it in his famous comic strip.

REVIEW:
I am a big fan of Charlie Brown -- have been for years. There seems to be something for everyone in any Charlie Brown story. In this one, Charlie Brown hopes to win the motocross race, despite being "Unlucky Number 13". While there is always a great story, each person can take away something different -- whether it be the virtue of being a good sport, whether you win or not -- or just the spirit of participation. It is a good way to introduce little folks to good sporstsmanship as well. It is always great when the gang gets together -- Charlie, Snoopy, Pepermint Patty.
Also included on this the special, YOU'RE THE GREATEST, CHARLIE BROWN. Charlie is recruited to represent his school by competing in the decathlon for the Junior Olympics. Peppermint Patty trains Chuck in all ten events. Charlie Brown wins several events and has a chance to win the entire Junior Olympics for his school.
Both of the Peanuts specials on the disc have been remastered and cleaned up. They look and sound spectacular.
NEW FAMILY DVDS
Looking for movies you can watch with your children? I have moved many of the family-oriented DVDs to a Family DVDs page. Here you will find wonderful DVDs you can enjoy with your entire family -- no matter the age. You will find background information about the DVD, but there are clips as well from Warner Bros. Enjoy!

For more information on other DVDs that have just been released and reviewed, go to New DVDs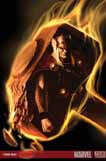 THOR
THOR #602
Written by J. Michael Straczynski
Art and cover by Marko Djurdjevic

The cataclysmic, catastrophic events of Thor #600 have rocked Asgard. What unexpected way do his true friends figure out to help him? And what could possibly be the next step in the devious Loki's sinister schemes and machinations?
FARSCAPE: D'ARGO'S LAMENT #1>br> Written by Keith R.A. DeCandido, art by Tommy Patterson, covers by Michael DiPascale and Will Sliney.

Ka D'argo lives on -- only in this Farscape mini-series set in continuity during Season 3 between episodes "Revenging Angel" and "Fractures!" Follow the adventures of John Crichton's best friend D'argo as he's forced to not only save the day and end planetary war, he's got to do it all with mouthy "princess" Jool along for the ride. And that means trouble!
FARSCAPE: STRANGE DETRACTORS #2
Written by Rockne S. O'Bannon and Keith R.A. DeCandido, art by Will Sliney, covers by Joe Corroney and Dennis Calero.
Farscape creator Rockne O'Bannon is back! Television's science fiction masterpiece Farscape continues with the same hit writing team from the first sold out mini-series! Crichton and crew are all here as it's friend vs. friend and ally vs. ally as a mysterious wave of violence sweeps through the crew of Moya. And worse, an entire planet!
Flash Gordon Volume 1: The Mercy Wars HC
by Brendan Deneen & Paul Green
Discover what all the buzz is about! This beautiful hardcover collects issues #1-6 of Ardden Entertainment's critically acclaimed new Flash Gordon monthly series, and includes the almost-impossible-to-find issue #0. In this first arc of the new series, Flash, CIA Agent Dale Arden, and mad scientist Dr. Hans Zarkov rocket off to the planet Mongo and find themselves in the middle of a deadly civil war with none other than Ming the "Merciful" at the center of the conflict! Available in Regular and Remarked Signed editions.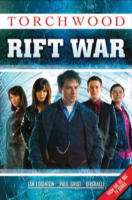 Torchwood: Rift War GN
by Williamson, Furman, Edginton, Grist, & D'Israeli
Torchwood is an action-packed sci-fi series spinning out of the BBC hit Doctor Who, following the adventures of a secret team of investigators who use scavenged alien technology to solve present day crimes — both alien and human. When Torchwood comes under fire in an all-out attack by extra-dimensional shock troopers, the team is torn in all directions. And with a deadly rift bleeding through into their own reality, time itself could be destroyed if the Torchwood team can't stop it! Featuring story and artwork by a whole host of top British comic creators, including Paul Grist (Jack Staff), Ian Edginton and D'Israeli (Scarlet Traces), and Simon Furman (Transformers), Torchwood: Rift War collects the comic strips from Titan Publishing's best-selling Torchwood: The Official Magazine, based on BBC America's highest-rated series ever.
Battlestar Galactica: The Manga
by Salzfass, Wellman, Hatch, Wu, Delk, & Schons
Culled from storylines that didn't make it past the cutting room floor, the Battlestar Galactica manga takes place in Season 3 of the popular television series. In "Teacher's Pet," teacher Laura Roslin struggles to educate and inspire her young students with a "human-centric" curriculum on New Caprica, until she begins to suspect one of her own students may be a Cylon informer. Back on board the Galactica after Adama's daring rescue of the human population in "Shelf Life," President Tom Zarek is determined to root out and punish any human traitor suspected of collaborating with the Cylons during the occupation by death. But will he be able to follow through when a long- lost friend is on top of the target list? And in "Visitation," Starbuck is stunned when she discovers the young girl Kacey living in squalor in the shantytown, so stunned that in her attempt to help, she crosses a line that shocks even those closest to her.
Battlestar Galactica: The Final Five #1
by Seamus Fahey, David Reed & Nigel Raynor
While the critically acclaimed series may be coming to an end, Dynamite Entertainment enters 2009 with a series of new and exciting Battlestar Galactica comic book events Beginning with The Final Five, a three-issue event tying directly into the events of the final episodes of the series, Dynamite will continue to provide a home for great Galactica stories in 2009 and beyond! The Final Five #1 (of 4) is overseen By Seamus Kevin (Origins) Fahey and David Reed with the complete authorization of Sci Fi and the producers and features the back story of the Cylons, man and their current struggle against one another! Joining the writers is Galactica veteran Nigel Raynor, who also provide one of the two incredible covers! And to top it all off, Red Sonja and Super Zombies artist Mel Rubi is also providing an incredible cover!
BABYLON 5 MUSIC VIDEOS AND TRIBUTES
I found this message on the Babylon 5 moderated newsgroup this morning and just had to post it so that others might enjoy the marvelous music videos created by John Hudgens.

+++++++++++++++++++++++++ As some of you may know, I was hired by Joe Straczynski back in the day to create Babylon 5 music videos for him to use at science fiction conventions, and later to promote the show to networks. Eight were produced over the run of the series, not including the memorial videos I did later for Rick Biggs and Andreas Katsulas.

For the longest time, the only way to see these was if Joe or I showed them at a convention, but now, after numerous requests from fans over the years, Joe has given me permission me to post these online.

Danger Zone: http://www.youtube.com/watch?v=xYNG0ow0G0k

I Need a Hero: http://www.youtube.com/watch?v=PFo3Lau2Occ

Requiem: http://www.youtube.com/watch?v=X7ckXY6yiVQ

Nobody's Side: http://www.youtube.com/watch?v=Wk9LvldiOf0

Welcome to the Third Age: http://www.youtube.com/watch?v=YT5q_ltXiY0

Keep Yourself Alive: http://www.youtube.com/watch?v=t0lRtpWR5lo

The Phantom B5 Video: http://www.youtube.com/watch?v=uV4GMNjDdYc

Third Age 2K: http://www.youtube.com/watch?v=HqIyY0PWjbI

Richard Biggs memorial: http://www.youtube.com/watch?v=HyD4L8yNtsA

Andreas Katsulas memorial: http://www.youtube.com/watch?v=h2UQ2l9NPIg

- This is the extended version that I did for Andreas' widow ater the original cut was released on the net. It's never been seen online until now.

For those of you who've never seen these, I hope you enjoy them - and for those that have (and emailed me many times over the years about releasing them), I hope they're as good as you remember. Working with Joe on these videos was one of the highlights of my career, and I'll be forever grateful to him for the doors these have opened for me. I'm proud to have them on my resume.

John Hudgens
www.zteamproductions.com





March 20-22, 2009
EYE CON
City: Orlando, Florida
For more information, go to http://www.eyeconfla.com
March 27-29, 2009
Narutotrek 2009
Place: Sheraton Suites Cypress Creek
City: Ft. Lauderdale, FL
Guests: Walter Koenig, Denise Crosby and more
For more information, go to http://www.narutotrek.com

April 3-5, 2009
I-CON 28
Place: Brentwood, Long Island
Guests: Sean Astin, Tory Belleci, and many more
For more information, go to http://www.iconsf.org/ for more information.

April 17-19, 2009
FX International
Place: Orange County Convention Center
City: Orlando, Florida
For more information, go to http://www.fxshow.com

April 17-19, 2009
CHILLER THEATRE Convention
Place: Hilton Parsippany
City: Parsippany, New Jersey
B5 Guest: Tracy Scoggins, Walter Koenig
Other Guests: Peter Graves, Eric Roberts, Michael Dorn, Lou Ferrigno, Rene Auberjonois, Dean Hagland, John Wesley Shipp -- and many, many more
Go to http://www.chillertheatre.com/main.htm for more information.

April 24-26, 2009
STEEL CITY CON
Location: Pittsburgh, Pennsylvania
Guests: Catherine Bach, Mick Foley, Sandra Taylor, Cathy St. George, Orli Shoshan
For more information, go to http://www.steelcitycon.com

April 24-26, 2009
Starfury: T1
Place: Hilton Birmingham Metropole
City: London
Guests: Summer Glau, Zachary Levi, Adam Baldwin, Amy Acker, Jonathan Woodward, Felicia Day, Georges Jeanty, Dominic Keating, Clare Kramer
For more information, go to http://www.starfury.co.uk/

May 8-10, 2009
EYECON: TWILGHT
City: Orlando, Florida
For more information, go to http://www.eyeconfla.com

June 11-15, 2009
EYECON AT SEA (Sea Cruise)
City: Miami, Florida
For more information, go to http://www.eyeconfla.com/eyecruise/

July 10-12, 2009
SHORE LEAVE
Place: Marriott's Hunt Valley Inn
City: Baltimore, Maryland
Guests: Jason Momoa, Rachel Luttrell, Robert Picardo, Ethan Phillips, Christopher Heyerdahl, Michael Welch
For more information, go to http://www.shore-leave.com/
July 10-12, 2009
TCON
Place: Sheraton Parkway North Toronto Hotel
City: Richmond Hill, Canada
Description: We have over 300 hours of programming including special media guest Q&A's, scientists, authors, discussion panels, anime & video, gaming, autographs & photo sessions, masquerade contest, dances and art displays. They host a charity auction that raises money for Gilda's Club of Greater Toronto -- and they have the 3rd Annual Constellation Awards.
For more information, go to TCON.
SPECIAL ANNOUNCEMENTS!
Creation Entertainment has a large number of conventions planned for the next several months. They include stars from STARGATE, ENTERPRISE, FARSCAPE, XENA, BATTLESTAR GALACTICA, etc. Check out their calendar to see if one will be in your neighborhood soon. Don't miss their Videos page as well. It is full of some priceless video from a number of conventions.
Be sure to visit the referenced sites to see if there have been changes in dates/guests attending. Visit our Convention Calendar for a full listing of upcoming conventions.
BACK ISSUES OF THE ZOCALO TODAY
The front page of the The Zocalo Today changes daily, so be sure to check the back issues to make sure that you haven't missed anything IMPORTANT! I don't want the front page getting too long so I shift information periodically into the archives. So if you aren't a regular visitor to The Zocalo Today, be sure to check out the back issues. Just use the button above!
---
Take care and I look forward to hearing from you.
Sandra Bruckner (sgbruckner@aol.com)
Editor/Publisher
ISN News: The Zocalo Today
http://www.isnnews.net
Copyright - SBruckner, 1999-2009