[an error occurred while processing this directive]

The Zocalo Today

Welcome and thank you for dropping by. Take your shoes off, get comfortable and stay a while. There is a LOT of information here and you won't want to miss any of it.

The Zocalo Today is an interactive newsletter, encouraging readers to join a discussion topic or to send along letters that can be shared with other readers.

The Zocalo Today is a newsletter for Babylon 5 and science fiction fans everywhere. It is as much YOUR newsletter as it is mine! I'm just pulling together things for you!

Join our discussion topic. It is just one way you can share with other Z readers. If you see Babylon 5 cast and crew in other roles, let us know. We enjoy convention reports, photos, etc. Don't miss our back issues. I hope this will become more than just a newsletter. It's a community of people that enjoy sharing their experiences and interests. Babylon 5 brought many of us together -- and it remains with us, despite the fact that is no longer in production. Don't be shy. Join us today!

If you have questions, drop me a line at sgbruckner@aol.com. If you would like to join the mailing list for our newsletter, send me a note and I'll include you on the list. Or you can use the subscription block at the left.

Again, WELCOME!
SATURDAY, SEPTEMBER 5, 2009
WHERE THE WILD THINGS ARE
A new poster has been released for Spike Jonze's adaptation of Maurice Sendak's WHERE THE WILD THINGS ARE, making its debut at MSN Movies.
A mixture of real actors, computer animation, and live puppeteering, WHERE THE WILD THINGS ARE follows the adventures of a young boy named Max (Max Records) as he enters the world of the Wild Things, a race of strange and enormous creatures who gradually turn the young boy into their king.
The movie, starring Max Records and featuring the voices of Lauren Ambrose, James Gandolfini, Catherine O'Hara and Forest Whitaker, opens in regular and IMAX theaters on Oct. 16.
HUSK
The Hollywood Reporter writes that Devon Graye, best known for playing the teenage Dexter on Showtime's DEXTER, will star with C.J. Thomason and Wes Chatham in HUSK, a horror movie from After Dark Films. Tammin Sursok (Aquamarine) also stars.
The story sees five friends on a weekend trip who become stranded in isolated farmland when crows attack their SUV. They soon realize that the corn fields are inhabited by reanimated human scarecrows who reproduce by killing and force their undead victims to join their ranks.
Graye plays the brainiac of the group, Thomason is the blue-collar guy, and Chatham is the jock.
Brett Simmons wrote the script and is directing the project, which is based on Simmons' short film that played at Sundance.
SCIENCE FICTION NEWS STORIES:
News from yesterday and the last couple of months can be found in the News Archive. Check it out to catch up on all that has been going on in the world of science fiction.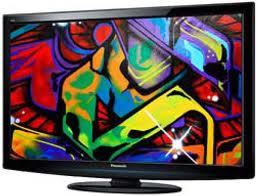 8:00pm on CBS
Ghost Whisperer-Episode: Bad Blood (First Aired: November 16, 2007)
Melinda learns that there is something suspicious about the house that Delia's friend recently purchased.
9:00pm on Syfy
Merlin and the War of the Dragons(2008)
Merlin must use his wizardry to stop a band of fire-breathing dragons from destroying England. Jürgen Prochnow, Simon Lloyd Roberts, Joseph Stacey, Dylan Jones, Hefin Wyn
REAL GOOD RADIO HOUR WITH BILL MUMY
Bill Mumy is inviting you to check out his brand new weekly radio show, "THE REAL GOOD RADIO HOUR with your host Bill Mumy".

We'll be listening to many different styles of music and learning about those who pioneered them.
"The Real Good Radio Hour" will air every Wednesday and Friday at 7 PM both Pacific and Eastern time.
Some of the upcoming episodes will focus on:
Masters of the Blues
Pioneers of Folk
Architects of Rock n Roll
Heart of the Country
Bringing it Live
Rock Meets Folk
Classic Crooners
The Roots of Reggae
The Real Good Radio Hour debuts Wednesday, September 16th at 7 pm and can be heard weekly on KSAV.org.
ASKED & ANSWERED: PART 3
Rants, religion, money, sex and Star Trek...just a few of the topics covered in the most volatile release of the entire Asked & Answered series.

Part 3 (pages 779-1,183) includes more than 1,100 missives grouped into the following – often heated – topics:

ALL THIS AS WELL AS SECTIONS COVERING: THE TITLE SEQUENCE, THE UNIVERSE OF BABYLON 5 , THE SHOW'S VISUAL AESTHETIC, THE WARDROBE

and last but not least —

WRITING BABYLON 5
Read the entire description of this book at http://www.cafepress.com/b5books.
BABYLON PODCAST
Welcome to Show #170! Feedbackapalooza: Voicemail highlights this episode: Arkle theorizes on the real reason for some of the fans' deep dislike of Byron; the three unproduced Crusade scripts are summarized in the Crusade supplement of the Babylon 5 Role Playing Game book… who knew?

Hated Bunny wants to know [...]

Visit Deep Geeking, and if you want to contribute a geeking essay, send an email to Summer.

To catch up on all the Babylon 5 podcasts, go to http://www.babylonpodcast.com.
DISCUSSION TOPIC - BABYLON 5 FAVORITES
It has been a while since we talked BABYLON 5 favorites. Let's see what we can come up with! How about favorite line? I know, this is not easy, but is there one or two lines that just scream BABYLON 5 for you? I think one of mine would be "Alone in the night." When you hear that line, don't you hear Sinclair saying it? What is your favorite?

Send in your comments to sgbruckner@aol.com. I'll post your selections our discussion page for all readers to share. I'll post some of my comments in my blog -- see below.
ISN BLOG
Join me on the ISN News Blog at http://isnnews.blogspot.com. I'll put in stuff that I think is interesting for others to read about and I hope you will join in to discuss of the issues -- related to science fiction or not!




While Andreas Katsulas (G'Kar), Rick (Biggs) and Tim (Choate) are no longer with us, we will not forget their wonderful personalities and talent -- as well as their significant contributions to the BABYLON 5 universe. Be sure to visit In Memory Of for more information about memorial efforts. Until we met again, in a place where no shadows fall.
BABYLON 5 BIRTHDAYS
Pat Tallman - September 4
Cinzia Zanetti - September 5
Robin Atkin Downes - September 6
Mira Furlan - September 7
Walter Koenig - September 14
Paul Williams - September 19
Robert Rusler - September 20
Gary Cole - September 20
Bear Burge - September 23
Jason Carter - September 23
Manny Case - September 23

I love September. It has a number of birthdays for some of my FAVORITE Babylon 5 people, including Patty, Robin, Bear, Jason and Manny. Have I missed anyone? If you know the birthday of someone connected with Babylon 5, pass the information along. We want to include everyone in our Happy Birthday Wishes.
NEW ANIMATIONS
Artist Tye Bourdony has sent along links to some of his latest satires -- and they are animated. Tye has brought us many satires in the past. Be sure to visit his site:
Oompa: http://www.youtube.com/watch?v=ed1CT77CPMM
Geico: http://www.youtube.com/watch?v=rsdx-UCHGhA
Rorschach: http://www.youtube.com/watch?v=racbmLCcpko&feature=channel_page.

For more of these fabulous cartoons, go to http://cartoons.sev.com.au/Sev-Space/Sevylon-5/.
FRINGE FUN
FRINGE fans can now enter for a chance to win a trip to the set of FRINGE at www.CompleteThePattern.com.
The grand prize winner will win a trip to Vancouver, BC. The first prize winner will get a hi-def home entertainment system and five second prize winners will receive a copy of the Complete First Season on DVD.
You can purchase the Complete First Season of Fringe on September 8th. See more information down in the DVD section.
SCOOBY ZOINKS POINTS
Official website: http://scoobydoo.kidswb.com/zoinkspoints/

Synopsis:
Warner Bros. Consumer Products (WBCP) announces the Scooby-Doo Zoinks Points consumer rewards program. This first of its kind program offers fans the opportunity to download and access free, exclusive online content with the purchase of all Scooby-Doo licensed products. Users will have access to a vast and ever-expanding collection of online and downloadable content, including custom Scooby-Doo online games, video clips, wallpapers, screen savers, podcasts and more.
MOTION COMICS - SUPERMAN, BATGIRL AND BATMAN
Warner Premiere and Warner Bros. Digital Distribution announced three new additions to the best-selling Warner Premiere Motion Comics slate. Classic graphic novels SUPERMAN: RED SON and BATGIRL: YEAR ONE, as well as graphic album BATMAN: BLACK AND WHITE Collection 2 entered the digital age as Warner Premiere Motion Comics on the iTunes Store www.itunes.com. Also announced, for a limited time, you can download the first glorious episode of SUPERMAN: RED SON for free and see how Stalin's most powerful weapon swayed the balance of power during the Cold War http://tinyurl.com/SmanRedSonPR.

Continuing to lead the motion comics experience, Warner Premiere's Motion Comics connect comic fans to authentic DC characters through short-form content. The Motion Comics slate draws on a deep reservoir of source material to bring a visually engaging experience to life through the use of subtle movements, voice-overs, sweeping music scores and stunning comic book artwork.

"Last year we debuted our Motion Comics slate and saw the voracious appetite graphic novel fans had for this digital content," said Diane Nelson, president, Warner Premiere. "One of the reasons for our success is Warner Premiere working closely with DC Comics to determine if a story naturally lends itself to becoming a motion comic. Another key is the process we use to select the studios that ultimately create these motion comics. They are very passionate comic book fans so creating these motion comics really are a labor of love. We're very proud of our success and look forward to bringing more titles to comic fans in the future."
FRINGE
Release date: September 8, 2009

"FRINGE: THE COMPLETE FIRST SEASON features 20 episodes of the most exciting new show on television, including over six hours of never-before-seen bonus features and collectible lenticular packaging," said Rosemary Markson, WHV Vice President, TV and Special Interest Marketing. "Warner Home Video is ecstatic to release this much- anticipated science-fiction hit on DVD and Blu-Ray."

DVD Special Features Include:
Evolution: The Genesis of Fringe featurette - The creators of the show discuss how the series unfolded and the qualities that make it so unique
Behind the Real Science of Fringe featurette - From teleportation to re-animation, Fringe incorporates recent discoveries in science. Consulting experts and scientists who are the authorities in their field address the areas of science which are the inspiration for the show.

A Massive Undertaking: The Making of Fringe (on select episodes) - An in-depth exploration of how select episodes came to be made: from the frozen far reaches of shooting the pilot in Toronto, to the weekly challenges of bringing episodes to air
The Casting of Fringe- The story, as told by producers and cast, of how Anna Torv, Joshua Jackson, John Noble and others came to be cast in the series.
Fringe Visual Effects featurette - Goes deep into the creation of the shared dream state with some of the biggest VFX shots of the show.
Dissected Files: Unaired Scenes
Unusual Side Effects: Gag Reel
Deciphering the Scene
Roberto Orci Production Diary
Gene the Cow montage
Three Full-Length Commentaries from writers/producers, including J.J. Abrams, Roberto Orci, Alex Kurtman, J.R. Orci, David Goodman, Bryan Burk, Akiva Goldsman and Jeff Pinkner
I love this show and have enjoyed all the episodes in this first season. I am anxiously awaiting season two and SO happy that the DVD will be out with all those wonderful extras listed above -- and more.
Video clips from FRINGE:
Footprint 2:11
http://raincloud.warnerbros.com/wbol/us/whv/med/fringe/season1/clips/fs1iwwmfj_3T7656_footprint_300.asx ZFT 2:30
http://raincloud.warnerbros.com/wbol/us/whv/med/fringe/season1/clips/fs1iwwmfj_3T7656_zft_300.asx Safety Deposit Boxes 1:13
http://raincloud.warnerbros.com/wbol/us/whv/med/fringe/season1/clips/fs1s_3T7659_safety_deposit_boxes_300.asx
Cracked the Case 2:04
http://raincloud.warnerbros.com/wbol/us/whv/med/fringe/season1/clips/fs1td_3T7658_cracked_the_case_300.asx
INTERVIEW FOOTAGE FOR FRINGE
J.J. Abrams Discussing FRINGE
http://raincloud.warnerbros.com/wbol/us/whv/med/fringe/season1/dvdreleaseparty/fs1_dlp_jjabrams_idea_of_fringe_500.asx
J.J. Abrams Talks About Weird Topics
http://raincloud.warnerbros.com/wbol/us/whv/med/fringe/season1/dvdreleaseparty/fs1_dlp_jjabrams_weird_topics_300.asx
Joshua Jackson Discusses Season One
http://raincloud.warnerbros.com/wbol/us/whv/med/fringe/season1/dvdreleaseparty/fs1_dlp_jjackson_hooked_300.asx
John Noble Talks About The Show
http://raincloud.warnerbros.com/wbol/us/whv/med/fringe/season1/dvdreleaseparty/fs1_dlp_jnoble_what_i_have_learned_300.asx
CELEBRATE HISPANIC HERITAGE MONTH WITH BABY LOONEY TUNES
Warner Bros. Consumer Products and renowned Latina health expert, Dra. Aliza Lifshitz, partner to reach out to Hispanic mothers and promote healthy, happy babies, utilizing Baby Looney Tunes as ambassadors for the program. The partnership announced September 1 coincides with the start of Hispanic Heritage Month and will provide new and expecting mothers with fun, engaging and educational ways to best care for and nuture their babies.

Visit the all-new Baby Looney Tunes branded sections on www.MomLogic.com and www.VidaySalud.com for more about the Happily Healthy fun initiative and video tips from Dra. Aliza and Baby Looney Tunes' downloads for kids:

Mom Logic: www.momlogic.com/babylooneytunes
VidaySalud.com (Spanish Version): www.vidaysalud.com/babylooneytunes

Follow Baby Looney Tunes on Facebook and Baby Looney Tunes En Español on Facebook.





OUR GANG COLLECTION
Release date: September 1, 2009

Warner Bros. has done it again. From the extensive archive comes an OUR GANG collection. Alfalfa, Spanky, Buck Wheat and the rest of the gang arrive on today on the Warner Archive in The Our Gang Collection that headlines a stellar line-up of new releases. This new five-disc DVD set contains all 52 of the "Our Gang" shorts produced by MGM between 1938 and 1944 in their original, uncut form as first seen in theaters at a limited time special price of $34.99 only at http://www.warnerarchive.com.

Among the episodes in the Collection are "Party Fever," "The Little Ranger," "Alfalfa's Aunt," "Don't Lie" and dozens more. Also seen in the cast are Froggy, Porky, and even little Mickey Guibitosi, who soon changed his screen name to Bobby (Robert) Blake. This collection marks the first ever home video release of the entire group of the 52 MGM shorts, news sure to be welcomed by the hordes of "Our Gang" fans out there. The "Our Gang" comedies are the first in a series of monthly Warner Archive Collection releases to be drawn from a library of classic theatrical short subjects originally produced by both Warner Bros. and MGM.

Also coming to the Warner Archive in September are the "Dogville" shorts, Wrestling Ernest Hemingway, Airbourne and many more. Please visit www.warnerarchive to view the vast selection of wonderful classic titles including treasures from the silent film era; rarely seen films starring Hollywood legends like Cary Grant, Clark Gable, Bette Davis; and Sci-fi cult classics like Doc Savage, Countdown and others.

Clip from the Our Gang Collection:
http://pdl.warnerbros.com/wbol/us/dd/med/warnerarchive/2009/08/dtc_august_preview_ourgang_1_qt_500.mov

THE ADVENTURES OF ONE ESKIMO
Release Date: August 31, 2009

The U.K.-based band "One Eskimo" and Warner Premiere have created an innovative new musical experience for consumers that brings a musical album together with groundbreaking animation and story to offer music fans a fully immersive musical and visual storytelling experience. The brainchild of lead singer Kristian Leontiou, "The Adventures of One Eskimo" is a visual album comprised of a series of animated musical story episodes jointly developed and produced by the band and Warner Premiere, and will be distributed by Warner Bros. Digital Distribution (WBDD). Warner Premiere and WBDD envision "The Adventures of One Eskimo" to be the first in a slate of visual album projects that offer musicians and consumers a new and compelling way to experience musical albums through the digital medium. "The Adventures of One eskimO" will debut August 31 on iTunes and other digital channels http://tinyurl.com/oneeskimorelease.

"We believe there is an opportunity for music and narrative to be combined into a new category of storytelling for digital mediums," said Diane Nelson, president of Warner Premiere. "'The Adventures of One eskimO' is a wonderful love story using adorable characters to tell a story in a truly creative way. We're looking forward to launching this series in September and working with additional artists on similar projects in the future."

Produced by Passion Pictures, well known for their award-winning Gorillaz animation, "The Adventures of One eskimO" takes viewers on an animated journey through an epic love story starring our hero One eskimO and his band of animal friends that include Monkey, Giraffe and Penguin. The story begins with One eskimO and the love of his life Little Feather living peacefully in their igloo home, enjoying life as it passes by. One evening, Little Feather and One eskimO are torn apart by a dark force known as Mr. Top Hat who controls the world through his crystal ball. Our forlorn eskimO mopes around, pining for his lost love, imagining that she has left him for Mr. Top Hat. Through the help of a wise and brave owl he learns that she is in great peril. With only a knapsack and an enduring love, One eskimO sets out with his band of animal friends on an epic quest to rescue her.

A 10 part short form animated series, "The Adventures of One eskimO" will debut on iTunes and other digital channels August 31. To download the One eskimO trailer and to pre-order the series visit: http://tinyurl.com/oneeskimorelease.

Help One eskimO before it's too late! By visiting www.findlittlefeather.com fans can join One eskimO and his band on a quest to track down his lost love. Users are confronted with a series of challenges and games set by the dastardly Mr. Top Hat which they have to overcome if they ever want One eskimO to see Little Feather again. Each game corresponds to major plot points from the animations themselves and employs the same unique look and feel. The online experience allows fans to delve deeper into the story and to feel part of the world of One eskimO.

For more details on One eskimO and to see their tour schedule with Tori Amos visit: www.oneeskimo.com.
SCOOBY-DOO WHERE ARE YOU? VOLUME THREE HELLO MUMMY
Release Date: September 19, 2009

Synopsis:
The whodunit format was a daring new frontier for an animated series, but the members of the Mystery Inc. team have grown to become authentic popular-culture icons.

Video Clips:
No Accident 1:35
http://raincloud.warnerbros.com/wbol/us/whv/med/scooby/whereareyou/vol3/clips/bitb_no_accident_300.asx
Puppeteer 1:32
http://raincloud.warnerbros.com/wbol/us/whv/med/scooby/whereareyou/vol3/clips/br_puppeteer_300.asx
Mummy Catch 2:04
http://raincloud.warnerbros.com/wbol/us/whv/med/scooby/whereareyou/vol3/clips/sdaamt_mummy_catch_300.asx

REVIEW:
Scooby-Doo is one of the favorite cartoons for many kids around the country. My nephew's kids will just sit around the tube and watch this goofy dog and his friends for hours! How good is that? In this collection, you see Scooby-Doo and his friends do what they do best -- solve mysteries! Heck, I liked watching them as well. Scooby-Doo is fun for all ages and if you are a fan of this series -- you just have to have the final release. This two-disc set has wonderful episodes like "Diamonds are a Ghouls Best Friend" and of course, the Scooby-Doo Christmas - bonus episode. If you are looking for good family fun, don't miss this one.

SUPERNATURAL: THE COMPLETE FOURTH SEASON
Release date: September 1, 2009
Official website: www.supernaturaldvd.com

Synopsis:
Resurrection. After enduring unspeakable torture, Dean escapes from Hell, rescued by an all-powerful creature he's never seen before 'an Angel', a warrior of God who recruits Sam and Dean into Heaven?s battle against Hell. And there are whispers that a certain fallen angel will soon be freed from his prison deep in Hell: Lucifer. If Sam and Dean can't stop it -- if Lucifer walks free -- he'll bring on the Apocalypse. Meanwhile, the Winchester Brothers reunite and hit the road, battling the supernatural wherever they go. They encounter demons, spirits, Dracula himself and even a drunk, heavily armed 7-foot-tall teddy bear. All the while, the ultimate war draws them into its horror throughout this enthralling 6-Disc, 22-Episode Season Four. Caught between Heaven and Hell, between God and the Devil, the Winchester brothers must battle for the future of humankind.

Video Clips:
http://raincloud.warnerbros.com/wbol/us/whv/med/supernatural/season4/clips/ss4ikwydls_1_900_angel_300.asx

1 900 Angel 2:16
http://raincloud.warnerbros.com/wbol/us/whv/med/supernatural/season4/clips/ss4ikwydls_1_900_angel_300.asx
Demons 1:41
http://raincloud.warnerbros.com/wbol/us/whv/med/supernatural/season4/clips/ss4ikwydls_demons_300.asx
Last Chance 1:34
http://raincloud.warnerbros.com/wbol/us/whv/med/supernatural/season4/clips/ss4ikwydls_one_last_chance_300.asx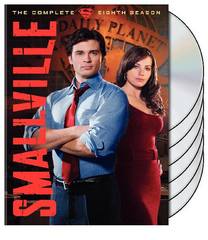 SMALLVILLE: THE COMPLETE EIGHTH SEASON
Release date: August 25, 2009
Official website: www.smallvilledvd.com
Synopsis:
There is a new reporter at the Daily Planet: Clark Kent, who shares a workspace with Lois Lane. There is a new hero in Metropolis, too. No one knows who he is. But Jimmy Olsen was on the scene of one of the do-gooder's exploits, and he snapped a blurred photo of the hero in superspeed action -- a hero everyone now calls the Red-Blue Blur. Red-jacketed, blue-shirted Clark Kent draws closer to his Superman destiny in the exciting 22-episode, 6-disc Season 8 of Smallville. Another Kryptonian destiny also takes shape. Davis Bloome begins to realize he is Doomsday. His mission on Earth: kill Clark Kent. So many new events (will Jimmy and Chloe's marriage last?), so many new faces (Tess Mercer, Saturn Girl and Cosmic Boy among them!), so many state-of-the-art effects -- so don't miss a single thrill-packed moment!
Video clips:
Kent farm 2:17
http://raincloud.warnerbros.com/wbol/us/whv/med/smallville/season8/clips/ss8_abyss_kent_farm_300.asx
Letting Go 2:33
http://raincloud.warnerbros.com/wbol/us/whv/med/smallville/season8/clips/ss8_abyss_letting_go_300.asx
Memory Loss 2:06
http://raincloud.warnerbros.com/wbol/us/whv/med/smallville/season8/clips/ss8_abyss_memory_loss_300.asx
Taken Over 2:32
http://raincloud.warnerbros.com/wbol/us/whv/med/smallville/season8/clips/ss8_abyss_taken_over_300.asx
REVIEW:
I have been a fan of SMALLVILLE since it began -- wow eight years ago! Where has the time gone? It has been wonderful seeing the actors grow into their roles. While I miss John Schneider and Michael Rosenbaum, Kristen Kreuk did come back for a brief period as Lana Lang. However, Tess Mercer's addition (portrayed by Cassidy Freeman) has brought new life to the Luther lab and this DVD series may be the best yet. There is plenty of action and with Clark getting help from Oliver Queen (Justin Harley) as Green Arrow. Allison Mack has always been wonderful as Chloe and she continues to light up the screen whenver she is part of it. Can't say I'm a huge fan of Erica Durance. Her Lois Lane leaves me wanting something more. In some episodes she is added more as an after thought than as a plot staple.
All in all though, SMALLVILLE fans will have a lot to talk about and with the coming new season, there are hopes for even greater adventures for Clark Kent.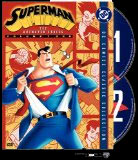 SUPERMAN: THE COMPLETE ANIMATED SERIES
Release date: November 24, 2009

Are you or your kids a fan of the animated SUPERMAN series? Well now you can bring home the animated adventures of the Man of Steel in its entirety on DVD this November. SUPERMAN: The Complete Animated Series will be released on DVD on November 24. This seven-disc set will contain all 54 episodes of this animated classic and the set will be priced at $53.82 SRP. You can take a look at all the special features below.

Follow the entire history of Superman from start to finish on this long-awaited DVD. Witness his incredible arrival on Earth, how he finds his place in his adopted home and his realization of what his powers can truly do for the forces of good. See CLARK KENT balance his roles as a mild-mannered news reporter and superhuman crimefighter, facing mortal enemy LEX LUTHOR, while still keeping his day job.

Fans of the comic books and the TV show alike will rejoice as every single episode can finally be purchased together on this seven-disc collector's set. Additionally, the exclusive extras deliver even more fun to this already superior DVD collection. Go "Behind the Cape" with David Kaufman (the voice of JIMMY OLSEN) as he takes you behind the scenes with the show's creative team, watch an excerpt from the new Bryan Singer and Kevin Burns SUPERMAN documentary, listen to commentary with Bruce Timm on several episodes and much more. This complete collection also includes a bonus disc featuring the all-new documentary The Despot DARKSEID: A Villain Worthy of SUPERMAN. SUPERMAN: The Complete Animated Series,with hours and hours of DVD entertainment, is the perfect holiday gift.

Special Features:
- Commentary by Bruce Timm, Paul Dini, Alan Burnett, Dan Riba, Glen Murakami, Curt Geda, Jason Hillhouse, James Tucker, and Butch Lukic on many episodes
- Selectable Pop-Up Trivia Tracks
- SUPERMAN: Learning to Fly - Explores the Creation of the Series
- Building the Mythology: Superman's Supporting Cast- Showcases the Supporting Players in the SUPERMAN Saga
- Menaces of Metropolis: Behind the Villains of SUPERMAN - The Origin and Evolution of Superman's Adventures
- SUPERMAN: Behind the Cape - David Kaufman (The Voice of JIMMY OLSEN) Takes You Behind the Scenes with the Show's Creative Team
- Look, Up in the Sky! The Amazing Story of SUPERMAN - Excerpt From the New -- Documentary Produced by Bryan Singer and Kevin Burns
- Bonus Disc Featuring the All-New Documentary The Despot DARKSEID: A Villain Worthy of SUPERMAN.
SUPERFRIENDS: THE LOST EPISODES Release Date: August 11, 2009
Official websiste: www.dcbeyond.com
Synopsis:
Powerful super heroes Batman, Robin, Superman, Wonder Woman, Aquaman, Wonder Twins Zan and Jayna and their rascally blue space monkey Gleek battle evil, protect humanity and save the world from unthinkable dangers in these 24 action-packed adventures. These cool cartoon actionfests showcase a gallery of DC Comics heroes and fan-favorite villains like Brainiac and Mr. Mxyzptlk, plus the Hanna-Barbera-originated hero El Dorado. Produced after the Super Friends show ended its run, these treasures were ?lost? for more than a decade until they were shown as part of The Superman/Batman Adventures series. It's a Deluxe 2-Disc Collector's Set with Bonus Downloadables -- your own pieces of super hero comic book history!
PRIMEVAL: VOLUME 2
Release date: September 15, 2009
Synopsis:
Monster hit Primeval roars back onto the screens for an extended third series. Still reeling from Stephen's death and with the depth of Helen's betrayal now revealed, Nick Cutter must fight to re-focus his embattled team. Cutter's crew are joined by some new recruits in the form of maverick policeman Danny Quinn, sparky Egyptologist Sarah Page, and the new leader of the ARC's security forces Captain Becker. But as the anomalies continue to present an unrelenting series of threats, the task in hand seems almost insurmountable. It's not just deadly creatures the team has to contend with, they also face a threat to the future of not just the ARC but of mankind itself. Prepare for more explosive action as Primeval bares its newly sharpened teeth.
There are so many DVDs to select from, I have moved some of the other selections to the DVD page. Please go there for more DVD selections -- and reviews -- DVD NEWS AND REVIEWS .
NEW FAMILY DVDS
Looking for movies you can watch with your children? I have moved many of the family-oriented DVDs to a Family DVDs page. Here you will find wonderful DVDs you can enjoy with your entire family -- no matter the age. You will find background information about the DVD, but there are clips as well from Warner Bros. Enjoy!

For more information on other DVDs that have just been released and reviewed, go to New DVDs
BABYLON 5 MUSIC VIDEOS AND TRIBUTES
I found this message on the Babylon 5 moderated newsgroup this morning and just had to post it so that others might enjoy the marvelous music videos created by John Hudgens.

+++++++++++++++++++++++++ As some of you may know, I was hired by Joe Straczynski back in the day to create Babylon 5 music videos for him to use at science fiction conventions, and later to promote the show to networks. Eight were produced over the run of the series, not including the memorial videos I did later for Rick Biggs and Andreas Katsulas.

For the longest time, the only way to see these was if Joe or I showed them at a convention, but now, after numerous requests from fans over the years, Joe has given me permission me to post these online.

Danger Zone: http://www.youtube.com/watch?v=xYNG0ow0G0k

I Need a Hero: http://www.youtube.com/watch?v=PFo3Lau2Occ

Requiem: http://www.youtube.com/watch?v=X7ckXY6yiVQ

Nobody's Side: http://www.youtube.com/watch?v=Wk9LvldiOf0

Welcome to the Third Age: http://www.youtube.com/watch?v=YT5q_ltXiY0

Keep Yourself Alive: http://www.youtube.com/watch?v=t0lRtpWR5lo

The Phantom B5 Video: http://www.youtube.com/watch?v=uV4GMNjDdYc

Third Age 2K: http://www.youtube.com/watch?v=HqIyY0PWjbI

Richard Biggs memorial: http://www.youtube.com/watch?v=HyD4L8yNtsA

Andreas Katsulas memorial: http://www.youtube.com/watch?v=h2UQ2l9NPIg

- This is the extended version that I did for Andreas' widow ater the original cut was released on the net. It's never been seen online until now.

For those of you who've never seen these, I hope you enjoy them - and for those that have (and emailed me many times over the years about releasing them), I hope they're as good as you remember. Working with Joe on these videos was one of the highlights of my career, and I'll be forever grateful to him for the doors these have opened for me. I'm proud to have them on my resume.

John Hudgens
www.zteamproductions.com
RED CIRCLE: THE HANGMAN #1
Written by J. Michael Straczynski; Art by Tom Derenick and Bill Sienkiewicz; Cover by Jesus Saiz.
J. Michael Straczynski dives into the DC Universe, bringing four of the finest heroes of the Golden and Silver Ages with him! Completely reimagined for the modern world from their original appearances in Archie/MLJ publications, these four heroes will show you a side of the DC Universe you've never seen before! The Civil War claimed many lives…but one of those lives still hasn't ended! Union doctor Robert Dickering found himself on the wrong side of the battle lines, and despite his heroic treatment of a fallen enemy soldier, he also found himself on the wrong end of a noose! But a shadowy power stepped forth in the twilight moments between life and death and offered him a deal he couldn't refuse: to forever roam the Earth, saving the lives of innocents condemned like himself – or hastening the deaths of the guilty! But in taking the seemingly righteous mission of the Hangman, has he accepted God's work? Or has he become the vengeful fist of the Devil himself?
September 4-7, 2009
Dragon-Con
City: Atlanta, Georgia
B5 Guests: Stephen Furst, Tracey Scoggins, Bruce Boxleitner, Dwight Schultz, John Hudgens (B5 videos)
Other guests: William Shatner, Leonard Nimoy, Patrick Stewart
For more information, go to www.dragoncon.org
October 10-11, 2009
Hollywood Autograph Show
Place: Burbank, CA
B5 guests participating: Julie Caitlin Brown; Claudia Chrisitan; Mira Furlan; Stephen Furst; Bill Mumy; Patricia Tallman, Andrea Thompson and Sarah Douglas (Deathwalker)
For more information, go to www.hollywoodshow.com
December 4-6, 2009
STEEL CITY CON
Place: Monroeville Convention Center
City: Monroeville (near Pittsbugh) Pa.
Guests include: Ernie Hudson from Ghostbusters I and II, Peter Mayhew
For more information, go to http://www.steelcitycon.com .
SPECIAL ANNOUNCEMENTS!
Creation Entertainment has a large number of conventions planned for the next several months. They include stars from STARGATE, ENTERPRISE, FARSCAPE, XENA, BATTLESTAR GALACTICA, etc. Check out their calendar to see if one will be in your neighborhood soon. Don't miss their Videos page as well. It is full of some priceless video from a number of conventions.
Be sure to visit the referenced sites to see if there have been changes in dates/guests attending. Visit our Convention Calendar for a full listing of upcoming conventions.
BACK ISSUES OF THE ZOCALO TODAY
The front page of the The Zocalo Today changes daily, so be sure to check the back issues to make sure that you haven't missed anything IMPORTANT! I don't want the front page getting too long so I shift information periodically into the archives. So if you aren't a regular visitor to The Zocalo Today, be sure to check out the back issues. Just use the button above!
---
Take care and I look forward to hearing from you.
Sandra Bruckner (sgbruckner@aol.com)
Editor/Publisher
ISN News: The Zocalo Today
http://www.isnnews.net
Copyright - SBruckner, 1999-2009