[an error occurred while processing this directive]

The Zocalo Today

Welcome and thank you for dropping by. Take your shoes off, get comfortable and stay a while. There is a LOT of information here and you won't want to miss any of it.

The Zocalo Today is an interactive newsletter, encouraging readers to join a discussion topic or to send along letters that can be shared with other readers.

The Zocalo Today is a newsletter for Babylon 5 and science fiction fans everywhere. It is as much YOUR newsletter as it is mine! I'm just pulling together things for you!

Join our discussion topic. It is just one way you can share with other Z readers. If you see Babylon 5 cast and crew in other roles, let us know. We enjoy convention reports, photos, etc. Don't miss our back issues. I hope this will become more than just a newsletter. It's a community of people that enjoy sharing their experiences and interests. Babylon 5 brought many of us together -- and it remains with us, despite the fact that is no longer in production. Don't be shy. Join us today!

If you have questions, drop me a line at sgbruckner@aol.com. If you would like to join the mailing list for our newsletter, send me a note and I'll include you on the list. Or you can use the subscription block at the left.

Again, WELCOME!
SATURDAY, OCTOBER 18, 2008

TERMINATOR: THE SARAH CONNOR CHRONICLES
Good news for fans of TERMINATOR: THE SARAH CONNOR CHRONICLES. Fox has picked up the series for a full season. The network has ordered the back nine episodes of the show's second season from Warner Bros., sources say. The sci-fi series has garnered a relatively modest rating on Monday nights this fall. Its most recent episode was seen by 5.7 million viewers, garnering a 2.3 rating in adults 18-49 and a 6 share, tying NBC's "Chuck" in the 8 p.m. time period. Fox's overall ratings tend to significantly increase after the first of the year, powered by "American Idol." Network executives may believe the drama's audience will grow once the overall Fox tide rises.

EUREKA
The Hollywood Reporter writes that Jaime Ray Newman (Veronica Mars) has been tapped for a multi-episode arc on SCI FI Channel's original series EUREKA.

KEVIN SMITH SPACE COMEDY
According to the Hollywood Reporter, writer-director Kevin Smith is developing a futuristic outer-space comedy that will reference other SF movies and revolve around a father-son relationship. Smith has nodded to the genre in his earlier work but never made an SF film. Smith is aiming for a budget in the $45 million- $50 million range, which would be his biggest, the trade paper reported. He again will produce with partner Scott Mosier via their View Askew company. Harvey and Bob Weinstein, with whom Smith has collaborated on most of his movies, could reteam with Smith on the film. Insiders told the trade paper that Weinstein Co. executives have read part of the script and are interested in making the movie. Smith has finished a first draft of the script, but the project will not move forward until after his next project, RED STATE.

AFTER LIFE
Variety reports that Christina Ricci and Liam Neeson will star in the supernatural thriller AFTER.LIFE, with Bill Perkins and Plum Pictures producing. Agnieszka Wojtowicz-Vosloo will make her directorial feature debut, helming from her own screenplay. AFTER.LIFE centers on a young woman caught between life and death and a funeral director who appears to have the gift of transitioning the dead. The film, which has a Screen Actors Guild waiver, will begin shooting in November in the New York region.

TOP SCIENCE FICTION NEWS STORIES:
To catch up on the latest news from around the world of science fiction, go to News Page. You'll find the highlights this week and this month here.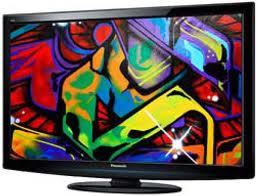 8:00pm on CBS
Criminal Minds - Penelope
The team works to determine whether a serial killer is threatening Garcia's life.
8:00pm on BBC America
Primeval
The team frantically searches for Abby after one of the new creatures from the future stalking the underground drains snatches her.
9:00pm on CBS
CSI: NY - Admissions
The team investigates the mysterious death of a high-school guidance counselor; the ``Taxi Cab Killer'' continues to wreak havoc on the city.
9:00pm on BBC America - NEW
Primeval
When an anomaly closes with Cutter and Stephen on the other side, they must brave the heat and sand-dwelling crabs to discover another way back home.
9:00pm on SciFi
Fire & Ice
A princess and a knight must save a kingdom from a rampaging dragon.
CATCHING UP WITH JMS
Here are a couple of postings from the B5 moderated newsgroup I thought you would enjoy:

I've never been a guy who likes a lot of flash. Anybody who's ever seen me knows I don't go for expensive clothes, or fancy cars, or the latest styles. I shop at the Gap and Land's End. I don't have expensive paintings or jewelry. I travel light. I'm a simple kind of guy.

But the Changeling sale was such a major event, such a transformational experience, that I thought...this really has to be something special to mark the moment. A once in a lifetime splurge.

So I got something I've long wanted: the Torneau Gotham Tahiti del Sol watch. It's my lucky watch, and I only wear it to big events and important meetings. The rest of the time I just kind of look at it and smile.
---
I did an interview for the LA Times that will be coming out in a big spread on Sunday, an interview for the Hollywood Reporter, Script Magazine, NPR's All Things Considered, and there are a bunch more yet to come.
---
I don't actually know how to describe what this is all like. It wasn't anticipated. It was never on the agenda. It just happened.

I don't normally allow self-indulgences, but I will allow one just this once, because it may illuminate the discussion. So there will be a measure of ego in what follows; forgiveness is requested in advance.

Leaving aside B5 for the moment, I often felt that I was a better writer than the shows I found myself working on. By that I mean...you can write the best Jake and the Fatman script in the whole world, but it's still Jake and the Fatman. It's like putting in ten years teaching a pig to sing; even if you achieve the goal, at the end of the day, what've you got for all your work? A singin' pig.

So I'd kind of reconciled myself to the notion that probably nobody would ever know what I could really do when I pulled out all the stops and had a clear field to play in. As has been quoted in B5, happiness is "the exercise of vital powers, along lines of excellence, in a life affording them scope." The scope was missing. Now, suddenly, that scope has become available, and I'm writing at the very edge of what I can do. Every day is a huge challenge. Now the question has become, am I good enough for the venues I'm now occupying? The onus is now on me to live up to the venue, not the other way around. And I like that. I like having to prove myself. I like to stand out on the crumbling edge of what I can do, to see what I can see from there.

It's almost like the universe saying, "Okay, bigshot, you've been running your mouth about what you can do, so here's your chance to run with the big dogs. Nobody's holding you back now. So let's see what you can do. Put up or shut up.">[? Just on its own terms, Changeling has been a huge validation of my life's work. And I'm very much at peace with that.

As for having a following...I think that's true within a fairly refined demographic. Most of the mainstream public really has no idea (or had no idea, before being hit with ten zillion Changeling posters) who I am. That's kind of the writer's lot in media, and I'm totally cool with that. I watched Angelina and Clint and others having to deal with the level of celebrity they have, and it's no fun. You can't go anywhere or do anything without being stalked. I would never, ever want that. So I'm happy to be just where I am.

And that's a nice feeling.
BUT IN PURPLE...I'M STUNNING!
Quotations from Babylon 5

Discounted price ($24.99) ends October 16.

It's the book Babylon 5 fans have waited years to own: "But In Purple...I'm Stunning: Quotations from Babylon 5" compiles everyone's favorite quotes into one comprehensive book. For easy reference, the quotes are broken down by character (who said it, and to whom) and by theme. J. Michael Straczynski has written 8 introductions, one for each themed section in addition to his foreword.

THEMED SECTIONS: Faith, Hope and a Little Charity, The Characters of Babylon, Relationships, War, Psi Corps, Power, Slapstick and Vox Populi.

CHARACTER SECTIONS: Sinclair, Sheridan, Ivanova, Garibaldi, Franklin, Londo, G'Kar, Delenn, Marcus, Lennier, Vir and Kosh.

"But In Purple...I'm Stunning: Quotations from Babylon 5" is the only book of Babylon 5 quotations ever to be published and contains 473 quotes from all 5 seasons. Each quote is annotated with its episode title, and all the quotes have been meticulously compared to the original scripts for accuracy.

This 317 page compilation will become a trusted resource when you're making a speech or toast, writing a paper, or looking for a fresh viewpoint for a newsletter, blank greeting card or important email. (B5 quotations have previously shown up in wedding vows, prayer services, webpages, and is one of the biggest sources of sig lines on the net.)

Best of all, "But In Purple...I'm Stunning" is an instant connection that keeps you in touch with the Babylon 5 principles and philosophy.

Rediscover favorite quotes you've forgotten and quickly find the ones important to you. Best of all, flipping through "But In Purple...I'm Stunning" lets you relive your favorite moments from Babylon 5, one after another.

Go to www.Babylon5Quotes.com for more information and to order a copy of your very own.
BABYLON 5 CHRONOLOGIES
For the first time ever available in print and authorized by J. Michael Straczynski
"Across Time and Space: The Chronologies of Babylon 5"

* Contains two complete chronologies: Terry Jones' Babylon 5 Historical Database (parts of which were previously published in the now-defunct Official Babylon 5 magazine) and I. Marc Carlson's "Time Line of the Babylon 5/Crusade Universe."

* Together these two documents are the only sources that give you a complete picture of the Babylon 5 universe and how it fits in the history of the world

* Contains important Babylon 5 canon buried in the novels, comic, books and short stories.

* Up to the minute -- includes "The Lost Tales".

* Includes information that has not been published in a decade from out-of-print publications such as the Official B5 magazine.

* The ultimate Babylon 5 reference because it weaves the entire B5 universe into a cohesive narrative.

* Includes data from all televised episodes of Crusade and some that weren't even produced.

* Includes an introduction by Fiona Avery, reference editor for Babylon 5 and Crusade (and writer of 3 Crusade episodes).

To place your order, go to www.babylon5scripts.com.




I, for one, am very happy with the new season of TV shows. There are a few programs I really like -- Fringe, Sanctuary. There are a few I want to watch yet -- The Mentalist, Eleventh Hour and it was a long wait, but HEROES is back and moving at break-neck speed again. What programs do you enjoy watching? Do you have any favorites? Do any of them remind you of Babylon 5? Sanctuary brought back some good old memories as I watched the premiere episode on Friday night. The talk of sentient beings, the moral questions about what is right and wrong. I'll have to tune in to see if it continues to hold my interest. So many programs start off well, but can't sustain the quality over the length of production.

Send in your thoughts and comments to sgbruckner@aol.com. I will post them on the Discussion Page for everyone to share and enjoy. There are some good ones so far. Add yours! If you see an old topic you want to respond to, go right ahead. We enjoy hearing from you.




While Andreas Katsulas (G'Kar), Rick (Biggs) and Tim (Choate) are no longer with us, we will not forget their wonderful personalities and talent -- as well as their significant contributions to BABYLON 5. Be sure to visit In Memory Of for more information about memorial efforts. Until we met again, in a place where no shadows fall.
BABYLON 5 BIRTHDAYS
Dylan Neal - October 8
Jeff Conaway - October 5
John Vulich - October 10
Tim Choate - October 11 - we miss you
John Copeland - October 13
Linda Huse - October 16

Have I missed anyone? If you know the birthday of someone connected with Babylon 5, pass the information along. We want to include everyone in our Happy Birthday Wishes.
KEEPING UP WITH CAST AND CREW
THE CHANGELING AND J. MICHAEL STRACZYNSKI
In this month's "Creative Screenwriting" magazine, there is a wonderful article by Jason Davis entitled "How CHANGELING Changed J. Michael Straczynski." An excerpt of that article can be found at http://www.creativescreenwriting.com/index.html.



FOR PETE'S WAKE
Here's the latest on this film:
FOR PETE'S WAKE will be screening in Canada on Saturday, October 4th at 1:00 pm. The event will be held at THE INNIS TOWN HALL THEATRE, located on the University of Toronto campus. Innis Town Hall Theatre is located at 2 Sussex Avenue, within Innis College on the University of Toronto's downtown campus, at the NW corner of St. George Street and Sussex Avenue just south of Bloor Street. Just a five minute walk from the nearest subway stop, St. George Station. The fest address is www.indiecanfilmfestival.com.
The film will also be screening at the Beverly Garland Holiday Inn in Studio City in late October, so stay tuned.
This film stars Babylon 5's Pat Tallman and Robin Atkin Downes.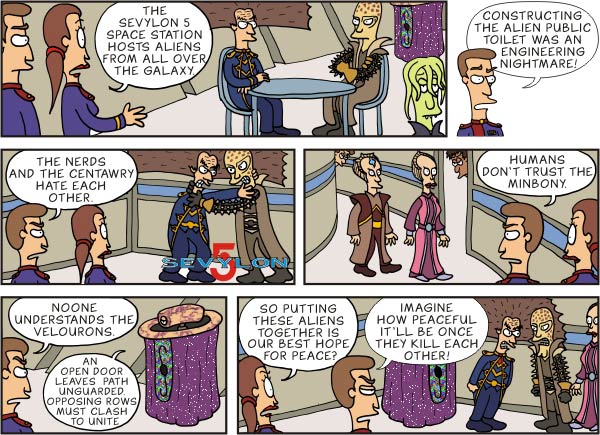 For more of these fabulous cartoons, go to http://cartoons.sev.com.au/Sev-Space/Sevylon-5/.
Journey to..Center..Earth 3D - NL (SD/BD)
Release Date: October 28, 2008
Official website: www.journeymovie.com
Synopsis:
Brendan Fraser stars in this action-packed adventure based on the Jules Vern Classic that is sure to deliver fun for the whole family! On a hunch to find the center of the earth, Trevor Anderson (Fraser), his nephew and their tour guide make a breakthrough discovery that launches them on a thrilling journey into the unknown. On a scramble to find their way back, the group travels through a never-before-seen world encountering creatures and objects never imagined.
Indiana Jones and the Kingdom of the Crystal Skull (Two-Disc Special Edition) (2008)
Release Date: October 14, 2008
Plot:

Famed archaeologist/adventurer Dr. Henry "Indiana" Jones is called back into action when he becomes entangled in a Soviet plot to uncover the secret behind mysterious artifacts known as the Crystal Skulls.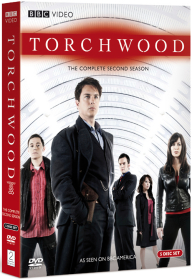 TORCHWOOD - SEASON 2
Release date: September 16, 2008
Official website: http://www.bbcamericashop.com
Synopsis:
Torchwood follows the adventures of a team of investigators, led by the enigmatic Captain Jack. Set in the UK in the present day, the team use scavenged alien technology in a very real world to solve crime; both alien and human. Separate from the government. Outside the police. Beyond the United Nations. Everyone who works for Torchwood is young, under 35. Some say that's because it's a new science. Others say it's because they die young...
Starring: John Barrowman , Eve Myles , Burn Gorman , Naoko Mori , Gareth David-Lloyd
Produced by: Russell T Davies , Julie Gardner
Written by: Chris Chibnall
With fearsome new aliens, compelling new storylines, and amazing guest stars the second season of Torchwood takes the close-knit team through dare-devil action, temptation, heartache, and a life changing event for one of them.

REVIEW
I liked Season Two much better than Season One. The episodes were more tightly written and easier to follow. In Season One, we were introduced to the characters and the villans and places. In Season Two, now that we know the characters, each episode could explore the characters more and their interactions with each other. If you are a fan of DOCTOR WHO, this spin-off series is sure to delight you. In addition, Freema Agyeman reprises her role of Martha Jones in a 3-story arc. She was terrific in DOCTOR WHO -- she's wonderful in TORCHWOOD.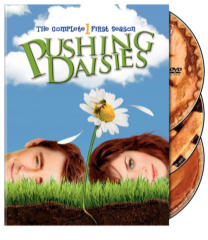 PUSHING DAISIES
Release Date: September 16, 2008
Official website:
http://www.pushingdaisiesdvd.com
Synopsis:
Every not-so-often, along comes a show that's different. Wonderfully different. Pushing Daisies, TV Guide's Matt Roush writes, "restores my faith in TV's ability to amuse, enchant and entertain." It's the story of Ned, a lonely pie maker whose touch can reanimate the dead. Cool, but there's a hitch. If Ned touches the person again, the miracle is reversed. If he doesn't, a bystander goes toes up. What to do? Easy: Team with a private eye, bring murder victims back just long enough to discover whodunit, and collect the rewards. Things go well until Ned's boyhood sweetie is the next dear departed, and he can't resist bringing her back for keeps! Dig the wit, style and quirky romance: If you're not laughing, you may need a visit from Ned.
Videos from the WB:
Windows - Beaver Boy Ft. 1:51
http://raincloud.warnerbros.com/wbol/us/whv/med/pushingdaisies/season1/ pushingdaisies_s1_tfif_beaver_boy_300.asx
Quicktime
http://raincloud.warnerbros.com/wbol/us/whv/med/pushingdaisies/season1/ pushingdaisies_s1_tfif_beaver_boy_qt_300.mov

REVIEW
PUSHING DAISIES is an unusual romantic comedy that was shortened to only nine episodes in the first season because of the writer's strike. Everyone who enjoys the show hopes season two will bring the regular 22 episodes for everyone to enjoy.
The show has perfect casting, directing, production and writing. PUSHING DAISIES is fresh, original, heart breaking and funny.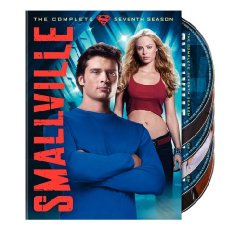 Smallville Season 7
Release date: September 9, 2008
Official website:
http://www.smallvilledvd.com
Synopsis:
When Clark's cousin Kara (Supergirl) arrives on the scene, Clark advises her to keep a low profile and master her powers, but Kara has other ideas and becomes the focus of Lex Luthor's powerlust. Does Lana Lang prefer Bizarro to the real deal? Lois Lane makes a career leap and Chloe Sullivan finds that balancing a meteor power with a personal life isn't easy. New characters and complications abound, along with new secrets and lore, new thrills and special effects. Power up to Season 7!

REVIEW
With two less episodes due to the writer's strike, this season seemed less focused than the others. Not to say it was not good, but the writers seemed to be coming up with new story lines and ways to have some of the principal actors exist at the end of the season. Michael Rosenbaum has consistently been fantastic as Lex Luthor. He will be sorely missed in season eight, but the void will be filled by new characters. Tom Welling as Clark Kent has grown considerably as an actor. Having come to the role as a model, he has shown glimpses of real acting talent and I hope he continues to stretch himself during the coming season.
This season brought back James Marsters as Brainiac and he's as good as ever. He has made the character his own and the episodes featuring him are favorites.
If you had to pick some favorite episodes from season 7, there are many. "Descent" may be the best as Lex and his father, Lionel, face off with tragic results. The final scene with Lex and Clark standing by Lionel's coffin is a powerful moment not to be missed by any SMALLVILLE fan.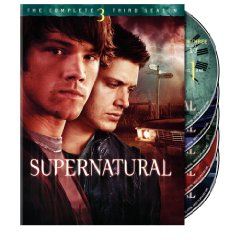 Supernatural S3
Release date: September 2, 2008
Official website: www.supernaturaldvd.com

Synopsis:
The yellow-eyed demon is vanquished, but at a terrible price. The battle that brought him down released hundreds of demons from Hell into an unsuspecting world. And it cost Sam his life. But a grief-stricken Dean made a deal with the Crossroad Demon --his soul for Sam's resurrection. Now Dean has just one year to live. One year to fight the unholy, the twisted, the ghoulish. One year to say farewell to Sam. And one year for Sam to search desperately for some way to save his brother. Mind-bending adventure awaits as the Winchester brothers continue their astonishing odyssey into the supernatural...and their personal odyssey into destiny.
The New World - Extended Cut
Release Date: October 14, 2008
Synopsis:
Powhatan tribal people stare in wonder as three ships approach shore. It's a story every schoolchild knows; the story of Capt. John Smith (Colin Farrell), Pocahontas (Q'orianka Kilcher). Now, as told by filmmaker Terrence Malick (Badlands, Days of Heaven, The Thin Red Line) in this Extended Version with more than 30 minutes of footage unseen in theaters -- it's a story you never imagined. Working in part from first-hand histories and adding his extraordinary sense of image and human drama, Malick crafts a visceral, spellbinding tale of the Jamestown settlement, of cultures connecting and of deadly consequences when connections fray. Christian Bale and Christopher Plummer also star.
The New World Trailers:
Windows Media
http://raincloud.warnerbros.com/wbol/us/whv/med/newworld/tvspots/NEW_WORLD_WVNWX0001PRES_300.asx
Quicktime
http://raincloud.warnerbros.com/wbol/us/whv/med/newworld/tvspots/NEW_WORLD_WVNWX0001PRES_qt_300.mov
NEW FAMILY DVDS
I have moved many of the family-oriented DVDs to a Family DVDs page. Here you will find wonderful DVDs you can enjoy with your entire family -- no matter the age. You will find background information about the DVD, but there are clips as well from Warner Bros. Enjoy!

For more information on other DVDs that have just been released and reviewed, go to New DVDs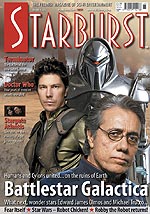 Starburst Issue #365: BATTLESTAR GALACTICA: Michael Trucco - Now revealed as a Cylon the actor wonders how his identity crisis will be resolved...Edward James Olmos debates reaching Earth with the Cylons… SARAH CONNOR CHRONICLES: Thomas Dekker reflects on filling big shoes of John Connor…ROBOT - Robot builder Fred Barton talks about how a childhood craze became a lucrative career! STARGATE ATLANTIS: Paul McGuillion, Carson Beckett, is back in a new episode teamed with an all-female SG team…
Cult Times Issue #156: Special Issue - only $2.99. HEROES: Hiro and Ando start a new quest; a look at Elle - Kristen Bell and DOCTOR WHO's Director Douglas MacKinnon takes you behind the scenes on the two-part story that brought the Sontarans back to the series.
DOCTOR WHO MAGAZINE #400
Doctor Who Magazine, the official publication of the hit BBC TV series, reaches its 400th issue — and celebrates in style! Packed with exclusive photos and interviews, this very special publication features actor David Tennant talking candidly about being the Doctor — and his plans for the future; showrunner Russell T. Davies reveals secrets about his years working on Doctor Who; a new era for the full-color comic strip begins as the Doctor discovers "The Secrets of the Space Gulag"; the Time Team concludes their epic viewing of "The Trial of a Time Lord" in a surprising way; and all of the latest books, audios and DVDs are previewed and reviewed! Plus much, much more — including a massive free double-sided poster! (Panini Publishing Ltd) (C: 0-1-2) Magazine, 68pgs, FC SRP: $7.99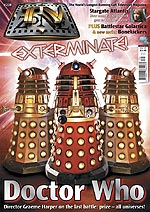 TV Zone #230: DOCTOR WHO: Director Graeme Harper discuses the epic drama of season finale Journey's End - and casting a new Davros! STARGATE ATLANTIS: Actress Rachel Luttrell returns to Atlantis following onscreen and real life maternity, to take on a new guise as her character Teyla goes undercover as a Wraith Queen… BATTLESTAR GALACTICA: As the Galactica nears Earth and the pressure comes to bear on President Roslin, star Mary McDonnell reflects on the burdens of command. REAPER: Former Invasion star Tyler Labine reveals how he knew the part of slacker Sock was made for him when he spotted that the character indulged in the same 'tape hand' stunts that he did in reality…


Be sure to drop over to Titan Magazine's website for updates on magazines associated with specific shows like 24, ALIAS, ANGEL, BUFFY, CHARMED, LOST, PRISON BREAK, SMALLVILLE and STARGATE SG-1.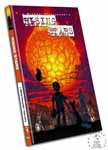 RISING STARS COMPENDIUM HARDCOVER
(W) J. Michael Straczynski, Fiona Avery (A) Brent Anderson, Keu Cha, David Finch, Karl Moline
When Rising Stars first debuted in 1999, people hailed its fresh take on the superhero mythos, grounding the fantastic in reality. The groundbreaking series by acclaimed writer J. Michael Straczynski (Amazing Spider-Man, Babylon 5, Squadron Supreme, Thor, Ultimate Power) spawned three spin-off mini-series and has influenced successful TV shows like The 4400 and Heroes.
Now, for the first time ever, every issue of Rising Stars, from the #0 to the last issue of the last mini-series, is collected into one comprehensive deluxe hardcover.
Collects Rising Stars #1-24, #0 issue, #1/2 issue, Prelude issue, Rising Stars: Bright, Rising Stars: Voices of the Dead and Rising Stars: Untouchable.
Full Color 1,008 pages $99.99 hardcover
FARSCAPE #1
by Rockne O'Bannon, Keith R.A. DeCandido & Tommy Paterson
Television's science fiction masterpiece Farscape returns! Farscape creator Rockne O'Bannon teams up with Farscape novelist Keith R.A. DeCandido (House of Cards) to continue his creation in comic book form right where the Peacekeeper Wars left off!
Find out what's in store for John Crichton, Aeryn Sun, Rygel, Chiana, and the rest of the Moya crew! Do the comics tie into Sci-Fi Channel's upcoming webisodes? You know it, 'Scapers! Don't frelling miss this! Available with covers from Joe Corroney, Dennis Calero, and a photo cover from the series.
SC, 24pgs, FC SRP: $3.99
ANGEL OMNIBUS
by Various
Discover the Angel Omnibus, which collects the IDW Angel series: Angel: The Curse, Angel: Old Friends, Angel: Spotlight, and Angel: Auld Lang Syne. This huge collection of comics includes work by New York Times best-selling writer Peter David, and features the most popular characters from the TV show, including Spike and Illyria.
SC, 6x9, 488pg, FC $24.99
THE GREATEST AMERICAN HERO
by William Katt, Folino, O'Reilly & Hilinski
After 25 years, The Greatest American Hero returns with all new original stories and adventures! Stephen J. Cannell's beloved cult classic makes it debut to the comic book world courtesy of The Greatest American Hero star William Katt, along with acclaimed writers Christopher Folino (Sparks), Sean O'Reilly (Kade), and Derek McCaw (Tony Loco). 32pgs, FC (1 of 6) SRP: $3.50
JIM BUTCHER'S THE DRESDEN FILES VOLUME 1 PREVIEWS EXCLUSIVE TP
by Jim Krueger & Mike Lilly

This original story is set in The New York Times-bestselling world of Jim Butcher's Dresden Files, and is scripted by Butcher himself! When the supernatural world goes out of control, there's only one man to call: Harry Dresden, the only professional wizard in the Chicago phonebook. Collecting the mini-series in its entirety, this PREVIEWS Exclusive trade paperback is limited to a print run of 2,500!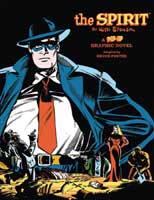 WILL EISNER'S THE SPIRIT: A POP-UP GRAPHIC NOVEL
by Will Eisner
On the dead body of a police officer the Spirit discovers a note with the name "Sand Saref," his lost childhood sweetheart. Saref has come to Central City peddling a deadly Nazi virus on the black market, but plans go awry when she is double-crossed by a scoundrel bent on destruction. In a twisted tale of betrayal, the remorseful Spirit must bring his long-lost love to justice and find the virus before it's too late! Born from shadow and mystery, Will Eisner's deathless hero returns in a recreation of The Spirit's final two issues. Coinciding with Frank Miller's upcoming film, Will Eisner's The Spirit: A Pop-Up Graphic Novel spins a noir tale of blackmail, murder, and espionage innovatively crafted into seven full-color pop-up spreads. Reborn, The Spirit breaks out of the conventional comic book frame, animating the vigor and dynamism of Eisner's original vision. Designed by renowned paper engineer Bruce Foster, Will Eisner's The Spirit: A Pop-Up Graphic Novel comes alive with expansive panoramic cityscapes, three-dimensional action sequence pop-outs, frame-by-frame expanding mini-booklets, and scene change pullouts. From the noir aficionado to the comic zealot, fans will celebrate this renaissance of Eisner's masterpiece, heralding the interactive ingenuity of a new format for sequential art. (C: 0-1-2) $34.95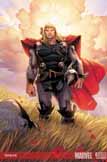 THOR #10
Written by J. Michael Straczynski, pencils and cover by Olivier Coipel.
As the Asgardians returned to this life and Thor returned to Midgard, so came the ills that have plagued the gods and man for millennia. Now for the first time since their rebirth, Thor and his fellow hero-gods are venturing forth from the Shining City to confront the growing evils that amass on their horizon...and within their walls... 32 pages, $2.99.
INDIANA JONES AND THE TOMB OF THE GODS #1
Dark Horse Comics
Dr. Henry Jones, Jr. sets out on another globe-hopping adventure in Indiana Jones and the Tomb of the Gods, the all-new mini-series filled with ancient treasures, Nazis, and a spectacular cover by Tony Harris (Ex Machina)!
CIVIL WAR CHRONICLES #12
Written by J. Michael Straczynski and Paul Jenkins, penciled by Ron Garney and Ramon Bachs, cover by Steve McNiven.
Experience Civil War and its major tie-ins in chronological order! In Captain America #25, find out what happens next in the life of the Sentinel of Liberty! The biggest Cap story that Ed Brubaker and Steve Epting have yet to tell, "Death of a Dream" will stun readers and send shockwaves through the entire Marvel Universe for the next year and it begins here! And in Civil War: The Confession, the team that brought you the start of Civil War with the New Avengers: Illuminati special presents a heart-wrenching finale. Two of the Marvel heroes most affected by the shocking conclusion of the war get together one last time. What is said between them will set the course of the Marvel Universe for years to come.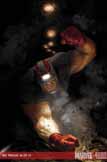 THE TWELVE #6
Written by J. Michael Straczynski, penciled by Chris Weston, cover by Paolo Rivera.
The Laughing Mask--behind bars! Secrets of the Black Widow--revealed! Dynamic Man kicks ass! The Blue Blade bombs out! And the truth behind the origin of underground secret agent Rockman!
DOCTOR WHO CLASSICS #1
by Pat Mills, Wagner & Gibbons
IDW Publishing is proud to kick off its Doctor Who line with monthly re-presentations of classic Doctor Who comics, featuring some of the best talents in the business! Up first, adventures featuring the fourth doctor courtesy of Pat Mills, John Wagner, and Dave Gibbons (Watchmen). Each issue will feature all-new state-of-the-art coloring by color artist Charlie Kirchoff, as well as an all-new cover by Joe Corroney (Star Trek).
Here's how IDW describes the issue:
"The legendary Doctor Who is back, with the first-ever stories created exclusively for the U.S. market. The Doctor is the last of the Time Lords, survivors of a Great Time War and, along with his loyal friend and companion Martha Jones from London, they stop oppression, darkness and evil spreading throughout the galaxies. They're also on the hunt for the best chocolate milkshakes in the cosmosŠ and while they track that down, someone else has the Doctor in their sights. As the very last Time Lord out there, he's highly collectable, to the right people..."
MARVEL ADVENTURES THE AVENGERS #17
Marvel Adventures The Avengers #17 will arrive in stores on Oct. 17 from Marvel Comics. The issue is written by J. Michael Straczynski, with art and cover by Joe Quesada. Here's how Marvel describes the issue:
"Ok, you're a super hero. And you've got to fight a robot. But while the robot can punch and blast you with lasers, you can't touch him. That's a problem, right? That's what the Avengers are up against when they encounter The Vision!"
Marvel Adventures The Avengers #17 will be 32 pages and will cost $2.99.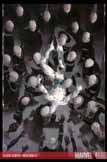 SILVERS SURFER: REQUIEM #4
Silver Surfer: Reqiuem #4 will arrive in stores on August 29 from Marvel Comics. The issue is written by J. Michael Straczynski, with art and cover by Esad Ribic. Here's how Marvel describes the issue:
"For untold years, Norrin Radd surfed the galaxy, exploring the darkness between stars, witnessing the rise and fall of vast civilizations. Now his ride comes to an end. Zenn-La, the planet of his birth, the planet he saved through his own sacrifice -- the Silver Surfer crossed the galaxy to draw his last breath here. He¹s home. What waits for him?"
Silver Surfer: Reqiuem #4 will be 32 pages and will cost $3.99.
TRADING POST
Charles has updated his merchandise list in our TRADING POST. Be sure to wander over to see if there is something to your liking.

If you have items you would like to get rid of, drop me a line and I'll post a note in our Trading Post. You never know who might be looking for the very thing you no longer have room to store.





October 24-26, 2008
STEEL CITY CON
Place: Pittsburgh, PA
Guests: Ray Park, Daniel Logan, Lou Ferrigno, CJ Graham, Richard Kiel, Dean Mitchell
For more information, go to http://www.steelcitycon.com

February 27-March 1, 2009
Megacon 2009
Place: Orange County Convention Center
For more information, go to http://www.megaconvention.com
---
March 27-29, 2009
Narutotrek 2009
Place: Sheraton Suites Cypress Creek
City: Ft. Lauderdale, FL
Guests: Walter Koenig, Denise Crosby and more
For more information, go to http://www.narutotrek.com
---

SPECIAL ANNOUNCEMENTS!
Creation Entertainment has a large number of conventions planned for the next several months. They include stars from STARGATE, ENTERPRISE, FARSCAPE, XENA, BATTLESTAR GALACTICA, etc. Check out their calendar to see if one will be in your neighborhood soon. Don't miss their Videos page as well. It is full of some priceless video from a number of conventions.

JUMPCON CONVENTIONS
Sites are closed for these conventions. If you are holding tickets for any of these conventions, please get in touch with convention organizers.

Be sure to visit the referenced sites to see if there have been changes in dates/guests attending. Visit our Convention Calendar for a full listing of upcoming conventions.
BACK ISSUES OF THE ZOCALO TODAY
The front page of the The Zocalo Today changes daily, so be sure to check the back issues to make sure that you haven't missed anything IMPORTANT! We had a system crash recently, so many of the back issues are not available. I hope that you find this newsletter of interest and come back often.
---
Take care and I look forward to hearing from you.
Sandra Bruckner (sgbruckner@aol.com)
Editor/Publisher
ISN News: The Zocalo Today
http://www.isnnews.net
Copyright - SBruckner, 1999-2008