[an error occurred while processing this directive]

The Zocalo Today

Welcome and thank you for dropping by. Take your shoes off, get comfortable and stay a while. There is a LOT of information here and you won't want to miss any of it.

The Zocalo Today is an interactive newsletter, encouraging readers to join a discussion topic or to send along letters that can be shared with other readers.

The Zocalo Today is a newsletter for Babylon 5 and science fiction fans everywhere. It is as much YOUR newsletter as it is mine! I'm just pulling together things for you!

Join our discussion topic. It is just one way you can share with other Z readers. If you see Babylon 5 cast and crew in other roles, let us know. We enjoy convention reports, photos, etc. Don't miss our back issues. I hope this will become more than just a newsletter. It's a community of people that enjoy sharing their experiences and interests. Babylon 5 brought many of us together -- and it remains with us, despite the fact that is no longer in production. Don't be shy. Join us today!

If you have questions, drop me a line at sgbruckner@aol.com. If you would like to join the mailing list for our newsletter, send me a note and I'll include you on the list. Or you can use the subscription block at the left.

Again, WELCOME!



TODAY'S NEWS
Friday, March 18, 2005:
TOP SF&F NETWORK SHOWS:
1. Lost 11.8
2. Medium 9.0
3. Joan of Arcadia 5.2
4. Smallville 3.2
5. Enterprise 1.9
Source: Nielsen Galaxy Report, 2/21/05 - 2/27/05.
---
STAR WARS:
POSSIBLE SPOILER INFO:
George Lucas told everyone at ShoWest, including STAR WARS fans, to leave their lightsabers at home, but definitely bring the tissues. Lucas said, "It's not like the first one. It's more emotional. I describe it as a 'Titanic' in space. It's a real tearjerker, and it will be received in a way that none of us can expect." In part of a six minute clip shown during the ShoWest presentation, Jedi Knight Anakin Skywalker and master Obi-Wan Kenobe wage a furious fight against their adversaries in a battle of deadly spaceships. In this episode, Skywalker becomes the notorious Darth Vader.
---
STAR WARS IN 3-D:
George Lucas also announced that he is planning to remaster all of the "Star Wars" films for rerelease in 3-D. Appearing as part of a sextet of high-profile directors promoting 3-D and digital cinema at ShoWest on Thursday, Lucas said he hadn't yet committed to a precise schedule but hoped to have the first film ready for the 30th anniversary of the original "Star Wars" movie in 2007 and that he would then rerelease one "Star Wars" film per year in 3-D. Lucas was joined by James Cameron, Robert Zemeckis, Robert Rodriguez and Randal Kleiser. Peter Jackson joined the group via a pretaped 3-D segment. They all implored the exhibition community to invest in digital projectors, which would allow theaters to show their upcoming movies in 3-D. Cameron is in preproduction on the 3-D film "Battle Angel," planned for a 2007 release. Zemeckis has two 3-D features in production, and Rodriguez is readying "The Adventures of Shark Boy & Lava Girl in 3-D" for release in the summer. Jackson, who is currently filming "King Kong," announced no specific 3-D plans, but according to sources he has installed a 3-D master suite in his production offices in New Zealand.
---
SUPERMAN RETURNS:
According to the Hollywood Reporter, Parker Posey has joined the cast of Bryan Singer's SUPERMAN RETURNS at Warner Bros. Pictures. Posey will play Kitty Koslowski, Lex Luthor's villainous henchwoman. She joins a cast that includes Brandon Routh as Superman, Kate Bosworth as Lois Lane, Hugh Laurie as Perry White, James Marsden as Richard White, Sam Huntington as Jimmy Olsen. Kevin Spacey is playing Lex Luthor. Kal Penn will portray Stanford, Luthor's right-hand man. Posey was most recently seen in Blade: Trinity and "Laws of Attraction."
---
SIN CITY:
Yahoo! Movies has posted a new 11 minute behind-the-scenes featurette on SIN CITY titled "Bringing The Graphic Novel To Life". In the clip, the stars and crew of the movie discuss working with both famed director Robert Rodriguez as well as Sin City creator Frank Miller.
---
TOP SCIENCE FICTION NEWS STORIES:
To see what has been happening this week in science fiction, go to News Page.
---
WHAT'S ON TONIGHT
"Stargate SG-1" on SciFi Channel, 8:00pm - 9:00pm ET.
Fans of the original "Stargate" film should enjoy part one of the Moebius episode. Daniel (Michael Shanks) discovers a book once belonging to Ra, the "Supreme System Lord" who first found Earth for the Goa'uld many thousands of years ago. The book references a device called the "Heart of Light," which Daniel believes to be a Zero Point Module, the much-needed Ancient power source. SG-1 takes the ship 5,000 years into Earth's past -- during Ra's reign in ancient Egypt, so that Teal'c, Daniel and Jack can find the "Heart" of their adventure, one that becomes much more important after SG-1 leaves them behind.

"Stargate: Atlantis" on SciFi Channel, 9:00pm - 10:00pm ET.
With a group of Wraith hive ships on the way to Atlantis, the team searches for a place to flee and a way to destroy the city. McKay (David Hewlett) leads a team to try and activate the Ancients' orbital weapons platform. This is part one of "The Siege."
"Battlestar Galactica" on SciFi Channel, 10:00pm - 11:00pm ET.
The impending election of a new Vice President gives activist Tom Zarek (guest star Richard Hatch) an opportunity to make a move for political power. Wouldn't the treacherous Dr. Gaius Baltar (Jim Callis) be a better choice to help Pres. Roslin (Mary McDonnell)?
SCOOBY-DO PREMIERE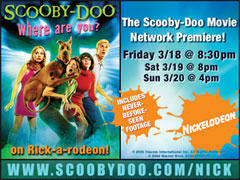 Box-office kid hit Scooby-Doo, the first-ever live-action adaptation of the classic animated comedy-mystery TV series about a cowardly canine and his clever, crime-fighting teenage cohorts, will premiere on Nickelodeon, Friday, March 18 (8:30 p.m. ET/PT) in its network television debut. The 2002 Warner Bros. Pictures release starring Freddie Prinze, Jr., Sarah Michelle Gellar (BUFFY), Matthew Lillard and Linda Cardellini as the CGI pooch's two-legged pals encores Saturday, March 19 (8 p.m. ET/PT) and Sunday, March 20 (4 p.m. ET/PT).

"Scooby-Doo is a classic comedy and immensely popular with both kid and adult audiences," said Cyma Zarghami, President, Nickelodeon Television. "It is exciting for us to be able to bring this big screen hit to our viewers and to be the showcase for its network television premiere."

For more information about Scooby, go to the Scooby Do page here at The Zocalo Today.




DISCUSSION TOPICS
I have been a fan of STARGATE SG-1 for a long while now. The last few episodes have been fantastic -- more like the series I have grown to love over the last 7 years. Do you have a favorite STARGATE episode? If so, which one and why?

Send in your thoughts and comments to sgbruckner@aol.com. I will post them on the Discussion Page for everyone to share and enjoy. There are some good ones so far. Add yours! If you see an old topic you want to respond to, go right ahead. We enjoy hearing from you.
KEEPING UP WITH CAST AND CREW
BILL BLAIR:
Bill (may hold the record for playing the most aliens on Babylon 5), sent a note to catch us up on what he has coming up. No air dates yet - but these should be coming up in the next few weeks or so....... CHARMED ( as an old farmer entering the sheriff's office), COLD CASE FILES ( Toni and I are parent's to the groom at a flashback wedding ), LAS VEGAS ( Toni and I as parents watching a kids football game - we may have missed this one ), CSI ( in and around the casino sports book ), LIFE WITH FRAN ( new series) if you're good you may spot me in a wheel chair in one episode). And down the line - watch for me in such movies as KICKING AND SCREAMING and MISS CONGENIALITY 2.
---
GARY COLE:
While fans will enjoy watching Gary Cole during his 10-episode stint on THE WEST WING, don't expect to see him in the big limo at 1600 Pennsylvania Avenue. TNT announced yesterday that Cole has a new series, WANTED. It will debut on the cable channel in the 10pm slot on Sunday, July 31. Cole stars as a member of an elite team of crime fighters from various federal and local law enforcement agencies who form a covert, undercover strike force to help track down Los Angeles' most-wanted fugitives.
---
STEPHEN AUSTIN:
Stephen and his comedy routine will be busy during March. Here is the schedule so far:
March 18 - 8pm
THE BROKEASS CANTINA - Long Beach, CA
562-983-6767

Saturday, March 19
FUNDRAISER FOR THE CHILDREN OF RICHARD BIGGS
Beverly Garland Holiday Inn - North Hollywood, CA
www.richardbiggs.com

Saturday, March 19
ON-THE-ROCKS - 8:00pm
Fresno, CA
www.onthe-rocks.com

March 23-27, 2005
ARIZONA COMEDY TOUR
Mesa, Tempe, Scottsdale, AZ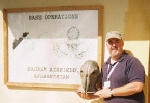 Be sure to view photos from Stephen's tour of Afghanistan and other ports of call in the Middle East.
---
JERRY DOYLE:
It looks like the JERRY DOYLE SHOW is a success! According to the press release I received, Jerry's radio show is the fastest growing program in (The Radio Network) TRN Enterprises and TRN's combined history. The show was launched into weekday national syndication just 10 months ago by TRN Enterprises and has already surpassed the 150 weekday-station mark. TRN Enterprises, CEO Mark Masters couldn't be more pleased by Doyle's phenomenal growth, commenting, "Jerry has a style that is infectious, programmers love him, and so do the listeners – he is becoming a phenomenon". The Jerry Doyle Show is pop culture, politics and candidly fast-paced discussion on the issues of the day. A self-described conservative, Doyle boldly takes talk radio beyond the predictable. "I call it like I see it, "says Jerry, "I don't hold back when it comes to being candid on the hot issues." The Jerry Doyle Show airs live Monday - Friday noon to 3p.m. Pacific, 3p.m. to 6p.m. Eastern with a re-feed 7p.m. to 10p.m. Pacific and 10p.m. to 1a.m. Eastern. The Jerry Doyle is also available live Saturday's 8p.m. to 11p.m. Pacific, making the show live six days a week.
---
PETER WOODWARD:
CLOSING THE RING, a feature film written by Peter, and to be directed by Lord Richard Attenborough, is now scheduled to start official "prep"... whenever all those final little details can be nailed into place. The film business being what it is, this is not unusual. Current expectation is that it will begin photography about March 2005.

Speaking of Peter, he and his fans had so much fun in the Caribbean that he is inviting everyone back to join him in the Western Caribbean on Jan. 15-22, 2006!!

If you are looking for a GREAT Vacation, or if you are interested in meeting like -minded men and women, learning in an educational environment, join us for this for this spectacular opportunity to sail with Peter.

Our special program on board offers something for everyone. We have arranged for you to enjoy three Exclusive seminars with Peter and a private cocktail party plus other surprises. There will be plenty of time to relax, reflect, and recharge.

For more information call 800 695 5253 or e-mail Susan@CruiseEvents.net or go to: http://www.cruiseevents.net/peterwoodward/index.htm
---
SPECIAL CAST ACTIVITIES: To learn more about what cast members are doing away from the tube, go to CAST ACTIVITIES page.
---
NEW SCIENCE FICTION MERCHANDISE
Battlestar Galactica Premiere Edition Trading Cards
On May 4th, Rittenhouse Archives releases a new series based on this fantastic new sci-fi TV show with "Battlestar Galactica Premiere Edition Trading Cards". This 72-card series will cover the four-hour mini series that started it all.
Each box will contain 1 Autograph Card and 1 Costume Card! For this series, Rittenhouse Archives has lined up two of the sexiest sci-fi actresses ever - Tricia Helfer as Number Six and Katee Sackhoff as Lt. Kara "Starbuck" Thrace - to sign autograph cards! Also scheduled to be included are many of the shows cast and recurring characters including
Michael Hogan (Colonel Saul Tigh), Aaron Douglas (Chief Petty Officer Tyrol), Paul Campbell (Billy Keikeya), Connor Widdows (Boxey), Kandyse McClure (Petty Officer Dualla), Matthew Bennett (Aaron Doral), Nicki Clyne (Cally), Alessandro Juliani (Lt. Gaeta), Callum Keith Rennie (Leoben Conroy) and more!
This series is now available for pre-order and is scheduled to be released in May 2005, so order yours today! Go to scifihobby.com.
REMEMBERING RICHARD BIGGS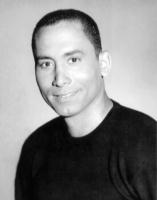 For those of you just coming to the site for the first time, this may be a shock, but Richard Biggs, the wonderful Dr. Stephen Franklin on Babylon 5, died on May 22 of an brain anyerism. There are many efforts underway to help with his two small children. Be sure to go to the Richard Biggs Memorial Page for more information.
A memorial fund has been set up for Richard's two small sons. Donations can be sent to:
For the benefit of the sons of Richard James Biggs II
Washington Mutual Bank
840 N. San Fernando Blvd.
Burbank, CA 91502

A memorial event for Rick will take place on March 19 in North Hollywood -- go to the events calendar for more information.
REMEMBERING TIM CHOATE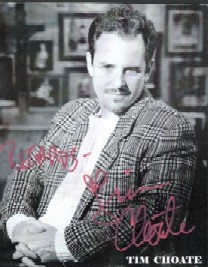 Tim Choate, the wonderful Zathras on Babylon 5, was killed when he was struck by a car while going to a play rehearsal on his motorcycle. A memorial fund has been set up in lieu of flowers for Tim. The address for the memorial fund is:

The Tim Choate Memorial Fund
P.O. Box 861355
Los Angeles, CA 90086

Proceeds will be placed in an educational trust for Flynn, who is 4 years old.
BABYLON 5 BIRTHDAYS
Richard Biggs - March 18 (in loving memory)
Jesus Trevino - March 26
Ed Wasser - March 26
Have I missed anyone? If you know the birthday of someone connected with Babylon 5, pass the information along. We want to include everyone in our Happy Birthday Wishes.
BABYLON 5 DVDS
For information on the Babylon 5 DVDs, please go to Babylon 5 DVD page.
CRUSADE DVD
Warner Bros Home Video has announced that the Babylon 5 spinoff, Crusade was released on DVD December 7. The series stars Peter Woodward, Gary Cole, Marjean Holden, Tracy Scoggins, Daniel Dae Kim, David Allen Brooks and Carrie Dobro. This 13 episode series (576 mins) will be released in a 4 disc set, and carries a suggested price of $59.98 US. It'll contain an English Dolby Digital 5.1 audio track, along with English, French and Spanish subtitles. The video will be presented in the original aspect ratio: 1.33:1. We have little information on the special features, just that there will be audio commentaries and a documentary.

For those of you not familiar with CRUSADE, here is a synopsis of the plot:
In 2267 the Earth is quarantined, having been infected with a deadly plague by an attacking alien force. Scientists estimate that it will kill every inhabitant within 5 years, not nearly enough time for a cure to be developed. So the planet's only hope lies with the Excalibur, an advanced prototype starship sent out to search ancient alien ruins for their former inhabitant's secrets, hoping that somewhere out there a cure can be found.

For a review, go to Crusade Review.
For more information on the BABYLON 5 and CRUSADE DVDs, go to Babylon 5 DVDs Page.
DVD NEWS AND REVIEWS
UPCOMING DVDS: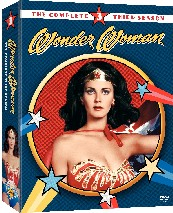 June 7 has been set for the release by Warner Home Video of WONDER WOMAN: THE COMPLETE THIRD SEASON and LOIS & CLARK: THE COMPLETE FIRST SEASON.
Lynda Carter returns as Wonder Woman for all 24 episodes of the third and final season of the series. Teamed with government agent Steve Trevor (Lyle Waggoner) and using the alias of Diana Prince, Wonder Woman whips out her bracelets and lariat to battle evil. Her foes include a time traveler from the year 2155, a brain with no body, a dating service that's serving up death, hungry ants and a sculptor whose statues come to life and become his partners in crime. Wonder Woman saved the best adventures for last!"
The Lois & Clark collection brings you Dean Cain and Terry Hatcher in this action-packed Superman update. Originally aired in the 90's on ABC, this humorously romantic action/adventure hour-long series puts a modern twist on the time-honored, legendary superhero, bringing to life the comic book characters Clark Kent; his superhuman alter-ego, Superman; and Lois Lane, fiction's first lady of the press, in the most unrequited romance of all time."
---
NEW DVDS:
WONDER WOMAN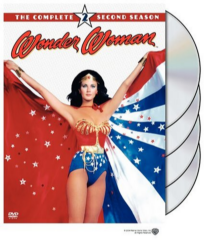 What's Wonder Woman up to now you ask? Flash forward 35 years from her stirring Season-One adventures defending America in World War II. Without missing a beat, Wonder Woman leaps from the big-band era to the disco decade, still miraculously young and still using wits, wiles and astonishing powers to fight evil.

Season Two (21 episodes following a feature-length season premiere) introduces Wonder Woman to a new America of nuclear power and computers. Teamed with Steve Trevor, son of the dashing major she worked with during World War II, she takes the name Diana Prince - and takes on all kinds of danger from terrorists, mad geniuses, crooks and even a diabolical rock star while working for America's Inter-Agency Defense Command. Wonder Woman, we're proud you're on our side!

Be sure to enjoy the clips provided by Warner Bros. on the Wonder Woman page.
EXORCIST: THE BEGINNING
DEBUTS ON DVD & VHS MARCH 1, 2005
FROM WARNER HOME VIDEO
SYNOPSIS:
The place: Africa. The year: 1949. Father Merrin (Stellan Skarsgård), his faith shattered by World War II, journeys to Kenya to join an archaeological dig that has uncovered a Byzantine church mysteriously untouched by the ravages of time. But an even greater mystery awaits: an ancient and horrific evil is now awakened…and a soul-shattering death spree begins. Can Merrin summon the faith and courage to defeat humanity's oldest and most powerful foe?
DVD ELEMENTS
The DVD release of Exorcist: The Beginning will include these bonus features:
· Director Commentary with Renny Harlin
· Behind-the-scenes featurette.
· Theatrical trailer.
Check out all the information at The Exorcist.
---
We have a lot of information on new WB DVDs. Visit our NEW DVD Page for press releases and video clips that may be of interest to you. Information includes KUNG FU, MI-5, Carnivale, Troy, The Matrix, and more.

Visit to the Review Page for a review of the DVD sets.
SCIENCE FICTION PUBLICATIONS
ALIAS MAGAZINE 2005 YEARBOOK
This is a 100-page Alias extravaganza! In the first ever ALIAS Yearbook, take a look back at the last eventful year on ALIAS! Plus, a stunning collection of exclusive interviews with the cast and crew, reflecting on the past year and looking forward to the next! Wrapping things up are the recipients of the Alias Reader's Awards!




FANTASTIC FOUR OFFICIAL MOVIE MAGAZINE
To celebrate the big screen adaptation of the classic comic, Titan Publishing presents the 100-page Official FANTASTIC FOUR Souvenir Movie Magazine! This is the ultimate guide to the hottest film of the summer, packed with an unrivaled selection of cast and crew interviews, behind-the-scenes reports, and exclusive images and photos! This is the only official Fantastic Four movie magazine, so make sure you don't miss it!
Cult Times Special #33: THE SIMPSONS are honored for their 16 years on the tube. Also in this issue, BATTLESTAR GALACTICA's stunning Cylon Number Six, better known as Tricia Helfer, drops by to look back over the first season of the critically acclaimed re-imagining of the classic show and looks forward to Season Two and ANDROMEDA's Steve Bacic reveals the changes in his character for the fifth and final season, which sees Telemachus Rhade trapped in the Seefra system and turning to drink.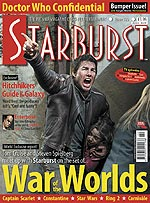 Starburst #332: WAR OF THE WORLDS: The magazine visits the set of this Spielberg/Cruise endeavor to see what is waiting for us when the movie makes its premiere. Also inside find CARNIVALE's Clancy Brown talking about his role as the enigmatic Brother Justin Crowe in the HBO drama, and explains that his character isn't just a run-of the-mill black and white villain and SMALLVILLE's actor John Glover talks about the recent transformation of Lionel Luthor from conniving and manipulative billionaire to mediator and father with a conscience.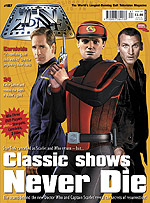 TV Zone #187: The magazine goes behind the scenes on the BBC's revival of Doctor Who, chatting to creative supremo Russell T Davies, the writers and crew bringing the series to our screens! Also in this issue, 24's star Kiefer Sutherland talks to us about exploring troubled government agent Jack Bauer's dark side, and the new challenges facing him in Season Four of the hit action series.
Expose #93: CHARMED: Star Alyssa Milano discusses her role as Phoebe Halliwell, taking in seven years of punning episode titles, her ever-changing haircuts and stepping up to co-produce the hit Fantasy show. LOST AND ALIAS creator JJ Abrams talks to us about developing the intricately-plotted tale of castaways.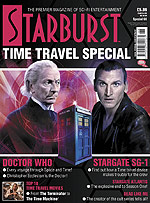 Starburst Special #68: DOCTOR WHO: To celebrate the return of DOCTOR WHO to TV, you will find an exclusive story-by-story guide to the adventures of the Time-traveller, starting with the original Doctor, William Hartnell, back in 1963. Plus a look forward to the adventures of the newest incarnation, played by screen star Christopher Eccleston.
Cult Times #114: DESPERATE HOUSEWIVES: Creator and executive producer Marc Cherry explains his plans for the show. Has Lionel Luther turned over a new leaf? Is he becoming Mr. Nice Guy? John Glover explains what's brought on this sudden change in outlook but also claims that his character still has a few dark secrets…
NEW IN BOOK STORES
THE CREATURES OF FARSCAPE: INSIDE JIM HENSON'S CREATURE SHOP HC
by Joe Nazzaro

Featuring never-before-seen stills and exclusive contributions from the cast and crew, The Creatures of Farscape takes readers behind-the-scenes of this acclaimed television series, revealing the secrets of the most advanced special effects yet created by the world-famous Jim Henson Company. (6337/1-903111-85-4)

WAR OF THE WORLDS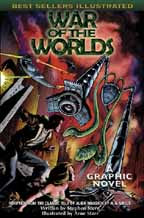 Best Sellers Illustrated will launch its line of graphic novels in May with an adaptation of the H.G. Wells science-fiction classic, THE WAR OF THE WORLDS. Vice-president Aron Kessler said, "Wells was far ahead of his time when The War of the Worlds was first published in book form in 1898. Not only was he a visionary, but he was also an astute social critic whose writings are as relevant today as they were over a century ago. For these reasons, we're able to remain true to the original story, while completely updating it for a modern audience."
The adaptation is written by Stephen Stern, writer/creator of the independent comic-book, Zen Intergalactic Ninja. "The War of the Worlds isn't just a great science-fiction novel; it's great literature," Stern said. "As always in modernizing a classic, the task is to remain faithful to the spirit of the source material while re-imagining it in a contemporary context. In this instance, I'm also shifting the locale from London and its environs to the New York metropolitan area. In light of recent history, this attack by the Martians takes on a chilling relevancy and poignancy." WAR OF THE WORLDS is illustrated by veteran Star Trek comic-book artist Arne Starr. The graphic novel will feature a cover by Frank Brunner.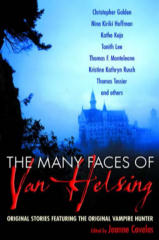 The Many Faces of Van Helsing; edited by Jeanne Cavelos
Ace Books (Penguin Putnam Inc.); NYC; April, 2004; 400 pp.; trade paperback; $14.95 U.S. $22.50 Can. ISBN 0-441-01170-5
First introduced in Bram Stoker's immortal Dracula, Abraham Van Helsing became the ultimate adversary for the vampire--as enigmatic and complex as the fiend he so relentlessly pursued. Now, in this unique anthology of stories, masters of horror and fantasy each give the original vampire hunter his due as they reimagine the history and reinvent the adventures of a fascinating, mysterious, and unforgettable character who was the greatest foe of the most evil icon in literary history.
For more information on this book, go to Jeanne Cavelos' website. Jeanne is a wonderful author -- one that spent a good bit of time in the Babylon 5 universe. Her Techno-Mage series will be required reading for those just coming to the story with THE MEMORY OF SHADOWS.
GRAPHIC NOVELS
LOST IN SPACE:
To commemorate the 40th annivesary of LOST IN SPACE, Bubblehead Publishing, is set to release a 360-page, full-color graphic novel collecting and completing Bill Mumy's 12-part adventure LOST IN SPACE: VOYAGE TO THE BOTTOM OF THE SOUL, a story originally published in serialized form by Innovation Publishing in 1992-93 but left unfinished when the publisher went out of business.
Current plans call for Bubblehead to release the graphic novel in July at San Diego's Comic-Con International, to coincide with the 40th anniversary of Lost in Space, the TV series, but advance pre-publication sales of the book will be available on the company's internet commerce site www.lisvoyage.com. .
Said Mumy: "I'm working with some great people on this project. I'm so glad the original team is back to finish "Voyage to the Bottom of the Soul" properly. For over ten years fans have been asking me how this huge story ended, wanting me to print the unpublished second half of the scripts alone, but I didn't want to diminish the piece that way. Michal's artwork looks great and I'm very excited about it. I've always been proud of this story. You don't have to be a fan of the old television show to get into this book but those who are will especially enjoy it. It really advances the classic arc of Lost in Space."
COMIC BOOKS
COMIC BOOKS COMING
ANGEL: THE CURSE #1
Written by Jeff Mariotte, art by David Messina, covers by Messina, Tim Bradstreet, Igor Kordey and Ben Templesmith.
Joss Whedon's classic vampire character returns to comics and IDW¹s got him! In this first issue of a new Angel tale, Angel has survived the conclusion of his TV show and finds himself in a mysterious Romanian forest. There, his search for the Gypsy tribe that cursed him years ago takes a turn for the worse. This book, written by fan-favorite Angel author Jeff Mariotte, under the creative guidance of Joss Whedon, will be of sure-fire appeal to fans of Buffy, the Vampire Slayer and Angel alike! Issue one will feature variant covers from Tim Bradstreet, Igor Kordey, and Ben Templesmith.

---
CSI: SECRET IDENTITY #5
Written by Steven Grant, art by Gabriel Rodriguez and Steven Perkins.
The-25 year-old secret of the twin corpses is finally revealed, as the CSI team descends into a world of treachery, manipulation, and paranoia. But the case still has one final unsuspected twist, with evidence surfacing that implicates one of their own. Based on the top-rated CBS crime drama.
---
AMAZING SPIDERMAN
Written by J. Michael Straczynski, art and cover by Mike Deodato.

In this tale for the ages, written by Stupendous J. Michael Straczynski and penciled by Magnificent Mike Deodato, Peter and the family are forced to deal with the radical changes in their lives. Straight from the pages of the New Avengers. Part 2 of 5.

32 pages, $2.25, in stores on May 25.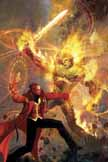 STRANGE #6
Written by J. Michael Straczynski and Samm Barnes, art and cover Brandon Peterson.
On their journey to discover Blackthroat, Marco and Director Joel Cameron's crew end up on a dark island in the heart of the Bermuda Triangle. Plotting to fuel Marco's thirst for revenge, Cameron hatches a trap with Jeanine's life in the balance. As the small crew turns on one another they soon learn that this island is not as deserted as it seems; it is home to an ancient clan of vampires whose dark secret has ramifications for all of humanity.
32 pages, $3.50, in stores on May 18.
FANTASTIC FOUR #527
Written by J. Michael Straczynski, art and cover by Mike McKone.
"Distant Music." A new arc begins here. Just in time for movie season, new ongoing creative team J. Michael Straczynski and Mike McKone unite their talents to chart a new course for the world's greatest comic magazine! First up: an intriguing offer for a conflicted Reed, and a windfall for Ben.
32 pages, $2.99, in stores on May 25.
ARANA: THE HEART OF THE SPIDER #5
Written by Fiona Avery, art by Roger Cruz, cover by Mark Brooks.
Her teammate's at Death's Door, her nemesis wants a showdown, and her best friend is falling for the wrong boy -­ if this is Anya's destiny, then she¹s taking it back to the store! But rejecting her fate might only make matters worse for Anya -- and better for the perfectly evil Sisterhood of the Wasp!
32 pages, $2.99, in stores on May 25.
AMAZING SPIDERMAN #517
Amazing Spider-Man #517 will arrive in stores on Feb. 23 from Marvel Comics. The issue is written by J. Michael Straczynski, with art by Mike Deodato Jr. and Mark Brooks, with a cover by Gary Frank.
Here's how Marvel describes the book:
"'Skin Deep,' part 3 of 4. When a former classmate of Peter Parker's is caught in a horrific experiment, he blames Peter for the resulting transformation... But is Peter to blame? And how will Peter react when someone targets his personal life instead of Spider-Man¹s life, for a change?"
Amazing Spider-Man #517 will be 32 pages and will cost $2.25
JMS COMIC BOOKS: For a listing of current comic books written by J. Michael Straczynski, go to COMIC BOOK page. There is a brief synopsis of the book and a date when publication is expected.
TV SCHEDULE ON SCIFI CHANNEL
STARGATE SCHEDULE:
03/18/2005 06:00 PM STARGATE SG-1 (SEASONS 1-5) THE TORMENT OF TANTALUS
03/18/2005 08:00 PM STARGATE SG-1 (SEASON 8) MOEBIUS - PART 1
03/18/2005 11:00 PM STARGATE SG-1 (SEASON 8) MOEBIUS - PART 1
03/21/2005 06:00 PM STARGATE SG-1 (SEASON 1-5) BLOODLINES
03/21/2005 07:00 PM STARGATE SG-1 (SEASONS 1-5) SETH
03/21/2005 08:00 PM STARGATE SG-1 (SEASONS 1-5) FAIR GAME
03/21/2005 09:00 PM STARGATE SG-1 (SEASONS 1-5) LEGACY (STARGATE)
03/21/2005 10:00 PM STARGATE SG-1 (SEASONS 1-5) LEARNING CURVE (STARGATE)
03/22/2005 06:00 PM STARGATE SG-1 (SEASON 1-5) FIRE AND WATER
03/23/2005 06:00 PM STARGATE SG-1 (SEASON 1-5) HATHOR
03/24/2005 06:00 PM STARGATE SG-1 (SEASON 1-5) SINGULARITY
03/25/2005 06:00 PM STARGATE SG-1 (SEASONS 1-5) COR-AI
03/25/2005 08:00 PM STARGATE SG-1 (SEASON 8) MOEBIUS - PART 2
03/25/2005 11:00 PM STARGATE SG-1 (SEASON 8) MOEBIUS - PART 2
03/28/2005 06:00 PM STARGATE SG-1 (SEASON 1-5) ENIGMA (STARGATE)
03/28/2005 07:00 PM STARGATE SG-1 (SEASONS 1-5) POINT OF VIEW
03/28/2005 08:00 PM STARGATE SG-1 (SEASONS 1-5) DEADMAN SWITCH
03/28/2005 09:00 PM STARGATE SG-1 (SEASONS 1-5) DEMONS
03/28/2005 10:00 PM STARGATE SG-1 (SEASONS 1-5) RULES OF ENGAGEMENT (SG-1)
03/29/2005 06:00 PM STARGATE SG-1 (SEASON 1-5) SOLITUDES
03/30/2005 06:00 PM STARGATE SG-1 (SEASON 1-5) TIN MAN (STARGATE)
03/31/2005 06:00 PM STARGATE SG-1 ( SEASONS 1-5) THERE BUT FOR THE GRACE OF GOD

STARGATE ATLANTIS:
03/18/2005 09:00 PM STARGATE ATLANTIS THE SIEGE - PART 1
03/18/2005 12:00 AM STARGATE ATLANTIS THE SIEGE - PART 1
03/25/2005 09:00 PM STARGATE ATLANTIS THE SIEGE - PART 2
03/25/2005 12:00 AM STARGATE ATLANTIS THE SIEGE - PART 2
04/08/2005 09:00 PM STARGATE ATLANTIS RISING - PT 1
04/08/2005 12:00 AM STARGATE ATLANTIS RISING - PT 1
04/15/2005 09:00 PM STARGATE ATLANTIS RISING - PT 2
04/15/2005 12:00 AM STARGATE ATLANTIS RISING - PT 2
04/22/2005 09:00 PM STARGATE ATLANTIS HIDE AND SEEK
04/22/2005 12:00 AM STARGATE ATLANTIS HIDE AND SEEK
04/29/2005 09:00 PM STARGATE ATLANTIS SUSPICION
04/29/2005 12:00 AM STARGATE ATLANTIS SUSPICION

BATTLESTAR GALACTICA:
03/18/2005 10:00 PM BATTLESTAR GALACTICA COLONIAL DAY
03/18/2005 01:00 AM BATTLESTAR GALACTICA COLONIAL DAY
03/21/2005 11:00 PM BATTLESTAR GALACTICA COLONIAL DAY
03/25/2005 10:00 PM BATTLESTAR GALACTICA KOBOL'S LAST GLEAMING - PT 1
03/25/2005 01:00 AM BATTLESTAR GALACTICA KOBOL'S LAST GLEAMING - PT 1
03/28/2005 11:00 PM BATTLESTAR GALACTICA KOBOL'S LAST GLEAMING - PT 1
03/31/2005 08:00 AM BATTLESTAR GALACTICA (1970S) THE MAN WITH NINE LIVES
03/31/2005 09:00 AM BATTLESTAR GALACTICA (1970S) MURDER ON THE RISING STAR
03/31/2005 10:00 AM BATTLESTAR GALACTICA (1970S) GREETINGS FROM EARTH PART 1
03/31/2005 11:00 AM BATTLESTAR GALACTICA (1970S) GREETINGS FROM EARTH PART 2
03/31/2005 12:00 PM BATTLESTAR GALACTICA (1970S) BALTAR'S ESCAPE
03/31/2005 01:00 PM BATTLESTAR GALACTICA (1970S) EXPERIMENT IN TERRA
03/31/2005 02:00 PM BATTLESTAR GALACTICA (1970S) TAKE THE CELESTRA
03/31/2005 03:00 PM BATTLESTAR GALACTICA (1970S) THE HAND OF GOD
BABYLON 5/CRUSADE PHOTOSHOP PHOTOS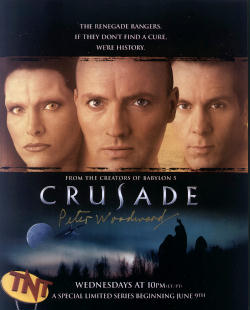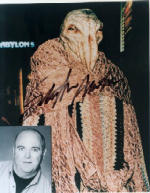 You do NOT have to pay the prices asked for over at e-bay! Here are photos of B5 and Crusade cast members at fantastic prices. Check out Photo Shop. Ordering is easy -- and you can't beat the prices! Just let me know which photos you want and I'll check to make sure they are still in stock.
---
SCI-FI CARTOONS
While catching up on my e-mail yesterday morning, I got an instant message from LFMOA along with a nice goodie that I can share with readers. Thanks for sending along your version of Pinky and the B5 Brain.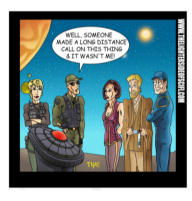 Tye Bourdony's latest Lighter Side of Sci-Fi satire can be seen here and at Tye's website www.thelightersideofscifi.com.
SPECIAL EVENTS
RICHARD BIGGS MEMORIAL SHOW
Here's a date to put on your calendar -- Saturday, March 19, 2005. A few of Rick's friends are getting together for a day of remembering their friend and colleague. The guest list for the day is:
Guests attending Breakfast & Afternoon:
Matthew Ashford (Days of Our Lives)
Bruce Boxleitner (Babylon 5, TRON)
Ricardo Antonio Chavira (Desperate Housewives)
Jerry Doyle (Babylon 5)
Mira Furlan (Babylon 5, Lost)
Melissa Gilbert (Little House on the Prairie)
Lisa Howard (Earth Final Conflict, Highlander)
Michael T. Weiss (The Pretender)
Stephen Nichols (Days of our Lives)
Melinda Clark (The OC/Days of our Lives)
Rick Hearst (General Hospital)
George Jenesky (Days of our Lives)

Appearing at the afternoon signing - 12:30 to 4:00pm:
Babylon 5 cast members: Andreas Katsulas, Pat Tallman, Bill Mumy, Jason Carter, Ed Wasser, Stephen Austin, Bruce Boxleitner, Jerry Doyle, Melissa Gilbert, Julie Caitlin Brown, Tracy Scoggins
Matthew Ashford (Days of our Lives)
Lisa Howard (Earth Final Conflict, Highlander)
Michael T. Weiss (The Pretender)

Place: The event will be held at the Beverly Garland Hotel, 4222 Vineland Ave., N. Hollywood, CA 91602. The schedule is as follows:
10am to 12pm
Celebrity - Buffet Breakfast
(Including made-to-order omelets)

12:30pm to 4pm
Autograph* Signings

All Proceeds to the family of Richard Biggs. To purchase tickets: Pay $100 for each breakfast ticket; $25 for each afternoon autograph session. If both events are purchased the total cost is reduced to $115, a $10 savings. Visit PayPal and enter email address Blkcat1067@ aol.com. When paying be sure to enter email address so that we can send the ticket back.

For mailing checks, make checks payable to: Richard Biggs Memorial Show
1052 W. Alameda Avenue #350; Burbank, CA 91506

* Celebrities appear subject to work commitments. A charge will be made for autographs. ALL proceeds to the family of Richard Biggs.
CONVENTION CALENDAR
April 2-3, 2005:
The Big Apple Con
Place: Penn Plaza Pavilion, 401 7th Ave at 33rd St
For more information, call (201) 865-3288 or go to www.bigapplecon.com
Guests: A ton of comic book artists and writers
---

April 8-10, 2005
I-CON 25
Place: Stoneybrook, NY
Guests: TBD
For more information, visit their website at http://www.iconsf.org/.
---

April 15-17, 2005
OFFICIAL STARGATE SG-1 / STARGATE ATLANTIS CELEBRATION FOR THE FANS
Location: Vancouver, British Columbia (Canada)
Guests: Michael Shanks, Christopher Judge, Don S. Davis, Tony Amendola, Peter Williams
For more information, go to http://www.fansofstargate.com/
---

May 6-8, 2005
TO BE CONTINUED
Place: Chicago Marriott Schaumburg Hotel
City: Schaumberg, IL.
For more information, visit www.2becontinued.com.
---
Be sure to visit the referenced sites to see if there have been changes in dates/guests attending. Visit our Convention Calendar for a full listing of upcoming conventions.
MAIL FOR CAST AND CREW
Here's a recent note from JMS on the subject:

Just an FYI to those who've been using the Ventura Blvd. mail drop for fan mail to actors....

As mentioned before, we're phasing out the forwarding of fan mail because we a) don't have the resources, complicated by b) the actors have scattered to the four winds, and it makes it very difficult to get everything to everybody in a timely fashion.

So, having provided prior notice...fan mail to actors coming to the Ventura Blvd. mail drop will be sent back. Mail to actors should be sent via their official fan clubs. I will still be taking mail there, since it's my mailbox, but that's it.

Just so's y'all know and save a few bucks on postage and returns.

WARNER BROS:

Phone: 818.954.3000
Fax: 818.954.7829
E-mail: wbsf@warnerbros.com
Hours: M-F, 9A to 6P PST
Address: 4000 Warner Blvd.
Burbank, CA 91522

PRODUCTION SUPPORT SERVICES
Dominick Bruno
Phone: 818.954.5690
wbsfproperty@warnerbros.com

Warner Home Video:

Mr. Douglas Wadleigh
VP for Marketing and Special Features
Warner Bros.
4000 Warner Blvd.
Burbank, CA 91522
BACK ISSUES OF THE ZOCALO TODAY
The front page of the The Zocalo Today changes daily, so be sure to check the back issues to make sure that you haven't missed anything IMPORTANT! I don't want the front page getting too long so I shift information periodically into the archives. So if you aren't a regular visitor to The Zocalo Today, be sure to check out the back issues. Just use the button above!
---
Take care and I look forward to hearing from you.
Sandra Bruckner (sgbruckner@aol.com)
Editor/Publisher
ISN News: The Zocalo Today
http://www.isnnews.net
Copyright - SBruckner, 1999-2005
Search Engine Optimization and Free Submission