[an error occurred while processing this directive]

The Zocalo Today

Welcome and thank you for dropping by. Take your shoes off, get comfortable and stay a while. There is a LOT of information here and you won't want to miss any of it.

The Zocalo Today is an interactive newsletter, encouraging readers to join a discussion topic or to send along letters that can be shared with other readers.

The Zocalo Today is a newsletter for Babylon 5 and science fiction fans everywhere. It is as much YOUR newsletter as it is mine! I'm just pulling together things for you!

Join our discussion topic. It is just one way you can share with other Z readers. If you see Babylon 5 cast and crew in other roles, let us know. We enjoy convention reports, photos, etc. Don't miss our back issues. I hope this will become more than just a newsletter. It's a community of people that enjoy sharing their experiences and interests. Babylon 5 brought many of us together -- and it remains with us, despite the fact that is no longer in production. Don't be shy. Join us today!

If you have questions, drop me a line at sgbruckner@aol.com. If you would like to join the mailing list for our newsletter, send me a note and I'll include you on the list. Or you can use the subscription block at the left.

Again, WELCOME!



Saturday, April 16, 2005:
DOCTOR WHO:
The BBC has found a new DOCTOR WHO! They reported that British actor David Tennant (U.K. TV's Casanova) will star in the upcoming second season of the series, taking over from Christopher Eccleston, who left at the end of season one.
---
STAR TREK: ENTERPRISE:
Peter Weller, (ODYSSEY 5), plays a key role in upcoming final episodes STAR TREK: ENTERPRISE. Named John Frederick Paxton, his character resembles some people today. "He's a xenophobe," Weller said in an interview at the April 13 wrap party for the cast and crew in Hollywood, Calif. "Isolationism is one thing, but he's actively pursuing the cleansing of planet Earth by ridding 'Terra Prime,' or Earth, of any alien impurity whatsoever. It kind of rings of some people walking around on this planet today." Weller's episode "Demons" airs May 6 and "Terra Prime" airs May 13.
---
HITCHHIKER SEQUEL:
With THE HITCHHIKER'S GUIDE TO THE GALAXY set for release on April 29, Martin Freeman, who plays Arthur Dent in the film said that he's open to a sequel if one is made, with conditions. In the movie based on Douglas Adams' beloved SF book and radio series, Freeman plays Dent, a human whisked off Earth moments before its destruction, who then embarks on a bizarre adventure through space. He is accompanied by his alien best pal (Mos Def), a depressed robot (Warwick Davis), the president of the galaxy (Sam Rockwell) and a pretty alien female, Trillian (Zooey Deschanel). "I'd be interested if the same team was interested," Freeman said in an interview, referring to director Garth Jennings and producer Nick Goldsmith. "I'd be interested if Spielberg or someone else I could really trust was going to do it. Then we could talk."
---
TOP SCIENCE FICTION NEWS STORIES:
To catch up on the latest news from around the world of science fiction, go to News Page. You'll find the highlights from your favorite shows -- and more.
---
WHAT'S ON THE TUBE TODAY
NETWORK AND CABLE TV:
6:00pm on UPN
Star Trek: Enterprise
Bound
The Orions present Archer with three alluring Orion women, who seduce all the men on board.

7:00pm on FX
Independence Day
Earthlings vs. evil aliens in 15-mile-wide ships.

7:00pm on SCI FI
Aftershock: Earthquake in New York
City leaders act in the wake of a temblor.

8:00pm on Disney
Toy Story 2
Toys rescue Woody from a collector.

9:00pm on ABC
Spy Kids 2: The Island of Lost Dreams
A girl and her brother search for a destructive device.

9:00pm on CBS
CSI: Crime Scene Investigation
Inside the Box
The team loses one of its own in a bank robbery in Las Vegas.

SYNDICATED TV:
Andromeda
Totaled Recall
Dylan finds himself trapped after an explosion sends him into an interdimensional loop.

Mutant X
Inferno
The team sets out to stop an arsonist from setting deadly fires.

Stargate SG-1
Grace
Maj. Carter wakes to find the crew missing after the Prometheus encounters an alien attack.
CONVENTION REPORTS
Ranger Phil reports from ICON:

Saw Jason Carter at ICON this weekend. He was in good form, his usual wonderful self. We had a nice Richard Biggs memorial. I'm still shocked he's gone.

At ICON POWYS media had it's US premiere of their new Prisoner novel, The Prisoner's Dilemma by Jonathan Blum and Rupert Booth. Jonathan Blum was on hand to autograph copies at the Larry Smith bookseller table on Saturday afternoon. The Prisoner's Dilemma has a forward by J Michael Straczynski which might interest some B5 fans. Copies are now available from POWYS media at this link: http://www.cerebralmassage.com/Powys/Prisoner/book1.html . Early review of the book appears at http://www.theunmutual.co.uk/reviewsprisdil.htm and an interview with the authors appears at http://www.theunmutual.co.uk/webchat.htm .
STAR WARS FAN FILM COMPETITION
John Hudgens, creator of the Babylon 5 Music Videos, is a wonderful film maker. His creation has again made it into the finals of the 2005 Official Star Wars FanFilm Awards. SITH APPRENTICE, written by John, Lowell Cunningham and Denny Humbard, is now online at http://www.atomfilms.com/af/content/sith_apprentice.

Here is more on the project from John (Fenn):

It's a parody of Donald Trump's reality show THE APPRENTICE, but set in the Star Wars universe. Emperor Palpatine needs a new apprentice to further his goals of galactic domination, and has turned to reality television to fill the post. The final contestants are Count Dooku, Jar Jar Binks, Darth Maul, and Darth Vader... which one will be the new SITH APPRENTICE?

The film stars Robert Alley as The Emperor, Bob Bean as Darth Vader, Kristen Caron as Darth Maul, and Patrick McCray as Count Dooku. Also appearing are many of our usual gang of misfits, including Brandon Alley, Brian Boling, Heather Harris, Denny Humbard, John & Sarah Mailen, Jeff McClure, Tom Ott, and Ziggy McMillan. We also recieved help from Trey Stokes and his Pink Five crew, so Pink Five herself (Amy Earhart) makes a brief cameo!

What I'm asking all of you to do is VOTE! Watch the film, and then vote for us (and tell all your friends to do the same!), as they're polling the internet viewers to give an Audience Award for favorite film... we want to win! But vote quickly, as the on-line voting ends Monday night, April 4th, and the winners will be announced at the Star Wars Celebration III convention in Indianapolis April 22nd...

So please, watch, vote for (the direct link for voting is http://www.atomfilms.com/bin/vote/index.jsp), maybe write a positive review of, and hopefully enjoy SITH APPRENTICE... we all had a blast making it...

John Hudgens (Fenn)
www.zteamproductions.com
http://www.zteamproductions.com/sithapprentice/
http://www.atomfilms.com/af/content/sith_apprentice
DISCUSSION TOPICS
Who has had the most influence on the world of science fiction in the last 50 years and why? This could be a writer, filmmaker, artist -- anyone you feel that has changed the way we look at science fiction.

Send in your thoughts and comments to sgbruckner@aol.com. I will post them on the Discussion Page for everyone to share and enjoy. There are some good ones so far. Add yours! If you see an old topic you want to respond to, go right ahead. We enjoy hearing from you.
KEEPING UP WITH CAST AND CREW
BILL MUMY:
Bill's band, THE JENERATORS will be performing Live in Concert!
Saturday - APRIL 23rd 9:15pm
RUSTY'S SURF RANCH
on the Santa Monica Pier Santa Monica, California
CALL RUSTY'S FOR DETAILS AND RESERVATIONS -
310-393-7437
The Jenerators are proud to announce the release of their third CD, "PONY UP"! Come to the gig, enjoy the live music and pick up a copy of the brand new 14 song CD!
ONE SET ONLY
Bill Mumy, Miguel Ferrer,Gary Stockdale, David Jolliffe,Tom Hebenstreit

J. MICHAEL STRACZYNSKI - YARD SALE/CONVENTION APPEARANCES:
Joe announced a "yard sale" of materials he will be making available at ebay.com over the next several weeks. Be sure to visit www.ebay.com and search on seller "babylon5auctions" to find some truly unique materials straight from the Great Maker. Items currently available: Londo doll, uniform jacket, crew jacket, producer's script book for "Wilderness". You may want to visit just to read the explanations of the items written by Joe!
---
Joe will be a special guest at this year's SAN DIEGO COMIC-CON, July 14-17, 2005. Go to http://www.comic-con.org/cci/ for more details about the event.

---
RICHARD BIGGS:
A close friend of the Rick Biggs family has collected some items for auction. The proceeds will go to Rick Biggs Memorial Fund. Please go to http://search.ebay.com/_W0QQsassZcarend6a6m. There's a B5 script, some autographed magazines, photos and more to come over the next month or so.
---
On March 19, a lot of people got together to honor their friend and colleague, Richard Biggs. Rangers Jan and Gary attended and have sent in reports of the day's activities. Quite a group of Babylon 5 folks were there. I see Tony Dow was there as well. He directed "The Memory of War" episode of CRUSADE. Be sure to read Jan's report -- and look at the pictures. Use this link for both Memorial Page. Thanks Jan and Gary.
---
JERRY DOYLE:
It looks like the JERRY DOYLE SHOW is a success! According to the press release I received, Jerry's radio show is the fastest growing program in (The Radio Network) TRN Enterprises and TRN's combined history. The show was launched into weekday national syndication just 10 months ago by TRN Enterprises and has already surpassed the 150 weekday-station mark. TRN Enterprises, CEO Mark Masters couldn't be more pleased by Doyle's phenomenal growth, commenting, "Jerry has a style that is infectious, programmers love him, and so do the listeners – he is becoming a phenomenon". The Jerry Doyle Show is pop culture, politics and candidly fast-paced discussion on the issues of the day. A self-described conservative, Doyle boldly takes talk radio beyond the predictable. "I call it like I see it, "says Jerry, "I don't hold back when it comes to being candid on the hot issues." The Jerry Doyle Show airs live Monday - Friday noon to 3p.m. Pacific, 3p.m. to 6p.m. Eastern with a re-feed 7p.m. to 10p.m. Pacific and 10p.m. to 1a.m. Eastern. The Jerry Doyle is also available live Saturday's 8p.m. to 11p.m. Pacific, making the show live six days a week.
---
PETER WOODWARD:
Peter and his fans had so much fun in the Caribbean that he is inviting everyone back to join him in the Western Caribbean on Jan. 15-22, 2006!!

If you are looking for a GREAT Vacation, or if you are interested in meeting like -minded men and women, learning in an educational environment, join us for this for this spectacular opportunity to sail with Peter.

Our special program on board offers something for everyone. We have arranged for you to enjoy three Exclusive seminars with Peter and a private cocktail party plus other surprises. There will be plenty of time to relax, reflect, and recharge.

For more information call 800 695 5253 or e-mail Susan@CruiseEvents.net or go to: http://www.cruiseevents.net/peterwoodward/index.htm
---
SPECIAL CAST ACTIVITIES: To learn more about what cast members are doing away from the tube, go to CAST ACTIVITIES page.
---
IN MEMORY OF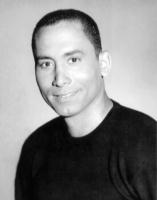 Richard Biggs, the wonderful Dr. Stephen Franklin on Babylon 5, died last year on May 22 of an brain anyerism. There are many efforts underway to help with his two small children. Be sure to go to the Richard Biggs Memorial Page for more information.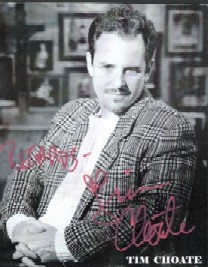 Tim Choate, who so marvelously brought Zathras to Babylon 5, was killed when he was struck by a car while going to a play rehearsal on his motorcycle. A memorial fund has been set up for Tim's son Flynn. The address for the memorial fund is:

The Tim Choate Memorial Fund
P.O. Box 861355
Los Angeles, CA 90086





BABYLON 5 BIRTHDAYS
Christopher Franke - April 6
Maggie Egan - April 11
Tony Dow - April 13
Warren Takeuchi - April 19
Peter Jurasik - April 25

Have I missed anyone? If you know the birthday of someone connected with Babylon 5, pass the information along. We want to include everyone in our Happy Birthday Wishes.
BABYLON 5 DVDS
For information on the Babylon 5 DVDs, please go to Babylon 5 DVD page.
DVD NEWS AND REVIEWS
NEW AND UPCOMING DVDS:
HARVEY BIRDMAN - ATTORNEY AT LAW
From TV Tome:
Once, he was known as the aviary superhero called simply Birdman (during the 1967 Hanna-Barbera series, Birdman & The Galaxy Trio. Along with his specially trained pet eagle, Avenger, he fought crime as many others before him, and many others following him, did. Eventually, Birdman fell on hard times, and the hero route went by the wayside. He soon shot a pilot for a talk show (which eventually became Space Ghost Coast To Coast) but it too failed to go anywhere for him as he was (obviously) replaced by Space Ghost.
Finally, at some point, Harvey Birdman was inspired to become a lawyer. Now, as an attorney, he represents his fellow former Hanna-Barbera cartoon stars, in a variety of strange cases. With opposing council made up of his former villains, the Judge a prehistoric superhero named Mightor (of the 1967 series Mighty Mightor) and his pet/partner Avenger working as his personal secretary, Harvey tackles the cases only a guy in a business suit with a mask & large wings can!
SPACE GHOST COAST TO COAST - SEASON THREE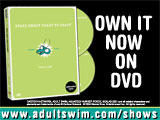 Welcome to the Space Ghost Coast to Coast
Space Ghost started out as a scientist, but later was recruited into a member of the intergalactic police. His abilities come from his suit that allows him to fly, and the power bands on his wrists can get him out of almost any situation.
Now, he's a talk show host for Cartoon Network's Adult Swim block. Much like what they have done for the recent Harvey Birdman: Attorney At Law, Space Ghost was an old Hanna-Barbera superhero show, called Space Ghost and Dino Boy.
THE HITCHHIKER: VOLUME II
The Hitchhiker: Volume II
Classic HBO Series Returns to DVD with a Second Volume, April 12

Brace yourself for the DVD release of the innovative HBO series that has been favorably compared to The Twilight Zone and Tales From the Crypt. Ten terrifying tales that turned every late night into fright night… The Hitchhiker: Volume II.

For more information on this new DVD release, go to The Hitchhiker page here at The Zocalo Today.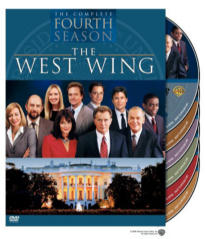 THE WEST WING: THE COMPLETE FOURTH SEASON COMES TO DVD ON APRIL 5, 2005
The Emmy-Award Winning Fourth Season will be Available on a
Six-disc Collector's Set Loaded with Never-Before-Seen Special Features Including Deleted Scenes, Special
Featurettes, Episode Commentary and More
Follow President Josiah Bartlet from re-election into his second term when Warner Home Video (WHV) releases The West Wing: The Complete Fourth Season on DVD on April 5, 2005. The six-disc collector's set includes all 22 episodes of the series' fourth season, which garnered 15 Emmy nominations and two wins for Outstanding Drama Series and Outstanding Directing for a Drama Series. The DVD set will be available for $59.98 SRP.
Visit The West Wing page for more information on this new release.
WONDER WOMAN: THE COMPLETE THIRD SEASON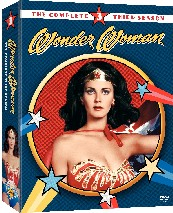 June 7 has been set for the release by Warner Home Video of WONDER WOMAN: THE COMPLETE THIRD SEASON and LOIS & CLARK: THE COMPLETE FIRST SEASON.
Lynda Carter returns as Wonder Woman for all 24 episodes of the third and final season of the series. Teamed with government agent Steve Trevor (Lyle Waggoner) and using the alias of Diana Prince, Wonder Woman whips out her bracelets and lariat to battle evil. Her foes include a time traveler from the year 2155, a brain with no body, a dating service that's serving up death, hungry ants and a sculptor whose statues come to life and become his partners in crime. Wonder Woman saved the best adventures for last!"
The Lois & Clark collection brings you Dean Cain and Terry Hatcher in this action-packed Superman update. Originally aired in the 90's on ABC, this humorously romantic action/adventure hour-long series puts a modern twist on the time-honored, legendary superhero, bringing to life the comic book characters Clark Kent; his superhuman alter-ego, Superman; and Lois Lane, fiction's first lady of the press, in the most unrequited romance of all time."
---
NEW DVDS:
WONDER WOMAN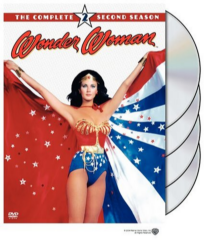 What's Wonder Woman up to now you ask? Flash forward 35 years from her stirring Season-One adventures defending America in World War II. Without missing a beat, Wonder Woman leaps from the big-band era to the disco decade, still miraculously young and still using wits, wiles and astonishing powers to fight evil.

Season Two (21 episodes following a feature-length season premiere) introduces Wonder Woman to a new America of nuclear power and computers. Teamed with Steve Trevor, son of the dashing major she worked with during World War II, she takes the name Diana Prince - and takes on all kinds of danger from terrorists, mad geniuses, crooks and even a diabolical rock star while working for America's Inter-Agency Defense Command. Wonder Woman, we're proud you're on our side!

Be sure to enjoy the clips provided by Warner Bros. on the Wonder Woman page.
---
We have a lot of information on new WB DVDs. Visit our NEW DVD Page for press releases and video clips that may be of interest to you. Information includes KUNG FU, MI-5, Carnivale, Troy, The Matrix, and more.

Visit to the Review Page for a review of the DVD sets.
NEW BOOKS COMING
STARGATE: ATLANTIS—THE OFFICIAL COMPANION SEASON 1 SC
First there was the blockbuster Stargate movie, then the smash hit TV series Stargate SG-1, and now there's the equally successful spin-off show: Stargate Atlantis! The official companion to the first season is packed with behind the scenes interviews, an episode guide, and scores of photos, including a 16-page color gallery! (133/1-84576-116-2)
SC, 6x9, 176pgs, PC..........$14.95
STARGATE SG-1
Book 4 in the new series of STARGATE SG-1 novels is being published on 18 April.
Entitled "City of the Gods", it is written by Sonny Whitelaw and follows the team as they encounter an Aztec culture on an unstable, tectonically active moon. As Jack would say, that spells earthquakes, lots of 'em... Join the team for a ringside seat at the end of the world! For more information, visit www.stargatenovels.com/cityofthegods.shtml.
Ranger Tom reports that Amazon.co.uk have also done a pretty good job of stocking the books, although occasionally they fail to keep up with demand and one of the titles will go out of stock. This means you see the message, "usually dispatched within 4 to 6 weeks", but generally they restock the books within 3-4 days. www.amazon.co.uk/exec/obidos/ASIN/0954734335/stargasg1nove-21
You can also order it from website - www.stargatenovels.com/bookshop.php.. You can also pre-order the latest book now, and we will do everything we can to ship it on 18 April.
BABYLON 5 NOVELS COMING
Mongoose Publishing is proud to announce an agreement with Warner Brothers to produce an all new range of novels and graphic novels for Babylon 5. They promise some exciting tales lined up, delving into never-before- explored areas of the Babylon 5 universe and expanding the storyline beyond the TV series. Releases will begin appearing in Q4 2005 - more news on authors and storylines coming soon! Thanks Ranger Joe for the report.
SCIENCE FICTION PUBLICATIONS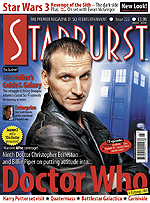 Starburst #323: DOCTOR WHO: Inside this issue, the latest Doctor, Christopher Eccleston , talks about eight months of filming, what the part meant to him, and the genius of writer Russell T. Davies. Also inside: Captain Jonathan Archer himself, Scott Bakula, talks about the passing of the series and looks back at its début year.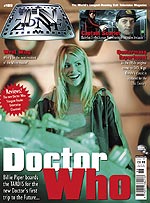 TV Zone #188: Doctor Who 2005: The series returns to television – at last! – stars Christopher Eccleston and Billie Piper chat about about stepping aboard the TARDIS. Also included: Captain Scarlet - Following his work on Babylon 5, effects maestro Ron Thornton was recruited to save Gerry Anderson's New Captain Scarlet. He explains how he got the project back on track…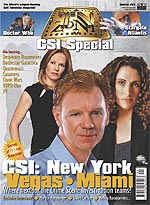 TV Zone Special #62: If you are a fan of CSI, this issue is for you. Inside you will find cast interviews with Marg Helgenberger as she talks about bringing beauty and brains to Vegas as CSI's Catherine Willows; CSI: Miami's David Caruso discusses his second shot at TV fame and CSI: New York's Melina Kanakeredes explains how she became the Big Apple's Guardian Angel. Also in this issue, STARGATE ATLANTIS' Design Department team goes through the first series with an exclusive look at the design sketches of their creations and Battlestar Galactica's Richard Hatch tells us how he came to love the updated version of the show he'd fought to bring back.




Cult Times #115: DOCTOR WHO: In this issue, executive producer and main writer Russell T Davies talks about how he set about revamping a genre classic for a 21st Century audience. Also inside, CSI star Jorja Fox discusses the trials and tribulations of the latest season.
Expose Special #28: CHARMED: A look at seven seasons and 150 episodes of this hit fantasy show. Holly Marie Combs talks to us about juggles parenting, animal husbandry and starring as the eldest of the Halliwell sisters – but she still finds time to join in the 150th episode celebrations! Executive producer E Duke Vincent shares his thoughts on overseeing seven seasons of Charmed, and reaching the milestone of 150 episodes; Directors Jon Paré and Jim Conway chat about their experiences on the series, taking in Valkyries, Wendigos and mermaids – and reveal which episodes caused the most trouble! And much more.
Cult Times Special #33: THE SIMPSONS are honored for their 16 years on the tube. Also in this issue, BATTLESTAR GALACTICA's stunning Cylon Number Six, better known as Tricia Helfer, drops by to look back over the first season of the critically acclaimed re-imagining of the classic show and looks forward to Season Two and ANDROMEDA's Steve Bacic reveals the changes in his character for the fifth and final season, which sees Telemachus Rhade trapped in the Seefra system and turning to drink.
Expose #93: CHARMED: Star Alyssa Milano discusses her role as Phoebe Halliwell, taking in seven years of punning episode titles, her ever-changing haircuts and stepping up to co-produce the hit Fantasy show. LOST AND ALIAS creator JJ Abrams talks to us about developing the intricately-plotted tale of castaways.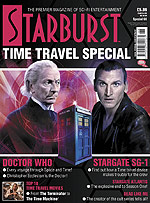 Starburst Special #68: DOCTOR WHO: To celebrate the return of DOCTOR WHO to TV, you will find an exclusive story-by-story guide to the adventures of the Time-traveller, starting with the original Doctor, William Hartnell, back in 1963. Plus a look forward to the adventures of the newest incarnation, played by screen star Christopher Eccleston.
NEW TOONS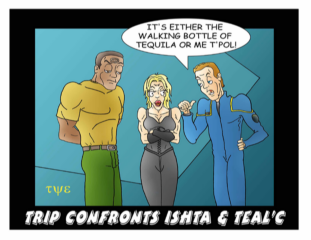 Tye Bourdony has sent along his latest satires for your enjoyment. He promises more to come shortly, so stay tuned!
COMIC BOOKS
COMIC BOOKS COMING
AMAZING SPIDER-MAN #519
Amazing Spider-Man #519 will arrive in stores on Wednesday from Marvel Comics. The issue is written by J. Michael Straczynski, with art and cover by Mike Deodato.
Here's how Marvel describes the issue:
"'New Avengers,' part 1 of 6. Trump Tower has nothing on Spider-ManŠ Springing out of the pages of New Avengers, you won¹t believe what the fickle hand of fate has in store for Peter Parker, Mary Jane, and Aunt May..."
Amazing Spider-Man #519 will be 32 pages and will cost $2.99.
J. MICHAEL STRACZYNSKI'S DREAM POLICE
Date: 3/27/2005 9:58:19 PM
Babylon 5 Moderated Newsgroup
I'd mentioned a while back that I would remind folks when the stores would begin taking orders for Dream Police...so this is it.
Dream Police will appear as a one-shot on June 22nd, but Marvel has a tendency to print to orders, so if you don't order it up front, it may not be available. Apparently interest is high, so I have a sneaking suspicion this one may disappear fast.
Basically, the premise of Dream Police -- which has been in the works for a long time now, and finally seeing print -- is that we all enter the dreamscape when we fall asleep, and the denizens of said dreamscape all play their roles...but when someone doesn't do their job, or a crime against dreamers is committed, the Dream Police come in.
The thing is...the Dream Police are plain clothes detectives and beat cops who walk, talk and behave like characters out of the Maltese Falcon, or Dragnet, or Adam 12, that very literal, staccato, clipped back-and-forth style of dialogue.
So what you've got is a very funny, weird, surreal book that puts these very noir characters up against the dreamscape...and I'm just pleased as punch with the result.
Hence, this recommendation. There's no long arc to sign onto, just the one issue, but it's just a hoot and a half to read. It's fromm Marvel under the Icon imprint, and I commend it highly to all B5 folks.
NEW BOOKS FOR JUNE:

AMAZING SPIDER-MAN #521
Written by J. MICHAEL STRACZYNSKI
Pencils & Cover by MIKE DEODATO
"MOVING UP" Spidey just can't seem to catch a break these days. He's got a great new pad and a cool new clique ­ so what's the big problem? Oh, not much-- just a nefarious worldwide organization with an ingenious plan to conquer the world! Hail HYDRA! Part 3 (of 6).
FANTASTIC FOUR #528
Written by J. MICHAEL STRACZYNSKI
Pencils and Cover by MIKE MCKONE
"Random Factors" As Ben revels in his newfound wealth and status, an act of sabotage may well jeopardize Reed's secret project--and a visit from state officials has dire ramifications for Sue and the rest of the Richards clan.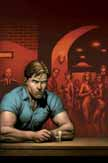 SUPREME POWER #17
Written by J. MICHAEL STRACZYNSKI
Pencils & Cover by GARY FRANK
"The Deconstruction of Mark Milton" concludes: There's love in the air for Doctor Spectrum and a certain amphibious creature...and a storm on the horizon for Hyperion. Whom the gods would destroy, they first make mad.
MAY TITLES:
AMAZING SPIDERMAN
Written by J. Michael Straczynski, art and cover by Mike Deodato.
In this tale for the ages, written by Stupendous J. Michael Straczynski and penciled by Magnificent Mike Deodato, Peter and the family are forced to deal with the radical changes in their lives. Straight from the pages of the New Avengers. Part 2 of 5.
32 pages, $2.25, in stores on May 25.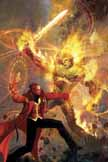 STRANGE #6
Written by J. Michael Straczynski and Samm Barnes, art and cover Brandon Peterson.
On their journey to discover Blackthroat, Marco and Director Joel Cameron's crew end up on a dark island in the heart of the Bermuda Triangle. Plotting to fuel Marco's thirst for revenge, Cameron hatches a trap with Jeanine's life in the balance. As the small crew turns on one another they soon learn that this island is not as deserted as it seems; it is home to an ancient clan of vampires whose dark secret has ramifications for all of humanity.
32 pages, $3.50, in stores on May 18.
FANTASTIC FOUR #527
Written by J. Michael Straczynski, art and cover by Mike McKone.
"Distant Music." A new arc begins here. Just in time for movie season, new ongoing creative team J. Michael Straczynski and Mike McKone unite their talents to chart a new course for the world's greatest comic magazine! First up: an intriguing offer for a conflicted Reed, and a windfall for Ben.
32 pages, $2.99, in stores on May 25.
JMS COMIC BOOKS: For a listing of current comic books written by J. Michael Straczynski, go to COMIC BOOK page. There is a brief synopsis of the book and a date when publication is expected.
TV SCHEDULE ON SCIFI CHANNEL
STARGATE SCHEDULE:
04/18/2005 06:00 PM STARGATE SG-1 (SEASONS 1-5) BANE
04/18/2005 07:00 PM STARGATE SG-1 (SEASONS 1-5) SHADES OF GREY
04/18/2005 08:00 PM STARGATE SG-1 (SEASONS 1-5) NEW GROUND
04/18/2005 09:00 PM STARGATE SG-1 (SEASONS 1-5) MATERNAL INSTINCT
04/18/2005 10:00 PM STARGATE SG-1 (SEASONS 1-5) CRYSTAL SKULL
04/19/2005 06:00 PM STARGATE SG-1 (SEASONS 1-5) THE TOK'RA, PT. 1
04/20/2005 06:00 PM STARGATE SG-1 (SEASONS 1-5) THE TOK'RA, PT. 2
04/21/2005 06:00 PM STARGATE SG-1 (SEASONS 1-5) SPIRITS
04/22/2005 06:00 PM STARGATE SG-1 (SEASONS 1-5) TOUCHSTONE
04/22/2005 08:00 PM STARGATE SG-1 (SEASON 8) ZERO HOUR
04/22/2005 11:00 PM STARGATE SG-1 (SEASON 8) ZERO HOUR
04/25/2005 06:00 PM STARGATE SG-1 (SEASONS 1-5) THE FIFTH RACE
04/25/2005 07:00 PM STARGATE SG-1 (SEASONS 1-5) NEMESIS
04/25/2005 08:00 PM STARGATE SG-1 (SEASONS 1-5) SMALL VICTORIES
04/25/2005 09:00 PM STARGATE SG-1 (SEASONS 1-5) THE OTHER SIDE
04/25/2005 10:00 PM STARGATE SG-1 (SEASONS 1-5) UPGRADES
04/26/2005 06:00 PM STARGATE SG-1 (SEASONS 1-5) A MATTER OF TIME (STARGATE)
04/27/2005 06:00 PM STARGATE SG-1 (SEASONS 1-5) HOLIDAY
04/28/2005 06:00 PM STARGATE SG-1 (SEASONS 1-5) SERPENT'S SONG
04/29/2005 06:00 PM STARGATE SG-1 (SEASONS 1-5) ONE FALSE STEP
04/29/2005 08:00 PM STARGATE SG-1 (SEASON 8) GEMINI
04/29/2005 11:00 PM STARGATE SG-1 (SEASON 8) GEMINI

STARGATE ATLANTIS:
04/22/2005 09:00 PM STARGATE ATLANTIS HIDE AND SEEK
04/22/2005 12:00 AM STARGATE ATLANTIS HIDE AND SEEK
04/29/2005 09:00 PM STARGATE ATLANTIS SUSPICION
04/29/2005 12:00 AM STARGATE ATLANTIS SUSPICION

BATTLESTAR GALACTICA:
04/22/2005 10:00 PM BATTLESTAR GALACTICA BASTILLE DAY
04/22/2005 01:00 AM BATTLESTAR GALACTICA BASTILLE DAY 04/25/2005 08:00 AM BATTLESTAR GALACTICA (1970S) BATTLESTAR GALACTICA PART 1
04/25/2005 09:00 AM BATTLESTAR GALACTICA (1970S) BATTLESTAR GALACTICA PART 2
04/25/2005 10:00 AM BATTLESTAR GALACTICA (1970S) BATTLESTAR GALACTICA PART 3
04/25/2005 11:00 AM BATTLESTAR GALACTICA (1970S) LOST PLANET OF THE GODS PART 1
04/25/2005 12:00 PM BATTLESTAR GALACTICA (1970S) LOST PLANET OF THE GODS PART 2
04/25/2005 01:00 PM BATTLESTAR GALACTICA (1970S) THE LOST WARRIOR
04/25/2005 02:00 PM BATTLESTAR GALACTICA (1970S) THE GUN ON ICE PLANET ZERO PART 1
04/25/2005 03:00 PM BATTLESTAR GALACTICA (1970S) THE GUN ON ICE PLANET ZERO PART 2
04/28/2005 07:00 PM SCI FI PICTURES BATTLESTAR GALACTICA - PART 1
04/28/2005 09:00 PM SCI FI PICTURES BATTLESTAR GALACTICA - PART 2
04/29/2005 10:00 PM BATTLESTAR GALACTICA ACT OF CONTRITION
04/29/2005 01:00 AM BATTLESTAR GALACTICA ACT OF CONTRITION
BABYLON 5/CRUSADE PHOTOSHOP PHOTOS







You do NOT have to pay the prices asked for over at e-bay! Here are photos of B5 and Crusade cast members at fantastic prices. Check out Photo Shop. Ordering is easy -- and you can't beat the prices! Just let me know which photos you want and I'll check to make sure they are still in stock.
---
CONVENTION CALENDAR
April 15-17, 2005
OFFICIAL STARGATE SG-1 / STARGATE ATLANTIS CELEBRATION FOR THE FANS
Location: Vancouver, British Columbia (Canada)
Guests: Michael Shanks, Christopher Judge, Don S. Davis, Tony Amendola, Peter Williams
For more information, go to http://www.fansofstargate.com/
---

May 6-8, 2005
TO BE CONTINUED
Place: Chicago Marriott Schaumburg Hotel
City: Schaumberg, IL.
For more information, visit www.2becontinued.com.
---

May 5-8, 2005
Fed-Con 14
City: Bonn, Germany
Place: The Maritim-hotel
B5 Guests: J. Michael Straczynski, Stephen Furst
Other Guests: Kevin Sorbo, Leonard Nimoy, Jolene Blalock, Brent Spiner, Dominic Keating, John de Lancie, James Darren, Gary Graham, Andrew Robinson, Richard Arnold, and more.
For more information, visit their website at http://www.fedcon.de/main.php?lang=en.

---

May 13-15, 2005
Comics Expo 2
City: Bristol, England
Place: BRITISH EMPIRE AND COMMONWELTH EXHIBITION HALL and THE RAMADA PLAZA
B5 Guest: J. Michael Straczynski
For more information, visit their website at http://comicexpo.mysite.wanadoo-members.co.uk/

---

May 27-29, 2005
OFFICIAL STARGATE SG-1 CONVENTION TOUR
Location: London, England
Guests: Christopher Judge, Michael Shanks, Don S. Davis
For more information, go to: http://www.fansofstargate.com/
---

May 27-29, 2005
MARCON
Place: Hyatt Regency, Columbus OH
Media Guest: Richard Hatch
For more information, go to http://www.marcon.org/
---

There are more convention dates on the extended calendar, including gatherings like GATECON in Vancouver on July 25 to August 1. Don't miss the details.

Be sure to visit the referenced sites to see if there have been changes in dates/guests attending. Visit our Convention Calendar for a full listing of upcoming conventions.
BACK ISSUES OF THE ZOCALO TODAY
The front page of the The Zocalo Today changes daily, so be sure to check the back issues to make sure that you haven't missed anything IMPORTANT! I don't want the front page getting too long so I shift information periodically into the archives. So if you aren't a regular visitor to The Zocalo Today, be sure to check out the back issues. Just use the button above!
---
Take care and I look forward to hearing from you.
Sandra Bruckner (sgbruckner@aol.com)
Editor/Publisher
ISN News: The Zocalo Today
http://www.isnnews.net
Copyright - SBruckner, 1999-2005
Search Engine Optimization and Free Submission