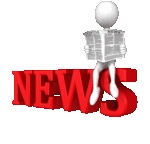 MARCH NEWS
MONDAY, MARCH 31, 2014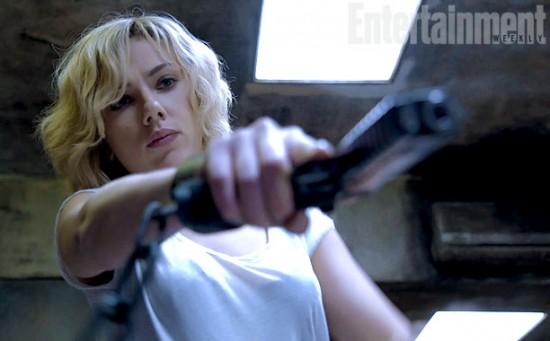 LUCY
What's the one thing missing from Scarlett Johansson's portrayal of Black Widow? Superpowers, of course. But the actress will get that fixed later this summer.
Johansson is set to appear in Lucy, a new movie from writer/director Luc Besson (The Fifth Element, The Professional). In the film, she plays a young woman who, while forced to work as a drug mule, accidentally ingests a mysterious drug that gives her powers well beyond those of a normal human being.
According to Slashfilm, with the drug in her system Lucy can "absorb knowledge instantaneously, is able to move objects with her mind and can't feel pain and other discomforts."
All of which could probably come in handy for Natasha Romanoff, who just has to rely on her martial arts skills, experience with a gun and hacking abilities.
Besson told EW, which also debuted the first photo from the film, "I love to see a woman as a very strong character. It's like cooking: sugar with a bit of salt, and Lucy definitely can get salty."
With Besson behind the camera, we're sure that Johansson's Lucy will cook up some thrilling action sequences in the film, which also stars Morgan Freeman and Analeigh Tipton.
Johansson is on a bit of a sci-fi/superhero tear: In addition to her third turn as the Widow in Captain America: The Winter Soldier, she'll also appear as an alien seductress in Under the Skin, which happens to open the same day as Captain America, April 4. Now you can add Lucy to that run of genre goodness.
Watch for a first trailer next Wednesday (April 2) via iTunes. Lucy opens in theaters on Aug. 8.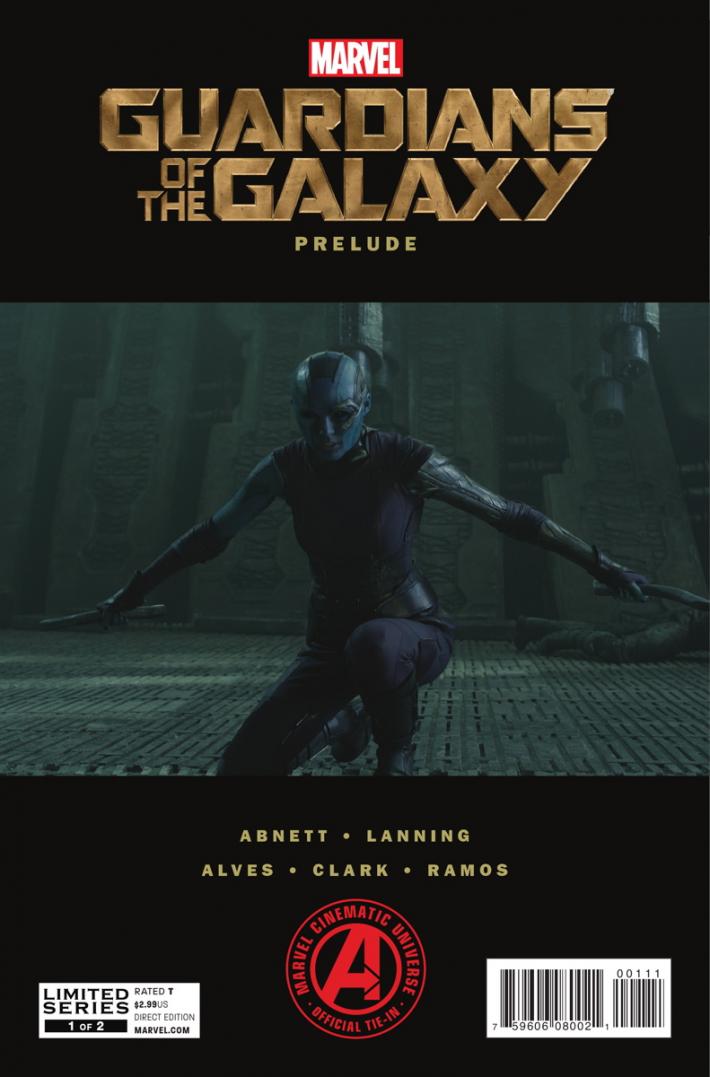 GUARDIANS OF THE GALAXY
Marvel has been keen to fill in some Marvel Cinematic Universe gaps with continuity-fit comics, and the Guardians of the Galaxy prelude reintroduces us to a really big baddie we met a few years ago.
The comic, Guardians of the Galaxy Prelude #1, focuses on a mission with Nebula (played by Karen Gillan) and Gamora (played by Zoe Saldana) that finds Nebula in a very sticky situation. But who is that Gamora is talking to on her radio? A villain we'll likely be seeing a lot more of in the years to come, who may be familiar for those who stuck around for a certain Avengers post-credit scene.
The specials are being written by experienced comic team Dan Abnett and Andy Lanning, the same guys behind the latest Guardians comic that partially inspired the film. So, definitely a good pedigree to tie this all together. Check out the pages below and let us know what you think.
Guardians of the Galaxy opens Aug. 1, so here's hoping the comic proves a nifty primer.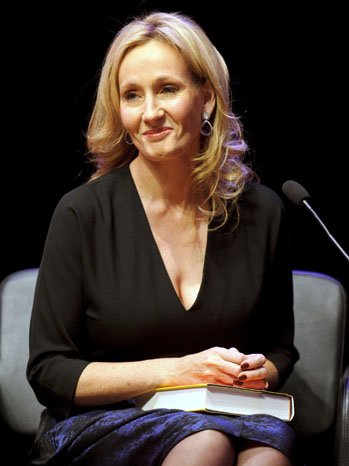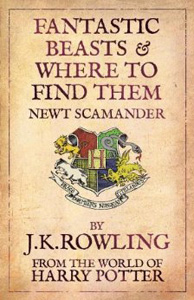 FANTASTIC BEASTS AND WHERE TO FIND THEM
The Harry Potter spinoff Fantastic Beasts and Where to Find Them will be made into a trilogy.
The movie is an adaptation of the 2001 book of the same name by Harry Potter author J.K. Rowling (published between the fourth and fifth book in the Potter series). It was billed as Harry's copy of the Hogwarts textbook (also of the same name) that was mentioned in the first Potter novel, Harry Potter and the Sorcerer's Stone.
The news of the trilogy was revealed over the weekend in a New York Times profile of Warner Bros. CEO Kevin Tsujihara.
According to the Times, "three megamovies" are being planned, with the protagonist a "magizoologist" named Newt Scamander. For her part, Rowling said Tsujihara was instrumental in making the Beasts adaptation happen.
"When I say he made Fantastic Beasts happen, it isn't P.R.-speak but the literal truth," she told the Times. "We had one dinner, a follow-up telephone call, and then I got out the rough draft that I'd thought was going to be an interesting bit of memorabilia for my kids and started rewriting!"
Warner Bros. first announced the adaptation as a film series in September, saying it was part of an "expanded creative partnership" with Rowling.
"Although it will be set in the worldwide community of witches and wizards where I was so happy for 17 years, Fantastic Beasts and Where to Find Them is neither a prequel nor a sequel to the Harry Potter series, but an extension of the wizarding world," Rowling said at the time. "The laws and customs of the hidden magical society will be familiar to anyone who has read the Harry Potter books or seen the films, but Newt's story will start in New York, 70 years before Harry's gets underway."
Warners' plans include leveraging this new series into a video game, consumer products and digital initiatives. It will also expand the Wizarding World of Harry Potter theme parks in conjunction with partner Universal Parks and Resorts. DAWN OF THE PLANET OF THE APES
20th Century Fox aired the first TV spot for Dawn of the Planet of the Apes during the season finale of "The Walking Dead."
Opening in theaters on July 11, the Matt Reeves-directed sequel stars Andy Serkis, Jason Clarke, Gary Oldman, Keri Russell, Toby Kebbell, Kodi Smit-McPhee, Enrique Murciano, Kirk Acevedo and Judy Greer.
A growing nation of genetically evolved apes led by Caesar is threatened by a band of human survivors of the devastating virus unleashed a decade earlier. They reach a fragile peace, but it proves short-lived, as both sides are brought to the brink of a war that will determine who will emerge as Earth's dominant species.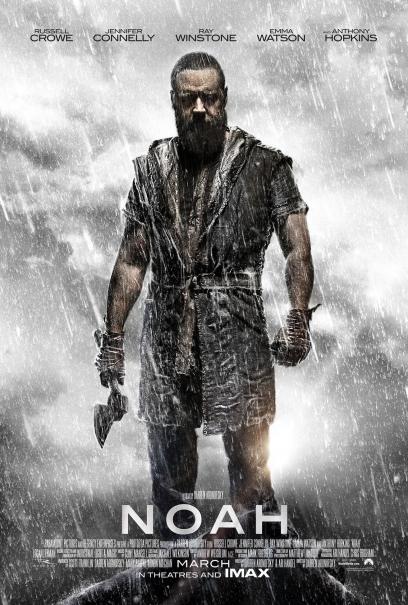 WEEKEND BOX OFFICE
March once again proved itself as a solid month to release bigger budget fare, starting with 300: Rise of an Empire, which opened with $45 million earlier this month, followed by last week's Divergent with a $54 million opening. With religious movies doing far better business than anyone expected, from Son of God to God's Not Dead, it only made sense that March would close with a movie that combined biblical epic with something for the 300 crowd, a merger that proved successful.
Going into the weekend with what seemed like studio-generated controversy and minimal critics screenings, Darren Aronofsky's take on the biblical epic Noah (Paramount), starring Russell Crowe, Jennifer Connelly, Emma Watson, Logan Lerman, Douglas Booth, Anthony Hopkins and Ray Winstone, opened Thursday night in 3,567 North American theaters taking in $1.6 million from previews which added to its $15.2 million Friday total. The intriguing take on the well-known tale held up well through the weekend, grossing an estimated $44 million by Sunday, although the movie's "C" CinemaScore isn't a good sign that moviegoers were given the movie they were expecting, so it may be hard to maintain its business.
Internationally, Noah added another $33.6 million this weekend--$17.2 million from Russia alone!--and its $51 million overseas add to its global total of $95.1 million after two weekends.
$6.2 million of the domestic gross (about 14%) came from the 341 domestic IMAX screens, which made up 8 of the Top 10 theaters in the country, plus it added another $1.6 million on 65 IMAX screens outside of North America.
Before we get to the rest of the domestic Top 10, let's jump back across the ocean to where Marvel Studios opened their fourth sequel Captain America: The Winter Soldier a week earlier than North America. It debuted in 32 territories including the UK, France, Germany and Italy where it amassed $75.2 million with Korea and the UK each grossing over $10 million, the former claiming four times the opening of Captain America: The First Avenger. The Marvel Studios sequel took in $2.8 million on 98 IMAX screens this weekend and when "The Winter Soldier" expands worldwide next Friday, it will officially claim the widest global IMAX release on 668 IMAX screens.
Walt Disney Animation Studios achieved another milestone this weekend as its animated blockbuster Frozen became the highest-grossing animated release ever with its global box office take of $1,072,402 since opening four months ago. Surpassing the record previously set by Toy Story 3, we don't expect that Disney is going to be letting that record go any time soon.
After a solid opening weekend, the adaptation of Veronica Roth's Divergent, starring Shailene Woodley, Theo James, Ansel Elgort, Miles Teller and more, dropped to second place with $26.5 million (down 52%) with a 10-day total of $95.3 million. (If we get word on how the movie is doing internationally, we will add later, but the sequel Insurgent is already greenlit for a release in less than a year.)
After a disappointing opening in second place overshadowed by Divergent, the family sequel Muppets Most Wanted (Walt Disney Pictures), featuring Tina Fey, Ricky Gervais and Ty Burrell, dropped to third place with $11.4 million, down a respectable 33% but still hurting with its domestic gross of $33.2 million.
On the other hand, DreamWorks Animation's latest Mr. Peabody & Sherman (20th Century Fox) continues to do well with a minimal 20% drop-off in its fourth weekend to take fourth place with $9.5 million and a $94.9 million domestic take. By comparison, the family movie took second place to 300: Rise of an Empire at the start of March, yet it remains in the Top 5 as it approaches $100 million, while its competition has dropped all the way down to #9.
The breakout hit of the month, the independently-produced God's Not Dead (Freestyle Releasing) expanded into about 400 more theaters on Friday, which was enough for it to maintain business, taking fifth place with a negligible 1.5% drop from its surprising opening weekend. It has grossed $22 million in just ten days and it looks like it might be getting enough strong word-of-mouth to stick around in the Top 10 for at least one or two more weeks.
Wes Anderson's latest critically-acclaimed quirkfest The Grand Budapest Hotel (Fox Searchlight) expanded into 673 theaters on Friday after an unprecedented run in limited release, and it continued to do well, grossing $8.8 million and moving up to sixth place with a running total of $24.5 million. Only Anderson's 2001 film The Royal Tenenbaums has achieved a higher placement in the Top 10 over the holidays that year, and "Grand Budapest" certainly looks like it will be as successful as that and his last film Moonrise Kingdom.
Former California governor Arnold Schwarzenegger continued his spiraling plummet as a box office star as his action-thriller Sabotage (Open Road), directed by David (End of Watch) Ayer, tanked with just $5.33 million in 2,486 theaters, an absolutely terrible $2,100 per location. The presence of a supporting cast that included Sam Worthington, Terrence Howard, Olivia Williams, Joe Manganiello, Max Martini, Harold Perrineau and Josh Holloway didn't do much to help matters as it likely will be gone from theaters before anyone notices.
Sabotage was followed in eighth place by DreamWorks' Need for Speed with $4.3 million and Legendary Pictures' action sequel 300: Rise of an Empire (Warner Bros.) close behind with just slightly less. This weekend, "300" also became the third movie of 2014 to cross the $100 million mark with Divergent and Mr. Peabody joining it very soon. (Universal's Lone Survivor had a platform run in 2013 even though it had a wide release in January.)
10th place went to Liam Neeson's unstoppable airplane thriller Non-Stop (Universal) with $4.1 million and a solid $85.2 million total.
The Top 10 amassed an estimated $131 million, down slightly from last year when G.I. Joe: Retaliation (Paramount) topped the box office with $40 million and Tyler Perry's Temptation (Lionsgate) brought in $21.6 million for third place.
Michael Peña starred in the title role of Diego Luna's directorial debut Cesar Chavez (Pantelion/Lionsgate), along with Rosario Dawson, America Ferrera and John Malkovich, which received a moderately wide release into 664 theaters on Friday allowing it to bring in $3 million to take 11th place, as well as getting a coveted "A" CinemaScore which should help its word-of-mouth.
On the other hand, Jason Bateman's directorial debut Bad Words (Focus Features) expanded nationwide into 842 theaters, but after a rather disappointing limited run, it only brought in $2.6 million over the weekend ($3,100 per theater) to end up outside of the Top 12.
As far as significant limited releases, Gareth Evans' martial arts action sequel The Raid 2 (Sony Pictures Classics) opened in seven theaters in select cities where it grossed $177 thousand or roughly $25 thousand per site.
SUNDAY, MARCH 30, 2014
WOLVERINE - THE MUSICAL
Hugh Jackman is a man of many talents. An action star as well as a gifted singer and musical performer, Jackman often jumps from one role to another. But he has never quite brought characters like "Les Miserables" lead Jean Valjean together with his "X-Men" role, Wolverine.
All that changes here.
When a guest for the BBC Radio 1's "The Matt Edmondson Show," Jackman put on a live performance of Valjean's stirring "Who Am I" number from "Les Miserables." Except this time, the actor gave the tune a Wolverine twist.
The result is "Wolverine: The Musical." Alas, no matter how in-shape for the "X-Men" role Jackman is, it's hard to hit some of those notes early in the morning.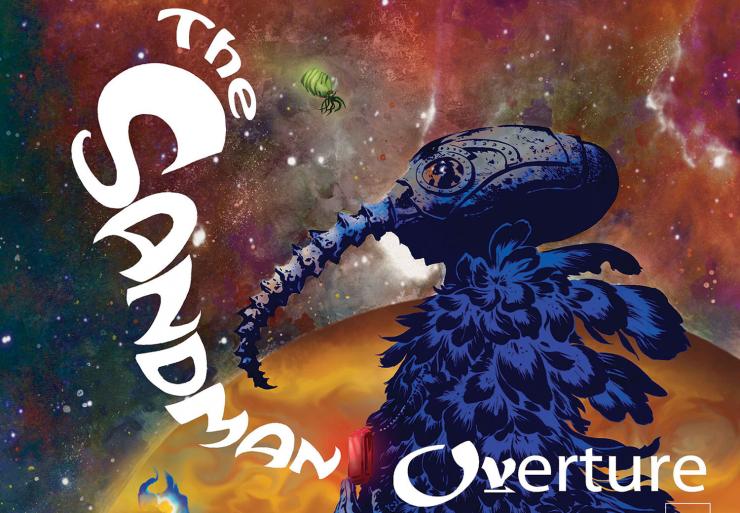 SANDMAN-OVERTURE COMIC
If you're itching to read the rest of the Sandman prequel comic, Overture, brace yourself for some waiting, and then some more waiting.
The first issue of Overture -- Neil Gaiman's collaboration with artist J.H. Williams III that both commemorates the 25th anniversary of Sandman and tells the story of what Morpheus was up to right before Sandman #1 happened -- arrived in comic-book stores in October, and subsequent issues of the six-part series were scheduled to be released every other month after that. Then the first delay hit. Overture #2, which had been schedule to go on sale Dec. 31, 2013, was pushed back to February 2014, and didn't actually hit comic-book stores until this week, on March 26.
Back in November, Gaiman responded to fan questions about the delay with an apology on his Tumblr page, calling it "unprofessional" and blaming it "mostly" on the demands of the very large book tour he was on for much of 2013. He ended his response by noting that he and Williams were "hoping it'll be the only delay."
Well, sadly, it's not the only delay. If you were hoping Overture #2's release would put the schedule back on track, we've got some bad news.
In an interview with CNN this week, Gaiman announced that, though its official release date was listed as April 30, we won't see Overture #3 until this summer, and then we'll have to wait again for the remaining three issues of the book.
"July will be issue 3 and then probably some more months then issue 4, issue 5 and issue 6," Gaiman said.
Gaiman didn't elaborate on why the delays on the series will persist, or how much of the series' scripting and artwork is done already. He did note, though, that he may yet have more Sandman stories to tell even beyond Overture.
"Can I tell Sandman stories until I die? The characters are still in my head; they're still there. But there's so many more things I need to write before the long night comes, before I put the pen down for the last time. I really hope there's more Sandman in there. It would be sad if there wasn't. But there's so much more left to write."
For his part, Williams hasn't spoken about the new delays yet, but he did offer this little nugget of optimism in an interview with Newsarama after the first delays were announced back in November.
"At the end of the day, I think Sandman: Overture is a pretty special project, and Neil's writing it," Williams said. "It shouldn't matter how long it takes as long as the end result is worth it. Ultimately for me, I think the end result is the most important thing."
So, while we're all groaning with disappointment about these delays now, it's nice to focus on the idea that one day the whole series will be finished and in our hands ... one day.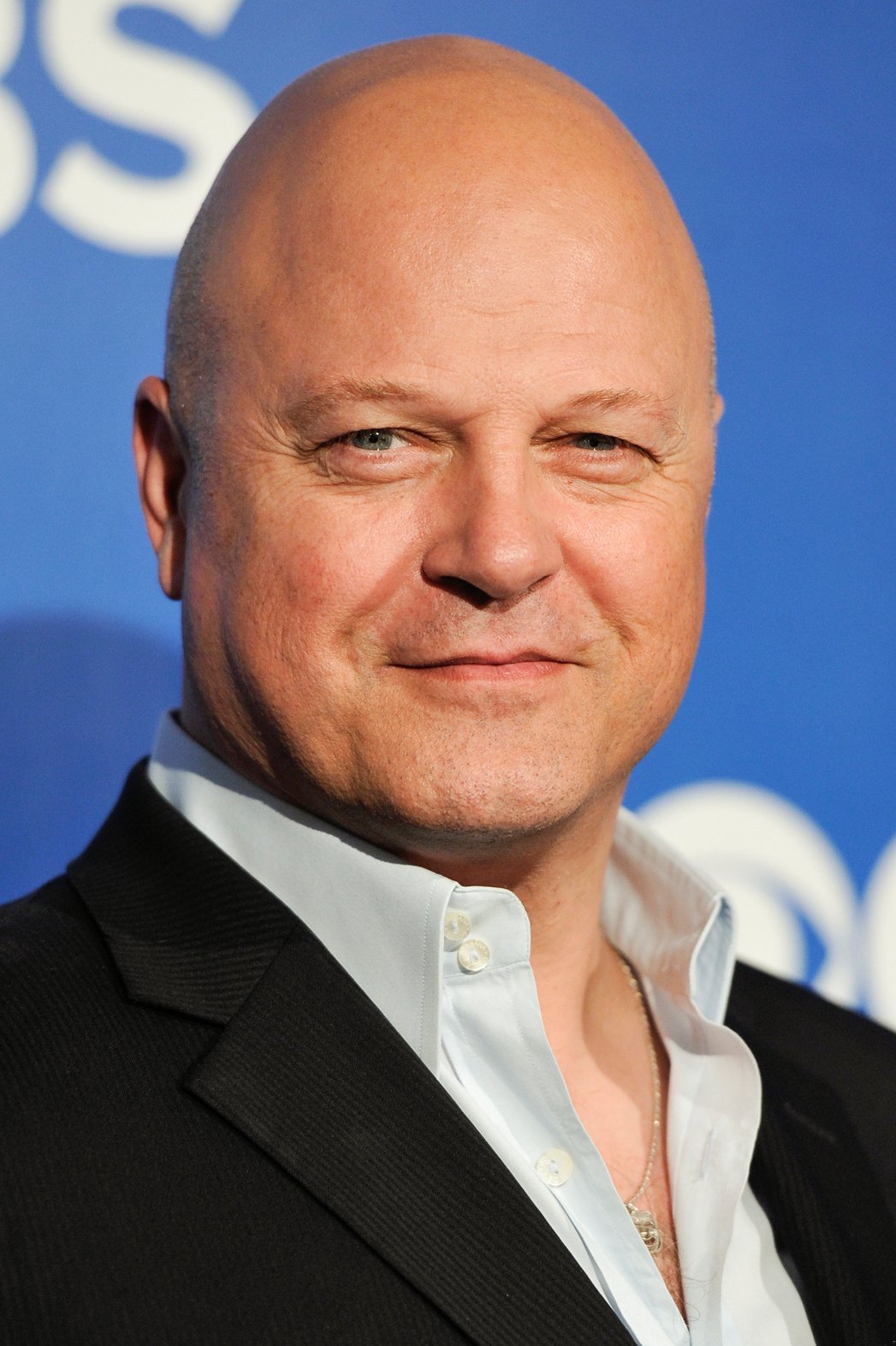 AMERICAN HORROW SHOW
The cast and creators of FX's American Horror Story returned to the PaleyFest stage Friday with another special announcement: Michael Chiklis is joining the season four cast.
The Emmy and Golden Globe winner will return to FX six years after The Shield ended its run and co-star in American Horror Story: Freak Show, creators announced Friday night at PaleyFest, where the actor made a surprise appearance.
Season four of the FX anthology will be set in Jupiter, Fla., in 1950 and will again star Jessica Lange. This time, the Emmy winner will portray a German ex-Pat managing one of the last remaining freak shows in the country.
Returning cast members include Sarah Paulson, Evan Peters, Angela Bassett, Frances Conroy and Kathy Bates -- who also made a surprise appearance on Friday's panel. They'll play performers that Lange's character has rescued. Denis O'Hare and Emma Roberts are also in talks to return for season four of the series, which reboots itself every season with a completely new story and often features largely the same cast of repertory players. Chiklis will be making his AHS debut. Chiklis' casting announcement comes a year after the AHS gang used the PaleyFest stage to announce its recently concluded third season would carry the Coven subtitle.
The panel was high on laughs as the cast and producers reminisced about Coven and their New Orleans experience, but was low on new details about Freak Show as producers typically keep plot details under wraps. Chiklis will be playing the father to Peters' character and ex-husband to Bates' character. Showrunner Ryan Murphy also revealed that everyone on the PaleyFest stage would be returning in season four in "some capacity" including Gabourey Sidibe and Jamie Brewer. Other panelists Friday included Paulson, Roberts, Peters, Bassett, Conroy, O'Hare and Bates as well as producers Murphy, Brad Falchuk, Tim Minear and Dante DiLoreto. Star Lange -- and fan favorite Lily Rabe -- were not in attendance. (Lange was on spring break with her grandchildren and Rabe was in production and unable to attend.) "My heart was pounding like it is right now. It is a Freak Show, oh man!" Chiklis said from the stage after Murphy announced his casting and the actor surprised the audience and take a seat on the panel. Murphy revealed that he'd long pursued Chiklis for AHS and noted that there will be some members of the season one and two casts that return for Freak Show. The new season will film for the second year in New Orleans but be set in Florida.
For Chiklis, the role marks his latest TV gig following CBS' Vegas and ABC's No Ordinary Family, both of which were canceled after one season. His seven-season role on Shawn Ryan's The Shield earned him two Emmy noms for best actor (and one win) as well as three Golden Globe mentions (and one win). The actor -- whose film credits include the Fantastic Four features -- received multiple pilot offers this season. He's repped by WME, Management 360 and Stone Meyer.
CAPTAIN AMERICA: THE WINTER SOLDIER
Marvel Studios has released a new TV spot for Captain America: The Winter Soldier.
Opening in North America on April 4, the sequel stars Chris Evans, Scarlett Johansson, Samuel L. Jackson, Robert Redford, Sebastian Stan, Anthony Mackie, Cobie Smulders, Frank Grillo, Georges St-Pierre, Hayley Atwell, Toby Jones, Emily VanCamp and Maximiliano Hernández.

THE AMAZING SPIDER-MAN 2
Sony Pictures has debuted a brand new clip from The Amazing Spider-Man 2, featuring the web head swinging around the city along with a taste of Hans Zimmer's score for the film!
Opening in theaters on May 2, the Marc Webb-directed sequel also stars Emma Stone, Jamie Foxx , Campbell Scott, Embeth Davidtz, Colm Feore, Paul Giamatti, Sally Field and B.J. Novak.
SATURDAY, MARCH 29, 2014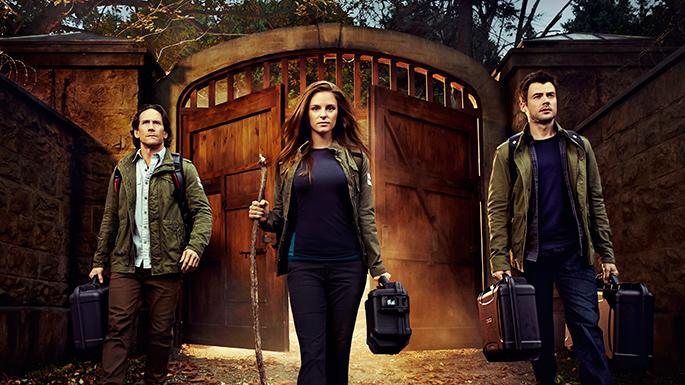 HELIX RENEWED
Helix is about to go even more viral!
Syfy announced today that its original sci-fi series has been renewed for a second season, which will no doubt please fans of the show.
The series — which is executive produced by Battlestar Galatica's Ronald D. Moore, Steven Maeda (Lost), and Lynda Obst (Contact), and was created and is also co-executive produced by Cameron Porsandeh — just picked up a new, 13-episode second season order, with production set to begin later this year for a winter 2015 premiere.
Bill McGoldrick, EVP, Original Content at Syfy said:
"Helix has built one of our most loyal and consistent audiences in its first season on Syfy. The incredibly talented writing and producing team have crafted a thriller that consistently delivered suspense, twists and high quality drama. We look forward to growing this passionate audience in what promises to be an even more memorable second season." Starring Billy Campbell, Hiroyuki Sanada, Kyra Zagorsky, and Mark Ghanime, Helix wrapped it's very first season last night at 10/9c on Syfy.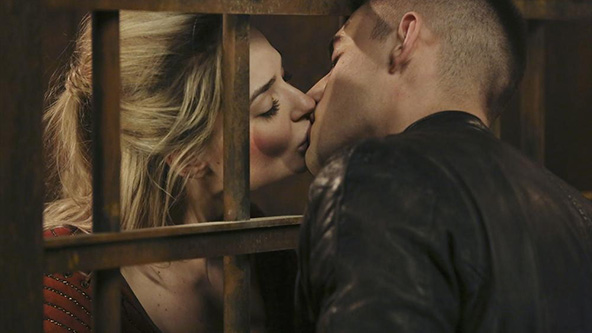 ONCE UPON A TIME IN WONDERLAND CANCELLED
ABC has quietly canceled "Once Upon a Time in Wonderland."
The "Once Upon a Time" spinoff miniseries revolving around Alice in Wonderland starring Sophie Lowe will not be returning for a second season, the network confirmed on Friday (March 28). The confirmation comes after promos touting the April 3 Season 1 finale as a "series finale" appeared on Thursday (March 27).
The move is not entirely unexpected. The "Wonderland" series was initially planned as a single season with the story line coming to a conclusion in the finale. Although many hoped that a second season in the same world with different characters would continue, due to its struggling ratings, that will no longer happen.
The "Once Upon a Time in Wonderland" series finale airs Thursday, April 3 at 8 p.m. ET on ABC.
TRANSCENDENCE
Johnny Depp's sci-fi thriller is about the nature of consciousness and the ethics of prolonging that consciousness beyond the death of the body. R.I.F.T. is the vehicle that gets us to those big questions.
Presuming Transcendence doesn't wind up being a mindless action film, it's got a real potential to delve into some of the big quandaries over the nature of mortality and the ills of trying to stop the proverbial clock on death.
But it's also about the dangers of technology and, so, predictably, there's this group in the film called R.I.F.T. (Revolutionary Independence From Technology) who is none too pleased that Johnny Depp's character is making such huge (and questionable) strides in transferring consciousness to a digital space.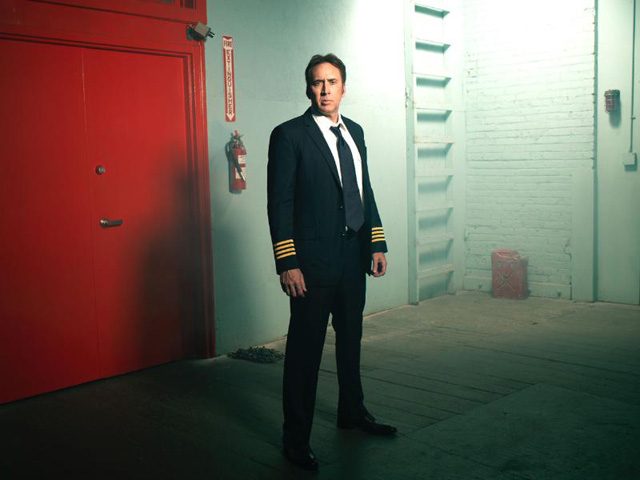 LEFT BEHIND
Stoney Lake Entertainment announced that Left Behind, starring Academy Award winner Nicolas Cage as Rayford Steele, as well as Chad Michael Murray, Cassi Thomson, Nicky Whelan, Lea Thompson and Jordin Sparks, will be released in theaters on October 3. The movie is directed by veteran filmmaker Vic Armstrong.
Left Behind follows Rayford Steele (Nicolas Cage) who is piloting a commercial airliner just hours after the Rapture when millions of people around the globe simply vanish. Thirty thousand feet over the Atlantic, Rayford is faced with a damaged plane, terrified passengers, and a desperate desire to get back to his family. On the ground, his daughter, Chloe Steele (Cassi Thomson) is among those left behind, forced to navigate a world of madness as she searches for her lost mother and brother.
Shot mostly in and around Baton Rouge, LA., Left Behind was produced by Paul Lalonde and Michael Walker and co-written by Paul Lalonde and John Patus.
"We're seeing a number of big, biblical movies on the calendar this year, particularly 'Son of God,' 'Noah,' and 'Exodus.' What makes 'Left Behind' different is that it is a contemporary story that could actually happen at any moment," says Paul Lalonde, Left Behind producer and CEO of Stoney Lake Entertainment. "It's also a historical account in a sense, because it's based on a true story, it just hasn't happened yet. So it's very important to us that the core story not be changed. We had offers from three of the major studios in Hollywood to distribute this movie, but none would allow final control of the story to be left in our hands."
"My greatest hope for this movie is that people will be entertained and thrilled by it, but also that they'll go home and have conversations with their family, and ask 'do you think this could happen, or couldn't happen?' and it'll inspire discussion and closeness," added Nicolas Cage.
The movie is based on the New York Times bestselling book series of the same name, co-authored by Jerry B. Jenkins and Tim LaHaye. Based on the Bible and published in 32 different languages, the series has sold more than 65 million copies and is one of the best-selling fiction series of all time.
"I believe it does justice to the novel and will renew interest in the entire series," author Jerry Jenkins said. "It is the best movie I have ever seen on the rapture," added Tim LaHaye.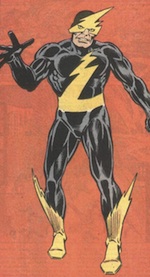 AGENTS OF S.H.I.E.L.D.
The Marvel Comics supervillain Blackout is set to make his debut on the small screen April 15, contending with the "Agents of S.H.I.E.L.D." in an episode titled "Providence." Patrick Brennan will play the character, Marcus Daniel, with plans for him to have a larger role in the following week's episode, potentially being set up as a recurring villain.
"This is the way they explained it to me," says Brennan of Blackout, whose character and powers will be somewhat different from the comic book version. "This guy, Marcus Daniels, a.k.a. Blackout, was shrouded in darkness, his soul, everything about him was shrouded in darkness until he comes across this Cello player. And the music was the only light that came into his soul, and it gave him hope and it gave him some sense of what light was. I thought to myself, oh my god, you don't even need to explain anything else. Because music, to me, is what gets me through most of the time. My kids, my wife, and music. That aspect of it totally intrigued me. I thought that was quite beautiful and very interesting, that aspect of the character."
The cellist mentioned is almost certainly Amy Acker's Audrey, who Marvel showed off yesterday and who is also slated to appear in the April 22 episode.
"Marvel's Agents of S.H.I.E.L.D." stars Clark Gregg as Agent Phil Coulson, Ming-Na Wen as Agent Melinda May, Brett Dalton as Agent Grant Ward, Chloe Bennet as Skye, Iain De Caestecker as Agent Leo Fitz and Elizabeth Henstridge as Agent Jemma Simmons.
FRIDAY, MARCH 28, 2014
ARROW
It looks like "Arrow" villain Slade Wilson is finally ready to make his move in the Season 2 episode, "Deathstroke." With the kidnapping of Thea Queen, there's really no way Oliver can wait. Slade has to go, or the heroes have to die trying to get rid of him.
Unfortunately, a video promo from the episode doesn't make it clear which of those options is most likely to occur in the episode.
Thea, for example, looks more than a little troubled during her kidnapping. This is fair, considering she wasn't expecting that kind of thing from one of her mother's campaign donors. On the other hand, Oliver and Roy look ready to end it with Slade. And an arrow to the face has got to be bad, even to a man with mirakuru in his system.
The solutions will come when "Deathstroke" airs Wednesday, April 2 at 8 p.m. ET/PT on The CW.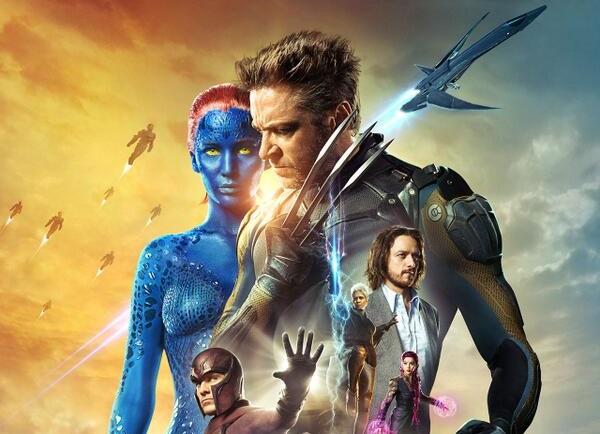 X-MEN: DAYS OF FUTURE PAST - SPOILER ALERT
CinemaCon featured a lengthy action sequence from the beginning of the new X-Men movie. So, what happens?
It's equal parts exciting and terrifying that Days of Future Past is all over the place right now. It's exciting because, duh, it's a new Bryan Singer X-movie and everyone wants to see it. It's terrifying because, yeep!, what if it's terrible and all that time spent wringing our hands and praying was for naught?
Thankfully, this description from the opening of Days has us feeling like, at the very least, this new movie is going to be a seat-of-your-pants rollercoaster ride. The setting? The dystopian (forever dystopian) future. WARNING: Spoilers for Days of Future Past follow.
Sentinels are dispatched to find and kill mutants living underground. Their delivery system (and the world) is reminiscent of The Matrix, but once the Sentinels - who can adapt to any situation and change their form - drill into the secret base it gets real good. The mutants on hand: Sunspot, Iceman, Bishop, Kitty Pryde, Blink and Warpath. Kitty Pryde and Bishop immediately run off while the other X-Men keep the semi-liquid metal robots busy. There are good action beats using the characters' powers, especially Blink, whose portals allow Warpath to do some really fun run and jumps onto the Sentinels. Iceman glides around on an ice slide, and Sunspot becomes a being of lava and fire as he blasts robots. Kitty and Bishop (who uses Sunspot's fire to charge his big dumb gun) are running off to a closet someplace. Bishop lays down and Kitty starts massaging his temples, and it becomes clear that she's sending his consciousness back in time. The others are buying them minutes… with their lives. A Sentinel snaps Sunspot's neck. Iceman has his head popped off and is crushed underfoot. Blink gets skewered. Warpath gets blasted to smithereens. But it was worth it! As the Sentinel breaks into the closet, blasting fire, Kitty looks up and says, "Too late, asshole!" and everything disappears. The past has been changed.
As openings go, that's a pretty darn good one. And it sets up this cool question "What are the consequences of repeatedly altering the timeline?" Also, when Wolverine travels back in time, will he run into Bishop? And in what capacity?
It's intriguing, it's exciting -- we just hope the rest of the movie will be as good.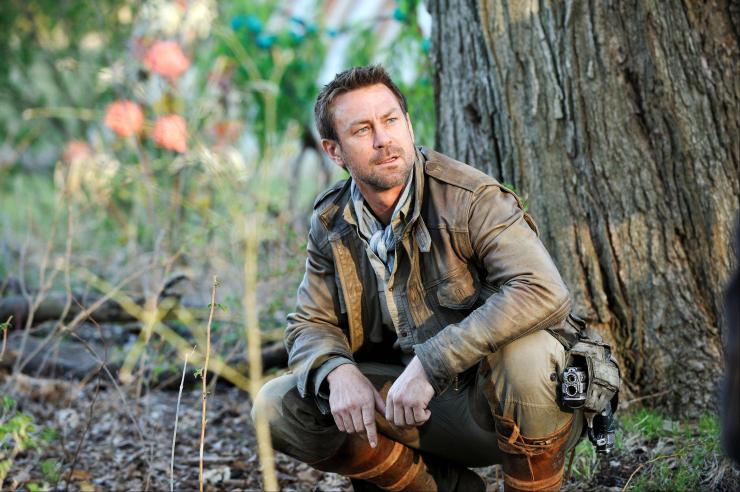 DEFIANCE
We still have a few months to wait until the return of Syfy's ambitious series Defiance, but the network is launching a new web series that'll keep us in the loop until then.
The second season is set to debut June 19, but a new run of webisodes is set to fill in the gap between seasons one and two, following up on that cliffhanger as Nolan (Grant Bowler) searches for the missing Irisa (Stephanie Leonidas). The first season took a little while to ramp up, but by the end it had gotten pretty compelling.
Considering the relatively long wait between seasons, we're glad to see the network will try to keep the universe alive in the meantime. The web series is dubbed Defiance: The Lost Ones, and will consist of five 3-5 minute installments. The entire run will go live at Syfy.com tomorrow, then be available Monday via the Syfy On Demand service.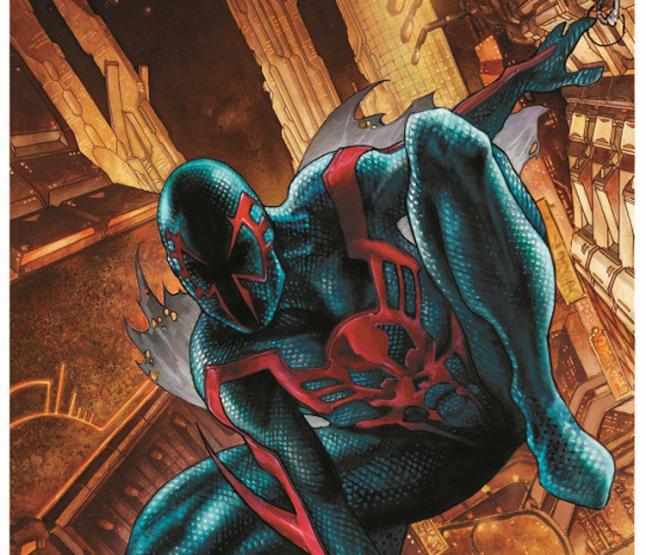 SPIDER-MAN 2099 COMIC - PETER DAVID IS BACK
It may not be the year 2099 just yet, but that doesn't mean Miguel O'Hara can't show up a little early.
It's always fun to take a look into the (possible) future, and one of Marvel's best successes in that endeavor came through its 2099 series. Doom, Hulk, Ghost Rider, Punisher and the X-Men all got futuristic versions of themselves for the 2099 series, but, the most popular of all was Spider-Man.
And while we've known for some time that the future Spidey, Miguel O'Hara, would finally be returning, we didn't know that his original writer, Peter David, would be as well. It turns out David was as surprised as we were.
Yes, I will be writing the new Spider-Man 2099 comic. When word of this first circulated weeks ago, I really did NOT know I'd be on board. Marvel only contacted me two weeks ago about it.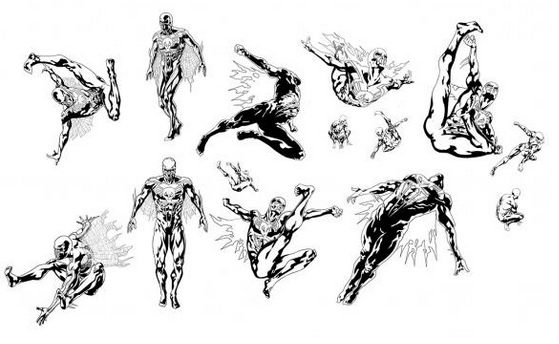 Wow! Talk about under the gun. Well, regardless, we're thrilled that David is on board along with Will Sliney on interiors, and Simone Bianchi on covers. After all, a Spider-Man taking on an evil corporation? It's not exactly like that's an unfamiliar future.
Check out these fresh sketches:
The first issue drops this July.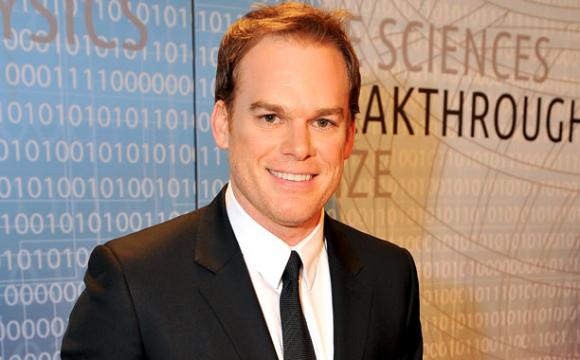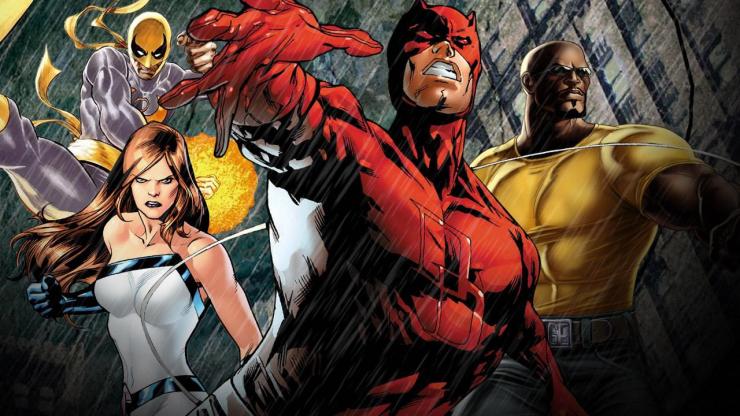 DAREDEVIL
A new report claims Marvel is already chasing its new Matt Murdock, and he's a familiar face.
Ever since Marvel Studios announced they were partnering with Netflix to give us five new limited series -- including series focusing on Luke Cage, Iron Fist, Jessica Jones and Daredevil -- we've been wondering which stars will join the Marvel Cinematic Universe to embody those heroes, and we're especially curious about the casting of Daredevil, whose series will come first in the release schedule. We've aready heard that writer/director Drew Goddard (The Cabin in the Woods, Cloverfield) will handle writing and directing duties (as well as an executive producer role) for Daredevil's debut, but what about the man himself? Who will be Daredevil?
Well, according to the Marvel Cinematic Universe Facebook page, a "reliable source" says the man Marvel is courting for the role is Dexter and Six Feet Under star Michael C. Hall.
Hall's name has come up many times on the web over the last few years with regard to the Daredevil role, and now that Dexter has ended its run, it seems like he's primed for a new gig. The Comic Book Cast, which is at least somewhat connected to the Marvel Cinematic Universe page, added these thoughts on the report:
"You look at what he did in Dexter and then you translate that to Matt Murdock and I think it's perfect. He's the right age. He's that right obscurity that Marvel looks for in actors. You know, they're not exactly famous but they just got off some sort of huge role that they're very much known for. So, I think this would be the safest choice and definitely the best choice to have currently going."
So, while we have to look at this right now, for the sake of our sanity, as an unconfirmed report that could eventually lead to nothing, it's also definitely worth talking about. Hall is a favorite among certain genre fans thanks to Dexter. He's in good shape and could get in better shape with some Daredevil training. He looks good in a suit, which makes him well-suited (get it?) to Matt Murdock's lawyer side, and he's got Murdock's red hair. TEENAGE MUTANT NINJA TURTLES
After all the hand-wringing, rumors and whispers — the first trailer for the new live-action Teenage Mutant Ninja Turtles reboot has arrived.
The trailer finally gives us our first look at the redesigned Turtles, and they're decidedly big and strange-looking. Not quite as bad as we'd expected from initial reports, but it'll definitely take some getting used to. Think Bane meets Ninja Turtles, essentially.
Though Jonathan Liebesman (Battle: Los Angeles, Wrath of the Titans) technically directed, it bears most of the trademark moves of producer Michael Bay. The trailer is chock-full of explosions and "epic-ness," and it almost feels like it could be a Transformers trailer until the Turtles show up. That's not necessarily a bad thing, per se, but we wonder if this can replicate that fun-loving Turtles spirit.
Here's the official synopsis:
The city needs heroes. Darkness has settled over New York City as Shredder and his evil Foot Clan have an iron grip on everything from the police to the politicians. The future is grim until four unlikely outcast brothers rise from the sewers and discover their destiny as Teenage Mutant Ninja Turtles. The Turtles must work with fearless reporter April and her wise-cracking cameraman Vern Fenwick to save the city and unravel Shredder's diabolical plan.
The TMNT remake stars Megan Fox, Pete Ploszek, Noel Fisher, Jeremy Howard, Alan Ritchson, Danny Woodburn, William Fichtner, Will Arnett and Whoopi Goldberg. It's set to open Aug. 8.
THURSDAY, MARCH 27, 2014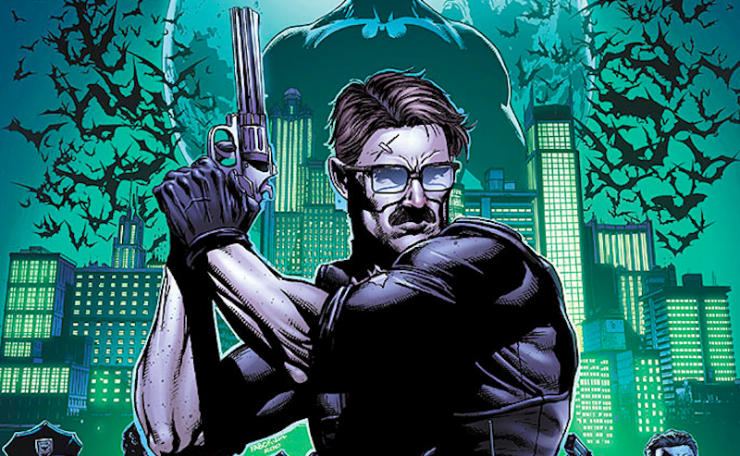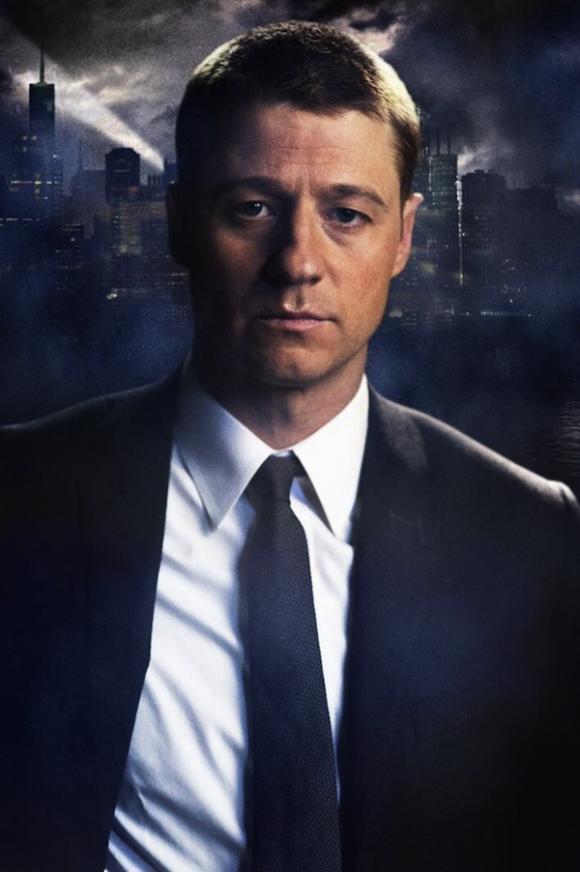 GOTHAM
Has Fox saved the best for last? After a bunch of recent reveals, the studio has released the first official photo of Gotham's headliner. Ben McKenzie (Southland, The O.C.) plays Detective James Gordon, who will go on to become the legendary Commissioner. Like the character posters before it, this one features Gordon in front of Gotham's hazy skyline.
He follows in the footsteps of Detective Harvey Bullock (Donal Logue), Selina Kyle (Camren Bicondova), Alfred Pennyworth (Sean Pertwee) and Oswald Cobblepot (Robin Lord Taylor). Here Gordon is in full detective mode with his suit, tie and steel gaze. He doesn't look like someone you'd want to mess with.
Gotham centers on Gordon's early years within the Gotham City Police Department. It also charts the rise of some of the city's most notorious criminals, as well as its biggest hero. Expect a young and traumatized Bruce Wayne also to make an appearance.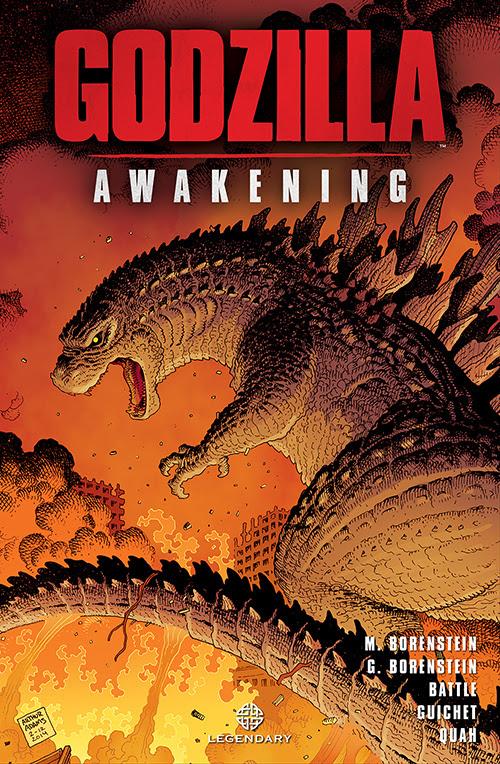 GODZILLA
Legendary Pictures has just revealed the cover of its new Godzilla prequel comic, which comes out less than two weeks before the epic new movie.
The graphic novel, titled Godzilla: Awakening, was announced back in January and will take place in 1954. As noted earlier, we don't know specifically what the 80-page story will cover, but we imagine it will chronicle the events that set Godzilla in motion and eventually lead to his arrival in the modern era (it was co-written by Godzilla screenwriter Max Borenstein and Greg Borenstein).
So here's the cover of the book, done by acclaimed Godzilla artist Arthur Adams. It's certainly one artistic impression of how the big guy looks, but it ties in pretty nicely with what little we've seen so far from the movie. The graphic novel arrives in stores on May 7.
Godzilla arrives in theaters May 16.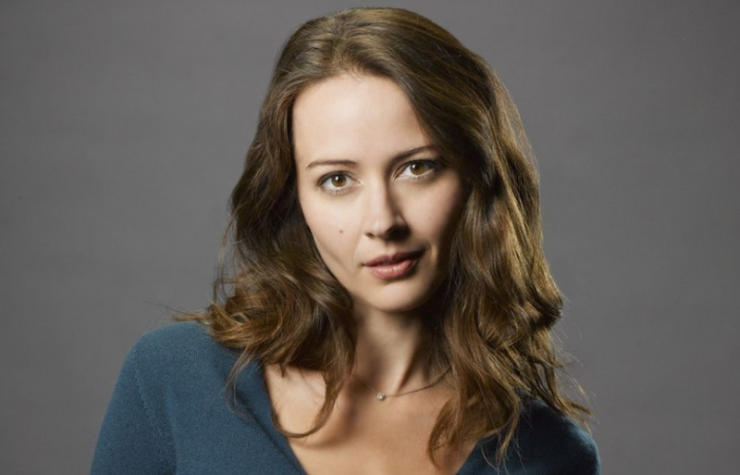 AGENTS OF S.H.I.E.L.D.
Joss Whedon sure likes to keep it in the family. The producer, writer and director is known for working with a very specific group of actors. Once you've been initiated into the Whedonverse, he never lets you go. That practice is in full effect on Marvel's Agents of S.H.I.E.L.D., as he's called up one of his favorites.
Amy Acker, who previously starred in Angel and Dollhouse, is stopping by for a guest appearance. Her character will have a special connection to Agent Coulson (Clark Gregg) that reveals his more sensitive side. Remember in The Avengers when they briefly mentioned Coulson was dating a cellist? Her name was Audrey, and Acker will bring her to life.
Acker has been keeping busy as a series regular on CBS's Person of Interest, so we're not sure if this is a one-off or recurring deal. Her appearance on Agents of S.H.I.E.L.D. is slated for April 22. EDGE OF TOMORROW
A soldier fighting in a war with aliens finds himself caught in a time loop of his last day in the battle, though he becomes better skilled along the way.
Stars Tom Cruise, Emily Blunt, Lara Pulver, Jeremy Piven, Bill Paxton.
Release date: June 6, 2014 JUPITER ASCENDING
Warner Bros. Pictures and Village Roadshow have released the new trailer for the Wachowskis' Jupiter Ascending, starring Channing Tatum, Mila Kunis, Sean Bean, Eddie Redmayne, Douglas Booth, Tuppence Middleton, Doona Bae, James D'Arcy and Tim Pigott-Smith.
In the July 18 release, Jupiter Jones (Kunis) was born under a night sky, with signs predicting that she was destined for great things. Now grown, Jupiter dreams of the stars but wakes up to the cold reality of a job cleaning other people's houses and an endless run of bad breaks. Only when Caine (Tatum), a genetically engineered ex-military hunter, arrives on Earth to track her down does Jupiter begin to glimpse the fate that has been waiting for her all along—her genetic signature marks her as next in line for an extraordinary inheritance that could alter the balance of the cosmos.
WEDNESDAY, MARCH 26, 2014
ARROW
The upcoming "Arrow" Season 2 episode, "Birds of Prey," brings a blast from Oliver's past -- Helena Bertinelli, aka the Huntress -- back to Starling City. Needless to say, it doesn't go too well.
Girl fights, hostage crises and a lot of unresolved family issues are the result.
In case you had forgotten in the year since she disappeared, Helena (Jessica De Gouw) briefly dated Oliver (Stephen Amell) until her need for vengeance against her mobster father outweighed any good motives. Then, she took off.
A year has now passed, and Helena has tracked Frank Bertinelli back to Starling City, where he is set to go on trial. Or is he? Judging from the below "Birds of Prey" clip, the trial and everything surrounding it is nothing more than an elaborate trap to catch Helena.
The "Birds of Prey" episode of "Arrow" airs Wednesday (March 26) at 8 p.m. ET/PT on The CW. HONEST TRAILERS: CAPTAIN AMERICA
Sure, all the focus is on Captain America: The Winter Soldier these days, but the next week we'll spend waiting is a fine time to look back on the First Avenger flick that kicked off the story of Steve Rogers.
Though it is fun to poke at the pretty obvious Avengers setups sprinkled throughout the film, Captain America was the first Marvel flick to really prove they could blow up the genre and put it back together again. But that doesn't mean it was perfect.
This hilarious "honest trailer" from Screen Junkies takes aim at the analog-ness of it all, the obvious casting of Hugo Weaving, the sequel setups ... and even fits in a few nice jabs at Brooklyn hipsters. Well played. HERCULES
The trailer for Brett Ratner's take on Hercules: The Thracian Wars is finally here, and it's EPIC.
Dwayne "The Rock" Johnson -- who is stepping into the sandals and loincloth (as well as that awesome lion's pelt) of the legendary demigod and son of Zeus -- is (ahem) rocking it in the trailer as the man who undertook the famous Twelve Labors of Hercules.
Everyone knows the legend of Hercules and his twelve labors. Our story begins after the labors, and after the legend. Haunted by a sin from his past, Hercules has become a mercenary. Along with five faithful companions, he travels ancient Greece selling his services for gold and using his legendary reputation to intimidate enemies. But when the benevolent ruler of Thrace and his daughter seek Hercules' help to defeat a savage and terrifying warlord, Hercules finds that in order for good to triumph and justice to prevail… he must again become the hero he once was… he must embrace his own myth… he must be Hercules.
Hercules: The Thracian Wars hits theaters on July 25.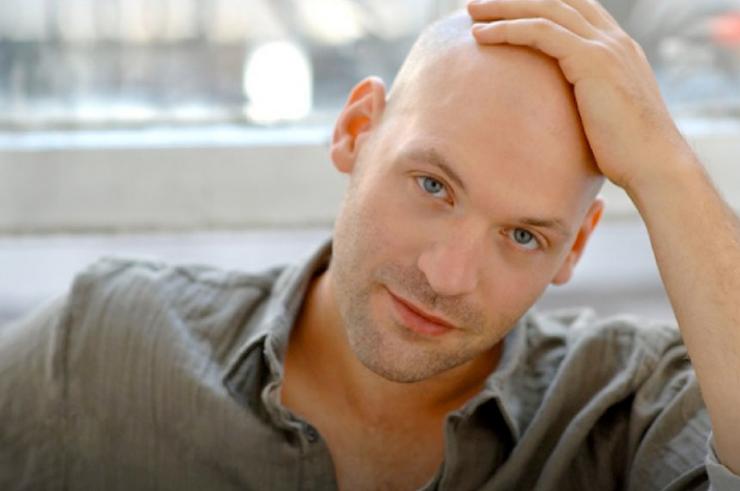 ANT MAN
Corey Stoll's acting career is on fire. Since he's landed prominent roles in House of Cards, Non-Stop and FX's The Strain, Marvel has come knocking. According to multiple sources, Stoll is in negotiations to star in next year's Ant-Man. The actor will star opposite Paul Rudd and Michael Douglas, who'll portray Scott Lang and Hank Pym, respectively.
Unfortunately, there's no word on who Stoll will play. If you've seen any of his work, you know that he's a dynamic performer. He has great screen presence and can switch from hero to villain at the drop of a hat. We'd love to see him as a bad guy. Production on Ant-Man is slated to begin next month. He's expected to join the ensemble cast, which currently includes Evangeline Lilly, Michael Pena and Patrick Wilson.
Plot details for Ant-Man are scarce, but Edgar Wright is said to have a fresh approach to the origin story. Wright directs the film and co-wrote the script with Joe Cornish (Attack the Block, The Adventures of Tintin).
Ant-Man opens in theaters July 17, 2015. X-MEN: DAYS OF FUTURE PAST
The new trailer for X-Men: Days of Future Past — officially, only the second "real" trailer, despite the many social media clips and teases to date — has been released, giving fans their best look at the dystopian war between humans and mutants yet.
"Mutants — we now find ourselves on the edge of extinction," Patrick Stewart's Charles Xavier explains as we see the world that Wolverine (Hugh Jackman) is attempting to change through time travel. As we see X-Men in both of the time frames from the movie in action, we also get our first (fleeting) glimpse of the robotic Sentinels in motion, including one that looks like a particularly unexpected addition.
More than any of the earlier glimpses into the movie, this trailer gives an idea of the scope of Days of Future Past: not only what's at stake in terms of Wolverine's mission, but also the number of characters who'll appear in the movie, and what they're up against. With a little over two months until the release of the movie, it's a good reminder that Captain America may be saving America and Spider-Man New York City, but this time around, the X-Men are saving the world — and the future.
X-Men: Days of Future Past is released May 23.
TUESDAY, MARCH 25, 2014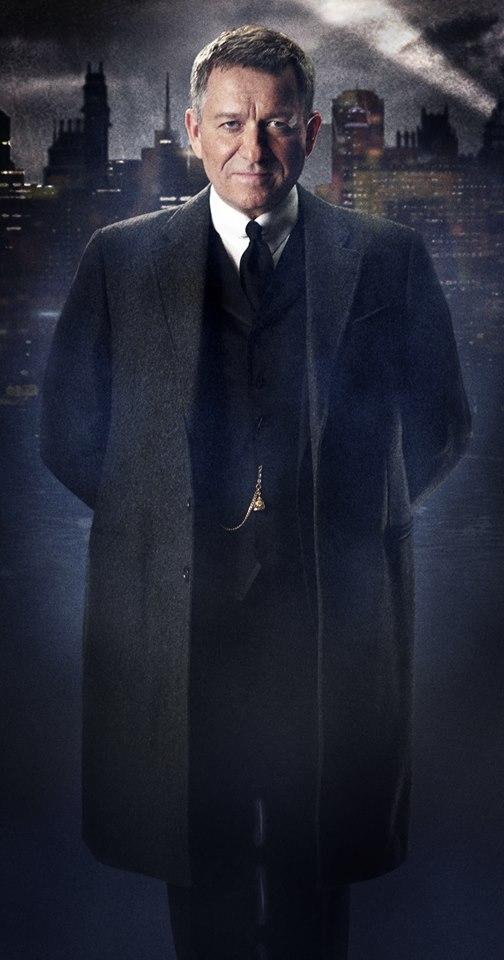 GOTHAM
After our first look at Gotham's Detective Harvey Bullock (Donal Logue) and Selina Kyle (Camren Bicondova), we're now finally getting to gaze upon Bruce Wayne's trusted butler, friend and confidant, Alfred Pennyworth.
British actor Sean Pertwee is stepping into the very large shoes previously filled by actors Alan Napier, Michael Gough and — most recently, in Christopher Nolan's Dark Knight flicks — Michael Caine.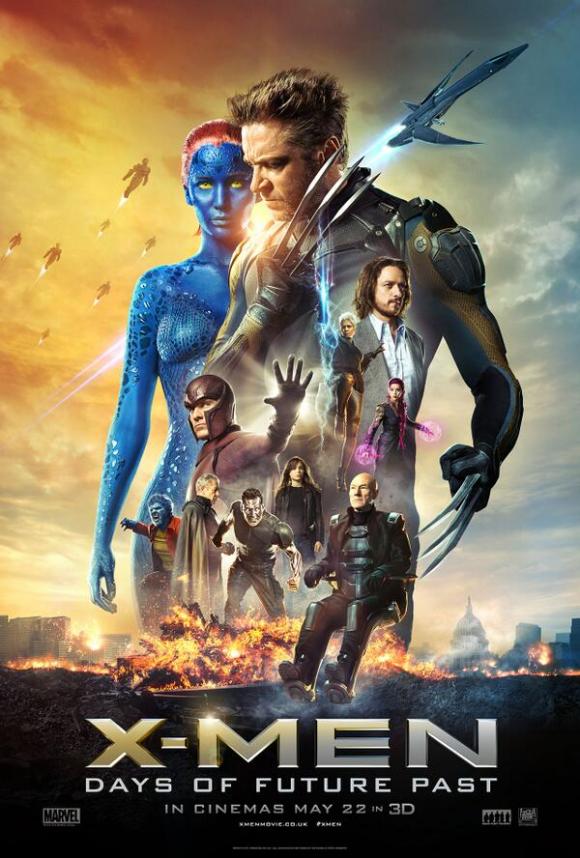 X-MEN: DAYS OF FUTURE PAST
A new X-Men: Days of Future Past character-rich teaser poster is here.
Unleashed by 20th Century Fox, the new art for Days of Future Past features a robust lineup of mutants, including both past and future Professor X and Magneto. It's not surprising to see Hugh Jackman's Wolverine towering over the proceedings, seeing as he's kind of the star of the show, but we have to admit to being surprised to see Jennifer Lawrence's Mystique looming so large. Given that, from everything we've seen, Mystique is a supporting character, here, we have to conclude this has something to do with the lovely Ms. Lawrence being kind of a hot item in Hollywood, these days.
Anyway! Bonus: We also have the X-Jet and those awesome Sentinels!
Starring Hugh Jackman, James McAvoy, Jennifer Lawrence, Patrick Stewart, Michael Fassbender,, Ian McKellen, Nicholas Hoult, Omar Sy, Peter Dinklage, Halle Berry, Adan Canto, Fan Bingbing, Anna Paquin, Evan Peters, Daniel Cudmore, Ellen Page & Booboo Stewart, X-Men: Days of Future Past will hit theatres on May 23. X-MEN: DAYS OF FUTURE PAST
A new, full-length trailer for X-Men: Days of Future Past has dropped, and it takes us deep inside that bleak, war-torn future. Want to see?
It's loaded with new footage, including a ton of shots from the post-apocalyptic future where Xavier (Patrick Stewart) and Magneto (Ian McKellen) are working to send Wolverine (Hugh Jackman) back to stop the war before it ever begins.
A new voice-over from Stewart sets the stakes nicely as the action picks up with the disparate team scattered in the 1970s. We also get some glimpses of the Sentinels in action. Spoiler alert: They look positively insane.
The more we see from Days of Future Past, the easier it is to spot the original X-Men auteur's fingerprints all over it. This is a world that Singer is very comfortable in, and he's setting out to tell one of the biggest stories in the comic canon. But on the flip side, the landscape has changed quite a bit in the decade since X-Men 2 — and we're curious to see whether Singer has picked up any new tricks to keep up.
X-Men: Days of Future Past opens May 23.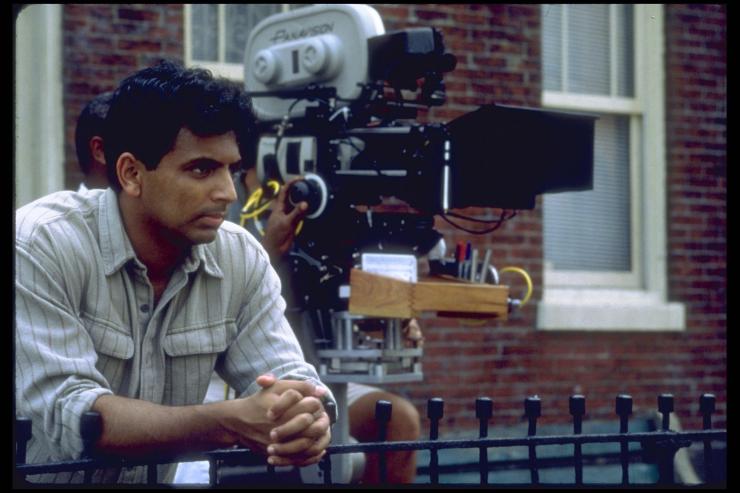 SUNDOWNING
After the colossal failure of the sci-fi flop After Earth, M. Night Shyamalan is trading his would-be tentpoles for a smaller budget more akin to The Sixth Sense.
The first details for Shyamalan's new, mysterious thriller, Sundowning, have leaked out, and it's being billed as a return to form to the director's "creepy" breakout films that made him a household name (see: The Sixth Sense).
According to The Wrap, the story will follow a single mother whose two young children visit their grandparents, but then things go horribly wrong. (Killer plants? They see dead people?) The film's title is described as a "psychological phenomenon associated with increased confusion and restlessness in patients with some form of dementia. Symptoms also include agitation and mood swings." So there's also that.
The film will star Kathryn Hahn (Crossing Jordan) as the single mother and up-and-coming child actor Ed Oxenbould (Julian) as one of her children. We're glad to see Shyamalan returning to his roots.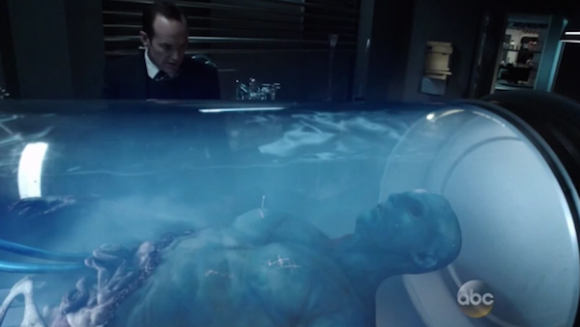 AGENTS OF S.H.I.E.L.D.
After a sow boil to get started, Joss Whedon's Agents of S.H.I.E.L.D. is finally diving headfirst into the wild, weird world of Marvel. So, what's up with that blue guy?
The writers took a bit too long setting the foundation before having fun with the premise, but a recent episode that introduced a massive, blue alien body as the secret ingredient for Agent Coulson's (Clark Gregg) resurrection and Skye's (Chloe Bennett) recovery is just the WTF twist the show has desperately needed. For the record: Bennett's best guess is that it's a Kree. So take from that what you will.
Luckily for all of us, the cast and crew were out in force this weekend at PaleyFest to promote the series, and that mysterious blue dude was at the top of the list when it came to questions. No one would say explicitly what it is, though producer Jeffrey Bell did confirm it is not a Frost Giant, first introduced in Thor.
Instead, Bell and producer Maurissa Tancharoen teased that the mysterious alien body might tie into some future Marvel films, such as the spacefaring adventure Guardians of the Galaxy, set to open in August. Fellow producer Jed Whedon noted they've heard a ton of theories, and admitted that "some of them are correct." Hmm. We've excerpted the fun stuff below:
Bell: "We had to talk with the Marvel Studio because they've got aliens coming up in some of their movies, so we had to make sure that we fit within that, and we wanted to do it in a limited way. We're not saying there are these people running around on the planet. There's this thing that could've been there for thousands of years that they found."
Tancharoen: "There are a lot of theories, and with Guardians of the Galaxy coming out, people are steering one way because everything is connected in the Marvel Universe."
For those wondering, Guardians looks to up the ante for alien races in the Marvel Cinematic Universe with the introduction of both the Kree and Centaurians. Considering the interconnectedness Marvel is known for, we'd think this particular mystery might linger until at least the season (or series, considering that the show hasn't technically been picked up yet) finale, where it could feed right into Guardians' summer arrival. That's our guess, at least. ARROW
The CW has debuted a new clip for episode 2.17 of "Arrow." Titled "Birds of Prey," the episode features the return of Huntress and promises a showdown between her and the Canary. The episode is officially described as follows:
"When Frank Bertinelli (guest star Jeffrey Nordling) is arrested, Oliver knows it's only a matter of time before his daughter, Helena, AKA The Huntress (guest star Jessica De Gouw), returns to town. To make matters worse, Laurel is picked to try Frank's case, putting her right in the path of Helena. Oliver tells Sara he will handle his ex-girlfriend, but when Helena takes hostages at the courthouse, including Laurel, the Canary will stop at nothing to save her sister. When The Huntress and Canary meet, an epic battle begins. Meanwhile, Roy realizes he needs to keep Thea safe, but doesn't like the way he is forced to go about it."
Directed by John Behring and written by Mark Bemesderfer & A.C. Bradley, "Birds of Prey" will air on March 26. "Arrow" airs Wednesdays at 8 P.M. ET/PT on The CW.
MONDAY, MARCH 24, 2014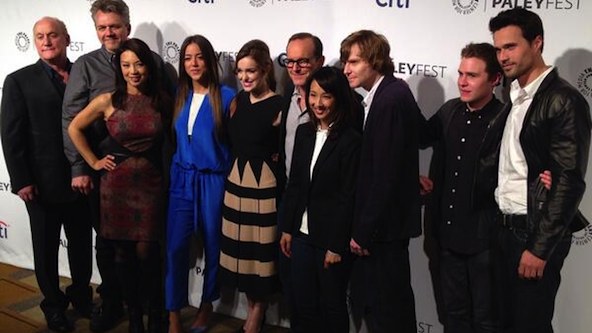 MARVEL'S AGENTS OF S.H.I.E.L.D.
"Marvel's Agents of SHIELD" took over the Dolby Theatre on March 23 for its first-ever Paley Festival appearance. The full cast and producers -- including Clark Gregg, Ming-Na Wen, Brett Dalton, Chloe Bennet, Elizabeth Henstridge, Iain De Caestecker, Maurissa Tancharoen, Jed Whedon, Jeph Loeb and Jeffrey Bell -- screened a new episode of the ABC series and fielded questions about the end of Season 1 during the event.
The panel was filled with adorable moments like Gregg jumping down into the audience (twice!) to greet fans, and Wen sharing her dream of having the not-yet-confirmed Season 2 solely feature flashbacks of May's secret affair with Thor. But fans' main interest seemed to be on the role "Agents of SHIELD" has within the Marvel Cinematic Universe and what that means for the show, the movies and everything in between. Here are some highlights and teases from the panel and screening:
"End of the Beginning" is exactly that. Without spoiling the upcoming April 1 episode, the next installment of "Marvel's Agents of SHIELD" proves that the series is done setting itself up. Deathlok returns, Skye's position within SHIELD is addressed, May's mole status is dealt with and the Clairvoyant ... well, honestly we're still not sure what was answered and what wasn't from this episode. But it definitely was one of the best "Agents of SHIELD" episodes yet, and proof that the series has decided to stop playing games and commit to itself.
"Captain America: The Winter Soldier" is integral to this series. So much so that Loeb mentioned fans will want to watch the April 1 episode, catch "Cap 2" in theaters opening weekend and then return to "Agents of SHIELD" on April 8 no less than four times during his time on stage. How that film affects the series is yet unclear, but the cast and crew were putting much more stress on catching this movie opening weekend than they did "Thor: The Dark World."
What MCU characters will interact with "Agents of SHIELD"? One of the main questions fielded by the cast was how "Agents of SHIELD" will interact with the other Marvel movie and Netflix properties. While fans asked about whether we can expect to see "SHIELD" characters in the movies, in the Netflix series and who they want on the show (Gregg voted for Rocket Raccoon and Scarlet Witch), Loeb kept them mum on actual details beyond the fact that he is open to anything that makes the fans happy. Still, Wen won the panel when she said she wants "Skye to be the love child of May and Thor."
The future is mapped out, even if it's not confirmed. There was no "Agents of SHIELD" Season 2 news revealed at PaleyFest beyond the fact that there is "hope" for renewal. But at least fans can rest easy knowing that there is a plan in place. "We knew where we wanted to go with this season, and we know where we want a Season 2 to end and we know where we want a Season 3 to end, but that's ambitious," Bell says of working with Tancharoen and Jed and Joss Whedon.
FitzSimmons are based on "Ocean's Eleven." Fun fact: Fitz and Simmons were both supposed to be men, and were inspired by Casey Affleck and Scott Caan's characters in "Ocean's Eleven." "We wanted a pair of friends who had grown up together and known each other for a long time, but there was a bro love there," Tancharoen says. "Before we knew it, Ms. Henstridge came in and sort of stole it away."
Agent May originally had a different name. "Originally Agent May was Agent Rice, and then we cast Ming-Na Wen," Tancharoen admits. "Maybe not so much with the 'Agent Rice' after that."
"Marvel's Agents of SHIELD" returns to ABC on Tuesday, April 1 at 8 p.m. ET/PT, and then it's final seven episodes will air in a straight shot through the end of Season 1. WEEKEND BOX OFFICE
Summit Entertainment's Divergent may not have reached the heights of Twilight or The Hunger Games, but its $56 million North American box office broke the curse that has plagued every other YA film adaptation.
Launching a new franchise for Summit and parent company Lionsgate, the dystopian sci-fi adventure benefited from good word of mouth among moviegoers, who gave it an A CinemaScore despite mostly withering reviews.
As expected, females made up the majority of the audience (69 percent). Half of the audience was over the age of 25, easing concerns that Divergent would only have appeal among younger demos. And the movie did big business in male-driven Imax and Premium Large Format theaters, which took in a combined $9.3 million, or 16.7 percent of the overall gross.
Divergent -- starring Shailene Woodley in the title role -- is directed by Neil Burger and based on the best-selling book series by Veronica Roth about a young woman who poses a threat to society after failing to fit into one of five strictly controlled factions. The film, which cost $85 million to make, doesn't begin rolling out overseas in earnest until April 4. "This opened exactly where we needed it to be to launch a new franchise," said Summit/Lionsgate distribution chief Richie Fay.
Interestingly, only 50 percent of ticket buyers had read the book, compared to 74 percent for Twilight and 76 percent for The Hunger Games.
Summit is certainly well versed in selling YA adaptations, being the home of the Twilight franchise. And its parent company, Lionsgate, is the studio behind Hunger Games. Summit begins production on Insurgent, the sequel to Divergent, in May. It hits theaters March 20, 2015.
In November 2008, the first Twilight debuted domestically to $69.6 million; four years later, Hunger Games opened to a massive $152.5 million, one of the biggest openings of all time. All other YA film adaptations have failed to make their mark at the box office, including The Mortal Instruments: City of Bones, Warm Bodies and Beautiful Creatures. Divergent also stars Theo James, Ashley Judd, Jai Courtney, Ray Stevenson, Zoe Kravitz, Miles Teller, Tony Goldwyn, Ansel Elgort, Maggie Q, Mekhi Phifer and Kate Winslet.
Among the weekend's other new offerings, Disney's Muppets Most Wanted was a dud in its opening weekend, thanks in part to a saturated market for family titles.
The sequel, facing competition from holdovers Mr. Peabody & Sherman and The Lego Movie, opened to $16.5 million in North America to come in No. 2, compared to a $41 million launch for The Muppets over the Thanksgiving holiday in 2011, including $29 million for the weekend. Nevertheless, Disney's financial exposure is limited, thanks to a reasonable $54 million budget.
And Muppets Most Wanted could make up ground overseas. It opened in its first eight markets over the weekend, grossing $1.5 million.
James Bobin returns to direct the Muppets sequel, with Ricky Gervais, Ty Burrell and Tina Fey replacing Jason Segel and Amy Adams as the live-action leads. This time out, Kermit and the gang find themselves lured into an international crime caper while on tour in Europe. Muppets Most Wanted has earned solid-to-good reviews, compared to stellar notices for The Muppets. Audiences gave the movie a B+ CinemaScore.
Disney distribution chief Dave Hollis said the opening was "definitely disappointing," considering that prerelease tracking suggested Muppets Most Wanted had every shot at opening north of $20 million. However, he said there was never a comparison between the first film and the sequel, since Thanksgiving is a concentrated time for family moviegoing. "They are totally different propositions," he said.
Hollis said Muppets Most Wanted should enjoy strong business in the coming days because of spring break.
Also opening nationwide, although on a much smaller scale, was Christian drama God's Not Dead. From Pure Flix Entertainment, the movie came in a strong No. 5 with $8.6 million from 780 locations across the country, putting it on par with such films as Fireproof and Courageous.
Based on the book of the same name by Rice Broocks, and Daniel Bashta's song "Like a Lion," God's Not Dead stars Shane Harper as a college student whose philosophy professor forces him to sign a declaration that "God is dead." When the student refuses, he's ordered to prove his position that God exists in a series of debates. Directed by Harold Cronk, the indie movie also stars Kevin Sorbo, Jim Gleason, David A.R. White and Dean Cain.
"We couldn't be happier with the huge support God's Not Dead has experienced in our opening weekend. On such few screens to compete so strongly on a national platform says so much about the film, the filmmakers, and the target audience who love this movie. We plan to expand next week to reach out to the tens of thousands demanding to see God's Not Dead in their city," said Mark Borde, co-president of Freestyle Releasing, which handles the film on behalf of Pure Flix.
Another film with biblical themes, Darren Aronofsky's event movie Noah, opened in its first two markets to impressive results. The Paramount and New Regency title grossed $14 million in Mexico and South Korea, where it bowed a week ahead of its launch in North America and another 20 foreign markets. Noah is pacing just ahead of Gravity.
Fox Animation and Blue Sky's Rio 2 is also opening early overseas to strong numbers. The sequel, which doesn't debut in the U.S. until April 11, grossed $10.4 million over the weekend in Russia and Ukraine despite political unrest over the annexation of Crimea.
Winning the weekend at the international box office was DreamWorks and Disney's Aaron Paul racing movie Need for Speed. The action film grossed a strong $29.2 million from 55 markets, pushing its foreign total to a pleasing $93.8 million (Mister Smith Entertainment is splitting international duties with Disney).,br> Domestically, Need for Speed is doing less business, earning $7.8 million in its second weekend for a total $30.4 million and coming in No. 6. Worldwide, the movie has earned $126.5 million.
Among other holdovers, Peabody, from DreamWorks Animation and Fox, came in No. 3 in its third weekend with $11.7 million for a domestic total of $81 million. Internationally, the 3D animated movie crossed the $100 million mark, grossing $11.4 million for the weekend from 64 markets for a foreign cume of $102.8 million and global total of $183.8 million.
300: Rise of An Empire remained in the top five in its third weekend, placing No. 4 with $8.7 million for a domestic cume of $93.8 million. Overseas, the Warner Bros. and Legendary Pictures title took in another $21 million from 63 markets for a foreign total of $195.4 million and global cume of $289.2 million.
Placing No. 7 in North America was Wes Anderson's box-office hit The Grand Budapest Hotel, which expanded into a total of 304 locations in its third outing. The film grossed a stellar $6.8 million, and once again nabbed the top location average of the weekend with $22,204. Grand Budapest, which will expand into additional markets next weekend, has earned a total of $13.2 million for Fox Searchlight.
Grand Budapest is also prospering overseas, where it took in $9.6 million from 24 markets for an international total of $33 million and world cume of $46.3 million.
At the specialty box office, Lars von Trier's unrated sexual opus Nymphomaniac: Volume I failed to arouse, opening to roughly $175,000 from 22 locations for a location average of $7,000, behind his previous films, Melancholia and Antichrist. Magnolia made the movie available first on VOD.
Anita Hill documentary Anita opened in seven theaters in Los Angeles, New York and San Francisco to $44,382 for a location average of $6,340. Samuel Goldwyn Films is releasing the movie in the U.S.
Bad Words, directed by and starring Jason Bateman, struggled as it expanded into a total of 87 theaters in its second weekend, grossing $500,000 for a location average of $5,747 and cume of $655,773 for Focus Features.
Here are the top 10 estimates for the weekend of March 21-22 at the domestic box office:
Title, Weeks in Release/Theater Count, Studio, Weekend Total, Percentage Drop, Cume
1. Divergent, 1/3,936, Lionsgate/Summit, $56 million.
2. Muppets Most Wanted, 1/3,194, Disney, $16.5 million.
3. Mr. Peabody & Sherman, 3/3,607, Fox/DreamWorks Animation, $11.7 million, -46%, $81 million.
4. 300: Rise of an Empire, 3/3,085, Warner Bros./Legendary, $8.7 million, -55%, $93.8 million.
5. God's Not Dead, 1/780, Freestyle, $8.6 million.
6. Need for Speed, 2/3,115, Disney/DreamWorks, $7.8 million, -56%, $30.4 million.,br> 7. The Grand Budapest Hotel, 3/304, Fox Searchlight, $6.8 million, +92%, $13.2 million.
8. Non-Stop, 4/2,945, Universal, $6.3 million, -40%, $78.6 million.
9. The Lego Movie, 7/2,501, Warner Bros./Village Roadshow, $4.1 million, -47%, $243.4 million.
10. The Single Moms Club, 2/1,896, Lionsgate, $3.1 million, -62%, $12.9 million. GAME OF THRONES
HBO has released new commercials for "Game of Thrones". Season 4 premieres on Sunday, April 6 at 9:00 p.m.
Based on the popular book series "A Song of Ice and Fire," by George R.R. Martin, the hit Emmy-winning fantasy series chronicles an epic struggle for power in a vast and violent fantasy kingdom. Members of the ensemble cast include Peter Dinklage, Lena Headey, Emilia Clarke, Nikolaj Coster-Waldau, Kit Harington, Natalie Dormer, Maisie Williams and Sophie Turner. The executive producers are David Benioff, D.B. Weiss, Carolyn Strauss, Frank Doelger and Bernadette Caulfield, and co-executive producers are Guymon Casady, Vince Gerardis and George R.R. Martin.
MARCH 23, 2014
WEEKEND BOX OFFICE
Summit Entertainment's latest YA offering Divergent easily topped the Friday box office with $22.8 million for an expected weekend gross in the $53 million to $54 million range.
While that won't match the first Twilight or The Hunger Games, Divergent is enjoying the second-best start of the year after The Lego Movie, which debuted to $69 million.
Divergent -- starring Shailene Woodley in the title role -- earned a promising A CinemaScore overall, and an A+ among moviegoers under the age of 18. According to Summit, females made up 60 percent of Friday's audience.
Neil Burger directed the $85 million sci-fi adventure, based on the best-selling book series by Veronica Roth about a young woman who poses a threat to society after failing to fit into one of five strictly controlled factions.
Summit is certainly well versed in selling YA adaptations, being the home of the Twilight franchise. And its parent company, Lionsgate, is the studio behind The Hunger Games.
On Friday, Lionsgate CEO Jon Feltheimer promoted Divergent's strong Thursday night start of $4.9 million in a bid to woo Wall Street. "We're confident that Divergent is on its way to becoming another important franchise for us, and we have just greenlighted the second film, Insurgent," he said.
In November 2008, the first Twilight debuted domestically to $69.6 million; four years later, The Hunger Games opened to a massive $152.5 million, one of the biggest openings of all time. While primarily fueled by younger families, both movies managed to appeal to other demos as well, especially older females. Divergent, however, may not have the same crossover potential and could be hurt among adults by poor reviews.
Theo James, Ashley Judd, Jai Courtney, Ray Stevenson, Zoe Kravitz, Miles Teller, Tony Goldwyn, Ansel Elgort, Maggie Q, Mekhi Phifer and Kate Winslet also star in Divergent. The film won't begin rolling out internationally in earnest until April 4.
Among the weekend's other new offerings, Disney's Muppets Most Wanted is proving a major disappointment, thanks in part to a saturated market for family titles. The sequel, facing competition from holdovers Mr. Peabody & Sherman and Lego Movie, may not crack $18 million in its domestic launch after earning $4.7 million on Friday. The first Muppets grossed $41 million over the Thanksgiving holiday, including $29 million for the weekend.
Muppets Most Wanted is holding at No. 2, followed by Peabody, which grossed $2.7 million on Friday for a projected $11 million-plus weekend.
James Bobin returns to direct the $50 million Muppets sequel, with Ricky Gervais, Ty Burrell and Tina Fey replacing Jason Segel and Amy Adams as the live-action leads. This time out, Kermit and the gang find themselves lured into an international crime caper while on tour in Europe. Muppets Most Wanted has earned solid-to-good reviews, compared to stellar notices for The Muppets.
Also opening nationwide, although on a much smaller scale, is Christian drama God's Not Dead. From Pure Flix Entertainment, the movie placed No. 4 on Friday with $2.8 million, on par with fellow Christian film Fireproof.
God's Not Dead is expected to gross $8 million for the weekend from 780 locations, putting it in a close race with holdover 300: Rise of an Empire.
Based on the book of the same name by Rice Broocks and Daniel Bashta's song "Like a Lion," God's Not Dead stars Shane Harper as a college student whose philosophy professor forces him to sign a declaration that "God is dead." When the student refuses, he's ordered to prove his position that God exists in a series of debates. Directed by Harold Cronk, the indie movie also stars Kevin Sorbo, Jim Gleason, David A.R. White and Dean Cain.
Struggling at the specialty box office is Lars von Trier's unrated sexual opus Nymphomaniac: Volume I. Playing in 22 theaters in top cities, the movie is expected to take in roughly $119,000 for the weekend for an unimpressive theater average of $5,400.
MARCH 22, 2014
THE AMAZING SPIDER-MAN 2
Just when you thought we had been shown everything we could possibly see from The Amazing Spider-Man 2 short of the entire movie, along comes a new featurette focused on Oscorp.
Oscorp, of course, is the epitome of the "evil corporation," and if it hasn't become clear before, it's hammered home in this MTV clip that Norman Osborn's company is the nexus of everything in Spider-Man's (Andrew Garfield) world -- at least in this variation on the mythology -- including his missing parents, the villains he faces and his own history as well.
The mix of footage, photos and brief interviews contains some new looks at Rhino (Paul Giamatti), Electro (Jamie Foxx) and the inner workings of Oscorp itself, with Foxx helpfully laying out Electro's origin story and director Marc Webb revealing that everything that has emanated from the company is a result of Norman's search for a cure to the disease that is killing him.
Webb hints at further details about that disease, Norman (Chris Cooper) and his son Harry (Dane DeHaan) and adds that events in The Amazing Spider-Man 2 will reverberate in later films -- a good thing, I suppose, since Sony Pictures has announced that they're making 17 more movies in this universe (okay, at least four) and need to fill all that running time with something (hey, wild guess -- the Vulture and Doc Ock are on the way).

REAL HISTORY OF SCIENCE FICTION
BBC America is launching a four-part look at the history of sci-fi next month, and a teaser has arrived for the ambitious-sounding project.
The show, titled The Real History of Science Fiction, will premiere on Saturday, April 19 at 10pm and, according to the channel itself, will feature "filmmakers, writers, actors, and graphic artists looking back on their experiences and on how their obsession and imagination has taken them into the unknown."
BBC's promotional info adds, "The series determines why science fiction is not merely a genre...for its audience it's a portal to a multi-verse -- one that is all too easy to get lost in."
Narrated by Doctor Who writer and Sherlock actor/co-creator Mark Gatiss, thes series will be broken into four segments titled Robots, Space, Invasion and Time. As for the list of talents lined up to appear. it's quite impressive:
Among those taking part are: William Shatner (Star Trek), Nathan Fillion (Firefly), Zoe Saldana (Avatar, Star Trek), Steven Moffat (Doctor Who), Richard Dreyfuss (Close Encounters of the Third Kind), Chris Carter (The X-Files), Ronald D. Moore (Battlestar Galactica), John Landis (An American Werewolf in London), David Tennant (Doctor Who), Christopher Lloyd (Back to the Future), Rutger Hauer (Blade Runner), John Carpenter (Dark Star, The Thing), Karen Gillan (Doctor Who), Neil Gaiman (The Sandman, Stardust), Kim Stanley Robinson (Mars Trilogy), Scott Bakula (Quantum Leap, Star Trek: Enterprise), Ursula K. Le Guin (The Left Hand of Darkness), Syd Mead (Blade Runner), Kenny Baker (Star Wars), Anthony Daniels (Star Wars), Nichelle Nichols (Star Trek), Peter Weller (Robocop), Edward James Olmos (Blade Runner, Battlestar Galactica), and many more.
That's what you call a star-studded roster, and we're glad to see some book writers in there along with the film and TV personalities (what, no room for Harlan Ellison?). Is four hours enough to cover the entire "real" history and sweep of our beloved and longstanding genre? We'll find out soon enough.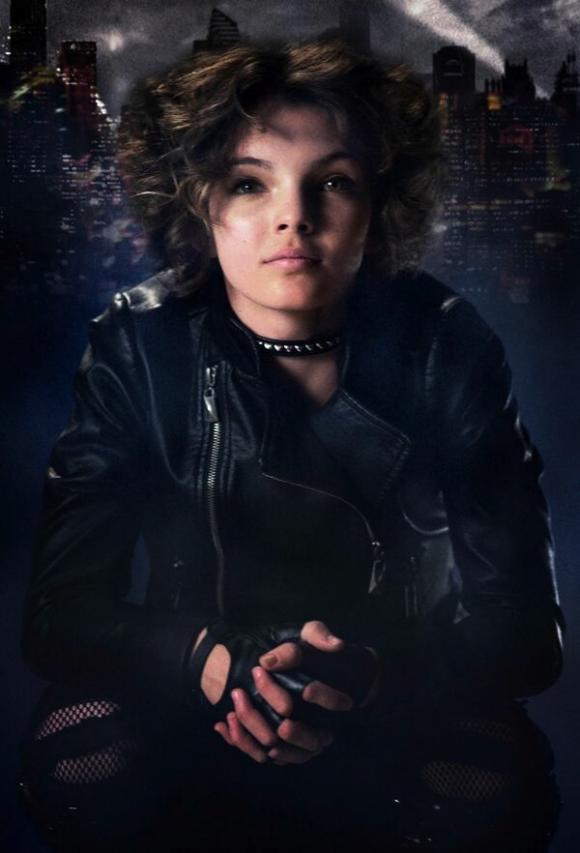 GOTHAM NEWS
Gotham is following its Harvey Bullock reveal with another character poster, and this time all eyes are on Selina Kyle, the teen who will grow into the city's most iconic cat burglar. Before she became the world-renowned Catwoman, she was an orphan struggling to survive.
Gotham's version of the character is a skilled pickpocket who doesn't trust easily. Considering her rough upbringing, we understand her issues with authority. This is a photo of Camren Bicondova as Selina. If you look closely, you'll notice two buildings that give the illusion of cat ears.
Gotham also stars Ben McKenzie as James Gordon, Donal Logue as Detective Harvey Dent, Jada Pinkett Smith as Fish Mooney, Sean Pertwee as Alfred Pennyworth and David Mazouz as a young Bruce Wayne.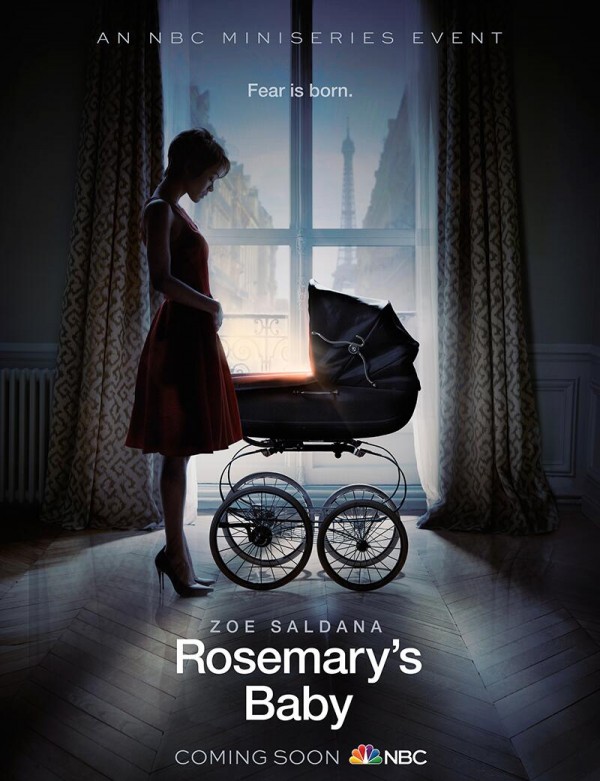 ROSEMARY'S BABY
NBC has released a poster for director Agnieszka Holland's small screen take on "Rosemary's Baby." The television miniseries, based on the same Ira Levin novel that inspired Roman Polanski's horror classic, stars Zoe Saldana, Patrick J. Adams and Jason Isaacs.
In the story, Rosemary is the iconic young wife and would-be mother who, with her husband, moves into a Paris apartment that has a darkly storied past. After finally getting pregnant, she becomes increasingly suspicious that both her husband and their mysterious neighbors have ulterior motives about the future of her child.
FRIDAY, MARCH 21, 2014
THE LAST SHIP
Ahead of the series' debut this summer, TNT has revealed a lengthy new trailer that digs into their apocalyptic new series The Last Ship. Want to see?
Produced by Michael Bay (Transformers), the new series follows the crew of a naval destroyer after a global pandemic wipes out 80 percent of Earth's population. The crew must then find a way to pull humanity back from the brink of extinction.
The series stars a few familiar faces for sci-fi fans, including Adam Baldwin (Firefly, Chuck), Rhona Mitra (Stargate Universe, Doomsday) and Eric Dane (Grey's Anatomy). In classic Michael Bay fashion, it looks epic and explode-y, with dashes of everything from Andromeda Strain to Last Resort mixed in.
Hey, TNT has found post-apocalpyse success with Falling Skies the past few years, and this one looks like it could tap into the same vein. If they can pull it off, this could make for one fun romp. The series is set to premiere June 22 on TNT.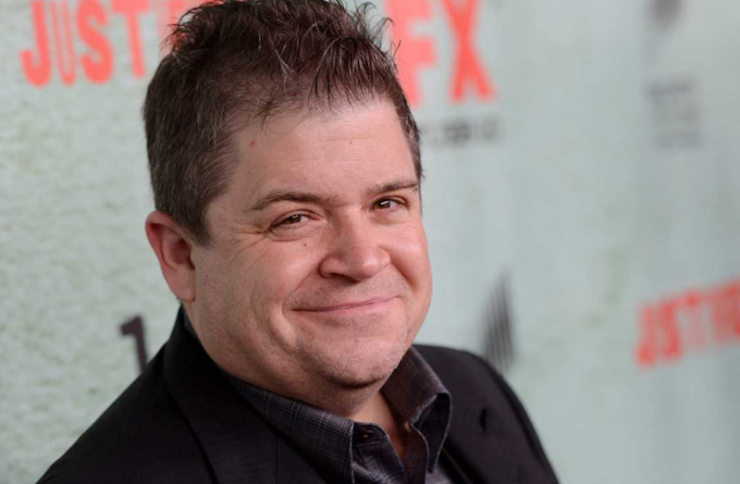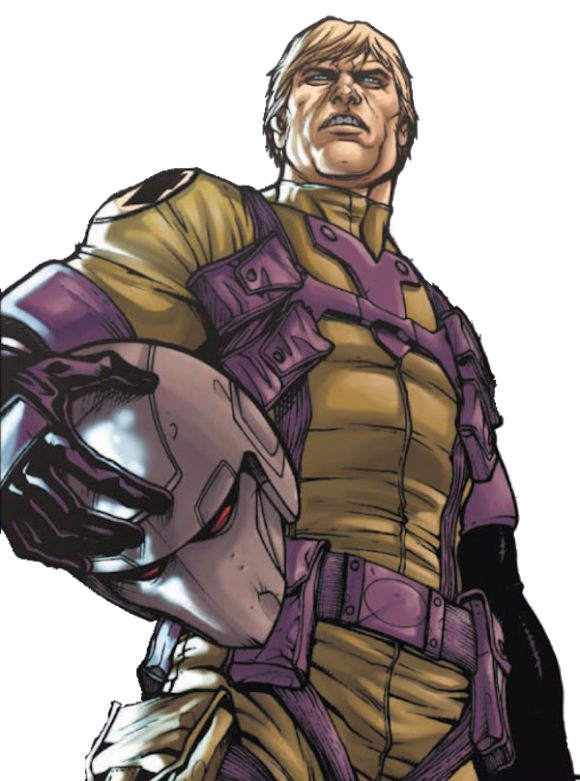 AGENTS OF S.H.I.E.L.D.
Comedian, actor, writer and professional nerd Patton Oswalt has a new job: He's landed a role on ABC's Agents of S.H.I.E.L.D. as the latest in a string of guest stars that have included Thor's Jaime Alexander and film veteran Bill Paxton. So what or who will Oswalt bring to the show?
Oswalt will play Agent Eric Koenig. Here's a brief description of the character as he appeared in the comics.
As a young man Eric was a member of the Nazi Party, however always doubtful of Hitler's leadership. He was convinced by Nick Fury to switch sides, and soon became one of his most trusted friends, and a founding member of SHIELD. He continued to work for S.H.I.E.L.D for 28 years until it was decommissioned into H.A.M.M.E.R.
When Marvel came knocking, Oswalt jumped at the chance to join the show "I got a call from my agent saying they want you on Marvel's Agents of S.H.I.E.L.D., and I said 'Hell, yes,'" Oswalt revealed. "I'm lucky that I'm visible enough that they wanted to bring me in to play this character. I'd worked with [executive producer Joss Whedon] before on Dollhouse, and I guess I wasn't too annoying and they decided to put me on another one of his shows. So I was very lucky."
Here's what Agent Koenig looks like – at least one version – in the comics.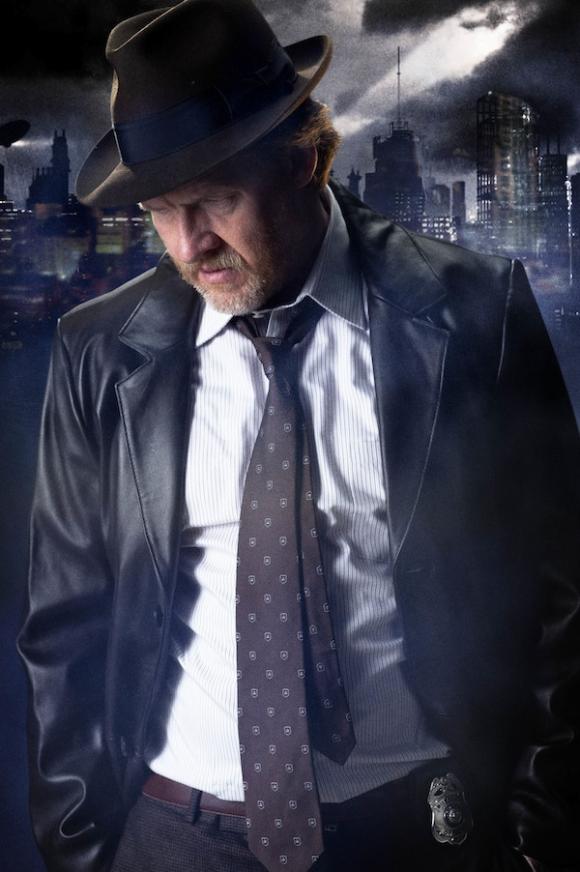 GOTHAM
Fox is starting its rollout of Gotham promotion. The DC Comics-based pilot is a prequel centering on James Gordon (Ben McKenzie), the man who would become Commissioner and Batman's ally. We've got the first character poster for Gordon's partner Detective Harvey Bullock, as played by Donal Logue.
In Gotham, Bullock pulls double duty as Gordon's mentor. He's described as being "rough around the edges." He also "plays loose with police procedure, but gets results — and he does so with old-school, hard-ass panache." Bullock is usually portrayed as younger than Gordon, but obviously here the roles have been reversed.
The Gotham pilot is executive-produced and written by Bruno Heller (The Mentalist, Rome). It will be directed by Danny Cannon, who's best known for his work on Nikita and The Tomorrow People. The rest of the Gotham cast includes Jada Pinkett Smith and Sean Pertwee.

20TH CENTURY FOX UPDATE
20th Century Fox is doing some serious forward-thinking as far as their portion of the Marvel Universe is concerned. The studio has just announced that James Mangold's sequel to The Wolverine will hit on March 3, 2017 with The Fantastic Four 2 coming to theaters on July 14, 2017. They've also set a just-announced mystery Marvel project for July 18, 2018.
All of these dates are newly-claimed territory on the release schedule and will follow the studio's X-Men: Days of Future Past this May 23rd, X-Men: Apocalypse on May 27, 2016 (both directed by Bryan Singer) and Josh Trank's The Fantastic Four on June 19, 2015.
There's no word yet on what the mystery Marvel film might be, but the studio is also believed to be developing an X-Force film with Jeff Wadlow directing.
The studio has also moved Matthew Vaughn's non-Marvel Universe comic book project, The Secret Service, even earlier from its originally-announced March 6, 2015 release to October 24 of this year. That will have it opening opposite the horror releases Ouija and Paranormal Activity 5. Ken Scott's new comedy, formerly titled Business or Pleasure is now title-less and will take The Secret Service's original March 6, 2015 date. THE AMAZING SPIDER-MAN 2
Sony Pictures has just debuted the final trailer for director Marc Webb's The Amazing Spider-Man 2.
The Amazing Spider-Man 2, which starts opening internationally on April 16 and swings into North America on May 2, stars Andrew Garfield Emma Stone, Jamie Foxx , Dane DeHaan, Paul Giamatti, Campbell Scott, Embeth Davidtz, Colm Feore, Sally Field and B.J. Novak.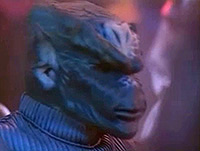 BABYLON 5 BOOKS NEWS
The folks over at Babylon 5 scripts have a new newsletter that will focus exclusively on Babylon 5 news. Their next Babylon 5 book of fresh material debuts next month. The working title (which will probably change) is Intelligence from the Great Machine. Wanna guess the contents? Sign up and they will put their favorite guesses in our next newsletter when we announce the book. Sign up at alerts@babylon5scripts.com.
THURSDAY, MARCH 20, 2014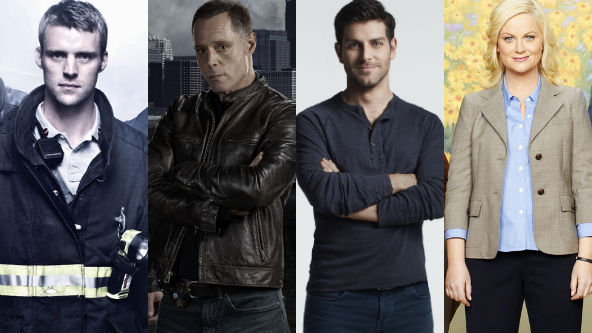 NBC RENEWAL NEWS
NBC handed out a trio of early renewals on Wednesday (March 19), firming up its drama lineup for the 2014-15 season.
The Peacock announced it has ordered a second season of freshman entry "Chicago P.D.," a third season of its sister series "Chicago Fire" and a fourth season of Friday night spookfest "Grimm."
The trio join the previously picked-up freshman drama "The Blacklist," as well as reality stalwarts "The Voice" and "Celebrity Apprentice." The announcement also confirmed NBC chairman Bob Greenblatt's assertion at the winter TCA press tour in January that "Parks and Recreation" would have a seventh season, making the fan-favorite comedy's renewal official.
Noticeably absent from the list? "Chicago" franchise producer Dick Wolf's other series, the long-running "Law & Order: SVU."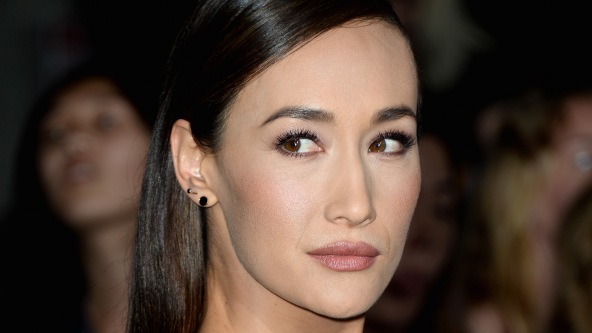 STALKER DRAMA COMING
Former "Nikita" star Maggie Q has been cast as the female lead in Kevin Williamson's upcoming drama pilot about stalkers on CBS.
Q will play Det. Beth Davis on the show, described as a psychological thriller about detectives who handle stalking cases for the Threat Assessment Unit in Los Angeles. Det. Davis is the Unit's division captain and tends to be obsessive, private and a workaholic.
Dylan McDermott ("Hostages") and Mariana Klaveno ("Devious Maids") have also been cast in lead roles for the untitled pilot.
Best known for playing the title character in The CW's "Nikita," Q also has an important role in "Divergent," which opens Friday, March 21.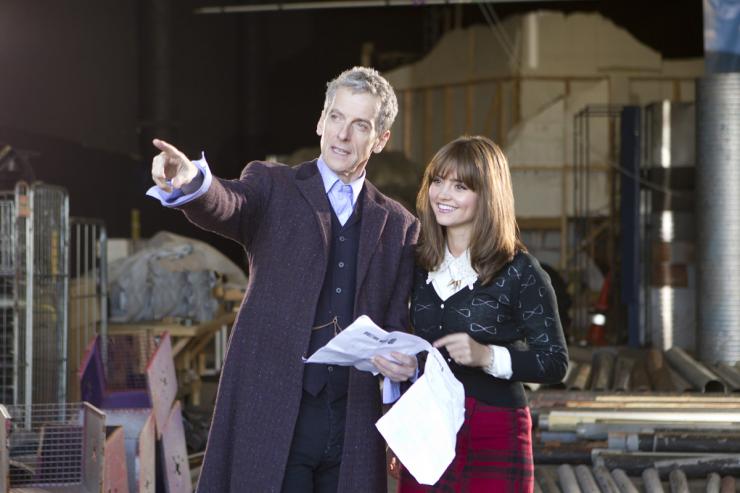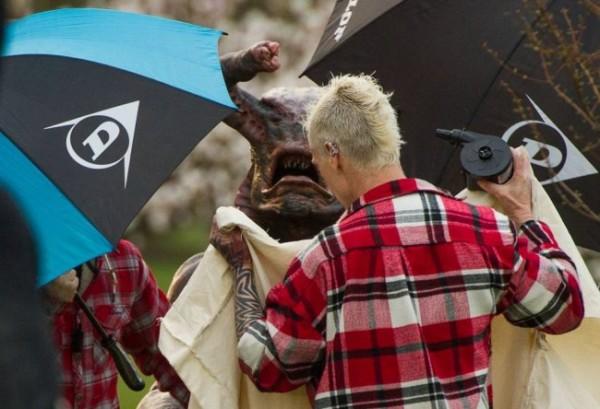 DOCTOR WHO NEWS
Filming is well underway on the next season of Doctor Who, and some leaked set pics reveal a wild new monster and the 12th Doctor hanging with his lovely companion Clara.
The pics show a mysterious new creature that looks like it's about to eat someone, with jagged teeth and a freaky-looking head. Some keen-eyed fans spotted the monster at the Hadyn Ellis Building in Cardiff University, where they're currently filming the eighth series.
Peter Capaldi's 12th Doctor was also on set, along with Jenna-Louise Coleman's companion Clara and a few green screens. Capaldi definitely looks like he's having a good time in the roll, and we can't wait to see him in action. THE GIVER
It's taken a decade or so in development hell, but the first trailer for The Giver has finally arrived. Welcome to the dark, secretive utopia.
Based on Lois Lowry's beloved 1993 novel of the same name, the film looks to put some nice sci-fi twist on the classic young-adult tale of a utopia with some dirty secrets. The film stars Brenton Thwaites as a slightly older Jonah and Jeff Bridges as the Giver, plus Katie Holmes and Taylor Swift in supporting roles.
The first 1+ minute trailer is admittedly brief, but it does set the stage for secrets, drama and some action to help spice things up. Honestly, after such a long wait for this one, it actually looks pretty great. It's a passion project for Bridges, and that love seems to shine through. It also looks like they've really nailed a good aesthetic for the sci-fi-tinged world.
The Giver opens Aug. 15. THE MAZE RUNNER
Hollywood isn't done with its young adult trend. Another YA adaptation is coming to a theater near you, and it's called The Maze Runner. Unlike The Hunger Games or Divergent, its story follows a group of isolated teenage boys. The protagonist is played by Teen Wolf star Dylan O'Brien, who's at the center of a conspiracy.
Official synopsis:
When Thomas wakes up trapped in a massive maze with a group of other boys, he has no memory of the outside world other than strange dreams about a mysterious organization known as W.C.K.D. Only by piecing together fragments of his past with clues he discovers in the maze can Thomas hope to uncover his true purpose and a way to escape. Based upon the best-selling novel by James Dashner.
The rest of the cast includes Will Poulter (We're the Millers) and Thomas Brodie-Sangster (Game of Thrones). The Maze Runner opens in theaters Sept. 19.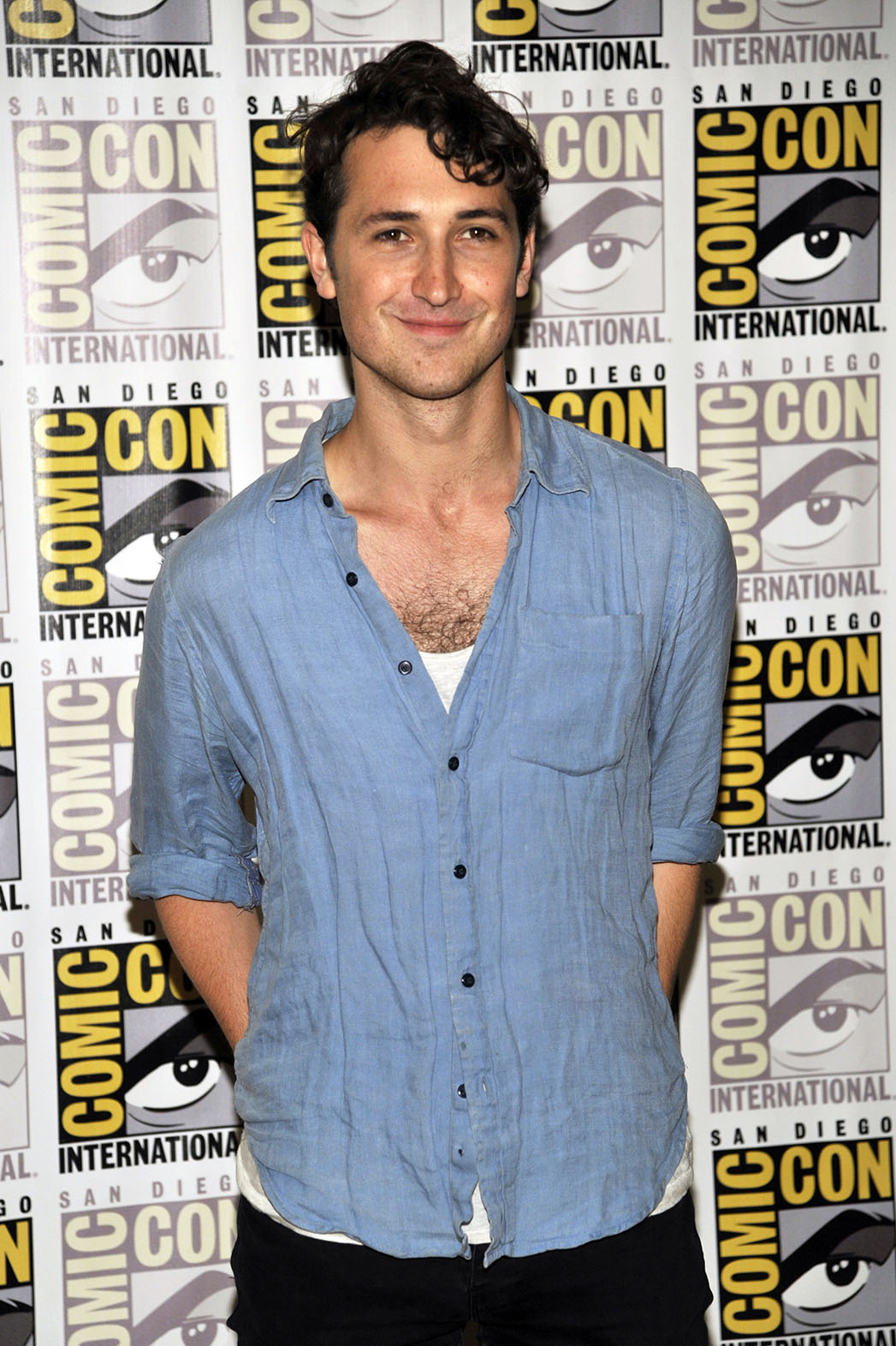 THE MOON AND THE SUN
Divergent actor Ben Lloyd-Hughes has joined the cast of indie film The Moon and the Sun, starring Pierce Brosnan.
The project, which will begin production at the end of the month, also stars Benjamin Walker, Kaya Scodelario and Fan Bingbing.
Directed by Soul Surfer helmer Sean McNamara, the film is based on Vonda McIntyre's fantasy novel about a beautiful mermaid.
Brosnan stars as King Louis XIV, who is determined to protect the future of France by reigning for all eternity. His search for immortality leads him to capture and steal the life force from a mermaid (Fan), but soon his 18-year-old illegitimate daughter (Scodelario) discovers the mystical creature and strikes up a friendship with her.
From a script by former 20th Century Fox chairman Bill Mechanic, former Focus CEO James Schamus, Barry Berman and Laura Harrington, The Moon and the Sun is being produced by Mechanic, James Pang, Wei Han, Paul Currie and David Brookwell.
Focus Features will release The Moon and the Sun in the U.S. in 2015. International sales are being handled by Good Universe.
Lloyd-Hughes stars as Will in Summit's hotly anticipated YA adaptation Divergent, which hits theaters March 21. The English actor's previous work includes 2012's Great Expectations and TV series The Hour. EARTH TO ECHO
A new trailer for Relativity Media's upcoming sci-fi adventure Earth to Echo is now online.
After a construction project begins digging in their neighborhood, best friends Tuck, Munch and Alex inexplicably begin to receive strange, encoded messages on their cell phones. Convinced something bigger is going on, they go to their parents and the authorities. When everyone around them refuses to take the messages seriously, the three embark on a secret adventure to crack the code and follow it to its source. But taking matters into their own hands gets the trio in way over their heads when they discover a mysterious being from another world who desperately needs their help. The epic, suspenseful and exciting journey that follows will change all of their lives forever.
Starring Teo Halm, Brian "Astro" Bradley, Reese Hartwig and Ella Linnea Wahlestedt, Earth to Echo hits theaters on July 2, 2014.
WEDNESDAY, MARCH 19, 2014
ARROW
Can't wait to watch the "Suicide Squad" episode of "Arrow"? If that's the case, the "DC All Access" web series is looking out for you -- this week's episode (released Tuesday, March 18) includes several interviews with "Arrow" cast members about the comic-friendly episode.
Obviously, there's an interview with David Ramsey, since Diggle is at the heart of "Suicide Squad." Did you know that Diggle is the first "Arrow" TV character to be adapted and added to a DC comic? He is indeed that cool. Also cool? Diggle gets his own flashback to Afghanistan in the episode.
"Arrow" executive producer Andrew Kreisberg makes an interesting point as well -- "Suicide Squad" is only possible because of Oliver's no-killing efforts in Season 2. While Floyd Lawton/Deadshot did appear in the first season, his survival was a matter of escaping at that point. Instead of being caught in Season 2, Deadshot would be dead under Oliver Queen's old kill-everything policy.
As it is, the Squad has assembled and will head out to save the day and die, hopefully in that order.
"Suicide Squad" airs Wednesday, March 19 at 8 p.m. on The CW. DISNEY'S MALEFICENT
The eternal Sleepy Beauty legend gets a dark Disney makeover in Maleficent, with a seething Angelina Jolie resplendent in the title role. In this first full-length trailer, director Robert Stromberg delivers a slick, shadowy style reminiscent of Snow White and the Huntsman, but with an overlay of deliciously diabolical humor. Here we get a better glimpse of the epic scope of the $170 million origin movie, with Ent-ish tree warriors, fairy forests, an inferno-spewing dragon and Maleficent unveiling a ravishing set of raven wings.
Here's the official synopsis:
"Maleficent" explores the untold story of Disney's most iconic villain from the classic 'Sleeping Beauty' and the elements of her betrayal that ultimately turn her pure heart to stone. Driven by revenge and a fierce desire to protect the moors over which she presides, Maleficent cruelly places an irrevocable curse upon the human king's newborn infant Aurora. As the child grows, Aurora is caught in the middle of the seething conflict between the forest kingdom she has grown to love and the human kingdom that holds her legacy. Maleficent realizes that Aurora may hold the key to peace in the land and is forced to take drastic actions that will change both worlds forever.
Appearing in theaters on May 30, 2014, Disney's Maleficent also stars Sharlto Copley, Elle Fanning, Sam Riley, Imelda Staunton, Juno Temple and Lesley Manville. GODZILLA
The arrival of Godzilla is just two months away, and a new international trailer has surfaced to fan the flames of giant lizard hysteria.
Sadly, the new trailer does not include the awesome, eerie Gyorgy Ligeti choral music that is so effective in the U.S. teaser, but this one does contain a different mix of footage, including some kind of flying thing heading straight toward the camera and a really quick glimpse of the big guy himself emerging from a fog. There are also a few more personal bits involving stars Aaron Taylor-Johnson, Elizabeth Olsen and Bryan Cranston.
In any case, this trailer just heightens our anticipation of the movie, which is directed by Gareth Edwards (Monsters) and promises to be much more along the lines of the somber 1954 original than the many kiddie-oriented sequels and the godawful 1998 Roland Emmerich disaster. Just as the classic Gojira used the monster as a metaphor for the dangers of atomic power, Godzilla in the new movie seems to symbolize the unchecked fury of nature itself -- and that's not even counting the other kaiju that we know are in the film.
Godzilla opens on May 16.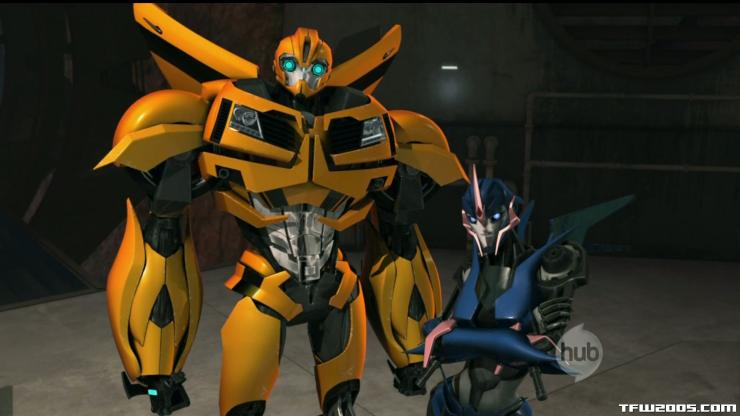 TRANSFORMER TV SERIES
Sure, Michael Bay's explosion-filled take on Transformers is taking most of the attention these days — but it's not the only robo game in town.
Apparently, the Hub Network is prepping a shiny new (currently untitled) Transformers series to debut in early 2015. The series will mark the franchise's return following what will be a two-year hiatus at that point since the end of Hub's Transformers: Prime. The series will blend 3D characters with hand-painted environments.
Continuity-wise, the series will pick up a few years after the final battle between Autobots and Decepticons that took place in Prime, and follow Bumblebee as he leads an all-new team of heroes. Hub Network is also prepping some Transformers specials for the franchise's 30th anniversary this year, so keep an eye out for that.
The voice cast is set to include Will Friedle as Bumblebee, along with Darren Criss (Glee), Constance Zimmer (House of Cards) and Ted McGinley (Married with Children).
Transformers has been an animated and CGI staple ever since the original series became a massive hit back in the 1980s. Everything since has been hit and miss, though Prime was a critical hit, and we're curious to see what Hub Network is putting together as a followup.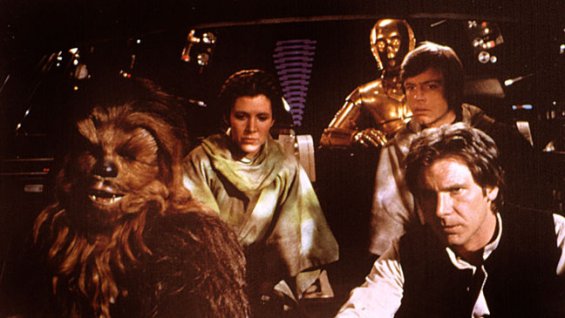 STAR WARS: EPISODE VII
Disney and Lucasfilm's upcoming Star Wars: Episode VII will begin filming in May and will be set 30 years after the events in 1983's Return of the Jedi.
"There will be some very familiar faces along with a trio of new young leads," said Walt Disney CEO Bob Iger during Disney's annual shareholder's meeting in Portland, Ore.
The film, to be directed by J.J. Abrams, is set for release on Dec. 18, 2015. It will shoot primarily in London at Pinewood Studios.
The film has been shrouded in secrecy, but it was recently reported that Adam Driver is in talks to play an undisclosed villain and a slew of names have been reported as in meetings for the three new lead roles.
"Rumor has it that almost every actor in the world has been cast in this movie, but so far, the official castmember that we've confirmed -- the only one -- is R2D2," said Iger on the call.
The Hollywood Reporter recently reported that Oscar winner Lupita Nyong'o met with J.J. Abrams only a few weeks ago. Several sources say that Jesse Plemons is one of the actors to beat for one of the roles and that British actors Ed Speleers and John Boyega are also in the mix.
TUESDAY, MARCH 18, 2014
ARROW
"Arrow" Season 2 is bringing out the villains for "Suicide Squad." Diggle (David Ramsey), however, isn't too pleased to be working with criminals like Deadshot, Bronze Tiger and Shrapnel.
He objects quite strongly to the team in this clip from the episode. Amanda Waller (Cynthia Addai-Robinson) doesn't really care -- she wants a highly skilled group that can, if necessary, just be written off. No matter how much he hates the criminals, Diggle isn't thrilled about this either.
As for the prisoners, they seem to have mixed feelings. Bronze Tiger (Michael Jai White) is pretty stoic about the whole thing. Deadshot (Michael Rowe) is treating the whole thing like a joke. Shrapnel (Sean Maher), meanwhile, has been reading up on protest literature to make his opinion clear.
Will Diggle lead the team? Could this mission come between Diggle and ex-wife/current-girlfriend Lyla.
The "Suicide Squad" episode of "Arrow" airs Wednesday (March 19) at 8 p.m. ET/PT on The CW.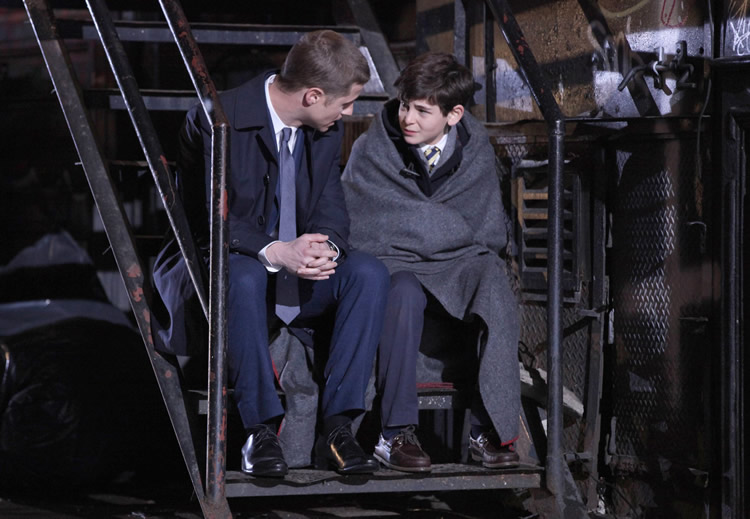 GOTHAM
The first set pics from Fox's new series Gotham have arrived, showing young Det. Jim Gordon (Ben McKenzie) leading a rooftop chase that ends with him pulling his sidearm.
The series, which promises to establish the gritty world of Batman before Bruce Wayne grows up to take his place as the city's main vigilante, definitely has the right kind of look at this point. Dirty rooftop, graffiti, some rollicking action. Check, check and check. But, there's obviously still a lot we don't know.
With McKenzie as young Jim Gordon, Donal Logue as his partner Harvey Bullock and Sean Pertwee as young Bruce Wayne's guardian Alfred Pennyworth, the series seems at least to be well cast. But early reviews of the pilot script have been less-than glowing, so we hope that's something executive producer Danny Cannon (Nikita, CSI) can remedy during development.
With shows like Arrow and Agents of S.H.I.E.L.D. holding their own in the ratings, and superhero movies dominating the box office, Batman seems like an obvious target for the small screen. But doing Batman without Batman is a little risker, and they better make sure this is a good series at its heart.
Fans will show up for the pilot out of curiosity, sure, but there has to be something there to bring them back the next week.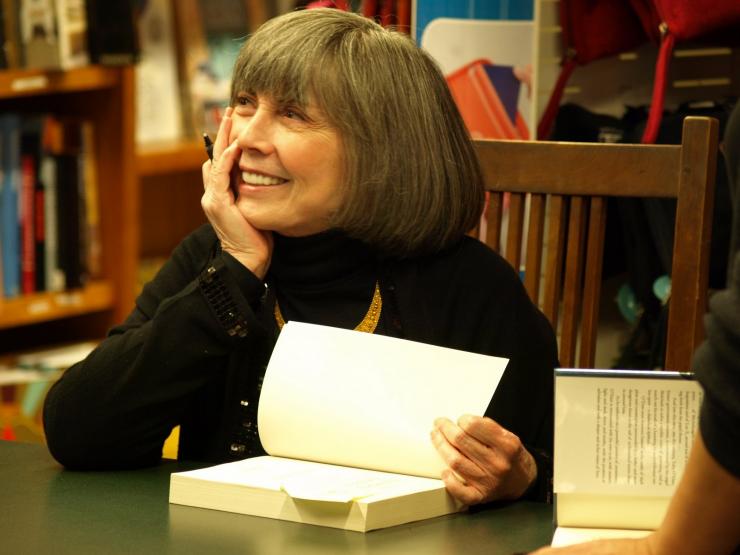 PRINCE LESTAT
After more than a decade, Anne Rice has finally returned to vampire fiction, and it looks like she's holding nothing back.
A little more than a week ago, Rice announced that -- after a decade of novels about Christ, angels and werewolves -- she's doing what many fans have long hoped for: Returning to the series of novels that made her a star: The Vampire Chronicles. Rice revealed that the 11th Vampire Chronicles novel, Prince Lestat, will be released in October, and will serve as a sequel to the first five books in the series, from Interview with the Vampire to Memnoch the Devil. Fans of Rice's vampire tales have been buzzing about the book ever since, and now we've got an official synopsis from the book to make that buzz even louder.
So, what does Prince Lestat promise us? Well, the title character is back, of course, but there are also plenty of Rice's vampire favorites back for more adventures, a mysterious new streak of vampire killings, a powerful new threat, ancient vampires waking up, and more. Check out the full (rather lengthy) synopsis below.
"A stunning departure, a surprising and compelling return... From Anne Rice, perennial best seller, single-handed reinventor of the vampire cosmology—a new, exhilarating novel, a deepening of her vampire mythology, and a chillingly hypnotic mystery-thriller.
"'What can we do but reach for the embrace that must now contain both heaven and hell: our doom again and again and again...'—from The Vampire Lestat
"Rice once again summons up the irresistible spirit-world of the oldest and most powerful forces of the night, invisible beings unleashed on an unsuspecting world able to take blood from humans, in a long-awaited return to the extraordinary world of The Vampire Chronicles and the uniquely seductive Queen of the Damned, a long-awaited novel that picks up where The Vampire Lestat left off more than a quarter of a century ago to create an extraordinary new world of spirits and forces—the characters, legend, and lore of all The Vampire Chronicles.
"The novel opens with the vampire world in crisis... vampires have been proliferating out of control; burnings have commenced all over the world, huge massacres similar to those carried out by Akasha in The Queen of the Damned... Old vampires, roused from slumber in the earth, are doing the bidding of a Voice commanding that they indiscriminately burn vampire-mavericks in cities from Paris and Mumbai to Hong Kong, Kyoto, and San Francisco.
"As the novel moves from present-day New York and the West Coast to ancient Egypt, 4th century Carthage, 14th century Rome, the Venice of the Renaissance, the worlds and beings of all The Vampire Chronicles—Louis de Pointe du Lac; the eternally young Armand, whose face is that of a Boticelli angel; Mekare and Maharet; Pandora and Flavius; David Talbot, vampire and ultimate fixer from the secret Talamasca; and Marius, the true Child of the Millennia, along with all the other new seductive, supernatural creatures—come together in this large, luxuriant, fiercely ambitious novel to ultimately rise up and seek out who—or what—the Voice is and to discover the secret of what it desires and why...
"And, at the book's center, the seemingly absent, curiously missing hero-wanderer, the dazzling, dangerous rebel-outlaw—the great hope of the Undead, the dazzling Prince Lestat..."
So, it looks like Rice has a lot planned for her ambitious return to The Vampire Chronicles, including a trip back through the history of her beloved blood drinkers.
Prince Lestat is on sale October 28th.
UNDER THE DOME
A new trailer for Under the Dome's second season has arrived, promising bigger mysteries and a few brutal deaths. You know, pretty much what you'd expect from this breakout sci-fi hit.
Based on Stephen King's novel of the same name, Under the Dome's second season looks to build on the story the author tracked in the book. Producer Brian K. Vaughan promises the new season is "going to take us to places where the book never got to go," and confirms that King actually chimed in on the direction of year two. Plus, King wrote the season premiere. Woohoo.
The bigger reveal? The producers promise two major deaths will occur in the season premiere, and judging by where the season-one finale left things, we could think of more than a few candidates. It's nice to see the writers aren't afraid to mix things up, and after a shaky first season, here's hoping some big changes can give the story some oomph.
The series returns Monday, June 30, on CBS. The premiere episode is titled "Heads Will Roll." Judging by the promised carnage, it sounds fitting.
ORPHAN BLACK
The first full trailer for BBC America's breakout sci-fi hit Orphan Black has arrived — and it looks just as awesome as we'd hoped.
After debuting in relative obscurity last year, Orphan Black quickly gained steam as a critical darling and developed a fiercely devoted fan base by the end of its first season. It had an awesome premise, built around young women trying to unravel the mystery of their clone-tastic origin, but it was the actress in the middle of it all that made it fly.
While playing a half dozen fully formed characters last season, Tatiana Maslany proved herself one of the most talented actresses on the planet, and it looks like she'll have even more of a chance to shine in season two. The first trailer looks to dig a littler deeper into the mythology, while also introducing some new clones into the mix.
Judging by the trailer, it looks like the intensity of the final few episodes form season one will be cranked up to 11 from the start of season two, and we can't wait to see more. Season two debuts April 19.
HELIX
There are just two episodes left before Helix's first 13-episode season comes to an end, and now we have the opening scenes from the penultimate episode.
Just watching the past few episodes and seeing where the series had led, it's fascinating to think it all started just 11 episodes ago with a CDC team sent in to investigate a mystery virus. From there, Ronald D. Moore's (Battlestar Galactica) ambitious new series has taken some wild twists and turns.
Judging by the first five minutes of episode 12, it looks like they're gearing up to end things with a bang. The episode opens with a look at the new baddie from Illyria who just arrived at the base, then picks up with the handful of survivors left hiding out in the bunker below. Not surprisingly, it's tense stuff.
Helix airs Friday nights on Syfy. The next-to-last episode of season one airs this week, with the season finale set for next week.
MONDAY, MARCH 17, 2014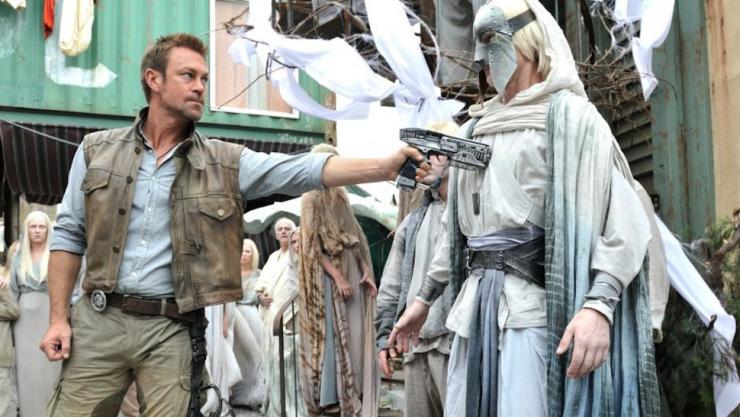 SYFY MOVES TOWARD SCRIPTED SPACE DRAMAS
Over the past few years, Syfy has found mainstream success with broad hits like Warehouse 13, Eureka and the recent social media juggernaut Sharknado. But Syfy's president is apparently looking to the network's sci-fi-heavy past as inspiration for a new direction — and that could be good news for genre fans who took issue with the channel's change of direction half a decade ago.
Syfy president Dave Howe chatted with The Hollywood Reporter about the network's beefed-up slate of space-set sci-fi series and harder sci-fi projects, and said they're trying to reclaim some ground that has been claimed by breakout hits like Game of Thrones and The Walking Dead. Basically: If you like new shows like Defiance and Ron Moore's Helix, that's only the beginning:
"We want to be the best science-fiction channel that we possibly can, and in some respects, that means going back to the more traditional sci-fi/fantasy that fans often say they feel we've exited. We're going to occupy that space in a way we haven't for the past few years.
That's the way to send a message in a big way that we're back and we care about sci-fi. There is enormous pressure to get that back, because we used to own it. And we're going to own it again."
The network is also looking for a new space opera or two in the vein of critical darling Battlestar Galactica and the recently canceled Stargate Universe, plus some high-profile miniseries that could have potential to grow into regular series. If they're looking for inspiration, please look back to Farscape. The world needs more weird, awesome space operas.
The network will also be eyeing more international co-productions, a la the stellar Continuum, Lost Girl and new addition Bitten. This approach seems like a nice move, picking up exclusive U.S. rights to international sci-fi fare. They've found a few hits already, and considering how so many shows can work in different markets now, it can hopefully give good shows a shot at a bigger audience.
It also sounds like the long-running tradition of producing sci-fi B-movies will be scaled down soon, though there will still be a place on the schedule for some campy mashups and future Sharknado sequels. Off-network re-runs are also being largely phased out, after what Howe calls "a disaster" of trying to program Lost reruns a few years ago. In a world of streaming and DVR, reruns just don't carry much weight.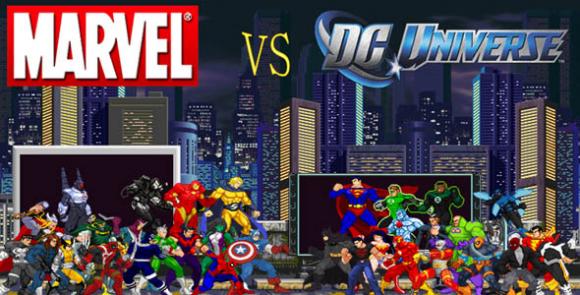 MARVEL VS. DC COMICS
Warner Bros. made waves when they bumped the release date of Batman vs. Superman right into Marvel territory, but it sounds like the house that Iron Man built is ready to go toe to toe.
Marvel has dominated the early summer by releasing comic-book tentpoles in early May, but Warner Bros. and DC decided to take a shot across the bow with Batman vs. Superman, setting it up on May 6, 2016. But Marvel already has an unnamed future film penciled in for that weekend.
So does Marvel plan to back down and shift their film to another date? According to Marvel exec Kevin Feige, it ain't going to happen. He told /Film: "We're certainly keeping the date there and we'll announce what that movie is, I assume, in the next few months." Basically, Marvel's owned that weekend for years, and they have no intention of backing off.
In layman's terms: Get ready for DC and Marvel to face off at the box office in 2016 with two should-be blockbusters, in what could make for one of the biggest weekends in modern history. We still don't know which Marvel film will fill the date, though odds point to Captain America 3, Thor 3 or Doctor Strange. Any of the three would be a high-profile release, although whether they'd be able to topple big names like Batman and Superman is a tough call.
As for when we'll find out the identity of the Marvel movie, Feige said he'd "love nothing more" than to announce it at Comic-Com, though the announcement could potentially come sooner or a bit later. But, considering the fact that they'll be duking it out with two of DC's heavyweights, we'd almost guarantee they'll use the massive platform of Comic-Con to drop this bombshell with some extra buzz.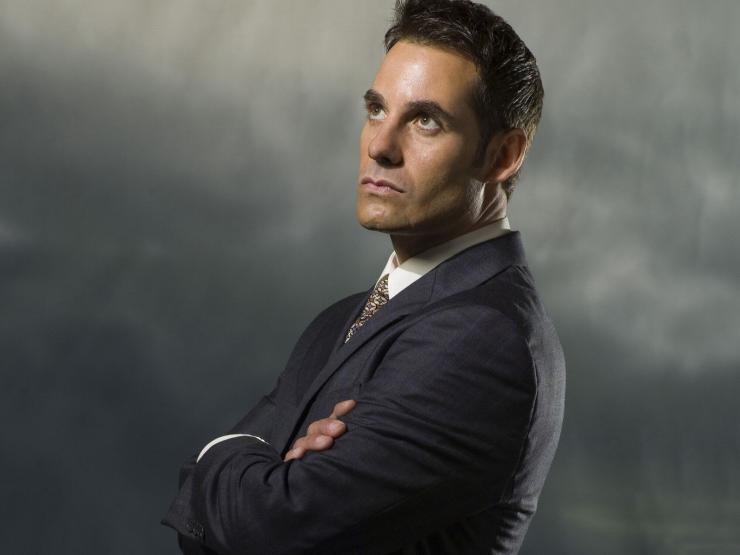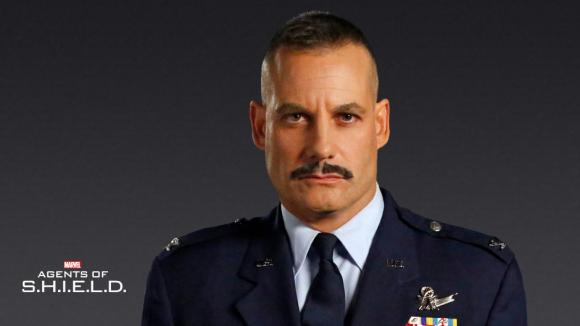 AGENTS OF S.H.I.E.L.D.
After dabbling in the Thor universe this season, Agents of S.H.I.E.L.D. is gearing up to introduce a classic Hulk villain to the small screen — and he'll be played by a familiar face for sci-fi fans.
Heroes alum Adrian Pasdar (Nathan Patrelli) has signed on to portray Glenn Talbot, the man who spent years hunting the Incredible Hulk in the comics. The character was introduced in 1964, and has been a recurring player in the Hulk comics as a close confidant for General Thaddeus Ross.
For Pasdar, it's a natural move. The guy has been a stalwart in Marvel's animated wheelhouse, with roles in everything from Black Panther, to Iron Man, Ultimate Spider-Man and Hulk and the Agents of S.MA.S.H. He also has a role in Amazon's newly picked-up sci-fi series The After, from X-Files mastermind Chris Carter.
Pasdar also conducted a nice announcement interview with Marvel, and recounted when he first got word about the role. Not surprisingly, he's been reading a lot of comics the past few weeks:
"I did my research that I [normally] do which is pretty in-depth and obviously pretty easy to do with a character like this. The best part of the whole thing is that I was actually in Toys'R'Us with my nine-year old in Times Square. We were in New York for the Super Bowl, and that's when I got a call from Jeph. [My son] heard me very patiently talk to Jeph and as soon as I hung up, my little boy Beckett said, 'What's the job, Dad? What's the job?' and I said, 'Well, do you know Colonel Talbot?' and he said, 'Glenn Talbot? Yeah, everybody does." I said, "Well, they asked me to play him.' He said, 'Well, dad. Here's what we gotta do. We gotta go to Midtown Comics right away because you know the guy on the second floor with the beard?" I said, 'Yeah.' 'We've gotta find him and ask him what he thinks and his questions. He'll help you out.'"
No word on exactly which episode Pasdar will be in, though it'll obviously be pretty late in the season. To give us a peek at what they're cooking up, Marvel has already reveals the first pic of the actor in character. Don't worry, comic fans — he does have the mustache, and it is glorious.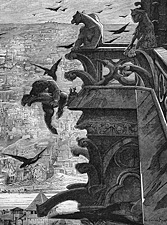 UGLY
FremantleMedia International (FMI) and the Oscar-nominated film director and writer, Roland Joffé (The Killing Fields, The Mission), today announced a co-development partnership for TV series "Ugly." Joffé will write retelling of the world famous French gothic Victor Hugo novel, "The Hunchback of Notre Dame." Played out against the political economic and social explosion of early 17th Century France, the series follows the life of Ugly, the physically impaired hero of the piece and features a cast of extraordinary characters.
Roland Joffé said: "It's a cruel conundrum that beauty - much as it is desirable and desired - may be a prison both for those who have it and those who want it. At one level we all think we know what beauty is, but there are as many different kinds of beauty as there are varieties of love. Though physical beauty may encourage the continued expansion of the population at large, it may only be inner beauty that guarantees it's continued and continuing existence. In our story, Ugly is beautiful and much of what passes for beauty is ugly. Such is life, and life and love, cruelty and compassion, morals and money, are the subjects of our story."
Sarah Doole, Director of Global drama, FremantleMedia added: "FremantleMedia International are beyond excited about the opportunity to work with the extraordinarily talented Roland Joffé. 'Ugly' is truly captivating and exactly the type of project that we have been seeking in our efforts to grow our creation of high end scripted dramas. We are looking forward to discussing the project with the broadcasters at MIPTV."
In 1695 in the chateau of the Comte de Chateaupers a baby is born. Joy at the baby's birth is quickly extinguished as it is discovered that the baby boy is deformed. At first sight, his grandmother hurriedly brings a pillow to spare the child from a life of pain and despair, but something in the child's eyes stops her. Hours later a troupe of travelling actors discover a basket and within lies the newborn baby of surpassing ugliness. Meanwhile, the intemperate Comte de Chateaupers is presented with an heir, never knowing that the child has been hastily bought from a poor woman of the village. The series embarks on a heart-felt journey and shows what it means to be human regardless of your outward appearance. To wrestle with greed, insecurity and fear, to discover the force of compassion, the pain and power of love and the finding of beauty where it is least expected.
OCULUS
Relativity Media aired the first TV spot for Oculus during "The Walking Dead" last night.
The Mike Flanagan-directed horror film, opening on April 11, stars Karen Gillan, Katee Sackhoff, Brenton Thwaites, James Lafferty, Rory Cochrane, Annalise Basso, Garretty Ryan, Kate Siegel, Katie Parker and Miguel Sandoval.
Ten years ago, tragedy struck the Russell family, leaving the lives of teenage siblings Tim and Kaylie forever changed when Tim was convicted of the brutal murder of their parents. Now in his 20s, Tim is newly released from protective custody and only wants to move on with his life; but Kaylie, still haunted by that fateful night, is convinced her parents' deaths were caused by something else altogether: a malevolent supernatural force­­ unleashed through the Lasser Glass, an antique mirror in their childhood home. Determined to prove Tim's innocence, Kaylie tracks down the mirror, only to learn similar deaths have befallen previous owners over the past century. With the mysterious entity now back in their hands, Tim and Kaylie soon find their hold on reality shattered by terrifying hallucinations, and realize, too late, that their childhood nightmare is beginning again.
SUNDAY, MARCH 16, 2014
UNDER THE DOME
This trailer for "Under the Dome" Season 2 that was released Friday (March 14) by CBS. After a brief recap of where we left off last summer, executive producers Neal Baer and Brian K. Vaughan tease what's in store for viewers.
"The second season is going to take us to places where the book never got to go ... Stephen King gave us some ideas we never imagined," says Vaughn.
"We're really excited because [King] is bringing his usual twists and turns and shocking events," says Baer, of the book's author, who is penning the Season 2 premiere episode. "At the end of last season, our characters found out the dome came from another world. The dome is actually here to protect them," adds Vaughn.
"What's outside comes inside," says Baer, ominously, as the video also teases the two deaths in the season premiere and the new characters -- Junior's uncle and a young school teacher.
"Under the Dome" returns Monday, June 30 at 10 p.m. ET/PT on CBS. The premiere episode is titled "Heads Will Roll."

CAPTAIN AMERICA: THE WINTER SOLDIER
Marvel Studios has debuted a new behind-the-scenes featurette for their upcoming film Captain America: The Winter Soldier. This one focuses on Anthony Mackie's Sam Wilson, aka Falcon!
Opening internationally starting on March 26 and in North America on April 4, the sequel stars Chris Evans, Scarlett Johansson, Samuel L. Jackson, Robert Redford, Sebastian Stan, Anthony Mackie, Frank Grillo, Georges St-Pierre, Hayley Atwell, Toby Jones, Emily and Maximiliano Hernndez.
SATURDAY, MARCH 15, 2014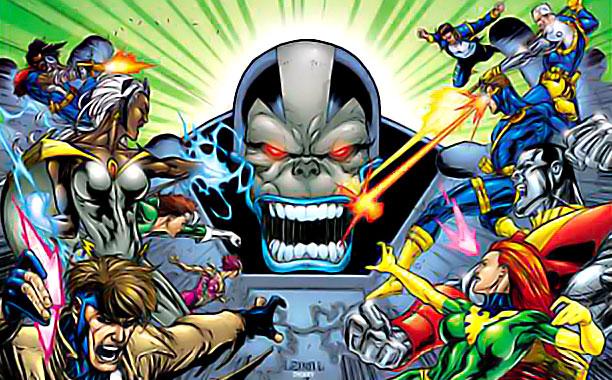 X-MEN: APOCALYPSE
It's still a couple months before Bryan Singer's time-warping X-Men epic, and he's already fueling the flames for his next installment in the 20th Century Fox franchise, X-Men: Apocalypse, set to open on May 27, 2016. Here's what Singer had to say while chatting with Total Film magazine about the tone and continuity of the dark Days of Future Past follow up:
"We're going to deal with the notion of ancient mutants - the fact they were born and existed thousands of years ago. But it'll be a contemporary movie - well, it'll take place in the '80s... The '80s is a period now - it's hard for me to believe that! Apocalypse will have more of the mass destruction that X-Men films, to date, have not relied upon. There's definitely now a character and a story that allow room for that kind of spectacle. We're currently breaking the story. We're almost ready to go. Dan Harris, Michael Dougherty and Simon Kinberg are in the office across the street from me, working on story stuff right now. It's great to have Dan and Michael back."
Singer was less forthright when prodded about which mutants and characters would definitely return in Apocalypse:
"I don't want to get too specific, but we'll introduce familiar characters in a younger time. That'll be fun to show the audience. I call these movies in-between-quels. It's a mind-[frick] sometimes in terms of where things fall in the timeline!"
It seems Singer's association with the X-Men films is far from over, with many more stories yet to tell:
"It all stems back to when I did [the first] X-Men. You always want to know where a character's going to go, what their future's going be like. You can always sequelise. But on that film I also had actors asking 'Who am I? Where did my character come from?' So as a director you always need a backstory to give your actors. It may not be the right backstory, but it's one you can give the actor to help them understand their character. These prequels are really exciting for me because they give me a chance to explore ideas I came up with more than a decade ago."

CONTINUUM
We're just a few weeks away from the third season of Syfy's time-travel cop series Continuum, and 10+ minutes of new footage has been released to whet our appetite.
Though the series doesn't debut in the U.S. until April 4 on Syfy, the third season begins this Sunday on Showcase in the film's native Canada. So, to promote the Canadian premiere, the network has released a massive new sneak peek looking at season three. Yay, Canada!
Two seasons into its run, Continuum has grown into one of the best under-the-radar sci-fi shows on television — touching on time travel, alternate universes and terrorism in some solid, compelling stories. Think Fringe meets Timecop (in a good way). It's also built its mythology up with a slow boil, adding more layers while not just throwing stuff at the wall.
Season two ended on a creative peak, and judging by this nifty preview of season three, it seems like it might be getting even better. It also looks like we'll be getting some answers to a few big questions, which is a good way to pay off mysteries while building bigger ones on the back end.
So get ready for Kiera Cameron's (Rachel Nichols) return with the footage below and let us know what you think about the series.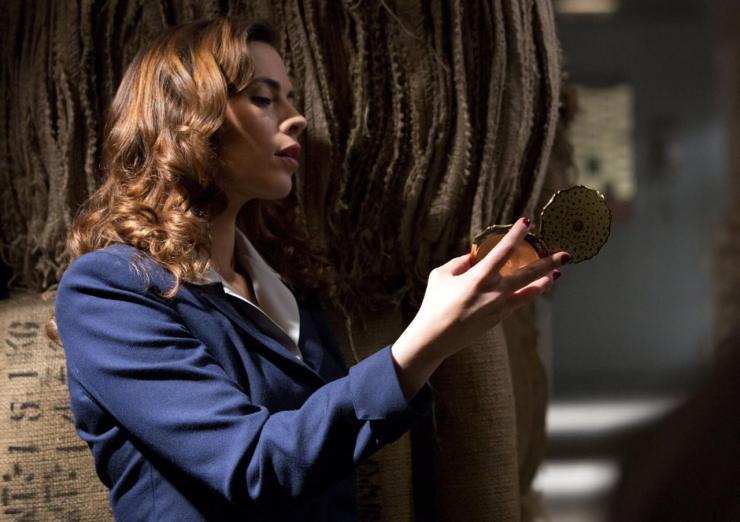 AGENT CARTER
With a half dozen Netflix series and Agents of S.H.I.E.L.D. all set in the modern day, Marvel is also planning a 1940s-set prequel series -- and the writers have spilled some new details.
Screenwriters Christopher Markus and Stephen McFeely, the duo behind Captain America: The First Avenger, opened up to Collider about the potential series. The series has yet to technically be greenlit, but apparently ABC execs are reviewing the script at this point. So, fingers crossed.
The show would start in 1946, which matches up to the same era as that stellar Agent Carter one-shot short film. McFeely noted that they want to track Carter before she joins up with Howard Stark (Dominic Cooper) to found S.H.I.E.L.D. Stark would be a recurring character, not a series regular:
"We can't get her to the end of S.H.I.E.L.D. that fast. We wanna stay in that world longer where people are disrespecting her and she's proving herself and going on missions and things like that."
In an extremely savvy move, it also sounds like they'll forego the typical 20+ episode order for a limited-series approach of around 13 episodes, which'll give them a chance to tell some tightly woven stories in the early days of S.H.I.E.L.D. without much filler. Here's how McFeely explained the concept:
"[13 episodes] is how this is envisioned, maybe even less… That's my hope, is that it would be something like [Under the Dome]. Our case would be that it would be a limited series and you would wrap up that one bad guy and that one case, and then if you like it we'll do it again next year and it's 1947."
Considering all the projects Marvel has in the hopper, you'd think this one has a pretty good shot of landing somewhere.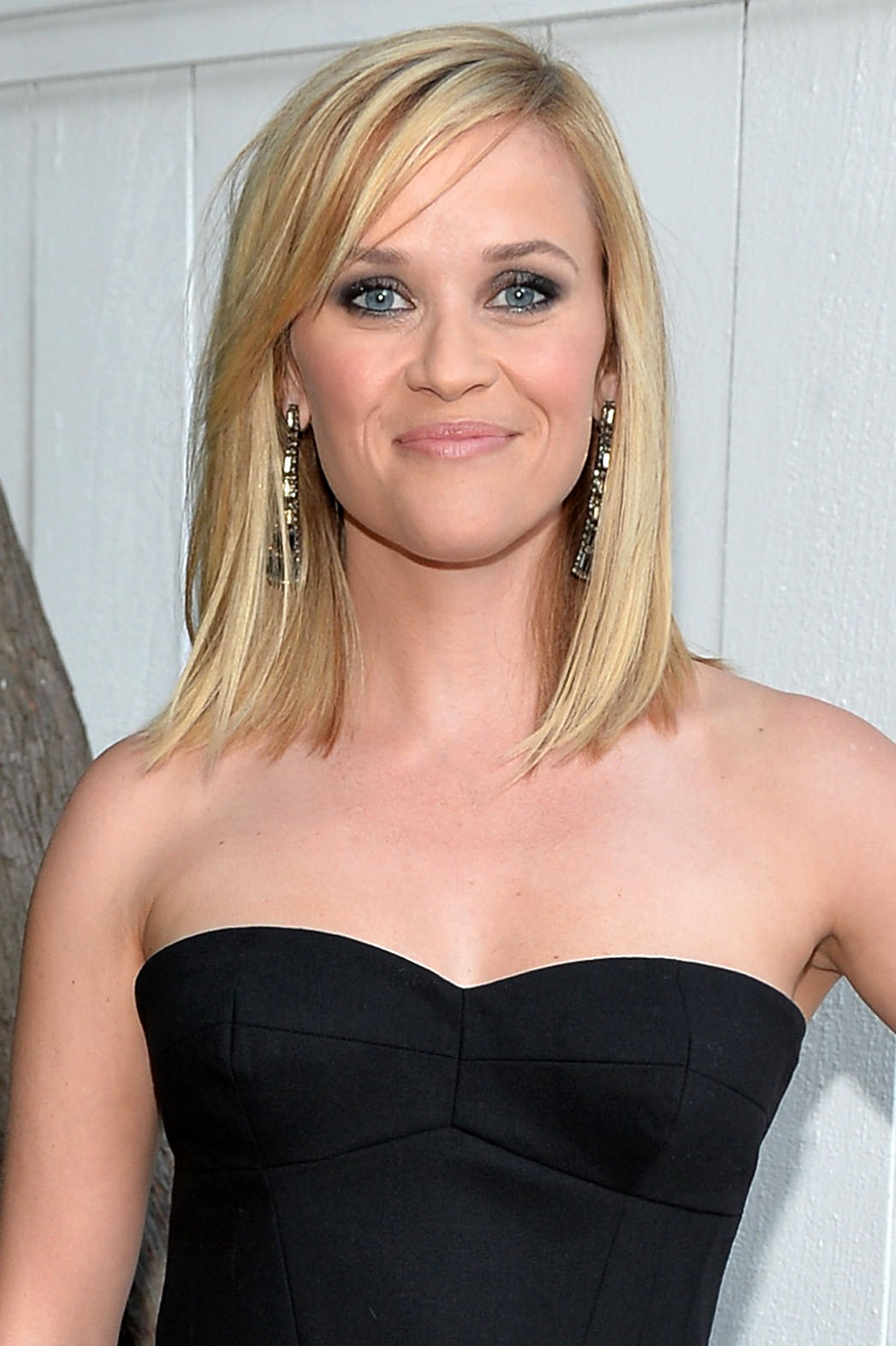 THE OUTLIERS
Lionsgate has acquired The Outliers, an upcoming sci-fi YA trilogy by bestselling author Kimberly McCreight.
Todd Lieberman and David Hoberman will produce via their Mandeville Films banner along with Reese Witherspoon and Bruna Papandrea via their Pacific Standard banner.
The Outliers centers around a teen named Wylie whose her best friend goes missing. She finds Cassie in a remote spot in the woods with a group called the Outliers, who claim to be able to harness "intuition" and turn it into a powerful psychological weapon called EQ Transference. Wylie joins the Outliers, but, within days, she finds herself running for her life.
Wylie doesn't know it, but she has the potential to become the most powerful Reader of all. There are many who would go to great lengths to destroy her, and she can't trust anyone – least of all, the Outliers.
The Outliers is planned as a trilogy of books. The first in the series will be published in late 2015.
Co-President of Lionsgate Motion Picture Group Erik Feig, and Summit Entertainment's executive vp of production Meredith Milton will oversee the project for the studio, and Laura Cray will oversee the project on behalf of Mandeville Films. Robert Melnik, Lionsgate's executive vp of business affairs, negotiated the deal on behalf of the studio.
Lionsgate has obviously had major success in the field of YA adaptations. The first Hunger Games film earned $691.2 million worldwide and the sequel, Catching Fire, has taken in $864 million worldwide to date.
Mandeville Films and Papandrea also work together producing Summit Entertainment's Warm Bodies. Mandevilla has recently come aboard to executive produce Lionsgate's Insurgent, the sequel to the highly anticipated feature film Divergent based off of Veronica Roth's bestselling trilogy, published by HarperCollins.
McCreight's first published novel, Reconstructing Amelia, is being adapted by HBO Films with Nicole Kidman to star. She's repped by Resolution and Marly Rusoff & Associates, Inc.
FRIDAY, MARCH 14, 2014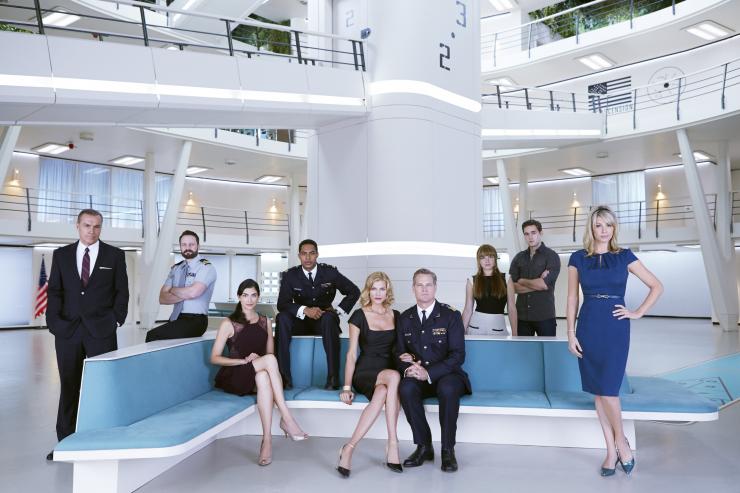 ASCENSION
Syfy has ordered a 6-hour limited series, "Ascension." Set on a spaceship heading to a far-off world, the drama is set to air in the fall of 2014.
The story takes place on a starship, the Ascension, which was secretly launched in 1963 with hundreds of colonists out to populate a new world. Almost 50 years later, the ship is getting close to its point of no return when a young woman is murdered.
During the investigation, the Ascension's population begins to question the true nature of their mission to the stars.
"Syfy is more committed than ever to bringing to life epic event television," says Syfy president Dave Howe in a statement. "We are delighted to bring this thrilling, provocative and intelligent event to our fans later this year."
Created and written by Philip Levens ("Smallville"), "Ascension" will be produced in Montreal by Levens, Jason Blum, Mark Stern, Ivan Fecan, Tim Gamble and Brett Burlock. TRANSCENDENCE
With Transcendence opening in theaters in just over a month, a new featurette has surfaced to dissect the meaning of the movie's title.
Johnny Depp stars as Dr. Will Caster, a brilliant scientist who has discovered what may be a next step in both human and technological evolution -- the merging of the human brain with a supercomputer.
But when anti-tech terrorists fatally wound Caster in an assassination attempt, he becomes the first subject to test his theory as his mind is uploaded into a sentient machine -- turning him into an omniscient new entity with a hunger for limitless power.
As you can see in the featurette below, the cast and filmmakers describe "transcendence" as that moment when human mind and machine unite to form something new. In Caster's case, what that new thing is could be humanity's savior or, as Morgan Freeman gravely intones at the end of the clip, "the end of mankind as we know it."
Transcendence seems to embrace a lot of current thinking about the Singularity (the next big leap in artificial intelligence evolution) and could end up being either the kind of intelligent sci-fi thriller we all crave or a formulaic effects-driven time waster. It does have a great cast (Depp, Rebecca Hall, Paul Bettany, Freeman, Kate Mara, Cillian Murphy) and marks the directorial debut of acclaimed cinematographer Wally Pfister (the Dark Knight movies, Inception), with his former boss Christopher Nolan providing a guiding hand as producer.
Transcendence is out in theaters April 18.

SYFY CHANGES AHEAD
Over the past few years, Syfy has found mainstream success with broad hits like Warehouse 13, Eureka and the recent social media juggernaut Sharknado. But Syfy's president is apparently looking to the network's sci-fi-heavy past as inspiration for a new direction — and that could be good news for genre fans who took issue with the channel's change of direction half a decade ago.
Syfy president Dave Howe chatted with The Hollywood Reporter about the network's beefed-up slate of space-set sci-fi series and harder sci-fi projects, and said they're trying to reclaim some ground that has been claimed by breakout hits like Game of Thrones and The Walking Dead. Basically: If you like new shows like Defiance and Ron Moore's Helix, that's only the beginning:
"We want to be the best science-fiction channel that we possibly can, and in some respects, that means going back to the more traditional sci-fi/fantasy that fans often say they feel we've exited. We're going to occupy that space in a way we haven't for the past few years.
That's the way to send a message in a big way that we're back and we care about sci-fi. There is enormous pressure to get that back, because we used to own it. And we're going to own it again."
The network is also looking for a new space opera or two in the vein of critical darling Battlestar Galactica and the recently canceled Stargate Universe, plus some high-profile miniseries that could have potential to grow into regular series. If they're looking for inspiration, please look back to Farscape. The world needs more weird, awesome space operas.
The network will also be eyeing more international co-productions, a la the stellar Continuum, Lost Girl and new addition Bitten. This approach seems like a nice move, picking up exclusive U.S. rights to international sci-fi fare. They've found a few hits already, and considering how so many shows can work in different markets now, it can hopefully give good shows a shot at a bigger audience.
It also sounds like the long-running tradition of producing sci-fi B-movies will be scaled down soon, though there will still be a place on the schedule for some campy mashups and future Sharknado sequels. Off-network re-runs are also being largely phased out, after what Howe calls "a disaster" of trying to program Lost reruns a few years ago. In a world of streaming and DVR, reruns just don't carry much weight. GAME OF THRONES
HBO has just released a very cool, 25-minute featurette looking back at the third season of Game of Thrones -- so if you wanna be all caught up before season four rolls in, you better have a look.
Titled "The Politics of Power," the awesome new recap video looks back on key events from season three (Red Wedding!) and also features great interviews sprinkled throughout with some of the cast, including Emilia Clarke (Daenerys Targaryen), Kit Harington (Jon Snow), Nikolaj Coster-Waldau (Ser Jaime Lannister), Richard Madden (Robb Stark), Michelle Fairley (Catelyn Stark), Lena Headey (Cersei Lannister), Maisie Williams (Arya Stark), Rory McCann (Sandor "The Hound" Clegane), Peter Dinklage (Tyrion Lannister), Sophie Turner (Sansa Stark) and Jack Gleeson (the little s**t King Joffrey Baratheon).
If watching this video doesn't make you guys all pumped up for Thrones' upcoming fourth season, we don't know what will. Us? We just can't wait for April 6.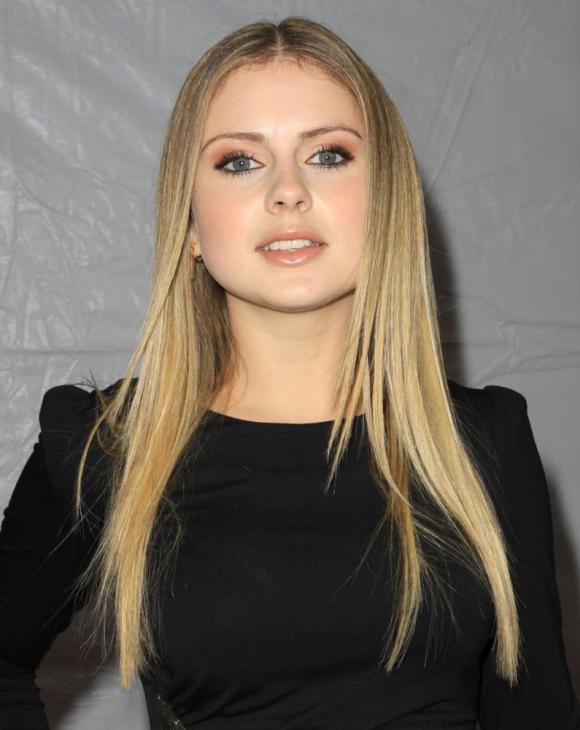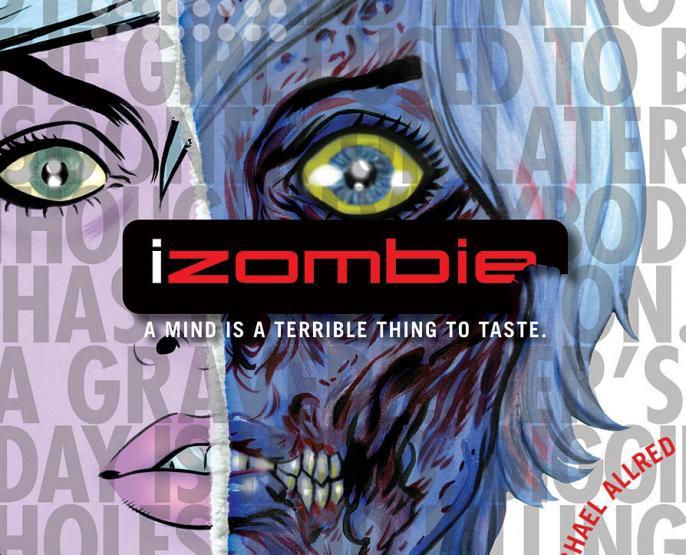 IZOMBIE
The CW is tackling one of the quirkiest, coolest comics out there by trying to adapt iZombie for the small screen -- and now they've cast the do-gooder, brain-eating star.
Rose McIver (Once Upon a Time, Power Rangers R.P.M.) has signed on to play Olivia "Liv" Moore in the network's iZombie pilot, according to TV Line. Veronica Mars mastermind Rob Thomas is producing the series, which is based on the award-winning DC Comics series.
McIver's Liv is a med-student-turned-zombie who takes a job at the coroner's office to satisfy her brain-eating habit. But she absorbs a corpse's memories with every brain she eats, so she teams up with the police in an effort to help solve their murders.
If Thomas can capture the fun and depth of the comic, it could make for one heck of a good series. It also combines three hot genres -- zombies, medical shows and procedurals -- which means it has the potential to be an across-the-board hit.
Most of the supporting cast has already been filled out, and McIver joins David Anders (The Vampire Diaries), Malcolm Goodwin (Breakout Kings), Robert Buckley (One Tree Hill), Nora Dunn (Saturday Night Live) and Alexandra Krosney (Last Man Standing) in the pilot.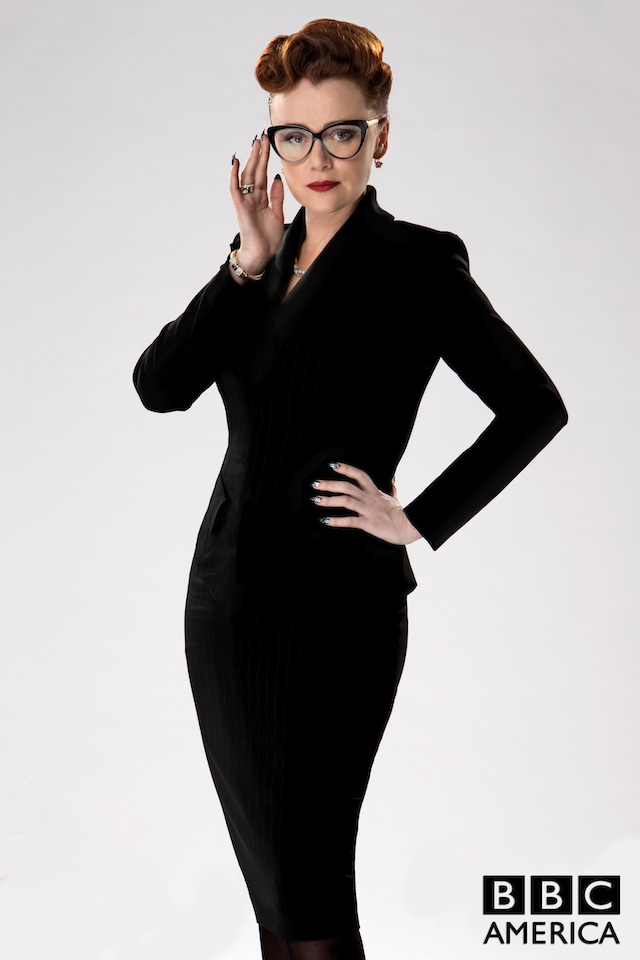 DOCTOR WHO NEWS
Keeley Hawes ("Line of Duty," "Upstairs Downstairs") has been announced as a new member of the cast of "Doctor Who," which is set to return this year. Hawes will play Ms. Delphox, described as being "a powerful out of this world character with a dark secret".
Traveling across space and time, the twelfth Doctor (Peter Capaldi) and his companion, Clara Oswald (Jenna Coleman), will come face to face with the mysterious Ms. Delphox when they arrive on a strange and puzzling planet.
Written by Steve Thompson ("Sherlock") the episode will be directed by Douglas Mackinnon ("Line of Duty," "Doctor Who").
Commenting on her role, Hawes, said: "I am delighted to join Doctor Who and to be working with this incredible team. Ms Delphox is a great character and someone I've had a lot of fun playing."
While lead writer and executive producer, Steven Moffat, added: "Anyone watching Jed Mercurio's amazing 'Line of Duty' will know that Keeley Hawes is having one hell of year. And now it's about to get even better as she achieves the greatest villainy yet attempted on 'Doctor Who': she plays a banker."
"Doctor Who" is a BBC Wales production for BBC One. Filming is currently underway for the new series, which will introduce Peter Capaldi as the next Doctor for the first time to millions of viewers.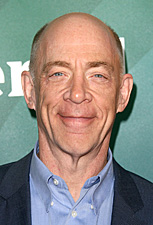 TERMINATOR: GENESIS
Possibly one of the most recognizable character actors of the past decade and a half, J.K. Simmons, who famously played J. Jonah Jameson in Sam Raimi's three "Spider-Man" movies, has been picked by director Alan Taylor to play a role in the upcoming Terminator: Genesis as a "weary and alcoholic detective who has followed a bizarre case involving Sarah Connor and robots for more than three decades."
The reboot of the franchise being produced by Paramount Pictures and Skydance Productions will bring back Arnold Schwarzenegger in the title role with Jai Courtney playing Kyle Reese, Jason Clarke as John Connor and "Game of Thrones" star Emilia Clarke playing Sarah Connor. The idea is to thread together ideas from the previous movies to relaunch the story of a cyborg from the future sent back to prevent computers from gaining sentience and turning on humanity.
The Hollywood Reporter notes that Simmons' character has been following the case since 1984, which is the year in which the original Terminator, directed by James Cameron, was released.
Simmons has been a regular on the big screen for many years, but he recently returned to television starring in NBC's comedy "Growing Up Fisher" and recently co-starred in the Sundance award-winning drama Whiplash opposite Miles Teller, which will be released by Sony Pictures Classics. He can also be seen daily on TV in commercials for Farmers Insurance.
THURSDAY, MARCH 13, 2014
VERONICA MARS
When Rob Thomas and Kristen Bell embarked on their historic Kickstarter campaign, a lucky backer who donated $10,000 was promised a speaking role in the "Veronica Mars" film.
As fans prepare for the premiere of the film, hitting theaters on Friday (March 13), the scene featuring that lucky fan has found its way online. Turns out, there was more than one fan obsessed enough to donate $10K to get the film adaptation made. Too bad Thomas wasn't able to write more than one line for the lot of them.
Though, considering this is a Funny or Die joint, we're willing to bet the actual movie won't feature fifteen people offering Logan his check, one after the other. BEAUTY AND THE BEAST
"Beauty and the Beast" Season 2 may be on hiatus for now, but there are still more episodes ready to air in the summer of 2014. Why was Vincent arrested for murder? How will Catherine cope with this? Can the newly-reunited couple stay together?
A promo for the summer episodes gives some hints.
It does look like Vincent will not be spending too much time in police custody. Obviously the beast can break out of any prison, but is Vincent going to be so quick to give up his identity so soon after getting it back? Will Catherine go on the run with her lover?
And what does everyone else -- Gabe in particular -- feel about this turn of events.
We will have to wait to find out until the summer when "Beauty and the Beast" returns.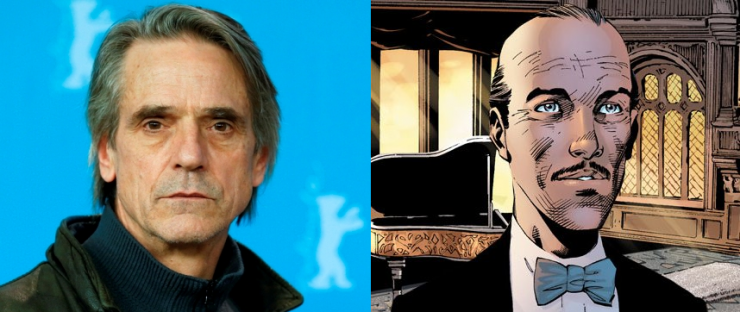 BATMAN/SUPERMAN NEWS
Esteemed British actor Jeremy Irons has spoken for the first time about playing Alfred in the upcoming Batman/Superman movie.
While two of the major casting choices in Batman vs. Superman (or Man of Steel 2, if you prefer) have proven controversial -- namely Ben Affleck as Batman and Jesse Eisenberg as Lex Luthor -- the news that Irons was going to follow in the movie footsteps of Michaels Gough and Caine as Bruce Wayne's loyal butler was greeted far more calmly.
Interviewed recently by Absolute Radio, Irons himself admitted that he wasn't entirely sure yet what his approach to the character would be:
"I don't know how my Alfred's going to be. I wait to see. We haven't started work yet. I'm going to be interested to see. The script isn't entirely finished, so it'll be as much a surprise for me as it is for you, probably."
On whether he was going to call Michael Caine for any tips, Irons said:
"Well, I've been watching him closely. He's a bit different from me, though."
The Oscar-winning actor was also asked what he thought about the casting of Affleck as the Dark Knight:
"I think it's a wonderful idea. He's a lovely man, very interesting actor...I'm looking forward to it. I'm looking forward to getting to know him. I've only met him once and I hope we have a good time."
Irons refused to divulge any other details, only noting that while he had read "a script," he didn't think it was the final version. That makes sense, given that the screenplay by David Goyer was recently turned over to Affleck's writer on Argo, Chris Terrio, for a rewrite. And with the recent decision to push the film's release back 10 months, we have a full two years before we find out how Irons stacks up against his predecessors. CRUSH WITH ARNOLD
He's battled Predators and travelled through time to destroy the savior of humanity in Terminator — and now he has a tank. And he wants you to help crush things.
An epic idea for a fundraiser birthed on Reddit has come to fruition via Arnold Schwarzenegger's awesomeness and the fact that he has his own tank. To help raise money for After-School All Stars, Ahnold has agreed to sell off a chance to hang out with him for a day. The video is an example of Ahnold crushing everything from birthday cakes to a DVD of Million Dollar Baby. Seriously.
What does the whole deal include? You get to ride around with Ahnold in his M47 Patton tank, crush things, smoke cigars and hit the gym. So basically you get to enjoy a typical day in the life of Arnold Schwarzenegger. The winner also gets airfare and accommodations to California.
Plus, if it were us, we'd also spend the whole day making him tell us stories about all his legendary sci-fi roles. Because that'd be almost as awesome as the tank. It costs 10 bucks to enter, and all proceeds go to charity, so go ahead and give it a shot.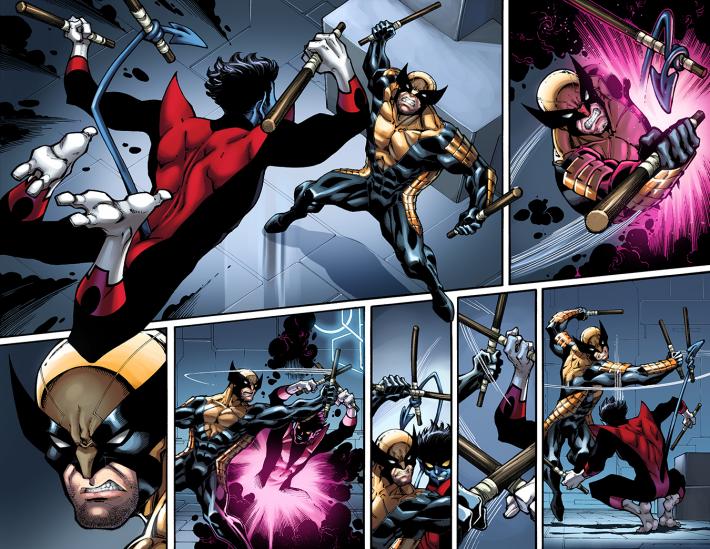 NIGHTCRAWLER COMING SOON
Kurt Wagner's got a second chance at life, and he gets to make the most of it with his own solo comic.
Nightcrawler's been a fan-favorite X-Man for nearly four decades now, but for nearly four years we didn't see much of him. The character met his end back in 2010 during the Second Coming event, sacrificing himself to save the "Mutant Messiah," Hope Summers. He finally made his way back from heaven (because of course he was in heaven) when Amazing X-Men launched back in November, and now he's ready to take on a world full of new challenges for mutantkind.
We're all happy to have Nightcrawler back in the Marvel universe, but Marvel announced earlier this year that they're giving us more than just a rebirth. As part of the company's ongoing All-New Marvel NOW! initiative, the character's getting his own ongoing solo series from artist Todd Nauck and legendary writer Chris Claremont, who made Nightcrawler an integral part of the X-Men comics during his monumental run on the X-books from 1975 to 1991. The book's due to drop in April, but if you just can't wait that long to get a peek, we've got a preview right here. Here's Marvel's synopsis:

"When Nightcrawler sacrificed his life to protect mutantkind, a hole was left in the X-Men's ranks that has never been filled. With his recent resurrection in the pages of Amazing X-Men, Kurt Wagner has returned to a world far different from the one he left behind. Charles Xavier is dead. Scott Summers is on the run. Even Wolverine, his closest friend, has changed, becoming the headmaster of the Jean Grey School for Higher Learning. And though a deep schism divides the X-Men, Kurt Wagner isn't going to waste one minute of his new lease on life.
"Now, Nightcrawler is hitting the road, eager to right some wrongs and help safeguard the future of mutantkind. And he's going to do it the only way he knows how: swashbuckling, lady-charming, and of course BAMFing!"

Nightcrawler #1 hits comic book stores on April 9. MARVEL UNIVERSE SPECIAL
Want to get a look at Agents of S.H.I.E.L.D.'s Deathlok going after a beloved team member, plus a promo for Avengers: Age of Ultron? Of course you do.
With a few blockbusters on the way, and a popular series on the airwaves, Marvel has put together an old-school TV special to get us up to speed on all the latest projects. Basically, it'll be a preview of all the cool stuff we'll be watching this summer. Fair enough.
Dubbed Marvel: Assembling a Universe, the new special includes a look at Captain America: Winter Soldier, Guardians of the Galaxy, Agents of S.H.I.E.L.D. and even the upcoming sequel Avengers: Age of Ultron. Not a bad lineup.
The trailer shows off some new Agents of S.H.I.E.L.D. footage, including J. August Richards' Deathlok, and a teaser for Age of Ultron. Though we're pretty well up to speed on Winter Soldier at this point, we're definitely looking forward to seeing more of James Gunn's deep-space epic Guardians of the Galaxy.
The special is set to air next Tuesday at 8 p.m. on ABC.

EXPLORERS REMAKE
A remake of director Joe Dante's 1985 science fiction adventure, Explorers, is on the way. The Hollywood Reporter today brings word that Paramount Pictures' Paramount Insurge is developing a new big screen version with Better Living Through Chemistry writer/directors Geoff Moore and Dave Posamentier attached to script.
The original Explorers followed a trio of children (including Ethan Hawke and River Phoenix in their big screen debuts) who build a spaceship in their back yard.
Josh Appelbaum and Andre Nemec, whose writing credits include Mission: Impossible - Ghost Protocol and the upcoming Teenage Mutant Ninja Turtles, are attached to produce.
WEDNESDAY, MARCH 12, 2014
TEEN WOLF
Death is coming to "Teen Wolf" Season 3. The upcoming episode "Insatiable" seems all but certain to be the one in which a major character dies. In the promo for the episode, attacks from both the Oni and the nogitsune make it clear that death is in the air.
And then Lydia screams. You know what the scream means, don't you?
Several people seem to be in the line of fire in "Insatiable." Real Stiles, of course, is still in mortal peril -- the nogitsune version of Stiles flat-out says that death is coming for him. The banshee whispers might be agreeing. Meanwhile, Oni attack Isaac, Kira and Allison at various points in the short video. An Oni attack is never a good sign for survival, after all.
It seems likely that Lydia does survive, despite her dangerous predicament -- unless a banshee screams for her own death too? If that's the case, all bets are off.
Interestingly, one major character is nowhere to be seen: Scott. Is he off helping the real Stiles survive? Is there another fight that "Teen Wolf" has not yet shown?
Whatever the case, "Insatiable" is sure to be a terrifying one when it airs Monday (March 17) at 10 p.m. ET/PT on MTV.

GOTHAM
The first full synopsis for Gotham has arrived, and it definitely sets the stage for what we can expect from Fox's upcoming Batman prequel.
The synopsis digs into the background of naive Detective James Gordon (Ben McKenzie) as he works his way into the underbelly to get a look at the crime and evil that lives in the heart of the big city. It promises shady politics, action and DC-tinged crime drama.
We can also glean how young Bruce Wayne (David Mazouz) will get to know Gordon, and it sounds like the idealistic detective will be a mentor for Bruce. That could be a nice, organic way to bring them together — assuming they can pull it off with any subtlety.
Fox has also dropped the first official artwork for the series, via the title bar you see below. Not surprisingly, it seems they're shooting for the dark and gritty style, and it definitely wouldn't be out of place promoting Batman Begins. If this series is half as good as Christopher Nolan's trilogy, we should be in good shape.
Check out the full synopsis below:
Everyone knows the name Commissioner Gordon. He is one of the crime world's greatest foes, a man whose reputation is synonymous with law and order. But what is known of Gordon's story and his rise from rookie detective to Police Commissioner? What did it take to navigate the multiple layers of corruption that secretly ruled Gotham City, the spawning ground of the world's most iconic villains? And what circumstances created them – the larger-than-life personas who would become Catwoman, The Penguin, The Riddler, Two-Face and The Joker?
"Gotham" is an origin story of the great DC Comics super villains and vigilantes, revealing an entirely new chapter that has never been told. From executive producer/writer Bruno Heller ("The Mentalist," "Rome"), "Gotham" follows one cop's rise through a dangerously corrupt city teetering on the edge of evil and chronicles the birth of one of the most popular super heroes of our time.
Growing up in Gotham City's surrounding suburbs, James Gordon (Ben McKenzie, "Southland," "The O.C.") romanticized the city as a glamorous and exciting metropolis where his late father once served as a successful district attorney. Now, two weeks into his new job as a Gotham City detective and engaged to his beloved fiancée, Barbara Kean (Erin Richards, Open Grave, "Breaking In"), Gordon is living his dream – even as he hopes to restore the city back to the pure version he remembers it was as a kid.
Brave, honest and ready to prove himself, the newly-minted detective is partnered with the brash, but shrewd police legend Harvey Bullock (Donal Logue, "Sons of Anarchy," "Terriers," "Vikings," "Copper"), as the two stumble upon the city's highest-profile case ever: the murder of local billionaires Thomas and Martha Wayne. At the scene of the crime, Gordon meets the sole survivor: the Waynes' hauntingly intense 12-year-old son, Bruce (David Mazouz, "Touch"), toward whom the young detective feels an inexplicable kinship. Moved by the boy's profound loss, Gordon vows to catch the killer.
As he navigates the often-underhanded politics of Gotham's criminal justice system, Gordon will confront imposing gang boss Fish Mooney (Jada Pinkett Smith, The Matrix films, "HawthoRNe," Collateral), and many of the characters who will become some of fiction's most renowned, enduring villains, including a teenaged Selina Kyle/the future Catwoman (acting newcomer Camren Bicondova) and Oswald Cobblepot/The Penguin (Robin Lord Taylor, "The Walking Dead," Another Earth).
Although the crime drama will follow Gordon's turbulent and singular rise through the Gotham City police department, led by Police Captain Sarah Essen (Zabryna Guevara, "Burn Notice"), it also will focus on the unlikely friendship Gordon forms with the young heir to the Wayne fortune, who is being raised by his unflappable butler, Alfred (Sean Pertwee, "Camelot," "Elementary"). It is a friendship that will last them all of their lives, playing a crucial role in helping the young boy eventually become the crusader he's destined to be. ) CAPTAIN AMERICA: THE WINTER SOLDIER
News from the Captain America: Winter Soldier camp is coming at us fast and furious leading up to its April 4 debut, with detailed hints at its post-credit scenes, character posters and an action-packed mission clip assaulting us from all angles. Now here's a second Marvel clip showing Captain America sprinting through walls, doors and cubicles to confront the Winter Soldier atop a roof.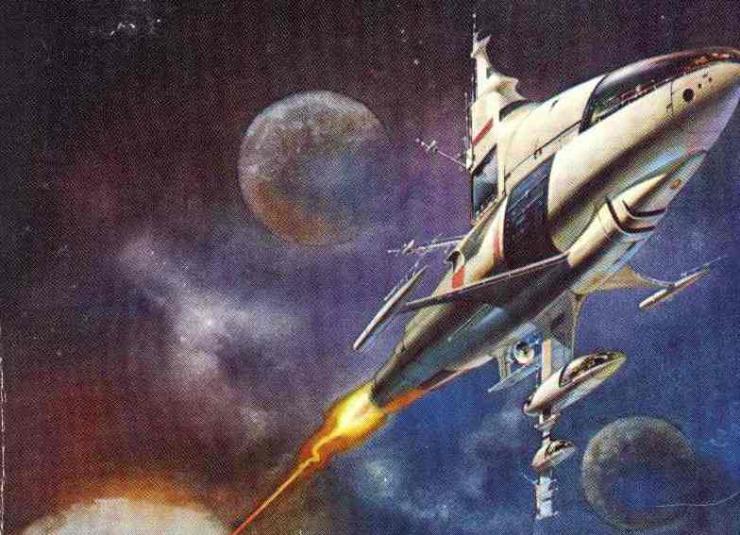 GATEWAY
One of genre author Frederik Pohl's best-known sci-fi novels is coming to the small screen, and it could make for one heck of a series.
Entertainment One Television (Hell on Wheels) and De Laurentiis Co. (Hannibal) are developing a series based on Pohl's 1977 novel Gateway, set on an abandoned alien space station that has since been taken over by humans. The novel has won a Hugo Award, a Locus Award, a Nebula Award and the John W. Campbell Memorial Award.
De Laurentiis noted that they went for television over a feature film because it "gives [them] the opportunity of exploring the rich world of the novel and the complexity of its characters." Producer Lorenzo De Maio described the project as a border town-type setting that's an "absolute, complete, desperate gamble with very high stakes."
Here's the synopsis via Deadline:
Gateway is set in the Heechee, a space station constructed by a long-vanished alien race, now inhabited by humans. It centers on Robinette "Rob" Broadhead, who, haunted by a dark love story, has traveled on a one-way ticket from Earth for the extremely dangerous mission of piloting one of thousands of abandoned alien spacecrafts on Gateway. The technology of these alien ships is not fully understood, with most trips resulting in death. The reward for a rare successful return, however, can be untold riches, so crews continue to sign up despite the desperate odds.
No word on a network yet, but eOne has ties with a lot of them, so it certainly has a good shot at making it. With the right execution, Gateway could make for one heck of a space opera. WAR OF THE WORLDS: GOLIATH
Here's a first clip with stills from the upcoming awesomeness of War of the Worlds: Goliath, a badass indie anime epic directed by Joe Pearson with the help of more than 300 artists, illustrators and animators in four countries. It gives the 19th-century sci-fi novel a distinctive steampunk twist with some brutal battle sequences against the murderous Martian tripods. The spotlight of the story are the 1200-foot-long, armored zepellin aircraft carriers that clog the skies, and the heroic heft of the allied's Goliath machine attempting to halt the voracious alien invasion.
Here's the official synopsis:
In a parallel universe, World War I is imminent as we follow the gripping story of human resistance fighters who march to battle against the second invasion of the Martians. In 1899, the Earth was attacked by ruthless invaders from the planet Mars. The Martians' 80 ft tall, heat-ray spewing, Tripod battle machines laid waste to the planet, but the invaders ultimately fell prey to Earth's tiny bacteria. Fifteen years later, Man has rebuilt his shattered world, in large part by utilizing captured Martian technology. Equipped with giant, steam-powered Tripod battle machines, the international rapid reaction force, is Mankind's first line of defense against the return of the rapacious Martian invaders. And return the Martians do. The rematch finds the multinational battle squad tripod "Goliath" on the front-lines of a vicious interplanetary offensive. This time the Martians are using even more advanced alien technology. In the crucible of combat, the young crew helming the mighty Goliath will be tested to the limits of their endurance and courage as they fight for Mankind's very survival under the onslaught of an implacable enemy.
War of the Worlds: Goliath features the vocal talents of Adrian Paul, Adam Baldwin and Peter Wingfield. It's currently out in a limited 3D theatrical run in Los Angeles and New York, then launches on DVD and Blu-ray via Walmart, Target, Best Buy and others on April 1. THE AMAZING SPIDER-MAN 2
New clips from The Amazing Spider-Man 2 have surfaced, originating from "Kellogg's The Amazing Spider-Man 2 Web-Slinging Game," and not only do they feature brand new footage from the upcoming sequel, but they're also narrated by Spider-Man co-creator Stan Lee!
Opening in theaters on May 2, the Marc Webb-directed sequel stars Andrew Garfield, Emma Stone, Jamie Foxx, Dane DeHaan, Campbell Scott, Embeth Davidtz, Colm Feore, Paul Giamatti, Sally Field and B.J. Novak.
TUESDAY, MARCH 11, 2014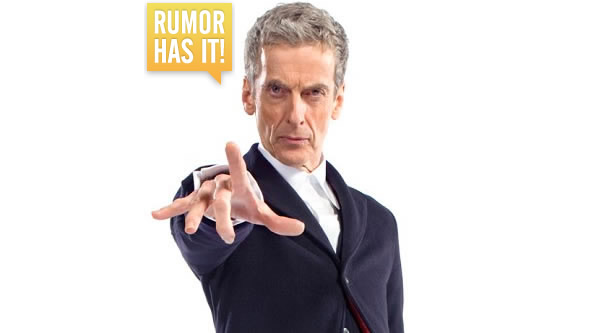 DOCTOR WHO NEWS
SPOILER WARNING: The following contains spoilers regarding a possible returning character in Season 8. Read at your own risk.
Is "Doctor Who" ready for the return of yet another Time Lord? According to a rumor, The Master will make his return to the series during Season 8, battling Peter Capaldi.
It all comes from Twitter, where an attendee at the Newcastle Film and Comic Con says he spoke to former Doctor Sylvester McCoy, and the actor revealed he knew who the new Master was. Naturally, as a Time Lord, the master can and does regenerate.
Another attendee says McCoy revealed the new Master will "be very scary," which is a good thing because he's a pretty terrifying being. Naturally, this isn't an official announcement and should be taken with a pinch of salt. McCoy could simply be having a little fun with the fans. FALLING SKIES
Tom and Anne's daughter is getting creepier by the moment. Since her conception, we knew something was up with the littlest member of the Mason clan. Last season, she went from being 2 months to roughly 6 years old over the course of a few episodes. It's clear that she's not an average child, and the latest promo proves that. The alien DNA is strong with this one.
In what looks like a flashback, Karen acknowledges, "In time she'll become just like me." That's unfortunate, because we all know how unstable Karen is. There's also the appearance of a bright-eyed, blond woman who reminds us of Daenerys from Game of Thrones. She seems to have awakened from an alien pod and tries to explain, "This is the only way. The better way." What does that mean?
We hope the new season fleshes out Anne's backstory. What really happened back there besides Alexis' unnatural growth spurt?
Falling Skies returns Sunday, June 22, on TNT.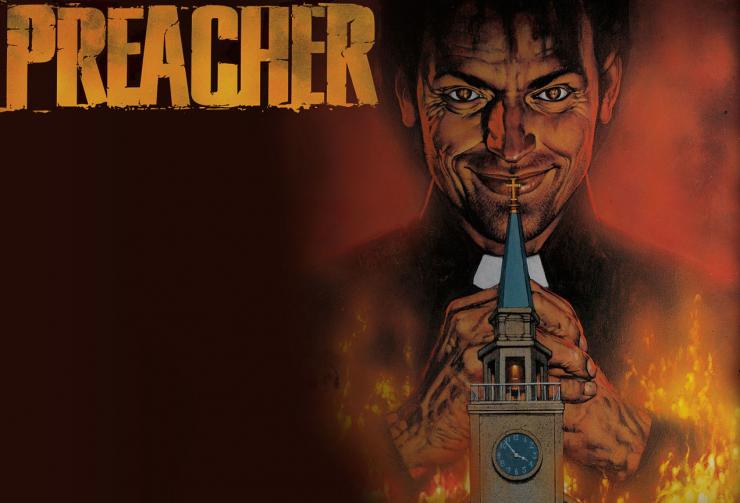 PREACHER
After more than a decade gestating in development, a TV series based on Garth Ennis' super-dark comic Preacher is finally happening. But they'll be tweaking a few things for the change of medium.
Producer Evan Goldberg talked with Collider at SXSW about the project, which is currently winding its way toward an eventual debut on AMC. Goldberg promised they'll be "as true to the comic" as possible, but noted a few structure changes will be needed to flesh out the story on the small screen.
Basically they'll be reordering some background and rejiggering some flashbacks, but they plan to keep the overall story and ending the same. Here's a excerpt where Goldberg discusses what he and collaborator Seth Rogen are up to behind closed doors:
"We just had a meeting with AMC and Garth Ennis, who's the writer, and we all kind of seemed to agree that we're gonna stay as true to the comic as we can. We need to change some stuff but we're not gonna change much, I hope. We're just gonna do a little more of the preamble instead of doing flashbacks and restructure how we dole out the information a little, but we're gonna [do the] same characters, same story, same ending. We're gonna try to stick to Preacher as best we can. We're making it with Sam Catlin who did Breaking Bad, and so he might tell me I'm wrong about all of this and that the real way to do it is different because he's much smarter and better at all this than I am. But we're gonna try to stick to what it is as best we can.
We're beyond excited, we've tried to make it for 10 years. The big difference is everyone else tried to make it a movie and it shouldn't be a movie. It should be an AMC show, that's the proper way for it to get done… It's too big; you can't do that in a movie. It's just too big. You've gotta learn the characters, it's all about a love triangle and you need to grow with them and see the woman swayed one way or the other, and in a movie you just can't accomplish all that."
It sounds like Goldberg really has a reverence for the comic but won't be so beholden to it that it affects the adaptation. If it turns out that way, it should make for one awesome compromise.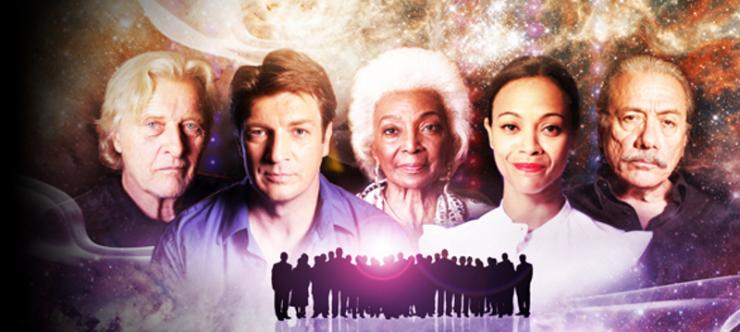 THE REAL HISTORY OF SCIENCE FICTION
The stateside home of the BBC just announced an ambitious new documentary series, and a horde of sci-fi legends are along for the ride.
Next month, BBC America will premiere a four-part documentary series titled The Real History of Science Fiction, which will chart the development of the genre we all know and love through four major concepts, the sci-fi stories that embody those concepts and the creators who told those stories. Here's the official synopsis from the network's website:
"The Real History of Science Fiction delves into the real history of science fiction with filmmakers, writers, actors, and graphic artists looking back on their experiences and on how their obsession and imagination has taken them into the unknown.
"From Star Wars to 2001: A Space Odyssey, and from Jurassic Park to Doctor Who, each program is packed with contributors behind these creations and traces the developments of Robots, Space, Invasion and Time. Narrated by Mark Gatiss, Doctor Who writer, actor and co-creator of the BBC's Sherlock, the series determines why science fiction is not merely a genre… for its audience it's a portal to a multi-verse – one that is all too easy to get lost in."
Having someone like Mark Gatiss to take us on this ride through sci-fi history might be enticing enough, but things get even more exciting when you see the truly massive list of stars who are contributing to this project in some way or other. So, who's on board? Take a look at this list of writers, directors and actors:
"Among those taking part are: William Shatner (Star Trek), Nathan Fillion (Firefly), Zoe Saldana (Avatar, Star Trek), Steven Moffat (Doctor Who), Richard Dreyfuss (Close Encounters of the Third Kind), Chris Carter (The X-Files), Ronald D Moore (Battlestar Galactica), John Landis (An American Werewolf in London, Schlock), David Tennant (Doctor Who), Christopher Lloyd (Back to the Future), Rutger Hauer (Blade Runner), John Carpenter (Dark Star, The Thing), Karen Gillan (Doctor Who), Neil Gaiman (The Sandman, Stardust), Kim Stanley Robinson (Mars Trilogy), Scott Bakula (Quantum Leap, Star Trek: Enterprise), Ursula K Le Guin (The Left Hand of Darkness), Syd Mead (Blade Runner), Kenny Baker (Star Wars), Anthony Daniels (Star Wars), Nichelle Nichols (Star Trek), Peter Weller (Robocop), Edward James Olmos (Blade Runner, Battlestar Galactica), and many more."
With that list, this went from intriguing documentary to star-packed must-watch fangasm. The stars are certainly not the only reason to watch, though. Sci-fi is a field that just keeps expanding, so it's always nice to get an in-depth refersher course, especially if it comes to us from this many greats of the genre.
The first episode of The Real History of Science Fiction, "Robots," will air Saturday, April 19, at 10/9C on BBC America, followed by the "Space" episode (April 26), the "Invasion" episode (May 3) and the "Time" episode (TBA). Hopefully we'll get a trailer for this potentially epic project soon.
MONDAY, MARCH 10, 2014
GAME OF THRONES
It's officially less than one month away from the "Game of Thrones" Season 4 premiere, and here's a little something to hold you over until then.
HBO dropped a brand-new trailer on Sunday (March 9) on the official Facebook page, and it's filled with epic footage of all the fan-favorite characters ... and the villains making their lives difficult.,br> It looks like Jon Snow, Wildlings hot on his trail, will finally learn of what has become of his family. "All that time I was gone ... the world's fallen apart," Jon says ominously.
And the Mother of Dragons is still on the warpath, dedicated to sitting on the Iron Throne, and has no desire to show mercy. "I will answer injustice with justice," she says, and judging by the size of her dragons, justice will coming soon.
"Game of Thrones" Season 4 premieres Sunday, April 6 at 9 p.m. ET on HBO. THE WALKING DEAD
AMC has released the first promo and clip for "The Walking Dead" episode 4.14, airing on Sunday, March 16 and titled "The Grove."
"The Grove" is described as follows: "After establishing a new shelter, the group considers things returning to the way they used to be."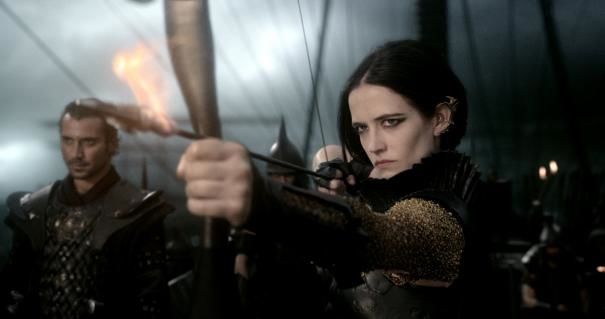 WEEKEND BOX OFFICE
Two new movies opened in wide release, one a prequel/sequel to a hit blockbuster from seven years back, the other the latest from DreamWorks Animation based on a cartoon from the '60s, and it may have not been too big a surprise that Legendary Pictures' 300: Rise of an Empire (Warner Bros.), starring Sullivan Stapleton, Eva Green and Lena Headey, was victorious this weekend as it grossed an estimated $45 million in 3,470 theaters, roughly $13 thousand per venue, to take the #1 spot at the box office. While that was significantly lower than the $70.9 million of Zack Snyder's original historic action epic from 2007, it was a solid enough debut to make it one of the top openers for March. The movie's success was helped by its release into 342 domestic IMAX 3D theaters where it brought in $6.8 million of its weekend business. The "300" follow-up also grossed $5.2 million on 179 international IMAX screens, setting a new international March record for the large-screen format.
Meanwhile, DreamWorks Animation tried their hand at bringing classic cartoon characters to modern-day family audiences with Mr. Peabody & Sherman (20th Century Fox), featuring the voices of Ty Burrell, Max Charles, Ariel Winter, Allison Janney, Stephen Colbert, Leslie Mann, Stanley Tucci and Patrick Warburton, but it was one of the animation studio's lighter openings with just $32.5 million in 3,934 theaters. Although DreamWorks Animation had a decent hit last March with The Croods, that opening number is still fairly low for them even if it's better than 2012's Rise of the Guardians and 2013's Turbo, two of the more notable bombs for the studio.
Before we get to the rest of the Top 10, we want to look at one of the significant limited releases of the weekend as Wes Anderson's The Grand Budapest Hotel (Fox Searchlight), featuring an ensemble cast that includes Ralph Fiennes, Tony Revolori, Saoirse Ronan, F. Murray Abraham, Adrien Brody, Willem Dafoe, Jeff Goldblum and more, opened in four theaters in New York and Los Angeles to the tune of $800 thousand. Its per-site average of $200 thousand per venue is one of the highest for that number of theaters, significantly besting the $130 thousand averaged by Anderson's last film Moonrise Kingdom in May 2015. Moonrise Kingdom went on to become one of Anderson's highest-grossing hits with $45 million. "Grand Budapest" also averaged more per-theater than Paul Thomas Anderson's The Master, which previously held the record in that many theaters for a non-Disney movie.
Liam Neeson's action-thriller Non-Stop (Universal) dropped 47% to third place with $15.4 million in its second weekend to bring its total to $52.2 million, just slightly more than its reported production budget.
The animated blockbuster The LEGO Movie (Warner Bros.) took its biggest hit since opening in early February, dropping 47% to fourth place with $11 million and $225 million grossed domestically so far.
The Mark Burnett and Roma Downey-produced Son of God (20th Century Fox) took an even bigger hit in its second weekend, dropping 61% down to fifth place with $10 million and $41.5 million total.
George Clooney's WWII drama The Monuments Men (Sony) followed in sixth place with $3.1 million and $70.6 million total with Kevin Costner's action-thriller 3 Days to Kill (Relativity) and Walt Disney's animated musical Frozen vying for seventh and eighth with $3 million each. While 3 Days to Kill will drop at least three places from last weekend, Frozen is looking to hold its position, allowing it to maintain its astounding run in the Top 10 with $393 million grossed domestically and another $616 million overseas.
After winning the Academy Award for Best Picture last Sunday, Steve McQueen's 12 Years a Slave (Fox Searchlight) was re-expanded into 654 more theaters on Friday, allowing it to get back into the Top 10 with $2.2 million in ninth place, despite its DVD and Blu-ray release earlier in the week.
This weekend, the Top 10 grossed approximately $127 million, just slightly ahead of the same weekend last year when Sam Raimi's Oz The Great and Powerful opened in first place with $79.1 million.
SUNDAY, MARCH 9, 2014
24
The new "24" miniseries event is almost here, and the famous clock will start ticking again in May.
If you can't wait that long to get your fix of Jack Bauer (Kiefer Sutherland), then check out this promo FOX released on Friday (March 7) for the new season. The footage is chock full of intense, pulse-pounding action that "24" is known for. Plus, there's the added high-stakes of Bauer being judged as a traitor to the very country he's saved time and time again. "There's no going home for me," he says ominously.
"24: Live Another Day" premieres May 5 on FOX.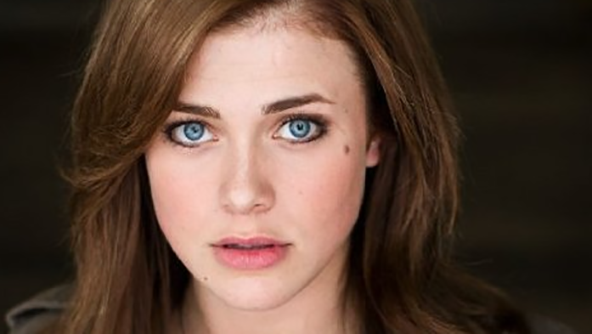 SUPERNATURAL: BLOODLINES
"Supernatural" fans, here's some major news about the upcoming spinoff pilot "Supernatural: Tribes" -- it's getting a name change!
The potential new series is now called "Supernatural: Bloodlines," a title much more fitting for the project about five mafia-like monster families who run the evil underworld of Chicago. The families are being tracked by a new hunter, Ennis, who's trying to stop them and rid Chicago of all things supernatural, spurred by a personal tragedy that propelled him to learn the truth about monsters and hunting.
"Supernatural: Bloodlines" will air its backdoor pilot on Tuesday, April 29 as an episode of its parent, long-running CW series "Supernatural."
The pilot has also just finished casting its series regulars, as Melissa Roxburgh has landed the role of Violet Durant, TVLine reports. She is a member of a powerful werewolf pack and hides her true nature because of her forbidden love for family rival David ("The Vampire Diaries" star Nathaniel Bozulic), who is a part of the shapeshifter family. Roxburgh has previously appeared on parent series "Supernatural" in the Season 7 episode, "Time After Time," as well as "Arrow" as Thea's friend.
Along with Roxburgh and Buzolic, "Supernatural: Bloodlines" will star Danielle Savre as shapeshifter Margo Hayden, Sean Faris as werewolf Julian Durant, Lucien Laviscount as police academy trainee/new hunter Ennis Roth and Stephen Martines as "world-weary" detective Freddie Costa.

AGENTS OF S.H.I.E.L.D.
We got to see Lady Sif's arrival on Earth in an earlier clip today and now ABC and Marvel have released a second clip from the next episode of "Marvel's Agents of S.H.I.E.L.D." (via The Huffington Post). In it, Lorelei (played by Elena Satine) ditches the newlywed man she had just enslaved for a biker gang.
"Marvel's Agents of S.H.I.E.L.D." airs Tuesday at 8 p.m. EST on ABC.
SATURDAY, MARCH 8, 2014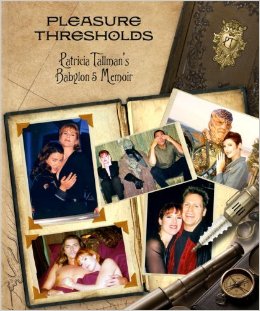 PLEASURE THRESHOLDS
"We are thrilled to announce Pat Tallman's book Pleasure Thresholds is finally available on Amazon! Amazon link.

The Ultimate Insider's Experience of Babylon 5: A behind-the-scenes peek into Patricia Tallman's life during her "B5 Years." A candid (and occasionally spicy) memoir told through print, video and audio. Pleasure Thresholds is a behind the scenes look at Patricia Tallman's life during the 5 years she spent shooting the hit science fiction series Babylon 5. An actress and stunt woman, Tallman recounts the deeply personal details of her life working on Babylon5, Star Trek:TNG, Deep Space Nine and films such as Jurassic Park ( as Laura Dern's stunt double). Autographed by Pat Tallman and J. Michael Straczynski . Can be personalized! Also available for overseas sales. Message us here: Pattallmannewsletter@gmail.com for shipping rates for non USA purchase. Thank you!"

DELIVER US FROM EVIL
When, in the whole history of horror cinema, has it ever been wise to peek under the bed in a dark room? Exactly. But it's still an effective scare no matter how you slice it.
Supposedly inspired by real-life events, Deliver Us From Evil, was adapted from the 2001 cult novel Beware The Night by Ralph Sarchie. Sarchie, a veteran of the NYPD's 46th Precinct in South Bronx, chronicled evil doings based on his actual otherworldy police cases and occult investigations.
Billed as "The Terrifying True Story Of Demonic Possession And Exorcism In A City Under Diabolical Siege," the book has gone on in geek realms to gain notoriety as a pretty scary read. This adaptation, directed by Sinister's Scott Derrickson and starring Eric Bana, Edgar Ramirez, Olivia Munn and Joel McHale, looks devilishly cool!
Here's the synopsis:
In DELIVER US FROM EVIL, New York police officer Ralph Sarchie (Eric Bana), struggling with his own personal issues, begins investigating a series of disturbing and inexplicable crimes. He joins forces with an unconventional priest (Edgar Ramírez), schooled in the rituals of exorcism, to combat the frightening and demonic possessions that are terrorizing their city. Inspired by the book, which details Sarchie's bone-chilling real-life cases.
Deliver Us From Evil strikes theaters on July 2, 2014.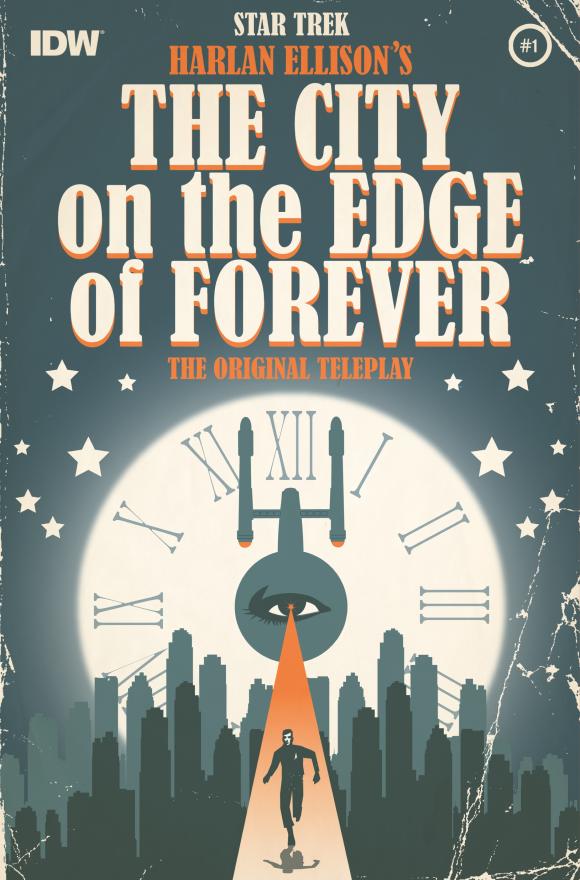 CITY ON THE EDGE OF FOREVER>
Nearly 50 years after it was written, the most famous unproduced Star Trek script of all time is finally being adapted.
In June 1966, legendary genre writer Harlan Ellison submitted a teleplay for what would become a landmark Star Trek episode: "The City on the Edge of Forever." Ellison's tale of the Enterprise crew traveling through a time vortex and fighting to prevent a very different future for the entire universe has since become the stuff of legend among Trek fans, and the teleplay went on to win both the Hugo Award for Best Dramatic Presentation and the Writers Guild of America Award for best hour-long script. One thing the teleplay didn't earn, though, was a spot on television. Because of both the subject matter and the cost of shooting Ellison's teleplay, it was rewritten by other members of the Star Trek production team, including Gene Roddenberry.
Though Ellison wasn't happy with the rewrites (he considered changing his name in the credits to a pseudonym), the filmed version of "The City on the Edge of Forever" became a classic and is today revered as one of the greatest Star Trek episodes ever made. Ellison's original teleplay didn't just vanish, though. It took on a life of its own, and was exposed to a new generation of fans when Ellison released it in book form in 1995. Now, at last, we'll see Ellison's version of the story play out before our very eyes, not on the screen but in the pages of a new miniseries from IDW Comics by writers Scott and David Tipton and artist J.K. Woodward, the same creative team who recently brought us the awesome Star Trek: TNG/Doctor Who crossover series. Covers for the miniseries will be done by artist Juan Ortiz, who you may know for his quest to create brilliant prints for every original series episode.
For more details on this dream Star Trek project, we reached out to Scott Tipton, who noted that the creative team's first priority in adaptating Ellison's original June 1966 draft of the episode was remaining as faithful to that teleplay as possible.
"Our goal here is to present Harlan's story as he originally envisioned it, and as if viewers could have seen it back in 1966," Tipton said. "So that directive trumps all other considerations in our minds.
"It's all about the work. And besides, though many fans know that Harlan's original differed drastically from the filmed episode, I'd wager that not quite as many of them have ever actually had the opportunity to read it. And even for those who have, it's one thing to read Harlan's descriptions in the teleplay, and quite another to see how J.K. Woodward brings those descriptions to the canvas with paint and color. I'm confident it will feel fresh and exciting even to those who know Harlan's teleplay by heart."
The project's also involved not only working closely with Ellison's teleplay, but working with Ellison himself.
"Harlan is overseeing everything we're doing, and at the same time he's been remarkably open about us interpreting his work, trusting us to make the right decisions where necessary in transitioning the material from television to the comics page," Tipton said.
For his part, Ellison's both happy to be working on a Star Trek project again and happy that his original vision is finally coming to light as something more than a teleplay.
"It was a superlative joy of my long life to have worked with Leonard Nimoy, who became my friend, and many others at Star Trek; and an equally heart-happy joy to be working with J.K. and the Tipton Bros. and (IDW Editor-In-Chief) Chris Ryall on this long-awaited visual of my (humbly, I say it) brilliant original 'City…'," Ellison said in a press release from IDW.
So, at long last, the original "The City on the Edge of Forever" story is getting new life. It may be in your comic shop instead of on your television, but the fact that the project is happening at all is a testament to the power of the story, as Tipton noted when asked why the original teleplay has survived so long.
"I think it's a couple of things: the fact that the final produced episode is so beloved, which makes people want more of it, which they can get by reading Harlan's original draft," he said. "And also, not to put too fine a point on it, it's the words on the page. Harlan's voice is like no other in fiction, and we're working hard to retain all of that flavor in the comics adaptation."
The first issue of Harlan Ellison's The City on the Edge of Forever: The Original Teleplay hits comics shops in June.
FRIDAY, MARCH 7, 2014
CAPTAIN AMERICA: THE WINTER SOLDIER
Marvel has released four minutes of footage from Captain America: The Winter Soldier. It includes an action scene from the film's opening that features Cap, Black Widow and Brock Rumlow, better known as Crossbones. The trio leads a group of soldiers onto the hijacked deck of a cargo ship.
Their objective is clear, and Captain America is very comfortable in his leadership role. He dishes out orders and his team listens without any backtalk (no Tony Starks here). The scene also set up the dynamic between Cap and Black Widow outside of their jobs. She attempts to set him up on dates, while he chooses to focus on his work.
Both characters have a lot more personality than what we've seen in the past. It's a welcome change of pace, especially for Black Widow. Check out the following clip and keep your eyes peeled for a cameo by MMA superstar Georges St. Pierre.
Captain America: The Winter Soldier opens in theaters April 4.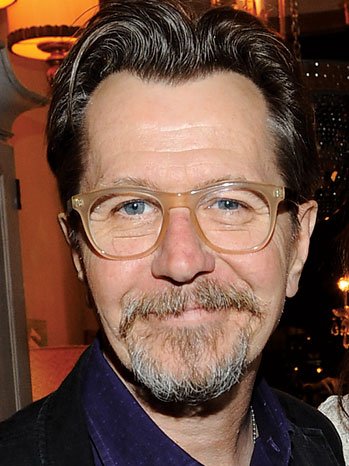 THE DIABOLIC
After helping Christian Bale's Batman defend Gotham City as Commissioner Gordon for the Dark Knight trilogy, Gary Oldman is eyeing TV for his next genre project.
The prolific Oldman (Dark Knight, Fifth Element) is no stranger to sci-fi, and he'll be dipping into supernatural drama with his new TV series The Diabolic, which is described as a highly serialized horror drama series. Oldman is only attached as a producer at this point, but it's certainly possible he could star in the project.
As for the storyline, Deadline reports that the series would follow "a broken but brilliant exorcist who falls in love with a single mother with a young son possessed by an ancient entity with diabolic intentions that not only threaten the boy, but the very fate of mankind." Personal drama, intertwined with supernatural horror? Yeah, that could be fun.
This definitely sounds like it could be a cool starring vehicle for Oldman, especially since he's teaming up with his old production partner Douglas Urbanski (The Contender) for the series. Fingers crossed. The project is being developed by distributor Entertainment One, and there's no word yet on which network (or streaming service) this one could eventually wind up calling home.
TUESDAY, MARCH 4, 2014
DOCTOR WHO
You know those Facebook anniversary videos? Yeah, the Doctor's is way cooler than yours.
There's a Facebook video out there documenting the life of the Doctor. And you might be saying, "But that can't be. Doctor Who came out in 1963, which is way before Facebook was invented." Well, as the Whovians say, wibbly-wobbly, et cetera. Or, alternately, as the MST3K-ers say, "Just repeat to yourself, it's just a show, I should really just relax."
I can't lie, there's something actually kind of touching about this silly notion of the Doctor using Facebook. If you were a former companion, it would be a great way to keep abreast of what he's up to. Of course, you risk the chance that you'll see a picture of yourself doing something you haven't actually done yet. That's time traveling on Facebook for you, though.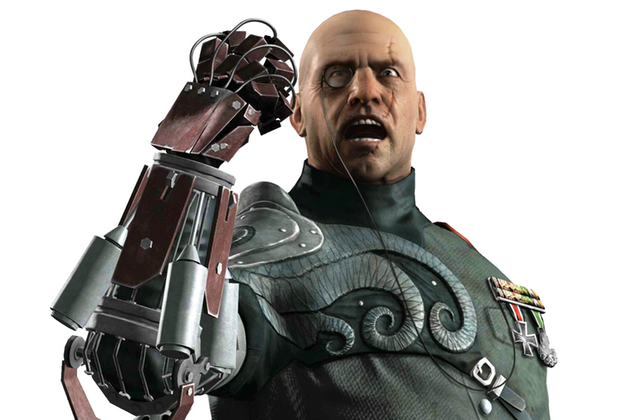 AVENGERS: AGE OF ULTRON
One of the latest additions to Marvel Studios' growing big-screen rogues gallery may appear in more than just Avengers: Age of Ultron.
Marvel fans were delighted to hear that German actor Thomas Kretschmann (King Kong, NBC's Dracula) had been signed to play Baron Wolfgang von Strucker in The Avengers: Age of Ultron, with the former Nazi officer and HYDRA leader having a long history (first appearance: Sgt. Fury and his Howling Commandos #5 in 1964) as a foe of the Avengers, S.H.I.E.L.D. and the forces of good in general.
But, while the Baron doesn't figure to have a very large role in the Avengers sequel (it's rumored that he'll show up in an opening action/battle sequence), there may be more for Strucker to do in the future. Kretschmann told B.Z. Berlin:
"I have a multi-picture deal which means I will not only appear in (Age of Ultron), but they're planning with me for a longer period of time. I don't know details yet, they're keeping their cards close to their chest -- top secret!"
As always with the Marvel Cinematic Universe, the possibilities are intriguing. Kretschmann seemed to indicate in the same interview that he has already filmed something with Avengers writer/director Joss Whedon, which could mean either a post-credits tag for Captain America: The Winter Soldier -- connecting that film to Age of Ultron -- or even a tag for Age of Ultron itself, which could set up Strucker to return in a presumed Captain America 3. Certainly the character's history would allow for him to easily leap into a future Cap standalone movie.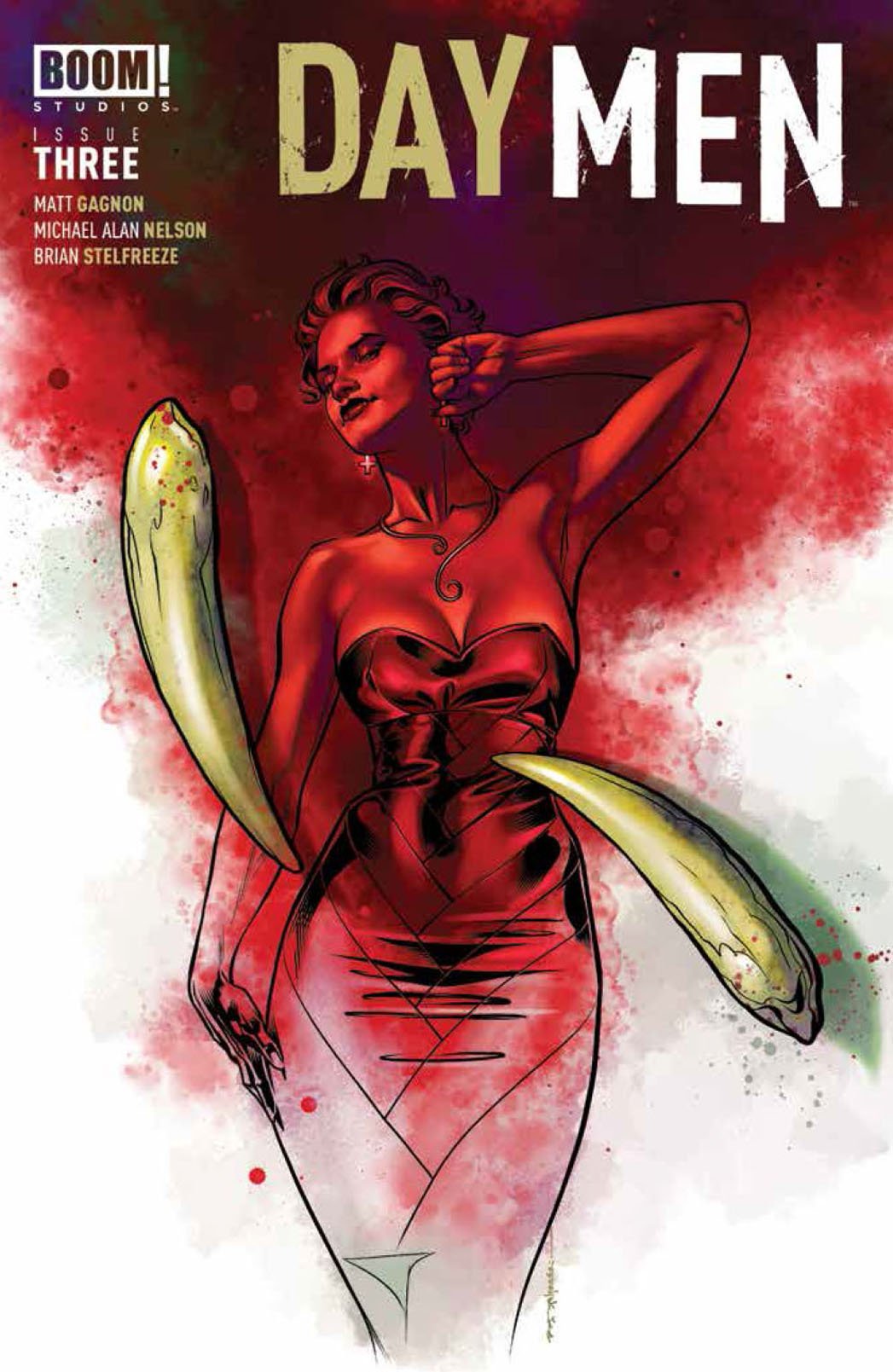 DAY MEN
One of the hotter independent comics out there is Boom! Studios' Day Men.
The book, written by Matt Gagnon with art by Brian Stelfreeze, is a unique take on the seemingly undying vampire genre: It tells the story of the men who handle the affairs of vampires while the sun is out and the bloodsuckers are napping.
The first issue sold out of its initial 12,000-copy first printing and generated Hollywood interest, with Universal picking up the movie rights. The second issue also went to a second printing; Wednesday sees the arrival of the third issue.
Gagnon came up with the idea for Day Men about four years ago when he wanted to tell a vampire story from a human point of view. When he crossed the concept with another genre he liked, crime, and the idea of vampire clans being like Mafia families, it clicked. "I started thinking, 'Who cleans up for them during the day?' and 'What kind of person do you have to be to take on this position?' " says Gagnon.
The hardest part of the process was the actual writing: Gagnon also is Boom!'s editor-in-chief and his busy day job forces him to write on weekends or early in the morning.
Day Men is part of the creator-owned renaissance that is invigorating the comics industry, a renaissance that is seeing a lot of books with fresh ideas and original concepts being not only published but thriving, with some books' buzz rivaling that of the titles coming out of the Big Two, DC and Marvel.
You can thank Image -- with titles like Saga, Pretty Deadly and perennial best-seller The Walking Dead -- for much of the buzz, but Boom! has been no slouch, thanks to books like Six-Gun Gorilla and Day Men.
"There's a real hunger right now for things that are new," says Gagnon.
To read more of the issue, go to The Hollywood Reporter.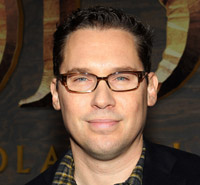 BATTLE CREEK
Announced last September, "Battle Creek," the upcoming AMC series from "Breaking Bad" creator Vince Gilligan, has, according to Deadline, found a pilot helmer in Bryan Singer (The Usual Suspects, X-Men).
A contemporary detective drama, "Battle Creek" is set for a full first season order. "House" creator David Shore will serve as showrunner, executive producing alongside Gilligan and Mark Johnson. Singer also directed Shore's "House" pilot.
Set in Battle Creek, Michigan, the series pairs two detectives with wildly disparate personalities. That's somewhat familiar territory for Gilligan, who launched his television career as a writer, director and producer on "The X-Files."
"Battle Creek" was initially pitched by Gilligan as a series in 2002, but did not move forward at that time. Now, Sony Pictures TV is set to produce alongside CBS TV Studios.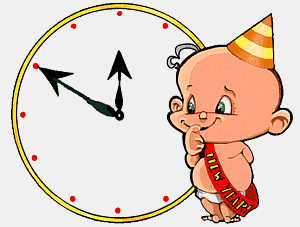 MONDAY, MARCH 3, 2014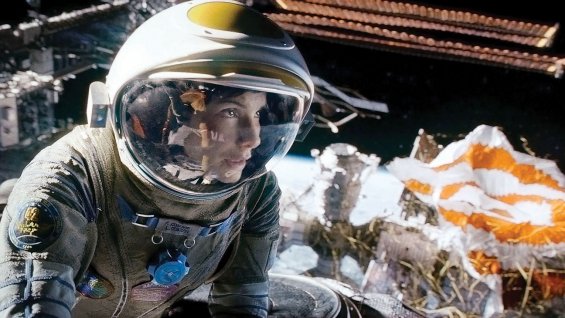 GRAVITY - BIG OSCAR WINNER
It was a big night for Gravity's artisans, who collected most of the Oscars in the crafts categories after a season during which the film effectively became the poster child for collaborative filmmaking.
Before accepting the Oscar for best director, Gravity's helmer Alfonso Cuaron picked up his first Academy Award in film editing, which he shared with co-editor Mark Sanger. Cuaron's longtime friend, director of photography Emmanuel "Chivo" Lubezki, won his first Oscar in cinematography. He had five prior nominations for The Tree of Life, Children of Men, The New World, Sleepy Hollow and A Little Princess.
The VFX Oscar was awarded to VFX supervisor Tim Webber, Chris Lawrence, David Shirk and Neil Corbould. The film's lead VFX house was London-headquartered Framestore. This was the second Oscar for Corbould, who previously won for Gladiator.
Gravity also collected Academy Awards in sound mixing and sound editing. It was the second Oscar for production mixer Chris Munro, who previously won for Black Hawk Down and was additionally nominated this year for Captain Phillips. The mixing team also included Skip Lievsay, who earned his fifth and sixth nominations this year for Gravity and Inside Llewyn Davis; and first time nominees Niv Adiri and Christopher Benstead.
The Oscar for sound editing went to Glenn Freemantle; this was his second nomination and first Oscar. He was previously nominated for sound editing on Slumdog Millionaire.
Additionally, composer Steven Price won his first Oscar for best score for Gravity. It was also a big night for double winner Catherine Martin, who won her third and fourth Oscars for costume and production design for her husband Baz Luhrmann's The Great Gatsby. She previously won the same two categories for Luhrmann's Moulin Rouge. Also winning an Oscar in production design was set decorator Beverley Dunn.
Adruitha Lee and Robin Mathews won their first Oscar for hair and makeup for Dallas Buyers Club.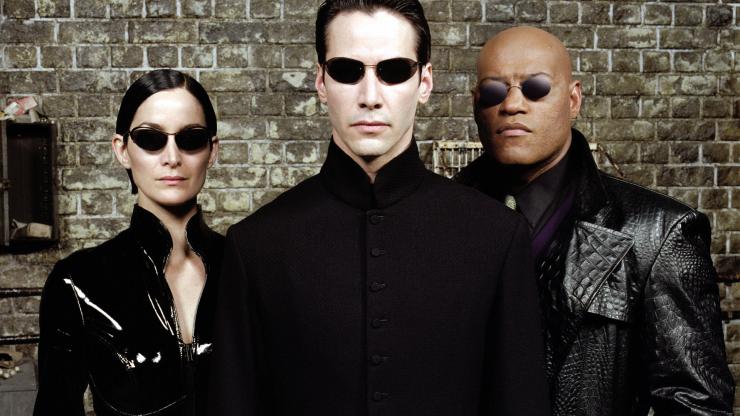 THE MATRIX
Ten years after Keanu "Whoa" Reeves battled robots for the soul of mankind, it sounds like Warner Bros. and the Wachowskis could be prepping a wide scale return to the Matrix-verse.
Latino Review is reporting a rumor that the studio is collaborating with the Wachowskis to bring the series back to life in an effort to cash in on the monumental amount of sci-fi cachet they believe the franchise still carries.
The project is apparently a potential prequel trilogy (though the pitch is still "very fluid") written and possibly directed by the Wachowskis, with an eye toward a 2017 launch for the first film. Considering the Wachowskis haven't had a sure-fire box office hit since back in The Matrix days, it makes at least some sense that they might be open to it.
The report claims the project is still in the very early stages, so take it with a heaping grain of salt, but let's be honest — it's only a matter of time before the studio finds a way to get that franchise back into the public consciousness. With everything from Star Wars to Independence Day poised to make a comeback over the next few years, it's only logical that a sci-fi franchise as big as The Matrix would get its day back in the sun.
Of course, this begs the question: What would it actually be about? There's no telling, but one idea is that it could follow the events that led to the machines taking control, or just tell a story about a previous "One" who came before Neo. Or heck, maybe even bring Keanu Reeves back for a sequel.
You also have to wonder if fans will even be apt to pick up a new run of Matrix films after the critically uneven final two installments Matrix Reloaded and Matrix Revolutions. Just look at the box office numbers: The franchise peaked in the middle with Reloaded and its huge $742 million box office haul, then crashed back down to Matrix-level numbers with Revolutions' $427 million. Still a lot of cash, obviously, but it seems interest might've been starting to wane by the end.
SUNDAY, MARCH 2, 2014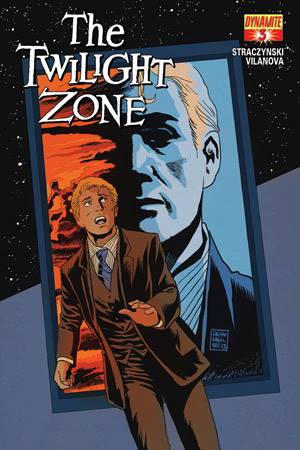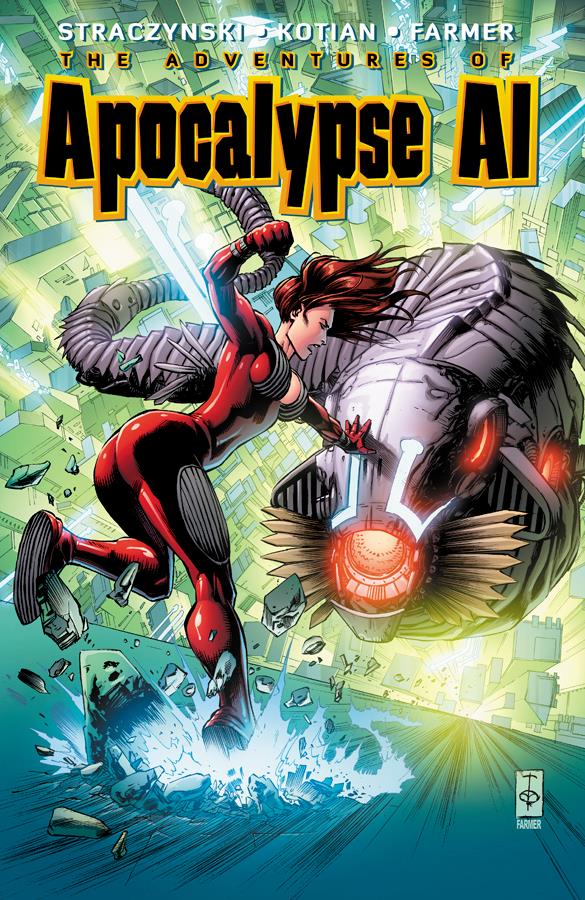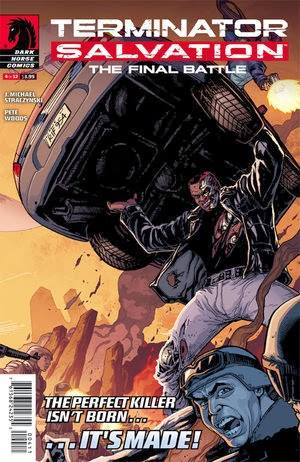 TWILIGHT ZONE-TERMINATOR-APOCALYPSE AL
An update from JMS:
Big comics week, three titles all coming out next Wednesday: Twilight Zone issue 3/act three; Terminator Final Battle 4; and The Adventures of Apocalypse Al #2 (28 uninterrupted pages of story AND a preview of Dream Police for the same great price).
Really happy with how all three of these came out; TZ 3 brings forth someone to root for in the story as we learn who has inherited Trevor Richmond's life; T4 at last reveals the reason for the mysterious manhunt and for the first time anywhere shows us the events of the Terminator universe from Skynet's perspective; and AA2 takes Al into the cybervoid, the hutch of a technowizard obsessed with women's clothing, and a shootout with three inch tall green imps.
In short...something for everyone.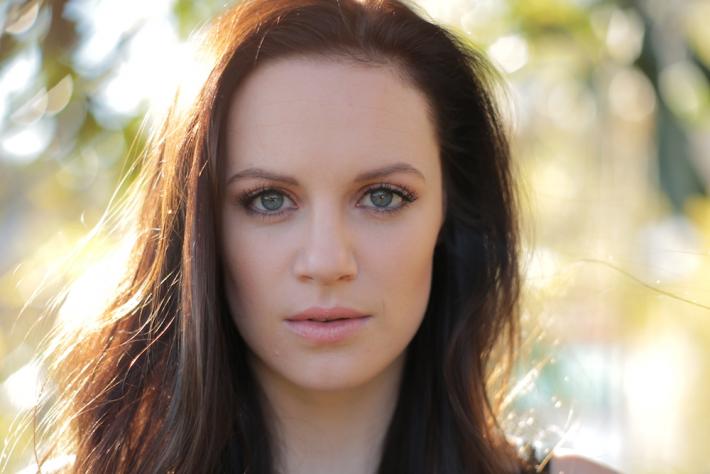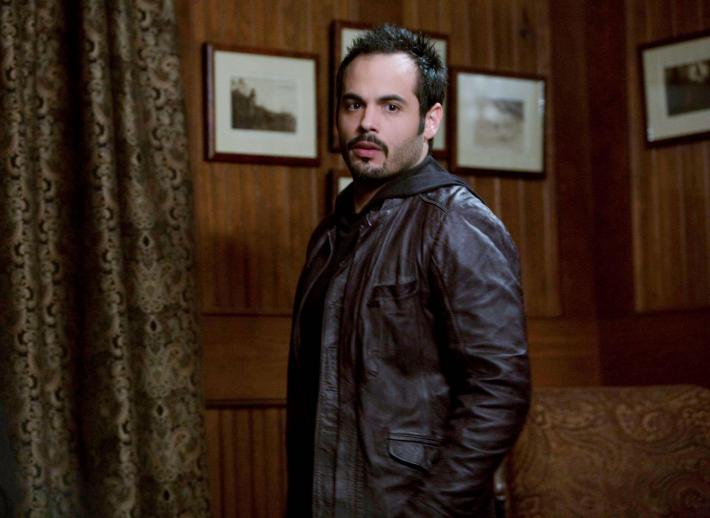 TRIBES
The cast is still coming together for The CW's Supernatural spinoff, and now we know who will play Tribes' leading lady, as well as a troubled cop who gets tied up in the seedy, monster-filled Chicago underbelly.
Danielle Savre (Heroes) has joined the series as the shapeshifter Margo, the acting head of a major shapeshifter clan. According to TV Line, she is an "ex-punk rocker-turned-corporate professional who feels threatened only by the return of her prodigal brother David (played by Nathaniel Buzolic, The Originals)."
The show has also added Stephen Martines (Burn Notice, The Vampire Diaries) as Detective Freddie Costa, a "world-weary" Chicago cop who is working with a hunter. But, in a (hopefully) nice twist, he's also secretly on the take to one of the monster families.
Savre and Martines join Lucien Laviscount, Nathaniel Buzolic and Sean Faris as major stars in the proposed series. The spinoff will be introduced in the April 29 episode of Supernatural via a backdoor pilot, and all these folks will apparently show up at that point.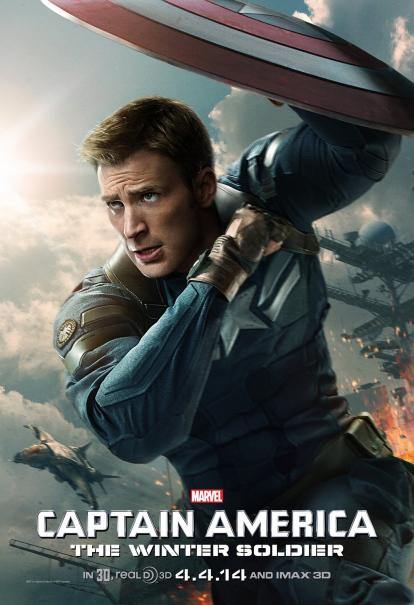 CAPTAIN AMERICA: WINTER SOLDIER
Walt Disney Pictures and Marvel Studios released a new poster for Captain America: The Winter Soldier today with a mysterious tease that read - "Hey, Cap fans - check back soon for an exciting announcement!"
Opening internationally starting on March 26 and in North America on April 4, the sequel stars Chris Evans, Scarlett Johansson, Samuel L. Jackson, Robert Redford, Sebastian Stan, Anthony Mackie, Cobie Smulders, Frank Grillo, Georges St-Pierre, Hayley Atwell, Toby Jones, Emily VanCamp and Maximiliano Hernández.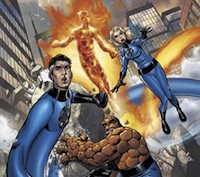 FANTASTIC FOUR
With a production set to begin next month, and the cast finally assembled, the pieces are starting to fall into place for Fox's upcoming reboot of The Fantastic Four, but there are still a few mysteries. Many rumors have pointed to radical alterations of the characters' origins, and while the filmmakers have debunked some of them, fans remain skeptical about what lies ahead for the future of the franchise. Get ready for more fuel on that fire though, as producer Matthew Vaughn had some interesting words about the film with Empire magazine (thanks to SuperHeroHype Forums user 'TheOneWhoKnocks' for the quote).
"It's a total reboot, that's for sure," he told the publication. "It's got nothing to do with the other bloody ones. It's not stretchy guy and a guy running around in rock that looks like it's made polystyrene. And its not a comedy."
The film having no relation to the previous "Fantastic Four" movies is no surprise, but Vaughn's comments are definitely eyebrow raising, particularly the "it's not a stretchy guy" portion, which refers to Reed Richards, aka Mr. Fantastic's sole super power.
The recently confirmed cast for the film will include Miles Teller as Mr. Fantastic, Kate Mara as Sue Storm, Michael B. Jordan as Johnny Storm, and Jamie Bell as Ben Grimm. Josh Trank will direct the big screen adaptation from a screenplay by Simon Kinberg. The Fantastic Four is currently set for a release on June 19, 2015?.
SATURDAY, MARCH 1, 2014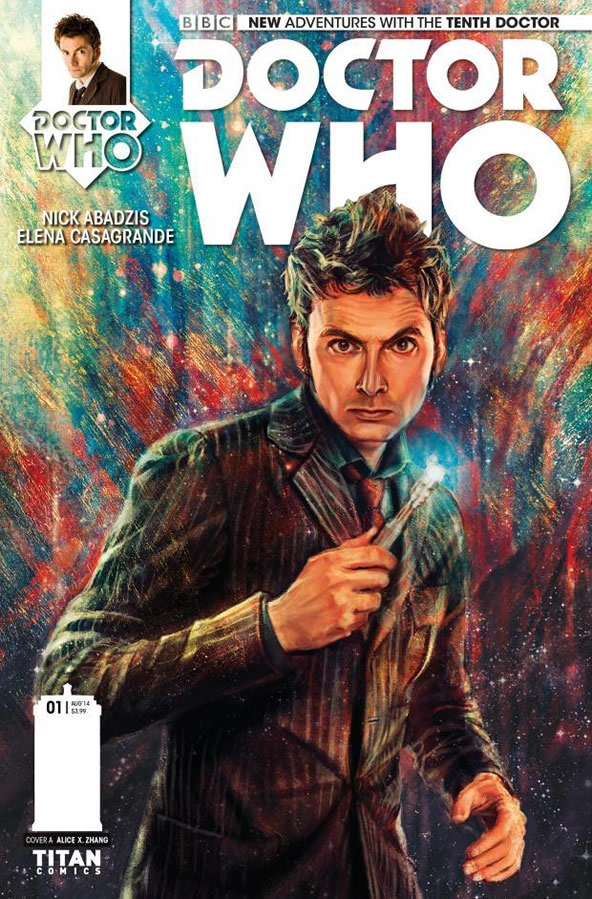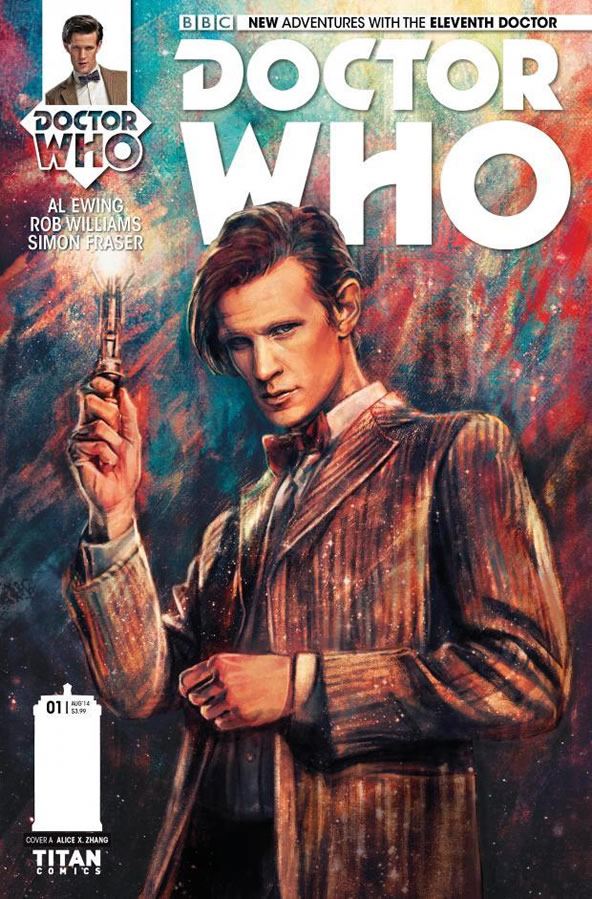 DOCTOR WHO COMICS
Matt Smith and David Tennant's Doctors live on, even if you won't see them in brand new episodes of "Doctor Who." The BBC has debuted the covers to the first issues of the 10th and 11th Doctor comic books being released by Titan.
Both covers are by artist Alice X. Zhang, and they're very nice to look at. Along with the covers, the creative teams were also announced. The first five-issue arc for of the 10th Doctor series will be written by Nick Abadzis and drawn by Elena Casagrande. The 11th Doctor will have Al Ewing and Rob Williams as writers, with Simon Fraser providing the art.
The first issues for both issues hit comic book stores on July 23.

JUPITER ASCENDING
A new trailer has arrived for the Wachowskis' new sci-fi epic Jupiter Ascending, and it just keeps getting weirder. In a good way.
The new trailer is an international cut, and it shows that the Matrix creators haven't lost their touch for weird, ambitious science fiction. This one looks like it'll be a nice spiritual successor to Cloud Atlas, and it promises to be a legit deep-space adventure.
We get to see some more action from Channing Tatum's alien-wolf-albino character as he heads to earth to retrieve Mila Kunis' character so she can fulfill her destiny in the stars. The Japanese version of the trailer includes some different beats from the U.S. version, and we're definitely curious to see more.
Here's the synopsis:
Jupiter Jones (Kunis) was born under a night sky, with signs predicting that she was destined for great things. Now grown, Jupiter dreams of the stars but wakes up to the cold reality of a job cleaning other people's houses and an endless run of bad breaks. Only when Caine (Tatum), a genetically engineered ex-military hunter, arrives on Earth to track her down does Jupiter begin to glimpse the fate that has been waiting for her all along—her genetic signature marks her as next in line for an extraordinary inheritance that could alter the balance of the cosmos.
Jupiter Ascending opens July 18.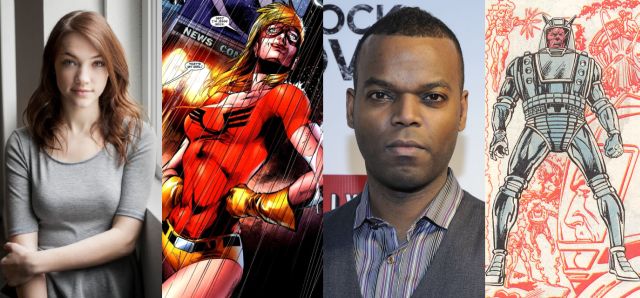 NEW FLASH
We've met Barry Allen, we've seen his superhero origin, and now it's time to see his look as the Scarlet Speedster.
Arrow closed out its 2013 run of episodes with a two-part midseason finale that introduced us all to the next piece of the superhero universe that The CW is building with DC Comics characters: Grant Gustin's Barry Allen. Allen made his mark on Starling City, and on Oliver Queen (Stephen Amell), before returning to his hometown of Central City where his life was, quite literally, changed in a flash.
Now production is finally set to begin on Allen's own Flash spinoff series, and to help get us in the mood, Warner Bros. Television has dropped the first image of Gustin in his Flash costume, which was designed by three-time Academy Award winner and Arrow costume designer Colleen Atwood. Ladies and gentlemen, meet your new Flash:
Sadly, it's just a head shot, so we don't yet know how the chest logo will look (if it's there), what color the boots and belt are, or even whether the rest of the costume will maintain the classic streamlined approach. We can see, of course, that Atwood went with a darker shade of red (which isn't surprising for the Arrow-verse), kept the nose mostly uncovered and added a chin-piece, which makes the cowl look a bit more helmet-like. But hey, if you were running really, really, really fast, maybe you'd feel better with a little chin protection too.
If all goes well, we'll see The Flash premiering on The CW this fall, and hopefully some set photos will provide us with a full-body look at this costume soon.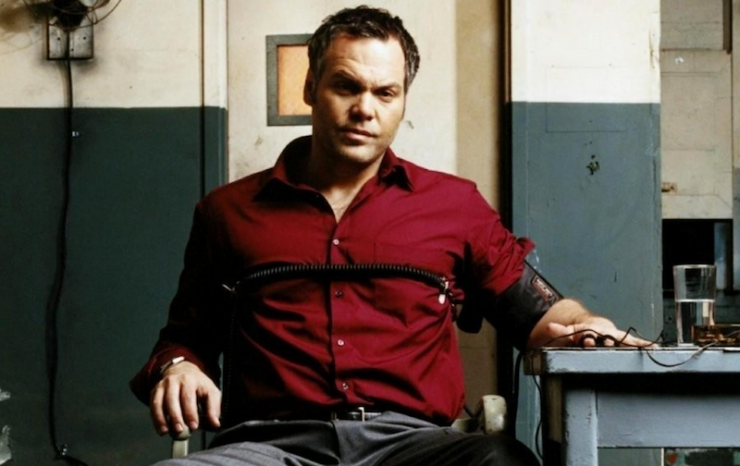 JURASSIC WORLD
Jurassic World has just cast a very important role. So far, they've managed to nail down Chris Pratt (Guardians of the Galaxy), Bryce Dallas Howard (Terminator: Salvation), Jake Johnson (Fox's New Girl) and Nick Robinson (The Kings of Summer), but none of them are playing the villain. They needed someone who could be mentally and physically intimidating. Enter Vincent D'Onofrio.
According to Deadline, D'Onofrio has signed on to terrorize the cast in the upcoming film. Not much is known about his character, including his name, but we're sure he's a force to be reckoned with. D'Onofrio's acting credits include Full Metal Jacket, Men in Black, The Cell and a 10-season run on the series Law & Order: Criminal Intent. Also joining the cast is Irrfan Khan (The Amazing Spider-Man) in an undisclosed role.
Jurassic World will be directed by Colin Trevorrow (Safety Not Guaranteed), who also co-wrote the script with Derek Connolly. Once again, Steven Spielberg and Frank Marshall are on board to produce. The film's scheduled to hit theaters June 12, 2015, and of course it will be in 3D.
LEGENDS TO OZ: DOROTHY'S RETURN
Summertime Entertainment has debuted a new trailer for their upcoming animated adventure Legends of Oz: Dorothy's Return. You can check it out, introduced by star Lea Michele, courtesy of Yahoo! Movies.

Also featuring the voice talents of Martin Short, Jim Belushi, Dan Aykroyd, Kelsey Grammer, Megan Hilty, Hugh Dancy, Oliver Platt, Patrick Stewart and Bernadette Peters, Legends of Oz: Dorothy's Return begins as Dorothy returns to Kansas to find it devastated by the tornado that sent her to Oz. Before she can react to the destruction of her home, she is transported back to Oz, where her three friends (Scarecrow, Lion and Tin Man) have disappeared. She meets a charming man made of marshmallows who can't quite think for himself, a tiny china doll princess whose bossiness is a cover for her fragility, and a tugboat with as many personalities as he has pieces. Dorothy must help this group band together against the Jester, a wicked new villain who believes that all of Oz should be under his control.

Legends of Oz: Dorothy's Return hits theaters May 9.

BACK ISSUES OF THE ZOCALO TODAY
The front page of the The Zocalo Today changes daily, so be sure to check the back issues to make sure that you haven't missed anything IMPORTANT! I hope you will become a regular visitor to The Zocalo Today!
---
Take care and I look forward to hearing from you.
Sandra Bruckner (sgbruckner@aol.com)
Editor/Publisher
ISN News: The Zocalo Today
http://www.isnnews.net
Copyright - SBruckner, 1999-2013

February News
January News
December News
November News
October News.

Back to front page.