[an error occurred while processing this directive]

The Zocalo Today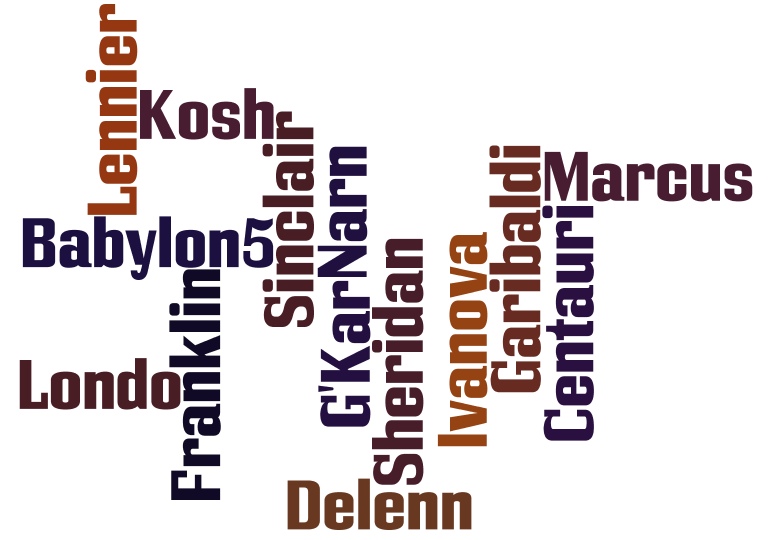 Welcome and thank you for dropping by. Babylon 5 brought many of us together -- and it remains with us, despite the fact that is no longer in production. The good thing is that the internet gives a LOT of ways to stay in touch. Don't be shy. Join in the discussion today or drop by Facebook or Twitter.

If you have questions or items for the news, drop me a line at sgbruckner@aol.com.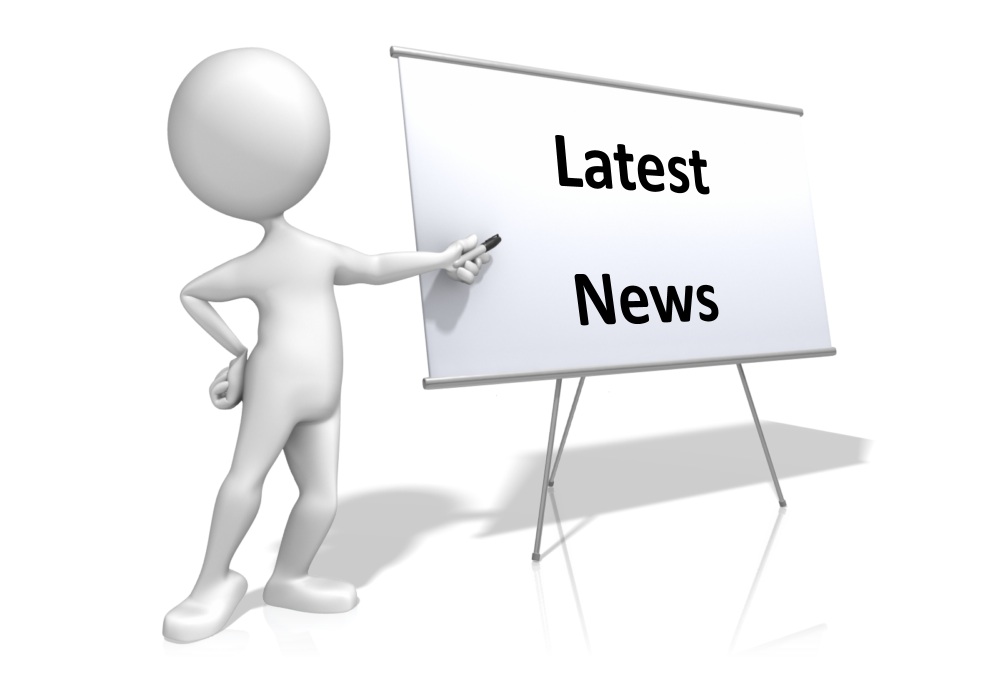 SUNDAY, MARCH 2, 2014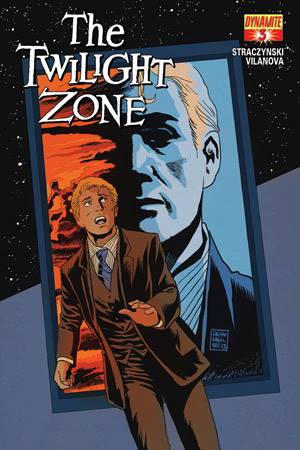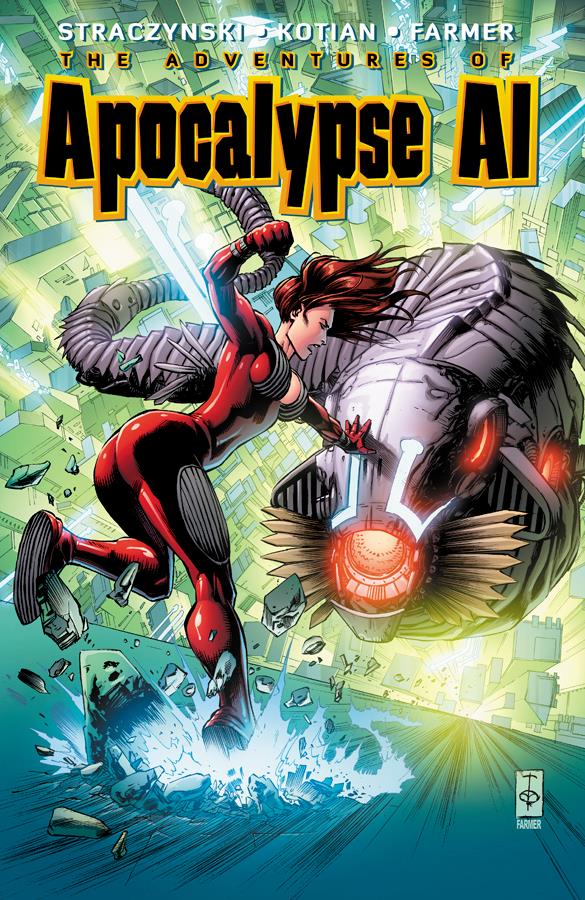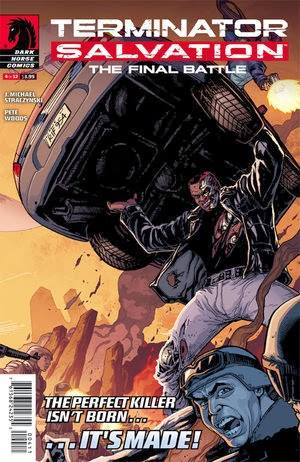 TWILIGHT ZONE-TERMINATOR-APOCALYPSE AL
An update from JMS:
Big comics week, three titles all coming out next Wednesday: Twilight Zone issue 3/act three; Terminator Final Battle 4; and The Adventures of Apocalypse Al #2 (28 uninterrupted pages of story AND a preview of Dream Police for the same great price).
Really happy with how all three of these came out; TZ 3 brings forth someone to root for in the story as we learn who has inherited Trevor Richmond's life; T4 at last reveals the reason for the mysterious manhunt and for the first time anywhere shows us the events of the Terminator universe from Skynet's perspective; and AA2 takes Al into the cybervoid, the hutch of a technowizard obsessed with women's clothing, and a shootout with three inch tall green imps.
In short...something for everyone.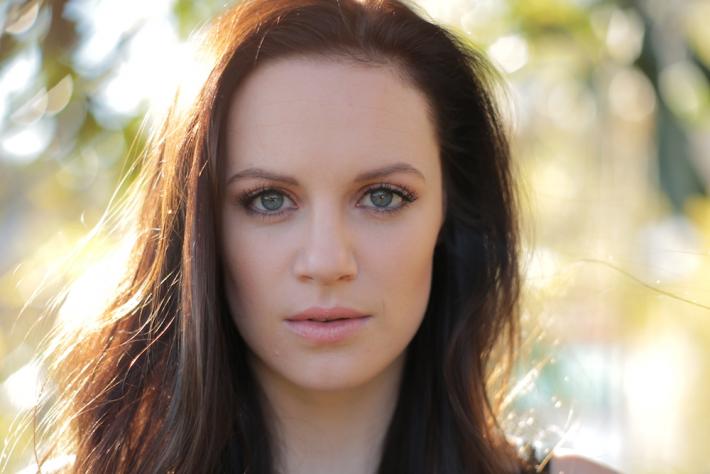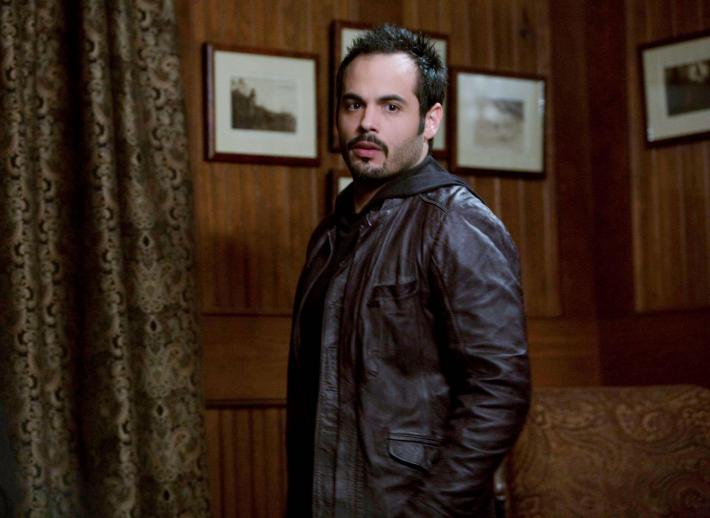 TRIBES
The cast is still coming together for The CW's Supernatural spinoff, and now we know who will play Tribes' leading lady, as well as a troubled cop who gets tied up in the seedy, monster-filled Chicago underbelly.
Danielle Savre (Heroes) has joined the series as the shapeshifter Margo, the acting head of a major shapeshifter clan. According to TV Line, she is an "ex-punk rocker-turned-corporate professional who feels threatened only by the return of her prodigal brother David (played by Nathaniel Buzolic, The Originals)."
The show has also added Stephen Martines (Burn Notice, The Vampire Diaries) as Detective Freddie Costa, a "world-weary" Chicago cop who is working with a hunter. But, in a (hopefully) nice twist, he's also secretly on the take to one of the monster families.
Savre and Martines join Lucien Laviscount, Nathaniel Buzolic and Sean Faris as major stars in the proposed series. The spinoff will be introduced in the April 29 episode of Supernatural via a backdoor pilot, and all these folks will apparently show up at that point.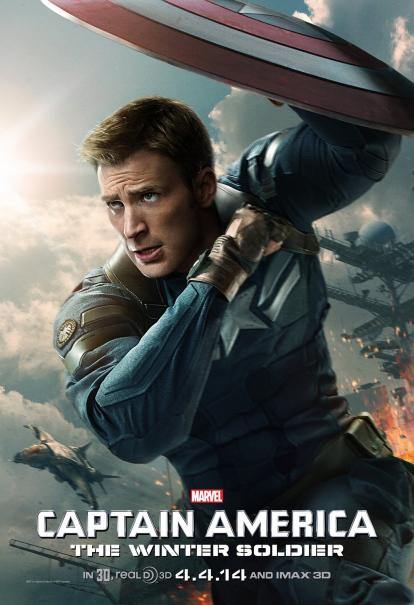 CAPTAIN AMERICA: WINTER SOLDIER
Walt Disney Pictures and Marvel Studios released a new poster for Captain America: The Winter Soldier today with a mysterious tease that read - "Hey, Cap fans - check back soon for an exciting announcement!"
Opening internationally starting on March 26 and in North America on April 4, the sequel stars Chris Evans, Scarlett Johansson, Samuel L. Jackson, Robert Redford, Sebastian Stan, Anthony Mackie, Cobie Smulders, Frank Grillo, Georges St-Pierre, Hayley Atwell, Toby Jones, Emily VanCamp and Maximiliano Hernández.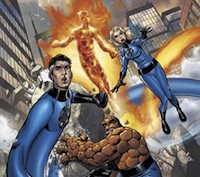 FANTASTIC FOUR
With a production set to begin next month, and the cast finally assembled, the pieces are starting to fall into place for Fox's upcoming reboot of The Fantastic Four, but there are still a few mysteries. Many rumors have pointed to radical alterations of the characters' origins, and while the filmmakers have debunked some of them, fans remain skeptical about what lies ahead for the future of the franchise. Get ready for more fuel on that fire though, as producer Matthew Vaughn had some interesting words about the film with Empire magazine (thanks to SuperHeroHype Forums user 'TheOneWhoKnocks' for the quote).
"It's a total reboot, that's for sure," he told the publication. "It's got nothing to do with the other bloody ones. It's not stretchy guy and a guy running around in rock that looks like it's made polystyrene. And its not a comedy."
The film having no relation to the previous "Fantastic Four" movies is no surprise, but Vaughn's comments are definitely eyebrow raising, particularly the "it's not a stretchy guy" portion, which refers to Reed Richards, aka Mr. Fantastic's sole super power.
The recently confirmed cast for the film will include Miles Teller as Mr. Fantastic, Kate Mara as Sue Storm, Michael B. Jordan as Johnny Storm, and Jamie Bell as Ben Grimm. Josh Trank will direct the big screen adaptation from a screenplay by Simon Kinberg. The Fantastic Four is currently set for a release on June 19, 2015?.
SATURDAY, MARCH 1, 2014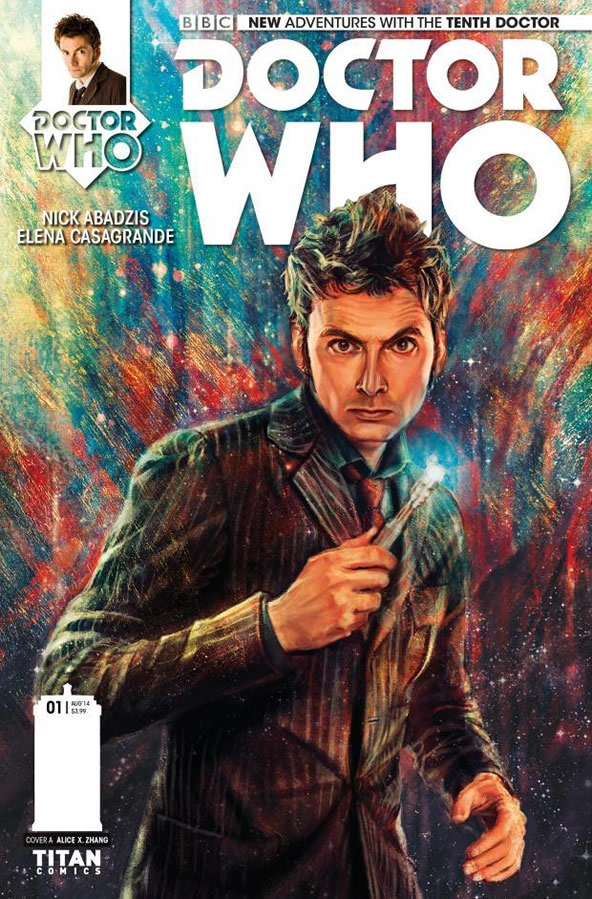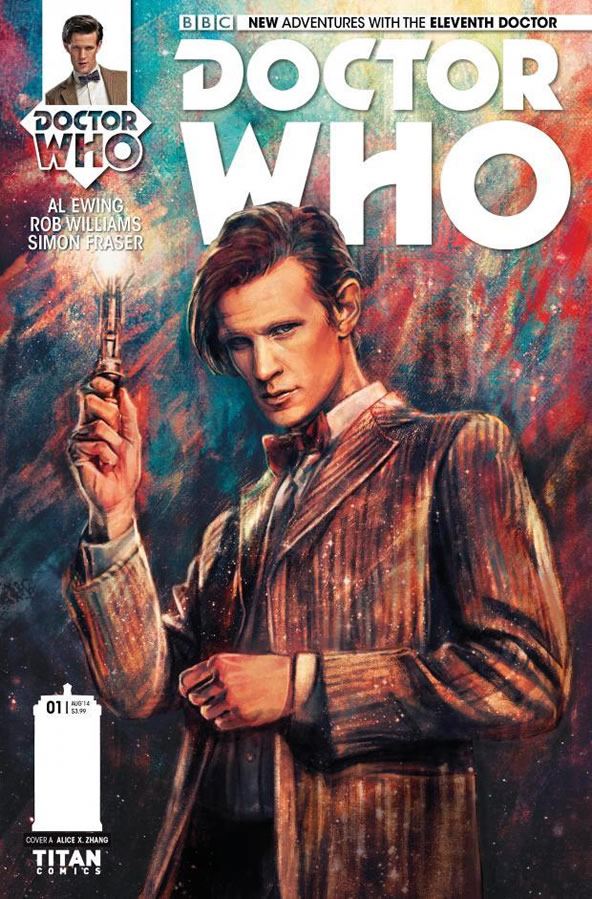 DOCTOR WHO COMICS
Matt Smith and David Tennant's Doctors live on, even if you won't see them in brand new episodes of "Doctor Who." The BBC has debuted the covers to the first issues of the 10th and 11th Doctor comic books being released by Titan.
Both covers are by artist Alice X. Zhang, and they're very nice to look at. Along with the covers, the creative teams were also announced. The first five-issue arc for of the 10th Doctor series will be written by Nick Abadzis and drawn by Elena Casagrande. The 11th Doctor will have Al Ewing and Rob Williams as writers, with Simon Fraser providing the art.
The first issues for both issues hit comic book stores on July 23.

JUPITER ASCENDING
A new trailer has arrived for the Wachowskis' new sci-fi epic Jupiter Ascending, and it just keeps getting weirder. In a good way.
The new trailer is an international cut, and it shows that the Matrix creators haven't lost their touch for weird, ambitious science fiction. This one looks like it'll be a nice spiritual successor to Cloud Atlas, and it promises to be a legit deep-space adventure.
We get to see some more action from Channing Tatum's alien-wolf-albino character as he heads to earth to retrieve Mila Kunis' character so she can fulfill her destiny in the stars. The Japanese version of the trailer includes some different beats from the U.S. version, and we're definitely curious to see more.
Here's the synopsis:
Jupiter Jones (Kunis) was born under a night sky, with signs predicting that she was destined for great things. Now grown, Jupiter dreams of the stars but wakes up to the cold reality of a job cleaning other people's houses and an endless run of bad breaks. Only when Caine (Tatum), a genetically engineered ex-military hunter, arrives on Earth to track her down does Jupiter begin to glimpse the fate that has been waiting for her all along—her genetic signature marks her as next in line for an extraordinary inheritance that could alter the balance of the cosmos.
Jupiter Ascending opens July 18.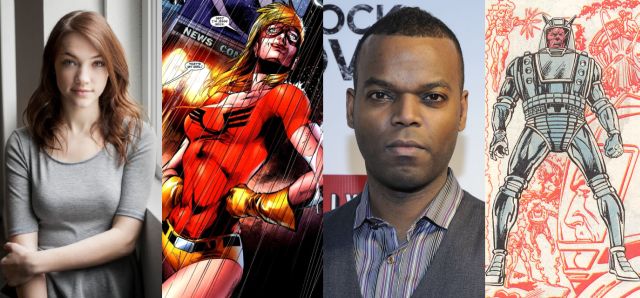 NEW FLASH
We've met Barry Allen, we've seen his superhero origin, and now it's time to see his look as the Scarlet Speedster.
Arrow closed out its 2013 run of episodes with a two-part midseason finale that introduced us all to the next piece of the superhero universe that The CW is building with DC Comics characters: Grant Gustin's Barry Allen. Allen made his mark on Starling City, and on Oliver Queen (Stephen Amell), before returning to his hometown of Central City where his life was, quite literally, changed in a flash.
Now production is finally set to begin on Allen's own Flash spinoff series, and to help get us in the mood, Warner Bros. Television has dropped the first image of Gustin in his Flash costume, which was designed by three-time Academy Award winner and Arrow costume designer Colleen Atwood. Ladies and gentlemen, meet your new Flash:
Sadly, it's just a head shot, so we don't yet know how the chest logo will look (if it's there), what color the boots and belt are, or even whether the rest of the costume will maintain the classic streamlined approach. We can see, of course, that Atwood went with a darker shade of red (which isn't surprising for the Arrow-verse), kept the nose mostly uncovered and added a chin-piece, which makes the cowl look a bit more helmet-like. But hey, if you were running really, really, really fast, maybe you'd feel better with a little chin protection too.
If all goes well, we'll see The Flash premiering on The CW this fall, and hopefully some set photos will provide us with a full-body look at this costume soon.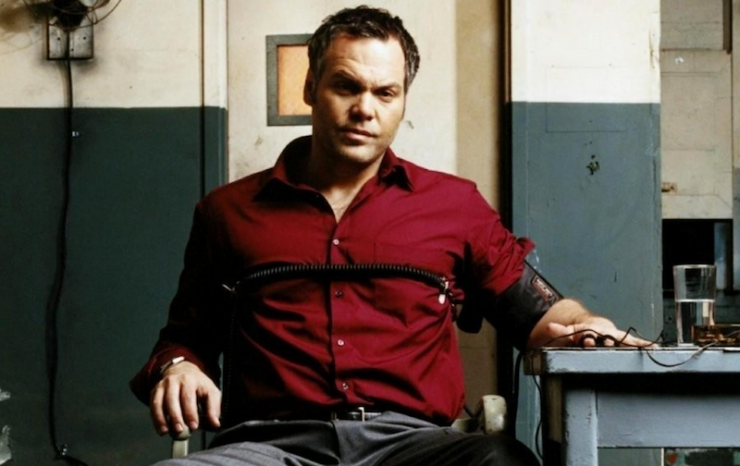 JURASSIC WORLD
Jurassic World has just cast a very important role. So far, they've managed to nail down Chris Pratt (Guardians of the Galaxy), Bryce Dallas Howard (Terminator: Salvation), Jake Johnson (Fox's New Girl) and Nick Robinson (The Kings of Summer), but none of them are playing the villain. They needed someone who could be mentally and physically intimidating. Enter Vincent D'Onofrio.
According to Deadline, D'Onofrio has signed on to terrorize the cast in the upcoming film. Not much is known about his character, including his name, but we're sure he's a force to be reckoned with. D'Onofrio's acting credits include Full Metal Jacket, Men in Black, The Cell and a 10-season run on the series Law & Order: Criminal Intent. Also joining the cast is Irrfan Khan (The Amazing Spider-Man) in an undisclosed role.
Jurassic World will be directed by Colin Trevorrow (Safety Not Guaranteed), who also co-wrote the script with Derek Connolly. Once again, Steven Spielberg and Frank Marshall are on board to produce. The film's scheduled to hit theaters June 12, 2015, and of course it will be in 3D.
LEGENDS TO OZ: DOROTHY'S RETURN
Summertime Entertainment has debuted a new trailer for their upcoming animated adventure Legends of Oz: Dorothy's Return. You can check it out, introduced by star Lea Michele, courtesy of Yahoo! Movies.

Also featuring the voice talents of Martin Short, Jim Belushi, Dan Aykroyd, Kelsey Grammer, Megan Hilty, Hugh Dancy, Oliver Platt, Patrick Stewart and Bernadette Peters, Legends of Oz: Dorothy's Return begins as Dorothy returns to Kansas to find it devastated by the tornado that sent her to Oz. Before she can react to the destruction of her home, she is transported back to Oz, where her three friends (Scarecrow, Lion and Tin Man) have disappeared. She meets a charming man made of marshmallows who can't quite think for himself, a tiny china doll princess whose bossiness is a cover for her fragility, and a tugboat with as many personalities as he has pieces. Dorothy must help this group band together against the Jester, a wicked new villain who believes that all of Oz should be under his control.

Legends of Oz: Dorothy's Return hits theaters May 9.

THE ZOCALO TODAY
Be sure to check out The Zocalo Today on Facebook as well as at ISN News: The Zocalo Today on Yahoo Groups. SCIENCE FICTION NEWS STORIES:
Did you miss the news from yesterday -- or earlier in the week. Catch up by going to the February News Archive. I have broken up the huge file into months to make it easier to load. It will bring you up to date for all that has been going on in the world of science fiction. Go to:
January News
December News
November News
October News.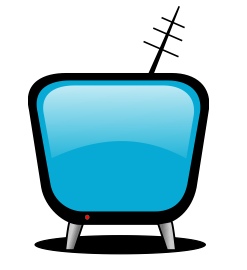 ON THE TUBE TONIGHT
8:00pm on ABC Family
Mulan (1998)
A Chinese maiden disguises herself as a man to take her father's place in battle against invading Huns. Animated. Ming-Na Wen, Lea Salonga, Eddie Murphy, B.D. Wong, Donny Osmond

8:00pm on AMC
The Walking Dead Episode: Claimed S04, E11 (First Aired: Feb. 23, 2014)
A number of immediate threats plague Rick; group members deal with their past.

8:00pm on FX
Captain America: The First Avenger (2011)
After an experimental program turns him into a supersoldier, Steve Rogers, now known as Capt. America, leads the fight against Red Skull's evil HYDRA organization. Chris Evans, Hayley Atwell, Sebastian Stan, Tommy Lee Jones, Hugo Weaving

8:00pm on TNT
E.T. the Extra-Terrestrial (1982)
A boy's close encounter with an alien stranded on Earth leads to a unique friendship in Steven Spielberg's Oscar-winning film. Henry Thomas, Dee Wallace, Peter Coyote, Drew Barrymore, Tom Howell

9:00pm on Syfy
The Last Airbender (2010)
A being with the ability to manipulate the four elements joins forces with a waterbender and her brother to restore balance to their war-torn world. Based on the TV series. Noah Ringer, Dev Patel, Nicola Peltz, Jackson Rathbone, Shaun Toub

9:00pm on CBS
The Mentalist Episode: Red John S06, E08 (First Aired: Nov. 24, 2013)
After a 10-year pursuit, Patrick finally comes face to face with Red John, the killer who took the lives of Patrick's wife and young daughter.

9:00pm on AMC
The Walking Dead Episode: Still NEW S04, E12
An enlightening mission springs from a request from one of the group members.

9:00pm on BBC America
Star Trek: Nemesis (2002)
The crew of the Enterprise must prevent a replica of Capt. Picard from overtaking Earth. Patrick Stewart, Jonathan Frakes, Brent Spiner, LeVar Burton, Michael Dorn

10:01pm on AMC
Talking Dead LIVE S03, E12
Guests discuss ``Still.''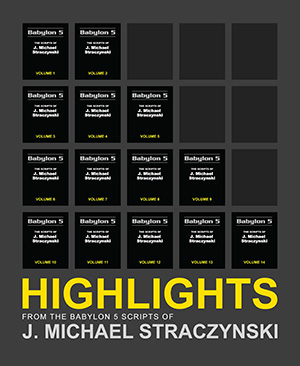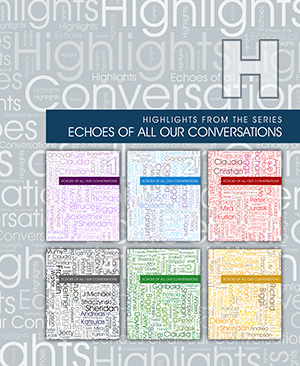 BOOK SAMPLERS
ABOUT THIS SCRIPT SERIES SAMPLER
In the six years since The Babylon 5 Scripts of J. Michael Strazynski limited edition series was retired on June 30, 2008, the B5 Books Team receives weekly (sometimes daily) emails from new fans about the availability of this limited series.
While we would never re-issue the books, the sheer volume of requests warranted our consulting with our Babylon 5 Fan Board -- great arbitors of what is fair to the fans and what isn't -- to get their feedback about a compilation that surveys a snippet of content from each of the 14 volumes.
In honor of the 20th anniversary of the series (January 26, 2014), the idea is to give fans an abbreviated experience of the full set. This highlights volume would solve several issues:
" a glimpse for the fans who never could have afforded the original investment
" a preview for fans who are now paying hundreds of dollars per volume for copies on eBay
" a "loaner" edition to friends for people who own the complete set
WHAT IS "ECHOES OF ALL OUR CONVERSATIONS?"
Fifteen years of "behind the scenes" Babylon 5 history as told by the actors and crew who were there in word-for-word transcripts of interviews with journalist Joe Nazzaro while the show was in production.
The limited-edition, six-volume series (and supplemental index) presented the uncensored and complete transcripts of Nazzaro's interviews with detailed editor's notes to provide a context for each conversation.
While this highlight sampler only contains 13.4% of the total pages from the series, it gives a comprehensive experience by including 27 interviews from across all volumes.
For complete details on what's included in this Highlights Sampler Edition, visit http://www.b5books.com.
KEEPING UP WITH CAST AND CREW
INTERVIEW WITH J. MICHAEL STRACZYNSKI
ABOUT THIS INTERVIEW:
In his three-and-a-half hour Archive interview, J. Michael Straczynski talks about his early life and writing career. He discusses working as an assistant to Norman Corwin and having a chance meeting with Rod Serling at an early age. He recalls his journalism career and his book on screenwriting, and discusses his time writing for the animated series He-Man and the Masters of the Universe and for Ghostbusters. Straczynski recalls making the transition to live-action writing on the revival of The Twilight Zone, which led to a job on the writing staff of Jake and the Fatman and later on Murder, She Wrote. He outlines creating, writing and producing the cult-classic television show Babylon 5 and shares his "five year plan" for the series. He speaks of lead actor Michael O'Hare's mental illness in season one, which led to O'Hare leaving the show and being replaced by Bruce Boxleitner. He talks about the CGI, special effects and storylines of Babylon 5 and discusses working with the cast and directors. He recounts his post-Babylon 5 career, which has included the follow-up series Crusade as well as comic books and several successful feature films. Karen Herman conducted the interview on May 15, 2013 in Encino, California.
Go to http://www.emmytvlegends.org/interviews/people/j-michael-straczynski to read through the interview, see the highlights of the intreview and watch the related video. This is a very well-done interview.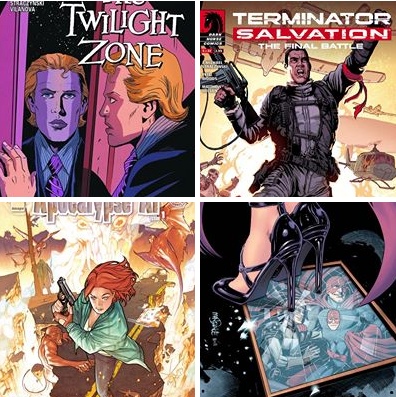 UPDATE FROM JMS
Holy crap...I just realized that I'd written down a date wrong...turns out that next Wednesday not only are The Adventures of Apocalypse Al #1 and Sidekick #5 hitting comic stores from Joe's Comics and Image, but so are issue 2 of the Twilight Zone book I'm doing for Dynamite AND issue 3 of the Terminator title I'm writing for Dark Horse. Four books on the same day...I may pass out.... Here are the covers for all four issues in one spot...

#FREEBABYLON5 BABYLON 5 is back on TV and from the comments on the Watch site, people are enjoying the first season all over again. Episodes air daily at 5:00pm. If you are in the UK, dial up Watch (Sky 109/Virgin 124). Don't miss an episode.
Would you believe 118 comments for just the first day of showing the series! I sure hope someone takes notice. Be sure to use the @Watch_channel twitter handle and link to the Watch Facebook page when posting. http://watch.uktv.co.uk/shows.babylon-5.
Be sure to visit the the newFree Babylon 5 website. It is time to gather and support the show we know and love.




Here is a quote from J. Michael Straczynski about emotions.
I had this theory that the more important and intimate the emotion, the fewer words are required to express it.

First it's in dating: "Will you go out with me?" Six words.
"Honey, I care for you." Five words.
"You matter to me." Four words.
"I love you." Three words.
"Marry me." Two words.
But what's left? What's the one most important and intimate word you can ever say to somebody? It's "goodbye."

While Michael O'Hare (Sinclair), Andreas Katsulas (G'Kar), Rick Biggs (Dr. Franklin), Tim Choate (Zathras) and Jeff Conoway (Zach Allen) are no longer with us, we will not forget their wonderful personalities and talent -- as well as their significant contributions to the BABYLON 5 universe. Be sure to visit In Memory Of for more information about memorial efforts.
Until we met again, in a place where no shadows fall.
BABYLON 5 BIRTHDAYS
Richard Biggs - March 18 (in loving memory)
Jesus Trevino - March 26
Ed Wasser - March 26 Have I missed anyone? If you know the birthday of someone connected with Babylon 5, pass the information along. We want to include everyone in our Happy Birthday Wishes.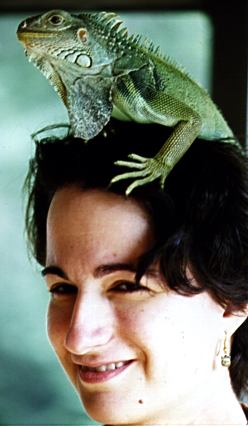 ITEMS OF INTEREST
Jeanne Cavelos, Author/Writer of novels that include Babylon5: Invoking Darkness, Summoning Light, Casting Shadows, and The Shadow Within; will be hosting Odyssey Workshops early in the coming year. Check her website and newsletter for details.
BABYLON 5 MUSIC VIDEOS AND TRIBUTES
John Hudgens has created many Babylon 5 videos, but I believe this is the most moving. It was first shown at the Phoenix Comic Con 20th Anniversary and honors many of the Babylon 5 family who have passed on.

Here is a link to John's Babylon 5 videos:
https://www.youtube.com/user/Babylon5MusicVideos?feature=watch

Richard Biggs memorial: http://www.youtube.com/watch?v=HyD4L8yNtsA

Andreas Katsulas memorial: http://www.youtube.com/watch?v=h2UQ2l9NPIg

- This is the extended version that I did for Andreas' widow ater the original cut was released on the net. It's never been seen online until now.

For those of you who've never seen these, I hope you enjoy them - and for those that have (and emailed me many times over the years about releasing them), I hope they're as good as you remember. Working with Joe on these videos was one of the highlights of my career, and I'll be forever grateful to him for the doors these have opened for me. I'm proud to have them on my resume.

John Hudgens
www.zteamproductions.com
---





SACRAMENTO COMIC CON
Dates: March 7-9, 2014
Place: Sacramento Convention Center
Guests: Stan Lee, William Shatner, Michael Rosenbaum, James Marsters, and many others.
Go to Sacramento for more information.

MEGACONVENTION 2014
Dates: March 21-23, 2014
Place: Orange County Convention Center, Orlando, FL
Guests include Stan Lee and David Morrissey.
For more information, go to www.Megaconvention.com.

STEEL CITY CON
Dates: April 11-13, 2014
Place: Monroeville Convention Center, Monroeville, PA
Guests: Jonathan Frakes, Lee Majors, Brent Spiner, Travis Love, Nicholas Brendon - and more
For more information, go to Steel City Con. AWESOME CON
Dates: April 18-20, 2014
Place: Walter E. Washington Convention Center, Washington, DC
Guests: Billie Piper, Kevin Sorbo, J.August Richards, Jewel Staite, and more
For more information, go to http://awesomecondc.com/.

SPOOKY EMPIRE'S MAY-HEM
Date: MAY 30 - JUNE 1, 2014
Place: Doubletree at Universal Studios
Guests: John Carpenter, Mark Ramones, Nick Castle, Laurie Holden
For more information, go to www.spookyempire.com.

PHILADELPHIA COMIC CON
Dates: June 19-22, 2014
Place: Pennsylvania Convention Center, Philadelphia, PA
Guests include: Michael Rooker, David McClintock, James Marsters, Sean Austin, and many others.
Go to Philadelphia for more information.

Florida Super Convention
Dates: July 3-6, 2014
Place: Miami Beach Convention Center, Miami Beach, FL
Guests: William Katt, Nichelle Nichols, Peter David
For more information, go to www.floridasupercon.com.

COMIC-CON INTERNATIONAL
Dates: July 24-27, 2014 Place: San Diego Convention Center
Guests: J. Michael Straczynski will be there along with a host of other guests
For more information, go to San Diego Comic Con. Star Trek Convention - Creation Entertainment
Dates: July 31 - August 3, 2014
Place: Rio Suites Hotel, Las Vegas, Nevada
Guests: WILLIAM SHATNER, KATE MULGREW, COLM MEANEY, WALTER KOENIG, NICHELLE NICHOLS, "ROM and NOG" as portrayed by Max Grodenchik and Aron Eisenberg, ANTHONY MONTGOMERY, JERRY HARDIN, TIM RUSS and MICHAEL FOREST. 87 plus more guests to come!
For more information, go to http://www.creationent.com/cal/st_lasvegas.html. SHORE-LEAVE
Dates: August 1-3, 2014
Place: Hunt Valley, MD (near Baltimore)
Guests: Richard Dean Anderson, Robert Piccardo and many more.
For more information, go to www.shore-leave.com. SPECIAL ANNOUNCEMENTS!
Wizard World Conventions has a large number of events planned for the year. Be sure to visit the page to see if there is a convention of interest near you.

Creation Entertainment has a large number of conventions planned for the next several months. They include stars from TWILIGHT, SUPERNATURAL, STARGATE, FARSCAPE, XENA, SERENITY, STAR TREK, etc. Check out their calendar to see if one will be in your neighborhood soon. Don't miss their Videos page as well. It is full of some priceless video from a number of conventions.

Be sure to visit the referenced sites to see if there have been changes in dates/guests attending. Visit our Convention Calendar for a full listing of upcoming conventions.
BACK ISSUES OF THE ZOCALO TODAY
The front page of the The Zocalo Today changes daily, so be sure to check the back issues to make sure that you haven't missed anything IMPORTANT! I hope you will become a regular visitor to The Zocalo Today!
---
Take care and I look forward to hearing from you.
Sandra Bruckner (sgbruckner@aol.com)
Editor/Publisher
ISN News: The Zocalo Today
http://www.isnnews.net
Copyright - SBruckner, 1999-2014