[an error occurred while processing this directive]

The Zocalo Today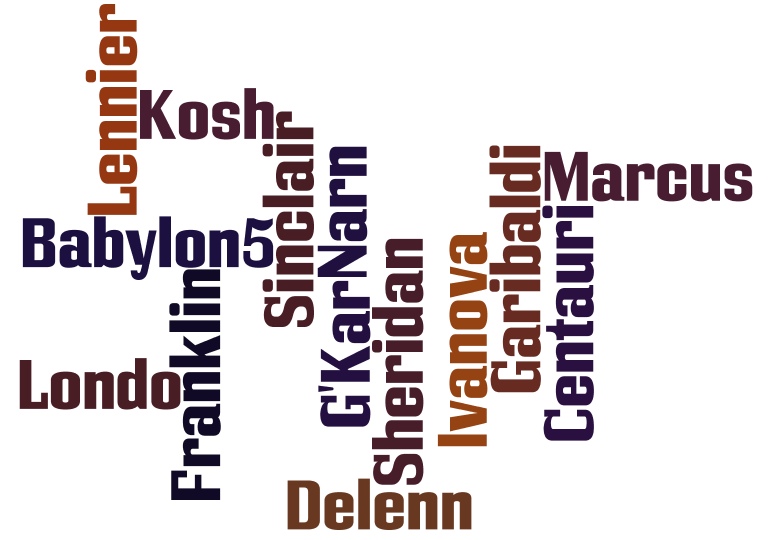 Welcome and thank you for dropping by. Babylon 5 brought many of us together -- and it remains with us, despite the fact that is no longer in production. The good thing is that the internet gives a LOT of ways to stay in touch. Don't be shy. Join in the discussion today or drop by Facebook or Twitter.

If you have questions or items for the news, drop me a line at sgbruckner@aol.com.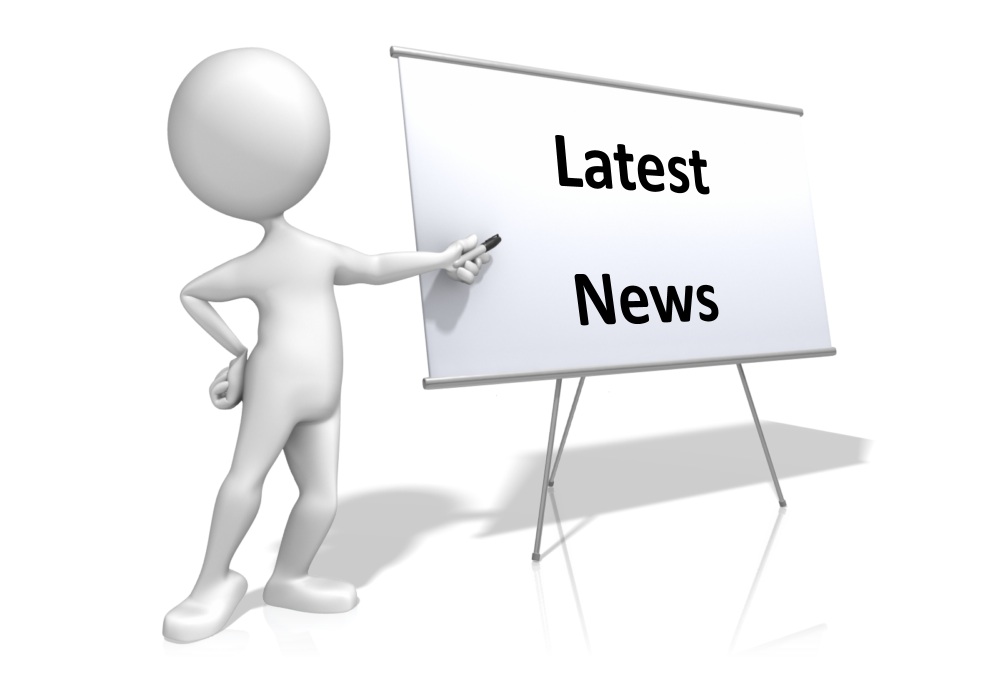 SUNDAY, MAY 4, 2014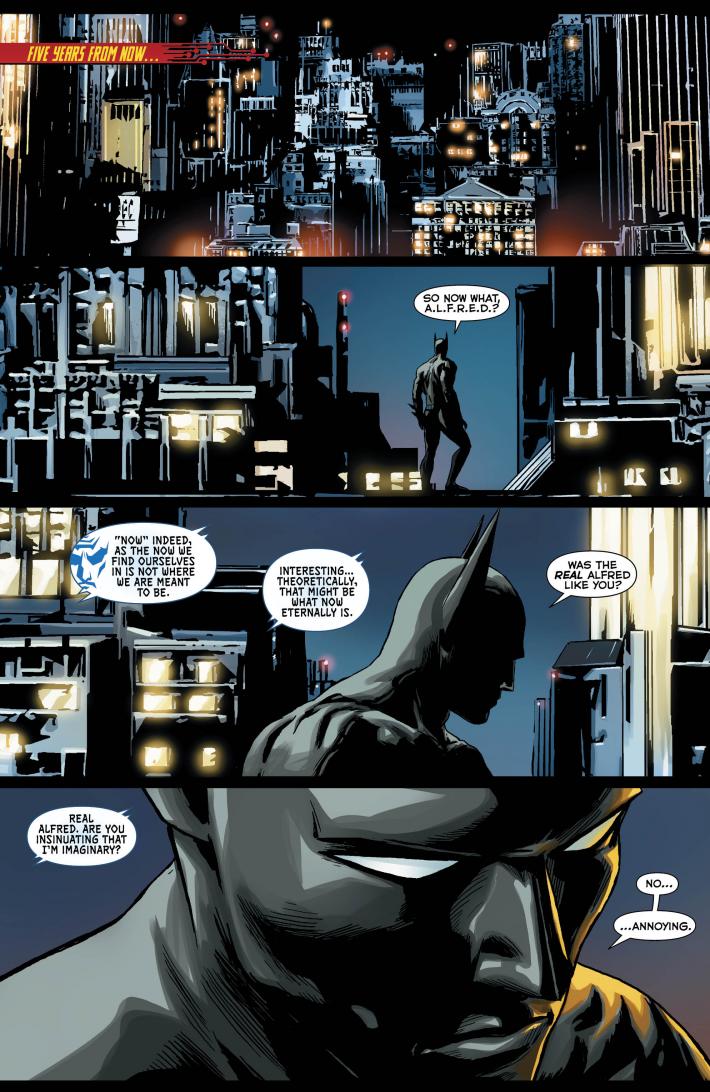 THE NEW 52: FUTURES END #1
Get ready for the most ambitious New 52 event series DC Comics has attempted yet.
For nearly three years now, we've been living with the rebooted universe DC dubbed "The New 52," and the creative teams behind the initiative have thrown a lot at us. We've seen battles between Justice Leagues in the Trinity War event, we've seen the villains take over in Forever Evil, and we've seen the beginning of the 75th-anniversary celebration of The Dark Knight in the epic new weekly series Batman Eternal. Now another weekly series is launching, and what happens in its pages will threaten the entire future of the DC Universe. Get ready for The New 52: Futures End.

Futures End -- featuring the writing team of Brian Azzarello (Wonder Woman), Jeff Lemire (Animal Man) and Dan Jurgens (Justice League International), and Keith Giffen (Superman), plus work from a wide range of artists including Ethan Van Sciver (Flash: Rebirth), Patrick Zircher (Nightwing), Georges Jeanty (Buffy the Vampire Slayer) and Jurgens -- will explore the past, present and future of the New 52 through the eyes of Frankenstein, Firestorm, Batman Beyond (making his New 52 in-continuity debut) and a huge cast of other characters as they fight to save their future from a deadly new threat that could spell the apocalypse. Here's DC's synopsis of issue one.

Five years from now, the DC Universe is reeling from a war with another Earth, leaving the world unprepared for an approaching evil that threatens to destroy the future. Can a time-traveling Batman Beyond help a massive cast of the DCU's finest avert the impending apocalypse? Find out in this new weekly series that will forever alter the direction of The New 52! In this debut issue of The New 52's weekly series, Batman Beyond arrives five years later! Grifter turns against humanity! And a Justice League member DIES!

The series kicks off tomorrow, Free Comic Book Day, with a free #0 issue (drawn by Van Sciver) that will feature the first in-continuity appearance of Batman Beyond himself, Terry McGinnis, which will be followed just a few days later by the release of issue #1 (drawn by Zircher) on May 7. The series will run weekly for nearly a year, and this September, in celebration of the third anniversary of the New 52, all of DC's New 52 comics will jump five years into the future for Futures End tie-in issues. It's a massive effort to shake up the New 52 universe, and we've got an EXCLUSIVE look at the first six pages (plus some variant covers) in the gallery at http://www.blastr.com/2014-5-2/check-out-exclusive-preview-dcs-new-52-futures-end-1.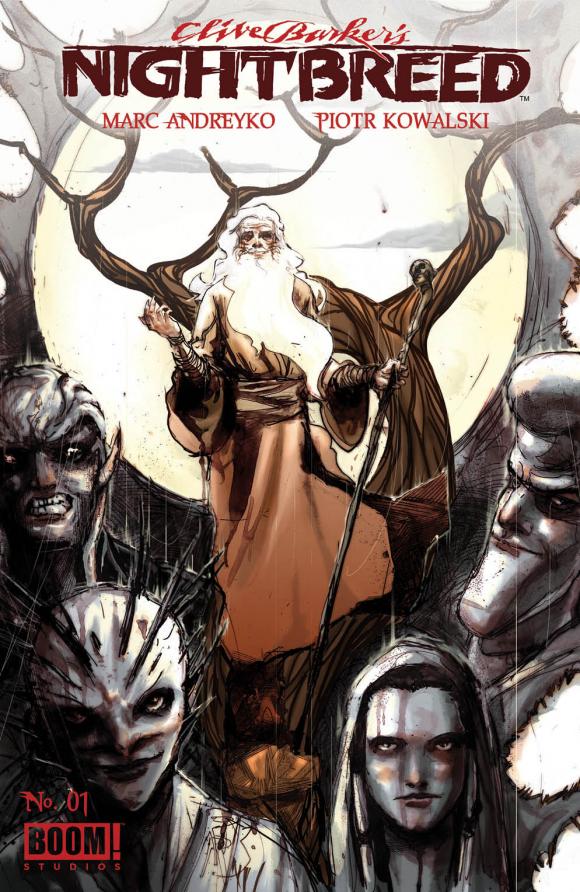 NIGHTBREED
It's a good time to be a Nightbreed fan.
Though it failed to gain the same success of 1987's Hellraiser, horror legend Clive Barker's 1990 film Nightbreed (based on his 1988 novel Cabal) continues to draw its own rabid cult fanbase. Barker's tale of a group of monstrous creatures who lead their own secret lives in a necropolis known as Midian, while fighting to maintain what humanity they have left, continues to capture imaginations nearly 25 years after its original theatrical release, and now the story will continue in a new ongoing comic-book series from BOOM! Studios.
BOOM! has already made its imprint on Barker's work with an ongoing, canonically recognized series of new Hellraiser stories, and now that same approach will be applied to Nightbreed courtesy of writer Marc Andreyko (Batwoman) and artist Piotr Kowalski (Marvel Knights: Hulk).
"Keeping with the tradition of telling new stories in canon with HELLRAISER, we're very excited to continue that method with Clive Barker's cult-favorite NIGHTBREED," said BOOM! Studios Editor-in-Chief Matt Gagnon. "Marc Andreyko, in addition to being a gifted storyteller, is a die-hard fan of NIGHTBREED. And artist Piotr Kowalski—who some fans will remember from his stellar work on Hulk—is pushing his style to savage new places. We have the makings of a fan-favorite horror series right out of the gate with this one."
Clive Barker's Nightbreed #1 will feature early tales of two of Midian's residents, Shuna Sassi and Peloquin, and tell the story of how each of them came to live there. If you're a fan of Cabal or Nightbreed, and you've been itching to hear more stories about the creatures who inhabit Midan and how they came to be, this sounds like the comic for you, but even if you've never heard of the series before, you can dive right in with the first issue and feel right at home.
The first issue of Clive Barker's Nightbreed arrvies in comic shops on May 28.
STAR WARS REBELS
Disney's anticipated animated series Star Wars Rebels has unveiled its first full trailer on Star Wars Day. The minute-long teaser will premiere during Disney XD's airing of Lego Star Wars: The Yoda Chronicles at 7 p.m. PT/ET.
The trailer sets up the world in which Star Wars Rebels takes place: "In a time of darkness, when fear ruled the galaxy, heroes will rise, destinies will collide and a rebellion will ignite." Flashes of main characters, key dialogue (including that final scene with the villainous Inquisitor) and battle sequences offer just a hint of what Disney and Lucasfilm have in store.
Star Wars Rebels takes place between Star Wars: Episode III -- Revenge of the Sith and Star Wars: Episode IV -- A New Hope, which spans about two decades. The animated series is set "in a time where the Empire is securing its grip on the galaxy and hunting down the last of the Jedi Knights as a fledgling rebellion against the Empire is taking shape."
Star Wars Rebels will premiere in the fall as a one-hour special on Disney Channel, before debuting as a series on sister channel Disney XD worldwide.
Star Wars Rebels premieres this fall.
SATURDAY, MAY 3, 2014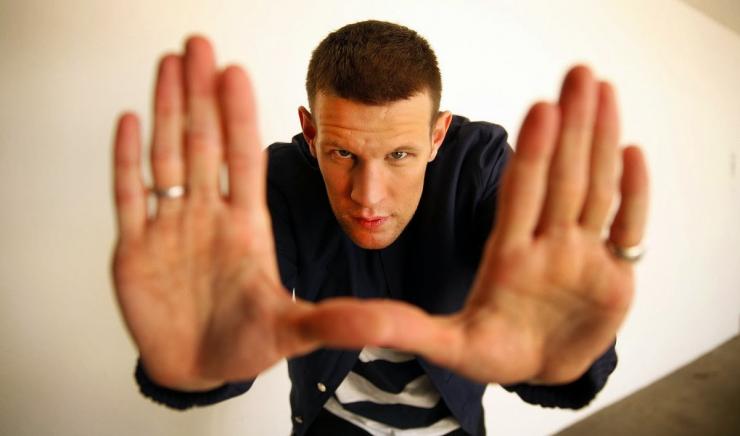 TERMINATOR
Things are about to get even more timey-wimey as former Time Lord Matt Smith joins the cast of the new upcoming Terminator trilogy.

Deadline reports that Paramount Pictures and Skydance Productions are "setting the final major piece of the final trilogy of Terminator films." They also report that former Doctor Who star Matt Smith has been cast in what's called a major role that will become even more important in the second and third flicks.

Smith joins Emilia Clarke as Sarah Connor, Jason Clarke as John Connor, Jai Courtney as Kyle Reese and, of course, the Terminator himself, Arnold Schwarzenegger.

Seriously, can there be a smoother move than to cast a former time traveler in a time-traveling sci-fi flick, we ask you? Are you guys excited about Matt Smith joining the Terminator cast?

Directed by Alan Taylor, Terminator: Genesis will hit theaters on July 1, 2015.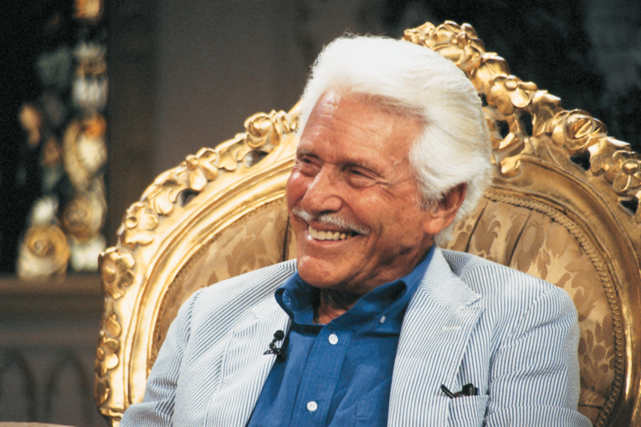 EFREM ZIMBALIST, JR. PASSES
Efrem Zimbalist Jr., the suave leading man who starred on ABC for 15 straight seasons on 77 Sunset Strip and then The F.B.I., died Friday at his ranch in Solvang, Calif., his children announced. He was 95.
Zimbalist was a household name from 1958 through 1974 for his performances as dapper private eye Stuart Bailey on Friday night staple 77 Sunset Strip, which lasted six seasons, and as Inspector Lewis Erskine on The F.B.I., which ran for nine.
A close friend of then-FBI chief J. Edgar Hoover, Zimbalist ended many Quinn Martin productions on Sunday nights with a description of a fugitive wanted by the feds, exhorting viewers to be on the lookout. One of the more prominent names from this segment was James Earl Ray, assassin of Dr. Martin Luther King Jr.
"Efrem's character embodied fidelity, bravery and integrity. So much so that he inspired a generation of future FBI employees, many of whom pursued a career in the bureau because they watched The F.B.I. series as they grew up," FBI director Robert Mueller said when he presented an honorary Special Agent badge to Zimbalist in 2009. "In those days, he may well have been the bureau's best and most effective recruiter!" The son of renowned artists -- soprano Alma Gluck and violinist Efrem Zimbalist -- he was the father of actress Stephanie Zimbalist, who survives him. As the sly, silver-haired mentor of Pierce Brosnan's title character on Remington Steele, he appeared on the 1982-87 NBC series with his daughter on a handful of episodes. In a career that spanned roughly 60 years, Zimbalist provided the voices of Alfred the Butler on several Batman animated series, the villain Doc Octopus on a Spider-Man cartoon and King Arthur on The Legend of Prince Valiant. He had recurring roles on Maverick in the 1950s, Hotel in the '80s and Zorro in the '90s.
In Wait Until Dark (1967), he played the photographer husband of the blind Audrey Hepburn.
Zimbalist was born on Nov. 30, 1918, in New York and raised in a home of artistry and privilege. His father was a friend of poet Edna St. Vincent Millay, and young Zimbalist received violin lessons from the father of Jascha Heifetz.
Later, he studied at the Yale Drama School and the Neighborhood Playhouse, then served in World War II and earned a Purple Heart.
Zimbalist began his career as an NBC page but soon found work in the theater and was cast in the 1945 Broadway production of The Rugged Path, which starred Spencer Tracy and was directed by Garson Kanin. Zimbalist's rich baritone and striking manner won notice, and he landed plum roles in Henry VIII in 1946 and Hedda Gabler in 1948. Restless waiting for roles, Zimbalist ventured into producing. He brought opera to Broadway, mounting such productions as The Medium, The Telephone and The Consul, which won a Pulitzer Prize.
Zimbalist made an impressive movie debut in 1949, co-starring in Joseph L. Mankiewicz's House of Strangers, which starred Edward G. Robinson as a tight-fisted family patriarch. But he experienced personal tragedy the following year: his wife Emily died of cancer, and he gave up acting.
During the subsequent five years, Zimbalist worked at the Curtis School of Music for his father. In 1954, he took a lead in a daytime soap opera, and, ready to act in the movies again, signed a seven-year contract with Warner Bros. (Later, he would be invited to play tennis at studio head Jack Warner's Beverly Hills home every weekend.) Zimbalist was cast in Band of Angels (1957) with Clark Gable; in the Barrymore family drama Too Much, Too Soon (1958) with Errol Flynn and Dorothy Malone; and in Mervyn LeRoy's Home Before Dark (1958) with Jean Simmons; he called the latter his favorite film experience.
While he was winning popularity and acclaim for these roles, Zimbalist also was starting out in the Warner Bros. TV series 77 Sunset Strip, which was created by Roy Huggins (The Fugitive). It centered on a swinging '60s Hollywood detective agency run by Bailey and his partner Jeff Spencer (Roger Smith).
The stylish agency, located at the fictional address 77 Sunset Strip, was, naturally, right next door to a nightclub, which lent to appearances by curvaceous guest stars. Zimbalist parked his sports car in the club's driveway that was manned by the cool attendant Kookie (Edd Byrnes), a dashing ladies' man who caused women to clamor, "Kookie, Kookie, lend me your comb," which became a song and a national catchphrase. Zimbalist took film roles during the series' hiatus. In 1961, he starred with Angie Dickinson in the courtroom thriller A Fever in the Blood and in the then-notorious The Chapman Report (1962), where he starred as the head of a medical research clinic that studied the sex habits of suburban women.
Zimbalist appeared on all 241 episodes of The F.B.I., whose storylines came from actual cases. The bureau had casting control over the show. After the series ended, he participated in charity events that helped raise money for families of agents killed in the line of duty and lent his voice to narrate FBI recruiting videos.
Like other stars known for a dignified persona, Zimbalist was good-humored about spoofing his career. He followed in the footsteps of such colleagues as Leslie Nielsen and Robert Stack, parodying his image in Jim Abrahams' Top Gun spoof Hot Shots! (1991), which starred Charlie Sheen.
His autobiography, My Dinner of Herbs, was published in 2004 and recounted his varied career, from the glitzy Sunset Strip to the power corridors of Washington.
In addition to his daughter Stephanie, survivors include his son Efrem Zimbalist III. "A devout Christian, he actively enjoyed his life to the last day, showering love on his extended family, playing golf and visiting with close friends," his children said in a statement. "We will miss him dearly."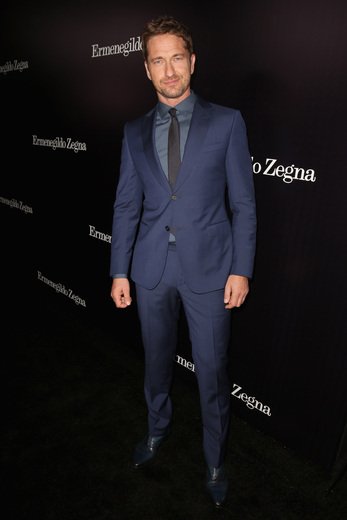 GEO-STORM
Geostorm, a sci-fi adventure film starring Gerard Butler, will storm into theaters on March 25, 2016.
The Warner Bros. project is directed by Dean Devlin, who also wrote the screenplay.
The story follows a satellite designer (Butler) who, when the world's climate-controlling satellites malfunction, has to work together with his estranged brother to save the world from a man-made storm of epic proportions.
Geostorm will be the feature directorial debut for Devlin, who co-wrote Independence Day and 1998's Godzilla.
The project was being developed independently by David Ellison's Skydance Productions before Warner Bros. picked it up. Skydance remains involved and is producing with Devlin's Electric Entertainment.
Warner Bros.' dating announcement comes just moments after Paramount also slated a film -- a reboot of Beverly Hills Cop -- for March 25, 2016.
PATIENT ZERO
Screen Gems has set Stefan Ruzowitzky, the director of the Academy Award winning The Counterfeiters, to helm the Mike Le-scripted Patient Zero (formerly Patient Z).
Patient Zero takes place in a post-outbreak zombie apocalypse and follows the adventures of one man who has the unique ability to speak with the undead and who hopes to use his gift to discover a cure for the plague and his infected wife.
Vincent Newman is attached to produce the project for the studio through his Vincent Newman Entertainment.

THE ZOCALO TODAY
Be sure to check out The Zocalo Today on Facebook as well as at ISN News: The Zocalo Today on Yahoo Groups. SCIENCE FICTION NEWS STORIES:
Did you miss the news from yesterday -- or earlier in the week. Catch up by going to the April News Archive. I have broken up the huge file into months to make it easier to scan through. It will bring you up to date for all that has been going on in the world of science fiction. Go to:
March News.
February News
January News
December News
November News
October News.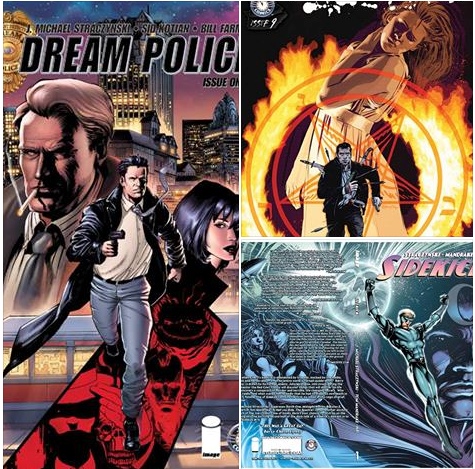 J. MICHAEL STRACZYNSKI - WEDNESDAY COMIC BOOKS
Another comic book trifecta this Wednesday: Dream Police 1, Ten Grand 9 and Sidekick volume one trade paperback all landing time on target.

BABYLON 5 BOOKS: ENCOUNTERS WITH J. MICHAEL STRACZYNSKI ARCHIVED BY THE GREAT MACHINE QUICK GLANCE AT WHAT'S INCLUDED
400+page two-sided softcover book
- Side 1: ENCOUNTERS WITH J. MICHAEL STRACZYNSKI: Landmark interviews with JMS plus B5 analysis written by JMS
- Side 2: Babylon 5 Index covering all 20 B5 Script Books and ARTIFACTS FROM BEYOND THE RIM
- Tête-bêche style binding - Get Two Books in One
- Courtesy Data Reference Disc (First 7 days only)
- Choice of Centauri Purple or Station Blue (7 days only) For more information about what this volume contains, go to http://www.cafepress.com/b5books.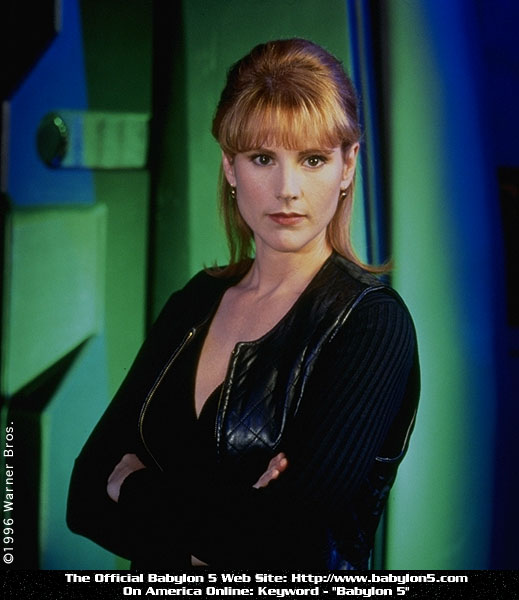 PAT TALLMAN UPDATE
Pat is talking to you straight! Facebook has made it harder than ever for you to see the posts from your favorite Pages. If you follow Pat on FB, you know her brand of snarky sexy humor. Well now it's no holds barred! Sign up for Pat's newsletter on her site PatriciaTallman.com and get it unsensored.The newsletter has content that will not be on the Facebook page or the site.
In this first issue, there is a special offer only available to those on the newsletter. Sign up by March 31st and be in the know.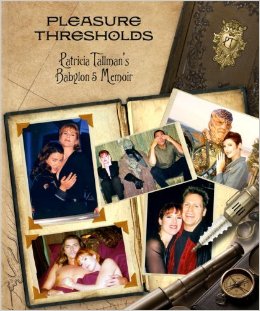 PLEASURE THRESHOLDS
"We are thrilled to announce Pat Tallman's book Pleasure Thresholds is finally available on Amazon! Amazon link.

The Ultimate Insider's Experience of Babylon 5: A behind-the-scenes peek into Patricia Tallman's life during her "B5 Years." A candid (and occasionally spicy) memoir told through print, video and audio. Pleasure Thresholds is a behind the scenes look at Patricia Tallman's life during the 5 years she spent shooting the hit science fiction series Babylon 5. An actress and stunt woman, Tallman recounts the deeply personal details of her life working on Babylon5, Star Trek:TNG, Deep Space Nine and films such as Jurassic Park ( as Laura Dern's stunt double). Autographed by Pat Tallman and J. Michael Straczynski . Can be personalized! Also available for overseas sales. Message us here: Pattallmannewsletter@gmail.com for shipping rates for non USA purchase. Thank you!"
KEEPING UP WITH CAST AND CREW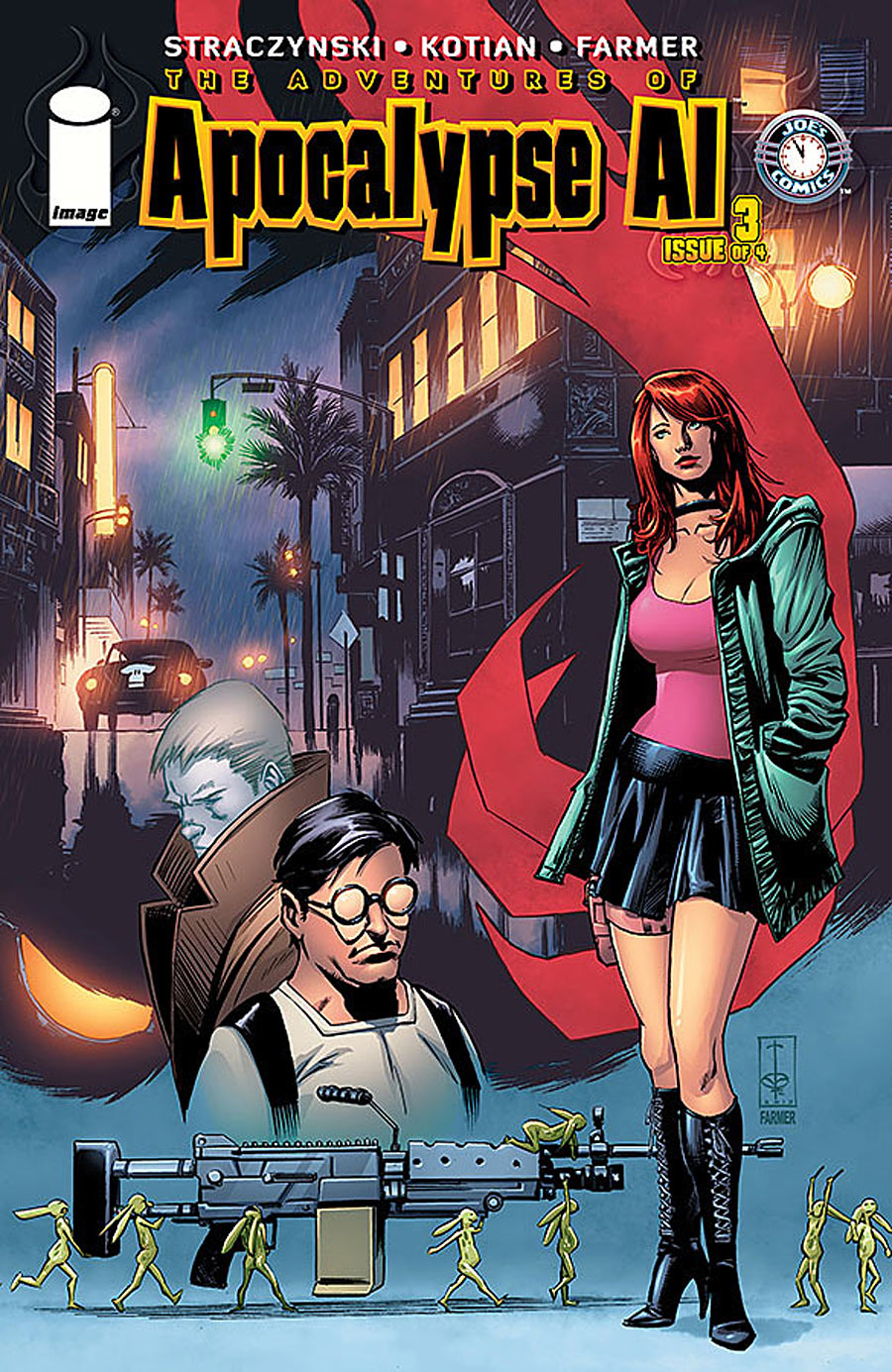 Previews galore! Six-page preview of Apocalypse Al #3!
http://www.comicbookresources.com/?page=preview&id=20986.
#FREEBABYLON5
BABYLON 5 is back on TV and from the comments on the Watch site, people are enjoying the first season all over again. Episodes air daily at 5:00pm. If you are in the UK, dial up Watch (Sky 109/Virgin 124). Don't miss an episode.
Would you believe 118 comments for just the first day of showing the series! I sure hope someone takes notice. Be sure to use the @Watch_channel twitter handle and link to the Watch Facebook page when posting. http://watch.uktv.co.uk/shows.babylon-5.
Be sure to visit the the newFree Babylon 5 website. It is time to gather and support the show we know and love.




Here is a quote from J. Michael Straczynski about emotions.
I had this theory that the more important and intimate the emotion, the fewer words are required to express it.

First it's in dating: "Will you go out with me?" Six words.
"Honey, I care for you." Five words.
"You matter to me." Four words.
"I love you." Three words.
"Marry me." Two words.
But what's left? What's the one most important and intimate word you can ever say to somebody? It's "goodbye."

While Michael O'Hare (Sinclair), Andreas Katsulas (G'Kar), Rick Biggs (Dr. Franklin), Tim Choate (Zathras) and Jeff Conoway (Zach Allen) are no longer with us, we will not forget their wonderful personalities and talent -- as well as their significant contributions to the BABYLON 5 universe. Be sure to visit In Memory Of for more information about memorial efforts.
Until we met again, in a place where no shadows fall.
BABYLON 5 BIRTHDAYS
Theodore Bikel - May 2
Michael O'Hare - May 6 Miss you old friend
Stephen Furst - May 8
Melissa Gilbert-Boxleitner - May 8
Bruce Boxleitner - May 12
Andreas Katsulas - May 18
Andrea Thompson - May 22
Doug Wise - May 21
Douglas Netter - May 23
Paul Winfield - May 22
Roy Dotrice - May 26
Harlan Ellison - May 27 Have I missed anyone? If you know the birthday of someone connected with Babylon 5, pass the information along. We want to include everyone in our Happy Birthday Wishes.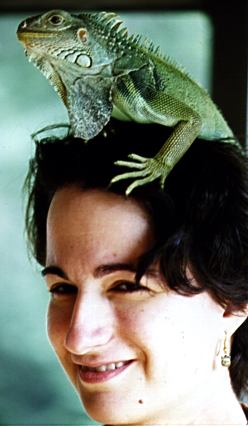 ITEMS OF INTEREST
Jeanne Cavelos, Author/Writer of novels that include Babylon5: Invoking Darkness, Summoning Light, Casting Shadows, and The Shadow Within; will be hosting Odyssey Workshops early in the coming year. Check her website and newsletter for details.
BABYLON 5 MUSIC VIDEOS AND TRIBUTES
John Hudgens has created many Babylon 5 videos, but I believe this is the most moving. It was first shown at the Phoenix Comic Con 20th Anniversary and honors many of the Babylon 5 family who have passed on.

Here is a link to John's Babylon 5 videos:
https://www.youtube.com/user/Babylon5MusicVideos?feature=watch

Richard Biggs memorial: http://www.youtube.com/watch?v=HyD4L8yNtsA

Andreas Katsulas memorial: http://www.youtube.com/watch?v=h2UQ2l9NPIg

- This is the extended version that I did for Andreas' widow ater the original cut was released on the net. It's never been seen online until now.

For those of you who've never seen these, I hope you enjoy them - and for those that have (and emailed me many times over the years about releasing them), I hope they're as good as you remember. Working with Joe on these videos was one of the highlights of my career, and I'll be forever grateful to him for the doors these have opened for me. I'm proud to have them on my resume.

John Hudgens
www.zteamproductions.com
---





Free Comic Book Day
Coming Sat., May 3, 2014
For more information, go to http://www.freecomicbookday.com/Home/1/1/27/992. SPOOKY EMPIRE'S MAY-HEM
Date: MAY 30 - JUNE 1, 2014
Place: Doubletree at Universal Studios
Guests: John Carpenter, Mark Ramones, Nick Castle, Laurie Holden
For more information, go to www.spookyempire.com. PHOENIX COMICON
Dates: June 5-8, 2014
Place: Phoenix Convention Center, Phoenix, AR
Guests: Stan Lee, Nathan Fillion, John Barrowman, Eliza Dushku, John Rhys-Davies, Bruce Campbell and many more
For more information, go to http://phoenixcomicon.com/. PHILADELPHIA COMIC CON
Dates: June 19-22, 2014
Place: Pennsylvania Convention Center, Philadelphia, PA
Guests include: Michael Rooker, David McClintock, James Marsters, Sean Austin, and many others.
Go to Philadelphia for more information.

FLORIDA SUPER CONVENTION
Dates: July 3-6, 2014
Place: Miami Beach Convention Center, Miami Beach, FL
Guests: William Katt, Nichelle Nichols, Peter David
For more information, go to www.floridasupercon.com.

Ultracon of South Florida 2014
Dates: July 19-20, 2014 - Sat. 10am - 10pm; Sun. 10am-7pm
Place: Broward County Convention Center, 1950 Eisenhower Blvd., Ft. Lauderdale, FL 33316
Guests include Mike Rio - Wolverine, Mark Sparacio, Jason Faunt - Power Rangers, Jose Delbo - Comic Book Artist
For more information, go to http://ultraconofsouthflorida.com. COMIC-CON INTERNATIONAL
Dates: July 24-27, 2014 Place: San Diego Convention Center
Guests: J. Michael Straczynski will be there along with a host of other guests
For more information, go to San Diego Comic Con. Star Trek Convention - Creation Entertainment
Dates: July 31 - August 3, 2014
Place: Rio Suites Hotel, Las Vegas, Nevada
Guests: WILLIAM SHATNER, KATE MULGREW, COLM MEANEY, WALTER KOENIG, NICHELLE NICHOLS, "ROM and NOG" as portrayed by Max Grodenchik and Aron Eisenberg, ANTHONY MONTGOMERY, JERRY HARDIN, TIM RUSS and MICHAEL FOREST. 87 plus more guests to come!
For more information, go to http://www.creationent.com/cal/st_lasvegas.html. SHORE-LEAVE
Dates: August 1-3, 2014
Place: Hunt Valley, MD (near Baltimore)
Guests: Richard Dean Anderson, Robert Piccardo and many more.
For more information, go to www.shore-leave.com. SPECIAL ANNOUNCEMENTS!
Wizard World Conventions has a large number of events planned for the year. Be sure to visit the page to see if there is a convention of interest near you.

Creation Entertainment has a large number of conventions planned for the next several months. They include stars from TWILIGHT, SUPERNATURAL, STARGATE, FARSCAPE, XENA, SERENITY, STAR TREK, etc. Check out their calendar to see if one will be in your neighborhood soon. Don't miss their Videos page as well. It is full of some priceless video from a number of conventions.

Be sure to visit the referenced sites to see if there have been changes in dates/guests attending. Visit our Convention Calendar for a full listing of upcoming conventions.
BACK ISSUES OF THE ZOCALO TODAY
The front page of the The Zocalo Today changes daily, so be sure to check the back issues to make sure that you haven't missed anything IMPORTANT! I hope you will become a regular visitor to The Zocalo Today!
---
Take care and I look forward to hearing from you.
Sandra Bruckner (sgbruckner@aol.com)
Editor/Publisher
ISN News: The Zocalo Today
http://www.isnnews.net
Copyright - SBruckner, 1999-2014