[an error occurred while processing this directive]

The Zocalo Today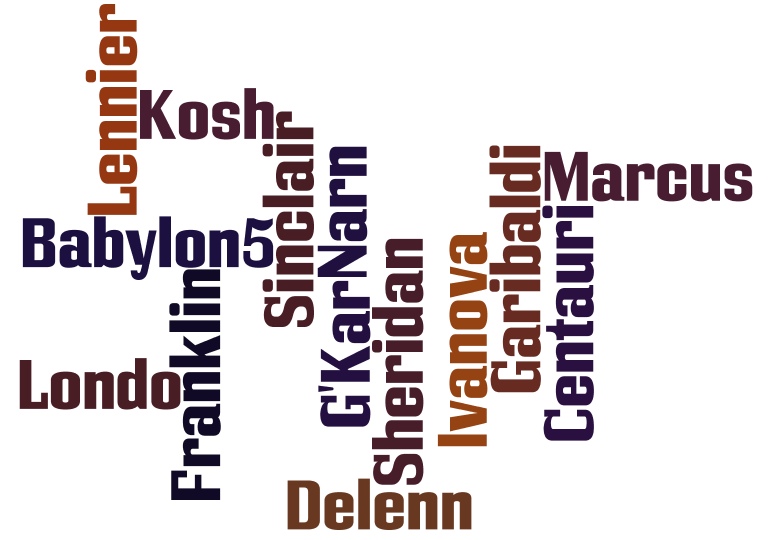 Welcome and thank you for dropping by. Babylon 5 brought many of us together -- and it remains with us, despite the fact that is no longer in production. The good thing is that the internet gives a LOT of ways to stay in touch. Don't be shy. Join in the discussion today or drop by Facebook or Twitter.

If you have questions or items for the news, drop me a line at sgbruckner@aol.com.


SCIENCE FICTION NEWS STORIES: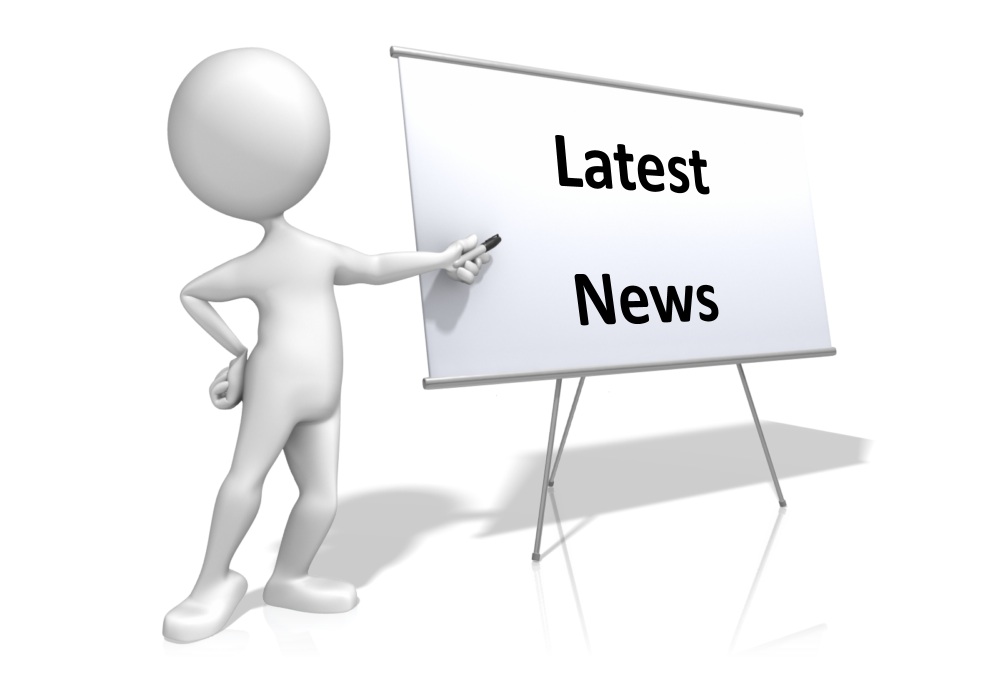 SUNDAY, JUNE 1, 2014
BOOK OF LIFE
The first trailer for Guillermo del Toro's new animated fantasy flick The Book of Life has arrived, and this looks like it could be one heck of a fun film.

Produced by del Toro and directed by relative newcomer Jorge Gutierrez, the film follows a love triangle that goes absolutely bonkers when the gods start mucking around in the affairs of mortals with a little wager. The film takes its visual style from the Mexican holiday the Day of the Dead, and is easily one of the most unique animated movies we've seen in ages.

The film will feature the voice talent of Channing Tatum, Zoe Saldana, Diego Luna, Danny Trejo, Ice Cube, Hector Elizondo and Placido Domingo.

Here's the full synopsis:

From producer Guillermo del Toro and director Jorge Gutierrez comes an animated comedy with a unique visual style. THE BOOK OF LIFE is the journey of Manolo, a young man who is torn between fulfilling the expectations of his family and following his heart. Before choosing which path to follow, he embarks on an incredible adventure that spans three fantastical worlds where he must face his greatest fears. Rich with a fresh take on pop music favorites, THE BOOK OF LIFE encourages us to celebrate the past while looking forward to the future.

The film opens Oct. 17 in 3D.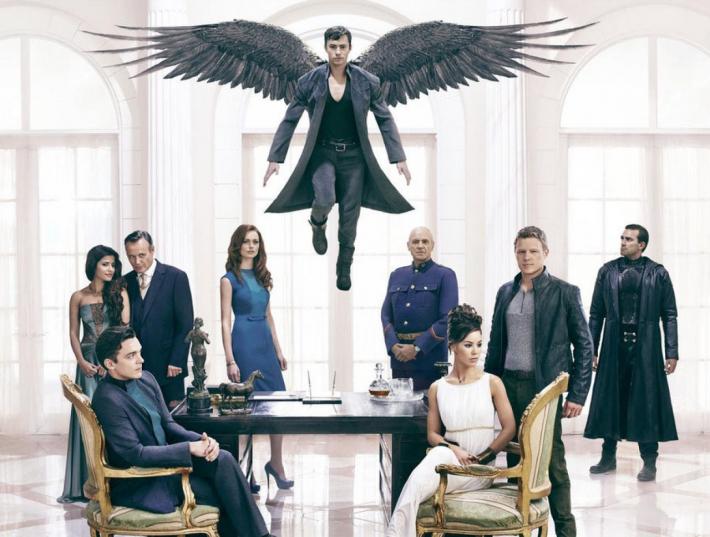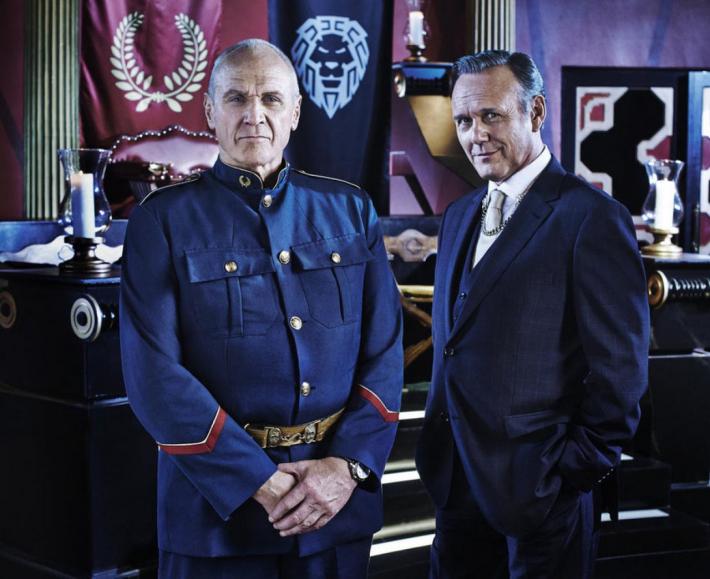 DOMINION
Syfy has debuted some new promo shots from the upcoming summer series Dominion, based on the 2010 supernatural action flick Legion. Say hello to the warriors who'll try to save us, and the angels out to kill us.
The network has unveiled 17 new pics, giving us our best look yet at the cast who will populate the war-torn future where angels have declared war on humanity. The more we see from this show, the more curious we are to actually get a look at the pilot.
Set 25 years after angels attacked the Earth, the series follows the survivors still holding on after the archangel Gabriel led a war against mankind. The series will take place in the fortified cities that have rebuilt to protect human survivors, specifically the area formerly known as Las Vegas, now just called Vega.
It looks to be chock-full of political intrigue, action and sexiness — here's hoping it can pay off the pitch. The series stars Christopher Egan (Kings), Anthony Stewart Head (Buffy the Vampire Slayer), Tom Wisdom, Roxanne McKee, Alan Dale and Luke Allen-Gale.
Dominion debuts June 19 on Syfy.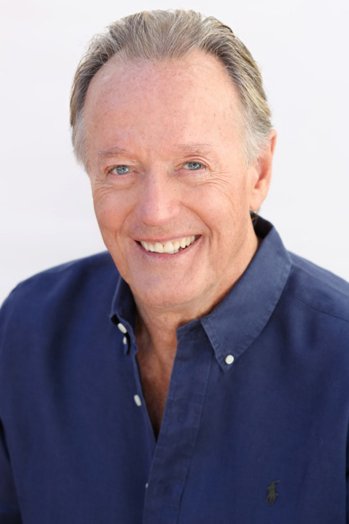 GALYNTINE
Peter Fonda has joined AMC pilot Galyntine as a series regular, The Hollywood Reporter has exclusively learned. The actor also has signed with APA for representation in all areas.
Galyntine, a sci-fi fantasy set in a postapocalyptic future that has rejected all technology, hails from Ridley Scott's banner, Scott Free, which has a first-look deal with AMC. Scott will executive produce alongside Scott Free's David Zucker, The Walking Dead's Greg Nicotero and Halt & Catch Fire's Jason Cahill, who wrote the pilot.
Fonda will play Crawford, a handyman's shop owner who is described as a "grizzled, ultratraditionalist hard-ass with a sadistic streak and a simmering resentment" about no longer being a leader among his band of survivors. David Mackenzie (Starred Up, Perfect Sense) will direct the pilot, which also features The Shield alum Catherine Dent as another survivor.
As an icon of 1960s counterculture, Fonda starred in The Wild Angels, The Trip and most famously Easy Rider, for which he shared an Oscar screenwriting nomination with Dennis Hopper and Terry Southern. A second Oscar nod, for best actor, followed in 1997 for Ulee's Gold, which earned him Golden Globe and New York Film Critics Circle wins. He won another Golden Globe and received Emmy and SAG nominations for his supporting turn opposite Helen Mirren in the Showtime movie The Passion of Ayn Rand. Fonda's acclaimed career, which began onstage with a New York Critics Circle-winning Broadway debut in 1961's Blood, Sweat and Stanley Poole, also includes Lilith, The Victors, Race With the Devil, Outlaw Blues, the NBC telepic adaptation of The Tempest, The Limey, the Showtime movie The Maldonado Miracle and the 2007 Russell Crowe-Christian Bale remake of 3:10 to Yuma.
Fonda continues to be managed by Jeff Rose, Alan Somers and Henry Mauldin of The Rose Group.
AVENGERS S.T.A.T.I.O.N.
Over the past few years, Marvel Studios have created their Cinematic Universe around the concept of Nick Fury's covert agency S.H.I.E.L.D. being the center of that world, which culminated this year in Captain America: The Winter Soldier and the hit ABC show "Marvel's Agents of S.H.I.E.L.D." Fans of the movies and show are finally getting a chance to be a part of an interactive Marvel experience with an amazing exhibit opening at Discovery Times Square in New York City next week. Marvel Studios has taken over the 10,000 square foot space for Marvel's Avengers S.T.AT.I.O.N. (Scientific Training and Tactical Intelligence Operative Network), an impressive combination of Marvel-style storytelling with real props and costumes from the Marvel Cinematic Universe, combined with an interactive experience where visitors can learn about the human body, the stars and even test their endurance and strength.
After spending two years designing, developing and building the exhibit, using some of the team behind The Avengers, Victory Hill Exhibitions Vice President Mark Smith gave SuperHeroHype a private tour through the exhibit, which was still amidst construction just one day before the exhibit would open for previews to the public. (You can check out our full gallery of pictures taken a few days later in the slideshow below.) We also had a chance to sit down with Stan "The Man" Lee for a far too brief interview talking about how his characters are now being used for educational purposes and other aspects of the legacy of the characters he either created or co-created.
Last week, the crew was still working long hours to get the exhibit up and running before its preview night and we could tell this was a hugely ambitious project that offers a lot more to those who visit than just costumes and props from the movie.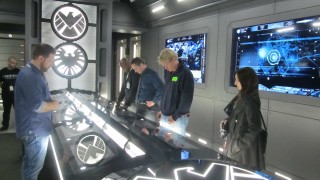 The interactive exhibit follows a storyline in which visitors to the exhibit are probationary S.H.I.E.L.D. recruits. As they arrive, they'll enter their information into a bank of S.T.A.T.I.O.N. security checkpoints after which they will be given a special card with their statistics that they can use at each exhibit to record the fact they have taken part in each aspect of their training.
Once the recruits have gotten their cards, they'll be brought thirty at a time into a room lined from floor to ceiling with video walls where they're scanned by lasers for identification and then a video of Titus Welliver's agent Felix Blake is projected onto the screens to greet and inform them what to expect on their first day. From there, it's into the Induction Room that has four large monitors showing the country on its two opposing walls and a bank of monitors in the middle where recruits can learn more about the various Avengers.
The recruits can then see actual costumes from Marvel's The Avengers including leather outfits worn by Scarlett Johansson and Jeremy Renner as Black Widow and Hawkeye, the classic Samuel L. Jackson's Nick Fury, a suit worn by Clark Gregg's Agent Phil Coulsen and Maria Hill's costume.
S.T.A.T.I.O.N.'s "containment unit" includes all of the dangerous elements that have found their way into our world, including a hermetically-sealed Chitauri warrior and an alien gun and space sled captured by S.H.I.E.L.D. Loki's helmet and scepter can be seen as well as the Red Skull's costume and guns and costumes from HYDRA agents, as seen in Captain America: The First Avenger.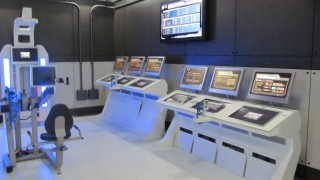 From there, the exhibit is broken up into zones dedicated to the four primary Avengers: Captain America, Thor, The Hulk and Iron Man, although the tour group needs to go through in a certain order rather than being able to break up into smaller groups to go to separate rooms.
Captain America's zone is all about strength, fitness and endurance with machines set up so that the recruits can see how strong and fit they are compared to the Star Spangled Avenger. There are a lot more props from the first movie including S.H.I.E.L.D. reports on some of the key players with injecting Captain America with the super serum, and the actual life pod from the movie is also on display. One can also see one of the actual Captain America costumes worn by Chris Evans in the movie along with one of his shields.
Thor's Observatory is all about the stars and the cosmos and besides displaying Thor's costume from the first movie, they plan to have a holographic representation of Thor's hammer Mjolnir. This was part of the exhibit that wasn't quite up and running when we went through so we can't really tell you much about how visitors interact with the displays of the cosmos. (Now normally, we'd think a Thor section of an Avengers exhibit would include bits from Asgard, but it was explained that this exhibit is from the perspective of S.H.I.E.L.D. and they've never been to Asgard.)
The next stop is Dr. Bruce Banner's laboratory where the recruits can get tested for gamma radiation, but it's hard to miss the 9-foot video wall displaying a massive interactive CG version of the Hulk that flexes and smashes against the wall and does his thunderclap on cue when the visitor puts their hand over a panel on the wall.
There are interactive monitors where recruits can learn about the sections of the brain and how it pertains to Banner changing into the Hulk, just part of the educational aspect of the exhibit that will make it a must-stop for class trips to New York City. The idea is to inform and educate visitors to the exhibit rather than just being a bunch of movie props to ogle, and they've created a study guide that can be used in schools before and after their visit. (Personally, I remember not being allowed to read comics in the class room, so it's nice to see that's changing.)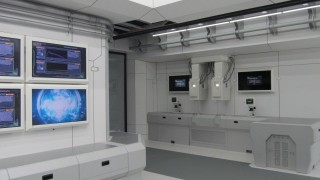 avengersSTATION - 090The room also includes the actual Tesseract device from The Avengers that was used by Loki to open up a portal to the Chitauri invasion, and it's as big as it looks on screen, rather than something that was just created using CG. Putting your hand on an interactive monitor turns the Tesseract's flashing lights on, although it's missing the key Asgardian shard that could potentially open another portal into outer space.
The centerpiece of the Iron Man zone, Tony Stark's lab, is an original suit of armor from the earlier movie with a large-scale arc reactor built into the floor right in front of it. It also contains specially-designed H.U.D. (heads up display) simulators that allow the visitor to experience what it's like to fly in Iron Man's suit.
Although that's technically the last stop in the exhibit, we've been told they still have more stuff to add including a few possible surprises. The S.T.A.T.I.O.N. experience doesn't just end after you finish touring the exhibit because with your personal ID card, you'll be able to go onto a website in a few months and continue to interact with new storylines and information involving your favorite Marvel characters. They're even talking about having special Marvel events exclusively for those who visited the S.T.A.T.I.O.N. in New York City.
Even the gift shop is impressive, because it's absolutely full of official Marvel merchandise from T-shirts to mugs to anything else the diehard Marvel fan might want after going through the exhibit.
Victory Hill has the Marvel license for six years and once the exhibit leaves Times Square in January, they're looking at other locations where it can be set-up so that anyone who can't make it to Discovery Times Square might still have a chance to see it. What's interesting is that it almost exclusively covers Marvel Phase 1 at this point, so it will be interesting to see if they start adding stuff from the movies after The Avengers over the next couple years.
Oh, and as promised, here's our brief interview with Stan Lee talking about the exhibit and other things Marvel. At 91, you just know that Stan Lee has probably been asked every single question possible sometime in his life, so he's good at giving quick snappy answers, but for anyone who loves Marvel, just being in his presence just makes you smile all over.
The Avengers S.T.A.T.I.O.N. Exhibit opens to the public on Monday, June 2, and will run through January 5, 2015. Tickets for adults are $27 while kids from 3 to 11 can get in for just $11. Make sure to save some money for that gift shop!
SATURDAY, MAY 31, 2014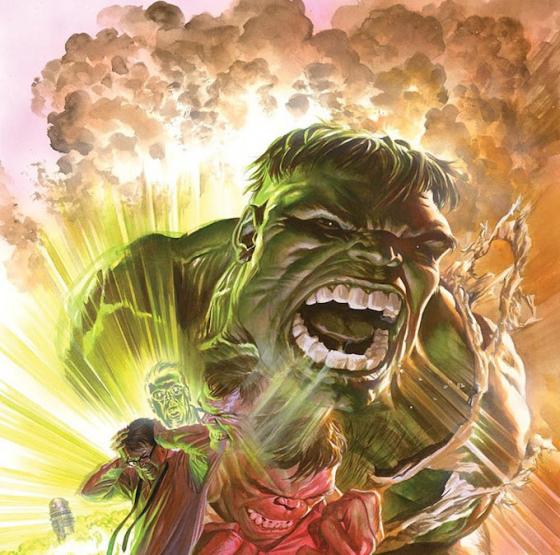 SAVAGE HULK
Wanna see Bruce Banner go bonkers in his latest Marvel showcase written and drawn by Alan Davis? Grunt once for yes! Here's an uppercut of awesome artwork for Savage Hulk #1 with the heated Hulk facing off against the X-Men, with variant covers by Davis, John Cassaday and a special Marvel 75th Anniversary painting by Alex Ross.

Hunker down with the official Hulk synopsis:

The Incredible Hulk has no shortage of enemies. But he's about to run afoul of some new ones. And it's…the X-Men?!?! The Jade Giant is about to go toe-to-toe with Marvel's mutants – and only one side is walking away! What could possibly drive these heroes to come to blows? "We wanted big names, superstars and break-out talent to tell their unique stories within continuity," says Senior Editor Mark Paniccia, in an interview with Marvel.com. "That might be now, or using elements of the past and perhaps even glimpses of the future. It all comes back to the current Hulk mythos while letting the talent cut loose with that Hulk story they've been dying to tell." Prolific comic book legend Alan Davis kicks off the exciting new series in style as a connection between Charles Xavier and Bruce Banner pits the Incredible Hulk against the Uncanny X-Men! But even as hero fights hero – two of the deadliest Hulk foes in history close in from the shadows. And it'll take both the Hulk and the X-Men united if they're to put a stop to the Leader and the Abomination. But can they? Don't miss the start of an all-new epic Hulk tale this June when Alan Davis unleashes the bombastic SAVAGE HULK #1 on comic shops this June!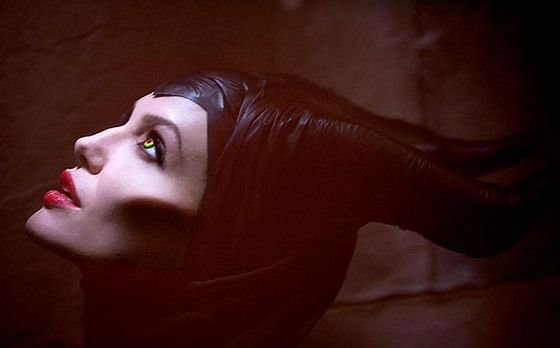 MALEFICENT
Angelina Jolie's live-action fairy tale Maleficent is whipping up a powerful potion at the Friday box office, where it could approach $25 million for the day for a weekend debut in the $65 million-plus range. Disney considers anything over $60 million a victory.
Box-office observers believe Maleficent -- featuring Jolie as the infamous sorceress from Sleeping Beauty -- will benefit greatly from targeting girls and moms, as well as families, considering the glut of male-skewing tentpoles in the marketplace (Days of Future Past, Godzilla and The Amazing Spider-Man 2). Elle Fanning plays Princess Aurora in the 3D movie, which comes on the heels of Disney's femme-fueled global juggernaut Frozen and marks Jolie's first appearance in theaters in four years.
Some believe Maleficent could even hit $70 million in its debut, since it is pacing on par with Oz the Great and Powerful, which debuted to roughly $79 million in March 2013. However, Disney cautions that more kids are out of school in summer, hence Maleficent could be front loaded and do more business on Friday than Oz did. Also, March is far less crowded.
Maleficent took in $4.2 million Thursday night, besting the $3.9 million earned in midnight runs by fellow Disney live-action fairy tale Alice in Wonderland in March 2010 and the $2 million grossed by Oz the Great and Powerful on its first Thursday night.
Disney said plenty of adults turned out Thursday night for Maleficent, and that 46 percent of ticket buyers were male, reflected in the fact that Imax locations turned in $560,000, or 13.3 percent of the $4.2 million.
Overseas, Maleficent began rolling out Wednesday, grossing a strong $20.1 million in its first two days from 35 territories including Russia, Germany, Australia, the U.K., Korea and Brazil. Domestically, the movie will have no trouble winning the weekend and toppling holdover X-Men: Days of Future Past from of the top perch. Still, Maleficent will need to do powerful business worldwide over the course of its run, having cost $175 million to produce after reshoots (there was reportedly tension between Jolie and first-time feature director Robert Stromberg).
Seth MacFarlane also enters the fray with A Million Ways to Die in the West, which looks to debut in the $20 million-plus range, well shy of the $54.4 million debut for Ted on the same weekend two years ago (Ted went on to become the top-grossing original R-rated comedy of all time, earning $549.4 million globally).
Million Ways to Die is projected to come in No. 3 after Maleficent and Fox's Days of Future Past, which is expected to earn $38 million to $40 million in its second outing after opening to a dazzling $110.7 million over Memorial Day weekend.
Million Ways to Die cost only $40 million, far less than Maleficent. Universal and Media Rights Capital reteamed to make the movie, which marks MacFarlane's first turn in a leading role. The anachronistic Western also stars Charlize Theron, Liam Neeson, Amanda Seyfried, Giovanni Ribisi, Sarah Silverman and Neil Patrick Harris.
Even though MacFarlane boasts an enthusiastic, heavily male fan base, Westerns are an inherently tough sell. Universal points out that an opening north of $20 million would be a victory considering the film's budget. Overseas, the R-rated comedy debuts day-and-date in 22 foreign territories.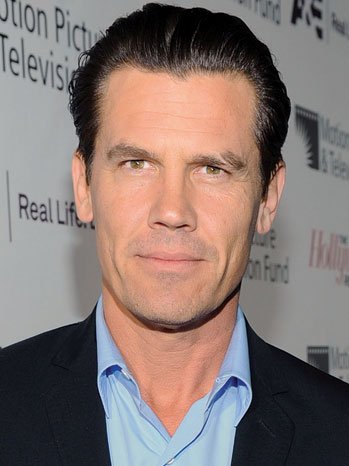 GUARDIANS OF THE GALAXY
Josh Brolin is voicing the character Thanos in Guardians of the Galaxy, sources tell THR.
The villainous character first appeared at the end of Marvel and Disney's The Avengers.
Guardians, set for release on Aug. 1, stars Chris Pratt as Peter Quill, the leader of the misfit Guardians. Zoe Saldana, Dave Bautista, Vin Diesel, Bradley Cooper and Lee Pace also star in the film. The film is directed by James Gunn from a screenplay by Gunn and Nicole Perlman. Thanos is a purple-hued alien who was born on Saturn's moon Titan. He's considered one of the baddest Marvel villains of all time, and is part of a group of god-like beings called The Eternalsand. He also trained Gamora (Saldana) to be an assassin. At the end of The Avengers, the character was played by Damon Poitier.
Brolin most recently starred in Labor Day and Oldboy. His upcoming films include Everest, Inherent Vice and Sin City: A Dame to Kill For, and he has just joined Denis Villenueve's Sicario. He's repped by CAA.
As usual with its projects, Marvel had no comment.
THE ZOCALO TODAY
Be sure to check out The Zocalo Today on Facebook as well as at ISN News: The Zocalo Today on Yahoo Groups. Did you miss the news from yesterday -- or earlier in the week. Catch up by going to the May News Archive. I have broken up the huge file into months to make it easier to scan through. It will bring you up to date for all that has been going on in the world of science fiction. Go to:
April News.
March News.
February News
January News
December News
November News
October News.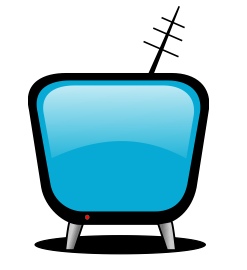 ON THE TUBE TONIGHT 8:00pm on CBS
Elementary
Season 2, Episode 11: Internal Audit
Holmes and Watson investigate the murder of a hedge fund manager who was running a Ponzi scheme.

8:00pm on BBC America
Batman
Having witnessed his parents' brutal murder as a child, millionaire philanthropist Bruce Wayne (Michael Keaton) fights crime in Gotham City disguised as Batman, a costumed hero who strikes fear into the hearts of villains. But when a deformed madman who calls himself "The Joker" (Jack Nicholson) seizes control of Gotham's criminal underworld, Batman must face his most ruthless nemesis ever while protecting both his identity and his love interest, reporter Vicki Vale (Kim Basinger).

9:00pm on NBC
Believe
Season 1, Episode 11: Revelation
Winter takes desperate measures to keep Channing alive; Bo and Tate try to confront Skouras.

9:00pm on Fox
Cosmos: A Spacetime Odyssey
Season 1, Episode 12: The World Set Free
The Ship of the Imagination travels to Venus; the impact of climate change.

9:00pm on Syfy
End of the World
When plasma starts falling from the sky, two boys spring into action to save humanity from disaster.

10:00pm on ABC
Marvel's Agents of S.H.I.E.L.D.
Season 1, Episode 22: Beginning of the End
Coulson and his team risk everything to stop Garrett and HYDRA.

10:00pm on CBS
The Mentalist
Season 6, Episode 14: Grey Water
Fischer and Jane investigate when a murder takes place at an oil fracking site.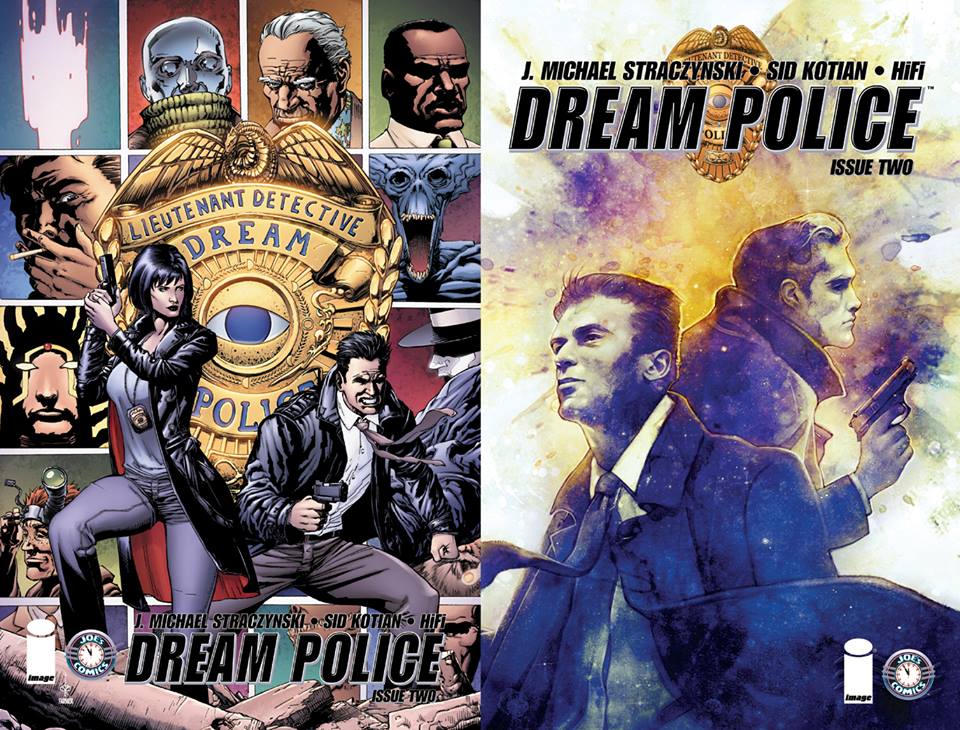 J. MICHAEL STRACZYNSKI - DREAM POLICE #2
Alternate covers for Dream Police Issue #2. Approved at the printer DREAM POLICE #2 by Fans of J. Michael Straczynski line art Sid Kotian, colors Hi-Fi, letters by Troy Peteri. Cover A by Sid Kotian and Bill Farmer MAR14 0568 Cover B by Anna Dittman MAR14 0569 In stores 6/4 Enjoy!

BABYLON 5 BOOKS: ENCOUNTERS WITH J. MICHAEL STRACZYNSKI ARCHIVED BY THE GREAT MACHINE QUICK GLANCE AT WHAT'S INCLUDED
400+page two-sided softcover book
- Side 1: ENCOUNTERS WITH J. MICHAEL STRACZYNSKI: Landmark interviews with JMS plus B5 analysis written by JMS
- Side 2: Babylon 5 Index covering all 20 B5 Script Books and ARTIFACTS FROM BEYOND THE RIM
- Tête-bêche style binding - Get Two Books in One
- Courtesy Data Reference Disc (First 7 days only)
- Choice of Centauri Purple or Station Blue (7 days only) For more information about what this volume contains, go to http://www.cafepress.com/b5books.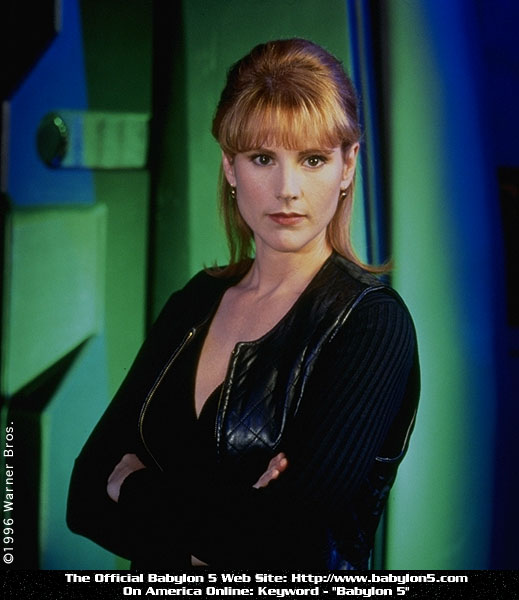 PAT TALLMAN UPDATE
Pat is talking to you straight! Facebook has made it harder than ever for you to see the posts from your favorite Pages. If you follow Pat on FB, you know her brand of snarky sexy humor. Well now it's no holds barred! Sign up for Pat's newsletter on her site PatriciaTallman.com and get it unsensored.The newsletter has content that will not be on the Facebook page or the site.
In this first issue, there is a special offer only available to those on the newsletter. Sign up by March 31st and be in the know.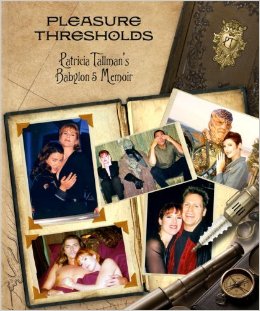 PLEASURE THRESHOLDS
"We are thrilled to announce Pat Tallman's book Pleasure Thresholds is finally available on Amazon! Amazon link.

The Ultimate Insider's Experience of Babylon 5: A behind-the-scenes peek into Patricia Tallman's life during her "B5 Years." A candid (and occasionally spicy) memoir told through print, video and audio. Pleasure Thresholds is a behind the scenes look at Patricia Tallman's life during the 5 years she spent shooting the hit science fiction series Babylon 5. An actress and stunt woman, Tallman recounts the deeply personal details of her life working on Babylon5, Star Trek:TNG, Deep Space Nine and films such as Jurassic Park ( as Laura Dern's stunt double). Autographed by Pat Tallman and J. Michael Straczynski . Can be personalized! Also available for overseas sales. Message us here: Pattallmannewsletter@gmail.com for shipping rates for non USA purchase. Thank you!"
KEEPING UP WITH CAST AND CREW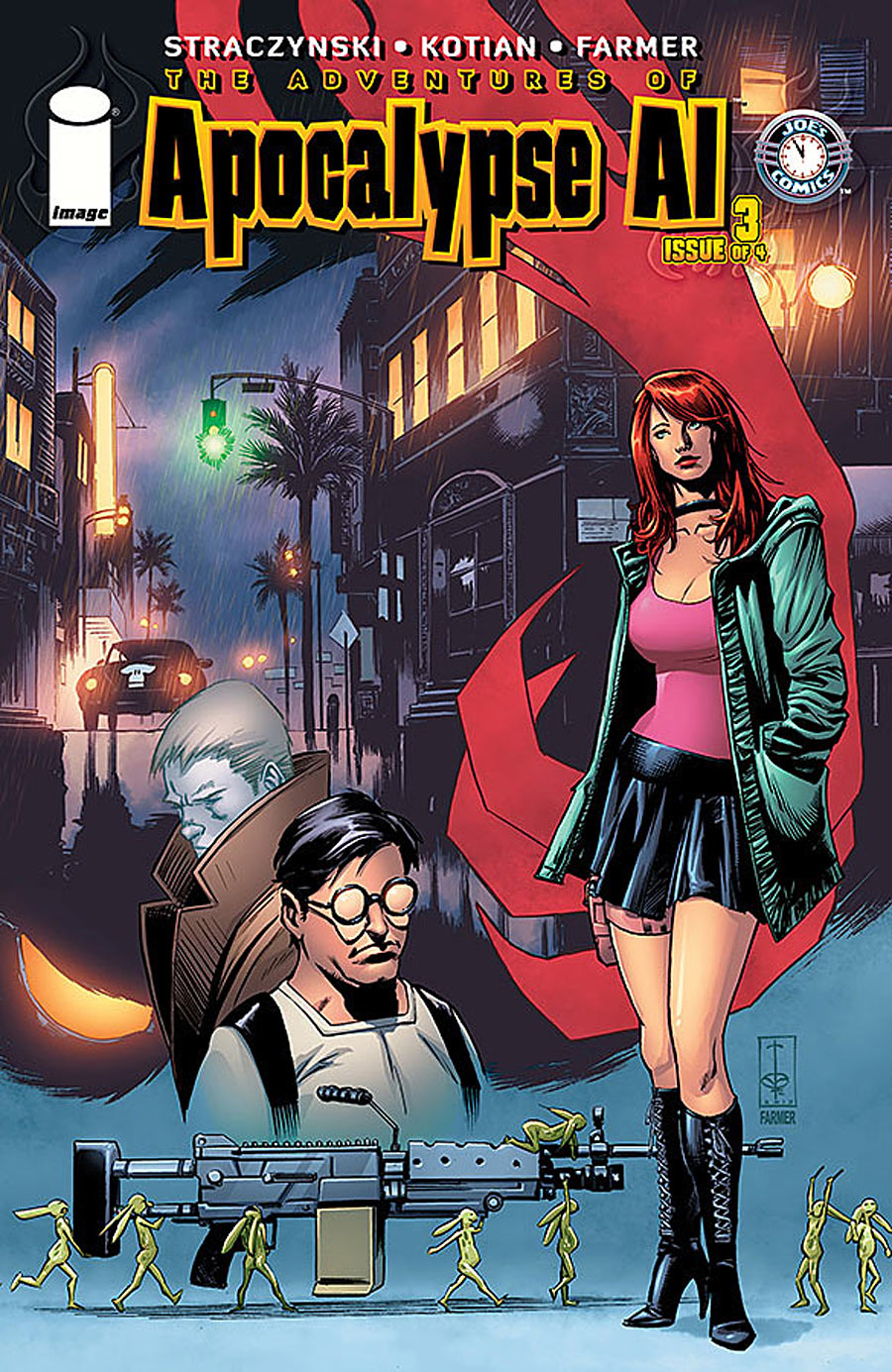 Previews galore! Six-page preview of Apocalypse Al #3!
http://www.comicbookresources.com/?page=preview&id=20986.
#FREEBABYLON5
BABYLON 5 is back on TV and from the comments on the Watch site, people are enjoying the first season all over again. Episodes air daily at 5:00pm. If you are in the UK, dial up Watch (Sky 109/Virgin 124). Don't miss an episode.
Would you believe 118 comments for just the first day of showing the series! I sure hope someone takes notice. Be sure to use the @Watch_channel twitter handle and link to the Watch Facebook page when posting. http://watch.uktv.co.uk/shows.babylon-5.
Be sure to visit the the newFree Babylon 5 website. It is time to gather and support the show we know and love.




Here is a quote from J. Michael Straczynski about emotions.
I had this theory that the more important and intimate the emotion, the fewer words are required to express it.

First it's in dating: "Will you go out with me?" Six words.
"Honey, I care for you." Five words.
"You matter to me." Four words.
"I love you." Three words.
"Marry me." Two words.
But what's left? What's the one most important and intimate word you can ever say to somebody? It's "goodbye."

While Michael O'Hare (Sinclair), Andreas Katsulas (G'Kar), Rick Biggs (Dr. Franklin), Tim Choate (Zathras) and Jeff Conoway (Zach Allen) are no longer with us, we will not forget their wonderful personalities and talent -- as well as their significant contributions to the BABYLON 5 universe. Be sure to visit In Memory Of for more information about memorial efforts.
Until we met again, in a place where no shadows fall.
BABYLON 5 BIRTHDAYS
Theodore Bikel - May 2
Michael O'Hare - May 6-- We miss you old friend
Stephen Furst - May 8
Melissa Gilbert-Boxleitner - May 8
Bruce Boxleitner - May 12
Andreas Katsulas - May 18
Andrea Thompson - May 22
Doug Wise - May 21
Douglas Netter - May 23
Paul Winfield - May 22
Roy Dotrice - May 26
Harlan Ellison - May 27 Have I missed anyone? If you know the birthday of someone connected with Babylon 5, pass the information along. We want to include everyone in our Happy Birthday Wishes.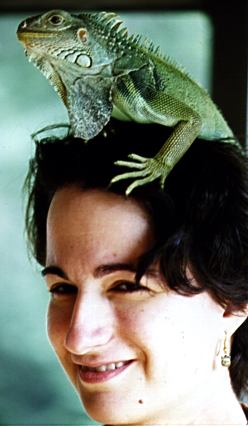 ITEMS OF INTEREST
Jeanne Cavelos, Author/Writer of novels that include Babylon5: Invoking Darkness, Summoning Light, Casting Shadows, and The Shadow Within; will be hosting Odyssey Workshops early in the coming year. Check her website and newsletter for details.
BABYLON 5 MUSIC VIDEOS AND TRIBUTES
John Hudgens has created many Babylon 5 videos, but I believe this is the most moving. It was first shown at the Phoenix Comic Con 20th Anniversary and honors many of the Babylon 5 family who have passed on.

Here is a link to John's Babylon 5 videos:
https://www.youtube.com/user/Babylon5MusicVideos?feature=watch

Richard Biggs memorial: http://www.youtube.com/watch?v=HyD4L8yNtsA

Andreas Katsulas memorial: http://www.youtube.com/watch?v=h2UQ2l9NPIg

- This is the extended version that I did for Andreas' widow ater the original cut was released on the net. It's never been seen online until now.

For those of you who've never seen these, I hope you enjoy them - and for those that have (and emailed me many times over the years about releasing them), I hope they're as good as you remember. Working with Joe on these videos was one of the highlights of my career, and I'll be forever grateful to him for the doors these have opened for me. I'm proud to have them on my resume.

John Hudgens
www.zteamproductions.com
---





ALABAMA PHOENIX FESTIVAL
Dates: May 30 - June 1, 2014
Place: Sheraton Birmingham Hotel, Birmingham, AL
A family-friendly, multi-genre, fan convention featuring celebrity guests, authors, comic book writers and artists, vendors, and much more.
For more information, go to http://www.alabamaphoenixfestival.com/. SPOOKY EMPIRE'S MAY-HEM
Date: MAY 30 - JUNE 1, 2014
Place: Doubletree at Universal Studios
Guests: John Carpenter, Mark Ramones, Nick Castle, Laurie Holden
For more information, go to www.spookyempire.com. PHOENIX COMICON
Dates: June 5-8, 2014
Place: Phoenix Convention Center, Phoenix, AR
Guests: Stan Lee, Nathan Fillion, John Barrowman, Eliza Dushku, John Rhys-Davies, Bruce Campbell and many more
For more information, go to http://phoenixcomicon.com/. PHILADELPHIA COMIC CON
Dates: June 19-22, 2014
Place: Pennsylvania Convention Center, Philadelphia, PA
Guests include: Michael Rooker, David McClintock, James Marsters, Sean Austin, and many others.
Go to Philadelphia for more information.

CREATION ENTERTAINMENT - BOSTON - #TREKBOS
Dates: June 21-22, 2014
Place: Hynes Center, Boston, MA
Guests: Karl Urban, Bruce Greenwood, Avery Brooks, Walter Koenig, Terry Farrell, Robert Beltran, and many more.
For more information, go to http://www.creationent.com/cal/stma.htm#guests.

FLORIDA SUPER CONVENTION
Dates: July 3-6, 2014
Place: Miami Beach Convention Center, Miami Beach, FL
Guests: William Katt, Nichelle Nichols, Peter David
For more information, go to www.floridasupercon.com. DETCON 1 (NASFic 2014)
Dates: July 17-20, 2014
Place: Detroit, Michigan
Guests: Steven Barnes (Author), John Picacio (Artist), and many more
For more information, go to http://detcon1.org/. Ultracon of South Florida 2014
Dates: July 19-20, 2014 - Sat. 10am - 10pm; Sun. 10am-7pm
Place: Broward County Convention Center, 1950 Eisenhower Blvd., Ft. Lauderdale, FL 33316
Guests include Mike Rio - Wolverine, Mark Sparacio, Jason Faunt - Power Rangers, Jose Delbo - Comic Book Artist
For more information, go to http://ultraconofsouthflorida.com. COMIC-CON INTERNATIONAL
Dates: July 24-27, 2014 Place: San Diego Convention Center
Guests: J. Michael Straczynski will be there along with a host of other guests
For more information, go to San Diego Comic Con. Star Trek Convention - Creation Entertainment
Dates: July 31 - August 3, 2014
Place: Rio Suites Hotel, Las Vegas, Nevada
Guests: WILLIAM SHATNER, KATE MULGREW, COLM MEANEY, WALTER KOENIG, NICHELLE NICHOLS, "ROM and NOG" as portrayed by Max Grodenchik and Aron Eisenberg, ANTHONY MONTGOMERY, JERRY HARDIN, TIM RUSS and MICHAEL FOREST. 87 plus more guests to come!
For more information, go to http://www.creationent.com/cal/st_lasvegas.html. SHORE-LEAVE
Dates: August 1-3, 2014
Place: Hunt Valley, MD (near Baltimore)
Guests: Richard Dean Anderson, Robert Piccardo and many more.
For more information, go to www.shore-leave.com. Worldcon, LONCON3
Dates: August 17-20, 2014
Place: London, England
For more information, go to http://www.loncon3.org/index.php. DRAGONCON 2014
Dates: August 29-September 1, 2014
Place: Atlanta, GA
Guests: Patrick Stewart, Peter Weller, Peter Williams, Richard Hatch, Wesley Eure - and many more
For more information, go to www.dragoncon.org. HAWAII CON
Dates: September 12-14, 2014
Place: Hapuna Beach Prince Hotel, Hawaii
Babylon 5 Guests: Pat Tallman, Claudia Christian, Walter Koenig
Other Guests from Stargate Atlantis, Battlestar Galactica, Games of Thrones and more
For more information, go to www.hawaiicon.com. SPECIAL ANNOUNCEMENTS!
Wizard World Conventions has a large number of events planned for the year. Be sure to visit the page to see if there is a convention of interest near you.

Creation Entertainment has a large number of conventions planned for the next several months. They include stars from TWILIGHT, SUPERNATURAL, STARGATE, FARSCAPE, XENA, SERENITY, STAR TREK, etc. Check out their calendar to see if one will be in your neighborhood soon. Don't miss their Videos page as well. It is full of some priceless video from a number of conventions.

Be sure to visit the referenced sites to see if there have been changes in dates/guests attending. Visit our Convention Calendar for a full listing of upcoming conventions.
BACK ISSUES OF THE ZOCALO TODAY
The front page of the The Zocalo Today changes daily, so be sure to check the back issues to make sure that you haven't missed anything IMPORTANT! I hope you will become a regular visitor to The Zocalo Today!
---
Take care and I look forward to hearing from you.
Sandra Bruckner (sgbruckner@aol.com)
Editor/Publisher
ISN News: The Zocalo Today
http://www.isnnews.net
Copyright - SBruckner, 1999-2014