[an error occurred while processing this directive]

The Zocalo Today

Welcome and thank you for dropping by. Take your shoes off, get comfortable and stay a while. There is a LOT of information here and you won't want to miss any of it.

The Zocalo Today is an interactive newsletter, encouraging readers to join a discussion topic or to send along letters that can be shared with other readers.

The Zocalo Today is a newsletter for Babylon 5 and science fiction fans everywhere. It is as much YOUR newsletter as it is mine! I'm just pulling together things for you!

Join our discussion topic. It is just one way you can share with other Z readers. If you see Babylon 5 cast and crew in other roles, let us know. We enjoy convention reports, photos, etc. Don't miss our back issues. I hope this will become more than just a newsletter. It's a community of people that enjoy sharing their experiences and interests. Babylon 5 brought many of us together -- and it remains with us, despite the fact that is no longer in production. Don't be shy. Join us today!

If you have questions, drop me a line at sgbruckner@aol.com. If you would like to join the mailing list for our newsletter, send me a note and I'll include you on the list. Or you can use the subscription block at the left.

Again, WELCOME!



Saturday, June 18, 2005:
THE TRIANGLE:
According to The Hollywood Reporter, Lou Diamond Phillips has joined the ensemble cast of Sci Fi Channel's miniseries THE TRIANGLE. This six-hour mini is currently shooting in Cape Town, South Africa. It focuses on a disparate group of professionals who are brought together to investigate the dangerous truths behind the Bermuda Triangle. Phillips will play Meeno Paloma, who's piloting a Greenpeace expedition when he encounters a deadly force in the Triangle. TRIANGLE is set to premiere on the cable network in December. Philips joins Eric Stoltz, Catherine Bell, Michael Rodgers, Bruce Davison and Sam Neill in t he cast.
---
LAND OF THE DEAD:
George A. Romero returns to the genre after two decades and he has created the upcoming zombie film LAND OF THE DEAD. He says the movie may mark the beginning of a new round of DEAD films. "I mean, if this opens strong, I might be in a situation where I have to do another one of these or will be asked to do another one of these right away." In a recent news conference, Romero said, "I've sort of left the characters, you know, the truck and those characters, [intact]. I'd want to almost make it chapter two of the same movie, if that happens, and just sort of finish the story." In LAND OF THE DEAD, Romero picks up the story of an America overrun with walking dead, which he last visited in 1985's DAY OF THE DEAD, the third movie in a trilogy that began with 1968's NIGHT OF THE LIVING DEAD. In LAND OF THE DEAD, Simon Baker plays Riley, the leader of a group of guns-for-hire who help sustain a walled city, one of the last remaining outposts of living humans. Romero says he has ideas for more films using the same characters, which include a feisty female warrior played by Asia Argento. LAND OF THE DEAD opens June 24.
---
BATMAN BEGINS:
Warner Bros. Pictures' BATMAN BEGINS opened in 3,718 theaters and grossed a solid but not record-breaking $15.1 million on Wednesday. "We're ecstatic about the opening for "Batman Begins," said Dan Fellman, president of domestic distribution for Warner Bros. "It's the first 'Batman' movie that ever opened on a Wednesday, and it's the largest Wednesday opening in June for Warner Bros." Fellman noted that the last "Batman" film to hit theaters, "Batman and Robin" in June 1997, grossed $16.1 million its first day of release, which was a Friday. Its two-day total through Thursday stands at $24.2 million.
---
AMERICAN DREAMZ:
According to The Hollywood Reporter, Willem Dafoe (Green Goblin in SPIDER-MAN 2) is set to join Hugh Grant, Dennis Quaid and Mandy Moore in the social satire AMERICAN DREAMZ for Universal Pictures. Dafoe will play the role of vice president Sutter. Paul Weitz will direct and will produce with his brother Chris Weitz and their producing partner Andrew Miano through their Depth of Field banner. Paul Weitz penned the script for "Dreamz," which is described as a satire of American politics and show business. Also producing is Rod Liber.
---
NATIONAL TREASURE 2:
Walt Disney Pictures and Jerry Bruckheimer Films have begun laying out a map for NATIONAL TREASURE 2. Gregory Poirier has been hired by the studio to write the movie, which will be directed by returning helmer Jon Turteltaub. Details of the story are being kept under wraps. NATIONAL TREASURE starred Nicolas Cage and was released in November. To the surprise of many observers, it overcame lukewarm reviews and became a huge hit, grossing more than $173 million domestically. Since then, Disney had played down the idea of a sequel, saying it would not do one unless a good story could be told.
---
KING KONG ADVERTISEMENT:
On Monday, June 27, the entire NBC Universal family of broadcast and cable networks will join together and bow to a new KING. The teaser trailer for Universal Pictures' KING KONG will premiere as a simultaneous "roadblock" on NBC, USA Network, Sci Fi Channel, Bravo, Universal HD, MSNBC, CNBC, Telemundo and Mun2 from 8:59:30-9:02 p.m. ET. The first 150 seconds of promotion for Peter Jackson's highly anticipated follow-up to "The Lord of the Rings" could potentially reach as many as 109 million reviewers, which would pass the total distribution of any previous promotional broadcast. Jeff Zucker, president of the NBC Television Group said, "This exciting and expansive campaign will allow us to stretch and realize the full promise of NBC Universal's formidable assets. This concerted push will create a buzz across the spectrum of our networks that will build through 'King Kong's' much-anticipated release." KING KONG is slated for release on December 14.
---
WAR OF THE WORLDS:
Paramount Pictures has revealed a new internet trailer for director Steven Spielberg's War of the Worlds at Yahoo! Movies. Set to open on Wednesday, June 29th, WAR OF THE WORLDS is a contemporary retelling of H.G. Wells's seminal classic which reveals the extraordinary battle for the future of humankind through the eyes of one American family fighting to survive it. The film stars Tom Cruise, Tim Robbins, Miranda Otto, Dakota Fanning, Justin Chatwin, Rick Gonzalez and David Alan Basche.
---
TOP SCIENCE FICTION NEWS STORIES:
To catch up on the latest news from around the world of science fiction, go to News Page. You'll find the highlights from your favorite shows -- and more.
---
JMS UPDATE
Here is the latest update from JMS (from the B5 moderated newsgroup):

1) Fantastic Four. My first issue came out a bit ago, and on June 22nd they're releasing an expanded version of the same issue with script and other material.

2) Amazing Spider-Man, where we're about half-way through the current Hydra arc. When finished, this will segue into the big Spidey event that will occupy pretty much the rest of the year and span all of the relevant titles.

3) Supreme Power, the next issue of which (#17) comes out also on the 22nd. After issue 18, we're doing two SP miniseries, one with Nighthawk, the other Hyperion (I'm doing that one), then we relaunch with a new number one under the Marvel Knights banner. (Gary Frank remains as artist.)

4) Dream Police ALSO comes out on the 22nd, making it kind of a red-letter day for jms stuff. Apparently the pre-orders were very good, but given more that just came in too late for the print run, the need may exceed demand on this one, so you may want to nab it fast before it sells out.

5) The Book of Lost Souls, a new monthly title with Colleen Doran as artist, debuts in September under Marvel's creator-owned Icon imprint.

6) Bullet Points, a new miniseries that will come out sometime second or third quarter 2006.

7) Silver Surfer miniseries for 2006. There's another maxi series on tap for 2006 that Marvel has requested, but I have to kind of hold that back for now until they're ready to relase the info.

And now, having looked at all that, I have to go lay down for a while....
jms
---
San Diego Comi-Con
They have me on a few Marvel panels, don't know the specifics yet, the He-Man panel for the first DVD launch, some signings, and the usual spotlight thing...with luck, nobody will get arrested.
---
PENNY LANE PROJECT
Pat Tallman (Lyta) has sent along a request for help. Please read below:

Greetings, Friends of Penny Lane Centers,
We have Penny Lane Foster Children Graduating from:
Junior High
High School
and
Elementary School

Foster children are children whose parents are unable or unwilling to care for them. Penny Lane Foster Children are in loving, nurturing and supervised and specially trained foster homes throughout the community. Every child deserves to be loved and celebrated.

Help Penny Lane celebrate this milestone for the foster children in our care. We would like to provide special gifts for our graduating students.

WISH LIST:
MP3 Players
Video Games ( PG 13 preferred )
Movie Passes
Gift Certificates
Please share this wish list with friends and associates!

Visit our website www.pennylane.org to learn more about the positive programs Penny Lane provides to foster children, youth, and our community.
RICHARD BIGGS AUCTION:
There are a number of photo sets from Rick Biggs own collection up on Ebay. These are being auctioned by a close friend of the family and some are autographed by Rick and/or others. There are pictures from B5, Tremors, some publicity shots and others. Check out: http://search.ebay.com/_W0QQfgtpZ1QQfrppZ25QQsassZcarend6a6mQQssPageNameZSTRKQ3aMEFSQ3aMESOI. If you ever had the opportunity to see Richard and Jason together at a convention, you will love the second picture, Item 6537038616.
---
DISCUSSION TOPICS
We have had so many good responses to the last question, I hesitate to change -- so I've left it out in case others want to send in their thoughts. Here's something new to ponder.

Question #1:
Remakes of old movies seem to be the thing these days. If you had a choice of which old movie you could have remade or re-imagined, which one would you choose? Would it be something like CREATURE FROM THE BLACK LAGOON, THE DAY THE EARTH STOOD STILL, THE INVISIBLE MAN, FORBIDDEN PLANET? While you are daydreaming, who would you choose to star in the production?

Question #2:
Why do you think STAR TREK: ENTERPRISE was cancelled? Was it poor writing, series fatigue? What is your opinion?

Send in your thoughts and comments to sgbruckner@aol.com. I will post them on the Discussion Page for everyone to share and enjoy. There are some good ones so far. Add yours! If you see an old topic you want to respond to, go right ahead. We enjoy hearing from you.
KEEPING UP WITH CAST AND CREW
JOSHUA COX:
Joshua Cox (Lt. David Corwin on BABYLON 5), is returning for a new season of Lifetime's medical drama "Strong Medicine." Strong Medicine, the Lifetime original drama, launches its sixth season Sunday June 12 at 9pm ET. Joshua Cox portrays Peter Riggs, a Registered Nurse (RN). More info on the show, including cast/character bios, can be found on the show's webpage: www.lifetimetv.com/shows/strongmed/index.html.
---
MIRA FURLAN:
One of Mira's films shot in 2005 in Belgrade, TAKE A DEEP BREATH, is featured at the New FEST in New York City. For more information, go to http://www.newfestival.org/cgi-bin/iowa/films.html?film=870.

The picure will also be at Frameline 29 on June 23 in San Francisco. Get more information at http://www.frameline.org/festival/29th/programs/take_a_deep_breath.html.
---
PETER WOODWARD:
Peter Woodward (Galen on CRUSADE) will be hosting another cruise this year.
Dear Friends,
Please join me for a wonderful unique cruise experience where I've created exclusive events just for you! If you joined me last year, you already know what an amazing time we will have again this year. We will all create memories of a lifetime together. I have arranged a unique opportunity for us to spend time together. This will be a cruise with a ifference.
Join me in this unique event, get to know me, and combine fact and fantasy, history and humor, archeology and ancient weapons, on a cruise into adventure.

Looking forward to toasting the sunset together!!
Peter

For more information, go to http://www.cruiseevents.net/peterwoodward/index.htm. To see photo's from Peter's fan club cruise last year visit: http://www.cruiseevents.net/peterwoodward/photocruise05.htm
---
PAT TALLMAN:
Dennis Madalone was the stunt coordinator on many Star Trek series. He's also a singer and is giving away DVDs and CDs in lieu for donations to charities on his home page. Pat Tallman's Penny lane will be added to that charity listing this week. Check out Dennis' website at www.americawestandasone.com.
---
Pat's sister Mary is working to make a difference -- she has signed up to run in two triathalons in Illinois to help raise funds for cancer research. I have posted Mary's letter out at Pat Tallman. Read about Mary's efforts and how you can help make a difference too.
---
SPECIAL CAST ACTIVITIES: To learn more about what cast members are doing away from the tube, go to CAST ACTIVITIES page.
---
IN MEMORY OF: While Rick (Biggs) and Tim (Choate) are no longer with us, we will not forget their wonderful personalities and talent. Be sure to visit In Memory Of for more information about memorial efforts. Until we met again, in a place where no shadows fall.
BABYLON 5 BIRTHDAYS
Jeffrey Willerth - June 5
Donovan Brown (Optic Nerve) - June 6
Ann Bruice Aling - June 8
Mark Walters - June 10
Susan Norkin (Post) - June 10
June 11 - Adrienne Barbeau (Amanda Carter)
Enid-Raye Adams - June 16
Mike Vejar - June 25

If there is anyone we have missed, be sure to drop me a note so that I can add them to our Cast and Crew Birthday Listing. We want to include everyone in our Happy Birthday Wishes.
BABYLON 5 DVDS
For information on the Babylon 5 DVDs, please go to Babylon 5 DVD page.





NEW TV SERIES
TNT's new original series THE CLOSER, starring two-time Golden Globe nominee Kyra Sedgwick (The Woodsman, Something To Talk About, TNT's Door to Door) as an Atlanta detective transferred to Los Angeles to head the Priority Murder Squad, premiered Monday night with a special commercial-free presentation. This gripping drama series comes to TNT from The Shephard/Robin Company in association with Warner Bros. Television. THE CLOSER is executive-produced by Greer Shephard (Nip/Tuck, The D.A.), Michael M. Robin (Nip/Tuck, The D.A., NYPD Blue) and James Duff (The D.A., The Agency). Gil Garcetti, Los Angeles district attorney from 1992 to 2000, is a consulting producer on the series.

An offbeat personality, a tough-as-nails approach and a track record as one of the country's leading investigators: these are just a few of the traits exhibited by television's next great detective, Deputy Police Chief Brenda Johnson. In her first lead role in a dramatic series, Sedgwick plays the CIA-trained detective who has been brought to Los Angeles to head a special unit of the Los Angeles Police Department that handles sensitive, high-profile murder cases. Brenda is tapped to lead the team because she is a world-class interrogator, and when it comes to obtaining confessions, she is a closer.

For more information about the series and some clips to get you hooked, go to The Closer Page here at The Zocalo Today.
MARCH OF THE PENGUINS
Here is something for the whole family -- from Warner Independent Pictures and National Geographic Feature Films --
MARCH OF THE PENGUINS.

March of the Penguins - In theaters June 24th, Rated G
www.marchofthepenguins.com
Directed by: Luc Jacquet
As told by: Morgan Freeman
Cast: Introducing the Emperor Penguins

Synopsis

"March of the Penguins" tells one of the most beautiful love stories on Earth.

In the Antarctic, every March since the beginning of time, the quest begins to find the perfect mate and start a family. This courtship will begin with a long journey – a journey that will take them hundreds of miles across the continent by foot, in freezing cold temperatures, in brittle, icy winds and through deep, treacherous waters. They will risk starvation and attack by dangerous predators, under the harshest conditions on earth, all to find true love.

For more information about this film, go to MARCH OF THE PENGUINS page here at The Zocalo Today.
---
BOOK RECOMMENDATIONS
Ranger Connie dropped by this book recommendation:

I had to write to you to tell you about a book titled "American Science Fiction TV", by a Jan Johnson - Smith. I found it in a bookstore here in NY and had to have it. Even though its subtitle is " Star Trek, Stargate,, and beyond" it is mostly about B5 with a big chapter about it at the end of the book. It is a really good book and if you keep following this link http://www.upne.com/0-8195-6738-8.html you can read the synopsis given. I was so delighted that finally someone is giving B5 its due, most exciting.
NEW STARGATE NOVEL
Sequel to A Matter of Honor
The second part of A Matter of Honor, by Sally Malcolm, is scheduled to be released in early September 2005. The story follows on from the events of A Matter of Honor, as the team attempt to rescue Major Henry Boyd and the SG-10 team from the black hole planet.
But the rescue attempt has unforeseen consequences which force them to confront a monstrous secret on the homeworld of the Kinahhi.
The book will be available for purchase from http://www.stargatenovels.com/books.shtml and www.amazon.co.uk. for those outside of the UK.
DVD NEWS AND REVIEWS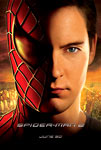 SPIDER-MAN 2
Your friendly neighborhood Spider-Man returns in the sequel to the record-breaking blockbuster movie debut for Marvel Comics' flagship character. Tobey Maguire returns as Peter Parker, the nerd-turned-hero, to face new threats to New York City and the people he loves. Release Date: June 30th, 2004 (wide).



LA FEMME NIKITA: THE COMPLETE THIRD SEASON

Six-Disc Collector's DVD Set Featuring all 22 Episodes of the Third Season with All-New Suspenseful Bonus Materials
Available June 28
BURBANK, CA. (May 23, 2005) - Just when you thought you had to wait another year, Warner Home Video will release La Femme Nikita: The Complete Third Season, the popular cult action TV series featuring the sexiest female lead ever to grace the small screen. The six-disc collector's set contains all 22 episodes from the third season, plus an array of bonus features including a behind-the-scenes featurette, "Designing Nikita", deleted scenes, audio commentary and special gag reel footage. La Femme Nikita: The Complete Third Season will be available on DVD June 28, 2005 and is priced at $99.98 SRP.
For more information, go to La Femme Nikita Page here at The Zocalo Today.
---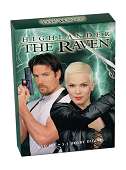 HIGHLANDER: THE RAVEN
Sexy and shrewd Amanda Derieux has roamed the world for 1,200 years, romancing kings, cavorting with thieves, and using her preternatural street smarts to evade the blades of countless evil Immortals. Now, she has teamed up with freelance security expert Nick Wolfe, putting her high-octane arsenal of charisma and sassy, good looks into full force to charm, confound and, when necessary, destroy Immortals bent on evil in HIGHLANDER: THE RAVEN™. Classic HIGHLANDER® flourishes like flashbacks, beautifully choreographed sword duels and electrifying Quickenings abound in the dazzling new HIGHLANDER: THE RAVEN DVD Collection from Anchor Bay Entertainment and Davis-Anderson Merchandising Corp. Celebrating all 22 daring and provocative episodes in the high-action HIGHLANDER spin-off series, the HIGHLANDER: THE RAVEN DVD Collection beautifully preserves Elizabeth Gracen's smart and captivating portrayal as the morally conflicted Amanda and her incredible adventures with hunk detective Wolfe (Paul Johansson). The nine-disc set of HIGHLANDER: THE RAVEN comes jam-packed with newly created Bonus Materials. Each disc boasts behind-the-scenes audio and video commentary from cast and crew, including Gracen and Johansson, plus detailed Cast Bios, Production Notes, Scripts, a Photo Gallery and a hilarious Blooper Reel. Presented in state-of-the-art digitally re-mastered 5.1 Dolby Digital Surround Sound, HIGHLANDER: THE RAVEN arrives June 14, 2005 with a priced-to-own SRP of $89.98.

Ranger Dave reports that the Highlander: The Raven is also available from the Amazon Marketplace for $52 plus shipping. Amazon.com's price is a bit under $70 with free shipping.
---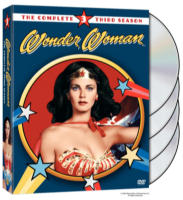 Wonder Woman: The Complete Third Season
Synopsis:
Megalomaniacs. Spies. Thieves. Phantoms. Mad scientists. The world is full of dangerous people. But don't fear -- Wonder Woman is here! Lynda Carter returns as Wonder Woman for all 24 episodes of the third and final thrill-packed season of the series. Teamed with flint- jawed government agent Steve Trevor (Lyle Waggoner) and using the alias of Diana Prince, Wonder Woman whips out her bracelets and lariat to battle evil. And what a battle it is. Her foes include a time traveler from the year 2155, a brain with no body, a dating service that's serving up death, bazillions of hungry ants and a sculptor whose statues come to life and become his partners in crime. Wonder Woman saved the best adventures for last!
For more information, be sure to go to www.WonderWomanDVD.com or go to Wonder Woman Page here at The Zocalo Today.
---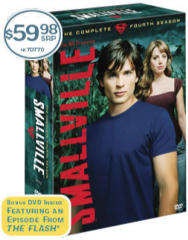 SMALLVILLE - SEASON FOUR
Set for release on September 13, all 22 episodes from season 4 will be included in this 6 disc set (990 mins). In addition to the episodes, Warner Bros has included some exciting bonus material. You can expect to find 25 minutes of deleted scenes (21 scenes total), episodes commentaries by Alfred Gough, Miles Millar and others, "Inside the Writers Room" documentary, and "Being Lois Lane" featuring interviews with Noel Neill, Margot Kidder, Dana Delaney and Erica Durance. The set is part of Warner Television's 50th Anniversary, and a bonus DVD featuring an episode of The Flash has been included.
Commentary tracks include:
"Crusade" - Al Gough(Executive Producer), Miles Millar (Executive Producer), Ken Horton (Executive Producer), Erica Durance ("Lois Lane") and Annette O'Toole ("Martha Clark Kent") "Transference" - Al Gough, Miles Millar and John Glover ("Lionel Luther") "Spell" - Jeannot Szwarc (Director), Kristin Kreuk ("Lana Lang"), Allison Mack ("Chloe Sullivan") and Erica Durance ("Lois Lane") The standard Smallville specs apply to this set; anamorphic widescreen (1.78:1) video and English Dolby Surround Stereo audio (with English, Spanish and French subtitles).
---
We have a lot of information on new WB DVDs. Visit our NEW DVD Page for press releases and video clips that may be of interest to you. Information includes KUNG FU, MI-5, Carnivale, Troy, The Matrix, and more.

Visit to the Review Page for a review of the DVD sets.
SCIENCE FICTION MAGAZINES
SPECIAL PUBLICATIONS: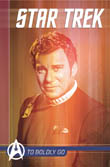 STAR TREK COMICS CLASSICS VOLUME 1: TO BOLDLY GO TP
by Barr, Sutton & Villagran

Collects DC's Star Trek Series One #1-6. This collection marks the debut of Titan's new Star Trek Comics Classics series, reprinting every DC's Star Trek comics in order for the very first time! In the aftermath of Star Trek II: The Wrath of Khan, the crew of the Enterprise must discover the secret of Klingon cloaking technology.
CINEFANTASTIQUE VOLUME 37 #6 & #7 – SEPTEMBER/OCTOBER 2005
With the Fall comes CFQ's annual TV special issue, offering complete stories and episode guides to Stargate SG-1, Stargate Atlantis, Battlestar Galactica, and Smallville. Plus a show-by-show preview of the genre series to watch in the coming year, including Lost, Alias, Medium, Fathom, and more! (Cinefantastique) (CAUT: 4)
Magazine, 8x11, FC..........$7.99
BATTLESTAR GALACTICA MAGAZINE #1
NEWSSTAND EDITION
PREVIEWS EXCLUSIVE EDITION
Following the Battlestar Galactica souvenir magazine, Titan launches the official Battlestar Galactica Magazine. The 68-page, bi-monthly magazine features star interviews, behind-the-scenes reports, exclusive imagery, and all the latest hot news! (Titan) NOTE: Not available in the U.K.
NEWSSTAND EDITION-Magazine, 8x11, 68pgs, FC..........$6.99
PREVIEWS EXCLUSIVE EDITION-Magazine, 8x11, 68pgs, FC..........$6.99
For additional publications coming out, go to Books-Publications Page for more information.
MONTHLY MAGAZINES:
Cult Times Special #34: DOCTOR WHO: This issue can be a primer for Doctor Who fans. After a nine-year absence, 2005 marked the return of Doctor Who, bigger and better than ever before. Under the guidance of Russell T Davies, it's moved from being a fondly-remembered piece of kitsch to a vital, ratings-grabbing part of the BBC's schedule. You get an in-depth look at the past, present and future of the galaxy's best-loved Time Lord. New to DOCTOR WHO? This issue will give you a look at the 26 years of DOCTOR WHO. This guide features the high points of the series so far and the facts you need to know to fully immerse yourself in the Whoniverse! Also included in this issue, SMALLVILLE's executive producer Alfred Gough looks back on the fourth season of this pre-Superman Clark Kent and tells us why he thinks it's the best year yet! Paul McGillion talks about his role as Dr. Beckett in STARGATE ATLANTIS and BATTLESTAR GALACTICA's Edward James Olmos looks at the series cliffhanger.

Starburst #325: DOCTOR WHO: A ratings winner for the BBC this year, actor Bruno Langley talks about his role as Adam, the genius who was tempted with more information than his brain could handle when he was taken on an adventure into the far future with the Doctor and Rose. John Barrowman brings good looks and a big dash of charm to his role, as he reveals what it's like to join the Doctor and Rose in their adventures in Time and Space as intergalactic con man Captain Jack Harkness. The visual effects wizards at The Mill reveal more of their secrets in creating the look of the series for Episodes Seven to Ten. Also inside, George Lucas, the man responsible for bringing the STAR WARS saga to life, starting with the big screen, talks about his grand vision and what the future holds for the franchise now that the complete story has finally been told.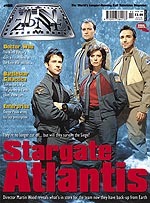 TV Zone #190: STARGATE ATLANTIS: With the second season of the series looming on the horizon, veteran Stargate director and co-producer Martin Wood talks about some of what we can expect to see. Wood has quite a history with STARGATE. He first came on board STARGATE with "Solitudes" in the first season. Since then, he's directed more than 50 Stargate adventures, including several instalments of its sister series Stargate Atlantis. It's been quite a memorable experience for him in more ways than one. Also in this issue, Battlestar Galactica co-executive producer and writer Toni Graphia explains how the hit Sci-Fi show is set to explore darker territory in its second season as the Cylon menace spreads
Cult Times #117: SMALLVILLE -- This issue looks at the fourth season and the latest events in the lives of Clark Kent, Lex Luthor and others. Also in this issue, STARGATE SG-1's Robert Cooper reveals what treats are in store for the revamped, unstoppable Sci-Fi juggernaut.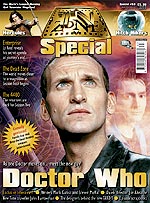 TV Zone Special #63: DOCTOR WHO: "You can wait 16 years for a new Doctor, and then two come along. We take a sensational voyage through the new series with a wealth of interviews and features, plus a glimpse of things to come for David Tennant in Season 2!" THE DEAD ZONE is coming back and This issue has an interview with producer Robert Petrovich who reveals challenging aspects of the new season's shoot, and why it should appeal to new and long-term fans.
Expose #94: HARRY POTTER: In this issue, you'll learn more about the weird and wonderful world of unlicensed fan fiction as it pushes back the boundaries of JK Rowling's fictional world… and, in some cases, the boundaries of taste. HERCULES: NBC's new mini-series explores the darker side of the Greek hero. Meet star Paul Telfer as he talks about taking the character back to his murderously gory origins, and how he pushed to play the character with an English accent.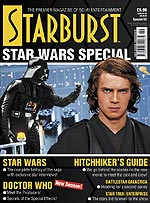 Starburst Special #69: STAR WARS SPECIAL: This issue contains: The Complete History -- From The Phantom Menace to Return of the Jedi, we look at the complete six-chapter epic; Dark Influences -- 10 ways the Star Wars trilogy has influenced Revenge of the Sith, and Archive Interviews -- Original Starburst interviews with Mark Hamill, Harrison Ford, Carrie Fisher, Empire Strikes Back director Irvin Kirshner and Return of the Jedi director Richard Marquand.
COMIC BOOKS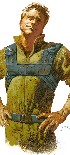 SERENITY #3
Written by Joss Whedon and Brett Matthews, penciled by Will Conrad, colored by Laura Martin, covers by Leinil Yu, Joshua Middleton and Sean Phillips.
Just looking to earn themselves a little bit of peace on the edges of the galaxy, the crew of the ship Serenity have landed themselves in a big, fat trap. Now, it's up to this motley bunch of mercenaries and fugitives to fight their way free from the grips of a nasty bunch of covert-operatives known as the Blue Gloves. Get ready for hot action in the cold reaches of space as Joss Whedon and Brett Matthews deliver the brain-exploding conclusion to this comic prequel of Whedon's Serenity feature-film--the uber-anticipated follow-up to his cult-hit TV show Firefly. This final issue features three seperate covers by some of comics hottest artists--Leinil Yu, Joshua Middleton, and Sean Phillips.
32 pages, $2.99, in stores on Sept. 7.
AMAZING SPIDER-MAN #523
Written by J. Michael Straczynski, penciled by Mike Deodato, cover by Terry Dodson.
"Moving Up." It's the sensational Spider-Man versus the horrendous hordes of Hydra as the villainous organization makes its final push to seize control of the country! Standing in the way? Everyone's favorite wall-crawler. But will Spidey have enough left in the tank to take out the group of terrorists and save the day? Part 5 of 6.
32 pages, $2.50, in stores on Aug. 3.
FANTASTIC FOUR #530
Written by J. Michael Straczynski, pencils and cover by Mike McKone.
It's a reunion with destiny as the Fantastic Four once more brave the hazards of outer space for a rendezvous with a fateful cosmic storm ­ And the secret that lies therein!
32 pages, $2.99, in stores on Aug. 24.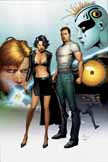 SUPREME POWER #18
Written by J. Michael Straczynski, pencils and cover by Gary Frank.
"Exhibit R: The Statement of Mark Milton." Hyperion's world is turned upside down when his dark secret is exposed to the entire world. But the worst is yet to come... Next month's news will blow you away!
32 pages, $2.99, in stores on Aug. 31.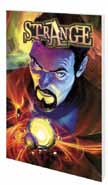 STRANGE: BEGINNINGS AND ENDINGS TPB
Written by J. Michael Straczynski and Sara "Samm" Barnes, penciled by Brandon Peterson, cover by Peterson.
Brash young surgeon Dr. Stephen Strange is on a collision course with destiny -- a journey that will force him to search the deepest corners of his own heartŠand the outer reaches of the cosmos! Masters of the comic-book medium J. Michael Straczynski, Samm Barnes and Brandon Peterson chronicle the adventures of the Master of the Mystic Arts in the year's most highly anticipated origin story! Collects Strange #1-6.
144 pages, $17.99.
AMAZING SPIDER-MAN #522
Written by J. Michael Straczynski, penciled by Mike Deodato, cover by Kaare Andrews.
It's an action-packed extravaganza as the hordes of Hydra make a final push to take over the United States!! And it's up to everyone's favorite red, white, and blue web-slinger to make sure that "Hail Hydra" isn't the new national anthem!
FANTASTIC FOUR #529
Written by J. Michael Straczynski, pencils and cover by Mike McKone.
"Appointment Overdue!" Reed's got a rendezvous to keep at the edge of space‹but in order to reach it, he's going to have to work his way through a battalion of America's best-trained fighting men!
JMS COMIC BOOKS: For a listing of current comic books written by J. Michael Straczynski, go to JMS COMIC BOOK page. There is a brief synopsis of the book and a date when publication is expected. This will cover AMAZING SPIDERMAN, FANTASTIC FOUR, STRANGE, RISING STARS, and others. For other comic book titles for such shows as STARGATE, SERENITY, etc., go to COMIC BOOKS - OTHER TITLES.
NEW TOONS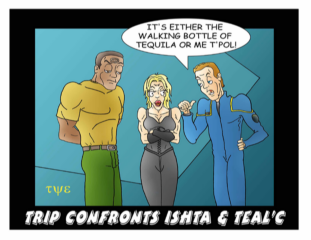 Tye Bourdony has sent along his latest satires for your enjoyment.
TV SCHEDULE ON SCIFI CHANNEL
STARGATE SCHEDULE:
06/20/2005 06:00 PM STARGATE SG-1 THE CURE
06/20/2005 07:00 PM STARGATE SG-1 2001
06/20/2005 08:00 PM STARGATE SG-1 DESPERATE MEASURES
06/20/2005 09:00 PM STARGATE SG-1 WORMHOLE X-TREME!
06/20/2005 10:00 PM STARGATE SG-1 PROVING GROUND
06/21/2005 06:00 PM STARGATE SG-1 PROMETHEUS - PT 1
06/22/2005 06:00 PM STARGATE SG-1 UNNATURAL SELECTION - PT 2
06/23/2005 06:00 PM STARGATE SG-1 SIGHT UNSEEN
06/24/2005 06:00 PM STARGATE SG-1 SMOKE AND MIRRORS
06/24/2005 08:00 PM STARGATE SG-1 (SEASON 8) MOEBIUS - PART 1
06/24/2005 11:00 PM STARGATE SG-1 (SEASON 8) MOEBIUS - PART 1
06/27/2005 06:00 PM STARGATE SG-1 PARADISE LOST
06/27/2005 07:00 PM STARGATE SG-1 48 HOURS
06/27/2005 08:00 PM STARGATE SG-1 SUMMIT - PT 1
06/27/2005 09:00 PM STARGATE SG-1 LAST STAND - PT 2
06/27/2005 10:00 PM STARGATE SG-1 FAIL SAFE
06/28/2005 06:00 PM STARGATE SG-1 METAMORPHOSIS
06/29/2005 06:00 PM STARGATE SG-1 DISCLOSURE
06/30/2005 06:00 PM STARGATE SG-1 FORSAKEN

STARGATE ATLANTIS:
06/24/2005 09:00 PM STARGATE ATLANTIS BEFORE I SLEEP
06/24/2005 12:00 AM STARGATE ATLANTIS BEFORE I SLEEP

BATTLESTAR GALACTICA:
06/24/2005 10:00 PM BATTLESTAR GALACTICA KOBOL'S LAST GLEAMING - PT 1
06/24/2005 01:00 AM BATTLESTAR GALACTICA KOBOL'S LAST GLEAMING - PT 1
BABYLON 5/CRUSADE PHOTOSHOP PHOTOS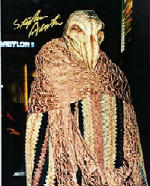 You do NOT have to pay the prices asked for over at e-bay! Here are photos of B5 and Crusade cast members at fantastic prices. Check out Photo Shop. Ordering is easy -- and you can't beat the prices! Just let me know which photos you want and I'll check to make sure they are still in stock.
---
CONVENTION CALENDAR
June 25-26, 2005
THE OFFICIAL BATTLESTAR: GALACTICA Convention
Place: The Burbank Airport Hilton Hotel
Guests: KATEE SACKHOFF (LT. KARA "STARBUCK" THRACE), JAMIE BAMBER (CAPTAIN LEE "APOLLO" ADAMA), JAMES CALLIS (DOCTOR GAIUS BALTAR), TRICIA HELFER (Number Six), RONALD D. MOORE (Executive Producer/ Show Developer) and GABRIEL KOERNER (Visual effects Artist)
For more information, go to http://www.creationent.com/cal/bsgbur.htm
---

June 25-26, 2005
LONDON FILM & COMIC CON
Location: London, England
Guests: to be announced
For more information, go to: http://www.londonfilmandcomiccon.com/
---

June 30-July 4, 2005
WESTERCON
Place: Calgary, Alberta, Canada
For more details, go to http://www.calgaryin2005.org/
---

July 8-10, 2005
Shore Leave 27
Emphasis: Media SF
B5 Guests: Patricia Tallman, Jeffrey Willerth, Malachi Throne
Other Guests: Mary McDonnell, Steve Bacic, Danny Strong, Alexis Cruz, Joanna Cassidy, Mark Goddard, Chase Masterson, William Windom
Location: Marriott's Hunt Valley Inn, Hunt Valley, MD.
Nearest city: Baltimore, Maryland
For more information, visit their website at http://www.shore-leave.com
Contacts: information@shore-leave.com, 410-496-4456, PO Box 6809, Towson, MD 21285-6809
---

July 8-10, 2005
OFFICIAL STARGATE SG-1 CONVENTION TOUR
Location: Burbank, California
Guests: Christopher Judge, Michael Shanks, Torri Higginson, Don S. Davis, Teryl Rothery, Dan Shea, Peter Williams
For more information, go to: http://www.fansofstargate.com/
---

July 14-17, 2005
SAN DIEGO COMIC-CON
Place: San Diego Convention Center
Guests: J. Michael Straczynski
Go to http://www.comic-con.org/cci/ for more details about the event.
---

July 15-17, 2005 Continuum 3: creatures natural and unnatural
Place: The Hilton
Location: Melbourne, Australia
Confirmed Guests: Neil Gaiman (American Gods; Coraline; The Sandman), Poppy Z. Brite (Liquor; Exquisite Corpse; Lost Souls), Richard Harland (The Eddon & Vail Series; The Ferren Trilogy)
For more information, visit their website at http://www.continuum.org.au
---

July 15-17, 2005
OFFICIAL STARGATE SG-1 CONVENTION TOUR
Location: Boston, Massachusetts
Guests: Christopher Judge, Michael Shanks, Don S. Davis, Teryl Rothery, Tony Amendola, Peter Williams
For more information, go to: http://www.fansofstargate.com/
---

July 25-August 1, 2005
GATECON 2005
Location: Vancouver, British Columbia
Guests: Gary Jones, Dan Shea, Colin Cunningham, Alex Zahara, Jason Schombing, Steve Bacic, Dan Payne, Kevin Durand, Andrew Jackson, Aaron Douglas, Tahmoh Penikett, Andrew Kavadas, John Novak, David Winning, Lorena Gale, Alonso Oyarzun
For more information, go to: http://www.gatecon.com/
---

July 30-31, 2005
Pittsburgh Toy Show
City: Pittsburgh, Pennsylvania
Place: Pittsburgh Expomart - Monroeville
For more information visit www.pittsburghtoyshow.com
---

Be sure to visit the referenced sites to see if there have been changes in dates/guests attending. Visit our Convention Calendar for a full listing of upcoming conventions.
BACK ISSUES OF THE ZOCALO TODAY
The front page of the The Zocalo Today changes daily, so be sure to check the back issues to make sure that you haven't missed anything IMPORTANT! I don't want the front page getting too long so I shift information periodically into the archives. So if you aren't a regular visitor to The Zocalo Today, be sure to check out the back issues. Just use the button above!
---
Take care and I look forward to hearing from you.
Sandra Bruckner (sgbruckner@aol.com)
Editor/Publisher
ISN News: The Zocalo Today
http://www.isnnews.net
Copyright - SBruckner, 1999-2005
Search Engine Optimization and Free Submission