[an error occurred while processing this directive]

The Zocalo Today

Welcome and thank you for dropping by. Take your shoes off, get comfortable and stay a while. There is a LOT of information here and you won't want to miss any of it.

The Zocalo Today is an interactive newsletter, encouraging readers to join a discussion topic or to send along letters that can be shared with other readers.

The Zocalo Today is a newsletter for Babylon 5 and science fiction fans everywhere. It is as much YOUR newsletter as it is mine! I'm just pulling together things for you!

Join our discussion topic. It is just one way you can share with other Z readers. If you see Babylon 5 cast and crew in other roles, let us know. We enjoy convention reports, photos, etc. Don't miss our back issues. I hope this will become more than just a newsletter. It's a community of people that enjoy sharing their experiences and interests. Babylon 5 brought many of us together -- and it remains with us, despite the fact that is no longer in production. Don't be shy. Join us today!

If you have questions, drop me a line at sgbruckner@aol.com. If you would like to join the mailing list for our newsletter, send me a note and I'll include you on the list. Or you can use the subscription block at the left.

Again, WELCOME!



Saturday, July 9, 2005:
SHORE LEAVE THIS WEEKEND:
Two of my very most favorite people -- Pat Tallman and Jeffrey Willerth will be there! Shore Leave is always an outstanding convention. Lots of guests -- lots of fun. I plan to visit on Sunday. For information on the convention, see the convention calendar below or go to http://www.shore-leave.com/ for the complete schedule of activities.
---
Ranger Bill reports that he'll be at Shore Leave as well -- lurking about as Kosh -- our favorite Vorlon friend. He'll also be *emerging* Saturday night on stage during the Masquerade contest. (For those of you who have never been to Shore Leave, the costume contest is absolutely AWESOME!)

---
FANTASTIC FOUR:
For fans of science fiction, this is a very crowded movie weekend. There's WAR OF THE WORLDS, BATMAN BEGINS and now 20th Century Fox's FANTASTIC FOUR. Also opening this weekend is Buena Vista Pictures' horror remake DARK WATER, starring Jennifer Connelly. Fox originally planned the Marvel comic book adaptation to bow on the Fourth of July weekend and even had ballyhooed a "Fantastic 4th" in early materials for the film, but when WAR OF THE WORLDS selected this coveted date for release Fox backed down, shifting back a week its hopeful summer bonanza. It remains to be seen whether the strategy will work. Opening just nine days after the Steven Spielberg- Tom Cruise machine took over popular culture for the holiday, "Four" hopes to do some clobbering in 3,602 theaters.
Rated PG-13, the film stars Ioan Gruffudd as Mr. Fantastic, Michael Chiklis as the Thing, Jessica Alba as Invisible Woman and Chris Evans as Human Torch. With a lesser-known cast and an inexperienced action-adventure director in Tim Story ("Barbershop," "Taxi"), Fox is fielding a number of unknown variables. Many in the industry predict that if the boxoffice wasn't in the middle of a slump, the film likely would cross the $40 million mark. But considering how off the boxoffice is this year, conservative estimates are running in the mid- to high-$30 million range.
---
JUSTICE LEAGUE VIDEO GAME:
Warner Bros. Interactive Entertainment has announced the production of a Justice League of America video game for the Sony PlayStation2 and Microsoft Xbox. The roleplaying game is set for a fall 2006 release. Featured super-heroes will include Superman, Batman, The Flash, Wonder Woman, Green Lantern, Martian Manhunter, and Zatanna. Each super hero will possess unique super powers that are character-specific, creating a variety of fighting styles for players to use.
---
CHASSIS:
Hurricane Entertainment has announced that four-time Academy Award winner Ben Burtt has been attached to direct the live action feature film adaptation of their flagship comic book property CHASSIS. Having worked alongside George Lucas since 1975, Ben Burtt has won four Academy Awards and has been nominated ten times for his sound design work and sound editing on; "Star Wars," "Raiders of the Lost Ark," "ET" and "Indiana Jones and the Last Crusade". He has directed the "Young Indiana Jones" movie; "Attack of the Hawkmen" as well as the IMAX films, "Blue Planet," and "Special Effects". Burtt's most recent work includes editing the current "Star Wars" prequels as well as creating a new sound division for Pixar Animation. CHASSIS is set in the world of rocket car racing in a retro-futuristic 1949. "It's the story of a young woman who longs to be a rocket racer but her father won't allow it. Partly due to the dangers involved in the high speed race, but mostly because of the dangerous and nefarious men who run the sport," said Chassis creator and President of Hurricane Entertainment, William O'Neill. For the San Diego Comic Con, Hurricane and Ben Burtt have created a four minute live action short to show off the world of CHASSIS to the public. "We have some fantastic CGI shots of the rocket cars that just blew me away." Said Jan Utstein-O'Neill. "They were created by the very talented folks at Third Floor Studios, a start-up company consisting of the team that did the pre-visualization on "Star Wars: Episode III Revenge of the Sith". The short will have its world premiere next week at the San Diego Comic Con, Saturday, July 16TH at 1 PM, in room 5-AB. Hurricane Entertainment will also be premiering a special convention exclusive Chassis Comic Book at their booth, number 2205. Included is a short story written and drawn by William O'Neill, an exclusive interview with Ben Burtt, and a glorious cover by Ryan Church. It will have a very limited print run of only 1500.
---
AEON FLUX
The official website for Paramount Pictures' sci-fi actioner AEON FLUX, set to hit theaters later this year, has been updated. At the site, you can get a first peek at the upcoming comic book adaptation from Dark Horse Comics, a new video clip Charlize Theron and Sophie Okonedo (who plays Sithandra) and a photo gallery with 33 images from the anticipated film. Based on the MTV animated series created by Peter Chung, AEON FLUX is set 400 years in the future, when disease has wiped out the majority of the earth's population except for one walled, protected city-state, Bregna, ruled by a congress of scientists. The story centers on Aeon Flux (Theron), the top operative in the underground 'Monican' rebellion - led by The Handler (Frances McDormand). When Aeon is sent on a mission to kill a government leader, she uncovers a world of secrets. Directed by Karyn Kusama, the film also stars Marton Csokas, Jonny Lee Miller, Pete Postlethwaite, Amelia Warner and Caroline Chikezie.
---
SCI-FI FRIDAY:
Mark your calendars! On Monday night at 10:00pm ET, SciFi will offer a preview of their Sci-Fi Friday line-up. There will be behind- the-scenes looks at STARGATE SG-1, STARGATE ATLANTIS and BATTLESTAR GALACTICA. So be sure to watch.
Don't miss this week's TV Guide. You will enjoy the three newsstand covers to choose from: Amanda Tapping & Ben Browder (Stargate SG-1), Tricia Helfer & James Callis (Battlestar Galactica) and Rachel Luttrell & Joe Flanigan (Stargate Atlantis). Matt Roush provides some previews for each series -- and some spoiler material as well for BATTLESTAR GALACTICA. So beware.
---
TOP SCIENCE FICTION NEWS STORIES:
To catch up on the latest news from this week -- and last month, go to News Page. You'll find the everything from our front page -- but over a longer period of time.
---
SAN DIEGO COMIC CON
Online specialty retailer FAB Gear (Fabgearusa.com) is sponsoring FABHUNT! at this year's San Diego Comic Con International, July 14th-17th at the San Diego Convention Center. The company will distribute promotional color postcards at various intervals and locations around the convention center. The postcards show a coupon code for 5% off any online order but 5 postcards will have a different code which is redeemable at the company's website for a free Product Enterprise Gerry Anderson die cast vehicle including a SHADOmobile, Skydiver, or the Moonbase Interceptor & UFO from "UFO", or Rescue, Lab Pod or Freighter Eagles from "Space: 1999", Supercar, Stingray, Fireball XL5, or any other Product Enterprise diecast vehicle due for release in 2005. The postcards feature an illustration by Eric Kachelhofer of the Eagle spacecraft from the TV series "Space: 1999", which was produced by Gerry Anderson. The coupon codes can be found on the back of the cards. To see if you've won the FABHUNT!, go to Fabgearusa.com and enter an order for any Product Enterprise die cast vehicle, then enter the code when prompted at checkout. If your code is a winner, the item's price will drop to $0.00. The cards may also be mailed in to redeem the prize. Approximate value of each prize is $95.00, including shipping. No purchase is necessary, and the winning postcards must be redeemed by September 31st, 2005. Postcards are not redeemable for cash value. Each winning card is good for one (1) prize, including free ground shipping in the continental United States. Supermarionation Replica Collection products are not included in the contest. FABHUNT! and FAB Gear are trademarks of Proteus Media Group, all rights reserved. FAB Gear is the North American headquarters for Gerry Anderson fans. The company is named after the popular call sign from Anderson's Supermarionation series Thunderbirds, "F.A.B.!", which stands for nothing at all, according to Gerry Anderson. Fab was simply a popular slang term when the series was produced in 1965, and the producer adopted it for the show. The company's website is Fabgearusa.com.
---
DISCUSSION TOPIC
I think the SciFi Channel has a good thing going with SciFi Friday -- a strong line-up of programs along a single theme. Do you think this would work with other networks? Should NBC or ABC move shows around so that they are more closely grouped by genre?

Send in your thoughts and comments to sgbruckner@aol.com. I will post them on the Discussion Page for everyone to share and enjoy. There are some good ones so far. Add yours! If you see an old topic you want to respond to, go right ahead. We enjoy hearing from you.
KEEPING UP WITH CAST AND CREW
BILL MUMY - TONIGHT
Bill Mumy's group, THE JENERATORS, will be playing at Rusty's Surf Ranch on the Santa Monica Pier Saturday, July 9 beginning at 9:00pm. They will only play one set so don't miss it. Reservations are recommended - Call 310-393-7437.
Jenerators are: Tom Hebenstreit, Miguel Ferrer, David Jolliffe, Bill Mumy Gary Stockdale
---
BRUCE BOXLEITNER:
Ranger Ann reports that PAX TV has changed its name "independent Television". Go to http://www.ionline.tv/contact/faq.cfm on that. Bruce's series, YOUNG BLADES has been moved to a new night & time: Saturdays at 7pm ET. They are still in reruns with "To Heir is Human" today (7/2) & "The Chameleon" on 7/9. As a result of the network's new name, the Young Blades webpage has a new address: www.ionline.tv/shows/yngblad. No word as yet on whether or not there will be a second season for the series.
Bruce's TV movie SNAKEHEAD TERROR will air this Sunday night at 9pm ET on SCIFI.
---
PAT TALLMAN:
Pat, who we all know and love as Lyta on Babylon 5, also has an extensive history in horror films -- NIGHT OF THE LIVING DEAD, etc. She was recently interviewed by the Icons of Fright website and you can read more about this side of Pat's career at Icons of Fright. Pat sent along this note for horror fans out there. LAND OF THE DEAD will premiere shortly and you won't want to miss a thing. Pat writes:
" Dear Horror Fans!
Last night I was invited to see the Los Angeles premiere of George A. Romero's LAND OF THE DEAD. It stars Simon Baker ( a Penny Lane supporter and star of the tv show "The Guardian") , John Legiuzamo, Dennis Hopper and more. It was great! I am very squeamish when it comes to horror movies, ironically, and I have to say I missed a lot of KNB's incredible effects burying my face during the worst of it. They were so REAL! The acting was great, we even laughed a lot ( intentional on George's part!) , the evening was a huge success. He got great reviews in Variety and the Hollywood Reporter. George hasn't made a film in a while as you may know. He is the best when it comes to these kinds of movies. He started the zombie craze!! It's so wild because he is the warmest and kindest guy. AND he needs our help. Universal hasn't put very much money into advertisement. What a film makes in it's opening weekend determines the studio's future decisions about what films will be made and filmmakers will make them! It is imperative we go out and see LAND OF THE DEAD this weekend and cast our vote! If you want to see more sci fi and horror films made, make sure you see the ones that come out on the opening weekend! Please take a friend and go be entertained this weekend by seeing Land Of The Dead! Cast that vote!
Stay scared!
Pat"
Dennis Madalone was the stunt coordinator on many Star Trek series. He's also a singer and is giving away DVDs and CDs in lieu for donations to charities on his home page. Pat Tallman's Penny lane will be added to that charity listing this week. Check out Dennis' website at www.americawestandasone.com.
---
Pat's sister Mary is working to make a difference -- she has signed up to run in two triathalons in Illinois to help raise funds for cancer research. I have posted Mary's letter out at Pat Tallman. Read about Mary's efforts and how you can help make a difference too.
---
Greetings, Friends of Penny Lane Centers,
We have Penny Lane Foster Children Graduating from:
Junior High, High School and Elementary School

Foster children are children whose parents are unable or unwilling to care for them. Penny Lane Foster Children are in loving, nurturing and supervised and specially trained foster homes throughout the community. Every child deserves to be loved and celebrated.

Help Penny Lane celebrate this milestone for the foster children in our care. We would like to provide special gifts for our graduating students.

WISH LIST:
MP3 Players
Video Games ( PG 13 preferred )
Movie Passes
Gift Certificates
Please share this wish list with friends and associates!

Visit our website www.pennylane.org to learn more about the positive programs Penny Lane provides to foster children, youth, and our community.
---
SPECIAL CAST ACTIVITIES: To learn more about what cast members are doing away from the tube, go to CAST ACTIVITIES page.
---
IN MEMORY OF: While Rick (Biggs) and Tim (Choate) are no longer with us, we will not forget their wonderful personalities and talent. Be sure to visit In Memory Of for more information about memorial efforts. Until we met again, in a place where no shadows fall.
BABYLON 5 BIRTHDAYS
Jerry Doyle - July 16
J. Michael Straczynski - July 17
David Warner - July 29

If there is anyone we have missed, be sure to drop me a note so that I can add them to our Cast and Crew Birthday Listing. We want to include everyone in our Happy Birthday Wishes.
BABYLON 5 DVDS
For information on the Babylon 5 DVDs, please go to Babylon 5 DVD page.





NEW STARGATE NOVEL
Sequel to A Matter of Honor
The second part of A Matter of Honor, by Sally Malcolm, is scheduled to be released in early September 2005. The story follows on from the events of A Matter of Honor, as the team attempt to rescue Major Henry Boyd and the SG-10 team from the black hole planet.
But the rescue attempt has unforeseen consequences which force them to confront a monstrous secret on the homeworld of the Kinahhi.
The book will be available for purchase from http://www.stargatenovels.com/books.shtml and www.amazon.co.uk. for those outside of the UK.
NEW SCI FI MERCHANDISE
STARGATE: ATLANTIS SEASON ONE CARDS
This 63-card set collects all 20 Season One episodes in one set, with three cards outlining each exciting episode with 3 images and a plot synopsis. 12 packs per box, 5 cards per pack. Also available is a collector's trading card binder. Five cards per pack. 40 packs per box. (CAUT: 4)
---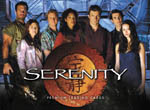 SERENITY PREMIUM CARDS, BINDER, & PRESS SHEET
Inkworks brings the amazing space adventure film, Serenity, to a premium set of trading cards. Oscar- and Emmy-nominated writer/ director Joss Whedon - responsible for the worldwide TV phenomena Buffy the Vampire Slayer and Angel - now applies his trademark compassion and wit to his film about a small band of galactic outcasts, first brought to audiences in the cult-hit FOX TV series, Firefly. The 72-card series features the amazing story and special effects of the highly anticipated film. Also available is a collector's trading card binder and a mini press sheet. Six cards per pack. 36 packs per box. (CAUT: 4)
COLLECTOR ALBUM..........$19.95
"RENEGADES" MINI-PRESS SHEET..........$69.95
DVD NEWS AND REVIEWS
NEW DVDS COMING
24: Season Four
Starring: Kiefer Sutherland
Released: 8th August 2005

Further Details
20th Century Fox Home Entertainment has announced the release of 24: Season Four for the 8th of August. No additional details are available as yet. Stay tuned for updates.

ET: THE EXTRA TERRESTRIAL
Starring: Henry Thomas
Released: 23rd August 2005
SRP: $19.98

Further Details
Universal has announced a single disc re-release of the classic Steven Spielberg film E.T.: The Extra Terrestrial for the 23rd of August, priced at around $19.98. The disc will feature an anamorphic widescreen (1.85:1) transfer, both DTS ES 5.1 and Dolby Digital 5.1 EX audio, an exclusive audio track of John Williams' magical score, 'The Reunion: E.T.'s Family and Friends' featurette, a 'Behind-the-Scenes with Composer John Williams' featurette, the original theatrical trailer, exclusive production photos and concept drawings, and an 'E.T.'s Interactive Space Tour' feature. A separate pan and scan release will also be available at the same time.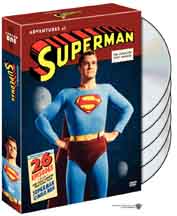 ADVENTURES OF SUPERMAN DVD
Warner Home Video has announced an Oct. 18 release date for THE ADVENTURES OF SUPERMAN: The Complete First Season, a five-disc set featuring the television series from the 1950s that starred George Reeve as Superman. Here is how Warner describes the collection:
"It's a bird! It's a plane! It's Superman! The legendary Man of Steel, last survivor of the doomed planet Krypton lives on earth, assuming the secret identity of Clark Kent, mild-mannered reporter for the Metropolis Daily Planet. But with powers and abilities far beyond those of mortal men, he battles for truth and justice as Superman. This is the first Superman TV series! Originally aired in the 1950's, it featured George Reeves as Superman and enjoyed tremendous success during its broadcast. The TV series premise was established a year before its broadcast via the theatrical release of Superman and The Mole Men in 1951."
We have a lot of information on new WB DVDs. Visit our NEW DVD Page for press releases and video clips that may be of interest to you. Information includes KUNG FU, MI-5, Carnivale, Troy, The Matrix, and more.
Visit to the Review Page for a review of the DVD sets.
SCIENCE FICTION MAGAZINES
MONTHLY MAGAZINES: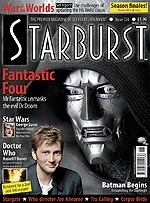 Starburst #326: FANTASTIC FOUR: Ioan Gruffudd discusses his lead role as Mr Fantastic in the big screen comic adaptation, and talks about some of the fabulous CGI special effects used in the movie. DOCTOR WHO's writer and executive producer Russell T Davies looks to the future as he prepares to steer the next 28 confirmed instalments of the hit series, including two Christmas specials. Also BATMAN BEGINS' director Christopher Nolan, scriptwriter David S Goyer, stars Katie Holmes & Michael Caine talk about this blockbuster movie.
Cult Times #118: STARGATE SG-1: Michael Shanks talks about returning to his Daniel Jackson character for the ninth season with new cast members and new adventures ahead. Also in this issue, The Shield's Glenn Close joins the series as tough-talking Captain Monica Rawling. She explains why she decided to try her hand at series television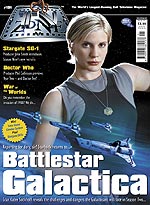 TV Zone #191: BATTLESTAR GALACTICA's star Katee Sackhoff has been braving the elements – and nearly catching hypothermia shooting the series! She tells TV Zone what her character Lt Starbuck will be getting up to in Season Two of the hit Space Opera. STARGATE Producer John Smith reveals the trials of getting a last-minute go-ahead for Season Nine of Stargate SG-1, and discusses the future of its sister show Atlantis.
Cult Times Special #34: DOCTOR WHO: This issue can be a primer for Doctor Who fans. After a nine-year absence, 2005 marked the return of Doctor Who, bigger and better than ever before. Under the guidance of Russell T Davies, it's moved from being a fondly-remembered piece of kitsch to a vital, ratings-grabbing part of the BBC's schedule. You get an in-depth look at the past, present and future of the galaxy's best-loved Time Lord. New to DOCTOR WHO? This issue will give you a look at the 26 years of DOCTOR WHO. This guide features the high points of the series so far and the facts you need to know to fully immerse yourself in the Whoniverse! Also included in this issue, SMALLVILLE's executive producer Alfred Gough looks back on the fourth season of this pre-Superman Clark Kent and tells us why he thinks it's the best year yet! Paul McGillion talks about his role as Dr. Beckett in STARGATE ATLANTIS and BATTLESTAR GALACTICA's Edward James Olmos looks at the series cliffhanger.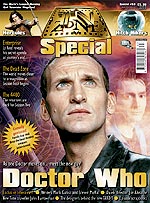 TV Zone Special #63: DOCTOR WHO: "You can wait 16 years for a new Doctor, and then two come along. We take a sensational voyage through the new series with a wealth of interviews and features, plus a glimpse of things to come for David Tennant in Season 2!" THE DEAD ZONE is coming back and This issue has an interview with producer Robert Petrovich who reveals challenging aspects of the new season's shoot, and why it should appeal to new and long-term fans.
Expose #94: HARRY POTTER: In this issue, you'll learn more about the weird and wonderful world of unlicensed fan fiction as it pushes back the boundaries of JK Rowling's fictional world… and, in some cases, the boundaries of taste. HERCULES: NBC's new mini-series explores the darker side of the Greek hero. Meet star Paul Telfer as he talks about taking the character back to his murderously gory origins, and how he pushed to play the character with an English accent.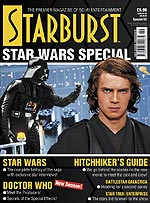 Starburst Special #69: STAR WARS SPECIAL: This issue contains: The Complete History -- From The Phantom Menace to Return of the Jedi, we look at the complete six-chapter epic; Dark Influences -- 10 ways the Star Wars trilogy has influenced Revenge of the Sith, and Archive Interviews -- Original Starburst interviews with Mark Hamill, Harrison Ford, Carrie Fisher, Empire Strikes Back director Irvin Kirshner and Return of the Jedi director Richard Marquand.
COMIC BOOKS
FANTASTIC FOUR #529
Fantastic Four #529 will arrive in stores on July 27 from Marvel Comics. The issue is written by J. Michael Straczynski, with art and cover by Mike McKone.
Here's how Marvel describes the issue:
"'Appointment Overdue!' Reed's got a rendezvous to keep at the edge of space‹but in order to reach it, he's going to have to work his way through a battalion of America's best-trained fighting men!"
Fantastic Four #529 will be 32 pages and will cost $2.50.
AMAZING SPIDER-MAN #523
Written by J. Michael Straczynski, penciled by Mike Deodato, cover by Terry Dodson.
"Moving Up." It's the sensational Spider-Man versus the horrendous hordes of Hydra as the villainous organization makes its final push to seize control of the country! Standing in the way? Everyone's favorite wall-crawler. But will Spidey have enough left in the tank to take out the group of terrorists and save the day? Part 5 of 6.
32 pages, $2.50, in stores on Aug. 3.
FANTASTIC FOUR #530
Written by J. Michael Straczynski, pencils and cover by Mike McKone.
It's a reunion with destiny as the Fantastic Four once more brave the hazards of outer space for a rendezvous with a fateful cosmic storm ­ And the secret that lies therein!
32 pages, $2.99, in stores on Aug. 24.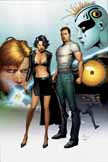 SUPREME POWER #18
Written by J. Michael Straczynski, pencils and cover by Gary Frank.
"Exhibit R: The Statement of Mark Milton." Hyperion's world is turned upside down when his dark secret is exposed to the entire world. But the worst is yet to come... Next month's news will blow you away!
32 pages, $2.99, in stores on Aug. 31.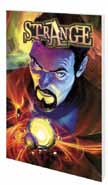 STRANGE: BEGINNINGS AND ENDINGS TPB
Written by J. Michael Straczynski and Sara "Samm" Barnes, penciled by Brandon Peterson, cover by Peterson.
Brash young surgeon Dr. Stephen Strange is on a collision course with destiny -- a journey that will force him to search the deepest corners of his own heartŠand the outer reaches of the cosmos! Masters of the comic-book medium J. Michael Straczynski, Samm Barnes and Brandon Peterson chronicle the adventures of the Master of the Mystic Arts in the year's most highly anticipated origin story! Collects Strange #1-6.
144 pages, $17.99.
AMAZING SPIDER-MAN #522
Written by J. Michael Straczynski, penciled by Mike Deodato, cover by Kaare Andrews.
It's an action-packed extravaganza as the hordes of Hydra make a final push to take over the United States!! And it's up to everyone's favorite red, white, and blue web-slinger to make sure that "Hail Hydra" isn't the new national anthem!
COMIC BOOKS: For a listing of current comic books written by J. Michael Straczynski, go to JMS COMIC BOOKS page. There is a brief synopsis of the book and a date when publication is expected. Issued covered are AMAZING SPIDERMAN, FANTASTIC FOUR, STRANGE, RISING STARS, and others.
For other comic book titles for such shows as STARGATE, SERENITY, CSI, ANGEL, etc., go to COMIC BOOKS - OTHER TITLES.
NEW TOONS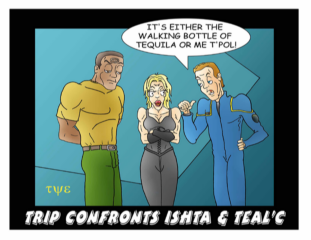 Tye Bourdony has sent along his latest satires for your enjoyment.
TV SCHEDULE ON SCIFI CHANNEL
STARGATE SCHEDULE:
07/11/2005 06:00 PM STARGATE SG-1 PROPHECY
07/11/2005 07:00 PM STARGATE SG-1 THE WARRIOR
07/11/2005 08:00 PM STARGATE SG-1 MENACE
07/11/2005 09:00 PM STARGATE SG-1 SENTINEL
07/13/2005 06:00 PM STARGATE SG-1 FULL CIRCLE
07/14/2005 06:00 PM STARGATE SG-1 CHILDREN OF THE GODS - PT 1
07/15/2005 06:00 PM STARGATE SG-1 CHILDREN OF THE GODS - PT 2
07/15/2005 08:00 PM STARGATE SG-1 (SEASON 9) AVALON - PT 1
07/15/2005 11:00 PM STARGATE SG-1 (SEASON 9) AVALON - PT 1

STARGATE ATLANTIS:
07/15/2005 09:00 PM STARGATE ATLANTIS (SEASON 2) THE SIEGE - PT 3
07/15/2005 12:00 AM STARGATE ATLANTIS (SEASON 2) THE SIEGE - PT 3
07/22/2005 09:00 PM STARGATE ATLANTIS (SEASON 2) THE INTRUDER
07/22/2005 12:00 AM STARGATE ATLANTIS (SEASON 2) THE INTRUDER
07/29/2005 09:00 PM STARGATE ATLANTIS (SEASON 2) RUNNER
07/29/2005 12:00 AM STARGATE ATLANTIS (SEASON 2) RUNNER

BATTLESTAR GALACTICA:
07/15/2005 10:00 PM BATTLESTAR GALACTICA (SEASON 2) SCATTERED
07/15/2005 01:00 AM BATTLESTAR GALACTICA (SEASON 2) SCATTERED
07/18/2005 11:00 PM BATTLESTAR GALACTICA (SEASON 2) SCATTERED
07/22/2005 10:00 PM BATTLESTAR GALACTICA (SEASON 2) VALLEY OF DARKNESS
07/22/2005 11:00 PM BATTLESTAR GALACTICA (SEASON 2) VALLEY OF DARKNESS
07/25/2005 11:00 PM BATTLESTAR GALACTICA (SEASON 2) VALLEY OF DARKNESS
07/29/2005 08:00 AM BATTLESTAR GALACTICA (1970S) BATTLESTAR GALACTICA PART 1
07/29/2005 09:00 AM BATTLESTAR GALACTICA (1970S) BATTLESTAR GALACTICA PART 2
07/29/2005 10:00 AM BATTLESTAR GALACTICA (1970S) BATTLESTAR GALACTICA PART 3
07/29/2005 11:00 AM BATTLESTAR GALACTICA (1970S) LOST PLANET OF THE GODS PART 1
07/29/2005 12:00 PM BATTLESTAR GALACTICA (1970S) LOST PLANET OF THE GODS PART 2
07/29/2005 01:00 PM BATTLESTAR GALACTICA (1970S) THE LONG PATROL
07/29/2005 02:00 PM BATTLESTAR GALACTICA (1970S) THE GUN ON ICE PLANET ZERO PART 1
07/29/2005 03:00 PM BATTLESTAR GALACTICA (1970S) THE GUN ON ICE PLANET ZERO PART 2
07/29/2005 10:00 PM BATTLESTAR GALACTICA (SEASON 2) FRAGGED
07/29/2005 01:00 AM BATTLESTAR GALACTICA (SEASON 2) FRAGGED
BABYLON 5/CRUSADE PHOTOSHOP PHOTOS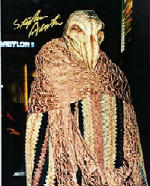 You do NOT have to pay the prices asked for over at e-bay! Here are photos of B5 and Crusade cast members at fantastic prices. Check out Photo Shop. Ordering is easy -- and you can't beat the prices! Just let me know which photos you want and I'll check to make sure they are still in stock.
---
CONVENTION CALENDAR
July 8-10, 2005
Shore Leave 27
Emphasis: Media SF
B5 Guests: Patricia Tallman, Jeffrey Willerth, Malachi Throne
Other Guests: Mary McDonnell, Steve Bacic, Danny Strong, Alexis Cruz, Joanna Cassidy, Mark Goddard, Chase Masterson, William Windom
Location: Marriott's Hunt Valley Inn, Hunt Valley, MD.
Nearest city: Baltimore, Maryland
For more information, visit their website at http://www.shore-leave.com
Contacts: information@shore-leave.com, 410-496-4456, PO Box 6809, Towson, MD 21285-6809
---

July 8-10, 2005
OFFICIAL STARGATE SG-1 CONVENTION TOUR
Location: Burbank, California
Guests: Christopher Judge, Michael Shanks, Torri Higginson, Don S. Davis, Teryl Rothery, Dan Shea, Peter Williams
For more information, go to: http://www.fansofstargate.com/
---

July 14-17, 2005
SAN DIEGO COMIC-CON
Place: San Diego Convention Center
Guests: J. Michael Straczynski
Go to http://www.comic-con.org/cci/ for more details about the event.
---

July 15-17, 2005
Continuum 3: creatures natural and unnatural
Place: The Hilton
Location: Melbourne, Australia
Confirmed Guests: Neil Gaiman (American Gods; Coraline; The Sandman), Poppy Z. Brite (Liquor; Exquisite Corpse; Lost Souls), Richard Harland (The Eddon & Vail Series; The Ferren Trilogy)
For more information, visit their website at http://www.continuum.org.au
---

July 15-17, 2005
OFFICIAL STARGATE SG-1 CONVENTION TOUR
Location: Boston, Massachusetts
Guests: Christopher Judge, Michael Shanks, Don S. Davis, Teryl Rothery, Tony Amendola, Peter Williams
For more information, go to: http://www.fansofstargate.com/
---

July 25-August 1, 2005
GATECON 2005
Location: Vancouver, British Columbia
Guests: Gary Jones, Dan Shea, Colin Cunningham, Alex Zahara, Jason Schombing, Steve Bacic, Dan Payne, Kevin Durand, Andrew Jackson, Aaron Douglas, Tahmoh Penikett, Andrew Kavadas, John Novak, David Winning, Lorena Gale, Alonso Oyarzun
For more information, go to: http://www.gatecon.com/
---

July 30-31, 2005
Pittsburgh Toy Show
City: Pittsburgh, Pennsylvania
Place: Pittsburgh Expomart - Monroeville
For more information visit www.pittsburghtoyshow.com
---

Be sure to visit the referenced sites to see if there have been changes in dates/guests attending. Visit our Convention Calendar for a full listing of upcoming conventions.
BACK ISSUES OF THE ZOCALO TODAY
The front page of the The Zocalo Today changes daily, so be sure to check the back issues to make sure that you haven't missed anything IMPORTANT! I don't want the front page getting too long so I shift information periodically into the archives. So if you aren't a regular visitor to The Zocalo Today, be sure to check out the back issues. Just use the button above!
---
Take care and I look forward to hearing from you.
Sandra Bruckner (sgbruckner@aol.com)
Editor/Publisher
ISN News: The Zocalo Today
http://www.isnnews.net
Copyright - SBruckner, 1999-2005
Search Engine Optimization and Free Submission