[an error occurred while processing this directive]

The Zocalo Today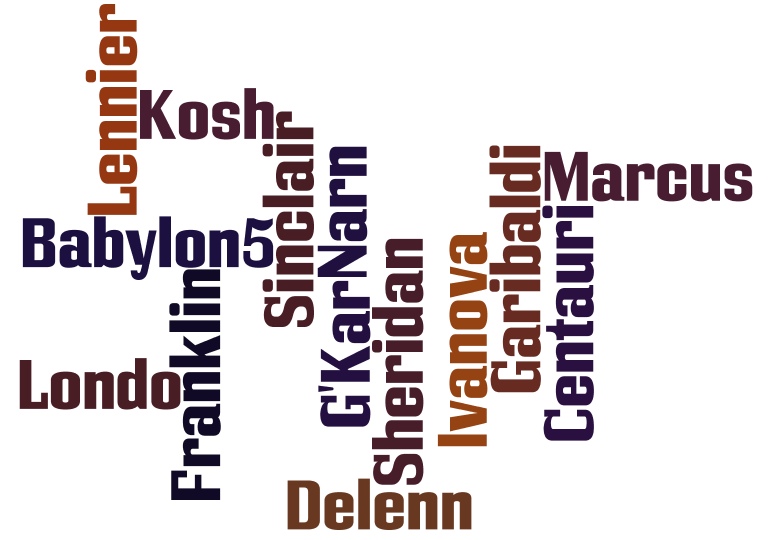 Welcome and thank you for dropping by. Babylon 5 brought many of us together -- and it remains with us, despite the fact that is no longer in production. The good thing is that the internet gives a LOT of ways to stay in touch. Don't be shy. Join in the discussion today or drop by Facebook or Twitter.

If you have questions or items for the news, drop me a line at sgbruckner@aol.com.


LATEST SCIENCE FICTION NEWS: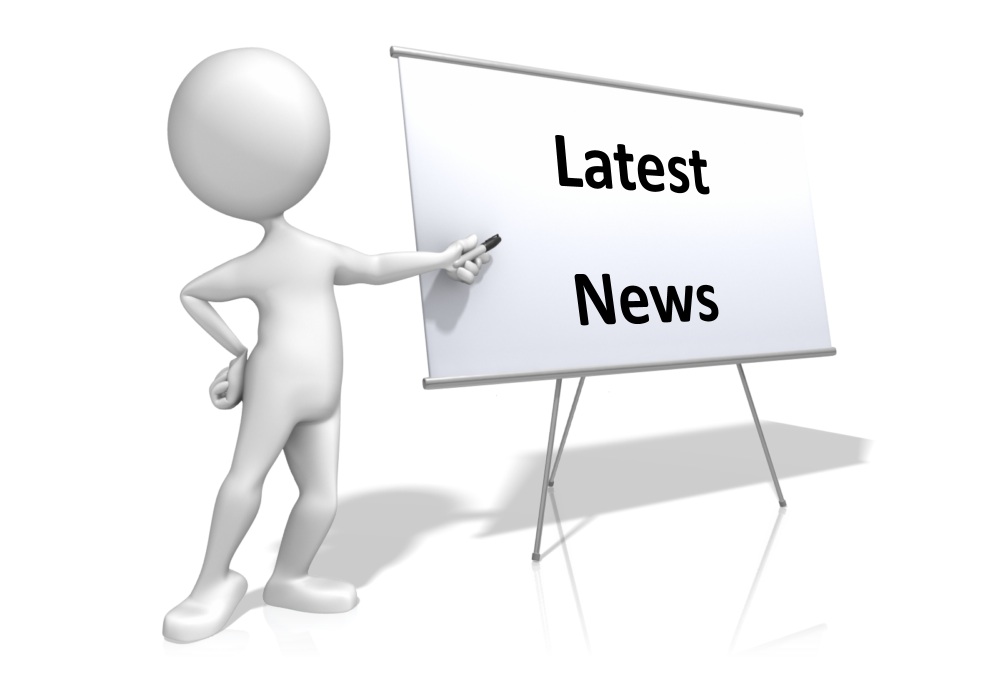 SUNDAY, JUNE 8, 2014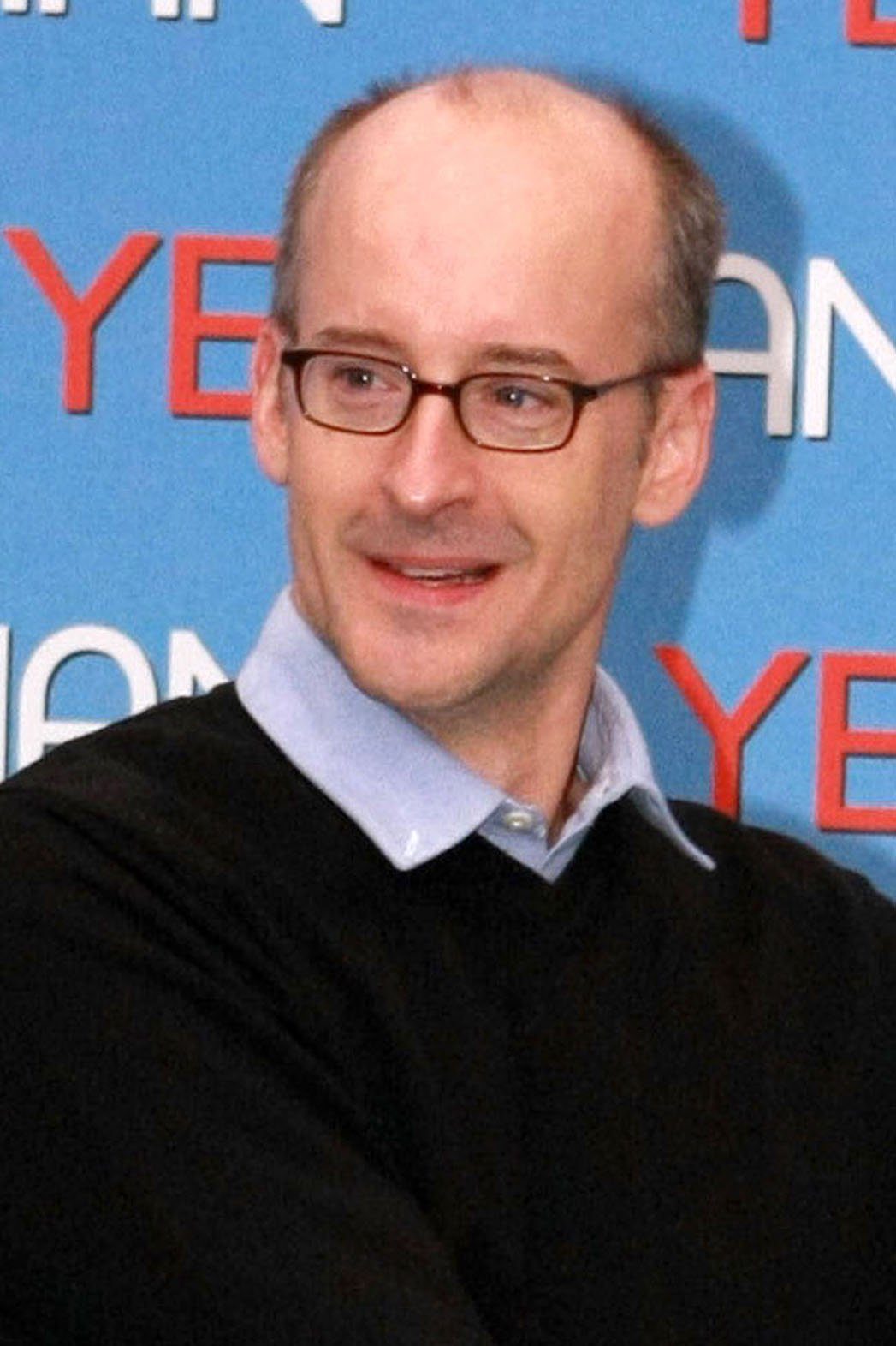 ANT MAN
It's official: Peyton Reed is the new director of Marvel's Ant-Man, while Anchorman helmer Adam McKay will work on the script.

The news was unveiled on the Marvel official website on Saturday.

After Edgar Wright abruptly left the project on May 23, Marvel launched into meetings with several helmers in hopes of quickly finding a replacement in order to get the film made by its July 17, 2015, release date.

Some of the names in consideration included McKay, Ruben Fleischer and Rawson Marshall Thurber. Later on, Peyton Reed and David Wain became frontrunners.

The film, which will star Paul Rudd in the lead role, also stars Michael Douglas, Evangeline Lilly, Michael Pena, Corey Stoll and Patrick Wilson. Sources say that the single biggest thing Marvel is looking for is someone who can work with the talent already assembled.

Marvel also released a new synopsis for the film,which will follow con-man Scott Lang (Rudd), who has the ability to shrink in scale but increase in strength. He must embrace his inner-hero and help his mentor, Dr. Hank Pym (Douglas), protect the secret behind his spectacular Ant-Man suit from a new generation of towering threats. Against seemingly insurmountable obstacles, Pym and Lang must plan and pull off a heist that will save the world.

Reed has been planted firmly in the comedy world up to this point, helming Bring It On, Down With Love and The Break-Up. His most recent film, Yes Man, starred Jim Carey as a man who decides to say "yes" to everything. It earned $223.2 million worldwide. Reed is no stranger to the Marvel universe, having developed Fantastic Four at Fox for years before Tim Story took over the property, which launched two films under Story's direction. (Fantastic Four is now being rebooted.) He's repped by WME and Sloane, Offer.

McKay, best known for directing the Anchorman films where he worked with Rudd, was initially thought to be a contender for the director position, but it looks like he'll work on polishing the script for the project.

McKay just wrapped on the Will Ferrell-Kevin Hart comedy Get Hard, and produces with Ferrell via their Gary Sanchez Productions and the female-centric spinoff banner, Gloria Sanchez Productions. He is repped by WME.

Wright was originally attached to the Marvel project, but exited on May 23, citing "creative differences." Wright's exit is a shock since the filmmaker, who would have been one of the more unique voices in Marvel's pantheon of movie directors, has been with the project since its inception in 2006, and the split has occurred late in preproduction.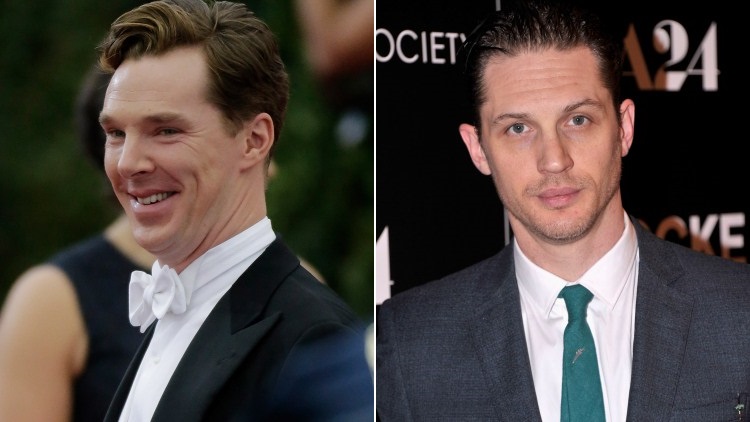 DOCTOR STRANGE NEWS
Deadline brings word tonight that Marvel has begun putting together their casting short list for the upcoming Doctor Strange having finally secured a director in Scott Derrickson.
The site reports that the list consists of two names for the time being, the first being Star Trek Into Darkness and "Sherlock" star Benedict Cumberbatch with the other being Tom Hardy of Bronson and the upcoming Mad Max: Fury Road, whose The Dark Knight Rises co-star Joseph Gordon-Levitt was previously linked as a potential candidate for the role.
Although a specific release date for Doctor Strange has not yet been set, Marvel has two placeholder dates set for unnamed features on July 8, 2016 and on May 5, 2017. It's looking more and more likely that the good doctor will be claiming one of those spots.
SATURDAY, JUNE 7, 2014
CONSTANTINE
Competing with about a half-dozen other comic-to-TV projects, NBC's upcoming Constantine stole the show with a stellar opening trailer — and now the show's star has opened up about what fans can expect from the full series.

Matt Ryan, who stars as show namesake John Constantine in the Hellblazer-inspired series, chatted with IGN as they dig into production in preparation for a fall premiere. According to Ryan, he's currently read about 100 issues of the comics and plans to read the remaining 200 issues over the next six months.

Why? Because they want to be as accurate as possible with respect to the comic canon:

"Yeah, definitely. I think as with the source material, there's so much to draw from in terms of the character and the balance of humor and wit and dark and gritty. It's great, because John has this kind of real sarcastic, ironic British wit. It's funny, but at the same time it's serious and dark and gritty. It's got it all, I think … Yeah, and we're trying to stay as close to the source material as possible and really do the comics justice. So, hopefully, we can do that."

Though fans were leery of how the dark, snarky character would translate to the small screen, Ryan absolutely blew us away with his spot-on interpretation. If they can make a good show while also honoring the comics, this could be a legit fan favorite this fall.

The series is set to debut Friday, Oct. 24, packaged with fellow genre hit Grimm.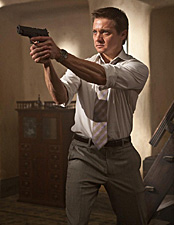 MISSION IMPOSSIBLE 5
Jeremy Renner has confirmed to Yahoo! TV that he will again play William Brandt in Mission: Impossible 5. He joins the previously-confirmed Tom Cruise and Simon Pegg in the December 25, 2015 release.
Asked whether he could possibly have a role in the second season of "True Detective," Renner responded: "It's kind of unlikely. In fact, I'm kind of strapped time-wise doing Avengers 2, and Mission: Impossible 5 is rearing its head, and then they want to do another Bourne movie. It's unlikely I can find the time right now. And that's all right. It's just really high-class problems — pretty awesome to have. Even if I really wanted to do it, which I don't, I couldn't."
The trio starred together in the Brad Bird-directed Mission: Impossible - Ghost Protocol, which opened in December of 2011 and earned an impressive $694.7 million worldwide on a budget of $145 million. We would assume that Paula Patton will also be back as Jane Carter, but that hasn't been confirmed yet.
Mission: Impossible 5 will be directed by Christopher McQuarrie, who wrote Edge of Tomorrow, now playing in theaters, and directed Tom Cruise in Jack Reacher.
DAWN OF THE PLANET OF THE APES
On the heels of yesterday's stylish new posters, 20th Century Fox aired a new TV spot for their Dawn of the Planet of the Apes during last night's NBA Finals.
The Matt Reeves-directed sequel stars Andy Serkis, Jason Clarke, Gary Oldman, Keri Russell, Toby Kebbell, Kodi Smit-McPhee, Enrique Murciano, Kirk Acevedo and Judy Greer.
A growing nation of genetically evolved apes led by Caesar is threatened by a band of human survivors of the devastating virus unleashed a decade earlier. They reach a fragile peace, but it proves short-lived, as both sides are brought to the brink of a war that will determine who will emerge as Earth's dominant species.

THE RETURNED
It was announced in April that A&E has given the greenlight "The Returned". Today, Deadline reveals that Smashed and Scott Pilgrim vs. the World star Mary Elizabeth Winstead is set to headline the new original scripted drama series. Also joining the cast are Agnes Bruckner ("Private Practice") and Sandrine Holt ("House of Cards").
A co-production of A+E Studios and FremantleMedia North America, "The Returned" is based on the popular and International Emmy-award winning French suspense series adapted by Fabrice Gobert and inspired by the feature film, Les Revenants, directed by Robin Campillo. The series focuses on a small town that is turned upside down when several local people, who have been long presumed dead suddenly reappear, bringing with them both positive and detrimental consequences. As families are reunited, the lives of those who were left behind are challenged on a physical and emotional level. Interpersonal relationships are examined with intrigue and depth as strange phenomena begin to occur.
Carlton Cuse ("Bates Motel") wrote the first episode, and he and Raelle Tucker ("True Blood") will write and executive produce the series. The first season is set for a ten-episode run.
"The Returned" is co-produced by A+E Studios and FremantleMedia North America in association with Haut et Court TV SAS, the producer of the French series, for A&E Network. Executive producers are Carlton Cuse for Carlton Cuse Productions, Raelle Tucker for Angry Annie Productions and Thom Beers, Craig Cegielski and Stefanie Berk for FremantleMedia North America. FremantleMedia will distribute the series internationally, excluding the U.S. and Canada, which will be distributed by A+E Studios.
THE NOVEMBER MAN
Relativity Media has debuted, via Fandango, the trailer for their upcoming espionage thriller, The November Man, starring Pierce Brosnan, Luke Bracey and Olga Kurylenko.
Code named 'The November Man', Peter Devereaux (Brosnan) is a lethal and highly trained ex-CIA agent, who has been enjoying a quiet life in Switzerland. When Devereaux is lured out of retirement for one last mission, he must protect valuable witness, Alice Fournier, (Kurylenko). He soon uncovers this assignment marks him a target of his former friend and CIA protégé David Mason (Bracey). With growing suspicions of a mole in the agency, there is no one Devereaux can trust, no rules and no holds barred.
Featuring a screenplay by Michael Finch and Karl Gajdusek, The November Man is based on Bill Granger's novel "There are No Spies" from the bestselling "November Man" book series. Directed by Roger Donaldson (The Bank Job, Thirteen Days), the film is produced by Beau St. Clair of Irish DreamTime and Sriram Das of Das Films.
The November Man hits theaters August 27.
THE ZOCALO TODAY
Be sure to check out The Zocalo Today on Facebook as well as at ISN News: The Zocalo Today on Yahoo Groups. Did you miss the news from yesterday -- or earlier in the week. Catch up by going to the June News Archive. I have broken up the huge file into months to make it easier to scan through. It will bring you up to date for all that has been going on in the world of science fiction. Go to:
May News.
April News.
March News.
February News
January News
December News
November News
October News.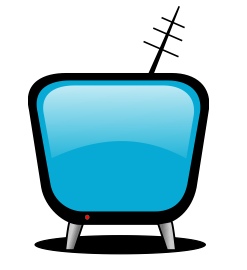 ON THE TUBE TONIGHT 8:00pm on ABC Family
Despicable Me
A man who delights in all things wicked, supervillain Gru (Steve Carell) hatches a plan to steal the moon. Surrounded by an army of little yellow minions and his impenetrable arsenal of weapons and war machines, Gru makes ready to vanquish all who stand in his way. But nothing in his calculations and groundwork has prepared him for his greatest challenge: three adorable orphan girls (Miranda Cosgrove, Dana Gaier, Elsie Fisher) who want to make him their dad.

8:00pm on BBC America
Hook
When his young children are abducted by his old nemesis, Capt. Hook (Dustin Hoffman), middle-aged lawyer Peter Banning (Robin Williams) returns to his magical origins as Peter Pan. Peter must revisit a foggy past in which he abandoned Neverland for family life, leaving Tinkerbell (Julia Roberts) and the Lost Boys to fend for themselves. Given their bitterness toward Peter for growing up -- and their allegiance to their new leader, Rufio -- the old gang may not be happy to see him.

9:00pm on Fox
Cosmos: A Spacetime Odyssey
Season 1, Episode 13: Unafraid of the Dark
Exploring dark energy; astronomer Fritz Zwicky's observations of supernovae.

9:00pm on Syfy
Casino Royale
After receiving a license to kill, British Secret Service agent James Bond (Daniel Craig) heads to Madagascar, where he uncovers a link to Le Chiffre (Mads Mikkelsen), a man who finances terrorist organizations. Learning that Le Chiffre plans to raise money in a high-stakes poker game, MI6 sends Bond to play against him, gambling that their newest "00" operative will topple the man's organization.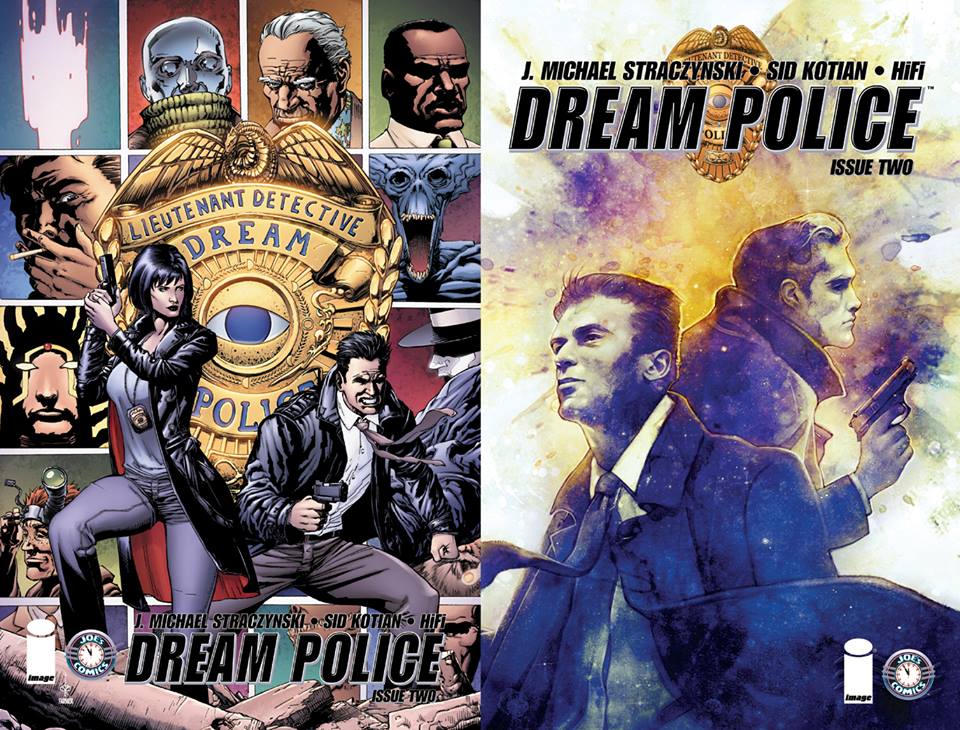 J. MICHAEL STRACZYNSKI - DREAM POLICE #2
For a preview of Dream Police #2, go to http://www.ign.com/articles/2014/05/27/exclusive-dream-police-2-preview.
Alternate covers for Dream Police Issue #2. Approved at the printer DREAM POLICE #2 by Fans of J. Michael Straczynski line art Sid Kotian, colors Hi-Fi, letters by Troy Peteri. Cover A by Sid Kotian and Bill Farmer MAR14 0568 Cover B by Anna Dittman MAR14 0569 In stores 6/4 Enjoy!

BABYLON 5 BOOKS: ENCOUNTERS WITH J. MICHAEL STRACZYNSKI ARCHIVED BY THE GREAT MACHINE QUICK GLANCE AT WHAT'S INCLUDED
400+page two-sided softcover book
- Side 1: ENCOUNTERS WITH J. MICHAEL STRACZYNSKI: Landmark interviews with JMS plus B5 analysis written by JMS
- Side 2: Babylon 5 Index covering all 20 B5 Script Books and ARTIFACTS FROM BEYOND THE RIM
- Tête-bêche style binding - Get Two Books in One
- Courtesy Data Reference Disc (First 7 days only)
- Choice of Centauri Purple or Station Blue (7 days only) For more information about what this volume contains, go to http://www.cafepress.com/b5books.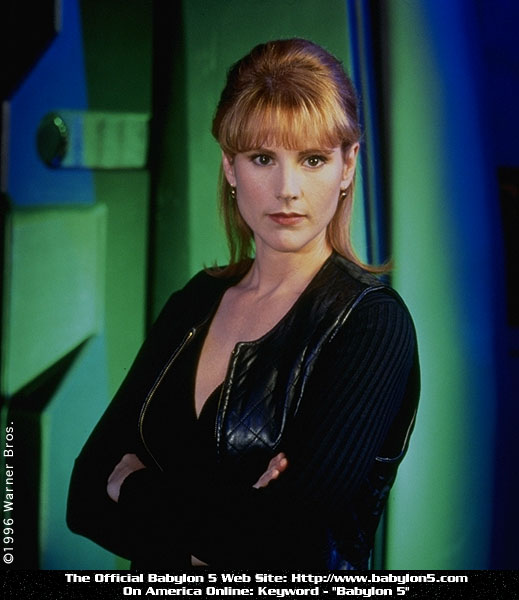 PAT TALLMAN UPDATE
Pat is talking to you straight! Facebook has made it harder than ever for you to see the posts from your favorite Pages. If you follow Pat on FB, you know her brand of snarky sexy humor. Well now it's no holds barred! Sign up for Pat's newsletter on her site PatriciaTallman.com and get it unsensored.The newsletter has content that will not be on the Facebook page or the site.
In this first issue, there is a special offer only available to those on the newsletter. Sign up by March 31st and be in the know.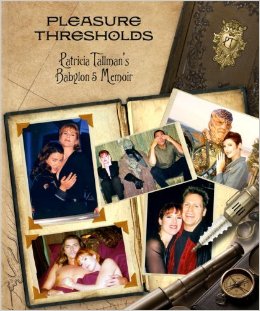 PLEASURE THRESHOLDS
"We are thrilled to announce Pat Tallman's book Pleasure Thresholds is finally available on Amazon! Amazon link.

The Ultimate Insider's Experience of Babylon 5: A behind-the-scenes peek into Patricia Tallman's life during her "B5 Years." A candid (and occasionally spicy) memoir told through print, video and audio. Pleasure Thresholds is a behind the scenes look at Patricia Tallman's life during the 5 years she spent shooting the hit science fiction series Babylon 5. An actress and stunt woman, Tallman recounts the deeply personal details of her life working on Babylon5, Star Trek:TNG, Deep Space Nine and films such as Jurassic Park ( as Laura Dern's stunt double). Autographed by Pat Tallman and J. Michael Straczynski . Can be personalized! Also available for overseas sales. Message us here: Pattallmannewsletter@gmail.com for shipping rates for non USA purchase. Thank you!"
KEEPING UP WITH CAST AND CREW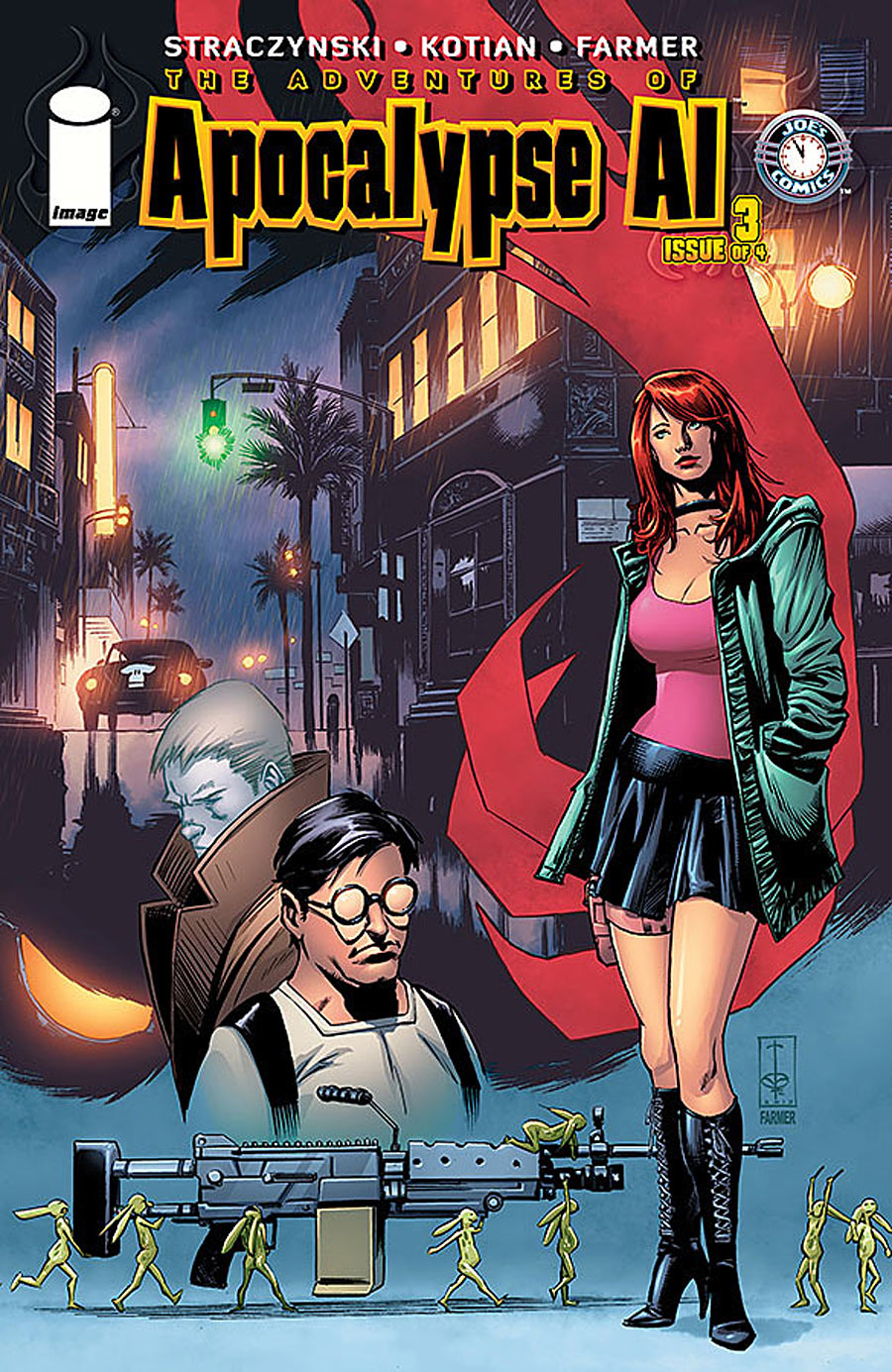 Previews galore! Six-page preview of Apocalypse Al #3!
http://www.comicbookresources.com/?page=preview&id=20986.
#FREEBABYLON5
BABYLON 5 is back on TV and from the comments on the Watch site, people are enjoying the first season all over again. Episodes air daily at 5:00pm. If you are in the UK, dial up Watch (Sky 109/Virgin 124). Don't miss an episode.
Would you believe 118 comments for just the first day of showing the series! I sure hope someone takes notice. Be sure to use the @Watch_channel twitter handle and link to the Watch Facebook page when posting. http://watch.uktv.co.uk/shows.babylon-5.
Be sure to visit the the newFree Babylon 5 website. It is time to gather and support the show we know and love.




Here is a quote from J. Michael Straczynski about emotions.
I had this theory that the more important and intimate the emotion, the fewer words are required to express it.

First it's in dating: "Will you go out with me?" Six words.
"Honey, I care for you." Five words.
"You matter to me." Four words.
"I love you." Three words.
"Marry me." Two words.
But what's left? What's the one most important and intimate word you can ever say to somebody? It's "goodbye."

While Michael O'Hare (Sinclair), Andreas Katsulas (G'Kar), Rick Biggs (Dr. Franklin), Tim Choate (Zathras) and Jeff Conoway (Zach Allen) are no longer with us, we will not forget their wonderful personalities and talent -- as well as their significant contributions to the BABYLON 5 universe. Be sure to visit In Memory Of for more information about memorial efforts.
Until we met again, in a place where no shadows fall.
BABYLON 5 BIRTHDAYS
Tristan Rogers, June 3 in Melbourne AUS (Home Guard leader Malcolm Biggs)
Jeffrey Willerth - June 5
Nancy Stafford - June 5 in Wilton Mannors, FL (IPX - Dr. Mary Kirkish)
Donovan Brown (Optic Nerve) - June 6
Ann Bruice Aling - June 8
Mark Walters (Art Dept.) - June 10
Susan Norkin (Post) - June 10
Adrienne Barbeau (Amanda Carter) - June 11
Mike Vejar - June 25 Have I missed anyone? If you know the birthday of someone connected with Babylon 5, pass the information along. We want to include everyone in our Happy Birthday Wishes.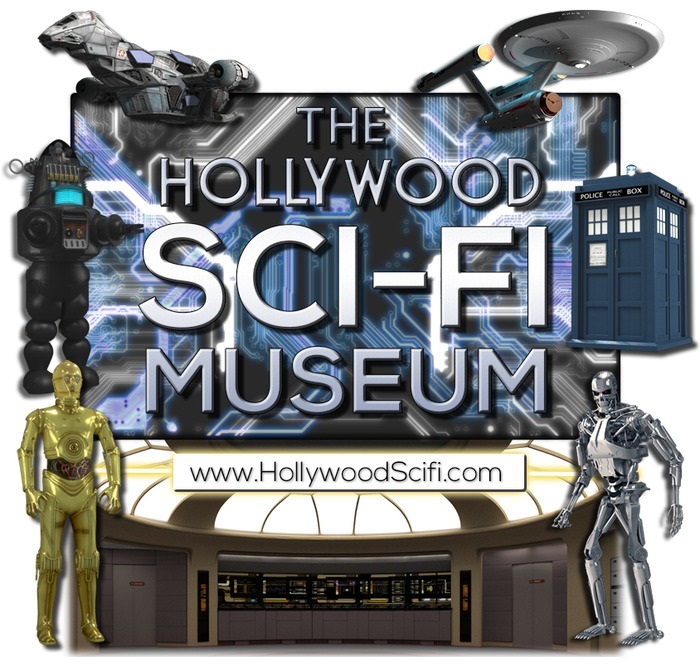 THE HOLLYWOOD SCI-FI MUSEUM
Here's a project you may want to get involved with!
About the Project:
New Starship Foundation, the nonprofit behind the Enterprise-D Bridge Restoration, with board members including the greatest talents in science fiction, presents THE HOLLYWOOD SCIENCE FICTION MUSEUM. This will be the first museum in the world to exclusively show the history of sci-fi films, TV, art and literature through props, sets and costumes, as well as show advancements in space travel and teach Real Science through Science Fiction. It will be an interactive museum with fully immersive environments and touch screens that will incorporate old and new footage from actors, filmmakers and NASA astronauts and scientists, and will present both the fact and fiction of sci-fi. This will eventually teach Science, Technology, Engineering and Math (STEM) based education in a fun new way to all ages. The museum will include exhibits from: Star Trek, Star Wars, Doctor Who, 2001, Alien, Metropolis, Thunderbirds, Firefly, Babylon 5, Battlestar Galactica, Stargate, Blake's 7, Ghostbusters, Farscape, The Time Machine, Godzilla, X-Men, Avengers, Superman, Planet of the Apes, Back to the Future, Day the Earth Stood Still, V, Batman, Six Million Dollar Man, Bionic Woman, Flash Gordon, Buck Rogers, as well as Fantasy like Lord of the Rings, Labyrinth, Legend, Munsters, Herbie the Love Bug, Chitty Chitty Bang Bang, Dark Crystal, Game of Thrones, Anime like Akira and Speed Racer, and anything else we can fit within our walls. This Kickstarter is to acquire the funds to develop our 2015 Hollywood Sci Fi Museum, which will be smaller than the future museum, but still significant and unique. This "concept art" of the giant Millennium Falcon and Enterprise-D is for our 2018 Hollywood Sci Fi Museum. Go to http://www.hollywoodscifi.org/ for more information.
BABYLON 5 MUSIC VIDEOS AND TRIBUTES
John Hudgens has created many Babylon 5 videos, but I believe this is the most moving. It was first shown at the Phoenix Comic Con 20th Anniversary and honors many of the Babylon 5 family who have passed on.

Here is a link to John's Babylon 5 videos:
https://www.youtube.com/user/Babylon5MusicVideos?feature=watch

Richard Biggs memorial: http://www.youtube.com/watch?v=HyD4L8yNtsA

Andreas Katsulas memorial: http://www.youtube.com/watch?v=h2UQ2l9NPIg

- This is the extended version that I did for Andreas' widow ater the original cut was released on the net. It's never been seen online until now.

For those of you who've never seen these, I hope you enjoy them - and for those that have (and emailed me many times over the years about releasing them), I hope they're as good as you remember. Working with Joe on these videos was one of the highlights of my career, and I'll be forever grateful to him for the doors these have opened for me. I'm proud to have them on my resume.

John Hudgens
www.zteamproductions.com
---





PHOENIX COMICON
Dates: June 5-8, 2014
Place: Phoenix Convention Center, Phoenix, AR
Guests: Stan Lee, Nathan Fillion, John Barrowman, Eliza Dushku, John Rhys-Davies, Bruce Campbell and many more
For more information, go to http://phoenixcomicon.com/. PHILADELPHIA COMIC CON
Dates: June 19-22, 2014
Place: Pennsylvania Convention Center, Philadelphia, PA
Guests include: Michael Rooker, David McClintock, James Marsters, Sean Austin, and many others.
Go to Philadelphia for more information.

CREATION ENTERTAINMENT - BOSTON - #TREKBOS
Dates: June 21-22, 2014
Place: Hynes Center, Boston, MA
Guests: Karl Urban, Bruce Greenwood, Avery Brooks, Walter Koenig, Terry Farrell, Robert Beltran, and many more.
For more information, go to http://www.creationent.com/cal/stma.htm#guests.

FLORIDA SUPER CONVENTION
Dates: July 3-6, 2014
Place: Miami Beach Convention Center, Miami Beach, FL
Guests: William Katt, Nichelle Nichols, Peter David
For more information, go to www.floridasupercon.com. DETCON 1 (NASFic 2014)
Dates: July 17-20, 2014
Place: Detroit, Michigan
Guests: Steven Barnes (Author), John Picacio (Artist), and many more
For more information, go to http://detcon1.org/. Ultracon of South Florida 2014
Dates: July 19-20, 2014 - Sat. 10am - 10pm; Sun. 10am-7pm
Place: Broward County Convention Center, 1950 Eisenhower Blvd., Ft. Lauderdale, FL 33316
Guests include Mike Rio - Wolverine, Mark Sparacio, Jason Faunt - Power Rangers, Jose Delbo - Comic Book Artist
For more information, go to http://ultraconofsouthflorida.com. COMIC-CON INTERNATIONAL
Dates: July 24-27, 2014 Place: San Diego Convention Center
Guests: J. Michael Straczynski will be there along with a host of other guests
For more information, go to San Diego Comic Con. Star Trek Convention - Creation Entertainment
Dates: July 31 - August 3, 2014
Place: Rio Suites Hotel, Las Vegas, Nevada
Guests: WILLIAM SHATNER, KATE MULGREW, COLM MEANEY, WALTER KOENIG, NICHELLE NICHOLS, "ROM and NOG" as portrayed by Max Grodenchik and Aron Eisenberg, ANTHONY MONTGOMERY, JERRY HARDIN, TIM RUSS and MICHAEL FOREST. 87 plus more guests to come!
For more information, go to http://www.creationent.com/cal/st_lasvegas.html. SHORE-LEAVE
Dates: August 1-3, 2014
Place: Hunt Valley, MD (near Baltimore)
Guests: Richard Dean Anderson, Robert Piccardo and many more.
For more information, go to www.shore-leave.com. Worldcon, LONCON3
Dates: August 17-20, 2014
Place: London, England
For more information, go to http://www.loncon3.org/index.php. DRAGONCON 2014
Dates: August 29-September 1, 2014
Place: Atlanta, GA
Guests: Patrick Stewart, Peter Weller, Peter Williams, Richard Hatch, Wesley Eure - and many more
For more information, go to www.dragoncon.org. HAWAII CON
Dates: September 12-14, 2014
Place: Hapuna Beach Prince Hotel, Hawaii
Babylon 5 Guests: Pat Tallman, Claudia Christian, Walter Koenig
Other Guests from Stargate Atlantis, Battlestar Galactica, Games of Thrones and more
For more information, go to www.hawaiicon.com. SPECIAL ANNOUNCEMENTS!
Wizard World Conventions has a large number of events planned for the year. Be sure to visit the page to see if there is a convention of interest near you.

Creation Entertainment has a large number of conventions planned for the next several months. They include stars from TWILIGHT, SUPERNATURAL, STARGATE, FARSCAPE, XENA, SERENITY, STAR TREK, etc. Check out their calendar to see if one will be in your neighborhood soon. Don't miss their Videos page as well. It is full of some priceless video from a number of conventions.

Be sure to visit the referenced sites to see if there have been changes in dates/guests attending. Visit our Convention Calendar for a full listing of upcoming conventions.
BACK ISSUES OF THE ZOCALO TODAY
The front page of the The Zocalo Today changes daily, so be sure to check the back issues to make sure that you haven't missed anything IMPORTANT! I hope you will become a regular visitor to The Zocalo Today!
---
Take care and I look forward to hearing from you.
Sandra Bruckner (sgbruckner@aol.com)
Editor/Publisher
ISN News: The Zocalo Today
http://www.isnnews.net
Copyright - SBruckner, 1999-2014